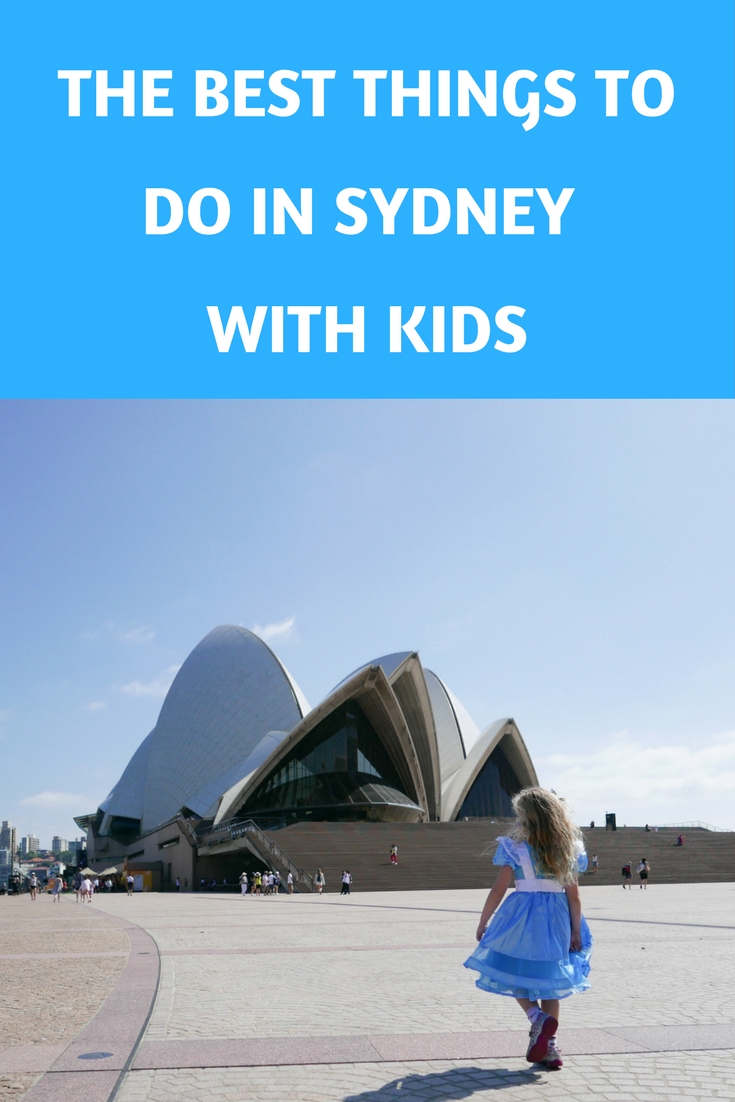 Sydney kids are so spoiled! There are literally so many things to do in Sydney with kids that it will take you an entire childhood here to discover them all. If you're visiting for a day, a week, a month or are a local, here you'll find a multitude of things to do in Sydney with kids.
The Best Things To Do In Sydney With Kids
In The City Centre
The Rocks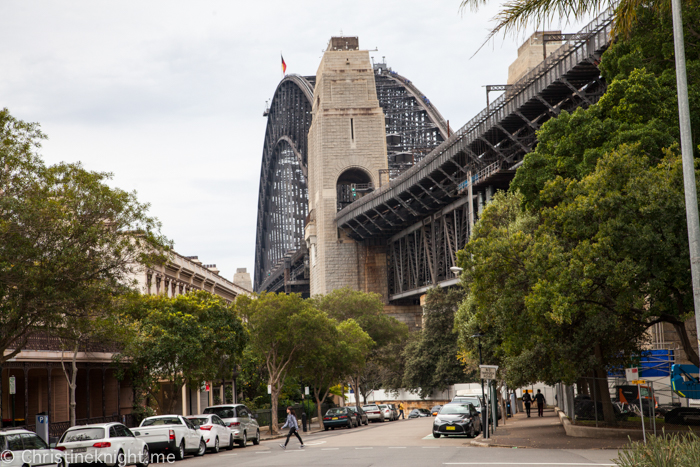 Visit the place of the first European settlement in Australia, as well as the traditional home of the Gadigal Aboriginal people in the Rocks. Wander the cobblestone streets, enjoy panoramic views of Sydney Harbour including the Sydney Opera House and Sydney Harbour Bridge and take a look at a few of the heritage sites and buildings in the area.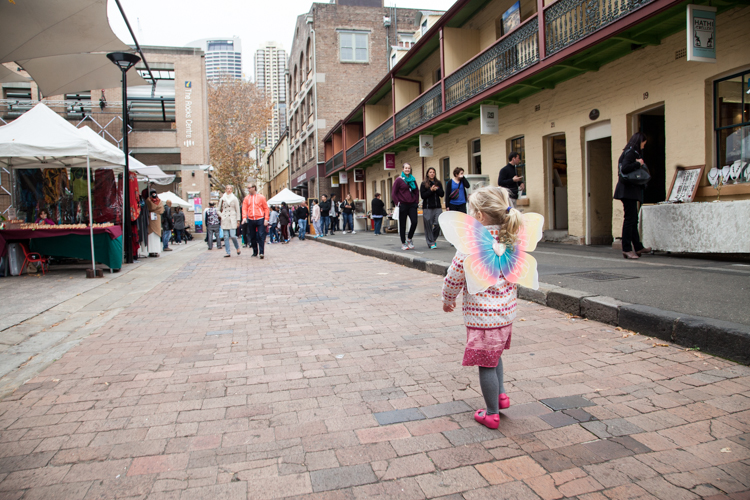 There are over 100 historic sites and buildings, the oldest house being Cadman's Cottage, built in 1816. Drop by the Rocks Discovery Museum, a free museum located inside a restored 1850s sandstone warehouse with an interactive kids corner upstairs, or grab one of the best scones in Sydney at The Tea Cosy (their kids' Devonshire tea is adorable and delicious). A visit to the Rocks is one of our favourite things to do in Sydney with kids.
Sydney Harbour Bridge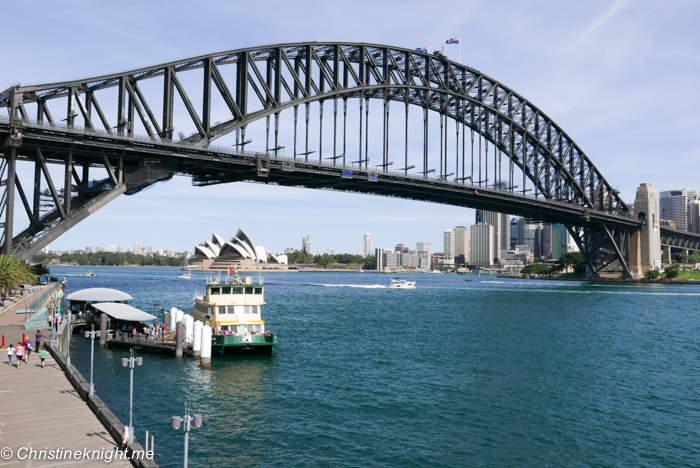 The world's tallest steel arch bridge connects the northern suburbs of Sydney with the CBD. Take a stroll over the Sydney Harbour Bridge – the two access points to the pedestrian walkway are up Cumberland Street in The Rocks in the CBD and near Milsons Point train station in the north. If you and the kids are feeling energetic, climb 200 stairs to the Pylon Lookout for stunning views (admission fees apply).
Observatory Hill Park and the Sydney Observatory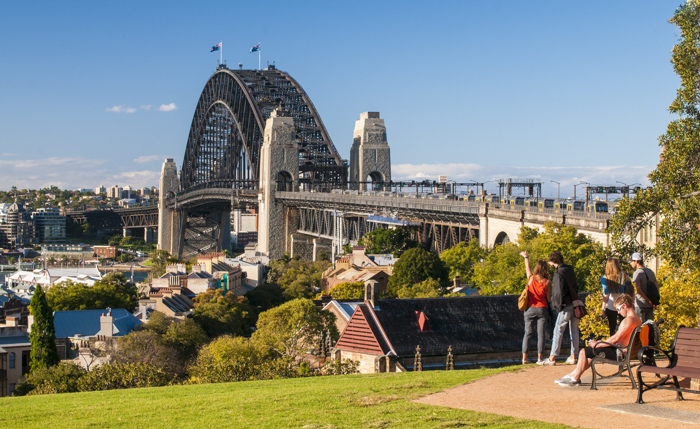 Located in The Rocks, the hill is is a gorgeous spot for a picnic with a view, as well as being home to the Sydney Observatory, a heritage-listed museum and public observatory. Sydney Observatory runs and family tours and activities throughout the year which are perfect for mini star gazers.
Image credit: Destination NSW
State Library of NSW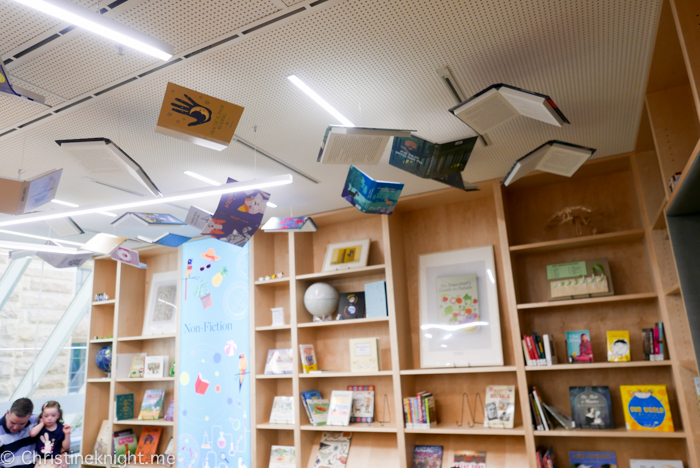 It's free to wander into Australia's oldest library (it was established in1826) and check out their exhibitions, brand new Children's Library and family spaces. The library also runs free activities for kids during school term for under 5s and school holidays for older children. Check out their calendar to see what's on when you visit.
Read more about the Children's Library and family spaces at the State Library of NSW.
Powerhouse Museum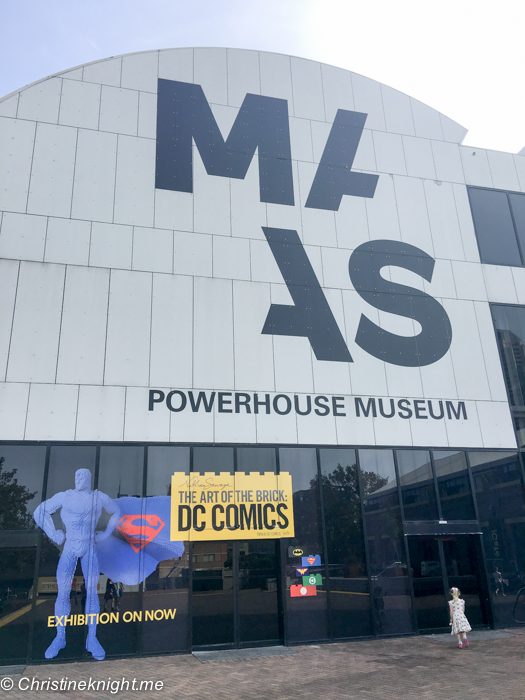 Located in the old Ultimo Power Station building adjacent to Darling Harbour, the Powerhouse Museum is the flagship branch of the Museum of Applied Arts & Sciences ((MAAS) in Sydney.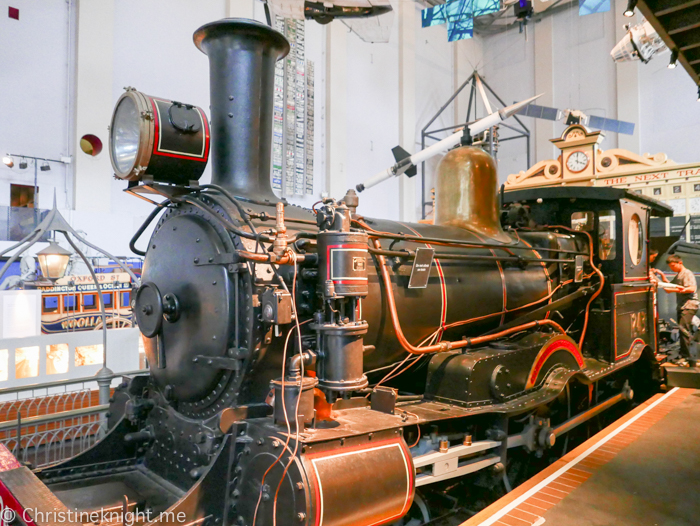 The museum's collection encompasses science, technology, design and decorative arts, engineering, architecture, health and medicine, fashion and contemporary culture.
Locomotive No. 1, the first steam locomotive to haul a passenger train in New South Wales, is a popular drawcard just inside the museum's entrance, as is the ever-popular interactive Wiggles Exhibition.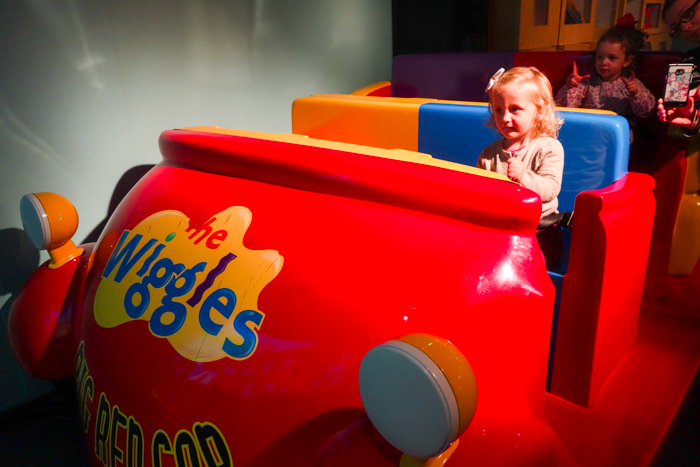 Throughout the year the Powerhouse Museum hosts temporary exhibitions plus a wide range of kid-focussed activities and workshops with a strong focus on science and coding, particularly during the school holidays. The focus on science and technology in a very family-friendly environment makes the Powerhouse Museum a top choice for things to do with kids in Sydney. Check out their calendar for upcoming events.
Get info on visiting the Wiggles Exhibition here.
Museum of Sydney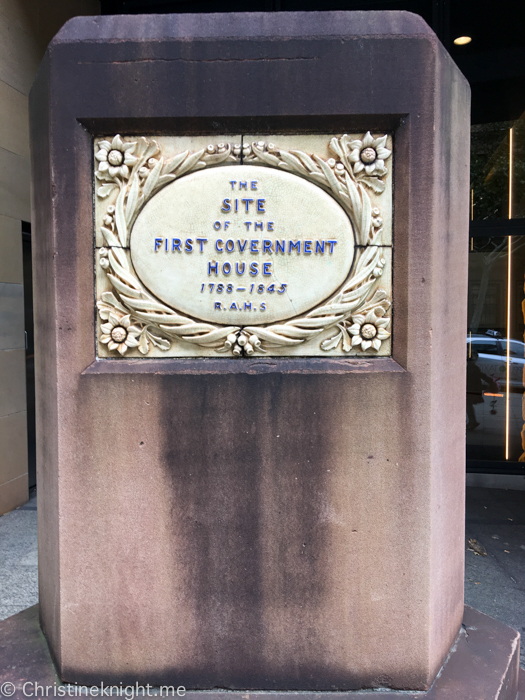 Located on the site of the first Government House of NSW, the Museum of Sydney tells the story of Sydney's history and its people.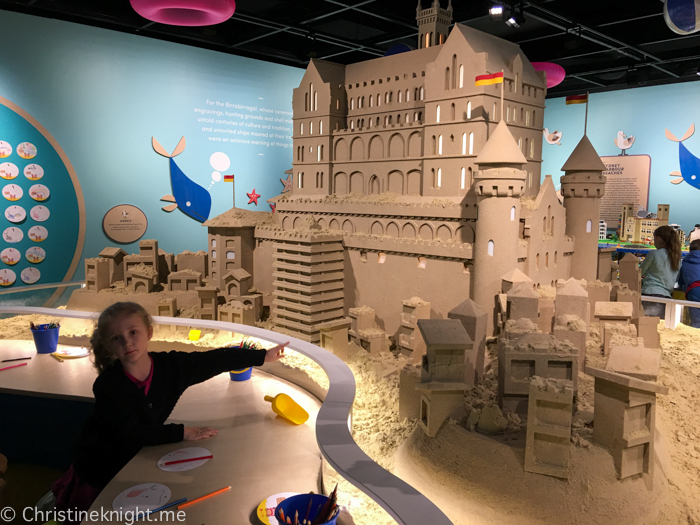 The Museum of Sydney offers family-friendly exhibitions and programs year-round (check what's on here) and kids eat free with each adult meal purchased at the downstairs restaurant, The Governors Kitchen.
Get more info on the Museum of Sydney here.
Justice and Police Museum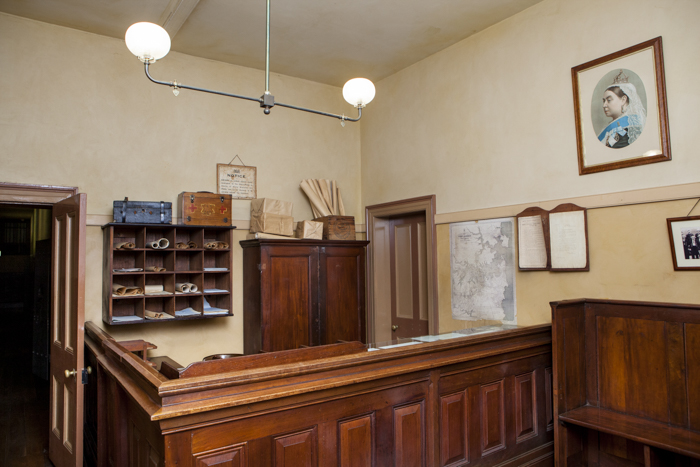 Housed inside the sandstone buildings that contained the original Water Police Court (1856), Water Police Station (1858) and the Police Court (1885), the Justice and Police Museum features 1890s holding cells, offices, charge room and courts, forensic evidence, historic weapons and forensic photography.
The Justice and Police Museum runs family-friendly programs throughout the year for kids to learn about the law, hear true life tales and take park in mock trials. Get info on events here.
Find out more about visiting the Justice and Police Museum here.
Image credit: Police Station Charge Room, Justice & Police Museum
Hyde Park Barracks Museum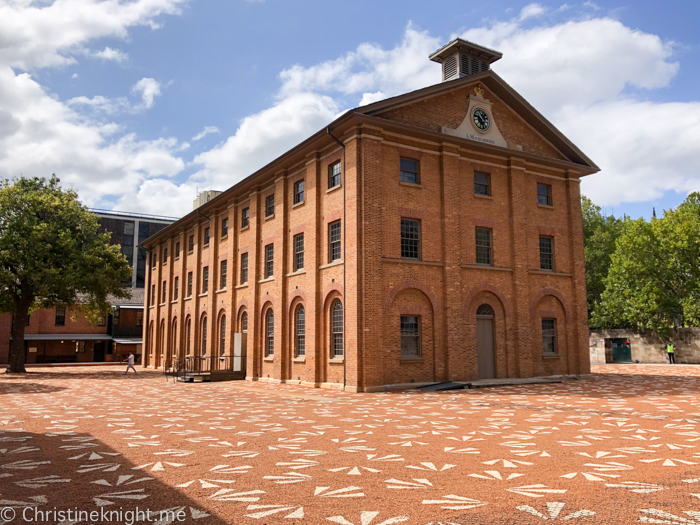 The UNESCO World Heritage-listed Hyde Park Barracks is a cutting-edge museum that brings Sydney's past to life through a series of innovative and immersive experiences.
Built in 1819 by convict labour under the commission of Governor Lachlan Macquarie, the Hyde Park Barracks were originally designed as a place to house up to 600 male convicts.
The Barracks, over time, have also been an immigration depot, asylum, law courts, government offices hospital and mint. It is now a museum and cafe and one of 11 Australian convict sites inscribed on the UNESCO World Heritage List.
The Hyde Park Barracks runs family-friendly programs year-round to engage children in its history. Get info on upcoming events here.
Find out more about visiting the Hyde Park Barracks Museum here.
Australian Museum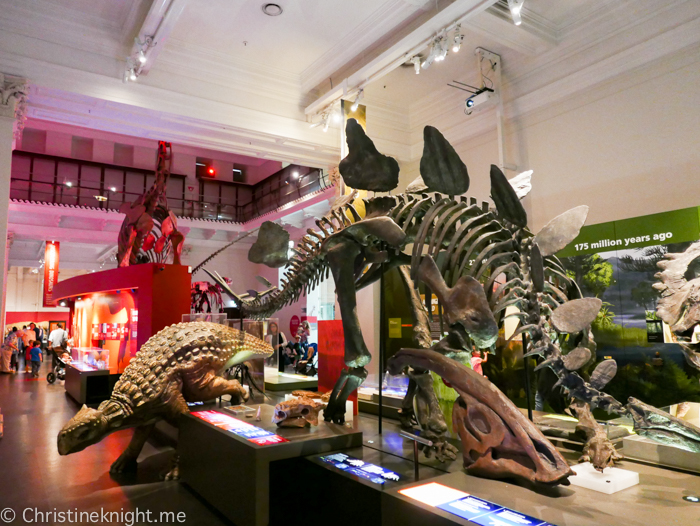 When it opened in 1897, The Australian Museum became the first museum in Australia, with an international reputation in the fields of natural history and anthropology. The museum's dinosaur exhibition, containing 10 complete dinosaur skeletons and eight life-sized models is very popular with kids.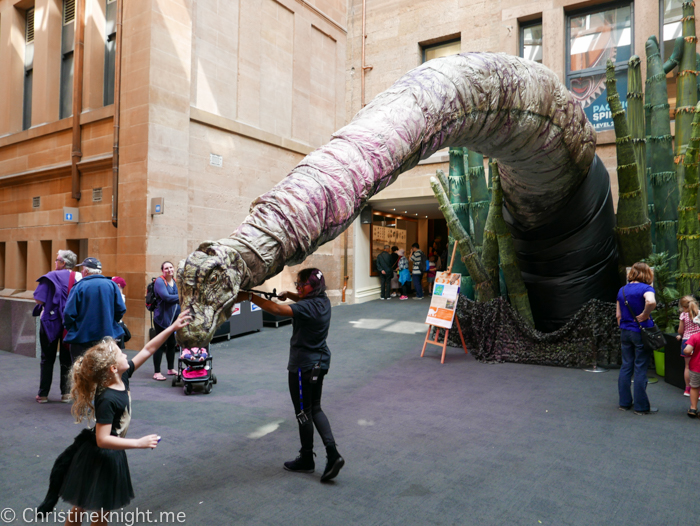 The dedicated Kidspace area is a hit with littles aged five and under (as well as the slightly bigger kids who still like to sneak in!) while older kids will love the Search & Discover research centre.
The Australian Museum also runs family-focussed programs year round for kids aged 9 months and up. School aged kids always have a large range of science-based activities to choose from during the school holidays.
Read more about visiting the Australian Museum here.
Royal Botanic Garden Sydney and the Domain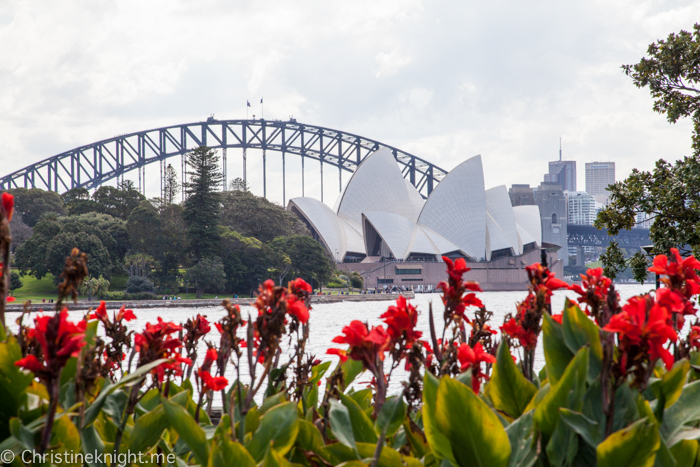 The gardens and Domain are gorgeous all year round. Wrapped around Farm Cove just south of the Sydney Opera House, the gardens, which were established in 1816, occupy one of Sydney's most spectacular waterfront positions. A relaxing day exploring the gardens is one of the best things to do in Sydney with kids.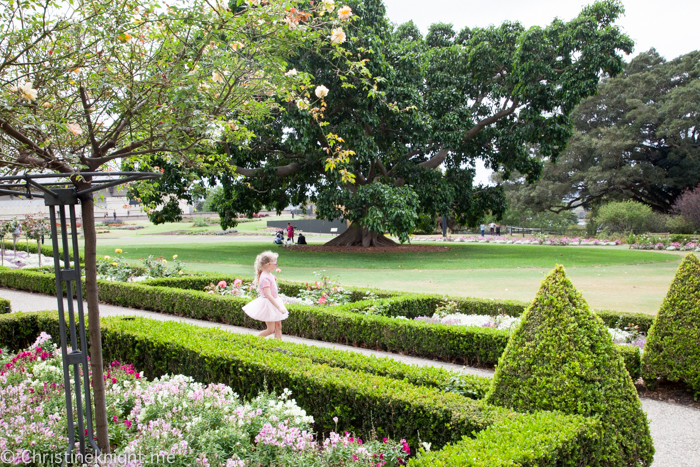 The Royal Botanic Gardens runs plenty of family and kids' programs all year 'round (check their calendar for upcoming events) but we have the most fun practicing cartwheels on the shady lawns, watching eels in the pond and climbing rocks and trees.
The Art Gallery of NSW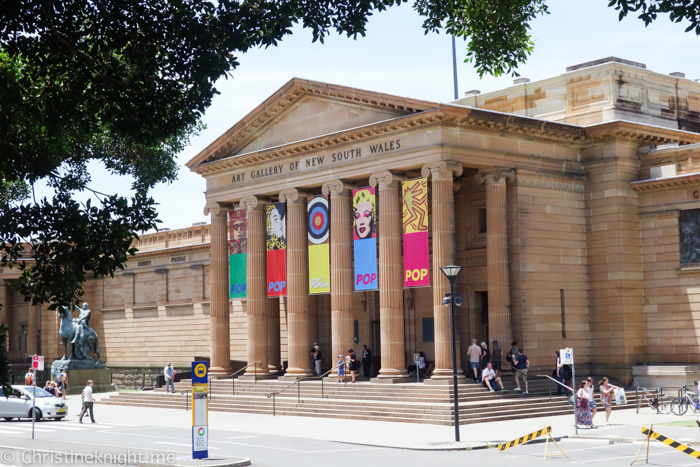 Stroll through five levels of masterpieces including an extensive collection of Aboriginal art, European masters, Asian art and visiting exhibitions. The general galleries at the Art Gallery of NSW (AGNSW) are all free to enter.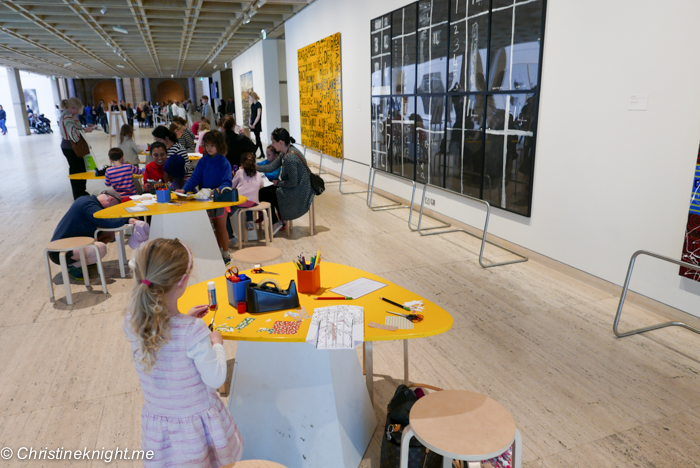 Children can use online booklets to explore artworks or download free audio tours that have been created just for kids. The AGNSW frequently runs free activities for kids on Sundays and school holidays. As you've probably noticed, this is a great place to visit if you're on a budget! The AGNSW is full of free things to do in Sydney with kids, making it one of our most-visited spots year-round.
Get info on visiting the AGNSW with kids here.
Museum of Contemporary Art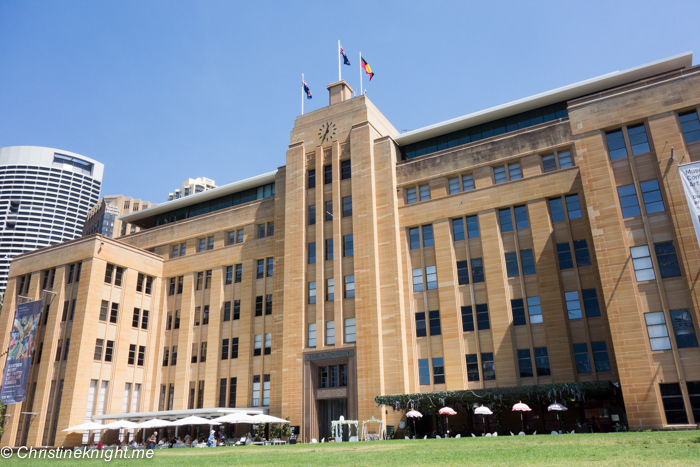 Wander through galleries of exciting modern art from leading Australian and international artists at the Museum of Contemporary Art Australia (MCA). Grab a coffee at the rooftop cafe and sculpture terrace and enjoy the stunning harbour view. How lucky are Sydney kids to enjoy this view every day?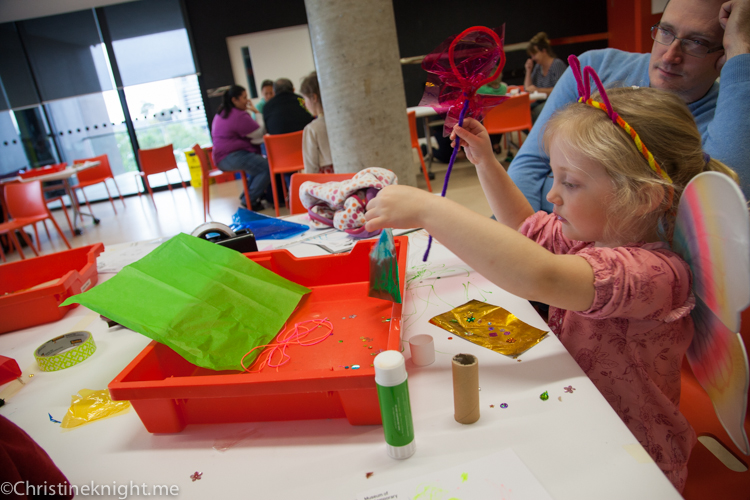 The MCA runs lots of free and small donation activities for kids throughout the year too, from their monthly Sunday Family Fun Days to a drop in activity room and school holiday crafts.
Sydney Opera House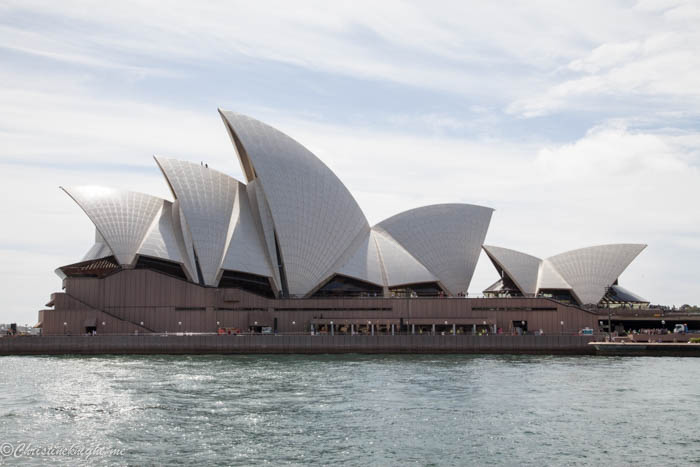 The Sydney Opera House is a performance venue on Bennelong Point, well-known for its distinctive series of "shells" covering the roof. The Sydney Opera House opened in 1973 and is a UNESCO World Heritage site.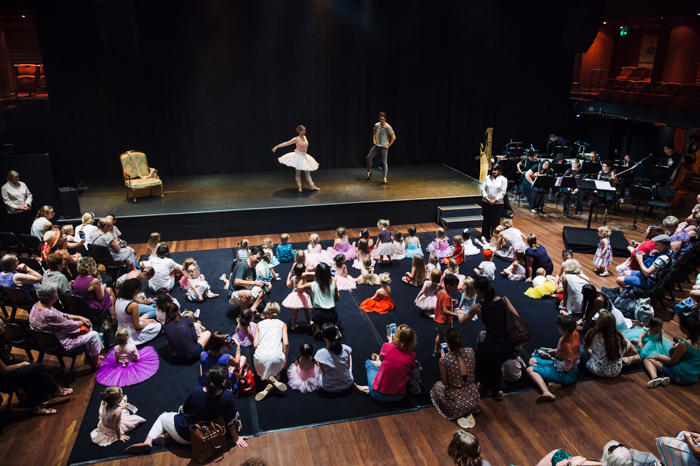 The Sydney Opera House offers a great program of shows for Sydney kids of all ages (check their calendar beforehand) and it's usually possible to get last-minute tickets.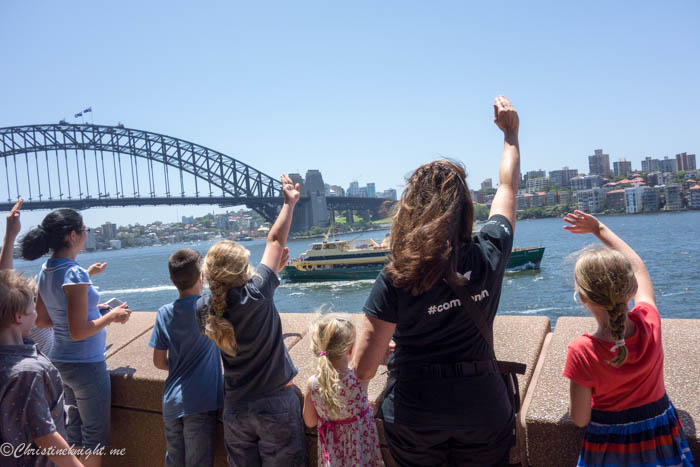 The Junior Adventure Tour also takes kids behind the scenes on a family-friendly tour of the Sydney Opera House. If there aren't any shows on, it's still fun to walk around the outside, including up the famous steps, and inside the box office area to take a peek. A visit to the Opera House is a must when visiting Sydney with kids!
Get more info on the Junior Adventure Tour.
Cockatoo Island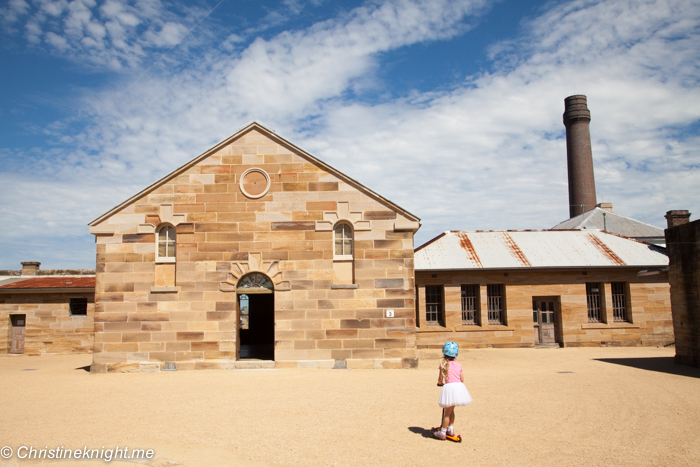 Take a ferry from Circular Quay to Cockatoo Island and step back in time at one Australia's World Heritage-listed convict sites. Bring a picnic lunch and scooters for the kids, who will also enjoy the free Convict Clues Challenge.
Get more info on a day at Cockatoo Island.
Hyde Park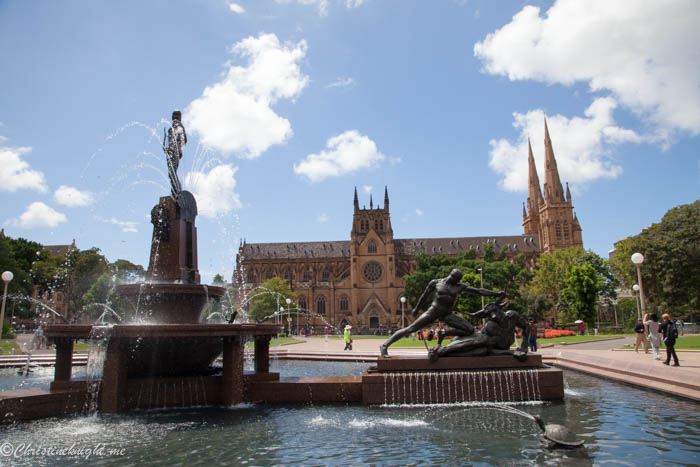 Australia's oldest park is located in the centre of Sydney's CBD. Divided by the major traffic artery Park Street, in the northern section you'll find the Archibald Fountain and various themed gardens, while the southern section is home to the ANZAC Memorial building and visitor centre and the pool of reflection. Hyde Park is the perfect spot for a picnic or just a rest under one of the many large fig trees that give the park shade.
Barangaroo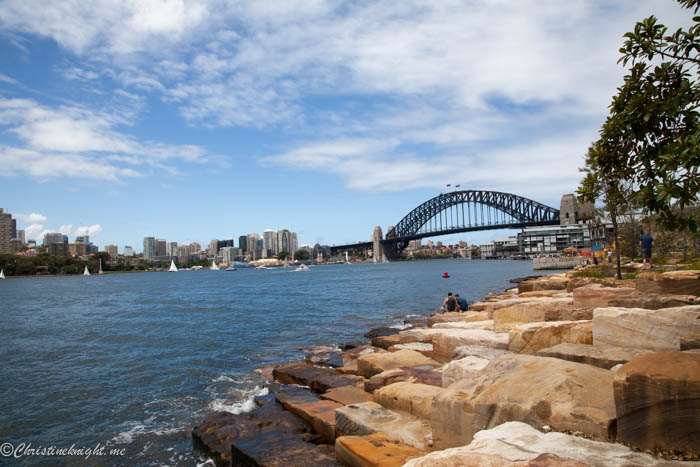 Sydney's newest harbour precinct is the result of a transformation from a disused container terminal into a stunning 22-hectare waterfront destination. Pack a picnic lunch and sit on the hill facing the Sydney Harbour Bridge, or unleash the child within and roll all the way down to the bottom. Kids will adore climbing the large rocks around the waters edge or scooting up and down the wide path. Check the Barangaroo calendar for upcoming events.
Sydney Tower Eye


Sydney's tallest structure and the second tallest observation tower in the Southern Hemisphere is also a great spot to take kids. The Sydney Tower Eye – which you might hear locals call Centrepoint Tower, AMP Tower, Westfield Centrepoint Tower or Sydney Skytower rises 309m in the sky, giving visitors a birds-eye view over Sydney. Little ones will enjoy peering out of of the telescopes on the enclosed Sydney Tower Eye Observation Deck while older visitors can step outside as part of the SKYWALK experience (an additional cost). Get more info here.
Darling Harbour and Pyrmont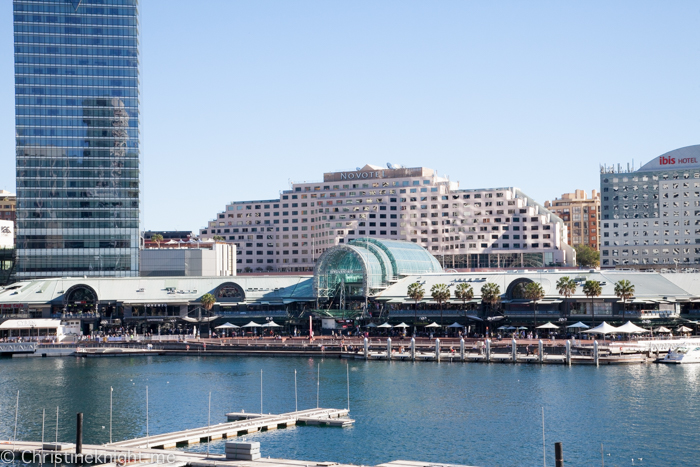 A recreational precinct in Sydney where you'll find waterfront restaurants, wildlife, tall ships, one of the best playgrounds in Sydney and plenty more to entertain the kids in this one neighbourhood. During school holidays there are usually plenty of free activities for kids, too. Check their calendar for upcoming events.
Australian National Maritime Museum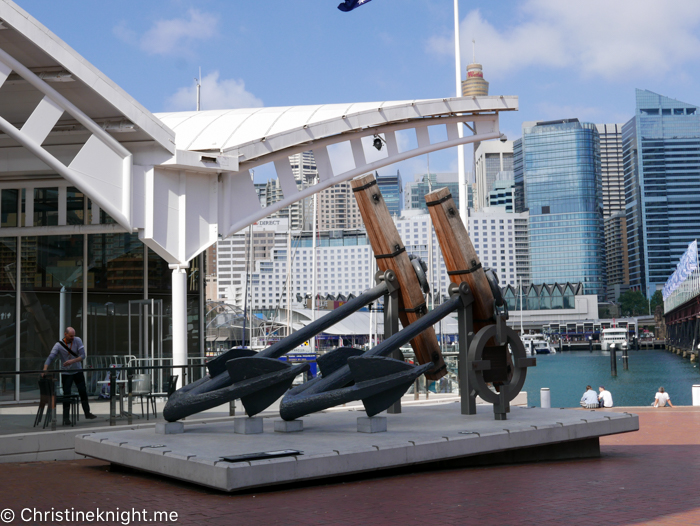 The Australian National Maritime Museum (ANMM) is Australia's national centre for maritime collections, exhibitions, research and archaeology. Grab a free ticket from the front desk for admission into the permanent indoor galleries and under 5s play area "Mini Mariners".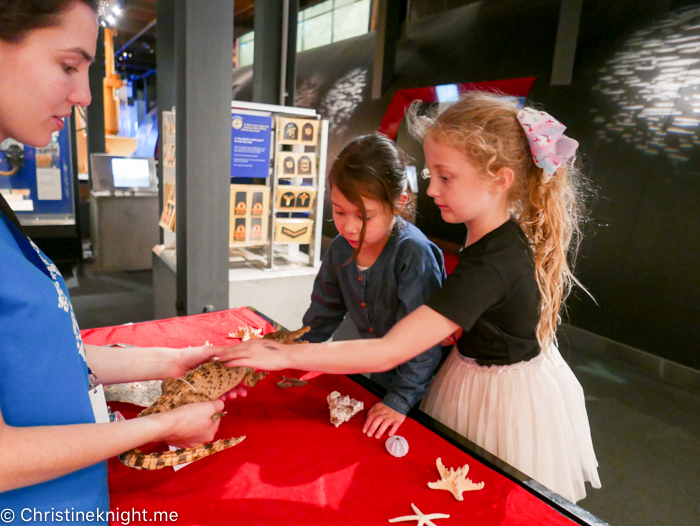 For entry into our fave spot, the "Kids on Deck" craft area, visiting exhibitions and the ships, a paid ticket is required. The ANMM runs lots of programs for kids all year round including live shows, "Mini Mariners" for kids aged 2-5 and the cabinet of curiosity that contains all kinds of wonders for kids to touch, like the tooth of a blue whale. Check their calendar for upcoming events and look out for when Bailey, the museum dog, is scheduled to make an appearance.
SEA LIFE Sydney Aquarium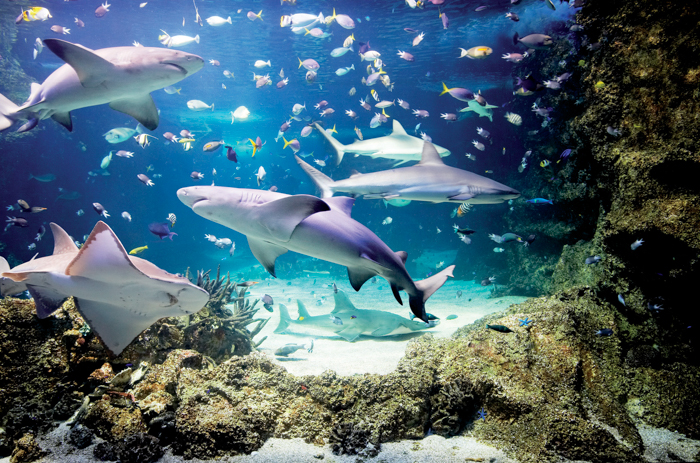 Get up close to a more than 700 species of Australian aquatic life in 12 themed zones at SEA LIFE Sydney Aquarium. An impressive 13,000 animals live in the aquarium in six million litres of water, including dugongs, rays, tropical reef fish and sharks. A popular exhibit is Penguin Expedition, allowing guests to sail past a colony of King and Gentoo Penguins on a boat ride. The SEA LIFE aquarium is top kids attraction in Sydney and can get busy on public holidays and school holidays.
Get more info on Penguin Expedition and on SEA LIFE Sydney Aquarium.
Image credit: Sydney Aquarium
Wild Life Sydney Zoo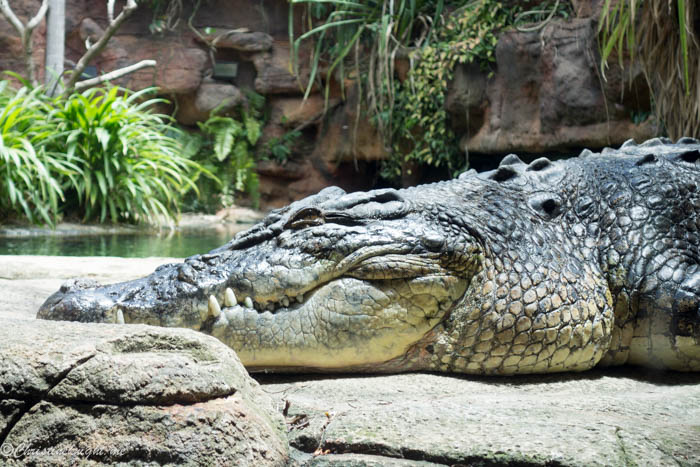 Meet iconic Australian animals at Wild Life Sydney Zoo. This small zoo is the perfect size to take young kids, and is easy to navigate with a wide, flat path, perfect for strollers. Get up close to the Cassowary, echidna, sugar gliders, koalas and kangaroos, plus a giant croc!
Get more info on Wild Life Sydney Zoo.
Madam Tussauds Sydney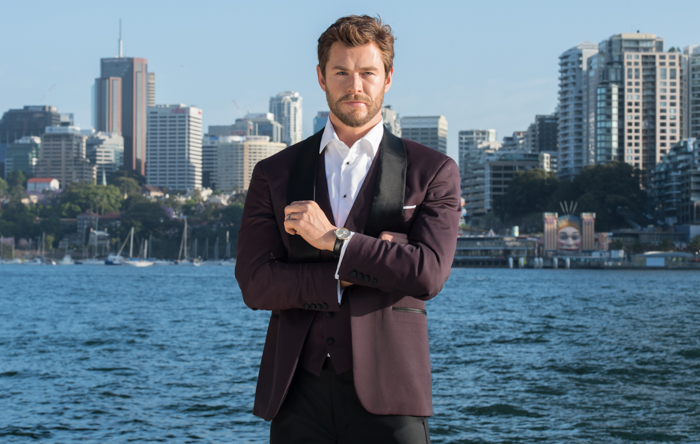 A wax museum where visitors can take a selfie with Barak Obama in the oval office, or shake it off with Taylor Swift. Aussie legends like Steve Irwin and Ned Kelly are also photo-ready.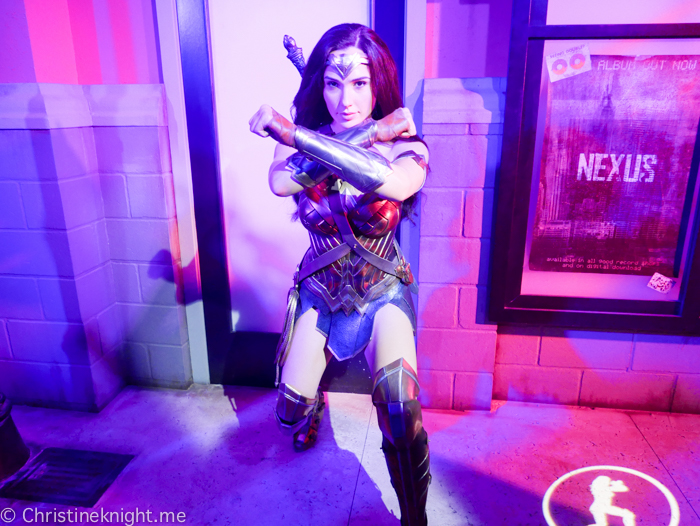 The Justice League exhibition is especially fun, an immersive and interactive experience to make you feel like you're in the movies with your favourite stars.
Get more info on visiting Madame Tussauds Sydney here.
Image courtesy of Madame Tussauds.
Chinese Garden of Friendship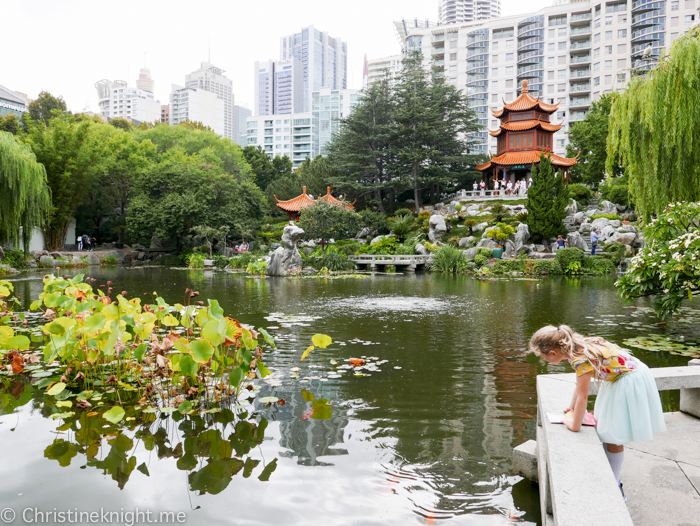 A calming place to let kids wander past waterfalls and exotic plants, through pavilions and up hidden pathways. Count the koi carp swimming in the lakes, try Chinese tea in the teahouse and dress up in traditional Chinese costumes* at the Chinese Garden of Friendship.
* For an additional fee
Get more tips on a day at the Chinese Garden of Friendship here.
Darling Quarter Playground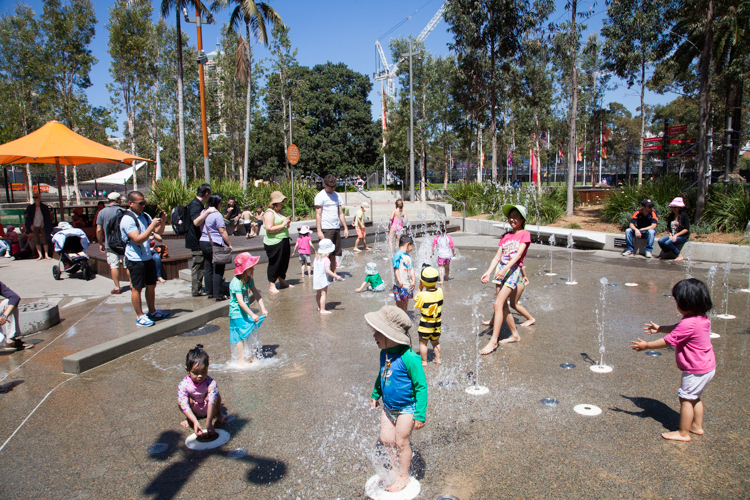 The most centrally-located Sydney playground features a 21-metre flying fox, water play area with pumps and buckets and plenty of slides, climbing structures and swings. It's a must for kids visiting the city.
Get more info on the Darling Quarter Playground.
Darling Square Library at The Exchange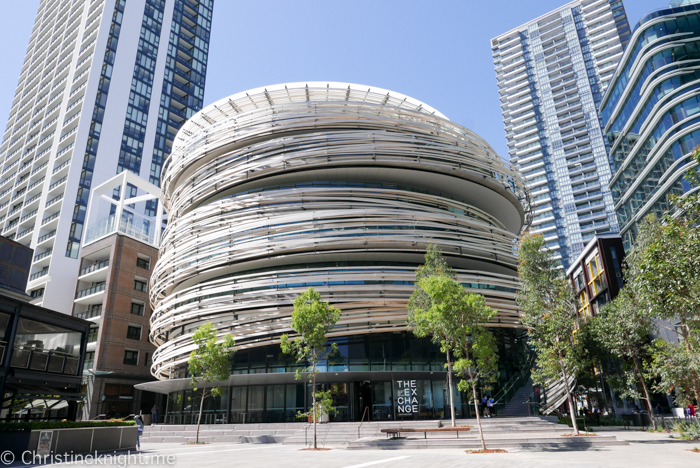 This brand new library is houses inside The Exchange "birds nest" building. It has a great kids' section with little nooks for kids to curl up and read with a book and family activities throughout the week and school holidays.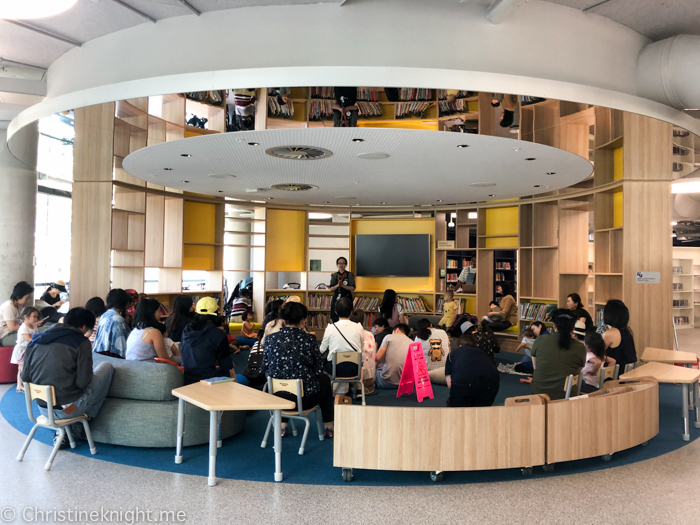 Get more info on the Darling Square Library.
Yum Cha at Fisherman's Seafood Restaurant, Pyrmont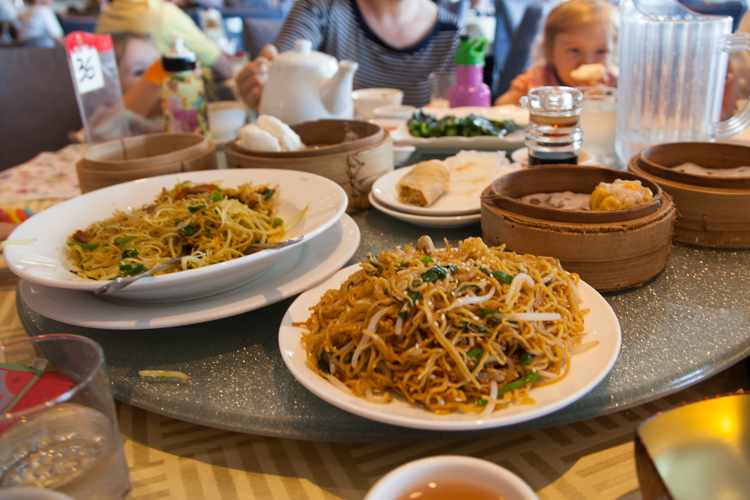 Take your pick from carts brimming with dim dum, dumplings, noodles and spring rolls. Yum cha is one of the most kid-friendly dining experiences you can have, and the Fisherman's Seafood Restaurant is the place to try it.
Get more info on Yum Cha at Fisherman's Seafood Restaurant, Pyrmont here.
Pirrama Park Playground Pyrmont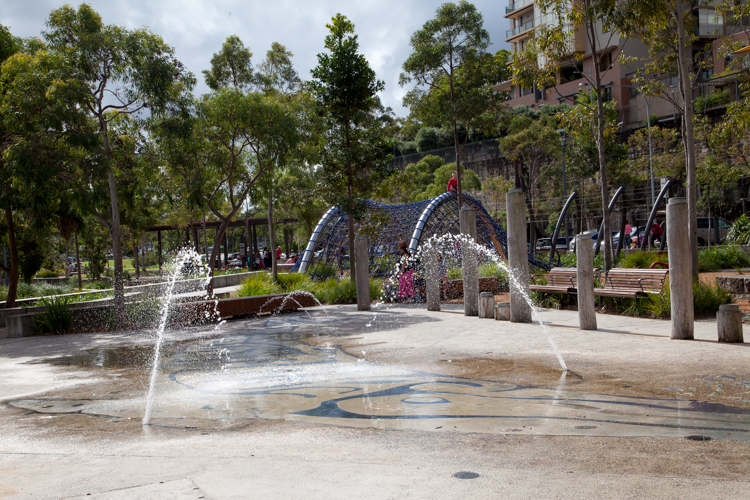 This beautiful playground in Pyrmont has shiny, well-designed equipment, a water play area, sand pit with shade cloth, new, well-maintained bathrooms (including baby change facilities) and a cafe with shaded seating. Street parking is available. Pirrama Park features grasslands, wide avenues for scooting and entry into the harbour for swimming.
Get more info on Pirrama Park Playground here.
Victoria Park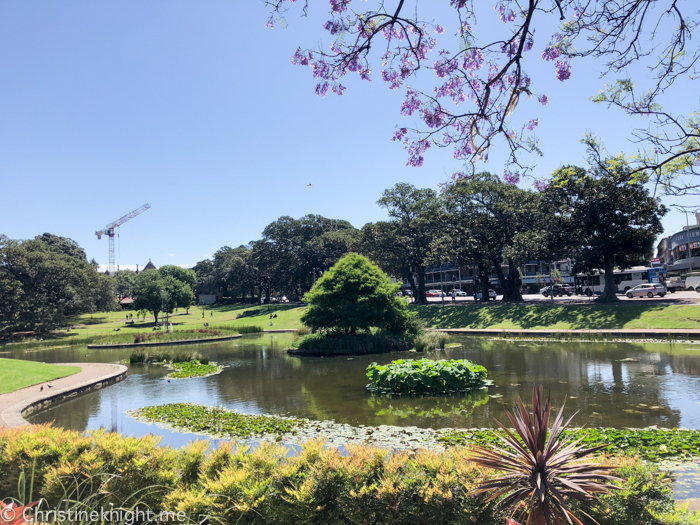 A 9 hectare green space connecting to Sydney University, Victoria Park features a beautiful lake, playground for kids of all ages and plenty of shady trees, right in the middle of the city.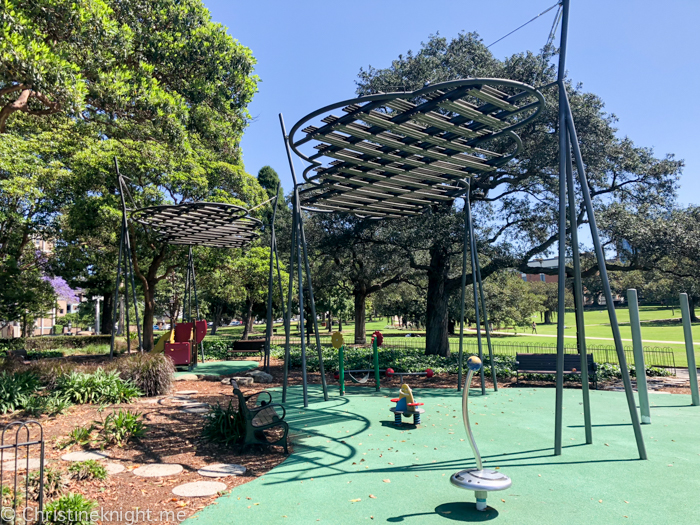 Get more info on Victoria Park here.
LEGO Certified Store at Broadway Sydney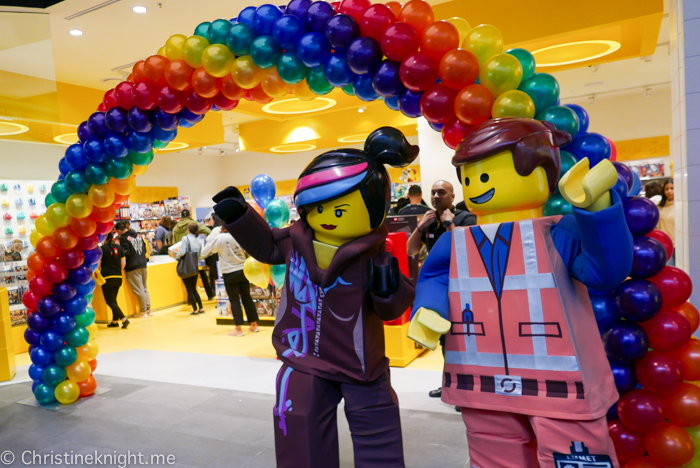 Take little builders to Sydney's 2nd LEGO Certified store inside the Broadway Sydney shopping centre. Kids will love playing with bricks, building their own minifigure and more.
Get more info on the LEGO Store Broadway Sydney.
In Sydney's North
Fagan Park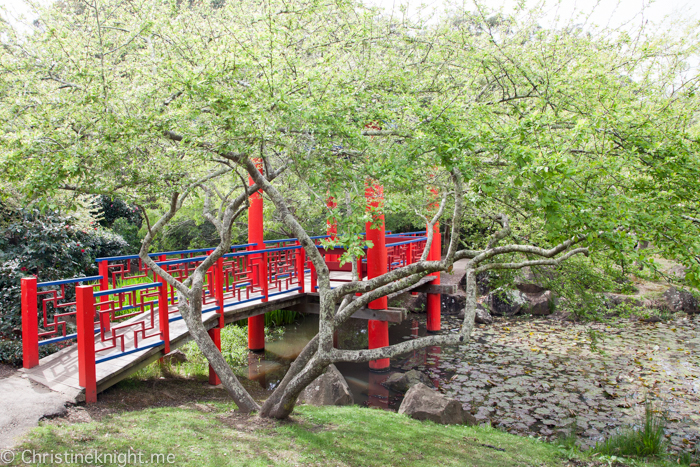 Fagan Park in Sydney's Hornsby shire is a 55 hectare park with themed gardens, playgrounds, historic Netherby Cottage and an Eco Garden to explore.
Read more about visiting Fagan Park.
The Coal Loader, Waverton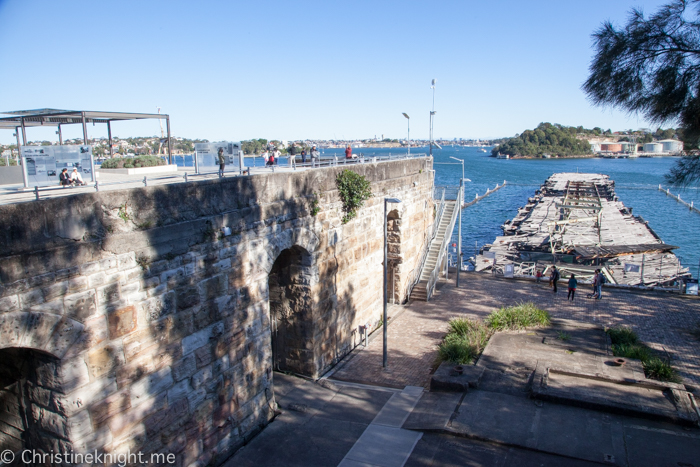 The Coal Loader is an historic venue in North Sydney, including a large green space, community garden, elevated platform with harbour views, bush walks and the Coal Loader Cafe.
Read more about visiting the Coal Loader and Coal Loader Cafe.
Berry Island Reserve and Playground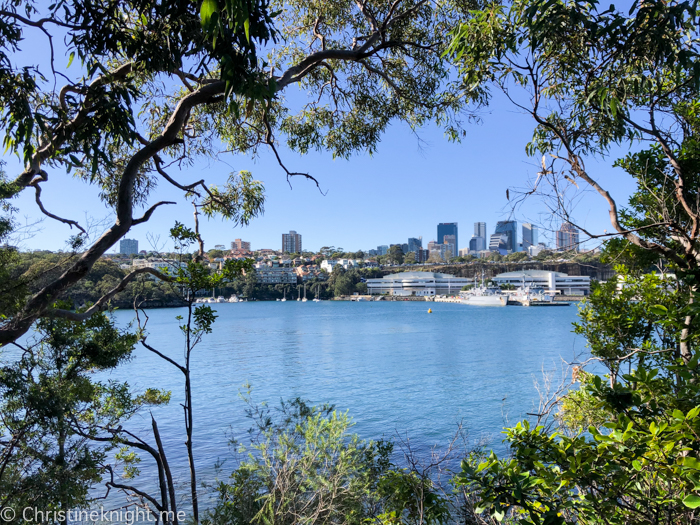 Enjoy some of the most beautiful harbour views in Sydney from Berry Island Reserve, a bushland island in North Sydney.
Berry Island Reserve is a small, circular island, connected to the mainland by a grassed causeway. It features bushwalks, picnic facilities and a small but excellent adventure playground.
Read about visiting Berry Island Reserve and Playground.
Ku-ring-gai Wildflower Garden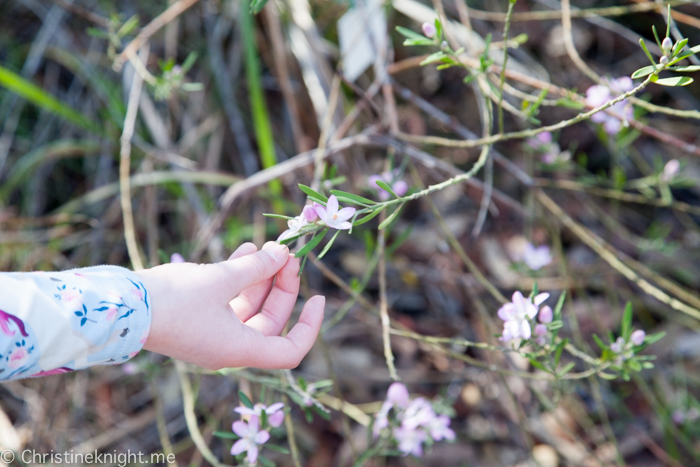 The 123-hectare garden is dedicated to growing Australian native plants. It's a great spot for bushwalking, picnicking and learning about the environment. Kids can ride bikes along the trails or play in the playground.
Read more about visiting Ku-ring-gai Wildflower Garden.
The Canopy Precinct, Lane Cove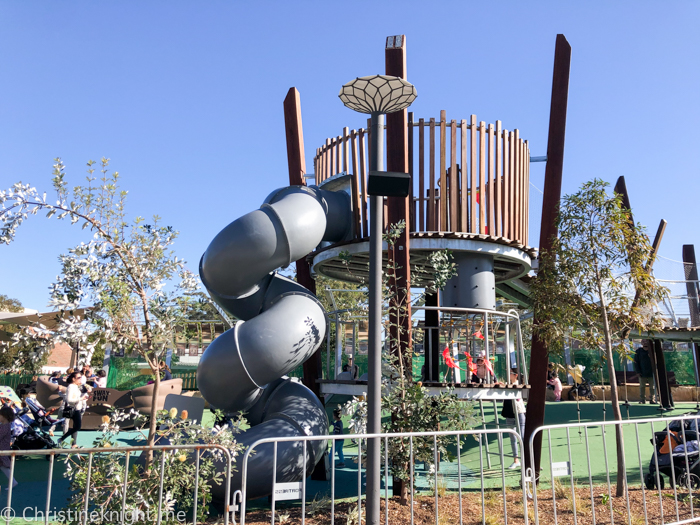 The Canopy is a vibrant new precinct in Lane Cove, featuring a village green and children's playground, restaurants, living green wall and solar arbour.
Read more about visiting The Canopy Lane Cove.
Wendy Whitley's Secret Garden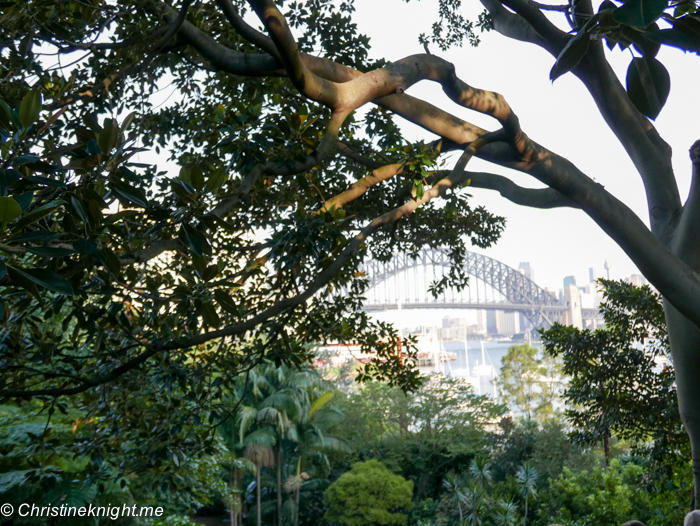 A serene spot in Lavender Bay, the garden was created in 1992 by Wendy Whiteley, wife and muse to artist Brett Whiteley, following her by then ex-husband's death.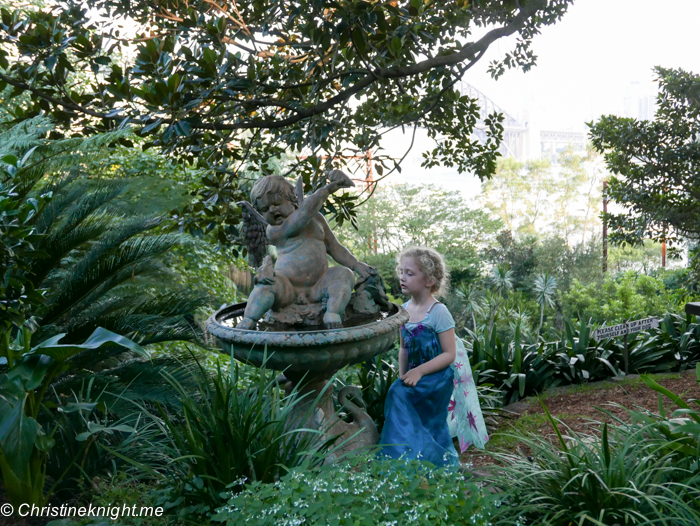 We love Wendy's Secret garden. It's a really special space for kids to follow the weaving pathways through lush foliage and discover little secrets hidden in nooks and crannies.
Get more into on Wendy Whitely's Secret Garden.
Taronga Zoo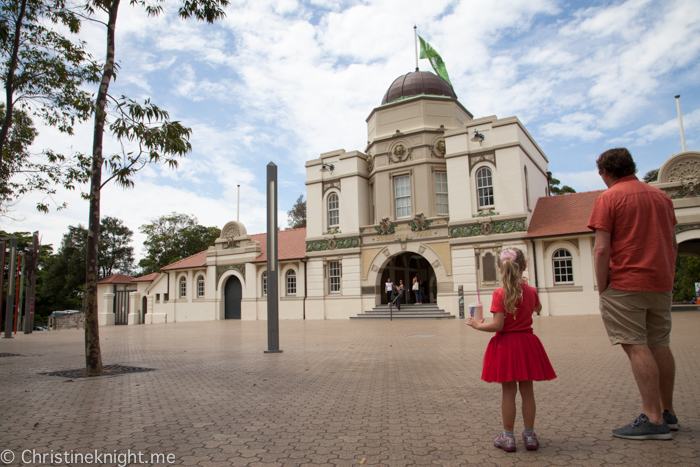 Taronga is a not-for-profit organisation that supports wildlife conservation. Opened in 1816 overlooking Sydney Harbour, the zoo is home to over 4,000 animals; Australian native wildlife plus rare and endangered exotic animals. Catch the ferry from Circular Quay to Taronga Zoo for a scenic 12 minute voyage, then catch the Sky Safari, Sydney's only cable car, to the top of the zoo.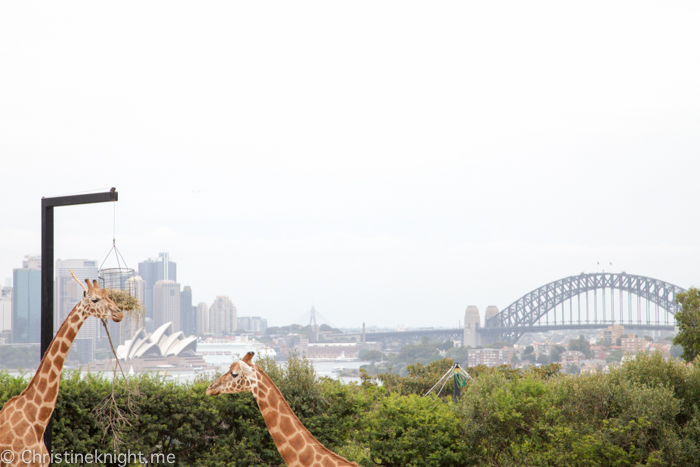 Zoo highlights include the QBE Free-Flight Bird Show that features spectacular birds flying against the stunning Sydney Sydney Harbour, the new Tiger Trek exhibit and Lemur Forest Adventure where visitors can walk into the lemur enclosure.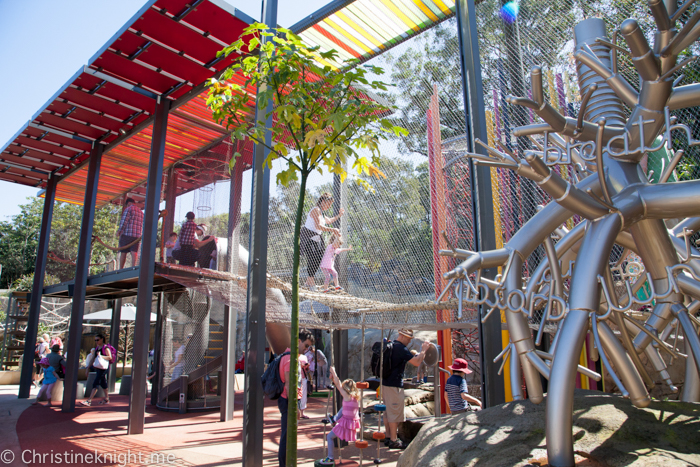 There are two excellent playgrounds at Taronga Zoo, one at the Lemur Forest Adventure and the other at the farm animals section.
Get more info on visiting Taronga Zoo with little kids here.
Wild Ropes at Taronga Zoo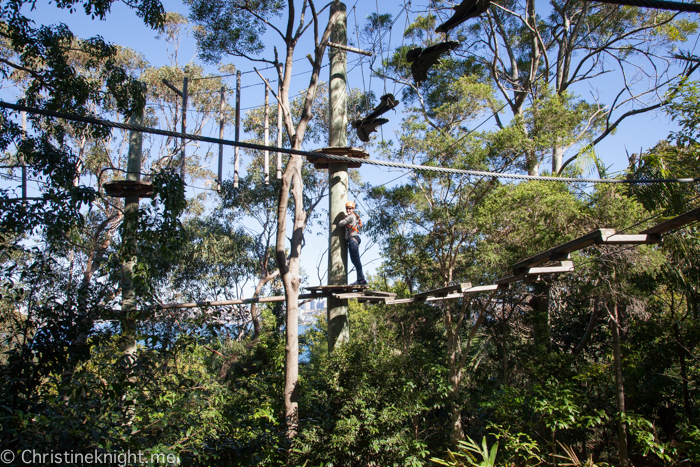 Take adventurous kids and adults to Wild Ropes at Taronga Zoo for a challenging walk among the trees, with the best view in Sydney to boot. Wild Ropes is located right in the heart of Taronga Zoo Sydney, winding through the treetops above the Australian Walkabout. It's seperate entry to the zoo, however, so if you want to visit the zoo as well, you will need to buy a combined ticket that includes entry to both.
Get more info on visiting Wild Ropes at Taronga Zoo here.
Nutcote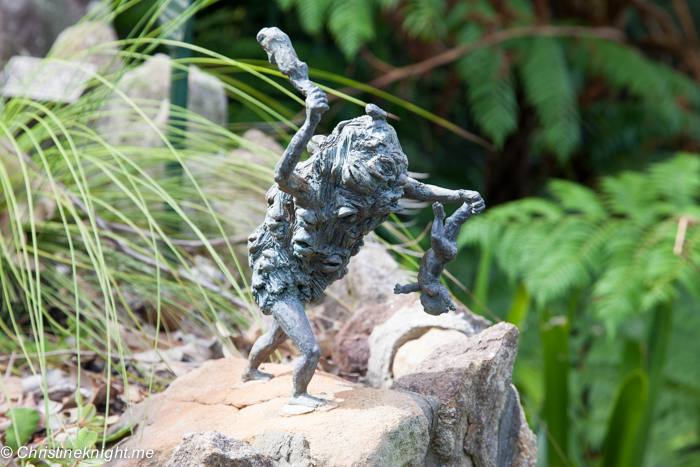 Nutcote is the house of renowned children's author and illustrator, May Gibbs, creator of the Gumnut Babies. The house is now a museum dedicated to Gibbs' life and work. While parents and older kids will enjoy reading about the history of the property and author while walking through the museum, littlies will love darting around the gardens and spotting Gibb's characters and dressing up as a gumnut baby.
Get more info on visiting Nutcote.
Luna Park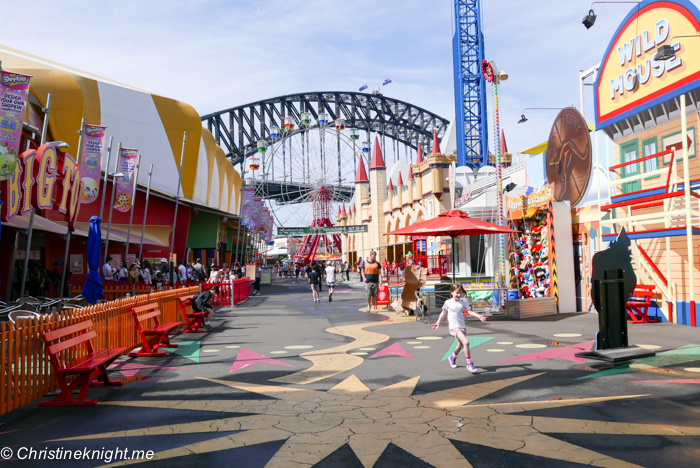 Located at Milsons Point right on the waterfront, Luna Park is a superbly restored 1930s amusement park. Particularly popular is Coney Island, an old-school funhouse that has been entertaining families for almost 80 years.
Get more info on visiting Luna Park.
North Sydney Olympic Pool
This pool, located next to Luna Park on the waterfront, has the best views in Sydney! Swim with the iconic Sydney Harbour as your backdrop. The North Sydney Olympic Pool features an outdoor 50 metre pool, toddler pool and baby splash pool, plus an indoor 24 metre pool, wading pool and spa.
North Sydney Skate Plaza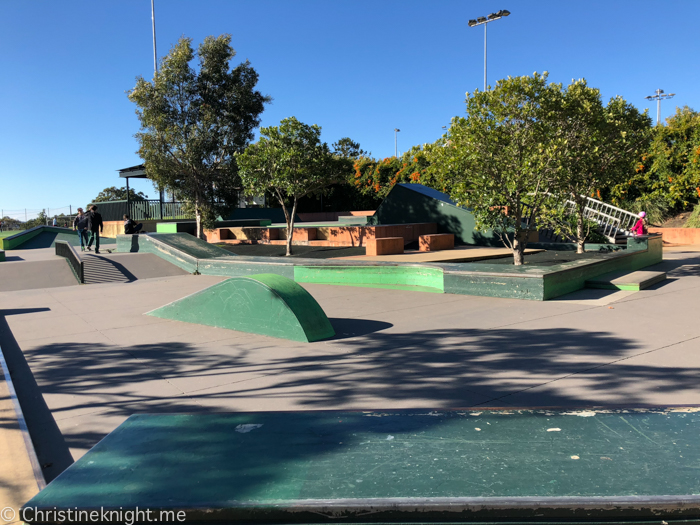 A great spot for kids to bring their scooters, skateboards and bikes to try the various angled ramps, grinding edges and bars. There are bubblers and public toilets available. park on Earnest Street.
Little Succers, Neutral Bay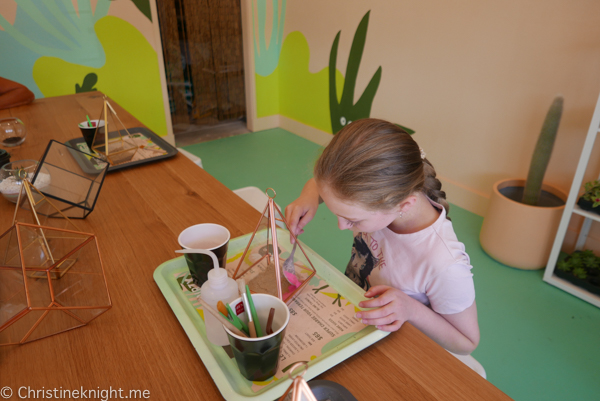 Get your hands dirty at Little Succers Build Your Own Terrarium Bar in Neutral Bay. Create your own succulent masterpiece to take home. Little Succers runs special holiday workshops and can be hired to host children's parties.
Get more info on Little Succers.
In Sydney's Inner West
The Bay Run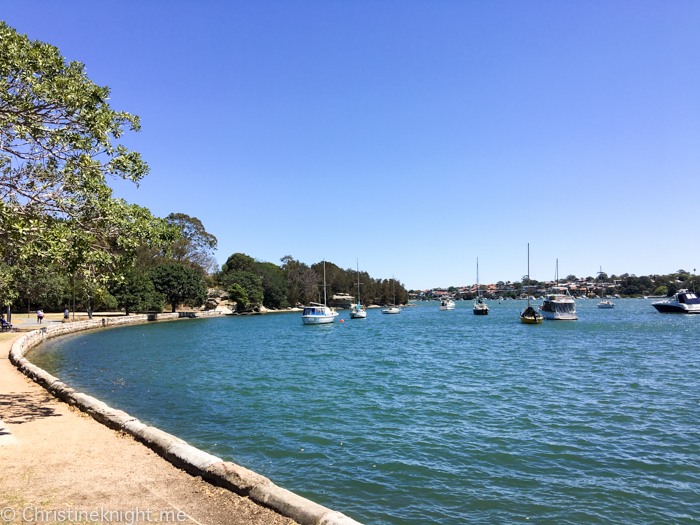 Walkers, runners and cyclists all enjoy the Bay Run, is a 7-kilometre-long path that encircles much of Iron Cove. The scenic path runs right on the water front and is an enclosed loop which makes for an easy start and finish location. Popular places to begin are King George Park, Leichhardt Park or Callan Park. If your kid is into cycling or scooting, this is a gorgeous place to take them. There is a playground right off the path where it passes Leichhardt.
Ballast Point Park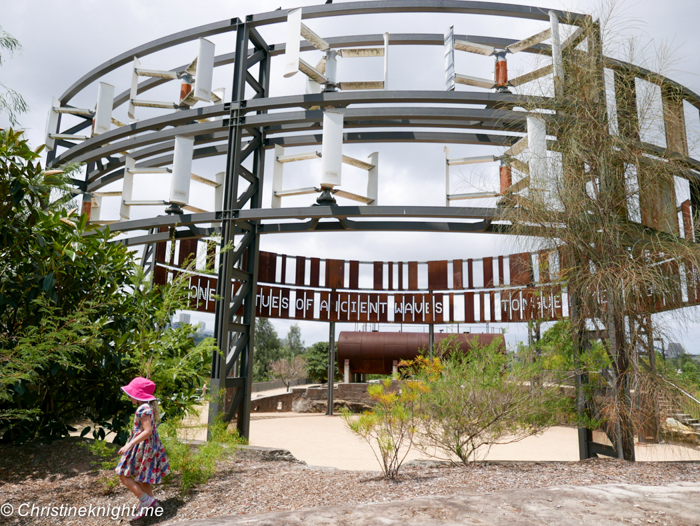 Located at the very tip of the Balmain peninsula, Ballast Point Park was once home to local Aboriginal tribes before European settlers arrived in the early 19th century. The park's indigenous history is recognised in a dual name – Walama – which means 'to return'. The 2.6-hectare park opened in 2009 with several design features that highlight its history. Ballast Point Park has stunning harbour views and is a popular picnic and barbecue spot for families.
Newtown street art and cafes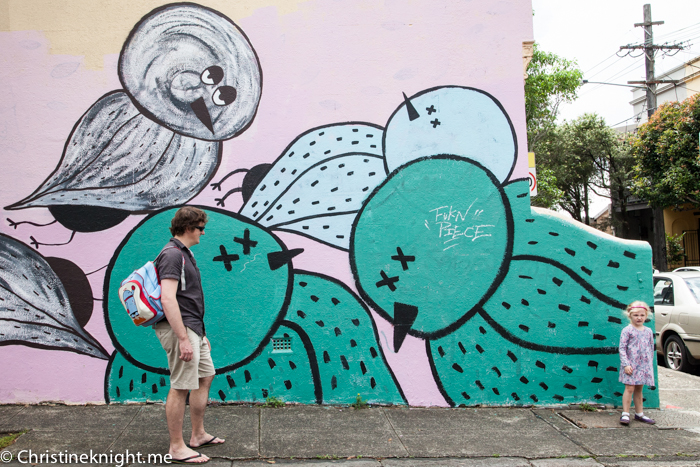 Catch the train to Newtown Station and wander the streets of one of Sydney's most vibrant and diverse neighbourhoods. Walk down alley ways to discover works of art painted on buildings around almost every corner, grab a bite to eat on King Street and let kids run off steam at Camperdown Memorial Rest Park. There is an excellent gated playground in the park.
Get more info on seeing street art in Newtown.
Camperdown Memorial Rest Park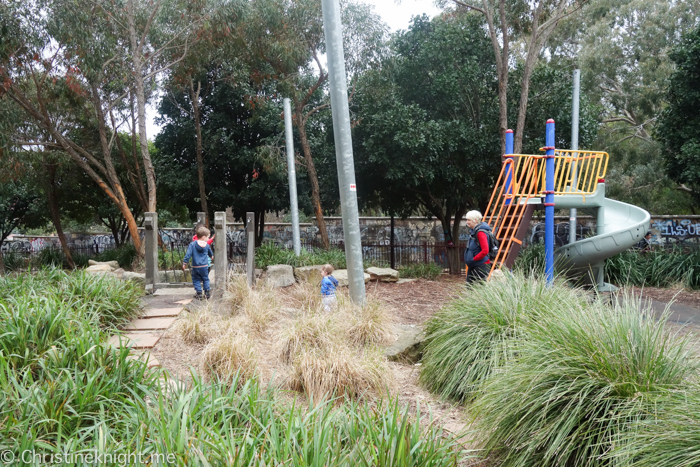 We love this large, shady park with its gated playground, right in the heart of Newtown. Kids love the climbing equipment and sand pit.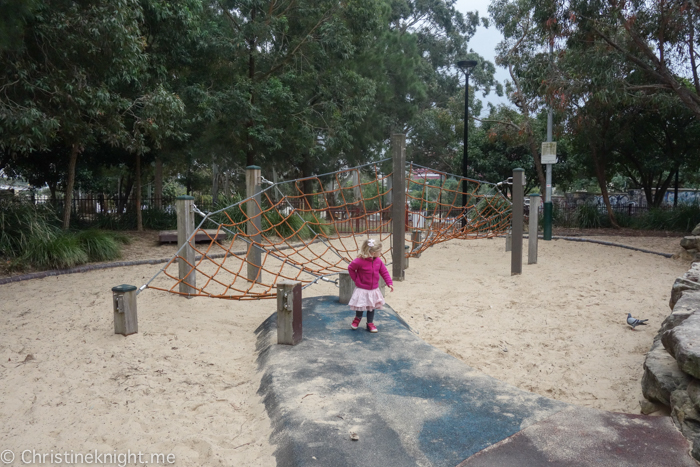 There are benches for sitting and a water bubbler. There are no bathrooms in the park. Camperdown Memorial Rest Park is located at Federation Road, Lennox and Church Streets, Newtown.
Enmore Park, Marrickville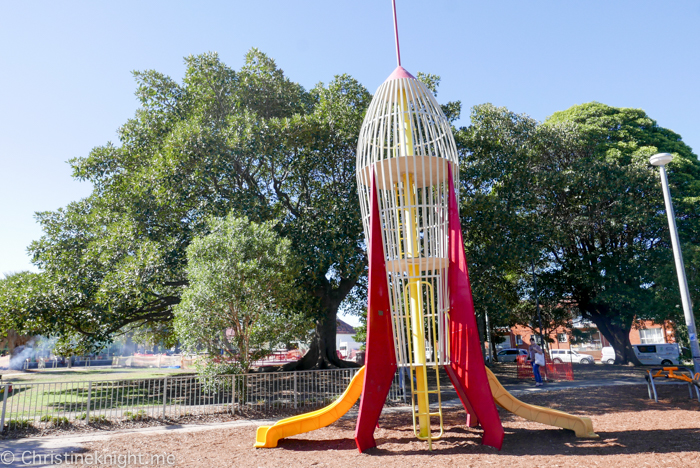 Kids can play astronauts at this excellent park which features two space rockets, a large grassy area with plenty of trees, swings, slides, a climbing net and see-saw. The park has partial shade so bring a hat and sunscreen.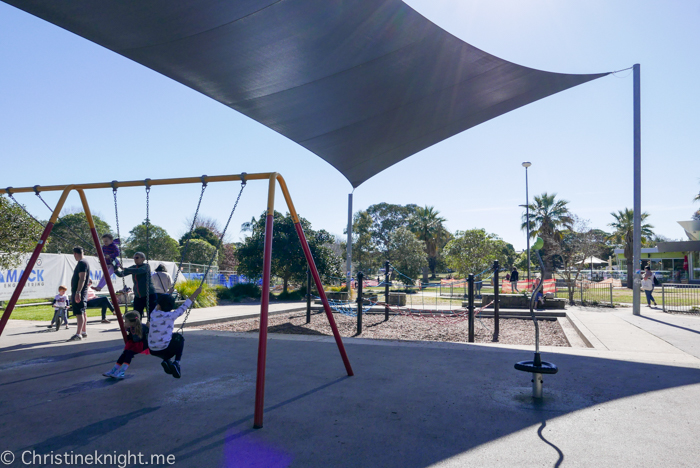 The Annette Annette Kellerman Aquatic Centre is located in the park so bring swimmers if it's hot. There are plenty of kid-friendly cafes nearby, including Petty Cash, which is just across the road from the playground.
Read more about Petty Cash Cafe.
Livvi's Place Playground Five Dock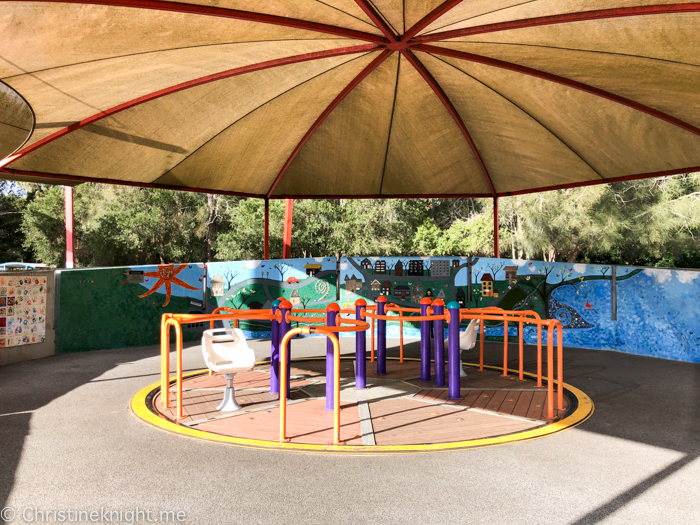 Livvi's Place in Five Dock, Sydney, is a playground designed for children of all abilities. The equipment and unique design of the playground ensures that all kids, including those with special needs, are able to enjoy playing side-by-side.
Read more about visiting Livvi's Place Five Dock.
Marrickville Library and Pavilion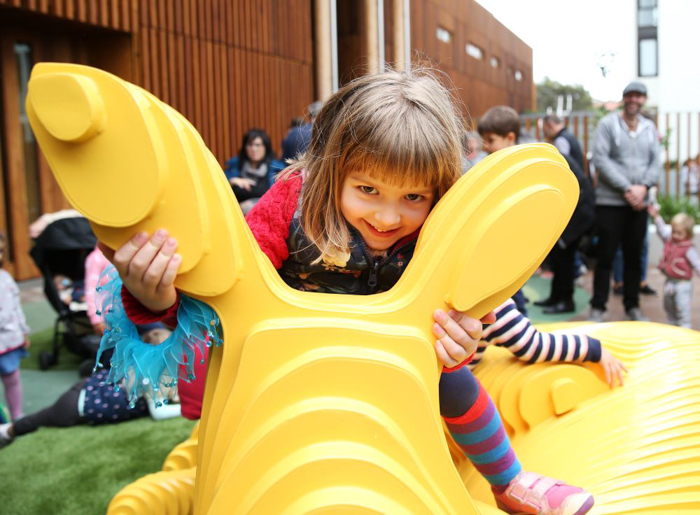 This brand new library opened in September 2019 with a collection of 85,000 books. The Marrickville Library and Pavilion also features a landscaped outdoor garden and children's playground and a cafe with indoor and outdoor seating.
Get more info on visiting Marrickville Library and Pavilion.
Photo courtesy of Inner West Council.
Sydney Bus Museum
The 100-year-old Leichhardt Tramshed is home to a vast collection of historic buses, open to the public every first and third Sunday of the month. Jump aboard a vintage double-decker bus over the ANZAC Bridge to the Queen Victoria Building in the CBD and back again.

Get more info on visiting the Sydney Bus Museum here.
Tramsheds and Harold Park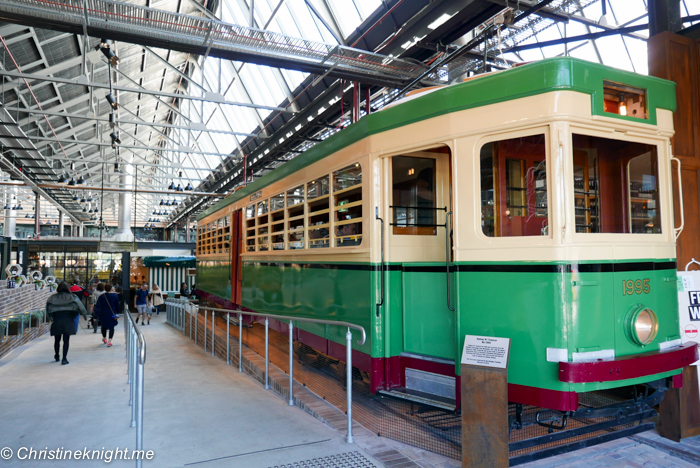 One of our fave places to eat and play in Sydney! The Tramsheds is home to a full-size restored tram that kids can climb inside, plus a wide range of family-friendly restaurants.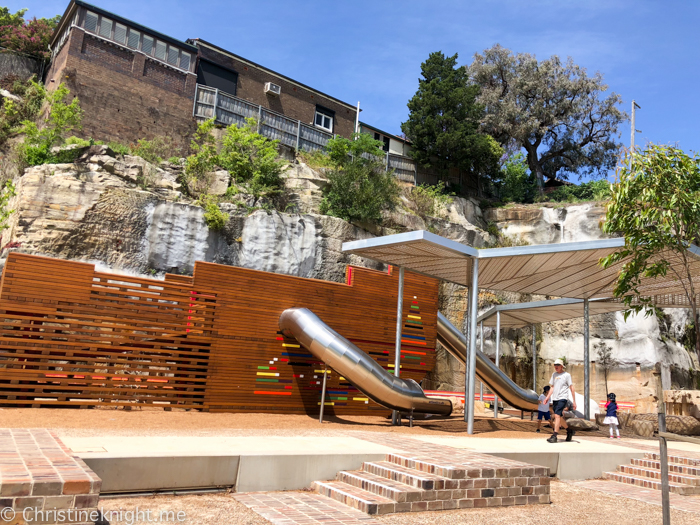 Outside the Tramsheds lies Harold Park, an expansive park featuring a custom-built playground.
Read more about the Tramsheds here.
Read more about Harold Park here.
Pioneer Memorial Park, Leichhardt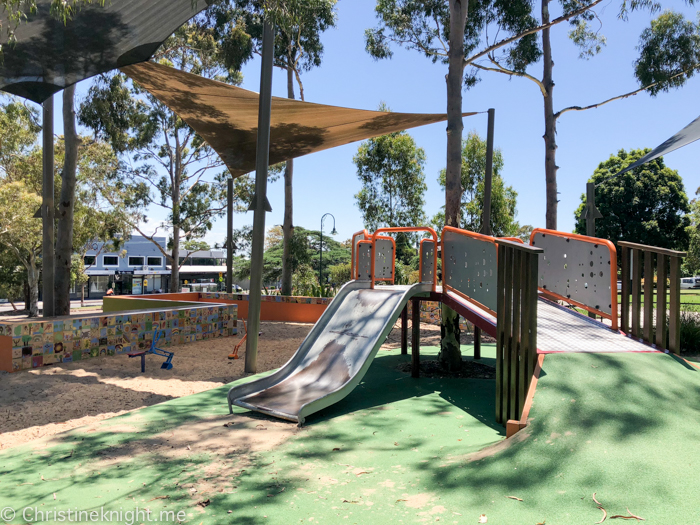 This beautiful park is an oasis of calm on busy Norton Street. There is a large playground with sand play area, a memorial to the service people of Leichhardt who lost their lives in WW1, a rotunda and lovely rose garden as well as plenty of shady space under trees to enjoy.
In Sydney's South West and West
Fairfield Adventure Park Playground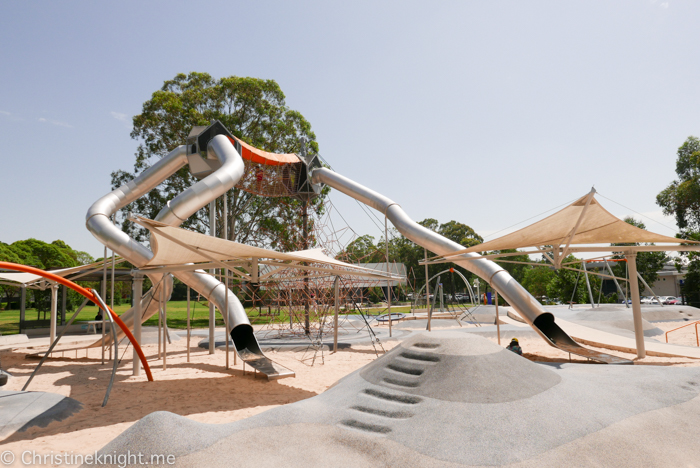 Especially designed to provide a play space for kids of a variety of ages, the Fairfield Adventure Playground brings the "wow" factor in spades. The park opened in 2015 after a $1.4 million council investment. With the star attractions designed specifically for teens, this is a unique playground that provides a much-needed recreational space for older kids.
Get more info on visiting the Fairfield Adventure Park Playground here.
Bigge Park, Liverpool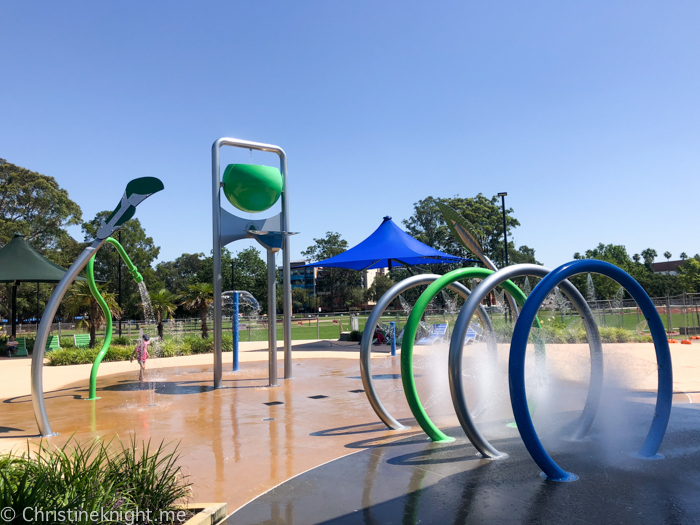 Bigge Park in Liverpool, a south-west suburb of Sydney, received a $5 million upgrade a few years back. The upgrade included a fantastic free water play area. Bigge Park also includes an accessible playground, a regular playground and climbing equipment.
Get more info on visiting Bigge Park.
Ollie Webb Reserve Parramatta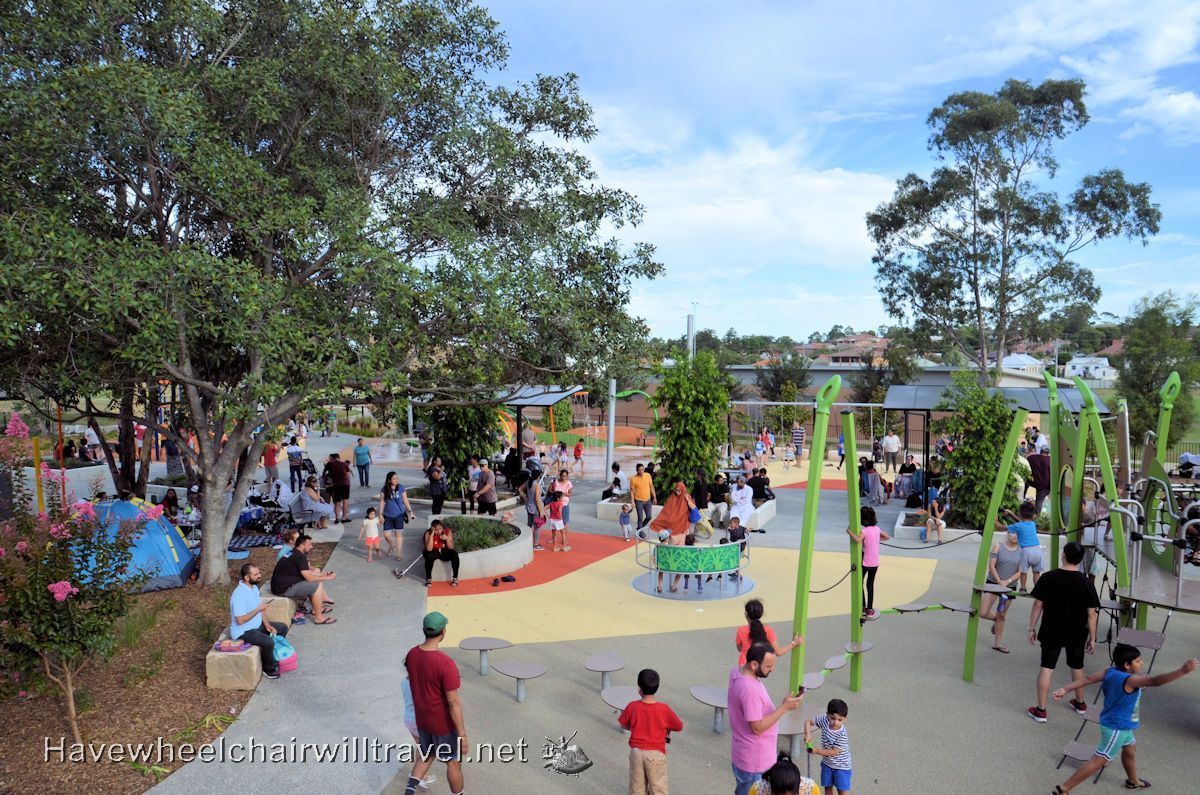 Parramatta's first all-inclusive playground opened in early 2019. It features climbing structures, water play with a splash play area and water pumps, an elevated sandpit, an accessible carousel, swings, BBQ facilities and excellent bathrooms.
Read the full review of Ollie Webb Reserve playground here.
Variety Livvi's Place, Bankstown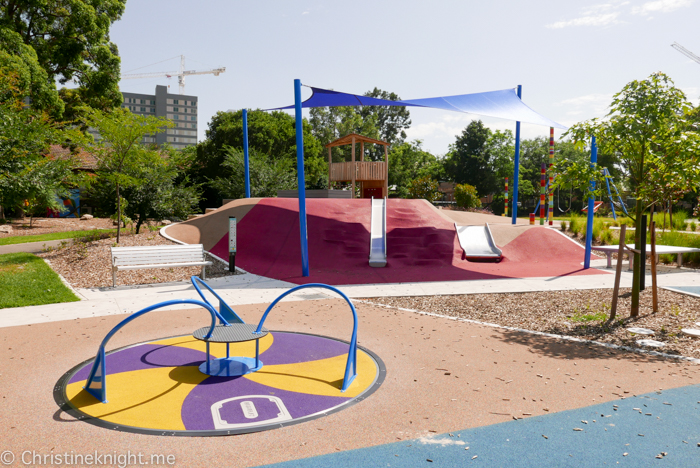 The Canterbury-Bankstown area's first all-abilities playground opened in late 2018, a joint project between Variety, the Children's Charity, and the Touched by Olivia foundation. The fully-fenced playground features picnic and bbq facilities, bathrooms, Variety Livvi's Place includes a sensory zone, flying fox with accessible seats, a climbing net, trampoline, swings with accessible seats, water play area, a climbing tower with ground level play features, two nest swings, roller table, accessible carousel, slides, a nature trail, sand play and a lizard log carved from wood.
Get more info on visiting Variety Livvi's Place here.
Auburn Botanic Gardens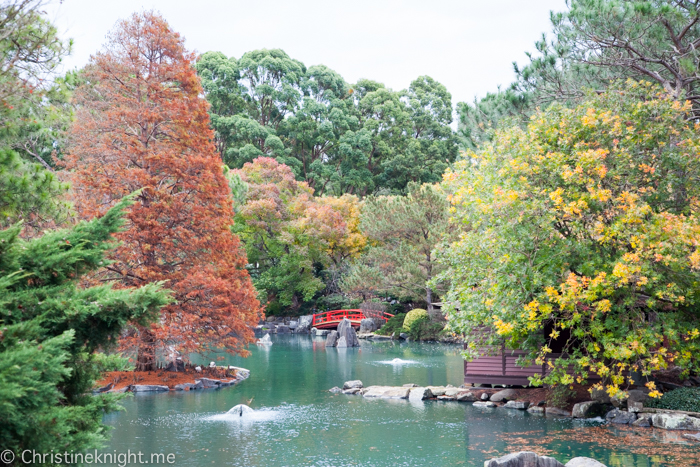 The delightfully zen Auburn Botanic Gardens are located in Auburn, in South-West Sydney. Established in 1977, the gardens are surprisingly tucked away in a suburban pocket between rows of houses. Spread over 9.7 hectares, the gardens are a serene place to enjoy nature. They include a waterfall, inclusive playground, Japanese garden and plenty of native animals like kangaroos and wildlife.
Read more about Auburn Botanic Gardens.
Casula Powerhouse Arts Centre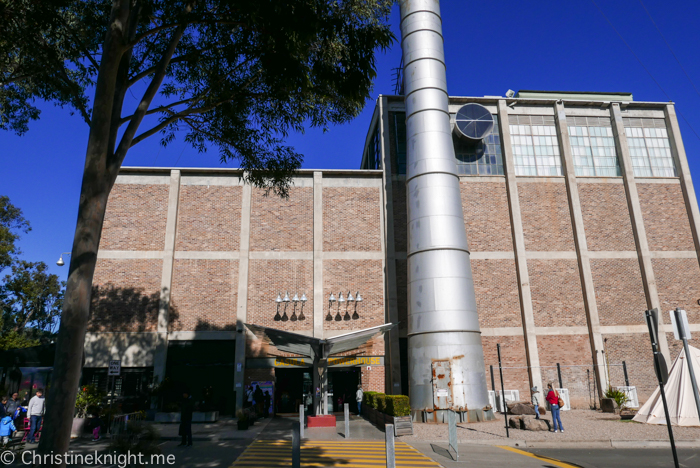 Located in South West Sydney, the Casula Powerhouse Arts Centre is a place to experience the arts including performances and exhibitions.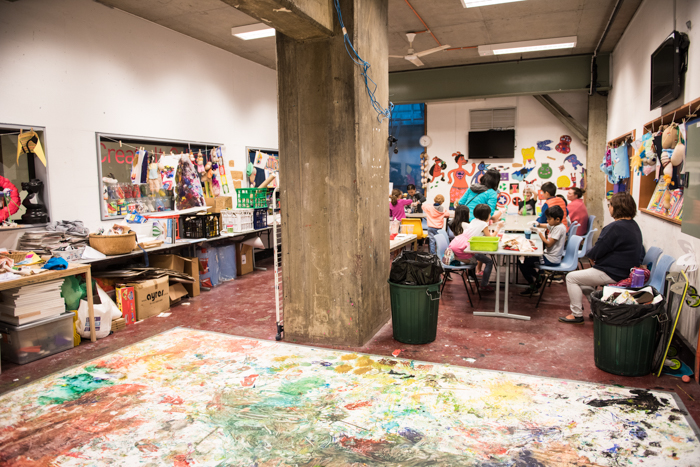 As well as featuring six galleries with rotating exhibitions, the Powerhouse also has a pair of three-story decommissioned tanks that are open to the public as legal graffiti spaces.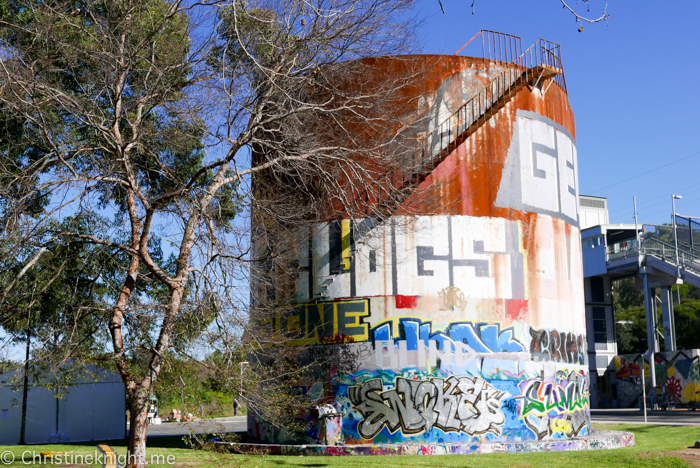 The Casula Powerhouse runs family-friendly art programs throughout the year. Check out their upcoming events and workshops here.
Get more info on visiting the Casula Powerhouse here.

Image credit: Casula Powerhouse
Casula Parklands Adventure Playground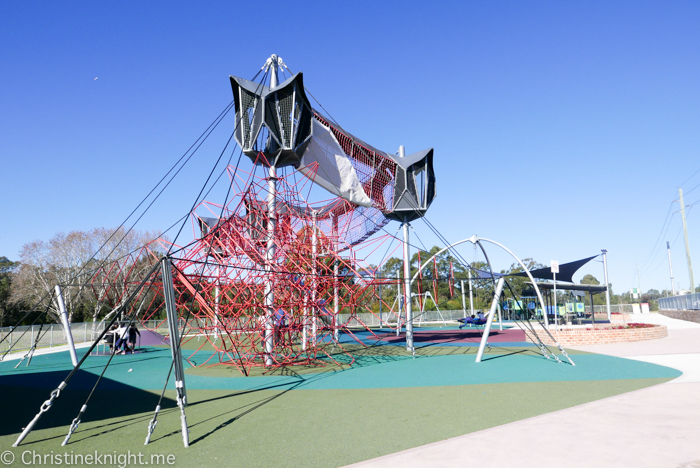 The brand new Casula Parklands has something for everyone, from toddlers to adults. Located near the Casula Powerhouse Arts Centre, the park features play equipment and fitness training for all ages.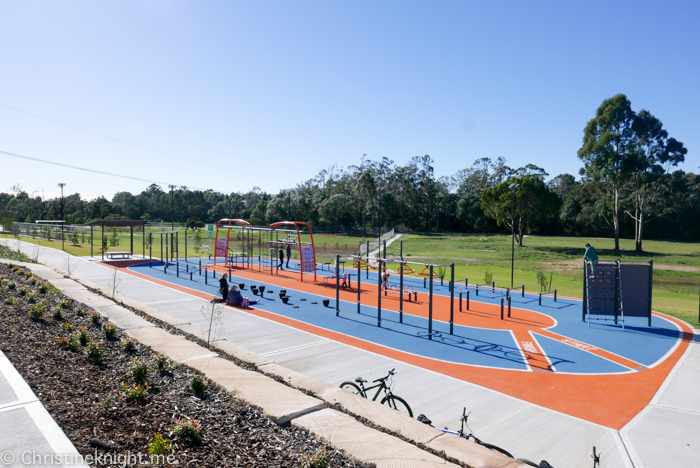 The $15 million park includes a ninja warrior training course for teens and adults, toddler climbing equipment, older kid / tween climbing equipment, flying foxes, swings, on and off-leash dog parks and a fitness area.
Get more info on visiting Casula Parklands Adventure Playground.
The Central Gardens Nature Reserve Merrylands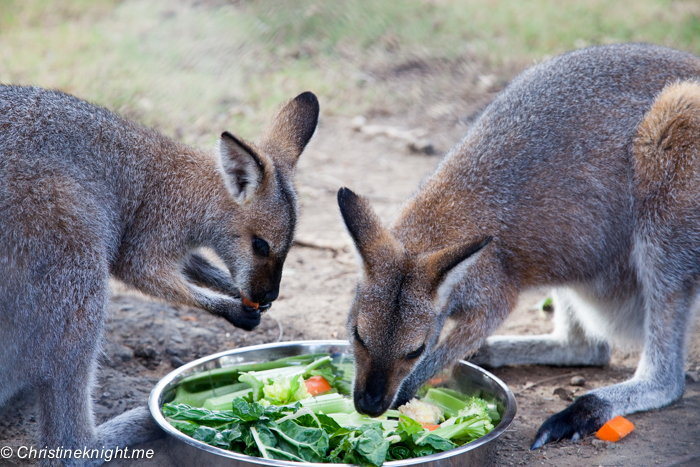 The Central Gardens Nature Reserve, also called the Central Gardens, is a nature reserve in the southwest Sydney suburb of Merrylands. The 12 hectare park features two playgrounds, animal enclosures, BBQ areas, a flat path perfect for scooters and bikes, plus a small waterfall feature.
Read more about visiting the Central Gardens Nature Reserve here.
Blaxland Riverside Park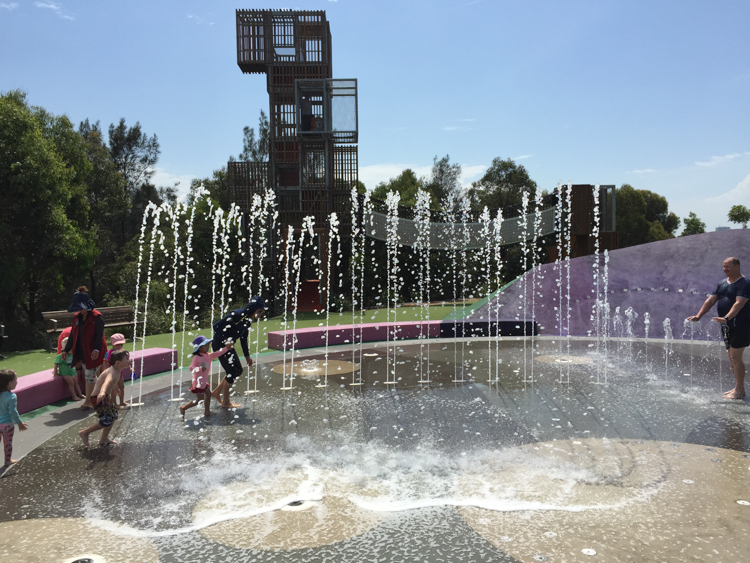 A gorgeous spot for families with one of the biggest playgrounds in Sydney set among three hectares of rolling hills and big open spaces. The playground caters for kids of all ages and abilities with a fantastic water play area (the largest outdoor water play facility in NSW), moving play elements, high and steep landforms and hidden and confined spaces. There's a double flying fox, mega-swing, tunnel slides, scramble wall, spinning play disk, Viking swing and a multi-level tree house to be discovered and enjoyed.
Get more info on Blaxland Riverside Park.
Museum of Fire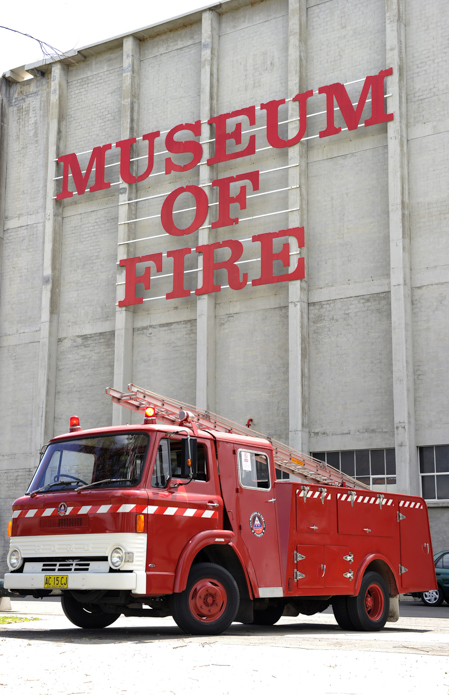 Enjoy exhibits focusing on fire safety and firefighting and explore historic fire trucks at the Museum of Fire in Penrith.
Junior firefighters will enjoy puzzles, dress-ups, fire safety activities and computer games.
Get more info on visiting the Museum of Fire here.
Image credit: Destination NSW Adam Hollingsworth
Museums Discovery Centre (MDC)
Inside the Museums Discovery Centre you'll find millions of treasures and the opportunity to learn about museum collecting, conservation and research practices.
Get more info on the MDC here.
NSW Rail Museum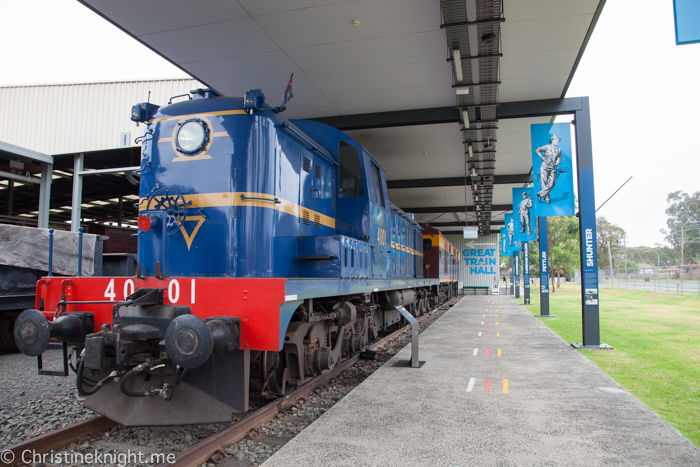 Bring your locomotive-loving kids to get up close to trains at the NSW Rail Museum in the historic town of Thirlmere. Since 1975 this little town has been home to a large collection of NSW's railway heritage, including over 100 vehicles that move on a railway including locomotives, railroad cars and more.
Get more info on visiting the NSW Rail Museum here.
Australian Botanic Garden Mount Annan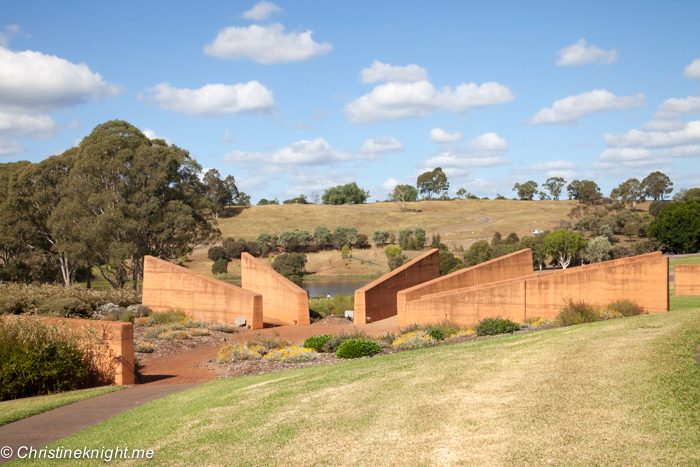 Explore Australia's unique plant life at the Australian Botanic Garden Mount Annan, a 416-hectare botanical garden located in Mount Annan, between Campbelltown and Camden. The wide, flat paths are a delight to follow as they weave in and around the garden areas, as are the grassy hills to roll down!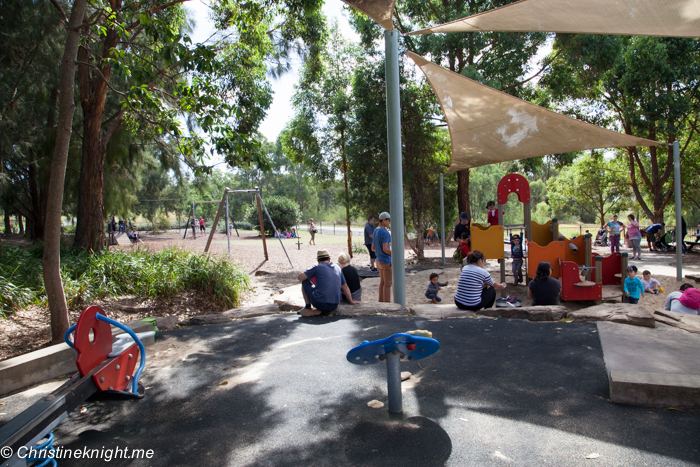 The Australian Botanic Garden Mount Annan has free entry, picnic shelters, barbecues and a playground with an excellent flying fox, making it the perfect outing for families.
Get more info on visiting the Australian Botanic Garden Mount Annan.
Featherdale Wildlife Park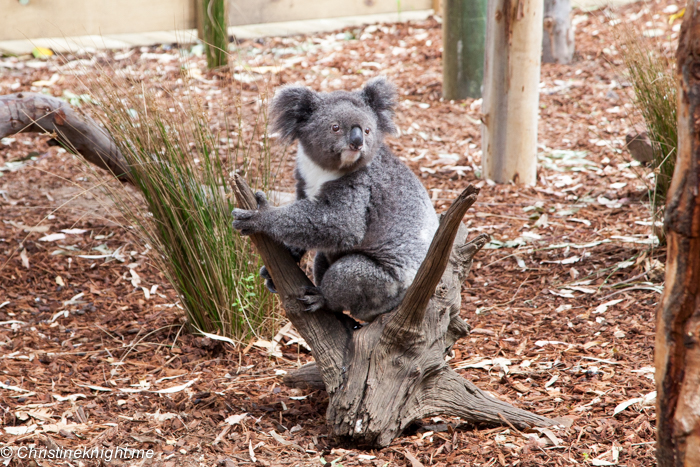 A privately-owned zoo in Doonside, near Blacktown, Featherdale Wildlife Park specialises in Australian native wildlife and birds, as well as reptiles and marsupials.
Get more info on visiting Featherdale Wildlife Park.
Calmsley Hill City Farm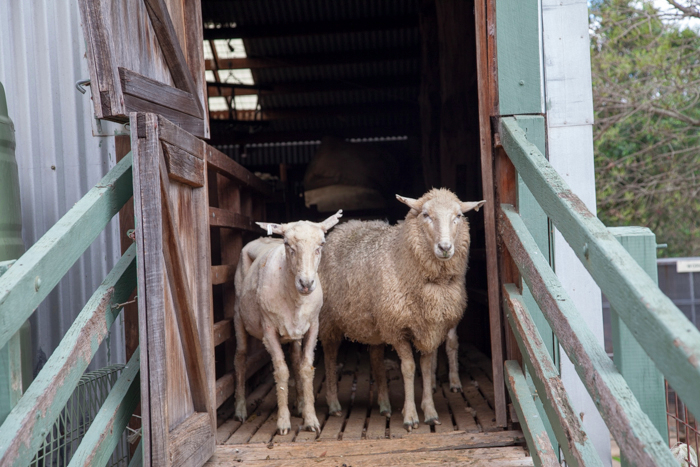 The place to introduce city kids to a farm! Calmsley Hill City Farm has plenty of farm animals to get up close to, plus tractor rides and interactive shows such as sheep shearing, a small playground, picnic area and cafe.
Get more info on visiting Calmsley Hill City Farm.
Skyline Drive-In Blacktown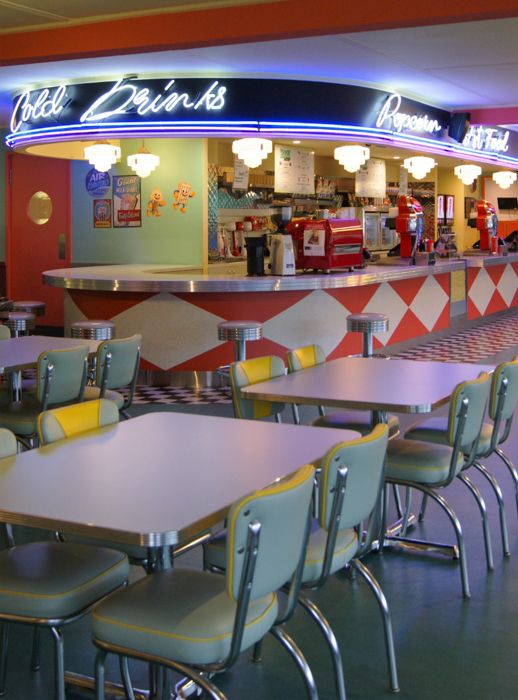 Watch a movie under the stars at Sydney's last remaining drive-in movie theatre. Introduce kids to the movie experience of a bygone era complete with a Happy Days-style diner, spiders and choc-tops. The gates open at 5:30pm, with parking allocated on a first-come, first-served basis. Tune your car's FM radio or bring along a portable radio to hear the movie. Before you leave home, check session times for what's on.
Sydney Olympic Park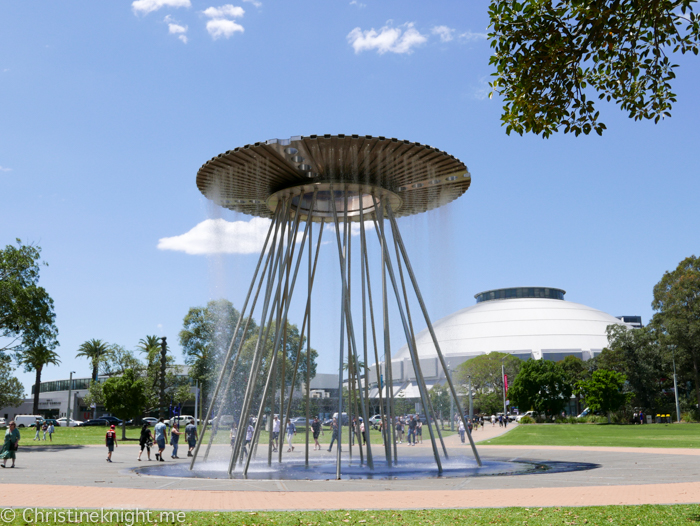 The site of the 2000 Sydney Olympic Games is now a monument to sporting legends and a peaceful parkland. Visit Cathy Freeman Park to see the Olympic Cauldron that was used throughout the games and has been transformed into a water feature that kids love to play under in summer, located next to a shady playground and vast grassy field.
To get there: Take a 30 minute train trip from Central Station to Olympic Park Station or a ferry from Circular Quay to Sydney Olympic Park Wharf.
Read more about visiting Cathy Freeman Park here.
Sydney Olympic Park Aquatic Centre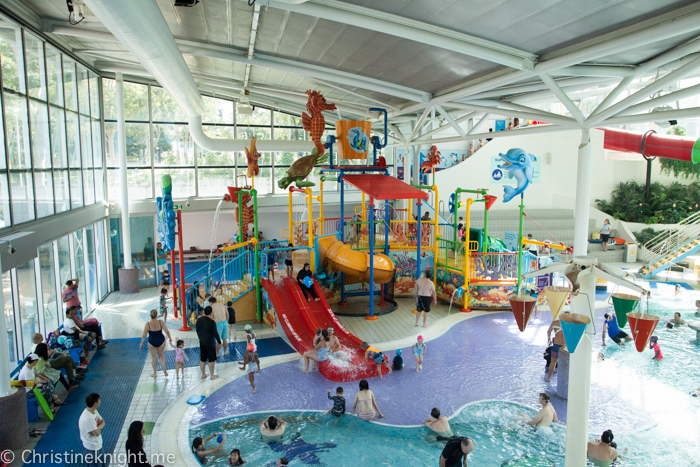 While adults will enjoy swimming in the same pool that Ian Thorpe won his Olympic gold medals at the 2000 Sydney Olympic Games, kids will go wild over the water slide, Splasher's Water Playground that caters for kids aged toddler and up, and Rapid River Ride that caters to all ages. Comfortably heated to 26 degrees, the Aquatic Centre is year-round fun.
Get more information on visiting the Sydney Olympic Park Aquatic Centre.
To get there: Take a 30 minute train trip from Central Station to Olympic Park Station or a ferry from Circular Quay to Sydney Olympic Park Wharf.
Bicentennial Park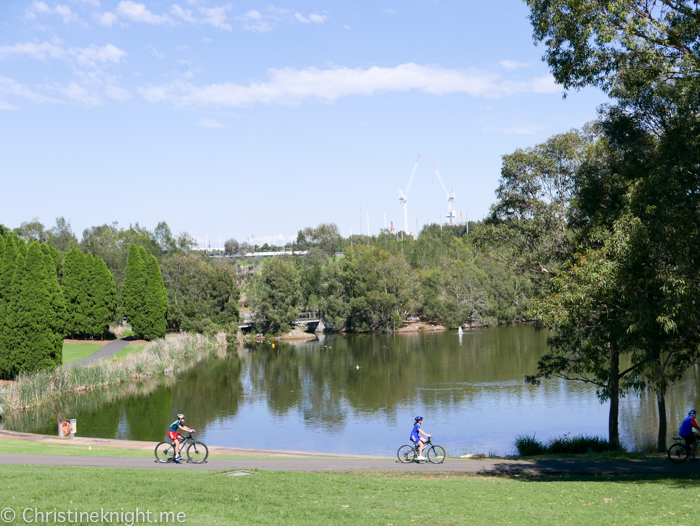 A fave for families with its wide expanses of undulating hills, plenty of shade and picnic spots. Bicentennial Park is a beautiful location that combines mangrove wetlands with 40 hectares of gentle hills, meadows, lakes, playgrounds and picnic shelters. Driving to this park is the best option but parking can also be a challenge so arrive early.
Read more about visiting Bicentennial Park.
Brickpit Ring Walk

Search for endangered frogs and learn about Sydney's brick-making history on this elevated walk over wetlands.
Read more about visiting the Brickpit Ring Walk.
Wentworth Common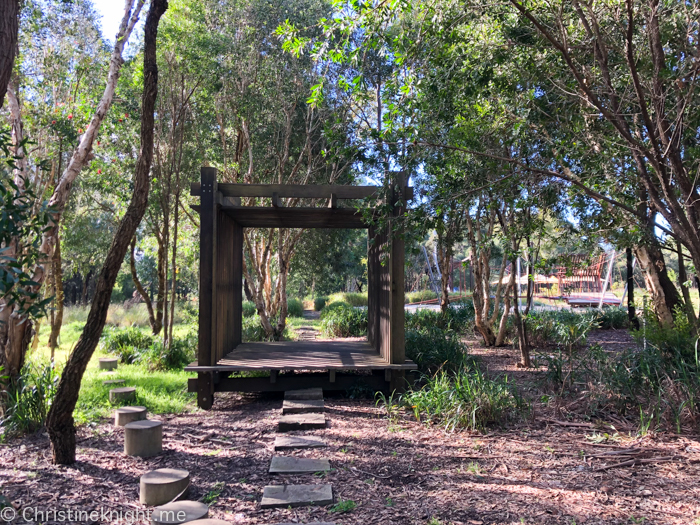 Enjoy a quiet picnic at this hidden gem of a park. Kids will love the huge adventure playground and bushland setting.
Read more about visiting Wentworth Common.
Newington Armory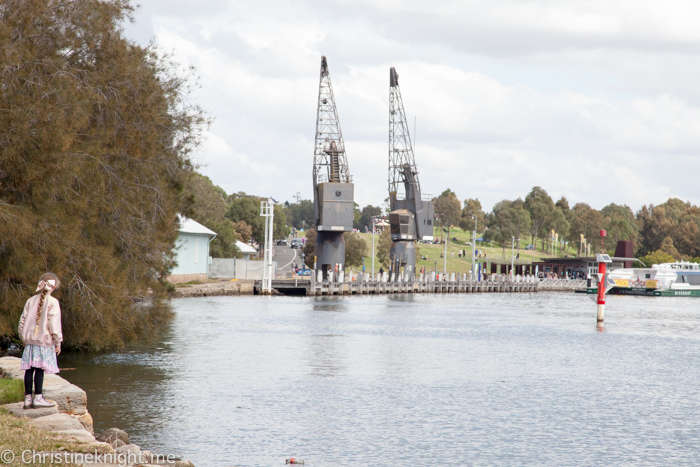 The world heritage-listed Newington Armory is now an industrial arts precinct with a fab sculpture walk (or bike) along the Parramatta River.
Read more about visiting the Newington Armory.
Ryde Park Playground & Scooter Track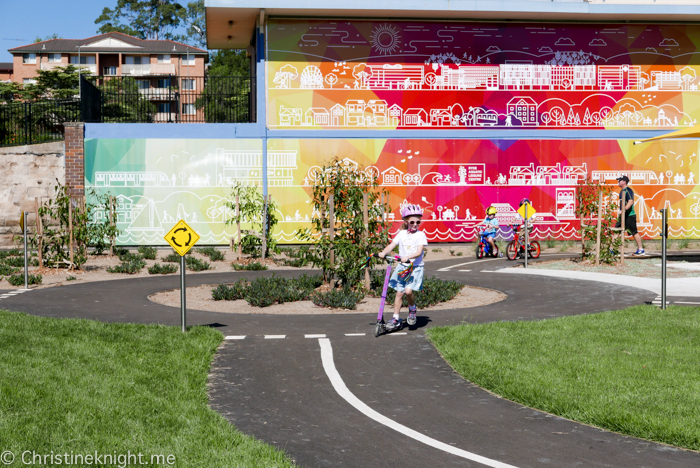 What a gem of a spot! Ryde Park has a new scooter/bike track, sporting fields and picnic areas.
Get more info on Ryde Park here.
Elizabeth Farm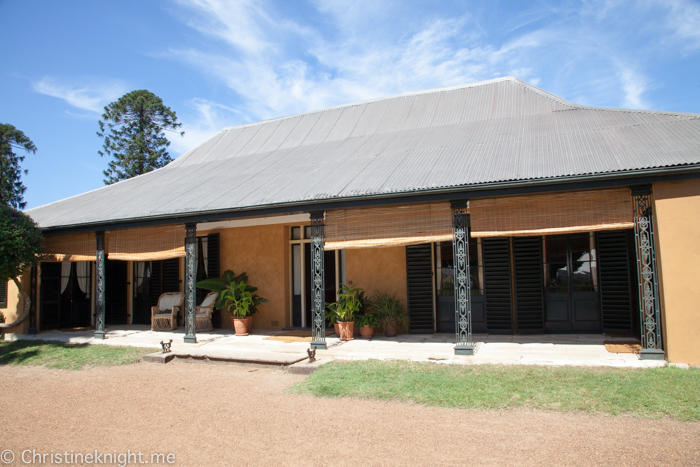 Built in 1973 for John and Elizabeth Macarthur, Elizabeth Farm is one of the oldest homes in Australia. Inside the house you'll find reproductions of furnishings and objects that belonged to the home's original owners. Wander the recreated 1930s garden or enjoy a Devonshire tea at the tea room. The scones are some of the best we have ever tasted.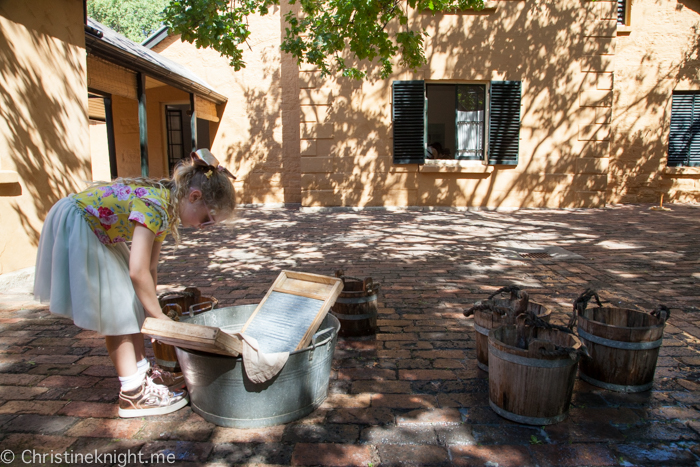 Elizabeth Farm runs year-round family tours and programs to engage kids in the history of the property and introduce them to what life was like during the early 19th century. Kids will get a kick out of trying to do the laundry in a tub, throwing quoits or doing some craft. Get info on upcoming events and programs here.
Carnes Hill Community & Recreation Precinct & Skate Plaza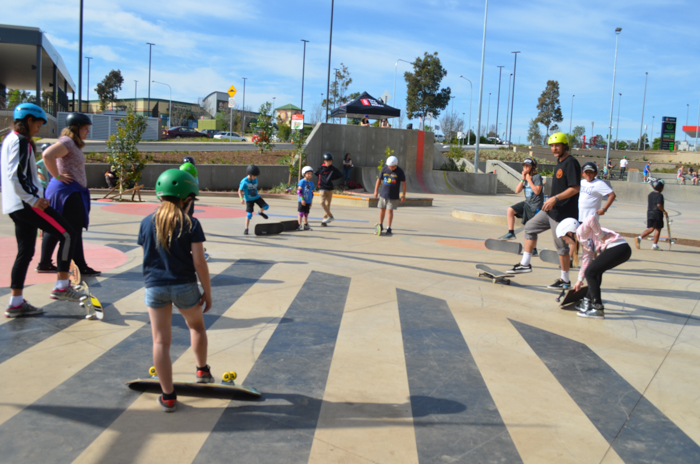 This lively community precinct includes an excellent library with large kids' area, excellent playground, community centre, outdoor fitness stations, gym, cafe, sports courts and picnic areas. The Carnes Hill Skate Plaza is also located in the precinct, a fab spot for kids to bring their scooters and bikes and enjoy a sprawling park that is suitable for all ages and levels of experience.
Images courtesy of Liverpool City Council
Parramatta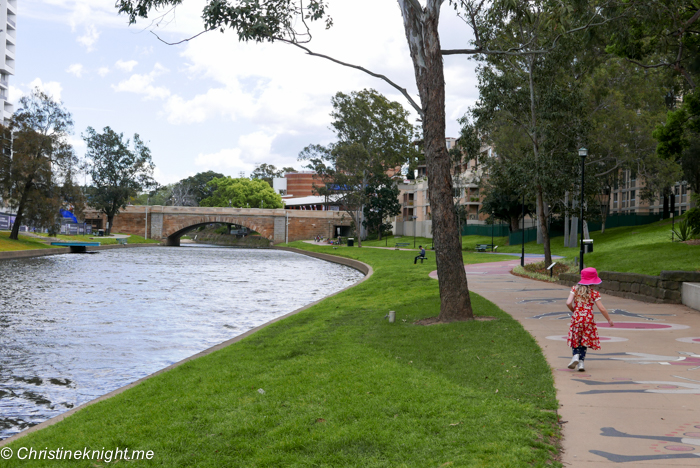 The second oldest city in Australia, Parramatta was founded in 1788 – the same year as Sydney. Walk up Church street to discover its vibrant, multicultural food scene, or walk along the river to discover the city's rich history.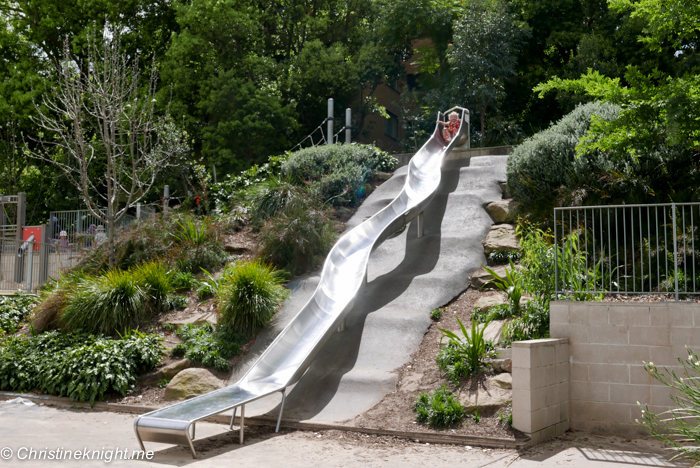 Two excellent playgrounds in Parramatta are the Parramatta CBD River Foreshore Park, which features tall slides and a sand play area, and James Ruse Reserve Playground with its climbing structures and undercover water play area.
Parramatta Park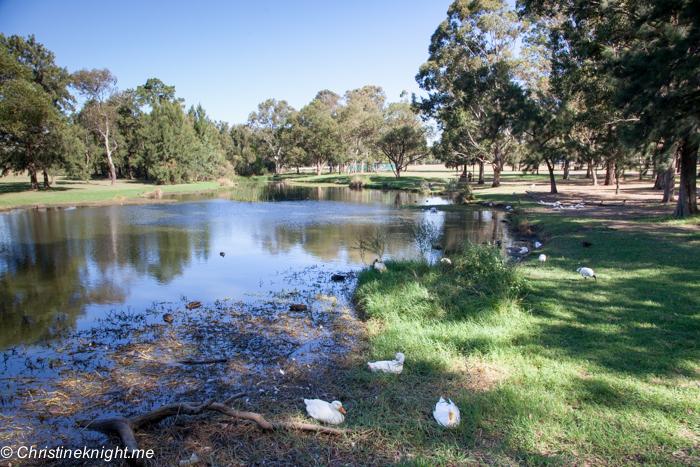 This World Heritage Listed park is a must see. Gazetted as a People's Park in 1858, Parramatta Park been a place for locals to enjoy for over 150 years. It's also home to Old Government House, a historic site and museum and Australia's oldest surviving building. Parramatta Park also features wide open spaces with shady trees for picnics, a large formal rose garden, a creek and two playgrounds. Get info on upcoming events in Parramatta Park.
Domain Creek Playground Parramatta Park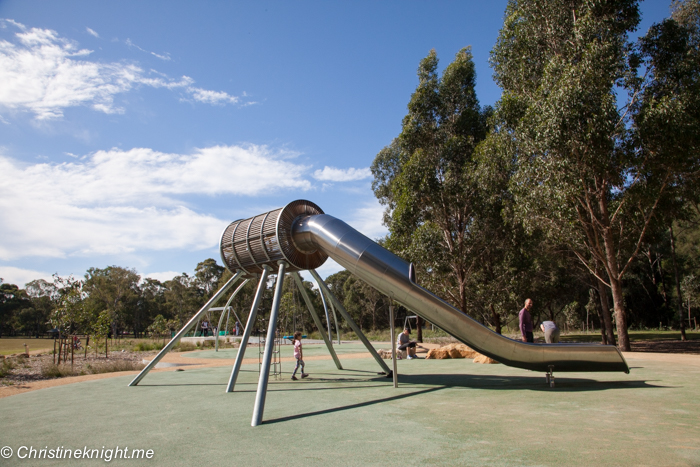 The largest and most modern playground in Parramatta Park, the Domain Creek Playground is nature-based and features mazes made from branches and wires, water pumps and sand diggers, a flying fox and sunken trampolines.
Get more info on visiting Domain Creek Playground.
Paperbark Playground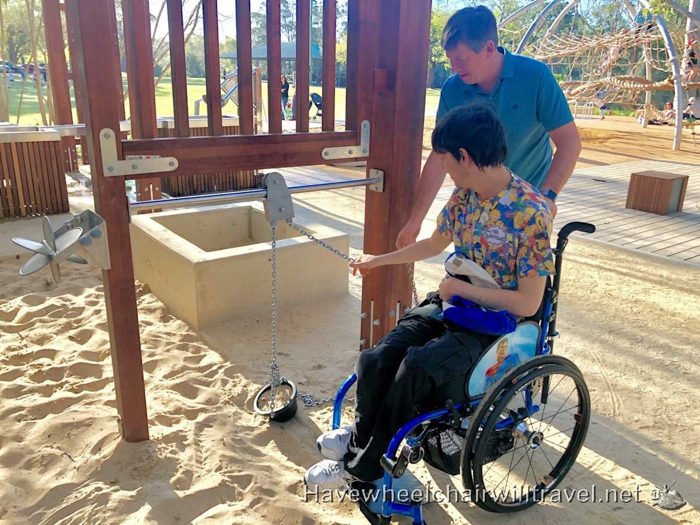 Paperback Playground is the newest playground in the park and has some inclusive features. Located in the historic Gardens Precinct near the George Street Gatehouse, the playground is best suited to children and toddlers. Features include an accessible sandpit, swings and a carousel which kids with varied mobility, including wheelchair users, can use, as well as the 'explorer dome' centrepiece – a maze made of nets, ropes, ladders and tubes best suited to older children. The playground floor is covered with 'Softfall' pavements and there's plenty of seats for parents and carers.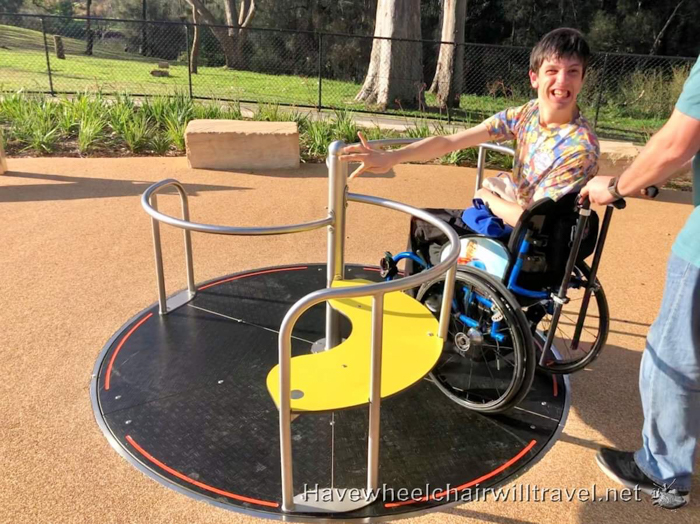 Thank you to Have Wheelchair Will Travel for the images.
Western Sydney Parklands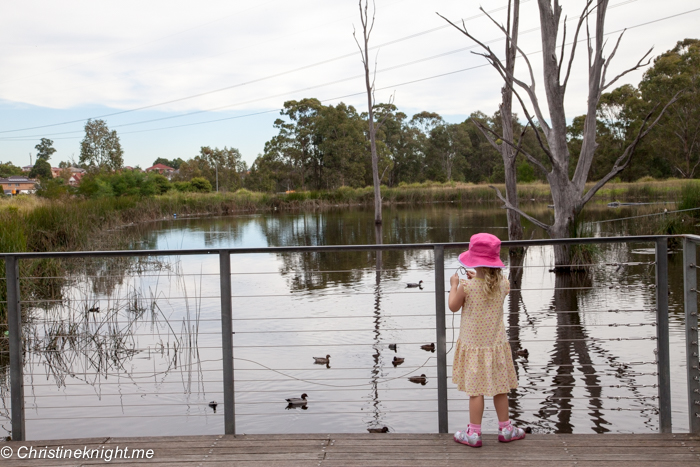 An urban park and nature reserve located in Sydney's western suburbs, the Western Sydney Parklands contains various parks and attractions that are perfect for families to enjoy.
Plough and Harrow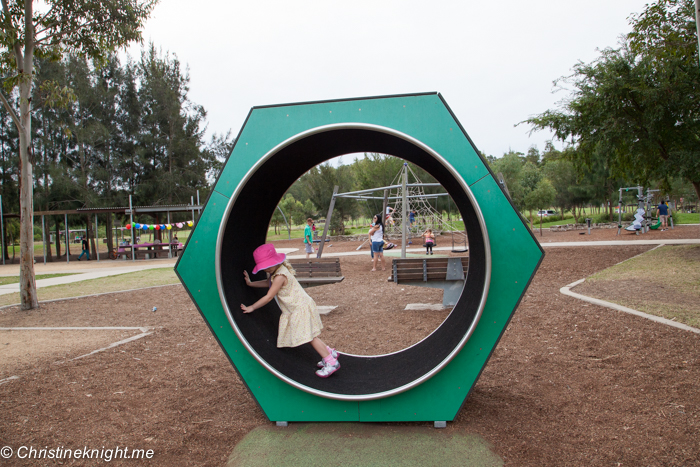 This popular picnic spot is surrounded by bush and features a playground, cafe, high ropes course and wide open spaces for kids to run free. The playground's hamster wheel is particularly popular!
Get more info on visiting Plough and Harrow.
Lizard Log Park & Playground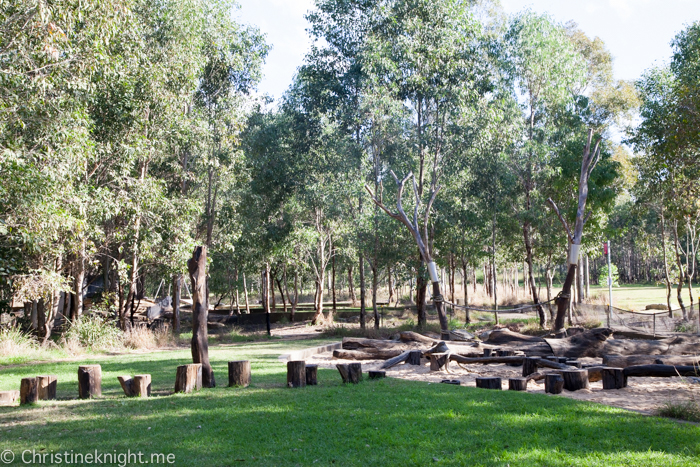 A nature-themed playground with a bush setting, Lizard Log also features walking and cycling tracks plus barbecue stations.
Read more about visiting Lizard Log Park and Playground.
Treetop Adventure Park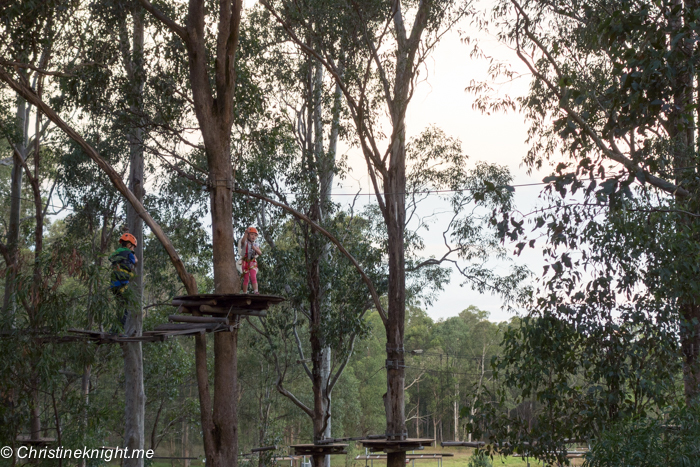 Adventurous kids will adore getting up high in the gum trees with the Treetop self-guided rope courses. With rope ladders, wobbly bridges and zip lines to navigate, it's the perfect place for kids to test their problem-solving ability as well as push physical boundaries. Kids must be aged three and older to participate, with the children's rope course designed for ages 3-9. Treetops Adventure park is located at the Plough and Harrow park.
Get more info on visiting Treetop Adventure Park.
Sydney Zoo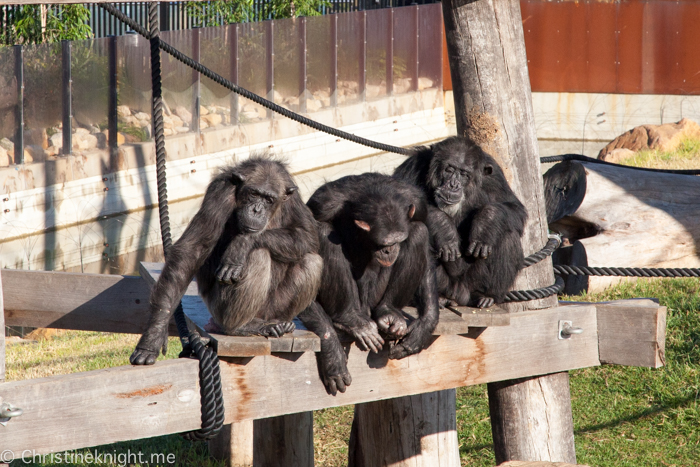 Located next to the sprawling Western Sydney Parklands, Sydney Zoo is home to over 2000 animal species, housed in 30 custom, state-of-the-art exhibits.
Get more info on visiting Sydney Zoo.
Raging Waters Sydney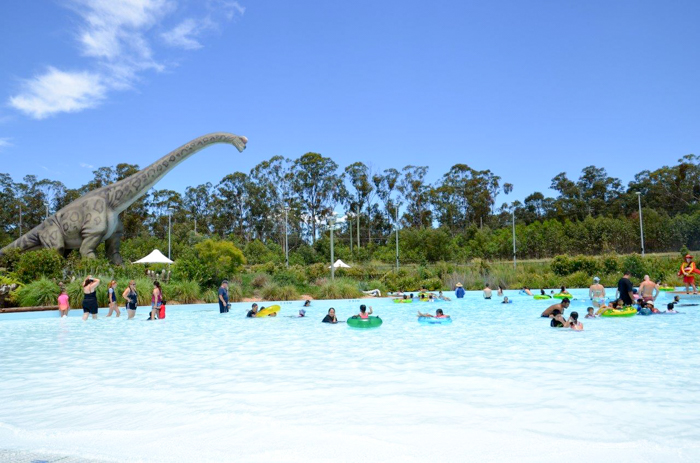 Cool down at Raging Waters Sydney (formerly Wen 'n' Wild), a water theme park filled with over 40 slides, a zone dedicated to kids under 5 and a sandy beach. Popular with younger kids is the Nickelodeon Beach water splash park area that features characters like Dora, Spongebob and Teenage Mutant Ninja Turtles.
Get more info on visiting Raging Waters Sydney.
Image credit: Havewheelchairwilltravel.net.
Bungarribee Park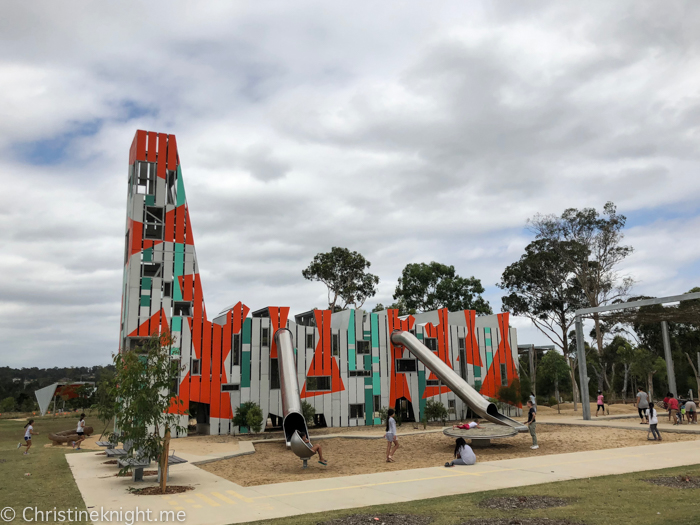 Opened in 2017, Bungarribee is a 200-hectare recreational space that features walking and cycling tracks, 20 barbecues, 13 picnic shelters and a playground with a climbing tower, flying fox, plenty of slides, swings and a water play area.
Get more info on visiting Bungarribee Park.
In Sydney's North West
Livvi's Place Ryde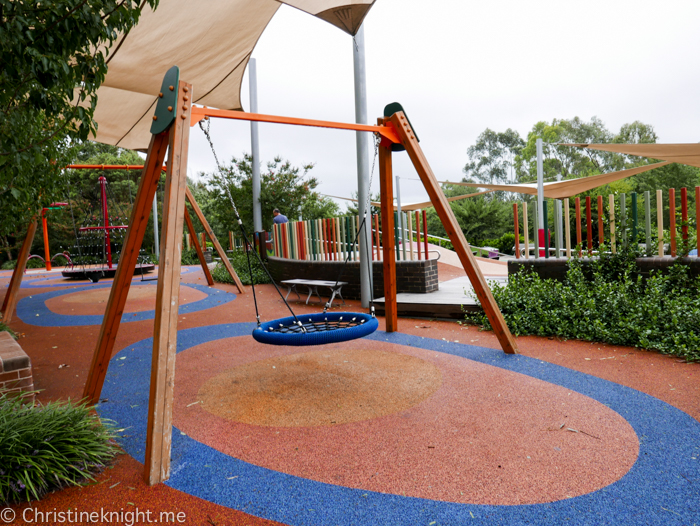 Livvi's Place is a full-enclosed playground located in Yamble Reserve, Ryde. The reserve features formal gardens, deciduous trees, picnic shelters, large green grassed areas, barbecues and the excellent all-abilities playground, Livvi's Place. Livvi's Place playground includes a water pump play area, dual flying fox, nest swing, musical instruments, climbing frame and tunnels.
Read more about Livvi's Place Ryde here.
Golden Ridge Animal Farm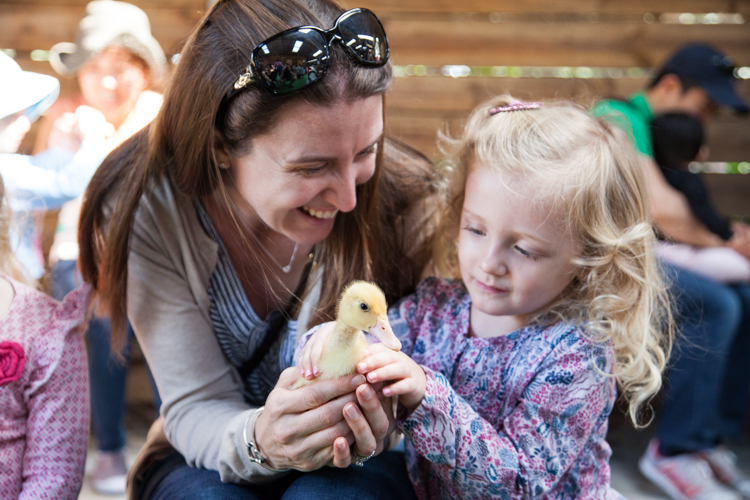 Designed especially for children to get close to farm animals, at Golden Ridge kids can hold baby chicks, ducklings and rabbits, milk a cow and bottle feed baby lambs.
Get more info on visiting Golden Ridge Animal Farm.
Dural Putt Putt
Putt your way through two 18-hole themed mini golf courses at Dural Putt Putt. The perfect activity for the whole family to enjoy.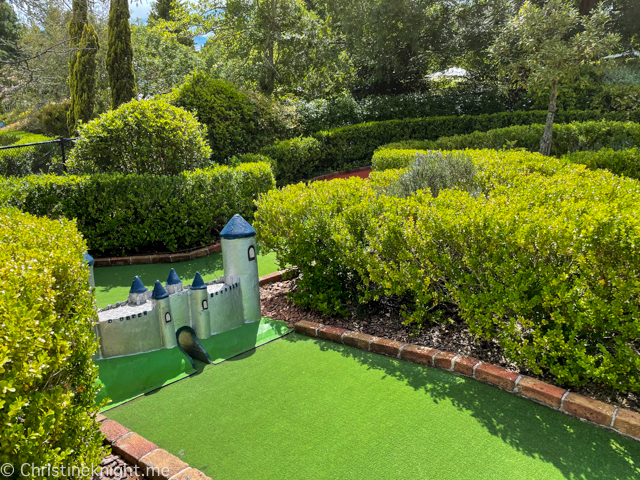 Dural Putt Putt has two themed 18-hole mini golf courses to complete, Camelot & Space Trek. Each course winds its way through picturesque landscaped gardens and are equally challenging.
Get more info on visiting Dural Putt Putt.
Putney Park: Playground and Water Park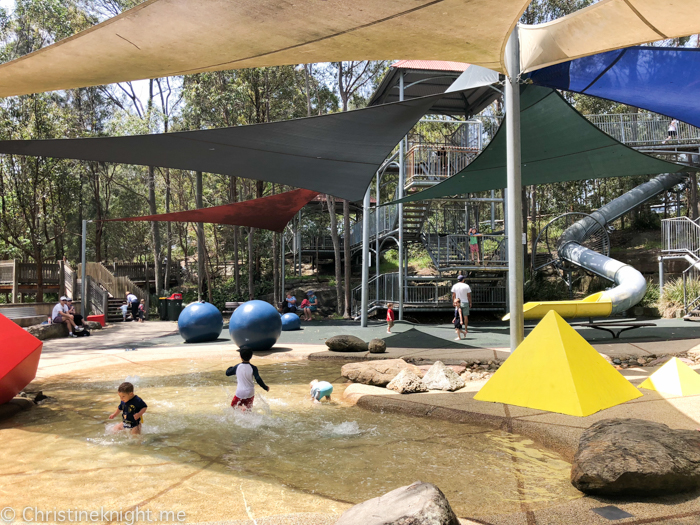 A great spot to take kids in summer, Putney Park features climbing equipment for kids of all ages plus two shallow pools connected by a pebble creek and a large climbing web.
Read more about Putney Park here.
In Sydney's East
Vaucluse House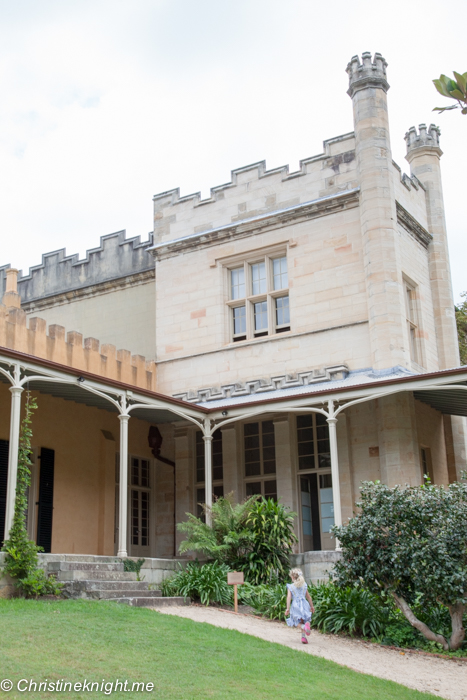 Vaucluse House was built in 1803 and was once owned by William Charles Wentworth, father of the Australian Constitution. It's oOne of Sydney's few remaining 19th-century mansions that is still surrounded by its ten hectares of original gardens and grounds.
Take a tour through the house for a glimpse of what life was life for the families who once lived there, stroll around the beautiful gardens and enjoy a high tea at the tea rooms.
Vaucluse House runs year-round family-friendly programs to immerse kids in colonial life. Get info on events here.
Get more info on high tea at Vaucluse House here.
Nubo Play Centre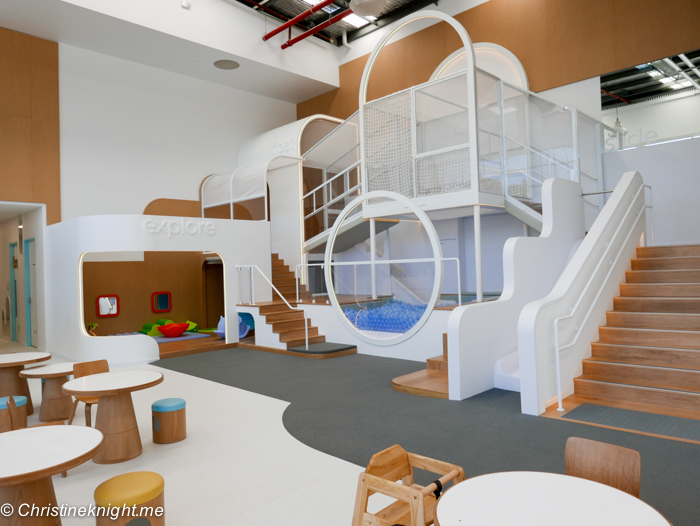 A play centre like no other in Sydney, Nubo is an innovative and educational play space that is designed to spark children's creativity and imagination. Connect with your children as they explore the library, art studio, dramatic play room and ball pit. There's even a rope climbing structure with slides and a cafe serving healthy food.
Get more info on visiting Nubo.
La Perouse and Bare Island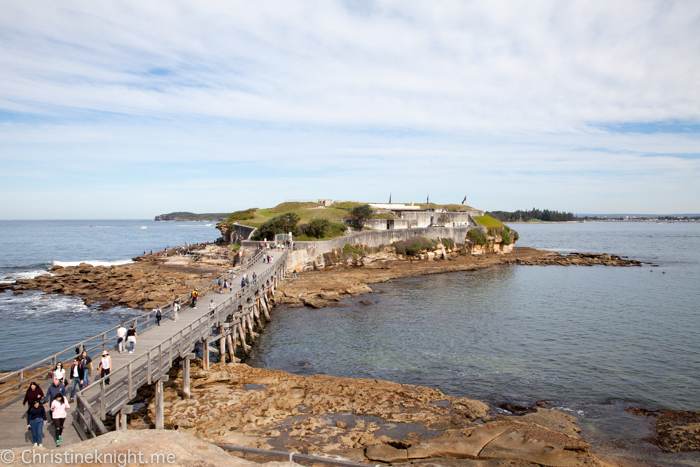 La Perouse is located on the north headland of Kamay Botany Bay National Park. The headland is an historic part of Sydney as well as a place to enjoy stunning beaches, explore rock pools and spot wildlife. Bare Island is home to a fort, rock pools and an indigenous market.
Read more about visiting La Perouse and Bare Island.
Watson's Bay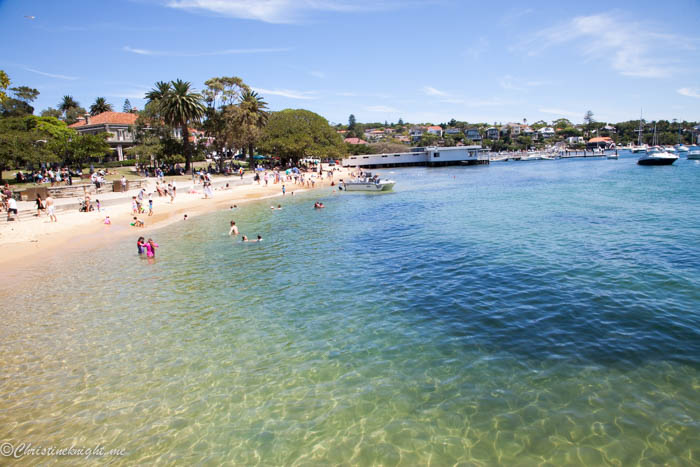 Located at the southern head of the entrance to Sydney Harbour, Watson's Bay is a very popular place for families to spend weekends. It features stunning Sydney Harbour view, gentle waves on the shore that are perfect for kids to paddle in, a massive park with a shaded and gated playground, plus the iconic Doyle's fish and chips. Catch a ferry from Circular Quay for the ultimate family day trip.
Get more info on Watson's Bay and other Sydney beaches.
Bondi to Bronte Walk


This 6km return walk will take you past some of Sydney's most breathtaking scenery. Starting at the iconic Iceburgs Dining Room and Bar at the south end of Bondi Beach, the walk winds south along the rocky cliff face past Tamarama to Bronte Beach.
Start at either end and either walk or take a bus back to the starting point. There are plenty of cafes and facilities at Bondi, Tamarama and Bronte Beach, or you can bring a picnic lunch. At the halfway point there is a playground for kids to enjoy. Note: the path is too rocky for a stroller and runs along a sheer cliff face so take older kids or babies in carriers.
Green Square Library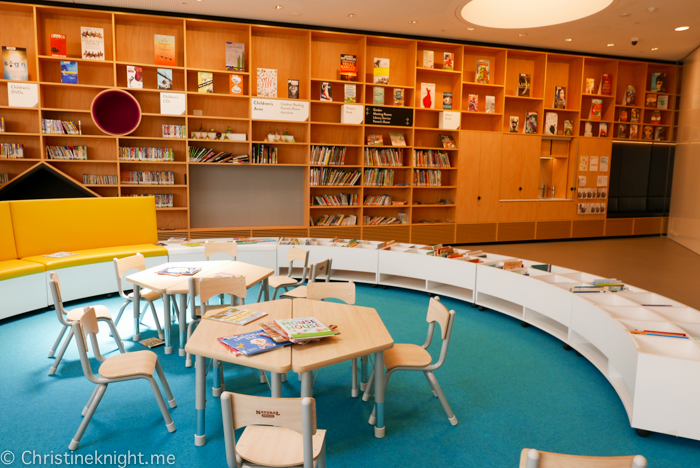 The underground Green Square Library opened in late 2018. It features a water play area in the outside plaza, public artworks, dedicated kids zone with books and DVDs, vintage game stations for rent, a piano for hire, a sunken garden, kid-friendly cafe and take-home makerspace kits for kids aged 5+. The library also runs school holiday workshops and story time sessions.
Get more info on Green Square Library here.
LEGO® Store Westfield Bondi Junction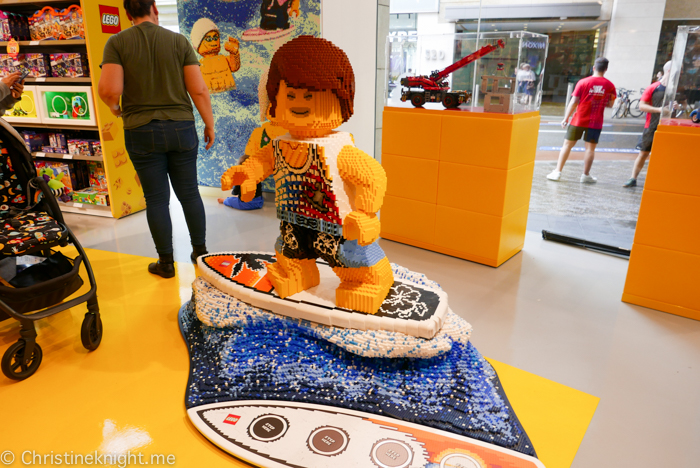 Sydney's first certified LEGO® store is located in Westfield Bondi Junction. The Store features inspiring creations built out of LEGO® bricks, hands-on LEGO® experiences and plenty of LEGO® kits to buy.
Read more about the Sydney LEGO® store here.
Sydney Park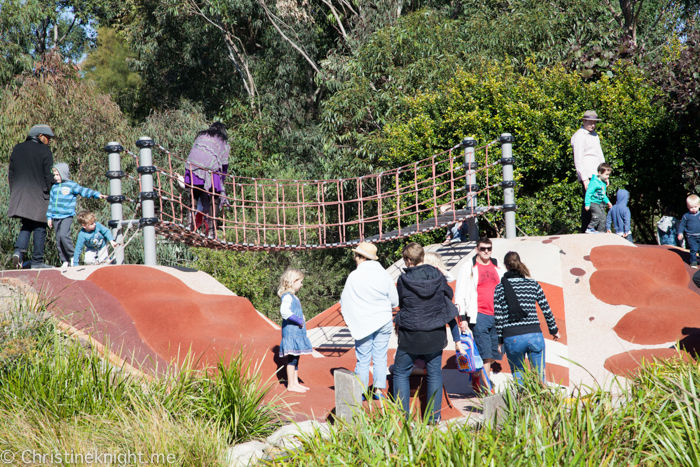 A 40 hectare green space near St Peter's, Sydney Park was built in the space once occupied by Bedford Brickworks – the chimneys of which have been left and are a feature of the park that can be seen from some distance away. Features of the park include a large playground on its western side, the Sydney Park Cycling Centre on its northern side, winding pathways over hills for walking and cycling, wetlands, a kiosk and bathrooms.
Get more info on Sydney Park.
Centennial Parklands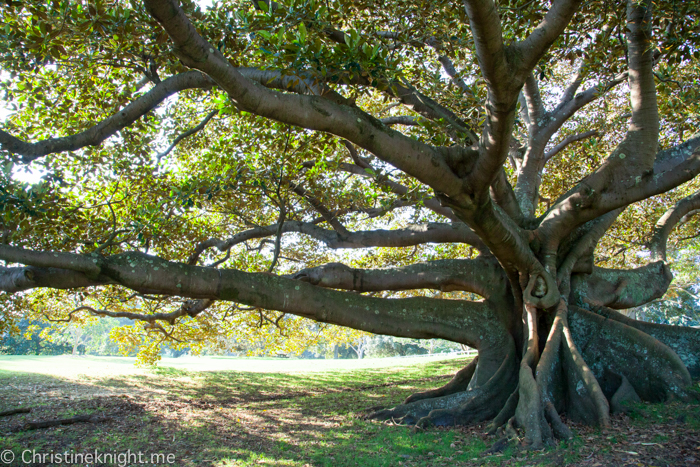 Consists of 360 hectares including Centennial Park, Moore Park and Queen's Park. The Parklands are listed on the NSW Heritage Register.

Centennial Park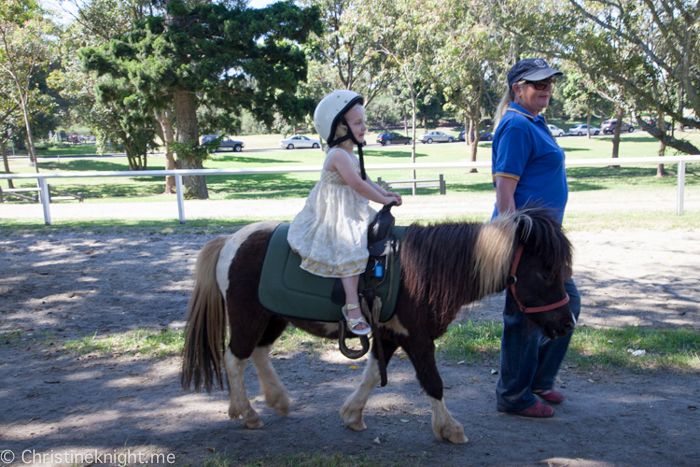 The largest of the three parks that make up Centennial Parklands, Centennial Park is one of Australia's most famous parks, and a haven for inner city families to ride bikes, horses (there are several horse riding stables located in the park as well as pony ride on weekends), picnic, play and explore. The park features ponds with ducks, formal gardens, statues, playgrounds and picnic areas.
Ian Potter Children's WILD PLAY Garden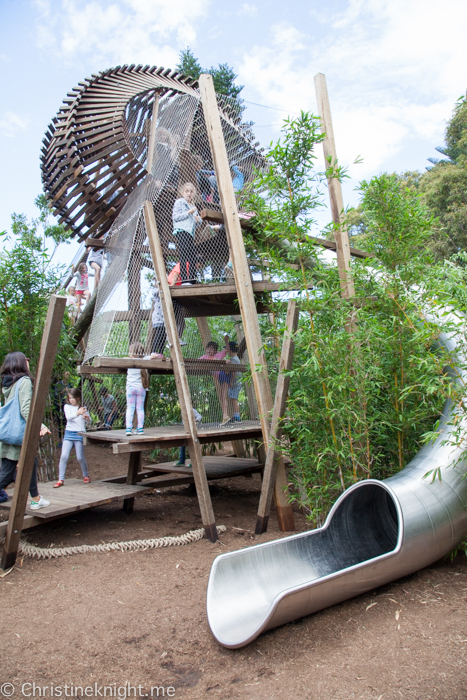 The brand new Ian Potter Children's Wild Play Garden opened in Centennial Park in October 2017. The 6500sq m nature-based play area features a 7m-high climbing tower, wooden bridge, water play area and an open play area where kids are encouraged to use sticks and natural materials to make their own shelters, artworks and games.
Get more info on visiting the Ian Potter Children's WILD PLAY Garden here.
Moore Park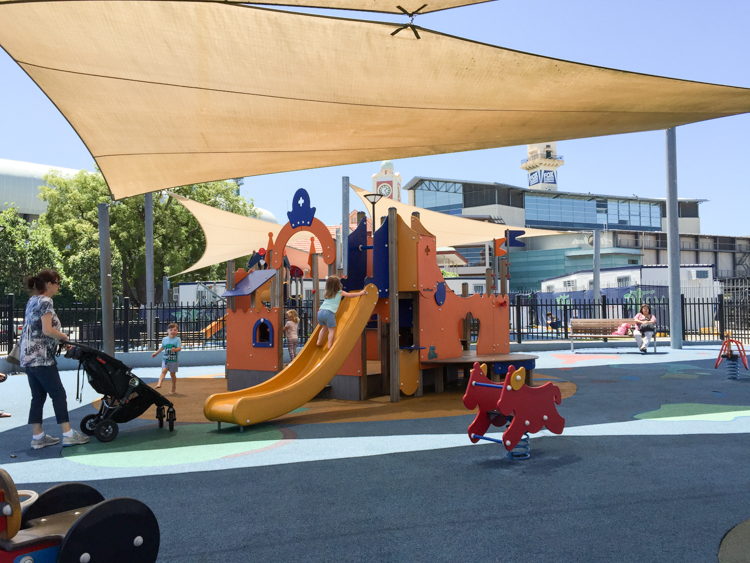 This park consists of 115 hectares of open spaces and playing fields, including the ES Marks Athletics Field, an 18-hole public golf course and golf driving range, tennis courts and netball courts.
The Entertainment Quarter at Moore Park has plenty for kids to do, from plaster painting, a Hoyts movie cinema, Monkey Mania play centre, Strike Bowling as well as two partially shaded playgrounds with excellent bathroom facilities.
Queen's Park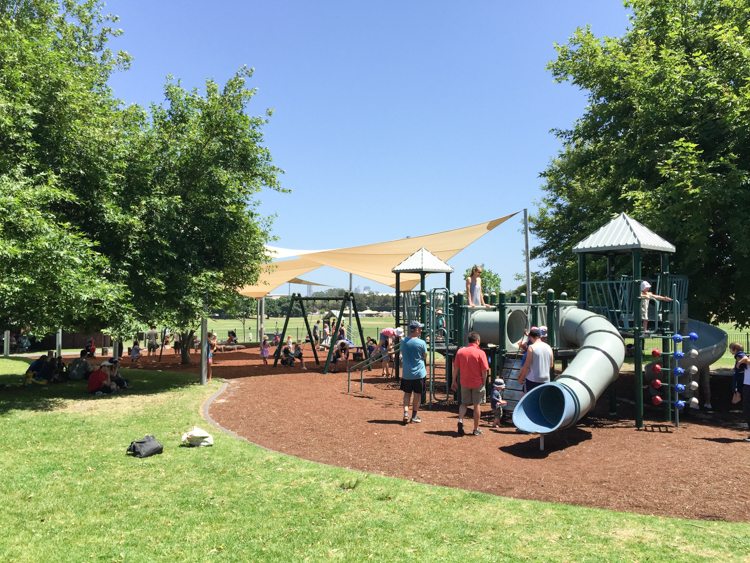 A 26-hectare urban park with panoramic views and natural sandstone cliffs. Queen's Park has an excellent gated and partially shaded playground for kids next to a kid-friendly cafe, Queen's Park Shed (read more here).
Sky Zone Trampoline Park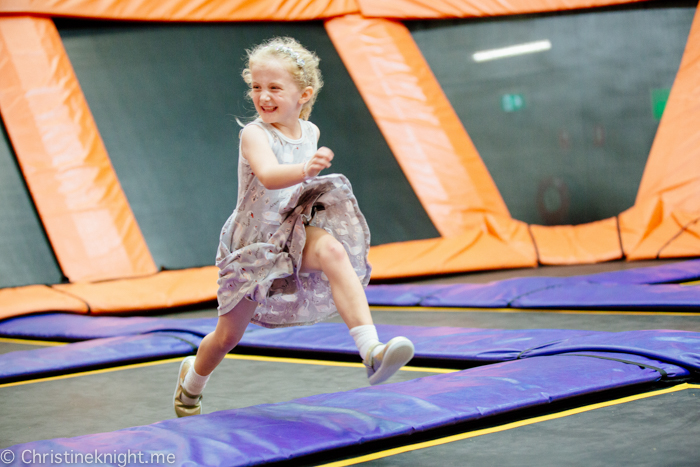 Bounce it out with more than 117 interconnected trampolines at Sky Zone, Alexandria. Kids can also tackle 30 different climbing challenges at Sky Climb.
Get more info on Sky Zone's program for toddlers, Little Leapers, here.
Waluba Park, Waterloo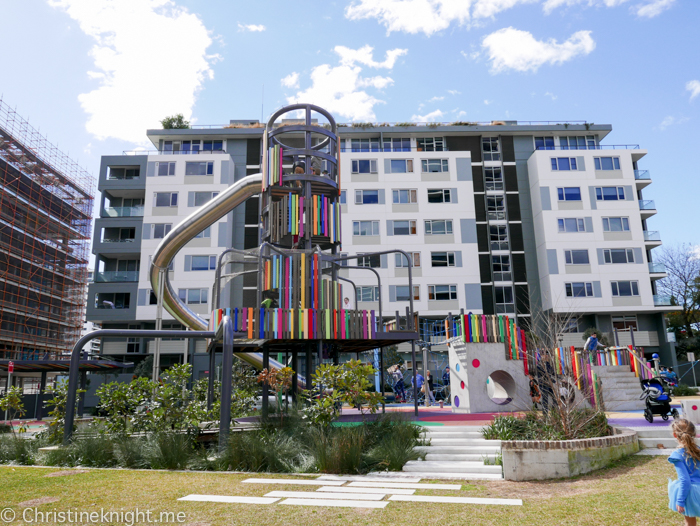 A beautifully designed and landscaped park featuring a mega slide, three-story climbing tower, swings, picnic and BBQ area and bike paths.
Get more info on visiting Waluba Park here.
Mary O'Brien Reserve, Zetland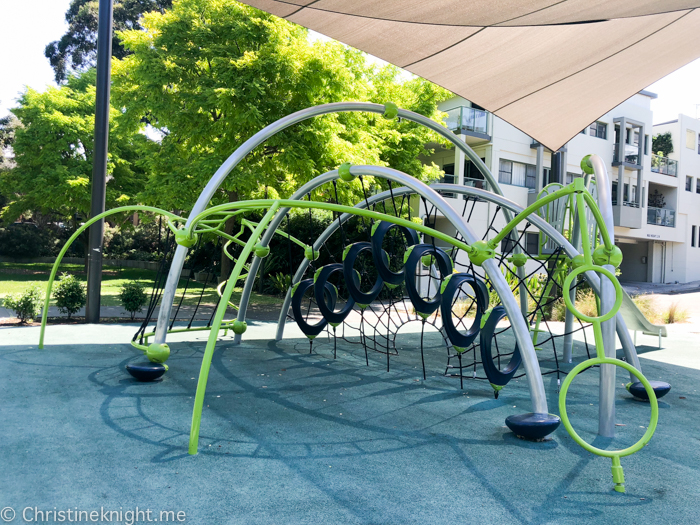 A lovely park with seperate playgrounds for kids of different age groups, a water play area and BBQ facilities.
Read more about visiting Mary O'Brien Reserve here.
Newmarket Dining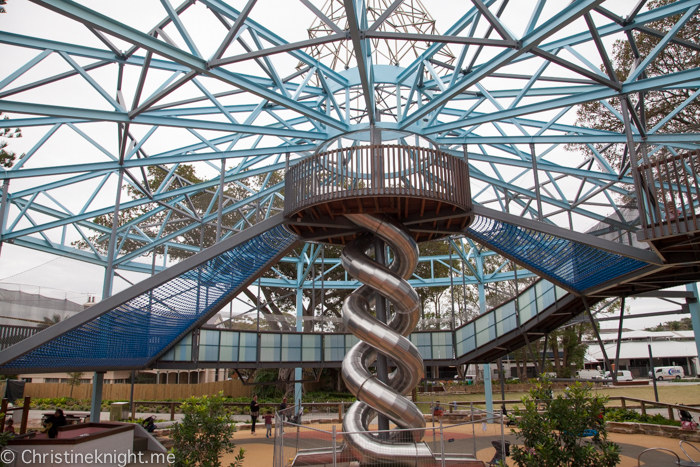 Opening in March 2020, Newmarket Dining is a place to eat at cosy cafes and restaurants, picnic in the park and play at a state-of-the-art playground. The playground features inclusive elements and an amazing spiral slide.
Read more about Newmarket Dining here.
In Sydney's South
Symbio Wildlife Park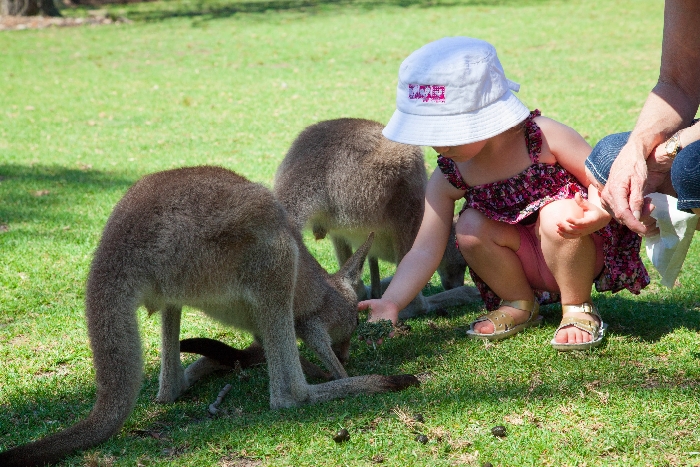 Home to hundreds of animals including a koala breeding sanctuary, reptile house and a Sumatran tiger, Symbio Wildlife Park is a great family outing particularly for little kids thanks to its relatively small size. The kangaroo paddock with roaming roos happy to be pat and pose for photos is a particular favourite.
Get more info on Symbio Wildlife Park.
Oatley Park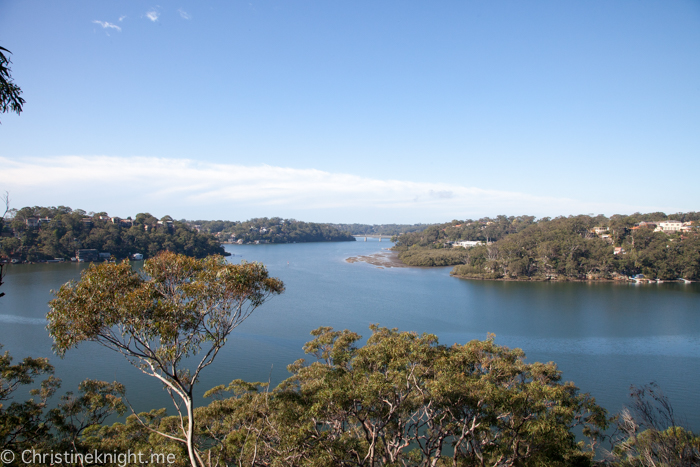 Oatley Park is a 45-hectare bushland reserve on the northern side of the Georges River. It is bounded by the Georges River, Lime Kiln Bay, and Jew Fish Bay. Oatley Park features an inclusive adventure playground, a netted swimming bath, short, easy bush walking tracks, picnic areas and other free amenities for the local community to enjoy.
Read more about visiting Oatley Park.
Oatley Park Inclusive Adventure Playground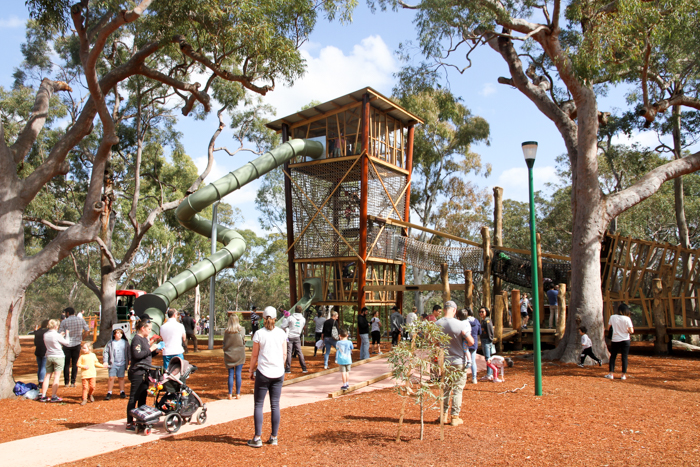 The Oatley Park Inclusive Adventure Playground is an adventure playground designed to blend into its bush setting, incorporating nature-based play elements and built with predominantly natural materials.
The park features seperate play zones with a toddler play area, a flying fox with river views, an active play zone, giant tube slides and a teen zone.
Read more about visiting Oatley Park Playground.
Jubilee Park Adventure Playground, Mortdale, Sydney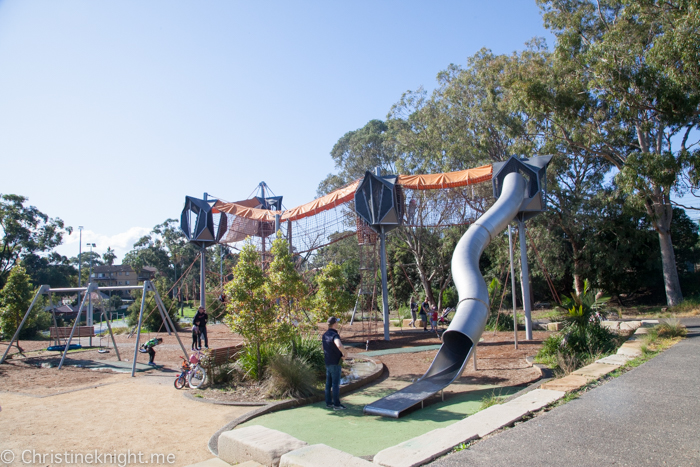 The Jubilee Park Adventure Playground in Mortdale, Sydney, features a large climbing frame with nets and slides, a children's bike track, junior swings, flying foxes and multi-purpose sports courts.
The excellent new multi-million dollar Jubilee Park Adventure Playground is a great addition to the community. Built behind the existing Mortdale Community Centre, the playground has revitalised the park and given the community a great spot to picnic, play and get fit.
Read more about Jubilee Park Adventure Playground.
Putt Planet, Miranda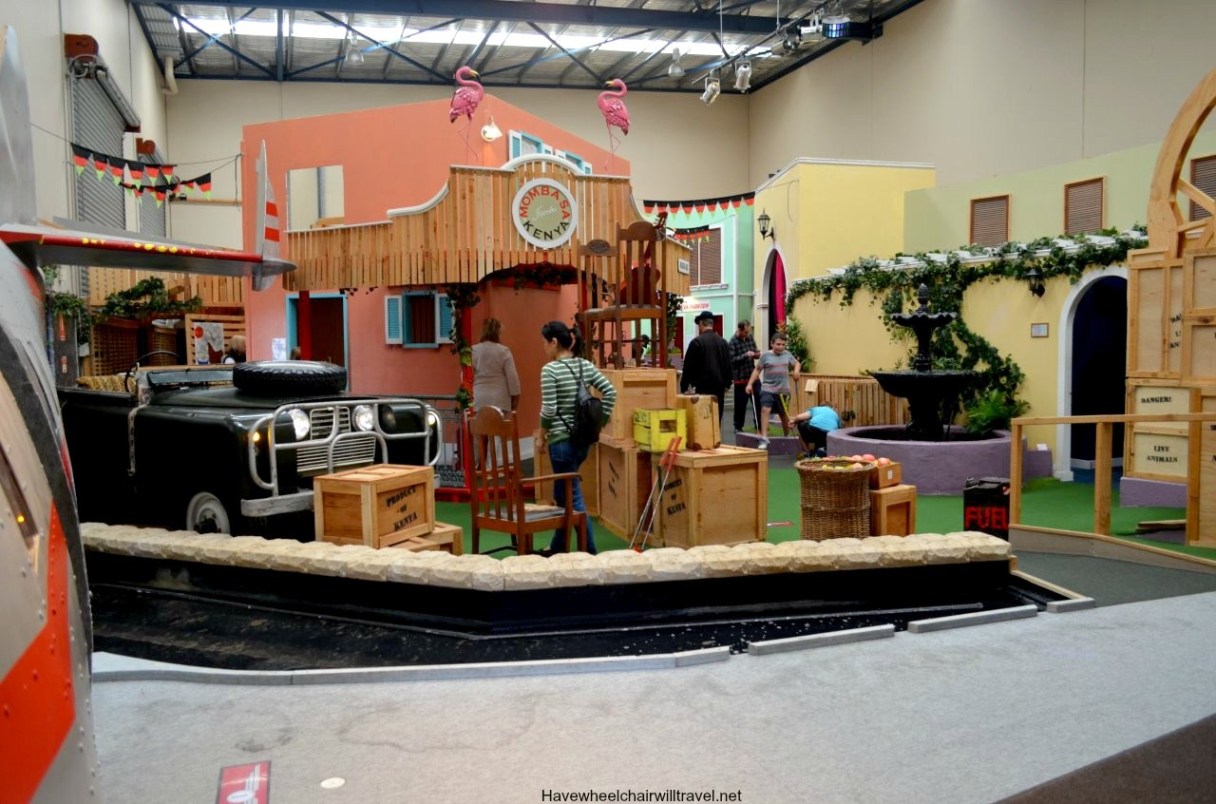 This indoor miniature golf course is travel themed and accessible, so a great option for strollers or wheelchairs. The theme of the mini golf course is a trip to Mombasa, with a plane at the entrance symbolising the start of your journey. The Putt Planet website says, "Discover another time and place when you board your Putt Planet flight from Miranda to Mombasa. Putt through the bustling market places, homes and even the sewers of Old Mombasa whilst exploring this ancient doorway to Eastern Africa. We've put a roof over the charming streets and laneways so any time is a good time to visit; the weather is always fine!"
Get more info on Putt Planet.
Early Start Discovery Space, Wollongong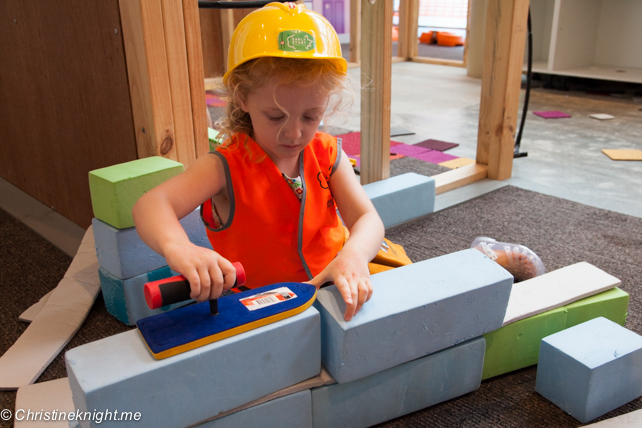 Australia's only dedicated children's museum is located on the campus of the University of Wollongong in Sydney's south. The Early Start Discovery Space is designed for kids aged 12 and under and features 14 interactive spaces designed to spark the imagination as they build, create and explore through play. A particular hit is the Tummy Tour, where kids can imagine themselves as a piece of food and crawl through an inflatable digestive system.
Get more info on visiting the Early Start Discovery Space.
Science Space in Wollongong
Science Space in Wollongong has over 100 interactive science-based exhibits, a planetarium, live shows, plus a gift shop and cafe.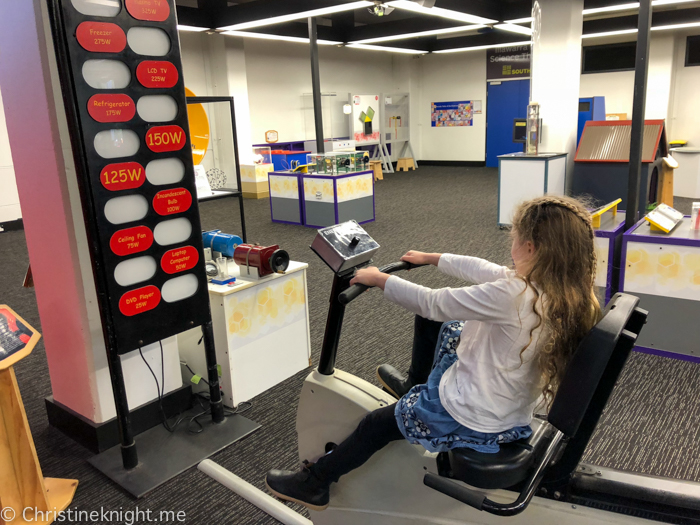 The major hands-on science venue of southern New South Wales, Science Space is suitable for all ages, with two floors of interactive exhibits, plus live shows in the science theatre and Australia's most digitally advanced Planetarium. Science Space is the major hands-on science venue of southern New South Wales.
Read more about visiting Science Space Wollongong.
Royal National Park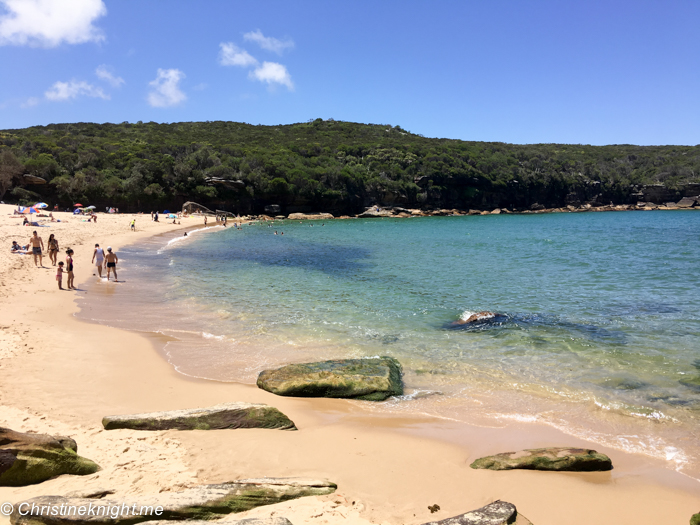 The Royal National Park is one of the oldest in the world. Established in 1879 the park spans 160 square kilometres and makes for the perfect family day trip with plenty of spots for picnics, bbqs, bushwalking, swimming, fishing and whale watching. There's wildlife to discover and Aboriginal heritage to explore. Enter the park by car, ferry from Cronulla to Bundeena or a tram from the Sydney Tramway Museum in Loftus.
Get more info on visiting the Royal National Park.
Wattamolla Beach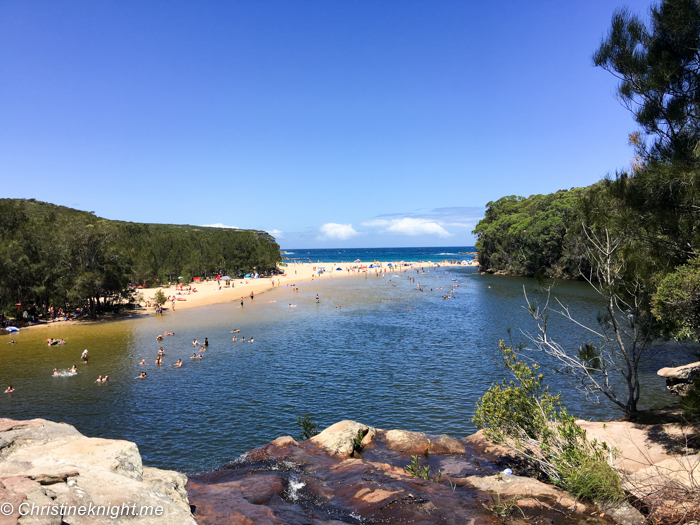 A popular spot for families in the Royal National Park, Wattamolla is the name of a cove, lagoon, and beach. It's an absolutely stunning spot with a flat lagoon for kids to swim in, a waterfall and a beach with rocks to climb on.
Get more info on visiting Wattamolla.
All Around Sydney
Libraries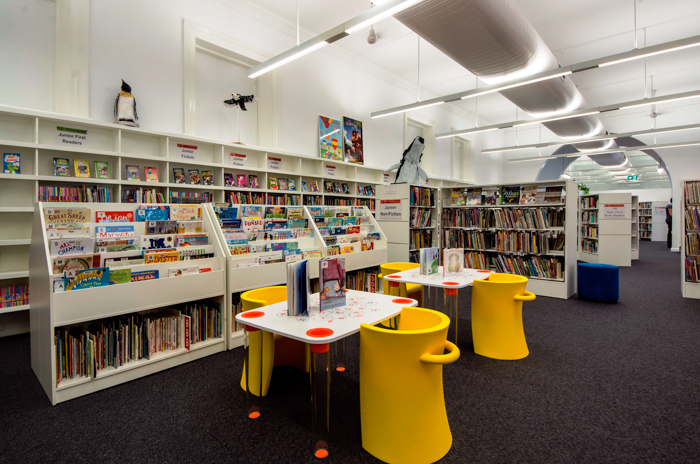 Visit local libraries across Sydney to spend a few hours perusing books in quiet children's areas. There are 11 public libraries in inner Sydney alone, with many offering activities for kids. Find an inner Sydney library and what's on.
Aquatic centres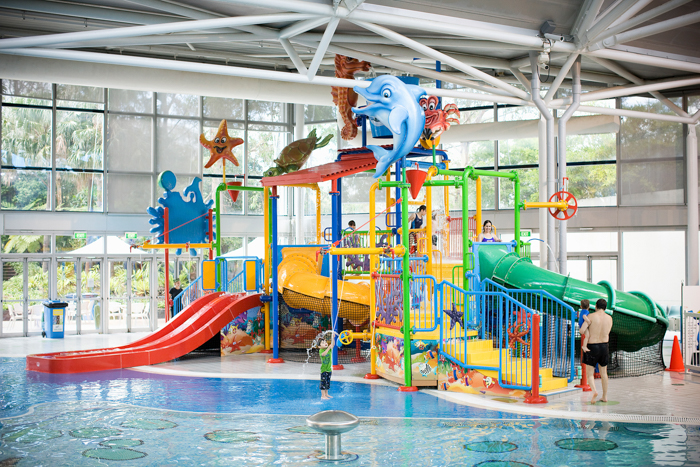 On hot days, head to the pool! The following aquatic centres around Sydney have family-friendly facilities.
Sydney CBD
Cook and Phillip Park Aquatic Centre
Ian Thorpe Aquatic Centre
Inner West
The Annette Kellerman Aquatic Centre
Leichhardt Aquatic Centre
South West
Sydney Olympic Park Aquatic Centre
Fairfield Leisure Centre
Prairiewood Leisure Centre
Whitlam Leisure Centre
North Shore
Lane Cove Aquatic Centre
Willoughby Leisure Centre
Hornsby Aquatic and Leisure Centre
Northern Beaches
The Warringah Aquatic Centre
North West and West
Ryde Aquatic and Leisure Centre
Ripples Leisure Centre, St Mary's
South Sydney
Hurstville Aquatic and Leisure Centre
Sutherland Leisure Centre
Get more info about Sydney Aquatic Centres.
Playgrounds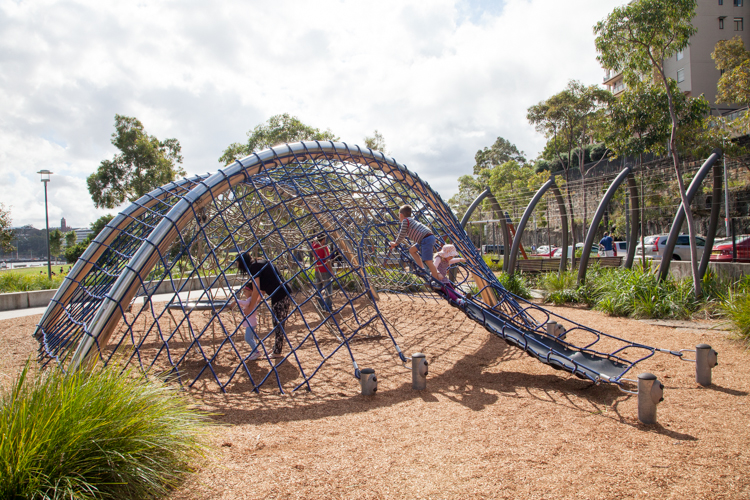 Find our top picks for playgrounds in Sydney here.
You can also find a playground near you using this excellent map by the City of Sydney.
Beaches

Sydney has over 100 beaches to explore! From bustling surf scenes to tranquil bays, there is a beach for everyone in the family to enjoy.
Get tips on the best beaches in Sydney to visit, from iconic Bondi and Manly to hidden gems like Parsley Bay, and plan which beaches are on your hit-list.
The entire NSW coastline is full of spectacular beaches. Take a look at this list and plan a road trip to visit as many as possible.
Ice Skating Rinks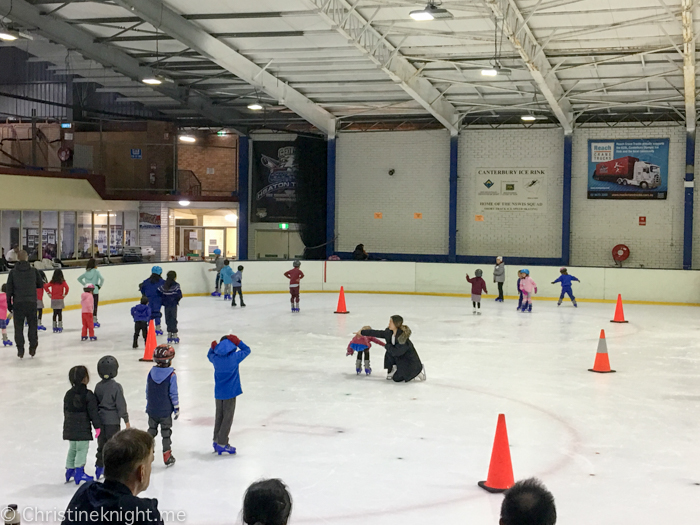 Ice skating is the perfect activity for both super hot and cold, rainy days. Get the full list of ice skating rinks in Sydney here.
Indoor Play Centres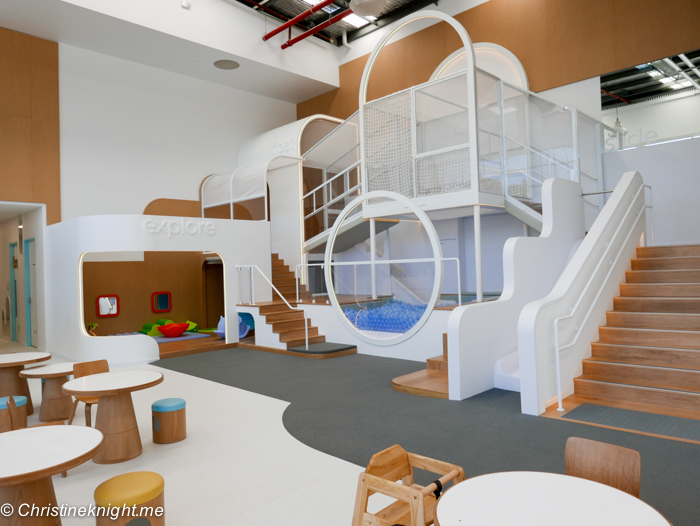 For those days when it's raining and cold, it's an easy option to entertain the kids!
Get the full list of indoor play centres, inflatables worlds and trampolining centres here.
Tips on visiting Sydney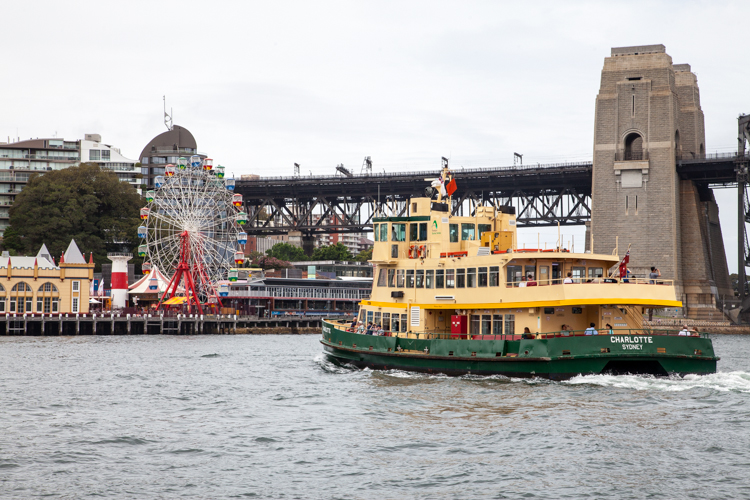 How to get around
Sydney has an extensive public transport system that includes trains, buses, ferries and light rail. If you're in Sydney for a few says, buy an Opal card to use public transport – the one card gives you daily travel caps and enables you to use all four transport systems, plus lets you use the $2.50 per person Sunday cap. Taxis and Uber in Sydney are expensive so walking plus public transport are your best options.
Driving in Sydney
To see a lot of Sydney and its surrounds, it's advisable to hire a car. International visitors may use a foreign driver's licence in NSW. Note that all speed limits are strictly enforced with cameras and it is illegal to drive with a blood alcohol level of 0.05 per cent or higher, or to drive under the influence of illegal drugs.
When to visit
Sydney is the perfect year-round travel destination due to its temperate climate. It does, however, get extreme heat in summer (December to February). While the average maximum temperatures are around 26°C (78.8°F), it can reach over 40°C (104°f) during this time of year. Summer is also the most humid time of year to visit, with average humidity of 65%.
Winter (June – August) average maximum temperatures are around 16°C (60.8°F). Sydney's highest rainfall is between March and June.
National Emergency Services
The national phone number for all emergency services in Australia, including ambulance, fire and police, is 000. You can dial Triple Zero within Australia from any fixed line, mobile phone, pay phone and certain Voice over Internet Protocol (VoIP) services. If you have a GSM digital mobile phone, you can also dial the international standard emergency number 112.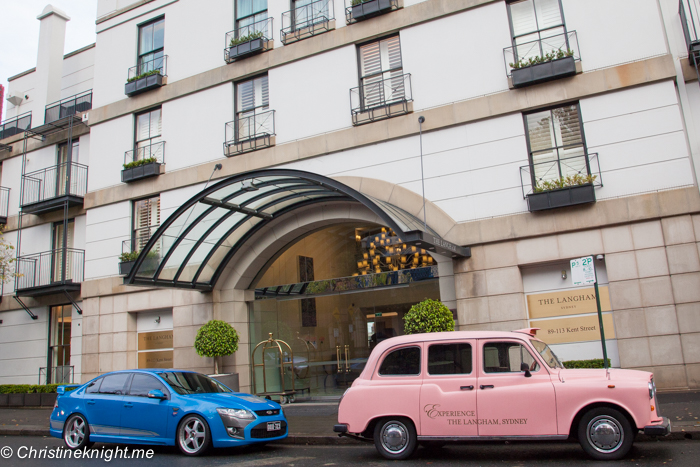 Where to stay
For a short stay, hotels in the CBD particularly around Circular Quay and The Rocks will make it easy to get around as they're close to public transport as well as main attractions. Darling Harbour is also a good choice particularly for families.
Our fave hotels to stay at are The Langham Sydney in The Rocks and the nearby Shangri-La, Sydney.
For longer stays try renting a house or apartment on Stayz.com.au or airbnb.com.au.
Get hotel rates in Sydney from Booking.com.
Looking for more things to do in Sydney? Find out the best things to do in Sydney for free here.
Join the Sydney With Kids Facebook Group
Ask locals for ideas on things to do in Sydney with kids.
Things to do beyond Sydney with kids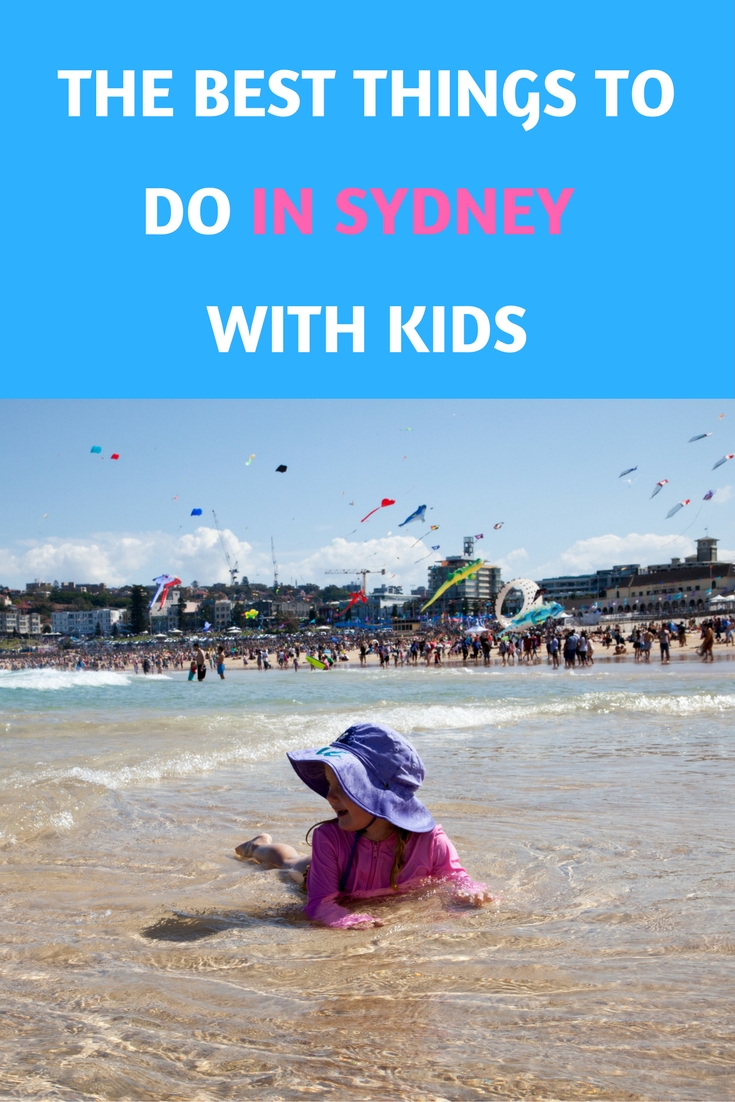 This blog post contains affiliate links. This means if you book a hotel after clicking on a link through my site I will receive a small commission at no extra cost to you. Thank you for supporting Adventure, baby!