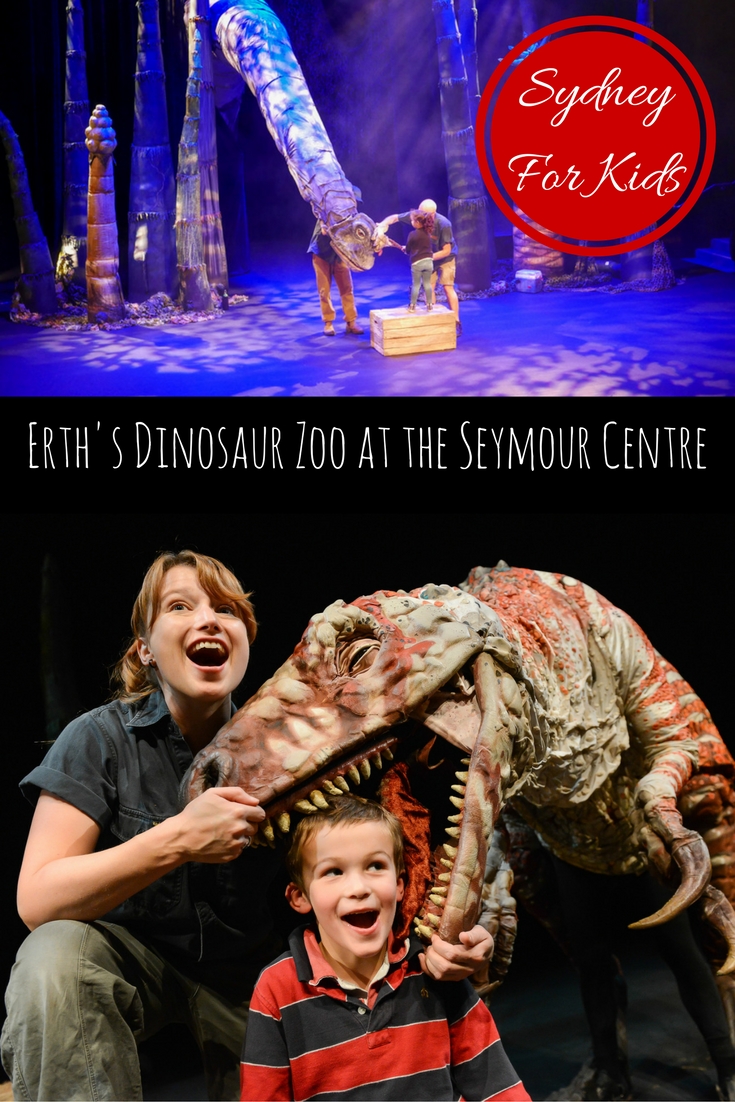 Take a walk on the wild side with a show 65 million years in the making. Dinosaurs once again roam the world thanks to the magic that is Erth's Dinosaur Zoo.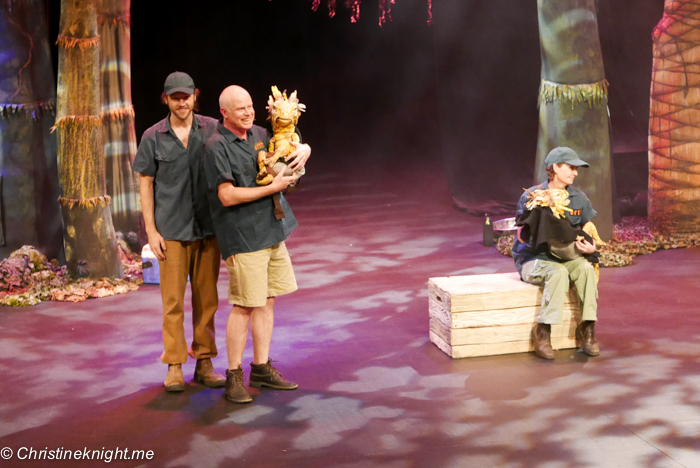 During this educational and entertaining show, kids have the opportunity to get up close to prehistoric creatures that have been discovered in Australia such as the Australovenator, AKA the cute baby dinos that make the crowd go "Awwwww" and the Meganeura, an insect from the Carboniferous period (approximately 300 million years ago), which looked like a mammoth dragonfly.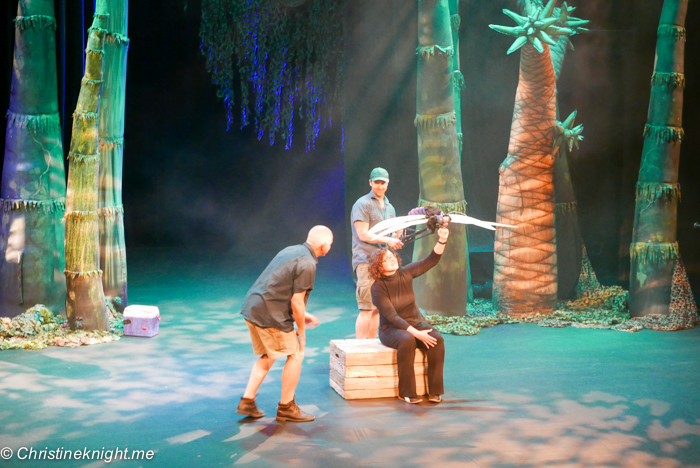 Scientific facts fly hard and fast during the show, and the audience has to think fast to keep up. Dinosaur devotees will be thrilled to learn about these lesser-known Aussie dinos, in the most entertaining way possible – through first-hand experience.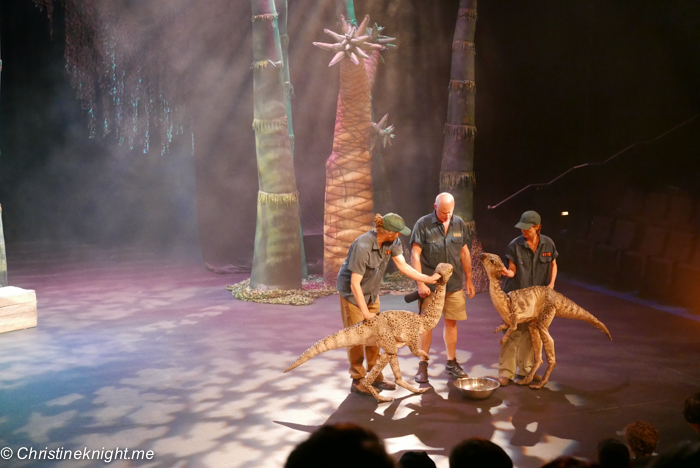 The real genius of Erth's Dinosaur is creative way in which they blend fun and fact. Give a kid a lecture on dinosaur history and they'll probably doze off. Give them a dinosaur to pat on the head, and they'll be entranced for hours.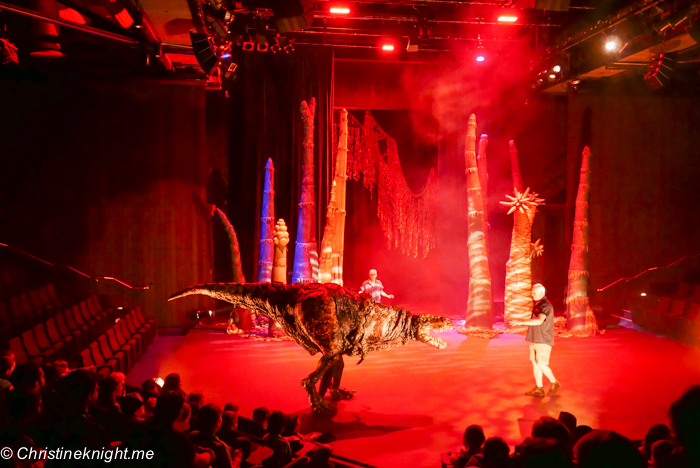 And it's not just the kids who can't take their eyes off the dinosaurs. Watching these incredibly realistic creatures walk around the stage is an entertaining experience for the adults, too.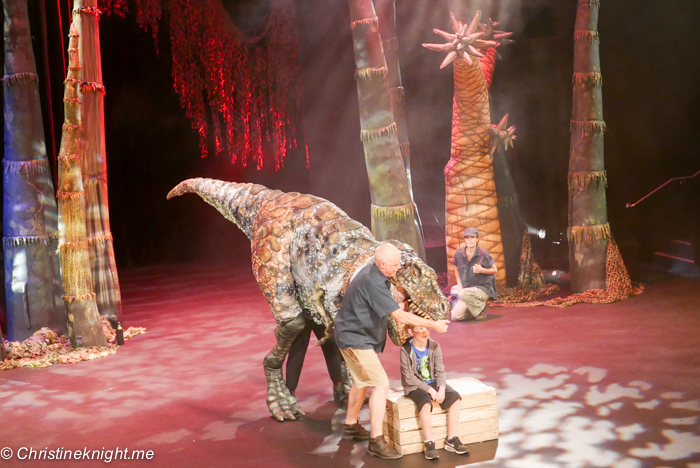 With its mix of kid jokes and adult humour, audience participation and a deliciously scary moment or two, it's hard to tell who enjoyed the show more – the kids or their parents. It's easy to see why Erth's Dinosaur Zoo is a hit of sauropod proportions.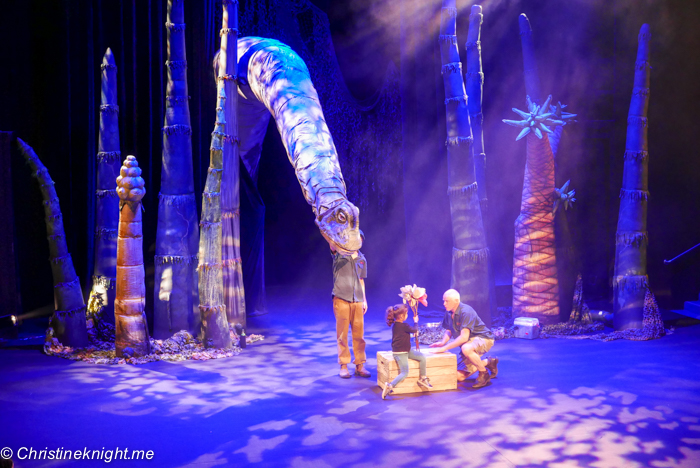 More Information:
Erth's Dinosaur Zoo is recommend for ages 5 and up. I would heartily agree with this recommendation due to language (lots of big words that littlies won't understand) and also a truly terrifying carnivore.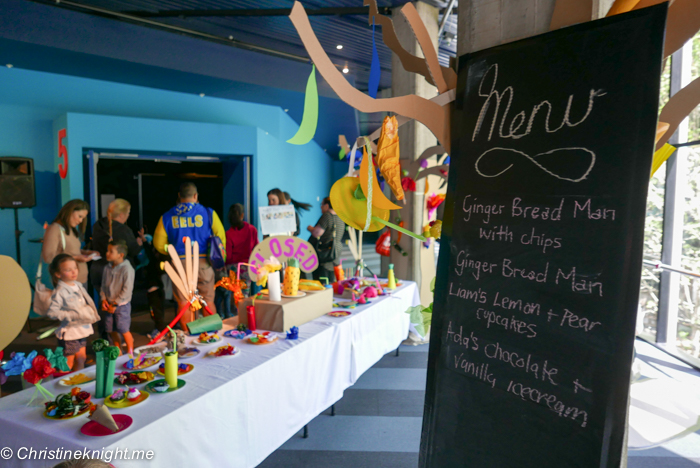 Stick around after the show to enjoy the free activities for kids offered by The Seymour Centre, including The Owls Apprentice by Little Wings Puppets, a beautiful show combining shadow puppetry, hand puppetry and storytelling, Polyglot Theatre's Forest Feast, where children will create a feast of food from craft items, and Ants, an interactive roving performance where human-sized ants and children work together in a gentle and unusual landscaping project.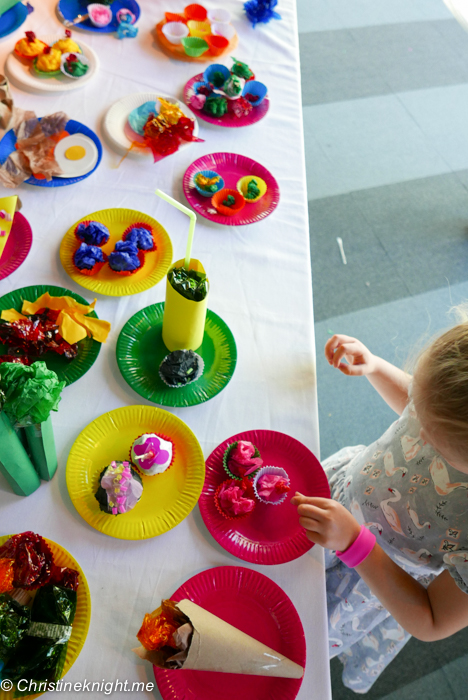 Catch Erth's Dinosaur Zoo at the Seymour Centre
Dates: 27, 28, 29, 30 Sept and 1 Oct, two shows a day: 10.30am and 12.30pm
Prices: All tickets $22 available via Box Office (02) 9351 7940 or http://www.seymourcentre.com
Address: The Seymour Centre – Corner of City Rd and Cleveland St, Chippendale
Full School Holidays Program: http://www.seymourcentre.com.au
I received tickets to Erth's Dinosaur Zoo for reviewing purposes. I absolutely loved the show and all opinions written here are my honest feedback.
More things to do in Sydney
Find a list of the best things to do in Sydney with kids here.
Find things to do in Sydney for free here.
Get a list of the best kid-friendly beaches in Sydney.
Find the best animal experiences in Sydney here.
Visit the best kid-friendly restaurants in Sydney here.
Find the best high teas in Sydney here.
Head to one of the best museums in Sydney here.
Check out things to do in Sydney on a rainy day here.
Enjoy one of the best ocean pools in Sydney here.
First time visiting Sydney? Get tips for first time visitors to Sydney here.