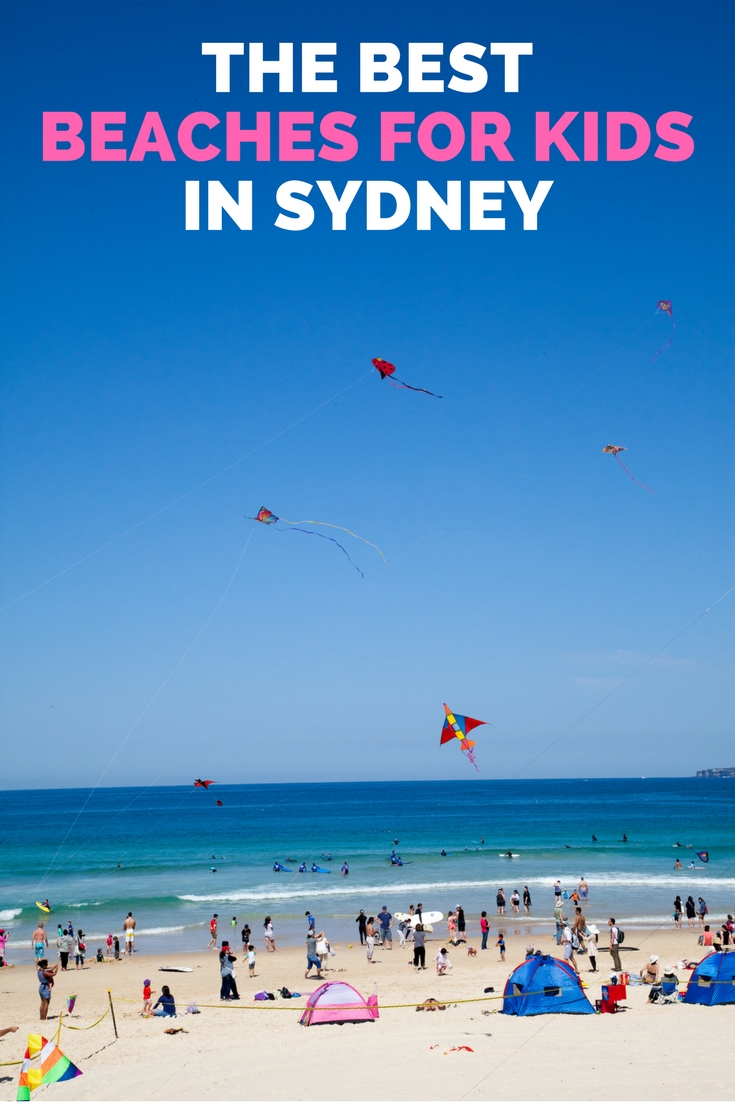 With hundreds of stunning beaches in Sydney to choose from, sun seekers are spoiled for choice! Take the kids for a dip at one of the best family-friendly beaches in Sydney, spread across the north, east and south. From calm, sheltered beaches and bays to bustling surf scenes, there are so many kid friendly beaches in Sydney that this list just keeps on growing!
Take your pick from some of the best beaches for kids in Sydney!
27 Of The Best Beaches For Kids In Sydney
Beaches in the North
Chinamans Beach

The beautiful residential suburb of Mosman, on Sydney's north shore, is home to several stunning beaches including Chinamans Beach. We happened upon this little gem on a hot summer's day, when we weren't able to find parking at nearby Balmoral and thought we'd give its smaller neighbour a try instead.
Chinamans Beach is a smaller beach, a 250m stretch of sand that sits inside Middle Harbour. The result is a quiet, calm beach with very gentle water, perfect for families with little kids.
Get more tips on visiting Chinamans Beach.
Balmoral Beach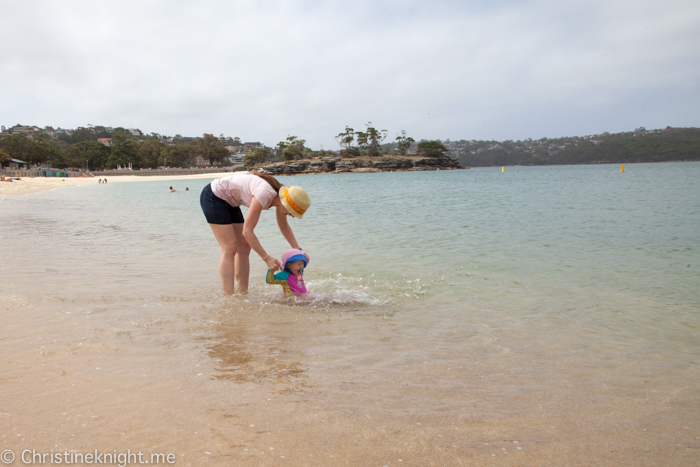 Often called the best beach for kids in Sydney thanks to the gentle water in the enclosed swimming area. Balmoral has a gorgeous view between the two headlands that form the gates to Sydney Harbour. It also features a wide boardwalk, plenty of cafes and bathrooms / change room facilities at the rear of the Bathers' Pavilion. Balmoral is renowned as one of the best calm beaches in Sydney.
At the northern end, a short walk through the streets or around the rocks will take you to Chinamans Beach. Little Sirius Cove is also nearby – an under-the-radar spot with sheltered beaches, a playground and a netted tidal pool. To reach Little Sirius Cove follow the trail that leads to Taronga Zoo.
Get more info on visiting Balmoral Beach here.
Clifton Gardens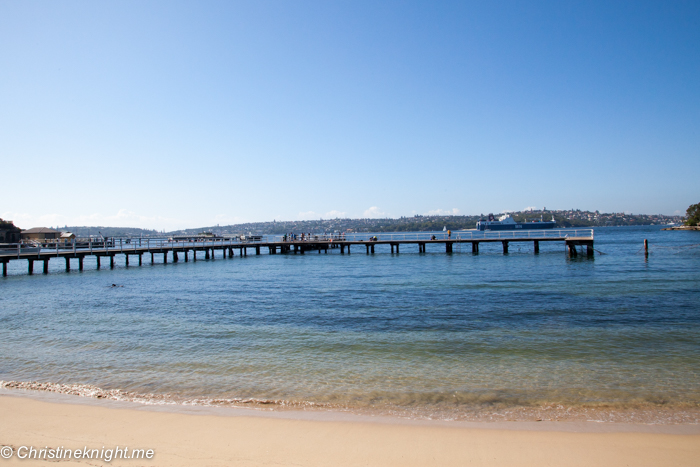 One of Sydney's best beaches for families, Clifton Gardens features a gorgeous white sand beach, baths and a playground, excellent facilities and access to bush walks. The water is flat and calm, there is a wide path for scooters and bikes, plus a sheltered playground. A big grassy area is perfect for kite flying. At the southern end follow the path to take a short bush walk. Another of the best calm beaches in Sydney, Clifton Gardens is a beautiful spot all year-round.
Get more tips on a day at Clifton Gardens.
Collaroy Beach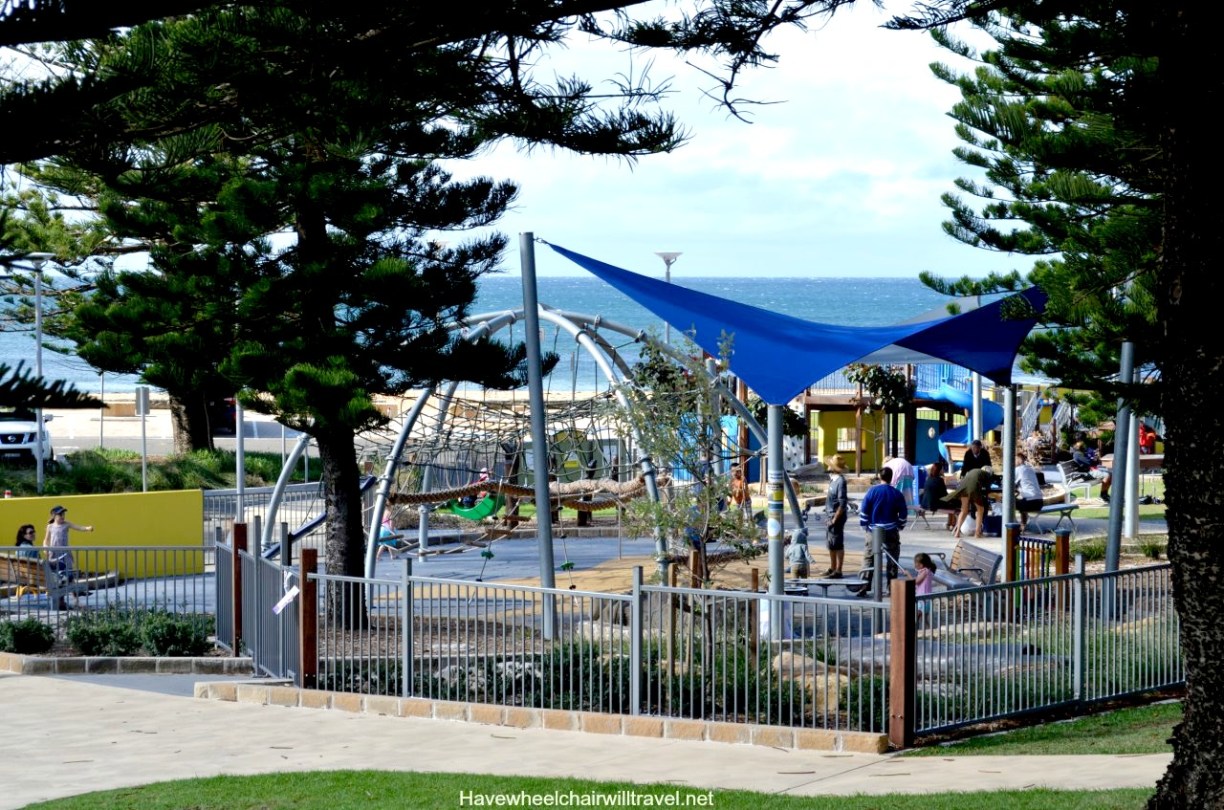 Collaroy is well-known for being a fully accessible beach reserve and playground. The recently upgraded playground is excellent – it's gated, has partial shade and has equipment for children of all-abilities. Collaroy Beach also has public toilets, accessible picnic areas, rockpool and paths perfect for scooters, strollers and wheelchairs.
Visiting Collaroy with a wheelchair? Check out Have Wheelchair Will Travel for tips (also thanks for the pic!).
Curl Curl

One of Sydney's best surfing beaches. At the northern end of Curl Curl you'll find a lagoon which flows to the sea. Kids can walk through the shallow water in this area, look for sea life or play in the sand. At the southern end lies a family-friendly ocean swimming pool.
Dee Why Beach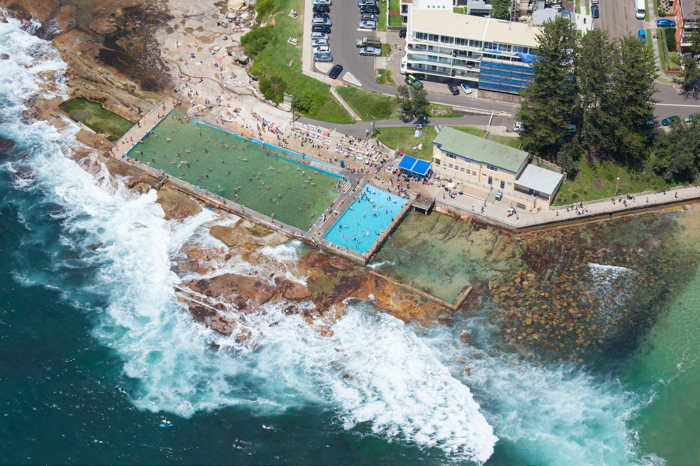 A popular beach for families with its ocean swimming pool and toddler's area, spots for picnics and plenty of beach cafes and boutique stores. Dee Why is located around 20km from Sydney's CBD, to the north of Curl Curl. Ramps leading down to the beach make it easily accessible for strollers.
Image credit: Destination NSW
Manly Beach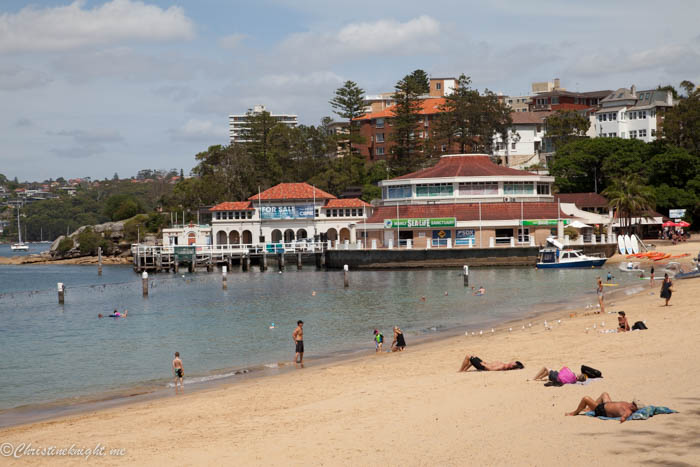 One of the best beaches in Sydney period, Manly is a fantastic day trip for families. While the beach is famous for surfing – the first world surfing championship was held here in 1964 – it's also a place to shop, dine and play. The easiest way to get to Manly is to catch a ferry from Circular Quay, near the Sydney Opera House, across Sydney Harbour to Manly Wharf (it takes 30 minutes). Walk from the wharf up the Corso, where you'll find shops and cafes, to Manly Beach.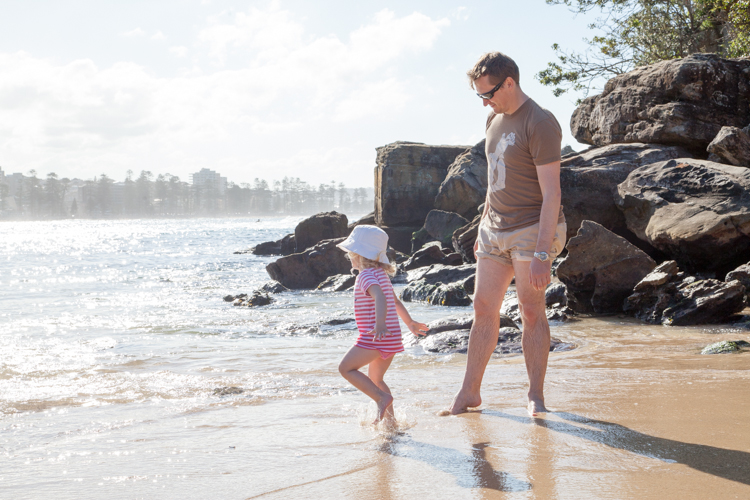 Walk south down the beach to Shelly Beach, a sheltered area that's perfect for kids to paddle and swim, as well as being popular for snorkelling. Thanks to the calm waters, Shelly Beach is a particularly great beach for kids.
Get more tips on a day at Manly Beach.
Freshwater Beach
Accessible by foot from Manly Beach, Freshwater is popular with families thanks to its sheltered position. Freshwater also features public toilets with showers, a playground, BBQs, kiosk and picnic areas.
Narrabeen Beach
Narrabeen Beach stretches over 3km from Long Reef to Narrabeen Lagoon. It features some of the most beautiful rock pools of all the northern beaches. North Narrabeen Beach is particularly family friendly with Narrabeen Lagoon and Birdwood Park adjacent, featuring grassed spaces and a small playground.
Palm Beach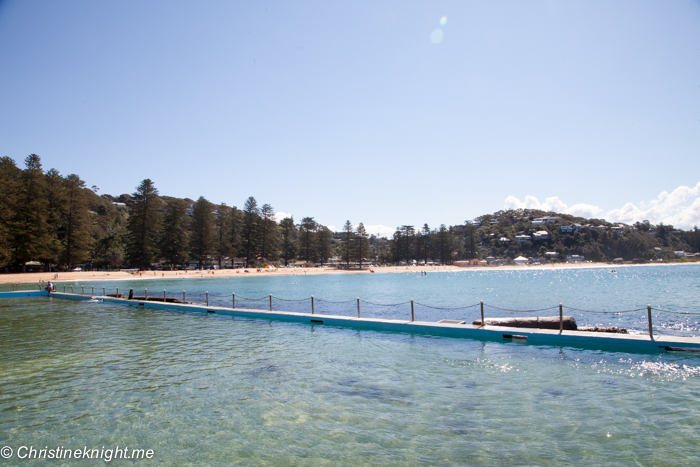 Famous for it's starring role in the TV show Home & Away, Palm Beach is also the northernmost suburb of Sydney. Just over an hour's drive from Sydney's CBD, Palm Beach is also home to the historic Barrenjoey Lighthouse and keeper's cottages (which can be accessed by foot if you feel like a good walk). The southern end of Palm Beach has a protected section of water suitable for small kids as well as the ocean tidal that graduates from shallow to deep. We enjoy following the trail past the tidal pool to climb on the rocks. We love Palm Beach and rate it as one of the best beaches for kids in Sydney cos it's just such a great day trip as well as having lots to do.

Get more tips on a day at Palm Beach.
Whale Beach

A small beach located 40km from Sydney's CBD, Whale Beach features a smaller pool and a natural rock pool area to explore.
Image credit: Andrew Gregory; Destination NSW
Pittwater Beaches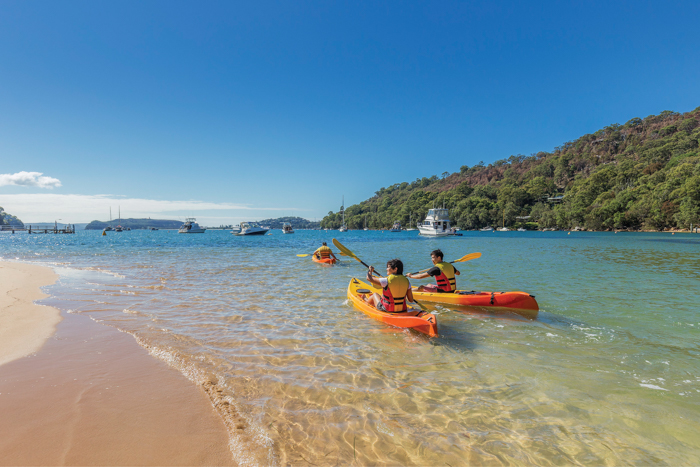 There are several beach options in Pittwater, located an hours drive from the Sydney CBD. The flat water in this area is a major draw for families. Try The Basin, a calm lagoon best reached via ferry from Palm Beach, Clareville Beach with its tidal baths, Salt Pan Cove which has a playground and Paradise Beach, a little gem of a spot that has a swimming enclosure. With such flat water in the area, kayaking is a popular sport.
Image credit: Destination NSW
Greenwich Baths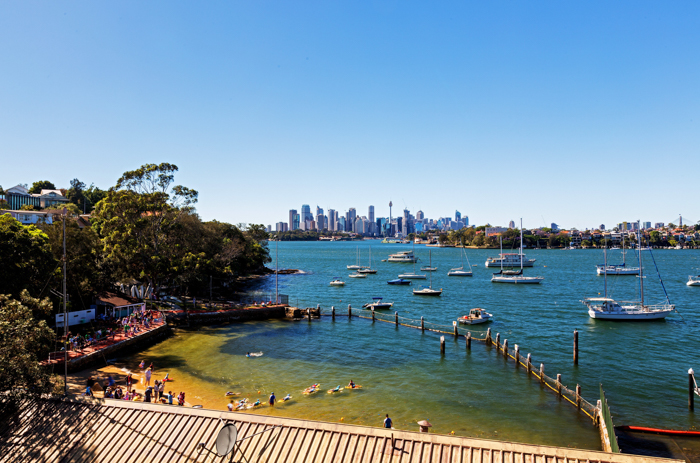 This fully-enclosed harbour beach is located at the tip of Greenwich Point and is the only privately operated swimming spot on the list. For a small admission fee, visitors can access the beach and change room facilities, as well as enjoy the provided beach toys and sun-loungers. A kiosk supplies food all day. Greenwich is often called one of the most kid-friendly beaches in Sydney.
Image credit: Destination NSW
Beaches in the East
Clovelly Beach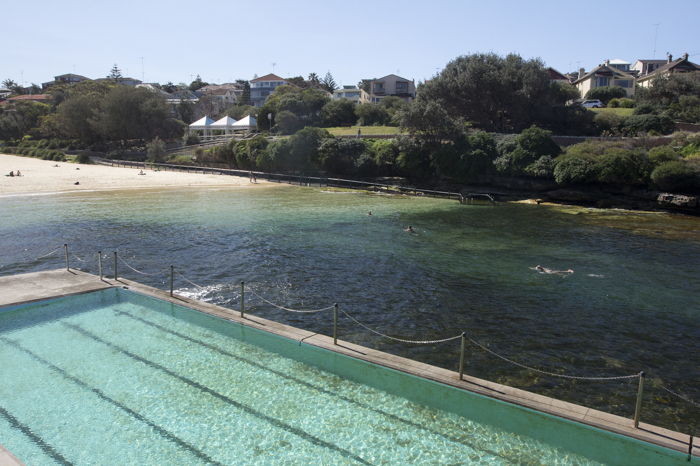 A small and tranquil beach, Clovelly is popular with families and snorkellers, as well as being home to plenty of marine life. A Blue Groper nicknamed "Bluey" frequents the area. With access steps into the water, Clovelly resembles a large ocean pool more than a beach. At the southern end of the beach you'll find a saltwater lap pool.
Image credit: Andrew Gregory; Destination NSW
Bronte Beach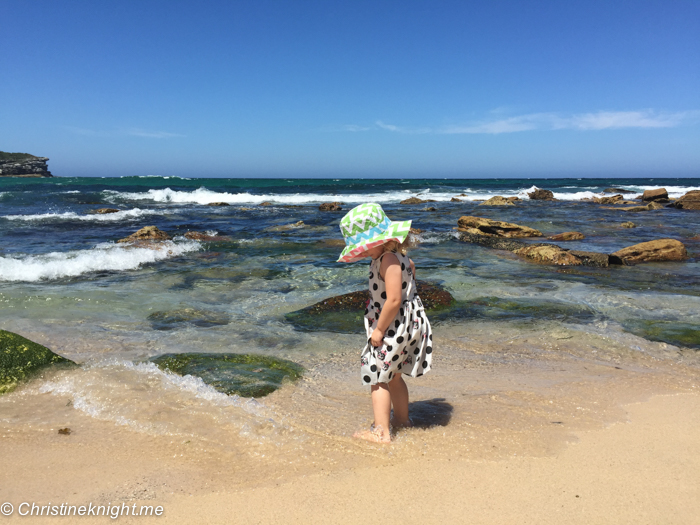 A gem of a beach only 2km south of Bondi, Bronte has a beautiful park with picnic and BBQ facilities, plenty of cafes and can be used as a base to start the coastal walk to Bondi Beach and beyond.
While the surf conditions might now always be suitable for small kids, at the southern end of the beach lies an area where rocks create a sheltered paddling area for kids, plus the Bronte Baths, an ocean pool constructed in 1887. Bronte Beach is one of our fave kid-friendly beaches in Sydney.
Bondi Beach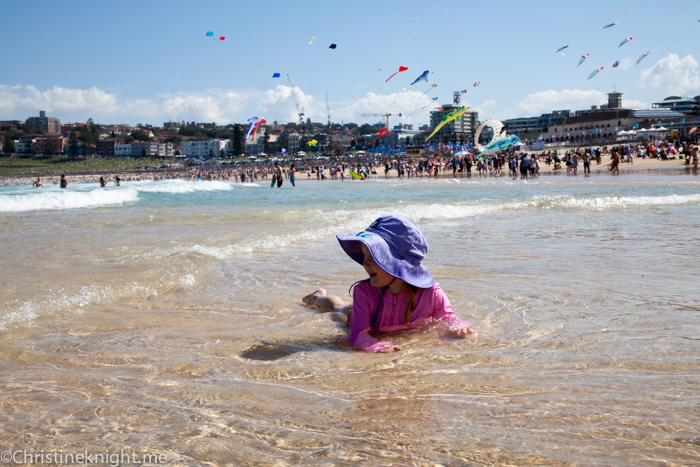 Sydney's most iconic beach is always busy – and for a good reason. For many reasons, Bondi is always regarded as the best beach in Sydney. With plenty of great cafes to grab a bite, the stunning Bondi to Bronte coastal walk at the south end, plus a gated playground near the surf club and a children's ocean pool at the north end, it's the perfect family beach in Sydney.
Parking is difficult so allow plenty of time to find a spot, or catch the bus. Despite it's popularity with tourists and constant business, we love Bondi and think it's one of the best beaches in Sydney for kids.
Get more tips on a day a Bondi Beach.
Visiting Bondi with a wheelchair? Check out Have Wheelchair Will Travel for tips.
Coogee Beach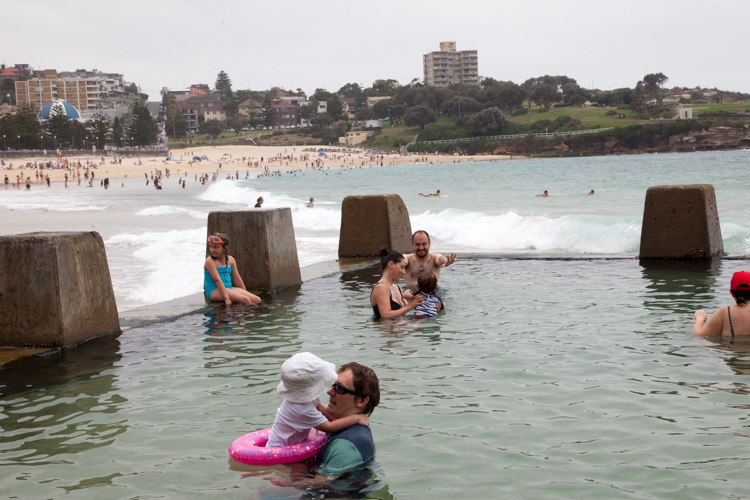 With calm surf, a flat path along the water's edge for scooting and plenty of kid-friendly places to eat like the Coogee Pavilion, Coogee is a local fave hangout for families. At the southern end is a great playground with bathrooms. You can also make Coogee your starting point for a coastal walk – a few hundred meters past the beach lies Wylie's Baths, a beautiful ocean tidal pool. Coogee is is one of the best Sydney beaches for kids!
Get more tips on a day at Coogee Beach.
Nielsen Park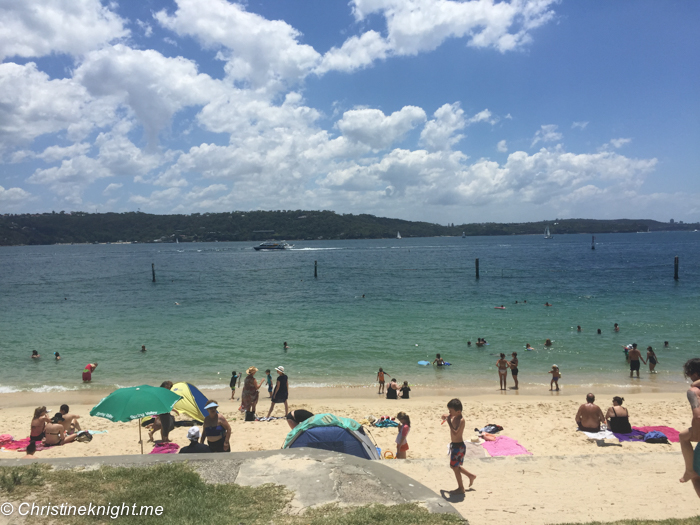 In the suburb of Vaucluse you'll find some the most family-friendly beaches in Sydney. Shark Beach at Nielsen Park, located in the Sydney Harbour is a haven for families, with a netted swimming area in its placid bay, large fig trees for shade, plus a beautiful pavilion with bathroom and changing facilities that was built in 1932.
Bring a picnic lunch or try the Nielsen Park Kiosk. Parking can be tricky to find so arrive early. This is one of the most kid-friendly beaches in Sydney, so it's always popular.
Milk Beach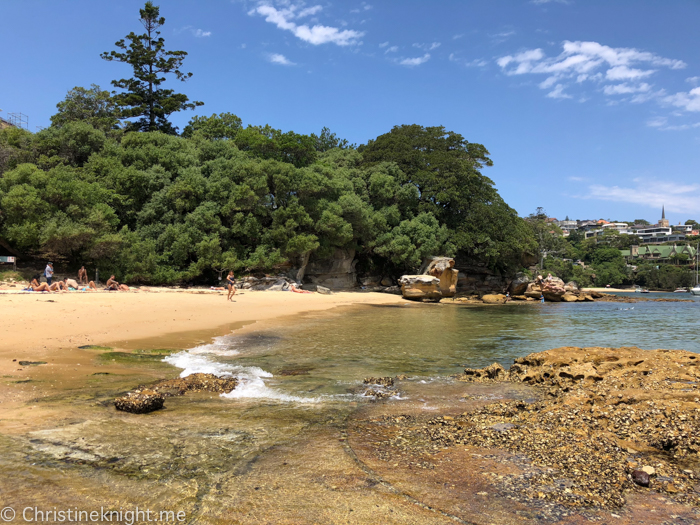 Milk Beach is located at the base of Hermit Bay in the Sydney National Park, in Sydney's Eastern Suburbs. A small, isolated beach, Milk Beach is known for its breathtaking views of Sydney. The beach has calm water thanks to protection on both sides, its gentle waves making it great for kids to splash around. While there are no bathrooms or cafes at this beach it does feature a rock shelf, rock pools and a wave cave, making it one of our faves to stop by in any season to explore.
Get more tips on a day at Milk Beach here.
La Perouse Beaches
La Perouse is a little gem of a spot, with three beaches to choose from all on the one little peninsula. The three beaches, Frenchmans Bay, Congwong Beach and Little Congwong Beach are all calm, sheltered beaches, making them perfect for kids.
Frenchmans Bay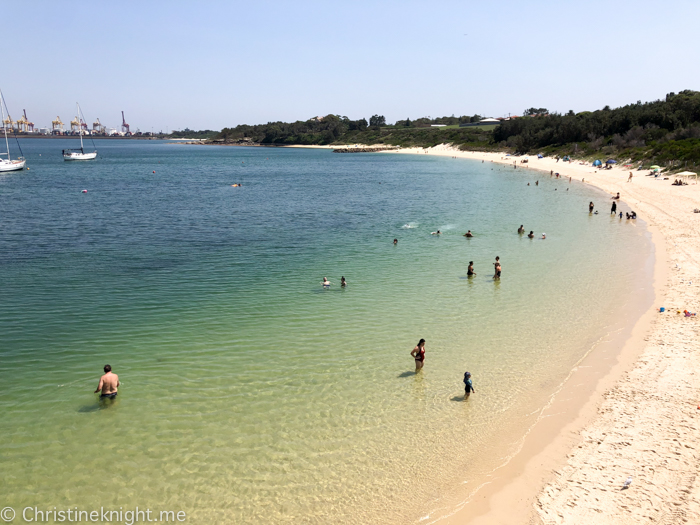 In terms of accessibility, Frenchmans Bay wins first place, located right next to the road with only a few steps needed to be taken to reach the soft sand. It's also closest to amenities including public toilets and cafes.
Read more about La Perouse Beaches including Frenchmans Bay.
Congwong Beach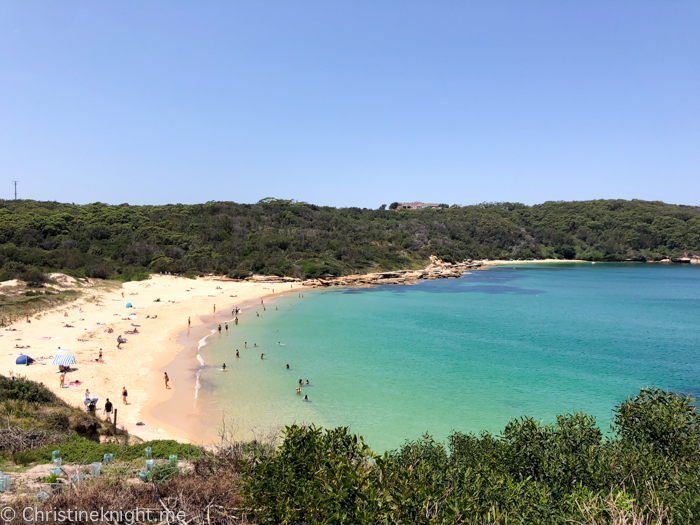 Congwong Beach requires a 100m walk down through the bush and down stairs, so is best suited to older kids.
Read more about visiting Congwong Beach.
Parsley Bay Reserve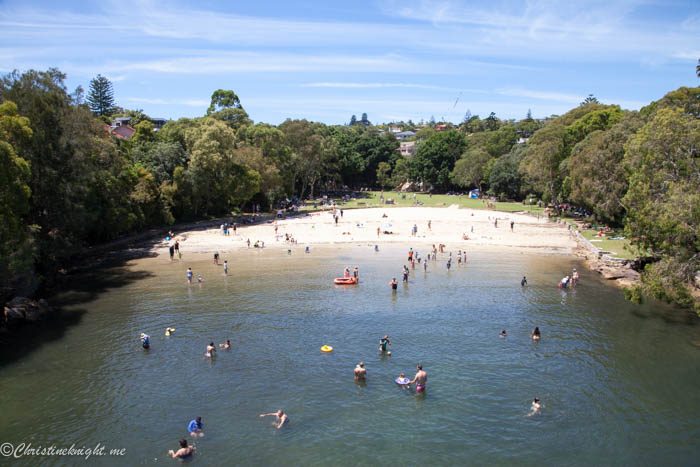 A personal fave our ours with the calmest swimming waters we have ever encountered thanks to the bay's sheltered position. The water is also very shallow, making Parsley Bay the perfect kids beach. Behind the beach you'll find bathrooms (they're a bit of a walk), a little kiosk, shady trees, a playground and a short bush circuit that's perfect for kids. You might even spot an Eastern Water Dragon sunning itself.
A small carpark is accessible from Parsley Road (Horler Avenue) but we found a great spot on the street last time we visited. Parsley Bay Reserve is stunning and one of the best beaches for kids, as well as being one of the best beaches for toddlers in Sydney.
Get more tips on a day at Parsley Bay.
Watsons Bay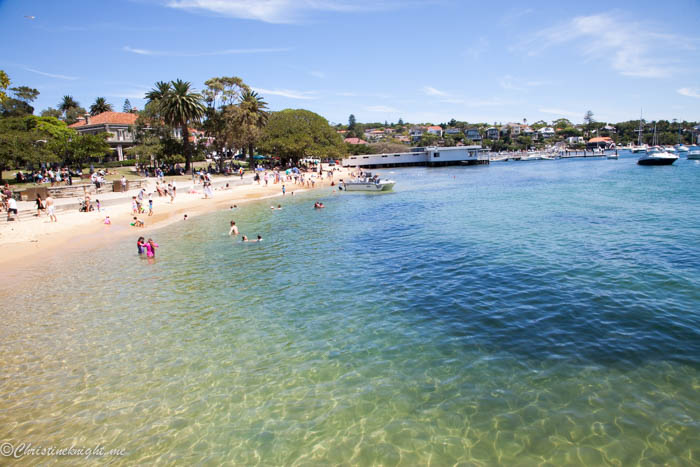 A perfectly calm beach in Sydney, with a stunning view! Catch a ferry from Circular Quay to Watsons Bay and enjoy fish and chips on the beach from the famous Doyle's. Splash in the ocean, play in the gated and shaded playground, or picnic in the large park. Kids can also take a tip in the recently renovated and completely enclosed Watsons Bay Baths. The harbour views from Watsons Bay are stunning and a reason to go on their own. The perfect day trip for locals and visitors alike, Watson's Bay is a super kid-friendly beach.
Get more tips on a day at Watsons Bay.
Gordons Bay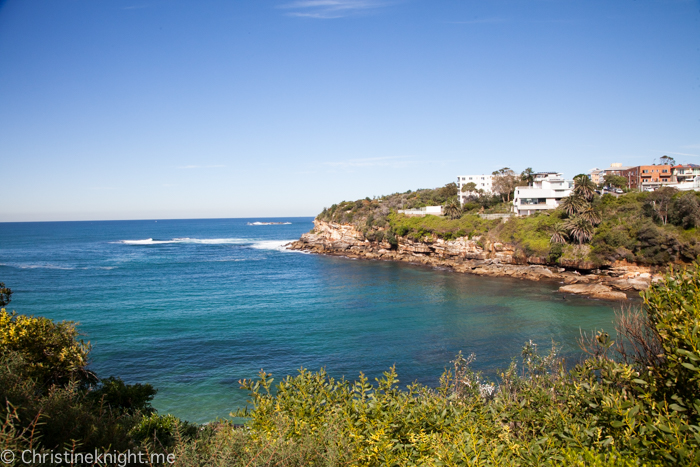 This secluded beach is best for older kids as there are no lifeguards or bathrooms and access is a bit tricky. It is, however, a calm bay to swim in, teaming with aquatic life, and has a fantastic rock shelf for climbing.
Read more about visiting Gordons Bay.
Beaches in the South
Cronulla Beach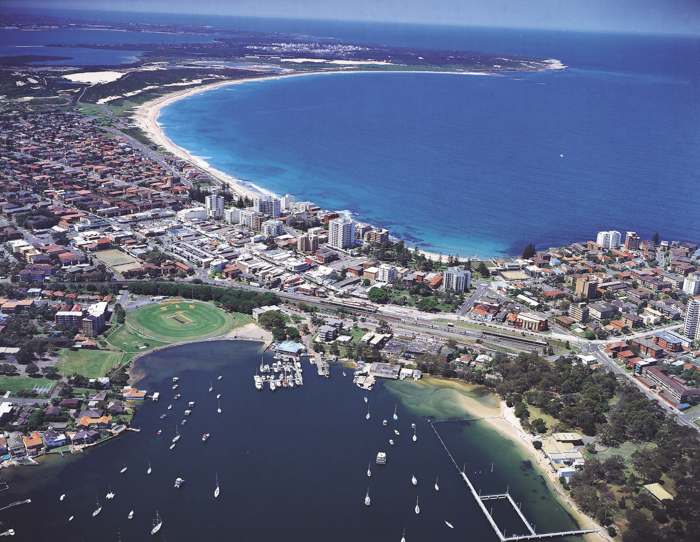 Located 50 minutes by train from Sydney's CBD, Cronulla is a thriving beach community. Enjoy the rock pools at both the north and south ends of the esplanade or try one of the many kid-friendly cafes. Cronulla's Shelly Beach has a rocky shoreline with a rock pool for swimming that's popular for younger children, plus a large grassed area with a fenced playground.
Image credit: Destination NSW
Malabar Beach

A lesser-known beach, Malabar is a local hangout particularly for families. With placid surf conditions, a rock pool located on the southern foreshore below Randwick Golf Club and a park directly behind the beach with a playground and public toilets, it's easy to see why.
Maroubra Beach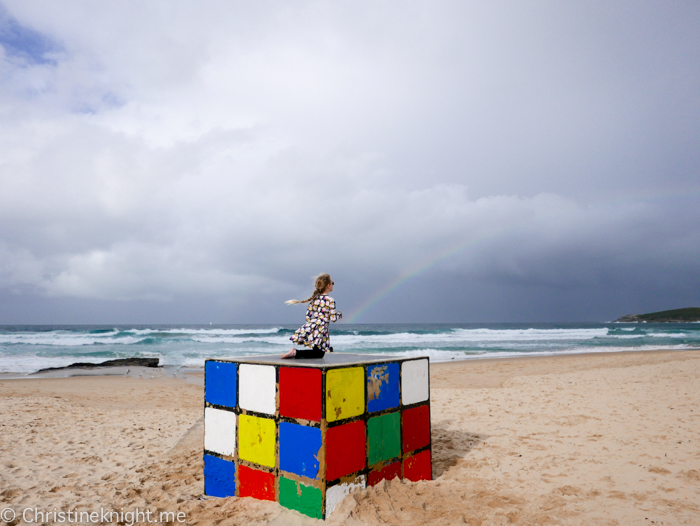 A popular spot for both expert and beginner surfers, Maroubra, which is easy to access by bus from Central Station. The beach also features a shaded kids playground and a skate park in Arthur Bryne Reserve, adjacent to the beach. Walk to the northern headland to Jack Vanny Reserve, and follow the steps to Mahon Pool, a popular rock pool.
Get more info on visiting Maroubra Beach and Mahon Pool.
Visiting Maroubra with a wheelchair? Check out Have Wheelchair Will Travel for tips.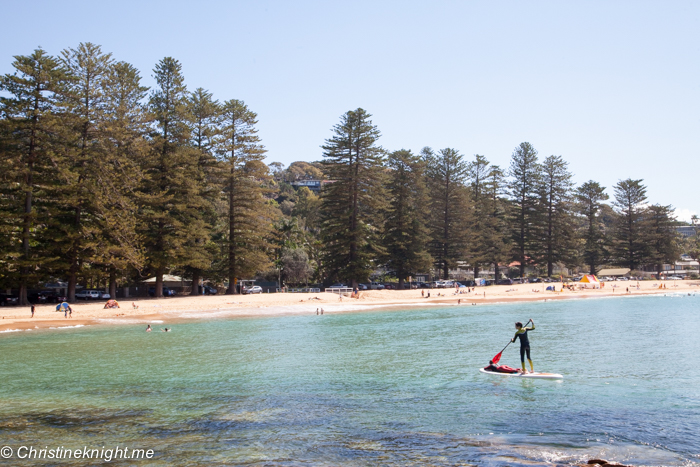 Tips for visiting Sydney beaches
Go early or off season
Sydney summers are brutally hot and the beaches get packed in peak season. If you're going in summer particularly on a weekend arrive early if you want to be able to park your car anywhere remotely near the beach. I particularly love Sydney's beaches in spring and autumn as there are less people and they're also less hot!
Be prepared for the heat
Pack well with long-sleeved rashies and cotton cover ups, plus wide-brimmed hats and slip off shoes (Natives or Crocs are good).
Slap on sunscreen
Not just once: reapply SPF 30+ sunscreen every 2 hours or after swimming.
Stay hydrated
Take large bottles filled wiht ice cubes or frozen overnight. We have insulated water bottles that stay cold for 12 hours.
Swim between the flags
Particularly with kids, stay in parts of the beach that are patrolled by life savers and stay within the flags.
Take a break at high noon
When the sun is at its most brutal, get out of the heat. Have lunch at a cafe or sit under a tree with books or games.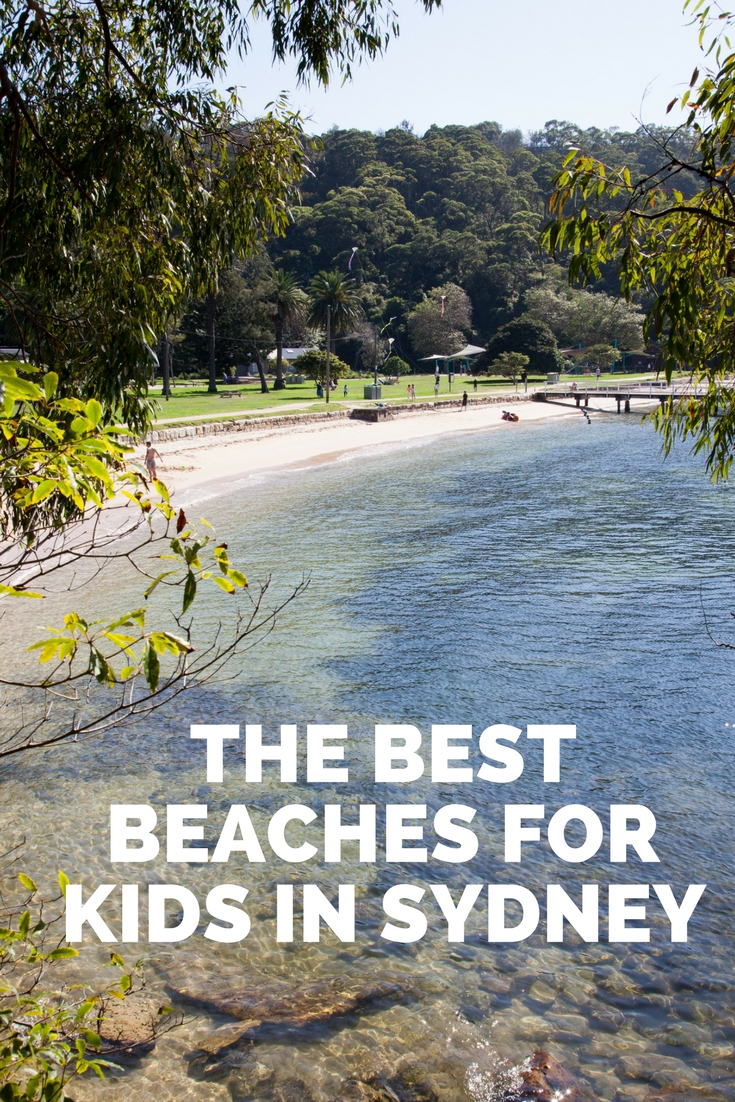 More things to do in Sydney
Find a list of the best things to do in Sydney with kids here.
Find things to do in Sydney for free here.
Get a list of the best kid-friendly beaches in Sydney.
Find the best animal experiences in Sydney here.
Visit the best kid-friendly restaurants in Sydney here.
Find the best high teas in Sydney here.
Head to one of the best museums in Sydney here.
Check out things to do in Sydney on a rainy day here.
Enjoy one of the best ocean pools in Sydney here.
First time visiting Sydney? Get tips for first time visitors to Sydney here.
Cool down at one of these free water parks in Sydney.

Christine is the editor of Adventure, Baby!