The Best Sydney Parks To Explore
Enjoy a picnic, a wander and stunning harbour views in Sydney's best parks.
Ballast Point Park, Birgrove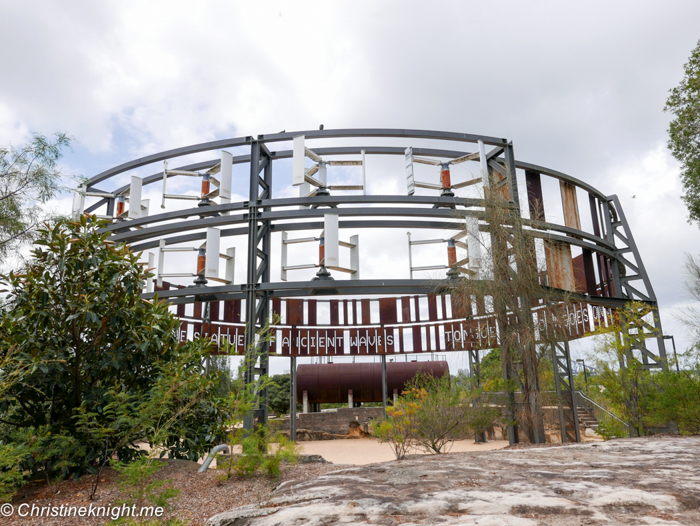 Located at the very tip of the Balmain peninsula, Ballast Point Park was once home to local Aboriginal tribes before European settlers arrived in the early 19th century. The park's indigenous history is recognised in a dual name – Walama – which means 'to return'. The 2.6-hectare park opened in 2009 with several design features that highlight its history. Ballast Point Park has stunning harbour views and is a popular picnic and barbecue spot for families.
Sydney Park, Alexandria
This 40-hectare park contains large expanses of grass perfect for kicking a ball around, landscaped gardens, rolling hills (great for sliding down on cardboard boxes – not kidding!), pathways for strolling or running and wetlands home to native birds. The park is also super dog-friendly, so on any given day you'll see many many many dogs rolling, running and snuffling with abandon. Local parents like us love the huge playground.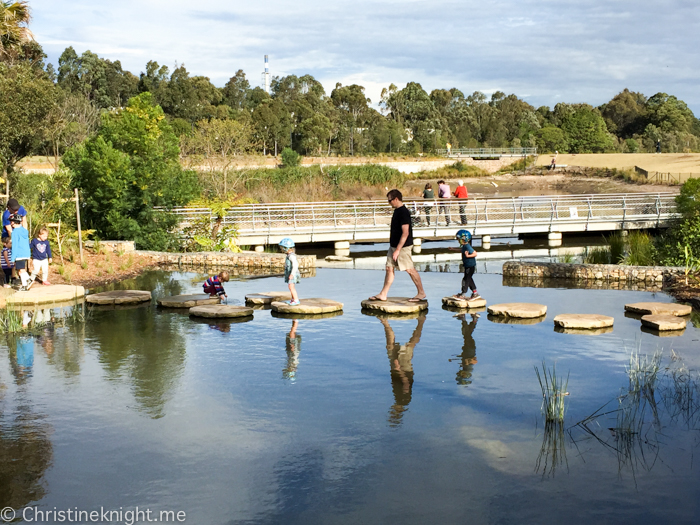 Read more about the playground at Sydney Park.
Hyde Park, Sydney CBD
Hyde Park is a heritage-listed 16.2-hectare (40-acre) urban park right in the centre of Sydney. The oldest public parkland in Australia, Hyde Park is home to beautiful shady fig trees, various statues, the beautiful Sandringham Gardens, War Memorial and Archibald Fountain.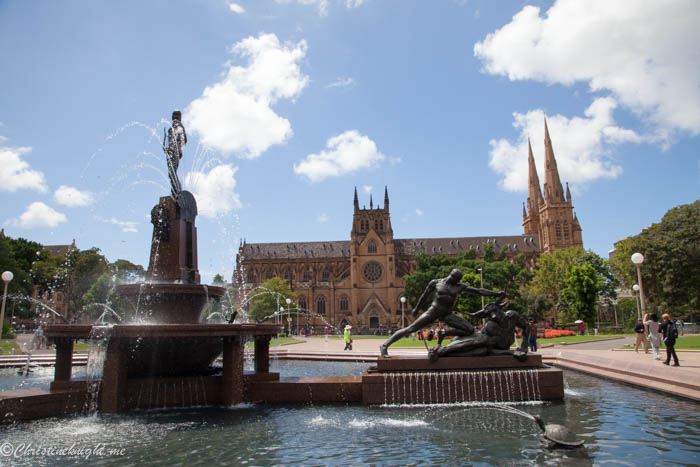 Nearby you'll find the Hyde Park Barracks, Australian Museum and St Mary's Cathedral.
Glebe Foreshore Parks
This collection of four, leafy parks in the inner-west suburb of Glebe includes Blackwattle Bay Park, Bicentennial Park, Jubilee Park, and Federal Park. The four parks huge the harbour, resulting in a stunning outlook over the water including the ANZAC Bridge and even the Sydney Harbour Bridge in the distance.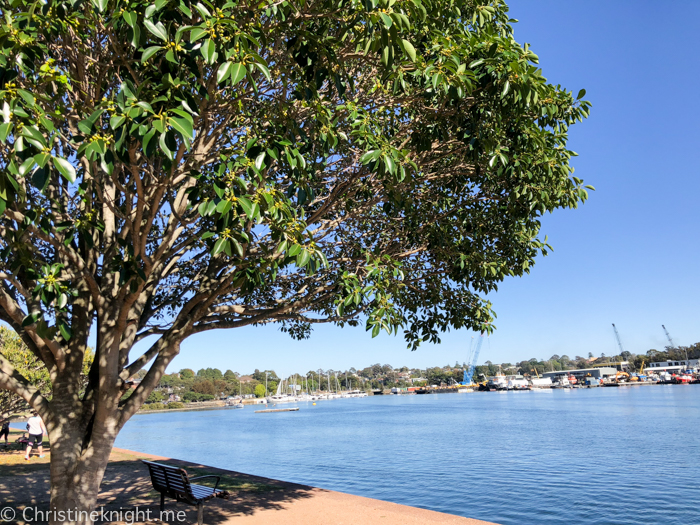 Take the 2km Glebe Foreshore Walk to enjoy the best of the vistas along this walk. Kids will enjoy the two playgrounds in Jubilee Park and Bicentennial Park.
Read more about the Glebe Foreshore Walk and Jubilee Park & Playground Glebe.
Victoria Park, Sydney CBD
Right in the middle of Sydney lies Victoria Park, a 9 hectare public park adjoining Sydney University.
Victoria Park features historic structures such as the entrance gates, Gardener's Lodge, a Canadian totem pole and ornamental wooden bridge.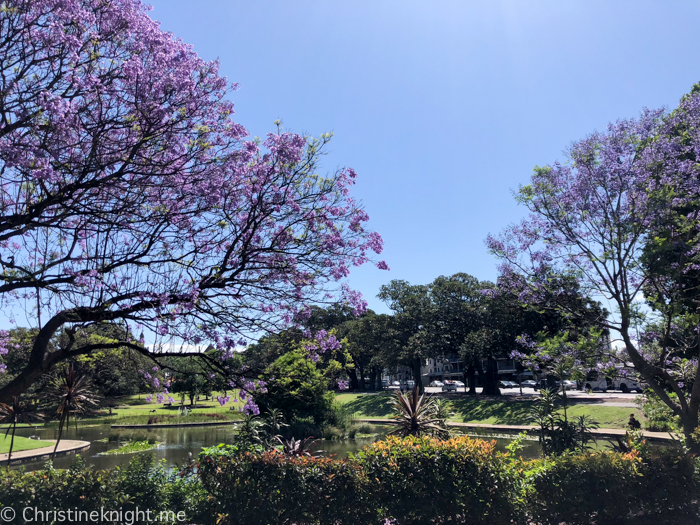 Read more about visiting Victoria Park.
Sydney Olympic Park, Homebush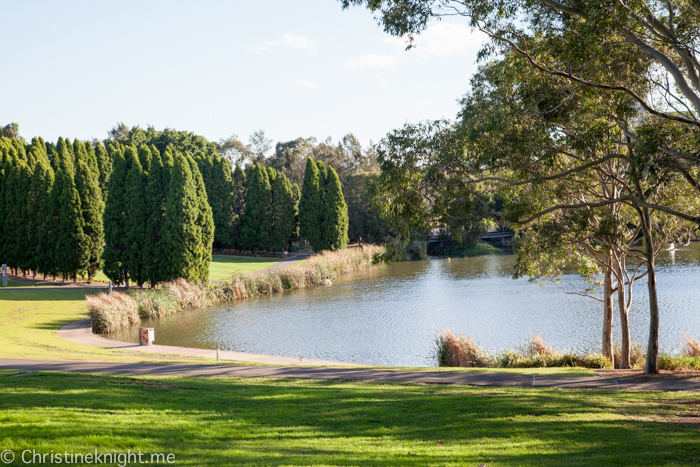 Sydney Olympic Park is not just a park, it's a destination that includes 430 hectares of parklands, playgrounds, entertainment and sporting venues, accommodation, cafes and restaurants. for all things entertainment, sports and family fun.
Bicentennial Park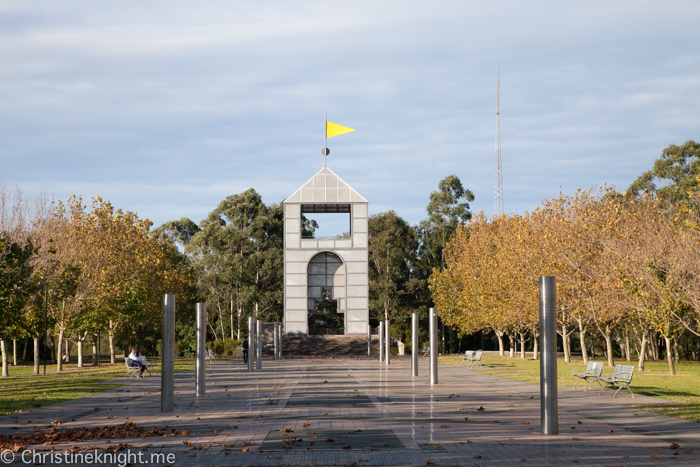 Walk, cycle or run through 40 hectares of parklands featuring wetlands, meadows, playgrounds and picnic areas at Bicentennial Park.
Bicentennial Park is located inside Sydney Olympic Park, a 40-hectare park combining the Badu Mangroves wetlands with beautifully landscaped parklands with gentle hills, meadows and a large lake.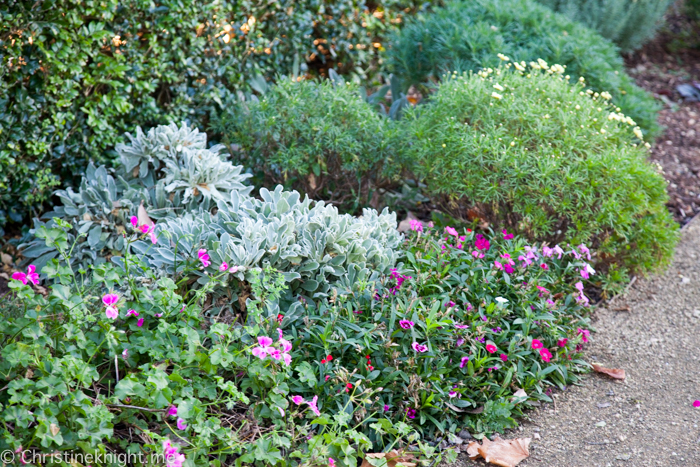 We have been visiting the park for years, and love how much space there is to explore inside the park, with monuments, boardwalks, wildlife and playgrounds to occupy us.
Read more about visiting Bicentennial Park.
Cathy Freedman Park & Olympic Cauldron
After the magical opening and closing ceremonies (who can forget Cathy Freeman lighting the cauldron and it rising through the air simultaneously dripping with fire and water?) the cauldron was taken down and moved just a few hundred metres to its permanent home – in the appropriately named Cathy Freeman Park.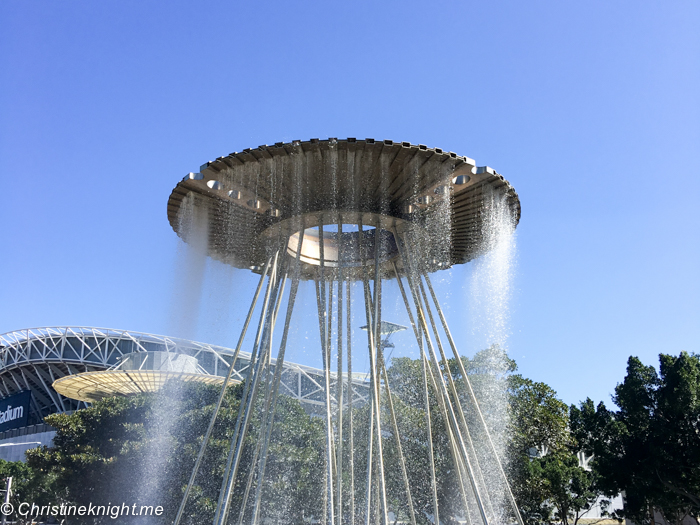 Located very conveniently next to the Allphones Arena, Cathy Freeman Park has two playgrounds – one for young kids and one for older – huge shady trees and easy access to bathrooms and cafes.
Read more about visiting Cathy Freeman Park.
Wentworth Common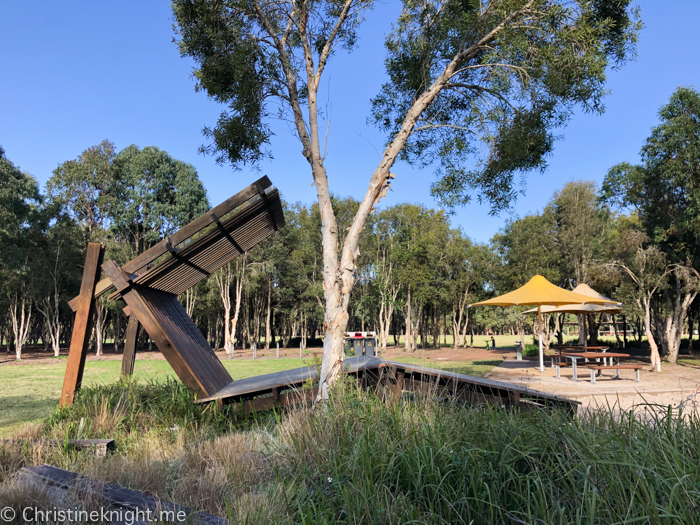 A hidden gem inside the sprawling Sydney Olympic Park, Wentworth Common is a quiet, grassy park with wetlands, a playground and picnic facilities.
Wentworth Common is easy to find, with a car park directly outside, off the main road (Marjorie Jackson Pkwy). It's often overlooked, making it a lovely spot for those seeking solitude.
Read more about visiting Wentworth Common.
Newington Armory
Visit the world heritage-listed Newington Armory in Sydney Olympic Park. The former Royal Australian Navy armament depot is now a place to enjoy cycling, art, picnics, wildlife and history.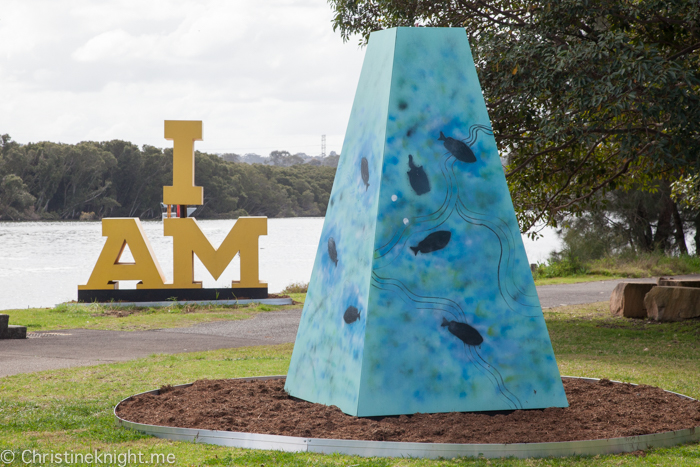 The Newington Armory was built from 1897 by the Royal Australian Navy. It was designated as a world heritage site on 14 January 2011. What was once an industrial military site is now an arts precinct with a theatre, outdoor amphitheatre, artist studios and an exhibition space, as well as a place to cycle/scoot, picnic and play.
Read more about visiting Newington Armory.
Read more about Sydney Olympic Park.
Fagan Park, Galston
Fagan Park in Sydney's Hornsby shire is a 55 hectare park with themed gardens, playgrounds, historic Netherby Cottage and an Eco Garden to explore.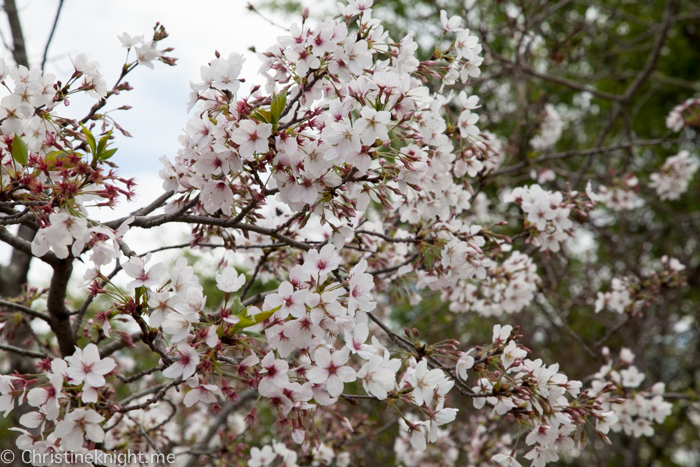 Fagan Park is particularly beautiful in spring, with a stunning selection of cherry blossoms in bloom, and in autumn where the deciduous trees around the lake are in full colourful glory. One of our favourite Sydney gardens, Fagan Park is a special spot that the locals have kept hidden for way too long.
Read more about visiting Fagan Park.
Ku-ring-gai Chase National Park
Ku-ring-gai Chase National Park is Australia's second-oldest national park. It has stunning water vistas, beaches, rainforests, mangroves and Aboriginal heritage sites.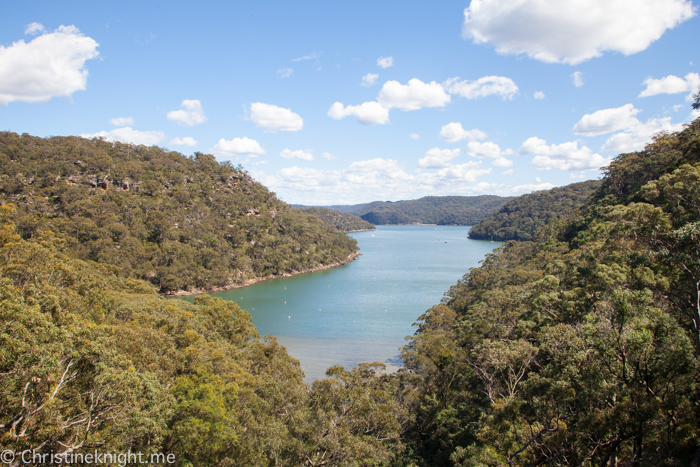 Read more about the America Bay track within the park.
Western Sydney Parklands
The Western Sydney Parklands covers a whopping 5280 hectares. It includes:
Plough and Harrow park
Plough and Harrow has a fantastic playground, 22 electric BBQs, parking for over 200 cars, 24 picnic shelters, a pond with ducks and other water birds, public bathrooms and a cafe/restaurant: Amoretti's.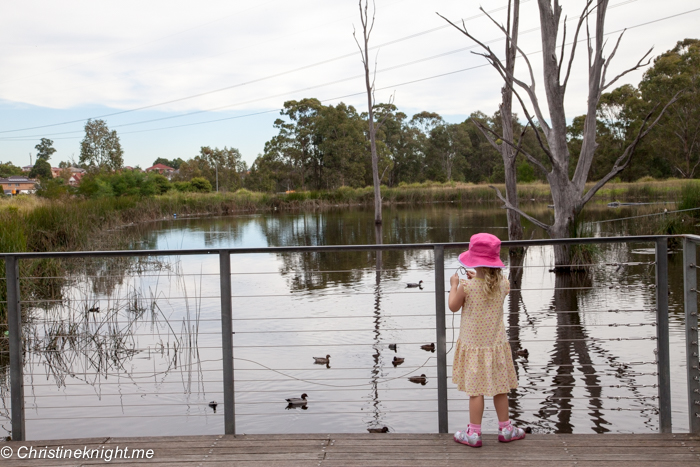 Read more about visiting Plough and Harrow park.
Lizard Log park
This beautiful green space features a nature-themed playground, scenic walks, cycling tracks and a dam.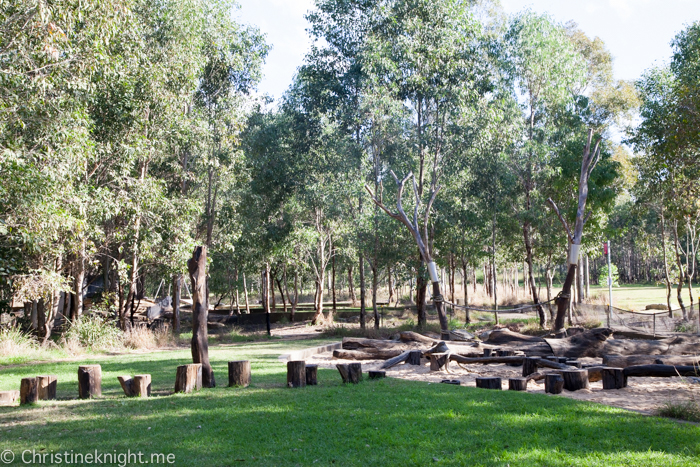 Read more about visiting Lizard Log park.
Bungarribee
The newest park in the precinct, Bungarribee, opened in March 2017 – a 200-hectare recreational facility that gives locals plenty of wide open space to play, cycle, scoot, walk, run and even walk their dog at one of Sydney's largest off-leash dog areas, the Warrigal Dog Run.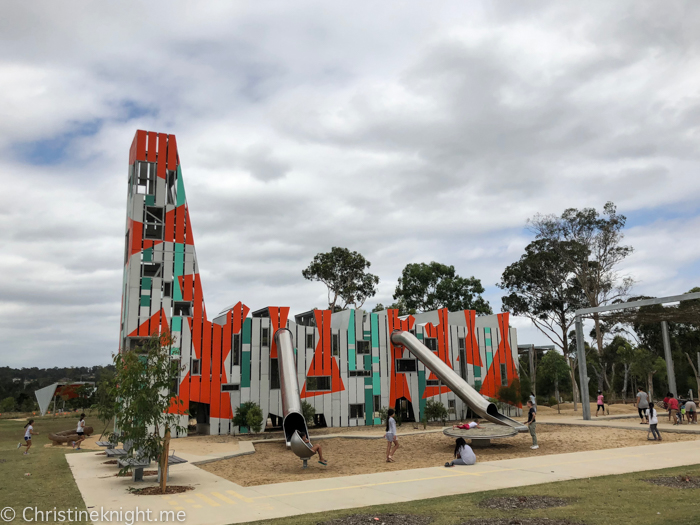 Read more about visiting Bungarribee.
Nurragingy Reserve
Nurragingy Reserve is a lovely spot to picnic, with designated picnic and BBQ areas, several modern playgrounds including a water play area near the Wren picnic shelter and the Chang Lai Yuan Chinese Gardens, which features a traditional gateway, stone bridge, pavilion and waterfall gazebo.
Read more about visiting Western Sydney Parklands.
Parramatta Park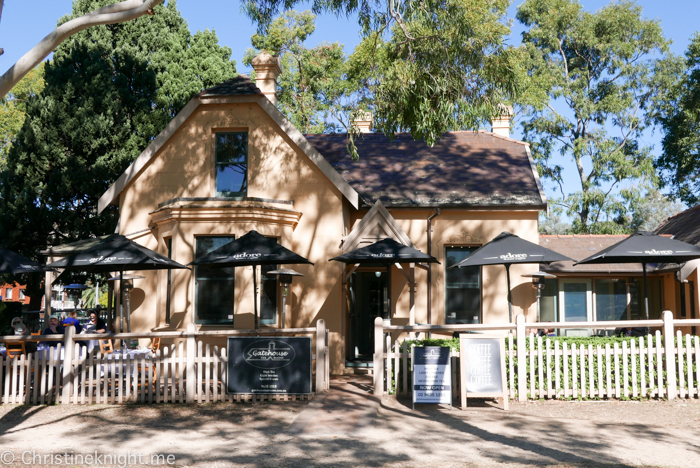 Parramatta Park is one of Sydney's most historic places. In the centre of the park is Old Government House, which, along with the surrounding pack, is one of 11 sites that form the Australian Convict Sites World Heritage property. The park is also notable for its Aboriginal heritage: Evidence of Aboriginal occupation from over 200,000 years ago has been found there.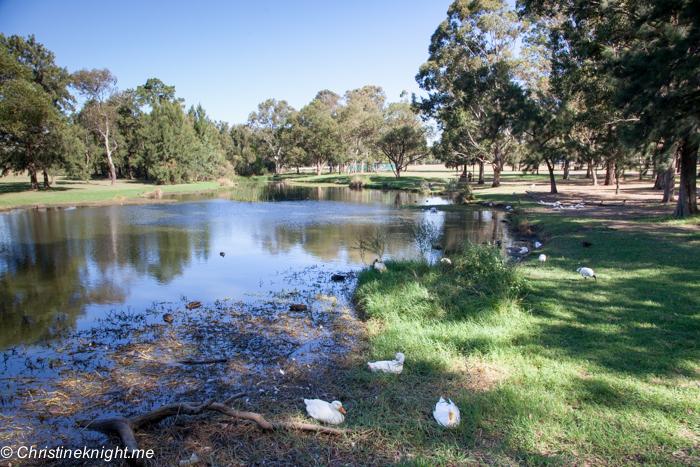 Sydney-siders have been enjoying Parramatta Park for recreation for a long time – it became a public park in 1858 – making it one of the earliest designated public parks in the world.
Inside Parramatta Park are also two playgrounds, a creek and the Gatehouse Tea Rooms.
Read more about the Domain Creek Playground.
Centennial Parklands, Randwick
This 360 hectare precinct includes Centennial Park, Moore Park and Queen's Park. The Parklands are listed on the NSW Heritage Register.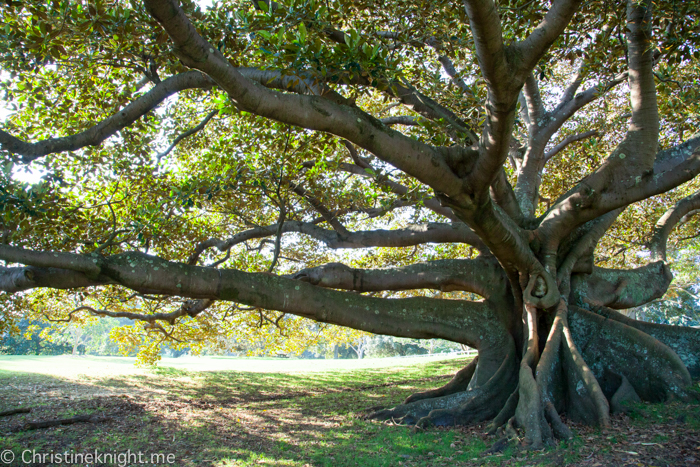 The largest of the three parks that make up Centennial Parklands, Centennial Park is one of Australia's most famous parks, and a haven for inner city families to ride bikes, horses (there are several horse riding stables located in the park as well as pony ride on weekends), picnic, play and explore. The park features ponds with ducks, formal gardens, statues, playgrounds and picnic areas.
Ian Potter Children's Wild Play Garden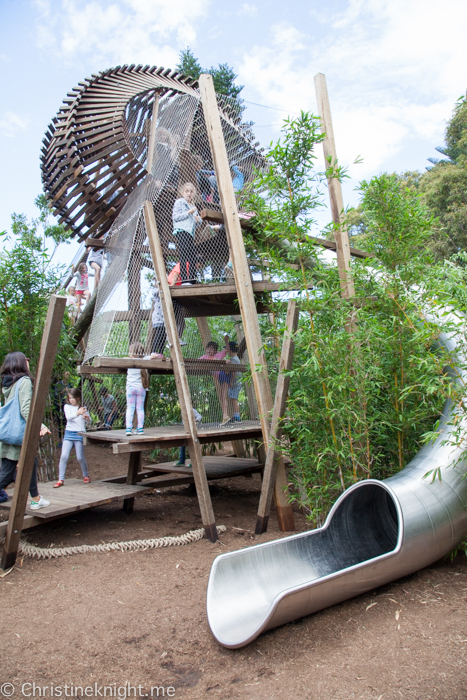 The Ian Potter Children's Wild Play Garden opened in Centennial Park in October 2017. The 6500sq m nature-based play area features a 7m-high climbing tower, wooden bridge, water play area and an open play area where kids are encouraged to use sticks and natural materials to make their own shelters, artworks and games.
Get more info on visiting the Ian Potter Children's WILD PLAY Garden here.
Read more about visiting Centennial Parklands.
Barangaroo Reserve
Barangaroo Reserve is Sydney's newest park, located on the north-western tip of Sydney's Central Business District. What was once a flat strip of concrete that was used as a container wharf has been transformed into a six-hectare waterfront parkland on Sydney Harbour, with 6,500 sandstone blocks placed along the foreshore and 75,000 100% native trees, shrubs and plants.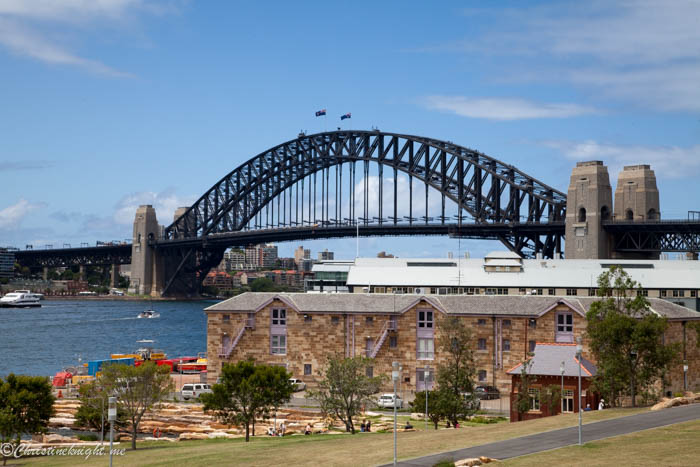 Read more about visiting Barangaroo Reserve.
Blue Mountains National Park
The Blue Mountains National Park was founded in 1959. It encompasses a whopping 156,000 acres and is part of the Greater Blue Mountains World Heritage Area. There is so much to see in the National Park including plenty of spectacular bushwalks that include stunning waterfalls. Scenic World is a popular and easy way to experience the Blue Mountains aboard Scenic World's Skyway or Cableway.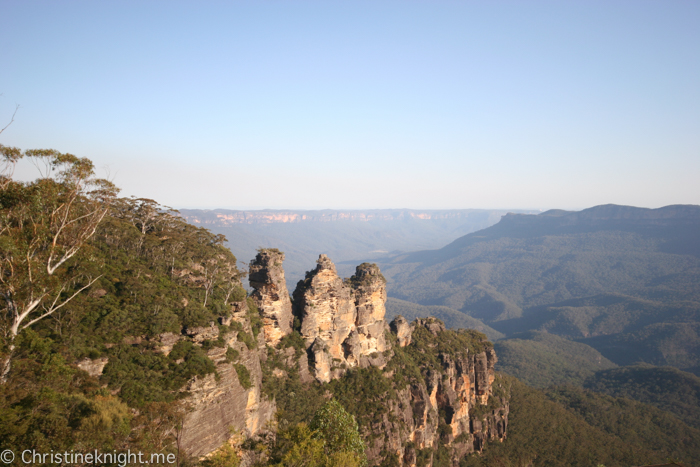 Read more about visiting Scenic World.
Read more about things to do in the Blue Mountains.
More things to do in Sydney
Find a list of the best things to do in Sydney with kids.
Find things to do in Sydney for free.
Explore the best Sydney gardens and parks.
Get a list of the best kid-friendly beaches in Sydney.
Find the best animal experiences in Sydney.
Chase waterfalls in Sydney.
More things to do on the Central Coast.
Visit the best kid-friendly restaurants in Sydney.
Find the best high teas in Sydney.
Things to do in the Southern Highlands.
Head to one of the best museums in Sydney.
Check out things to do in Sydney on a rainy day.
Enjoy one of the best ocean pools in Sydney.
First time visiting Sydney? Get tips for first time visitors to Sydney.
Cool down at one of these free water parks in Sydney.
Find the best vegetarian and vegan restaurants in Sydney.
Get a list of the best playgrounds in Sydney.
Find the best ice cream and gelato in Sydney
Things to do in the Blue Mountains.
Plan amazing NSW road trips.
Pick your own fruit: fruit picking Sydney.
The best things to do in Western Sydney and Parramatta with kids.