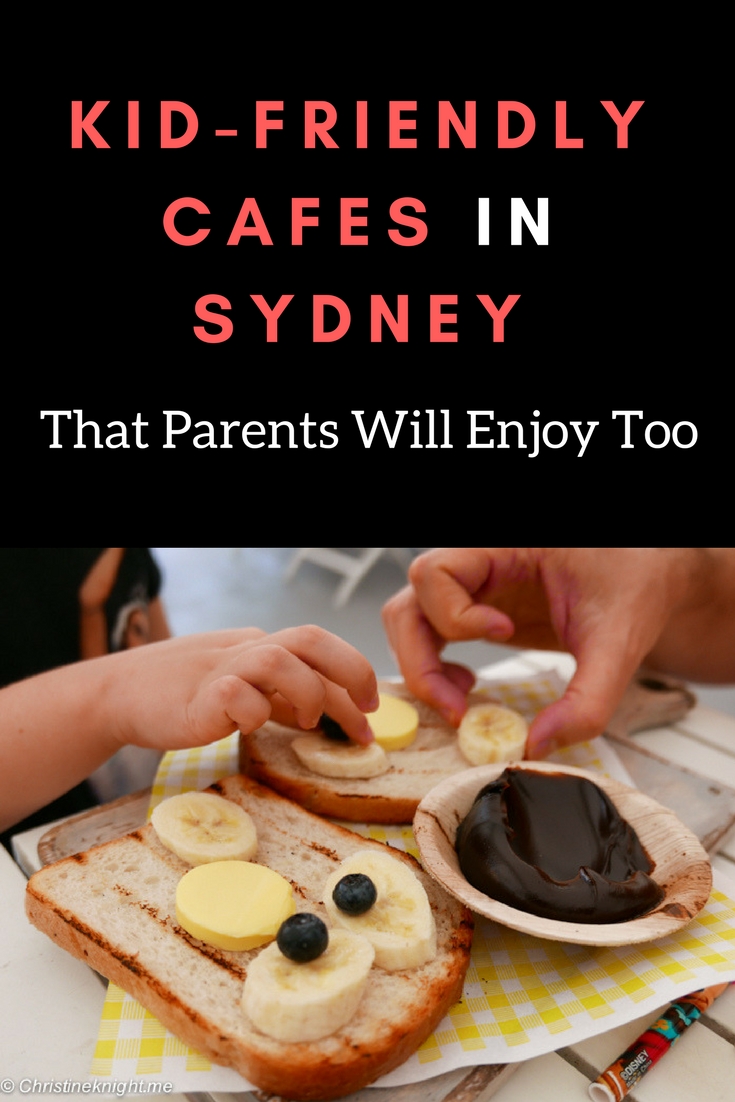 Having a kid these days doesn't mean your foodie adventures have to come to an end. Spectacular Sydney is serving up plenty of delightful choices for families to take their mini-gourmets to enjoy fancy babyccinos along with a perfectly smashed avo.
Check out my top kid-friendly restaurants in Sydney – where the wee ones can eat and play while adults dine on fine cuisine.
Kid-friendly Restaurants in Sydney
acre Artarmon
Enjoy farm-inspired food grown on-site at acre Artarmon. This open-air urban oasis features indoor and outdoor seating, picnic style areas, kids' play area and chicken coop.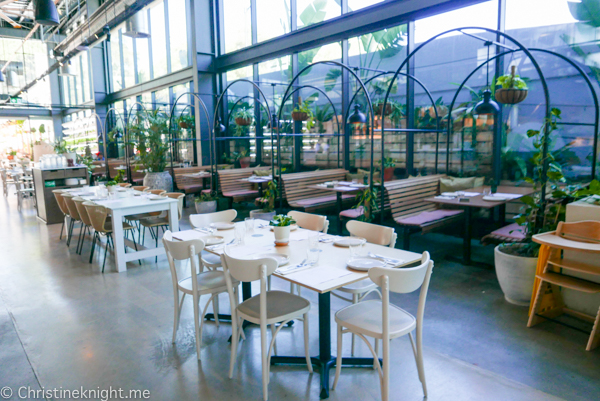 acre Artarmon is a cafe, restaurant, bar and bakery set within sprawling indoor and outdoor gardens that produce the food that goes straight into kitchen to produce the meals.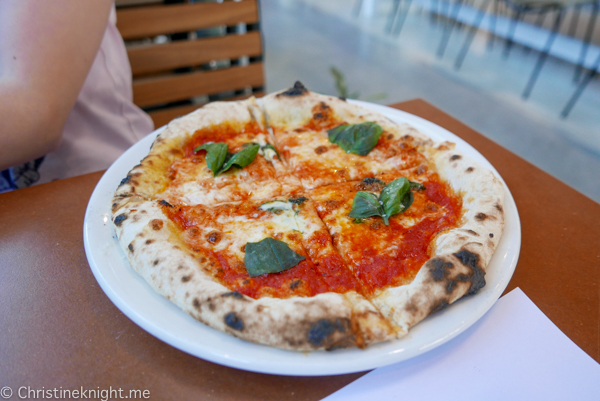 Get more info on visiting acre Artarmon.
Acre Artarmon
1 Frederick Street, Artarmon
Hours:
Cafe Bakery: Mon – Sat 7am – 5pm | Sun 7am – 3pm
Restaurant: Thursday 4.30pm – 10.30pm | Fri 12pm – 11pm | Sat 12pm – 11pm | Sun 12pm – 4pm
acre-artarmon.com.au
Glenorie Bakery in Glenorie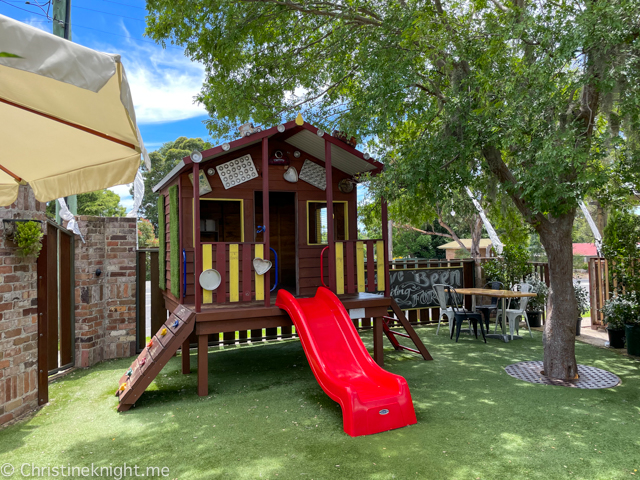 Technically this is a bakery but it's still one of our top go-tos in Sydney for a delicious brekkie. Glenorie Bakery serves a top brekkie and lunch as well as award-winning pies and sensational eclairs. Kids will love the play area out the back.
Get more info on visiting Glenorie Bakery.
Glenorie Bakery
4/930 Old Northern Rd, Glenorie NSW
(02) 9652 2624
Hours: Mon-Fri 6am-6pm, Sat & Sun 6am-5pm
glenoriebakery.com.au
Lab Kitchen Five Dock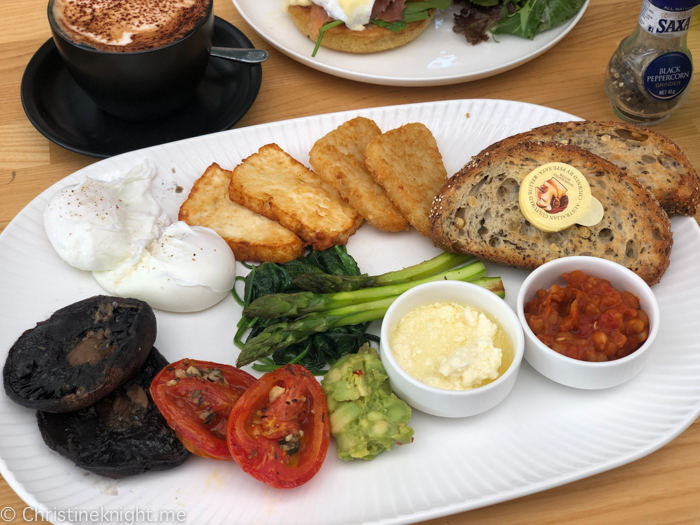 Lab Kitchen Five Dock serves up delicious, seasonal, modern Western-Eastern dishes at a reasonable price – and has a massive backyard filled with play equipment and toys for kids. What more could you ask for?
Get more info on visiting Lab Kitchen.

Lab Kitchen Five Dock
Hours: Daily, 7am-4pm
108 Great N Rd, Five Dock
Website: labkitchen.com.au
The Picnic Burwood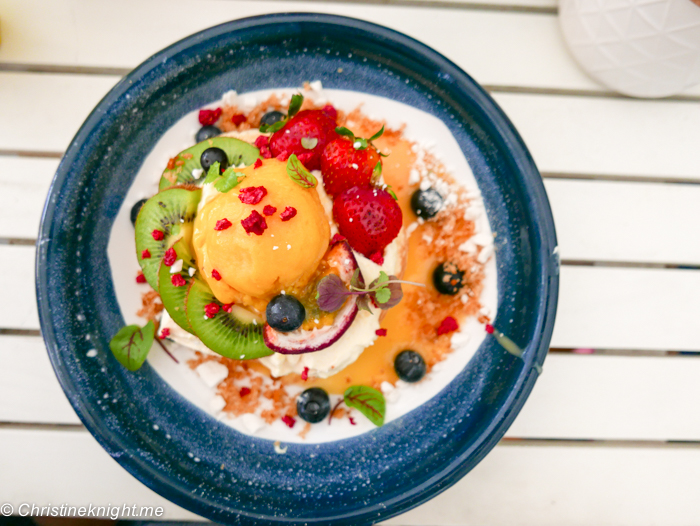 The Picnic at Burwood is a whimsical elevation of the humble outdoor dining experience. The outdoor cafe is located inside a pavilion in a park in Burwood, a few metres from a large, fenced in playground. The menu is delightful and delicious. Adults can order the very insta-worthy pavlova hotcakes while kids' eyes light up to see the adorable "bear" dish of bear-shaped toastwith banana and blueberries.The Picnic is our constant go-to and is always on the list of the best kid-friendly restaurants in Sydney.
Get more info on visiting The Picnic Burwood here.
The Picnic Burwood
Burwood Rd & Park Ave, Burwood
Hours: Tue-Sun 8am-4pm. Closed Mondays.
Website: facebook.com/Thepicnicburwood
Black Star Rosebery and Entertainment Quarter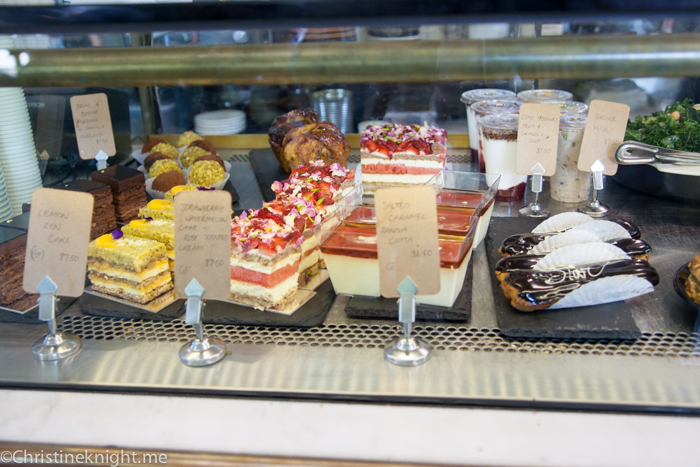 The home of delicious pastry such as the famous watermelon cake as well as quiche that tastes like heaven, Black Star's Rosebery and Moore Park cafes are perfect places to take the kids to appreciate the finer tastes in life. Both have large seating areas with plenty of tables and space for strollers, and the Rosebery one has a nice little set of toys for kids to play with while they're munching their way through some of the best cake in Sydney.
Get more information on visiting Black Star Rosebery here.
Black Star Pastry
C1, 85-113 Dunning Avenue, Rosebery
Hours: Mon-Fri 8am-3pm Sat & Sun 8am-4pm
210 Bent St, The Entertainment Quarter, Moore Park
Hours: Mon-Thur 8am-5pm, Fri & Sat, 8am-8pm, Sunday 8am-4pm
Website: blackstarpastry.com.au
Burnt Orange – Mosman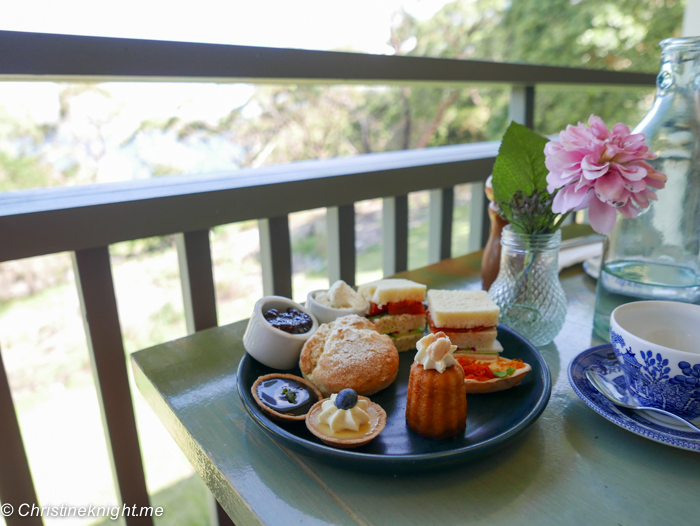 The Burnt Orange cafe is housed in an historic sandstone manor overlooking Sydney Harbour. Adults are spoiled for choice with an extensive breakfast and lunch menu, while kids can enjoy fine dining of their own with options such as the crumbed whiting fillets with chips, pasta spirals with fresh tomato sauce or mini organic cheeseburger with chips served with a smartie cookie and a choice of fresh orange juice, strawberry or chocolate milk for $15. Next to the dining area upstairs is a gorgeous boutique store filled with kids toys and clothes.
Get more info on visiting Burnt Orange here and on their amazing high tea here.
Burnt Orange
1109 Middle Head Rd, Mosman
Hours: Daily 8:30am-5:30pm
Website: burntorange.com.au
Clover Cafe – Annandale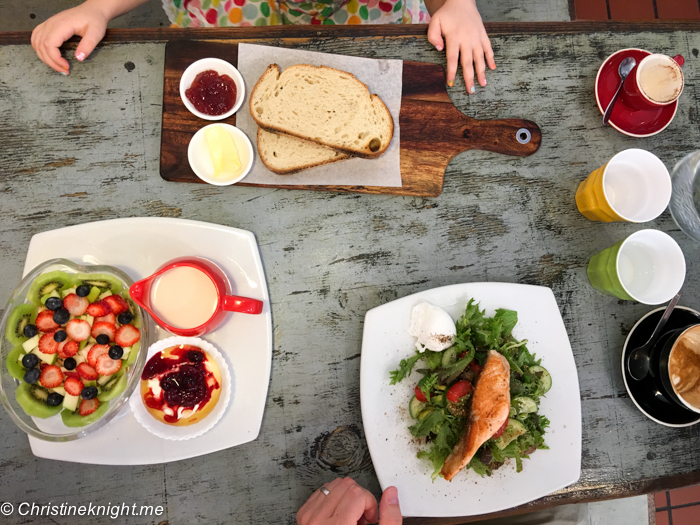 A cheerful little cafe on Annandale, a part of Sydney with loads of young families. A kids play area with sturdy toys keeps little ones entertained while their parents enjoy their baked eggs and fresh juice. While the breakfast menu is light on kids meals the lunch menu has a choices such as the every-popular toastie.
Clover Cafe
78 Booth St, Annandale
Hours: Daily, 7am-3pm
Website: facebook.com/CloverAnnandale
Three Williams – Redfern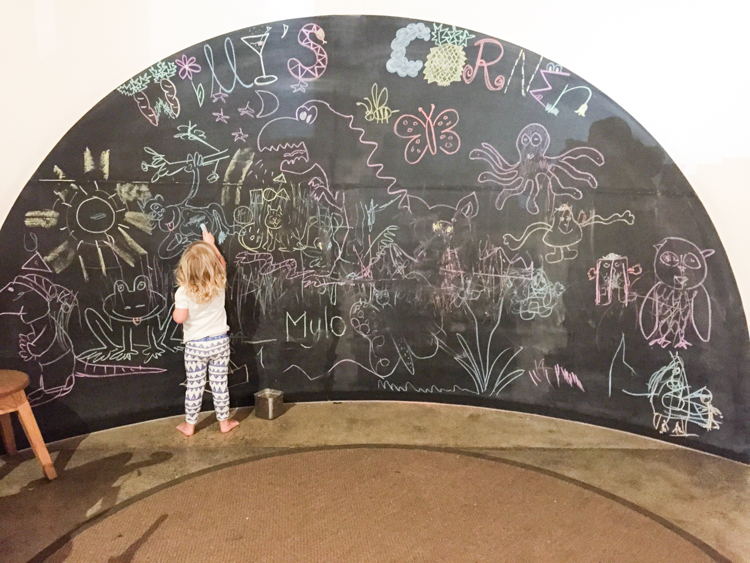 A cafe in the trendy part of Redfern, Three Williams is a delightful surprise for families looking to dine in the area. A peek inside the entrance into the cavernous underground cafe reveals plenty of space. Kids love to race up and down the ramp intended for disabled access, that leads them straight to a giant chalkboard and small play area. The food is fantastic and the staff extremely kind towards their youngest guests.
Get more info on visiting Three Williams here.
Three Williams
613a Elizabeth St, Redfern
Hours: Daily, 7am-4pm
Website: threewilliamscafe.com
The Grounds of Alexandria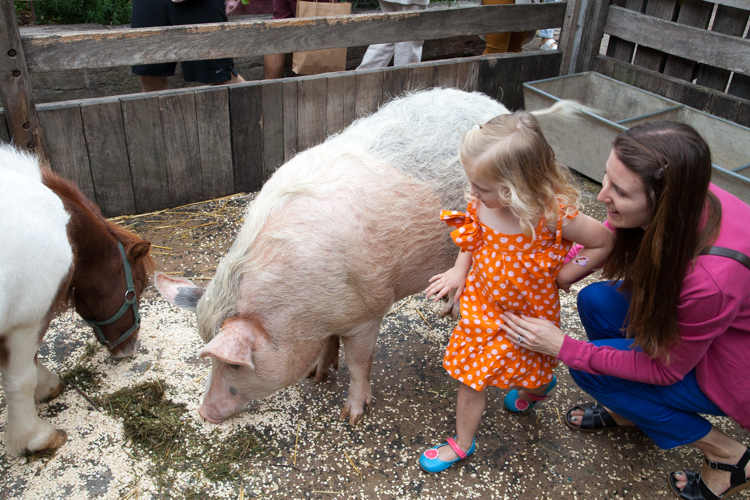 This cafe is constantly rated one of Sydney's best for a very good reason. The Grounds of Alexandra is a cornucopia of whimsical delights. From the farm animals (meeting the famous pig, "Kevin Bacon" is a must) to the play area, fountain and rambling paths leading through gardens and lanes bursting with flowers, statues and tiny creative details, the external grounds at The Grounds is, in itself, worth a visit alone.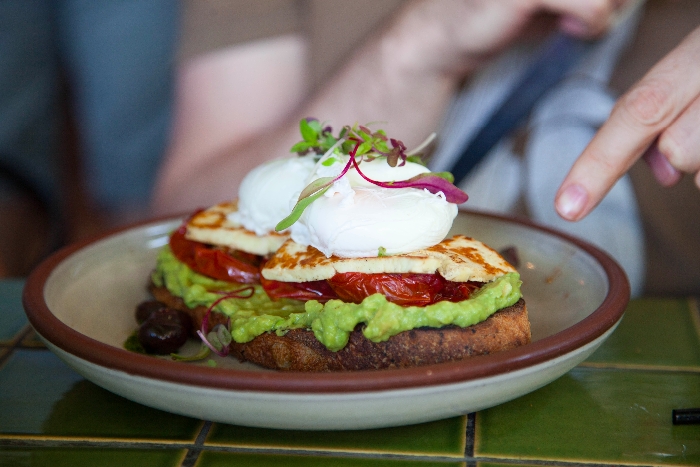 The food is excellent: the popular "signature avocado" set a new standard in smashed avo brekkies when introduced a few years back. The Grounds is such a special place to visit that it is always right up the top of lists mentioning the best kid-friendly restaurants in Sydney.
Get more info on visiting The Grounds of Alexandria here.
The Grounds of Alexandria
7A, 2 Huntley St, Alexandria
Hours: Mon-Thurs 7am-9pm, Friday 7am-10pm, Saturday 7:30am-10pm, Sunday 7:30am-9pm
Website: thegrounds.com.au

Bitton Gourmet – Alexandria and Oatley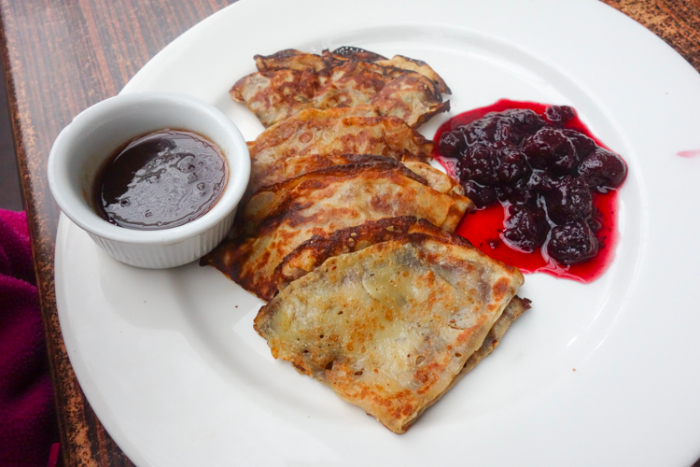 Ask for a table out the back next to the small toddler play area when dining at Bitton Gourmet with littles. Adults enjoy the delicious French-Australian cuisine while the kids love that they have somewhere to play while waiting for their scrambled eggs. We love their all-day breakfast menu and the can-do staff who are always happy to help in anyway they can.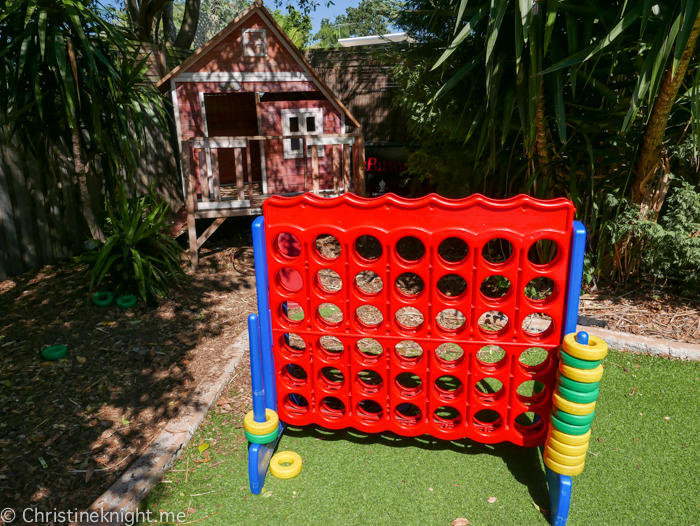 Bitton Gourmet can now be found at Oatley, too, where they have the same menu in a bigger venue with a backyard and play area for kids (photo above).
Get more info on visiting Bitton Gourmet Alexandria here and Bitton Gourmet Oatley here.
Bitton Gourmet
36-37A Copeland St, Alexandria
Hours: Wed-Sat 7am-9pm, Sun-Tues 7am-4pm.
Website: bittongourmet.com.au/alexandria

119a Mulga Rd, Oatley
Hours: Wed-Sat 7am-9pm, Sun-Tues 7am-4pm.
Website: bittongourmet.com.au/oatley
The Incinerator Willoughby
A popular cafe for families on Sydney's North Shore, the cafe is inside old incinerator that has been given a new lease of life. Outdoor tables and grassy areas give kids plenty of room to roam while their parents enjoy "Have it your way" free range eggs and Ti Tam milkshakes. A nearby playground provides a convenient place to let kids run around if there's a wait for tables.
Get more info on visiting The Incinerator Cafe here.
The Incinerator Willoughby
2 Small St, Willoughby
Hours: Sun-Thurs 7am-4pm, Fri & Sat 7am-4pm, 5pm-10pm
Website: theincinerator.com.au
Coogee Pavilion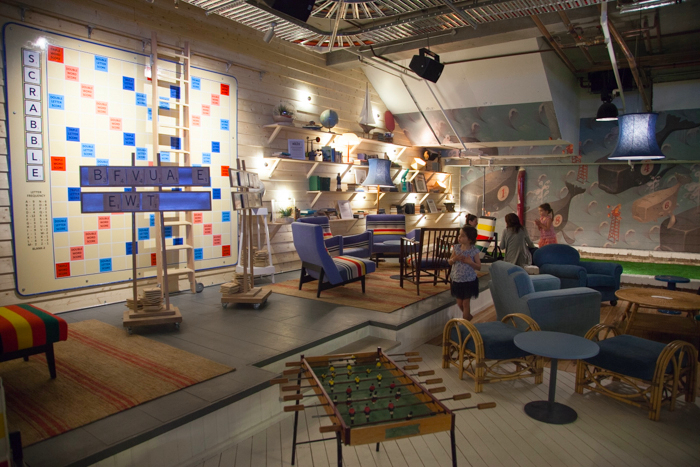 Head to the back of the Coogee Pavilion to find a paradise for kids and their parents. Giant games of Connect Four and Scrabble, building blocks, board games and a colouring table entertain the kids, leaving adults free to enjoy a well-deserved drink. The wood-fire pizzas are our fave dishes to order.
Get more info on visiting the Coogee Pavilion here and on the perfect day in Coogee here.
Coogee Pavilion
169 Dolphin St, Coogee
Hours: Daily, 7:30am-12am
Website: merivale.com.au/coogeepavilion
Camperdown Commons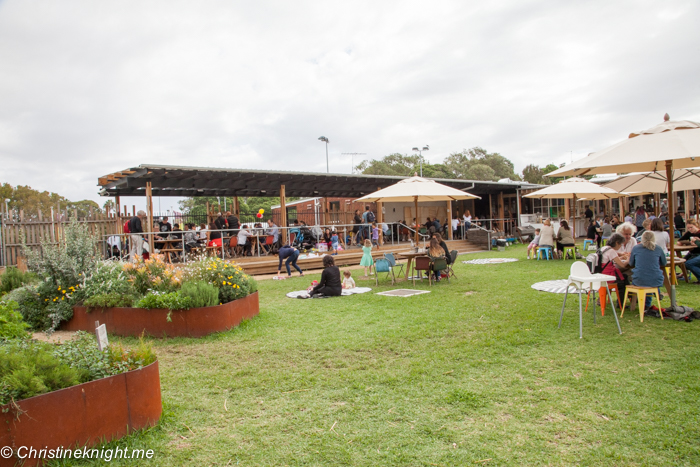 Order a meal from acre, the sustainably-focused eatery at Camperdown Commons, while the kids play nearby. Diners can choose between a large, sit down restaurant and bar, container with takeaway coffee and snacks and a casual outdoor area on the terrace or lawn area outside. Many of the ingredients in the dishes come directly from the pocket gardens onsite, making the dining experience very literally farm-to-table. Families will particularly love the outdoor area with its interactive kids' play space and chicken coop where rescue hens from battery farms now live a life of luxury.
Get more info on visiting Camperdown Commons here.
Camperdown Commons
31a Mallett Street, Camperdown
Hours: Mon-Thu 12pm–3pm, 5pm–10pm, Fri-Sun 8am–3pm, 5pm–10pm
Website: camperdown.commons.com.au
The Tramsheds – Harold Park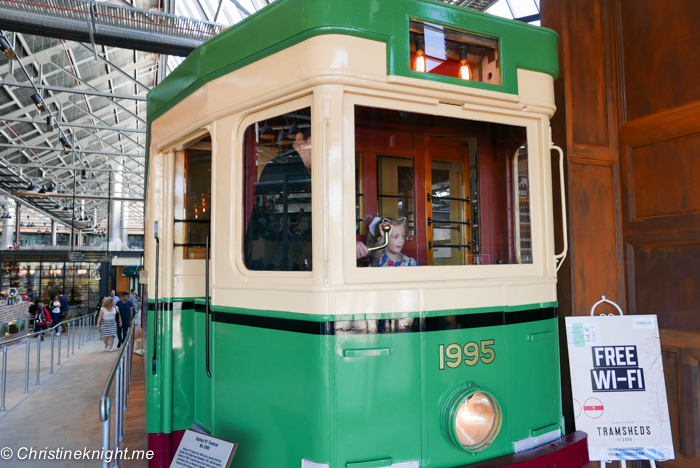 Located at Harold Park, The Tramsheds is a must-visit for kids who are obsessed with wheels. The old Rozelle Tramway Depot, originally built in 1904, has been beautifully refurbished and given a new life as a hub for restaurants and facilities for local residents.
The full-sized resorted tram inside the Tramsheds is now part of the dining area for the Butcher & The Farmer cafe, so you can ask for a table inside and let your little one pretend to drive it while waiting for their babyccino to arrive.
Get more info on our visit to the Tramsheds here and all the kid-friendly dining options it offers.
The Tramsheds
1 Dalgal Way, Forest Lodge
Hours: Daily, 7am-late
Website: tramshedsharoldpark.com.au
Vogue Cafe – North Ryde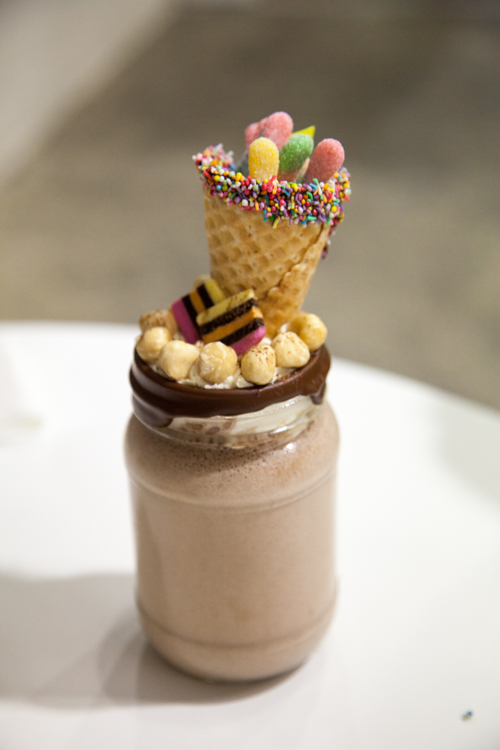 While the Vogue Cafe sits inside busy Macquarie Shopping Centre, from the inside it feels like Wonderland. It's an adorable, whimsical place, with a straightforward menu and fantastical shakes. Called "Magical Milkshakes", they are topped with things like whipped cream, rice bubbles, pop corn and jelly snakes, with a chocolate and sprinkles rim.
The food is always delicious and the staff friendly. A small, enclosed play space has been a welcome addition to the cafe by families of younger kids.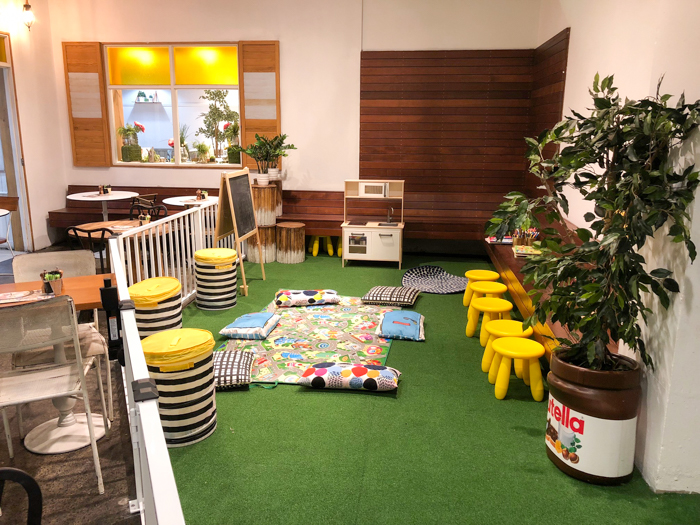 Read more about our visit to the Vogue Cafe here.
The Vogue Cafe
109 Waterloo Road, Macquarie Park
Hours: Mon-Fri 9:30am-6pm, Sat 9am-6pm, Sun 10am-6pm
Website: facebook.com/TheVogueCafe
Bills at Bondi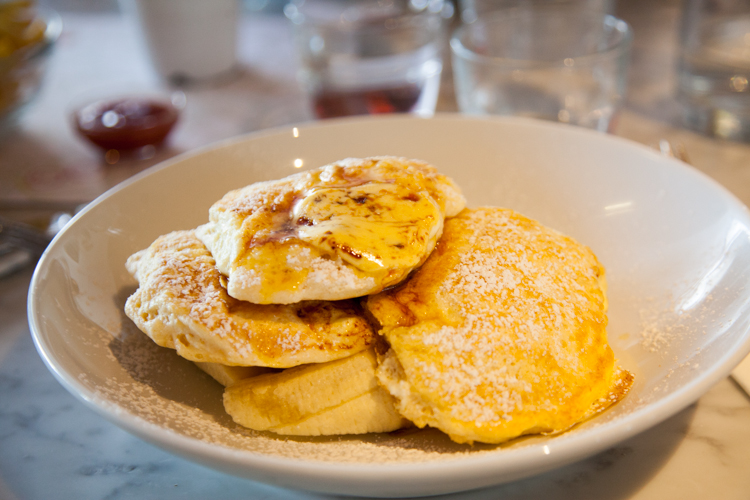 When you want hotcakes, you go to Bills, even if you have kids in tow. What I really enjoy about Bills is happy and easy-going vibe. The friendly staff bring little ones coloured pencils and paper to entertain them while you wait for your brunch.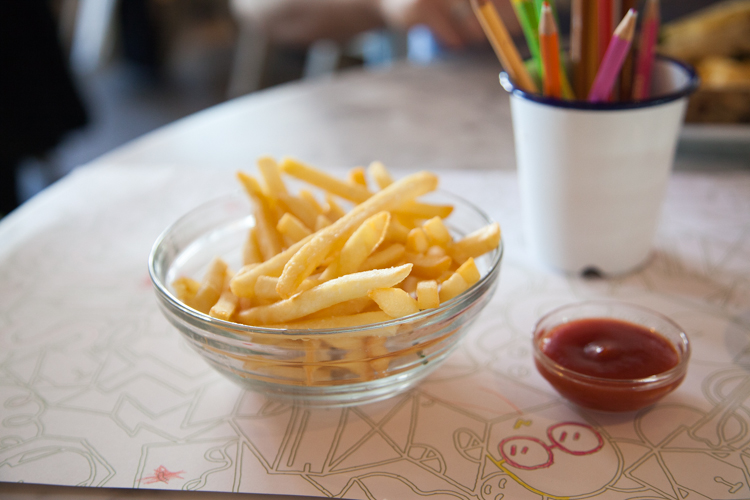 Scrambled eggs or boiled eggs and toast soldiers will keep the little ones happy from the breakfast menu, or order a linguini, junior burger or schnitzel for lunch. Their French fries are also excellent.
Read more about our visit to Bills Bondi here.
Bills Bondi
79 Hall St, Bondi Beach
Hours: Mon-Fri 7am-10pm, Sat & Sun 7:30am-10pm
Website: bills.com.au
Fratelli Fresh Darling Harbour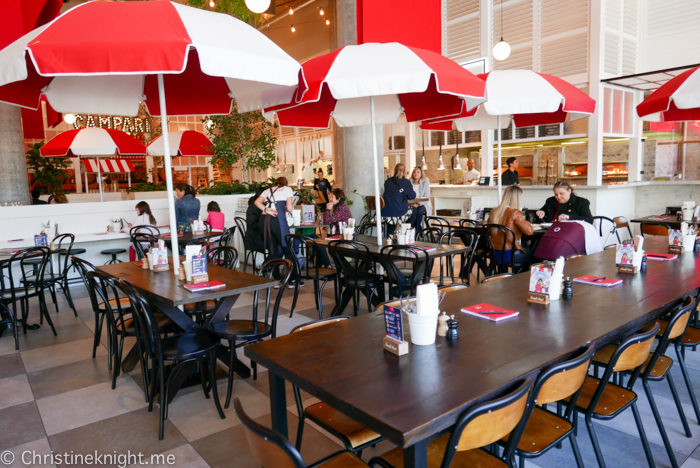 This big, bright and bold restaurant is an excellent edition to Darling Harbour, situated near the ICC building. The seating is casual – grab a table and order at the bar. There's plenty for kids to look at, including the pizza kitchen and fresh pasta station, plus a games area (best suited for older kids) and house-made dessert and gelato counter. The kids' menu is massive and has something to suit everyone, rather like the menu for adults. Keep an eye out for special kids eat free deals.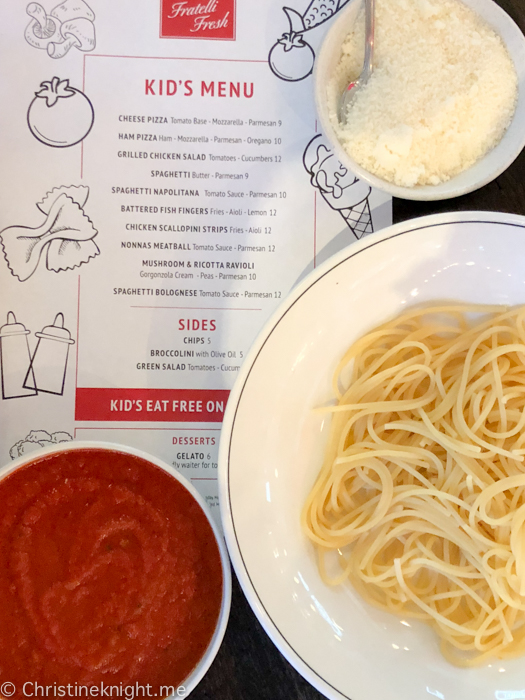 A few steps outside Fratelli Fresh is the excellent Darling Quarter playground.
Read more about our experience at Fratelli Fresh Darling Harbour here.
Fratelli Fresh
2/14 Darling Dr, Darling Harbour
Hours: Daily, 7am-12am
Website: fratellifresh.com.au/venues/darling-harbour
The Tramshed Cafe – Narrabeen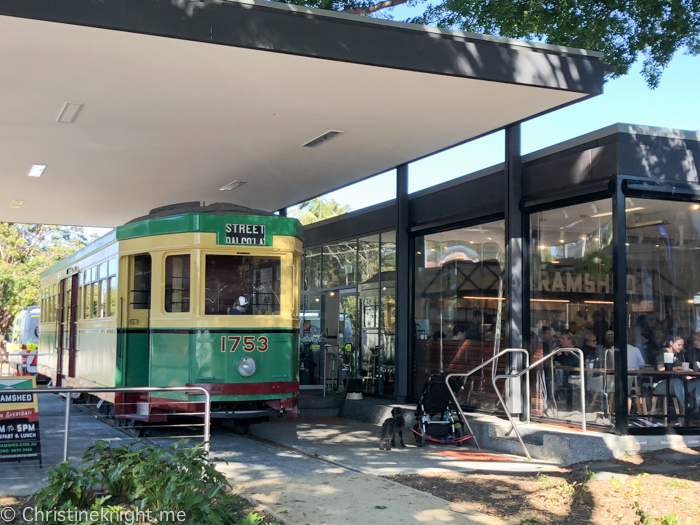 Hop aboard a beautifully resorted 1930s tram at this bright and cheery cafe on Narrabeen Lake. Not only is the tram excellent fun itself, the cafe serves up delicious Modern Australian cuisine and offers its youngest diners and excellent kids' menu. A large playground is situated outside the cafe, and the Narrabeen Lagoon Trail starts directly behind the cafe, making it the perfect outing for families.
Read more about our visit to the Tramshed Cafe here.
The Tramshed Cafe
1395a Pittwater Road, Narrabeen
(02) 9970 7486
Hours: Daily, 7am-5pm
Website: thetramshed.com.au
The Cove Dining Co – Abbotsford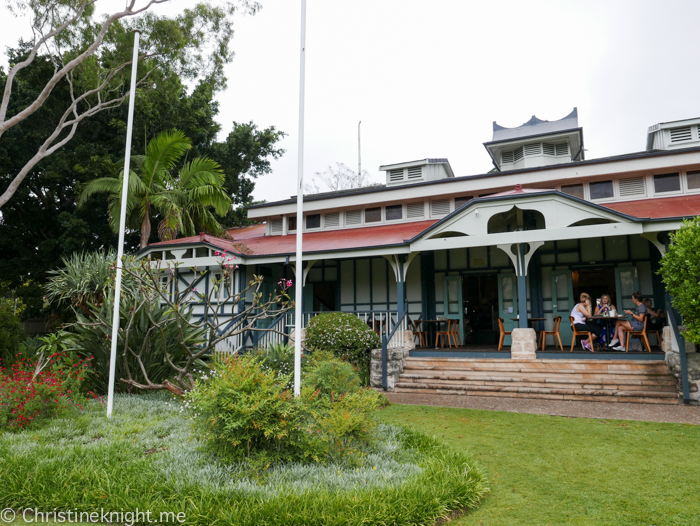 The Cove Dining Co cafe is located inside the community hall of what was once the Abbotsford Nestlé factory site, a heritage-listed building. The dining room is spacious, with long tables, or choose alfresco seating on the outdoor verandah with a lovely view of the lush gardens surrounding the building and let the kids play while they wait for their meals.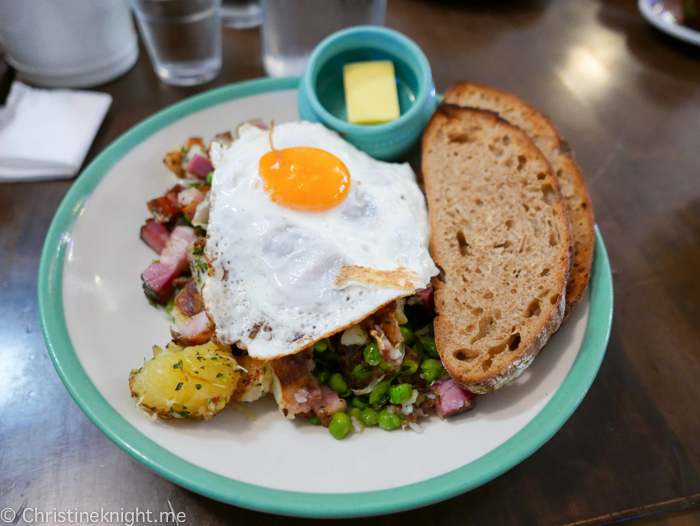 This is one incredible family-friendly cafe, as evidenced by how accessible it is for strollers and wheelchairs, and provide use of highchairs, baby change tables, toys and colouring in equipment.
Read more about our visit to The Cove Dining Co here.
The Cove Dining Co
378 Great N Rd, Abbotsford, NSW
Hours: Mon-Fri 7am-2pm, Sat & Sun 8am-3pm
Phone: (02) 9713 7896
Online thecovediningco.com.au
The Innocent Kitchen – Sydenham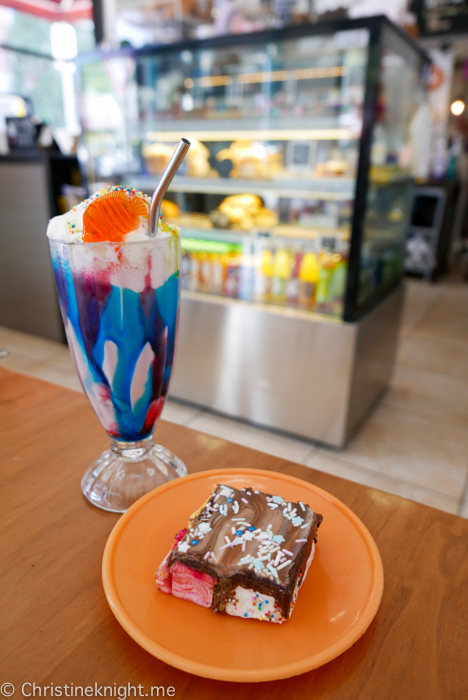 The Innocent Kitchen is a sweet and simple cafe run by two sisters in Sydney's inner west. The menu is basic and located on a blackboard. Choose from items like a bacon and egg roll and toasted sandwiches. Kids can order fairy bread, raisin toast, vegemite or peanut butter sandwiches and toasties. The babyccinos are free!
Read more about our visit to The Innocent Kitchen here.
The Innocent Kitchen
288 Unwins Bridge Rd, Sydenham NSW
Hours: Mon-Wed 7am-12pm, Thur & Fri 7am-2pm, Sat 8am-1pm, closed Sundays.
Online: facebook.com/TheInnocentKitchen
The Tiny Giant – Petersham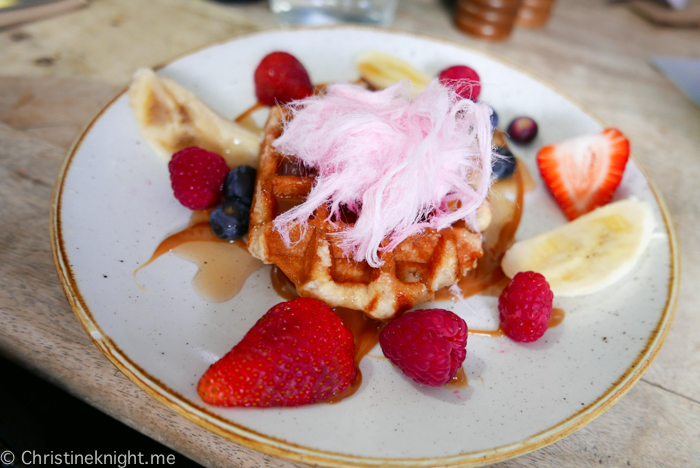 This tiny little cafe in Sydney's inner west is a hot spot for pretty and tasty dishes. Expect creative and delicious breakfasts including their famous brioche toast which is completely clouded in bright-pink fairy floss, berries and cinnamon ricotta. The Tiny Giant makes the list because their kids dishes are just as cute and creative as the grown-up versions.
Read more about our visit to The Tiny Giant here.
The Tiny Giant
110 Audley St, Petersham
Mon-Fri 6:30am-3pm, Sat & Sun 7:30am-3pm.
Ph: 02 8065 4684
thetinygiant.com.au
Frankie's Food Factory – Milperra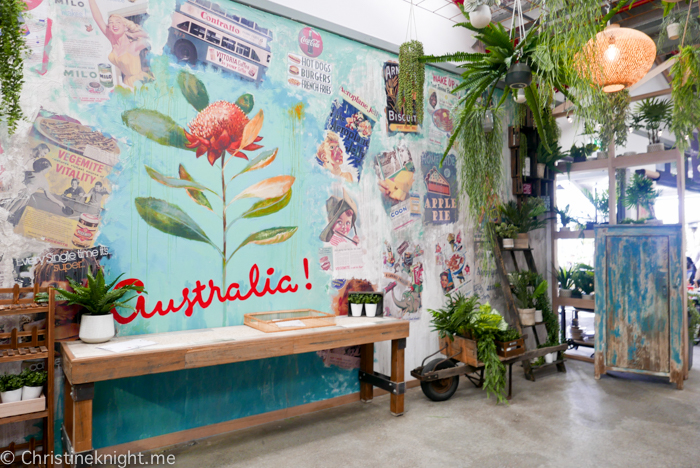 Enjoy modern classics in the heart of a leafy nursery at Frankie's Food Factory, inside Flower Power Milperra.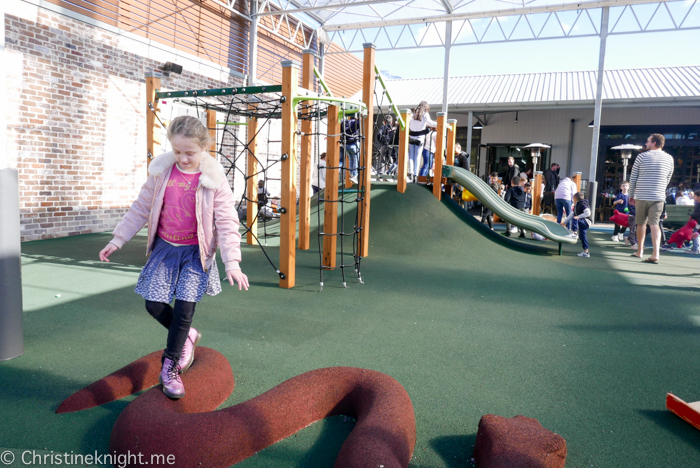 There is an excellent kids' menu with something to suit the fussiest of diners, and a large, fenced playground attached to the outdoor dining area.
Read more about our visit to Frankie's Food Factory here.
Frankie's Food Factory at Flower Power Milperra
479 Henry Lawson Drive, Milperra
Hours: Daily, 8.30am-5pm
Phone: (02) 9899 2299
frankiesfoodfactory.com
The Marsden Brewhouse – Marsden Park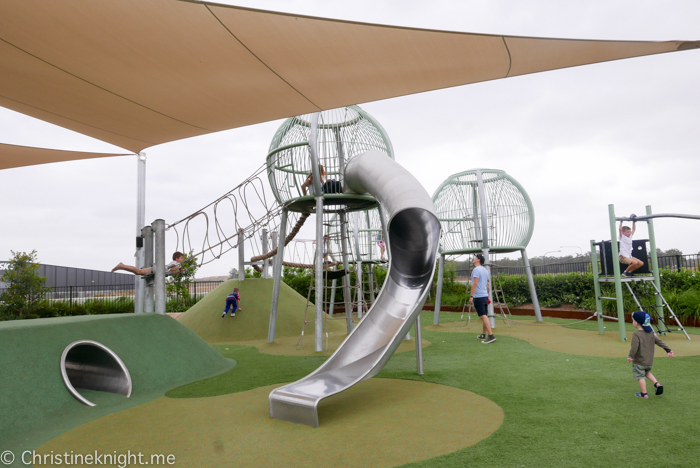 The Marsden Brewhouse is a hotel and brewery located in Marsden Park, north-west Sydney. The large and airy interior is perfect for casual dining with little ones, and with their huge outdoor playground attached they are prepared for the smallest diners to come, eat and play.
The kids' menu features plenty of choice at a good price point ($10 for most meals, including a drink). On weekends there is often a small animal farm set up in the playground for kids to enjoy, free of charge.
Read more about our visit to The Marsden Brewhouse here.
Marsden Brewhouse, Sydney
Cnr Richmond Road and, Hawthorne Ave, Marsden Park
Phone: (02) 8710 3535
Hours: Mon-Sat 10am-3am, Sunday 10am-12am
themarsdenbrewhouse.com.au
The Boatshed – La Perouse
This casual, modern eatery is perched right above the extremely calm Frenchmans Beach, making it the perfect destination for both a swim and a delicious meal.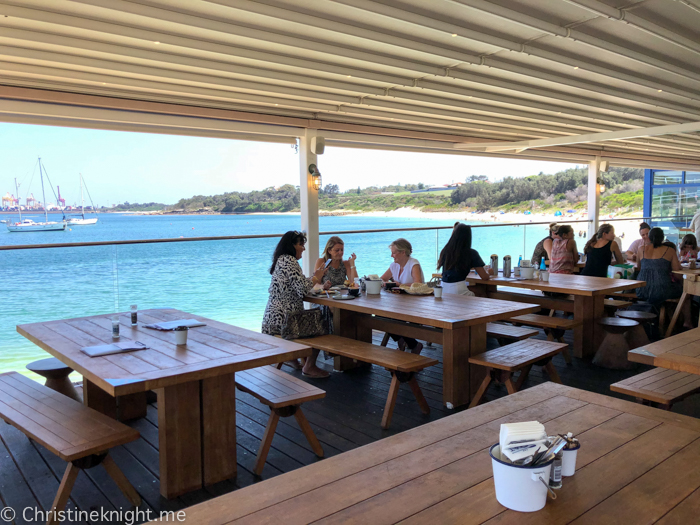 The outdoor deck is large, sheltered and has a stunning view, so it's guaranteed to make everyone in the party happy.
Read more about our visit to The Boatshed here.
The Boatshed La Perouse
1609 Anzac Parade, La Perouse
Phone: (02) 9661 1817
Hours: Tues-Fri 7am-3pm, Sat & Sun 7am-4pm
theboatshedlaperouse.com.au
Bodhi – Sydney CBD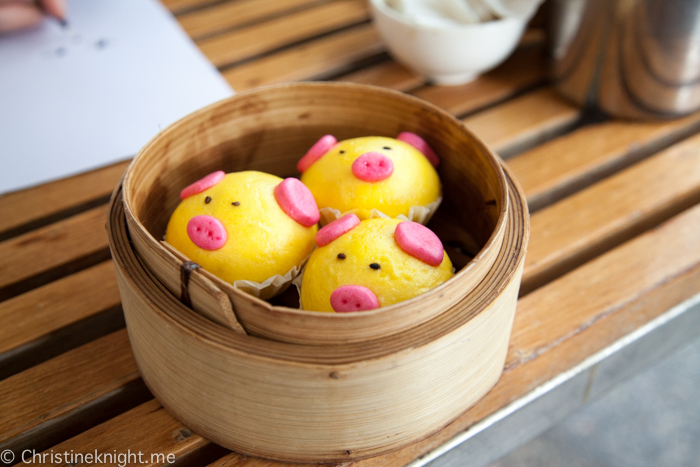 Our long-time go-to restaurant for vegan yum cha, Bodhi is a family-owned restaurant located under St Mary's Cathedral in the heart of the CBD. Bodhi is great for kids, with long tables underneath ancient Moreton bay fig trees, overlooking Cook and Philip Park . As well as offering a completely vegan menu, Bodhi also has great gluten-free and nut-free options. Kids will love trying to spear brightly-coloured dumplings with chopsticks and sampling the custard-filled pig buns for dessert.
Read more about our experience at Bodhi.
Bodhi Restaurant Bar
2/4 College St, Sydney
Hours: Yum cha Wed-Fri 11am-3pm, Sat-Sun 11am-4pm. Dinner (a la carte) Tue-Sun 5pm-10pm.
https://www.bodhirestaurant.com.au/
Armory Wharf Cafe – Newington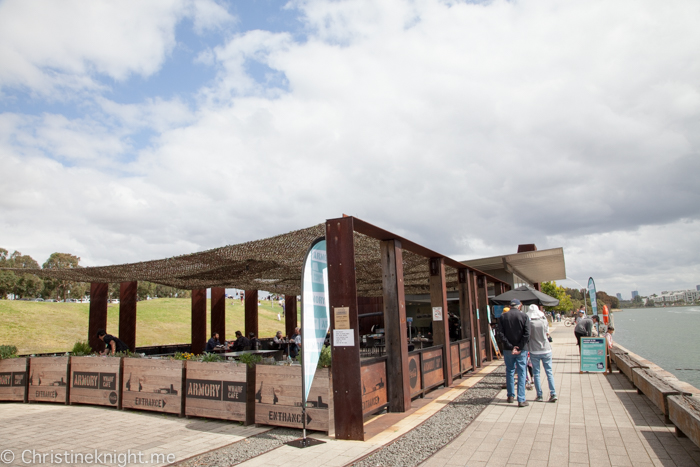 The Armory Wharf Café in Sydney Olympic Park is a family-friendly, waterfront cafe with a casual vibe and al fresco seating.
Located on the edge of the Parramatta River in the Newington Nature Reserve, the Armory Wharf Café is a licensed venue that has stunning 270-degree water views of mangroves and the industrial Armory wharf.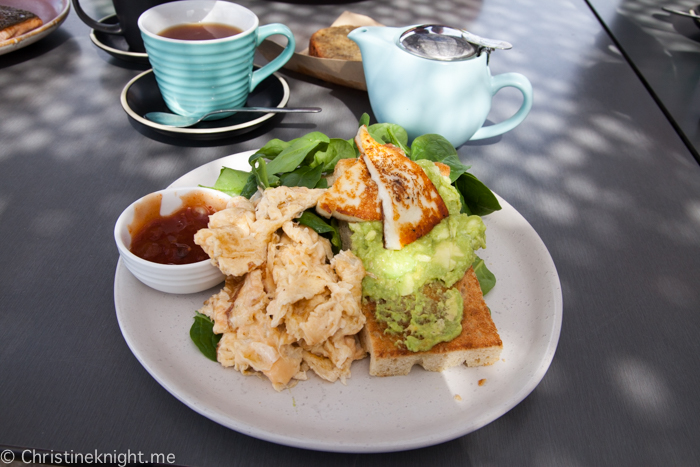 Right next door to the cafe is the excellent Blaxland Riverside Park playground – you'll have to pry the kids off the equipment to leave at the end of the day!
Read more about our experience at the Armory Wharf Cafe.
Armory Wharf Cafe
Blaxland Riverside Park, Jamieson Street, off Holker St, Newington NSW
Hours: Wed-Sun 9am–2pm
http://www.armorywharfcafe.com
More things to do in Sydney
Find a list of the best things to do in Sydney with kids here.
Find things to do in Sydney for free here.
Get a list of the best kid-friendly beaches in Sydney.
Find the best animal experiences in Sydney here.
Visit the best kid-friendly restaurants in Sydney here.
Find the best high teas in Sydney here.
Head to one of the best museums in Sydney here.
Check out things to do in Sydney on a rainy day here.
Enjoy one of the best ocean pools in Sydney here.
First time visiting Sydney? Get tips for first time visitors to Sydney here.