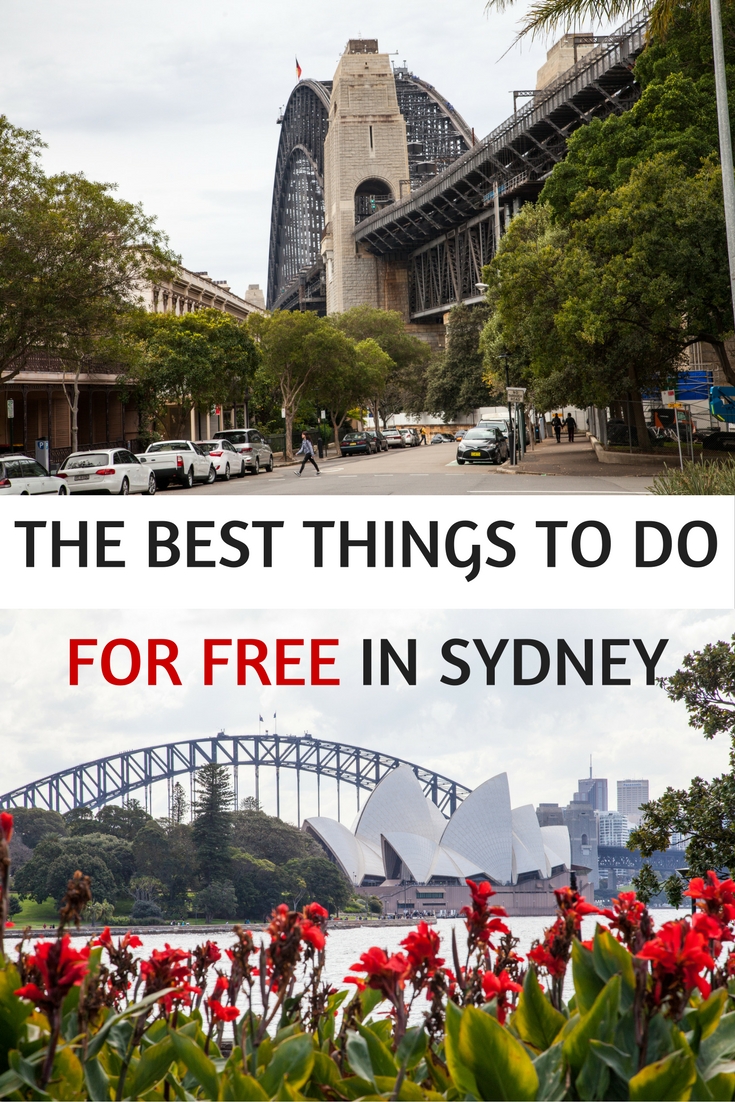 Sydney can be quite a pricey city. Food, hotels and attractions can see visitors spending quite a lot of cash on a visit. If you're visiting and have a budget to stick to, you can still have an incredible trip with this list of the best free things to do in Sydney.
The Best Free Things To Do In Sydney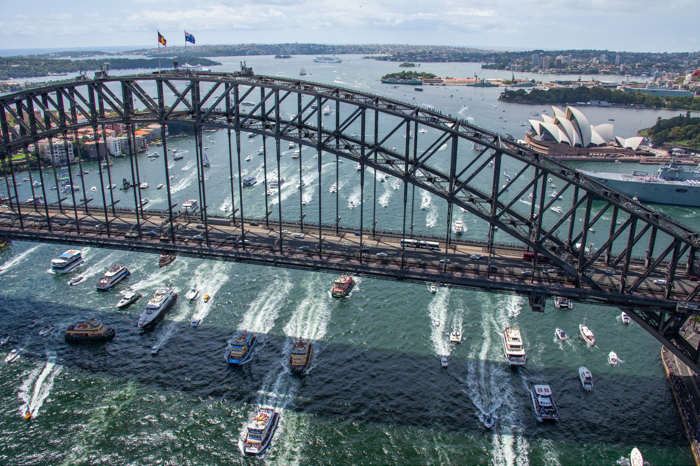 Image credit: Destination NSW
In the City Centre
Step back in time at the Rocks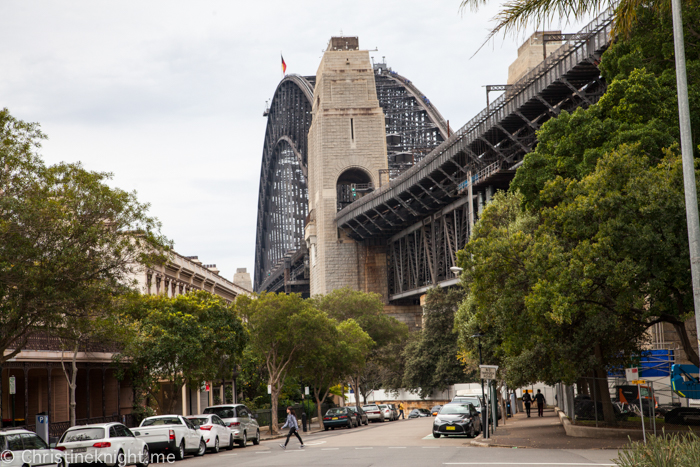 Visit the place of the first European settlement in Australia, as well as the traditional home of the Gadigal Aboriginal people in the Rocks. Wander the cobblestone streets, enjoy panoramic views of Sydney Harbour including the Sydney Opera House and Sydney Harbour Bridge and take a look at a few of the heritage sites and buildings in the area.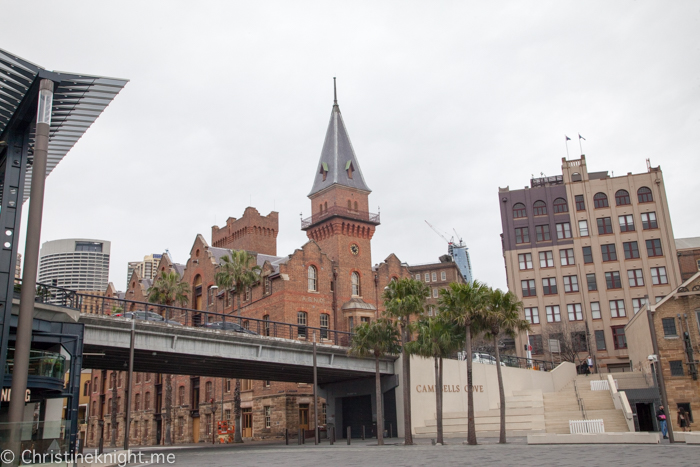 There are over 100 historic sites and buildings, the oldest house being Cadman's Cottage, built in 1816. Drop by the Rocks Discovery Museum, a free museum located inside a restored 1850s sandstone warehouse with an interactive kids corner upstairs.
Walk over the Sydney Harbour Bridge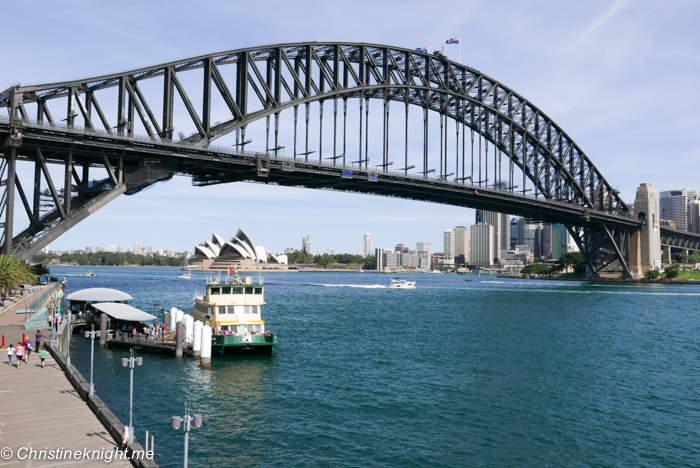 The world's tallest steel arch bridge connects the northern suburbs of Sydney with the CBD. Take a stroll over the Sydney Harbour Bridge the two access points to the pedestrian walkway are up Cumberland Street in The Rocks in the CBD and near Milsons Point train station in the north. Climb 200 stairs to the Pylon Lookout for stunning views (admission fees apply).
Read a book at the State Library of NSW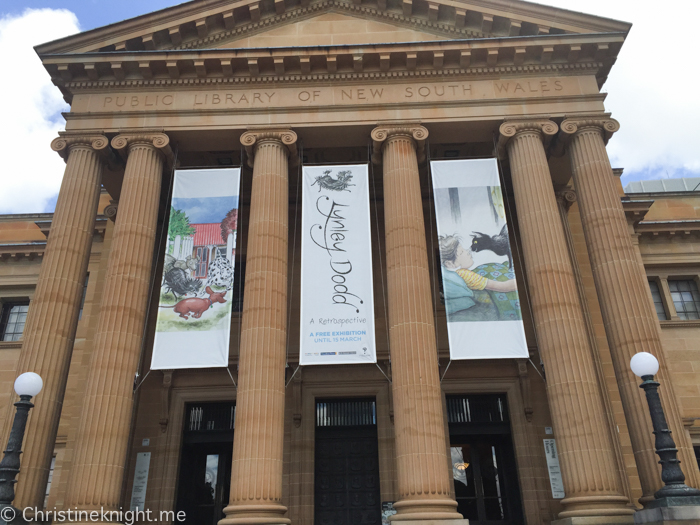 It's free to wander into Australia's oldest library (it was established in1826) and check out their exhibitions which include, at time of print, the touring May Gibbs: Celebrating 100 Years exhibit. The library also runs free activities for kids. Check out their calendar to see what's on when you visit.
Enjoy a Million Dollar View At Observatory Hill Park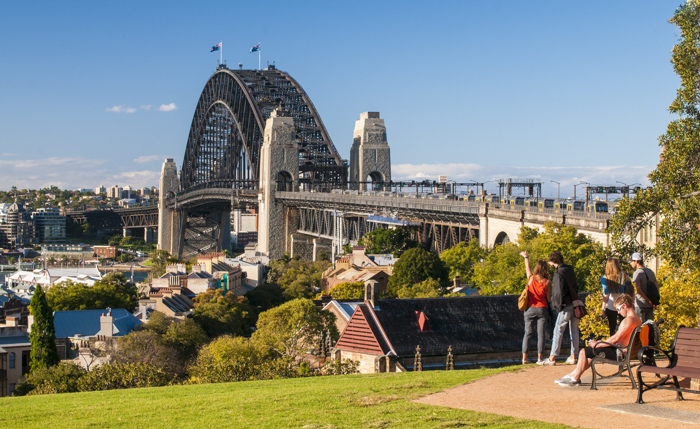 A gorgeous spot for a picnic and to enjoy the sweeping views over Sydney Harbour and the Harbour Bridge. Located in The Rocks, the hill is also home to the Sydney Observatory, a heritage-listed museum and public observatory. Sydney Observatory runs adult-only and family tours and activities throughout the year.
Image credit: Kajo Merkert; Destination NSW
Stroll through the Royal Botanic Garden Sydney and the Domain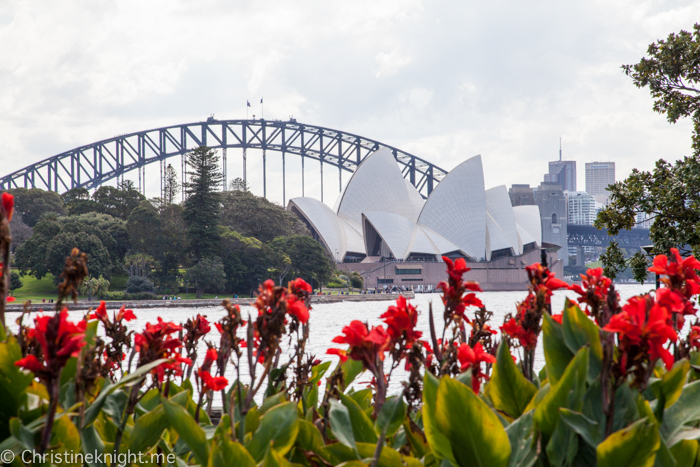 The gardens and Domain are gorgeous all year round. Take a leisurely walk through 30 hectares of lush foliage in the Royal Botanic Gardens down to Mrs Macquarie's Chair (for perfect harbour photos!), and then back up through the Domain to the Art Gallery of NSW for one of the most scenic garden walks you'll ever find. Wrapped around Farm Cove just south of the Sydney Opera House, the gardens, which were established in 1816, occupy one of Sydney's most spectacular waterfront positions.
Find more amazing Sydney gardens and parks to explore.
Get close to the masters at the Art Gallery of NSW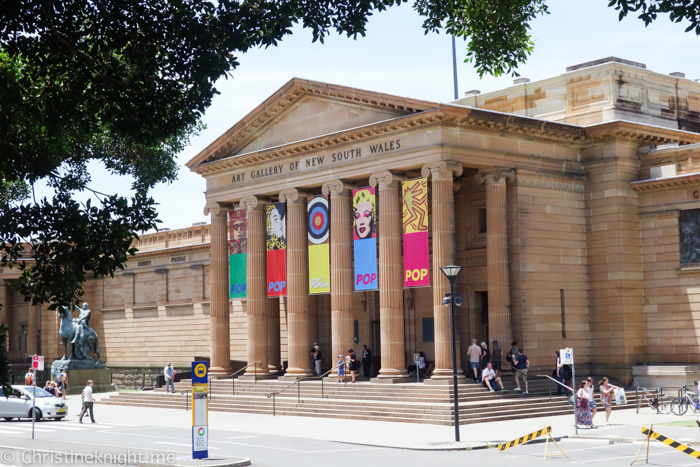 Stroll through five levels of masterpieces including an extensive collection of Aboriginal art, European masters, Asian art and visiting exhibitions. The general galleries at the Art Gallery of NSW (AGNSW) are all free to enter. Visiting with kids? Children can use online booklets to explore artworks or download free audio tours that have been created just for kids. The AGNSW frequently runs free activities for kids on Sundays and school holidays.
Get avant-guarde at the Museum of Contemporary Art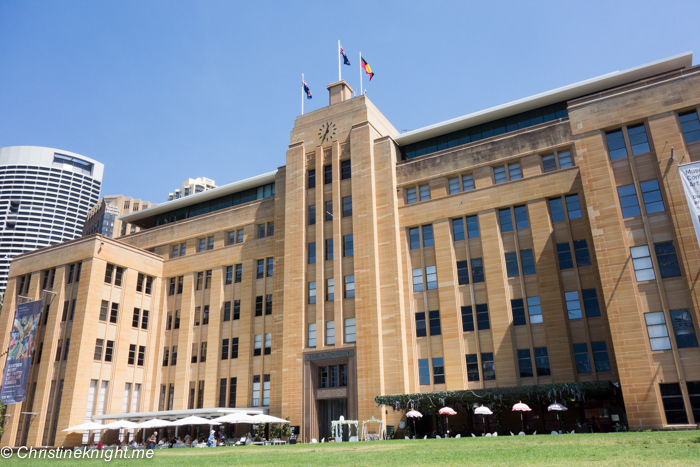 Wander through galleries of exciting modern art from leading Australian and international artists at the Museum of Contemporary Art Australia (MCA). Grab a coffee at the rooftop cafe and sculpture terrace and enjoy the stunning harbour view. The MCA runs lots of free and small donation activities for kids throughout the year too, from their monthly Sunday Family Fun Days to a drop in activity room and school holiday crafts.
Wander around the Sydney Opera House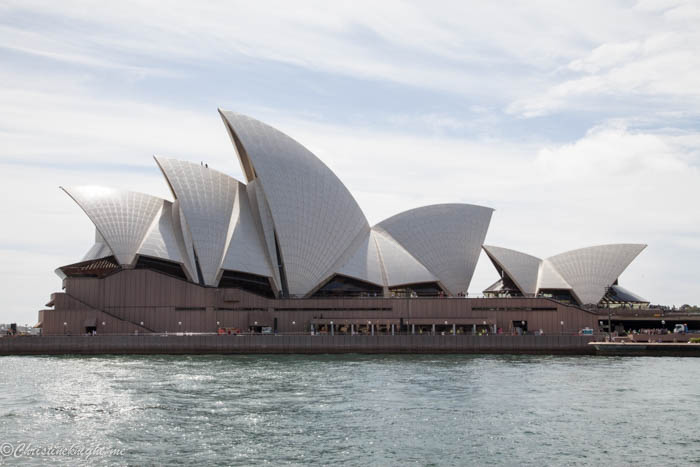 The Sydney Opera House is a performance venue on Bennelong Point, well-known for its distinctive series of "shells" covering the roof. The Sydney Opera House opened in 1973 and is a UNESCO World Heritage site. While you need a ticket to see a show, visitors can walk around the outside, including up the famous steps, and inside the box office area to take a peek.
Uncover Sydney's convict past at Cockatoo Island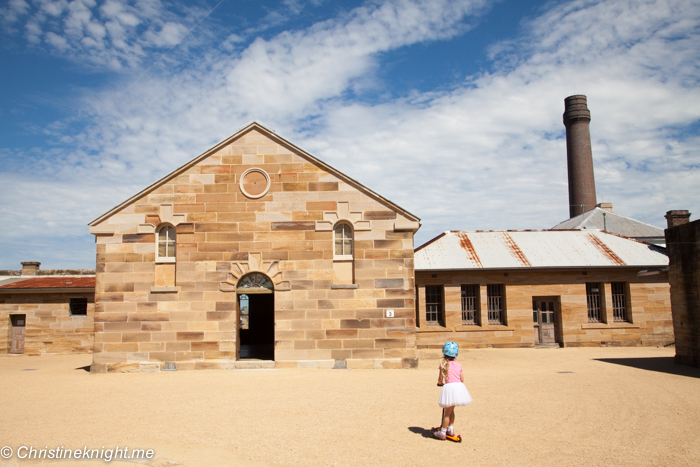 Take a ferry from Circular Quay to Cockatoo Island and step back in time at one Australia's World Heritage-listed convict sites. Bring a picnic lunch and scooters for the kids, who will also enjoy the free Convict Clues Challenge.
Get more info on a day at Cockatoo Island.
Cool down at Hyde Park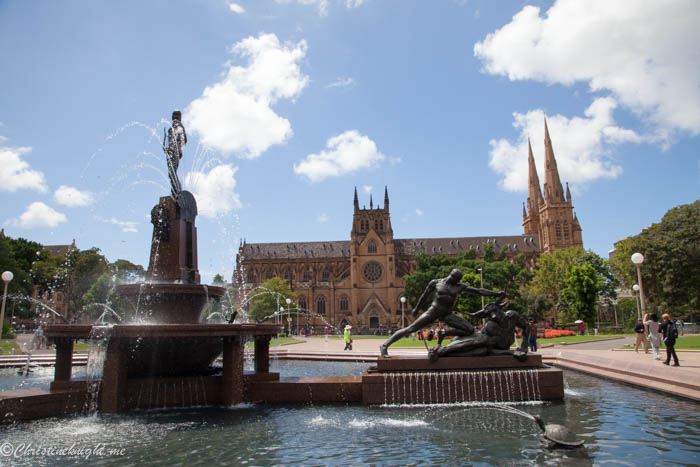 Australia's oldest park is located in the centre of Sydney's CBD. Divided by the major traffic artery Park Street, in the northern section you'll find the Archibald Fountain and various themed gardens, while the southern section is home to the ANZAC Memorial building and visitor centre and the pool of reflection. Hyde Park is the perfect spot for a picnic or just a rest under one of the many large fig trees that give the park shade.
Picnic at Barangaroo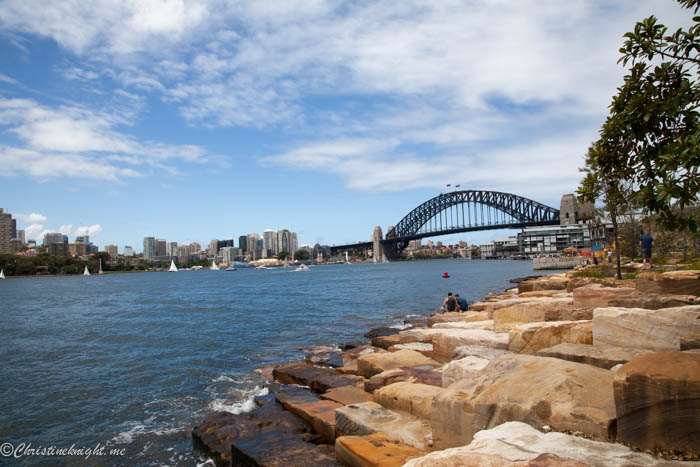 Sydney's newest harbour precinct is the result of a transformation from a disused container terminal into a stunning 22-hectare waterfront destination. Pack a picnic lunch and sit on the hill facing the Sydney Harbour Bridge, or unleash the child within and roll all the way down to the bottom. Kids will adore climbing the large rocks around the waters edge.
Gaze at St Mary's Cathedral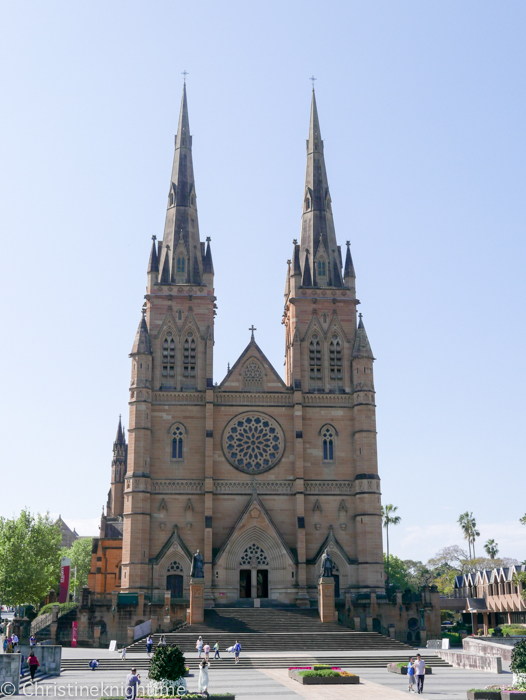 The beautiful St Mary's Cathedral, located across the road from the northern end of Hyde Park, is the seat of the Archbishop of Sydney and stands on the site of the first Catholic Chapel in Australia. Take a walk through the cathedral, built from local sandstone in the Gothic Revival style, and enjoy the soaring roof and lovely stained glass windows.
Get nautical at the Australian National Maritime Museum (ANMM)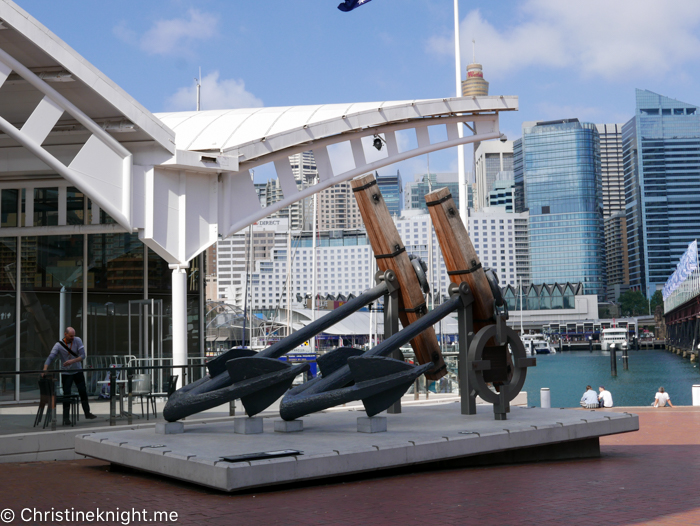 The ANMM is Australia's national centre for maritime collections, exhibitions, research and archaeology .Grab a free ticket from the front desk for admission into the permanent indoor galleries and under 5s play area.
In Sydney's North
Uncover Australia's Indigenous heritage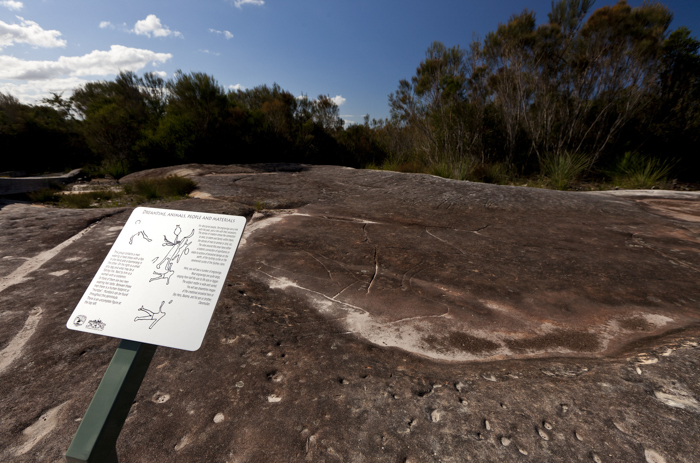 In Sydney's north you'll find Ku-ring-gai Chase National Park, famous for its Aboriginal heritage site. Take the Red Hands Cave walking track from the Resolute picnic area along an easy bush track to see rock art of the Aboriginal people of the Guringai North. It's only a short walk to the cave with ochre handprints left behind by the people who once lived in this part of Sydney.
Image credit: Andrew Gregory; Destination NSW
Enjoy stunning harbourviews at Berry Island Reserve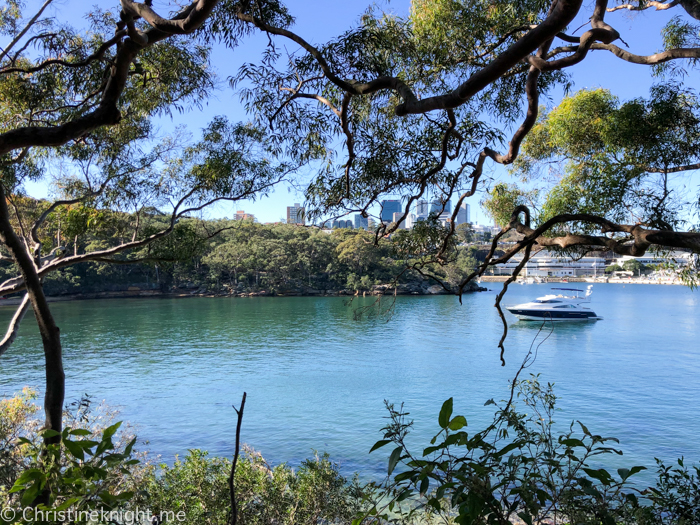 Enjoy some of the most beautiful harbour views in Sydney from Berry Island Reserve, a bushland island in North Sydney.
Berry Island Reserve is a small, circular island, connected to the mainland by a grassed causeway. It is steeped in Aboriginal history.
Read more about visiting Berry Island Reserve.
Learn about Sydney's industrial past and sustainable future at the Coal Loader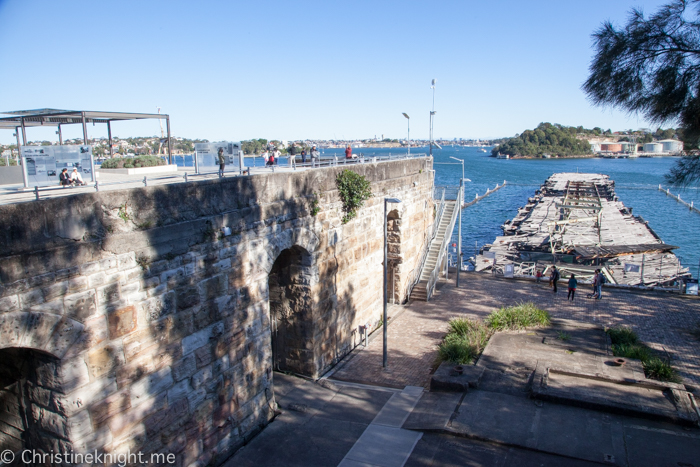 The Coal Loader is an historic venue in North Sydney, including a large green space, community garden, elevated platform with harbour views, bush walks and the Coal Loader Cafe.
The Coal Loader Centre for Sustainability is located on the Waverton peninsula. It's a fascinating place to delve into Sydney's past and also learn about its sustainable future.
Read more about visiting the Coal Loader and Coal Loader Cafe.
Spook yourself at Q Station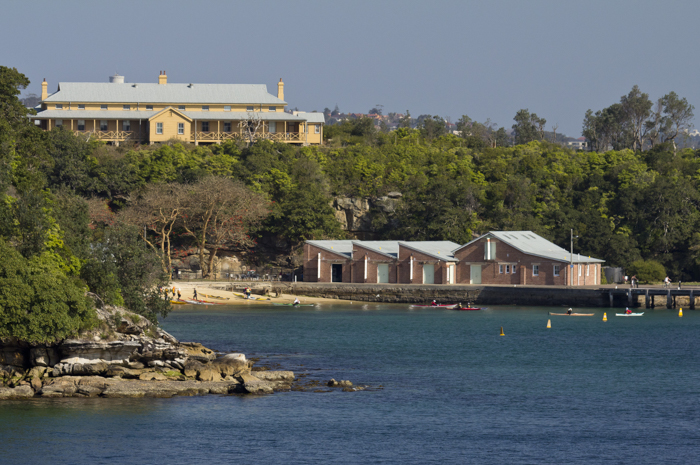 Located on the North Head of Manly, Q Station is a 30 hectare site once used as a Quarantine Station for migrants entering Sydney via boat. As of 2008, Q Station is now a hotel and function venue. Wander the grounds on foot enjoying the beautiful bush lands and harbour views or take the complementary onsite shuttle buss that runs 24/7 between locations. Be warned, Q Station is rumoured to be haunted. Take a ghost tour if you're feeling brave.
Image credit: Andrew Gregory; Destination NSW
Walk through Sydney's military history at Georges Head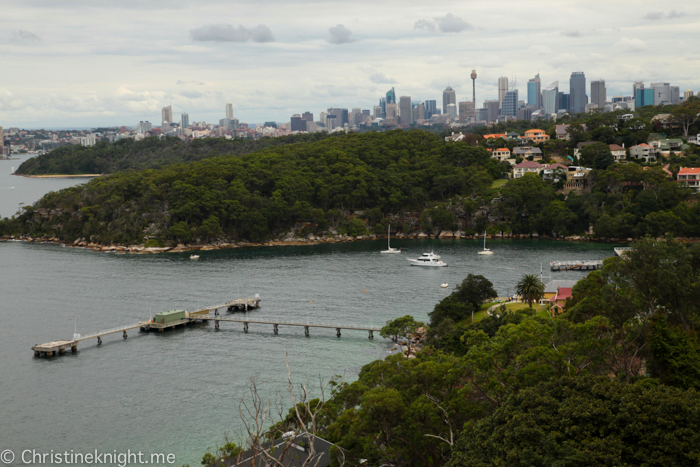 The Georges Head battery, located in Mosman, is a must to see military fortifications daring back to World War 2. Wander through tunnels and passageways while enjoying spectacular views of Sydney's North and South Heads. It's also a great spot to let kids run off steam while exploring all of the nooks and crannies.
Relax in Wendy Whitley's Secret Garden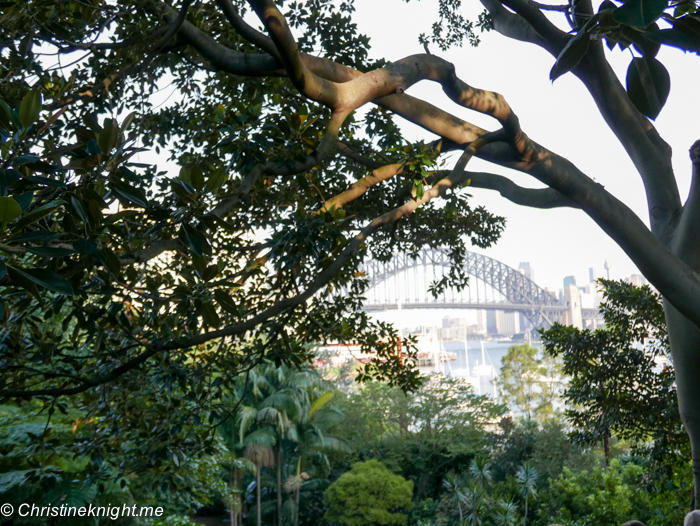 A serene spot in Lavender Bay, the garden was created in 1992 by Wendy Whiteley, wife and muse to artist Brett Whiteley, following her by then ex-husband's death. Follow the weaving pathways through lush foliage and past beautiful sculptures.
Get more into on Wendy Whitely's Secret Garden.
In Sydney's Inner West
Walk (or run!) the Bay Run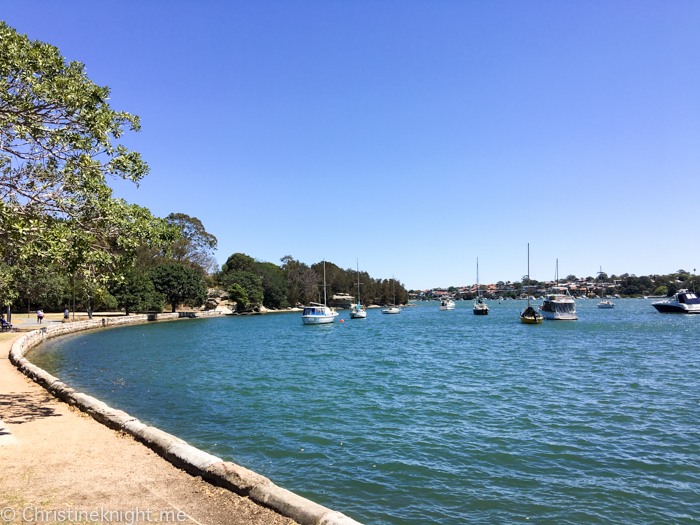 Walkers, runners and cyclists all enjoy the Bay Run, is a 7-kilometre-long path that encircles much of Iron Cove. The scenic path runs right on the water front and is an enclosed loop which makes for an easy start and finish location. Popular places to begin are King George Park, Leichhardt Park or Callan Park.
Enjoy a barbecue with a view at Ballast Point Park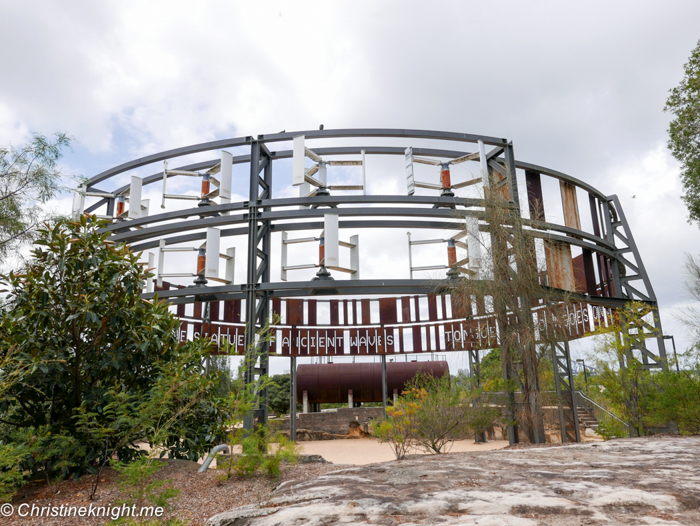 Located at the very tip of the Balmain peninsula, Ballast Point Park was once home to local Aboriginal tribes before European settlers arrived in the early 19th century. The park's indigenous history is recognised in a dual name – Walama – which means 'to return'. The2.6-hectare park opened in 2009 with several design features that highlight its history. Ballast Point Park has stunning harbour views and is a popular picnic and barbecue spot for families.
Peruse street art in Newtown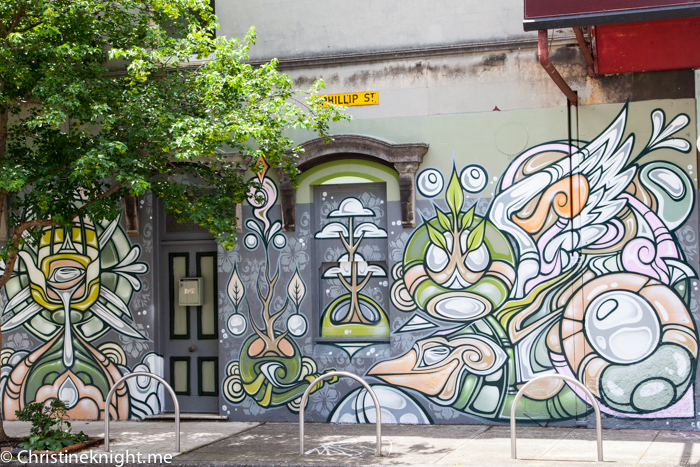 Catch the train to Newtown Station and wander the streets of one of Sydney's most vibrant and diverse neighbourhoods. Walk down alley ways to discover works of art painted on buildings around almost every corner, grab a bite to eat on King Street and let kids run off steam at Camperdown Memorial Rest Park. There is an excellent gated playground in the park.
In Sydney's South-West
Discover sporting greatness at Sydney Olympic Park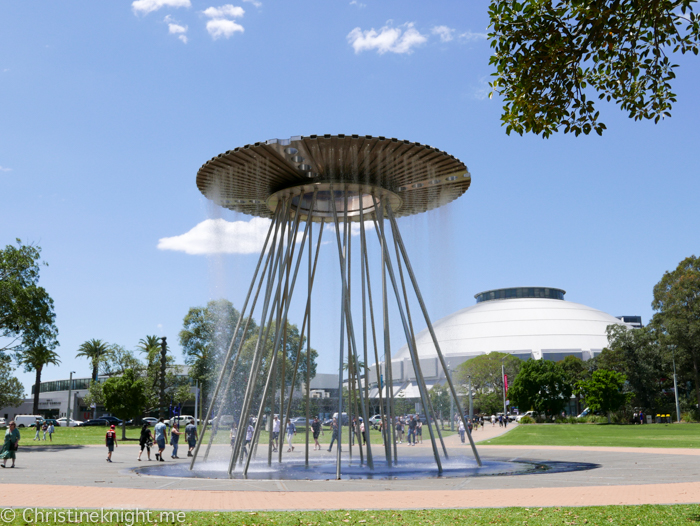 The site of the 2000 Sydney Olympic Games is now a monument to sporting legends and a peaceful parkland. Visit Cathy Freeman Park to see the Olympic Cauldron that was used throughout the games and has been transformed into a water feature that kids love to play under in summer, located next to a shady playground and vast grassy field.
To get there: Take a 30 minute train trip from Central Station to Olympic Park Station or a ferry from Circular Quay to Sydney Olympic Park Wharf.
Get more info on visiting Sydney Olympic Park here.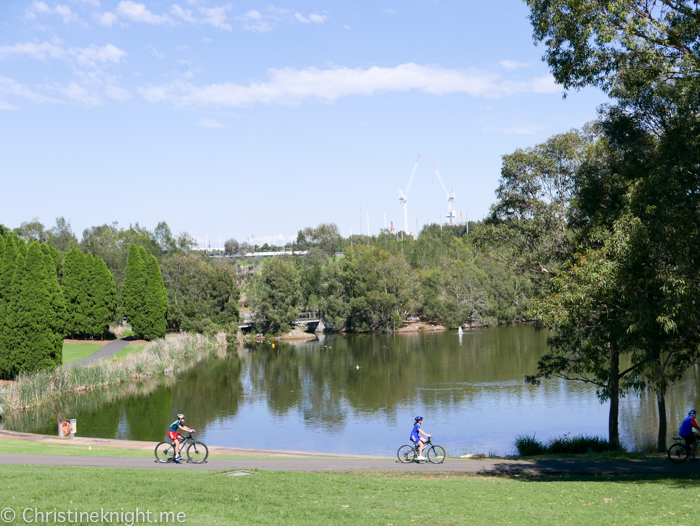 Nearby Bicentennial Park is a beautiful park that combines mangrove wetlands with 40 hectares of gentle hills, meadows, lakes, playgrounds and picnic shelters. Driving to this park is the best option.
Read about visiting Bicentennial Park.
In Sydney's East
Step into the past at Paddington Reservoir Gardens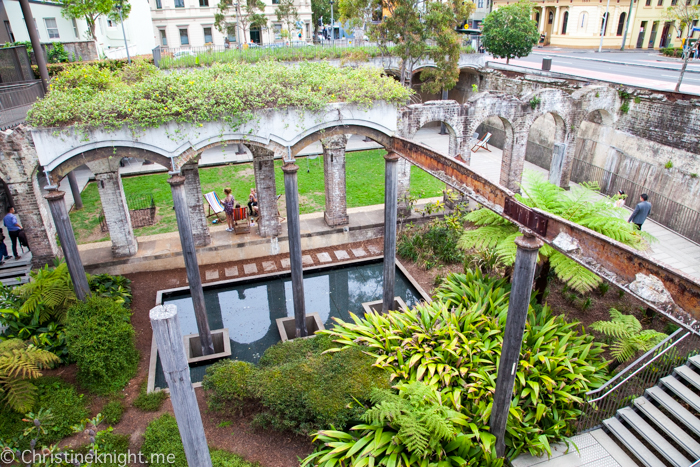 Located on Sydney's busy road, Oxford Street, the Paddington Reservoir Gardens are an oasis of calm. Built completed in 1864 as part of Sydney's third water supply to contain water pumped from Lords Dam at Botany Bay, the Paddington Reservoir was restored and opened as a garden in 2009. The Paddington Reservoir Gardens are now state heritage-listed.
Get more info on the Paddington Reservoir Gardens.
Stroll the Bondi to Bronte Walk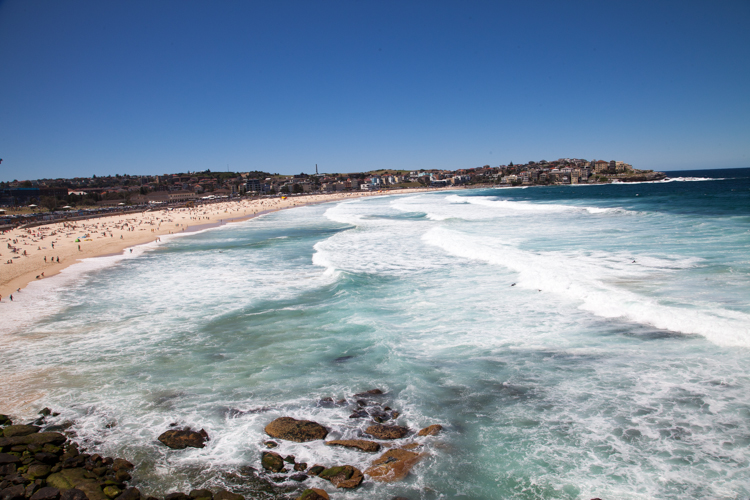 This 6km return walk will take you past some of Sydney's most breathtaking scenery. Starting at the iconic Iceburgs Dining Room and Bar at the south end of Bondi Beach, the walk winds south along the rocky cliff face past Tamarama to Bronte Beach. Start at either end and either walk or take a bus back to the starting point. There are plenty of cafes and facilities at Bondi, Tamarama and Bronte Beach, or you can bring a picnic lunch.
All Over Sydney
Run off steam at a playground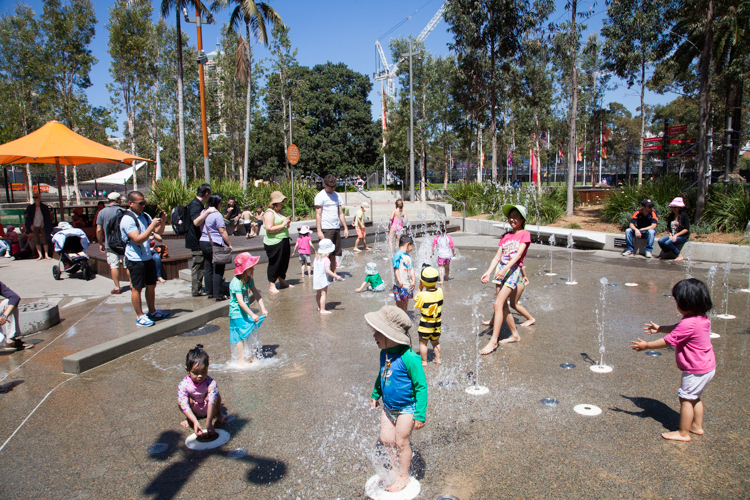 Travelling with kids? Sydney has plenty of playgrounds to enjoy, the most centrally-located, as well as one of the best, being the playground at the Darling Quarter, in Darling Harbour. With a 21-metre flying fox, water play area with pumps and buckets and plenty of slides, climbing structures and swings, it's a must for kids visiting the city.
Excellent playgrounds near the city centre include:
Pirrama Park in Pyrmont
Wulaba Park in Waterloo
Read about visiting the best playgrounds in Sydney.
Splash at the beach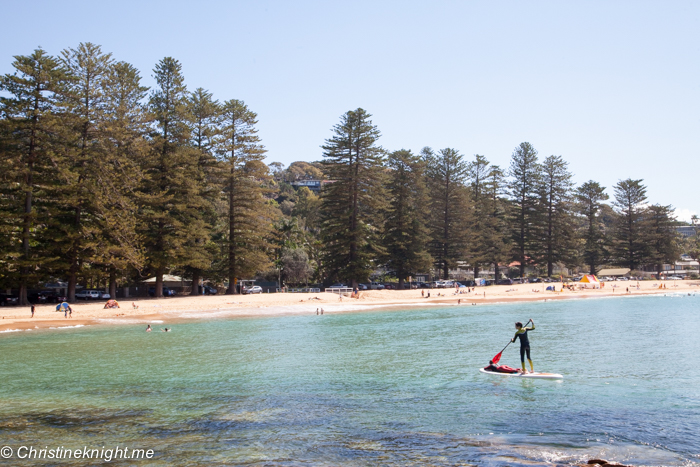 Sydney has over 100 beaches to explore! From bustling surf scenes to tranquil bays, there is a beach for everyone in the family to enjoy.
Get tips on the best beaches in Sydney to visit, from iconic Bondi and Manly to hidden gems like Parsley Bay, and plan which beaches are on your hit-list.
See Sydney by foot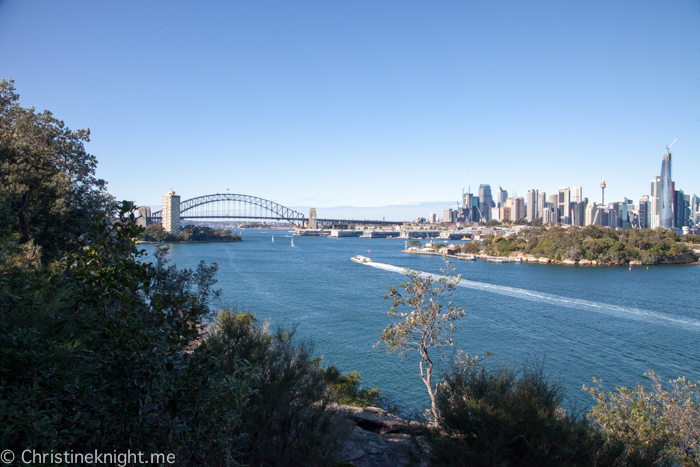 Take a scenic walking tour of the city and see what Sydney does best – stunning nature. Choose a walk that takes you through the city and past its stunning coastline and through lush national parks. For ideas on the best walks in Sydney head here.
Please note that Australia has expansive areas of bush where it's easy to get lost. Take a map or compass with you on all bush walks plus water and snacks, and always tell someone where you are going.
Tips on visiting Sydney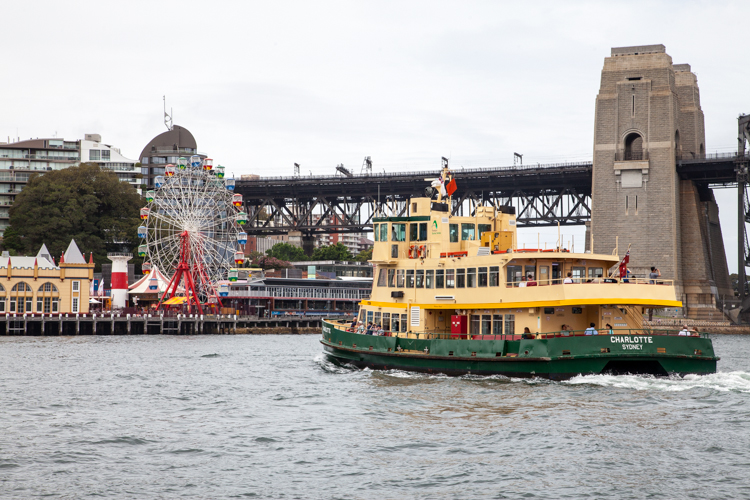 How to get around
Sydney has an extensive public transport system that includes trains, buses, ferries and light rail. If you're in Sydney for a few says, buy an Opal card to use public transport – the one card gives you daily travel caps and enables you to use all four transport systems. Taxis and Uber in Sydney are expensive so walking plus public transport are your best options.
Driving in Sydney
To see a lot of Sydney and its surrounds, it's advisable to hire a car. International visitors may use a foreign driver's licence in NSW. Note that all speed limits are strictly enforced with cameras and it is illegal to drive with a blood alcohol level of 0.05 per cent or higher, or to drive under the influence of illegal drugs.
When to visit
Sydney is the perfect year-round travel destination due to its temperate climate. It does, however, get extreme heat in summer (December to February). While the average maximum temperatures are around 26°C (78.8°F), it can reach over 40°C (104°f) during this time of year. Summer is also the most humid time of year to visit, with average humidity of 65%.
Winter (June – August) average maximum temperatures are around 16°C (60.8°F). Sydney's highest rainfall is between March and June.
National Emergency Services
The national phone number for all emergency services in Australia, including ambulance, fire and police, is 000. You can dial Triple Zero within Australia from any fixed line, mobile phone, pay phone and certain Voice over Internet Protocol (VoIP) services. If you have a GSM digital mobile phone, you can also dial the international standard emergency number 112.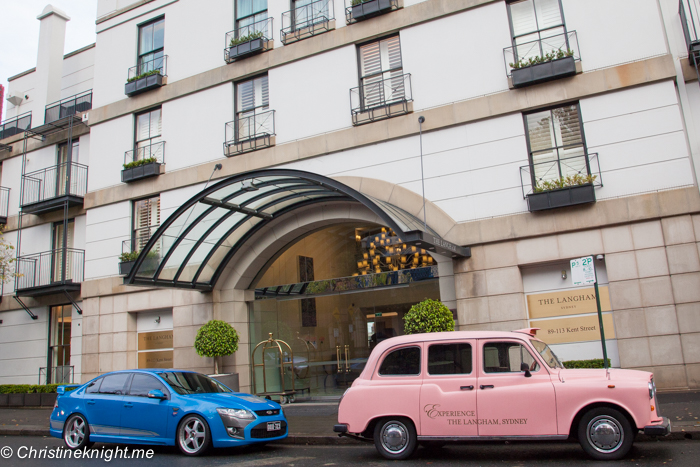 Where to stay
For a short stay, hotels in the CBD particularly around Circular Quay and The Rocks will make it easy to get around as they're close to public transport as well as main attractions. Darling Harbour is also a good choice particularly for families. My fave hotel to stay at is The Langham Sydney or Shangri-La Sydney, both in The Rocks
Get hotel rates in Sydney from Booking.com.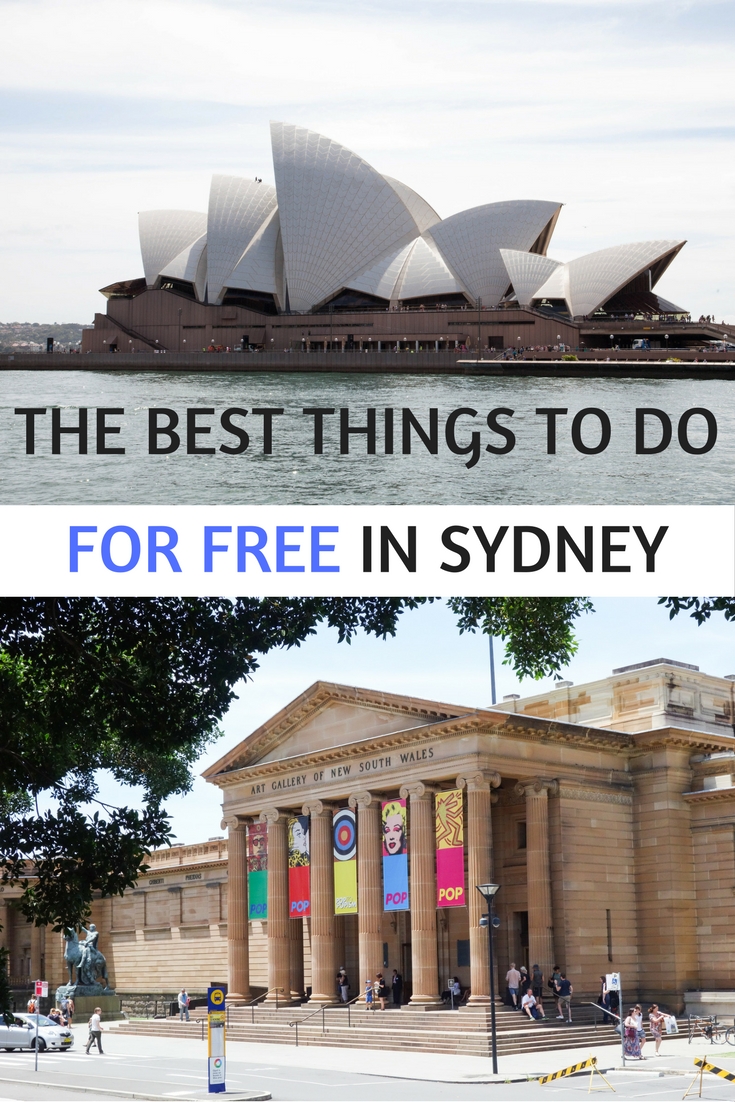 This blog post contains affiliate links. This means if you book a hotel after clicking on a link through my site I will receive a small commission at no extra cost to you. Thank you for supporting Adventure, baby!