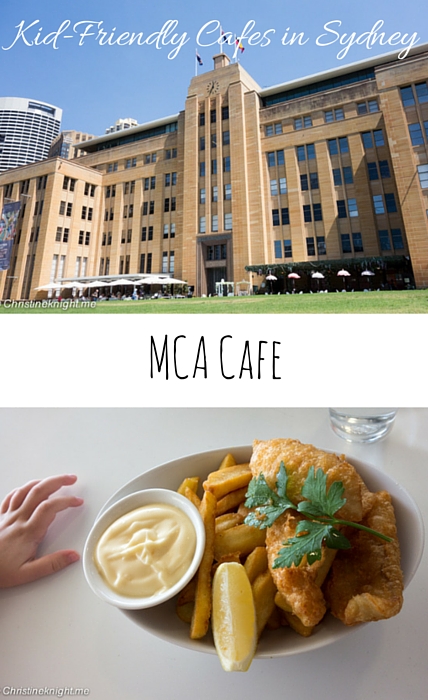 A kid-friendly restaurant in Sydney's CBD is quite a find. We end up spending a lot of time around Circular Quay at the Sydney Opera House, the AGNSW and the MCA, so are always in search of Sydney's best kid-friendly cafes in these areas.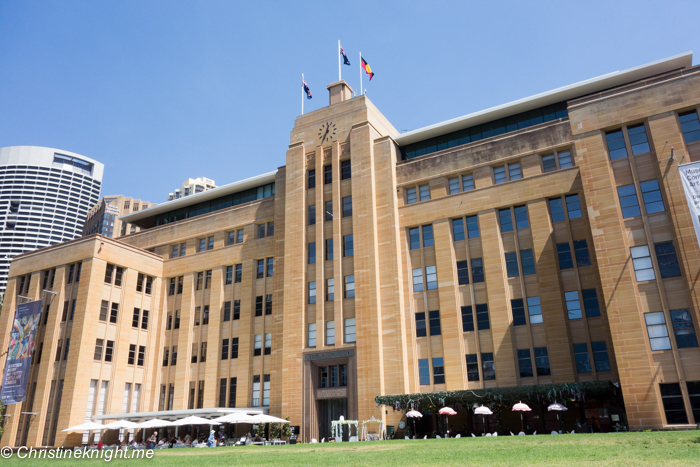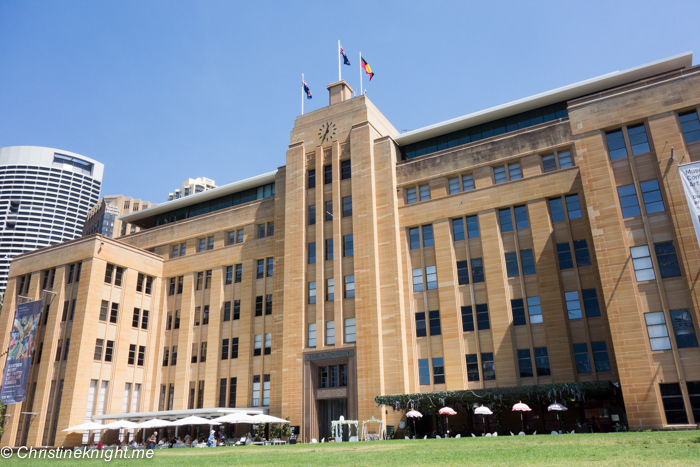 On our recent visit to the MCA we tried their rooftop cafe, which I previously didn't even know existed. To get to the cafe, enter through any of their regular entrances, then take the elevator to the 4th floor. Entrance to the general exhibitions at the MCA is free, so you won't need to pay if you stop along the way to check out some art.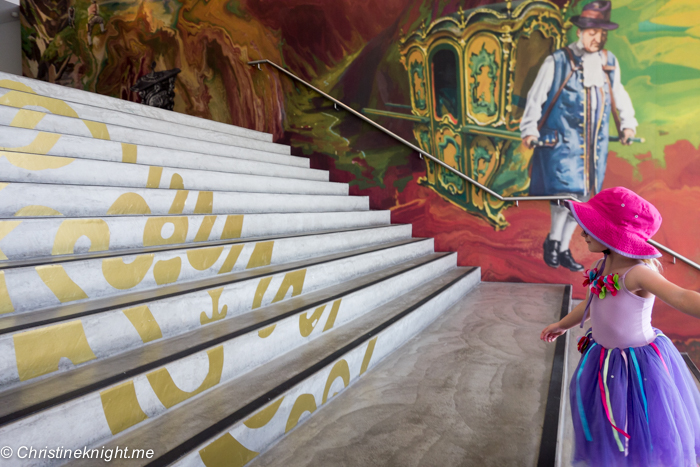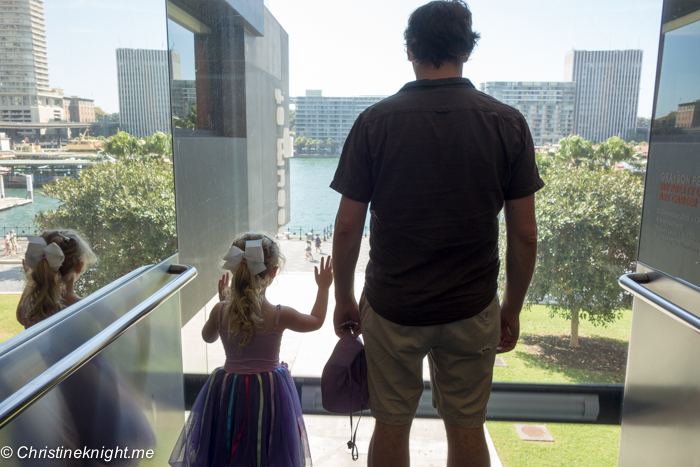 When you reach the top floor of the MCA, turn right to enter the cafe and sculpture terrace. Dining is casual, so grab menus at the front, choose a table, then order and pay at the counter.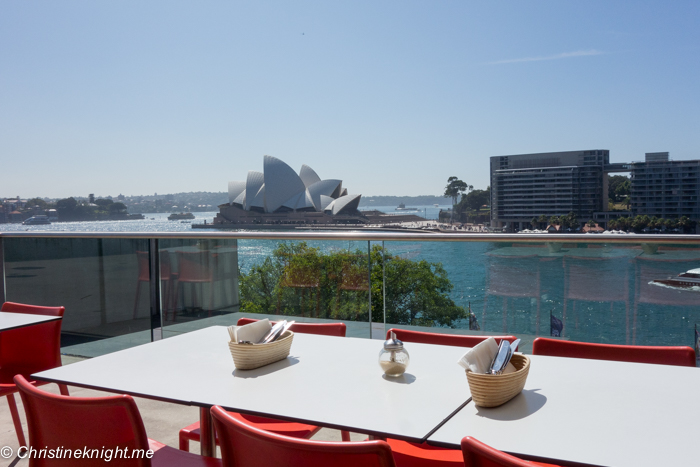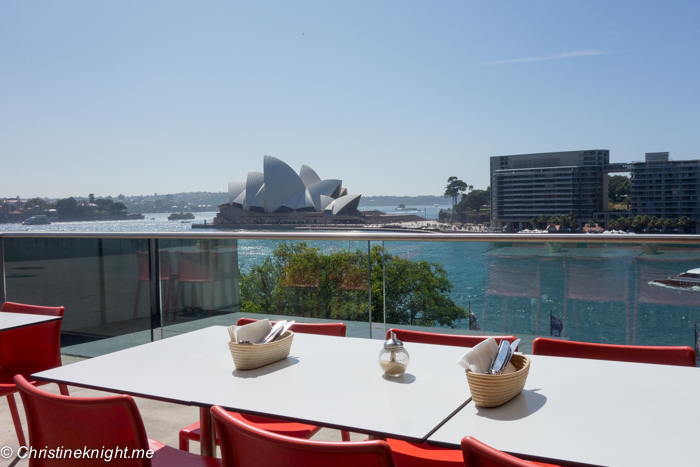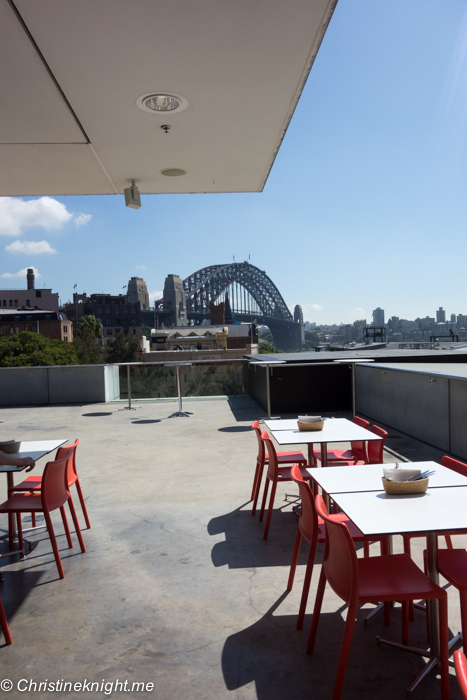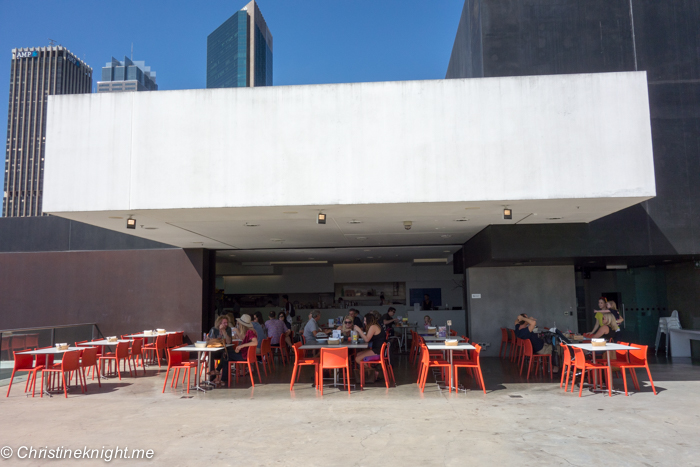 The cafe currently has a British Grayson Perry-inspired menu, running at the same time as the gallery has the Grayson Perry exhibition on downstairs. I love themed menus, so this was a fun, unexpected bonus. The menu was a celebration of all things British, such as Devonshire tea & scones, crumpets, fish & chips, bangers and mash, or their Little Pretty Eton Mess.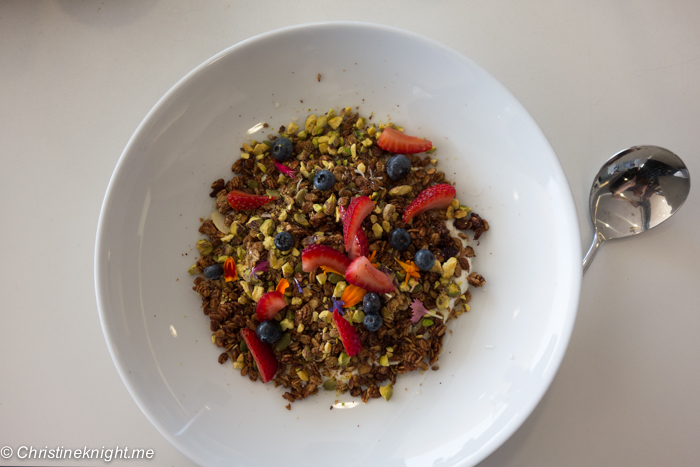 I chose the Honeyed Oats, Summer Berries, Elderflower, Yoghurt & Pistachio ($12),
Alec had the Roasted Salmon (with green beans, roast potatoes & lemon, $28), and Cheese selected the Battered Fish & Chips ($14) from the kids' menu.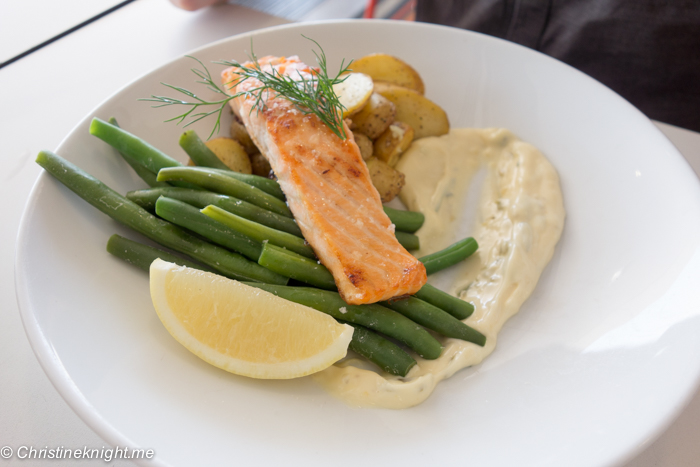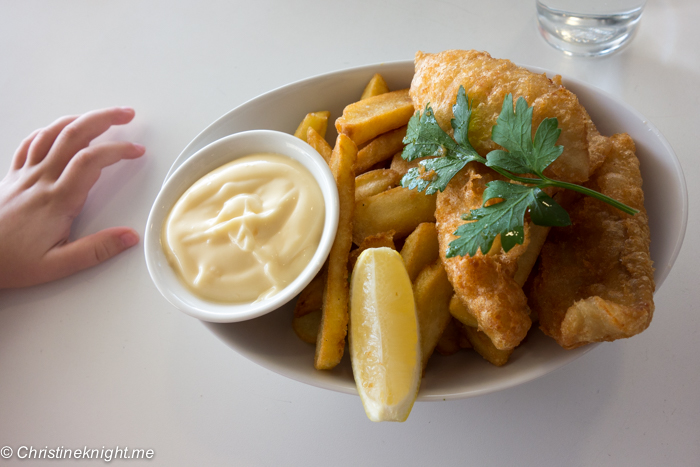 While we were waiting for our meals, Cheese amused herself by checking out the giant sculpture on the terrace, while we admired the view. Not too shabby, eh?
My honeyed oats were really delicious, but I did find them to be a tad dry and would have liked more yogurt. I thought the dish was colourful and beautiful, and really tasty. Alec's salmon was crispy on the outside and moist on the inside, and Cheese's fish and chips were also a winner. The portion was so big it would have done an adult who wanted a smallish-sized lunch.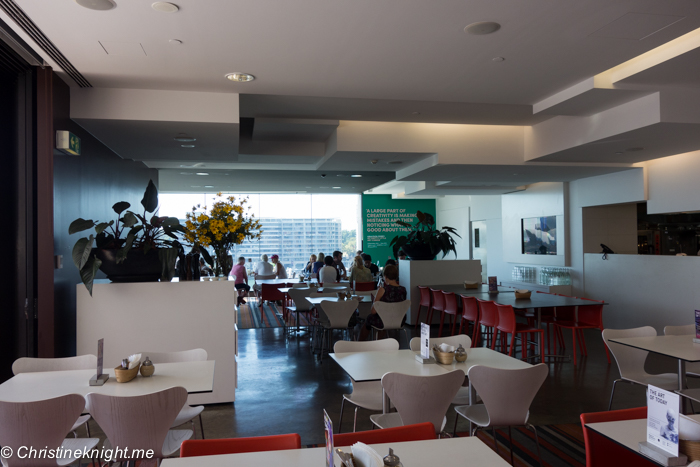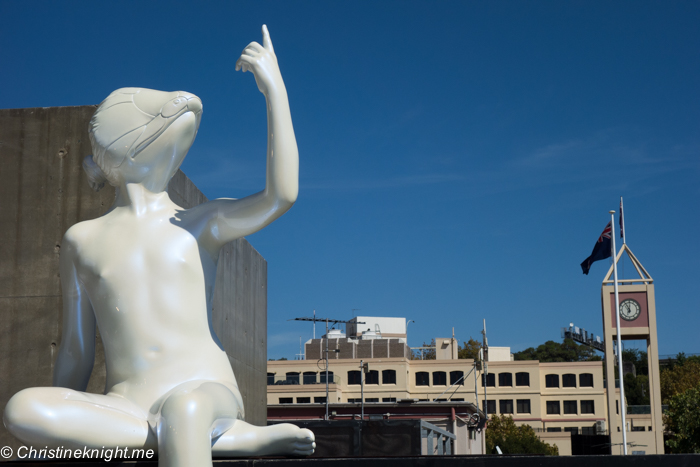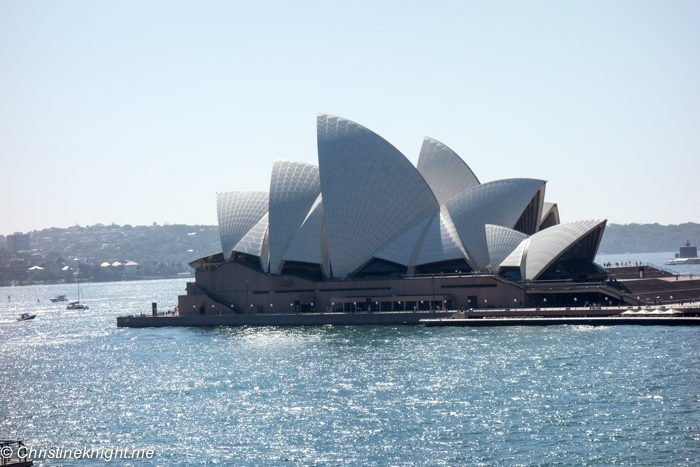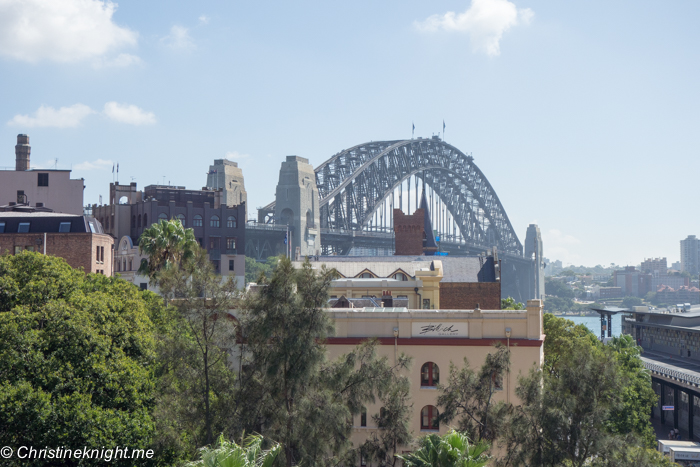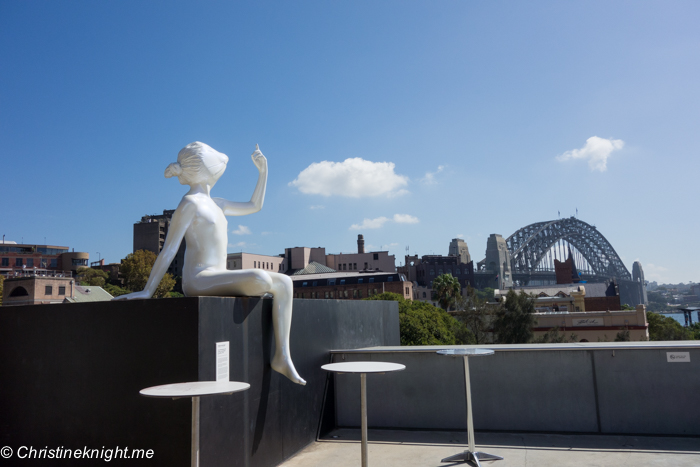 After our brunch we strolled downstairs to take part in the free drop in craft session for kids. The MCA usually has a kid-friendly component to their major exhibitions where little ones can experiment with different materials in the spirit of the big show, which, in this case, was Grayson Perry's "My Pretty Little Art Career".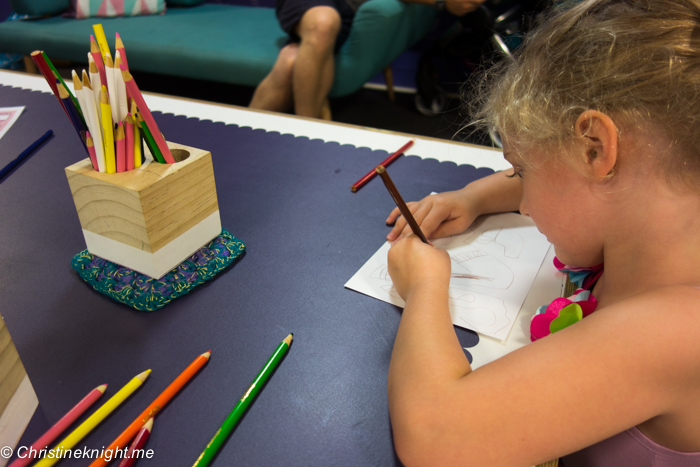 With the stunning view, free admission to the MCA plus the also-free art-making session, this was one extremely good value restaurant, perfect for kids, right in the heart of Sydney.
Highchairs: Yes.
Stroller storage: Yes.
Easy access: Yes.
Change tables: No.
Kids' menu: Yes.
MCA Cafe
140 George St,
The Rocks
Phone: (02) 9250 8443
Prices: $$$
Hours: Daily 10am–4pm, Thur 10am–9pm
Get Directions