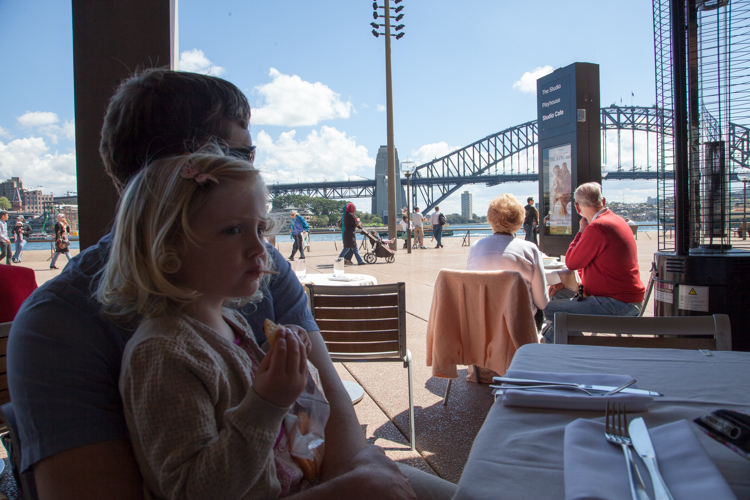 After seeing the show Fluff at the Sydney Opera House recently, we stopped at the new House Eatery By George to try their afternoon tea. With a killer view and perfect location for shows at the House, it's the perfect place for a nice lunch if you want to make it a special day out.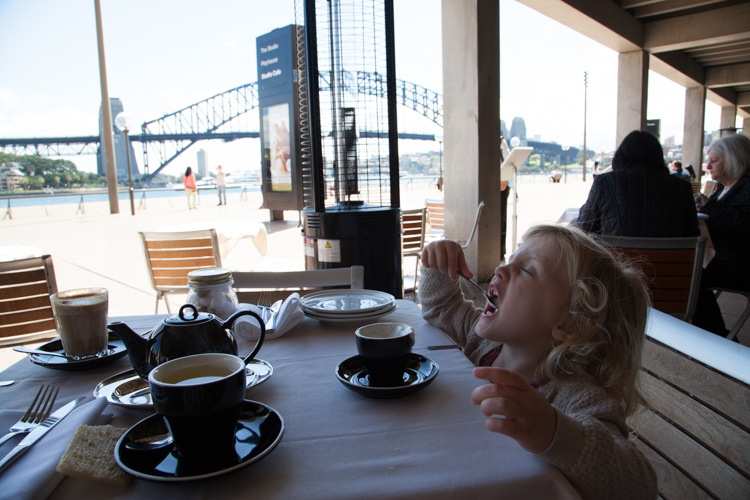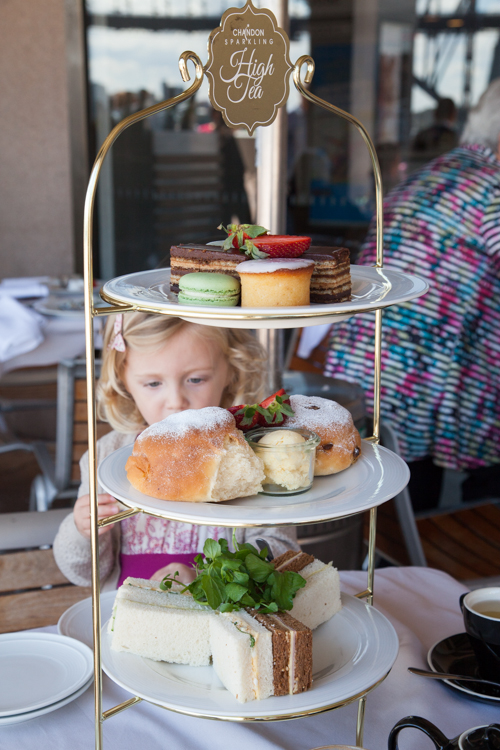 I'm a sucker for afternoon teas, and and on a mission to try every tea spot in every city I visit. Big goal. The House Eater Afternoon Tea consisted of three tiers, with a tray of 6 soft little finger sandwiches, two giant scones with butter and jam (no cream!), and a selection of sweets on top (two macarons, two slices of what I think was coffee opera cake and two lemon coconut cakes. The afternoon tea also included a choice of coffee or T2 tea. At $33 per person, it's a reasonable price for an afternoon tea in Sydney, particularly taking into account the spectacular location.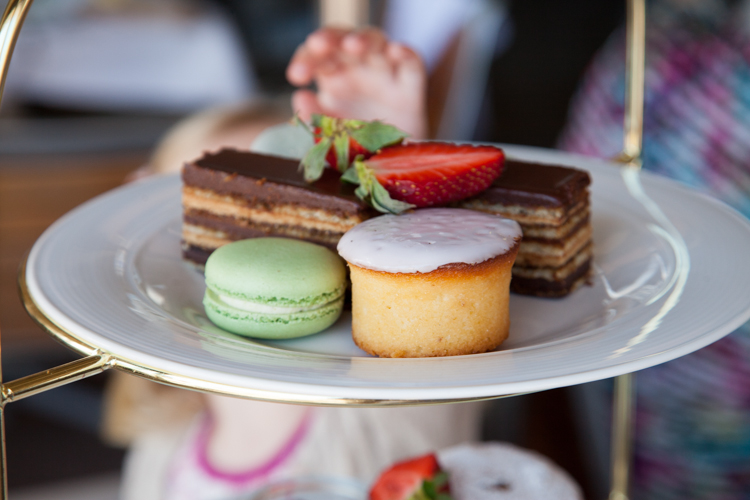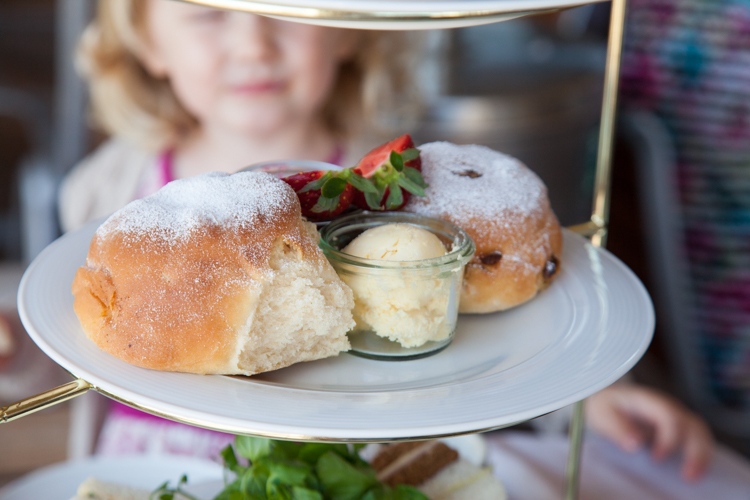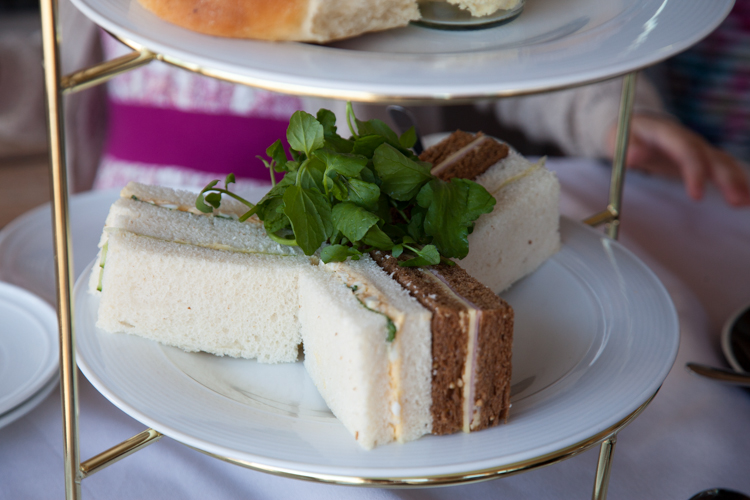 I requested vegetarian sandwiches for myself and Missy E, and was told by the waitstaff that she would request it with the chef. I was not entirely sure what this meant, and if I would be served meat or not, and it looked like, when the tray came out, that I was basically lucky that some of the sandwiches were vegetarian by happy coincidence. Note to diners with special dietary needs: this is not the afternoon tea for you!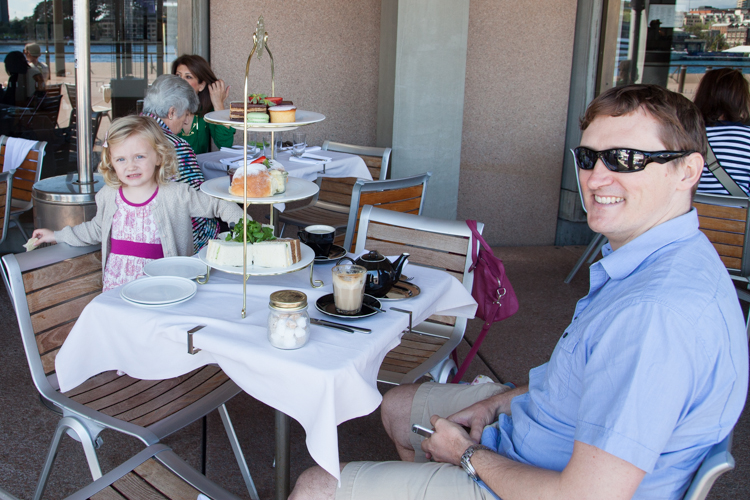 While the service was a little … spotty (for example, we had to flag down another staff member to ask for water to be brought to the table), the food was really delicious. The egg salad and cucumber sandwiches were fresh and light. The huge scones were fluffy and tasty. I would have liked cream instead of butter, but they were still great the way they were served.
I managed to get through my coconut-lemon cake (fresh and light) but that was it – I was too full for the rest. The wait staff obligingly boxed up the rest of the desserts we couldn't finish for us to take home.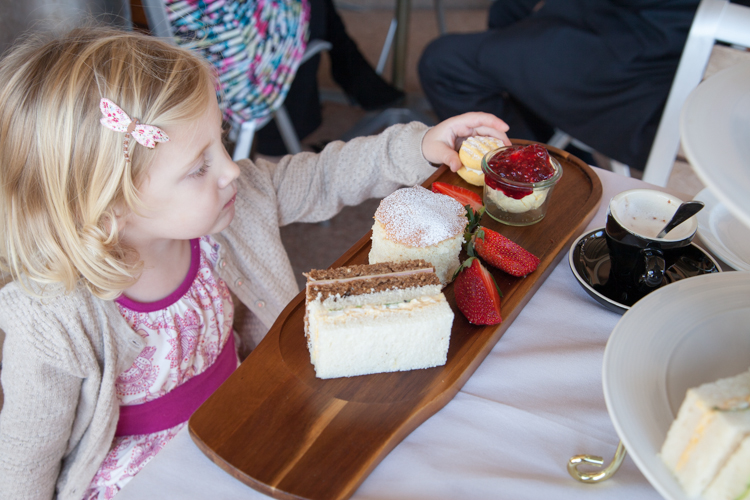 For Missy E, we ordered the Kids Afternoon Tea, which consisted of two finger sandwiches (egg and ham and cheese), a scone, mini biscuit and babycino for $7. I thought it was great value and would have suited me for tea for one. It was way too much food for Miss E to eat, but she did enjoy picking at most of it to give it a try.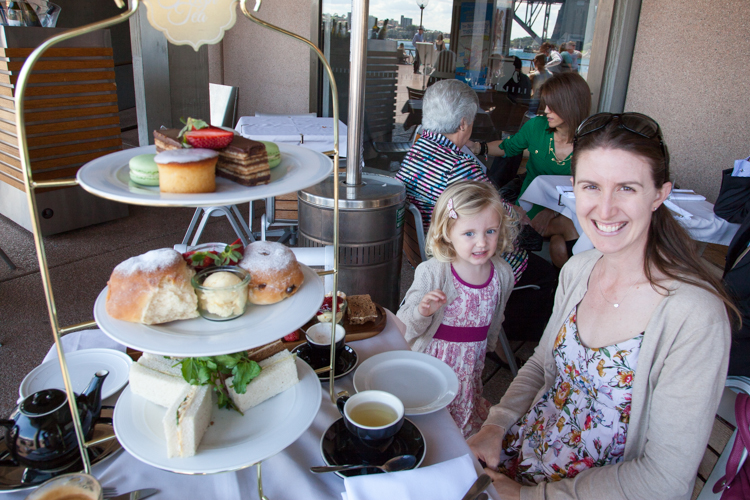 After lunch, take little ones to the Royal Botanic Gardens next door to run off their energy. It's one of my favourite spots to take Miss E because it's one of the few places to take kids to play that makes everyone happy. Plenty for kids to do, and plenty for adults to enjoy as well.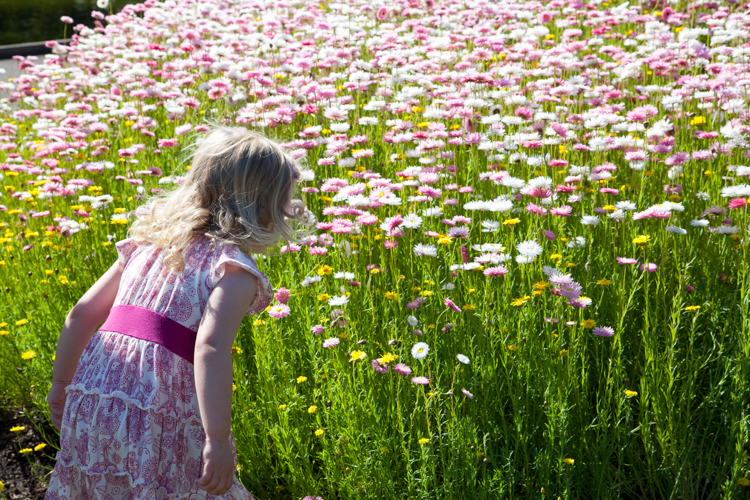 Highchairs: Unsure.
Stroller storage: Yes – outdoors, there it plenty of room for strollers.
Easy access: Yes.
Change tables: No.
Kids' menu: Yes.
The House Eatery By George
Colonnade on the Western Broadwalk
Sydney Opera House
Prices: $$$
Hours: Open 7 days a week from 11am till late Monday – Sunday.