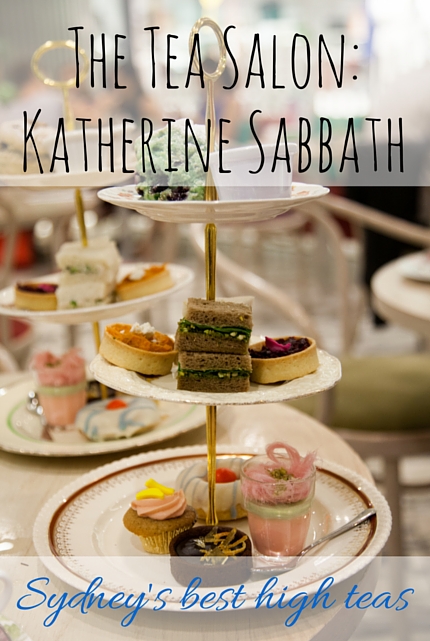 The promise of a high tea created in collaboration with the amazing baker Katherine Sabbath beckoned me to The Tea Salon in Sydney's Wesfield this week. The limited edition high tea only runs until October 31st, so if this amazing tea looks good to you, make a booking post-haste!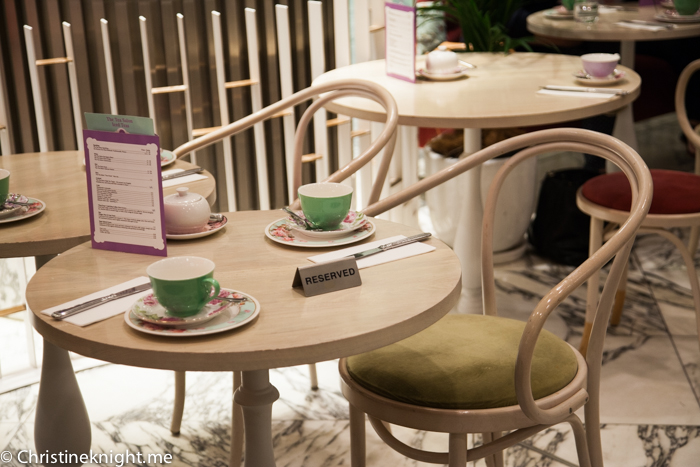 I hadn't thought to try a high tea at The Tea Salon until now as I was a bit put off by the thought of a relaxing high tea … in a shopping centre. Like I said, it took the promise of Katherine Sabbath goodies to draw me in with my fellow food-loving blogger friend Jayne Gorman of Girl Tweets World.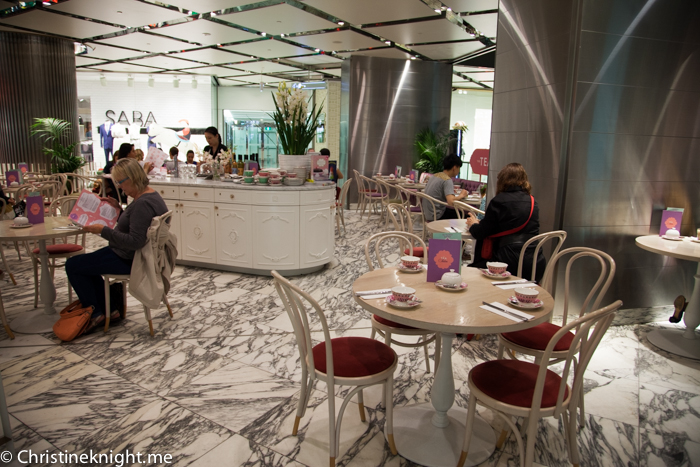 The Tea Salon is indeed right in the middle of Westfields, but the atmosphere was very quiet, and I forgot very quickly that I was in a shopping centre. The decor is whimsically playful and delightful – a little bit Alice in Wonderland with the cutesy pastel china and white furniture.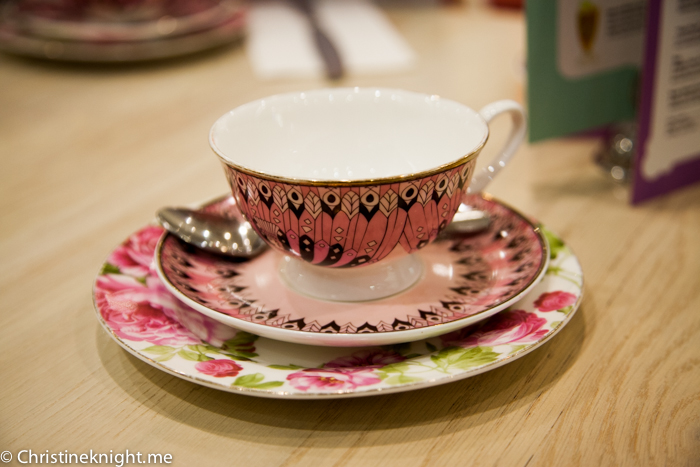 We ordered the Katherine Sabbath high tea for two – at $39.95pp for the basic tea, it's pretty good value. Kids up to the age of 13 can order a children's version of the Katherine Sabbath high tea for $19.95 per child.
I didn't bring Cheese with me on this occasion, which is a shame as the venue is incredibly kid-friendly.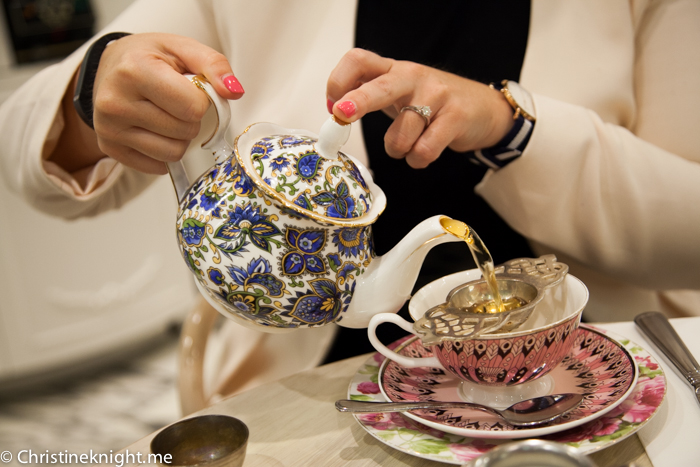 Onto the high tea! Each tea come with pot of Premium Loose Leaf Tea or Espresso Coffee. We chose tea, which arrived quickly in large pots. The tea menu was quite extensive with some interesting selections to be had. We chose the "Creme Brûlée" – a black tea with caramel notes. The tea was a bit on the sweet side, but not sickeningly so. It was a great accompaniment to the food, and we managed to get at least three cups out of the pots.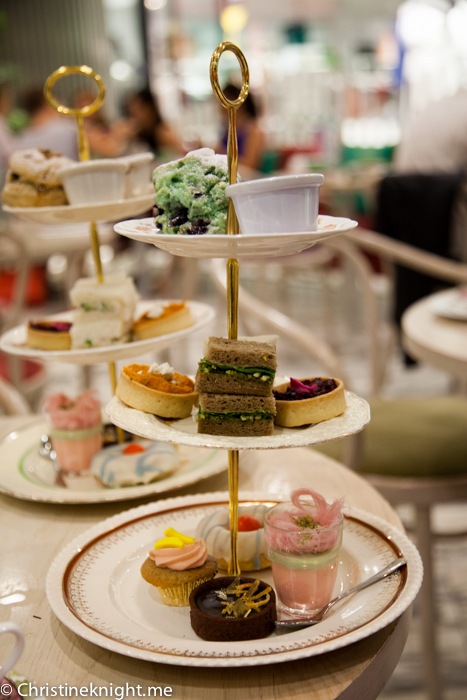 As I requested vegetarian substitutions to the regular menu, we were given our own three-tiered stands. The teas were identical with the exception of the sandwiches, and our choice of scone.
Tier 1: Scone
One scone per serve. I chose the Katherine Sabbath Blueberry & White Chocolate Scone with raspberry cream.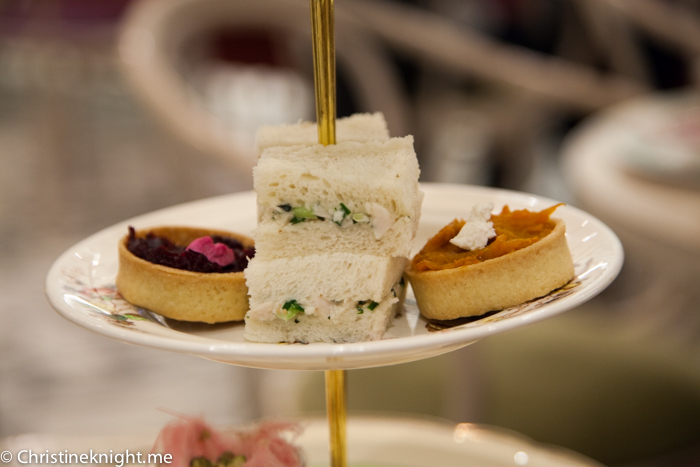 Pinwheel Sandwiches:
Smoked Salmon, Rocket, Lemon & Capers
Cucumber & Dill Butter
Savoury Tartlets:
Beetroot, Goats Cheese & Caramelised Onion Jam
Pumpkin Feta & Pesto
Vegetarian sandwiches: 
Cucumber and Dill Butter
Pesto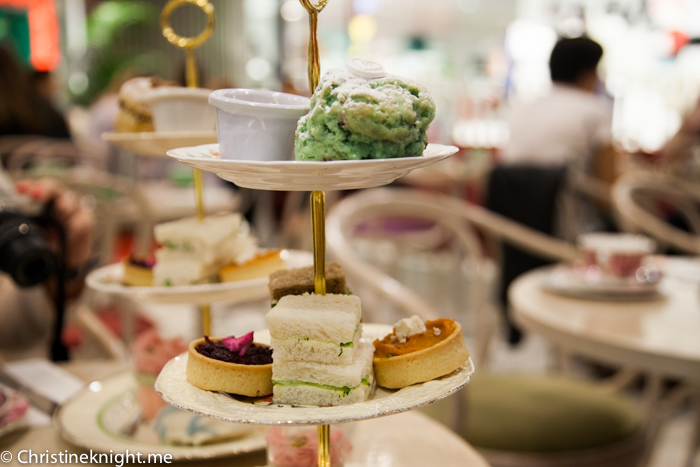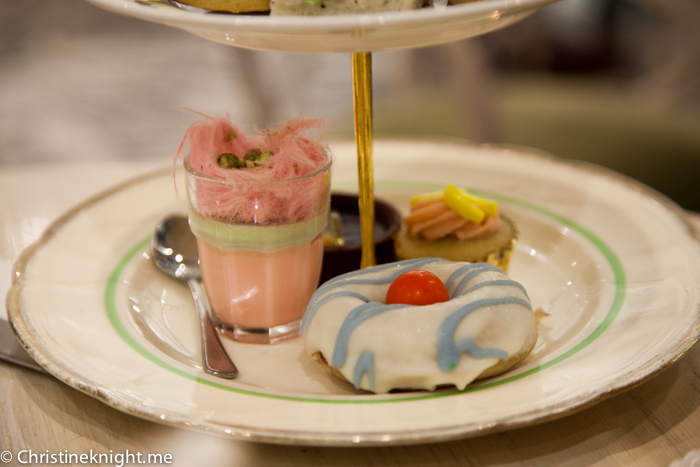 Sweet Treats:
Rose & Pistachio Pannacotta with Persian Fairy Floss
Lemon & Raspberry Zig-Zag Gumball Donut
Banana Cupcake with fresh Raspberry Cream
Dark Chocolate & Orange Fudge Tart with Salty Toffee Shards
The verdict:
I really enjoyed my vegetarian sandwiches. They were light and soft, freshly made, and the pesto sandwich in particular was really tasty. The scone, while being very blueberry-y, was a bit cake-y and lacked the sharp flavour that Australian scones usually have. This one was a bit more like a sweet American scone. The desserts were super cute and nicely bite-sized. My favourites were the Banana Cupcake and Rose & Pistachio Pannacotta with Persian Fairy Floss. The Pannacotta in particular was amazing – it tasted quite like Turkish Delight. I found the chocolate tart a bit rich for my taste, and the doughnut a little dense.
I really enjoyed the service at The Tea Salon. The staff were extremely friendly and attentive, and our waitperson was very knowledgable in teas, which I really appreciated!
The size of the teas were actually perfect. We were both so full that we needed to take one of the sweet treats home for later (little plastic take away containers were brought to our table to help facilitate a smooth transition of the cakey goodness to our homes).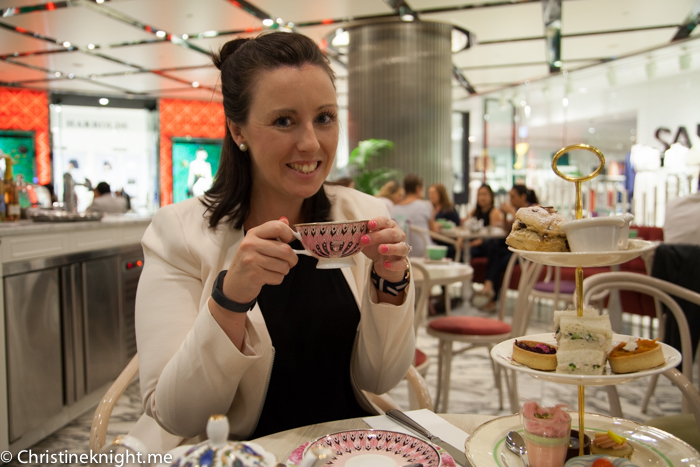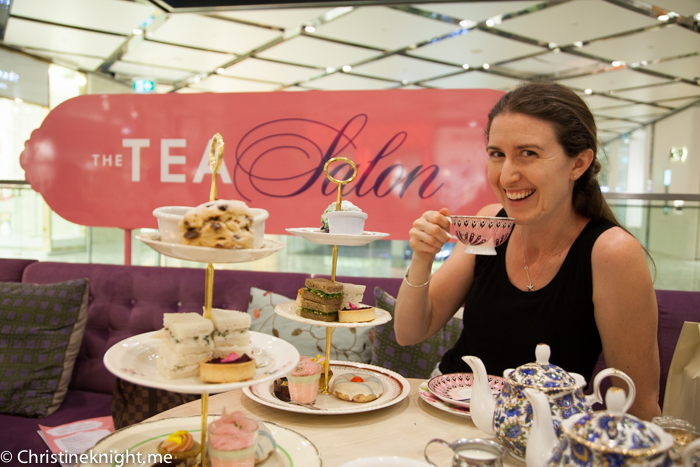 I highly enjoyed the high tea at The Tea Salon. For the price in particular, it is exceedingly good value. The Tea Salon has a very kid-friendly atmosphere – a lot more so than most traditional high tea venues – so I will definitely be back with my kid in tow next time.
Highchairs: Yes.
Stroller storage: Yes.
Easy access: Yes.
Change tables: Yes.
Kids' menu: Yes.
The Tea Salon
Westfield Sydney, Lvl 4,
Cnr Pitt St Mall and Market St,
Sydney NSW 2000
Phone: (02) 9233 2231
Prices: $$
Hours: Daily 10am-6:30pm
Get Directions
Bookings recommended. Email: sydney@theteasalon.com.au