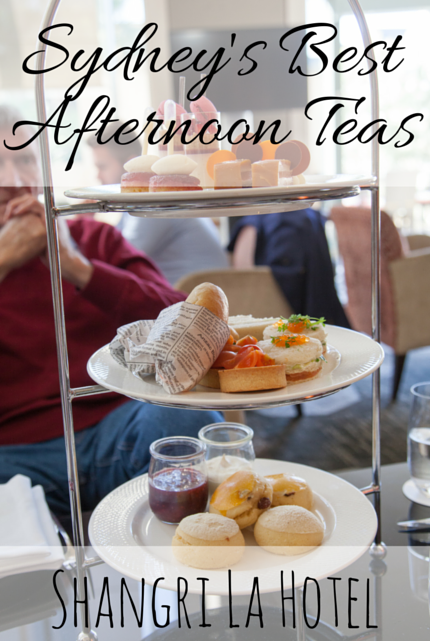 A very happy birthday to me! I love to celebrate with high teas, so the family and I head to the Shangri La Hotel Lobby Lounge on this birthday to try their Traditional Afternoon Tea. The Traditional Afternoon Teas are priced at $42 pp, $52 pp with a flute of Chandon NV Brut and $65 pp with a flute of Perrier Jouet Brut Champagne. (They also offer a Wickedly Chocolate Afternoon Tea which I will try next time.)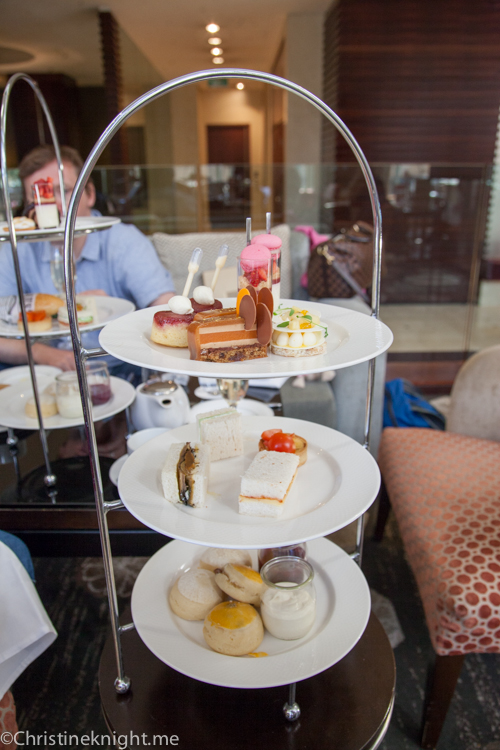 The Lobby Lounge is a relaxing venue. Not as posh or filled with character as many of the other tea venues, but instead very laid back and relaxed, while still being chic. Afternoon tea here is a quiet, refined affair. Small groups gathered to sip tea and munch on treats – more of a sedate crowd than the large groups of hens and birthdays you often see at many afternoon teas.
There was a bit of a mix up with our reservation and they prepared one more afternoon tea than we needed. It was a bit confusing but they were extremely gracious about the mix up, and gave us the extra tea service anyway. Very kind.
Included in the tea is your choice of tea and coffee. I believe it's not limited to just one tea or coffee as my parents both ordered one of each and we weren't charged for the extra pots of tea. I appreciate little things like that, it makes the tea feel like good value rather than getting the bill and finding unexpected charges having added up.
Our afternoon teas arrived on large platters, very impressively displayed. My dad has some dietary requirements which they were more than happy to accomodate with zero fuss, and my afternoon tea was vegetarian – exactly the same as the Traditional Tea except for the sandwiches.
One of the main reasons I was so keen to try this afternoon tea is because I wanted to sample delights from the hand of renowned pastry chef, Anna Polyviou. I have to say, they did not disappoint.
The afternoon tea is served in 3 layers. Sweet on top, savoury in the middle, scones on the bottom.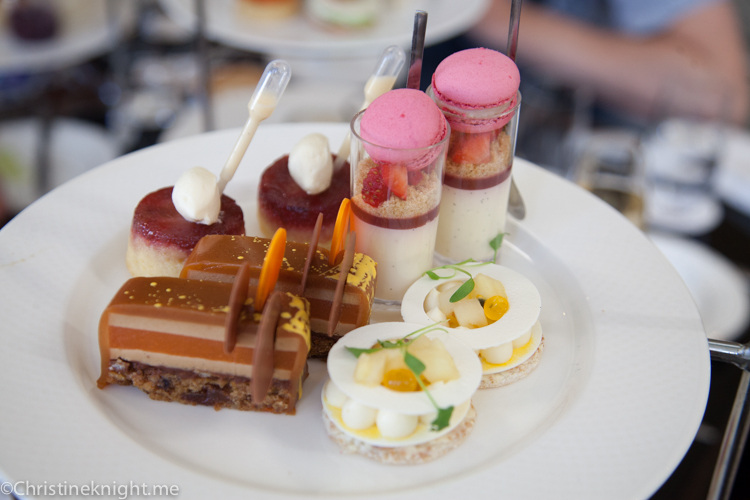 Top layer: Sweet
Tropic-Anna: Coconut dacquise, white chocolate disc, coconut and Malibu crème, tropical fruit compote, popping mango pearls, baby coriander. This was one of my favourites. Light, citrusy with a hint of coconut. Amazing.
Carrot cake: Carrot cake rice bubble and hazelnut crunch layer, Apricot and carrot insert jelly, praline cremeux, caramel glaze, and yellow graffiti. Finished off with orange and milk chocolate discs. This is a dessert Polyviou is well known for, but as I'm not the biggest fan of carrot cake, I enjoyed the others more.
Rhubarb and Ginger Pudding: Rhubarb and ginger cake, whipped cream baby celery on top, custard sauce. My other favourite. Simple and so delicious.
Berry Me: Vanilla panna cotta, raspberry jelly, biscuit crumbs, mixed berries, meringue kisses, yoghurt and strawberry macaron, baby basil. A very delicious, creamy affair.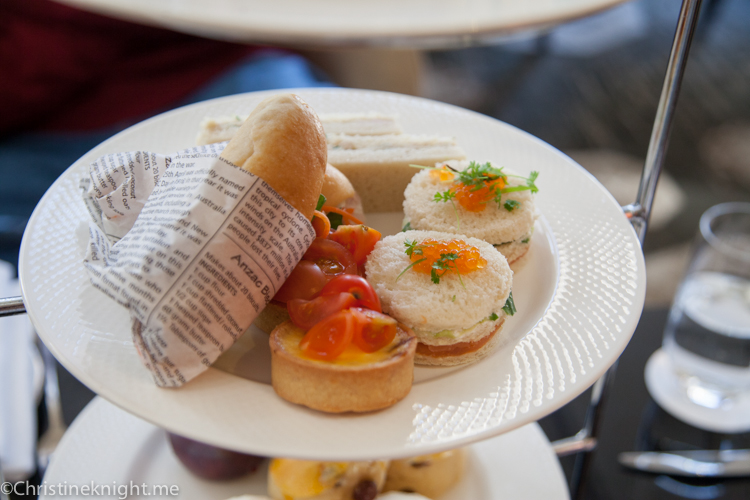 Middle layer: Savoury
Tart: Caramelised onion, goats cheese, tomato and baby basil salad. Delicious! The basil salad was unexpectedly cooked inside and was delicious.
Traditional Sandwiches: Roast pork, Vietnamese salad roll; Chicken and celery sandwich; Salmon, cucumber and cream cheese, salmon roe, sandwich.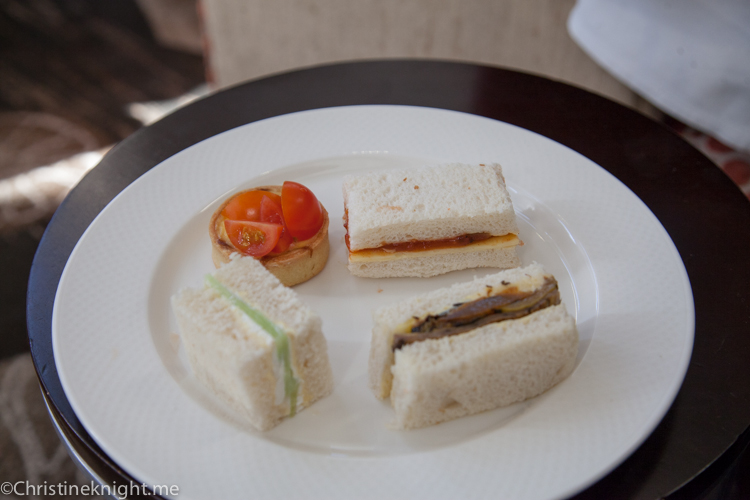 I had vegetarian sandwiches instead. I'm not sure exactly what was in them, but they were light, with very fluffy, fresh bread, and light, tasty ingredients like sweet potato, cheese and cucumber. Really good.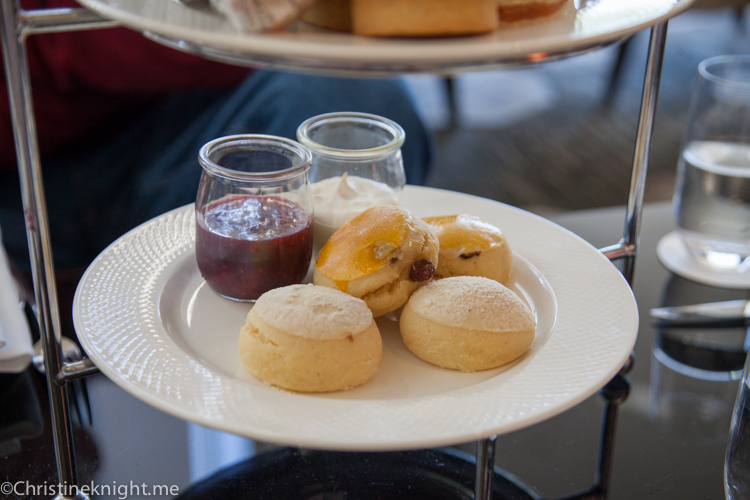 Bottom level: Scones
Buttermilk and vanilla scones, Buttermilk and tea raisin scones, Clotted cream, Mixed berry jam. The scones were on the flat side, small and dense, rather than the large fluffy ones you often get in high teas. They still tasted great, but were more like an American biscuit than a traditional English scone. The jam was flavourful but a bit on the runny side, and the cream was thickly whipped.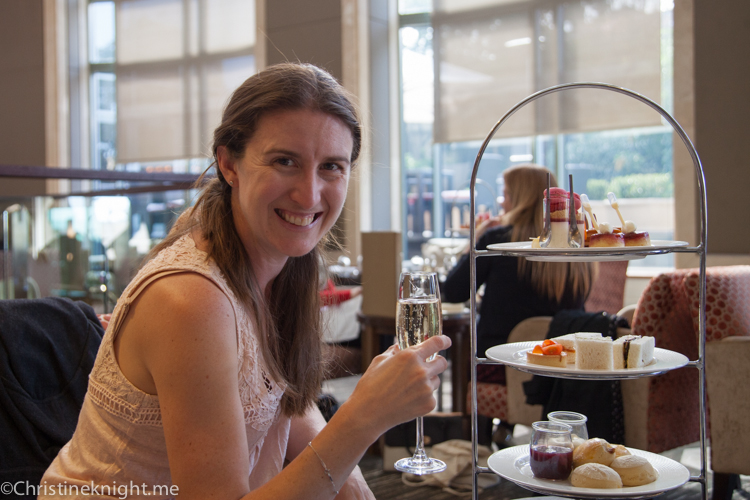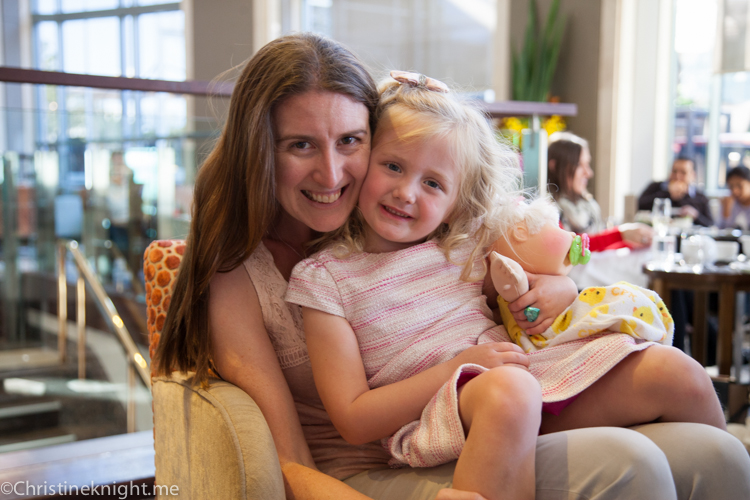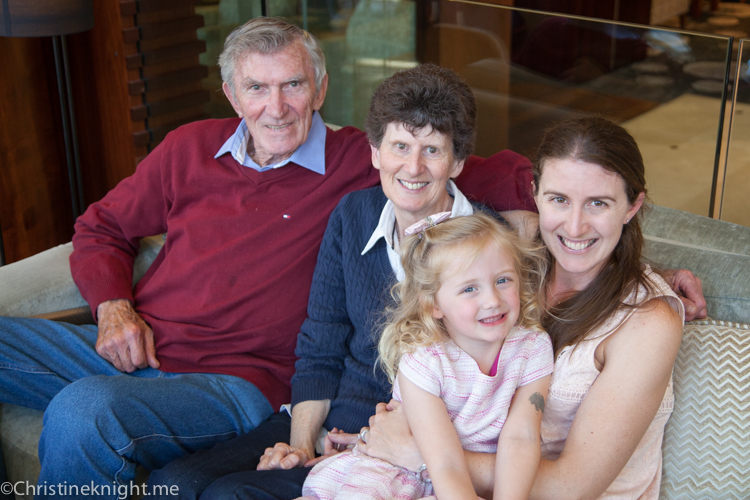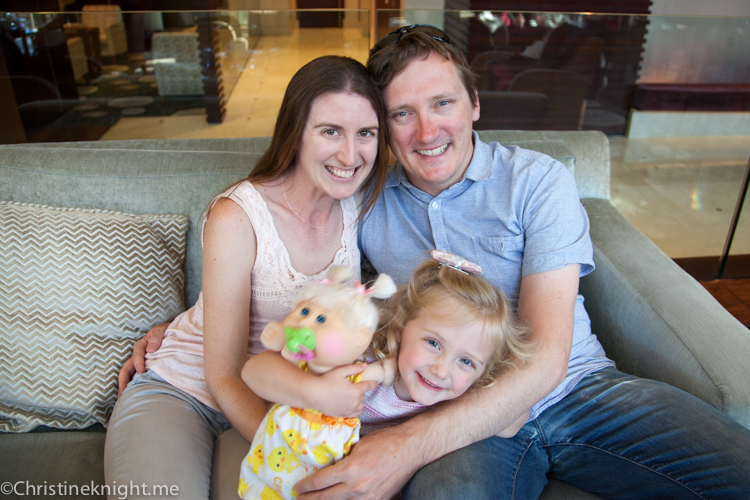 I highly enjoyed the Traditional Afternoon Tea – in particular the surprising, innovative desserts. I will absolutely be back to try the Wickedly Chocolate Afternoon Tea next time.
Highchairs: Yes.
Stroller storage: Yes.
Easy access: Yes.
Change tables: Yes.
Kids' menu: No.
Afternoon Tea at the Lobby Lounge, Shangri La Hotel
176 Cumberland Street,
The Rocks, Sydney, NSW 2000
Phone: (02) 9250 6000
Prices: $$$
Hours: Daily 1pm-5pm
Bookings are essential. Please call (61 2) 9250 6000 or email dine.slsn@shangri-la.com
Get Directions