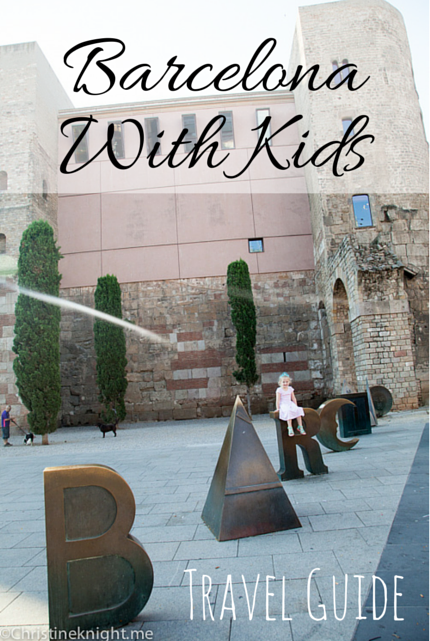 I've always dreamed of travelling to Spain, and recently spent a wonderful week in Barcelona with Alec and the Cheese. Spain is crazy cheap right now, making it an affordable holiday option. As an added bonus, there are plenty of things to do in Barcelona with kids.
Things To Do In Barcelona With Kids
Getting around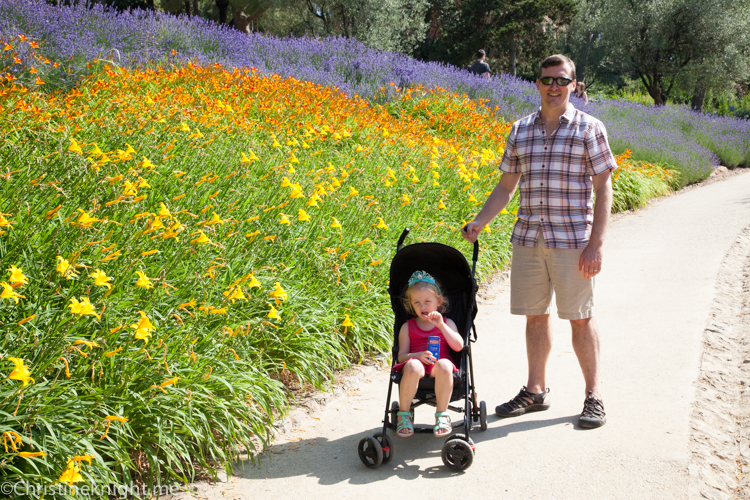 Cheese used her stroller so infrequently in Sydney that we gave it away. However, Barcelona is a city that is very walkable, and we bought a cheap stroller on our 2nd day after we'd walked between 10 and 15 kms and carried our jet lagged, exhausted kid for much of it.
The Metro system is very fast and easy to use. The cheapest way is to buy a T10 ticket, which gives you 10 single fares at a discounted price. While many stations have elevators, be prepared for those that don't by bringing an umbrella stroller or baby carrier.
Where to stay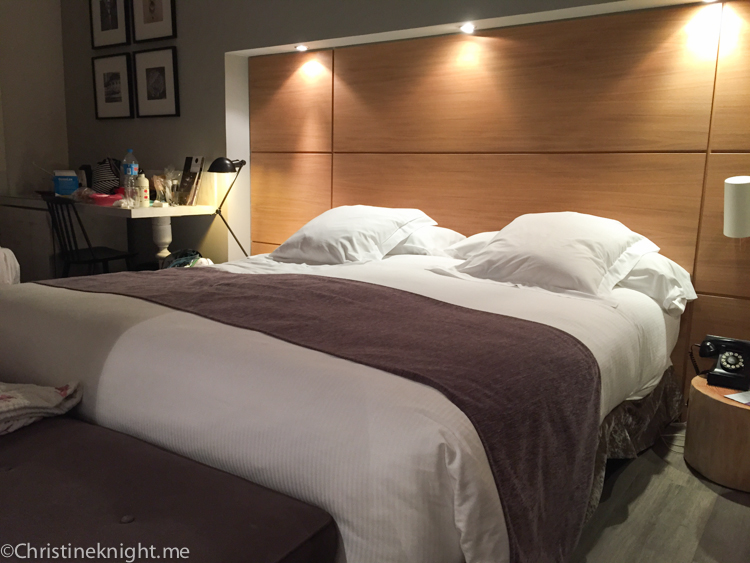 Barcelona is really spread out. We stayed at Hotel Barcelona Catedral and were very happy with the location (right near the gothic cathedral, restaurants and Gaudi sites) as well as the quality of the actual hotel. It also had a pool on the roof which we used a few times when we were taking a break from site seeing in the afternoons.
Tips For Visiting Barcelona With Kids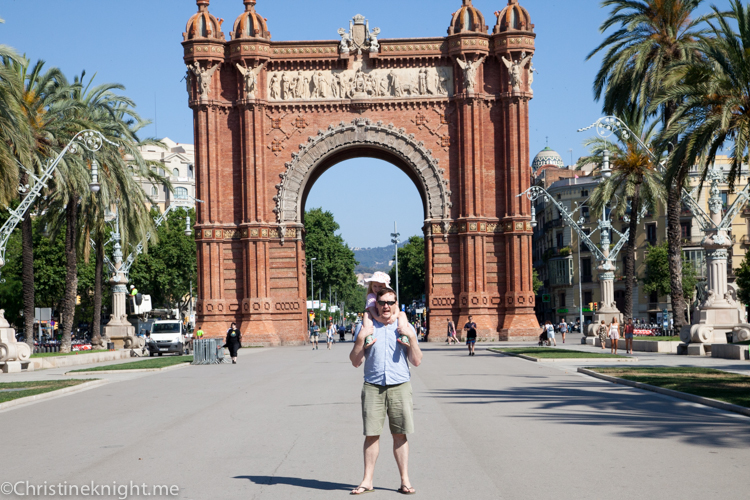 While city is very do-able with kids, it doesn't cater to the junior jet-set particularly well. For example, if you're checking out some of the Gaudi houses or Park Guell, you'll find that there is nowhere to park your stroller.
There are very few playgrounds for kids, and the ones we found were for toddlers. There are very little in the way of specific attractions for kids, too, unless you want to go to the beach, aquarium or zoo. All of the "adult" attractions are do-able with kids, however, (and usually free for little kids as well), which was our focus for the trip.
Eating Out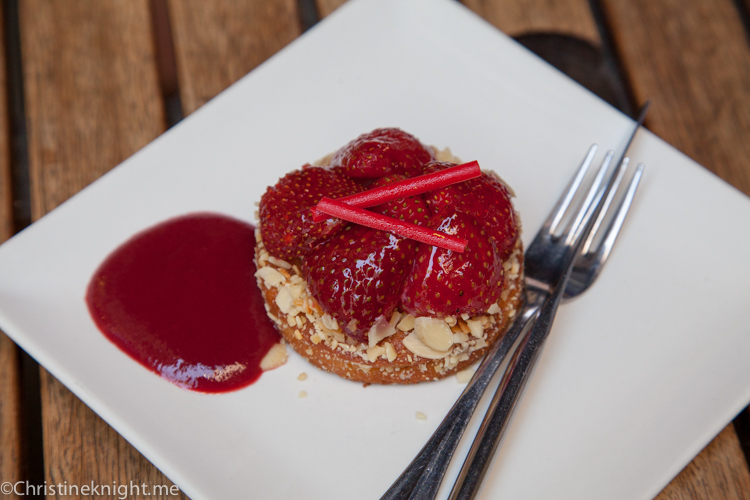 While the water is drinkable, it tastes a bit off. We bought bottled water at nearby supermarkets. We enjoyed trying local food like tapas, paella and sangria. Pretty much every single restaurant and cafe we stopped by was delicious and offered a wide variety of food, so even the picky child could find something to eat. We particularly enjoyed a bakery called Escriba that had delicious tarts, macarons and chocolate as well as savoury food like quiche. Food in Barcelona is very cheap – you can get coffee and a croissant for €2.
Attractions To Visit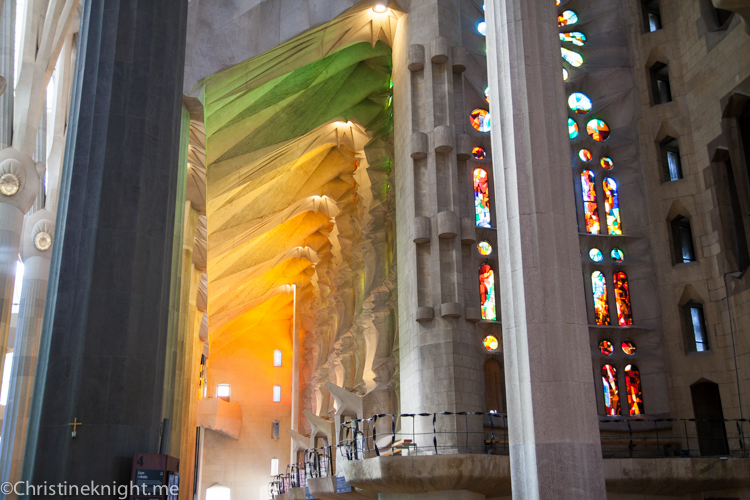 This was our favourite place in Barcelona – a Roman Catholic church designed by Antoni Gaudi. It was magical beyond belief. It is number one on my list of things to do in Barcelona with kids. You're never too young to appreciate such beauty.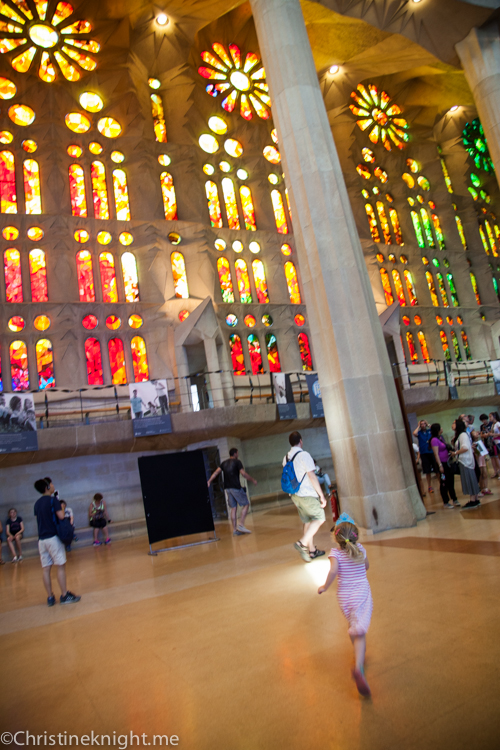 Tip: Familia is on everyone's Barcelona bucket list, so buy your tickets online to avoid the queue. If you're waiting around with kids, there is a playground in the park across the road. Read more about our experience here.

A 16 hectare park on the northeastern edge of Ciutat Vella, it features a giant mammoth, boating lake with a waterfall, band stand, a massive fountain, playgrounds, and the Barcelona Zoo.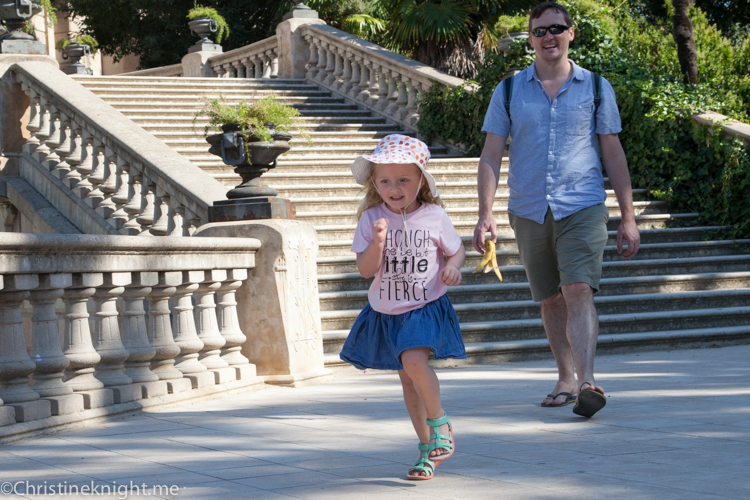 Literally hours of entertainment (particularly running up and down those stairs), but nowhere to eat – so BYO picnic lunch.

This breathtaking monastery perched on a mountain top is a day trip from Barcelona. An hour by train followed by a cable car (or rack railway) up the mountain, the whole experience is very accessible for families and strollers. Up the top, there are mountain walks for the more adventurous, two short funicular rides up and down areas of the mountain to various lookouts, a museum (better suited to older kids) featuring works by Caravaggio and Picasso, and the 1000 year old basilica, which is suitable for everyone.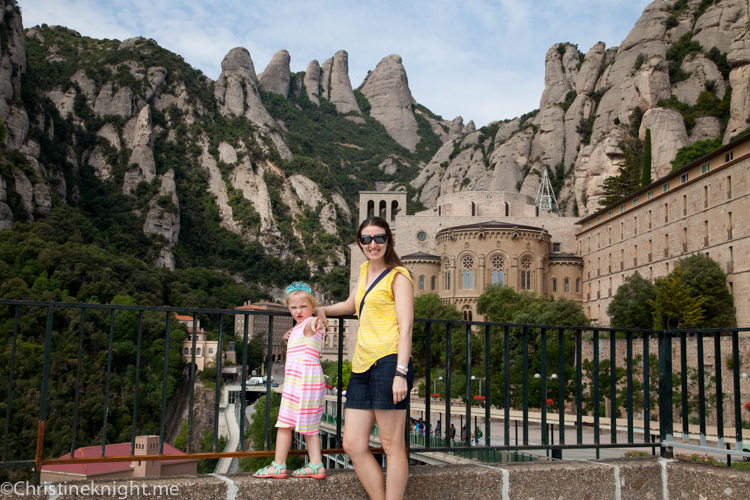 The Montserrat Boys' Choir sings daily in the basilica at 1pm – while the choral voices are magnificent it gets very crowded and the organ is extremely loud and a bit jarring. It's a bit much for little kids with sensitive ears. Pack your own lunch and snacks, or dine in the cafeteria and restaurant on the mountain. The cafeteria is reasonably priced and has basic food. Getting there by train is easy and fast – just use this guide to make sure you board the right train on the right platform. Read more about our experience here. We had such an incredible time at Montserrat that I would suggest it should be high on your list for things to do in Barcelona with kids.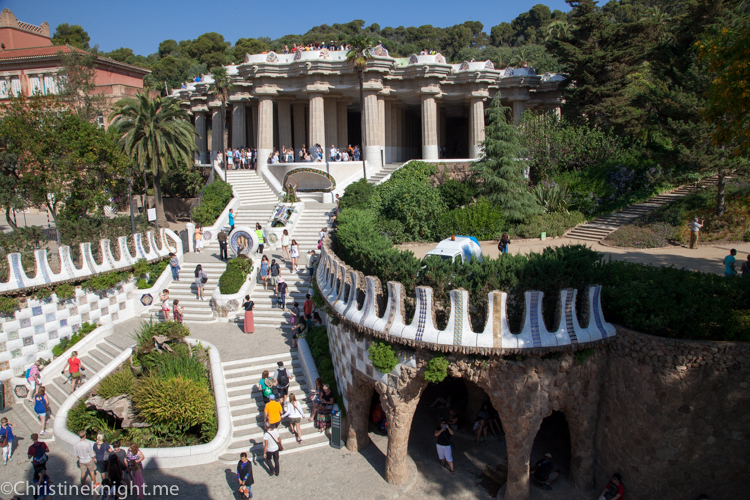 A masterpiece by Antoni Gaudi, it's a short train ride and steep uphill walk that is worth the effort. Park Güell has 2 different areas: the Monumental Zone, which requires the purchase of a ticket, and the free access area which is open to all visitors at no charge. We foundPark Güell extremely difficult with the stroller, so be prepared for lots of carrying of it, or go without if you can. I would say it is 100% worth the effort, as Park Güell is so magnificent that it must be on your list of things to do with kids in Barcelona.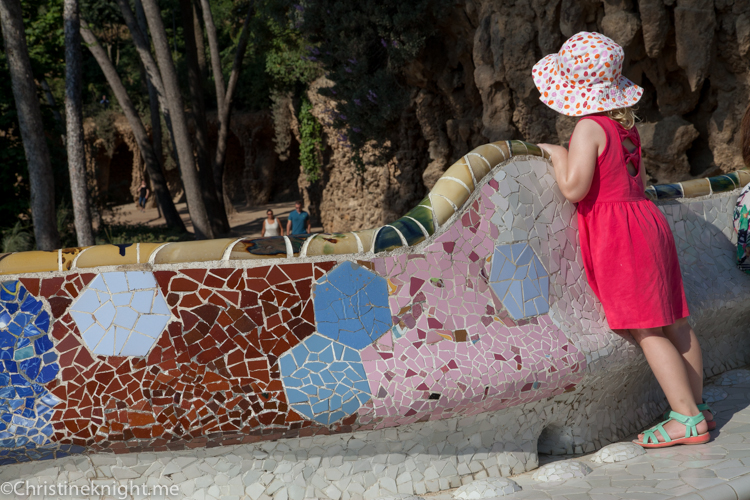 The monument zone is spectacular, full of stairs, twisting buildings and tiled masterpieces, surrounded by floral gardens. Plenty to entertain kids even if all they enjoy doing is running in and out of columns. Read more about our experience here.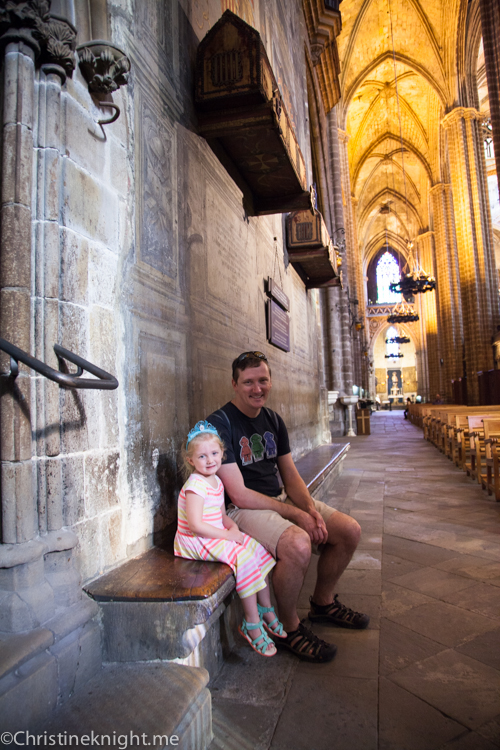 A gothic cathedral with a soaring ceiling, the cathedral is best visited early in the morning to avoid queues (also, it's free to visit in the morning). Wear modest clothes if you visit, that cover knees and shoulders.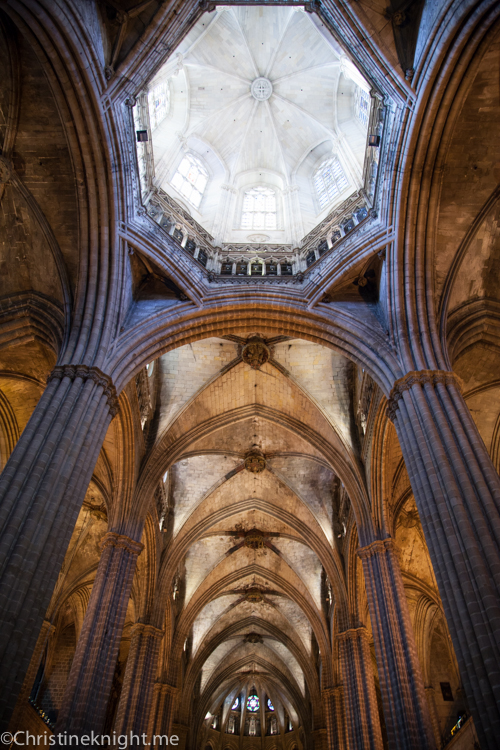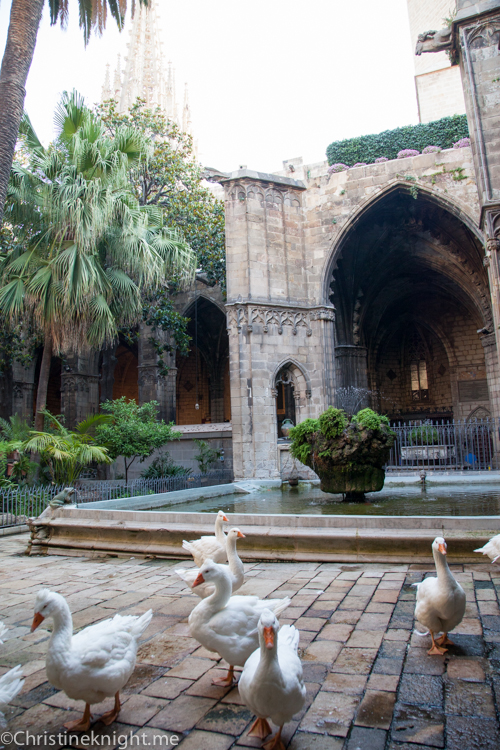 Walk through to the cloisters to meet the cathedral's pet ducks.
If you time your visit right the cathedral is free to enter. Find more free things to do in Barcelona here.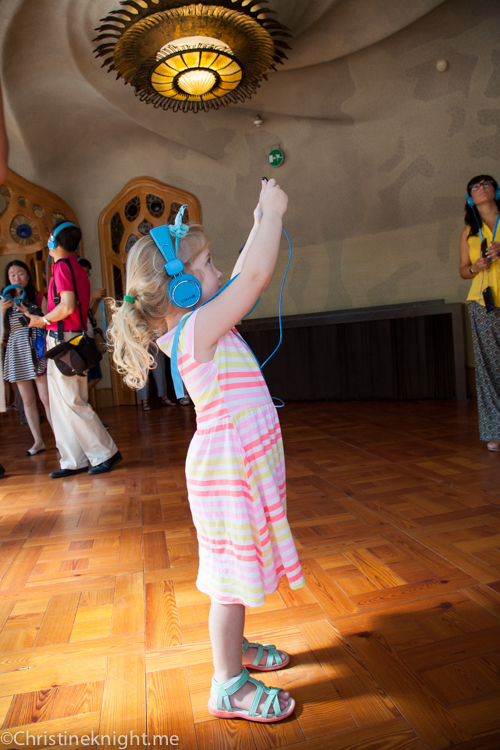 A famous Gaudi masterpiece in the centre of Barcelona. Cheese enjoyed climbing the many stairs and looking for the dragon whose tail pokes over the top of the roof. She also stole my virtual reality video guide and entertained herself with it while we marvelled at the modernist masterpiece.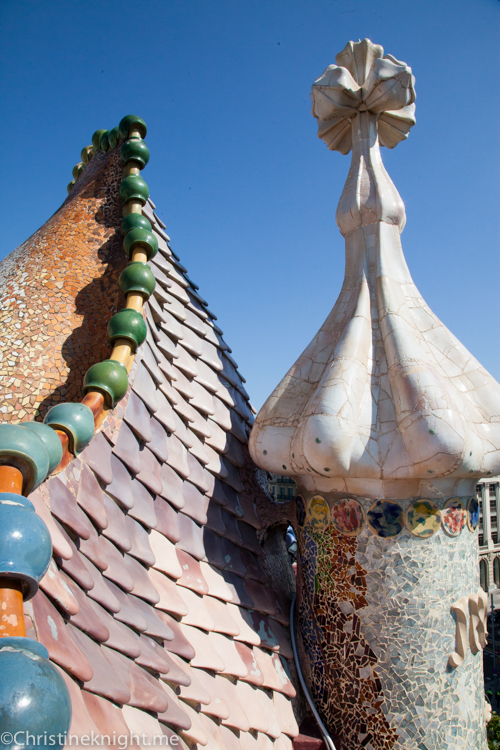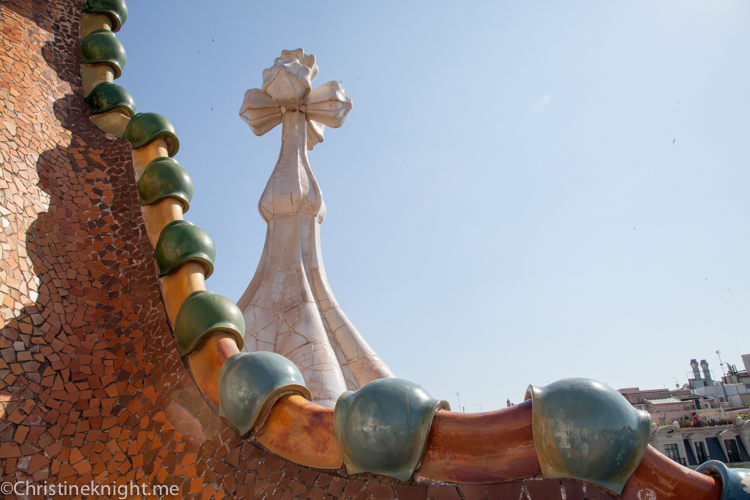 Casa Batllo caters best to older kids, but is suitable for all ages. Read more about our experience here.
Montjuic Castle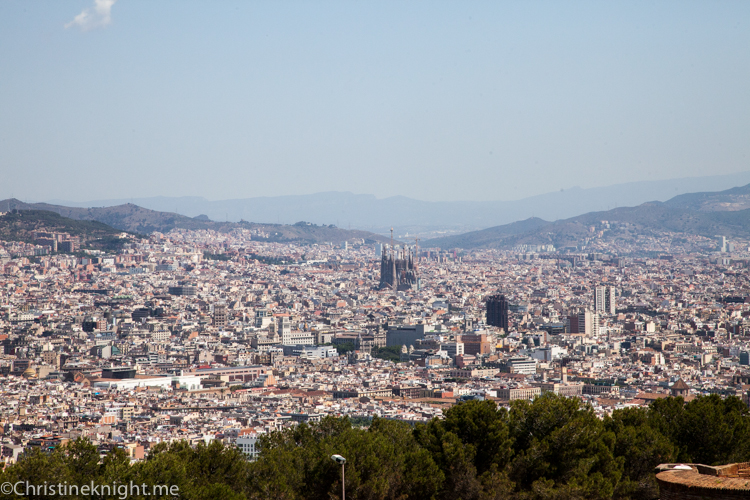 Take the Montjuic Cable Car up the top of the hill to Montjuïc Castle, an old military fortress, with roots dating back from 1640. The view is spectacular and kids can freely run around in the wide spaces.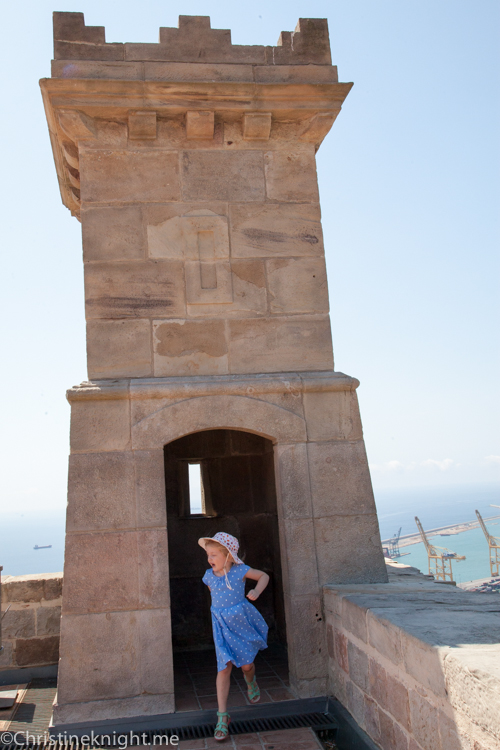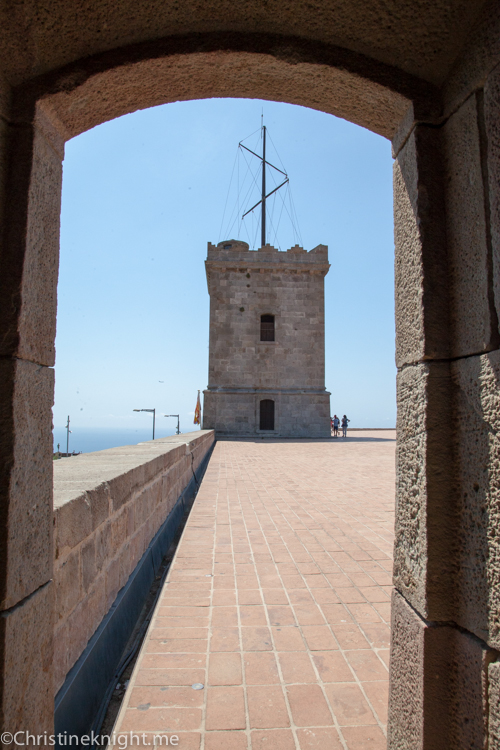 Walk back down the hill through the gardens of Parc De Montjuic. Just down the hill from the castle entrance is a children's playground featuring two steep slides that were too dangerous for our preschooler, but no doubt would thrill older kids. Read more about our experience here.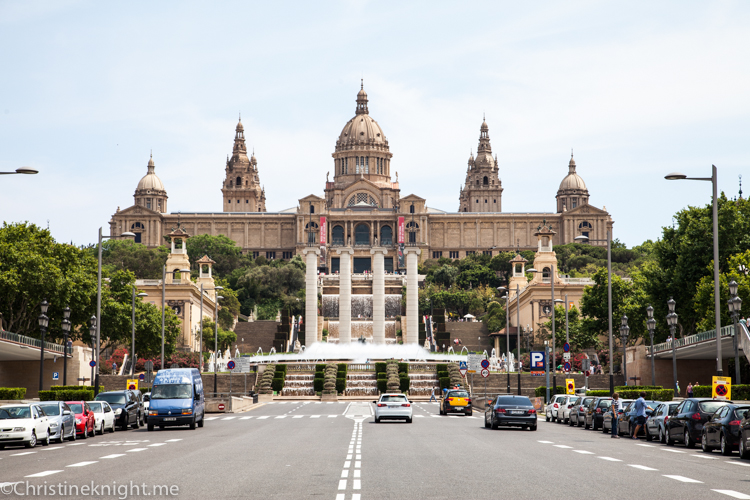 The "magic fountain" lights up and plays music at night. It was on too late for us with a preschooler, so we visited during the day instead.
Get more ideas for sightseeing places in Barcelona here.