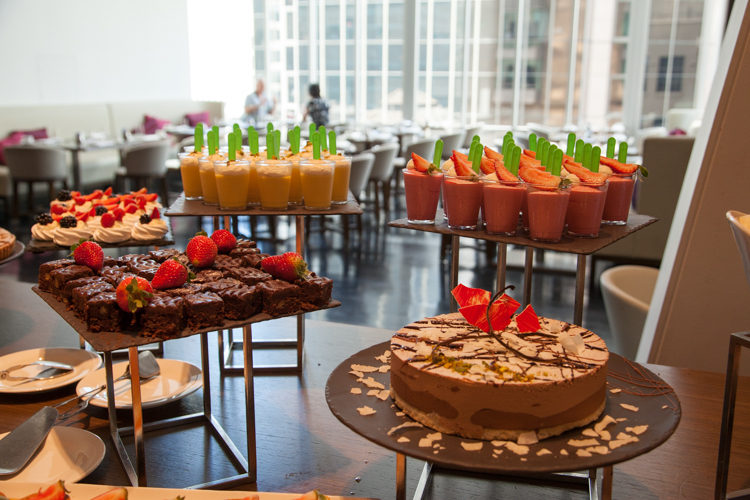 Ever on the hunt for Sydney's best high tea, this time I tried the Swissotel's buffet high tea. For $69 (Sat & Sun) or $59 (Mon-Fri), you get to eat your fill of finger sandwiches, scones, savoury delicacies and delightful desserts. It sounded like a great idea for this little piggy, so off I went with a dear friend to see how much sweet stuff I could eat.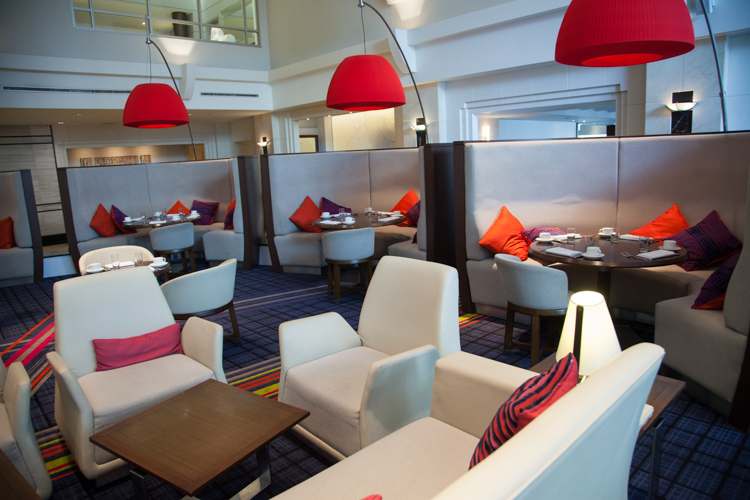 I scored a Groupon voucher in advance which gave us the high tea experience at a 2-for-the-price-of-one deal. Seriously, a bargain. Keep your eyes peeled for more of these deals as they are run regularly.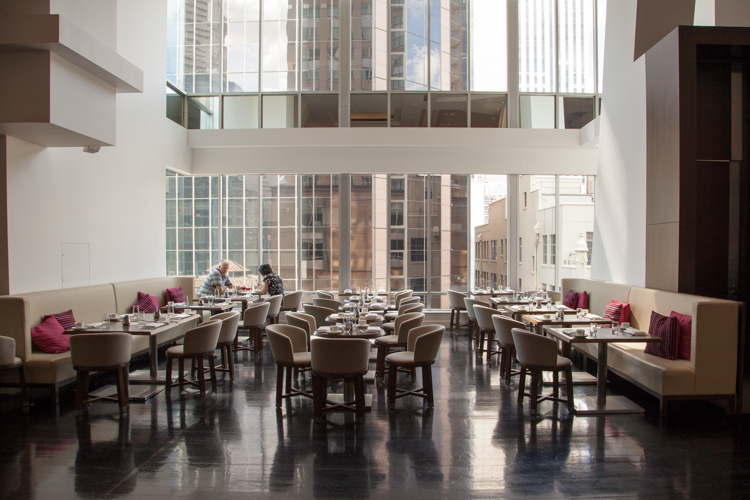 I was a little unsure about how this high tea would measure up from the outset, as I didn't have much luck with their customer service team. I emailed them to confirm our booking, and to make sure that they received my note that one of us was vegetarian, and the other gluten-intolerant. I received a curt reply that it wad been noted in the reservation request and that was it. I was unsure if this meant that they were able to cater for dietary requirements or not, so email back asking this. The reply was again curt and vague. The staff would show us what food was vegetarian or gluten-free. Um. Ok ….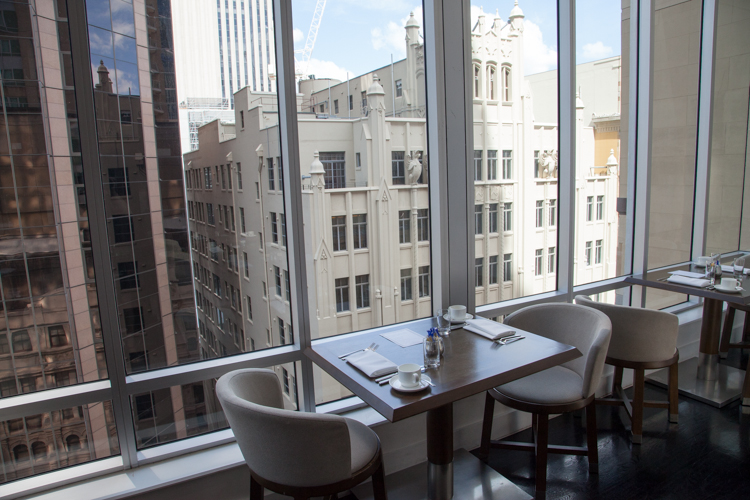 So I have to say that when we arrived we were a little worried about what we would be eating. The staff in on the day were also a bit confusing. We were each given a plate of sandwiches that suited our dietary requirements. The gluten-free one had three selections, but my vegetarian one was only one type: six small summer vegetable sandwiches. It was way too much of one sandwich. A plus: because the sandwiches had been made and delivered they were super fresh.
On our arrival we were offered our choice of a special mocktail or cocktail of the day. I accepted the cocktail which sounded fruity, and then realised afterwards that I was supposed to have the option of a glass of sparkling, which I wasn't offered by the waitstaff. Very confusing. I would have preferred he glass of sparkling, as even though the cocktail was delicious, it was about 70% crushed ice. It was also removed from the table half finished, when I went up to get my first plate from the buffet.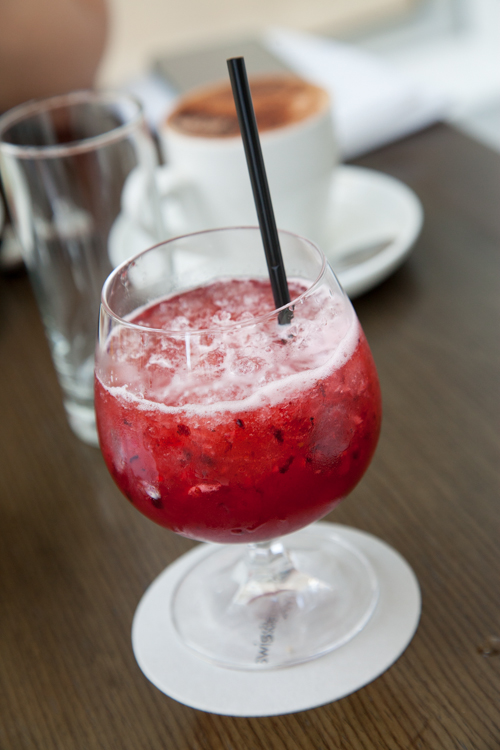 We asked about the savoury items on the buffet, and if they could show me which ones were vegetarian (there were no labels on any of the dishes), and I received a vague, "yes, there are vegetarian dishes", but it was up to me to work it out for myself. Through guess work I discovered that there was in fact a vegetarian quiche.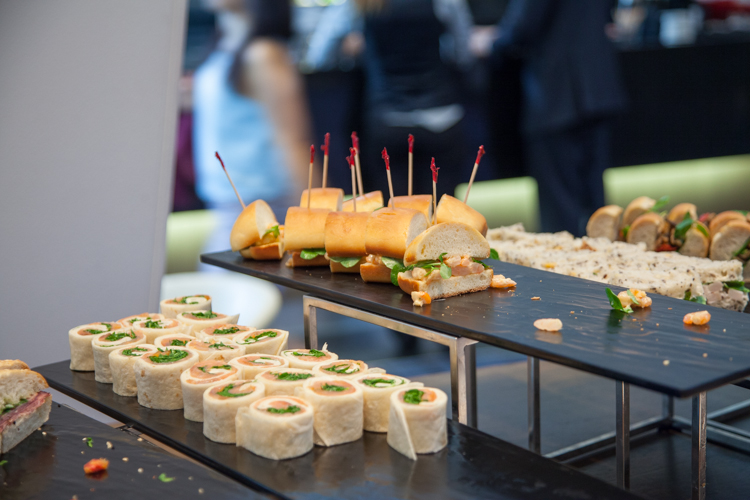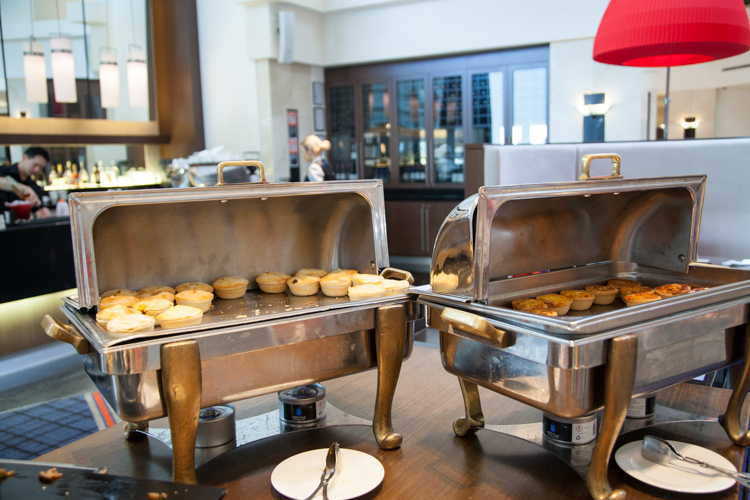 My gluten-free dining companion fared better than I did. The staff very thoughtfully provided her with a special plate of gluten-free desserts, even though over half of the desserts on the buffet had no gluten in them. She received two little cakes and a pot of some kind of fruits. Again, we weren't told what they were, so your guess is as good as ours. The cakes were really delicious, and the fruit proved to be nicely poached in a sweet juice.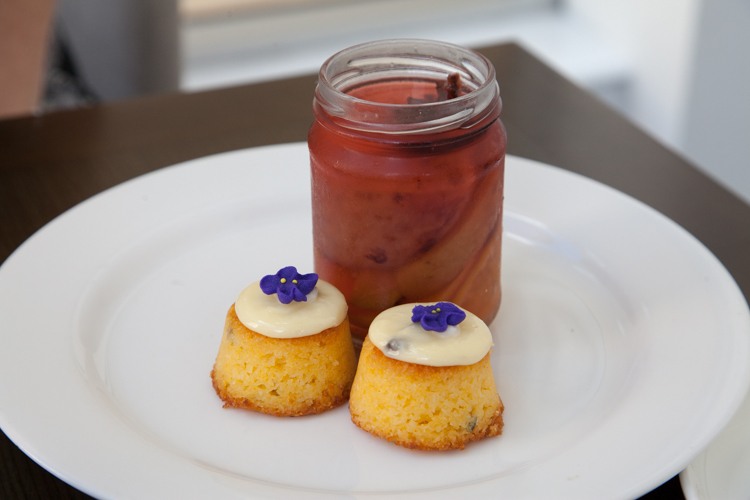 It was just as well that the food was pretty solid after the pretty meh service we received. There wasn't anything that particularly stood out as being amazing or innovative, but everything was decent quality, fresh, well-made.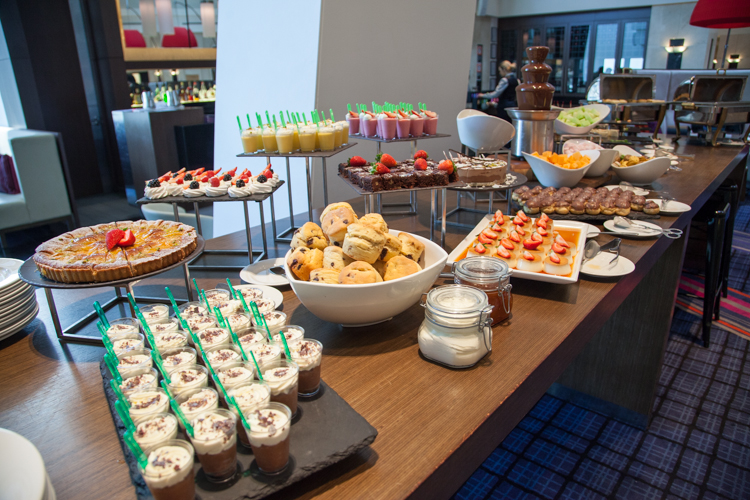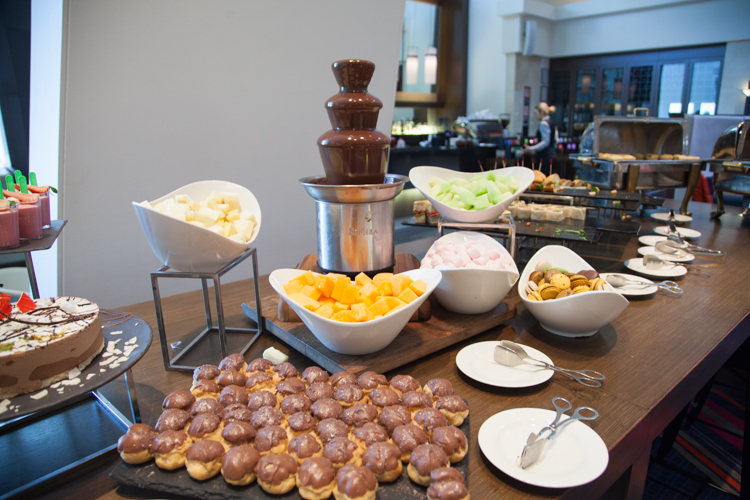 I found a menu that listed the buffet dishes but couldn't locate some items on the menu and vice versa, so I'm not exactly sure what everything was.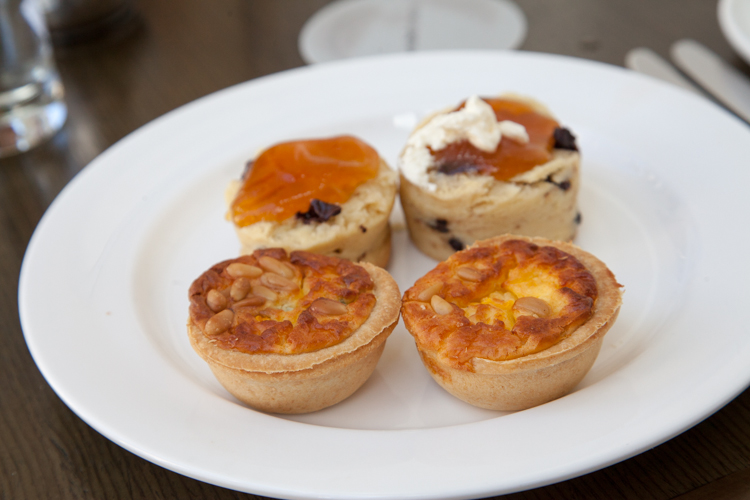 Savoury dishes: roasted chicken, cucumber, cream cheese on quinoa soy bread, slow roasted NSW Angus beef, semi dried tomato, rocket, pesto aioli, grilled summer vegetables on dark rye with lemon mayonnaise, Gold Coast prawns and corn salad on mini brioche, smoked salmon, cream cheese and wild rocket on sourdough, goat cheese and pine nut quiche, chicken and leak pies.
Sweet: roasted Forbes peach and pistachio tart, berry white mousse cake, stone fruit macarons, chocolate cherry with coconut (couldn't find these), pistachio white chocolate slices (couldn't find these), chocolate macadamia brownies, creme caramel, pavlova, salted caramel lamingtons (couldn't find these), watermelon panna cotta with salted caramel (don't think we saw this either), dark chocolate profiteroles filled with plum pastry cream.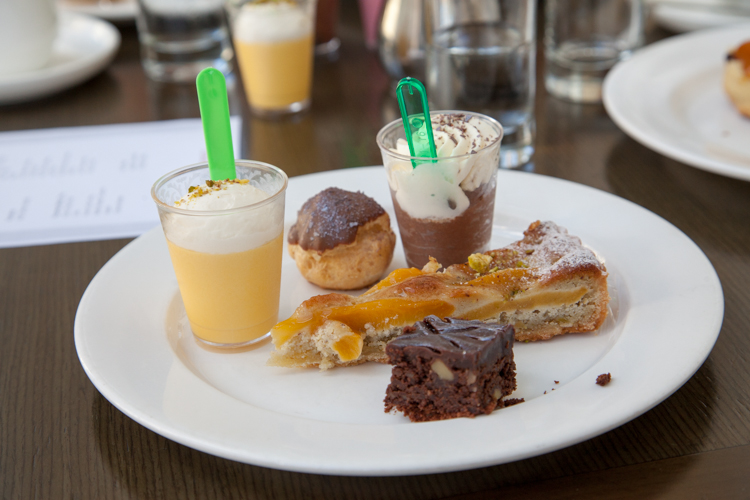 We had several items that weren't on the sweets menu: a creme brûlée, a mango pudding, a strawberry pudding and a chocolate mousse or pudding. The puddings were a disappointing substitution for the items that were missing from the menu.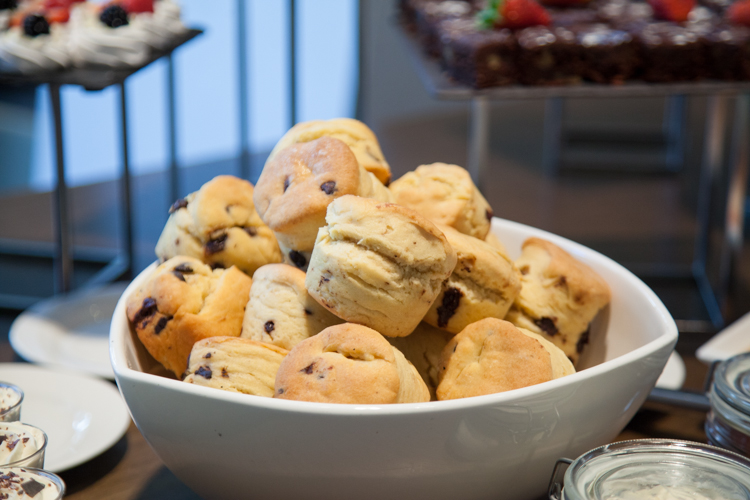 Other food options include "freshly baked" scones with jam and double cream (the apricot jam was fantastic), and a variety of fruit ready to be dipped in the chocolate fountain.
The scones on the menu are listed as quinoa, but ours were chocolate chip. They had definitely been sitting there for a while as they were dense and hard.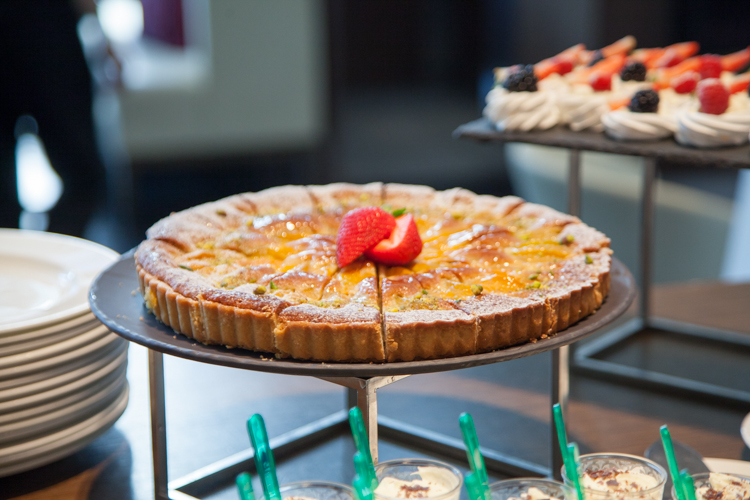 My favourite food was the cheese and pine nut quiche (it was so delish – flaky, fresh, cheesy), the pavlova (something about the cream! it was the perfect ratio of cream, fruit and meringue) and the roasted Forbes peach and pistachio tart (the fruit was flavoursome, and it had the perfect shortbread crust).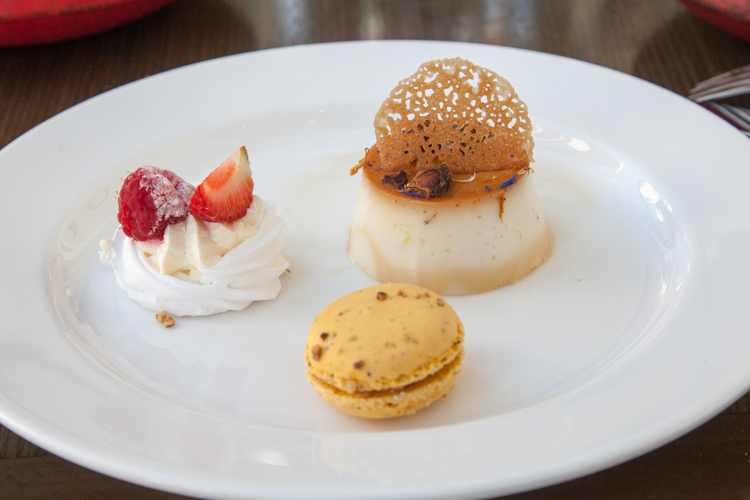 The high tea also comes with your choice of T2 loose leaf tea or coffee. When we were about half way through our meal I had to get up and ask for our tea, as it was never offered. I ordered a berry tea that was really delicious. The service continued to be lax, however. Our water glasses were filled on arrival, and then not filled again until just before we left.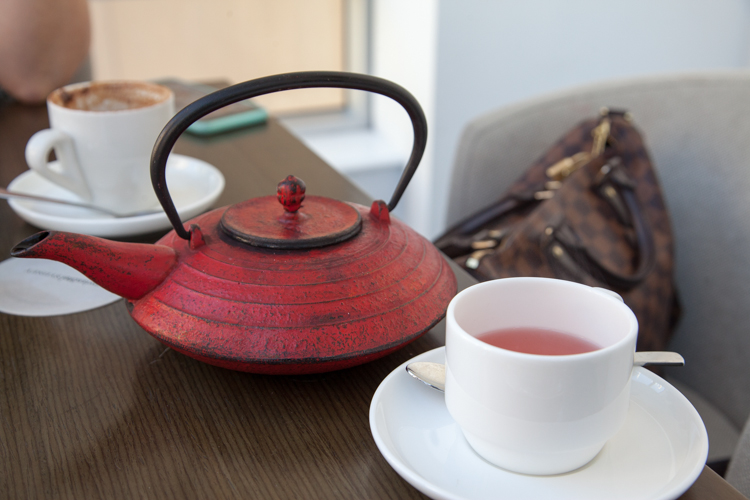 We had an extremely mixed time at the Swissotel high tea. The food was pretty good, but a long way from the best high tea's I've had, and with the Groupon voucher it was a decent price. The service and communication was a let down.
Swissotel Sydney
68 Market Street,
Sydney NSW 2000
Phone: (02) 9238 8888
Prices: $$$
Hours: Sat & Sun, call for their seating times. Mon-Fri 2pm – 4pm. Reservations advised.
Get directions.