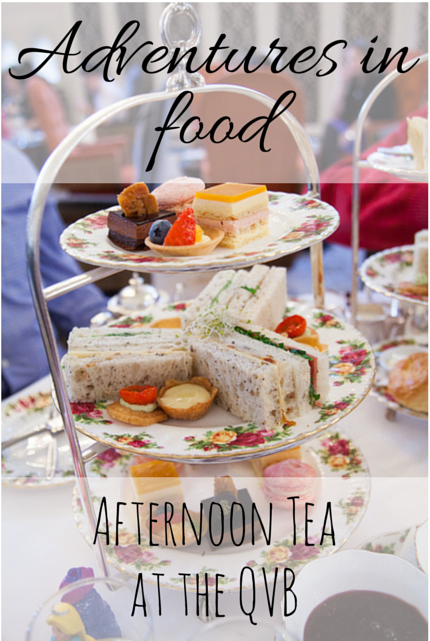 No high tea pilgrimage is complete without an afternoon tea at the QVB Tea Room. Located in what was once the original Grand Ballroom of the landmark Queen Victoria Building, The Tea Room oozes style and grace. The addition of custom designed Baccarat crystal chandeliers in 2014 gave the interior a burst of glamour and sparkle.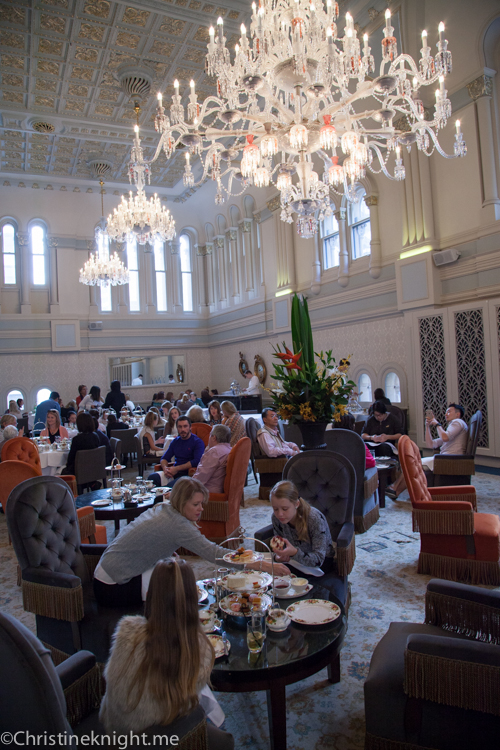 Tea at The Tea Room is served on on authentic British silverware and classic Royal Albert china. I particularly love the heavy silverware. It feels very old world and classy.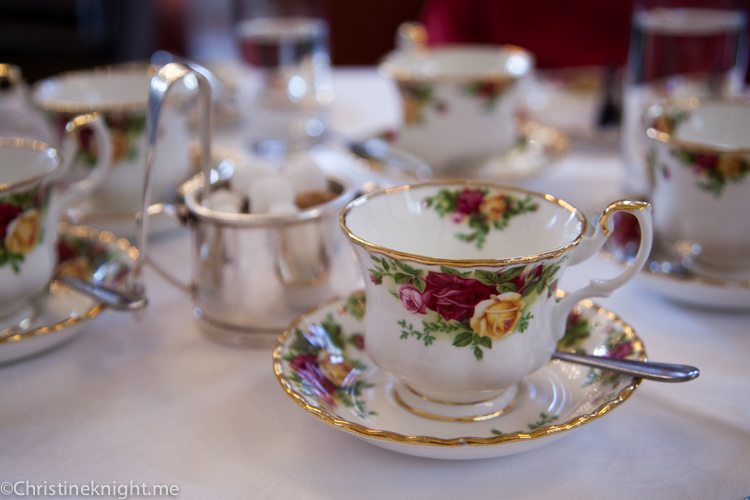 The Tea Room serves three kinds of afternoon teas – traditional, Oriental and gluten free. We chose the traditional, but with a twist. Mine had to be vegetarian, and my dad's needed significant adjustments due to his dietary restraints. Our server was one of the kindest, thorough waitstaff I have encountered. He went back and forth between our table ad the kitchen several times to make sure that my dad was being given a full afternoon tea that suited his diet. I wish I'd asked for his name to commend him to The Tea Room afterwards. He made the experience hassle free, while also ensuring that my dad was able to enjoy the tea entirely. Most importantly, my dad wasn't make to feel like his requirements were a hinderance or annoyance, so the whole experience was very enjoyable, before we'd even tasted the tea.
Speaking of the tea, it arrived quickly in large pots. Once we'd poured all of our tea, helpful staff returned sporadically throughout our meal to ask if we would like a hot water top up in our little teapots. Very thoughtful.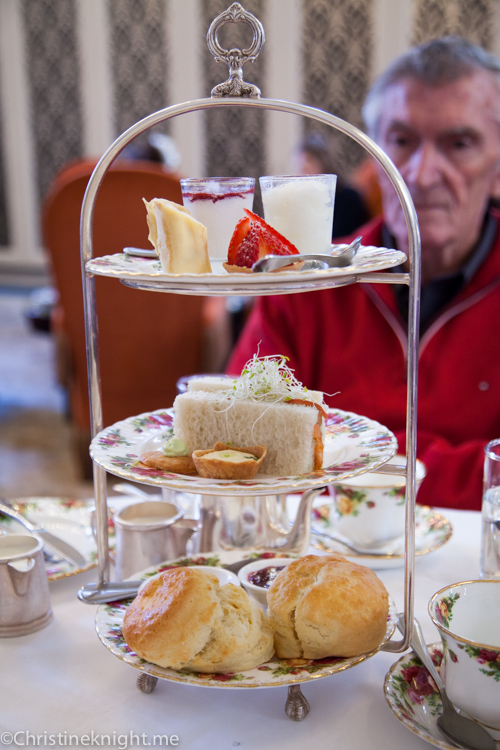 Our selection of savoury and sweets came shortly afterwards on tiered platters. My dad's arrived on its own platter (pic above), and the others all combined on another.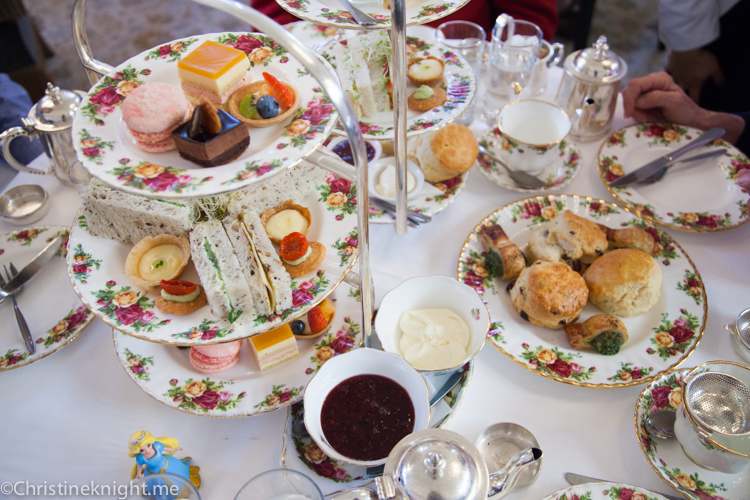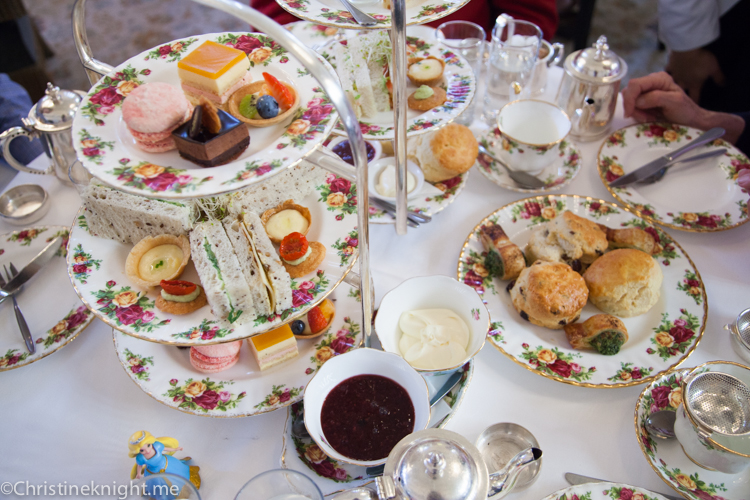 The vegetarian tea was very similar to the regular one. The only difference was the sandwiches – mine were cheese and tomato chutney and cucumber and cream cheese, while the regular sandwiches included ham.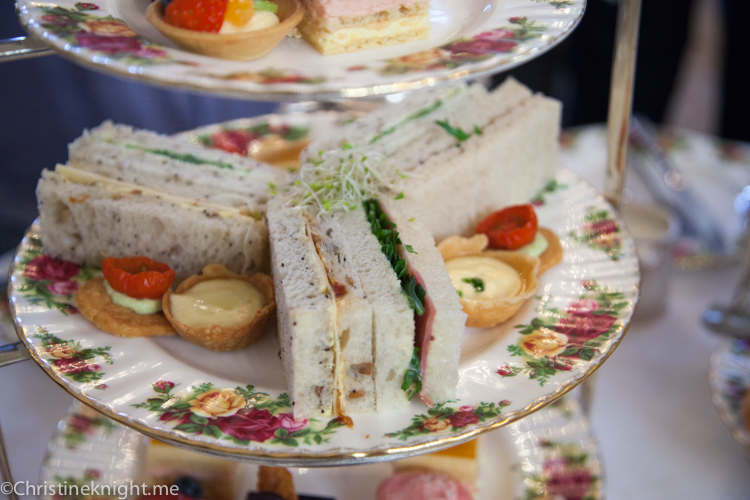 The sandwiches were delicious. Fresh, light bread, and tasty fillings. We were offered extra sandwiches later on and were given an entire extra serving, including egg (yay!). The egg was actually my favourite. Also on the sandwich plate were a little cup of XX and truffle oil, and a bite of pastry with explosively tasty tomato and avocado on it.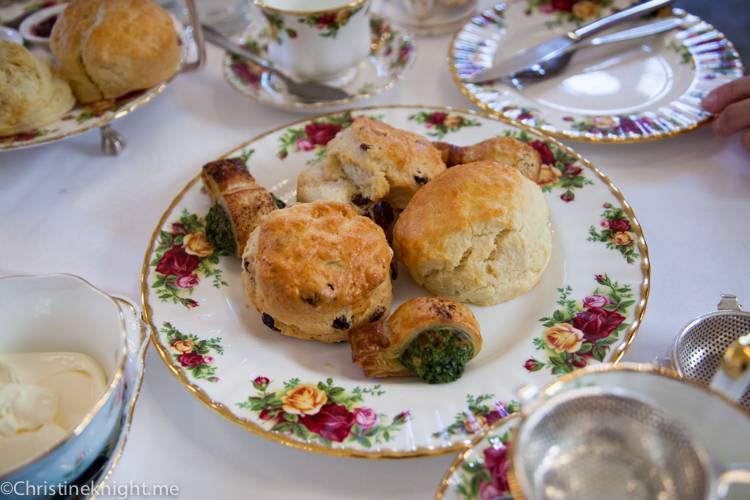 One large scone per person was allocated (my dad scored two with his special menu). The scones were a mix of plain and sultana.The scones were warm, right out of the oven and the delicious mixed berry jam and thick cream were generously portioned. Also on the scone plate were spinach bites in pastry. Freshly cooked and so good.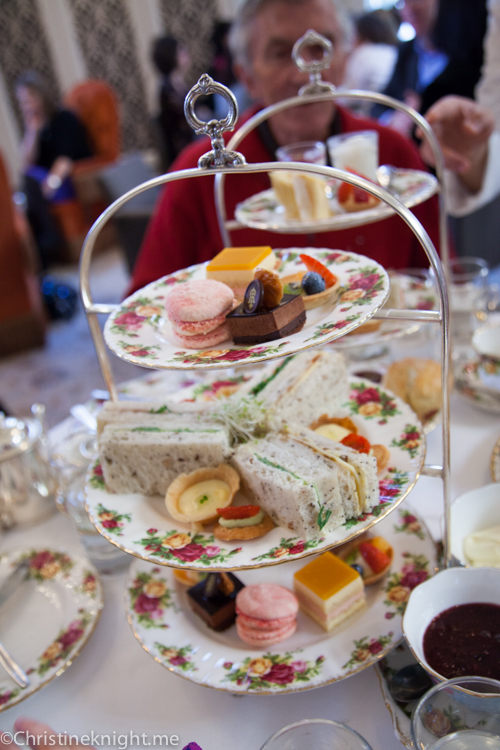 Onto the sweets. Four tiny perfect desserts: a berry macaron, chocolate mousse square, berry tart and mango and strawberry mousse square. All four were perfect. Light, elegant, beautifully presented, and all bursting with flavour.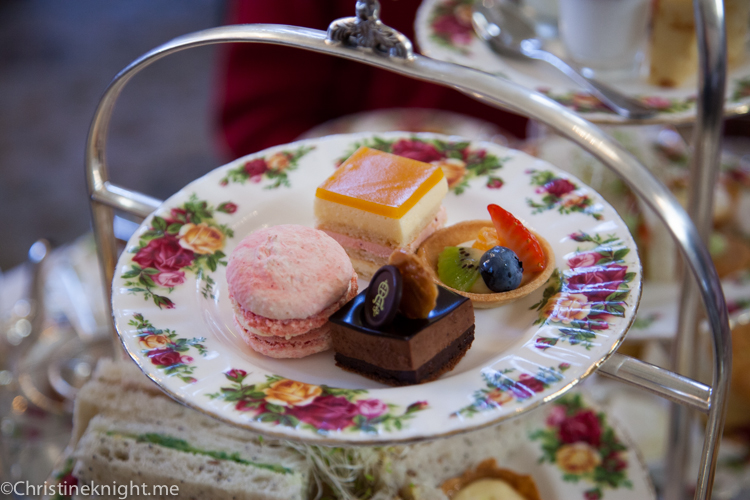 I couldn't fault anything about our experience. From the staff to the food, it was perfect. This is why we will be back, and keep on coming back, year after year. Thank you Tea Room for making this such a special afternoon for me and my family.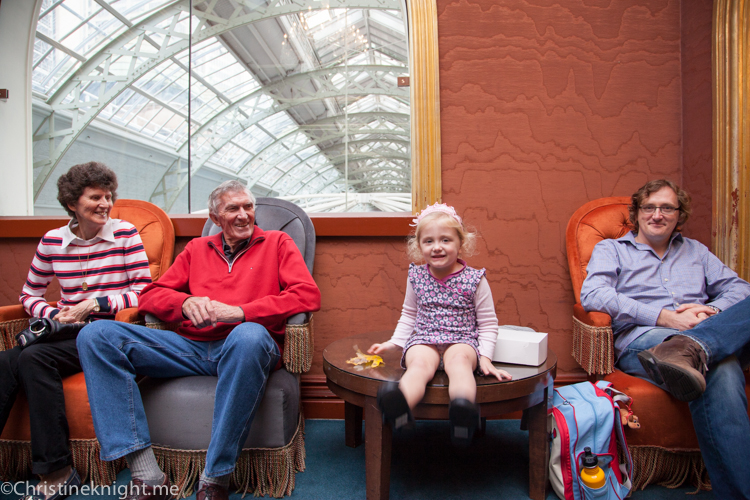 The Tea Room QVB
3, Queen Victoria Building,
455 George Street,
Sydney NSW 2000
Phone: (02) 9283 7279
Prices: $$$
Hours: Daily 10am-5pm
Get Directions