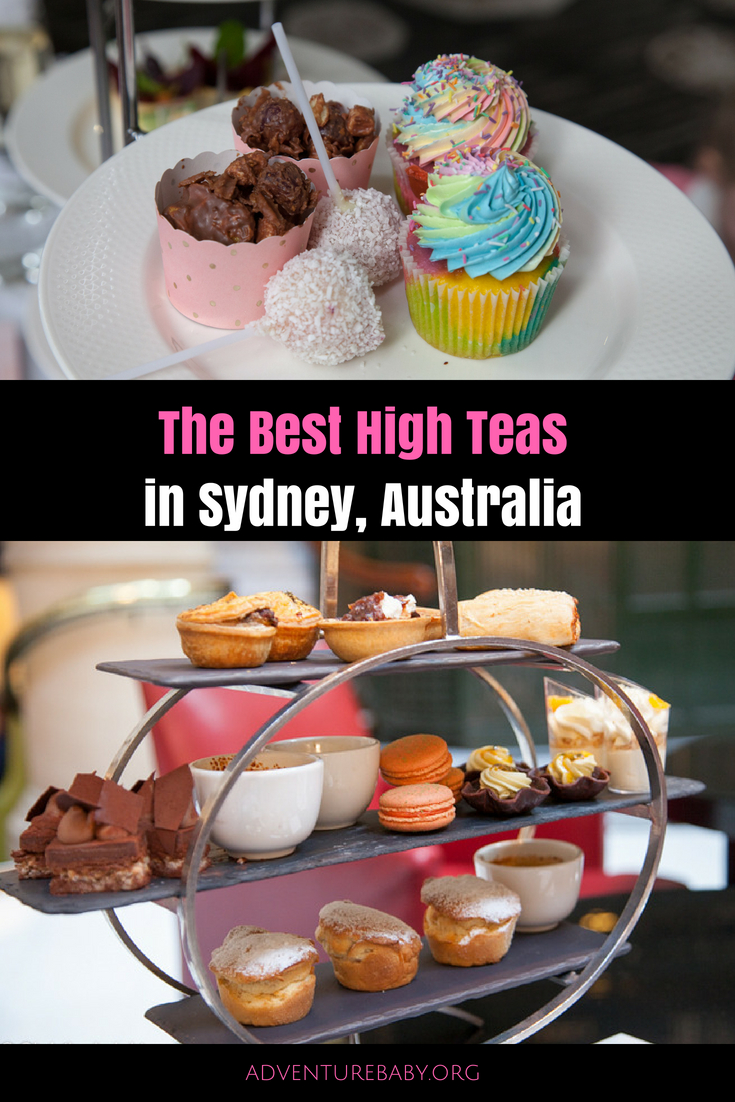 High Tea, or afternoon tea, is an elegant affair that we have our British ancestors to thank for. In Sydney, high teas are thriving – and I've been on a mission to try each and every one on offer. From high tea with a view in Sydney, to modern high tea and the best value high tea in Sydney, there is a delicious tea to suit everyone. After careful testing, I present to you a selection of the best high teas in Sydney.
The Best High Tea In Sydney
Burnt Orange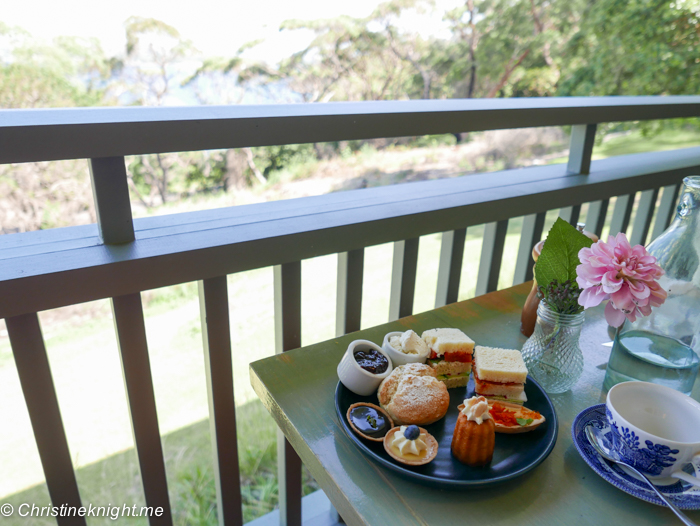 The perfect spot for high tea on the Northern Beaches area of Sydney. Enjoy delicious square sandwiches, fluffy scones with plenty of jam and cream, with delectable sweet treats such as the salted caramel and chocolate tart at this Mosman, North Shore, cafe. The balcony wrapping around Burnt Orange offers stunning harbour views, so request a prime spot when making your booking. Sit back and enjoy the view at one of the best spots for afternoon tea in Sydney.
Get more info on high tea at Burnt Orange.
Burnt Orange, 1109 Middle Head Rd, Mosman
Radisson Blu Plaza Hotel Sydney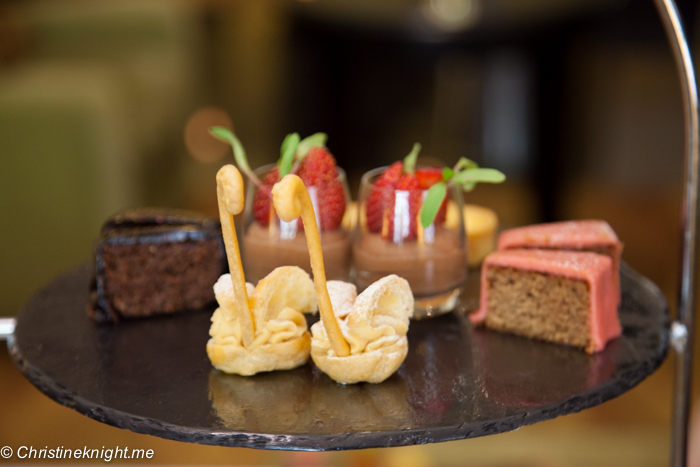 You'll find fluffy fresh scones with vanilla bean cream, delicious sandwiches and savoury pastries, plus delectable sweets at the Radisson Blu high tea. The tea is topped with a pair of salted caramel swans that you'll be torn between eating and taking home as a souvenir. The Radisson Blu Plaza Hotel also offers gluten-free, kids and vegan high tea.
Get more info on high tea, chocolate high tea and vegan high tea at the Radisson Blu Plaza Hotel Sydney.
Radisson Blu Plaza Hotel Sydney, 27 O'Connell St, Sydney
The Cortile, InterContinental Sydney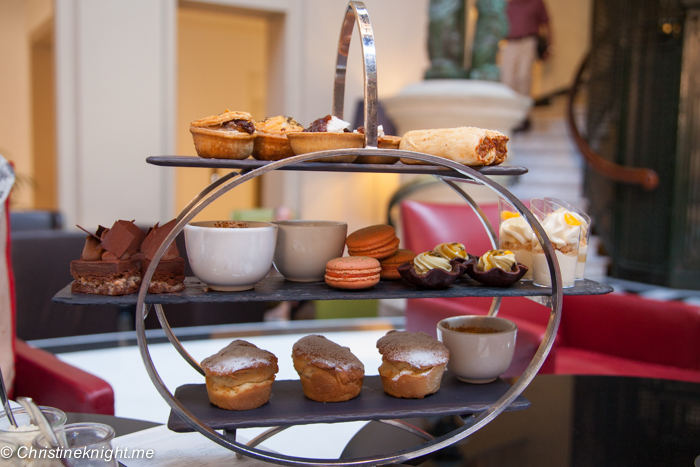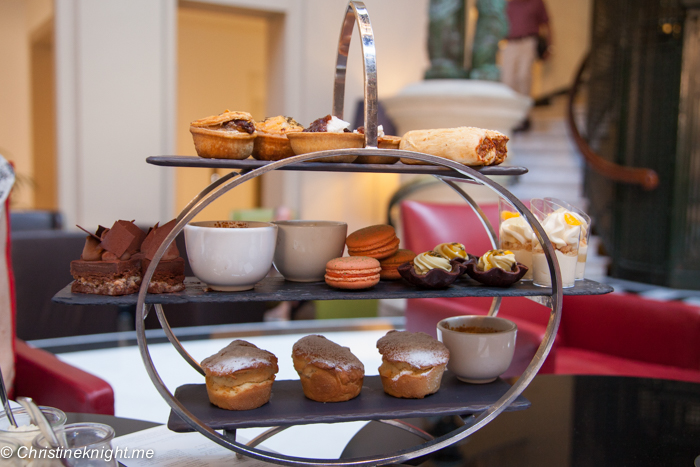 A classic high tea served with a modern twist. High tea at the InterContinental is served inside the restored 1851 Treasury building, making it the most visually stunning building of all high tea locations. The sweets are tea-themed, such as the Jasmine Gold tea crème brulée.
Get more info on high tea at the InterContinental Sydney.
InterContinental Sydney, 117 Macquarie St, Sydney
Sheraton on the Park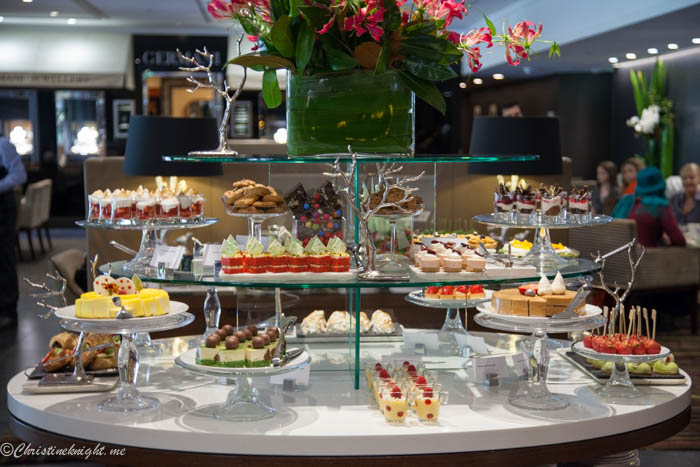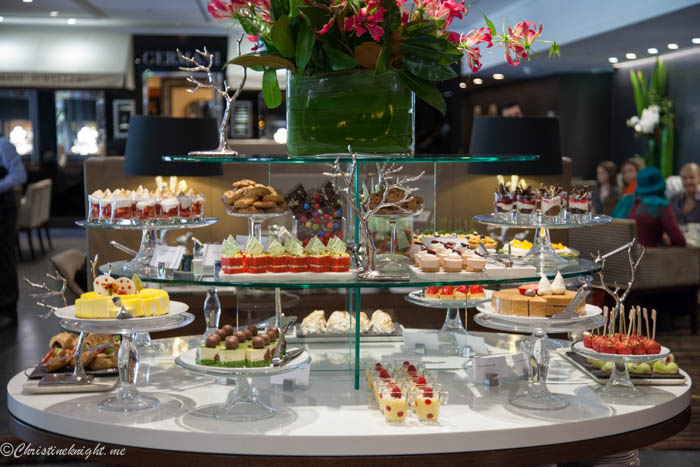 Choose from a classic tea stand or the buffet high tea. Their high tea stands are often themed, such as the Fashion High Tea, or Christmas. The buffet is excellent quality and value at $49pp, and includes an ice cream station, fresh creme brulee, sandwiches, savouries, scones, crepes and platter after platter of sweet treats.
Get more info on high tea and the buffet high tea at Sheraton on the Park.
Sheraton on the Park, 161 Elizabeth St, Sydney
Gunners Barracks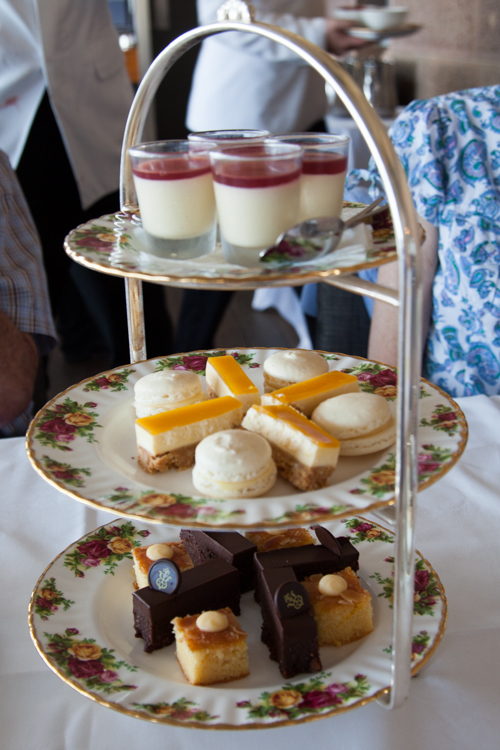 A classic high tea with the best view in Sydney. Ask for a seat on the balcony and watch out for kookaburras who like to swoop down and steal sandwiches. The scones are served fresh and warm, and the staff are outstanding. It's hard to top this high tea, which is why you'll need to book well in advance. The Gunners Barracks is known as one of the best high teas in Sydney.
Get more info on high tea at the Gunners Barracks.
Gunners Barracks, Suakin Dr, Mosman
Westin Mad Hatter's Afternoon Tea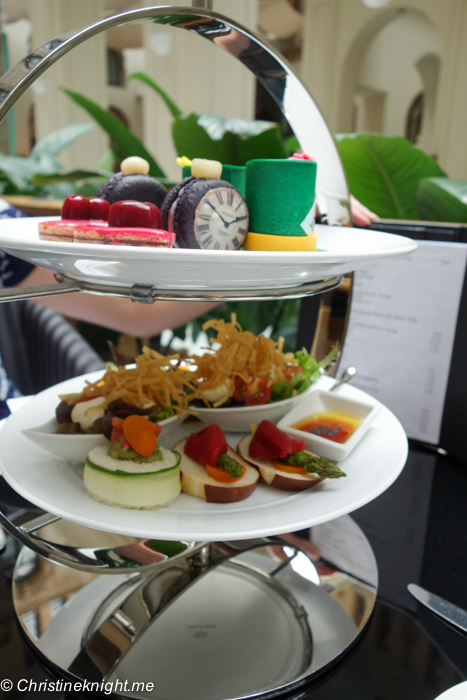 Fall down the rabbit hole into a whimsical high tea land where all of the dishes are inspired by Alice in Wonderland. Enjoy delicacies such as the The Mad Hatter's Hat (rich dark chocolate mud cake encased in chocolate icing) and The White Rabbit's Pocket Watch (purple macaroon with a blueberry cream filling). Without a doubt, this is the most whimsical Sydney high tea!
Westin, Lobby Level, 1 Martin Place Sydney
The Langham Sydney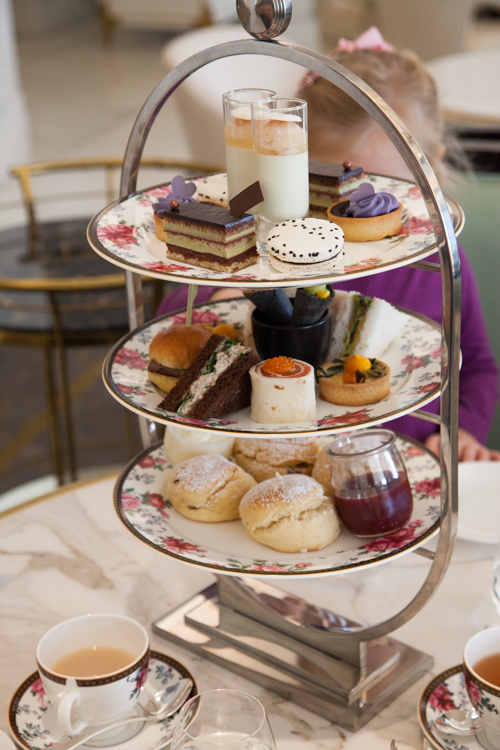 Dining at the newly renovated Langham is an elegant affair. I enjoyed their Afternoon Tea with Wedgwood for Mother's day last year, where a sophisticated high tea is served in Wedgwood china specifically designed for The Langham hotel. The environment is opulent and serene, the high tea full of tarts, tasty sandwiches and savouries. Do yourself a favour and book into the excellent Langham spa downstairs for a treatment after your tea is finished. The Langham often does really cute themed kids' high teas in the school holidays, such as this Barbie one.
Get more info on high tea at The Langham Sydney.
The Langham Hotel, 89-113 Kent Street, Sydney
The Tea Room QVB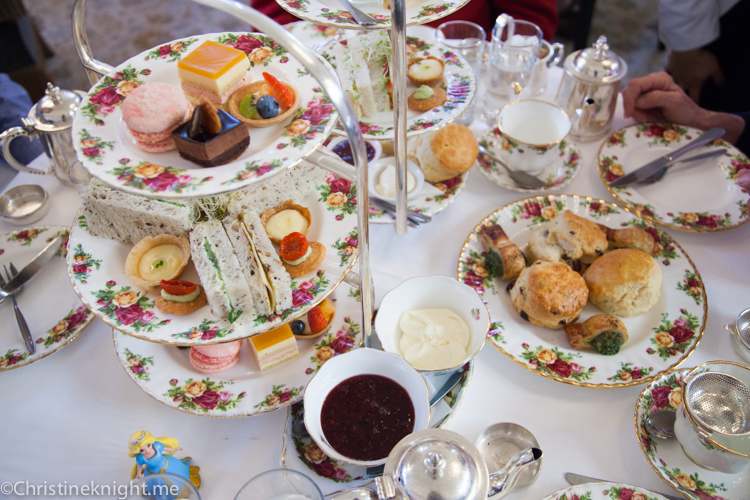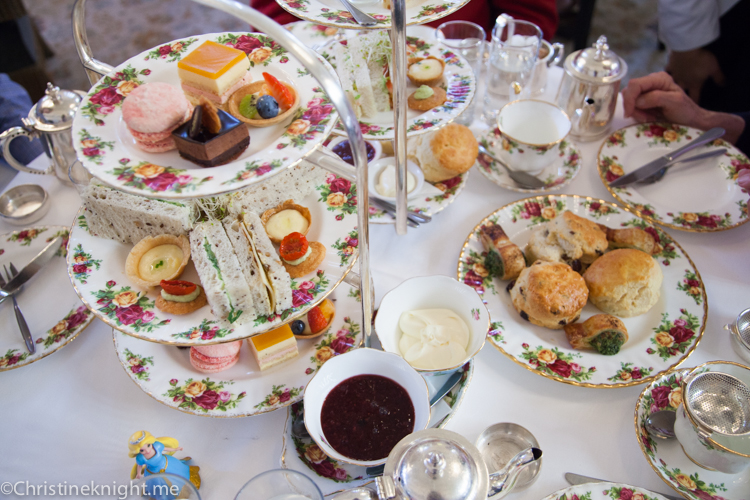 Set in the historic Queen Victoria Building, afternoon tea at the QVB is a popular outing. The Tea Room is owned by the same company as the Gunners Barracks, which ensures that both teas are of a high standard. Be sure to arrive hungry as the extremely efficient staff offer extra sandwiches once yours have run out. The Tea Room was my first and one of my all-time favourite high teas in Sydney.
Get more info on high tea at the Tea Room QVB.
The Tea Room QVB, 3, Queen Victoria Building, 455 George St, Sydney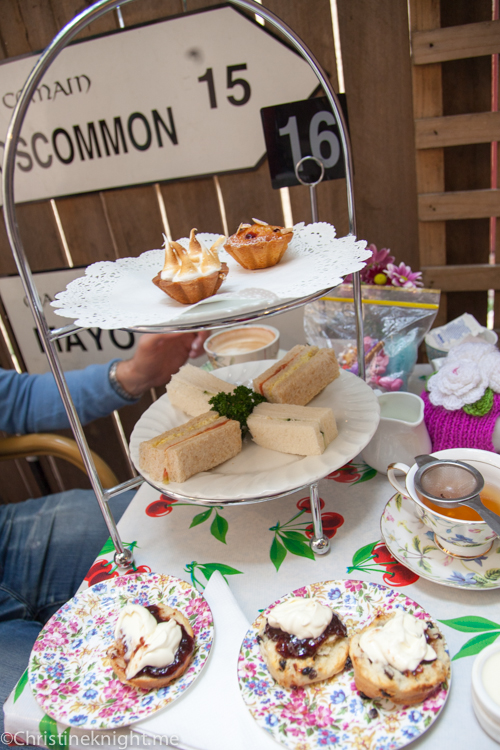 The Tea Cosy
A family owned and operated cafe tucked into the historic Rocks district of Sydney, The Tea Cosy boasts "Scones and tea like Nana used to make". Choose from a wide variety of teas and scones, which will likely be the best you've ever tasted. Scones are served warm and fresh with house-made jams (that are available for purchase). While the Tea Cosy no longer has their high tea option, it's worth visiting for a tasting platter that includes delicious finger sandwiches such as egg and cucumber and cream cheese, plus a variety of scones and jam. The tea pot cosies are so cute you'll be tempted to buy one of them, too. The Tea Cosy is our number one spot to return for a Sydney afternoon tea. In fact, I would go so far as to say the incredible quality of the scones and sandwiches at the Tea Cosy make it the best afternoon tea in Sydney.
Get more info on high tea at The Tea Cosy.
The Tea Cosy, 33 George St, The Rocks NSW
Parliament House of New South Wales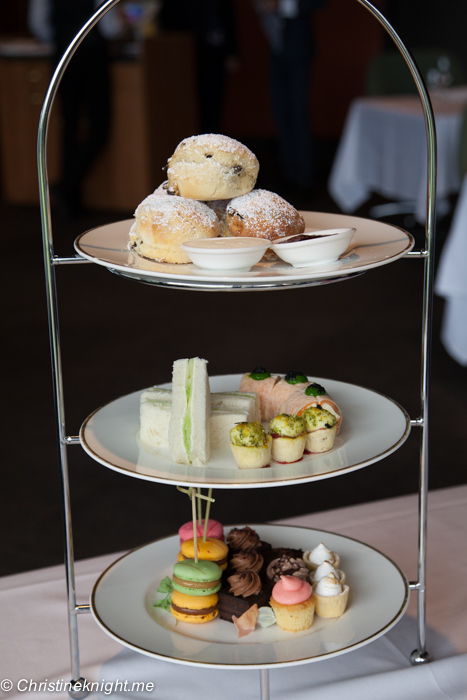 The most exclusive high tea in Sydney, served only on the last Friday of each month, this is also the only high tea in Sydney that you'll have to pass through a metal detector to gain admission. Dine in the Strangers' Dining Room that is usually off-limits to the public, overlooking Hyde Park. The bocconcini tartlet with chive coulis was a fave, as were the sandwiches – with a second plate being delivered after the first was finished.
Get more info on high tea at Parliament House.
Parliament House of New South Wales, Parliament of New South Wales, 6 Macquarie Street, Sydney
Sofitel Sydney Wentworth High Tea with Christina Re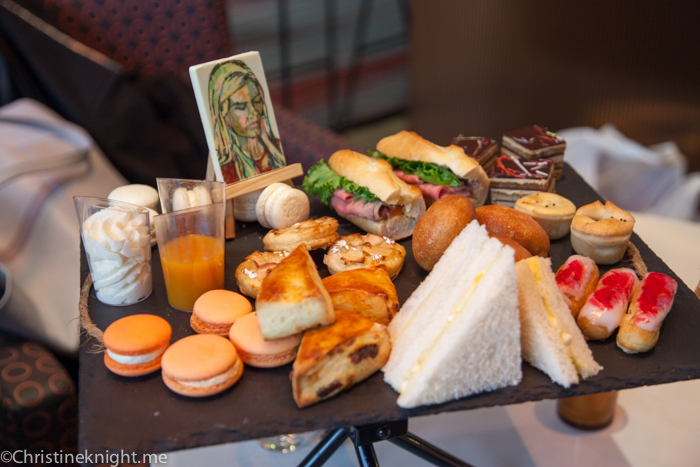 The Wentworth hotel has partnered with High Tea and Lifestyle designer Cristina Re to create beautiful high teas presented on the designer's vintage-inspired Signature High Tea collection, adorned in 24 carat gold finishes.
The high teas are often themed in collaboration with Sydney's art and culture scene – for example, when we dined on previous occasions, we enjoyed their limited edition Sleeping Beauty and Archibald high teas, which were in conjunction with the Australian Ballet and AGNSW. The Wentworth has the best value kids' high teas around – at $40 they might sound a bit steep, but they are virtually identical to the adult ones so two or three kids could easily share one. The Sofitel Wentworth is home to some of the prettiest high tea in Sydney.
Get more info on one of the themed high teas at the Sofitel Sydney Wentworth.
Sofitel Sydney Wentworth, 61-101 Phillip Street, Sydney
Shangri-La Sydney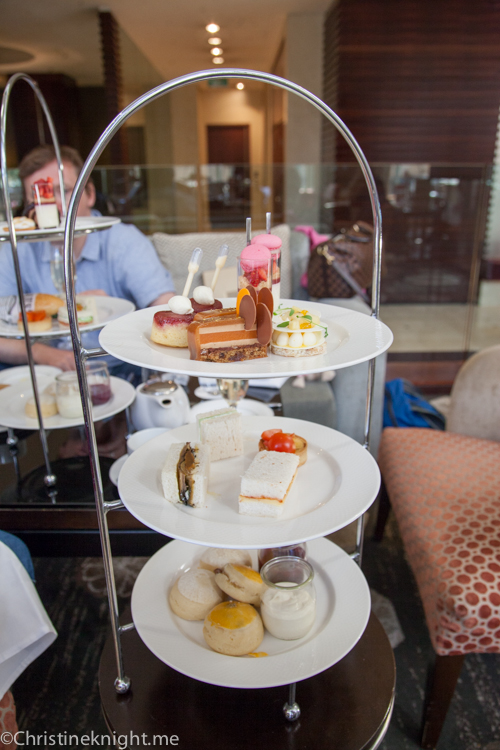 Try the Traditional or Chocolate High Tea at the Shangri-La Sydney, created by their amazing Executive Pastry Chef, Anna Polyviou. As you'd expect from an innovative pastry chef, the pastries on this high tea stand are the most innovative and delicious you will find anywhere, including her famous carrot cake.
Get more info on high tea at the Shangri-La Sydney.
Shangri-La Hotel Sydney, 176 Cumberland St, Sydney
Coco Chocolate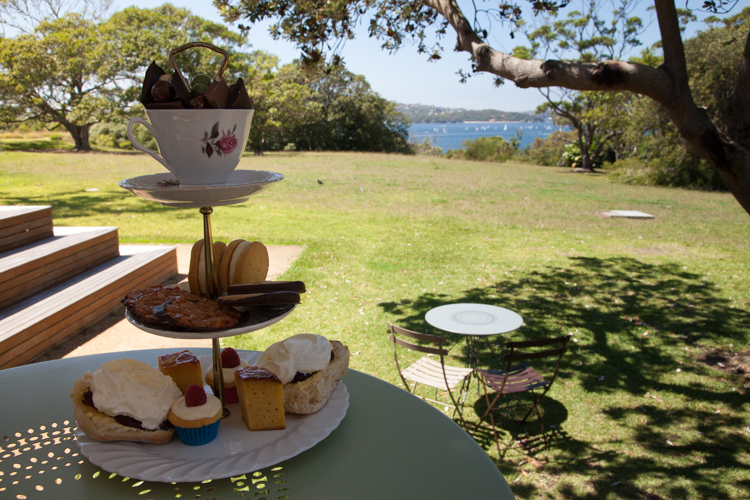 Hard core chocolate lovers will enjoy this sweet-heavy high tea at Coco Chocolate's studio and school location in Mosman. Sit outdoors and enjoy an informal high tea with a stunning view of the Sydney harbour. As befits a chocolate high tea, treats include a shot of hot chocolate, chocolate pistachio shortbread, florentines, scones with jam & cream, melting moments, flourless orange cakes, chocolate cakes, and, the star of the high tea, a selection of house-made chocolate. Bookings are essential as each tea is made to order.
Get more info on high tea at Coco Chocolate.
Coco Chocolate, Sydney Chocolate School and Coco Chocolate Studio, Past Burnt Orange and HMAS Penguin at Chowder Bay Rd turnoff, Building 21, 1110 Middle Head Road, Mosman

Vaucluse House Tea Rooms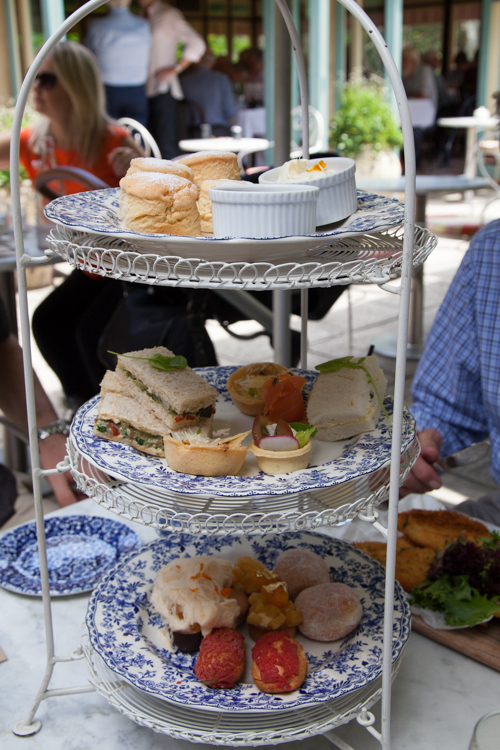 Take a trip back in time and dine at historic Vaucluse House. The sandstone mansion was built in the 1830s and is set in 10 hectares of picture perfect gardens stretching down to the harbour. The high tea features a delicious array of savoury tarts and sandwiches, fresh scones, and sweets that include a sugar-covered donut and delicate fairy-floss. After your tea, wander through the building or meet the farm animals out the back. There is plenty of space to roam in solitude and enjoy the serenity. Bookings essential.
Get more info on high tea at Vaucluse House Tea Rooms.
Vaucluse House Tea Rooms, Wentworth Rd, Vaucluse
Park Hyatt Sydney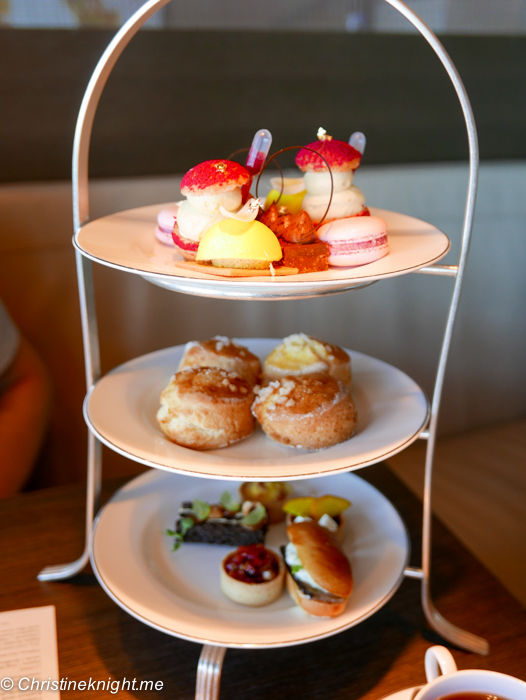 Located on the waterfront and delivering a perfect view of Sydney Harbour, high tea at the Park Hyatt is the popular location for a groups such as a bridal showers. The high tea features finger sandwiches and quiche, warm scones with jam and cream, and mini cakes, tartlets and macarons. For larger groups, a private room is available.
Get more info on high tea at the Park Hyatt Sydney.
Park Hyatt Sydney, 7 Hickson Road The Rocks Sydney
High Tea at The Calyx, Royal Botanic Gardens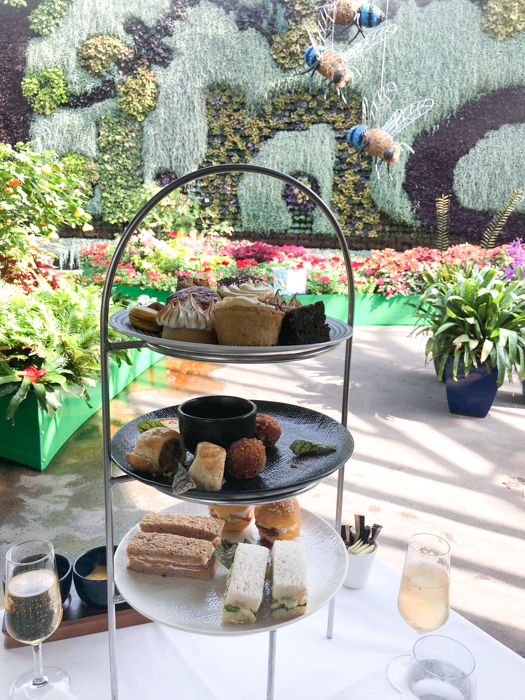 The only high tea in Sydney set among the flowers! Enjoy a delicate high tea set against largest indoor green wall and surrounded by vibrant flowers. Fridays, Saturdays and Sundays from 1:30-3:30pm, high tea lovers can indulge in finger sandwiches with smoked salmon and roast turkey, gourmet sausage rolls, fetta tartlets and sundried tomato arancini, plus sweet treats including French macaroons, mini cupcakes, chocolate brownies and warm scones with jam and cream. A glass of sparkling wine and a selection of T2 teas are included in the price. There's also an option to upgrade to unlimited champagne. Cheers to that!
Read more about high tea at the Calyx here.
High Tea at The Calyx, The Royal Botanic Garden, Mrs Macquaries Road, Sydney
Thanks to my high tea taster Havewheelchairwilltravel.net for the pic.
Boronia House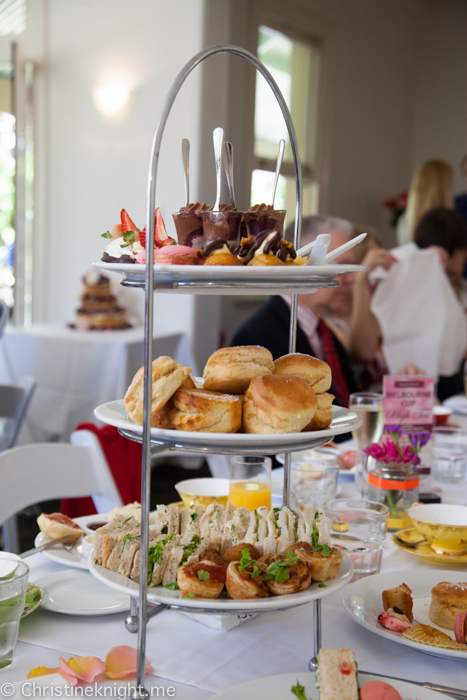 Dine inside a Victorian mansion built in 1885 at Boronia House, situated on Sydney's North Shore. The Classic High Tea Experience includes a selection of light breads, sophisticated savoury bites, house-made scones with double cream and jam, desserts and cakes, served with a choice of a T2 tea or coffee.
Kids aged 3-12 can enjoy the Little Ladies High Tea, which includes ham and cheese finger sandwich, scone with cream and jam, fairy bread, Remi's homemade chocolate chip cookie, chocolate fondue with fresh fruit, homemade sweet treat of the day, mini pancake stack with maple syrup and a choice of T2 tea, hot chocolate, iced chocolate, fruit juice, pink lemonade or soft drink.
Boronia House, 624 Military Rd, Mosman
Sir Stamford at Circular Quay Hotel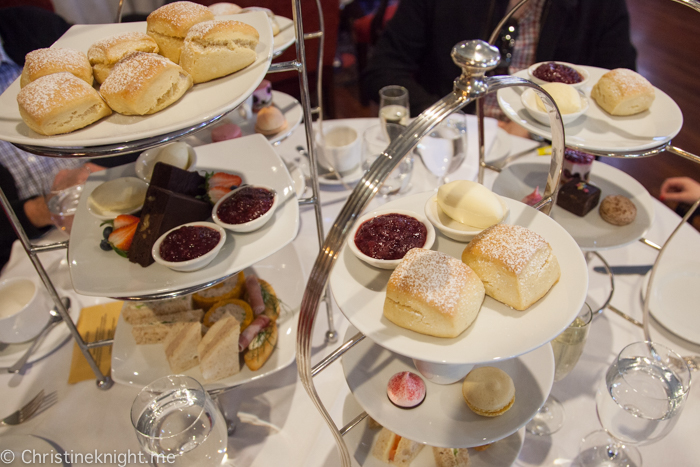 Enjoy traditional high tea in the understated elegance of the Sir Stamford Circular Quay Hotel, located a few steps from the Sydney Opera House and a short walk to the Royal Botanic Garden, Sydney.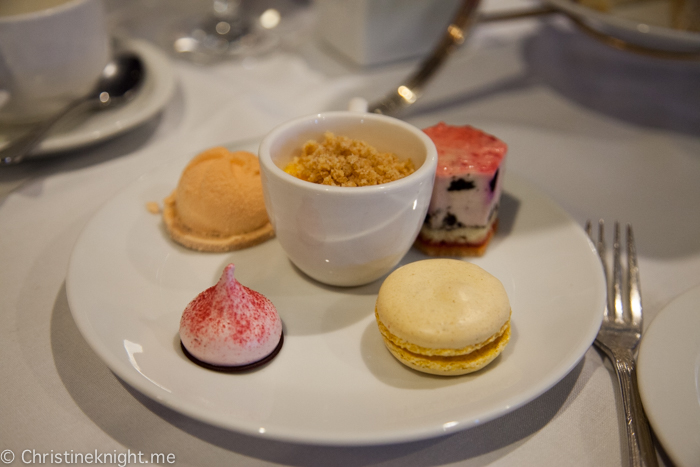 The Sir Stamford high tea is unique in that several variations are offered. Choose from a traditional high tea, deluxe Devonshire tea, children's high tea or "guilt-free" high tea, served with fresh Vegetable juice & Dilmah Tea Selection. All items on the guilt-free high tea have low saturated fat (no butter, cream) and are low sugar. Gluten-free can also be catered for.
We really enjoyed looking at the curios around the dining room, such as a hand-made model ship. This is a hotel that embraces its history, and a visit is like a trip back in time.
Read more about high tea at Sir Stamford here.
Sir Stamford at Circular Quay Hotel, 93 Macquarie Street, Sydney
Daisy's Milkbar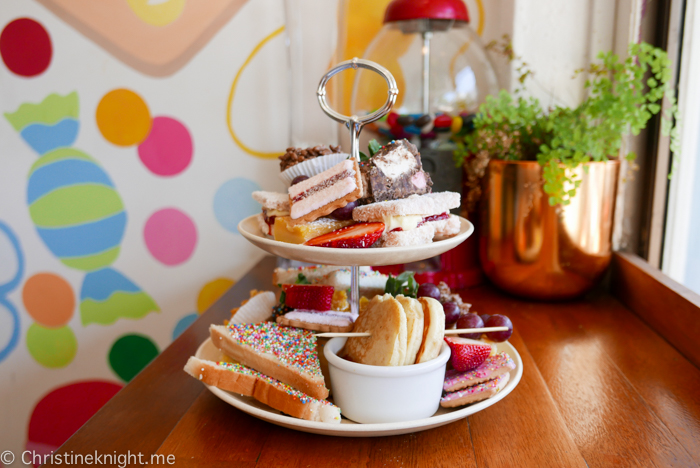 For a high tea with a difference, try a "Low Tea" reminiscent of a school fete bake sale. Each Low Tea includes a non alcoholic drink (tea, coffee, milkshake etc) and an alcoholic drink (cocktail or boozy shake) for each person plus a selection of sweet and savoury bite-sized treats. It's incredible value and completely yum.
Read more about Low Tea at Daisy's Milkbar here.
Daisy's Milkbar, 340 Stanmore Road, Petersham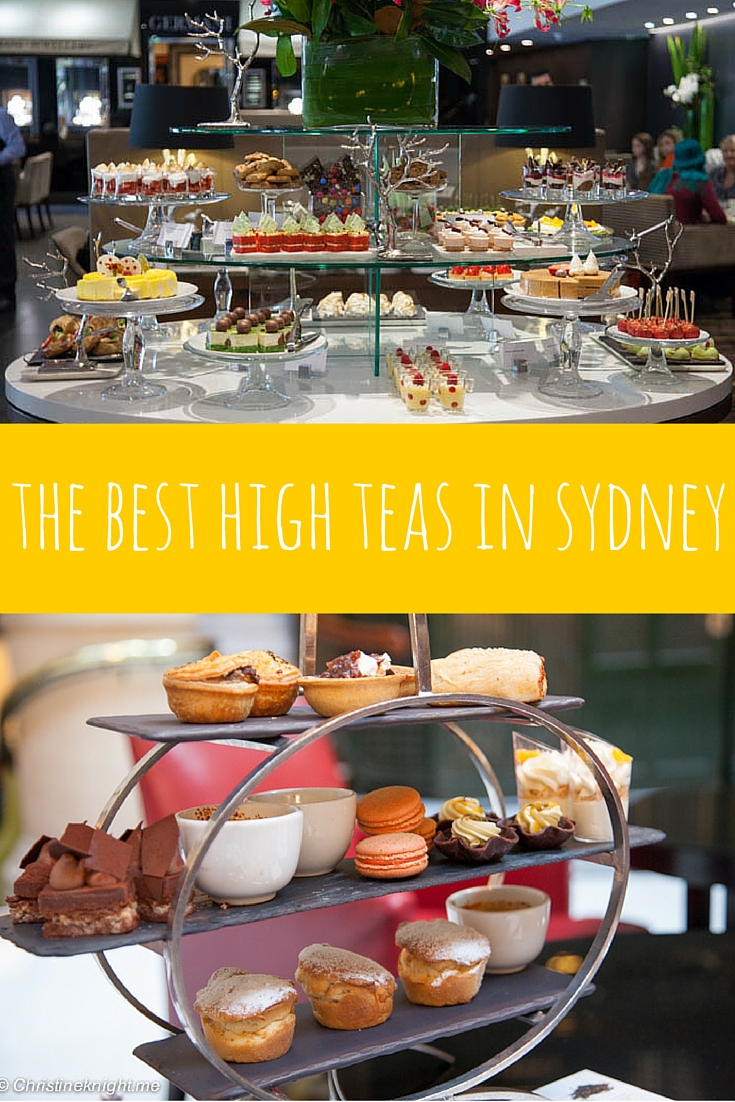 Are there any high teas I've missed? I'd love to know where to try next!

Christine is the editor of Adventure, Baby!