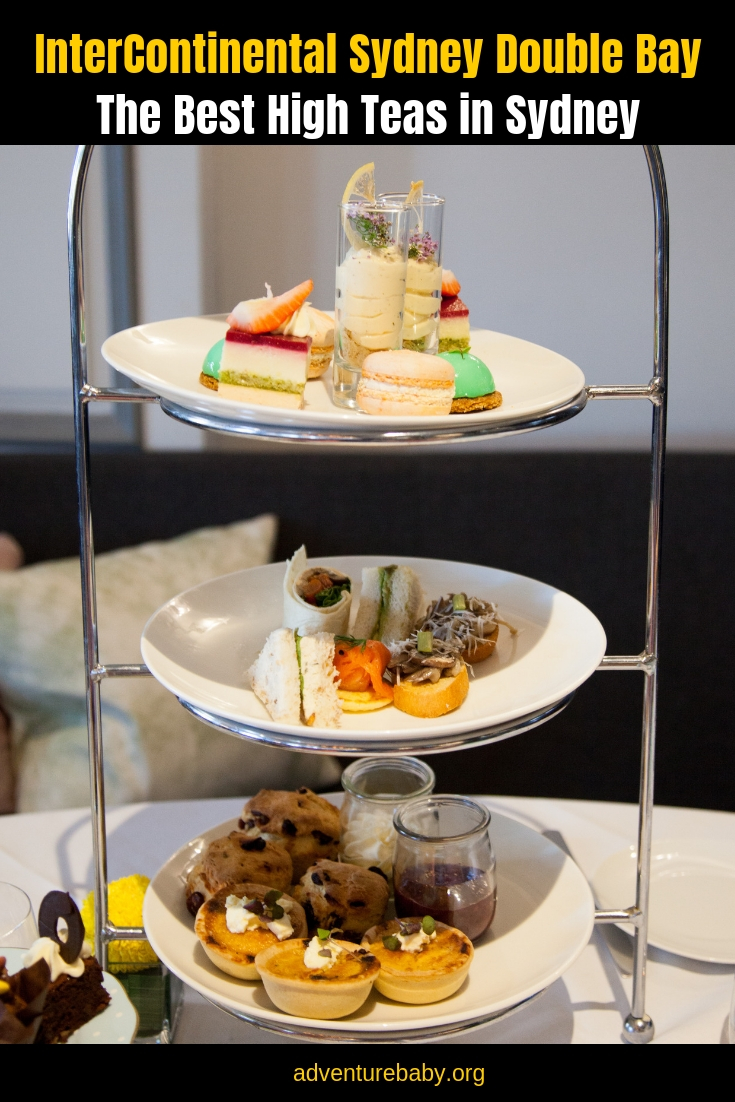 InterContinental Sydney Double Bay High Tea
Indulge in a luxe high tea at the Intercontinental Sydney Double Bay. Choose from the Signature High Tea, Oriental High Tea or Kids' High Tea.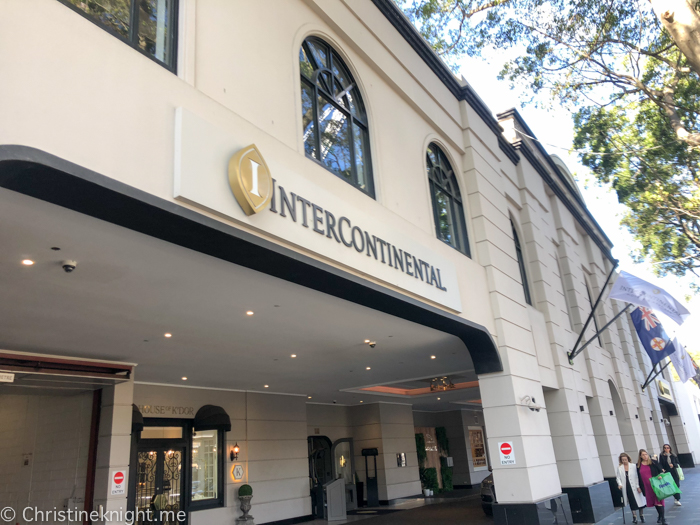 High tea at the Intercontinental Sydney Double Bay is an elegant affair. Located upstairs in the Stillery, high tea is served daily between 11am and 4pm.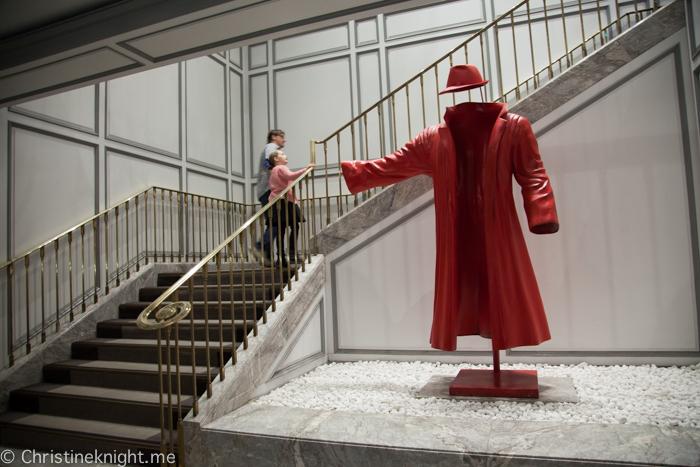 Adults can choose between the Signature High Tea and Oriental High Tea, while children have a special Kids High Tea on offer to them.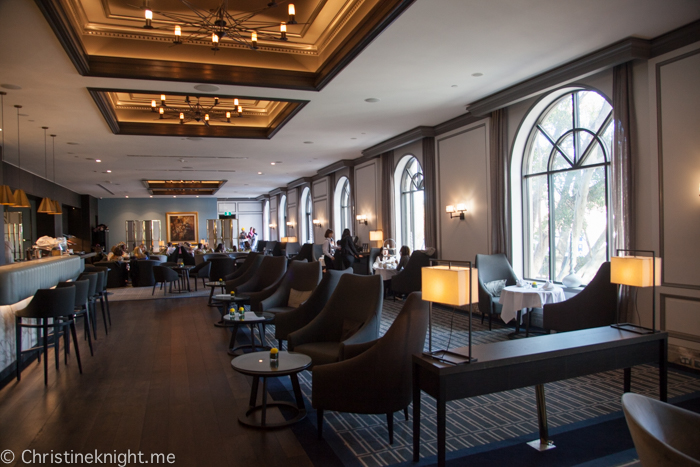 We chose the Signature High Tea with the option to add a glass of chilled Champagne.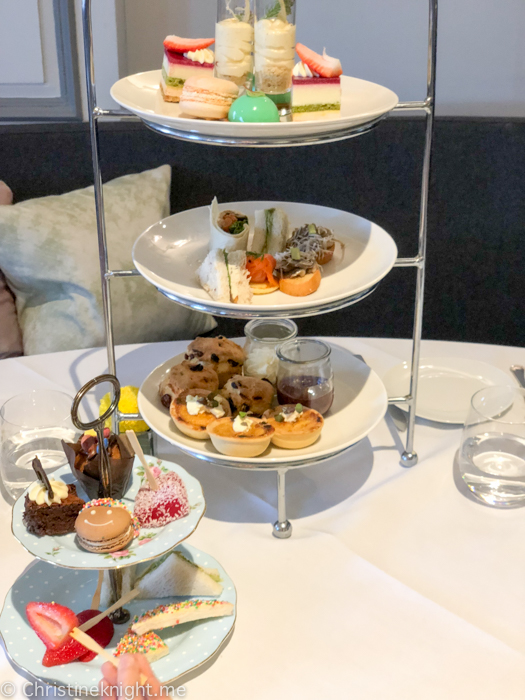 The High Tea arrives on a very traditional three tiers, with sweets on top, sandwiches on the middle and hot savouries on the bottom.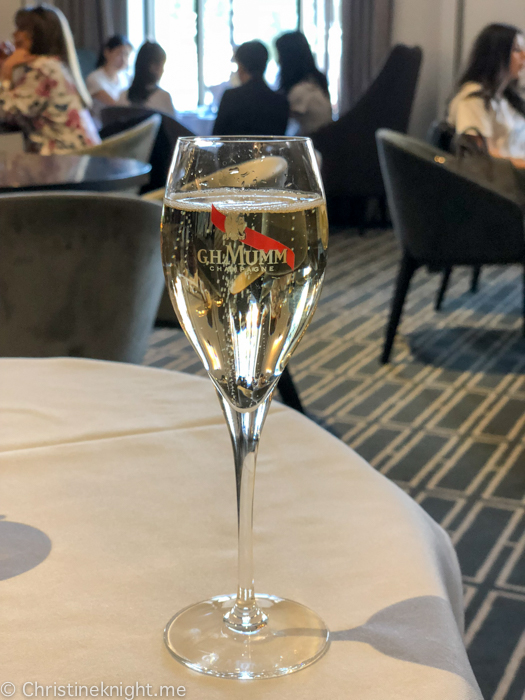 I love sweets but as I've gotten older I've found that I enjoy the savoury and scones in larger quantities and my ability to eat sweets has lessened, so this type of high tea with its food ratio is my idea of perfection.
Each high tea is also served with your choice of tea of coffee, served in a pot that gives about 1.5 cups.
Signature High Tea
Something Savoury
Sage lemon chicken, watercress on multigrain*
Wild Mushroom Bruschetta, grilled leek, pecorino
Cold smoked trout, ricotta, black caviar, blini*
Meredith quiche, goat cheese, caramelised onion
* Vegetarian options: avocado and cucumber sandwich and a vegetable wrap.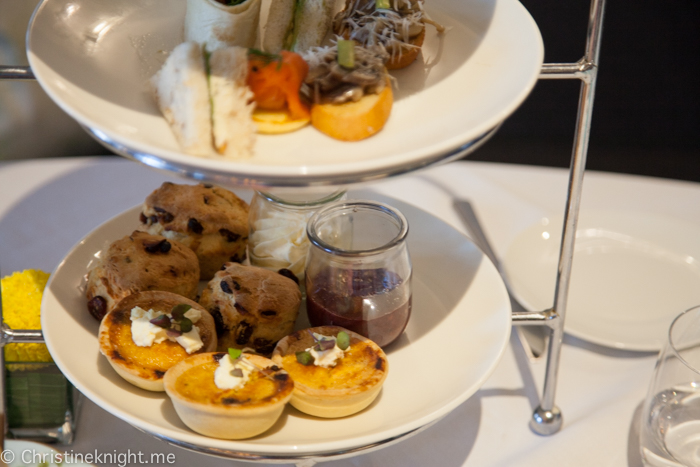 Something Sweet
Lemon myrtle cheesecake, wattleseed crumble, meyer lemon curd
Strawberry & basil, white chocolate, macadamia crunch
Lemon lime bitter macaron, Angostura bitters, chocolate fizz
Mascarpone mousse, crab apple jelly, Anzac biscuit
Homemade cranberry & sultana scone served with cream & jam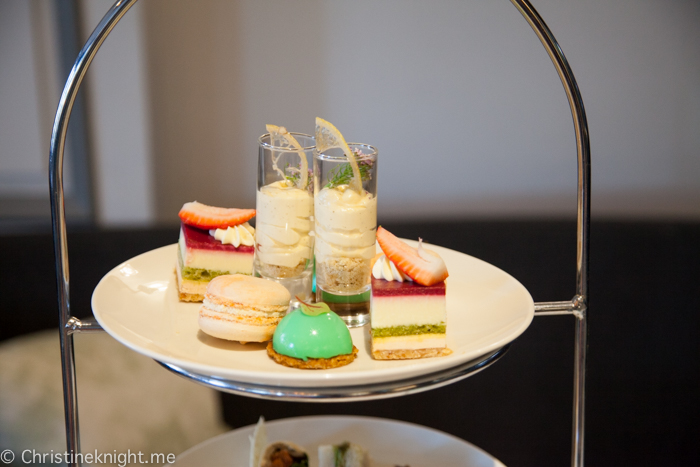 Signature High Tea $59
High Tea with a a glass of Perrier-Jouët Champagne $69
High Tea with three mini martinis $79
Children's High Tea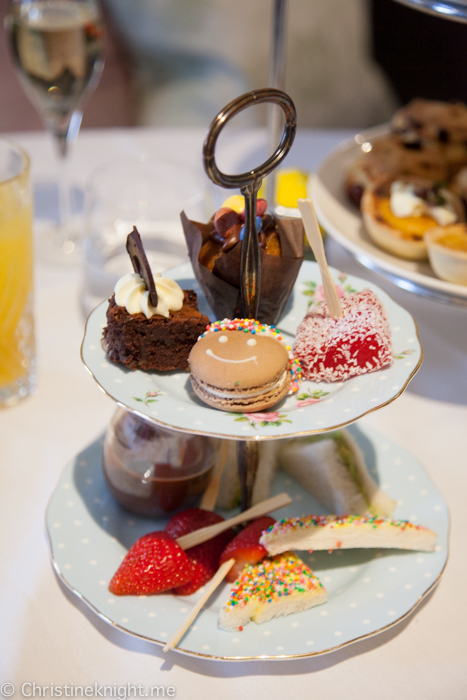 Sandwiches
Fairy Bread, Pepe Saya butter, 100's & 1000's
Chicken & cheese toastie, multigrain bread, cheddar cheese*
* Vegetarian alternative: avocado and cucumber sandwich
Something Sweet
Chocolate fudge brownie, chantilly, Weiss dark chocolate, walnuts
Watermelon lollypop, compressed watermelon, desiccated coconut
Banana & chocolate cupcake, Nutella, Smarties
Smiley macaron, French salted caramel
Strawberry fondue, milk chocolate, fresh strawberries
Children's High Tea is $25.
We adored this high tea. The sandwiches were delicious and fresh, the scones warm, the jam absolutely divine. Hubby wanted to take the jam home.
The sweets were excellent. A great variety and unusual flavours. My fave was the lemon myrtle cheesecake with wattleseed crumble and meyer lemon curd. It was slightly tart, fresh and sweet. I could have eaten more!
The kids' high tea was a very happy addition to the menu. Cheese often finds the food on the regular high team menu to be too fancy, so she likes to have her own high tea where the food caters to simpler taste palates. Her fave was the chocolate fondue with strawberries. She loved it so much we had to ask for more strawberries.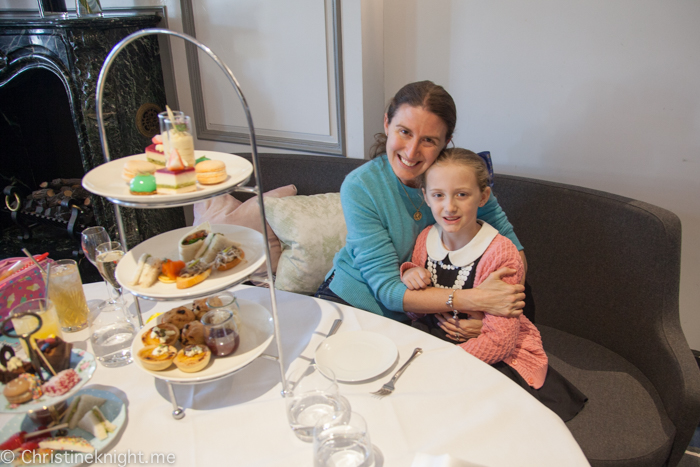 The service at the InterContinental was just as you would expect. Efficient and friendly, making for an extremely pleasant dining experience. Highly recommend the InterContinental Sydney Double Bay High Tea!
InterContinental Sydney Double Bay
33 Cross Street, Double Bay, Sydney NSW
Bookings recommended (you can book online)
Website
More things to do in Sydney
Find the best high teas in Sydney here.
Find a list of the best things to do in Sydney with kids here.
Find things to do in Sydney for free here.
Get a list of the best kid-friendly beaches in Sydney.
Find the best animal experiences in Sydney here.
Visit the best kid-friendly restaurants in Sydney here.
Head to one of the best museums in Sydney here.
Check out things to do in Sydney on a rainy day here.
Enjoy one of the best ocean pools in Sydney here.
First time visiting Sydney? Get tips for first time visitors to Sydney here.
Cool down at one of these free water parks in Sydney.