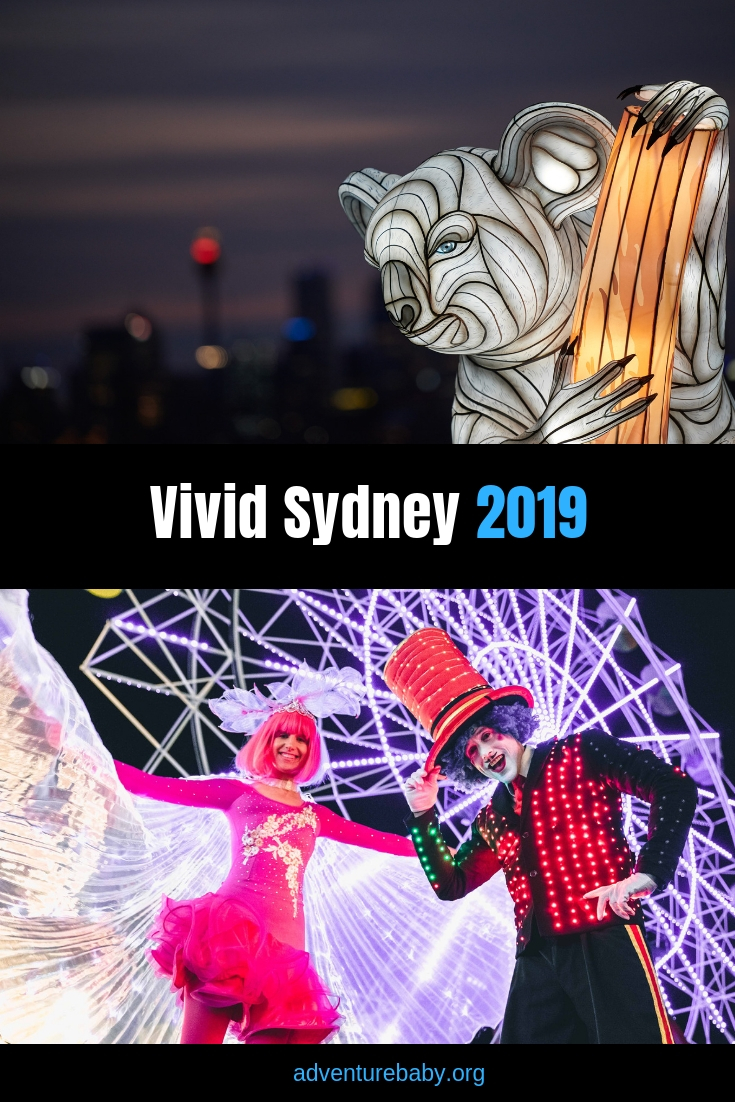 Vivid Sydney is, without a doubt, one of my favourite times of year. 2019 marks the 11th anniversary of Vivid Sydney, the world's largest festival of light, music and ideas. From 24 May to 15 June the event lights up Sydney over 9 precincts, each featuring their own unique light sculptures.
Top Tips For Visiting and Photographing Vivid Sydney
What's on at all 10 precincts
This year Vivid Sydney is spread across 9 precincts. Each features their own specific light installations.
Barangaroo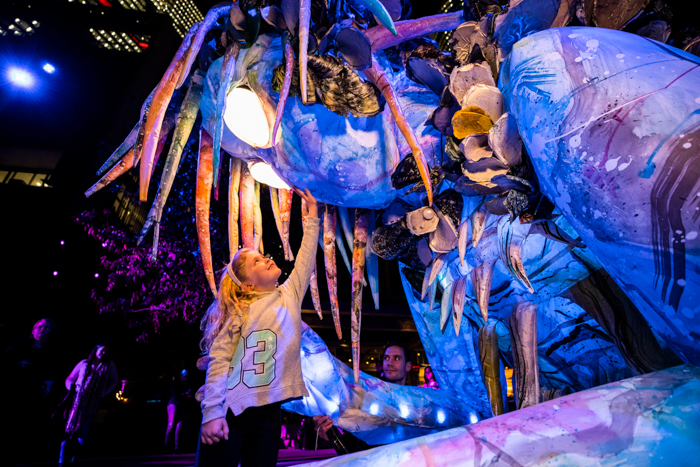 Recognising the spirit and strength of First Nations Women For Vivid Sydney 2019, Exchange Place in Barangaroo will transform into Winter Camp, where visitors will experience layers of light, sound and puppetry reflective of the land and water, and inspired by changing seasons. The magnificent, six-metre tall puppet Marri Dyin (Great Woman) will return this year,
accompanied for the first time by a school of captivating fish puppets.
This incredible, giant puppet, was made by Erth, the creators of Erth's Dinosaur Zoo.
Cristin from artsplorers.com reports as been to Barangaroo and has this to report:
"The main attraction at Barangaroo is the six-metre tall puppet, Marri Dyin. She begins the night at a huge cave-like structure at the Napoleon Plaza part of the Barangarroo walk (next to the lifts that come down from Wynyard Station). Thursday through Sundays, she is manned by several puppeteers, making a slow walk down Barangaroo Avenue (away from Darling Harbour). She's quite impressive to see, though younger children may find her scary. This is the same puppet that was at Barangaroo last year, so if you saw it then, it won't be new to you. We also saw a fun roving school of glowing fish, worked by several puppeteers. They don't have a fixed location, so you just have to catch them as they make their rounds on the Barangaroo walk."
Read about Vivid Sydney at Barangaroo
Chatswood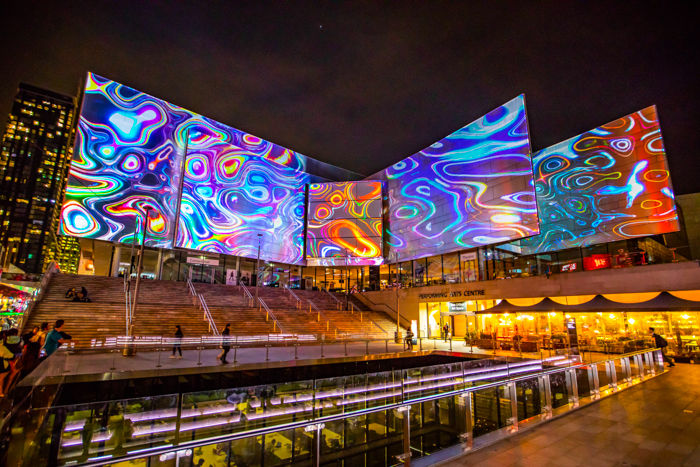 Chatswood is a top pick for taking kids to see Vivid – lights go on at 5:30pm at Chatswood, perfect for taking the kids. Grab some food at around 5pm and you've got yourself the perfect early night Vivid experience.
This year my top pick looks like the super-sized trumpet flower garden that allows you to play the trumpet keys and make your own light and sound show.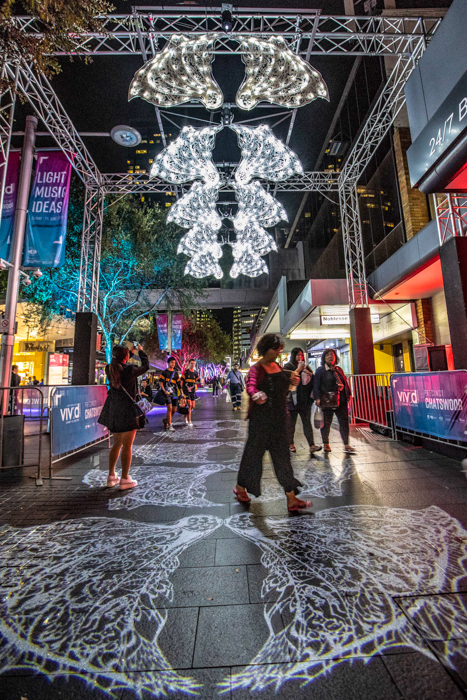 Read about Vivid Sydney at Chatswood
Circular Quay
The lightwalk stretches 3km from The Rocks around Circular Quay and to the Royal Botanic Gardens.
Sydney Opera House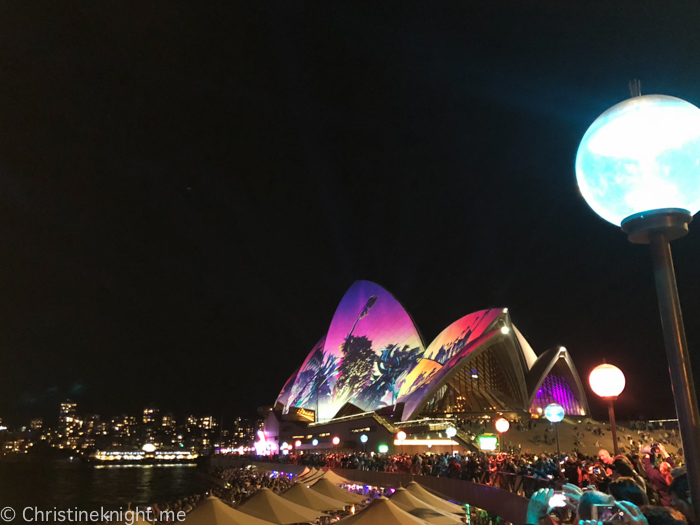 The lights on the Sydney Opera House are always a highlight of Vivid. This year the display was created by Los Angeles-based artist-filmmaker Andrew Thomas Huang. Huang collaborated with choreographer Toogie Barcelo, dancer Jenna Moroni and animation design team Bemo to create Austral Flora Ballet, a hypnotic tribute to Australia's native plant life.
The best view of the Sydney Opera House is from the Overseas Passenger Terminal.
Customs House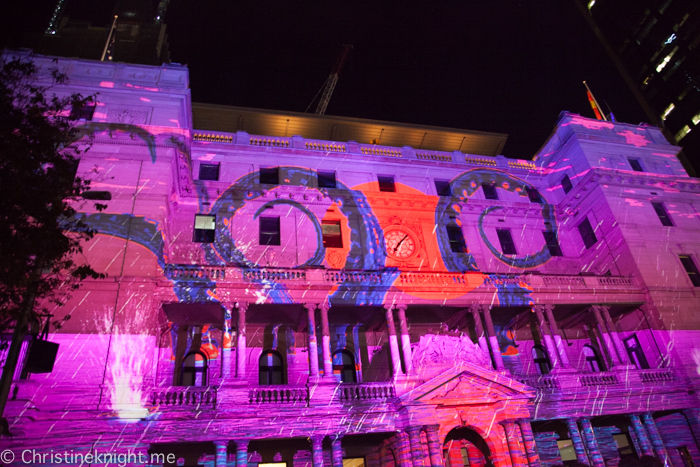 The light show on the Customs House is always a favourite of mine. Kids can sit entranced watching the lights play across the giant canvas. This year the display is Under the Harbour, a surreal underwater encounter witan octopus stealing the sun.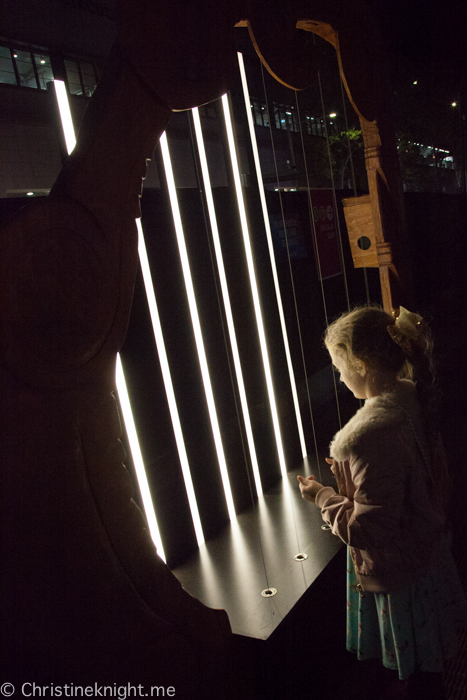 There are lots of interactive light sculptures around Circular Quay this year which are perfect for engaging kids. We loved the The Harp of the City, a series of a giant public instruments that produces sound and an interactive light show.
Samsung Electric Playground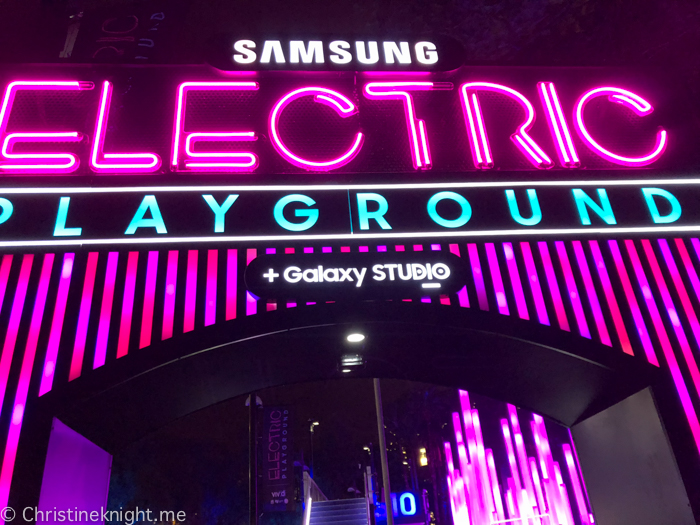 The Samsung Electric Playground is also a massive hit and extremely popular. I suggest lining up around 5:30 on weekends for this popular experience and being the first ones inside when the lights go on at 6pm.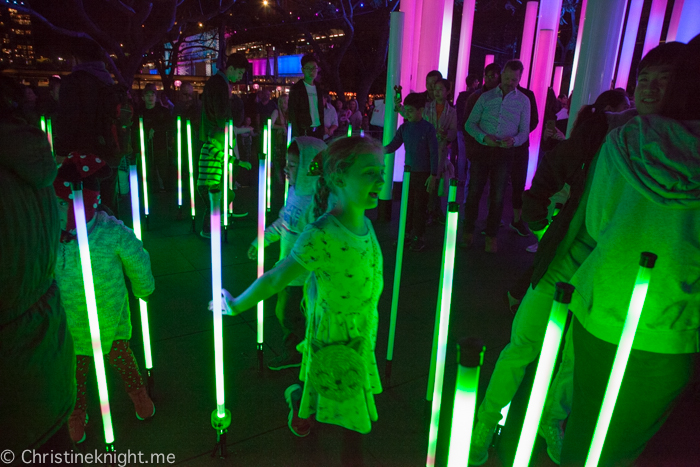 It's contained in a fenced in area that you will need to line up to enter and consists of several different zones inside that include an Infinity Slide and light up hula hoops.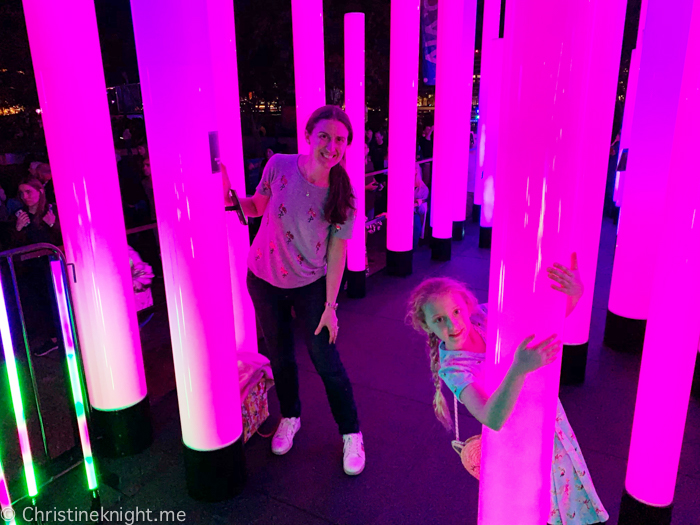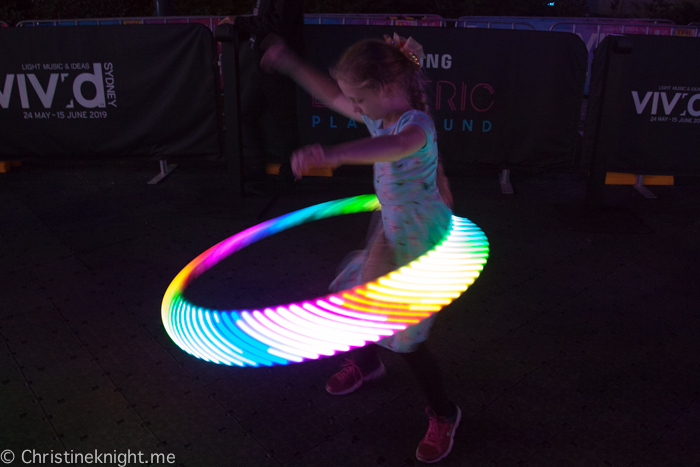 Galaxy Studio
The Galaxy Studio is inside the Samsung Electric Playground. The entrance to the queue to get in is near the Infinity Slide. The Studio is basically a big sell for the Galaxy phones, but it's fun to test out one of the phones and compare it to whatever your device is. Inside the Studio are two "insta-worthy" rooms that you have to borrow a Samsung device to see inside. The process is simple but time-consuming and makes this an experience that takes a while to get inside.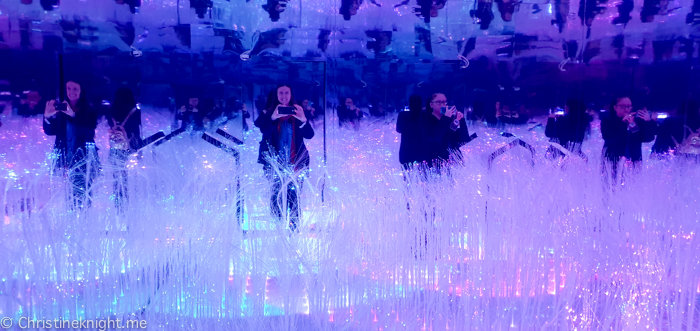 The two experiences are Field of Hearts, where you share your heartbeat with a friend and Ocular Odyssey, which turns your eyes into kaleidoscope art. Both experiences are entered one group at a time, hence the long wait.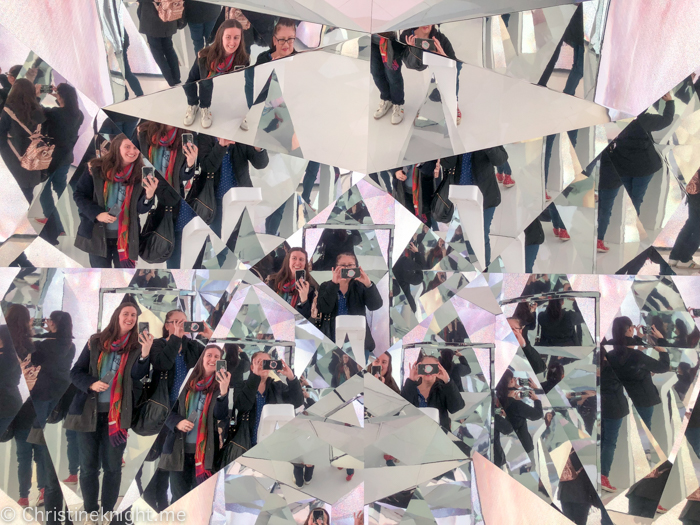 After taking photos on your borrowed device you can save 10 images to your own phone and leave. You can take as many photos and videos on your own device as well but both experiences are on timers and are very short.
Campbell's Cove

My absolute favourite light installation this year is Ballerina, which dances across Campbell's Cove to music that sounds like an old music box. Just stunning.
There are also a few interactive and fun installations north of Campbell Cove worth walking up to see, including the excellent Beat-loon interactive balloons, Regal Peacock and sparkly Let It Snow, which is the last installation as you walk around the circuit. Walk back through The Rocks to experience even more installations.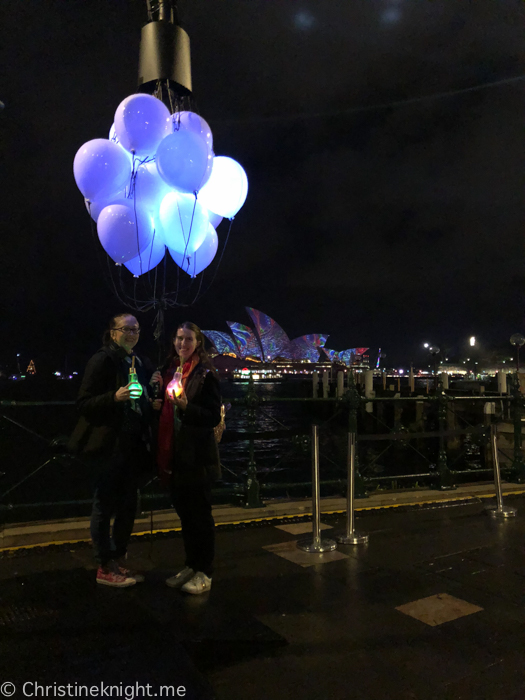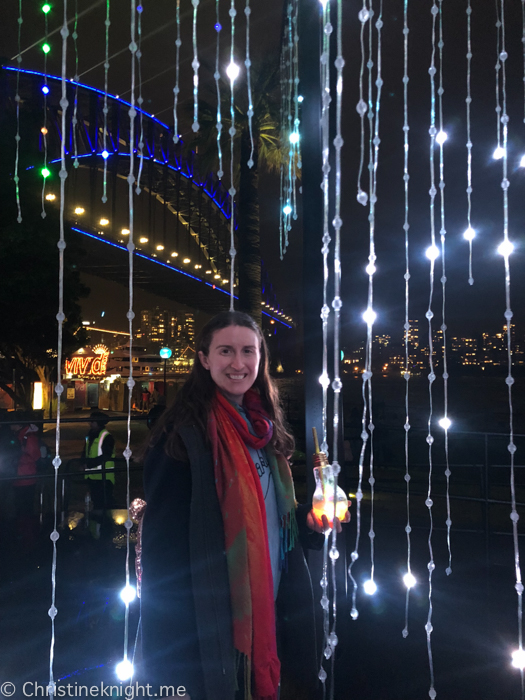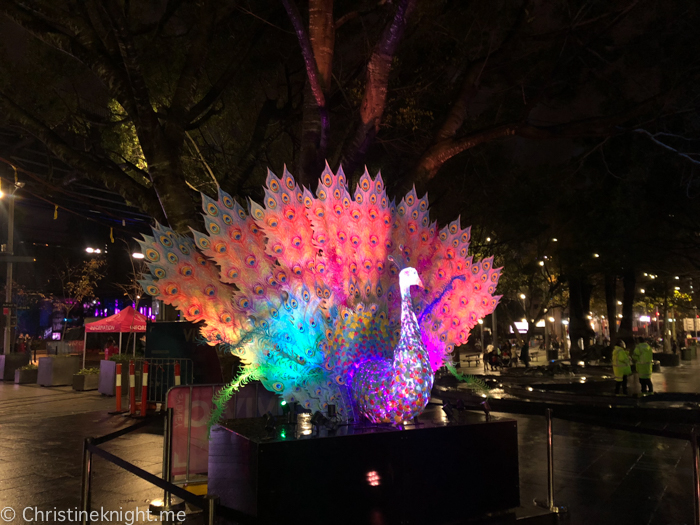 Read about Vivid Sydney at Circular Quay
Darling Harbour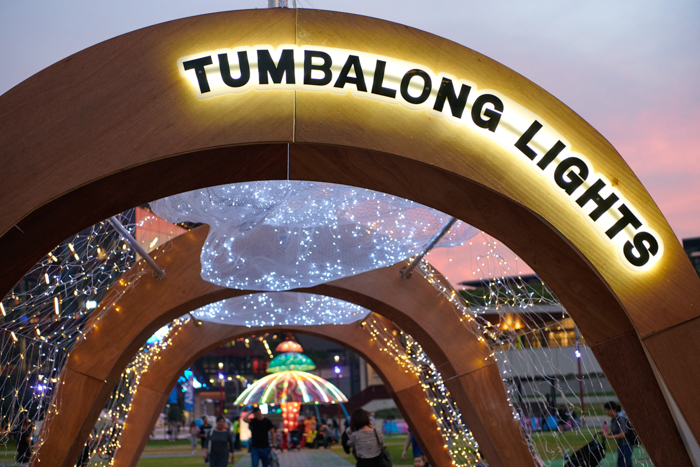 This year Darling Harbour will feature plenty of space-themed installations, with many of the sculptures being interactive and especially designed to be inclusive to give people of all ages and abilities an inclusive and accessible experience.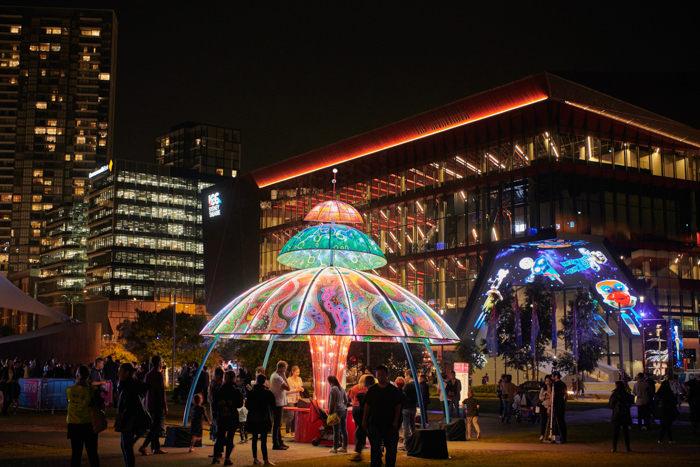 Robot SpaceLAND looks incredible – meet electro-automotive super-bots that have been sent to sow the seeds of a brighter, greener tomorrow.
Vivid Sydney's inclusive playground Tumbalong Lights is back. Inspired by the next frontier, playSPACE will bring together super-scale installations that give intrepid explorers an opportunity to walk Under the Milky Sky, play with Spaceballs, and share different perspectives with See What I See. Low-sensory sessions will be catered for too.
Cristin from artsplorers.com has visited Tumbalong Lights and has this to report:
"The sensory-friendly play space at Tumbalong Park has been revamped this year. Rather than one fenced area with a single entry, there are six free-standing installations, all with a space theme. Kids can get a "passport" card to have stamped after doing each activity, which my 6 year old and her friend got pretty invested in completing.
The passport may be turned in at the end of the night for a chance to win Hoyts movie tickets. There is a a wheelchair ride (younger children will need help from an adult), a musical 'alien' mushroom, a glowing large scale pinball inspired game, an alien face maker, a short movie, and a star-themed installation. Including queues, it took our kids about an hour to do all of the stations and fill up their passports."
Read more about Vivid Sydney at Darling Harbour
Harbour Lights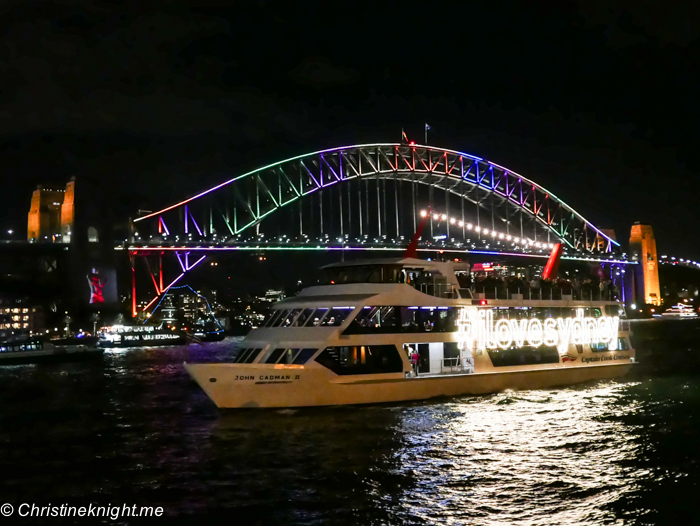 Harbour Lights turns the waters of Sydney Harbour into a light spectacular, with many vessels moving across the water in a gentle, synchronised lighting display. A cruise is a great way to see Vivid Sydney lights.
Read more about Vivid Sydney Harbour Lights and cruises
Luna Park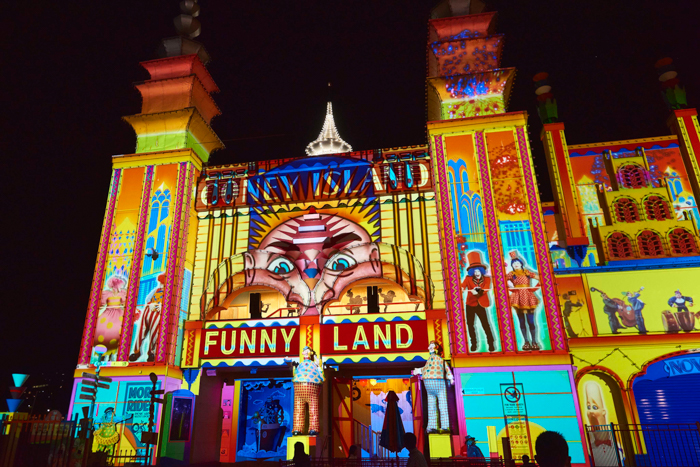 The entire Amusement Park comes alive with brilliant shapes, patterns and colours that light
the Midway promenade and enhance high-octane rides such as the new family thrill ride –
Volaré. Coney Island celebrates the unique history and magic of Luna Park with a grand projection on its exterior.
Read more about Vivid Sydney at Luna Park
Taronga Zoo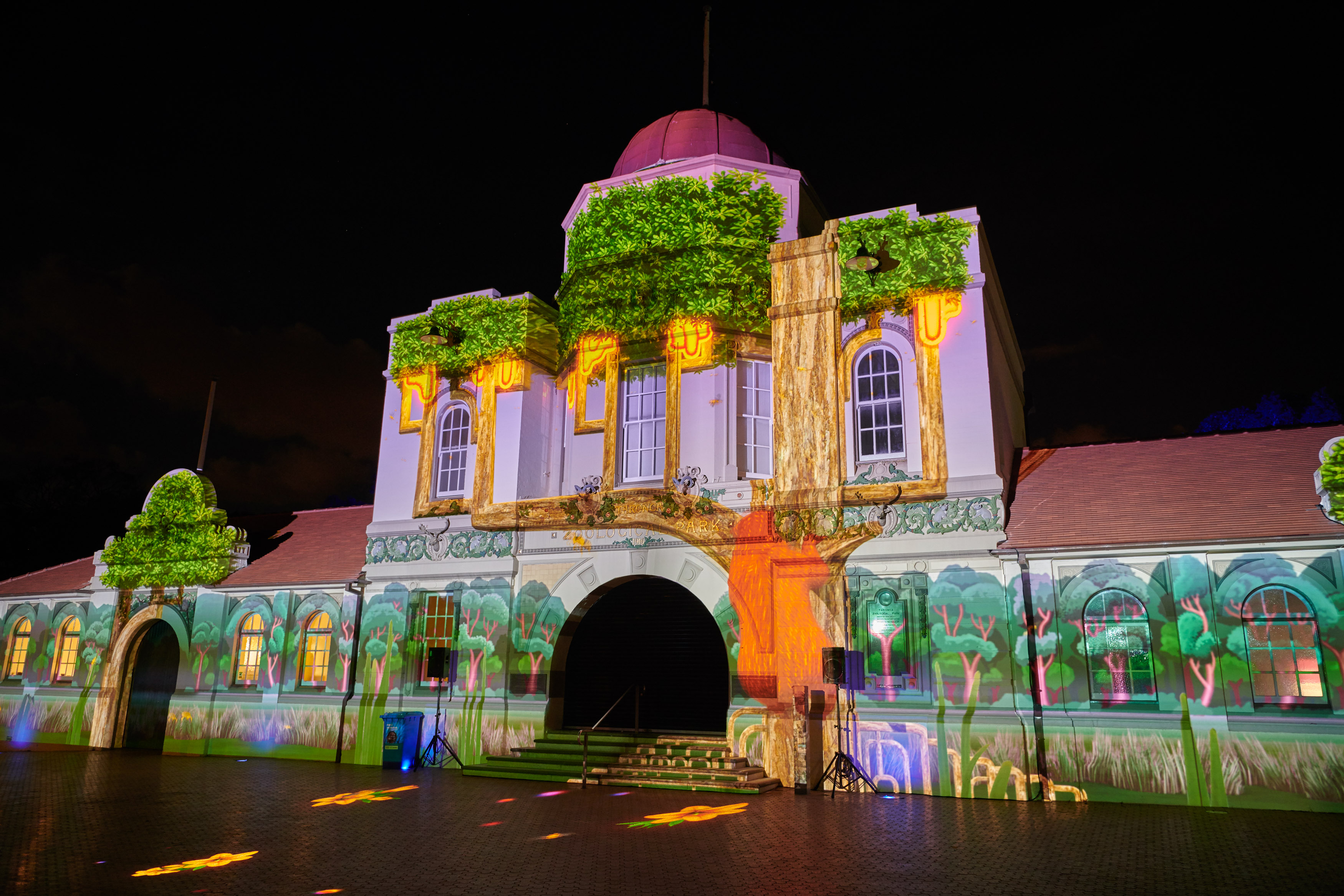 We attend Vivid at Taronga Zoo every year. Their "Lights for the Wild" display focuses on animal conservation. Over 100 sculptures are ready to be discovered on a light trail through the zoo.
Read more about Vivid Sydney at Taronga Zoo
The Rocks
Duck in and out of historic laneways and discover a treasure trove of light sculptures.
Museum of Contemporary Art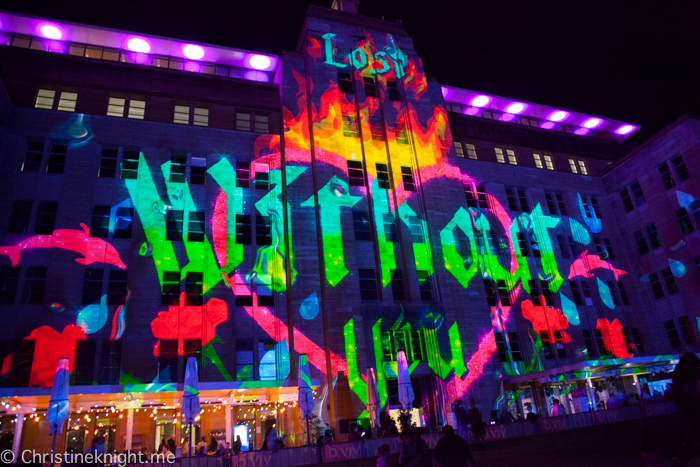 Pull up a seat out the front of the MCA to watch Claudia Nicholson's Let Me Down illuminate the front of the building. It's mesmerising.
Argyle Cut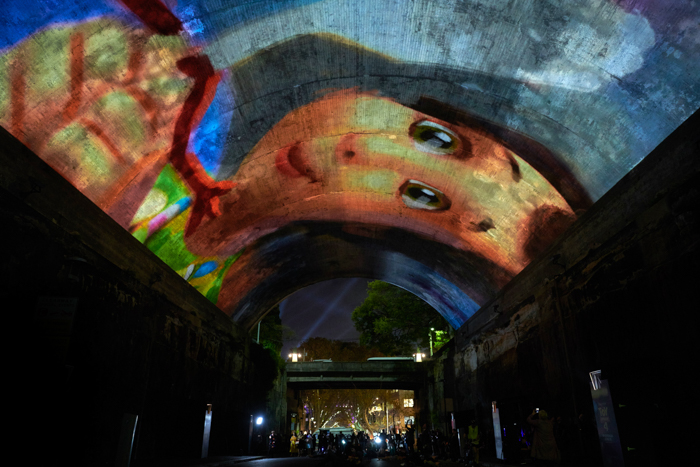 We loved the Pixar: 30 Years of Art & Animation light show at the Argyle Cut. The characters from Pixar Animation Studios most beloved stories come alive in this beautiful installation that spans Pixar's history and shares glimpses of the art behind the films.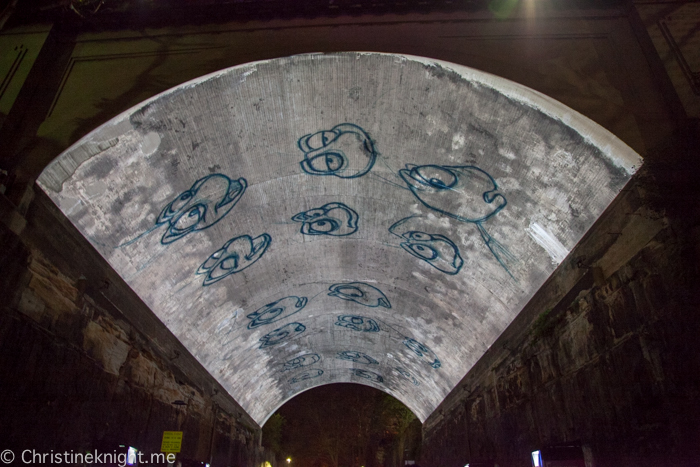 There are even behind-the-scenes sneak-peek at images from the upcoming Toy Story 4, which hits cinemas June 20, 2019.
Pieces of fake grass are on the cement to lie down on and watch from the floor.
We loved Bug Hunt, which lets viewers "hunt" for bugs projected into a building and Bubble Magician even though it was broken.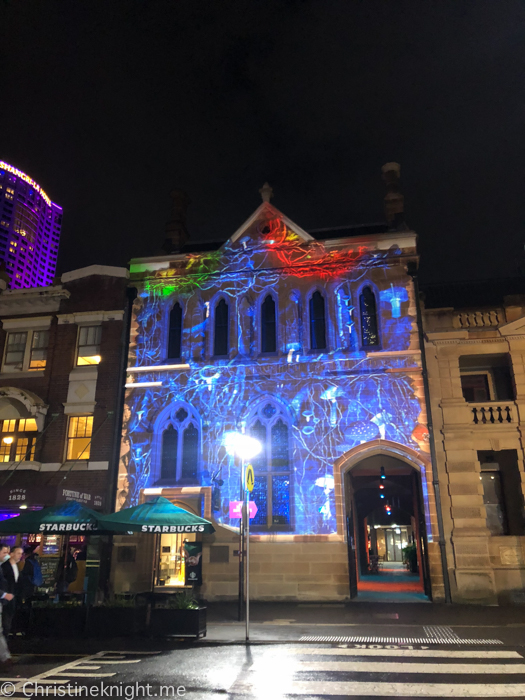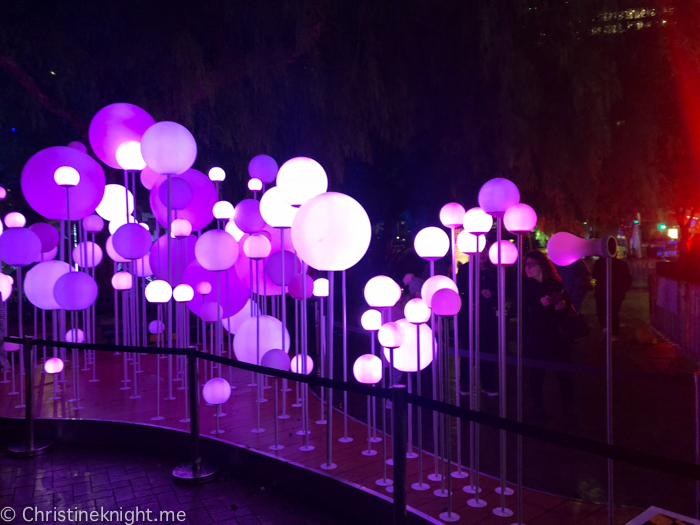 Read more about Vivid Sydney at The Rocks
The Royal Botanic Gardens Sydney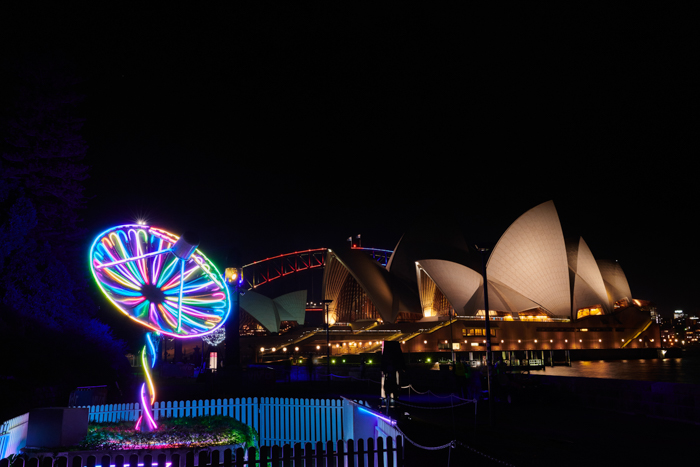 Always a beautiful location to see light sculptures by the ocean, with the Sydney Opera House in the background, the Royal Botanic Gardens are a fave of mine at Vivid Sydney every year.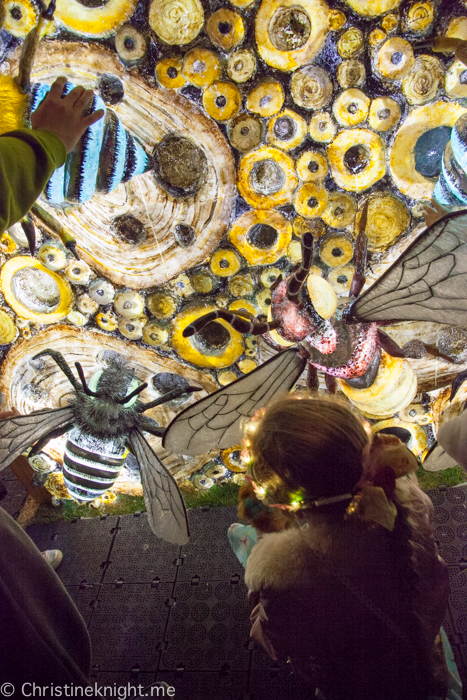 While most of the light sculptures this year in the gardens are interactive, making this a hot spot for families, the highlight for us was Beetopia, a giant glowing bee hotel with oversized, colourful native bees crawling all over it. Specifically designed to be inclusive and accessible for people of all abilities. Push the bees' bottoms to make them buzz!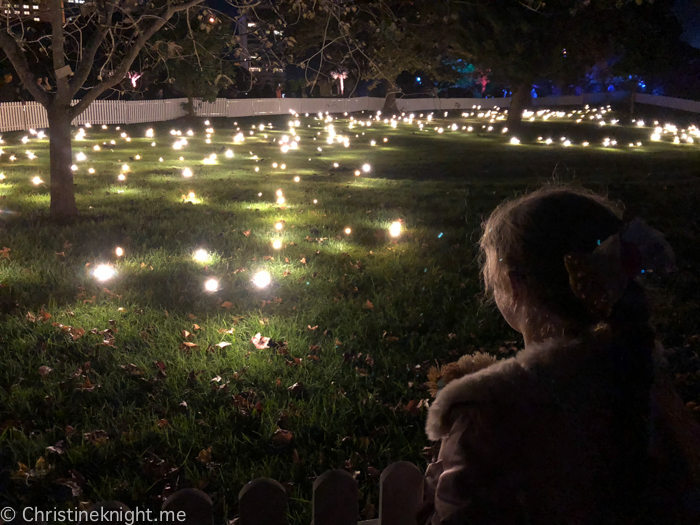 The mesmerising firefly field is back, and there are several sculptures that respond to sound and movement.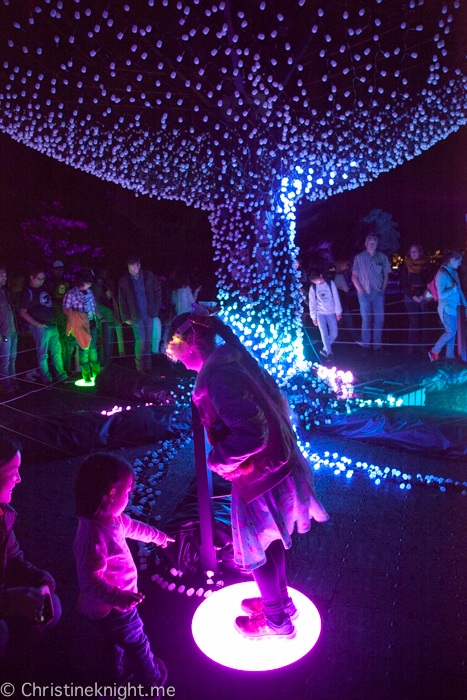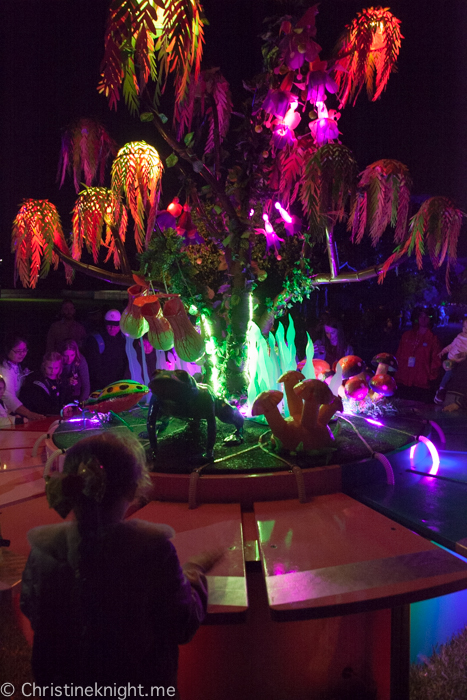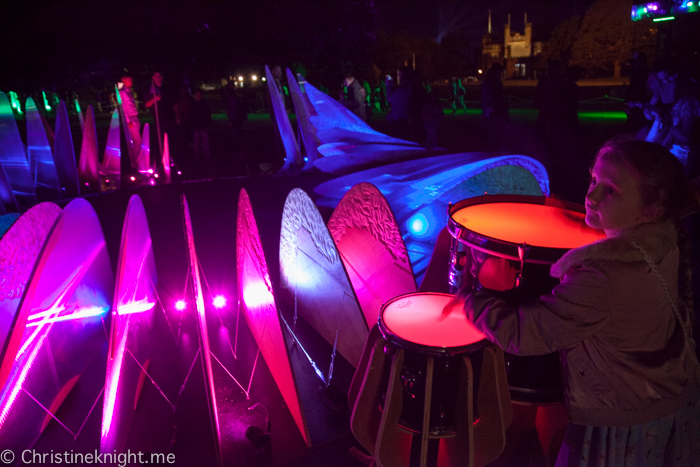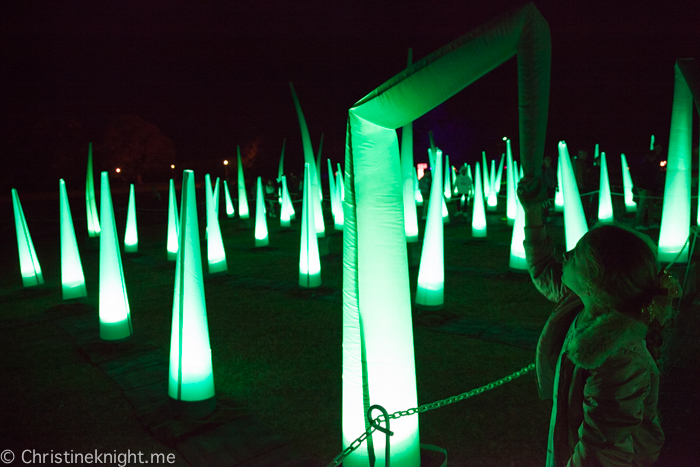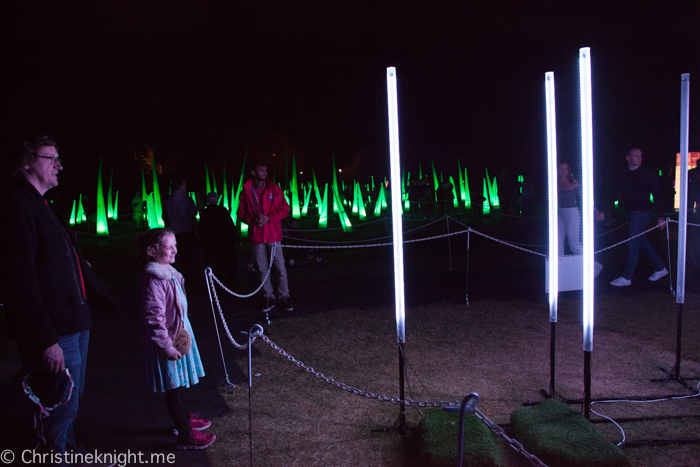 There is also a pop up food court in the middle of the light walk.
Read more about Vivid Sydney at The Royal Botanic Gardens Sydney
General Vivid Sydney Tips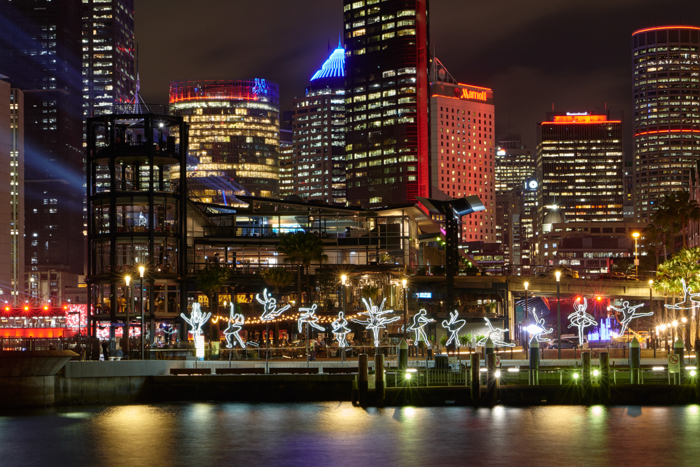 Arrive BEFORE the lights turn on
Find a prime position near the lights that you want to see the most without a hoard of people and wait patiently until the lights get switch on. BAM – lights minus the crowds.
Lights go on at 6pm at all locations other than Taronga Zoo, where the lights go on at 5:30pm.
Hit up the most popular installations first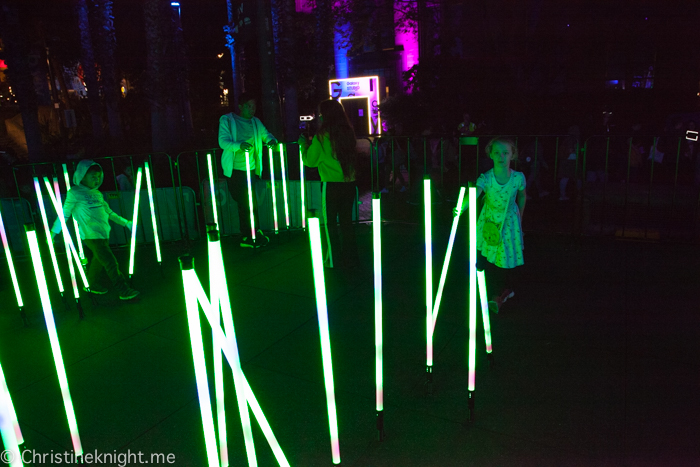 This has always been a key for me in conjunction with the point above. I circle back to those that it's easy to see even with a crowd last, such as the Customs House, MCA and Sydney Opera House.
See the lights without the crowd
There are a few spots where you can see Vivid lights that are away from the general crowd. For a good view of the Harbour head to the top of the Cahill Expressway (lift at Circular Quay).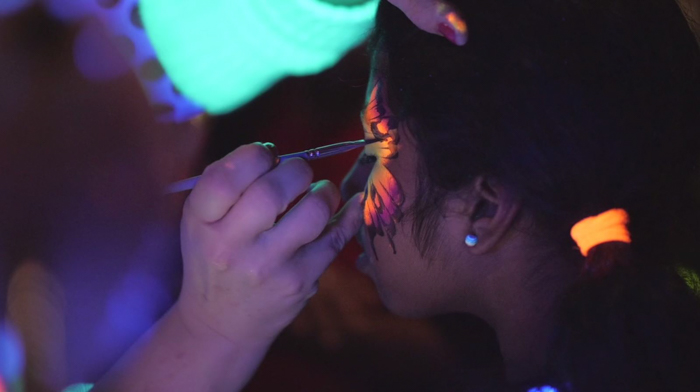 Sydney Tower Eye is the city's tallest building and offers the best view of VIVID up above – especially to witness the moment the city light's up at 6pm. There's also a range of activities taking place on the Observation Deck such as: free glow-in-the-dark face painting for all ages, every night during VIVID (24 May to 16 June) on the Observation Deck from 5 to 7pm and capture the ultimate snap in the mesmerising pop-up light box, Endless Lights which offers a unique illusion of great height and depth.
Lastly, walk over the Sydney Harbour Bridge. It's free to walk the pedestrian and bike path. I would suggest walking in one direction from The Rocks to Milsons Point, and catching the train back again.
Dedicate several nights to see it all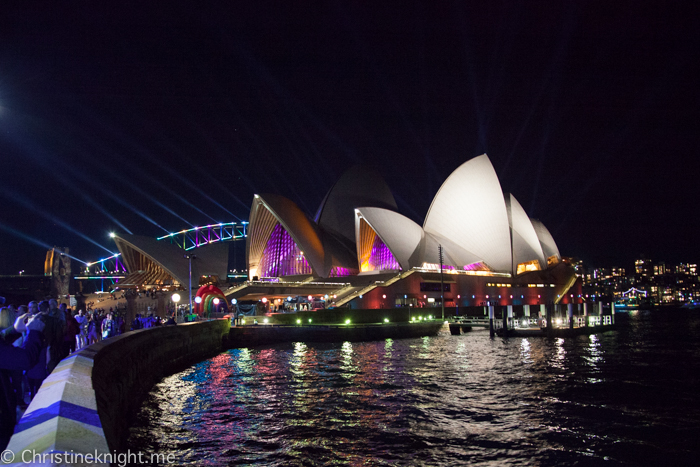 I'm sure it's possible to see everything in one go, but why do it if you can spread it out? With so many locations, Vivid really needs at least three nights to see everything. Break it down into sections that can be covered together. Taronga and Chatswood or Luna Park, Circular Quay, Martin Place and Botanic Gardens plus Barangaroo and the Rocks, and lastly Darling Harbour, which can be done with another of the options with a bit of commuting in between.
Rug up!
It gets cold at night, especially near the water. Dress warm including a coat and a beanie and gloves.
Take the kids to Taronga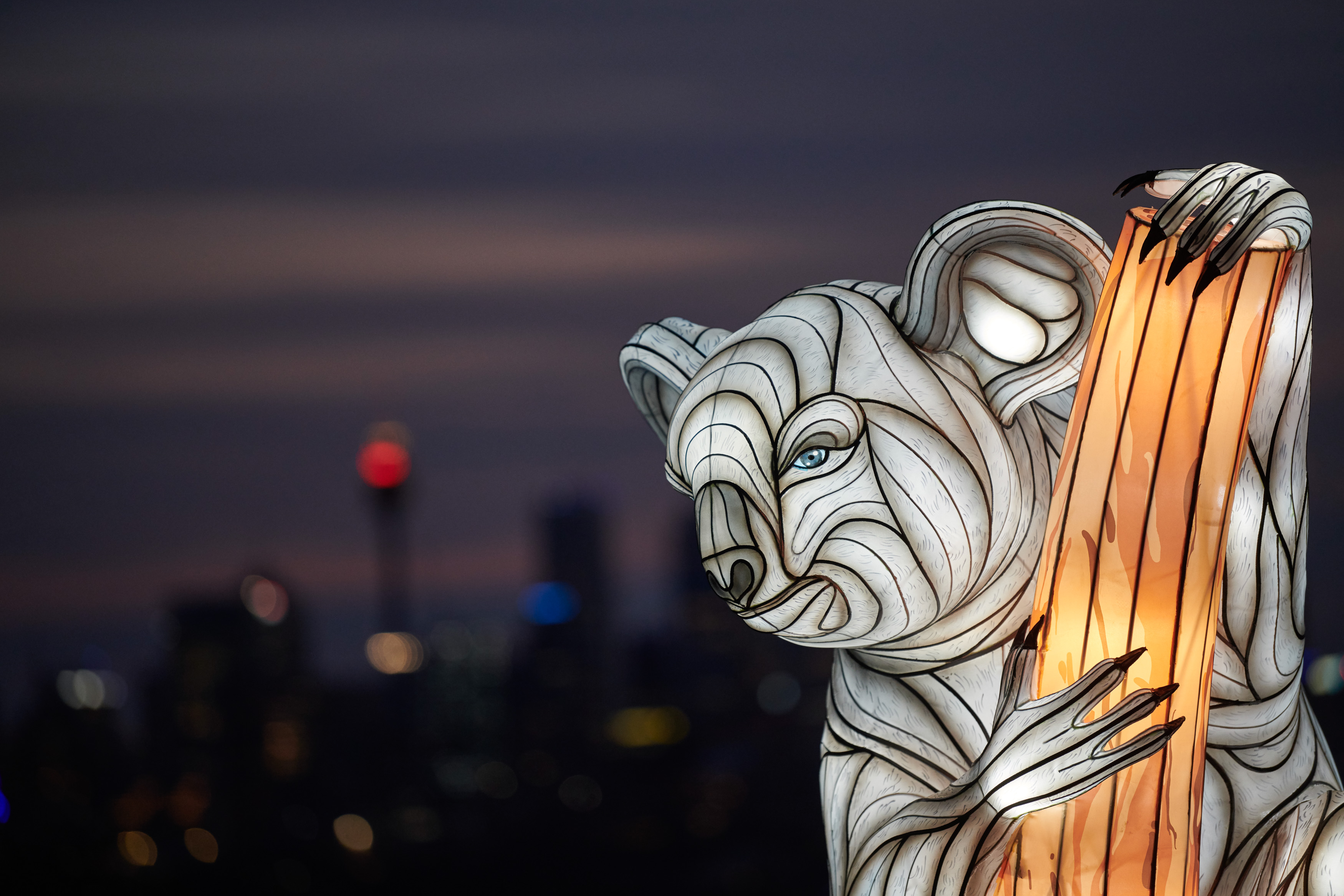 This is my pick for kids because it's ticketed, so less people, and the lights go on earlier than the other locations.
Read about what to expect from Vivid Sydney at Taronga Zoo here.
Don't bypass the smaller Vivid locations, especially with kids
With kids in tow, the locations such as Darling Harbour and Chatswood are also an excellent idea as these spots don't get as large crowds as the CBD does.
Chatswood is excellent as it is right next to the station and lots of restaurants for a pre-Vivid dinner and easy getaway – and lights go on at 5:50pm.
Darling Harbour has lots of interactive and accessible installations.
Pick a quiet day to go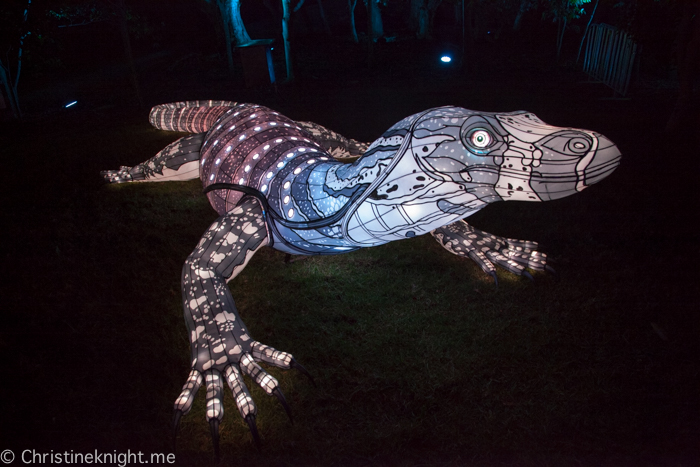 We always go the first weekend or Monday to Thursday. The first few days are always the quietist, before photos start appearing in the news and reminding people that it's on. The second weekend, from Friday onwards, is when it starts to get really busy. If there is a big event on elsewhere while Vivid is on, that is also a great night to go!
Take public transport to the city or pre-book parking
Pre-book a car spot if you ca't take public transport as parking is an absolute nightmare. When taking public transport, be aware that Circular Quay train station might be busy and be prepared to walk to another station if needed.
This year we packed near the Langham Hotel in a four-hour parking zone on a Saturday so it was pretty reasonably priced.
Find the best places to park for Vivid here.
Bring carriers or strollers for kids
This is for two reasons – one, because it's night time and little people get tired, but also to keep them out of the way of being stepped on by adults.
Eat food first
We always arrive early in the city and eat before the lights even turn on. My pick is Gateway Sydney for casual, great food. There is a pop up food court at the bottom of the Overseas passenger Terminal which is great to hit up early in the evening but is a nightmare to try to buy anything from later in the evening.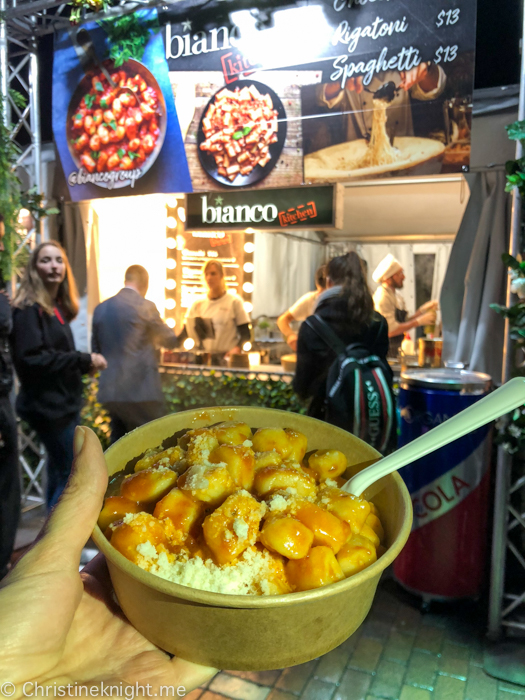 We also ate at the food trucks for the first time this year and found the quality to be excellent. I highly enjoyed the vegan gnocci for $16, feta, spinach and sweet potato gozleme for $15 and a mango green tea bubble tea in a light up bulb for $13. It was great to see several vegan and vegetarian options.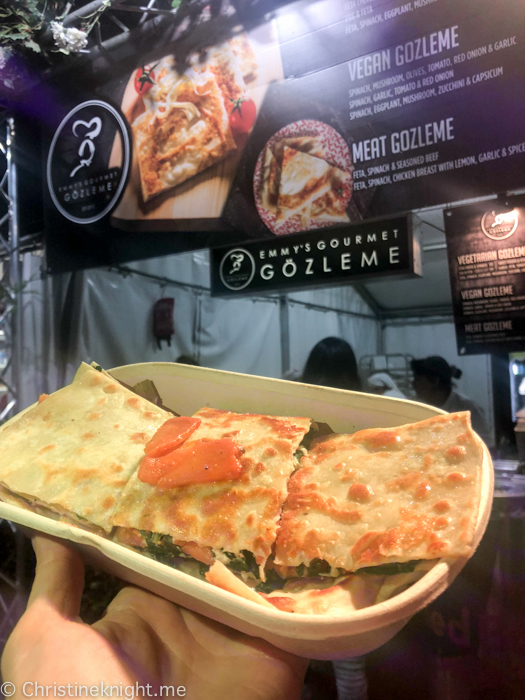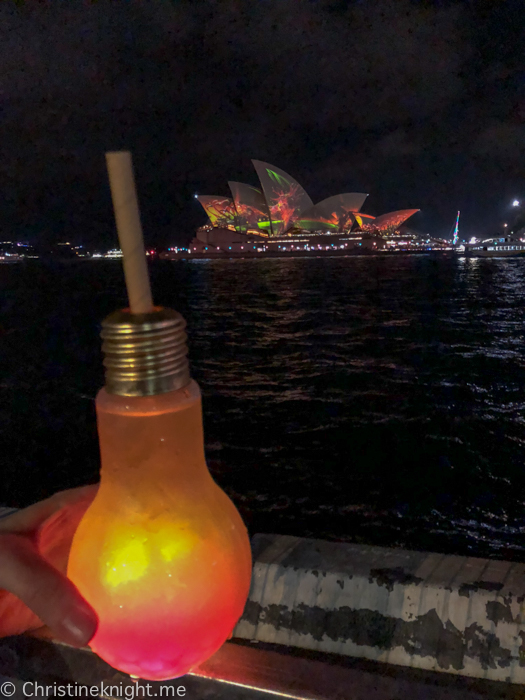 Tips for seeing Vivid with kids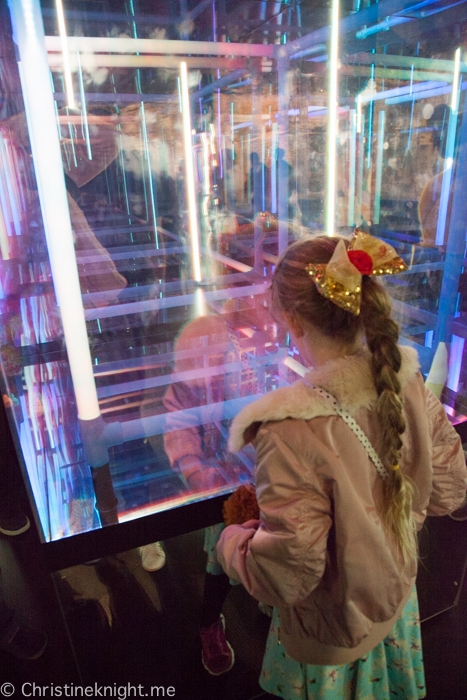 Take them to Taronga or Chatswood, where lights go on at 5:30pm instead of 6pm and the crowds aren't as bad. Darling Harbour, with its interactive light playground, is an excellent choice for families as well.
Take a stroller or baby carrier for little ones.
Feed them first or bring plenty of food for on the go.
Pick up free Lost Child Wristbands for the kids at info booths located on near the Overseas Passenger Terminal, Customs House and Darling Harbour.
Dress kids in high visibility clothing and keep them in sightline at all times.
Pick one area to see at a time and return another night to see more.
Photography Tips
Take a good camera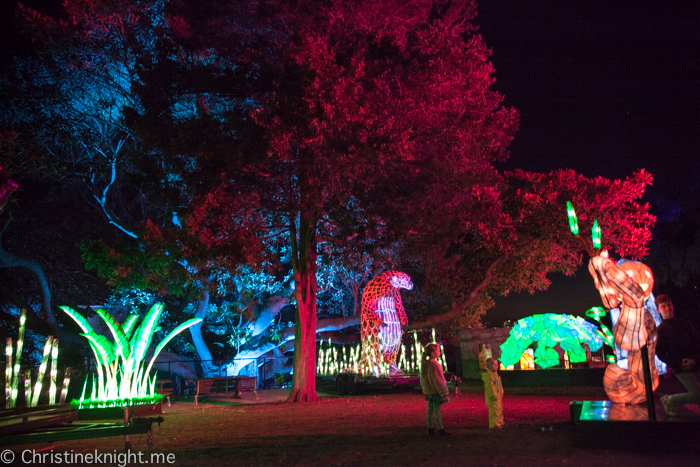 Take the best one you have. If you have an SLR, bring it. If the best you have is a point and shoot or your phone, then that will do. One of my old photography teachers once said "the best camera is the one you've got" and I've always remembered it!
A better camera will however produce better results, so when you're in a tricky lighting situation such as an event after dark, I find it's always worth bringing the best camera you've got.
Turn off the flash
Please, please, please turn off your flash! A good flash on an SLR camera only has a range of about a metre, so a flash on a phone is even more ineffectual. Use light from the installations to illuminate your subject matter rather than the flash.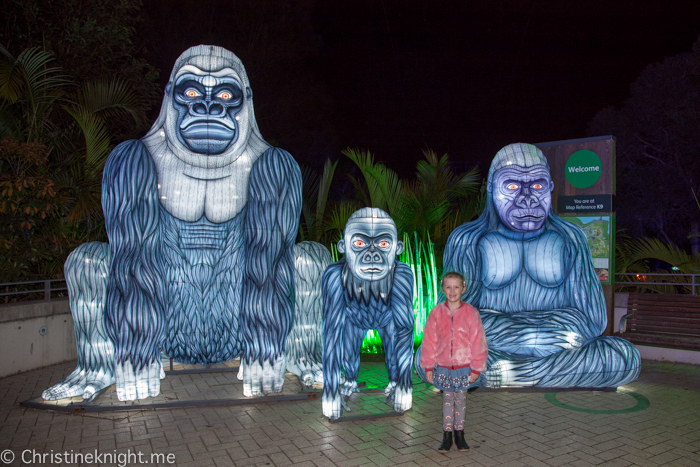 Caveat: If your subjects are standing in front of an extremely large light sculpture and you want them facing the camera with the object BEHIND them, then this is the one time when I would suggest using the flash. There is a photography op at Taronga with gorillas that is exactly this circumstance.
Use the sculptures to light faces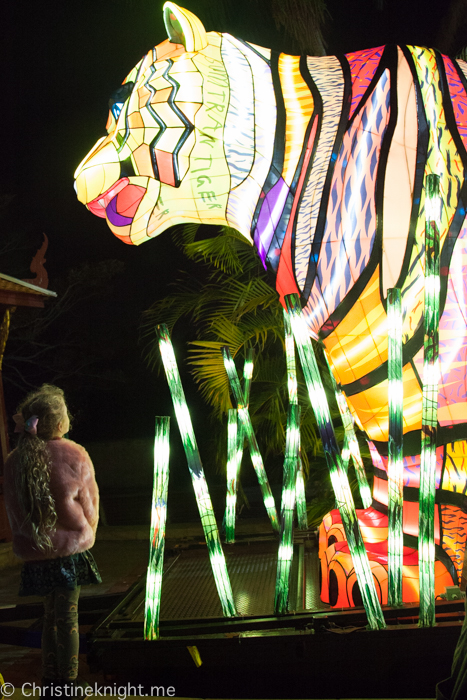 Instead of using the flash, position people near the sculptures with the light directing onto them faces. Move yourself into a position where you can see the faces illuminated. Then take the photo.
Take a tripod
Obviously this is a "if you have one" scenario. In any lowlight situation a tripod is your best friend to providing camera stability and resulting in sharper images without needing to over compensate for the low light by adjusting other camera settings as much.
Lean on fences or props
If you don't have a tripod or, like me, don't take one because they're quite hard to manage with a crowd or you've got kids in tow, wedge your camera on solid, immovable objects to get sharper shots. I use fences, the backs of chairs, you get the picture.
Bump up the ISO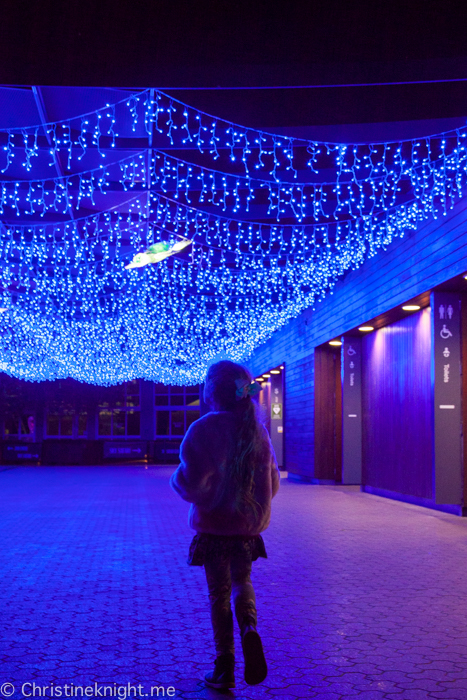 If you have manual settings on your camera, bump up the ISO A LOT. I bump mine way up to ensure that the photos are in focus. The photos are grainier as a result, but at least they're in focus.
Give kids an old camera or phone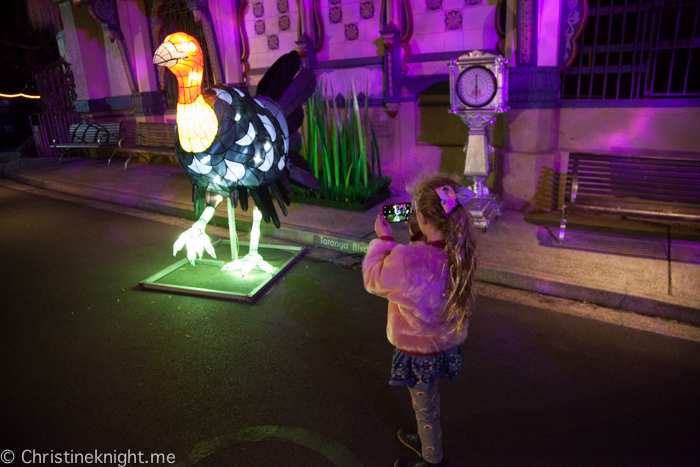 I gave Cheese my iPhone to shoot with this year and I loved the photos she came up with. Kids have a different perspective to adults so the angles and perspectives she shot were completely different to mine.
Get more info on Vivid Sydney here.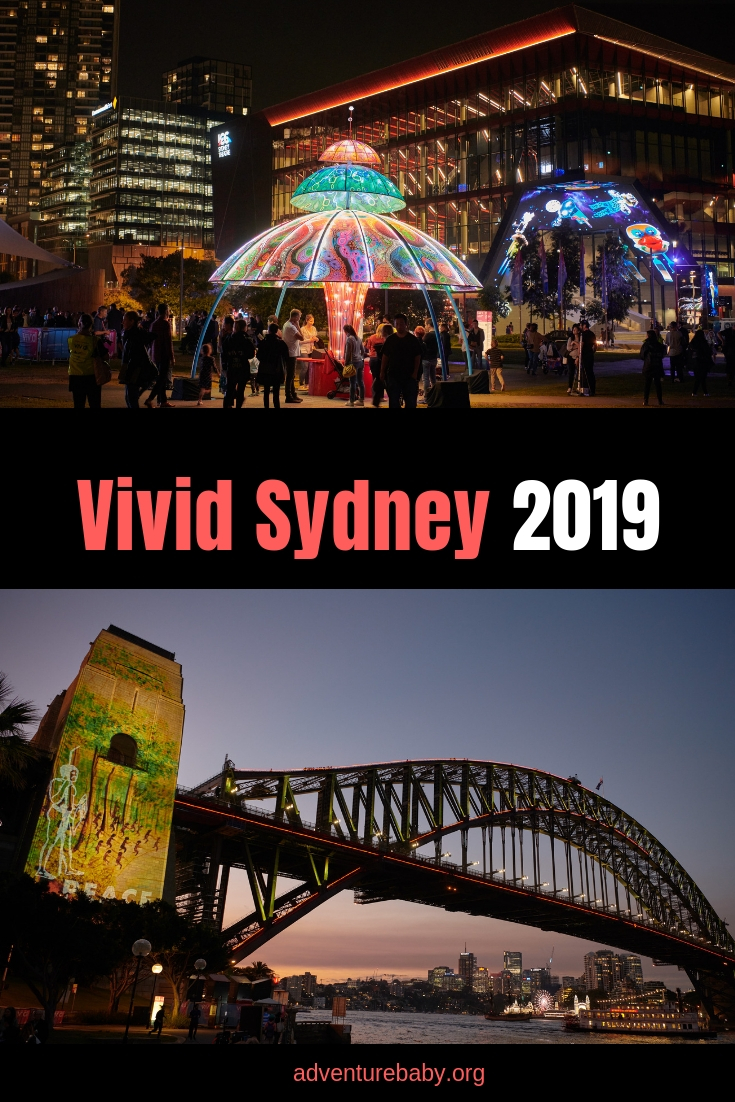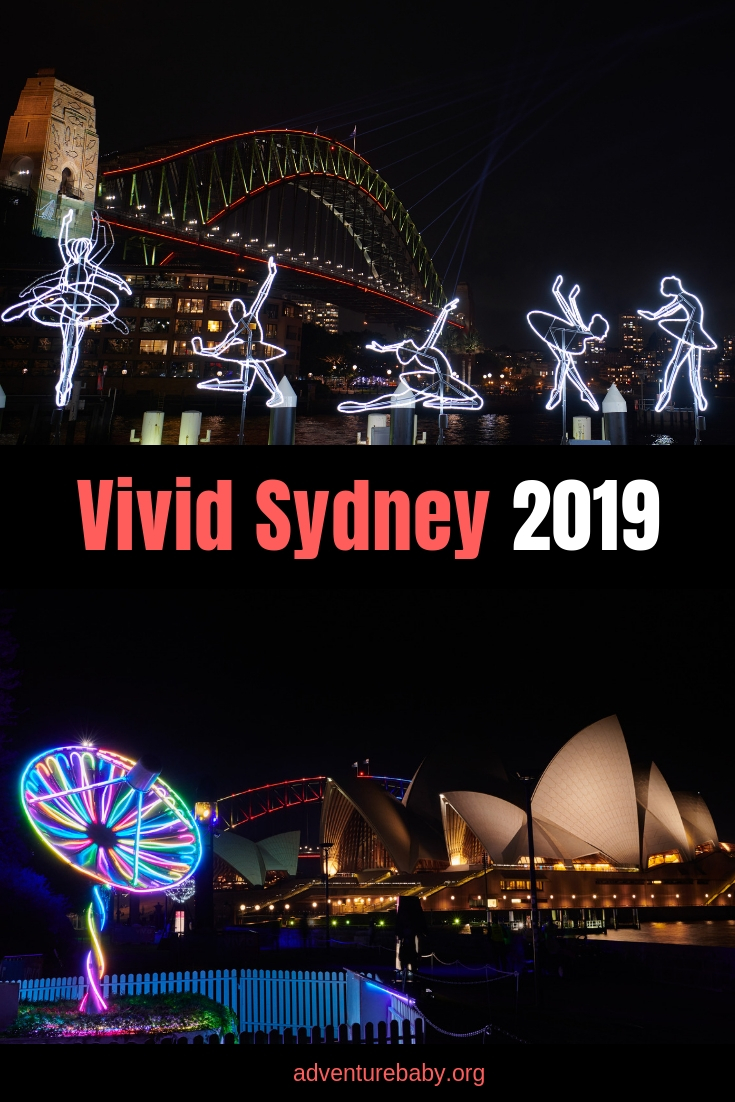 Additional images thanks to Destination NSW.