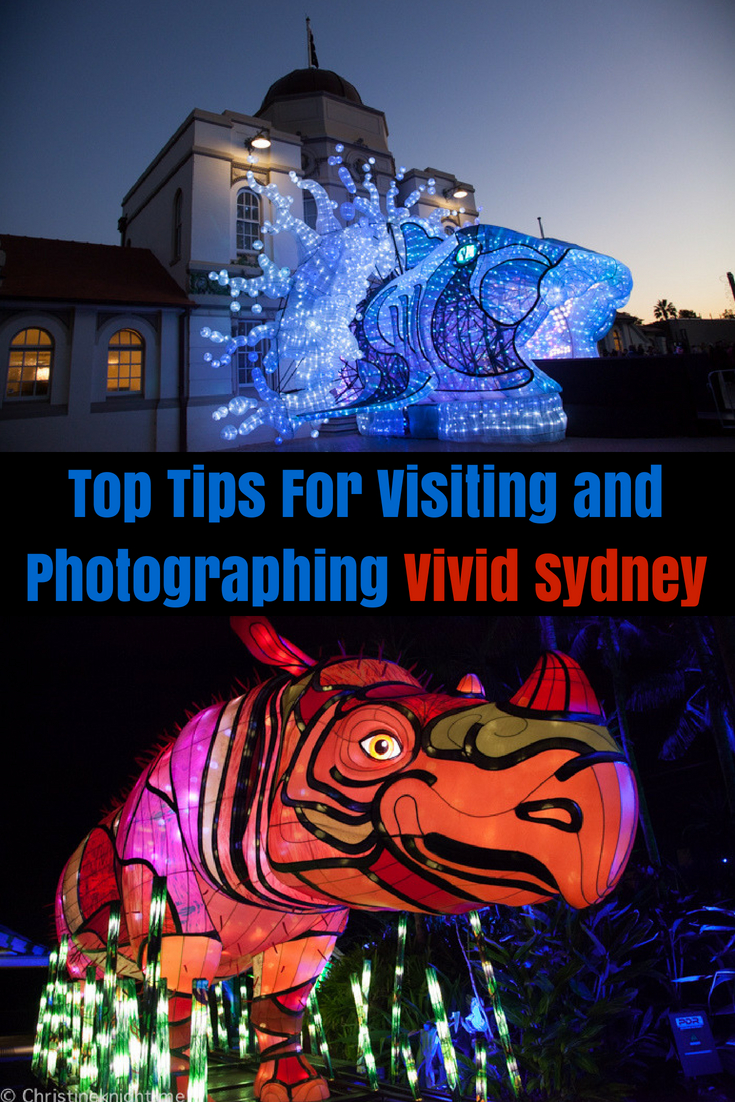 Vivid Sydney is, without a doubt, one of my favourite times of year. 2019 marks the 11th anniversary of Vivid Sydney, the world's largest festival of light, music and ideas. From 25 May to 16 June the event lights up Sydney over 11 precincts, each featuring their own unique light sculptures.
Top Tips For Visiting and Photographing Vivid Sydney
What's on at all 11 precincts
This year Vivid Sydney is spread across 11 precincts. Each features their own specific light installations.
Barangaroo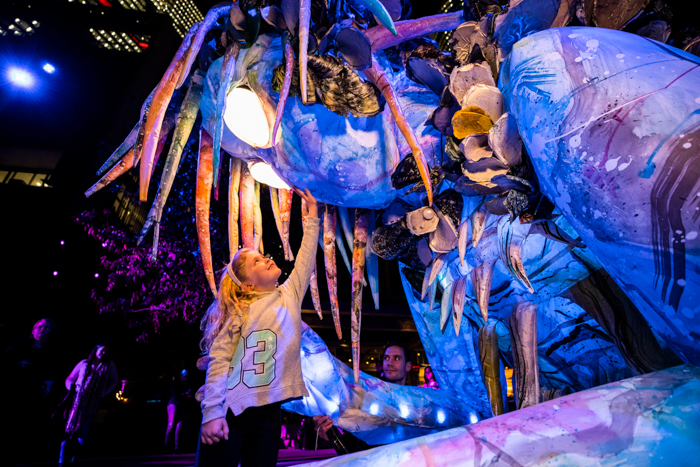 This incredible, giant puppet, was made by Erth, the creators of Erth's Dinosaur Zoo. It has to be seen to be believed!
Read about Vivid Sydney at Barangaroo
Chatswood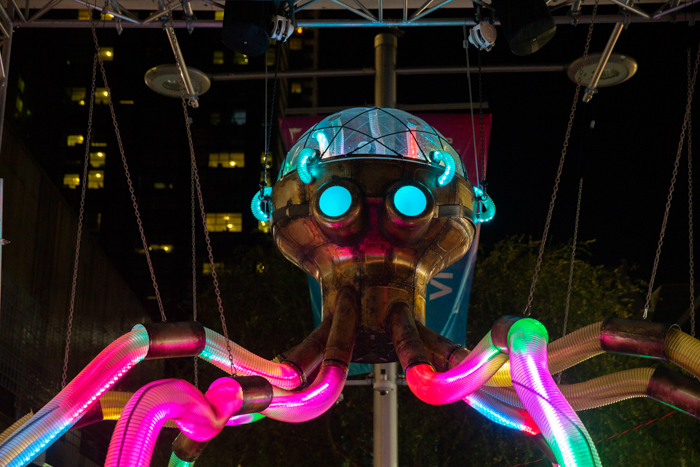 The octopus returns! Chatswood is a top pick for taking kids to see Vivid. Lights go on at 5:30pm at Chatswood! Perfect for taking the kids. Grab some food at around 5pm and you've got yourself the perfect early night Vivid experience.
Read about Vivid Sydney at Chatswood
Circular Quay
The best view of the Sydney Opera House is from the Overseas Passenger Terminal.
Read about Vivid Sydney at Circular Quay
City and Surrounds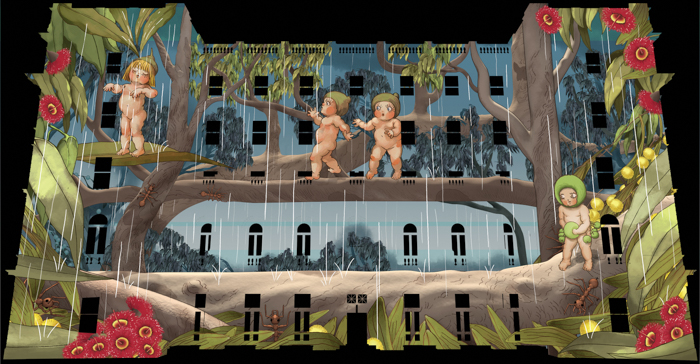 A must-see tis year is the Snugglepot and Cuddlepie projection on the Customs House.
Read about Vivid Sydney in the Sydney CBD
Darling Harbour


This year Darling Harbour will feature an inclusive light playground, Tumbalong Lights. The light display has four interactive play installations that give children of all ages and abilities an inclusive and accessible experience.
Darling Harbour is a top pick for families.
Read more about Tumbalong Lights.
Read more about Vivid Sydney at Darling Harbour
Harbour Lights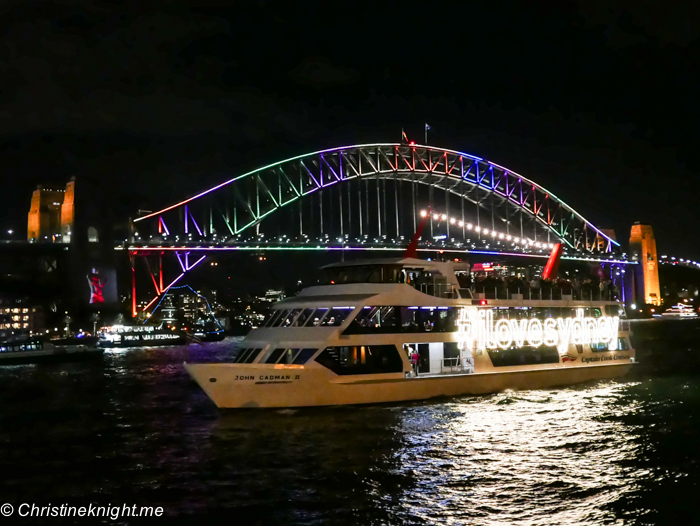 Read more about Vivid Sydney Harbour Lights
Kings Cross
Read more about Vivid Sydney at Kings Cross
Luna Park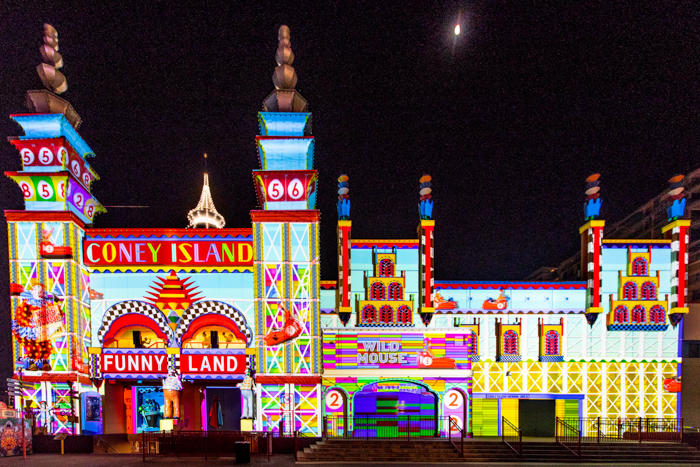 Read more about Vivid Sydney at Luna Park
Taronga Zoo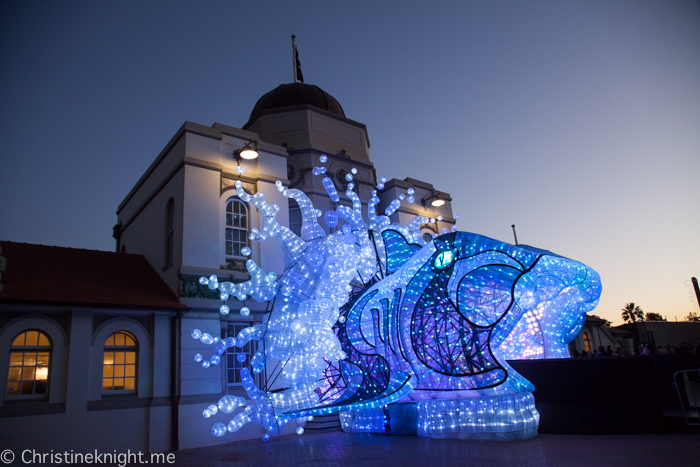 We attend Vivid at Taronga Zoo every year. Their "Lights for the Wild" display focuses on animal conservation. Over 100 sculptures are ready to be discovered on a light trail through the zoo.
Read more about Vivid Sydney at Taronga Zoo
The Rocks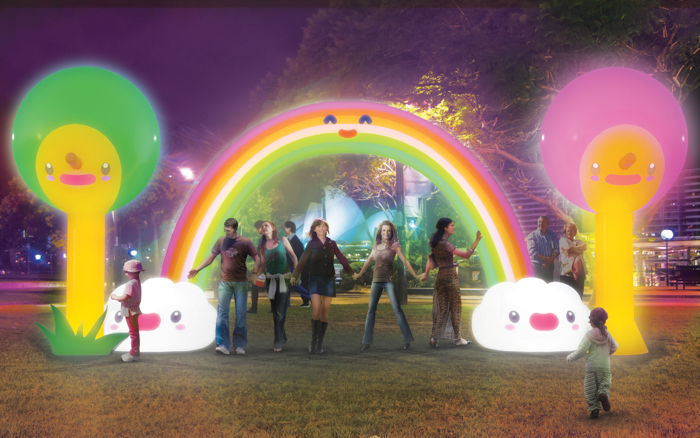 Duck in and out of historic laneways and discover a treasure trove of light sculptures.
Read more about Vivid Sydney at The Rocks
The Royal Botanic Gardens Sydney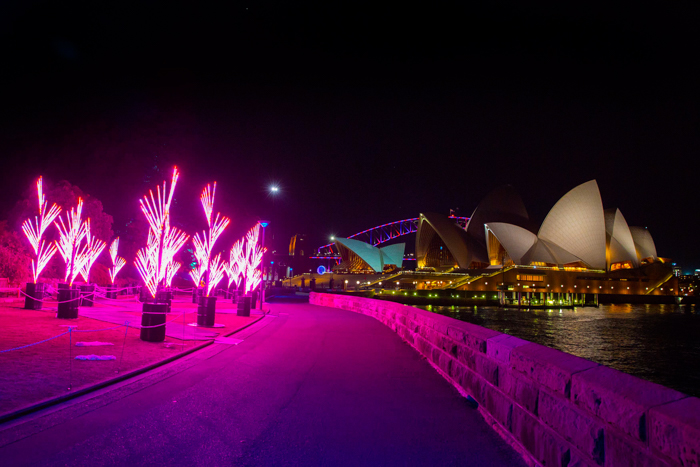 Always a beautiful location to see light sculptures by the ocean, with the Sydney Opera House in the background.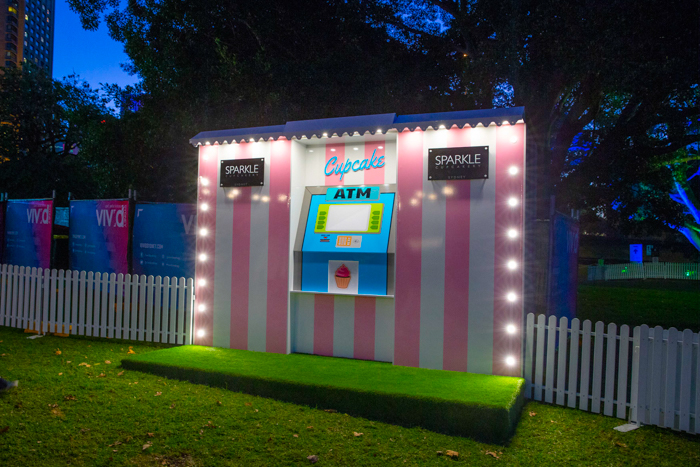 This year, grab a cupcake ($7) from a Sprinkles cupcake vending machine on the trail.
Read more about Vivid Sydney at The Royal Botanic Gardens Sydney
General Vivid Sydney Tips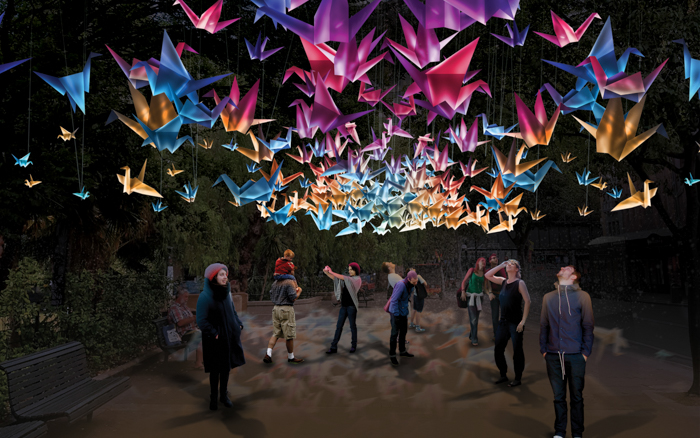 Arrive BEFORE the lights turn on
Find a prime position near the lights that you want to see the most without a hoard of people and wait patiently until the lights get switch on. BAM – lights minus the crowds.
Lights go on at 6pm at all locations other than Taronga Zoo, where the lights go on at 5:30pm.
Hit up the most popular installations first
This has always been a key for me in conjunction with the point above. I circle back to those that it's easy to see even with a crowd last, such as the Customs House, MCA and Sydney Opera House.
See the lights without the crowd
There are a few spots where you can see Vivid lights that are away from the general crowd. For a good view of the Harbour head to the top of the Cahill Expressway (lift at Circular Quay).
You can also visit the Observation Deck of the Sydney Tower Eye for a birds-eye view of the lights, zero crowds!
Lastly, walk over the Sydney Harbour Bridge. It's free to walk the pedestrian and bike path. I would suggest walking in one direction from The Rocks to Milsons Point, and catching the train back again.
Dedicate several nights to see it all
I'm sure it's possible to see everything in one go, but why do it if you can spread it out? With so many locations, Vivid really needs at least three nights to see everything. Break it down into sections that can be covered together. Taronga and Chatswood or Luna Park, Circular Quay, Martin Place and Botanic Gardens plus Barangaroo and the Rocks, and lastly Darling Harbour, which can be done with another of the options with a bit of commuting in between.
Rug up!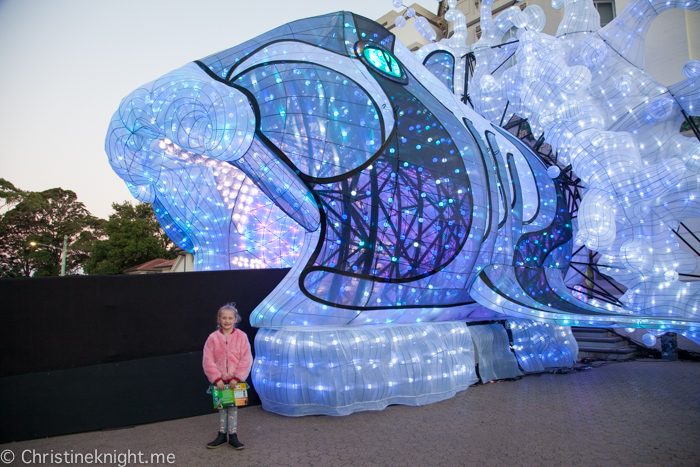 It gets cold at night, especially near the water. Dress warm including a coat and a beanie and gloves.
Take the kids to Taronga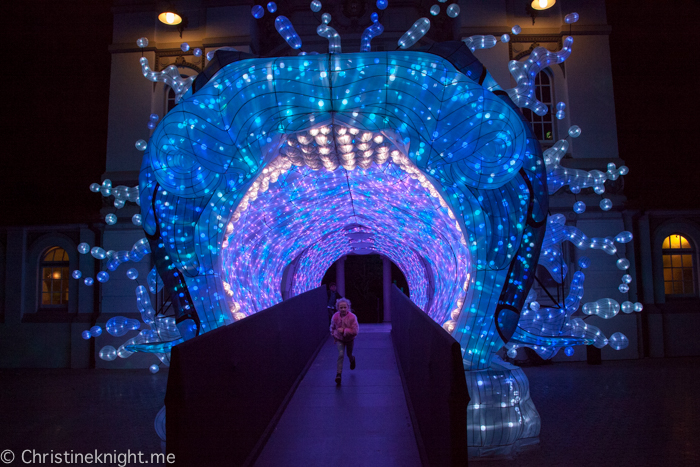 This is my pick for kids because it's ticketed, so less people, and the lights go on earlier than the other locations.
Read about what to expect from Vivid Sydney at Taronga Zoo here.
Don't bypass the smaller Vivid locations, especially with kids
With kids in tow, the locations such as Darling Harbour and Chatswood are also an excellent idea as these spots don't get as large crowds as the CBD does.
Pick a quiet day to go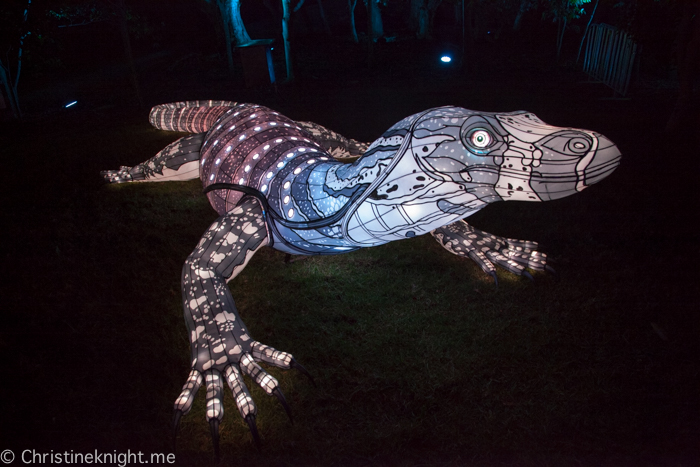 We always go the first weekend or Monday to Thursday. The first few days are always the quietist, before photos start appearing in the news and reminding people that it's on. The second weekend, from Friday onwards, is when it starts to get really busy. If there is a big event on elsewhere while Vivid is on, that is also a great night to go!
Take public transport to the city or pre-book parking
Pre-book a car spot if you ca't take public transport as parking is an absolute nightmare. When taking public transport, be aware that Circular Quay train station might be busy and be prepared to walk to another station if needed.
Find the best places to park for Vivid here.
Bring carriers or strollers for kids
This is for two reasons – one, because it's night time and little people get tired, but also to keep them out of the way of being stepped on by adults.
Eat food first
We always arrive early in the city and eat before the lights even turn on. My pick is Gateway Sydney for casual, great food.
Tips for seeing Vivid with kids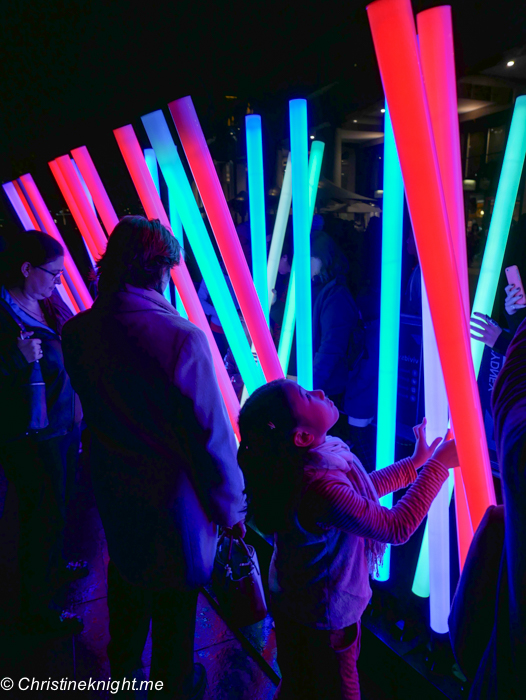 Take them to Taronga or Chatswood, where lights go on at 5:30pm instead of 6pm and the crowds aren't as bad. Darling Harbour, with its interactive light playground, is an excellent choice for families as well.
Take a stroller or baby carrier for little ones.
Feed them first or bring plenty of food for on the go.
Pick up free Lost Child Wristbands for the kids at info booths located on near the Overseas Passenger Terminal, Customs House and Darling Harbour.
Dress kids in high visibility clothing and keep them in sightline at all times.
Photography Tips
Take a good camera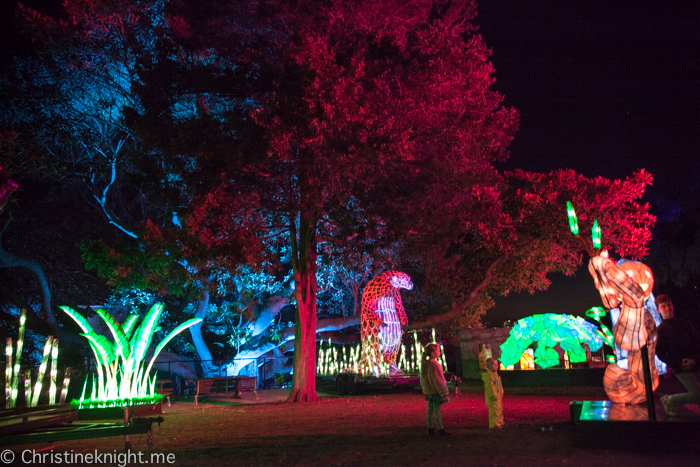 Take the best one you have. If you have an SLR, bring it. If the best you have is a point and shoot or your phone, then that will do. One of my old photography teachers once said "the best camera is the one you've got" and I've always remembered it!
A better camera will however produce better results, so when you're in a tricky lighting situation such as an event after dark, I find it's always worth bringing the best camera you've got.
Turn off the flash
Please, please, please turn off your flash! A good flash on an SLR camera only has a range of about a metre, so a flash on a phone is even more ineffectual. Use light from the installations to illuminate your subject matter rather than the flash.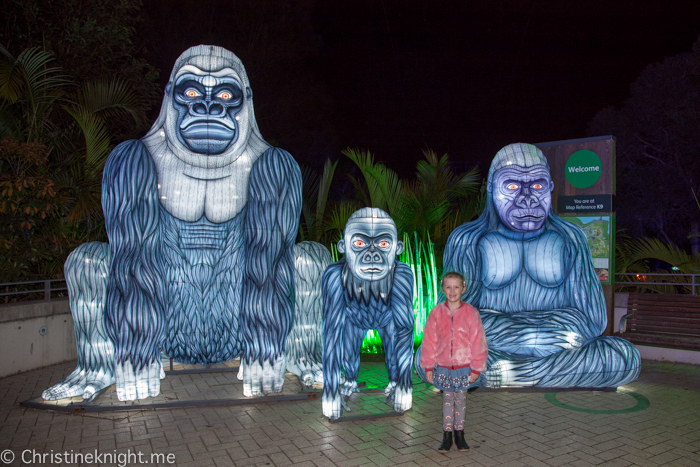 Caveat: If your subjects are standing in front of an extremely large light sculpture and you want them facing the camera with the object BEHIND them, then this is the one time when I would suggest using the flash. There is a photography op at Taronga with gorillas that is exactly this circumstance.
Use the sculptures to light faces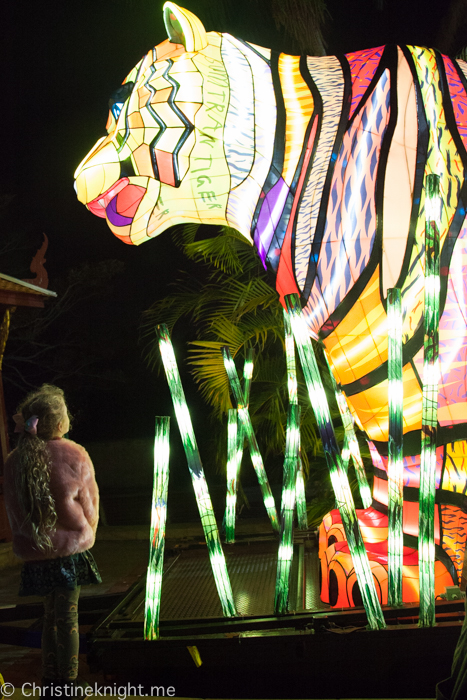 Instead of using the flash, position people near the sculptures with the light directing onto them faces. Move yourself into a position where you can see the faces illuminated. Then take the photo.
Take a tripod
Obviously this is a "if you have one" scenario. In any lowlight situation a tripod is your best friend to providing camera stability and resulting in sharper images without needing to over compensate for the low light by adjusting other camera settings as much.
Lean on fences or props
If you don't have a tripod or, like me, don't take one because they're quite hard to manage with a crowd or you've got kids in tow, wedge your camera on solid, immovable objects to get sharper shots. I use fences, the backs of chairs, you get the picture.
Bump up the ISO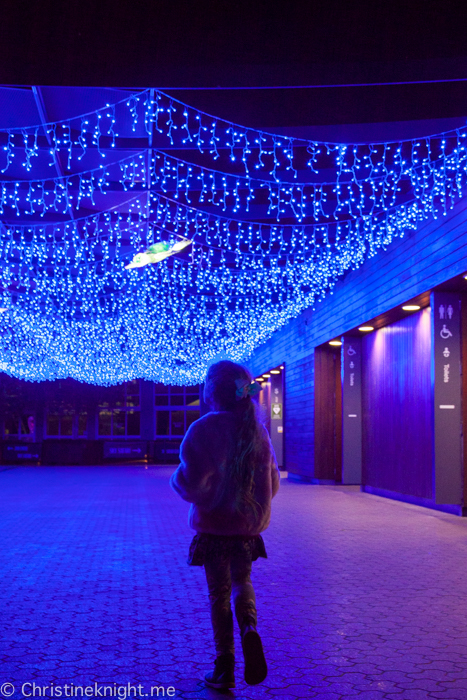 If you have manual settings on your camera, bump up the ISO A LOT. I bump mine way up to ensure that the photos are in focus. The photos are grainier as a result, but at least they're in focus.
Give kids an old camera or phone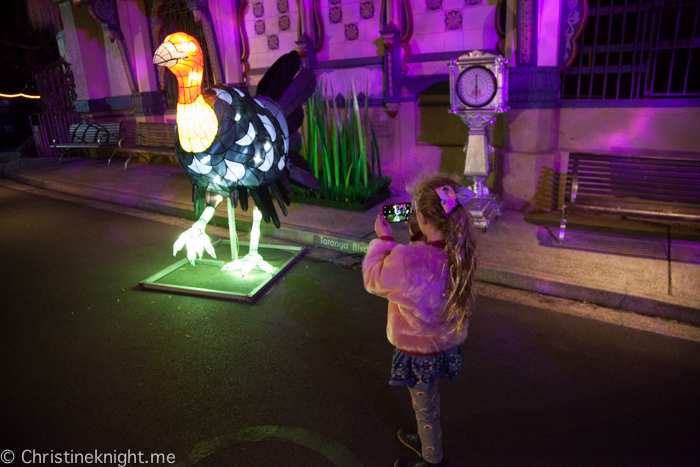 I gave Cheese my iPhone to shoot with this year and I loved the photos she came up with. Kids have a different perspective to adults so the angles and perspectives she shot were completely different to mine.
Get more info on Vivid Sydney here.