What to Expect On A Disney Wonder Cruise Review
The Disney Wonder is part of the iconic Disney Cruise Line fleet that sail all over the world – including Australia and New Zealand! Signature Disney Cruise Line offerings include rotational dining, Broadway-style shows, themed dining, character encounters and fireworks at sea.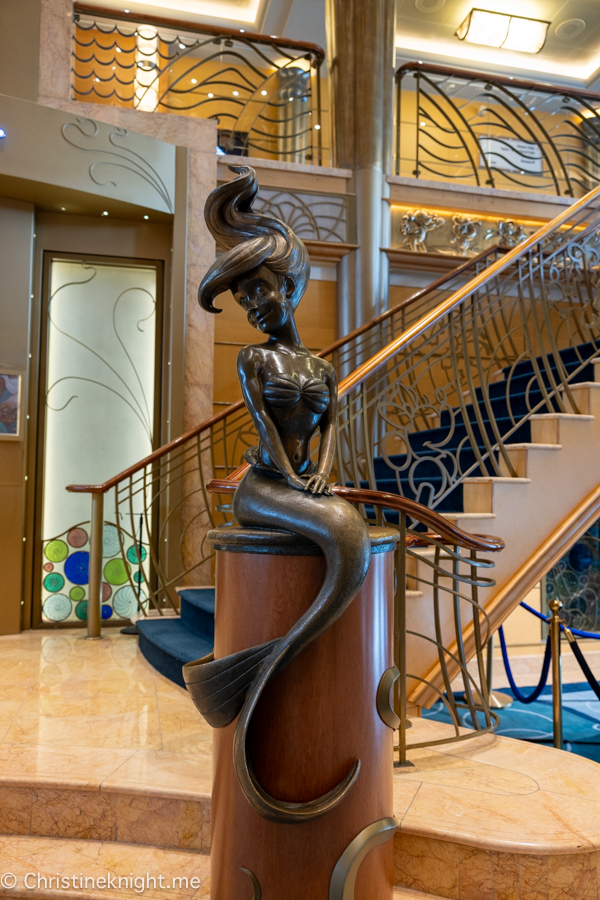 Each of the Disney Cruise Line ships have been designed with spaces catering to families, kids and adults, so guests will feel the wonder of a child (and magic of Disney!), no matter their age.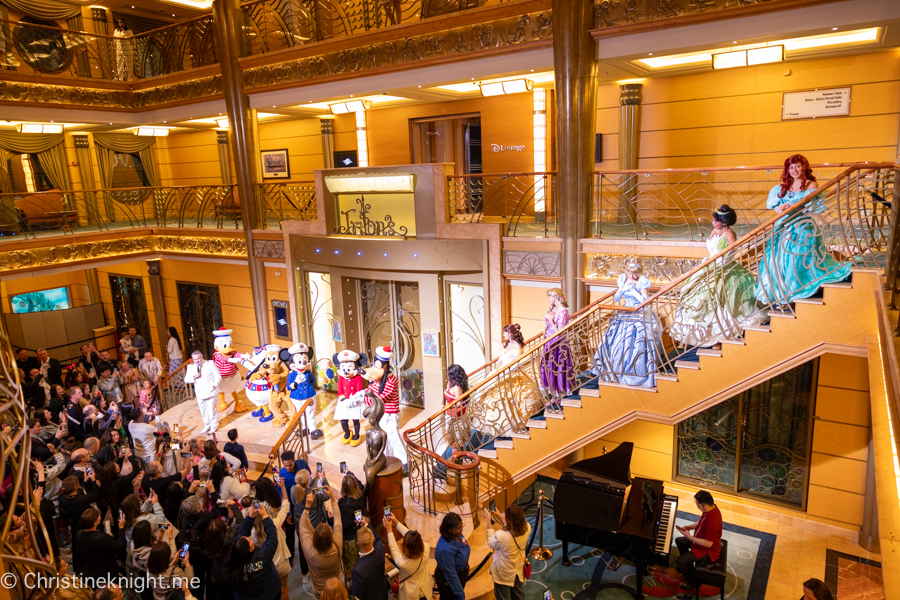 Disney Wonder Stats
The Disney Wonder is the smallest of the Disney Cruise Line Fleet. It is still jam-packed with incredible features, but is a smaller ship rather than the behemoth cities-on-sea that are currently launching on the cruise market.
Crew                           950
Passenger Decks      11
Capacity                     2,713 passengers
Staterooms                875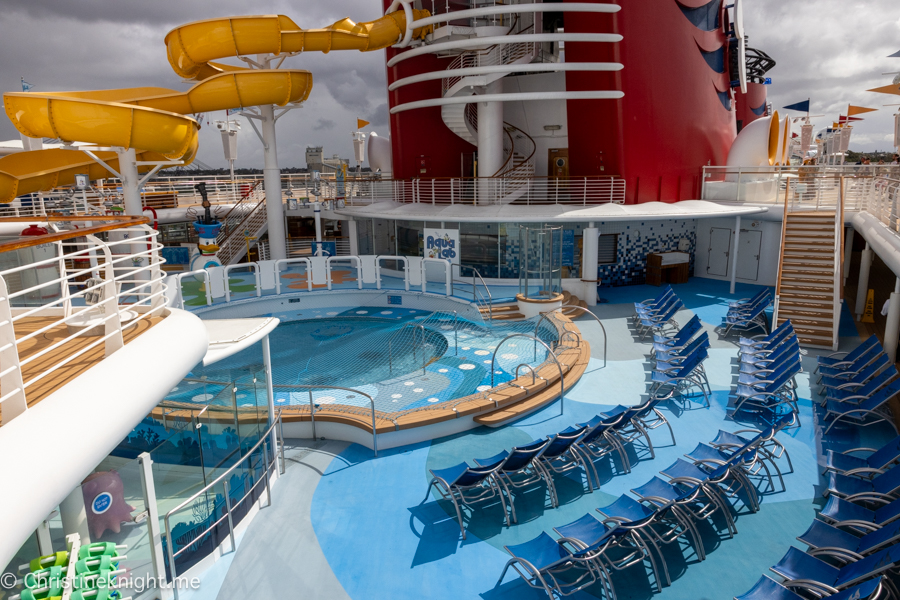 Family Areas
D Lounge – Deck 4
Wide World of Sports deck – Deck 10
Twist 'n' Spout water slide – Deck 9
AquaLab interactive play area – Deck 9
Goofy's Pool family pool – Deck 9
Mickey's Pool children's pool – Deck 9
Dory's Reef splash zone– Deck 9
Edge – Deck 9
Sea Treasures retail shop – Deck 3
White Caps, Mickey's Mainsail retail shops – Deck 4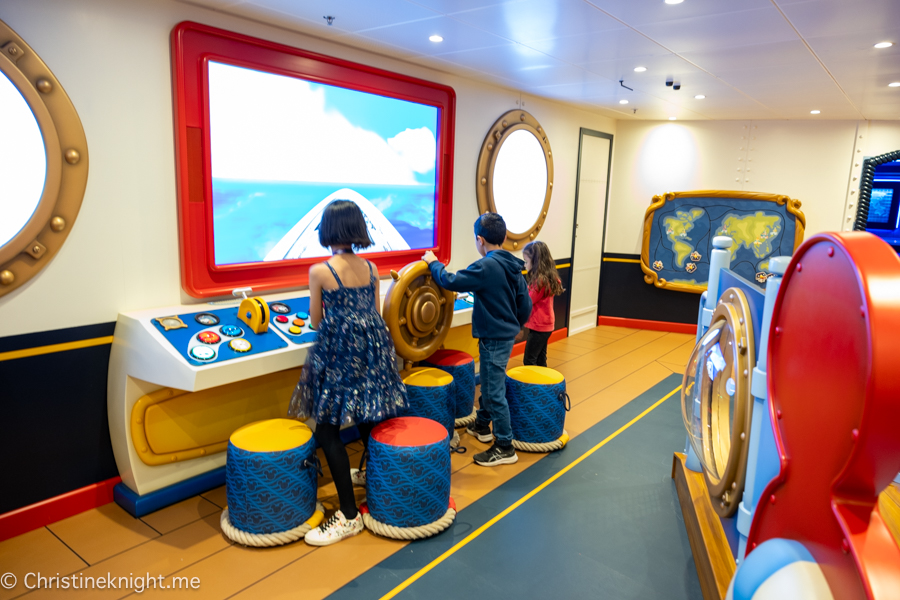 Youth Areas
It's a Small World Nursery– Deck 5
Disney's Oceaneer Club – Deck 5
Disney's Oceaneer Lab – Deck 5
Vibe teen club – Deck 11
Edge tween club – Deck 2
Bibbidi Bobbidi Boutique – Deck 10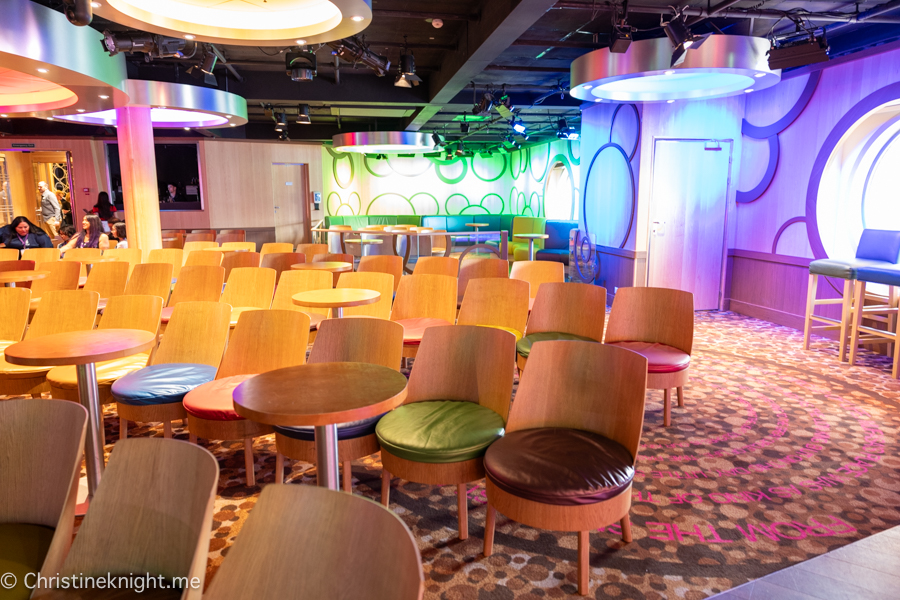 Adult Areas
After Hours – Deck 3
Crown & Fin Pub
Azure
Cadillac Lounge
Senses Spa & Salon – Deck 9
Quiet Cove Pool – Deck 9
Cove Café – Deck 9
Signals – Deck 9
Promenade Lounge – Deck 3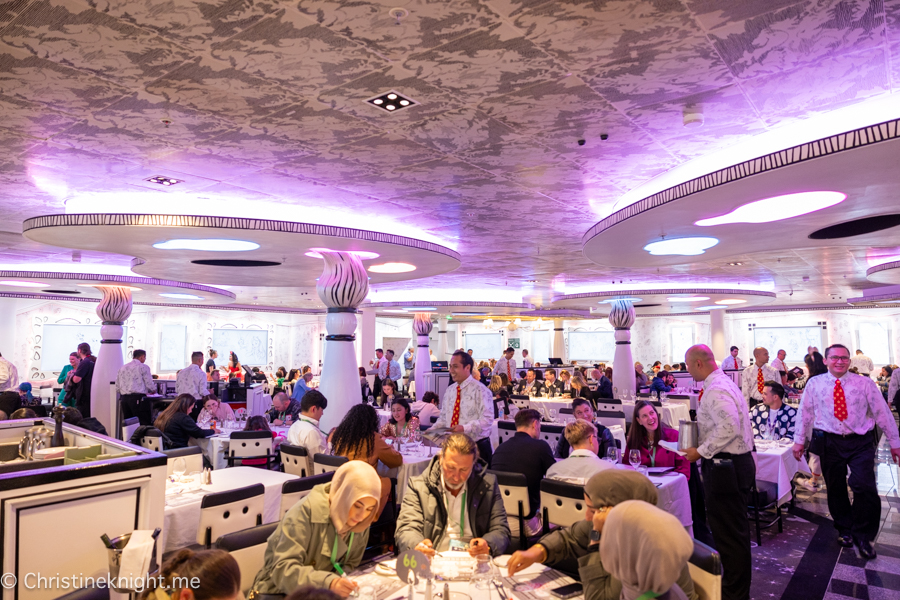 Dining
Tiana's Place main dining – Deck 3
Animator's Palate main dining – Deck 4
Triton's main dining – Deck 3
Palo adult-exclusive – Deck 10
Cabanas casual dining – Deck 9
Pete's Boiler Bites, Pinocchio's Pizzeria, Daisy De-Lites quick service – Deck 9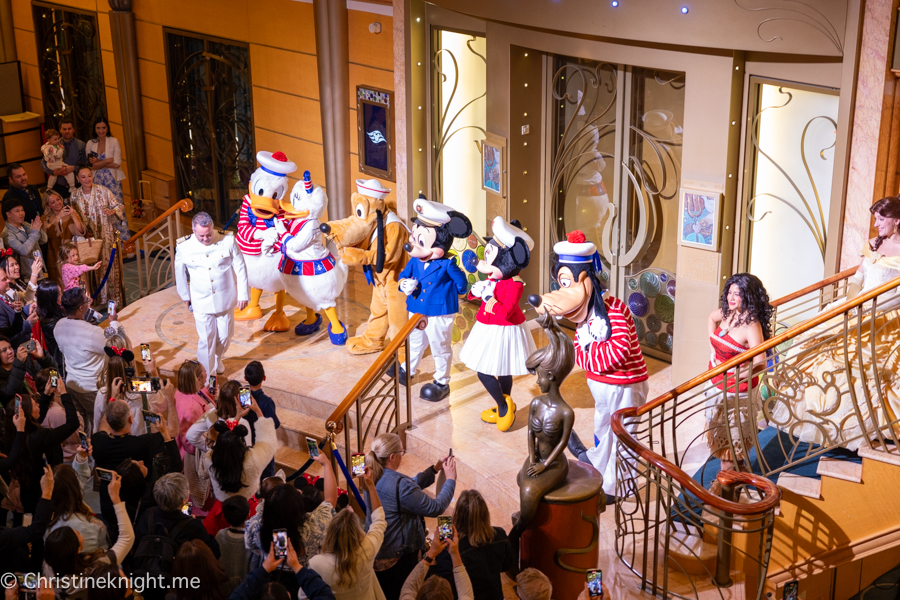 Plenty of Family Entertainment
Does anyone do family entertainment better than Disney?
Guests aboard the Disney Wonder can enjoy three Broadway-style stage shows in the Walt Disney Theatre.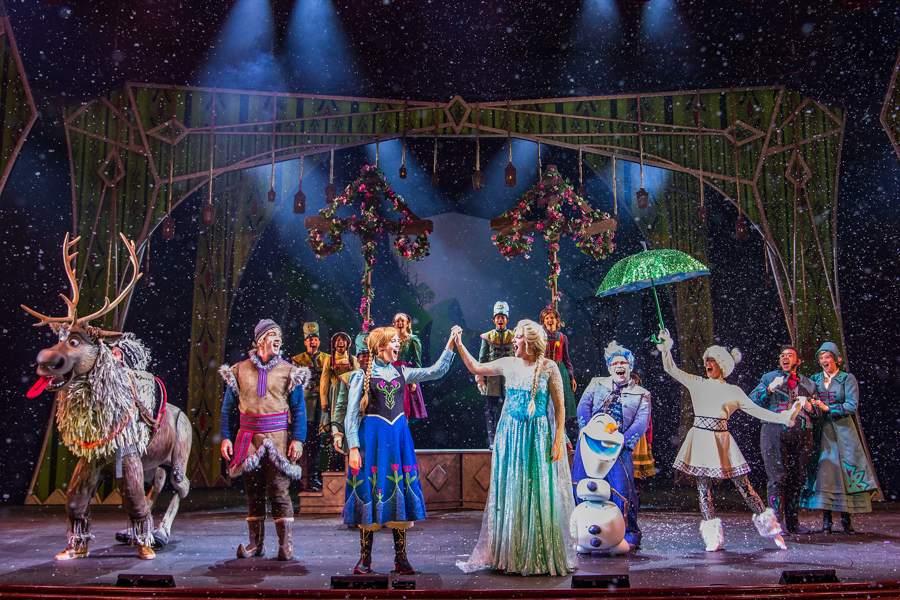 "Frozen, A Musical Spectacular" follows the captivating adventure of royal sisters Anna and Elsa as they embark on a journey to discover the meaning of sisterhood, inner strength and true love.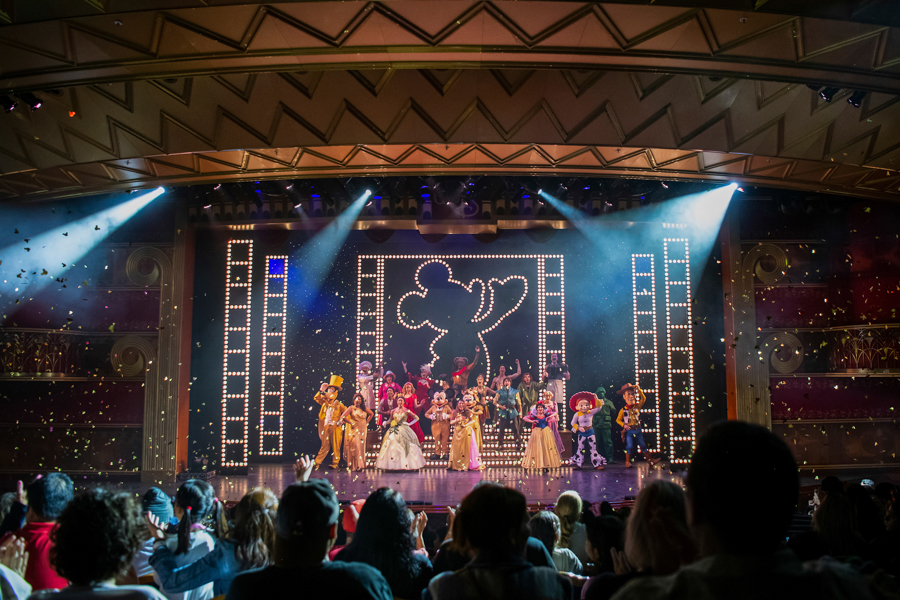 "The Golden Mickeys" celebrates the musical heritage of Disney animated films, immersing guests in all the glamour and excitement of a Hollywood awards gala.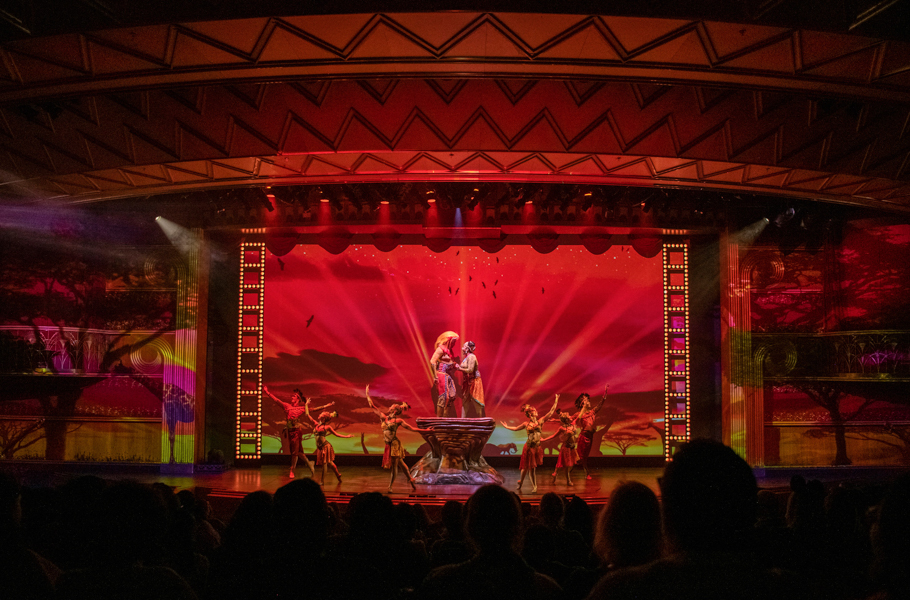 "Disney Dreams…  An Enchanted Classic" is a signature Disney Cruise Line show that tells a bedtime story featuring popular Disney characters who together teach a young girl the power of her dreams.
There are also movies shown in the Walt Disney Theatre, as well as up on deck by the family pool and in the Buena Vista Theatre, a cinema that screens first-run movies and digital 3-D films.
On select itineraries, the "Pirates IN the Caribbean" celebration to enjoy, which includes an interactive show featuring Jack Sparrow and culminates in a fireworks spectacular choreographed to the dramatic musical score from the "Pirates of the Caribbean" movies.
Fun in the Sun on the Upper Decks
The Disney Wonder features separate outdoor spaces for children, families and adults.
AquaLab, an interactive water playground open to kids age 3 and older.
Dory's Reef, a special splash-and-play area for little ones up to age 3.
Goofy's Pool, a pool for families of all ages to enjoy including two whirlpool spas.
Twist 'n' Spout, a double-looping waterslide. You've got to be 38 inches or taller to ride.
Quite Cove Pool for adults only.
Wide World of Sports Deck, the perfect place for a pick-up game or ping-pong match.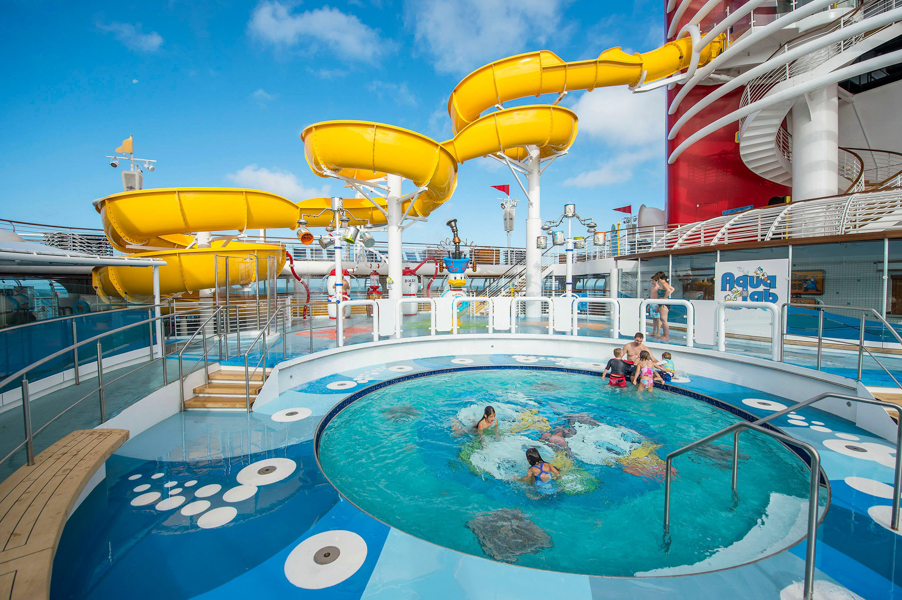 Uniquely-Themed Rotational Dining
Guests aboard the Disney Wonder "rotate" through three family restaurants, accompanied each night by the same serving team.
Tiana's Place, is a celebration of New Orleans-inspired dining and entertainment. The whole evening is just a fun party with a southern-style menu inspired by the flavors and ingredients of Louisiana. Expect live music, dancing, characters and beignets!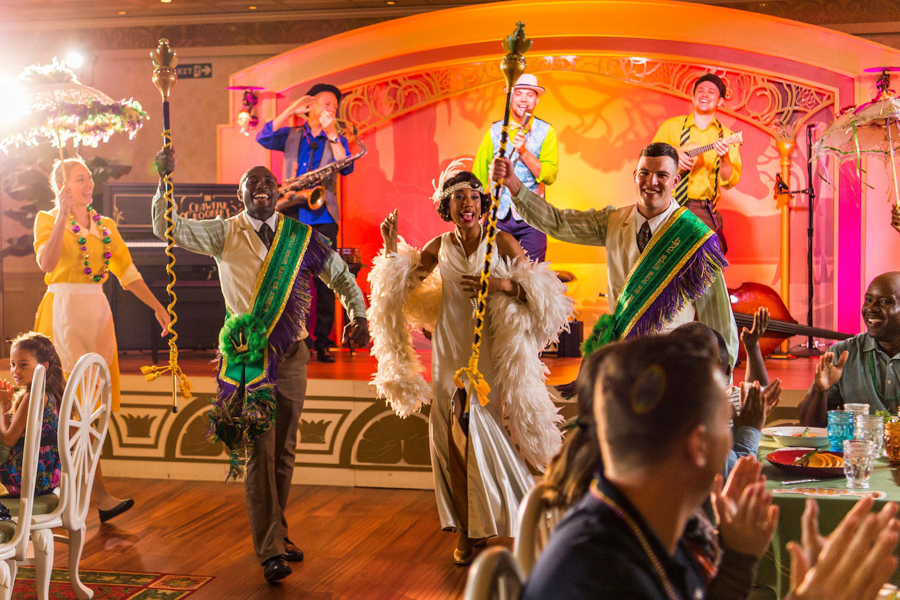 Tritons, named after the Little Mermaid's father, is an upscale restaurant offering sophisticated family dining "under the sea". Take in the small details in this stunning restaurant: chandeliers, stained glass, sea-inspired architectural flourishes and a sweeping mural of Ariel and her father. This regal restaurant also serves breakfast and lunch.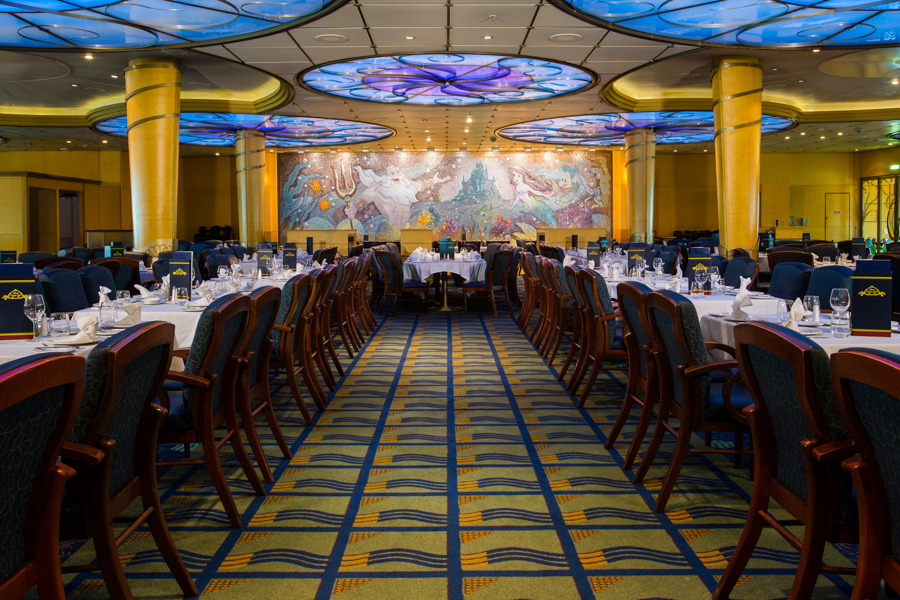 Animator's Palate is a not-to-be-missed dining experience. The restaurant is decorated in classic black and white, from the animation-adorned walls to the giant paint brushes around the room and seats representing Mickey Mouse. The walls have large high-definition flat-screens hanging on them – you will want to take a seat with a good view of the screens to watch the animation magic that takes place throughout the night. This is an extremely special interactive dining experience that really sets the Disney Wonder apart from other cruise lines.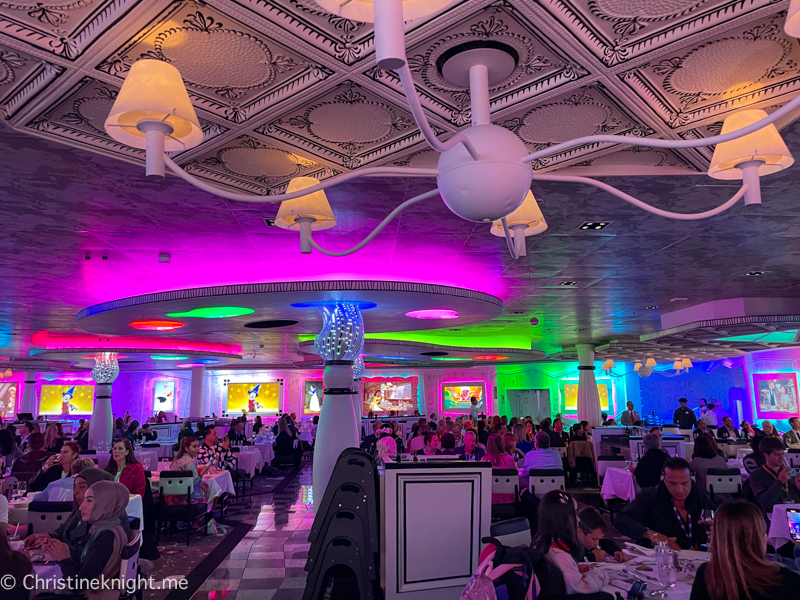 Palo is the final restaurant. It is an adult-only Italian restaurant open for brunch and dinner at an additional cost.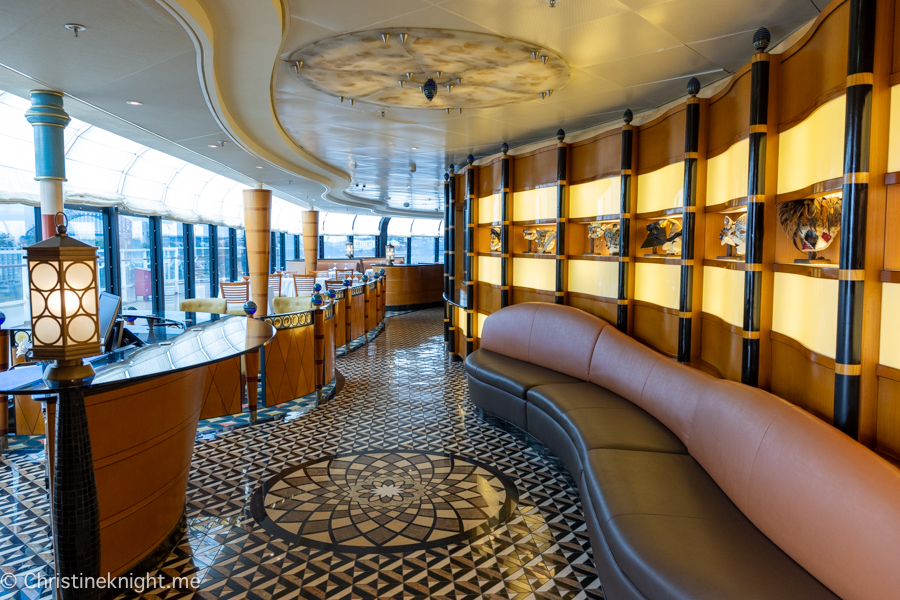 Spaces for Kids of All Ages
The Disney Wonder began the Disney Cruise Line tradition of specially designated spaces for kids of all ages. Adults can only visit these spaces during the ship "open house" events.
Disney's Oceaneer Club transports kids ages 3 to 12 to the magical lands of Disney fairies, courageous Super Heroes and adventuresome toys.
Disney's Oceaneer Lab is a nautical wonderland where children ages 3 to 12 embark on a journey of discovery with arts and crafts, gaming and counselor-led activities.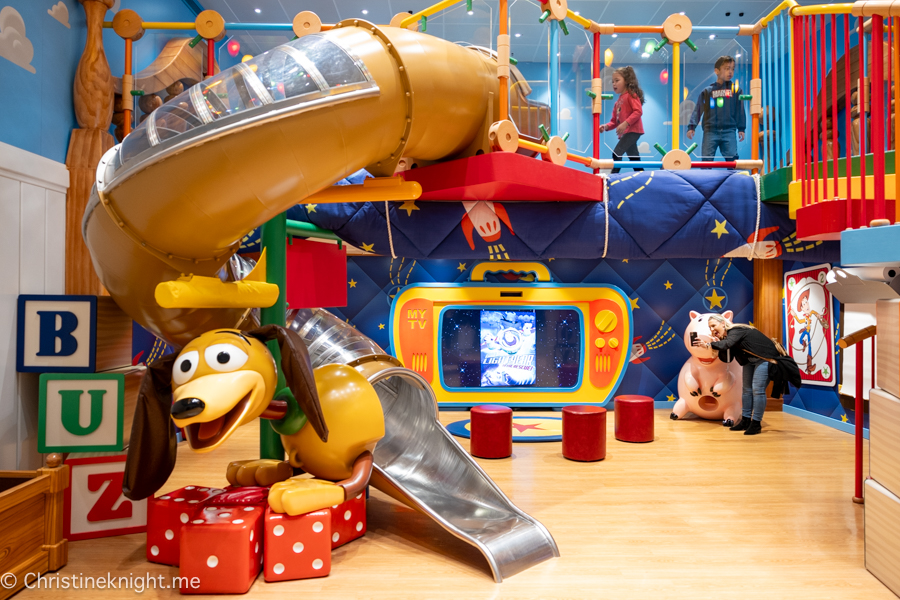 It's a Small World Nursery is a whimsical world for infants and toddlers up to age 3 where they are safely cared for by trained Disney counselors.
Vibe (ages 14 to 17) and Edge (ages 11 to 14) are ultra-cool teen and tween hangouts with comfy couches, music, video games and other chill-out necessities.
At Bibbidi Bobbidi Boutique, aspiring young princess and knights become Disney royalty with the help of a fairy godmother-in-training. When the pirate deck party is on the evening schedule, the space transforms into The Pirate League, where young sailors can unleash their inner buccaneer with a piratical makeover.
Read about our previous experience at the Bibbidi Bobbidi Boutique on Disney Cruise Line here.
Chill Spa for Teens: Guests ages 13 to 17 can enjoy the Chill Spa, located inside Senses Spa & Salon on Deck 9. Chill Spa includes two treatment rooms with showers where teens can stress less and chill out with spa treatments designed just for them.
Adult-only Spaces
Adults needn't fear that they will be trapped with kids the entire cruise. The Disney Wonder has dedicated spaces for adult guests to enjoy for a relaxing and rejuvenating cruise.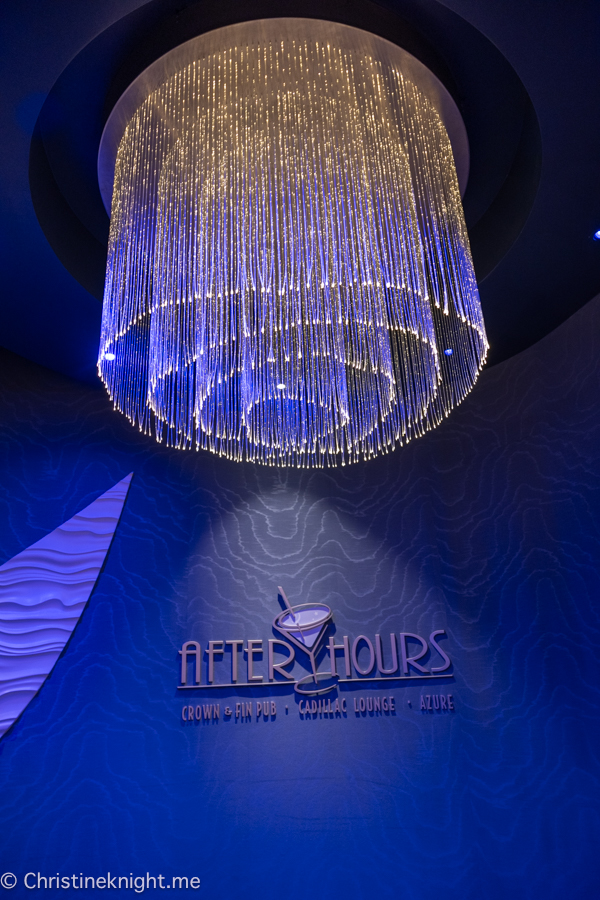 After Hours, an extraordinary adult-exclusive nighttime entertainment neighborhood that features trendy and sophisticated bars and lounges.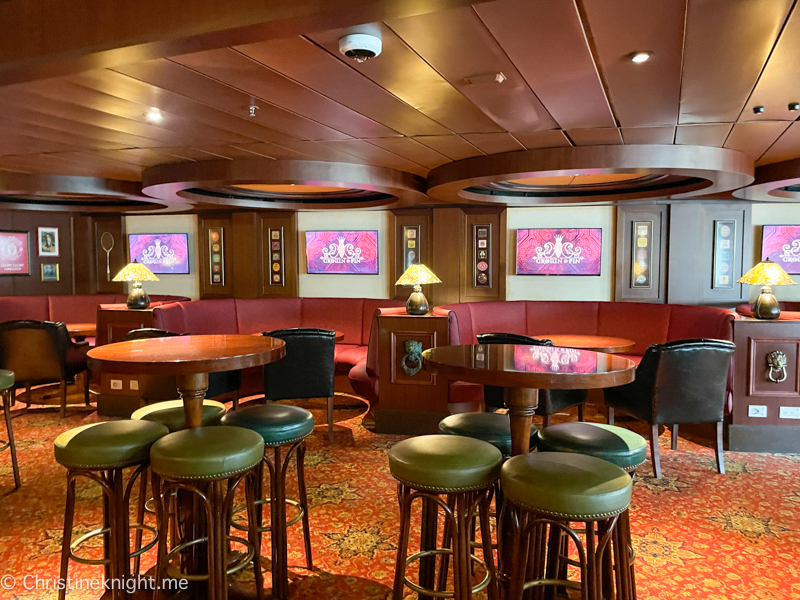 Crown & Fin Pub resembles a traditional British tavern, with dark woods, plush leather furniture and brass accents. Guests can duck in for a jolly time and a frosty pint while socializing at this inviting and nostalgic bar.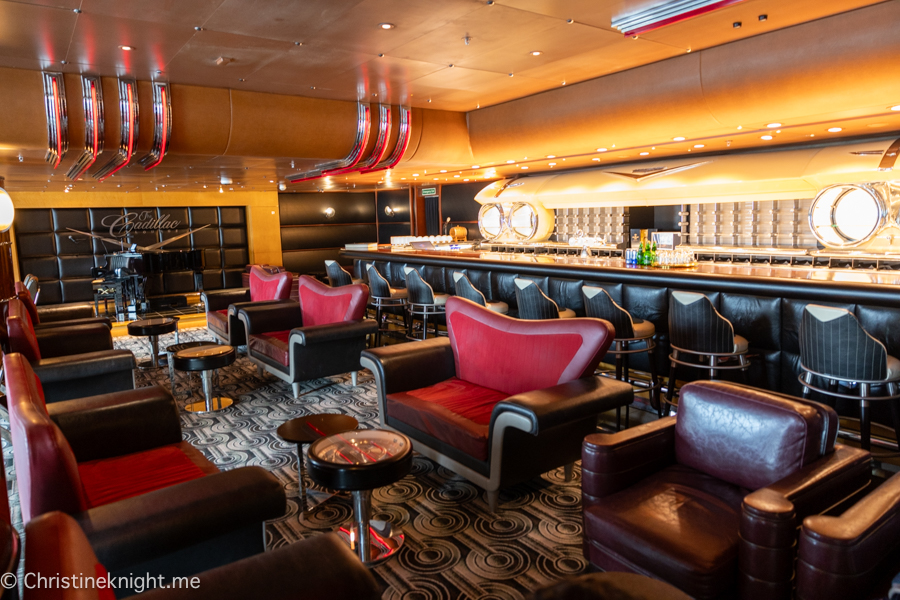 Cadillac Lounge delights guests with the glitz of classic Hollywood, featuring an intimate and upscale atmosphere, crafted mixed drinks and live piano music nightly.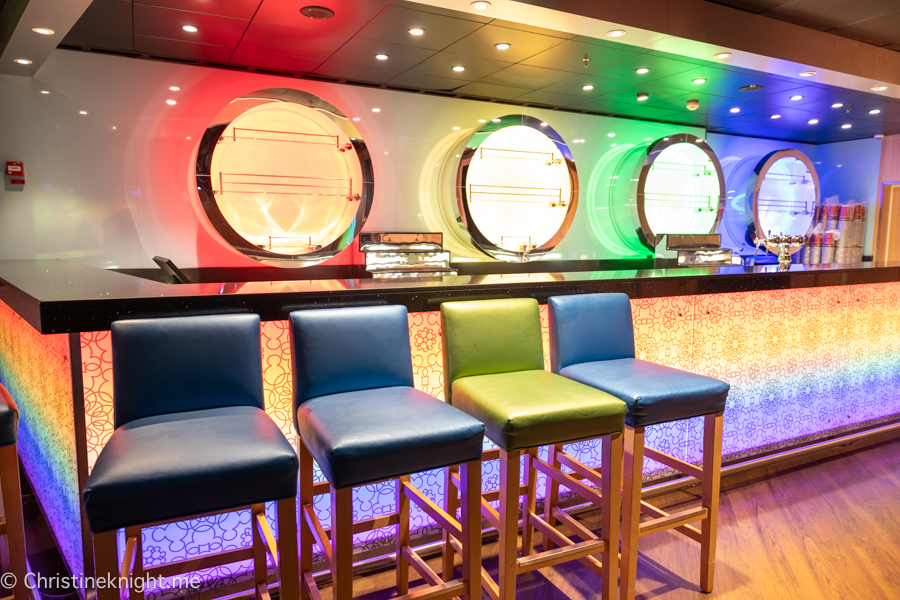 Azure is a lounge featuring a bar and dance floor, inspired by the shapes, colors, sounds and movements of the sea.
Senses Spa & Salon is a luxe space for adults ages 18 and older to indulge spa treatments, massages, manicures, pedicures, and a rainforest-themed aromatherapy steam room and sauna. The fitness center is well-appointed with state-of-the-art equipment and offers personal training sessions and instructional classes in yoga, Pilates, aerobics and more.
Quick-and-Casual Family Dining
There are plenty of quick, convenient options for meals and snacks on the Disney Wonder, from casual walk-up dining options to room service (and all included!).
Cabanas
Cabanas is a casual dining experience offering food and beverage stations during daytime hours. This massive buffet is the prime spot for breakfast and lunch and gets super busy, so go early to avoid the crowds.
Daisy's De-Lites
A healthy fast-food option offering salads, sandwiches, wraps and fruit.
Pinocchio's Pizzeria
Enjoy a slice of pizza throughout the day at this outdoor eatery located next to Goofy's Pool. Choices include pepperoni, vegetarian, Hawaiian or plain cheese. Gluten-free is also available.
Pete's Boiler Bites
Classic American fare like burgers, hot dogs and tacos are on offer at Pete's Boiler Bites, a great place to enjoy a quick meal for lunch, dinner or anytime in between.
Eye Scream Treats
Unlimited soft serve icecream is available near Goofy's Pool on Deck 9 at Eye Scream Treats, inspired by the friendly, one-eyed monster Mike Wazowski from the Disney•Pixar animated feature "Monsters, Inc.".
Free Room Service
Room service deserves its own category because it's such a luxury to enjoy meals delivered to your door! Guests on the Disney Wonder can enjoy fresh, made-to-order Disney dining 24/7 in the comfort of their stateroom. Be sure to order one of the special off-menu items that aren't listed: Mickey bars, Uncrustables and cake of the day. Room service is included in your overall cruise fees, however please remember to tip $1 USD per item ordered.
Character meet and greets
Mickey, Minnie and a wide range of their friends are available for character meet and greets throughout the cruise. Check your daily schedule in the app to find out where the characters are going to be and be early if you want to meet them.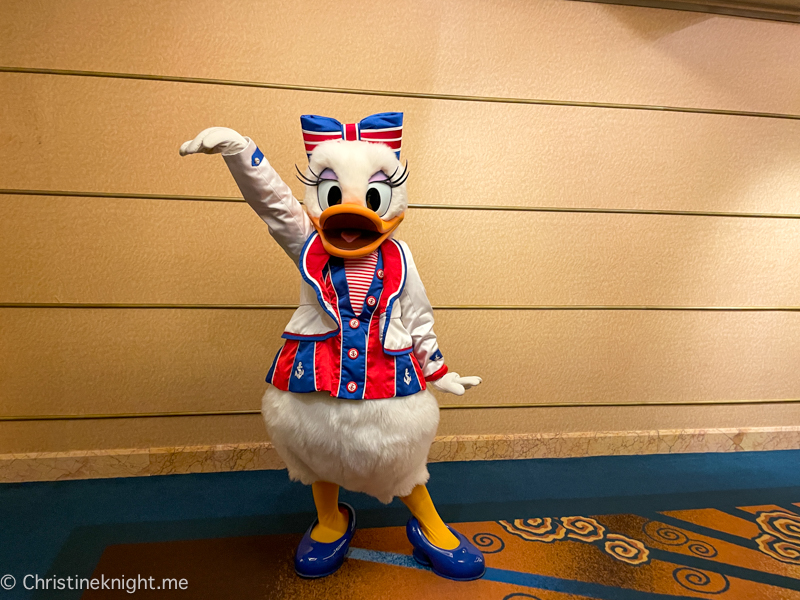 Tip: Not every character appears every day. When you see someone you want to meet, be sure to go line up and don't put it off.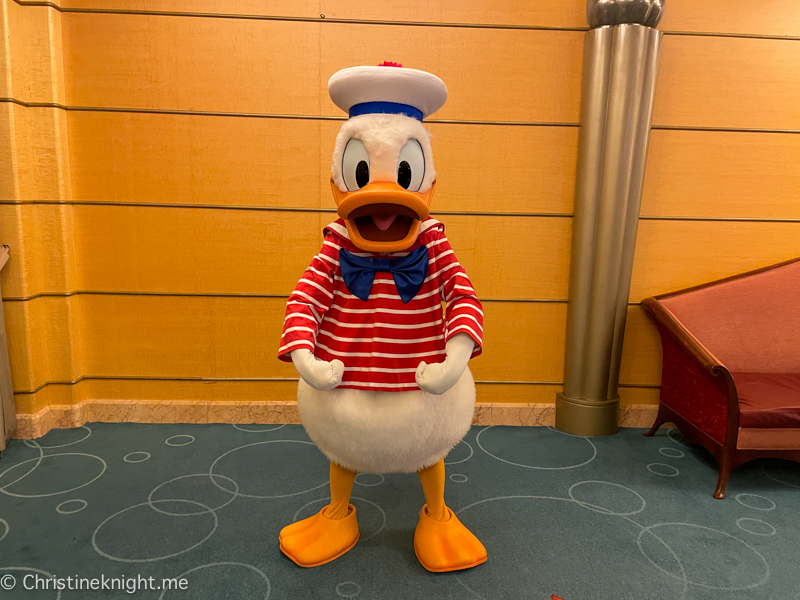 Royal Gathering: This is a meet-and-greet with Disney princesses that you book in advance online or through your app. It's the only bookable character experience on the cruise.
Royal Court Royal Tea
The Royal Court Royal Tea also deserves its own section as it's a popular event that books out and is quite a special event for kids who love princesses. It's a pricey event but it does include entertainment, meet-and-greets, gifts and a lovely high tea for kids up to age 12 and their accompanying adults.
Tip: The Royal Court Royal tea books out extremely fast so book it as soon as your activity window opens.
Read about our previous experience at the Royal Court Royal Tea here.
Get more information on the Royal Court Royal Tea experience.
Beautiful Staterooms
We love the rooms onboard the Disney Wonder. The understated elegance of the rooms with a touch of Disney is just the perfect decor for our tastes. We find the rooms to be a great size for our family of three (they actually fit four or five).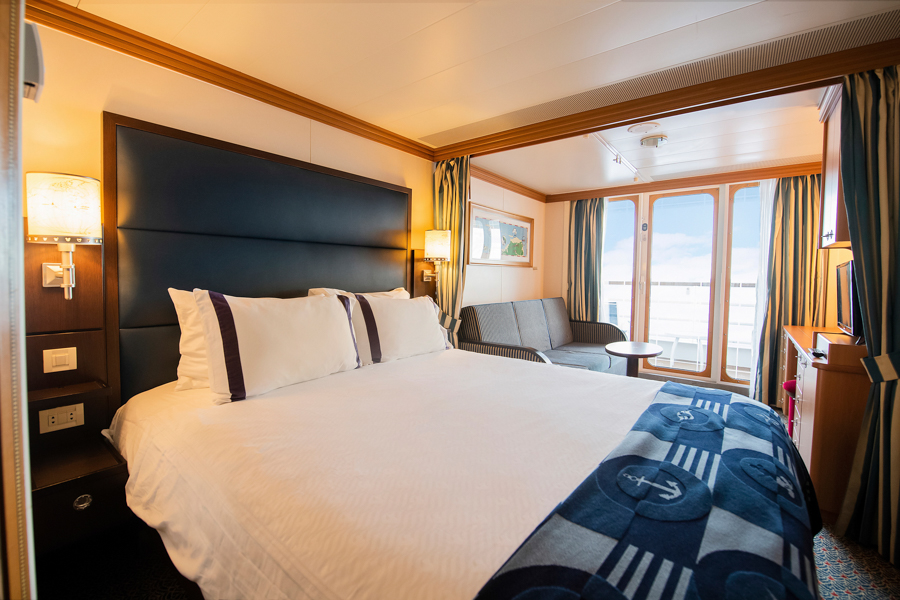 Tips on Cruising with Disney
Tipping the staff
This is an American company and tipping is an integral part of the business. Whether you agree with tipping or not, it makes up a substantial part of the cruise staffs' wages so my opinion is that if you can afford to cruise, you can afford to tip and build that into the expected costs.
You can read about the recommended tipping for staff here. I choose to pay gratuities in advance when I pay for my cruises so I don't think about any additional costs on board.
Merchandise
If you are a lover of the merch like I am, then you will want to get to the shops when they open on departure day – which is after the ship has entered international waters. The merchandise is extremely popular and items sell out on the first day.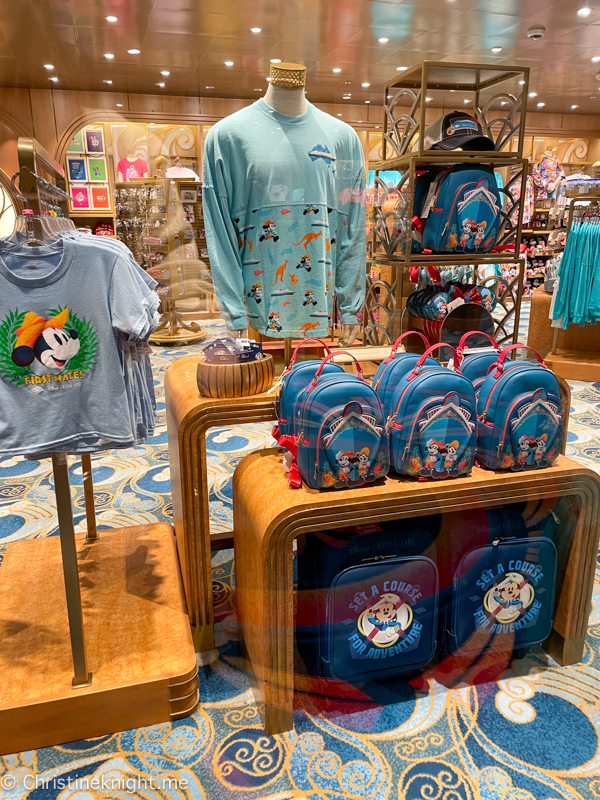 Seasickness
If you suffer from seasickness like I do, choose a cabin that is mid ship and low level.  You can bring as many meds on board as you like – you can also visit the Health Center and get medication there.
Preparing for crowds
On the Australian and New Zealand voyages in particular, prepare to have to queue for character meet and greets. I would suggest seeing characters as early as possible on your cruise if this is a priority for you, and arriving at the spots where characters are meeting well ahead of their scheduled time.
Shows are also packing out so arrive half an hour before show time to ensure you get a seat (front middle is the best place!)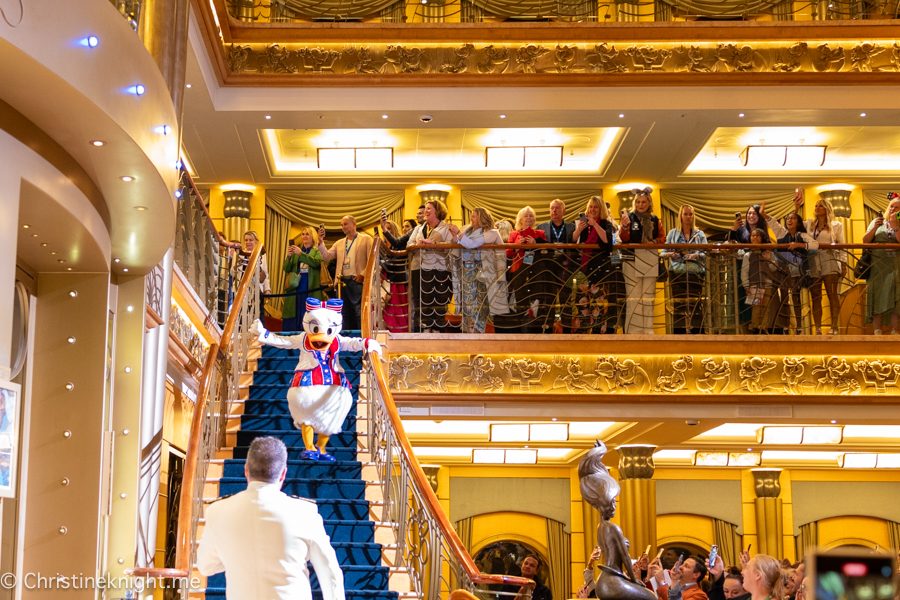 Read more about our previous Disney Wonder cruise to Alaska here.
Get more information about booking a Disney Cruise here.
Read about our Caribbean Cruise on the Disney Fantasy here.