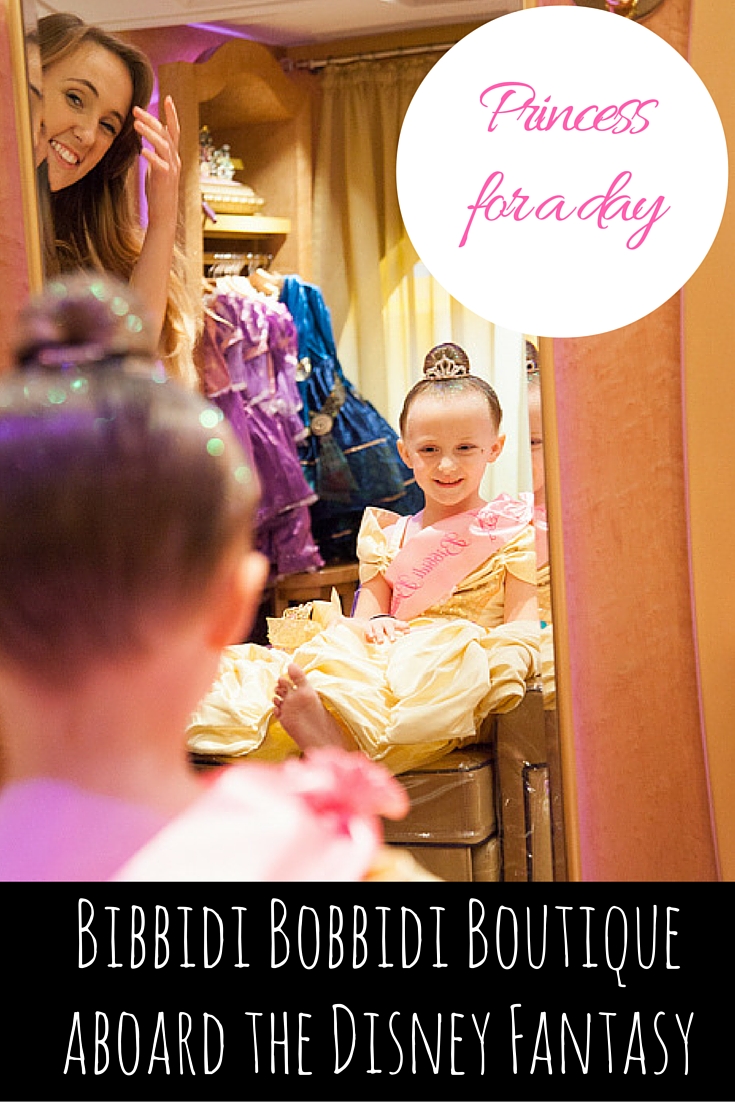 A visit to the Bibbidi Bobbidi Boutique (BBB) is a must for little girls who are desperate to be a "princess" for a day. There are BBBs in Disneyland, Walt Disney World and also select Disney cruises. Our boat, the Fantasy, had the BBB located on deck five – a quiet space filled with tulle, glitter and tiny little girls with their faces alight with joy.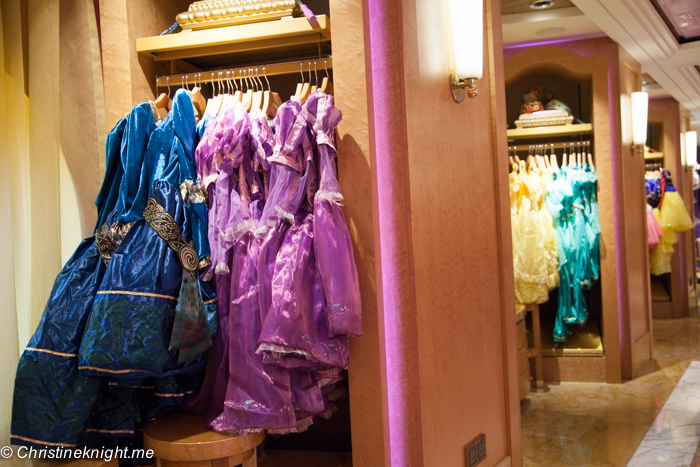 The BBB is a gorgeous experience for girls aged 3-12. Reservations are required to guarantee a spot at the boutique. When you book your spot, you can choose the type of package you would like for your daughter. Packages start from the "Crown Package" at $64.95 for hair, face decals, nail polish, shimmery make up, tiara, Mickey Mouse hair clip, BBB sash and a drawstring bag. See end of post for full details of pricing and packages.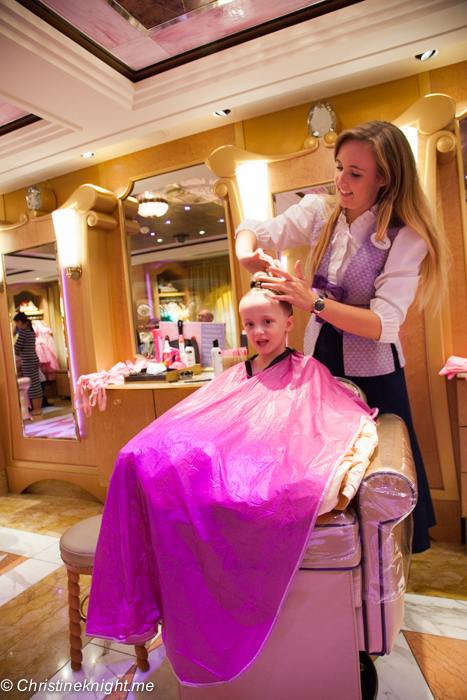 Cheese already had a beautiful dress she loved so we took her dress and chose the Crown Package. Our fairy godmother in training let Cheese over to a chair and proceeded to do her hair in her select style of a princess bun (there are several other options available).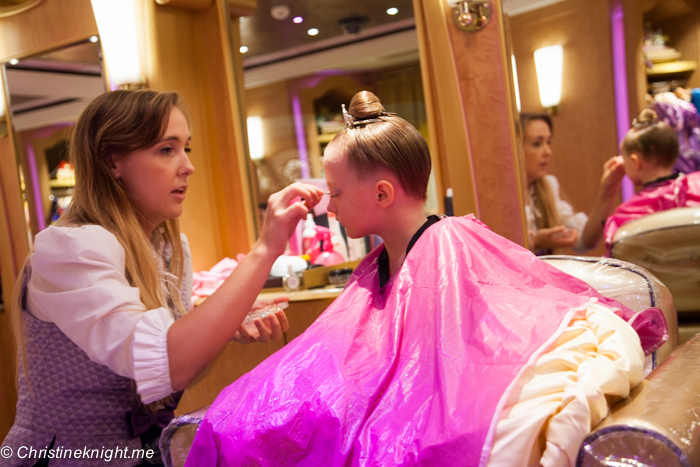 Once the hair was up in the perfect princess bun, light make up was applied, tiara and hair clip slipped in, kiddie nail polish liberally brushed on, and, after many layers of hair gel to keep the wispy bits looking sleek, a hearty coating of "pixie dust" (AKA glitter) was applied, followed by a proclamation of "Bibbity, Bobbity Boo!" and a dramatic reveal in the mirror.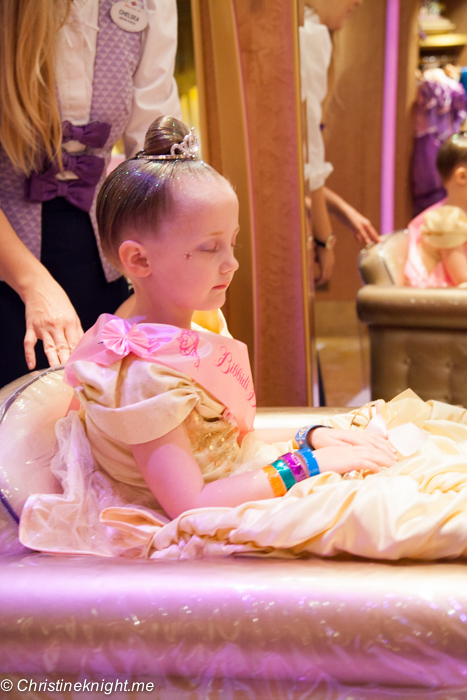 Each guest takes home the drawstring bag plus the make up, nail polish and face decals. I really liked how clean and hygienic the boutique was, with each make up, nail polish and face decal set being brand new and sealed for each guest.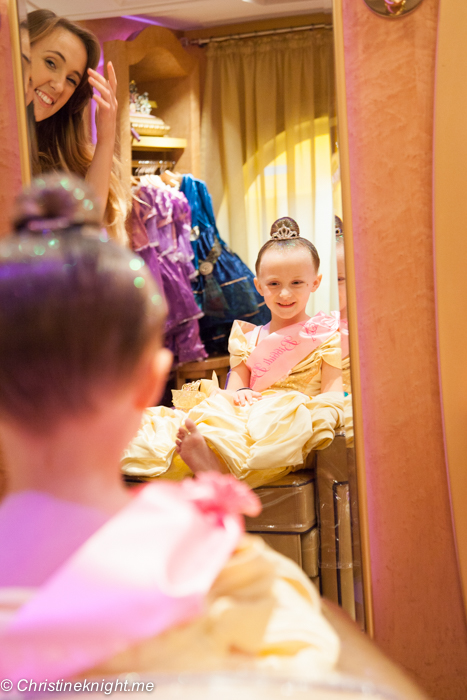 When I saw the prices for the experiences I wasn't sure how a 45 minutes "make over" could be worth the money. It comes down to the beautiful fairy godmothers in training, who guide the girls through the experience, tell them stories, get to know them, and make them laugh and feel special. My daughter was in heaven, not just with the make over, which she adored, but also the attention she received from the wonderful staff in the boutique.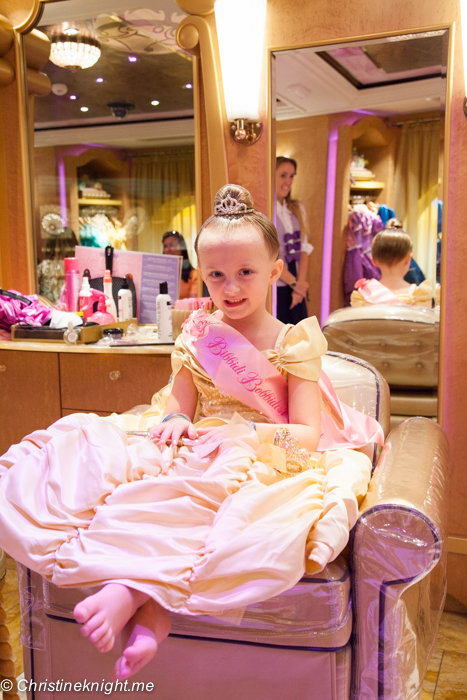 The bun stayed in for the next two days until we went swimming and it needed to come out. It was a devastating moment when we had to take the hair down, which surprised me as she isn't usually attached to hair dos.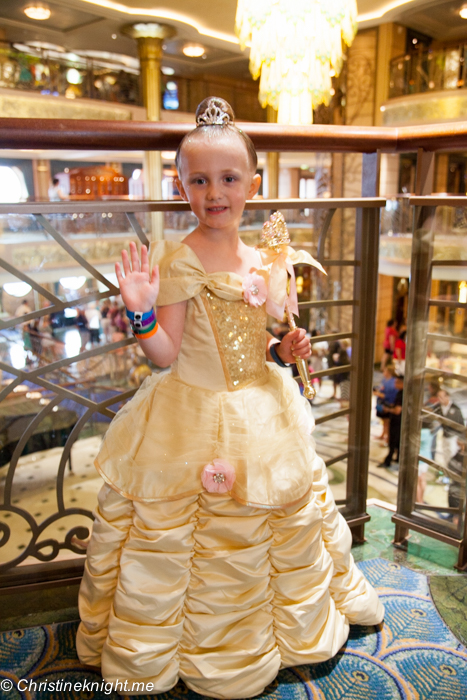 The BBB was a highlight of our cruise, and I will absolutely take her to enjoy the experience again at with Disneyland or WDW and hope that we enjoy the same wonderful time together.
FULL PACKAGE LIST
All prices in USD.
Crown Package
Price $64.95
This regal package includes hairstyling, a face gem, shimmering makeup, nail polish, a princess sash and cinch sack.
Hairstyle Choices: Disney Diva or Fairy-Tale Princess
Under the Sea Package
Price: $99.95
Plucky young adventurers can become little mermaids with the Under the Sea Package, which includes a 2-piece swimsuit and "mermaid tail" wrap. A floral hair clip, necklace and nail polish complete the look.
Please note this swimsuit is currently only available in 2 sizes: large/10-12 and extra-large/14.
Castle Package
Price: $199.95
Your little princess will be a vision to behold with hairstyling, shimmering makeup, nail polish, a face gem, princess sash and cinch sack. She'll also receive a crown, a wand and her choice of costume!
Hairstyle Choices: Disney Diva or Fairy-Tale Princess
Costume Choices: Princess Minnie, Tinker Bell, Anna, Ariel, Aurora, Belle, Cinderella, Elsa, Jasmine, Rapunzel, Snow White and Tiana
Royal Knight Package
Price: $19.95
Young Guests who select the Royal Knight Package will be bestowed with heroic hairstyling of gel and confetti as well as a mighty sword and shield!
Disney Frozen Package
Price: $194.95
Is your little one free-spirited and fun-loving like Anna or regal and reserved like Elsa? The Disney Frozen Package provides a fun, movie-inspired makeover where kids can become their favorite character from the wildly popular Disney animated hit. The Disney Frozen package includes your choice of the Anna hairstyling with Anna costume or Elsa hairstyling with Elsa costume, plus shimmering makeup, face gem, nail polish, a princess sash, a princess tote and a huggable Olaf plush.
Celebration Package
Price: $124.95
Every day is worth celebrating on the Disney Magic and young guests can get in the fun with the Disney Cruise Line exclusive Celebration Package a perfect choice for a Sail-Away Celebration! The Celebration Package includes the choice of a Bibbidi Bobbidi Boutique hair style, plus shimmering makeup, face gem, nail polish, princess tote and princess sash. The party transformation is then completed with an exclusive Disney Cruise Line Bibbidi Bobbidi Boutique tutu and t-shirt.
Captain's Package
Price: $119.95
The Disney Cruise Line exclusive package includes the Disney Cruise Line Sailor Mickey costume, Captain Mickey hat and Captain Mickey plush.