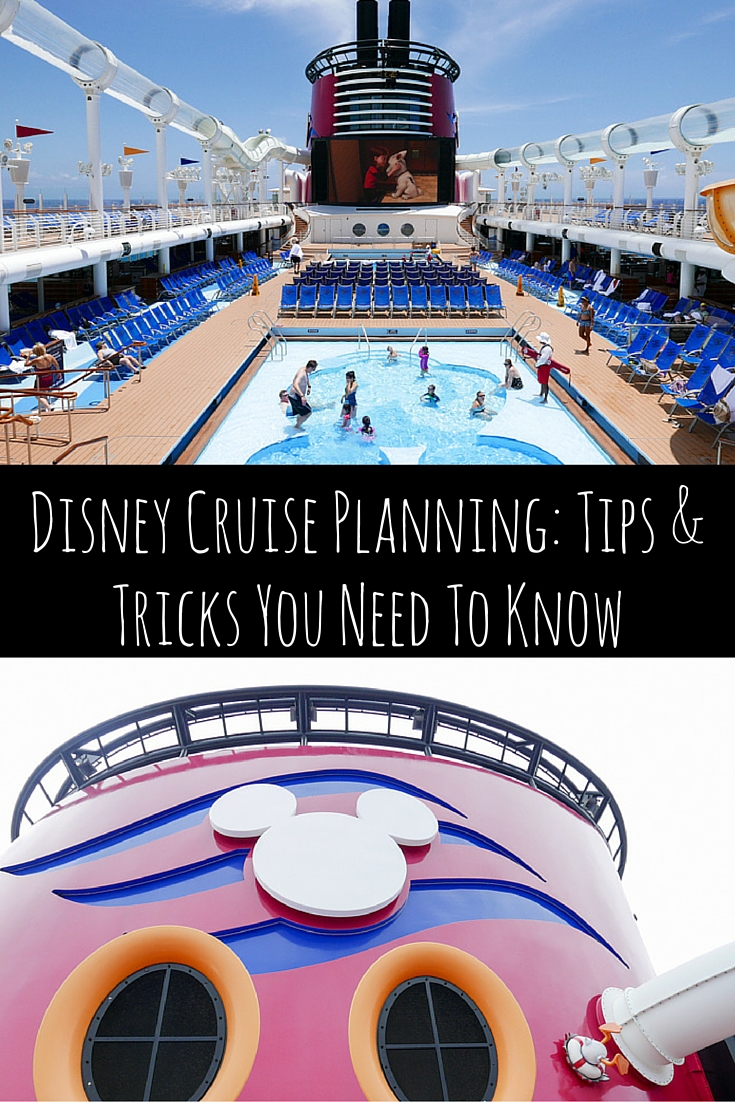 We've just gotten back from our first cruise aboard the Disney Fantasy – a 7-night Caribbean cruise. The cruise was incredibly fun, but there was so much to learn beforehand to really get the most out of the experience. When you're planning your own Disney Cruise, tips and tricks like these will help you plan your own perfect cruise, before you even get on board.
Book well in advance. Hard core cruisers book a year in advance when the cruise is released. It's believed they get the best prices then. Booking three months out is considered last minute but cabins are often still available.
Think hard about what cabin/type do you want. We went for middle ship with a verandah as I was terrified of sea sickness. The cabins to the edges and with a porthole or "magic window" are cheaper.
Log onto the Disney Cruise Liner website once your cruise is booked (https://disneycruise.disney.go.com) and input your reservation number to lock in activities.
Your advance booking window is determined by your Castaway Club membership level, as follows: First-Time Guests – 75 days prior to sail date; Silver Castaway Club Member – 90 days prior to sail date; Gold Castaway Club Member – 105 days prior to sail date; Concierge Guests and Platinum Castaway Club Member – 120 days prior to sail date.
Take note of the day that the activities are released in US time – 12:01 EST and log on during the night to book things like the princess royal court.
Book your activities as soon as you can as the popular ones book up fast. You can easily cancel your activities up to 3 days before departure – including the port activities. Some popular activities, like the Princess afternoon tea, book up as soon as they are released. Others have plenty of spots but you should still book in as soon as possible to get the days and times you want.
Free on-board activities that require booking include the Princess meet and greet, Frozen meet and greet and Disney Junior breakfast (currently only available on 7-night or longer cruises).
Join your cruise Facebook group – search for the ship departure date and name in Facebook. Many of the people in the Facebook group will be frequent cruisers so can answer all of your tricky questions.
Join a cruising experts Facebook group! This one I'm part of is run by a Disney Travel Agent.

Many frequent cruisers hang decorations on their door called "Fish Extenders" and take park in a "Fish Exchange". 

Every stateroom has a fish of some kind hanging on the wall outside the door where Disney staff place important communications to you such as excursion tickets and notes.  A Fish Extender (FE) is something that you hang off the fish while still allowing the Disney staff to use it for its original purpose. All the people in the exchange buy or make little items and place them in each other's fish extenders. It's basically a gift exchange.

Choose your dining rotation when you book your cabin – main dining is the early session which begins at 5:45pm, and second seating, which starts at 8pm. If you book too late you will be placed in late dining like we were and have to request a change and hope it comes through. For your assigned seating time and restaurant rotation, please check the dining tickets located in your stateroom upon arrival.
"Main" or early dining fills up fast. If you're not sure what dining rotation you want when you book your cruise, choose early as it's the most popular. It's always possible to change it to the late session when you board, but rarely the other way around. If you book late (like I did) you might be allocated the late dining session. if this happens, call Disney Cruise Line and request to be put on the wait list for the change.
Both dining session get to see the same live shows at night. If you do "main" or early dining, you will then be able to see the late show, which is at 8:30pm. If you do late dining, you can then do the early show, which is at 6:15pm.
If you aren't able to get the dining session you want, you can still use several other flexible and included dining options on the ship, including the free 24-hour room service.
If you missed out on your dining session even after being wait listed, there are Disney Cruise Line employees set up in one of the main dining rooms on embarkation day to try to accommodate dining requests (which dining room it is will be listed on the Navigator that you get at the Port).
In case you forget where you're supposed to eat dinner each night, your dining rotation will also be listed on the Key to the World card as well as the tickets in the room.
.
Many frequent cruisers place Disney magnets all over their doors, often with their family names and pictures on them. You can make your own or order some on Etsy.
Take note of your Port Arrival time (PAT). Your PAT determine your boarding number therefore when you board the ship. If you do not complete online checking then you will most likely get a high boarding number and sit in the terminal waiting to board the ship. PAT are first come first serve therefore by completing your checkin as soon as it is enabled online, you will have a better chance of a earlier PAT. Note: If you are taking the Disney Cruise Line busses from the Walt Disney World resorts then this is not that important since the buses will not get to the port until after 1pm anyway.
If you buy a disney photo premium package in advance you get 15% off. If you don't like the photos on board you can ask for a refund. This discount only applies to the most expensive packages, like purchasing all of the digital images. Go to: http://www.mycruisephotos.com/DCL
You are also able to register kids for kids' club online before boarding the ship. I'd highly advise doing so as it just saves time filing in more forms when you go to drop them off for the first time.
Pack breakables in your carry on bag, plus anything you might need for the rest of the day as it can take a while for luggage to be delivered to rooms.
Put a pair of swimmers in your carry on so you can head straight to the pool when you get onboard.
Be early for everything onboard. If there is a movie, a show, even a character meet and greet, be early, by at least 15 minutes if not longer. If you want to see it, everyone else is bound to as well.
Formal, semi-formal and pirate dress-up nights are really optional. We were travelling a long way before and after our cruise so had minimal luggage space for special formal or dress-up wear, and it ended up not being a big deal at all. We just wore our nicest clothes and they were fine. Some people go al out, however, wearing suits and fancy dresses, and make the most out of the opportunity to get glammed up and have portraits taken.
If you book another cruise onboard you get a discounted rate. The deposit you place down on the cruise is completely refundable so it's a good idea if you're strongly considering taking another cruise in the near future.
The water in the cabins is drinkable but a bit funky tasting. I'd advise taking large refillable water bottles with you and refilling them throughout the day at the free beverage station on the pool deck.
There are shops onboard where you can buy most things you might forget, like sunscreen, hats, toothbrushes and so on, but they are on the pricey side. Stock up on your own everything before boarding, including sea sickness medication, just in case. It is possible to get free sea sickness medication free of charge from guest services if you forget to pack your own.
Are you a Disney cruiser? I'd love to add your tips and tricks!