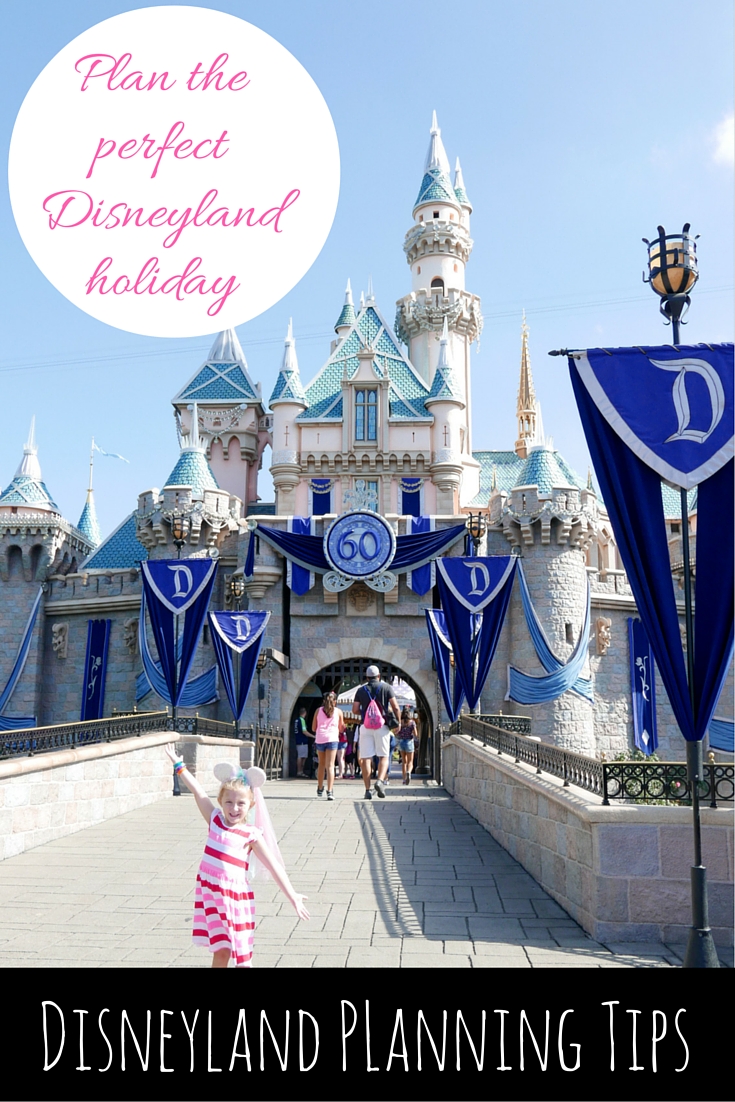 Disneyland is magical for adults and kids alike. It's such an incredibly designed place that keeps the magic of childhood well and truly alive, through rides, entertainment and live characters. Disneyland is also a place that requires a lot of planning to get the most out of. I hope my tips will help you plan your perfect Disneyland holiday.
Disneyland Planning Tips: How To have The Best Disneyland Holiday Ever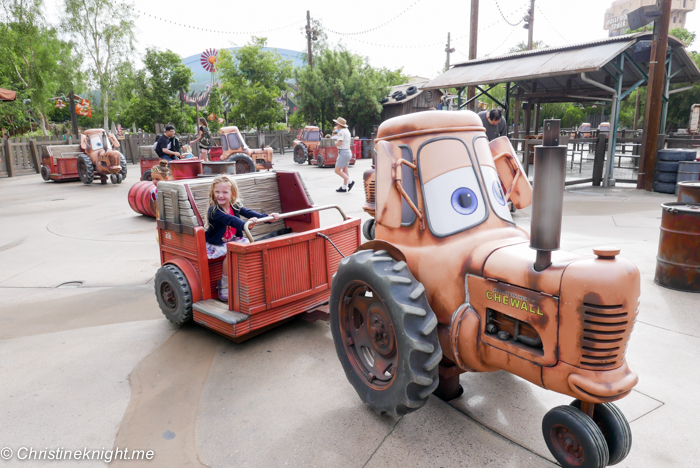 What age is best for Disneyland?
Honestly, any age! Disneyland caters to all ages from 0-100 as long as you love Disney. I've been as an adult without kids, with a 2 year old, and most recently with my almost 5-year-old. Each time is different but equally enjoyable.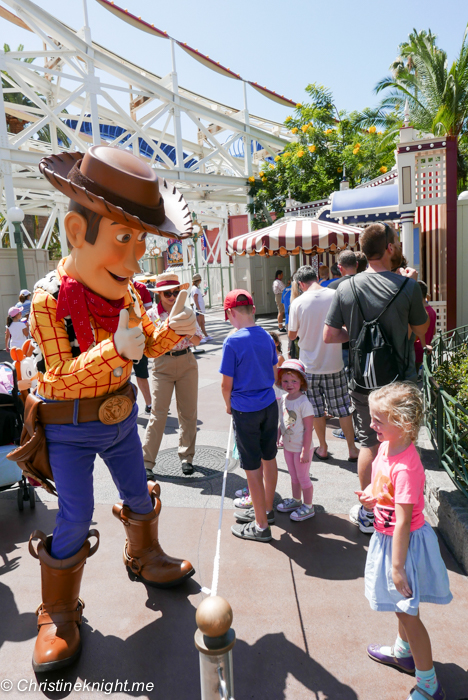 What time of year should we go?
Disneyland is gorgeous to visit all-year round. They have special seasonal events around Halloween and Christmas in particular, making these two times of year a really special time to visit. Check out the crowds at the time of year you're considering visiting at this website – if you can visit during a slower time, I would suggest doing so. We have visited twice in June or July and both times it has been very hot and very busy.
Where should we stay?
There are so many choices! Disneyland have their own hotels that are on the park grounds and give you special benefits – the biggest two being early entry into the parks every day (an hour before general admission) and a special entry to Disney California Adventure Park through Disney's Grand Californian Hotel & Spa so you'll never have to line up. While the Disneyland hotels also offer other great features that carry the Disney magic to all areas of your stay, they are also the pricey accomodation option – so if you're on a budget you'll want to consider staying at a "good neighbor" hotel instead.
All the benefits of staying at a Disneyland hotel
We have stayed at the Grand Californian Hotel and loved it. You can read our review of the Grand Californian Hotel & Spa here.
We have stayed at three different "good neighbor" hotels, the Howard Johnson Hotel and Water Park, the Carousel Inn and Suites and the Grand Legacy at the Park. All three were half the price of the Disneyland hotels and had excellent locations – directly across the road from Disneyland, making our commute each morning a mere 5 minutes walk.
You can read our review of the Howard Johnson Hotel and Water Park here and of the Grand Legacy at the Park here.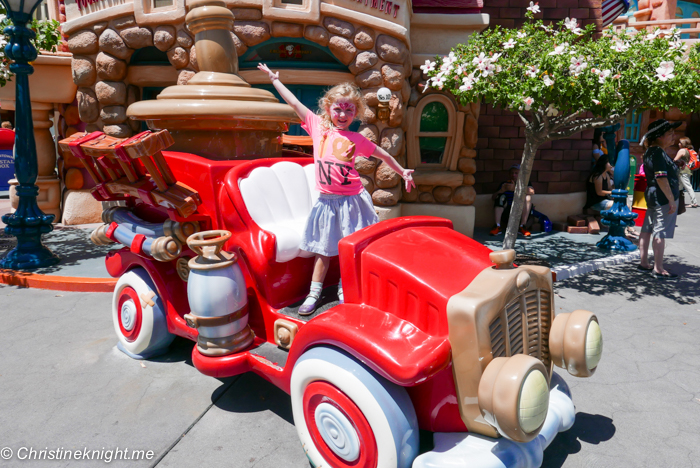 How long should we stay for?
We have stayed for three days twice and four days once (with the Halloween party taking up one day). We spent one day each at Disneyland and California Adventure park, and one day hopping between the two. If you buy tickets for three or more consecutive days, you get a magic morning included, where you can enter Disneyland an hour early on a designated day. Ideally I would suggest going for five days as we always feel like there's never enough time to fit in everything.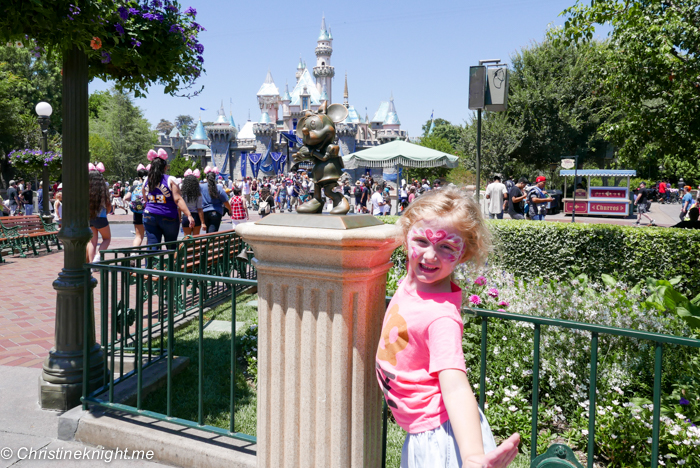 What's a "magic morning"?
Magic mornings are the days when you can enter the park at 7am instead of 8am, which is when the parks usually open. You need to have a 3+ day pass to be able to use a magic morning early entry. Magic mornings are held on Tuesdays, Thursday and Saturdays. It's recommended that you arrive an hour and a quarter before the regular park opening.
We didn't have magic mornings with our first two trips and we went to California Adventure park that day instead – which turned out to be a brilliant choice as the park was pretty much empty – everyone was at Disneyland using their magic morning!
What's "early magic hour"?
Guests of the Disney hotels can enter the parks an hour early on designated days – ahead of the Magic Morning entry. Early Magic Hour applies to both Disneyland Park and Disney California Adventure Park. Check here for the current EMH schedule.
What tickets should we get?
You have a choice between single park passes, which allow you entry into one park per day, or "park hoppers" which let you go back and forth between the parks. If you buy multi day passes (which is the cheapest way to buy tickets), you will have to choose between the two types, you can't mix and match. With older kids, I'd recommend park hoppers, particularly if you will be there three days. I found a full day at each park was perfect, plus that extra day to jump between the two and finish up a few things we missed or wanted to do again.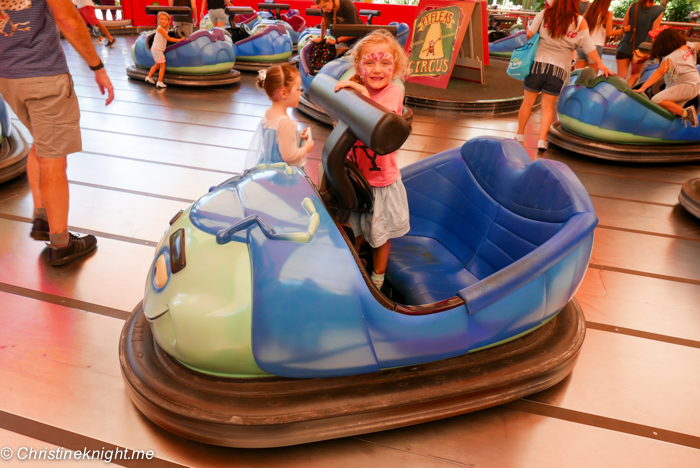 I always advise buying tickets at least a few days in advance. While the queues have always been short to buy tickets when we've arrived, it just cuts out one extra step to get into the park. When you buy a ticket online you can choose an eTicket which you then present on your phone (or printed out) at the gates for entry.
More info on ticket types and prices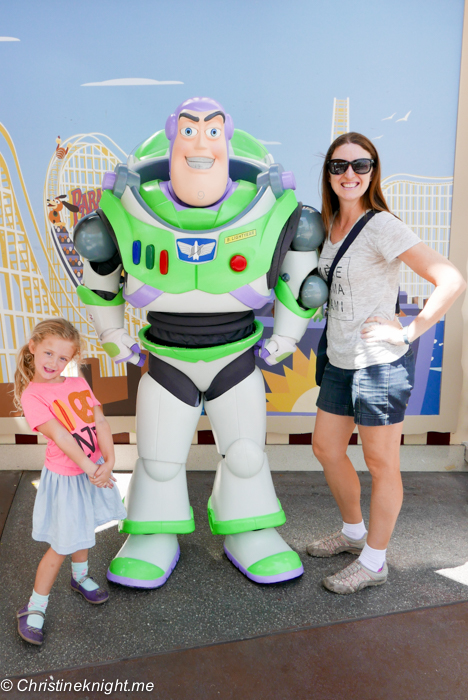 What time of day should I arrive?
The parks open at different times throughout the year – anywhere between 8am and 10am. My best advice on getting the most out of a Disneyland day is to arrive well before the park opens. At least 30 minutes. It can take quite a while to get through security, and also through the gates. When you use your tickets for the first time, you will have a photo taken and linked online to your pass, and you will need to sign the tickets they give you – all making the entry process that much longer.
We enjoyed the early mornings the most as there were the fewest people in the park, so lines were shorter.
Check the Disneyland calendar here to find out what time the park opens for your visit.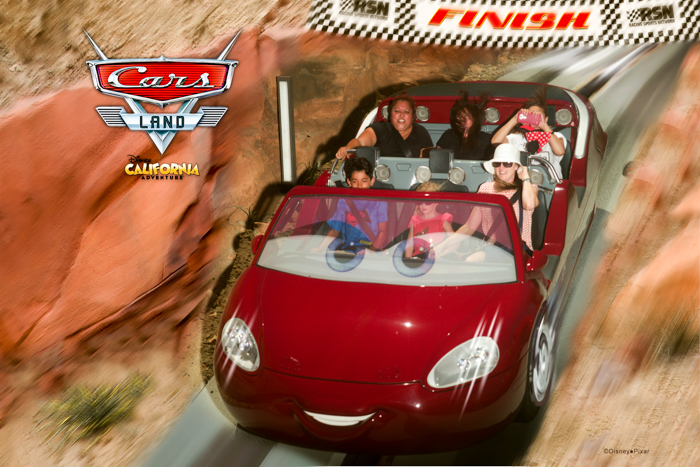 How do I plan a day at Disneyland?
My best advice is to plan to do all the rides first thing in the morning. As soon as the gates open, go straight to the rides you want to do the most that are the most popular rides, and either do the rides immediately, or get a FASTPASS (see more below) to return and do the ride later without having to line up to do so.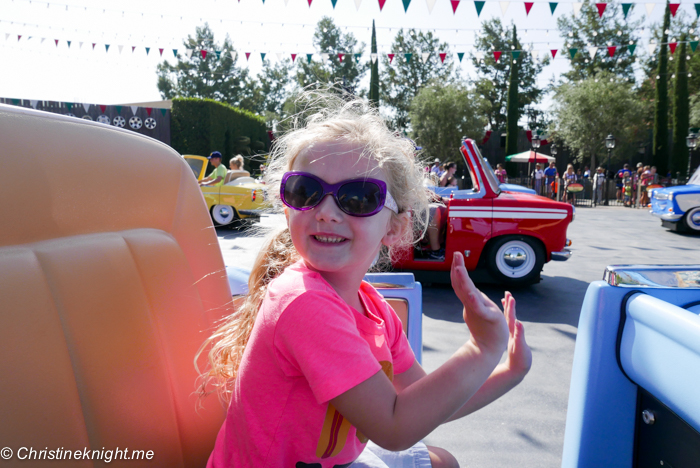 We spent the first three hours just doing all of the rides, then took a break for lunch and spent the afternoons watching shows, meeting characters, shopping, eating ice cream, and watching the parades.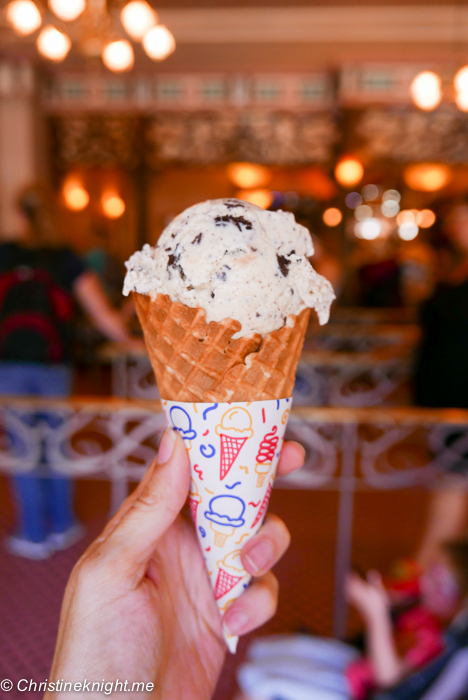 Find out the height requirement for rides in advance and plan accordingly!
This site gives you the average wait time for each ride, so you can see which ones are the most popular.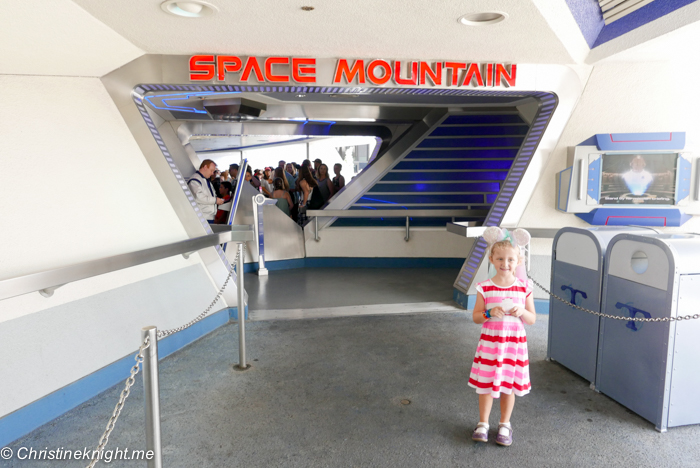 What is a FASTPASS?
A FASTPASS lets you skip the queue for the most popular rides at the park. Look for the FASTPASS Distribution sign near the entrance of an attraction, check the Return Time displayed on the sign, insert your Disneyland Resort admission ticket into the FASTPASS machine and take with you the FASTPASS ticket it spits out, printed with your return time. Then return to the ride during your time window at any time, show your FASTPASS ticket to the Cast Member at the entrance to the ride, and enjoy a minimal wait. Note: You can only have one FASTPASS at a time.
Disneyland has also introduced MaxPass as a way of making it easier to secure FASTPASS tickets.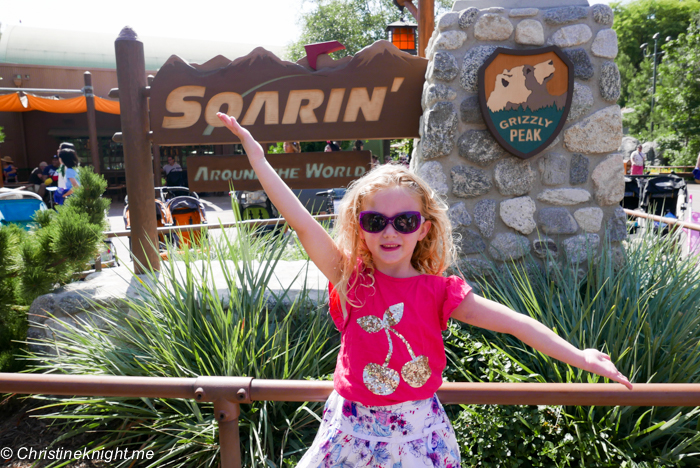 Attractions that have FASTPASS
Entertainment that has FASTPASS
What is MaxPass?
Add Disney MaxPass to your park tickets for $15 per person, per day to receive all of the Disney PhotoPass photos taken during the day (the photos taken by the Disneyland park photographers), plus the ability to reserve digital Disney FASTPASS tickets directly from your mobile device using the Disneyland App while you're in the parks. This saves having to run to the various ticket machines in the park in person.
Disney MaxPass = Disney PhotoPass Downloads + Digital FASTPASS Selections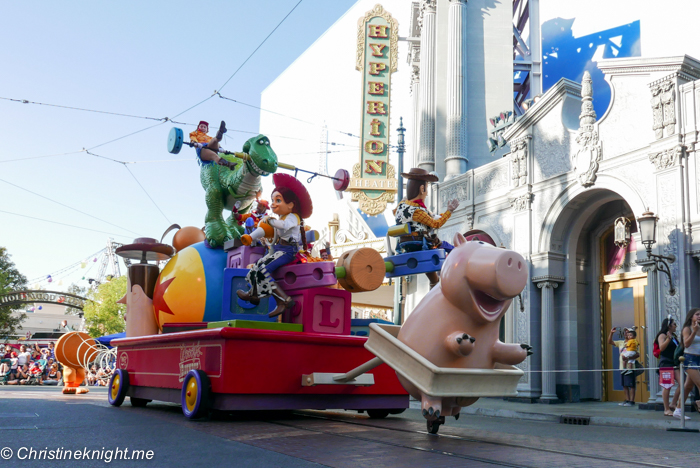 What are some tips for watching the parades?
The parades are incredibly popular, with people staking out their front row spots over 45 minutes before the parade begins. If you watch carefully around the park from an hour before the parades start, Disneyland staff will begin marking out the areas for crowd control. Grab a spot on a bench or on the gutter edge and either all sit with some snacks and wait, or leave one adult there while the rest of the family entertain themselves in other ways while you're waiting.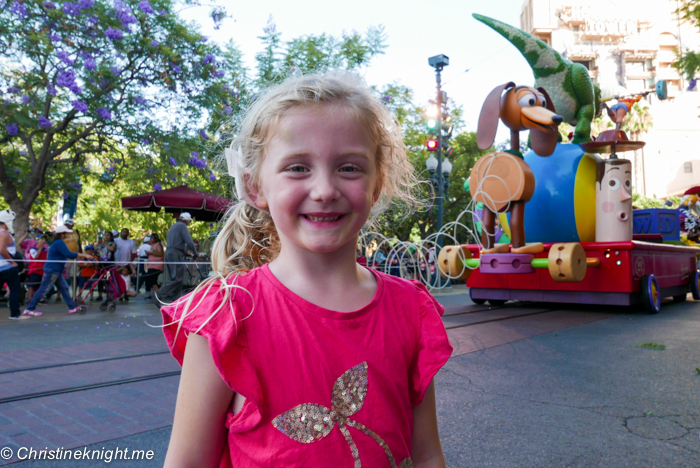 The parades wind their way from the back of the park to the front, so if the start time is 4:30pm, it will reach around the front of the park around 4:45-4:50pm.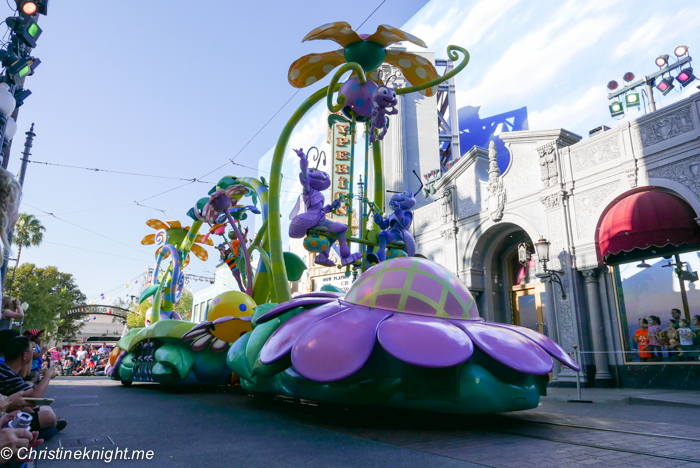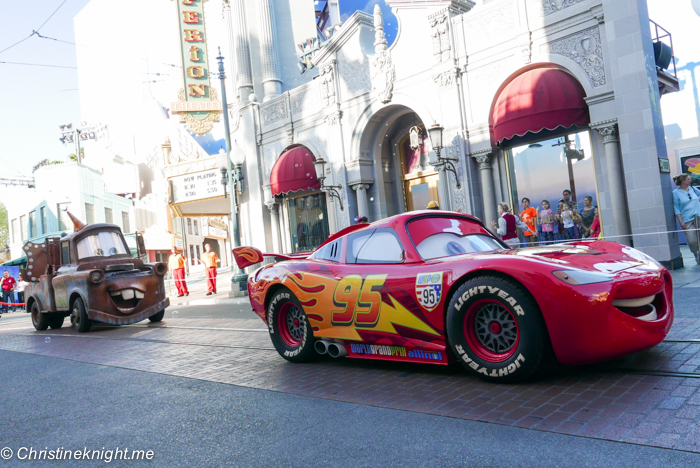 Can we take food and drink into the park?
Yes you can. Take a large refillable water bottle – you can refill with water at any drink station through out the parks. You can also ask for cups of ice water at any restaurant/fast food outlet. You are allowed to take whatever food and snacks you like into the park, which is a great way to cut down on costs. We didn't take many snacks with us as we were staying at a very basic hotel with nowhere to keep food. We ate park food all day and didn't find it overly expensive.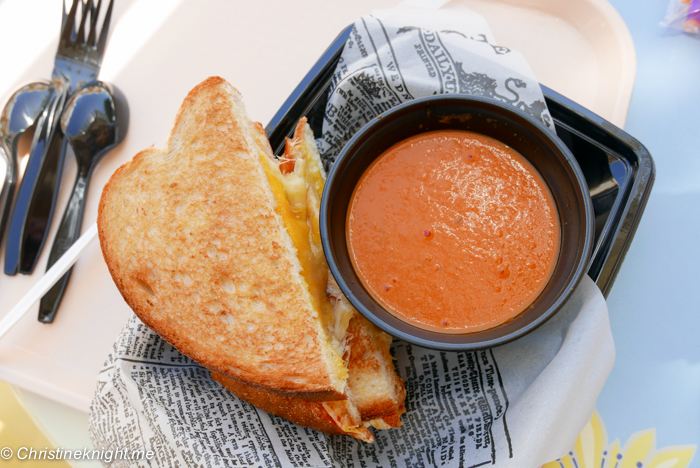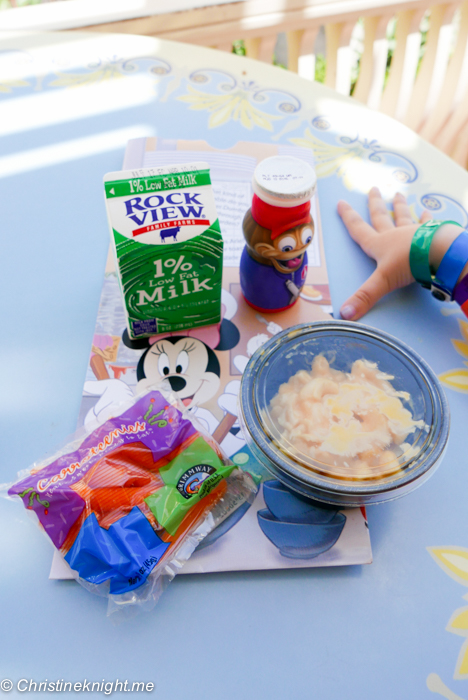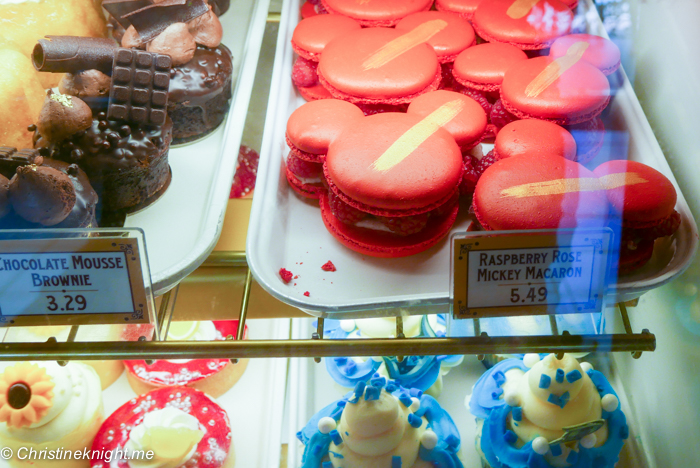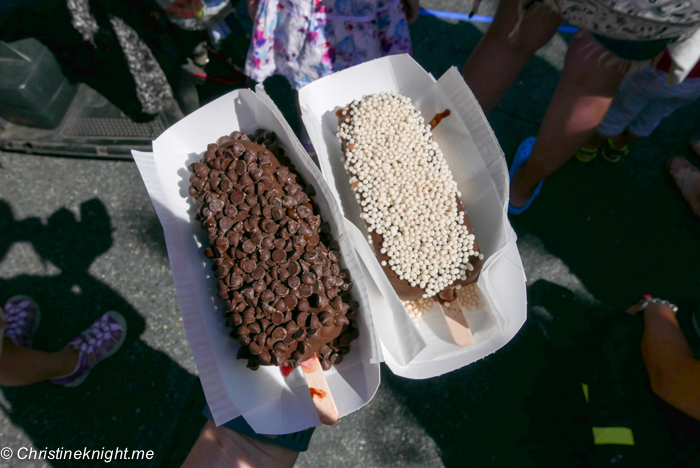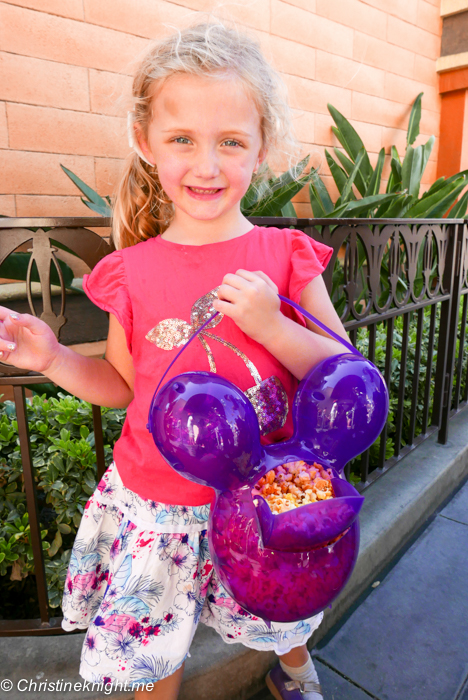 Should I take a stroller?
If your child fits in one, absolutely yes. Many hours of walking will tired even older children. There is stroller parking at every ride, and every restaurant/facility is stroller-accessible. I also like having a stroller to put our stuff in, like water bottles and snacks, and the canopy provides much needed shade during the heat.
Effective May 1, 2019, strollers that are greater than 31" in width and 52" in length will be prohibited. Stroller wagons will also be prohibited.
Read about Disneyland's stroller restrictions here.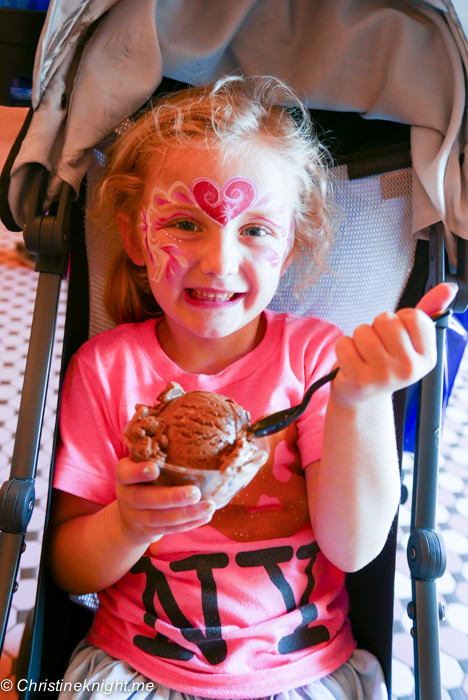 Should I use the Disneyland photographers?
Personally, I always utilise the Disneyland photography service, called PhotoPass. For $39 a day you can download all of the images taken by the Disneyland photographers. The photographers are scattered around both parks all throughout the day and take some really great quality photos – with the entire family in them! I love that I can get out whole family in the same shot with zero effort, and I also like to leave my giant SLR camera at home and just take my point and shoot with me, knowing the Disneyland photographers will have their excellent cameras to snap portraits for me that save me lugging around my behemoth for the day.
At time of editing (Sept 2017), purchasing a MaxPass for $10 per person, per day also gives you the PhotoPass images. If you have three or less people in your group, this is the way to go.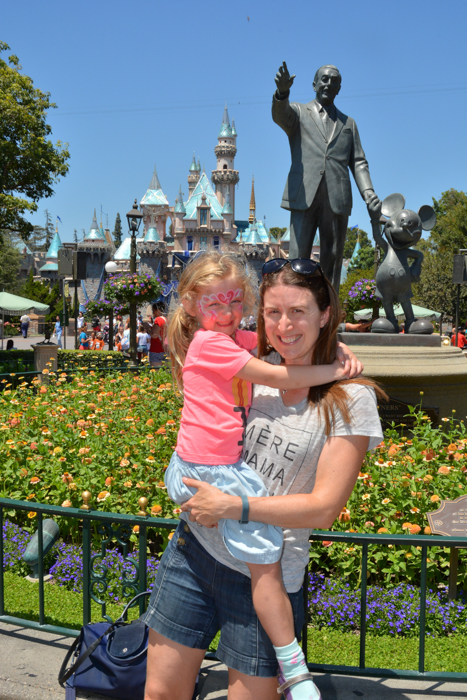 When getting your photo taken, you can either download the Disneyland app to your phone and present the app to the photographer and add the photos to your account, or the photographer will give you a small card with a bar code that you can then add into your account yourself later on.
You can take the cards to a Disneyland PhotoPass store to buy the images at the park, or log into the Disneyland PhotoPass website later to buy and download them.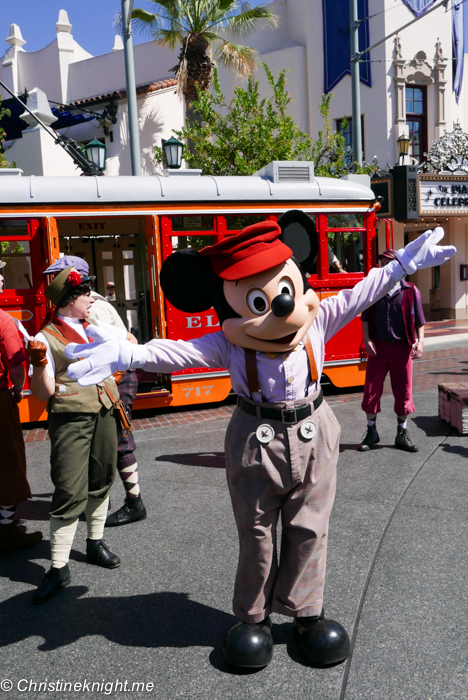 How do I keep on top of what's happening during the day?
I love the excellent (free) Disneyland app. It allowed me to see the wait times on every ride, has a map with a compass so you know where you are, and also shows what characters are where for meet and greets, where food outlets and bathrooms are, and times for entertainment such as shows and parades.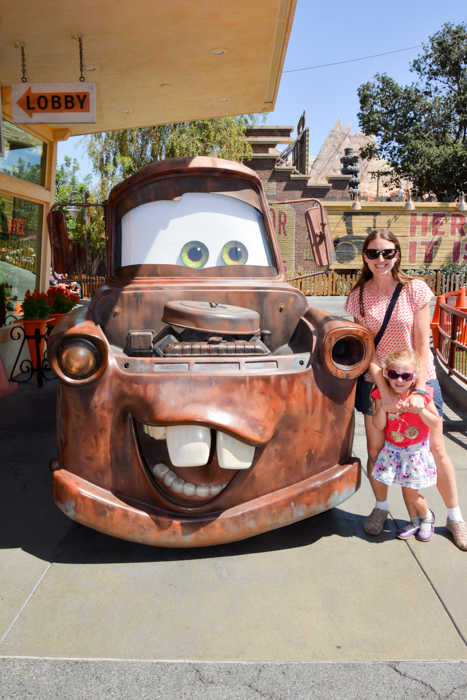 How do I meet characters at Disneyland?
Characters roam around the parks all day. Some have designated spots and times that you can find either on the app or by asking at Guest Services inside the park. The core characters such as Minnie, Mickey and friends and the princesses have designated places where they can be found.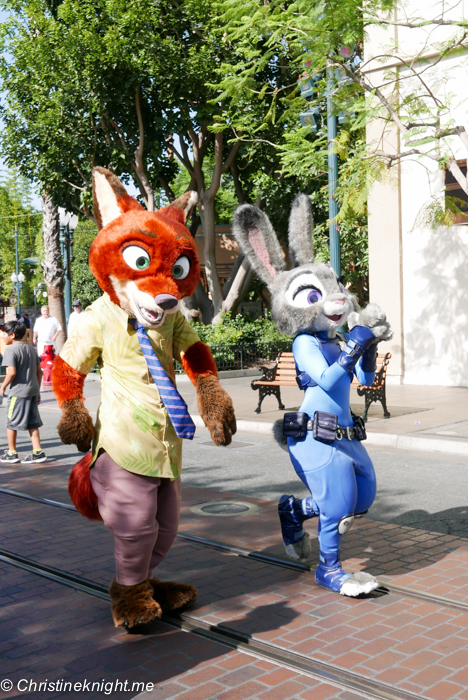 Others simply roam and you have to be lucky to spot them, such as Alice in Wonderland and the Mad Hatter, and Mary Poppins. If you want an easy way to meet lots of the characters all together, book in for a character Breakfast or dinner.
What are the character dining options?
There are five character dining options at Disneyland. One is inside the park: Minnie & Friends at the Plaza Inn, which is available for breakfast/brunch. This character dining experience requires a park ticket to attend.
Minnie & Friends is our top pick as it has the most variety and volume of characters. We met Minnie Mouse, plus core Disney faves like Donald Duck, Hook and Chip & Dale, Winnie the Pooh and Eeyore. Peter Pan, Rafiki and other lesser characters also feature.
Review of Minnie & Friends at the Plaza Inn
Outside the park there are three options:
Goofy's Kitchen at the Disneyland Hotel, which is open for breakfast and dinner. This is the only character dining experience which is open for dinner. We met Mickey, Minnie, Chip, Dale, Pluto and Goofy.
Review of Goofy's Kitchen at the Disneyland Hotel
Mickey's Tales of Adventures at the Grand Californian. This is a fun buffet experience with Mickey, Minnie, Chip, Dale and Pluto. Breakfast/brunch only.
Review of Mickey's Tales of Adventure at the Grand Californian
Donald Duck's Seaside Breakfast and Brunch at Disney's Paradise Pier Hotel. Daisy and Stitch are at this dining experience.
More info on Donald Duck's Seaside Breakfast and Brunch here.
Disney Princess Breakfast Adventures at the Napa Rose, Grand Californian. This is the only princess-themed dining experience. It's a pricey meal with plenty of interactions and take-home gifts.
More info the Princess Breakfast here.
Book in for a character Breakfast or dinner here.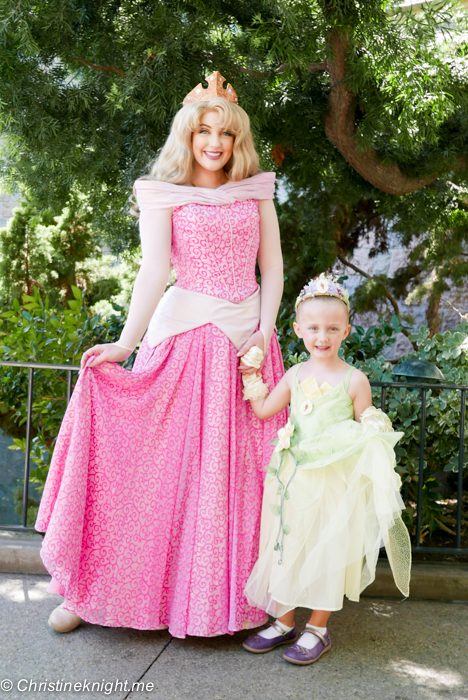 How do I meet the Disney princesses?
You can meet three princesses at any time of day at the Fantasy Faire inside Fantasyland, Disneyland. The princesses change regularly so you won't know which ones will be there until you go inside.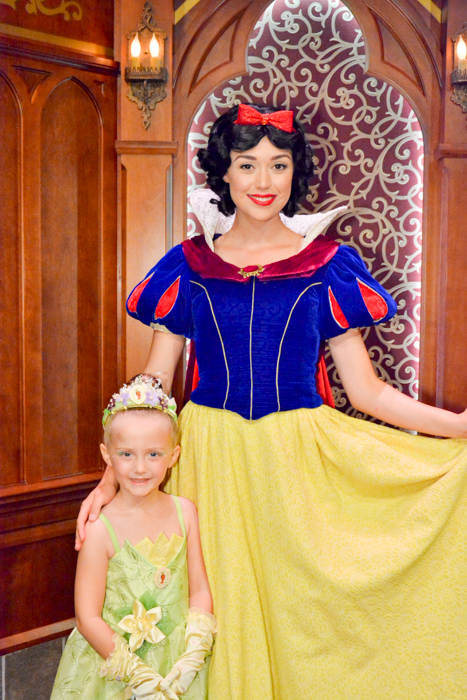 The princesses are in seperate rooms and you walk around to meet them one at a time. You can also happen upon princesses outside Cinderella's Castle – we found Aurora this way. As of Jan 2018, this is the only way to meet multiple princesses at the same venue.
Princesses also roam around the park. Check the app to see where they will appear and when.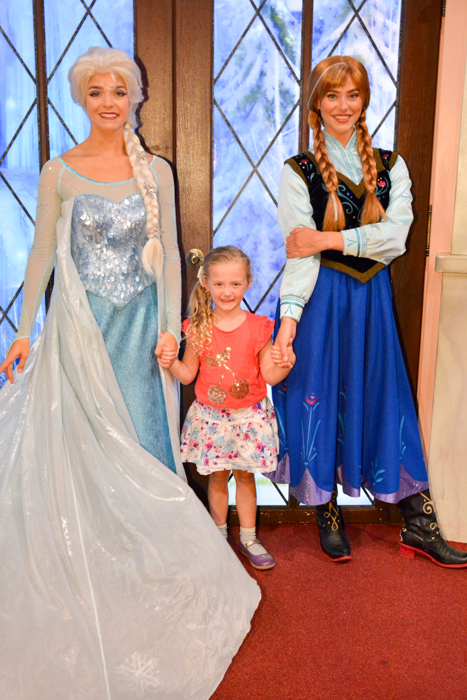 You can also book in for the Disney Princess Breakfast Adventures at the Napa Rose, Grand Californian. This is the only princess-themed dining experience. It's a pricey meal with plenty of interactions and take-home gifts.
More info the Princess Breakfast here.
What about Anna and Elsa?
The sisters are located inside the Animation Academy in California Adventure Park, and are the only princesses you meet together. We really enjoyed meeting Anna and Elsa – they have a great repartee together, making the sisters a really fun duo to chat with.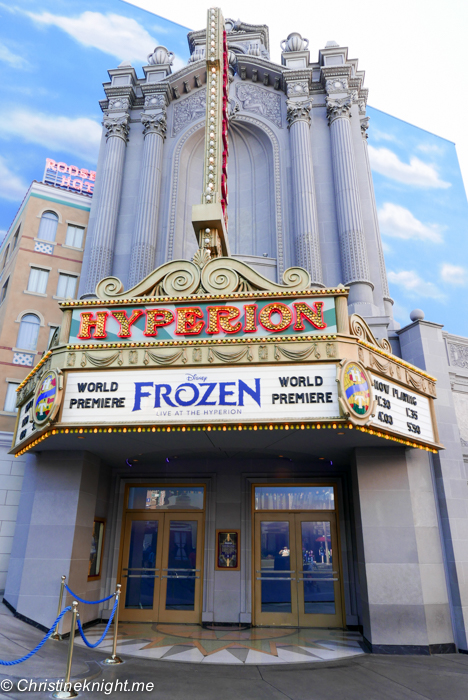 Is there any thing else "Frozen"?
Yes, there is a fantastic new live "Frozen" show in the Hyperion Theatre in California Adventure Park. the show goes for an hour, and runs several times a day.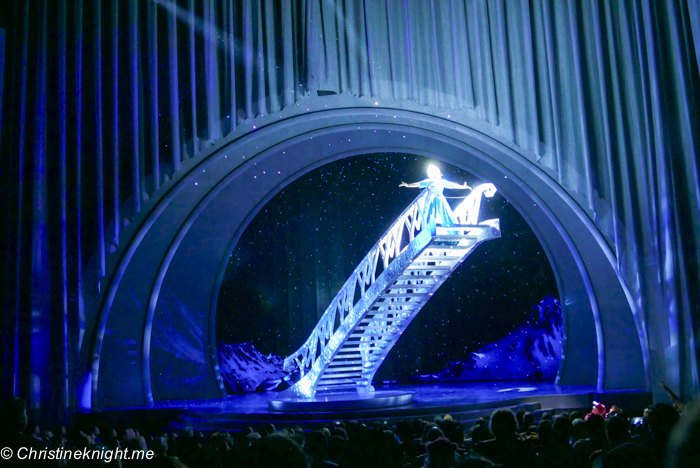 I would advise returning to line up for the show 40 minutes before start time to guarantee a decent seat. The show is excellent, and does a fantastic job of telling the Frozen story minus the scary bits.
More info on Frozen – Live at the Hyperion Theater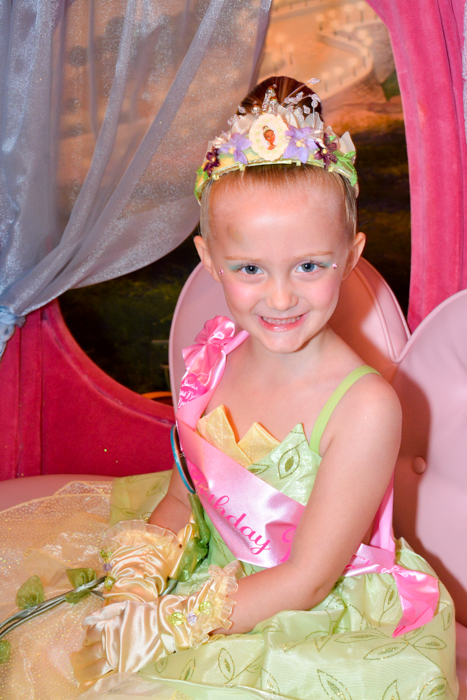 What is the Bibbidi Bobbidi Boutique?
This is a must (but pricey) experience for little girls who want a princess makeover. You can read about our experience and more info on the Bibbidi Bobbidi Boutique here.
Do you have any questions about how to plan the perfect Disneyland holiday?
More Disneyland tips
Tips on the best things to do at Disneyland with little kids
How to survive (and enjoy!) Disneyland with a toddler
Get ready for your Disney trip with these packing tips
Celebrating the holidays at Disneyland
Celebrating Halloween at Disneyland