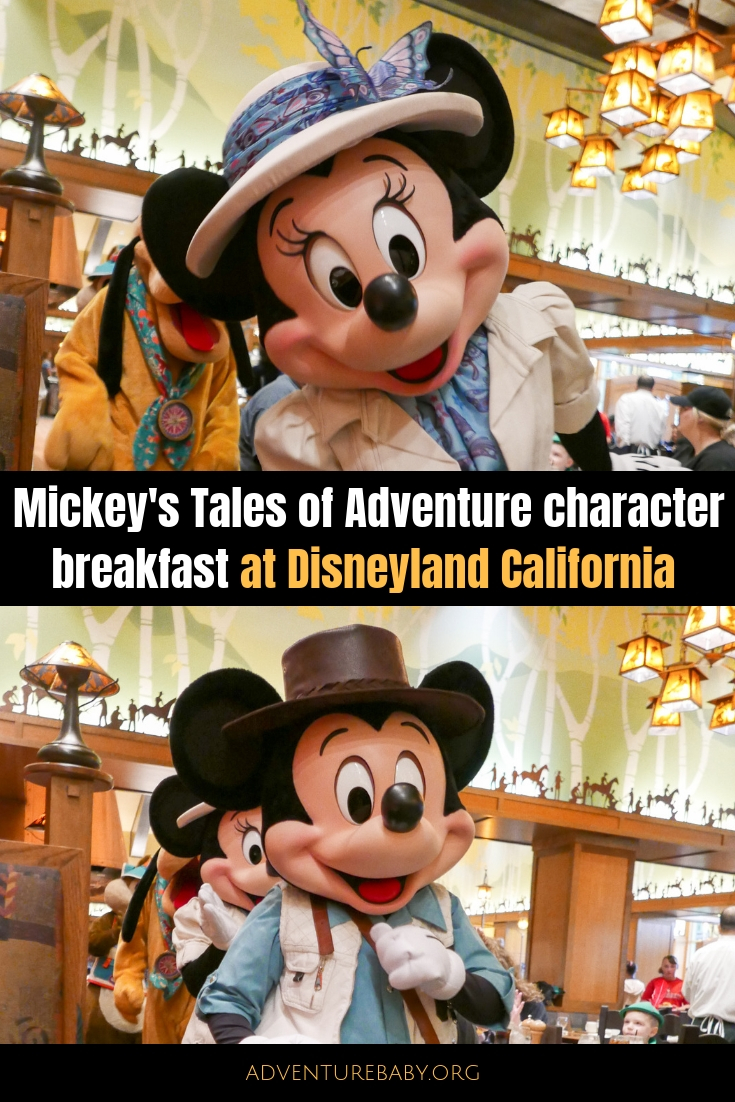 Mickey's Tales of Adventure Breakfast Buffet at Storytellers Cafe, Disneyland's Grand Californian
Oh boy, it's just not Disneyland without a character breakfast! The new Mickey's Tales of Adventure Buffet is an incredibly fun dining experience at Storyteller's Cafe inside the Grand Californian Hotel & Spa.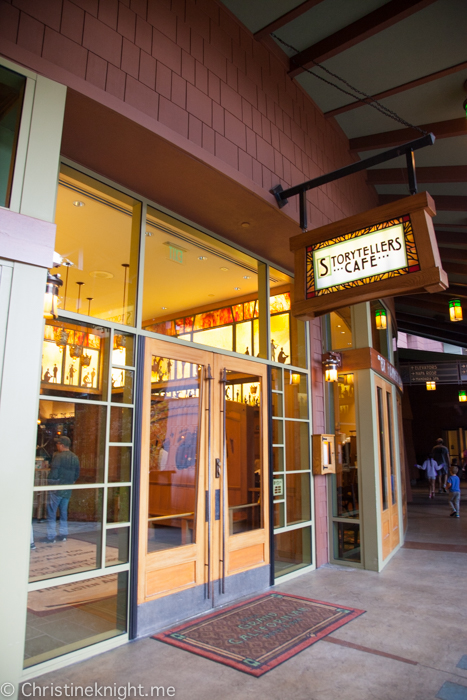 The character dining experience is offered as breakfast or brunch. We are early birds so breakfast suited us perfectly. You do not need to be a guest of the hotel to enjoy this character experience.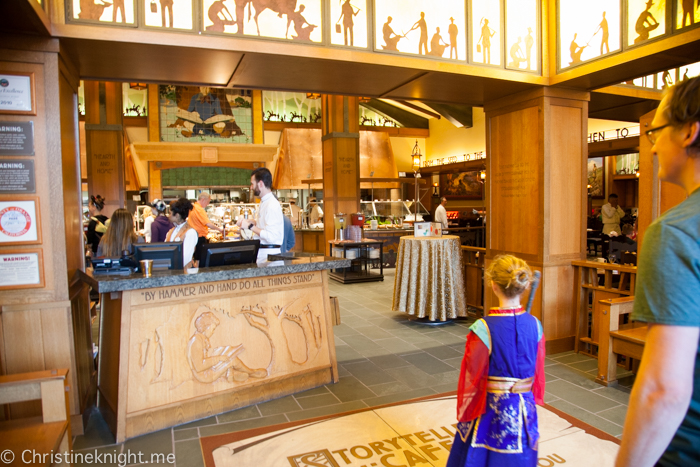 A character dining experience lasts about 90 minutes and includes a full buffet and interactions with various characters. At Mickey's Tales of Adventure the characters are Mickey, Minnie, Pluto, Chip and Dale. We only met Dale as Chip was "foraging food from the buffer" according to Dale.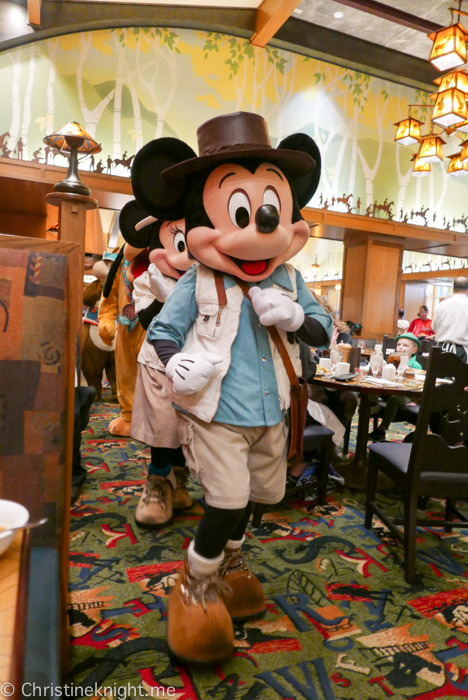 The characters are all dressed in fantastic adventure outfits. Mickey looks like Indiana Jones, while Minnie has cute hiking boots and a butterfly on her hat.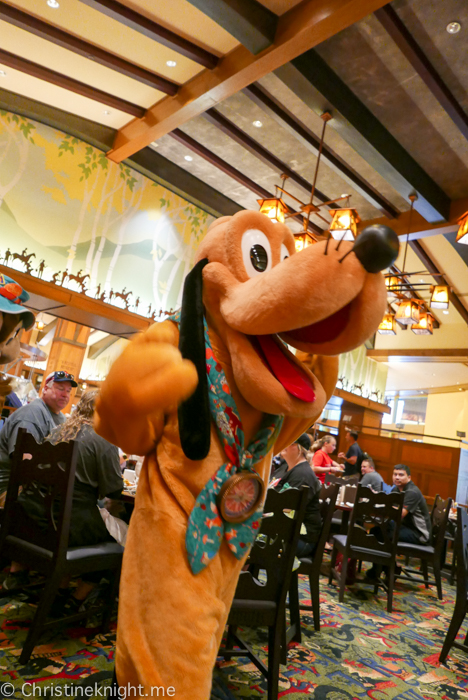 Pluto has a compass around his neck but he told us (through gestures, of course), that he actually uses his nose to find out where to go, so I assume the compass is decorative, only!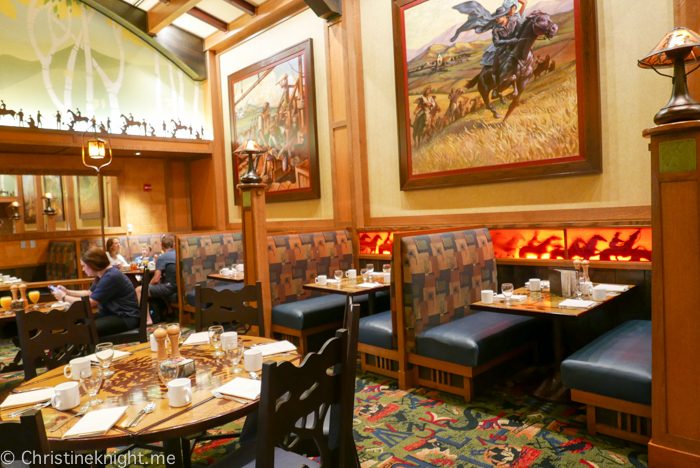 After we were seated the characters rotated their way around the dining room and visited our table. I was highly impressed at the amount of time each character spent with us and how much of an effort they made to engage us and make us all laugh.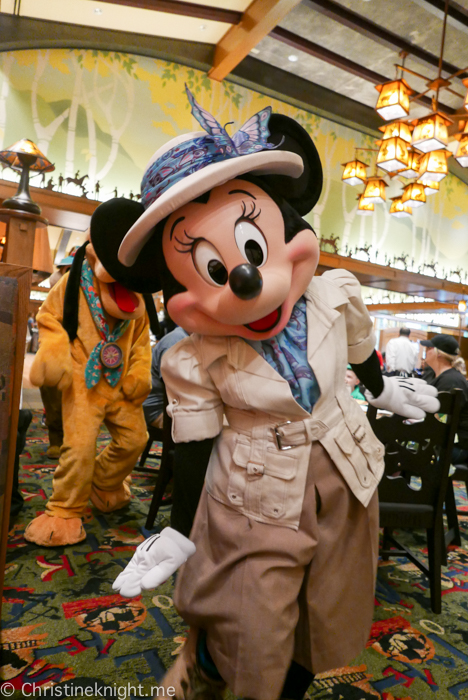 The characters came past on multiple occasions as well, so I felt like the interactions we had made the whole experience extremely worth while.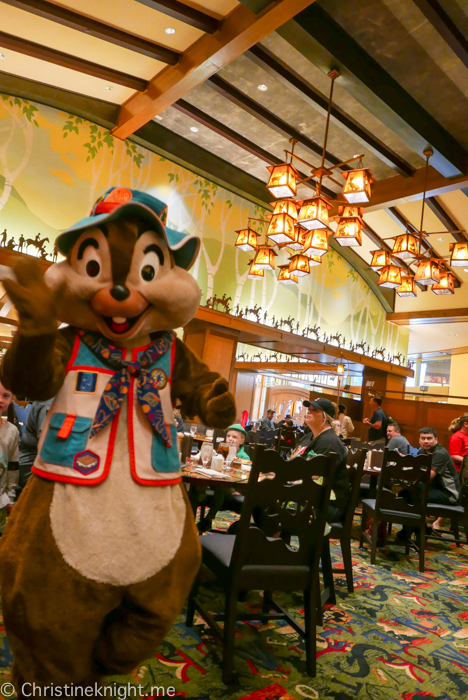 Twice during our breakfast the whole cast of characters marched around the room, encouraging the kids to join them and handing them instruments to play. Even the older kids enjoyed being part of the march.
Generally the same characters are there all the time, however sometimes a character will take a break and will not be available for your dining period.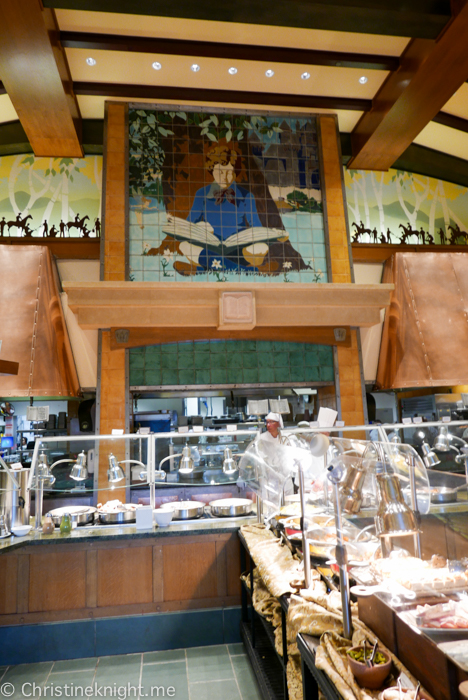 We thought the food was excellent. Selections include made-to-order omelettes, the best scrambled eggs we have ever eaten, Mickey waffles, bagels and cream cheese, various cereals and milk, juices, bagels and lox already loaded up with cream cheese, salmon, red onions, and parsley, quiche, breakfast nachos, pastries, French toast, fresh fruit, sliced cheese, sliced meat, yoghurt parfaits and muffins.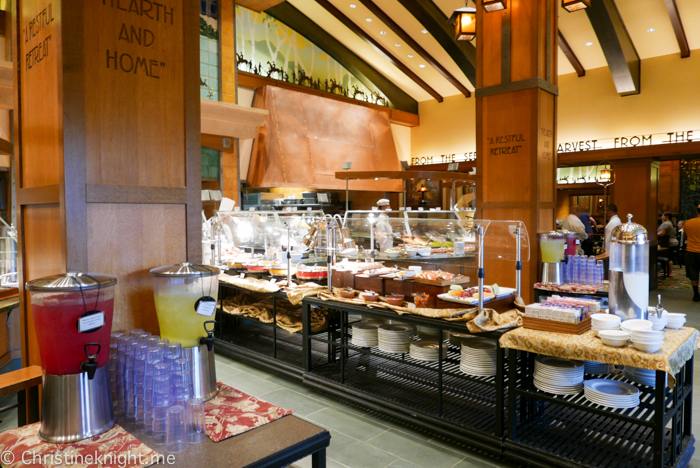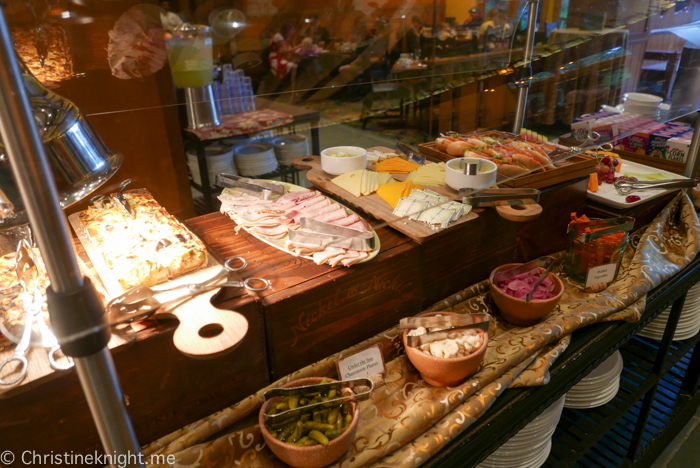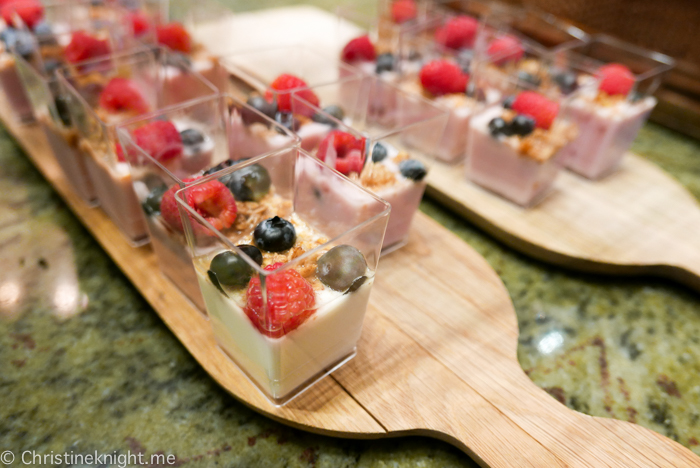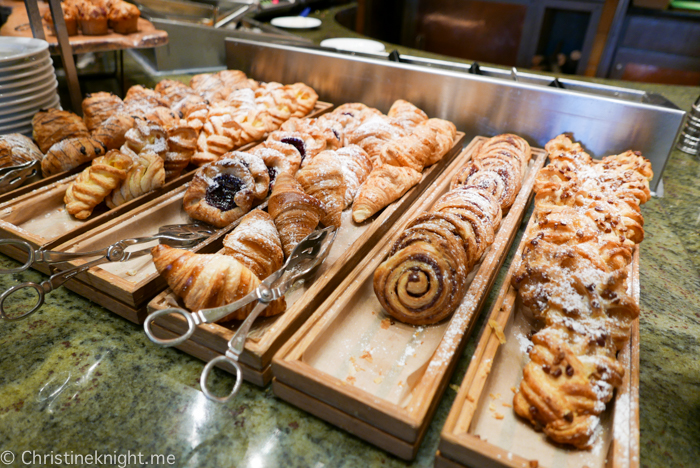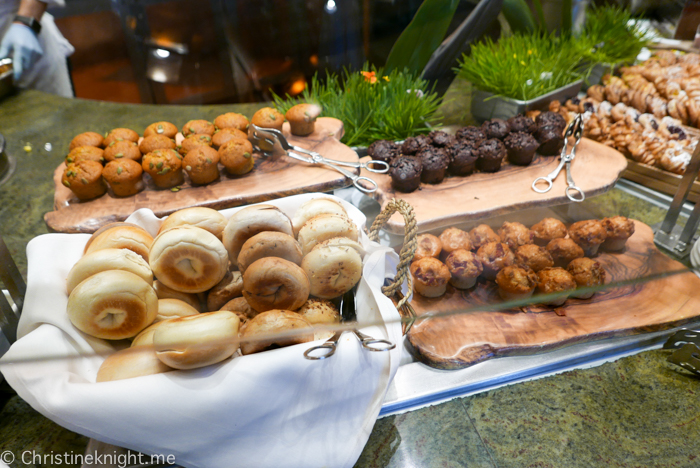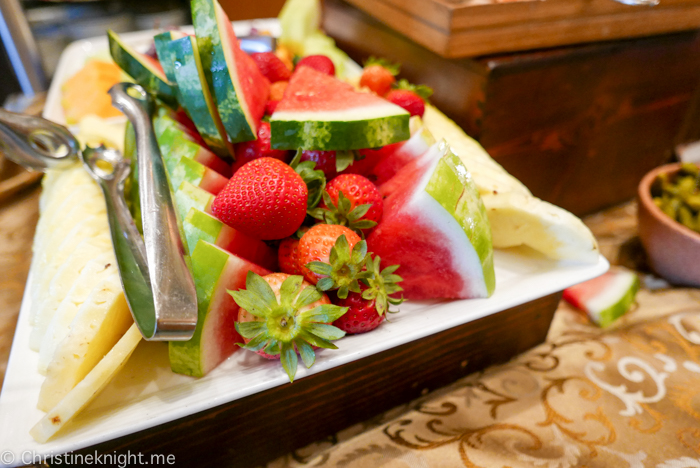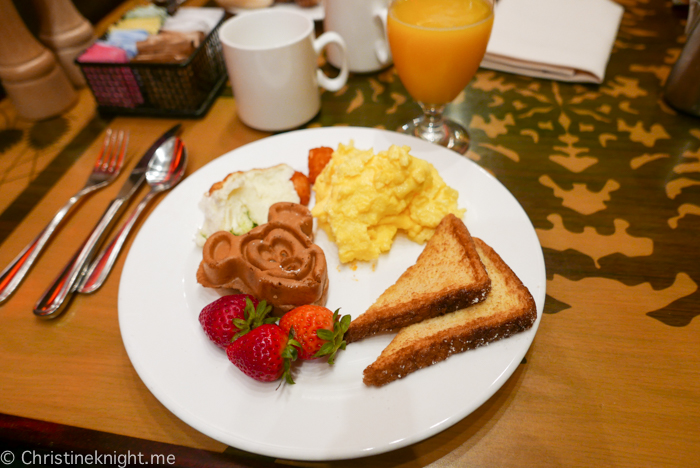 I thought the bags of cereal milk were adorable.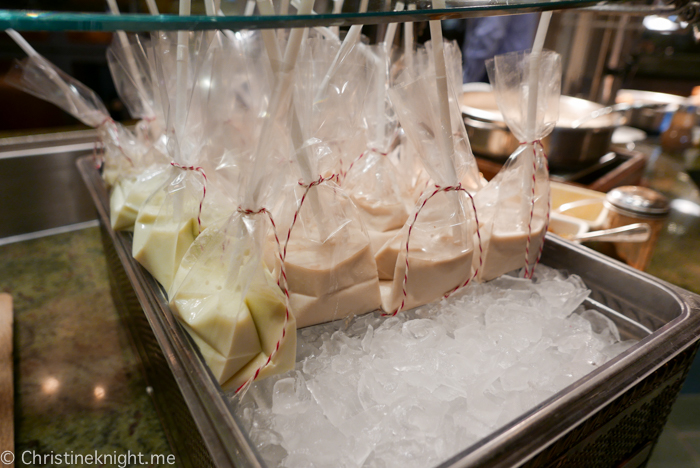 Brunch is held later in the day and includes breakfast items plus more lunch options. Breakfast is served from 7:00 AM – 11:25 AM and brunch 11:30 AM – 2:00 PM.
Make sure to collect one of the cute Mickey's Tales of Adventure buttons on the way out.
When we dined the breakfast cost $15 per kid and $35 per adult.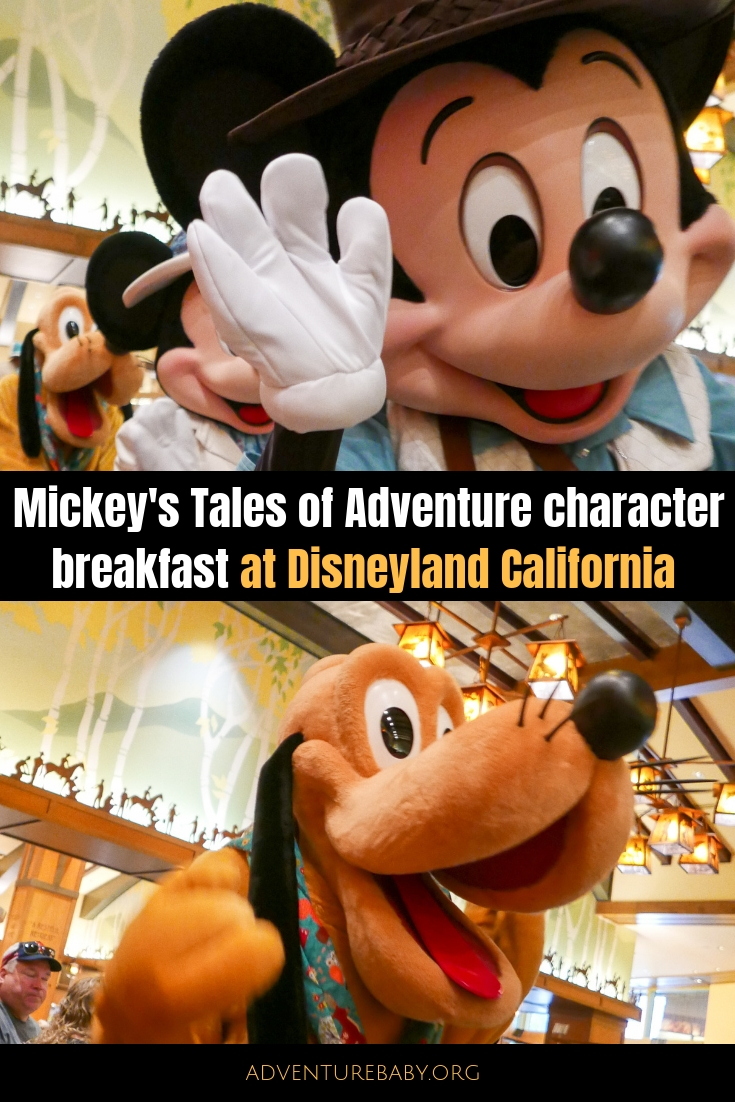 Advance reservations for Storytellers Cafe are highly recommended. You may check availability and make your reservations online, or call (714) 781-DINE or (714) 781-3463 up to 60 days prior to your visit. Reservations can also be made in person on a limited basis, subject to availability.
disneyland.disney.go.com/dining/grand-californian-hotel/storytellers-cafe/