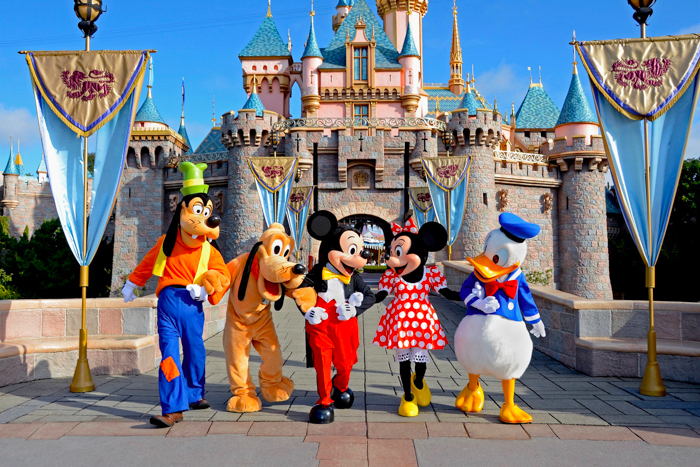 We recently did the unthinkable — Disneyland with our 2.5 year old. And you know what? It was awesome. Hectic, crazy and overwhelming, but also totally magical. We had the benefit of the amazing Gina of In The Mouse House to book and organise the trip for us, and help us enjoy an easy and fun family vacation. We had so much fun that I wanted to share my top tips (a lot of these are thanks to Gina!) for getting the most out of Disneyland with a toddler.
1. Book a hotel near Disneyland. It does NOT have to be a Disney hotel. They are a lot pricier, and there are so many other budget but good quality hotels literally right across the road from the hotel entrance. We stayed at the Carousel Inn and Suites for a fraction of the cost and could not have been happier with our decision. Note: We did not use the pool, only because we didn't have time in our schedule. If you're traveling with older kids, choose a hotel like the Howard Johnson, which is a budget hotel with an amazing pirate ship playground in their pool.
2. Have a Disney vacation planner like Gina book the trip for you. Gina, as an authorised Disneyland travel agent, booked our hotel, park tickets, character dining (and could have booked more, like flights, if we'd needed it) at no cost to us. She also wrote us a day-by-day itinerary of how to best manage Disneyland with a toddler. For people who haven't been before and have no knowledge of which rides are suitable and popular for different ages, this is an absolute must to take the stress out of each day.
3. Plan your time of year wisely. We went just before peak season, and every day the parks were absolutely jam packed with people by midday. Do not, unless you are totally insane, go during high season. Disneyland has a page on their site with details on the best times of year to go.
4. Plan each day. Our itinerary took the work out of it for me, and meant that we already knew which rides were suitable for our toddler, and in which order we should hit them up before the crows got too bad. E's favorites were Cars Land in California Adventure Park (particularly the life-sized and moving Lightening McQueen and Mater) and Fantasyland in Disneyland. Her absolute favorite rides were the spinning tea cups and flying Dumbo. She wasn't a fan of any ride that went through tunnels as she thought they were scary. High and fast spinning things, no problem.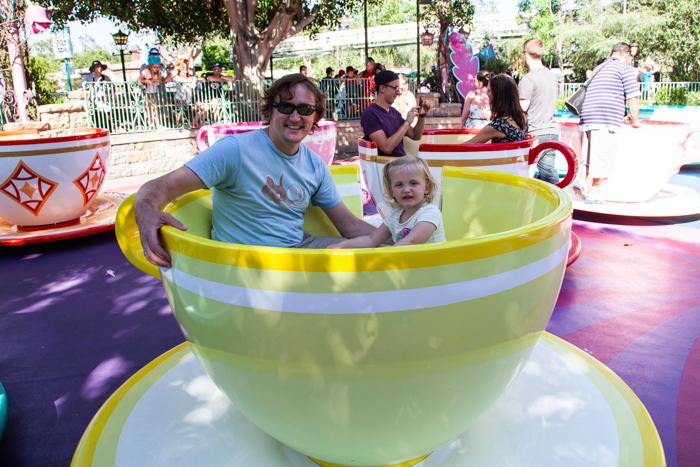 5. Alternate lining up and riding with your partner. As the day went on and the crowds grew, there were huge lines for every ride. If your toddler is like mine, you'll want to have one person lining up for the next ride while the other person is taking the child on the previous ride.
6. Arrive super early. You'll enjoy the park the most even though it might be hard to fathom getting up that early for a theme park. How early? If you buy a three-day park pass, you get one "magic morning" included, where you get to enter the park an hour before the rest of the general public. The days we went, opening time was 8am, and magic hour was 7am. Before entering the park you need to go through security and line up in front of the turn styles, so arrive even earlier – at least 15 minutes if not half an hour earlier, especially for your magic morning hour. Seeing the park with almost no-one in it is eerie and peaceful at the same time. And yes, the only time in your parenting life you will refer to 7am as the "magical hour".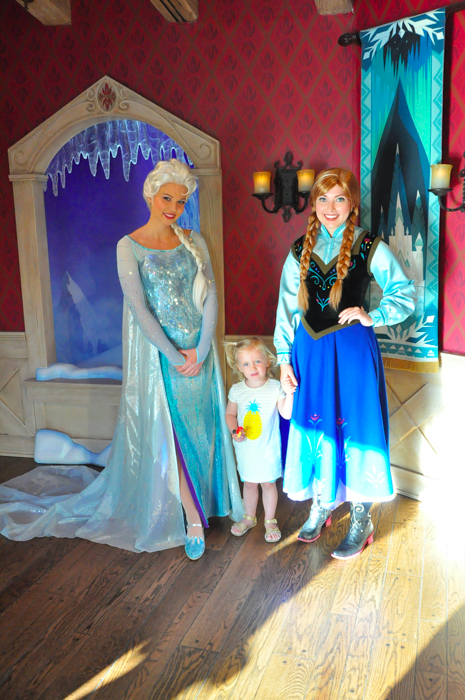 7. Want to meet Anna and Elsa? They're the current hot ticket, and we used our magic morning hour to arrive at the park at 6:30am and line up at the turn styles so that at 7am when the gates opened, were were able to walk (ok, run) to their "house" in Fantasyland and be first in line to meet them. Anna and Elsa were thankfully punctual and greeted guests from 7:05am, which meant that by 7:10am, we had met them and were on to the rides, while the queue behind us was already massive. Without a strategy like this, you will wait around two hours to meet Anna and Elsa.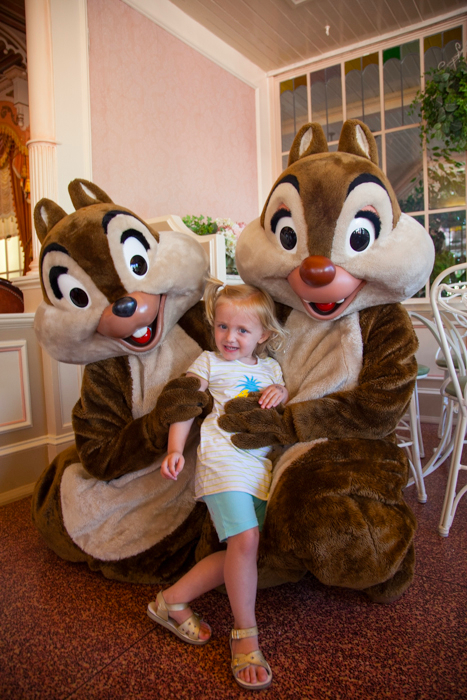 8. Book character dining if your kid absolutely HAS to meet certain characters. We had dinner at Ariel's Grotto and met all of the Disney princesses. We also breakfasted with Minnie and friends. It was such a wonderful experience for little E to meet her favourite characters in a setting like this — no lining up, just casual chatting and playing with the characters. It's worth noting here that the character interactions were beyond my expectations. You expect the staff to be good with kids, but they were not just good, they were exceptional. E froze up each time she saw one of her favorites come to life, and every single character took the time to chat with her and draw her out of her shell by asking her cute questions about her outfit, or a toy she was holding. It was the best three days of her life thus far.
9. Eat early or late. The best times to eat at a Disney restaurant are before 11am or after 2pm. During the middle of the day they get quite busy. The food at all the restaurants is pretty average, so I would also suggest bringing your own food if possible.
10. Take a break during the day. After your early morning, get your hand stamped and leave for a break or nap during the middle of the day.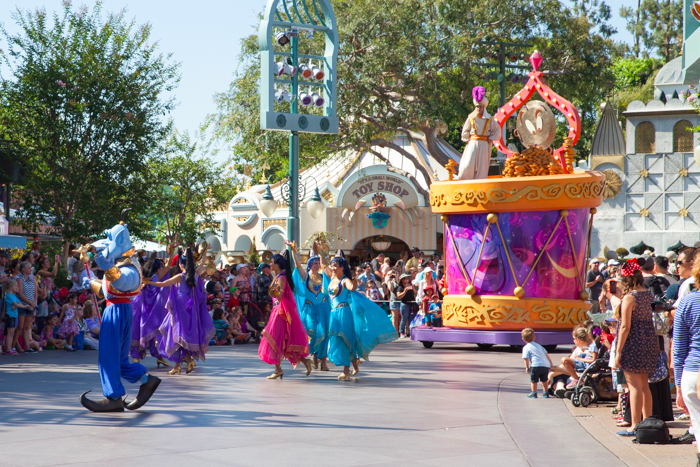 11. Make time for the parade. It's magical for kids to see (Gina advised us that near the It's A Small World ride was a great vantage point for the parade, and she was totally right!). Disney has just added a Frozen float to the parade, so if you didn't get a chance to meet Anna and Elsa (or didn't fancy the line/early morning) you can still see them in the parade.
12.  Use the "ride swap" for any rides you want to do that your kid is too small for. This means getting a fast pass when you get to the park (which tells you what time to return so you don't have to line up), then, after you return during your time slot, one of you collects a ride swap from the attendants at the front of the queue and has the ride, while the other watches the child (our favorite was the Indiana Jones ride). Afterwards, the person who rides gives the ride swap pass to the other adult, who can then jump the queue. Yippee! Note: We tried to do to do this for the Star Tours ride, but when Alec got to the front and asked for the pass, they'd run out, so this is not a fool-proof plan.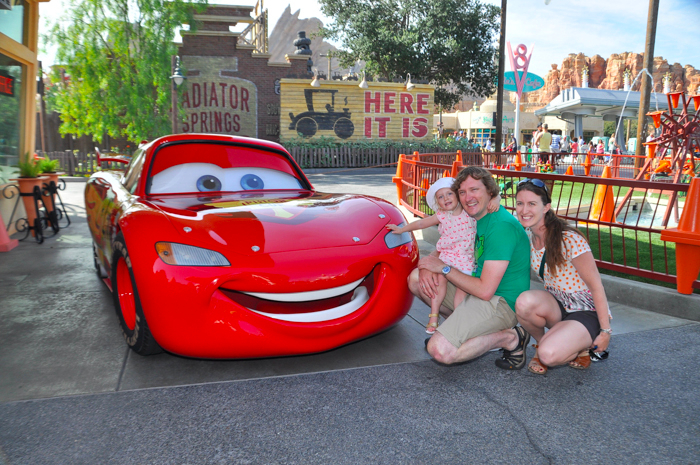 13. Plan to spend one day at California Adventure Park and at least one at Disneyland. We didn't do the park hopper tickets as we thought E was too little (and we were right! One park was enough per day for her.), but we did allow for two days in Disneyland so we could watch all the shows, take breaks, meet the characters, and not feel rushed. This was a great plan as we felt like we were able to see everything without rushing around like crazy.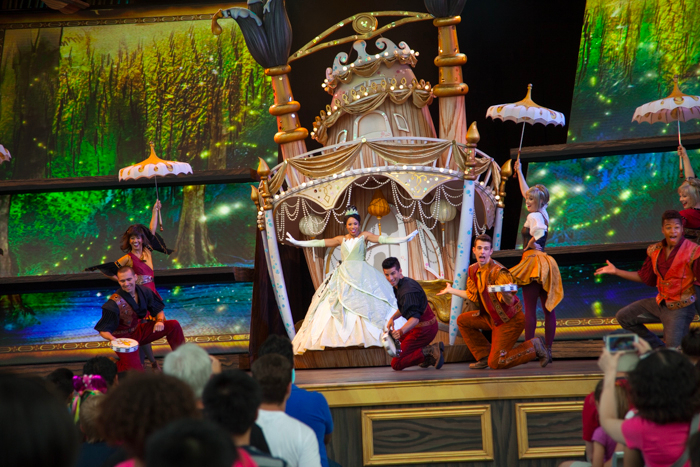 14. Watch the shows! The calibre of the Disney performers is so high. Even the short musical performances are performed by extremely talented staff. Our particular favorites were the Aladdin mini show and the new Mickey and the Magical map show which featured several of the Disney princesses.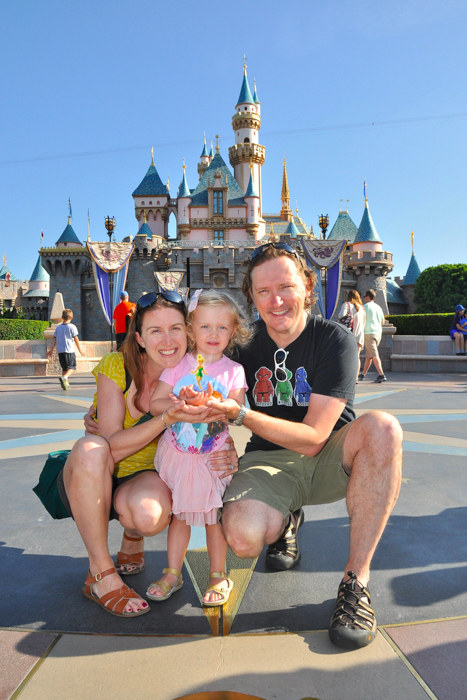 14. Get a PhotoPass when you enter a park. There are photographers all over the park who will take your photo with characters or in front of scenic points like the castle. Each time you're getting a photo taken by one of the Disney photographers, if you give them your pass, all of your photos will be collected in the one place to buy at the end of your trip. They're expensive, but if you use them a lot it's worth the money to get your whole family in every picture.
15. Bring or hire a stroller. There's a lot of walking and having the stroller gives kids a resting place throughout the day. You can park strollers out the front of the rides so no need to worry about where to leave it.
16. Feel the magic. The only way to really enjoy Disneyland is to ditch your usual cynicism and enjoy the best showmanship on the planet. Disney puts on a performance like absolutely no other — something even non-Disney-lovers like my husband can appreciate if they want to.
PS: Want help planning your Disneyland or Disneyworld adventure? Contact Gina via her website.