I'm going to be upfront and say Disney cruises are REALLY expensive. Crazy expensive – much more so than a lot of other cruise liners, in fact, that offer similar itineraries. So why choose to spend your time and your money that way? Simply because the experience is unparalleled. We just got back from the 7-Night Eastern Caribbean cruise aboard the Disney Fantasy, and can happily say that here are 16 reasons why, for us, a Disney cruise is worth the money.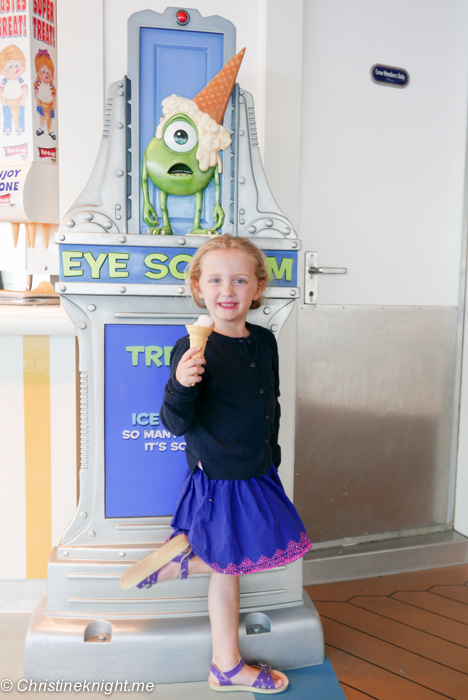 1. It's (almost!) all-inclusive
All your food at the main restaurants and snack joints, entertainment, use of facilities and even room services are included in the price. What's an extra charge? The spa services, popcorn before the shows, snacks from additional cafes not in the main dining areas and alcohol, and gratuity at the end of the trip (it's charged to the room at a rate of $12 per person per day).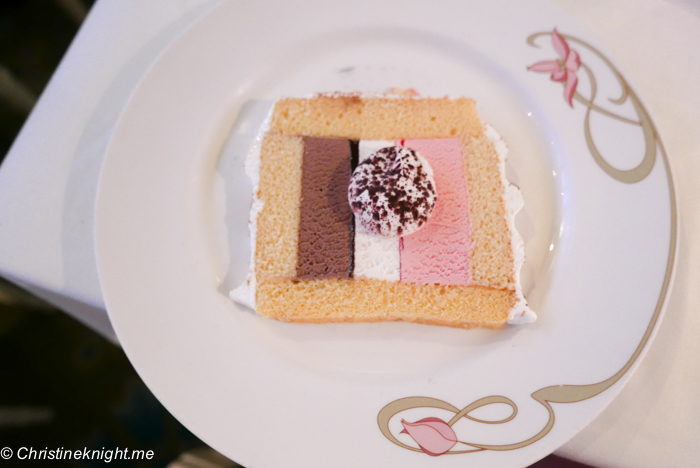 2. The service is impecable
We received some of the best service of our lives on the ship, especially from the servers in the dining rooms. Our head waiter, assistance and dining room head all knew our name and our dining preferences (for example, I'm a fussy vegetarian and my daughter is fussy period), and would be prepared to offer us with alternatives to the menu each evening if they knew we wouldn't like them. Our amazing servers followed us each night through the dining rotation (there are three restaurants that we rotated between) so we were always greeted with their smiling faces each evening.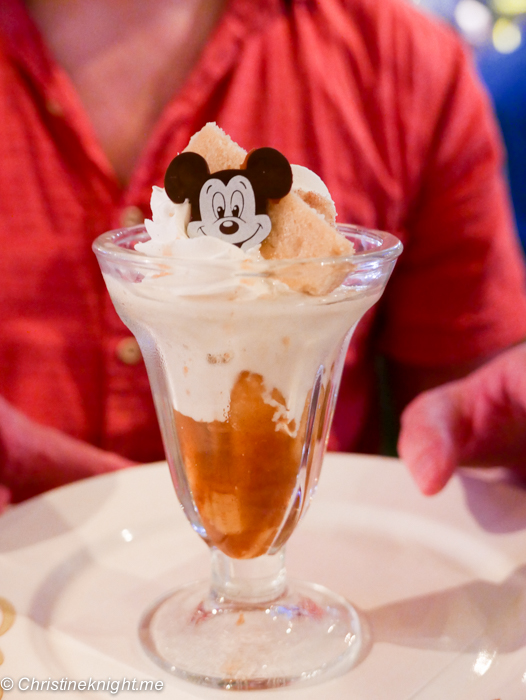 3. Mickey is everywhere
It's fun to make a game of finding all the hidden Mickeys. From tiny nautical Mickeys made out of ropes in the shower curtains to bigger emblems on the ships decks, there are Mickeys everywhere you look in both discrete and obvious ways, but still pulled together so harmoniously as to present an elegant ship for adults rather than a carnival for children. A masterful design.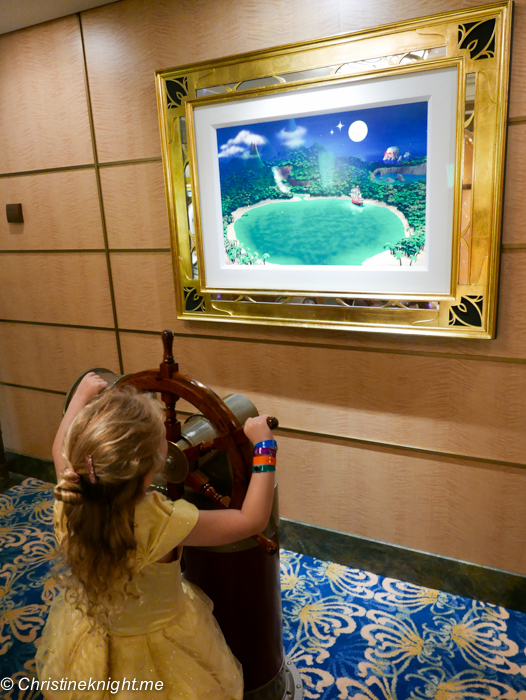 4. Disney magic is all around
Disney is renowned for making the ordinary magical, and they don't disappoint on a cruise, either. Little touches like magical pictures that guests can interact with, or a steering wheel set up in front of what looks to be an ordinary painting but turns out to be a pirate ship that you can steer in search of treasure really give the illusion of a bit of pixie dust sprinkled liberally over every element of the ship.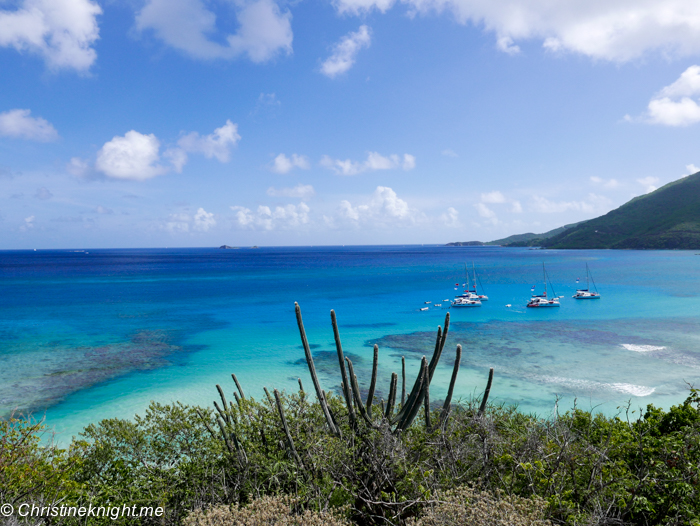 5. See the world with zero effort
One of the big bonuses to taking a cruise is that you get to wake up at exotic destinations without lifting a finger. Everything is so incredibly easy and manageable, which is what we wanted with a young child. On our cruise, we visited Tortola in the British Virgin Islands, St Thomas in the US Virgin Islands and Disney's own island, Castaway Cay. We were offered off-ship excursions at additional costs, or you can also just walk straight off the ship and find your own way around.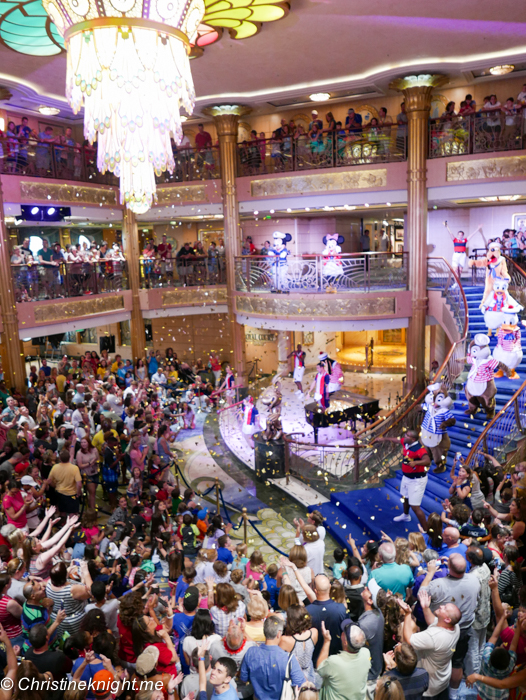 6. Incredible entertainment every day and night
Dazzling shows is what Disney does best, and again they bring this to the cruise. Every night there is a new show to see, the highlight on ours being Aladdin. The performers and staging in these shows is just incredible – it's a standard of quality that you would happily pay to see under ordinary circumstances.
If you feel like seeing a movie on the cruise, you can head into one of the two movie theatres playing brand new or recent releases (on our ship we had Finding Dory the same day it was released globally in cinemas, Jungle Book and the new Captain America movie), or lie in luxury on the pool deck and watch the "Funnel Vision" movie screen playing Disney classics above the pool on the top deck during the day and night.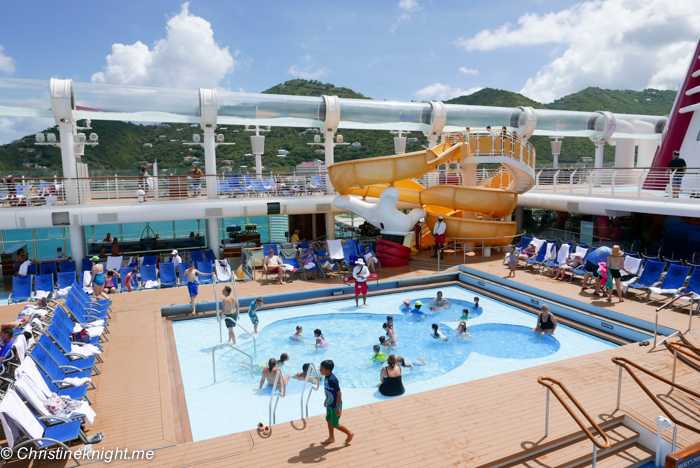 7. Water play all day
The top desk is all about getting wet! Our number one fave water play activity was the AquaDuck slide, an exhilarating "water coaster" that sends guests clinging to rafts speeding around the ship enclosed in a tube. Kids can also enjoy a more sedate Mickey slide, the Nemo Reef splash area for littlies, the shallow Mickey Pool and AquaLabs for older kids. Adults can sit back and relax in adult-only pools, too.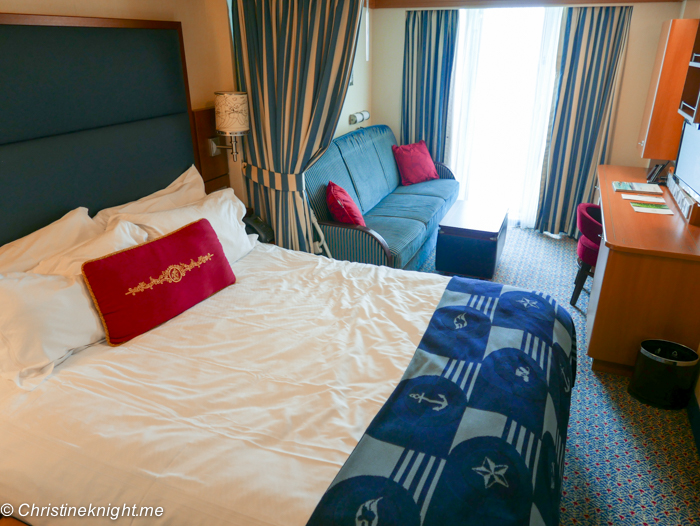 8. Everything is super high quality
This is Disney, after all, where nothing but the best is good enough. Every detail about the ship is flawless, and I'd challenge anyone to find a paint chip or a carpet stain on the entire boat. The rooms, the food, the facilities, absolutely everything is top notch, shiny and brand-new looking.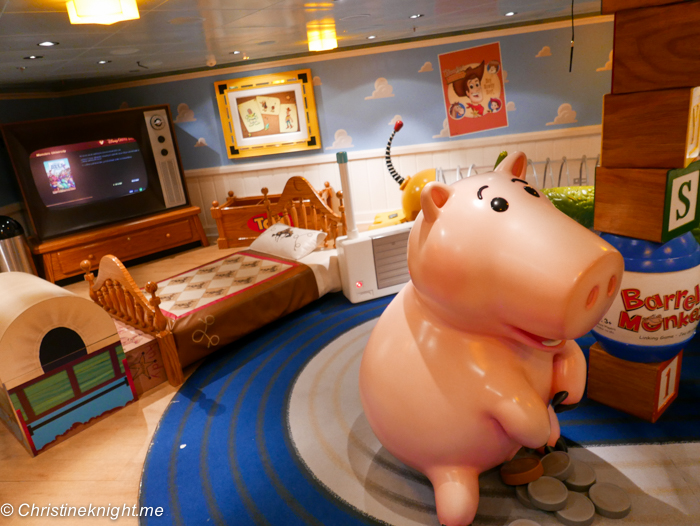 9. The kids won't want to leave kids' club
There are plenty of options for kids to be entertained while adults take some time out to relax. As well as a nursery for babies, there's the "Oceaneer Lab" and "Oceaneer Club" for kids 3-12, "Edge" for tweens 11-14 and "Vibe" for teenagers 14-17. Cheese was a great age for the Oceaneer Lab/Club and loved going so much she would request to be dropped off when we asked what she'd like to do. In the Oceaneer Lab/Club, as well as various open play areas, kids are also entertained with games and visiting characters such as Lilo and Stich or Tinkerbell.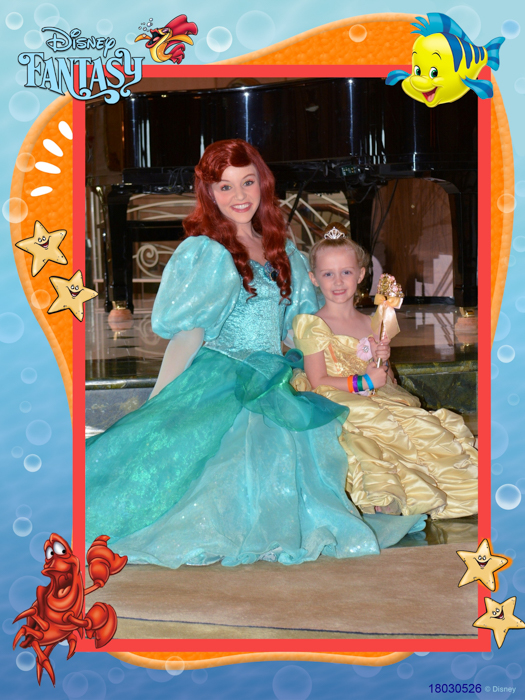 10. Activities are endless
Let me put it this way, no one will be bored. Every evening, an activity sheet is released for the next day which is jam packed with options for the whole family. Adults can choose from plenty of 18+ options such as bingo, animation and fitness classes, but the majority of activities are family-focussed, such as character appearances, trivia competitions and even baby racing. Yes, you read that right.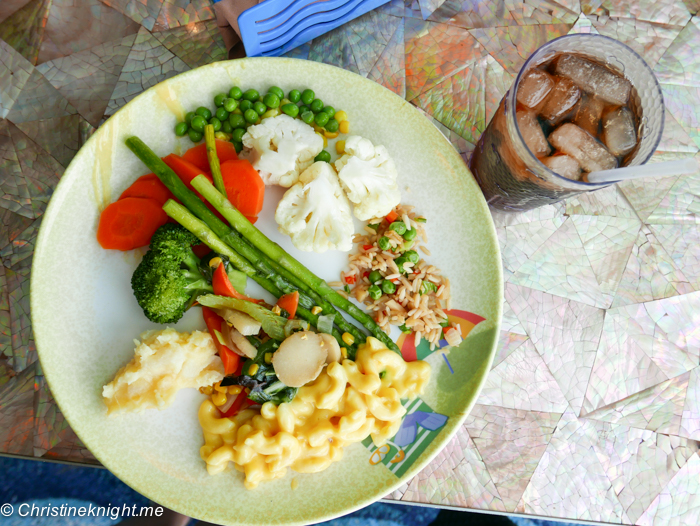 11. The food is top notch
Dining aboard a boat was a major concern of mine, which thankfully we didn't need to worry about at all. There were both plenty of options, as well as lots of fresh, healthy food to choose from. Each morning and lunch we dined at Cabanas, the buffet restaurant on the top deck, blown away with the choice of food such as fruit, made-to-order omelettes, yogurts, cereals, toasts, bagels, Mickey waffles and more for breakfast, followed by salads, more fruit, and hot food options such as vegetables, pasta dishes, pizza and so forth for lunch.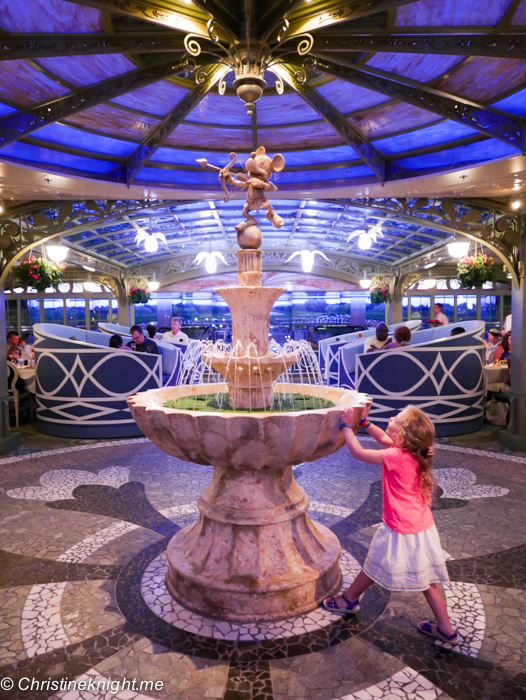 Dinner each night was served in a rotating restaurant – Animator's Palate, Enchanted Garden and Royal Court, where we were presented with a three course menu to select what we would like. While there were always vegetarian options made available, if I didn't particularly fancy that night's menu, the kitchen staff were more than happy to either send me a dish from another restaurant, or whip me up something specially in the back.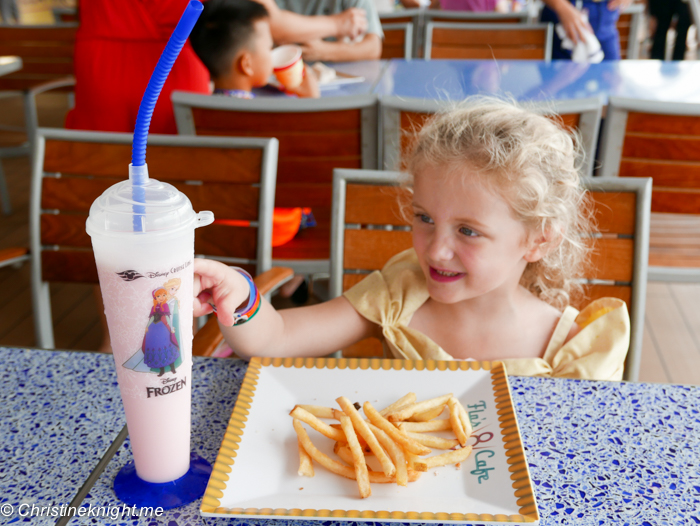 If we missed our dining rotation or the Cabanas buffet times, there were snack options available on the pool deck most of the day, including burgers, sandwiches, pizza and fruit, plus the 24-hour room service. It was hard exercising off all the food we ate!
12. Free-on demand tv
On a Disney boat, you'd expect a lot of Disney TV, wouldn't you? In the rooms, Disney TV shows and movies are streamed 24-hours on demand, with a huge variety to appeal to both the kiddies during the day, and adults once the kidlets have gone to bed at night.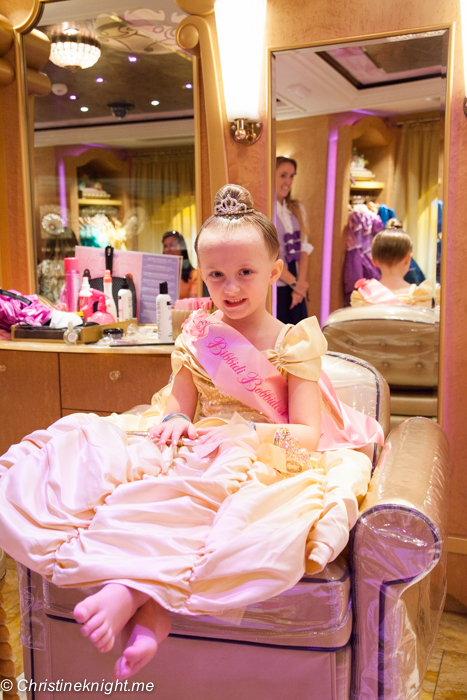 13. The Bibbidi Bobbidi Boutique
Wittout a doubt my daughter's favoruite thing abut the ship was her transformation into a princess at the Bibbidi Bobbidi Boutique. You can read about our experience here.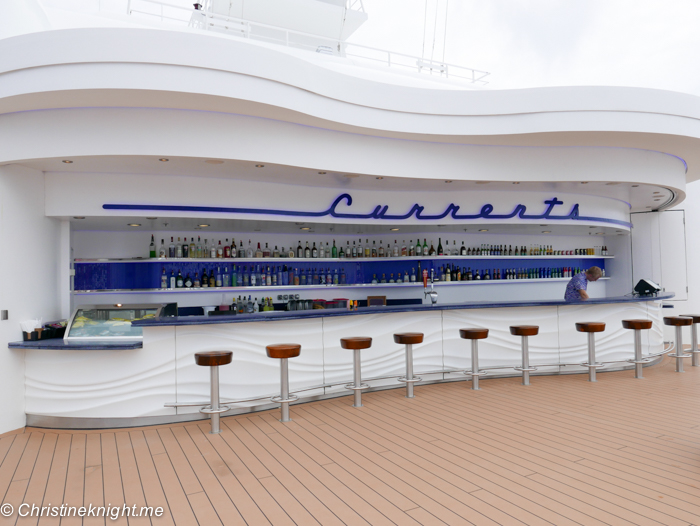 14. Plenty of 18+ only areas
While we loved spending time with our daughter on the Fantasy, we occasionally needed some adult time, so when she was keen to head off to the kids' clubs we would also happily wander up to the 18+ areas for a drink or just a coffee and would sit happily watching the ocean roll past and chat or read a book without having to listen to other peoples' children screaming. Bliss!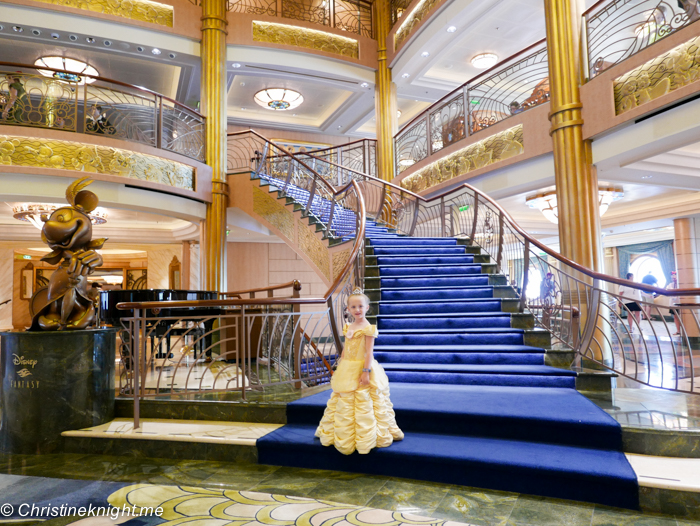 15. Everything is seamlessly run
The ship is run with what can only be called Disney efficiency. Everything happens exactly when it is supposed to happen, to the very second, and there are no hiccups, no mishaps, no wrinkles in the perfect Disney holiday experience. A Disney cruise is a slickly run machine.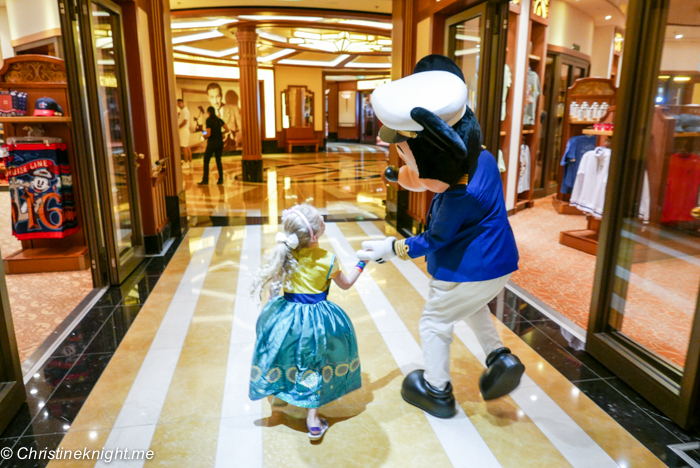 16. Countless character interactions
The numerous character interactions were a big plus for our family and our daughter who is at the age where she likes to throw herself with gay abandon at all Disney characters like they're a long-lost loved one. Luckily the characters are ready for four-year-old missiles and handle all the poking and whacking with swords with good humour.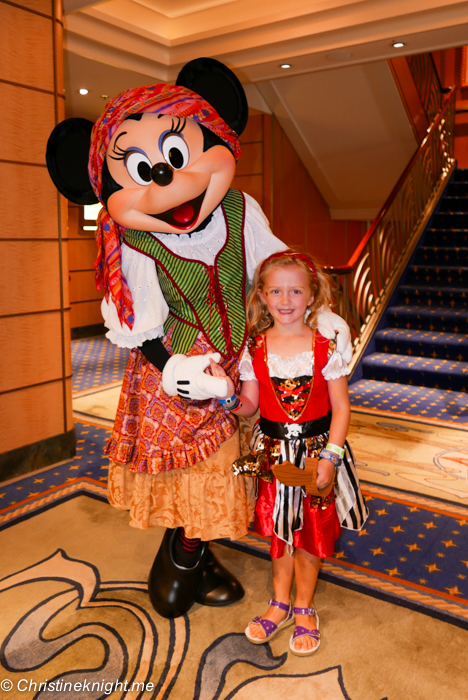 I did wonder if, after the first day or so, she'd get bored with seeing the same characters over and over again, but, the geniuses, have outfitted the characters in numerous costumes, so each time we saw them they always looked a bit different (except for Peter Pan, who always looked exactly like Peter Pan in his tights and little green hat). On formal night, for example, the characters appeared in tuxes and sparkling gowns, and needless to say, pirate night was full of eye patches and bandanas.
Every day the times and locations for where the character meet and greets will occur is printed in the "navigator" that is distributed to the rooms each evening with the following day's activities so you always know where to find your favourite giant plush or princess. Characters often just roam the ship too, so you never know who might start crowing over the balcony (yes, the crowd favourite, Peter Pan, yet again).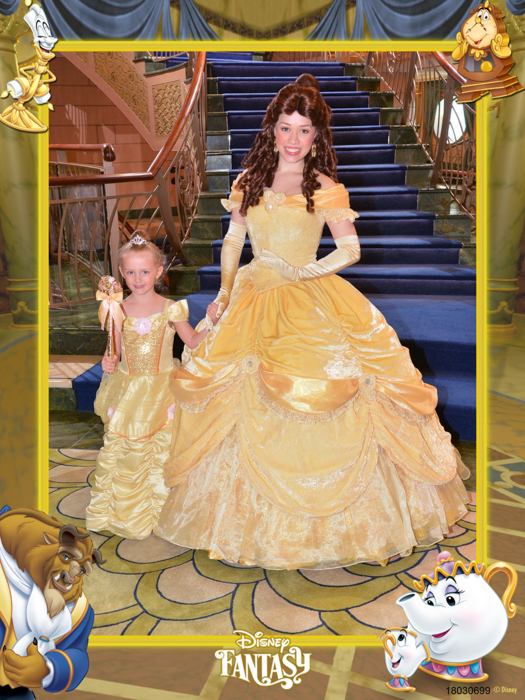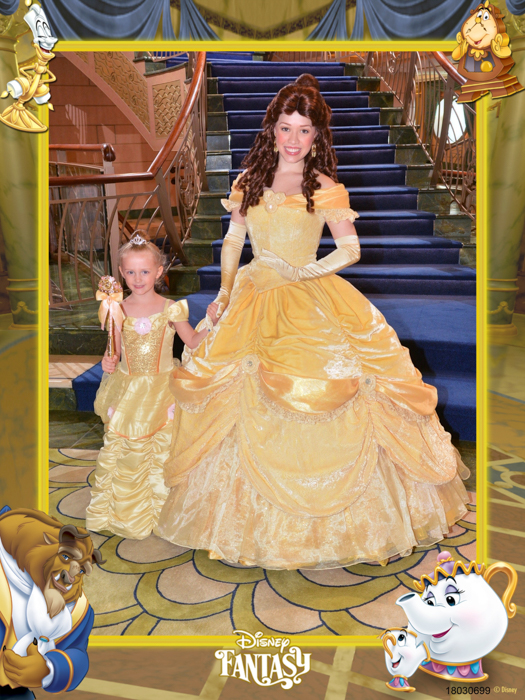 The most popular characters have free ticketed events that you can sign up for online before boarding the ship, such as the princess Royal Court, Anna and Elsa from Frozen and the Disney Junior character breakfast.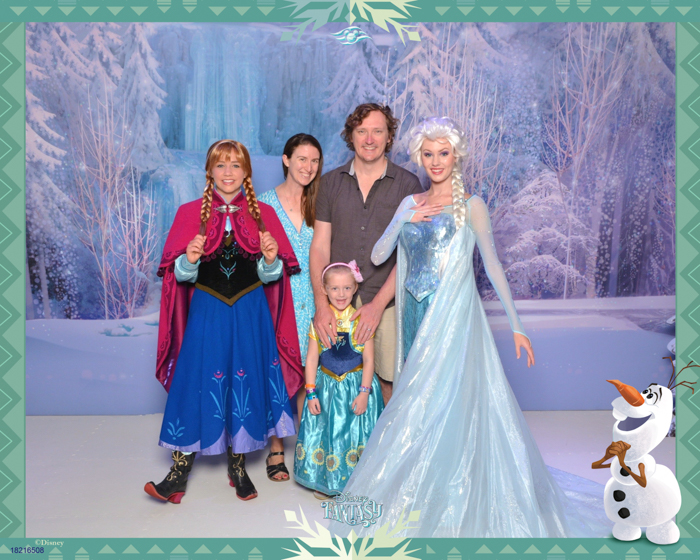 Compared to Disneyland and Walt Disney World, the characters on the boat spend a lot of time with each guest interacting with them personally, rather than it just being a quick photo op. This does make the wait a bit longer, but the characters and also Disney cast members who are managing the crowds, make the kids each feel so incredibly special that it's worth it.
Ready to book a Disney cruise? Don't book before you read my tips and tricks here!
Have you been on a Disney Cruise? I'd love to hear your feedback!