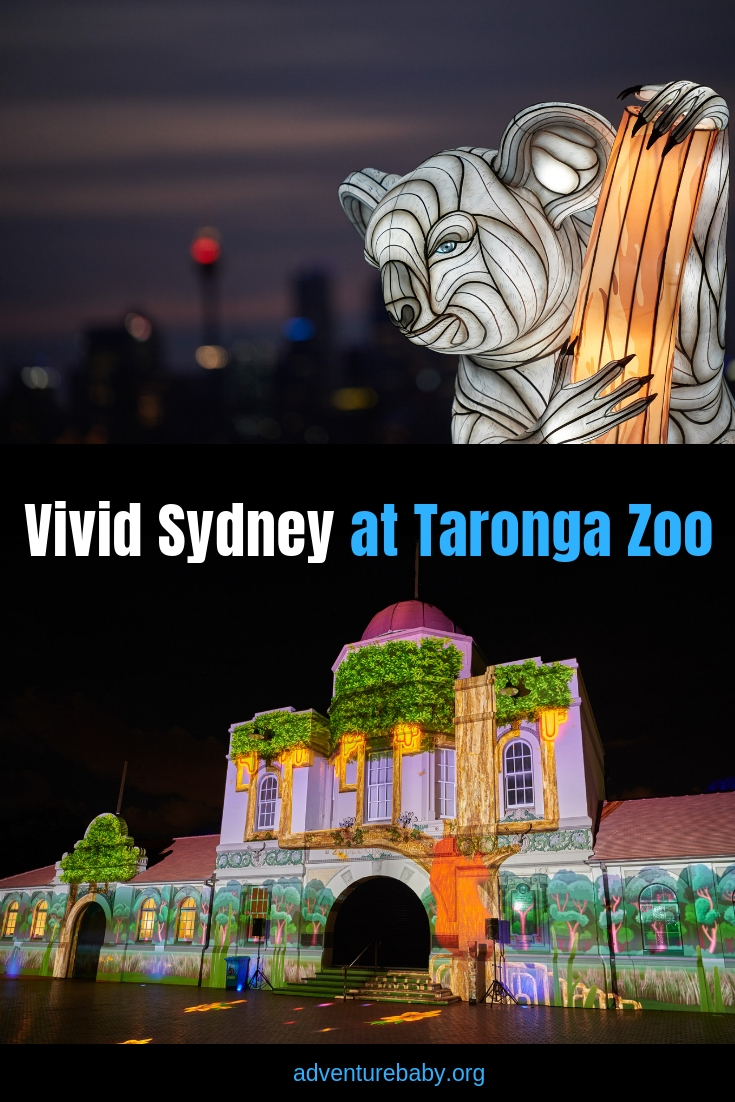 Taronga Zoo Vivid Sydney is back for its third year! One of our fave family nights of the year, it's also our top pick for taking kids to see to see the lights at the annual Vivid festival of lights in Sydney.
In 2019, Vivid Sydney at Taronga Zoo runs from May 24 – June 15, Wednesday to Sunday evenings, plus the Queen's Birthday public holiday, Monday 10 June.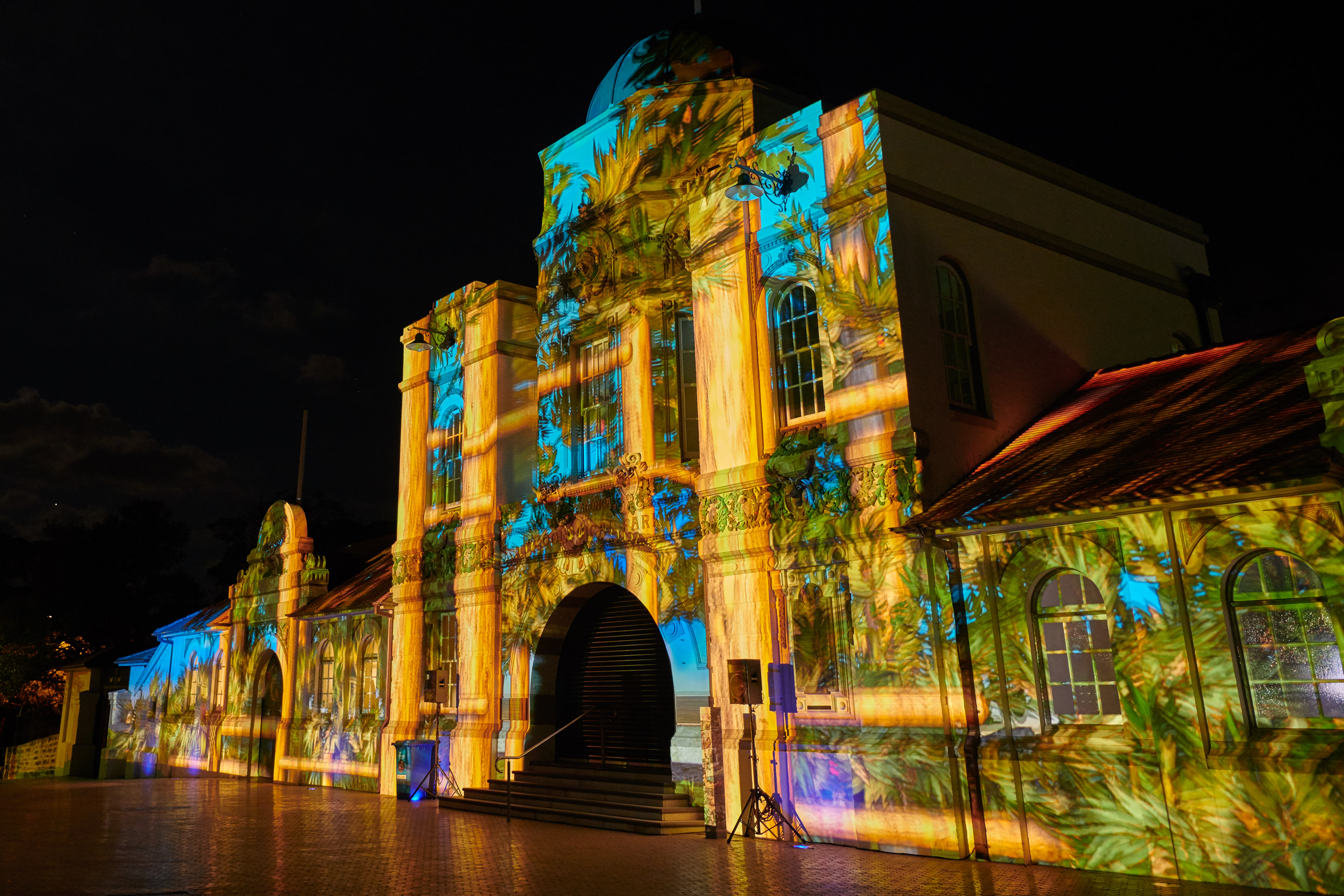 The beautiful light show on the entrance is back this year, which is mesmerising for kids and adults alike. Set aside time at the beginning and end for this light show.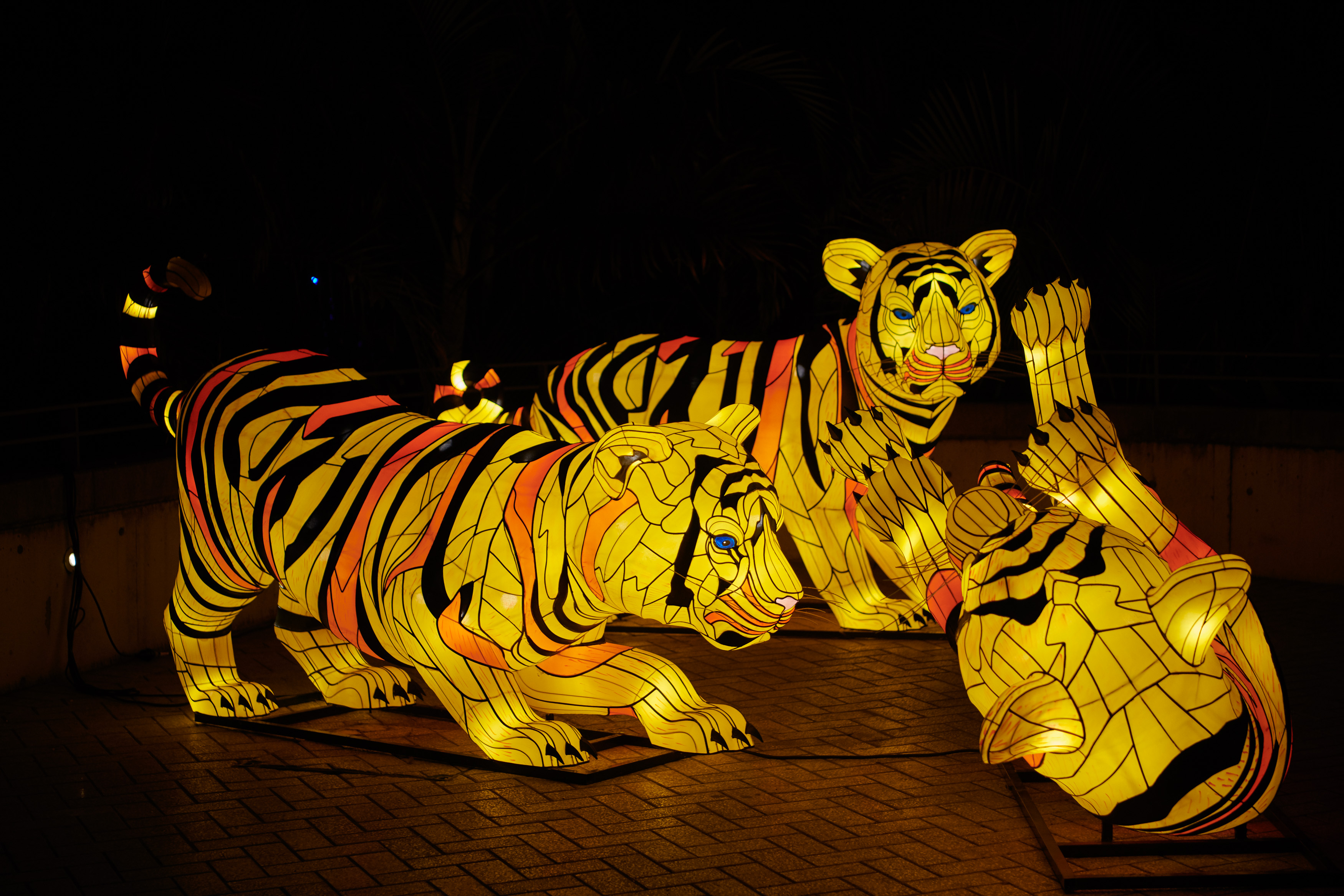 Taronga Zoo Vivid Sydney is the only ticketed light show. While you do pay an entrance fee for Vivid at Taronga Zoo, the timed and ticked sessions mean that the crowds are way less and it's much better managed than the other areas of the festival.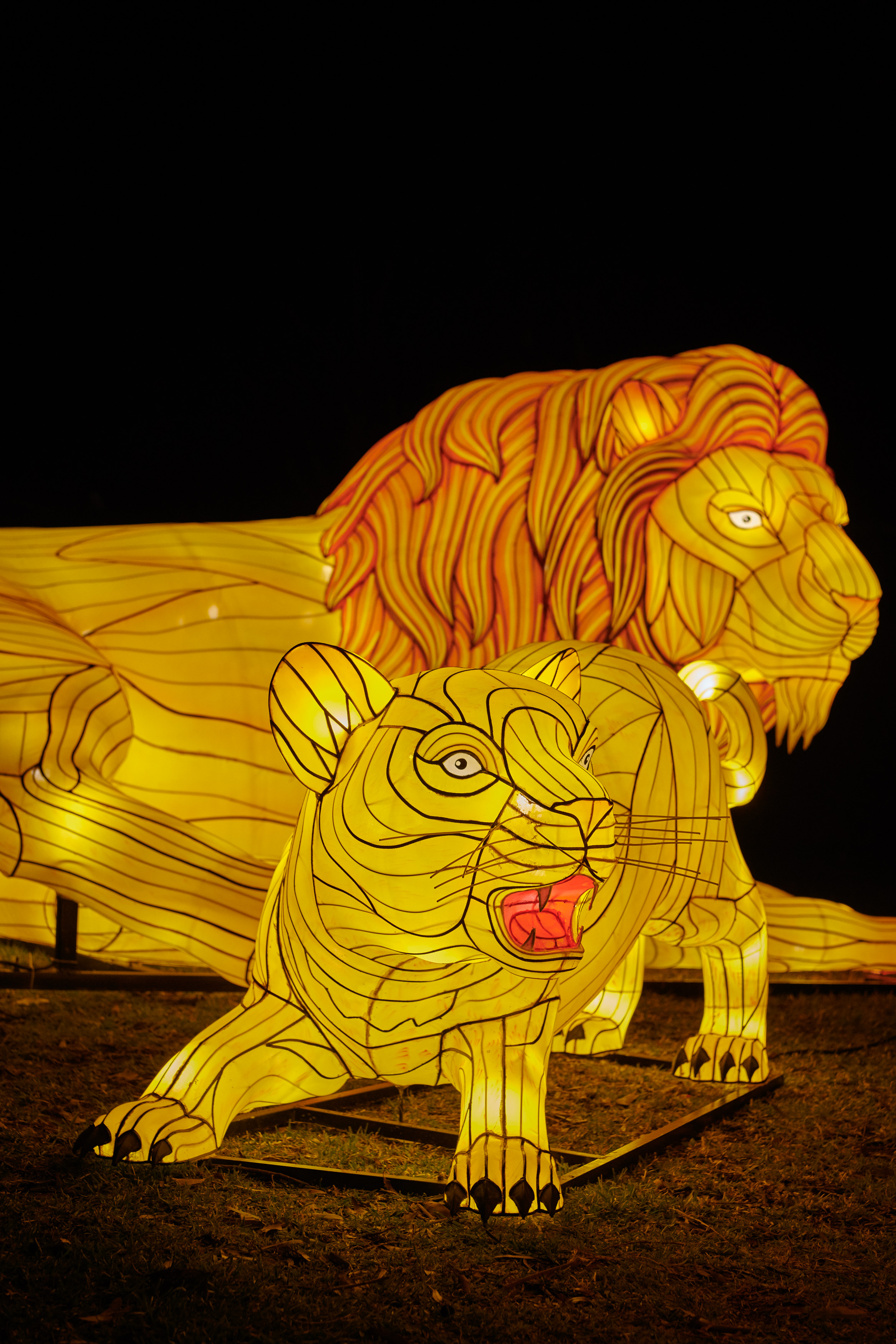 In line with Taronga Zoo's focus on conservation, the light show, "Lights for the Wild", aims to entertain, but also educate the public on 10 of the special animals they are trying to save from extinction in the next 10 years. Each light installation and sculpture tells an important story about conservation.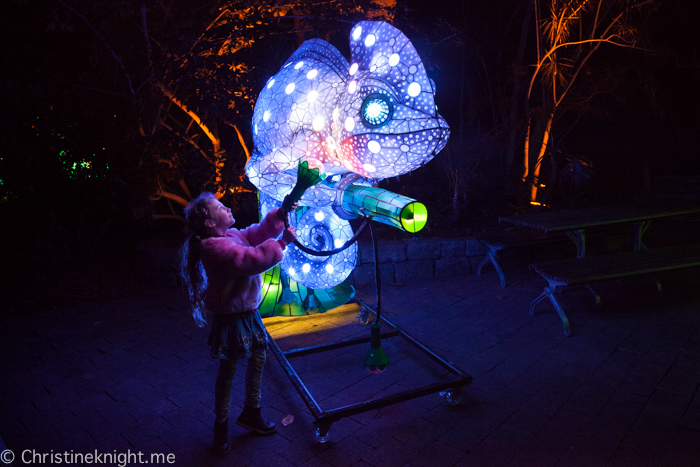 While "Lights for the Wild" isn't as interactive as it was last year (sadly the multimedia bracelets have gone), with only one sculpture that can be touched and manipulated, it's still a beautiful series of light sculptures in an extremely family-friendly environment.
What you need to know about Taronga Zoo Vivid Sydney 2019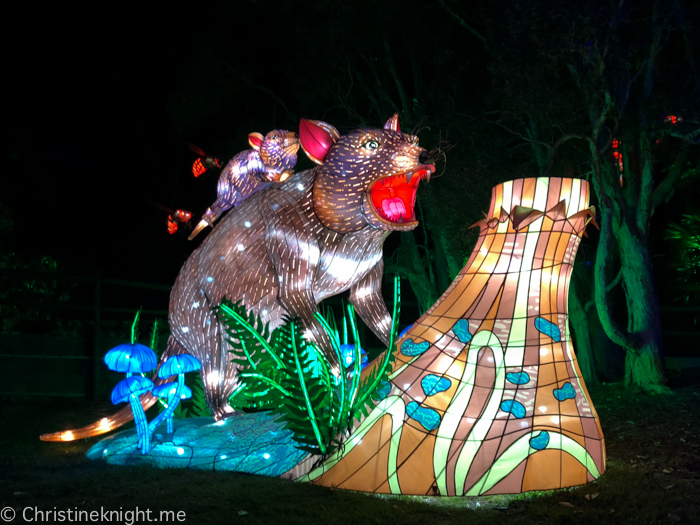 What's new this year?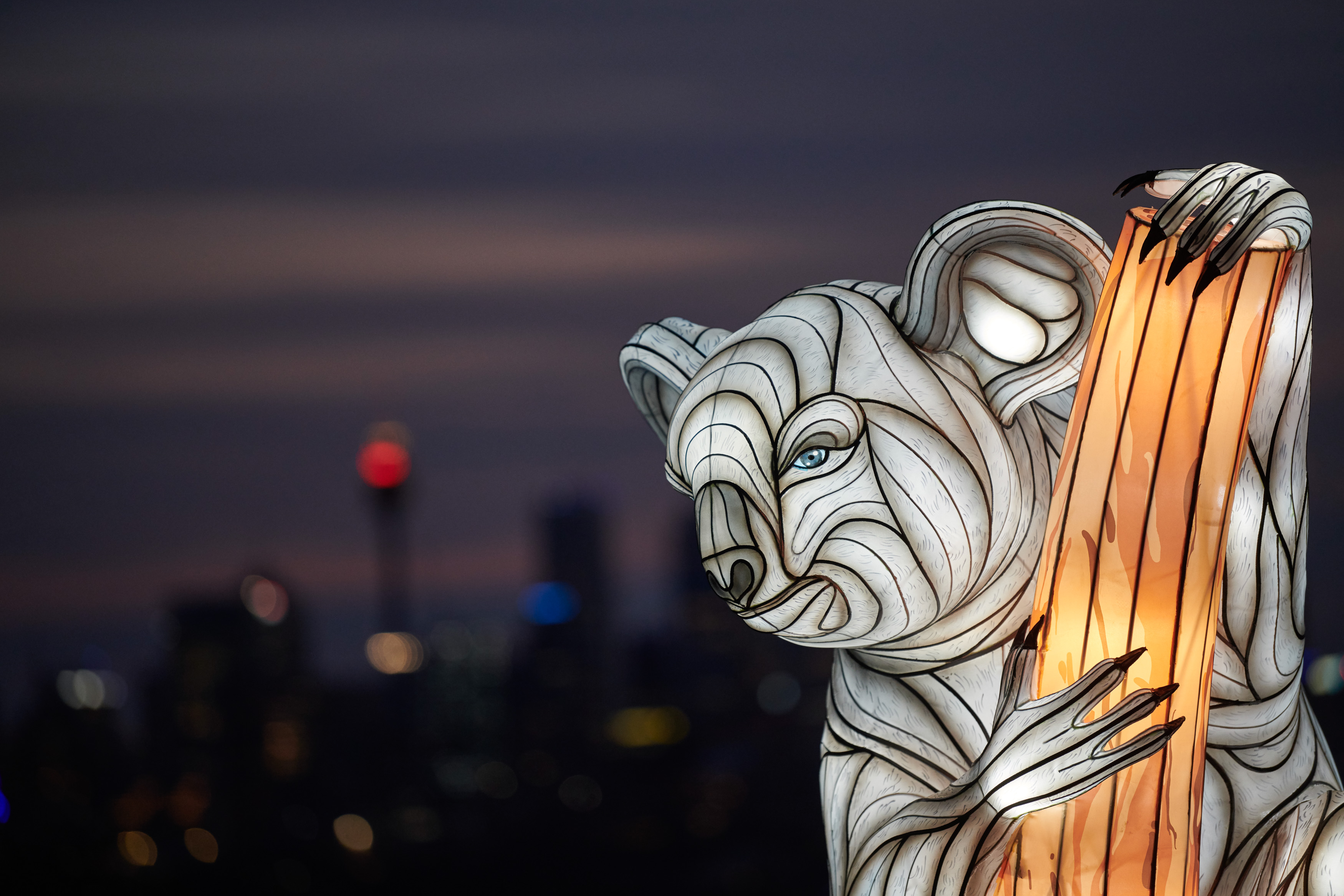 While many favourites from the past three years return again, there are four new lanterns to experience: Sumatran Tiger cubs, a pride of Lions, a Koala and laser gardens.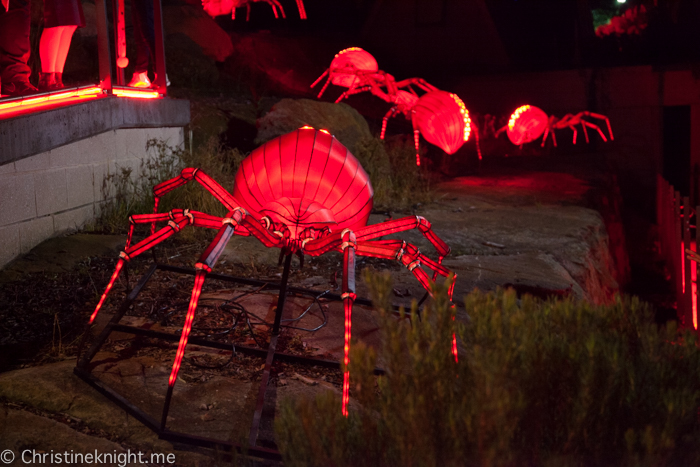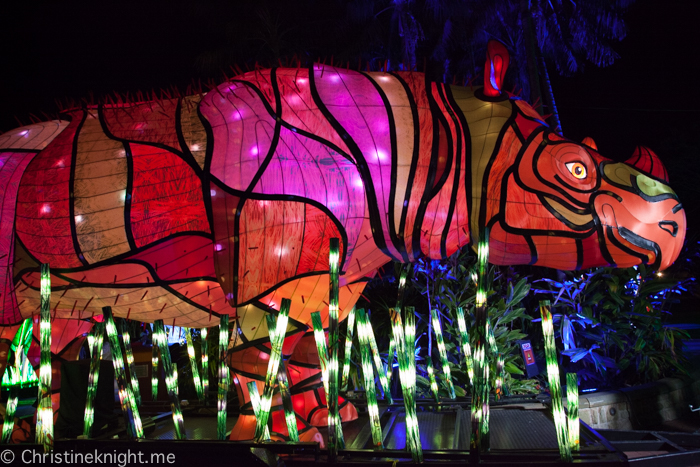 The Taronga Centenary Theatre once again shows an multi-award winning animated film, presented as a 270-degree cinematic experience. It's a great place to stop for a rest beneath a canopy of stars and a glowing planet earth as designed by children, before continuing on the journey back to the top of the zoo.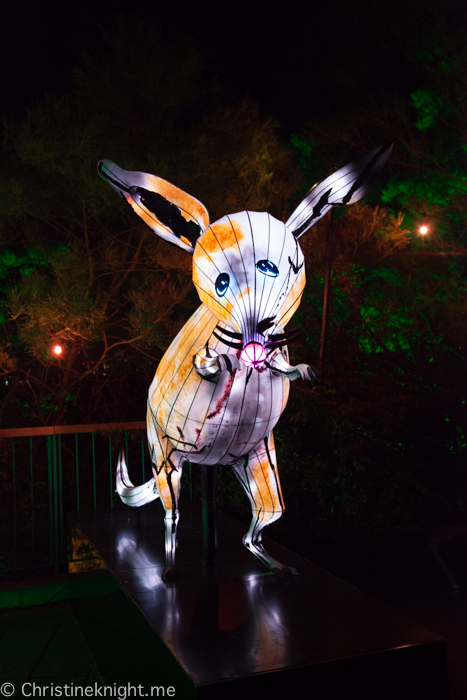 Getting there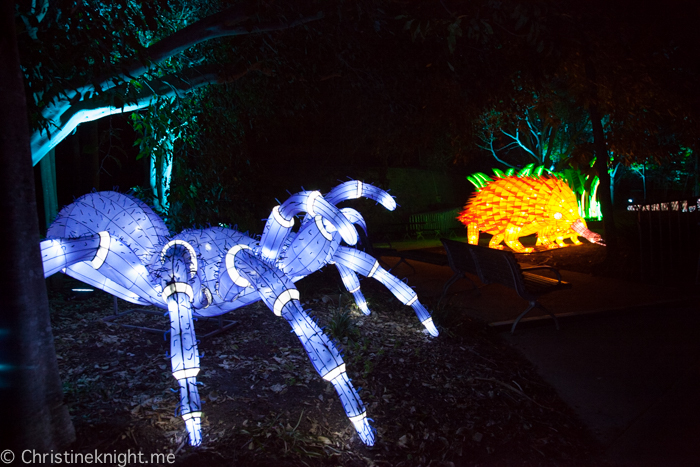 While you can catch the ferry, we prefer to drive. If you stay under 90 minutes it's free. Unlimited parking is $18. We never have any problems finding parking or with traffic either getting there or going back home again.
Pick your session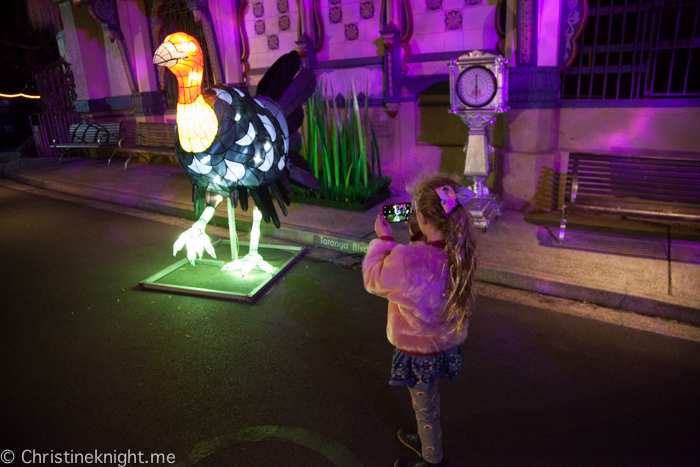 There are TWO sessions each night for Taronga Zoo Vivid Sydney: 5:30pm and 7:30pm, with last entry at 8:30pm. Zoo closes at 9:30pm
Buy tickets in advance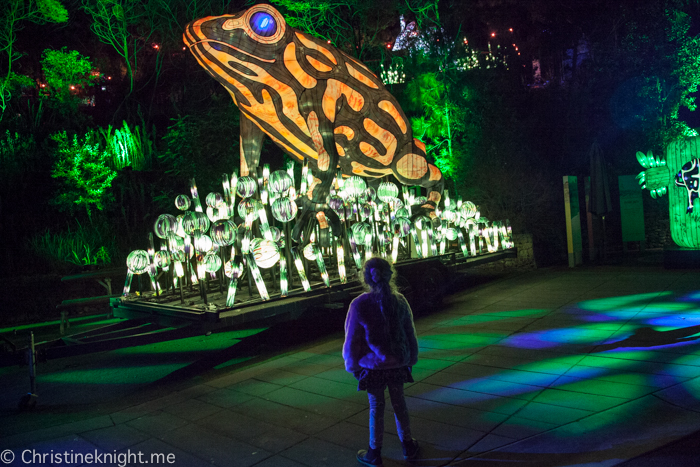 Buy your tickets from the Taronga Zoo website. There is a slight price increase this year.
Dates: Wednesday- Sunday, Mon 10 June public holiday
Prices:
Adult – $26.95
Child (4-15 years) – $19.95
Under 4 – free
A limited number of Blue Pass tickets are available each night and include a round trip on the Sky Safari. The Blue Passes cost the same as the regular tickets so I suggest getting them if possible. The Sky Safari DOES NOT STOP, it runs along a loop from the top of the pack back to where it started from.
While I saw a lot of people heading straight to the sky safari when they entered, I suggest seeing the other lights first to get ahead of the crowds, and taking the Sky Safari last before you go home when there is no queue.
Make a day of it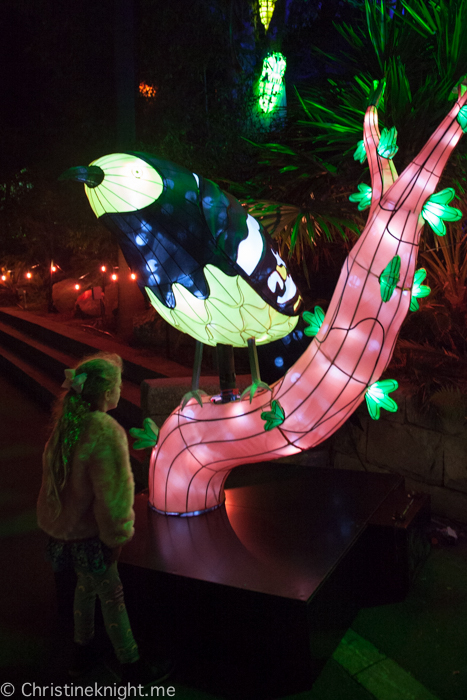 If you plan to visit the Zoo during the day before your evening Vivid outing, either buy the tickets online in advance at the same time as your Vivid tickets, or you can buy your Zoo day entry tickets at the Zoo ticket desk on arrival to enjoy a 30% discount off General Admission prices*
Please note: Taronga Zoo closes at 4.30pm and Vivid Sydney at Taronga Zoo commences at 5.30pm. If you are staying on you will be asked to come up to the main entry plaza to get ready for the beginning of your Vivid Sydney at Taronga Zoo experience. There is a cafe in the main entry plaza and plenty for the kids to enjoy while you're waiting for the Vivid lights to turn on.
The Zoo Admission ticket is only valid for use on the same day as your Vivid ticket.
Pack food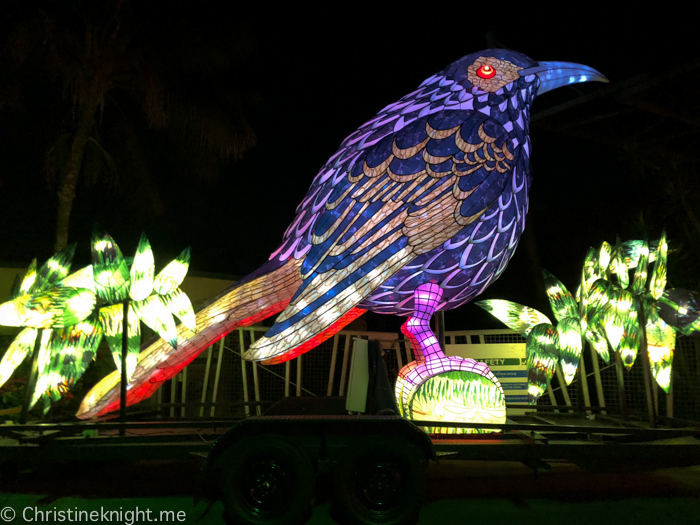 While there are cafes open with basic food if you don't have time to do this, we always like to bring our own.
Get there early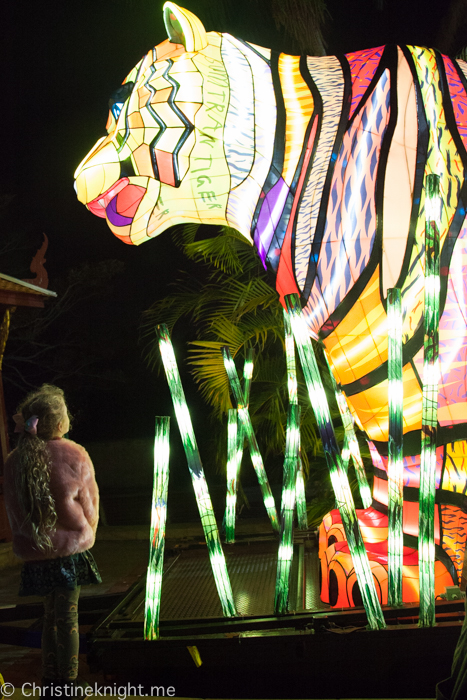 This is really my mantra for anything we go to! Arrive before the lights go on at 5:30pm so you get in ahead of most of the people in your timed session. I would suggest 5pm. Kids can watch the light show on the entrance and see the first batch of sculptures inside the entrance before the sessions begin, and you'll be first in line when 5:30pm strikes and the doors open.
Follow the trail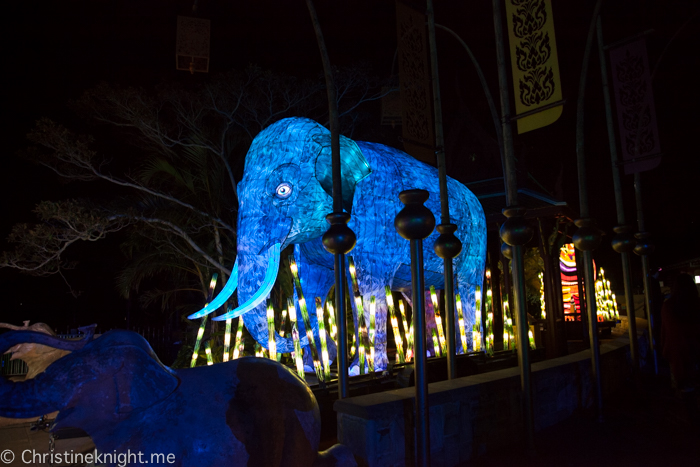 The trail winds throughout Taronga Zoo on a circular path. It is completely stroller and wheelchair accessible. The multimedia light sculptures are dotted along the path.
Final Taronga Tips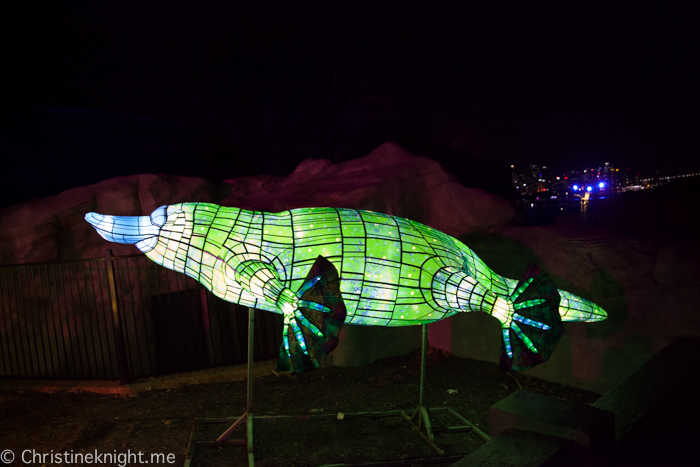 The light trail takes about 60-90 minutes to complete. While the whole trail is stroller and wheelchair accessible there are some steep sections.
There are family-friendly and wheelchair-accessible bathrooms available for use at the entrance at throughout the trail (please check the map).
Catch Vivid at Taronga Zoo from May 25th to June 15, 2019.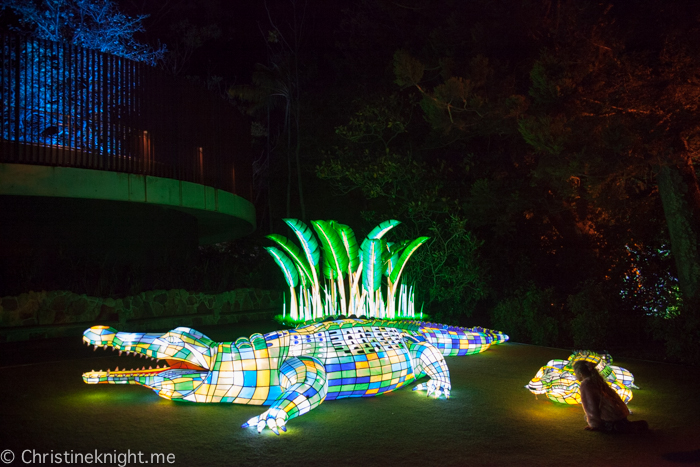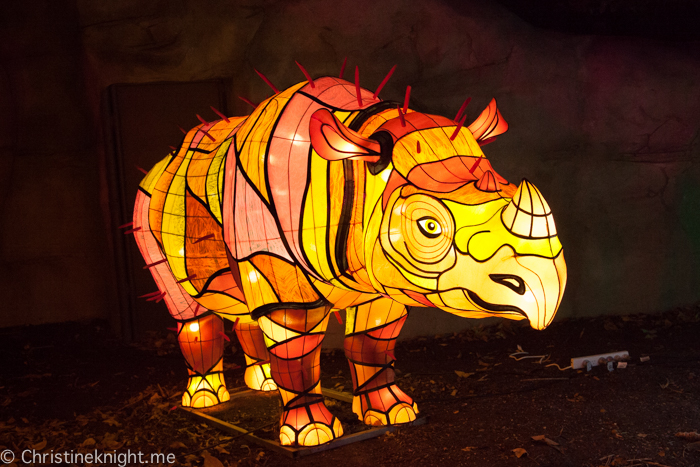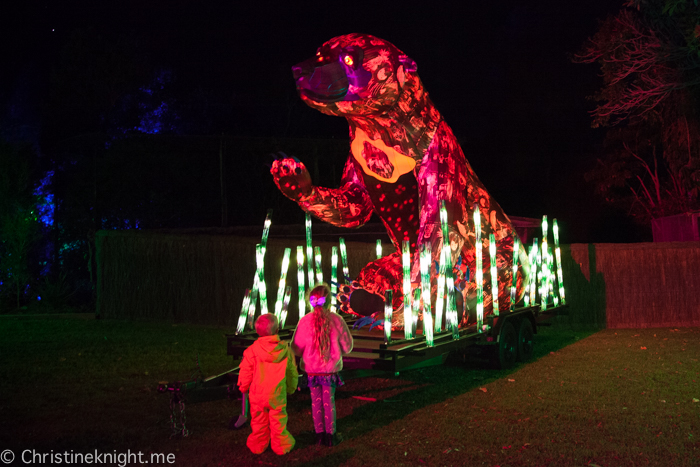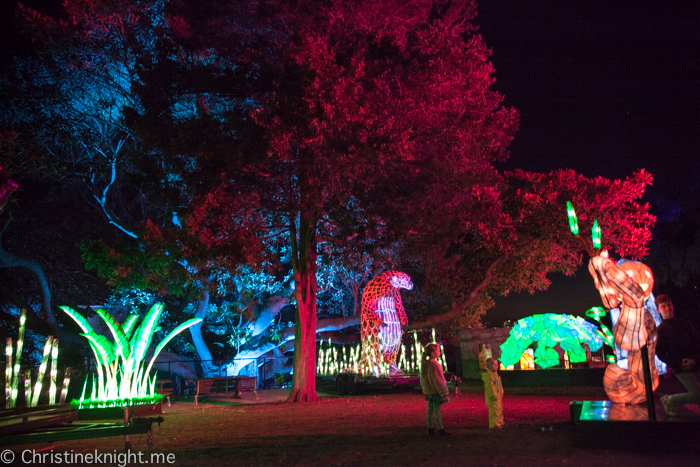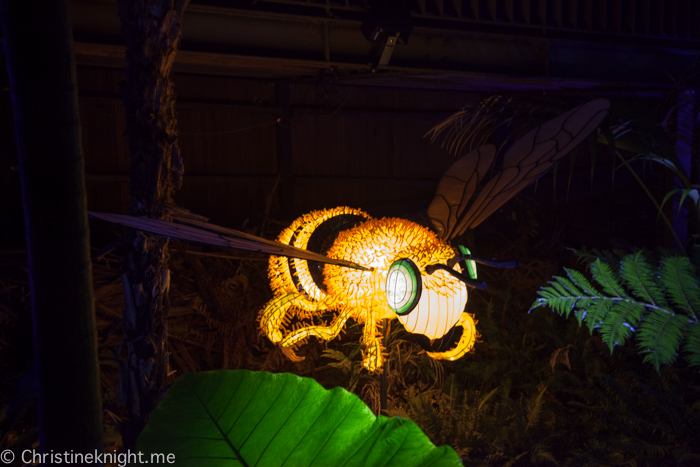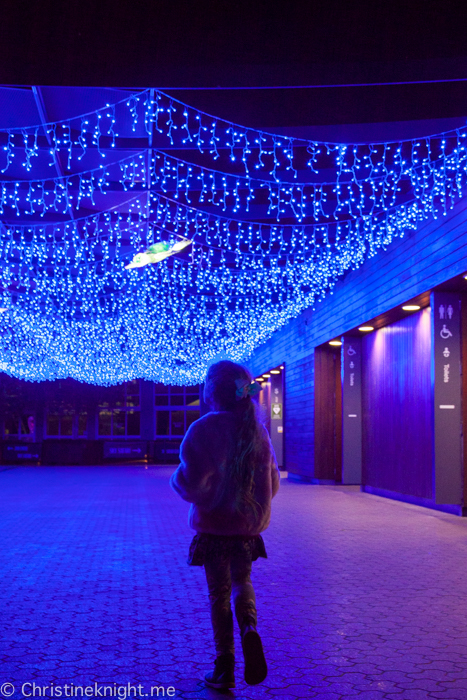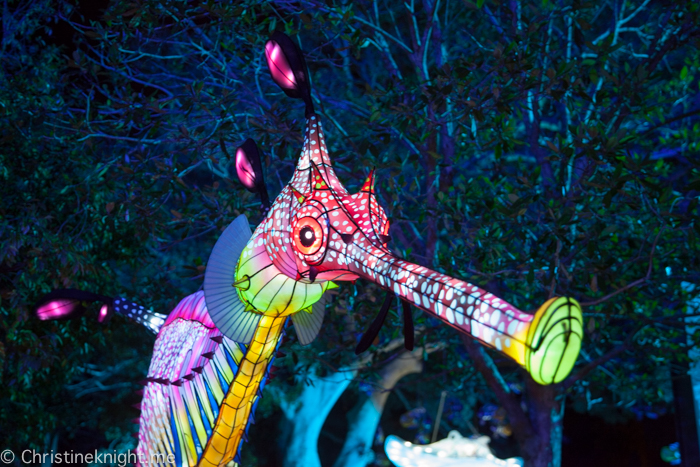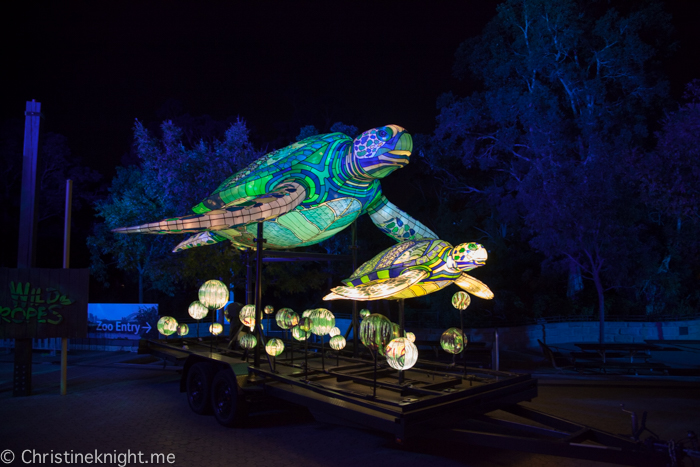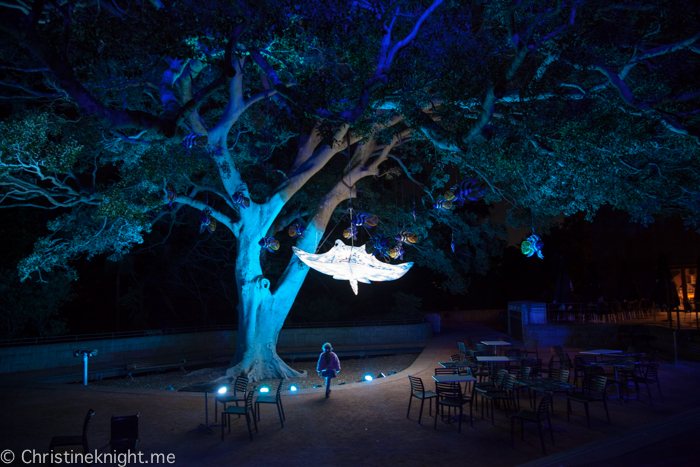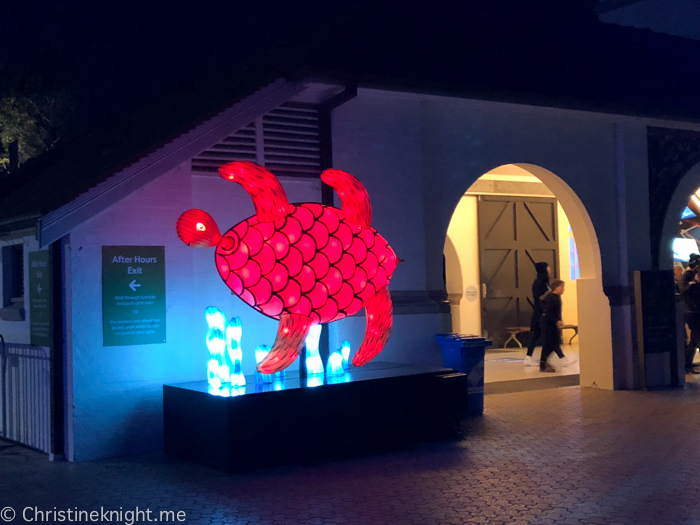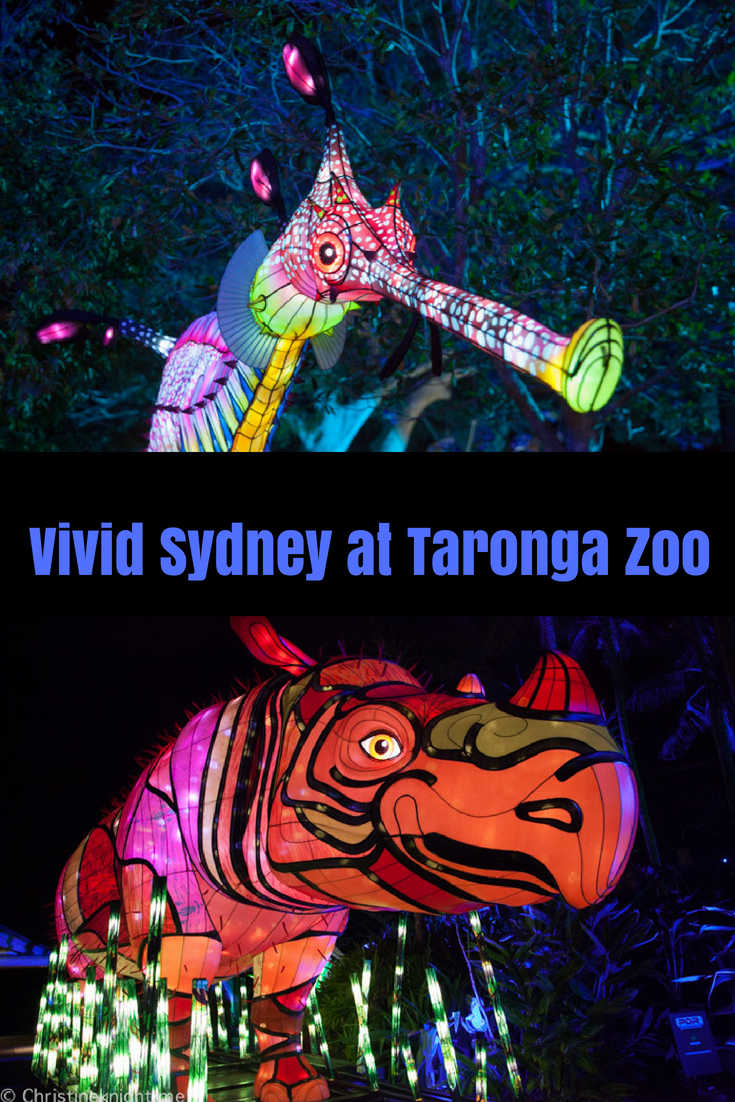 Vivid Sydney Tips
Arrive BEFORE the lights turn on
Find a prime position near the lights that you want to see the most without a hoard of people and wait patiently until the lights get switch on. BAM – lights minus the crowds.
Hit up the most popular installations first
This has always been a key for me in conjunction with the point above. I circle back to those that it's easy to see even with a crowd last, such as the Customs House, MCA and Sydney Opera House.
Dedicate several nights to see it all
I'm sure it's possible to see everything in one go, but why do it if you can spread it out? With so many locations, Vivid really needs at least three nights to see everything. Break it down into sections that can be covered together. Taronga and Chatswood or Luna Park, Circular Quay, Martin Place and Botanic Gardens plus Barangaroo and the Rocks, and lastly Darling Harbour, which can be done with another of the options with a bit of commuting in between.
Take the kids to Taronga
This is my pick for kids because it's ticketed, so less people, and the lights go on earlier than the other locations.
Don't bypass the smaller Vivid locations, especially with kids
With kids in tow, the locations such as Darling Harbour and Chatswood are also an excellent idea as these spots don't get as large crowds as the CBD does.
Pick a quiet day to go
We always go the first weekend or Monday to Thursday. The first few days are always the quietist, before photos start appearing in the news and reminding people that it's on. The second weekend, from Friday onwards, is when it starts to get really busy. If there is a big event on elsewhere while Vivid is on, that is also a great night to go!
Take public transport to the city or pre-book parking
Pre-book a car spot if you ca't take public transport as parking is an absolute nightmare. When taking public transport, be aware that Circular Quay train station might be busy and be prepared to walk to another station if needed.
Find the best places to park for Vivid here.
Bring carriers or strollers for kids
This is for two reasons – one, because it's night time and little people get tired, but also to keep them out of the way of being stepped on by adults.
Eat food first
We always arrive early in the city and eat before the lights even turn on. My pick is Gateway Sydney for casual, great food.
Get more info on Vivid Sydney here.
Additional images thanks to DNSW.