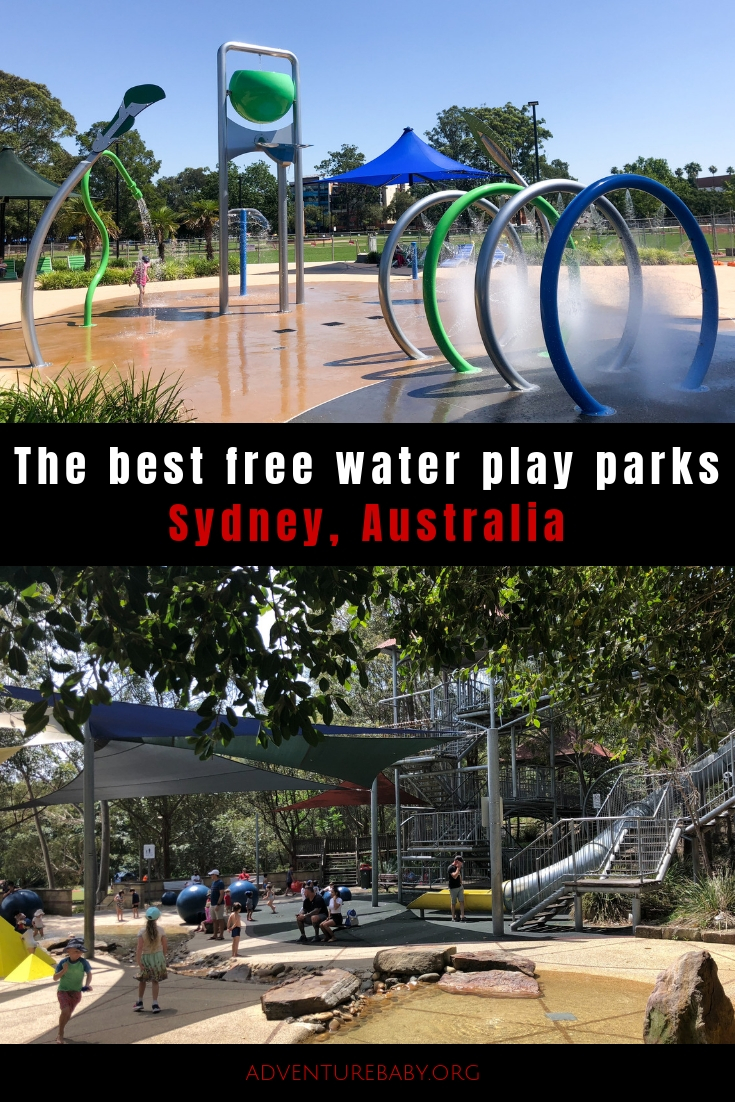 16 Of The Best Free Water Parks In Sydney
When it's molten outside, there's only one thing to do – head to one of these free water parks in Sydney to cool off, pronto!
Variety Livvi's Place, Bankstown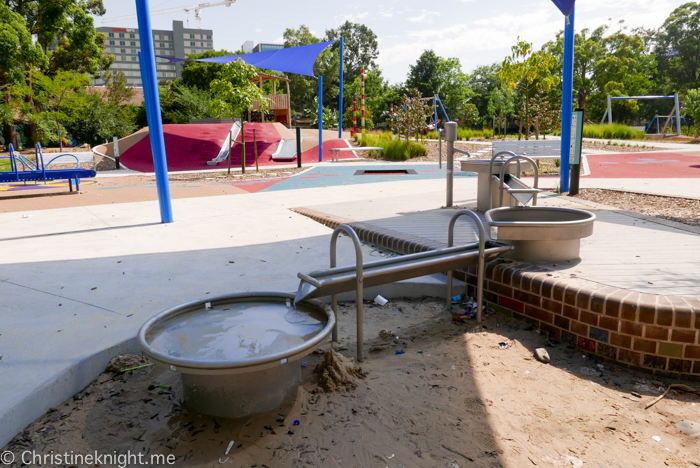 The Canterbury-Bankstown area's first all-abilities playground opened in late 2018, a joint project between Variety, the Children's Charity, and the Touched by Olivia foundation. The fully-fenced playground features picnic and bbq facilities, bathrooms, Variety Livvi's Place includes a sensory zone, flying fox with accessible seats, a climbing net, trampoline, swings with accessible seats, water play area, a climbing tower with ground level play features, two nest swings, roller table, accessible carousel, slides, a nature trail, sand play and a lizard log carved from wood.
Get more info on visiting Variety Livvi's Place here.
Ollie Webb Reserve Parramatta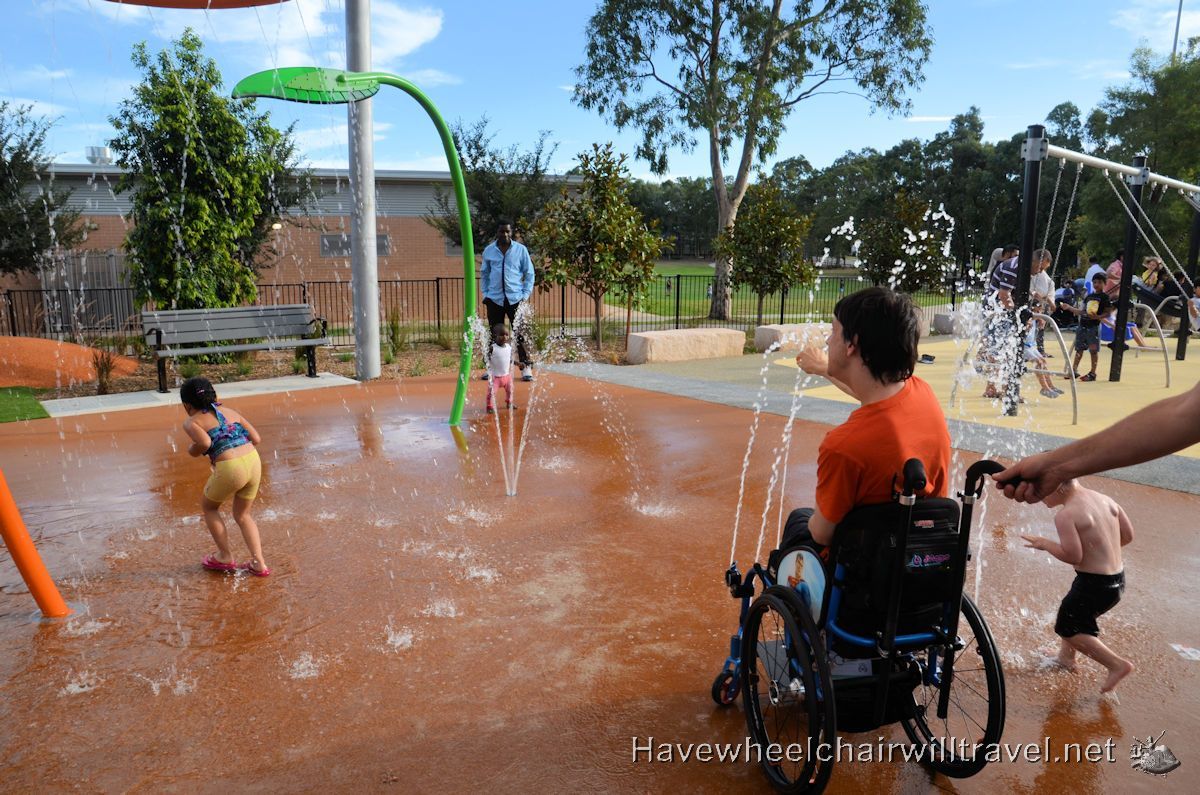 Parramatta's first all-inclusive playground opened in early 2019. It features climbing structures, water play with a splash play area and water pumps, an elevated sandpit, an accessible carousel, swings, BBQ facilities and excellent bathrooms.
Read the full review of Ollie Webb Reserve playground here.
Putney Park Playground and Water Park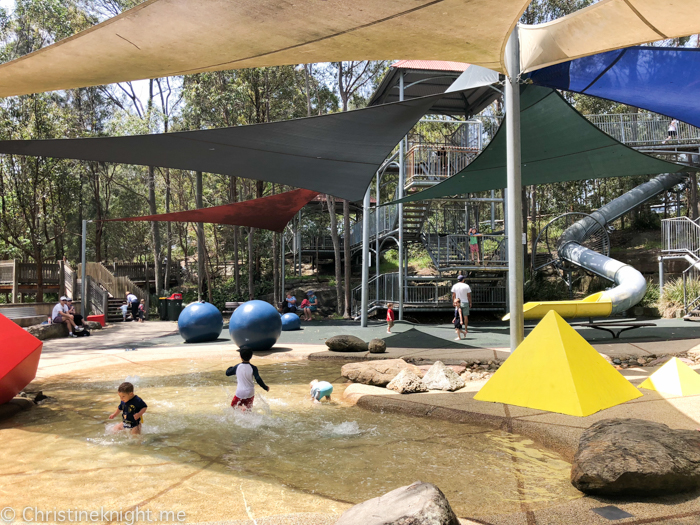 A great spot to take kids in summer, Putney Park features climbing equipment for kids of all ages plus two shallow pools connected by a pebble creek and a large climbing web.
Read more about Putney Park here.
Livvi's Place Ryde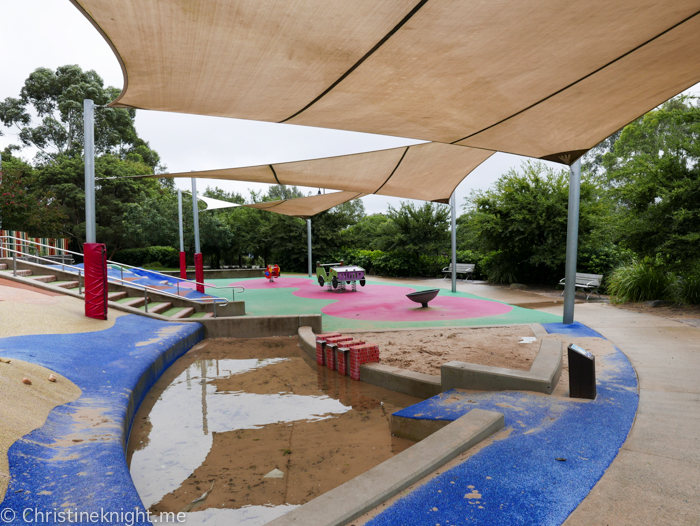 Livvi's Place is a full-enclosed playground located in Yamble Reserve, Ryde. The reserve features formal gardens, deciduous trees, picnic shelters, large green grassed areas, barbecues and the excellent all-abilities playground, Livvi's Place. Livvi's Place playground includes a water pump play area, dual flying fox, nest swing, musical instruments, climbing frame and tunnels.
Read more about Livvi's Place Ryde here.
Green Square Library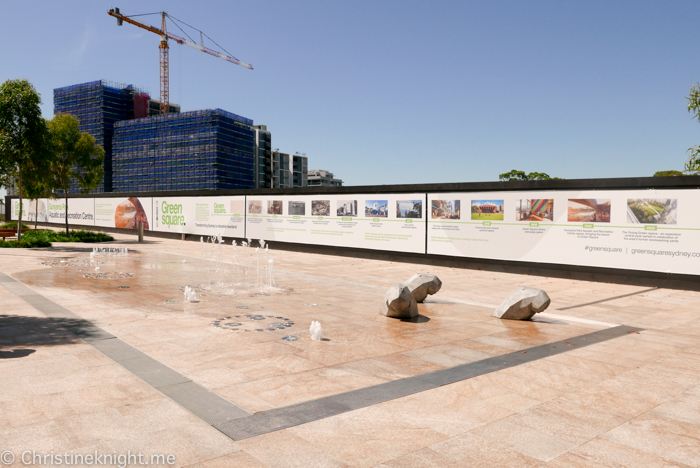 The underground Green Square Library opened in late 2018. It features a water play area in the outside plaza, public artworks, dedicated kids zone with books and DVDs, vintage game stations for rent, a piano for hire, a sunken garden, kid-friendly cafe and take-home makerspace kits for kids aged 5+. The library also runs school holiday workshops and story time sessions.
Get more info on Green Square Library here.
Pirrama Park Playground, Pyrmont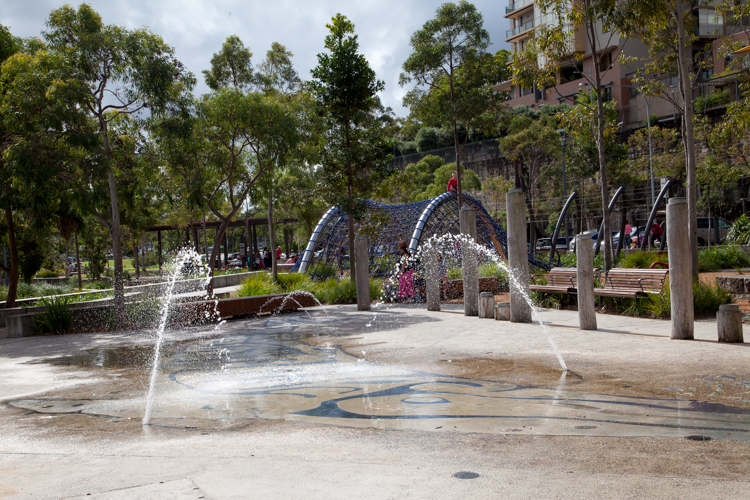 This beautiful playground in Pyrmont has shiny, well-designed equipment, a water play area, sand pit with shade cloth, new, well-maintained bathrooms (including baby change facilities) and a cafe with shaded seating. Street parking is available. Pirrama Park features grasslands, wide avenues for scooting and entry into the harbour for swimming.
Get more info on Pirrama Park Playground here.
Bigge Park, Liverpool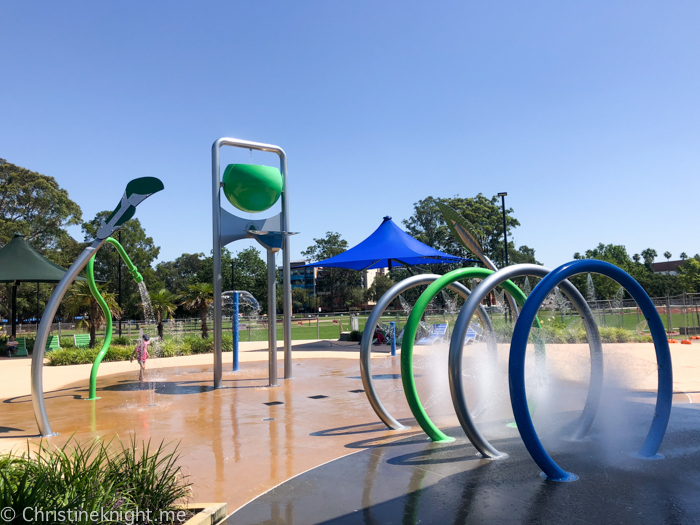 Bigge Park in Liverpool, a south-west suburb of Sydney, received a $5 million upgrade a few years back. The upgrade included a fantastic free water play area, much of which is covered by shade cloth, and an excellent water tipping bucket. Bigge Park also includes an accessible playground, a regular playground and climbing equipment.
Get more info on visiting Bigge Park.
Mary O'Brien Reserve, Zetland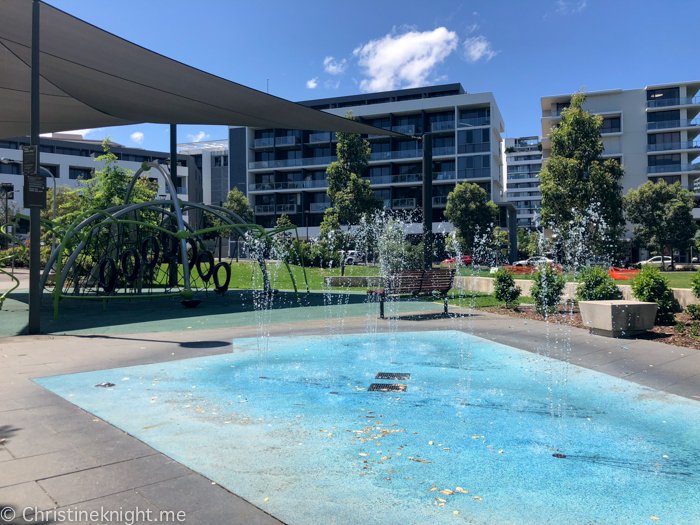 A lovely park with seperate playgrounds for kids of different age groups, a water play area and BBQ facilities.
Read more about visiting Mary O'Brien Reserve here.
Ian Potter Children's Wild Play Garden, Centennial Park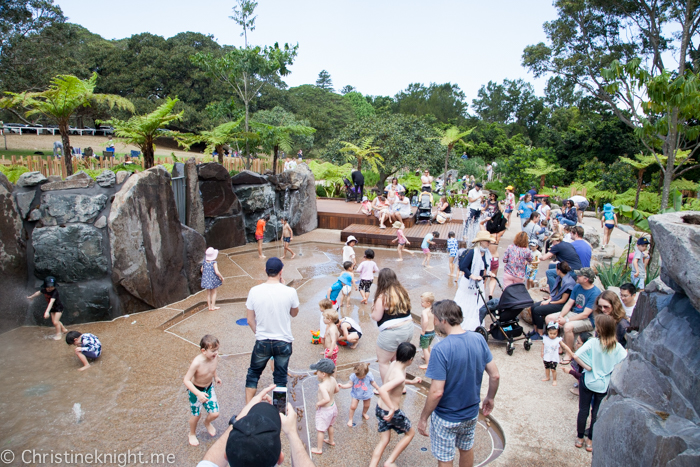 The Ian Potter Children's Wild Play Garden opened in Centennial Park in October 2017. The 6500sq m nature-based play area features a 7m-high climbing tower, wooden bridge, water play area and an open play area where kids are encouraged to use sticks and natural materials to make their own shelters, artworks and games.
Get more info on visiting the Ian Potter Children's WILD PLAY Garden here.
Blaxland Riverside Park, Sydney Olympic Park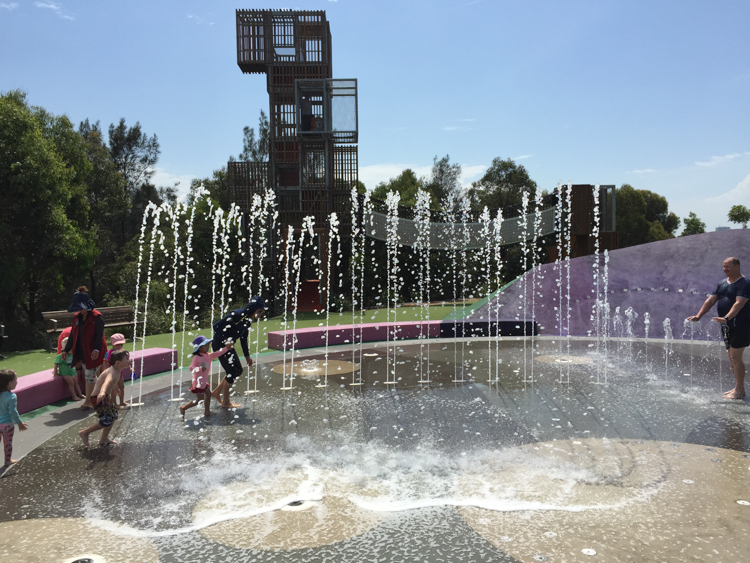 A gorgeous spot for families with one of the biggest playgrounds in Sydney set among three hectares of rolling hills and big open spaces. The playground caters for kids of all ages and abilities with a fantastic water play area (the largest outdoor water play facility in NSW), moving play elements, high and steep landforms and hidden and confined spaces. There's a double flying fox, mega-swing, tunnel slides, scramble wall, spinning play disk, Viking swing and a multi-level tree house to be discovered and enjoyed.
Get more info on Blaxland Riverside Park.
Darling Quarter Playground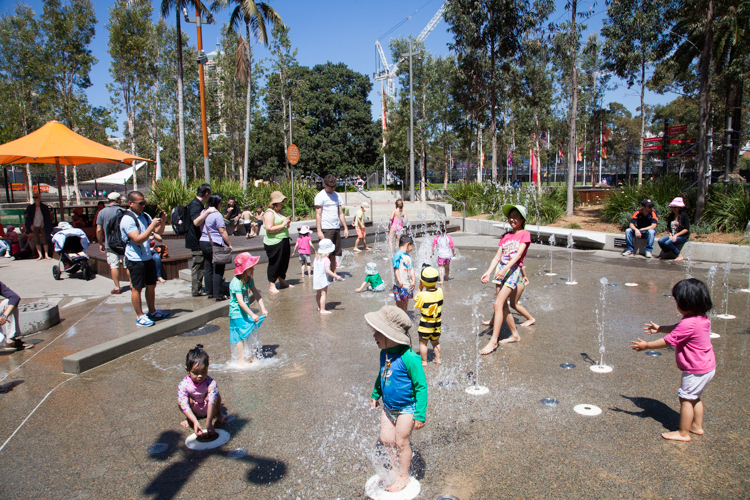 The most centrally-located Sydney playground features a 21-metre flying fox, water play area with pumps and buckets and plenty of slides, climbing structures and swings. It's a must for kids visiting the city.
Get more info on the Darling Quarter Playground.
Cathy Freeman Park, Sydney Olympic Park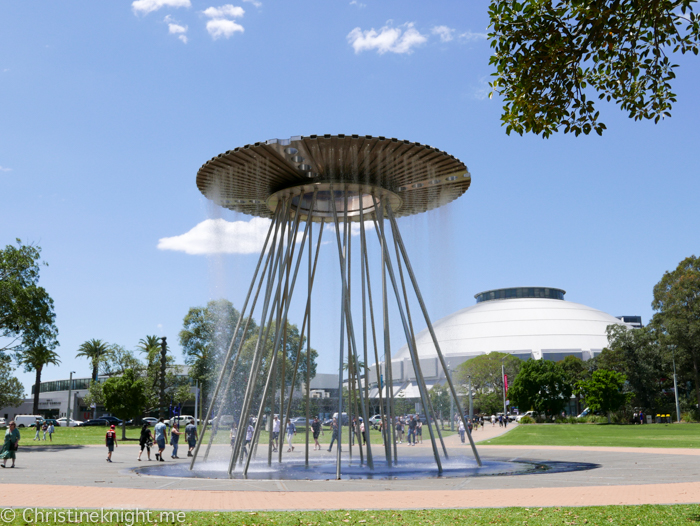 The site of the 2000 Sydney Olympic Games is now a monument to sporting legends and a peaceful parkland. Visit Cathy Freeman Park to see the Olympic Cauldron that was used throughout the games and has been transformed into a water feature that kids love to play under in summer, located next to a shady playground and vast grassy field.
Get more info on Cathy Freeman Park here.
Plough and Harrow, Abbotsbury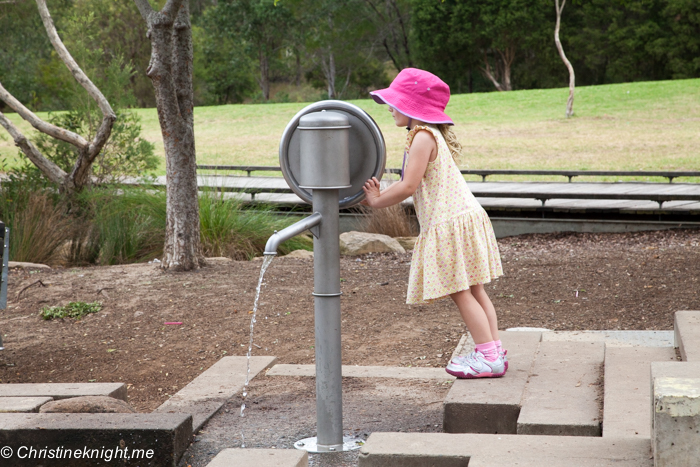 The Plough and Harrow park is part of the massive Western Sydney Parklands that spans across the suburbs of Abbotsbury, Eastern Creek, Prospect and Horsley Park. The entire parklands covers 5,280 hectares, and includes several playgrounds, events centres and sporting venues. The playground features include a hamster wheel, flying fox, sand pit, little kid play area, large climbing spiderweb, basket swing, big kid swings and a water pump feature.
Get more info on the Plough and Harrow here.
James Ruse Reserve Playground, Parramatta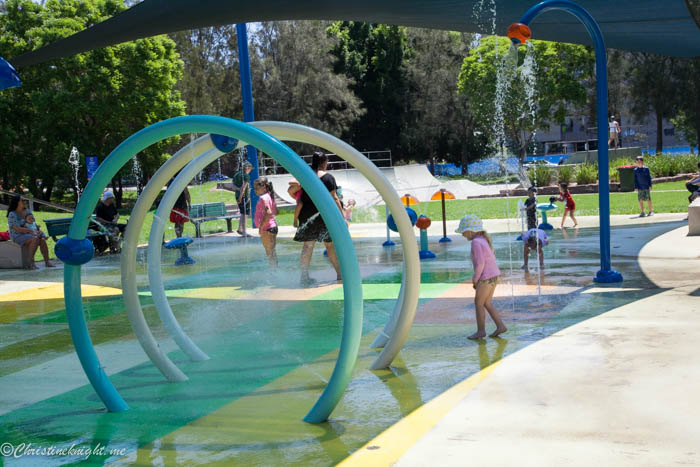 Our go-to when it's hot, this playground has an undercover water play area that is a fave of ours. The splashpad features a large variety of water jets and water guns. James Ruse Reserve Playground also features climbing structures and is close to cafes.
Get more info on the James Ruse Reserve Playground here.
Bungarribee Park, near Blacktown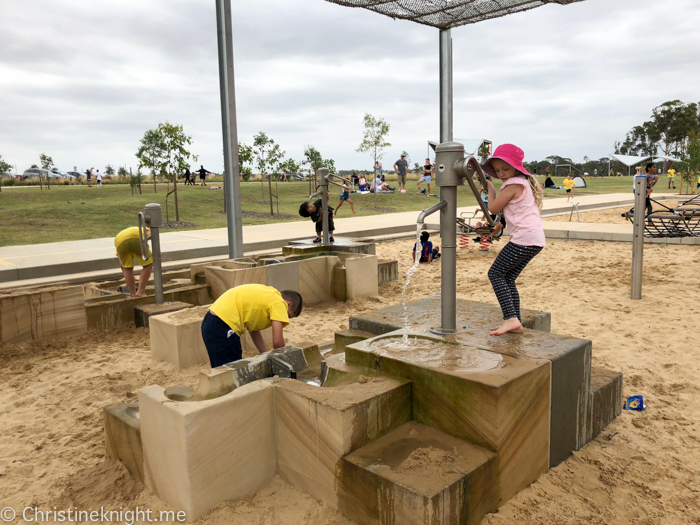 Opened in 2017, Bungarribee is a 200-hectare recreational space that features walking and cycling tracks, 20 barbecues, 13 picnic shelters and a playground with a climbing tower, flying fox, plenty of slides, swings and a water play area. Since reviewed, shade sails have been put up in the park.
Get more info on visiting Bungarribee Park.
Curry Reserve Water Play Space, Camden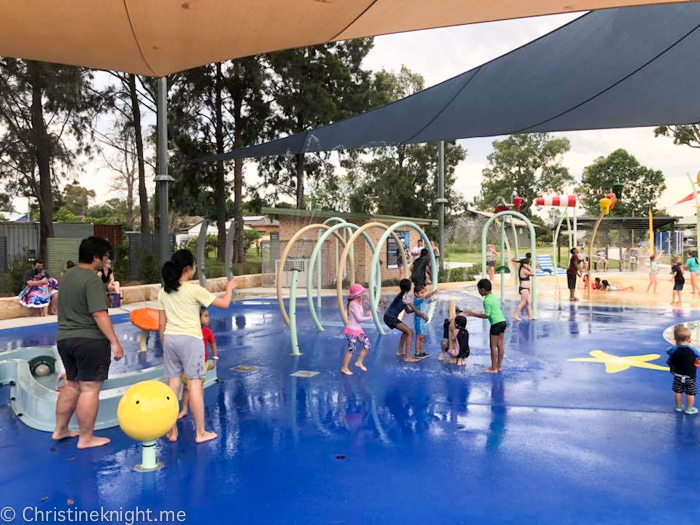 Opening in December 2018, Curry Reserve brings much-needed water play to Western Sydney. The water park features a large splash pad with 36 play features for all inclusive, accessible fun, suitable for kids of all ages.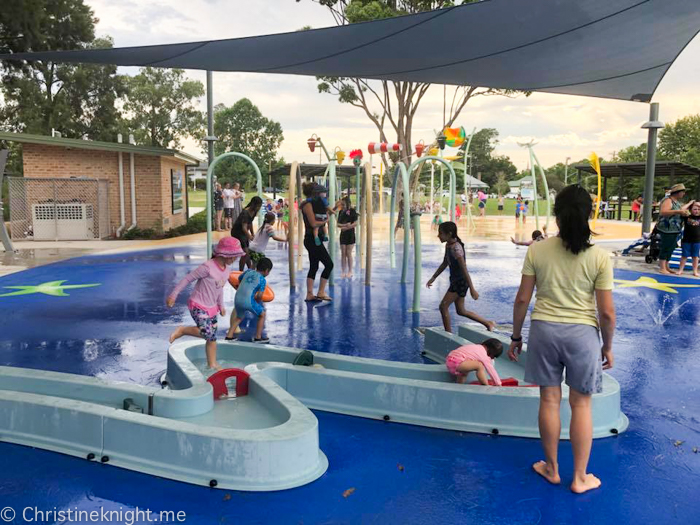 The low water play canal area is great for little kids, there is a shade cloth covering much of the water play area, and there's shade and seating for parents supervising. The park is accessible for wheelchairs.
Thanks to Have Wheelchair Will Travel for reporting on the park and pics.
Curry Reserve Water Play Park, Camden Valley Way, Elderslie
More things to do in Sydney
Find a list of the best things to do in Sydney with kids here.
Find things to do in Sydney for free here.
Get a list of the best kid-friendly beaches in Sydney.
Find the best animal experiences in Sydney here.
Visit the best kid-friendly restaurants in Sydney here.
Find the best high teas in Sydney here.
Head to one of the best museums in Sydney here.
Check out things to do in Sydney on a rainy day here.
Enjoy one of the best ocean pools in Sydney here.
First time visiting Sydney? Get tips for first time visitors to Sydney here.