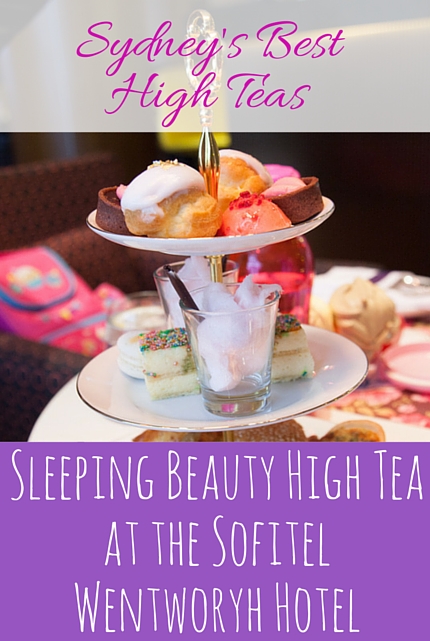 The combination of two of my favourite things makes for an irresistible outing. I've been a lover of ballet my entire life, and of high teas for a good 10 years or so. Together, they are a bit magical!
I've booked tickets this year to see the Australian Ballet's The Sleeping Beauty and also their children's version of the Sleeping Beauty Storytime Ballet. An evening at the ballet has been a highlight of mine over the years. One of my dearest friends and I have been seeing attending the ballet every year since our university days, and recently have started taking our daughters to the Australian Ballet's children's performances too. When I saw the Sofitel Wentworth had a new high tea inspired by the Australian Ballet's new Sleeping Beauty ballet, I knew we had to go, and take the girls too.
The Sleeping Beauty High Tea is available for a limited time only (Nov 1 2015 – Jan 31 2016) and is an excellent showcase of the skills of their talented Head pastry Chef Vai Hong Lo and internationally renowned Executive Chef Boris Cuzon.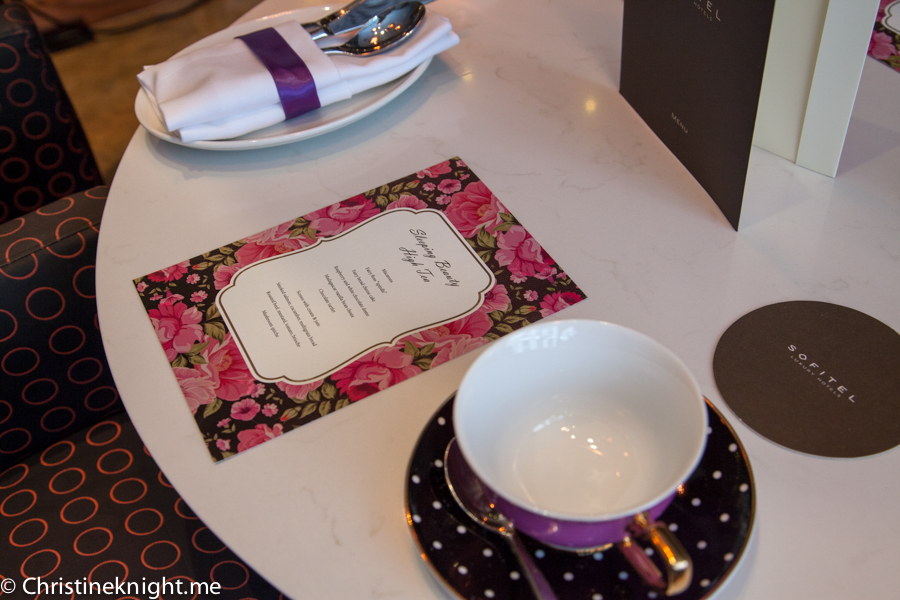 The high tea is timed to co-incide with David McAllister's lavish reimagining of The Sleeping Beauty, performing at the Sydney Opera House from 01 November 2015 – 31 January 2016. I have tickets towards the end of November and I am counting down the days.
If you too are a ballet and high tea lover, then you too may enjoy a decadent afternoon indulging in both of your loves at the same time.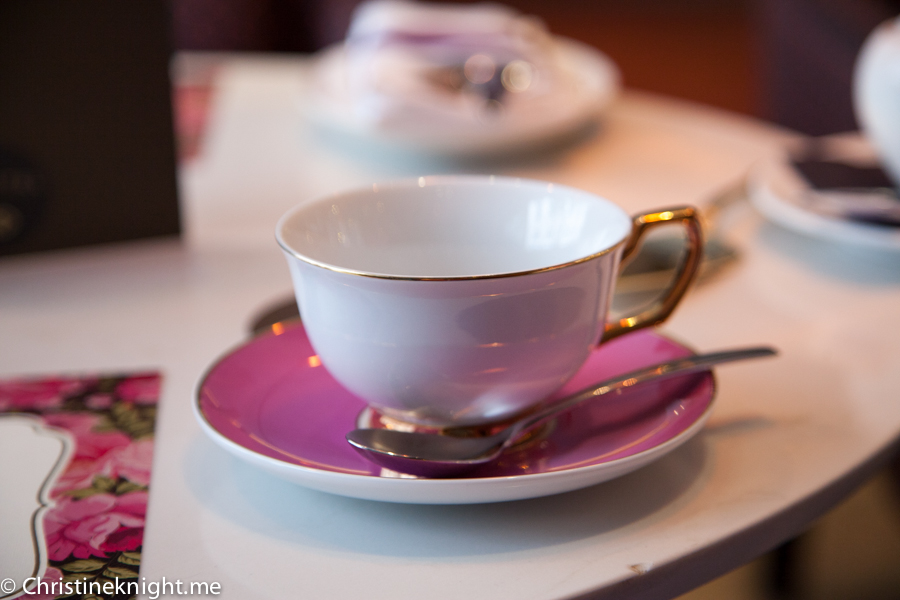 Another detail worth noting is the Sofitel Sydney's collaboration with lifestyle designer Cristina Re. Her vintage-inspired exclusive Signature High Tea collection is now a part of the luxury high tea experience. I really enjoyed the delicate China in its beautiful pinks and purples with 24 carat gold finishes. A really modern China with romantic colours, a perfect fit for the ballet theme as you can see from the images.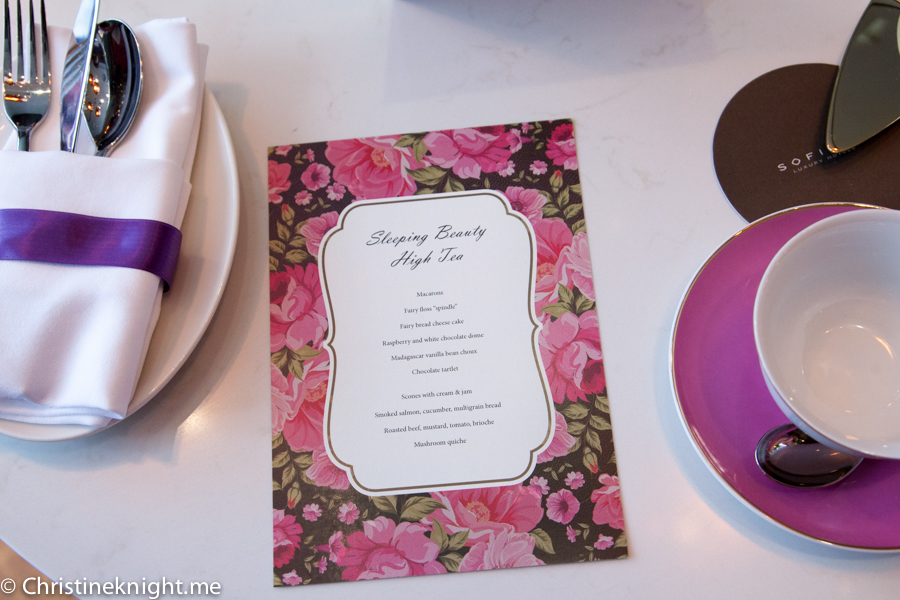 The Sofitel Sydney has amazing attention to detail with their high teas. The menu for the special high tea was specially printed with a floral design, as were the colouring in sheets given to the girls to occupy them. The purple ribbons around the cutlery were a gorgeous touch.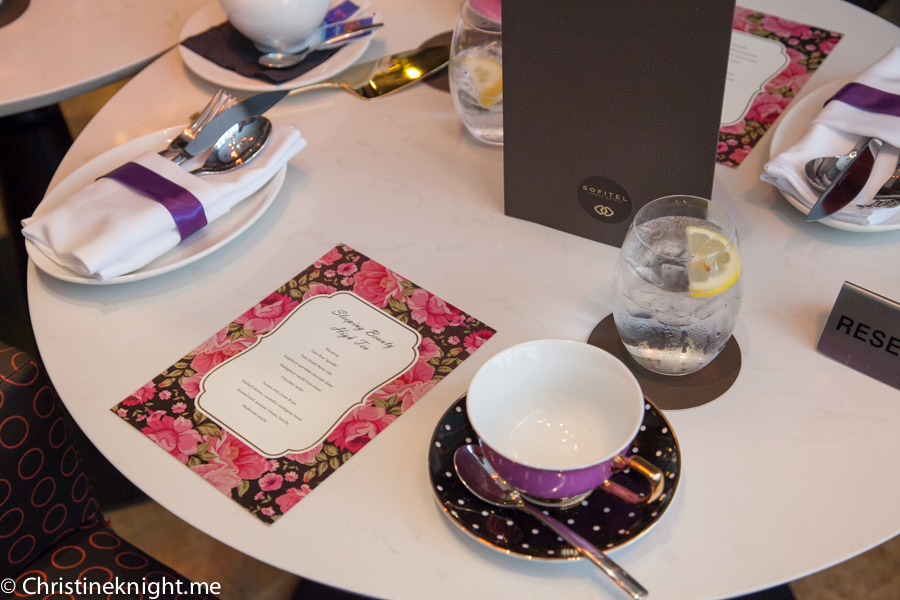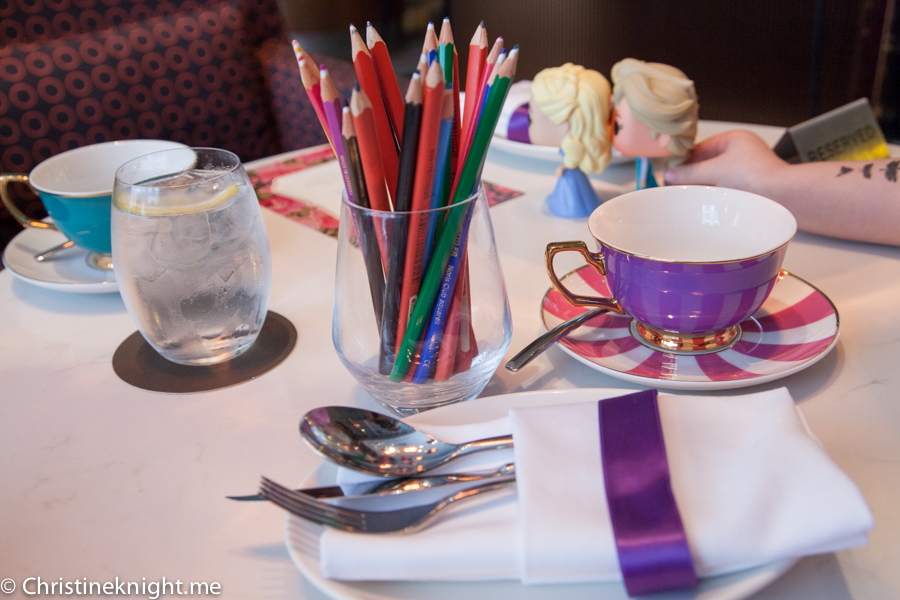 The table was beautifully set up for our arrival, including a glass full of pencils for the girls to use to colour in. I really appreciated the thoughtfulness in regards to the girls, who, at 4 and 6, are on the young side to be taking to a high tea, mostly because they both eat like birds and also aren't the best at sitting still for long periods.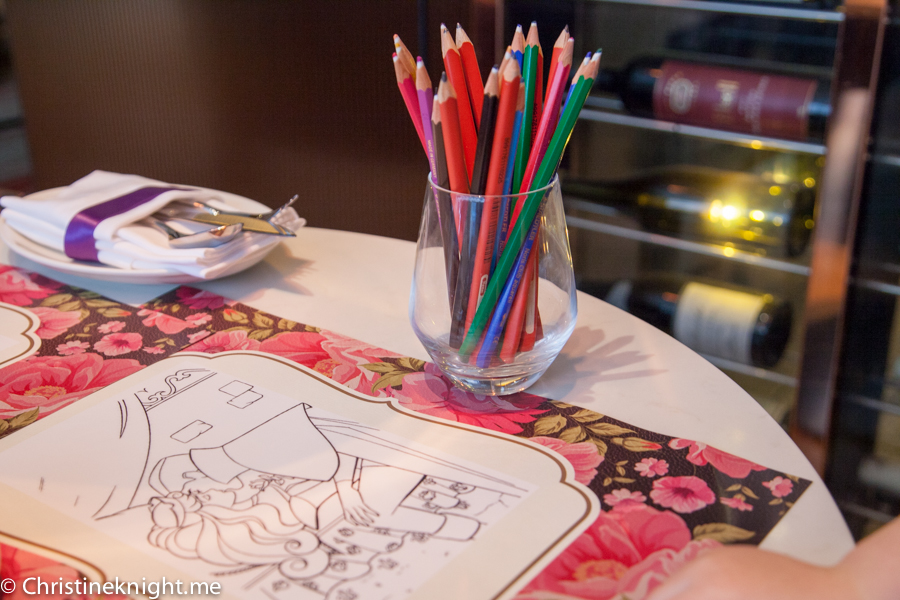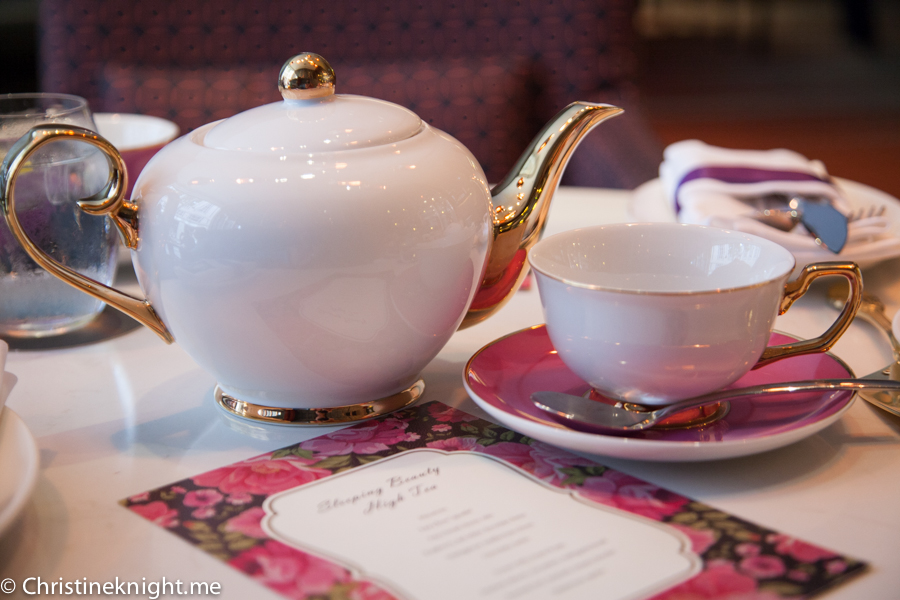 Our tea choices arrived in individual pots, each contained at least 3, maybe 4 cups of tea. Much appreciated as I love, love, love tea.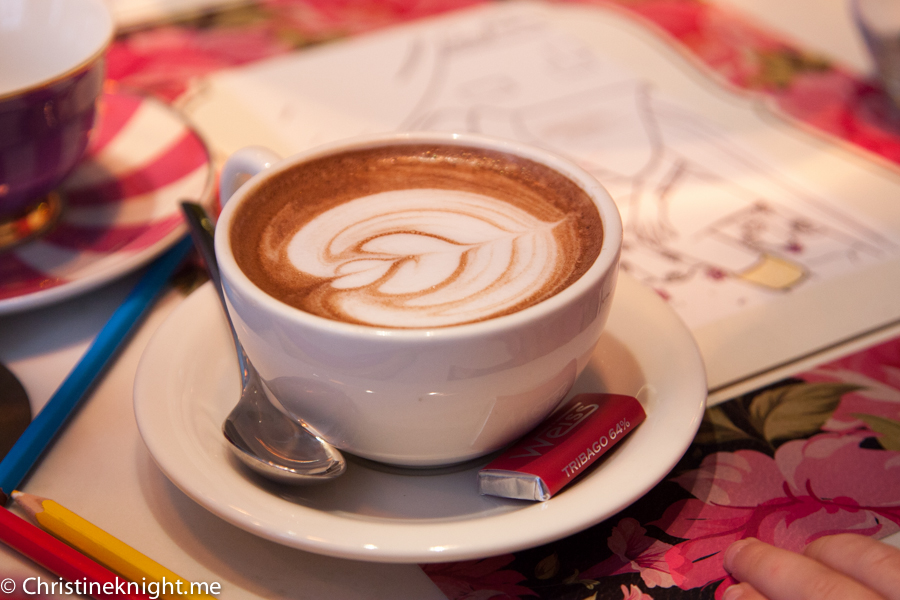 Even though the children's tea is advertised as coming with soft drink, Cheese was offered a more suitable hot chocolate option, which came with a sweet heart flower design (she loved it), and a little square of chocolate. The barista was particular to make it very lukewarm so as not to burn her little tongue. Cheese tipped a (hopefully clean) finger in and pronounced it perfect.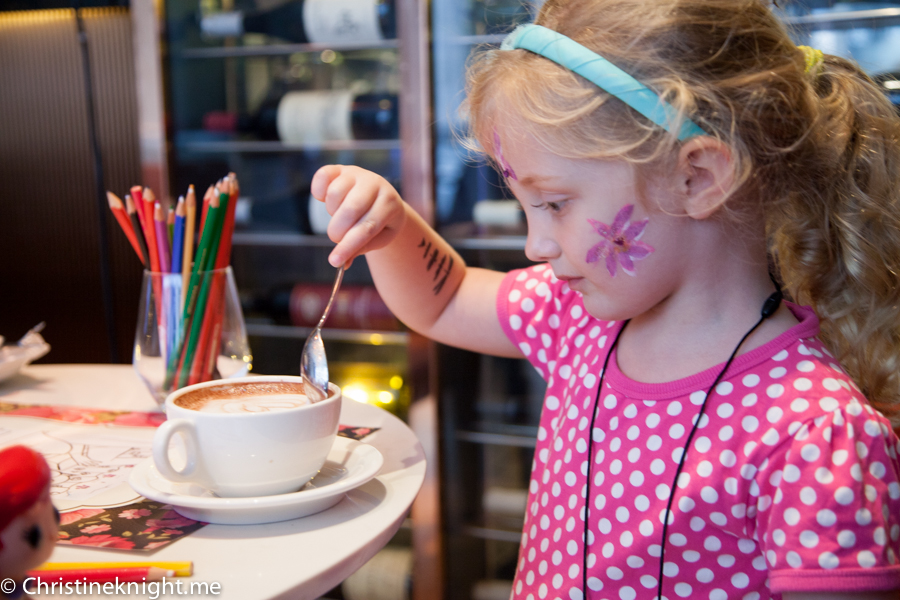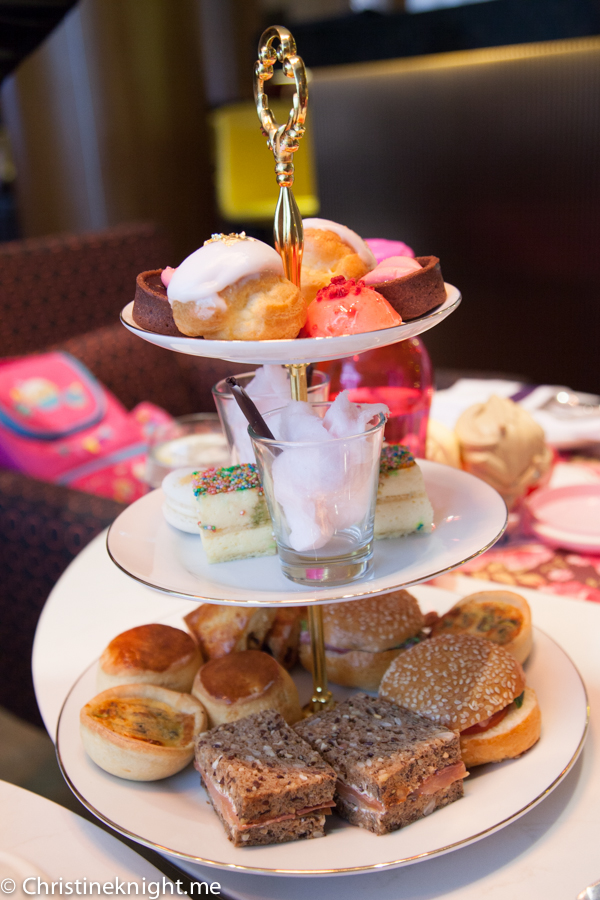 The teas arrived looking absolutely amazing. The children's high tea is actually exactly the same as the adult's high tea but is served with the soft drinks instead of a pot of tea. This makes it the best value children's high tea I've ever seen.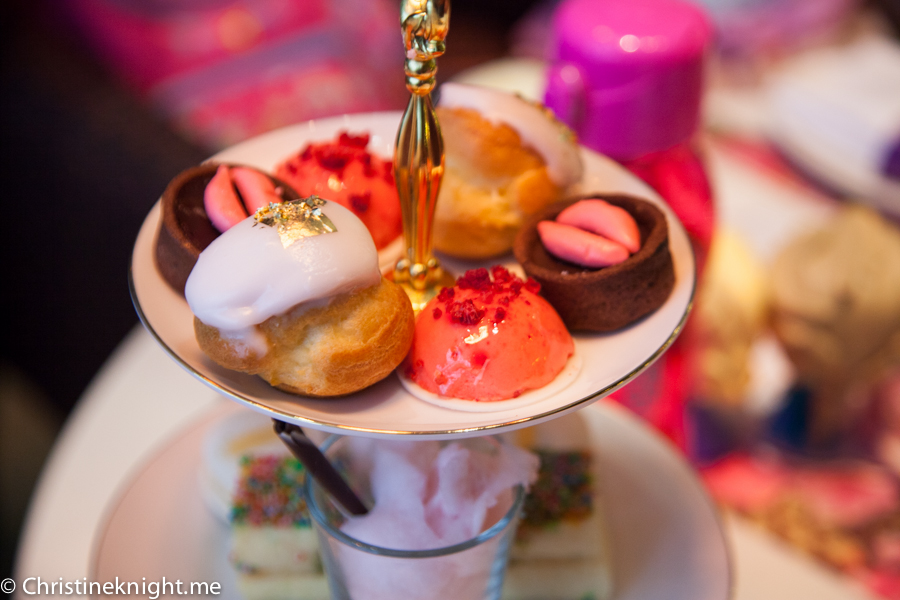 Sweet layer 1:
Raspberry and white chocolate dome
Vanilla bean choux
"Kiss" chocolate tartlet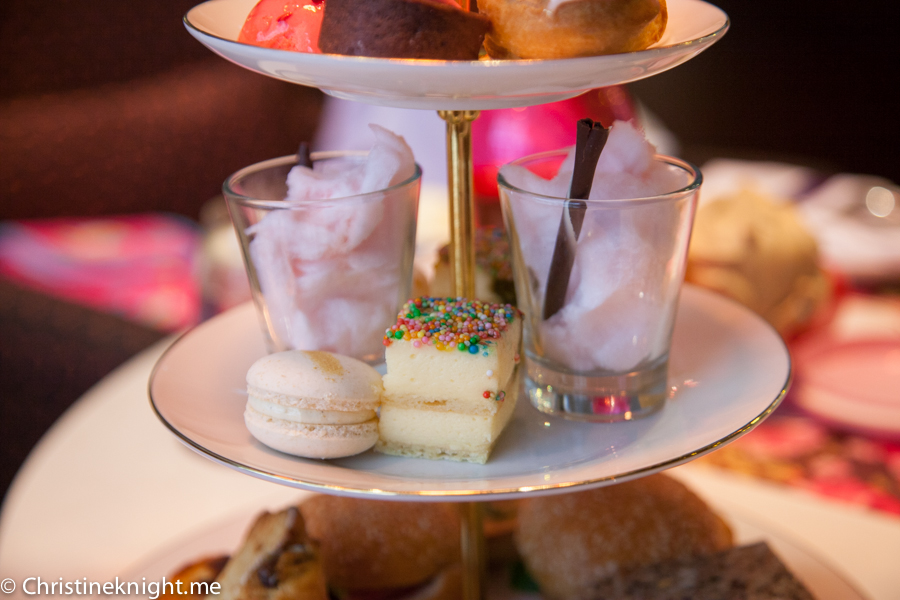 Sweet layer 2:
Macarons
Candy floss "spindle"  – the feature element in the high tea is this "spindle in a glass" consisting of a spindle shaped chocolate with pink and blue fairy floss.
Fairy bread cheese cake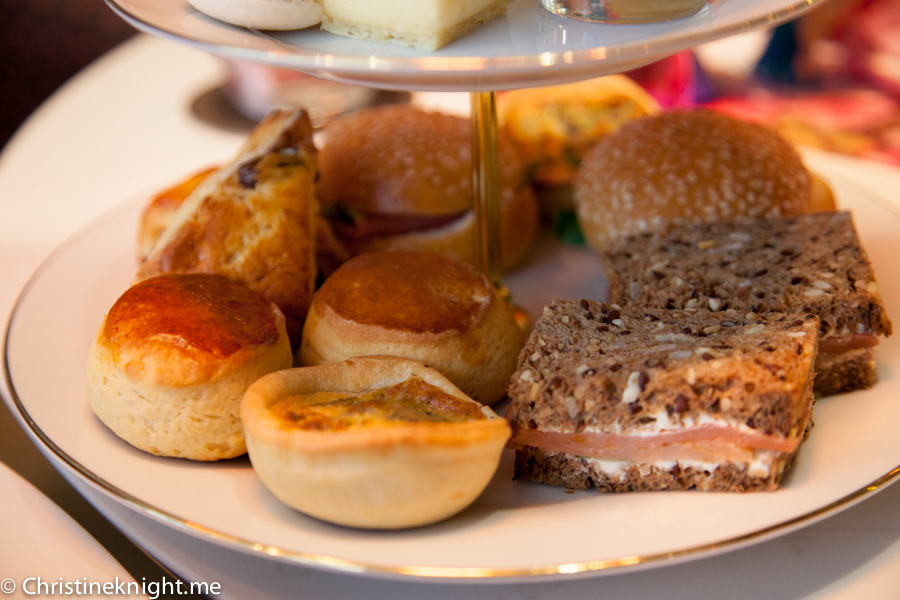 Savoury layer:
Scones, cream, jam
Smoked salmon, cucumber, multigrain bread
Roasted beef, mustard, tomato, brioche
Mushroom quiche
* Avocado, cucumber, tomato on brioche
* Vegetable pesto on multigrain bread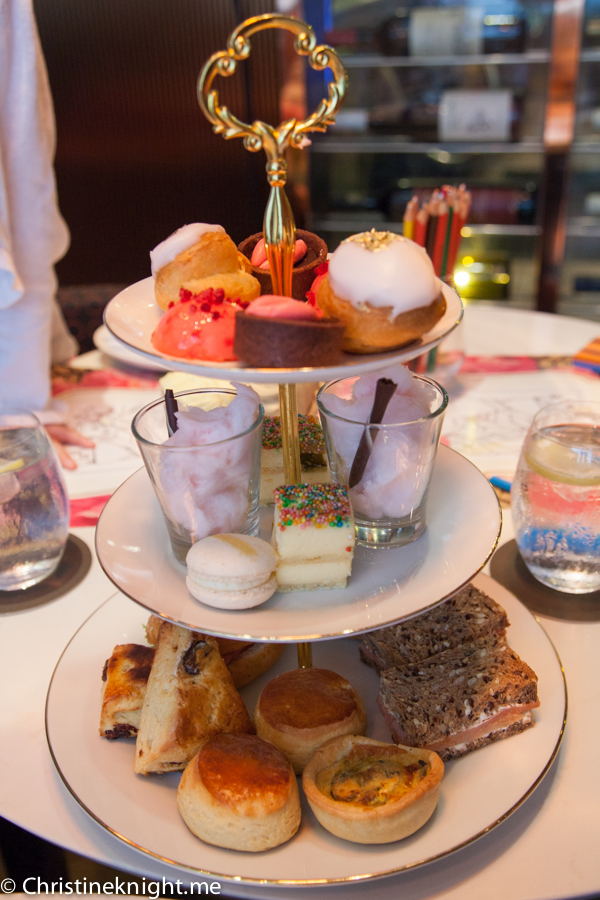 The highlight sweet for me was the raspberry and white chocolate dome and vanilla bean choux. I really love fruity desserts and the raspberry dome was lovely and tangy with its tartness. The vanilla bean choux was kind of like a profiteroles but better – light and fluffy and stuffed with the most amazing creamy custard.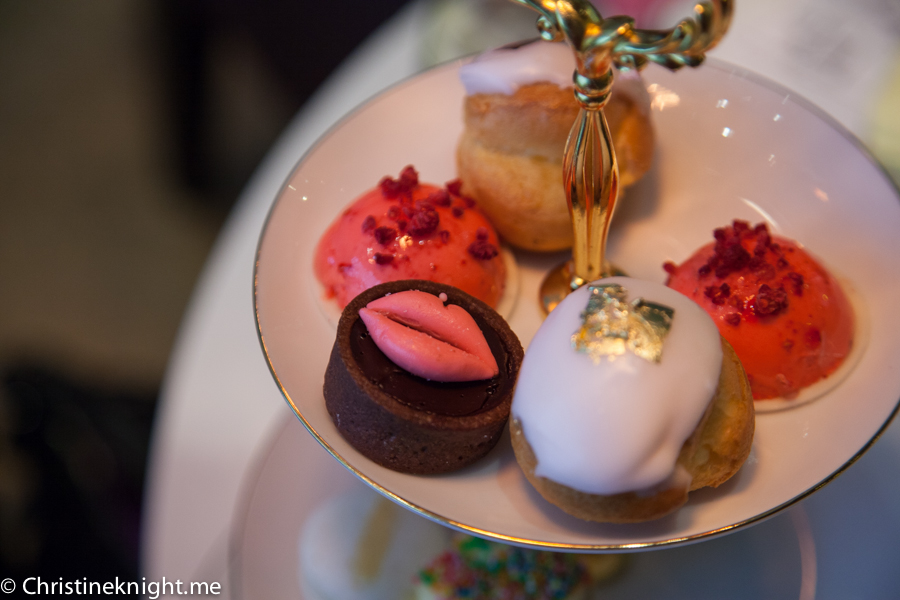 Cheese loved the fairy floss in the cup. She actually ate all three of them before I could stop her. They were delicious from the tiny bit I managed to snaffle. Not sickeningly sweet like the commercial fairy floss you usually get. Both the girls loved the "lips" on the chocolate tart – playing with them more than eating them, but they did have a lot of fun and they were eventually eaten and enjoyed.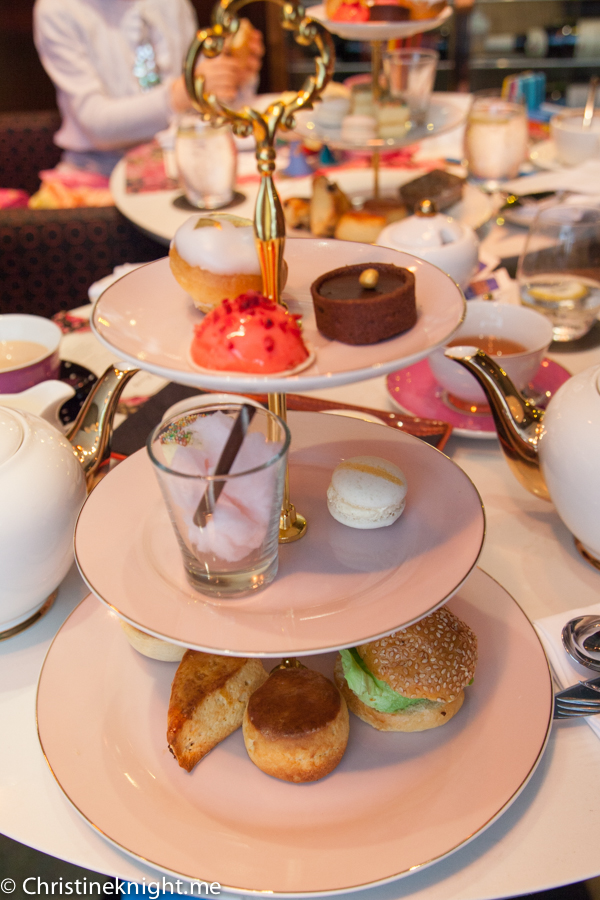 Out of the savouries I enjoyed the quiche the most – I am very partial to a good quiche! Nice buttery pastry on the outside, fluffy eggy centre with bits of leek and mushroom throughout. The sandwiches were made with lovely fresh bread and toppings. Sandwiches often get served hard edge to them that shows they've been out in the air too much, but these were so soft and fluffy.
The scones were on the smaller side, more like an American biscuit than an English scone. The petite size actually helped in that I could eat them both – the plain and current one – without getting completely full on just the scones. They came served with two good sized bowls of jam and cream. The jam was a burst of fruit flavour, but i would have liked it to be a tad thicker only to stop me from making a mess of it when I tried to spoon it onto the scones and failed miserably when I got the tablecloth instead. I enjoyed the thickly whipped cream.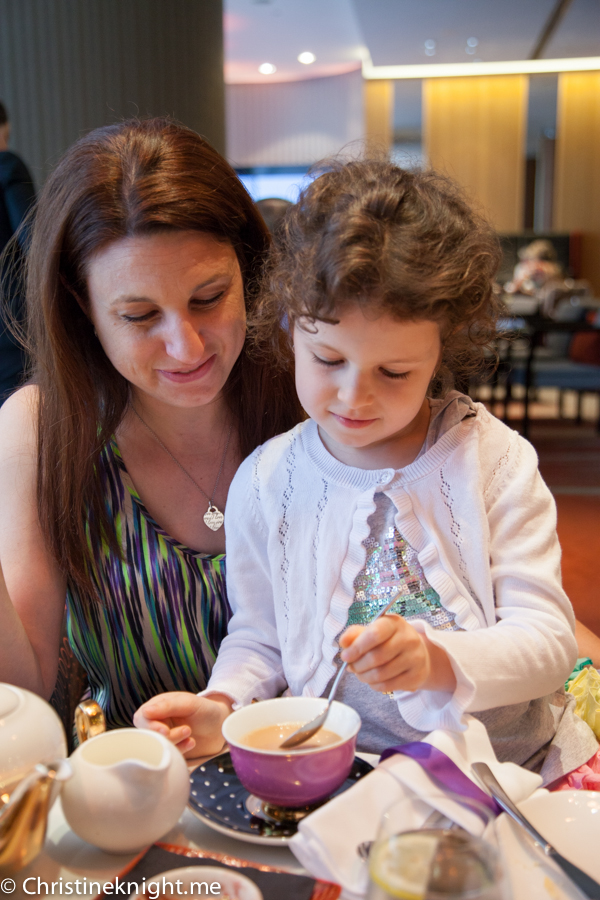 Both the girls started to get restless towards the end and made their own "tea" out of milk, tea, hot chocolate and whatever else they could get their grimy little hands on. A massive thank you to the attentive and tolerant staff who didn't blink at their "delicious" concoctions.
The Sleeping Beauty High Tea is available 01 November 2015 – 31 January 2016.
$59* per person including a glass of Veuve Clicquot
$65* per person including sparkling wine for the duration
$39* per child (5-12 years) inclusive of soft drinks
*Vegetarian substitutions

Sofitel Sydney Wentworth
61-101 Phillip Street,
Sydney NSW 2000
Phone: (02) 9228 9188
Bookings
Get Directions
Thank you to the Sofitel Wentworth for hosting us. All opinions and "adorable" children are our own.