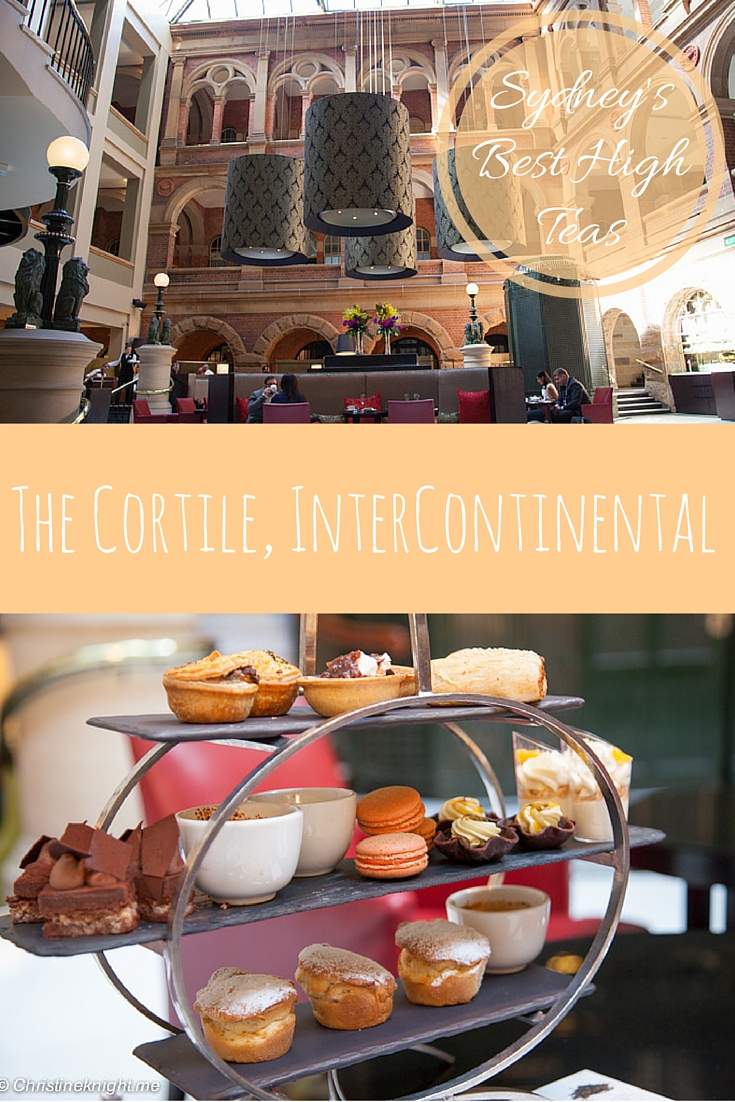 No longer missing from my adventures in high tea, is the very elegant high tea at The Cortile, InterContinental, Sydney.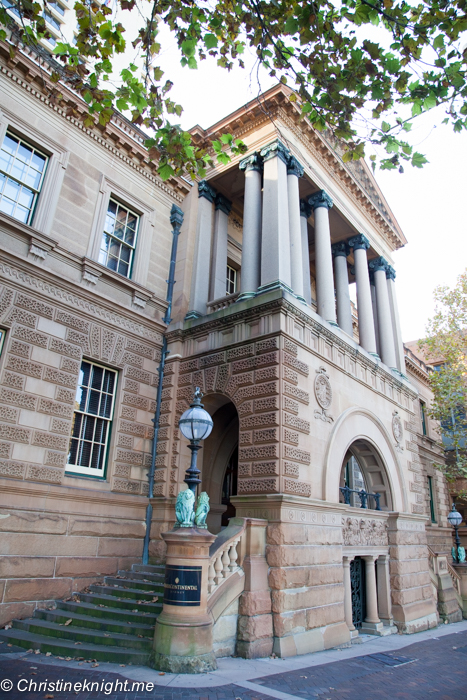 This is definitely the most beautiful building of all the high teas so far. The InterContinental Hotel was built inside the restored Sydney Treasury Building of 1851. The outside facade of the building is just gorgeous, with sandstone blocks and even some lions to welcome you, and inside the atrium that is where The Cortile is situated,is a gorgeous blend of old meets new. Soaring ceilings, brick archways, with modern fittings and elegant lighting. Just beautiful.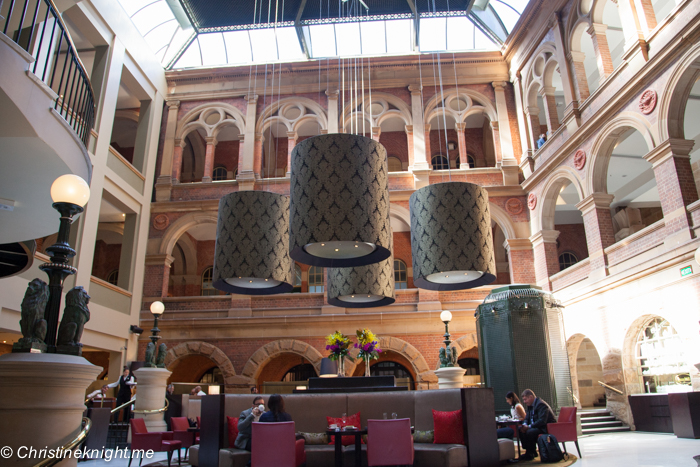 The InterContinental is in a superb position too – just a few blocks from the Sydney Opera House and across the road from Sydney's Botanic Gardens, it's a wonderful spot to stay for a few days, or just to experience a high tea like we did.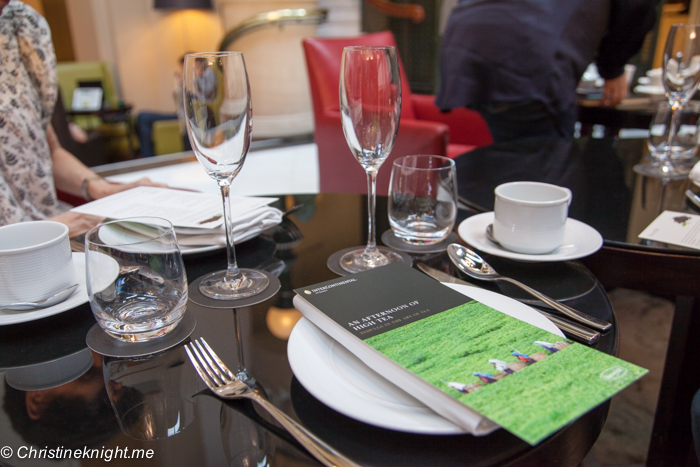 High Tea at the InterContinental is a truly elegant affair. It consists of a plate of sandwiches, followed by a three tier stand filled with pasties, scones and sweets.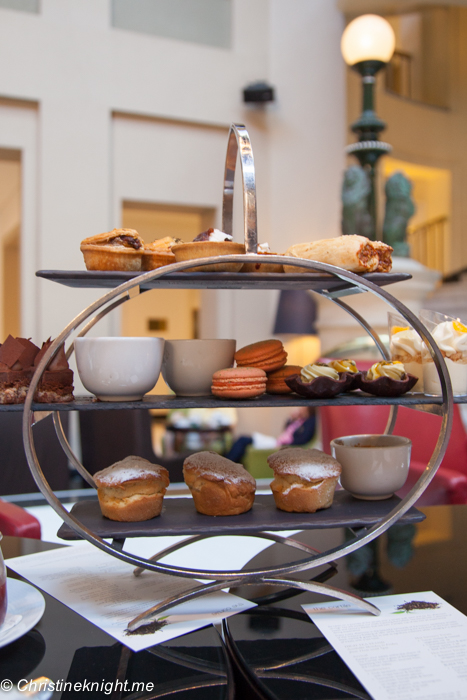 The Three Tier High Tea Stand is served Monday to Friday from 11am–5pm and costs $55 per person (including a glass of sparkling wine).
As a vegetarian I was given a seperate plate of sandwiches and pastries which i thought was very considerate of the staff to arrange.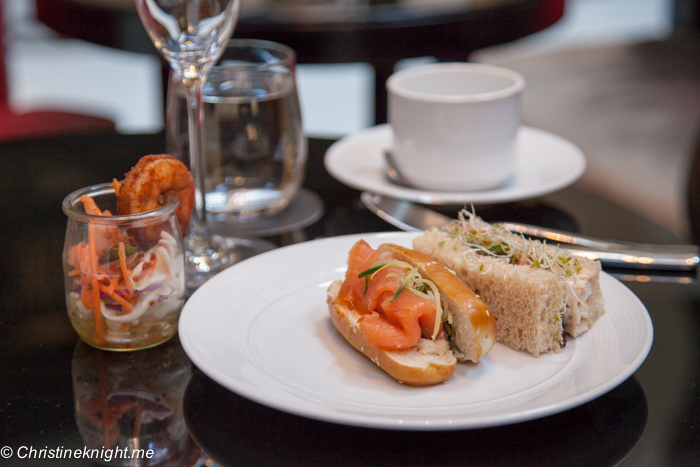 Sandwiches
• Club sandwich, roasted chicken with crispy bacon & tomato
• Tasmanian smoked salmon, cucumber, horseradish & lemon on laugen bread
• Paprika prawns, chili, lemongrass, green shallots, thai basil, red quinoa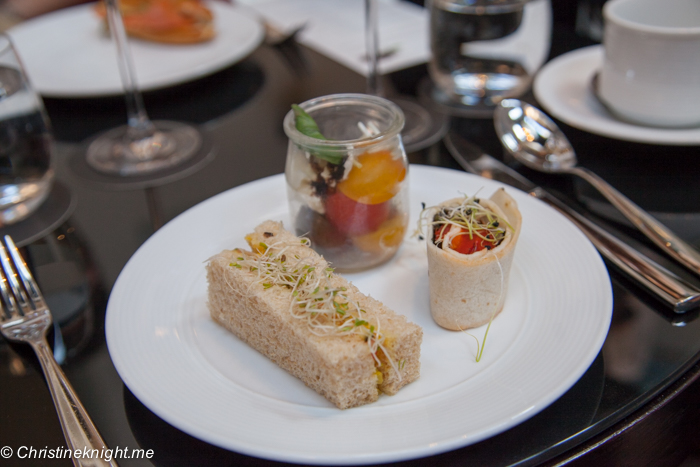 Vegetarian sandwiches included mixed vegetables, a tomato, cheese and basil salad.
The sandwiches were light and fresh. I really enjoyed the inclusion of the salad.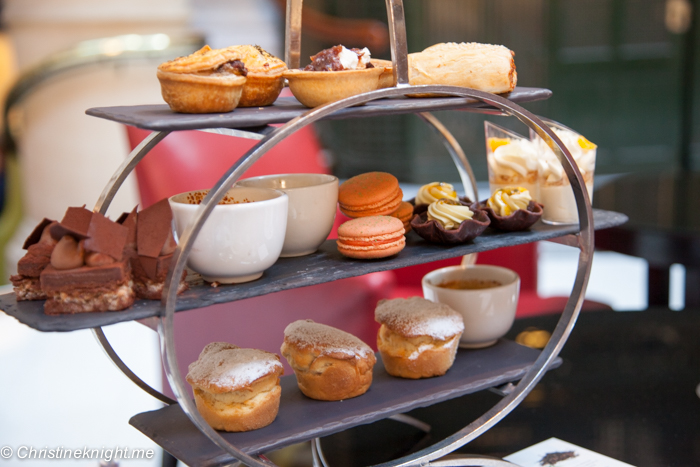 Hot Savoury Treats
• Tuscan chicken & roasted vegetable roll
• Caramelised onion & goat's cheese quiche
• Beef and Guinness pie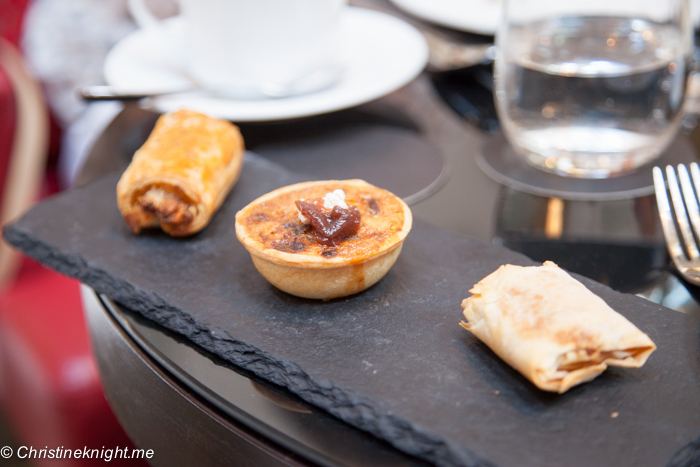 Vegetarian savoury treats included the same quiche plus a pumpkin piece and Moroccan sausage roll.
Nice bite-sized treats. The pumpkin in particular was great – a slightly spicy mix with creamy pumpkin.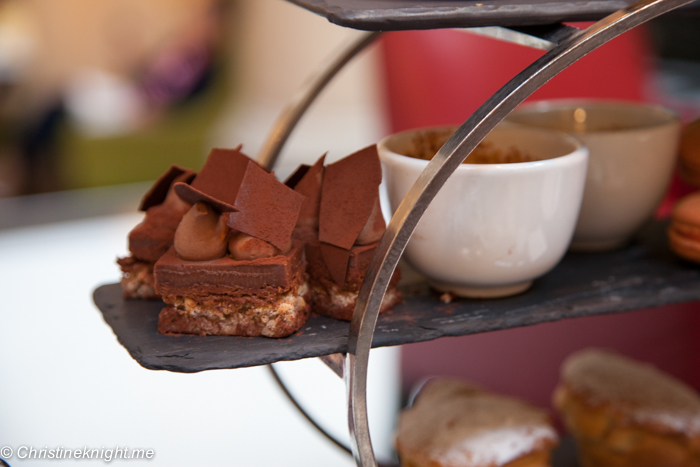 Tea Treats
• Lemon & herbal infusion tea cup
• Jasmine Gold tea crème brulée
• Punnet of passionfruit, Matcha Horai green tea & chestnut
• Hazelnut biscuit, crunchy praline & milk chocolate chantilly
• Lemon, lime & bitter macaron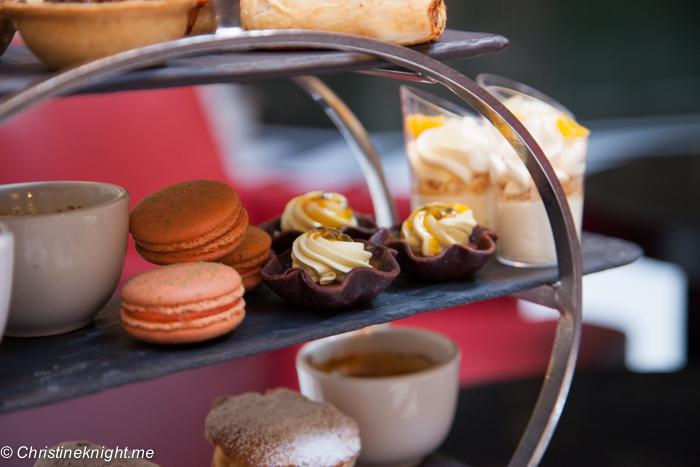 My fave was the perfect creme brulee and the lemon and herbal infusion cup, with its light, fresh creaminess.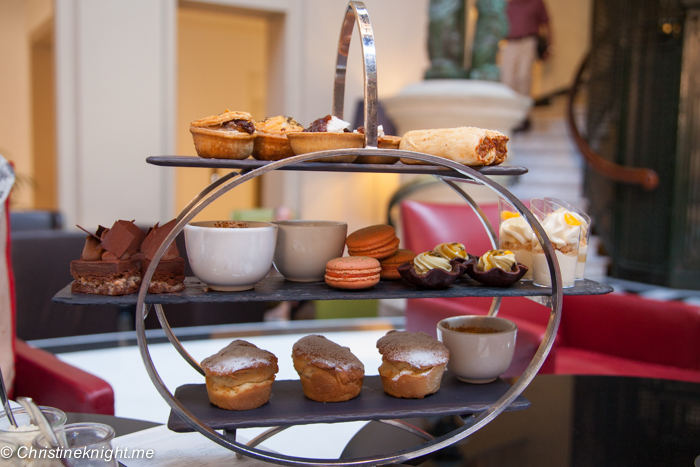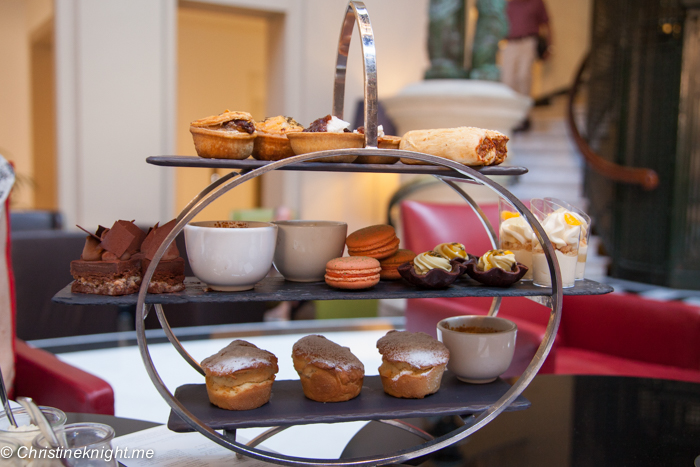 Hot Sweet Treats
• Buttermilk vanilla scones, vanilla whipped cream, cherry jam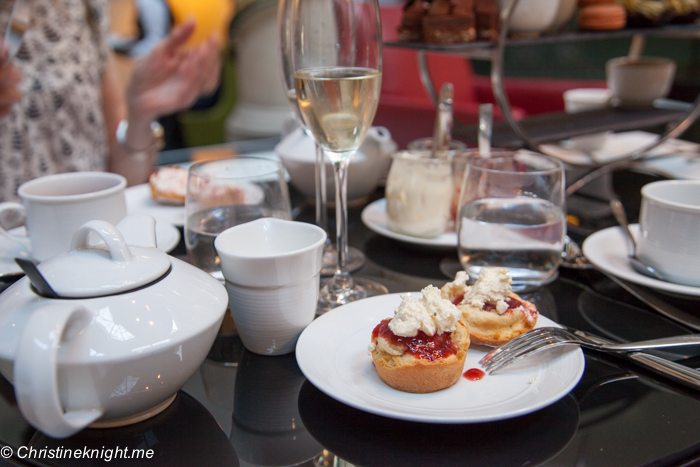 Delicious, warm, fresh scones.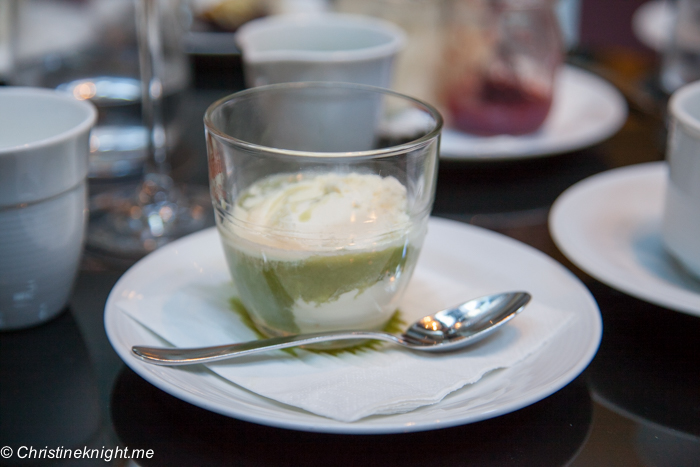 To Finish
• Green Tea Affogato; the classic Italian dessert with a twist.
The finale to this meal is a shot of Matcha poured over vanilla bean ice-cream. Our lovely waitress mixed the matcha in front of us and poured it, hot, over a large scoop of vanilla bean ice cream. The fresh ice cream was the perfect way to finish the high tea – refreshing and light.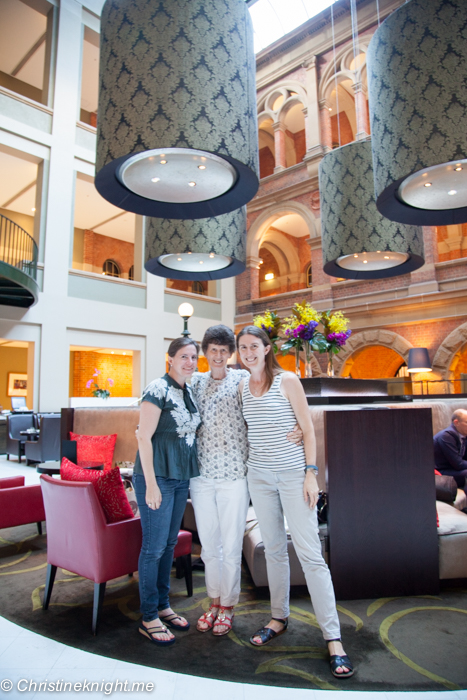 If you dine at the InterContinental on weekends, you can try the Weekend High Tea Buffet. It's served Saturday & Sunday from 1pm–2:30pm and 3pm–4:30pm. It costs $60 per person includes a glass of sparkling wine.
The Cortile, InterContinental Sydney
117 Macquarie St, Sydney
Phone: 02 9240 1396
Reservations reocmmended restaurant.reservations@interconsydney.com
Get Directions