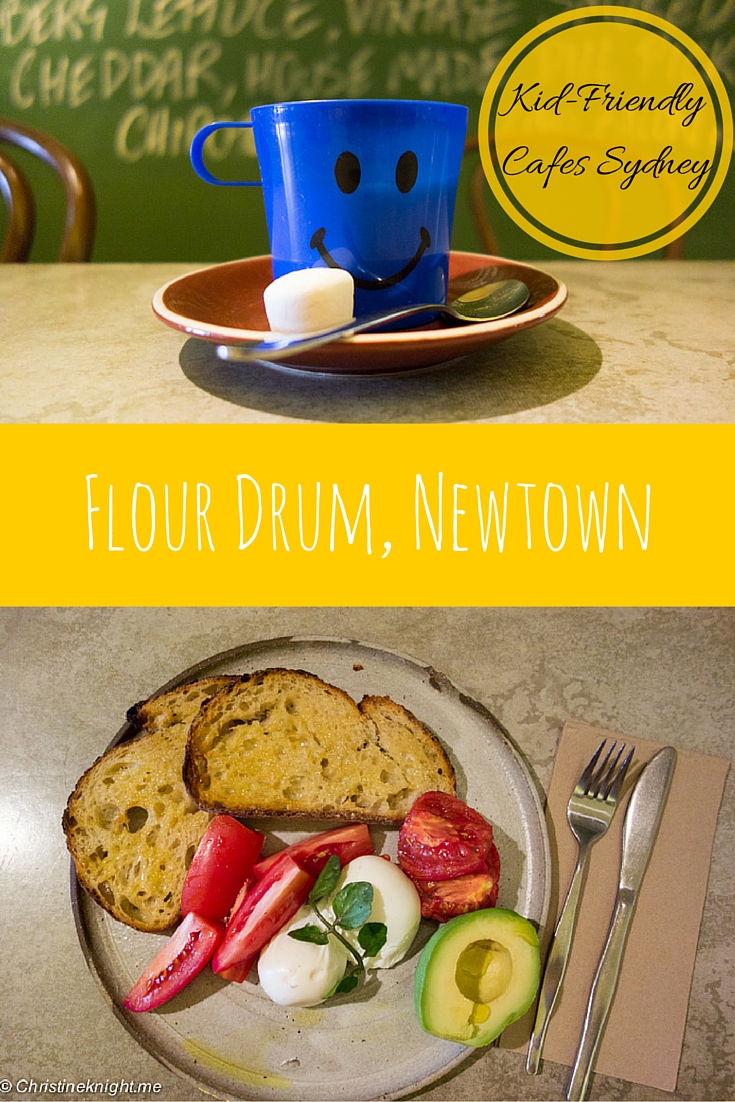 A few weeks ago we stopped by Flour Drum in Newtown when we were looking at properties in the area. We were desperate for food to eat on the go, and were beyond delighted with the food Flour Drumm put together for us, including an egg and bacon roll that Mr Adventure devoured, and a yogurt parfait that they custom made for me, despite not being on the menu. They were so friendly and the food so good that we had been keen to get back there for a full meal every since.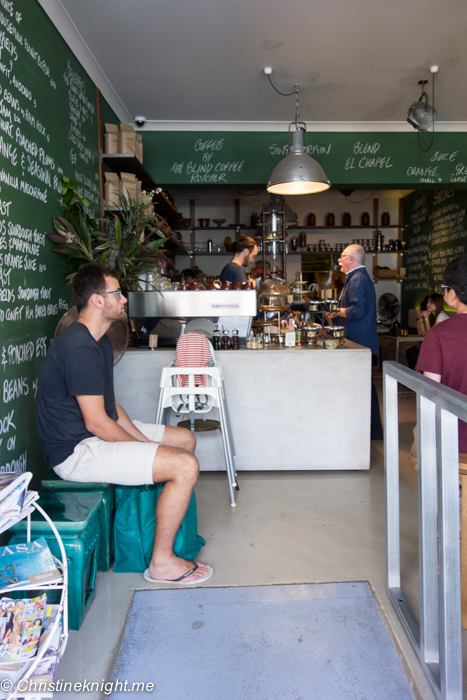 Flour Drum's motto is seasonal, simple and fresh. The decor is rustic with a side of hip, and the ambiance is warm and welcoming.
The menu is painted all over the walls, and includes all-day-breakfast and daily specials. They have a wide variety of meals, including plenty for this vegetarian to choose from. While there isn't a designated kid's menu, the team are happy to whip something up for little ones – in our case, it was a kid's serving of scrambled eggs and toast.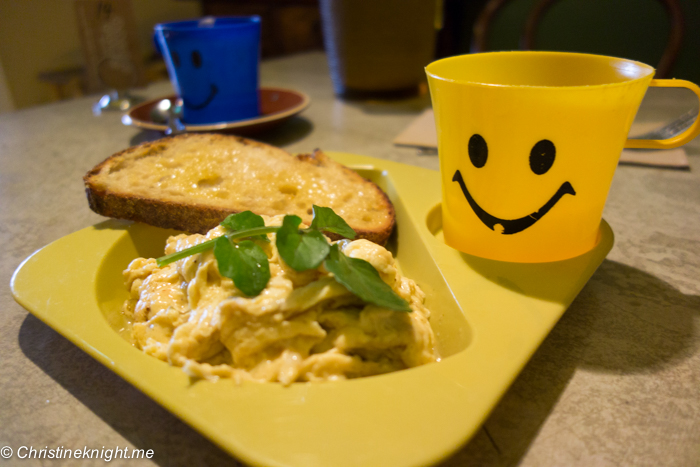 Out the back is a little garden area filled with things for tiny guests to discover such as a pond with gold fish, a dollhouse, and a barbie campervan when we visited. The dollhouse is particularly interesting as it's mounted on the wall rather than being on the ground. I looked it up online afterwards and read that the dollhouse was installed to appease a possible ghost of a young girl who's spirit was said to visit the cafe.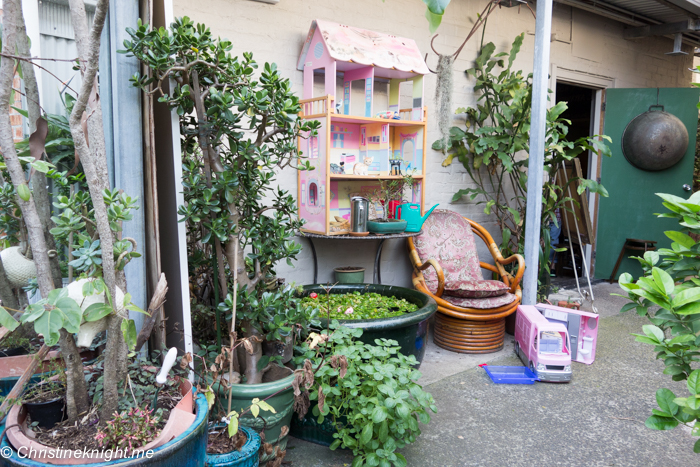 We didn't encounter any ghosts (I guess the dollhouse works!) but did enjoy the warm staff and delicious, wholesome food. Flour Drum sources ingredients from local suppliers including fresh eggs delivered straight from the farm, daily baked hand-made rustic breads, boutique artisan coffee, milk delivered directly from the farm and housemade muesli, jams, preserves, peanut butters and sauces.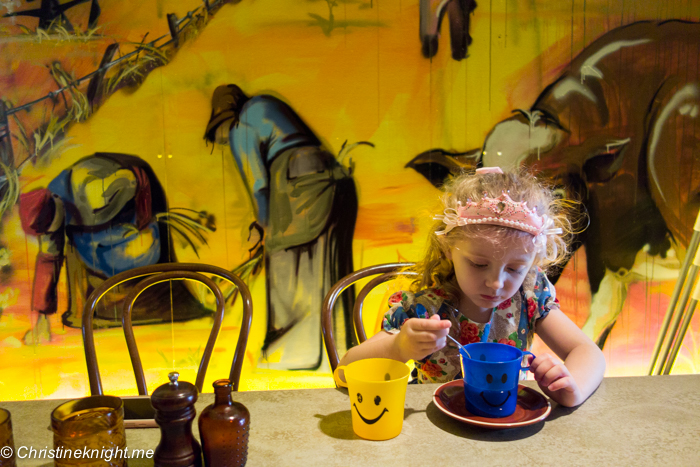 The cafe is very kid-friendly – as well as being accessible for strollers and wheelchairs with disabled access, a disabled wash room, high chairs for babies and nappy change facilities.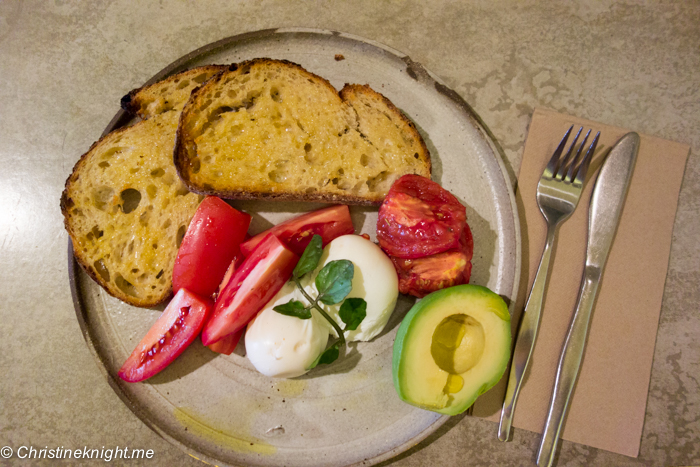 During our visit we enjoyed Free Range Eggs with sourdough ($9), avocado ($5) and tomato relish ($5). The lovely waitress was a bit concerned I wouldn't like the relish so gave me fresh tomato too, bless! Mr Adventure Enjoyed house-made Lasagna and iceberg lettuce salad which I think it making a comeback as the new popular lettuce on the block (move over, kale!).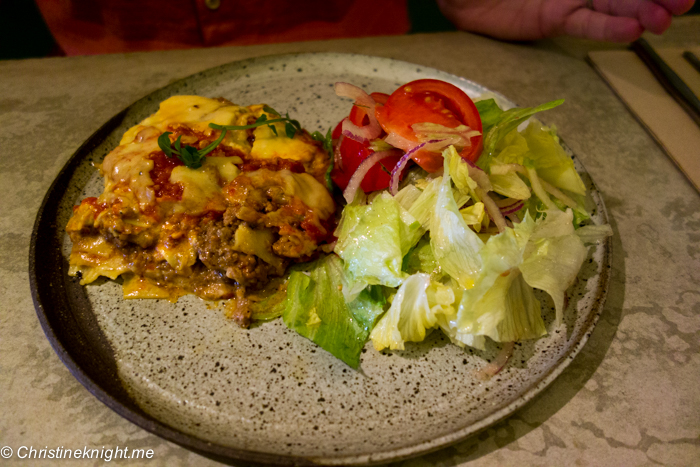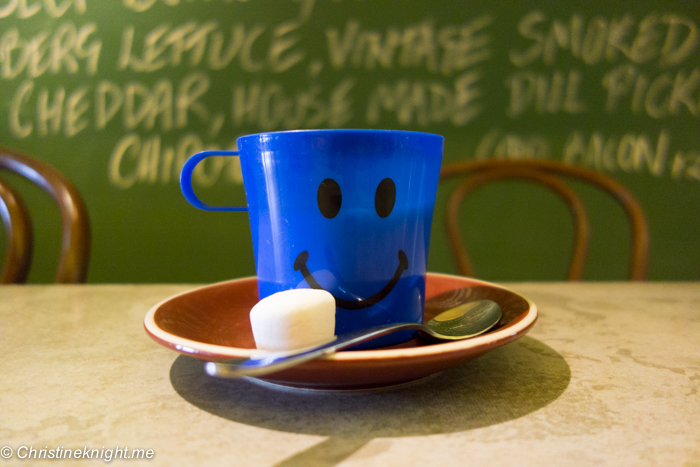 Oh, and don't forget the babyccinos – they're FREE OF CHARGE and come in the cutest little smiley mug with a marshmallow. You can't get more welcoming than that.
Highchairs: Yes.
Stroller storage: Minimal.
Easy access: Yes.
Change tables: Yes.
Kids' menu: No.
Flour Drum
531 King St,
Newtown
Phone: (02) 9565 2822
Prices: $$
Hours: Mon-Sat 7am-4pm, Sun 8am-4pm
Get Directions