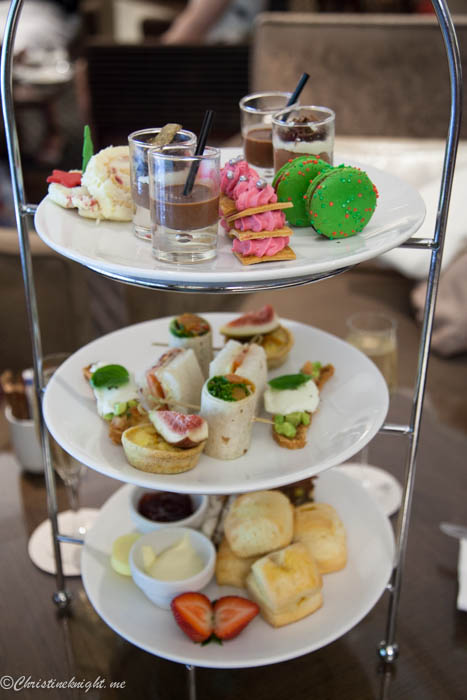 A high tea at the Sheraton on the Park, Sydney, is always a special event. On this occasion, we were sampling the new Christmas Edition High Tea, which promised to get us feeling festive (and full!) in time for the holiday season. Christmas is only 2 weeks away, so I've been embracing the holiday spirit this week, starting with an amazing high tea.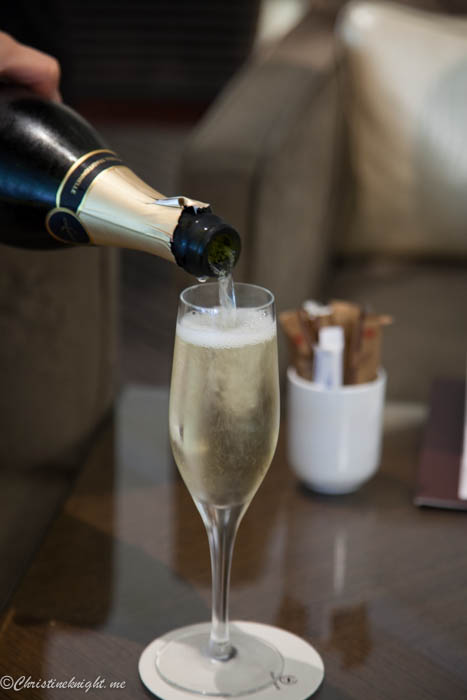 The Christmas High Tea comes with scones, sweets and savouries, and your choice of tea, hot chocolate (made with Lindt chocolate) or coffee. I chose the English breakfast, which arrived in a cute glass pot, and made at least three cups of tea.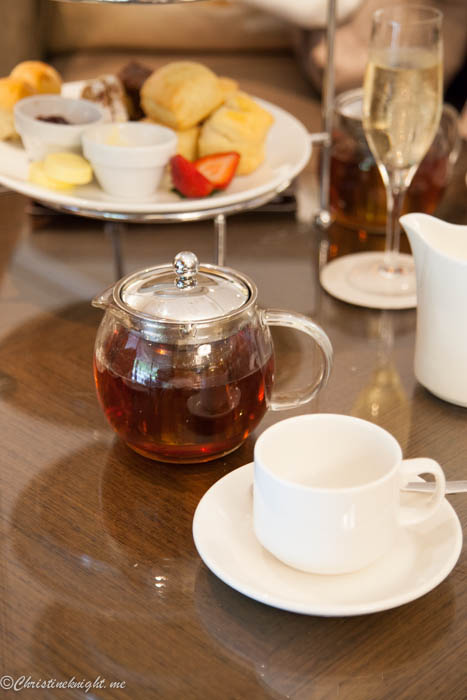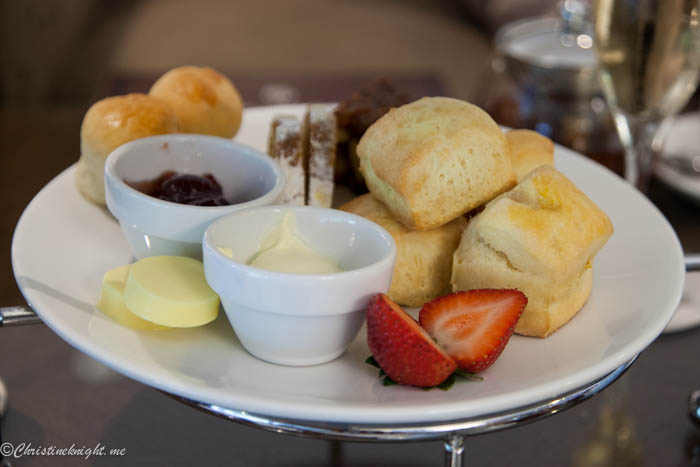 Scones
Freshly baked chestnut scone and plain scone with strawberry jam, pure double cream and butter
Fois gras – apricot brioche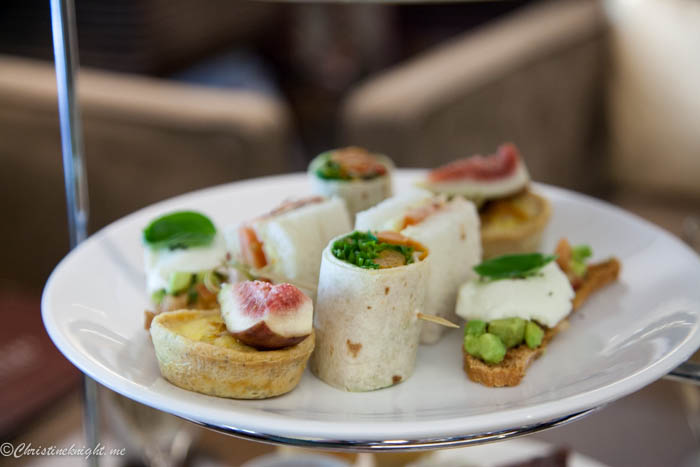 Savoury
Avocado, mozzarella, tomato open turkish sandwich
Vegetable wrap (vegetarian alternative)
Sandwich with cranberry, tomato, cheese (vegetarian alternative)
Fruit and cheese tart (vegetarian alternative)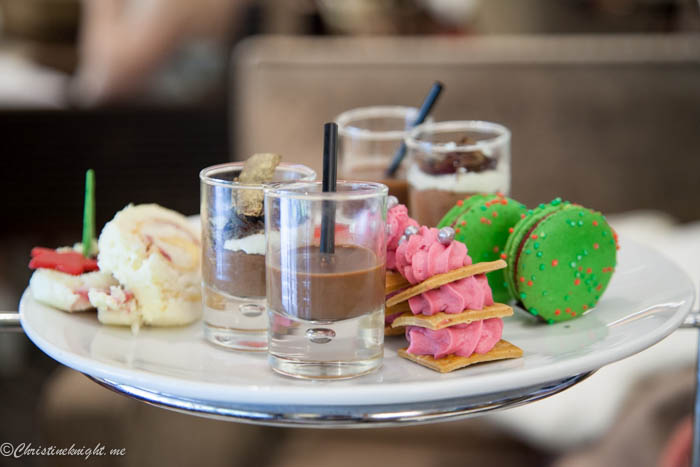 Sweet treats
Gingerbread mille feuille with cranberry cream
Pistachio macarons
Orange tart with campari jelly
Black forest trifle
Lemon berry yule log
Warm cinnamon, orange chocolate drink
Almond stolen (on the scone tier)
English fruit cake (on the scone tier)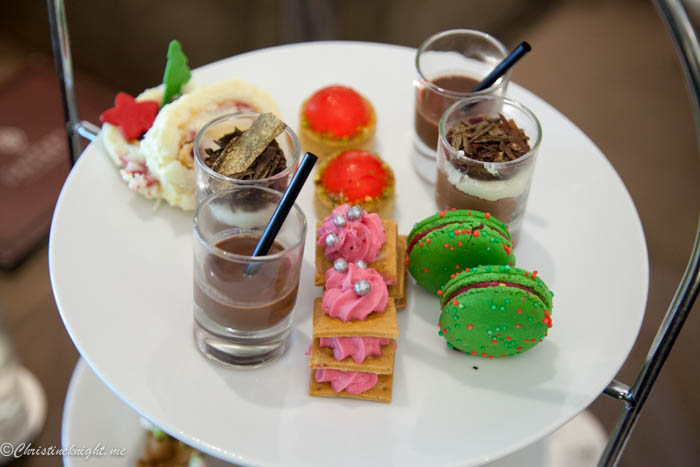 I really enjoyed the scones at this high tea. Sydney scones are often small and biscuit-like, but the Sheraton ones are bigger and fluffier than most. The jam was tart and not too liquidy (hey, I'm a mess jam-spreader!) and the cream was nice and thick.
The savouries were especially made for this vegetarian, which I always appreciate. I enjoyed the avocado and mozzarella on turkish toast best (which is on the regular menu too), with the delightful hidden pesto giving it a pop of flavour. The vegetable wrap had creamy sweet potato inside, with fresh greens, and the little sandwich has really fresh fluffy bread – again with a surprising spread of cranberry inside that made the flavours that bit extra vibrant.
There were a lot more sweets on this platter than on most high teas. I managed to fit one of everything in somehow (yes I'm still feeling full the day after), with my favourites being the very chocolaty trifle and lemon berry yule log. The trifle had three tiers of components plus grated chocolate on top, all of which, when scooped up together, made for a perfect chocolatey mouthful. The lemon berry yule log had one of my fave combinations of lemon and berries, wrapped in a little scroll shape.
The chocolate orange drink was a tiny sip of heaven (I love chocolate and orange together), and the gingerbread mille feuille was just divine. The crispy gingerbread wafers combined with the cranberry cream made for a light and refreshing treat – as well as being extremely pretty.
I also enjoyed the macaron with its fresh berry centre, and the little slice of fruit and nut Christmas cake, and the "almond stole", which was kind of like a tea cake with almond inside. Light, fresh and sweet.
I highly enjoyed the Christmas high tea, and would strongly recommend it for a special outing in the lead up to Christmas. It's only available until Dec 24, so get in quick!
The Christmas Edition High Tea Stand includes one coffee or tea per person. $109 for two. Additional cost for sparkling wine
The Christmas Edition High Tea is served Mon-Fri 11am-5pm, Sat & Sun 11am-2pm and 2:30pm-4:30pm until December 24th.
Sheraton On The Park High Tea
161 Elizabeth Street,
Sydney NSW 2000
Phone: (02) 9286 6000
Prices: $$$
Get Directions
Thank you to Sheraton On The Park for hosting us.