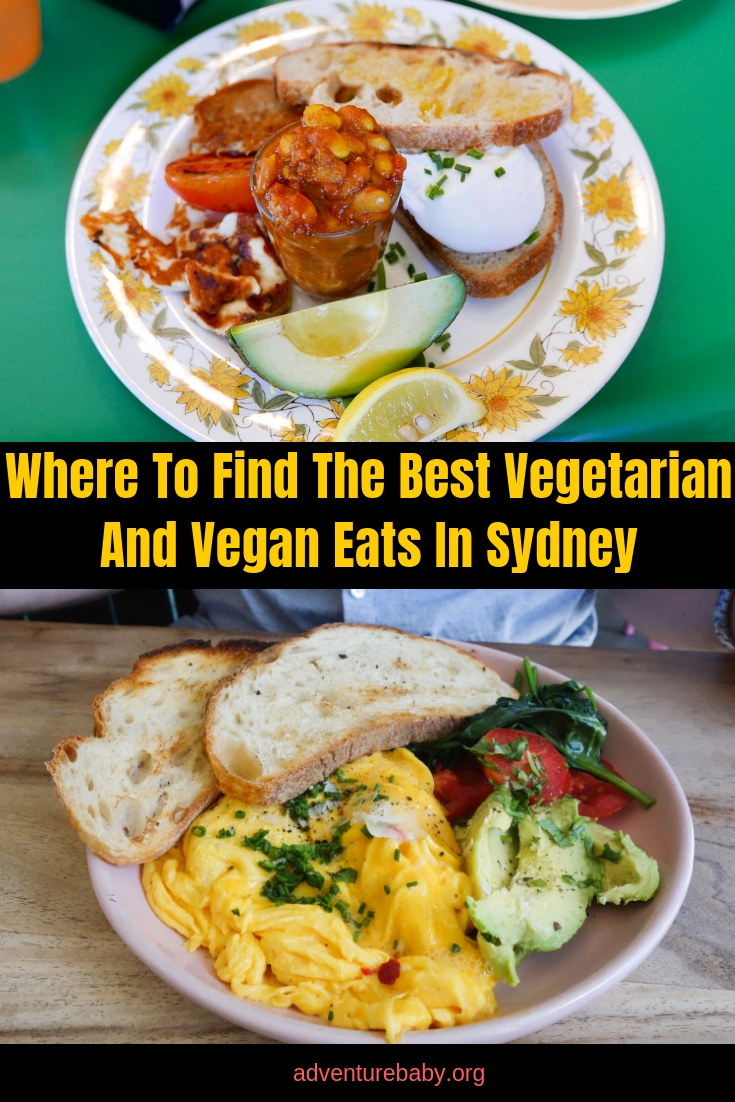 It's hard to choose the best vegetarian and vegan restaurants in Sydney – there are so many to try! As a long-time vego I've been slowly making my way through the best plant-based food Sydney has to offer. This list of fine dining, restaurants and cafes, desserts and high teas will give you plenty to choose from.
Where To Find The Best Vegetarian and Vegan Restaurants In Sydney
Fine Dining
Yellow – Vegan and Vegetarian – Potts Point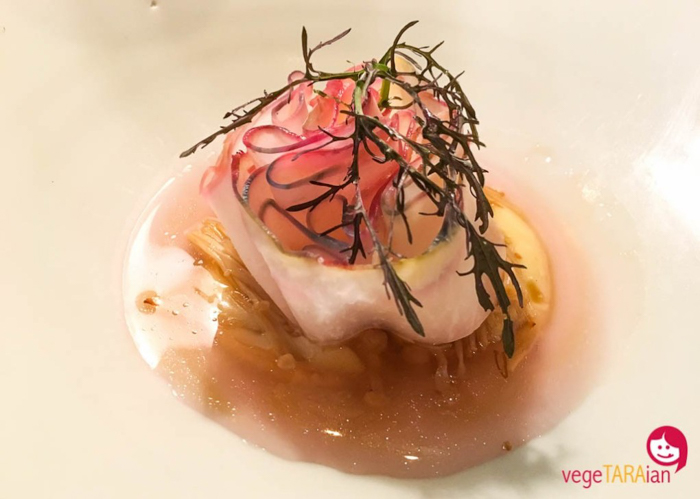 Try this European-style vegetarian bistro and sample a range of exotic veggies. Vegetarian and vegan degustations are available.
yellowsydney.com.au
Bentley Restaurant and Bar – Vegan and Vegetarian – CBD
The award-winning Bentley is well-known for their top notch cocktails and fantastic vegetarian and vegan degustation menus. Bentley is consistently featured in the Top 20 of Gourmet Traveller's Top 100 Australian restaurants.
thebentley.com.au
Aria – Vegan and vegetarian menus – CBD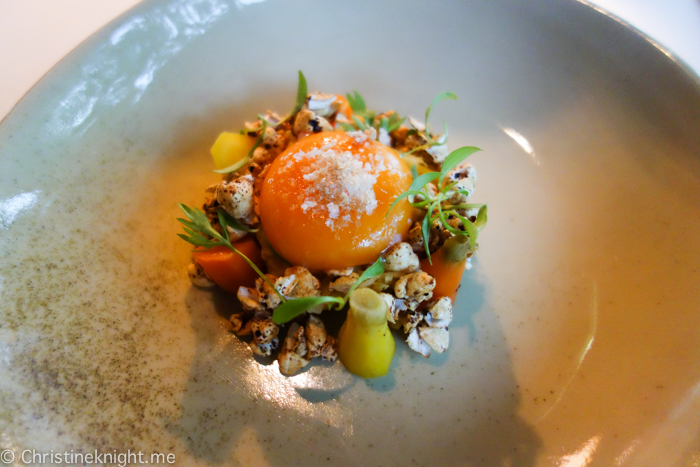 The team at Aria believe that everybody should be included in the dining experience and offer extensive, vegetarian, vegan, gluten free and other special dietary menus. We dined at Aria for our 5th wedding anniversary and I loved how I was presented with my own vegetarian menu rather than feeling like an inconvenience.
Read my full review of Aria here.
ariasydney.com.au/vegetarian
Otto – Vegetarian Menu – Wollomolloo
Vegetarians and vegans are looked after with dedicated six-course menus at this fine Italian restaurant, located on the Woolloomooloo Finger Wharf.
ottoristorante.com.au
Paperbark – Vegan – Waterloo
Paperbark is a modern, plant-based restaurant, focussing on native Australian ingredients. Their innovative tasting menus are the perfect way to celebrate a special occasion, or take a seat at the bar and try the simple bar menu with a drink.
paperbarkrestaurant.com
Quay – Vegetarian menu – The Rocks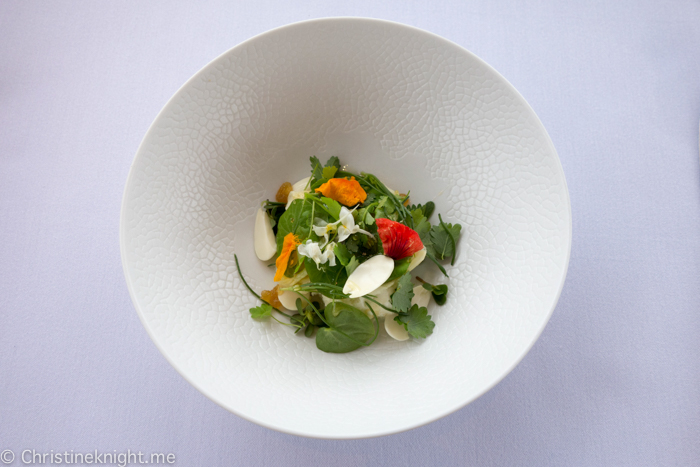 For our 6th wedding anniversary, Alec and I dined at Quay Restaurant – Australia's most awarded restaurant, and one of two Australian restaurants on the prestigious S. Pellegrino World's Top 50 List. The menu, created by chef Peter Gilmore, is modern Australian with Japanese and Chinese influence. Quay has won several awards in Australia, and has appeared in The World's 50 Best Restaurants several times.
Read my full review of Quay here.
quay.com.au
Restaurants and cafes
Bad Hombres – Vegan – Surry Hills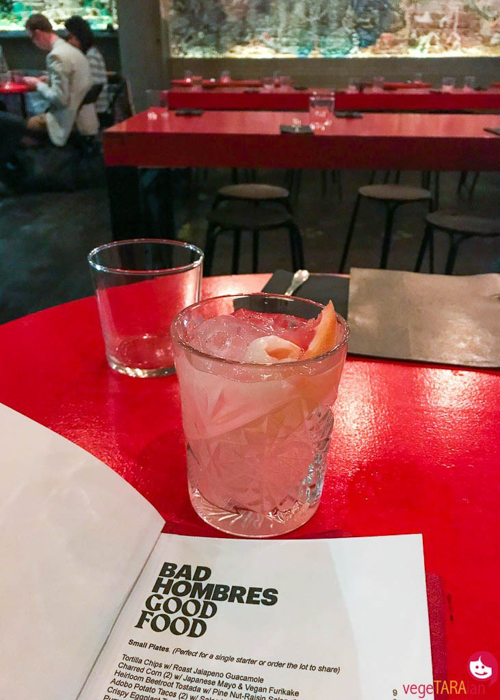 This Mexican-inspired, all vegan eatery is popular for their classic margarita cocktails served with delish food. The baked cauliflower is a popular dish.
badhombres.com.au
Badde Manors – Vegetarian and Vegan – Glebe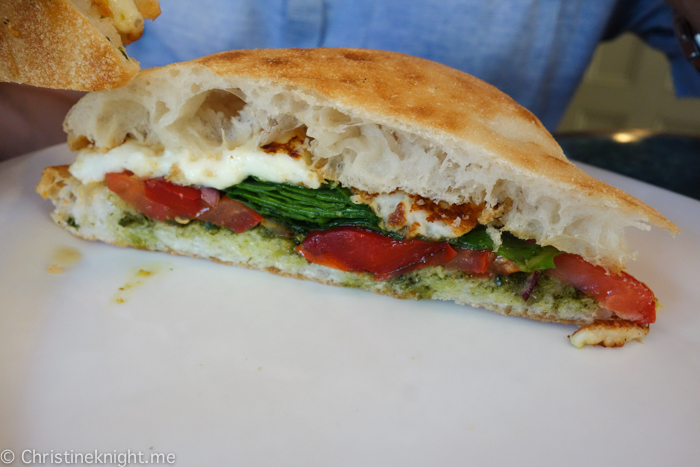 This old-school cafe is a popular spot in Glebe, known for their global vegetarian dishes and desserts. The Badde Manors menu features dishes from Asia, North Africa, Middle East, Latin American and Mediterranean regions and have meals that cater to changing dietary needs such as Low Calorie diets, Gluten Free products, Nuts Free meals and Vegan meals. The breakfast menu is my fave – be warned that they are strict with menu changeover time.
baddemanorscafe.com.au
Bodhi – Vegan – CBD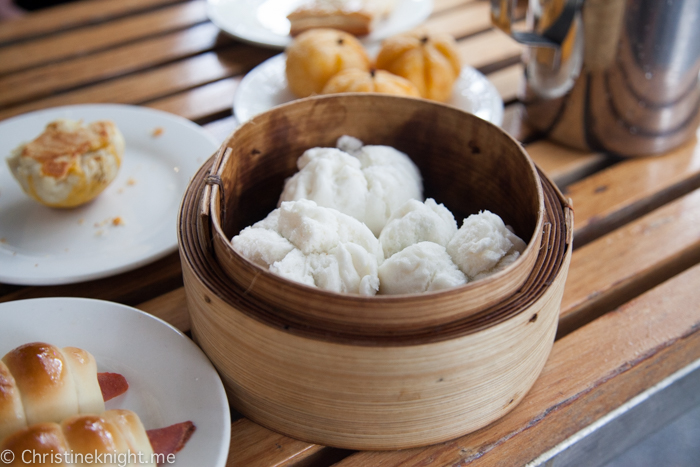 Our long-time go-to restaurant for vegan yum cha, Bodhi is a family-owned restaurant located in the middle of Cook and Philip park under St Mary's Cathedral in the heart of the CBD. Bodhi is great for groups, with long tables underneath ancient Moreton bay fig trees. As well as offering a completely vegan menu, Bodhi also has great gluten-free options.
Read more about our experience at Bodhi.
Bread and Circus Wholefoods Canteen – Notable Vegetarian & Vegan Options – Alexandria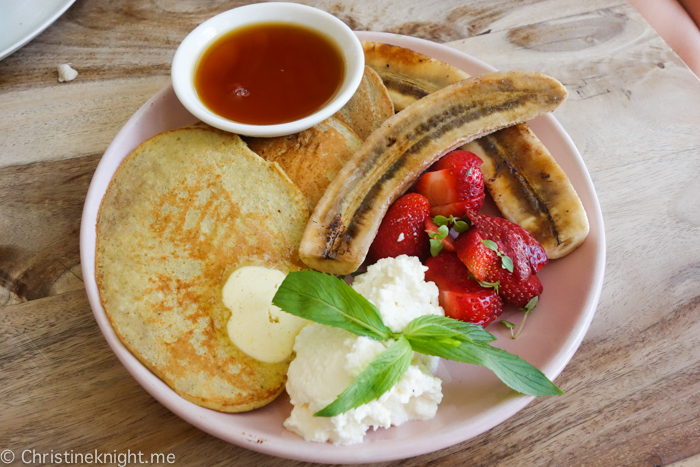 Bread and Circus is a bright and fresh cafe that features a healthy menu with plenty of raw, organic, handmade, and gluten-, soya- and dairy-free options to choose from. Their breakfast many is mostly vegan / vegetarian. All of the dishes are designed to be nutritious and ethically-produced.
breadandcircus.com.au
Cornersmith – Vegetarian, Vegan options – Annandale
This ethical, family-run eatery serves up sustainable food with a focus on fresh, local produce. Cornersmith opens onto Annandale parkland so there are also DIY picnic boxes and a small deli to cater to picnickers. There are even picnic rugs to be borrowed. Kids will love the cinnamon waffles made with Pepe Saya buttermilk.
cornersmith.com.au/pages/annandale
El Chapel – Vegetarian, Vegan options – Marrickville
A new, small veg cafe by the folks who own Two Chaps, El Chapel features lots of sweet and savoury baked goodies, both savoury and sweet. Try the raw caramel slice.
facebook.com/twochapscafe
Gardener's Lodge Cafe – Vegan – Camperdown
This little cafe recently opened in the Gardener's Lodge inside Victoria Park. Gardener's Lodge is a plant-based cafe and vegan cheese deli inside an historic sandstone building.
gardenerslodgecafe.com.au
Gigi Pizzeria – Vegan – Newtown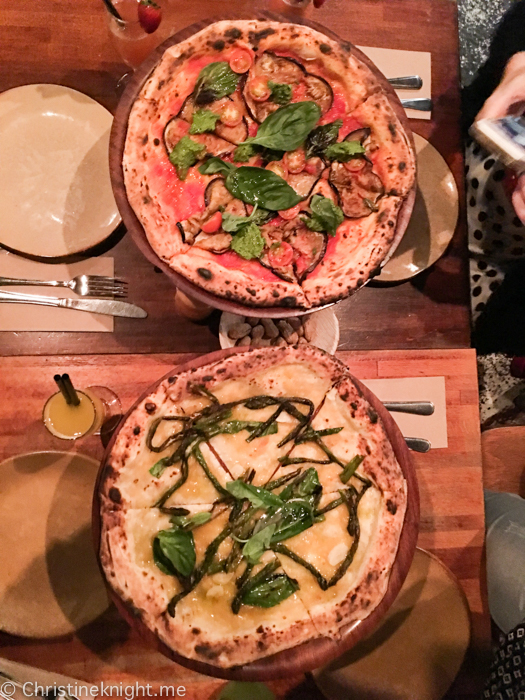 The pizza at Gigi's is so good, you won't even miss the cheese! Gigi Pizzeria serves up authentic Italian cuisine – 100% vegan. Gigi has been open for 8 years but went vegan more recently – which has seen its popularity skyrocket. A line reaching down the street mid-week is not an unusual sight.
gigipizzeria.com.au
Golden Lotus – Vegan – Newtown
Golden Lotus is a small and busy restaurant in Newtown with a huge menu of vegetarian Vietnamese dishes. Tara of VegeTARAian says the satay 'beef' and 'chicken' satay were highlights on her visit. Golden Lotus is 100% Vegan Vietnamese cuisine with a focus on fresh, healthy and delicious food.
goldenlotus-vegan.com
Govindas Cinema and Restaurant – Vegetarian, 80% Vegan – Darlinghurst
Drop by for the vegetarian Indian buffet, stay for a movie! Govindas is a cosy spot offering a buffet with 80% vegan Indian cuisine, attached to a small movie theatre. 80% of the food on offer is gluten-free as well. I loved trying a little bit of everything from the buffet, then settling back into a comfy beanbag and watching the movie for a top night out.
govindas.com.au
Green Gourmet – Vegan – Newtown & St Leonards
Green Gourmet is an old favourite for veggos. When we lived on the North Shore, the St Leonards branch was a local fave for us. GG is a great spot to order in and enjoy their 100% plant-based food or fill up a container from the take away section. Green Gourmet offers vegan yum cha, mains, buffet and cakes, with lots of mock meat on the menu.
greengourmet.com.au
Grill'd – Noteable vegetarian and vegan options – various locations
My go-to for heatlhy veg burgers! With three vegetarian burgers (patties are vegan!) and six Beyond burger options on the menu (including two vegan burgers), Grill'd is a sure bet when you're dining out with non-veggo friends and you all badly want a burger. Grill'd are great at customising your burger to suit your needs, too. They also offer a vegetarian salad and a large vegan hot chips menu. The veggie delight is my fave,
grilld.com.au
Harvest Vegetarian – Vegan and Vegetarian – Rozelle
In the back streets of Rozelle you'll fine Harvest Vegetarian, a fancy-ish restaurant only open for dinner, offering modern Australian dishes in a cosy environment. harvestvegetarianrestaurant.sydney
Kindness Cafe – Vegan – Darlinghurst
A vegan Thai eatery specialising in meat-free curries, stir fries, sides and salads, made from quality fresh fruit and vegetables. No fake meat here! Gluten free options are available for most dishes.
kindness-cafe.com
Lentil as Anything – Vegan – Newtown
Get your fill of hearty vegan food on a budget Lentil As Anything, where everyone is welcome to come in for a meal and contribute whatever amount they can afford to pay. Lentil As Anything is a not-for-profit organisation whose restaurant and grocery store have no set prices.
lentilasanything.com
Little Turtle Thai Restaurant – Vegan – Enmore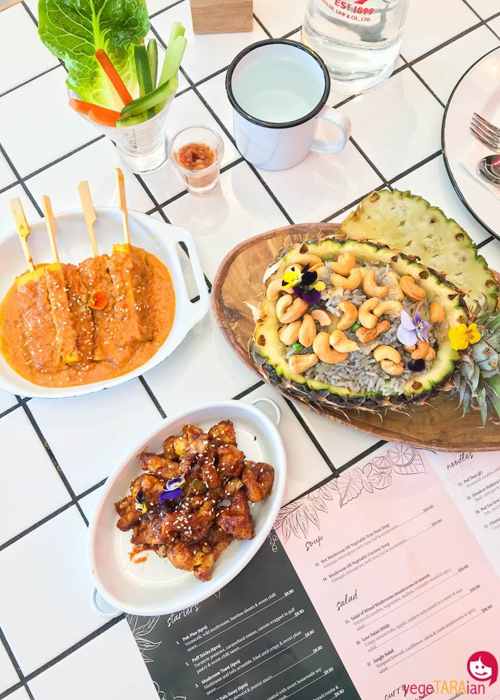 A Thai restaurant with a focus on fresh, health conscious food, Little Turtle is a new vegan restaurant to the Inner West scene. Tara of VegeTARAian enjoy the pineapple fried rice, sticky sesame wings (sweet soy cauliflower) and the BBQ tofu satay on her last visit and suggests going with a group to sample more dishes.
littleturtlerestaurant.com
Mary's – Vegan menu – Circular Quay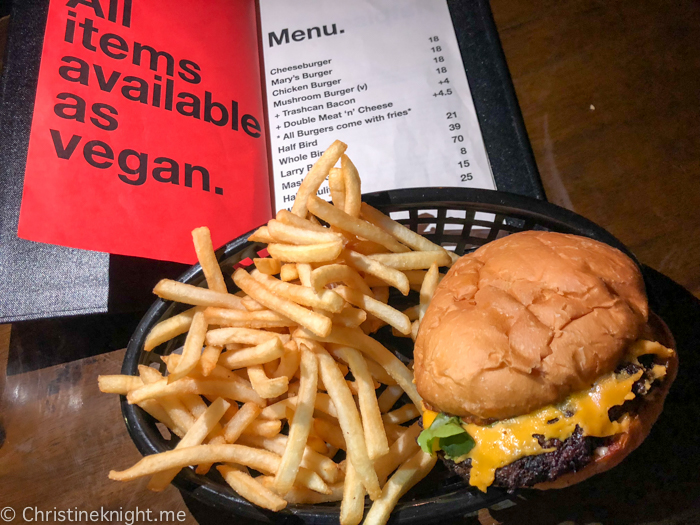 The entire Mary's menu can be recreated vegan at their new Circular Quay restaurant, in an effort to be inclusive and welcoming to everyone. Choose anything off the menu and ask for it vegan. The vegan "fried chicken" (fried cauliflower) is supposed to be excellent. I tried a vegan cheeseburger with a vegan patty packed with mushrooms, carrots, beetroot, raw white beans ("for crunch") and a little soy protein. The kitchen has a dedicated meat-free grill and fryer, and all vegan ingredients are stored in a meat-free fridge.
facebook.com/maryscircularquay
Peppe's – Vegan – Bondi
A brand new Italian restaurant, Peppe's has a simple pasta menu thats completely vegan. The pasta is made in-house daily, with a special focus on the gnocchi. Recent sauce varieties include pesto with green pea, Peppe's pomodoro and the gnocchi bianchi.
peppelovesgnocchi.com.au
Petty Cash – Notable Vegan and Vegetarian options – Marrickville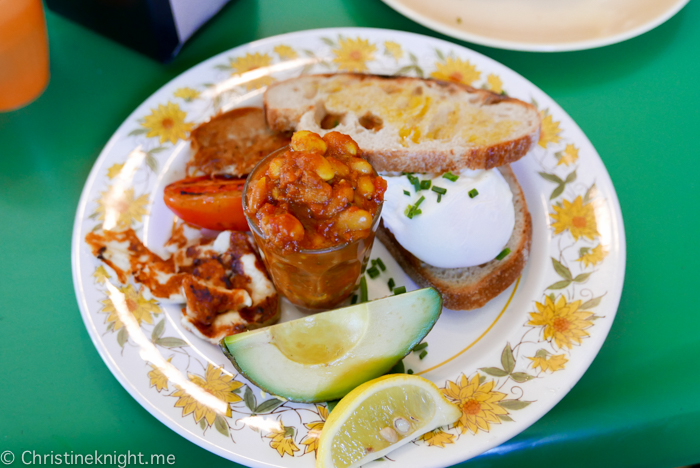 Petty Cash Cafe is a cosy, retro cafe that has become an unintentional go-to for inventive vegan, vegetarian and gluten-free dishes. Located directly across the road from the playground in leafy Enmore Park, it's a great spot for families to dine in or pick up some take away. We dined in and enjoyed the vintage, mismatched chairs, tables and crockery. The cafe has a slightly hippy feel to it and is a bit disorganised. This either adds to its charm or can be irritating, depending on how hangry you are.
Read my full review on Petty Cash here.
facebook.com/pages/category/Coffee-Shop/Petty-Cash-Cafe-163033108963
Pilgrims – Vegetarian, Vegan options – Cronulla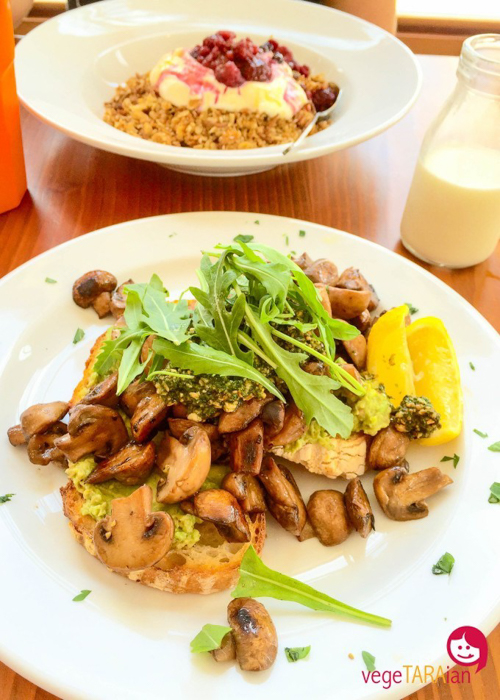 A wholesome dining option near Cronulla beach, Pilgrims serve up hearty, healthy meals. I love their brunch menu, but their lunch burgers are also popular, and at night they serve up Mexican cuisine. Pilgrims is an extremely accessible vego joint that even meat-eaters will enjoy.
pilgrims.cafe
Ruby Lonesome – Vegan – Petersham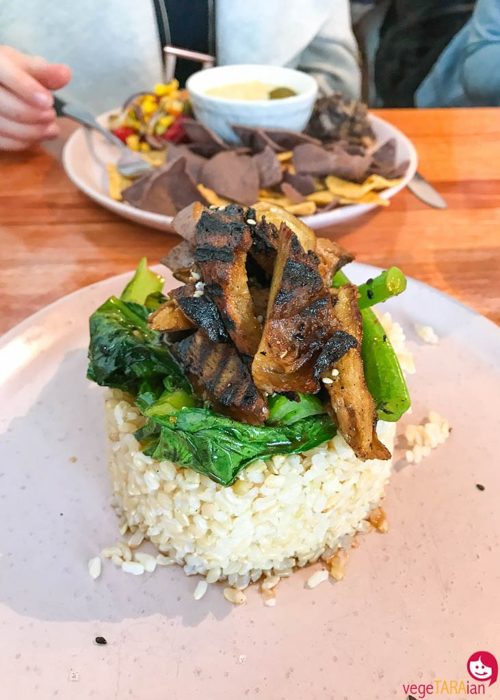 A newcomer to the vegan scene, Ruby Lonesome serves accessible vegan dishes for breakfast and plenty of muck meat for lunch. Tara of VegeTARAian enjoyed a hearty plate called What the Duck which featured mock duck pieces, Asian greens, brown rice and a special sauce.
facebook.com/Ruby-Lonesome-138164536853058/
Shift Eatery – Vegan – Surry Hills
Sydney's first vegan deli, Shift Eatery serves up tasty sandwiches, salad bowls and all-day brekkie.
shifteatery.com.au
Soul Burger – Vegan – Glebe, Parramatta, La Perouse, Newtown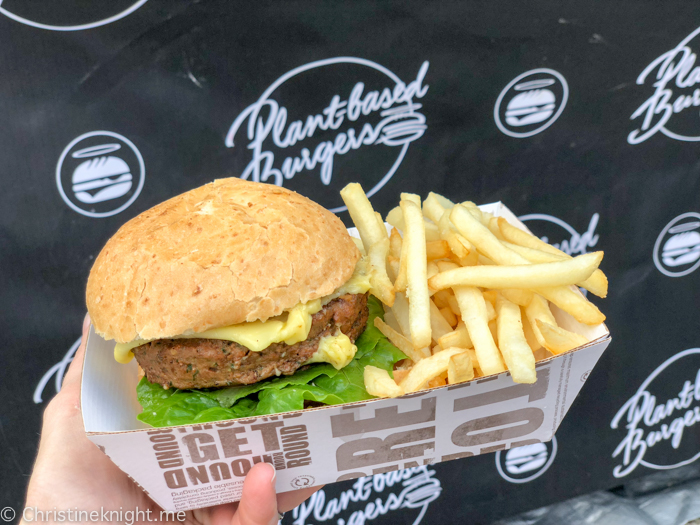 The plant-based burgers at Soul Burger are so good! It's hard to believe everything on the menu is plant-based, making it a good option to take your non-vego friends to. Who knew burgers could be so healthy?
soulburger.com.au
The Green Lion – Vegan – Rozelle
Sydney's first vegan pub is absolutely worth a visit. Their hearty menu features pub classics like burgers, hot dogs and tacos – all 100% plant-based. There's even a kids' menu here. thegreenlion.com.au.
Two Chaps – Vegetarian – Marrickville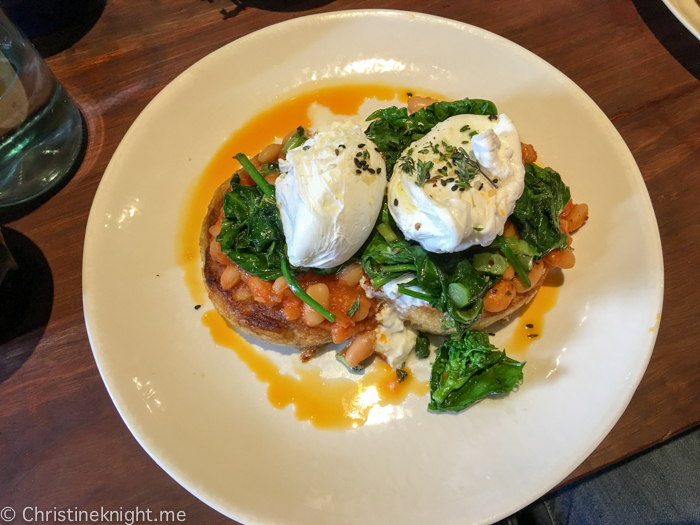 The tiny Two Chaps cafe is a very basic affair. Almost everything is made from scratch, most of the produce is organic and sourced from nearby or made by in house. Two Chaps offers a Mediterranean-influenced vegetarian menu featuring daily house-made doughnuts, cakes and muffins, two seasonal salads and two sandwiches. We tried the breakfast menu at Two Chaps and found the food to be wholesome and generous.
Two Chaps is also open two evenings per week (Thursdays and Fridays) for dinner, serving fresh pasta and local cheeses.
twochaps.com.au
Yulli's – Vegan, Gluten-Free – Surry Hills
Yulli's is an old staple for vegos and vegans, offering a casual, well-priced dining experience that's hard to beat. The menu features mainly Asian fusion dishes, with some Mexican and Moroccan options. They have recently released an entirely vegan menu including their own locally-made vegan beers. A gluten-free menu is also available.
yullis.com.au
Takeaway
Flyover Fritterie & Chai Bar -Vegan, Gluten-Free, CBD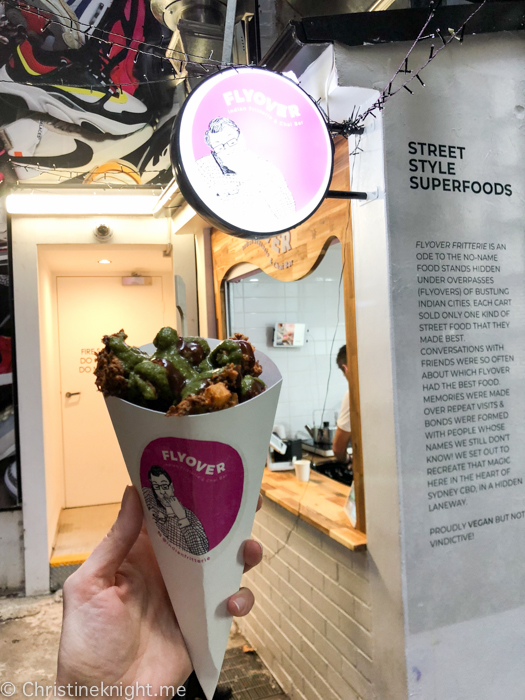 This little hole-in-the-wall fritterie is located in Temperance laneway in Sydney's CBD and is a bit tricky to find. It's well worth the hunt however, because their fritters are delicious. The menu is small and bade-to-order, so expect to wait a few minutes for your delicious, fresh food. Flyover Fritterie serves crunchy chickpea flour & vegetable pakoras (fritters) in a cone, salads, fritter burgers with house pickles and chutneys – all vegan and gluten-free.
flyoverfritterie.com
Lord of the Fries – Vegan – Parramatta, Newtown, Central Station, George Street CBD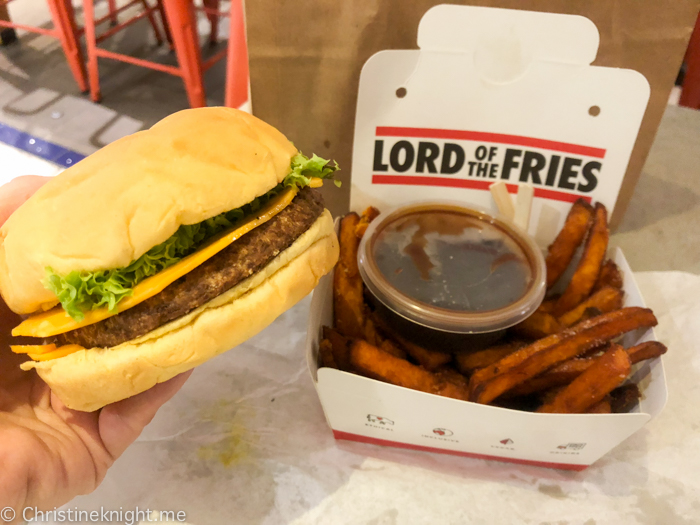 Vegan fast food! Check out the famous burgers, hot dogs and fries that put this joint on the map. Lord of the Fries is a little hole-in-the-wall joint best for take-away. They serve veggie burgers, onion rings, nuggets and hot dogs. I love their standard burger and sweet potato fries.
lordofthefries.com.au
Dessert
Earth to Table – Vegan – Bondi Junction
This organic, raw, vegan cafe serves juices, smoothies, cold press coffee, salads and raw vegan meals and desserts.
facebook.com/earthtotable
Gelato Blue – Vegan – Newtown
Gelato Blue switched to a 100% per cent plant-based menu after gradually replaced their dairy products with coconut milk-based items in a response to customer demand. Popular flavours include the mint choc-chip, espresso swirl, carrot cake and milk chocolate chip cookie.
facebook.com/gelatoblue
Little Raw Food Co – Vegan – Delivery
A premium raw, organic dessert shop, Little Raw Food Co delivers Sydney-wide. Their dessert range is made from plant based ingredients and are also gluten free, dairy free, refined sugar free, vegan and paleo.
littlerawco.com
Nutie Donuts – Gluten-Free, mostly dairy-free and Vegan – Balmain, Surry Hills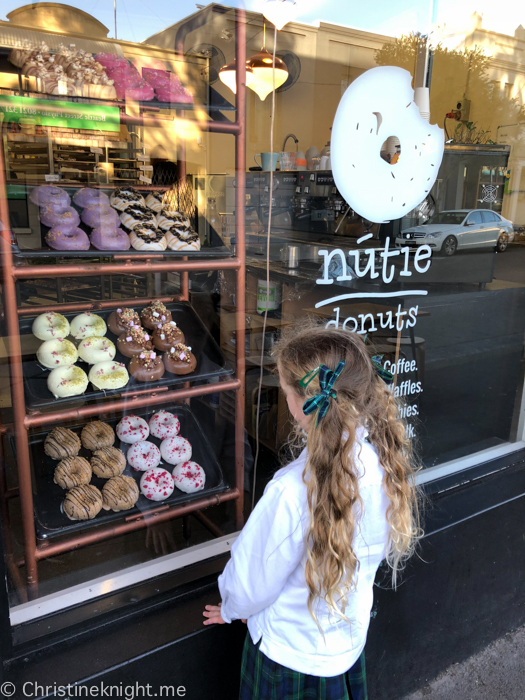 We love Nutie's wide selection of cakes, brownies, tarts, cookies and doughnuts. They've managed to make delicious lamingtons, lemon meringue pies and s'more cookie sandwiches gluten-free and mostly vegan. Nutie's Surry Hills store offers breakfast and lunch as well as their famous baked goods.
facebook.com/wearenutie
Pana Organic – Vegan and Gluten-Free – Alexandria
Chocolate made healthy! Enjoy chocolate that's full of antioxidants, amino acids, vitamins and minerals, without preservatives, that's vegan, gluten free, dairy free, soy free and refined sugar free. Pana Organic makes chocolate using organic ingredients with no refined sugar, and produced using minimal heat (raw).
pana-organic.com
Treat Dreams – Vegan – delivery and markets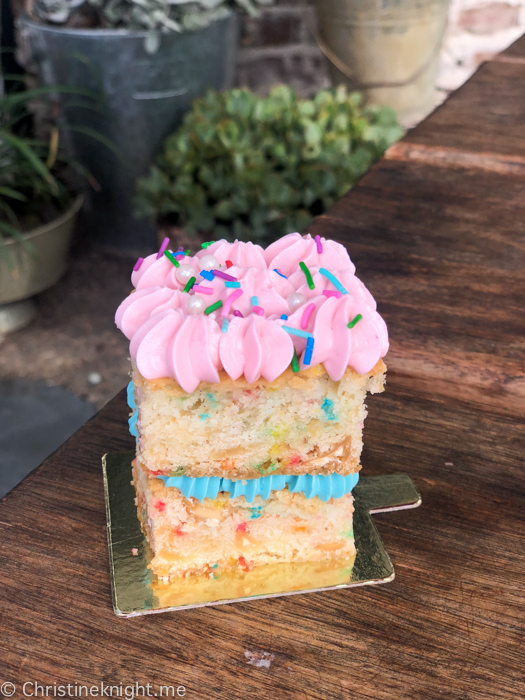 I discovered Treat Dreams at the Sydney Vegan Markets and couldn't believe their delicious cakes were all dairy free and egg free, with some gluten free and nut free options.
treatdreams.com.au
High tea
While every high tea I've eaten at in Sydney so far offers a vegetarian option, there are only dedicated vegan high teas:
Radisson Blu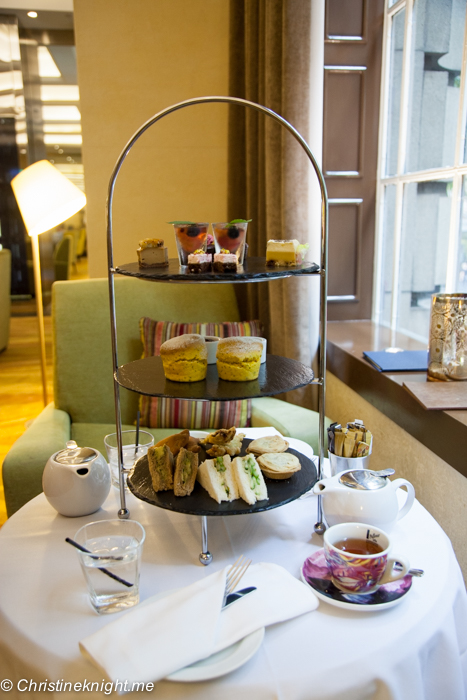 The delicious high tea looks like a standard one but has almost hidden vegan ingredients. Scones, sandwiches, savoury pastries and sweets are all served on a three-tier platter.
Read my full review of the vegan high tea at the Radisson Blu here.
Alibi at Ovolo Wolloomoloo
Alibi's high tea encompasses chef Matthew Kenney's clean food philosophy and a combines classical and innovative cooking techniques to give locally sourced plant-based ingredients a creative makeover. The high tea menu features both sweet and savoury options.
alibibar.com.au/your-high-tea
Sofitel Sydney Wentworth
Locally sourced plant-based ingredients are given a creative makeover in this vegan high tea. An array of sweet and savoury delights are on offer such as currant & blueberry scones, roasted vegetable panini and spinach and mushroom tofu quiche
sofitelsydney.com.au/veganhightea
Other vegetarian and vegan food options
Suzy Spoon's Vegetarian Butcher – Vegan – St Peters and online store
Suzy Spoon hand makes 14 delicious vegan products including sausages, burger patties, seitan, schnitzel, bolognese, lasagne, veggie balls, pepperoni, smokey rasher and even a special festive roast for Christmas and Easter. Spoons products are sold in health food stores and small supermarkets across Australia. Personally I love their sausages. They taste so much better than the regular supermarket brands.
ssvb.com.au
Sydney Vegan Markets
The SVM runs the third Sunday of every month at The Entertainment Quarter in Moore Park. The markets are sprawled in several sections of the Entertainment Quarter, with the main area being reserved for savoury food. Don't miss the dessert section!
sydneyveganmarket.com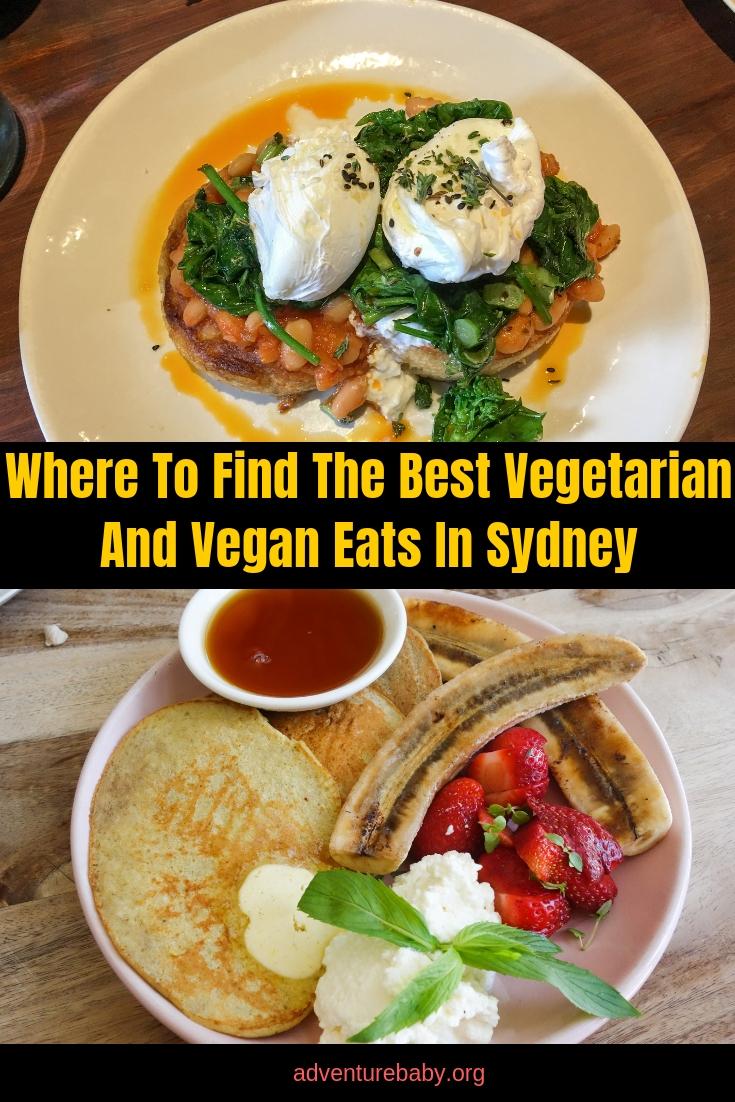 Additional images thanks to Yelp and Vegetaraian.