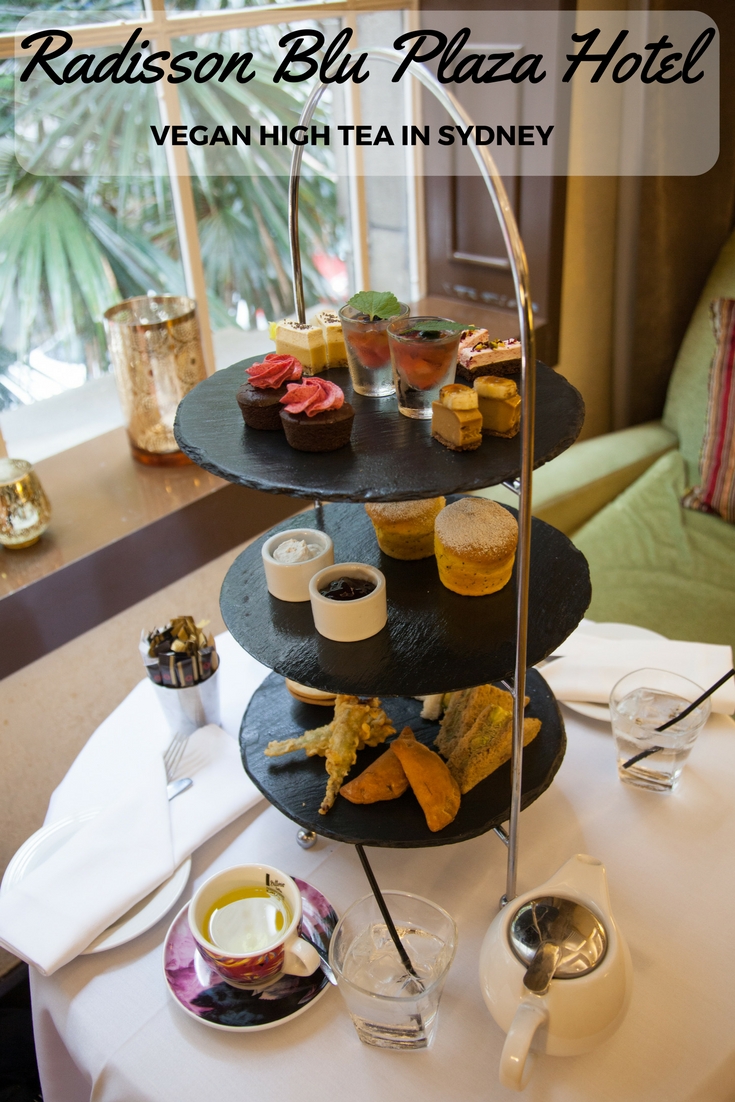 I'm thrilled to be trying what I think is the first 100% vegan high tea in Sydney, at the Radisson Blu Plaza Hotel. While I'm not vegan myself I am vegetarian and more than happy to eat vegan where available, so this high tea was an exciting one to try with a friend who is lactose and egg-free.
Eating high tea when you have a dietary requirement like this is often a major hassle (it's even a major hassle if you're vegetarian!) and it's wonderful to see hotels like the Radisson Blu Plaza Hotel Sydney cater to people of all dietary requirements (they also serve a gluten-free high tea and kids' high tea!).
A new vegan chef is behind the additional high tea menu. Chef June Liu joined the Radisson Blu Plaza Sydney after working for several years in other iconic vegan restaurants in Sydney and Sydney's Inner West. She is passionate about vegan cuisine and healthy eating, which is evident in the new menu.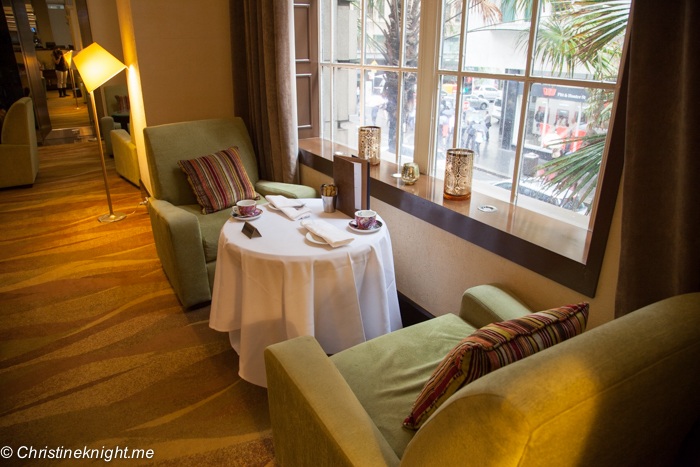 High tea is served on an elegant three tier stand in the relaxing Lady Fairfax lounge area. We are first brought a "welcome drink" of watermelon and red berry that is delightfully refreshing and a touch fizzy.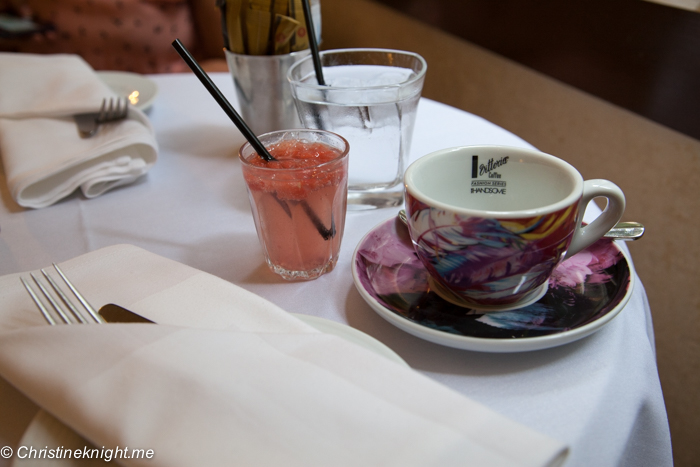 Tea orders are taken and we select from a menu that includes classic choices as well as more interesting ones such as the Queen Of Hearts Tea that I select. The menu describes it as Light spice of delicate, young rose buds atop the sweet full ness of China black tea.
Soon after, both the tea and food arrive.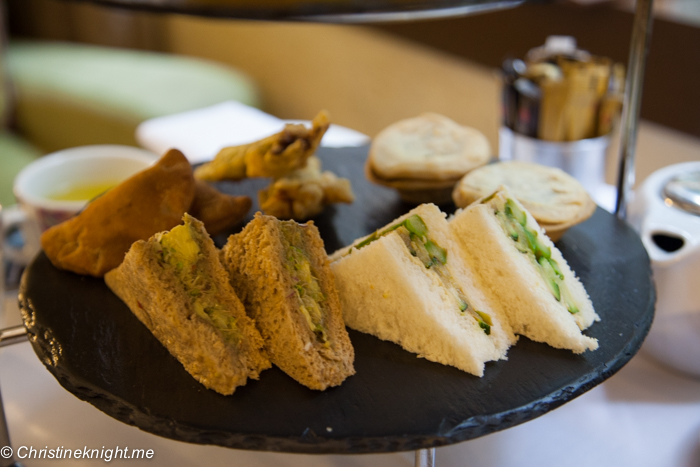 Savoury items
Spiced lentil pies
Stuffed Moroccan pumpkin flowers
Sweet potato and cashew empanada
Grilled zucchini, asparagus and hummus sandwich
Avocado, alfalfa sprout and Spanish onion sandwich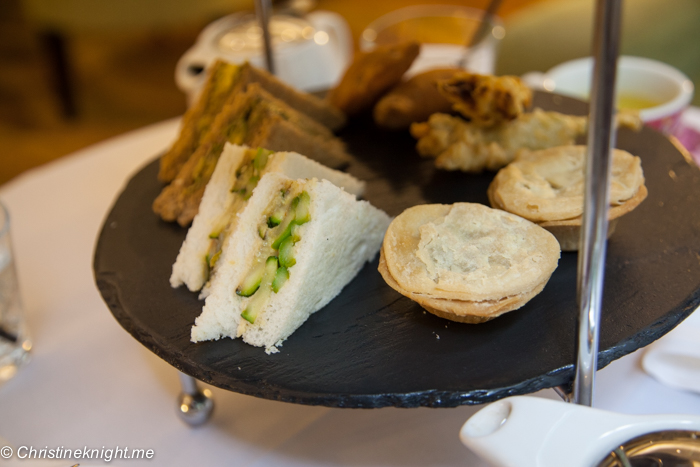 The savouries are excellent. I've commented before on how well the Radisson Blu does these, and the vegan delicacies were no exception. It was so novel to have three entirely different pastries I could eat! My fave was the empanada – a touch of spice and filled with creamy pumpkin. The sandwiches were delightful triangles of light produce on fresh bread, exactly what should be served with a high tea.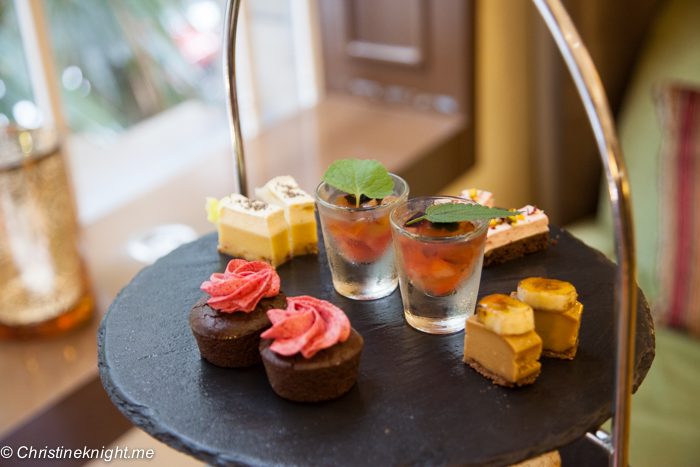 Sweet treats
Chocolate cake with beetroot frosting
Salted caramel cheese slice
Mango passionfruit cake
Chocolate and hazelnut slice with lychee and raspberry
Tutti-Frutti jelly
Roasted pumpkin and herb scones with soy cream and jam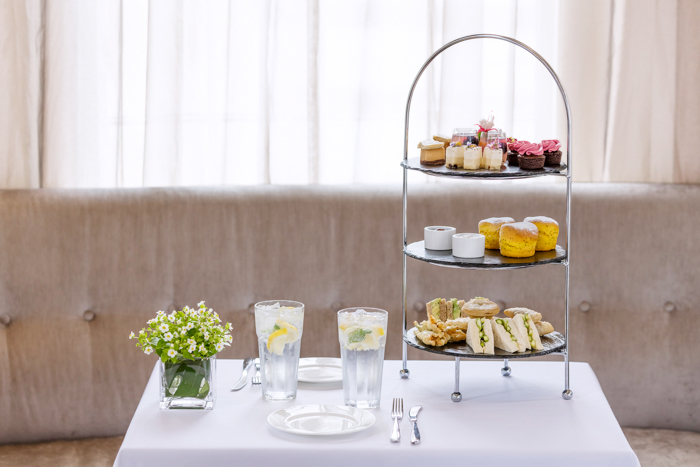 I was pleased to see the scones were large and fluffy, with the same dry taste and texture that a scone should have. The soy cream was a wonderful addition as it's rarely possible for people who can't eat lactose or dairy to be able to enjoy whipped cream when dining out.
The sweets section was a delight for the senses with the gorgeous chocolate cupcake topped with the most delicious beetroot (again, SOY!!) frosting, and a mango cake that packed an incredibly fruity punch. The jelly was a bit tougher than I had imagined it would be (not sure what it was made with – pectin perhaps?) I don't eat gelatine and was happy to know I was able to eat the jelly, even if it was a bit unusual texture-wise.
The salted caramel slice was very much like a little mini banoffee pie with the banana on top – a delectable morsel that was also super creamy even with no dairy in it.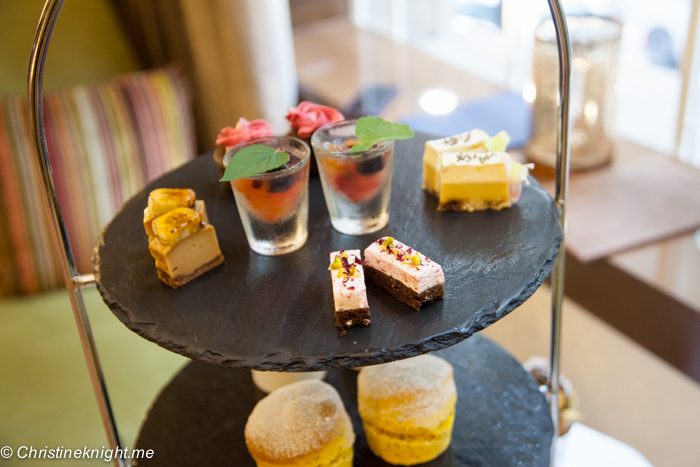 The vegan high tea at the Radisson Blu Plaza Hotel is a fantastic addition to the Sydney food scene. I can't say how wonderful it is to be able to sit down to a high tea and be able to eat everything on the menu, for people who don't eat animal products for ethical reasons such as me, or for food intolerances and allergies such as my friend.
Traditional high tea
Served with tea and coffee, $54pp
Sparkling high tea
Served with a glass of sparkling wine, $64pp
Champagne high tea
Served with a glass of Moet & Chandon, $74pp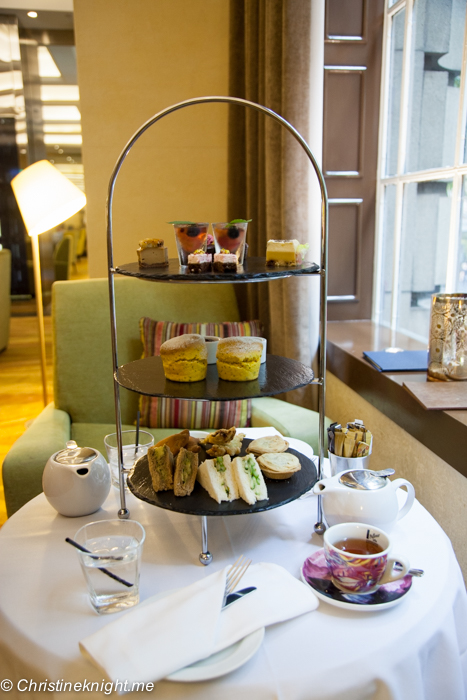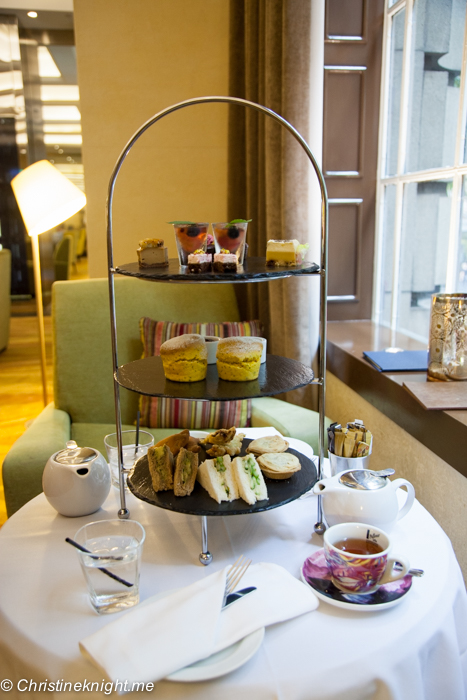 Please note that the vegan high tea requires advance booking. Walk-in guests with no booking who would like to order the vegan high tea may have to wait up to 45 minutes while the dishes are prepared.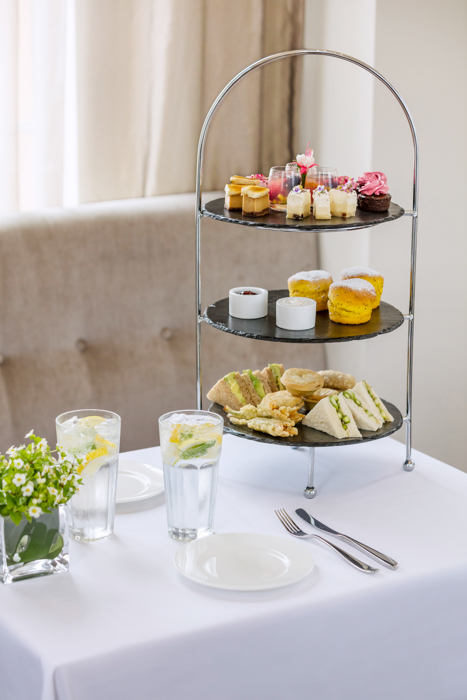 Radisson Blu Plaza Hotel Sydney
27 O'Connell St, Sydney NSW 2000
Phone: 02 8214 0000
Online
Reservations required: communications@radisson.com or 02 8214 0400.
High tea is served daily from 10:30am-4:30pm
Get Directions
Produced in partnership with the Radisson Blu Plaza Hotel Sydney. All opinions are our own. Additional images thanks to the Radisson Blu Plaza Hotel Sydney.