30 Of The Best Playgrounds in Sydney
Swing, slide and climb the weekend away at one of these excellent playgrounds in Sydney. There are all-abilities playgrounds, spaces for teens, tweens, toddlers and everyone in between in this list of playgrounds in Sydney.
Oatley Park Inclusive Adventure Playground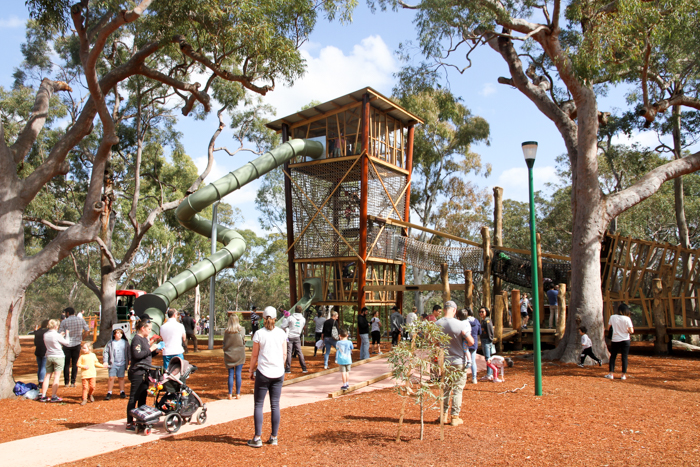 The Oatley Park Inclusive Adventure Playground is an adventure playground designed to blend into its bush setting, incorporating nature-based play elements and built with predominantly natural materials.
The park features seperate play zones with a toddler play area, a flying fox with river views, an active play zone, giant tube slides and a teen zone. This has to be one of the best natural playgrounds in Sydney.
Read more about visiting Oatley Park Inclusive Adventure Playground.
Jubilee Park Adventure Playground, Mortdale, Sydney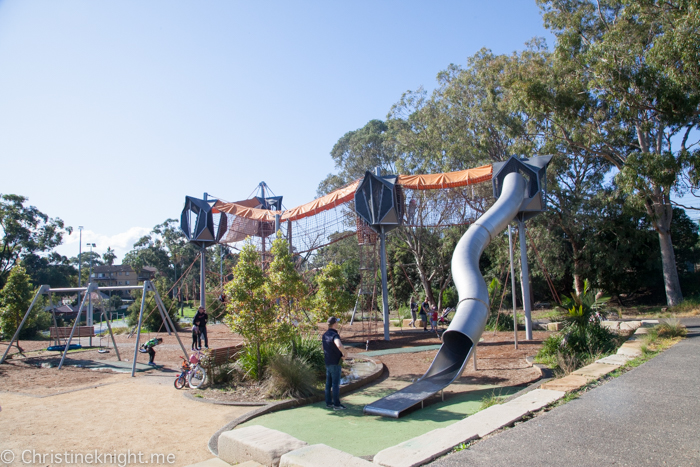 The Jubilee Park Adventure Playground in Mortdale, Sydney, features a large climbing frame with nets and slides, a children's bike track, junior swings, flying foxes and multi-purpose sports courts.
The excellent new multi-million dollar Jubilee Park Adventure Playground is a great addition to the community. Built behind the existing Mortdale Community Centre, the playground has revitalised the park and given the community a great spot to picnic, play and get fit.
Read more about Jubilee Park Adventure Playground.
Strathfield Park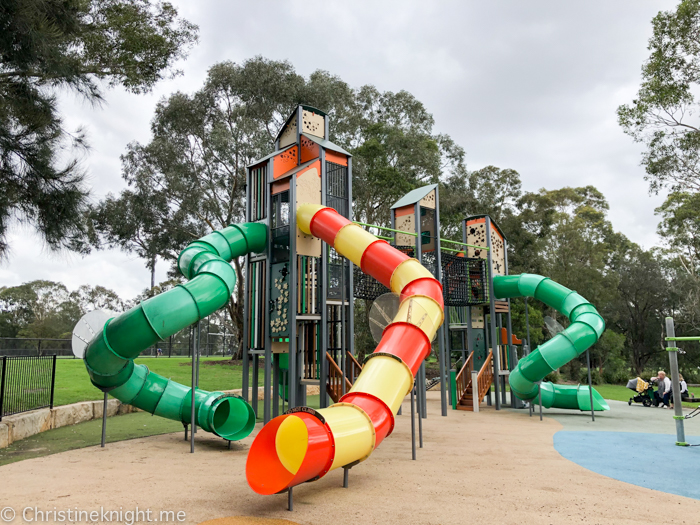 Strathfield Park, the oldest public park in Strathfield, is home to a huge playground with three play spaces, spanning 1.5 acres.
The park was renovated in 2017, with the resulting play spaces uniquely designed to compliment each other, taking into account the various ages and abilities of children who might enjoy the play equipment.
Read more about visiting Strathfield Park.
Darling Quarter Playground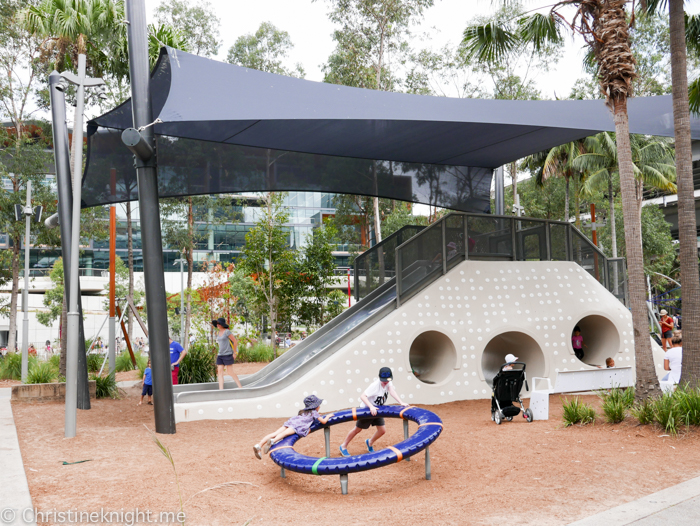 The most centrally-located Sydney playground features a 21-metre flying fox, water play area with pumps and buckets and plenty of slides, climbing structures and swings. It's a must for kids visiting the city. The Darling Quarter Playground is without a doubt, one of the best playgrounds in Sydney.
Get more info on the Darling Quarter Playground.
Pirrama Park Playground Pyrmont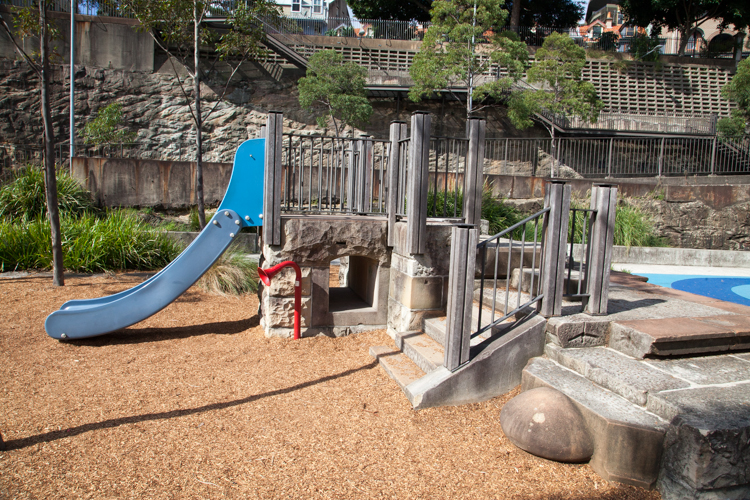 This beautiful playground in Pyrmont has shiny, well-designed equipment, a water play area, sand pit with shade cloth, new, well-maintained bathrooms (including baby change facilities) and a cafe with shaded seating. Street parking is available. Pirrama Park features grasslands, wide avenues for scooting and entry into the harbour for swimming.
Get more info on Pirrama Park Playground here.
Victoria Park, CBD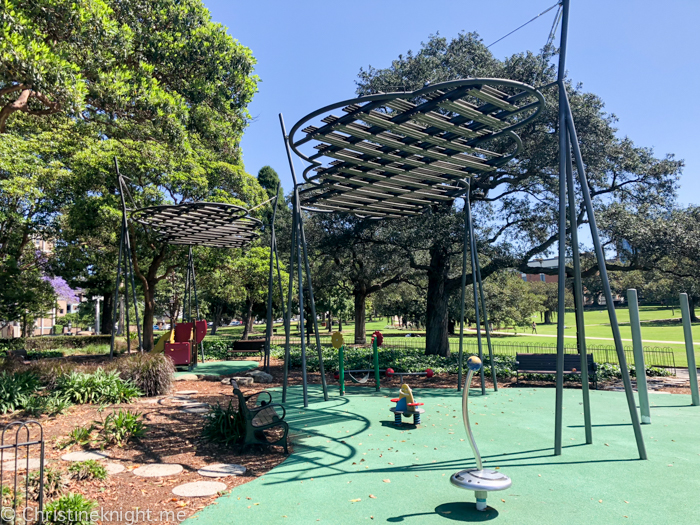 A 9 hectare green space connecting to Sydney University, Victoria Park features a beautiful lake, playground for kids of all ages and plenty of shady trees, right in the middle of the city.
Get more info on Victoria Park here.
Enmore Park, Marrickville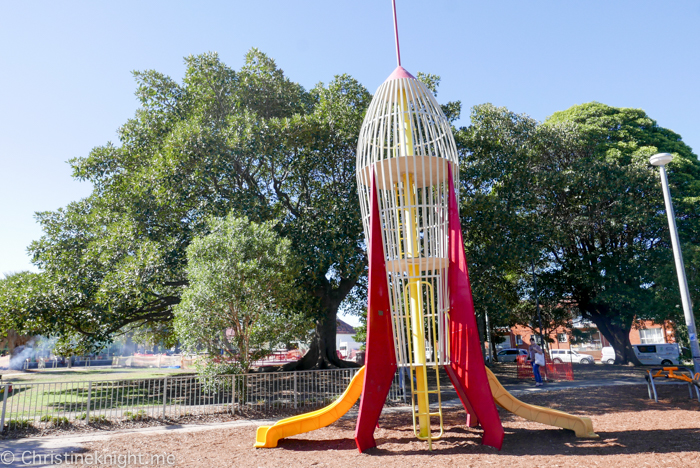 Kids can play astronauts at this excellent park which features two space rockets, a large grassy area with plenty of trees, swings, slides, a climbing net and see-saw. The park has partial shade so bring a hat and sunscreen.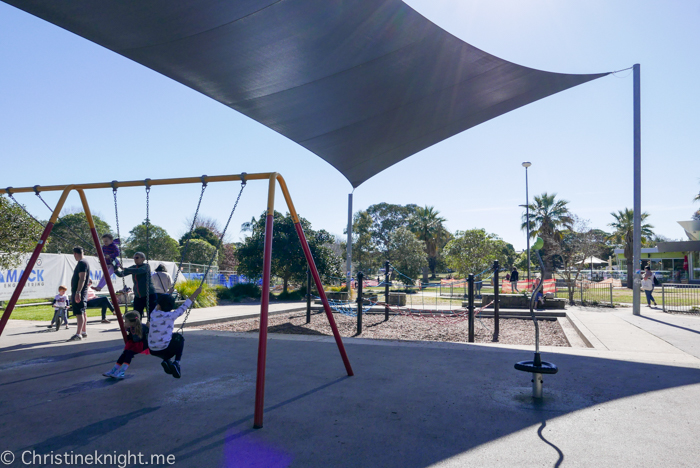 The Annette Annette Kellerman Aquatic Centre is located in the park so bring swimmers if it's hot. There are plenty of kid-friendly cafes nearby, including Petty Cash, which is just across the road from the playground. Enmore Park, without a doubt, has the best playground in Sydney for wannabe astronauts!
Read more about Petty Cash Cafe.
Tramsheds and Harold Park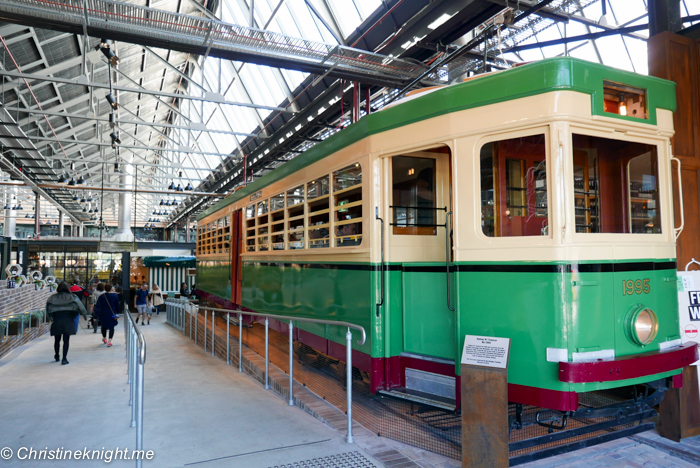 One of our fave places to eat and play in Sydney! The Tramsheds is home to a full-size restored tram that kids can climb inside, plus a wide range of family-friendly restaurants.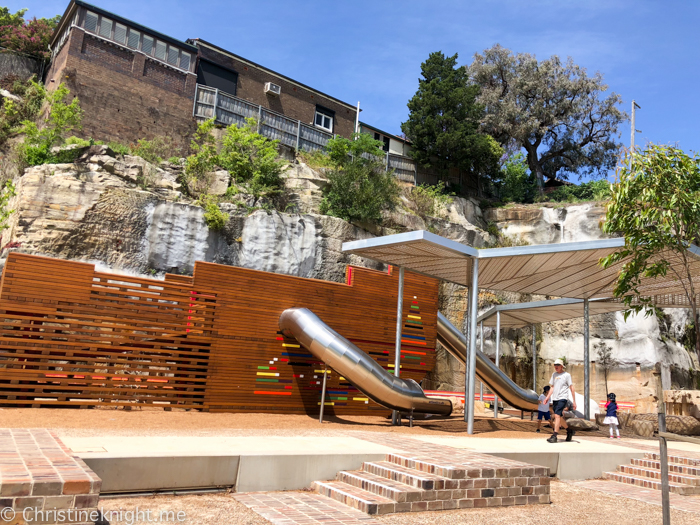 Outside the Tramsheds lies Harold Park, an expansive park featuring a custom-built playground.
Read more about the Tramsheds here.
Read more about Harold Park here.
Fairfield Adventure Park Playground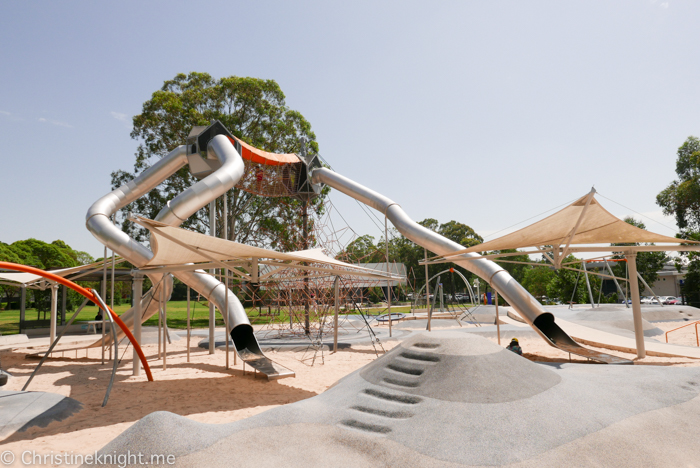 Especially designed to provide a play space for kids of a variety of ages, the Fairfield Adventure Playground brings the "wow" factor in spades. The park opened in 2015 after a $1.4 million council investment. With the star attractions designed specifically for teens, this is a unique playground that provides a much-needed recreational space for older kids. Fairfield Playground is absolutely one of the best playgrounds in Sydney, particularly for older kids.
Get more info on visiting the Fairfield Adventure Park Playground here.
Bigge Park, Liverpool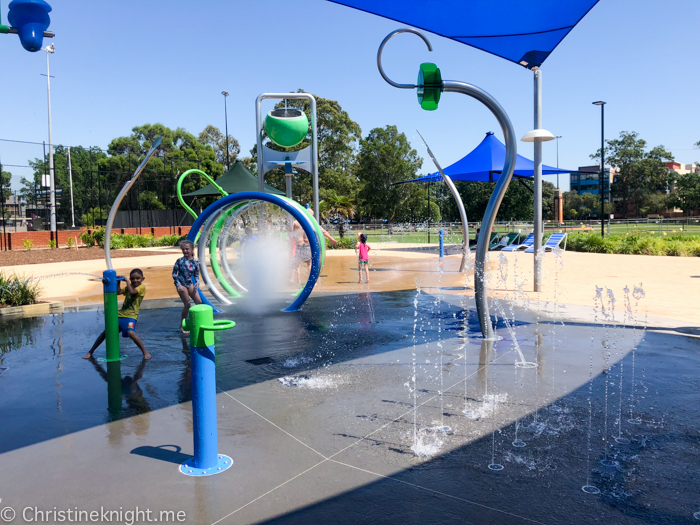 Bigge Park in Liverpool, a south-west suburb of Sydney, received a $5 million upgrade a few years back. The upgrade included a fantastic free water play area. Bigge Park also includes an accessible playground, a regular playground and climbing equipment.
Get more info on visiting Bigge Park.
Ollie Webb Reserve Parramatta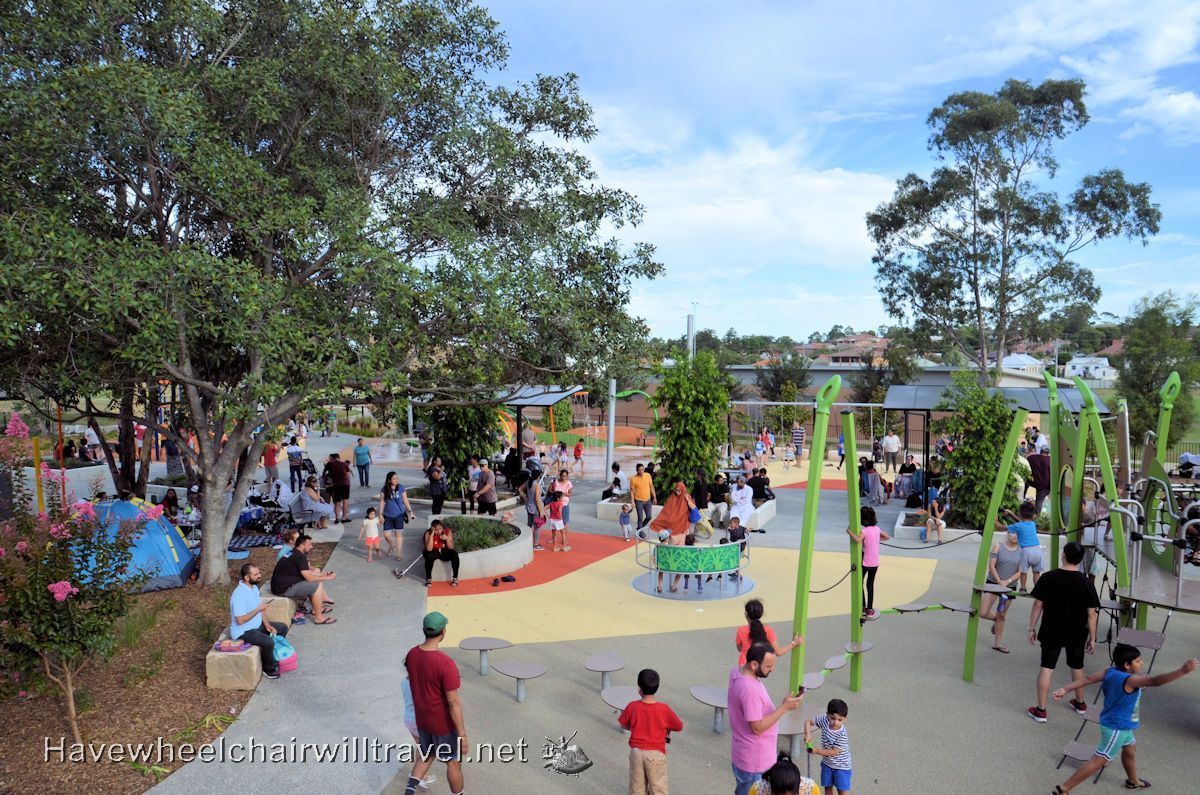 Parramatta's first all-inclusive playground opened in early 2019. It features climbing structures, water play with a splash play area and water pumps, an elevated sandpit, an accessible carousel, swings, BBQ facilities and excellent bathrooms.
Read the full review of Ollie Webb Reserve playground here.
Variety Livvi's Place, Bankstown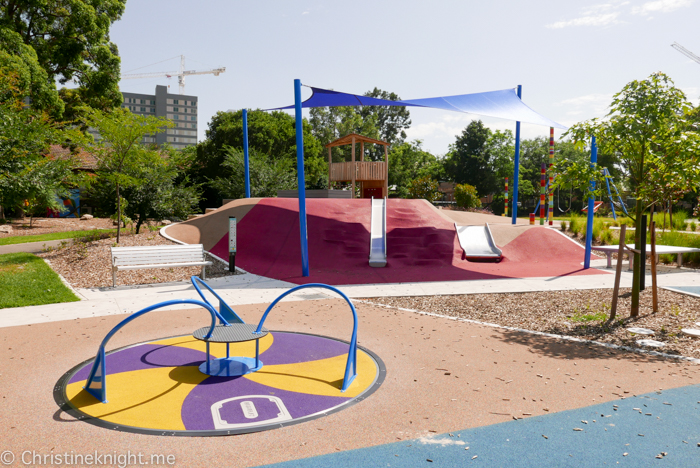 The Canterbury-Bankstown area's first all-abilities playground opened in late 2018, a joint project between Variety, the Children's Charity, and the Touched by Olivia foundation. The fully-fenced playground features picnic and bbq facilities, bathrooms, Variety Livvi's Place includes a sensory zone, flying fox with accessible seats, a climbing net, trampoline, swings with accessible seats, water play area, a climbing tower with ground level play features, two nest swings, roller table, accessible carousel, slides, a nature trail, sand play and a lizard log carved from wood.
Get more info on visiting Variety Livvi's Place here.
Livvi's Place Playground Five Dock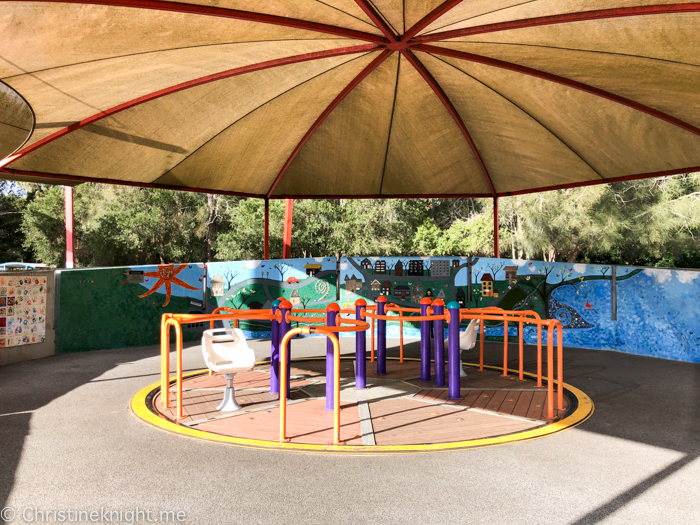 Livvi's Place in Five Dock, Sydney, is a playground designed for children of all abilities. The equipment and unique design of the playground ensures that all kids, including those with special needs, are able to enjoy playing side-by-side.
Read more about visiting Livvi's Place Five Dock.
Casula Parklands Adventure Playground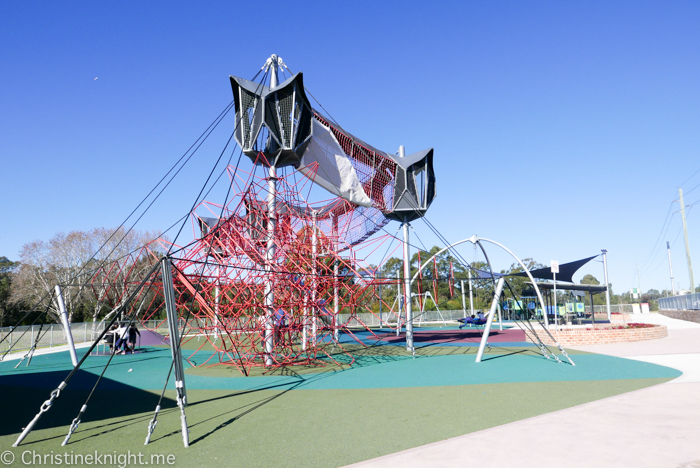 The brand new Casula Parklands has something for everyone, from toddlers to adults. Located near the Casula Powerhouse Arts Centre, the park features play equipment and fitness training for all ages.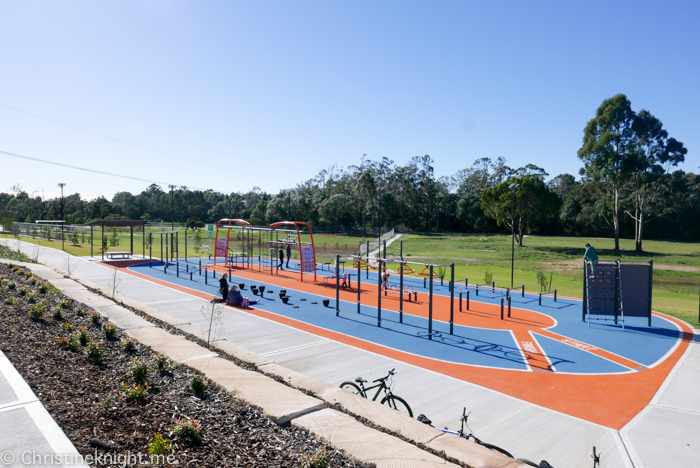 The $4 million park includes a ninja warrior training course for teens and adults, toddler climbing equipment, older kid / tween climbing equipment, flying foxes, swings, on and off-leash dog parks and a fitness area.
Get more info on visiting Casula Parklands Adventure Playground.
Blaxland Riverside Park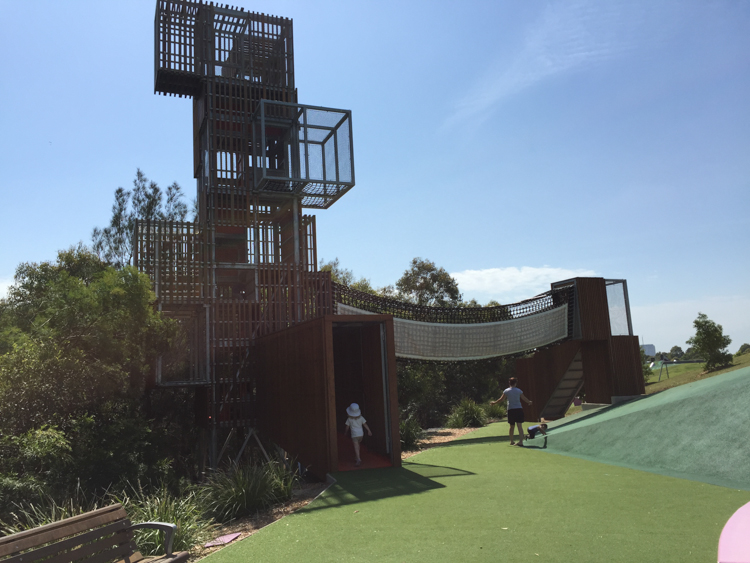 A gorgeous spot for families with one of the biggest playgrounds in Sydney set among three hectares of rolling hills and big open spaces. The playground caters for kids of all ages and abilities with a fantastic water play area (the largest outdoor water play facility in NSW), moving play elements, high and steep landforms and hidden and confined spaces. There's a double flying fox, mega-swing, tunnel slides, scramble wall, spinning play disk, Viking swing and a multi-level tree house to be discovered and enjoyed.
Get more info on Blaxland Riverside Park.
Parramatta CBD Foreshore Playground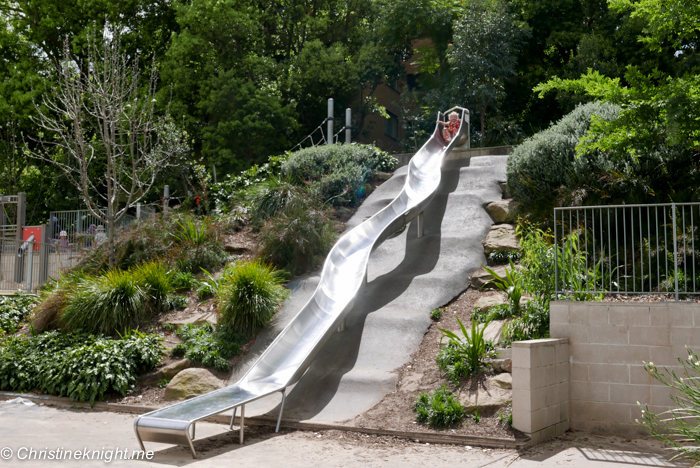 Built into the slope of the hill on the river's foreshore, the Parramatta CBD Foreshore Playground has got some really cool features like a 4 metre slide and rock climbing. In summer, water features are turned on near the sand play area.
Be aware that the playground is not fenced, not does it have any shade cover or bathrooms.
Get more info on visiting the Parramatta CBD Foreshore Playground.
James Ruse Reserve Playground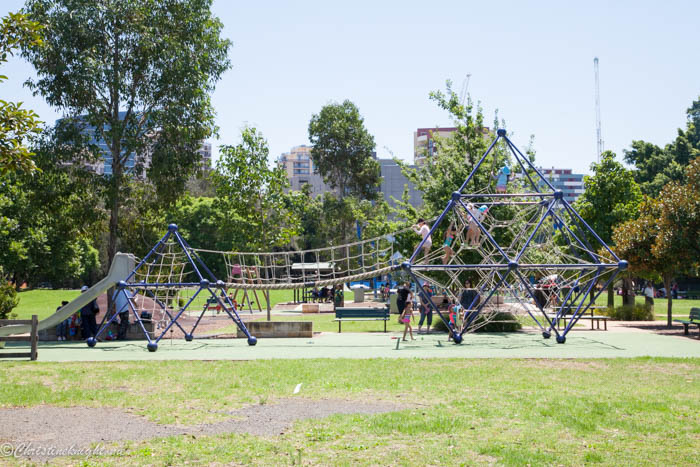 The James Ruse Reserve Playground is almost brand-spanking new (it was built in 2014), and has a fantastic water play area, which is under cover.
The playground has no shade cover so is best visited on cooler days. It features an excellent net climbing area.
Get more info on visiting the James Ruse Reserve Playground.
Domain Creek Playground Parramatta Park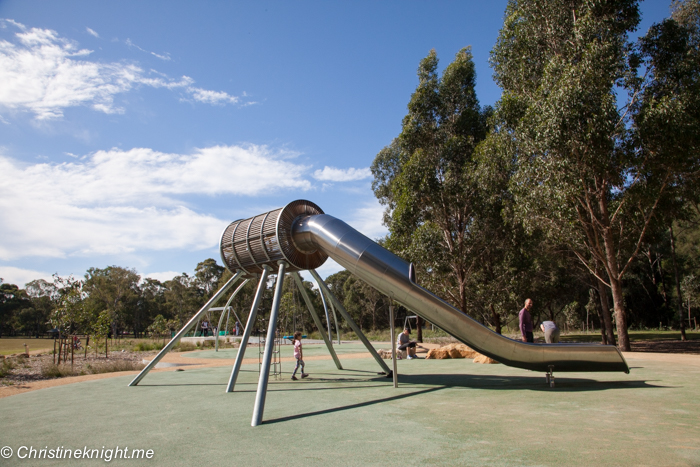 The largest and most modern playground in Parramatta Park, the Domain Creek Playground is nature-based and features mazes made from branches and wires, water pumps and sand diggers, a flying fox and sunken trampolines.
Get more info on visiting Domain Creek Playground.
Newmarket Dining & Playground, Randwick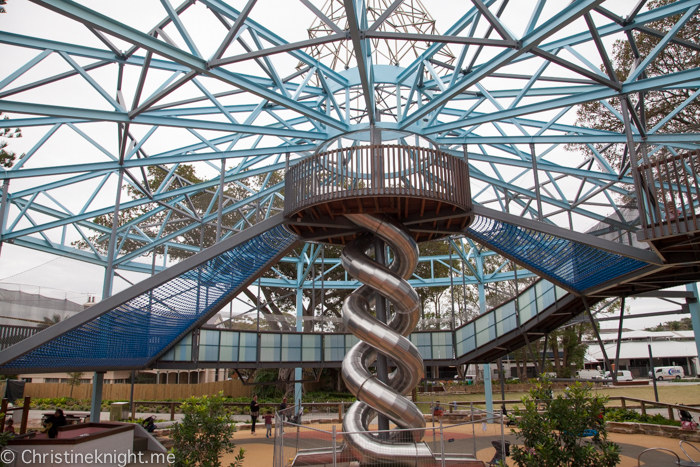 Sydney's newest precinct, Newmarket Dining is a place to eat at cosy cafes and restaurants, picnic in the park and play at a state-of-the-art playground. The playground has the most incredible slide built into the centre of what used to be a horse sale yard.
Read more about Randwick Dining & Playground.
Paperbark Playground, Parramatta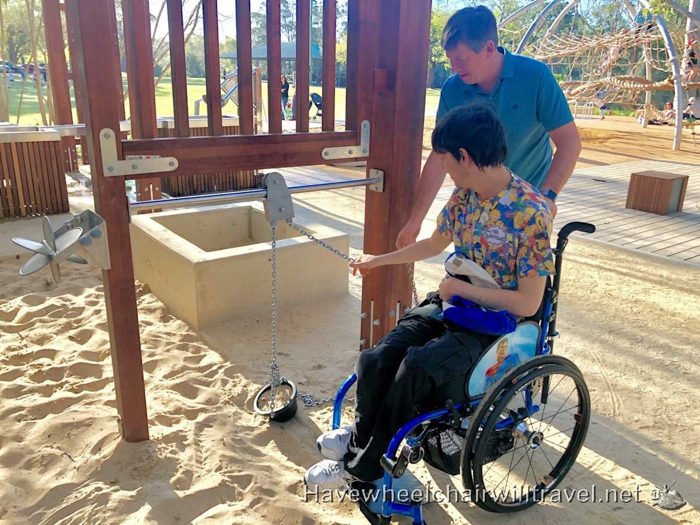 Paperback Playground is the newest playground in the park and has some inclusive features. Located in the historic Gardens Precinct near the George Street Gatehouse, the playground is best suited to children and toddlers. Features include an accessible sandpit, swings and a carousel which kids with varied mobility, including wheelchair users, can use, as well as the 'explorer dome' centrepiece – a maze made of nets, ropes, ladders and tubes best suited to older children. The playground floor is covered with 'Softfall' pavements and there's plenty of seats for parents and carers.
Thank you to Have Wheelchair Will Travel for the images.
Plough and Harrow, Abbotsford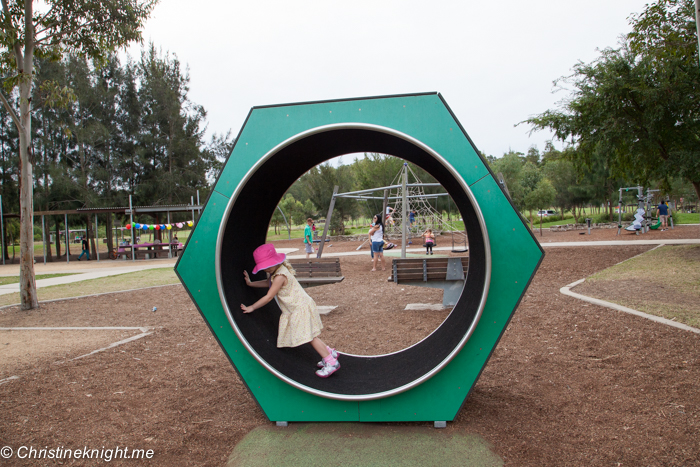 This popular picnic spot is surrounded by bush and features a playground, cafe, high ropes course and wide open spaces for kids to run free. The playground's hamster wheel is particularly popular!
Get more info on visiting Plough and Harrow.
Bungarribee Park, Abbotsford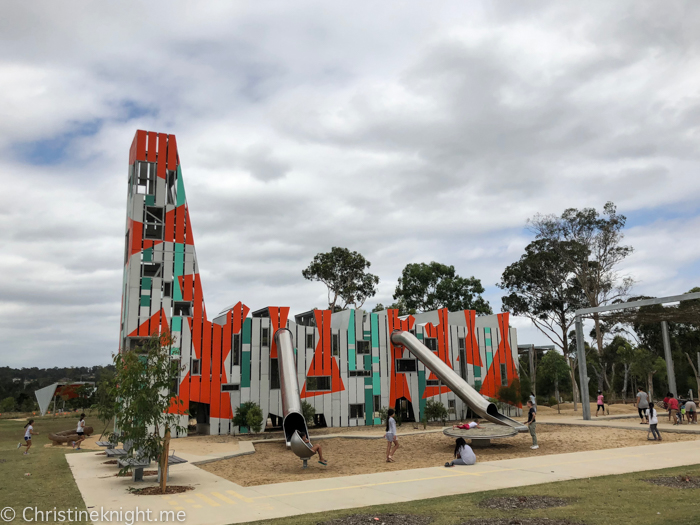 Opened in 2017, Bungarribee is a 200-hectare recreational space that features walking and cycling tracks, 20 barbecues, 13 picnic shelters and a playground with a climbing tower, flying fox, plenty of slides, swings and a water play area.
Get more info on visiting Bungarribee Park.
Livvi's Place Ryde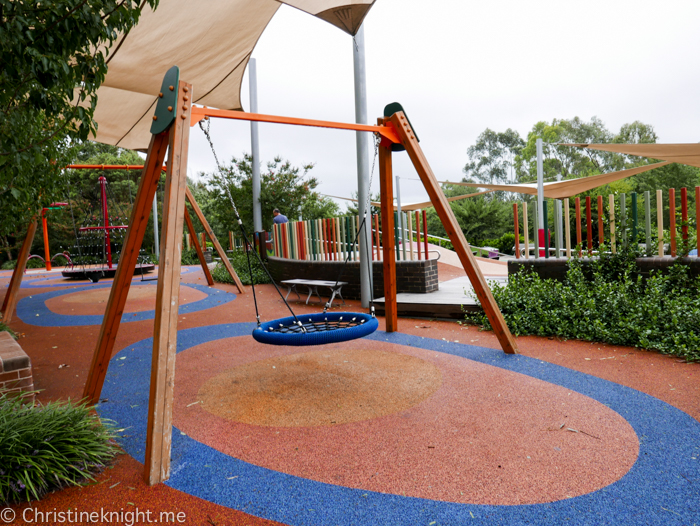 Livvi's Place is a full-enclosed playground located in Yamble Reserve, Ryde. The reserve features formal gardens, deciduous trees, picnic shelters, large green grassed areas, barbecues and the excellent all-abilities playground, Livvi's Place. Livvi's Place playground includes a water pump play area, dual flying fox, nest swing, musical instruments, climbing frame and tunnels.
Read more about Livvi's Place Ryde.
Putney Park: Playground and Water Park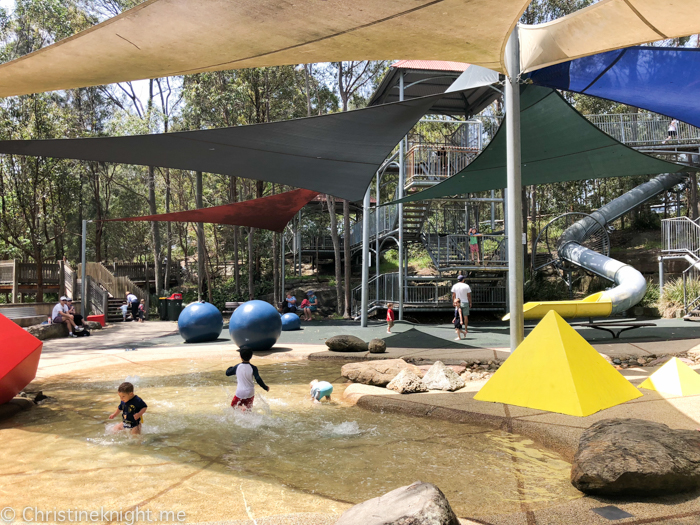 A great spot to take kids in summer, Putney Park features climbing equipment for kids of all ages plus two shallow pools connected by a pebble creek and a large climbing web.
Read more about Putney Park here.
Sydney Park, St Peters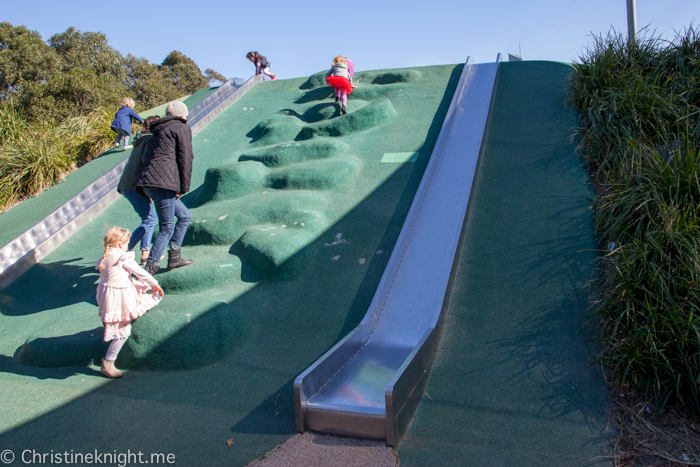 A 40 hectare green space near St Peter's, Sydney Park was built in the space once occupied by Bedford Brickworks – the chimneys of which have been left and are a feature of the park that can be seen from some distance away. Features of the park include a large playground on its western side, the Sydney Park Cycling Centre on its northern side, winding pathways over hills for walking and cycling, wetlands, a kiosk and bathrooms.
Get more info on Sydney Park.
Ian Potter Children's WILD PLAY Garden, Centennial Park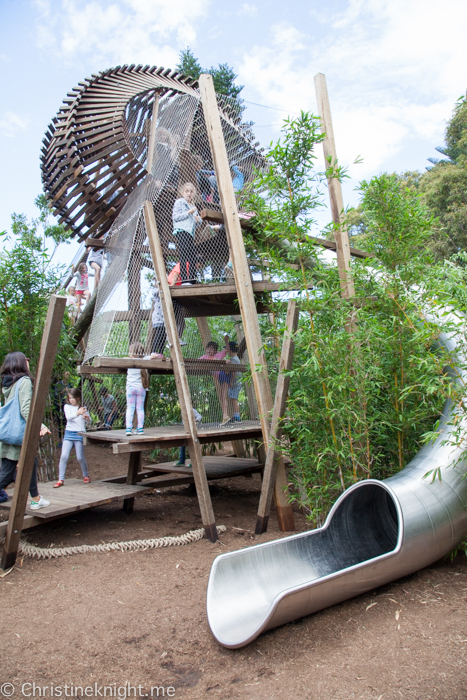 The Ian Potter Children's Wild Play Garden opened in Centennial Park in October 2017. The 6500sq m nature-based play area features a 7m-high climbing tower, wooden bridge, water play area and an open play area where kids are encouraged to use sticks and natural materials to make their own shelters, artworks and games.
Get more info on visiting the Ian Potter Children's WILD PLAY Garden here.
Entertainment Quarter, Moore Park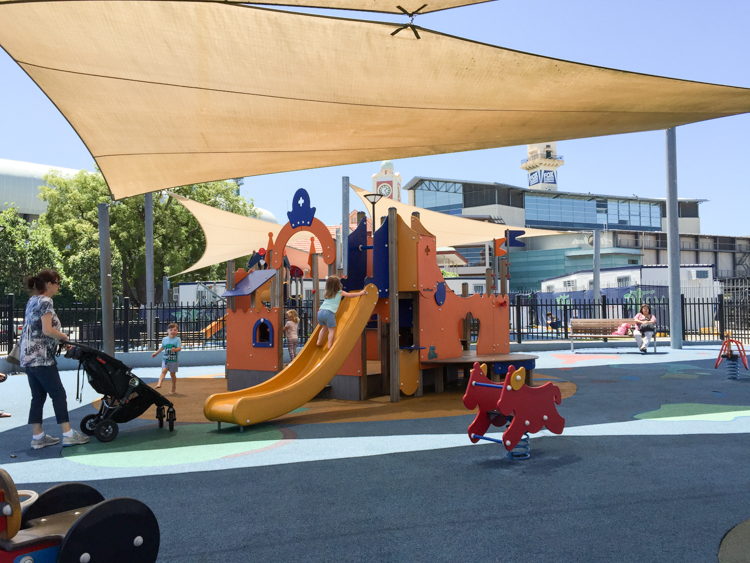 This park consists of 115 hectares of open spaces and playing fields, including the ES Marks Athletics Field, an 18-hole public golf course and golf driving range, tennis courts and netball courts.
The Entertainment Quarter at Moore Park has plenty for kids to do, from plaster painting, a Hoyts movie cinema, Monkey Mania play centre, Strike Bowling as well as two partially shaded playgrounds with excellent bathroom facilities.
Queen's Park, Randwick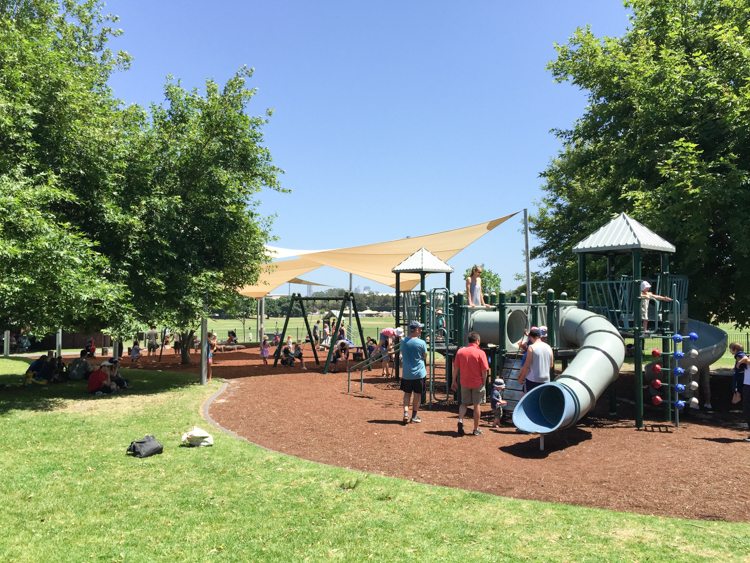 A 26-hectare urban park with panoramic views and natural sandstone cliffs. Queen's Park has an excellent gated and partially shaded playground for kids next to a kid-friendly cafe, Queen's Park Shed (read more here).
Waluba Park, Waterloo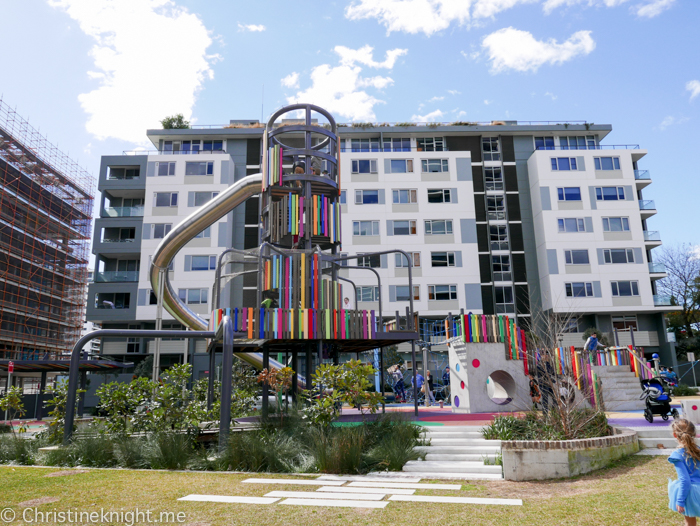 A beautifully designed and landscaped park featuring a mega slide, three-story climbing tower, swings, picnic and BBQ area and bike paths.
Get more info on visiting Waluba Park here.
Lizard Log Park & Playground, Abbotsford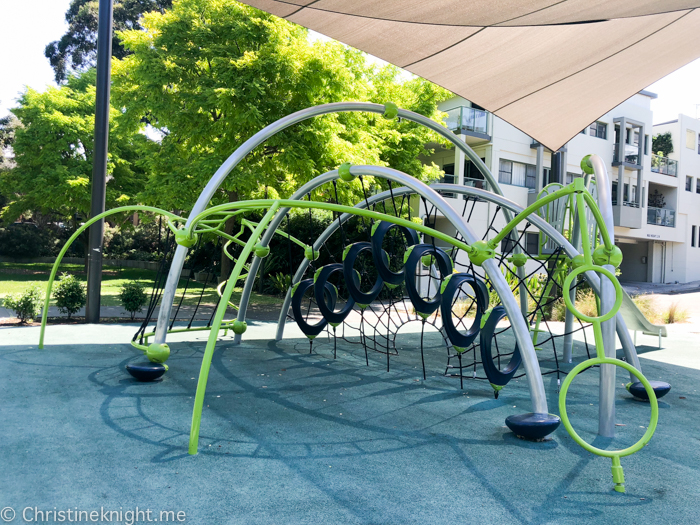 Lizard Log is a bushland park in the Western Sydney Parklands. This beautiful green space features a nature-themed playground, scenic walks, cycling tracks and a dam.
Read more about visiting Lizard Log Park & Playground.
More things to do in Sydney
Find things to do in the Blue Mountains.
Find a list of the best things to do in Sydney with kids.
Find things to do in Sydney for free.
Get a list of the best kid-friendly beaches in Sydney.
Find the best animal experiences in Sydney.
Visit the best kid-friendly restaurants in Sydney.
Find the best high teas in Sydney.
Head to one of the best museums in Sydney.
Check out things to do in Sydney on a rainy day.
Enjoy one of the best ocean pools in Sydney.
First time visiting Sydney? Get tips for first time visitors to Sydney.
Cool down at one of these free water parks in Sydney.
Find the best vegetarian and vegan restaurants in Sydney.