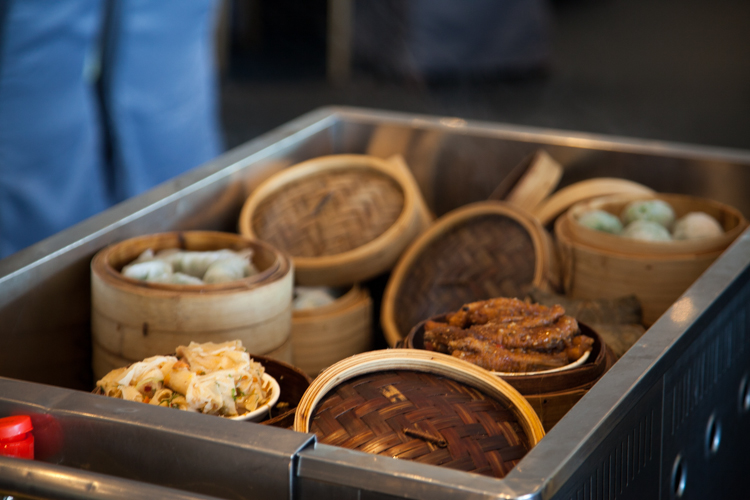 I know pretty much nothing about yum cha, except it's food on carts that you choose when the servers come hurtling past. It turns out that "yum cha" is actually the Cantonese term for "drinking tea" and refers to the custom of eating tiny servings of different foods while sipping well-brewed Chinese tea.
Yum cha fun for those who like a visual of their food before they order it, and also if you like to try lots of different bits and pieces for your meal. Yum cha is also an extremely good meal option if you have kids, which is how we found ourselves trying yum cha at Fisherman's Wharf Seafood Restaurant, Pyrmont.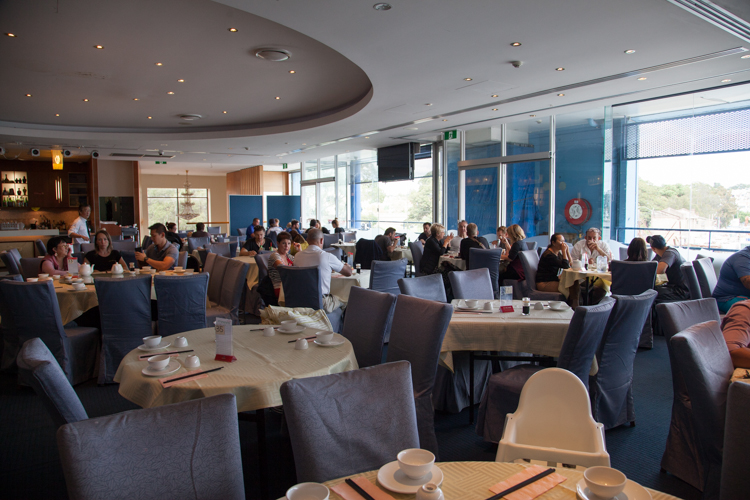 We had a booking for 11am, which was lucky as even though it is a huge restaurant, it was absolutely packed at 11am (it opens at 10:30, which is when I took the photo as we were a bit early). The staff were efficient and friendly, showing us straight to our table and setting up the high chair immediately.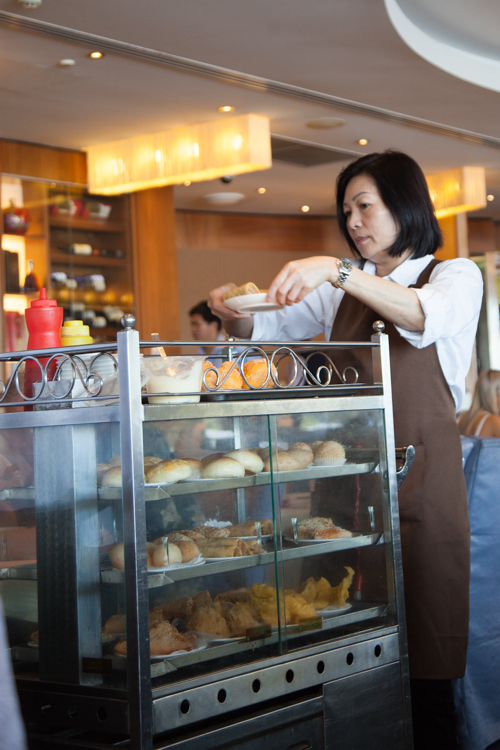 Food started flying past on carts immediately, and our friends who yum cha more than we do did the choosing, and also helped me track down some vegetarian dishes. I managed to find vegetarian spring rolls, dumplings and soy noodles, plus some kind of greens dish.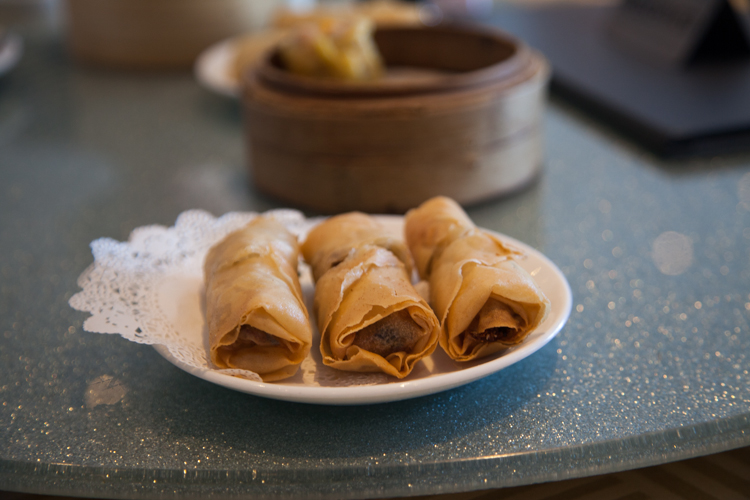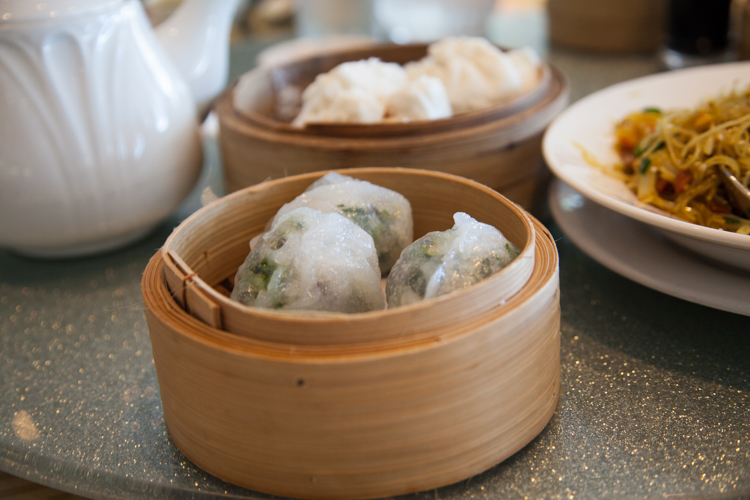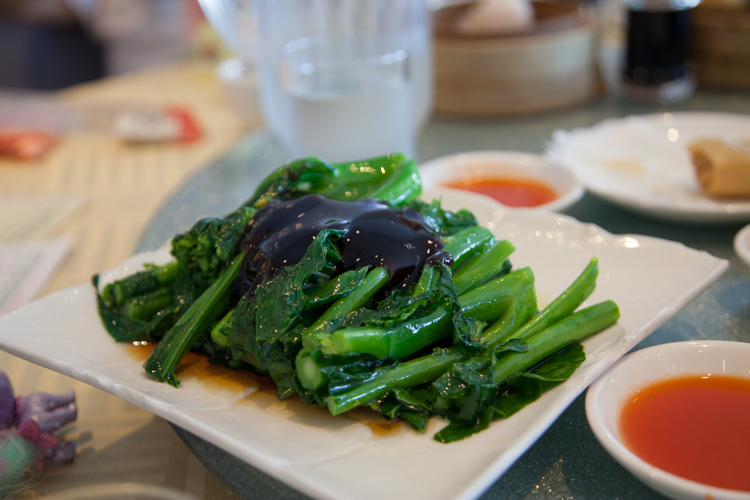 Cheese hadn't been to yum cha before, but surprised us by trying a few things. She was mostly keen to master chop sticks, and she had a pretty good try, managing to get food into her mouth using them.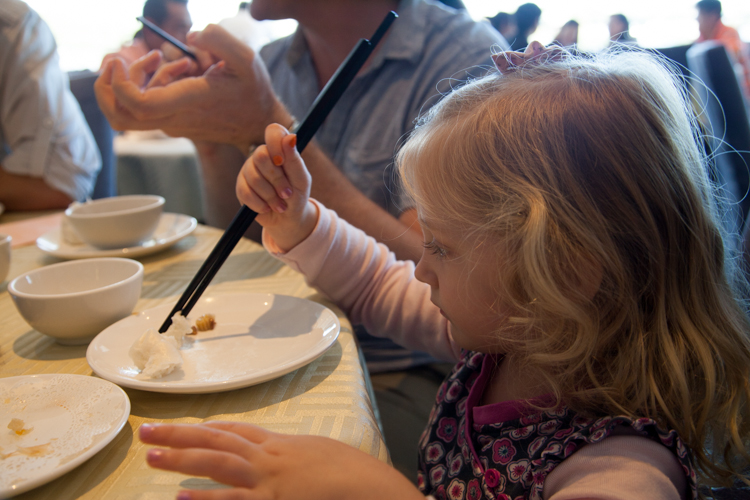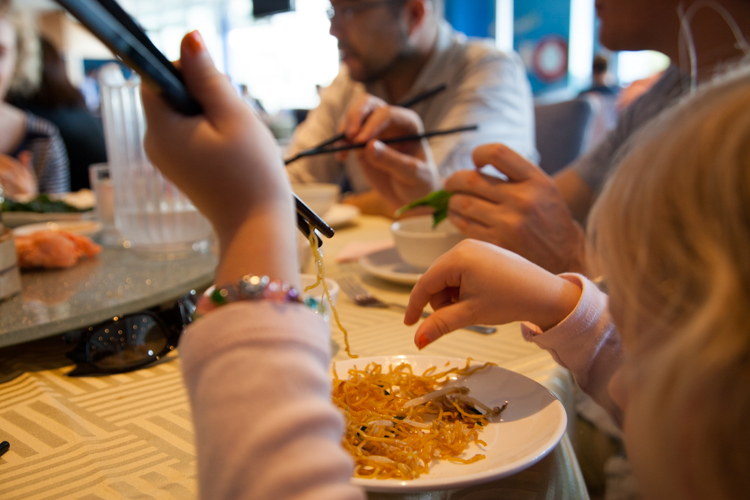 When the kids got antsy, they went for a walk to the big fish tank where all the fishies and crabs who are going to be cooked later are kept alive and swimming. The kids thought they were super cool, so that was a good distraction while we ate a bit more food.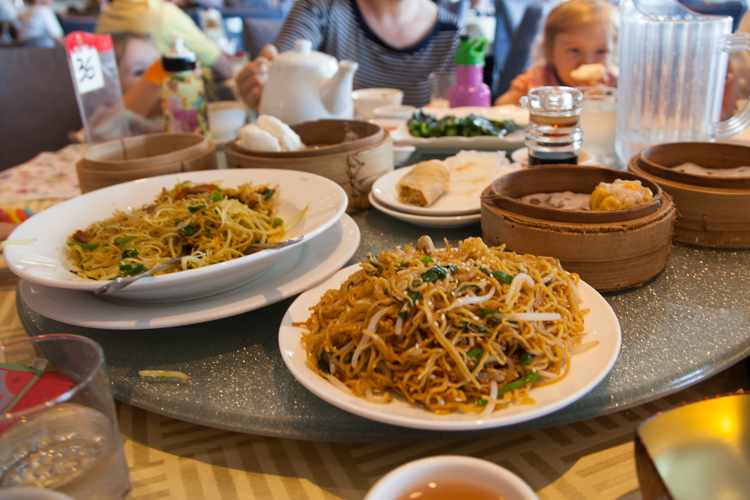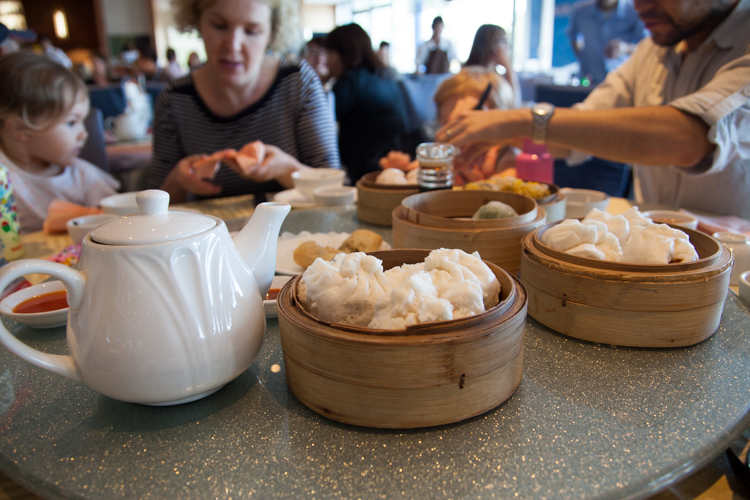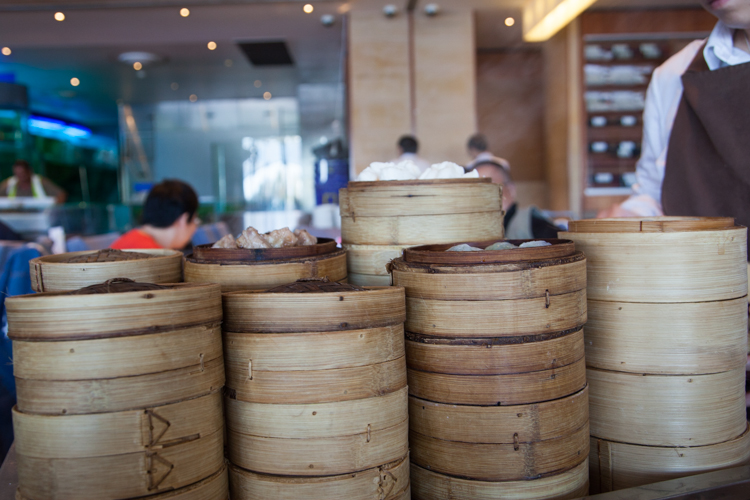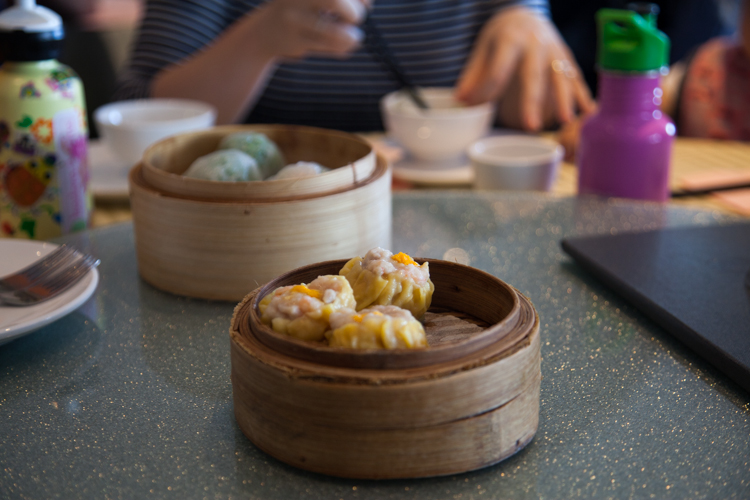 Yum cha is a pretty messy meal, so there is no pressure to have a neat table afterwards. It's also a fast meal, which I always appreciate with a wiggly kid.
We were in and out in about an hour, which is about the amount of time we can dine before Cheese gets bored and wants to do something else, so that was perfect. Cost-wise, the bill came to $110 for four adults, with the three kids kind of pecking at a few things, but not ordering anything specific just for them.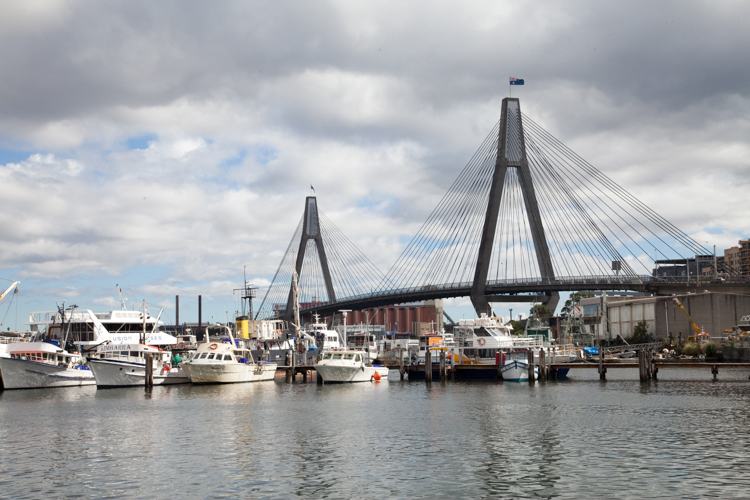 The restaurant is level one of a building at the Fisherman's Wharf in the Sydney Fish Markets, and after we dined, we had a stroll down on the wharf to let the kids burn a bit of energy. They enjoyed chasing seagulls and spotting pelicans, and us adults enjoyed walking off the food in the sun. What a view!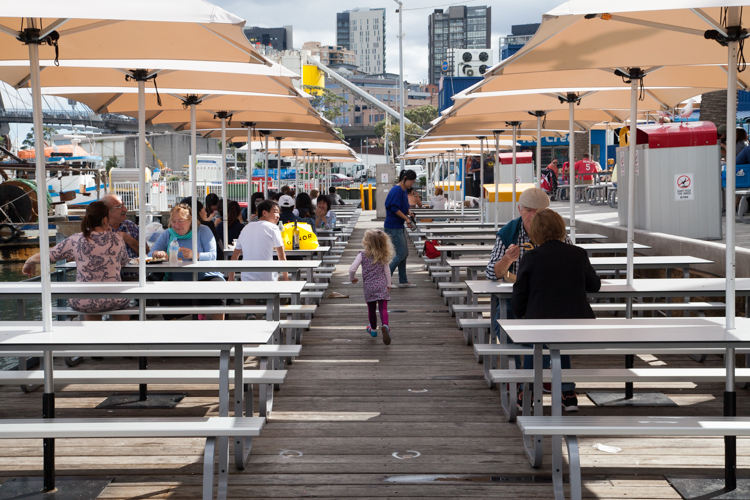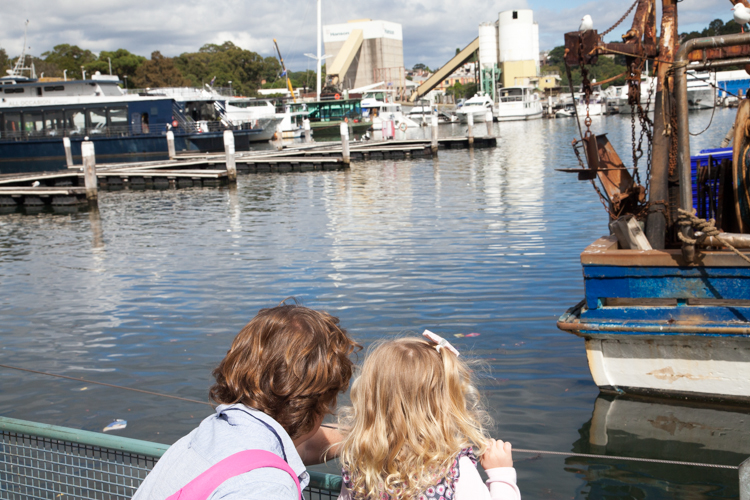 Highchairs: Yes.
Stroller storage: Yes.
Easy access: Yes.
Change tables: Yes.
Kids' menu: No.
Fisherman's Wharf Seafood Restaurant
1 Bank Street,
Pyrmont NSW 2009
Phone: (02) 9660 9888
Prices: $$
Hours: Yum cha: Mon-Fri 11am–3pm Sat & Sun 10am–3pm
Restaurant is open daily 5:30pm-11pm
Get Directions