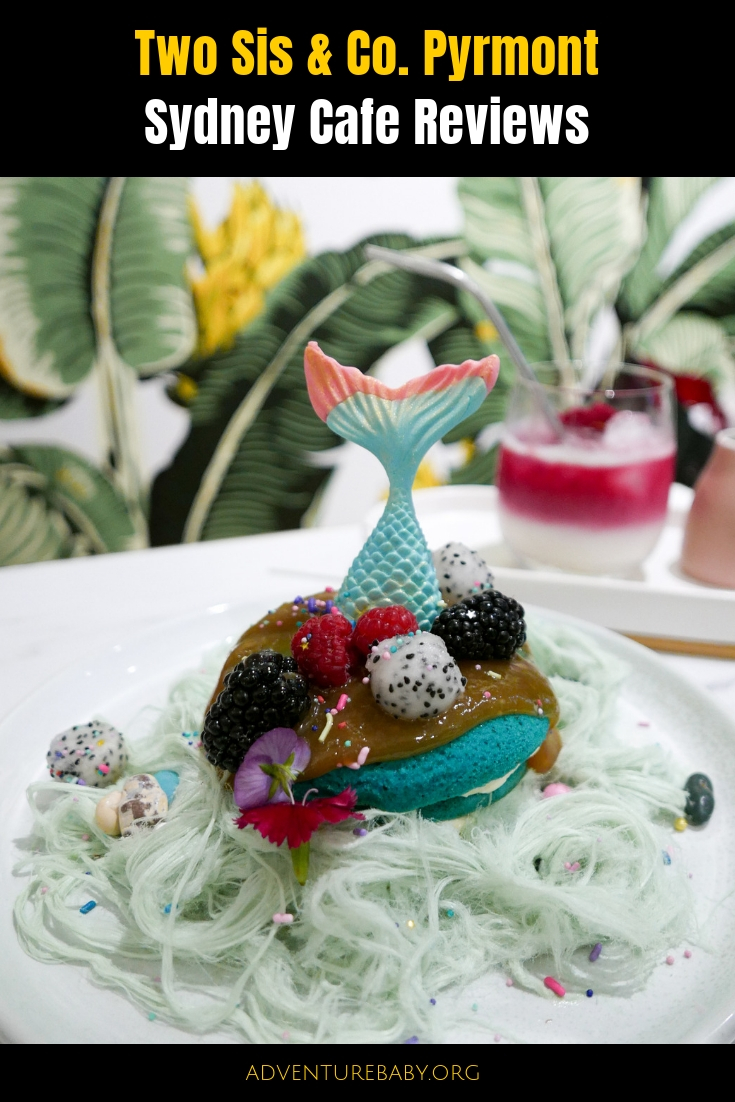 Two Sis & Co. Pyrmont is a bright cafe on busy Harris Street serving up all-day breakfast, delicious lunch and colorful creations.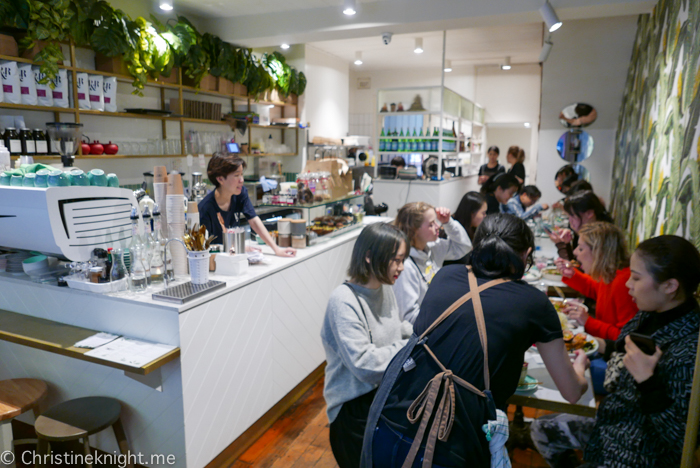 We visited on a rainy Sunday and were surprised to see that even on a day when the rain was coming down like cats and dogs that the cafe was packed and there was a wait for tables.
The cafe is quite small, with not many tables and only three tiny outdoor tables. Dining here with little or multiple kids would be a challenge due to the size of the cafe which would not be able to accommodate strollers, plus there is only one high chair on offer to patrons.
The staff are extremely friendly and the service is fast and faultless. Considering how busy the cafe is and how small the kitchen, we were amazed with how fast the food arrived.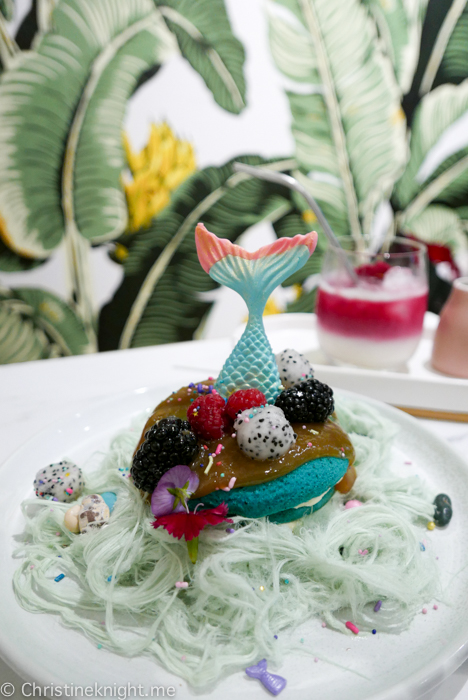 We ordered their signature Mermaid pancakes (mermaid tail, whipped mascarpone, chocolate rocks, fresh raspberries, dragon fruit balls & peanut butter sauce, $23.50), Our Pick Smashed Avocado (medley tomatoes, Danish feta, dukkah with sourdough $15.50, plus poached egg $2.50), Free Range Eggs Any Style On Toast ($9.50) plus Side of Avocado ($3.50), Dukkah Eggs (smashed avocado, poached eggs, lemon dukkah, balsamic glaze $18, with roasted mushroom, crispy bacon or cured salmon, $18.90), Iced Rose Latte ($7.90).
The Mermaid Pancakes were quite a surprise. The actual pancakes themselves were not sweet in the slightest – Cheese thought they tasted like blueberry. The whipped mascarpone added a bit of sweetness but not overwhelmingly so, which was great because there was a lot of fairy floss and chocolate rocks to go with them. The only element we didn't love was the peanut butter jelly / syrup. Even though I love peanut butter I wasn't a fan. I would have preferred Nutella!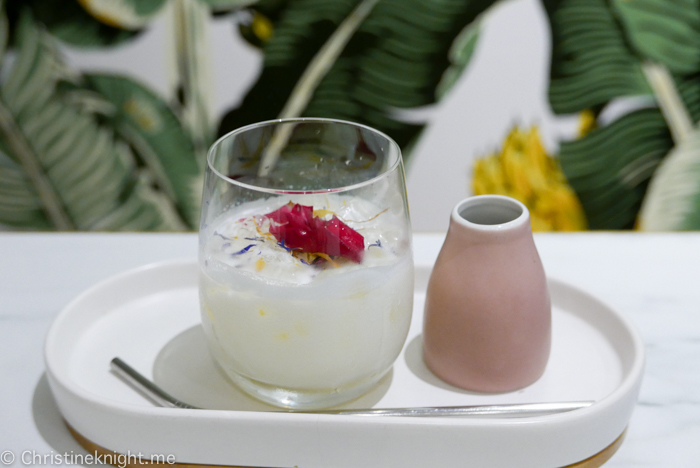 The Ice Rose Latte was divine – not only theatrical and gorgeous, it tasted like the most amazing rose in a glass. Delicious and beautiful.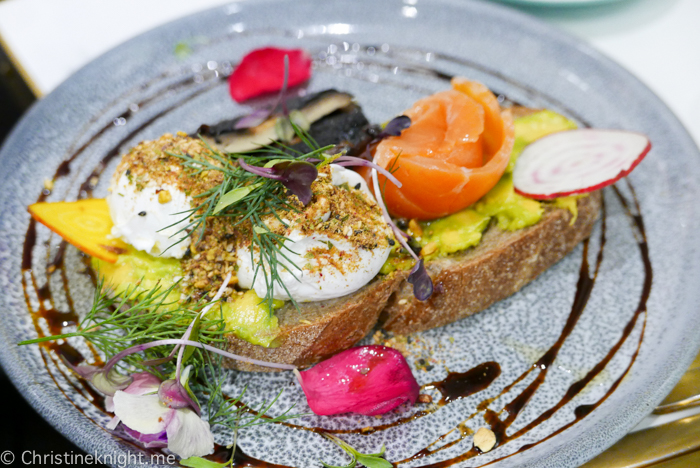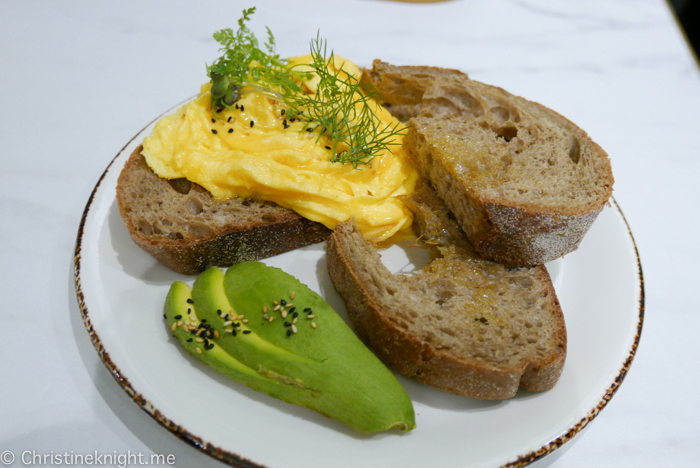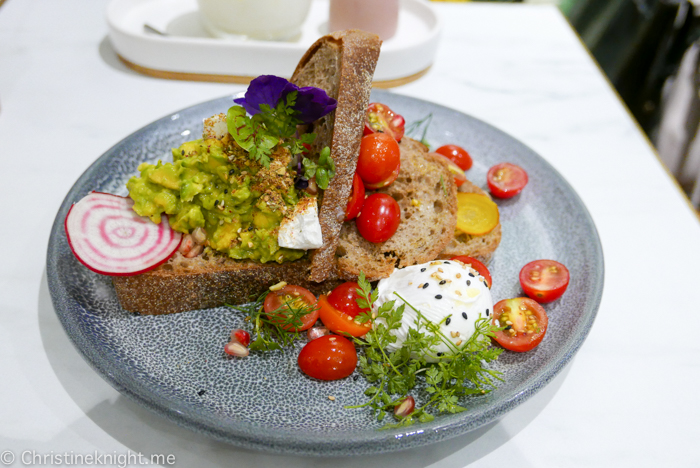 The food was not just well presented, it also tasted amazing. Really good serving sizes and beautifully presented.
A gem of a cafe in Pyrmont that is highly instagrammable but just as delicious.
Two Sis Co. Pyrmont
306 Harris St, Pyrmont
Hours: Mon-Fri 7am-4pm, Sat & Sun 7:30am-4pm
Phone: 0451 594 665