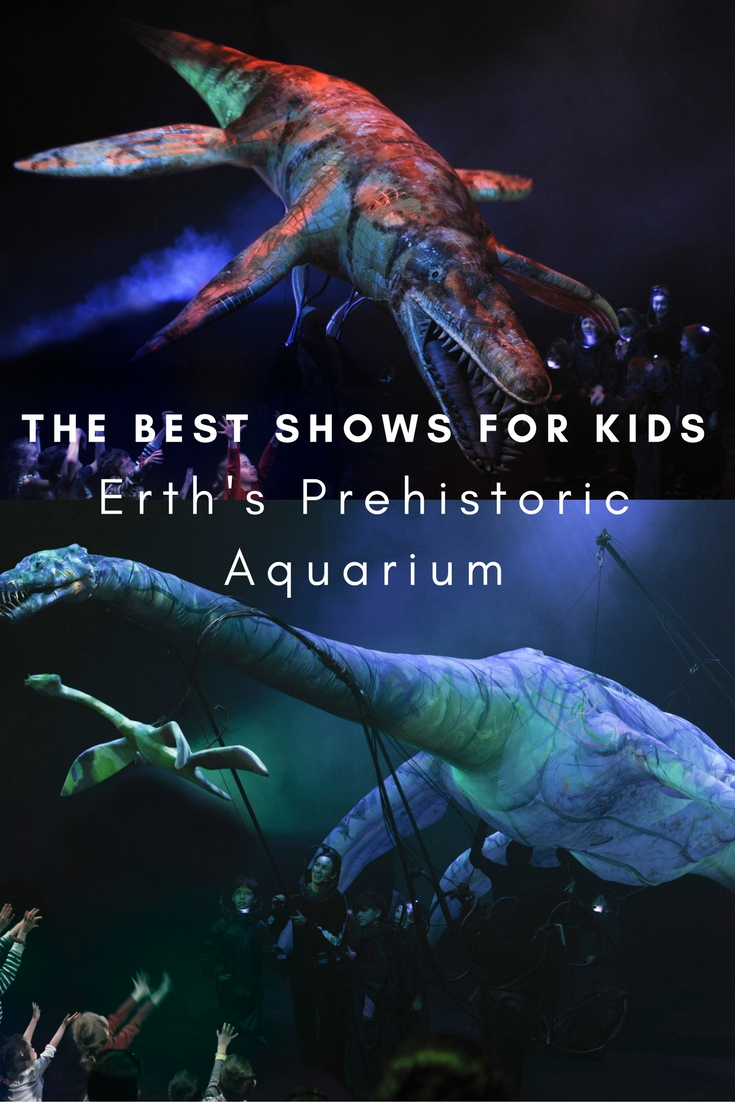 Dive into the past and get up close with the mysterious creatures of the deep who roamed our oceans eons ago with ERTH's Prehistoric Aquarium.
We love ERTH's creative and educational productions. You can see my review of ERTH's Dinosaur Zoo here. An Australian company, founded in Victoria and now based in Sydney's Inner West, ERTH's works are globally relevant, with local influences and themes. They specialise in eye-popping visual effects including giant puppetry, stilt-walkers, inflatable environments, aerial and flying creatures.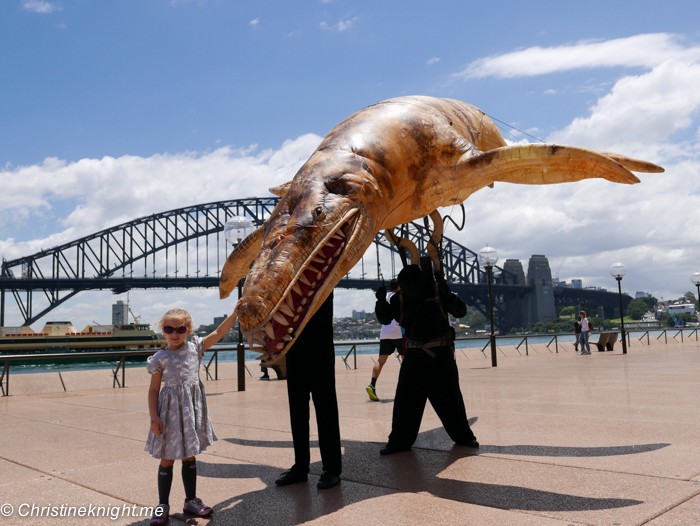 ERTH's current touring show, Prehistoric Aquarium, immerses the audience in a giant fishbowl at the bottom of the ocean and back in time, where they meet some of the world's most amazing prehistoric marine reptiles.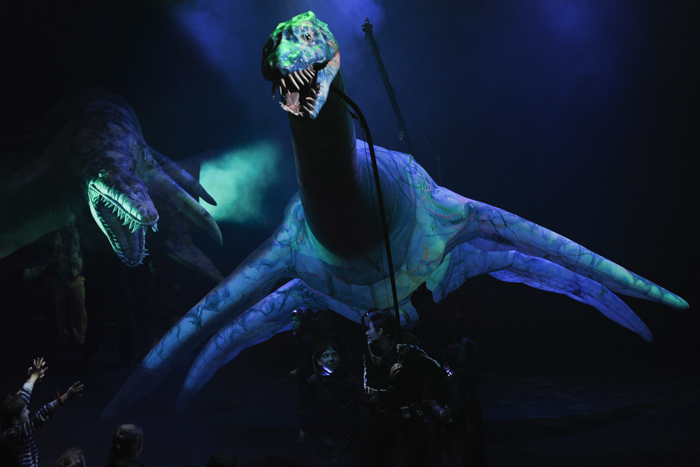 Through clever puppetry and special effects, the audience is able to dive into the giant aquarium and meet creatures up close in a delightful and educational show that introduces kids to palaeontology at the same time as filling them with wonder and delight.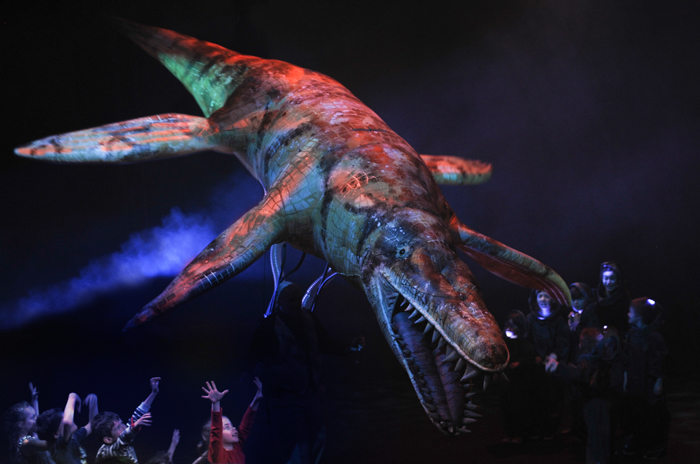 Two thoroughly entertaining narrators take the audience on a voyage through the beginnings of life as single cell creatures, to the first apex predator and onwards through various geological periods and the creatures who ruled the ocean during those times.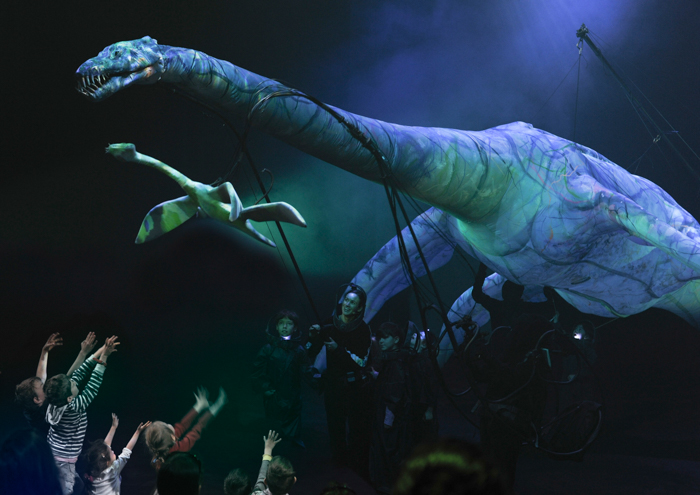 We met prehistoric marine animals (NOT DINOSAURS, let's be very clear, dinosaurs did not swim underwater) such as the Dickinsonia Rex, who was the first complex life form that developed the ability to move, and for whom the first fossil recorded was found right here in Australia.
The showstopper was the plesiosaur, whose enormous size drew "wows" from adults and kids alike.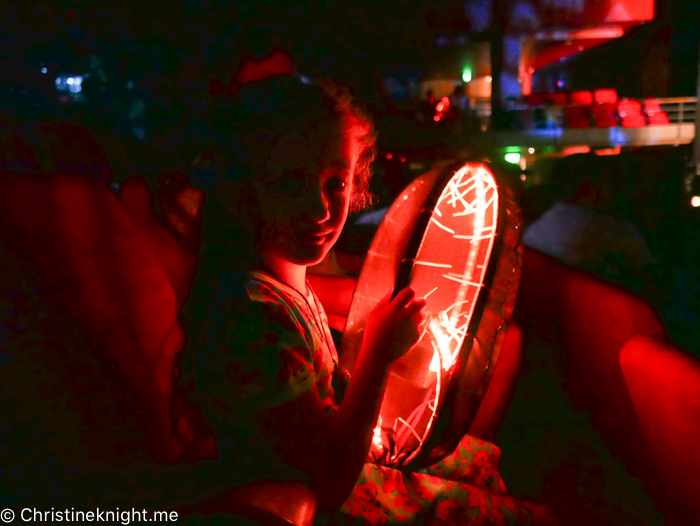 What we enjoyed about the show
The narrators have a perfect balance of educational and entertaining commentary. The adults and kids BOTH learned a lot about these prehistoric creatures in a show that was as fun as it was packed with facts. It's an absolute MUST for kids who are keen on dinosaurs (yes, even though they are not ACTUALLY dinosaurs!).
While being incredibly educational, the show is also interactive which makes kids not even realise they are learning. At the start of each performance a small group of kids are selected from the audience to participate in the show. The lucky kids chosen following the narrator through the "aquarium" and get up close to the creatures.
For kids left remaining in the audience, it is still interactive, with plenty of opportunities to respond to the narrators as well as get close to the creatures as they soar overhead within hands reach.
The majority of creatures mentioned (possibly even all of them!) had strong links to Australia, with their fossils being found in locations such as Coober Pedy. It really helped localise the experience for the audience and help the kids imagine what their own city might have looked like millions of years ago when dinosaurs roamed the Earth.
We also found the show to be highly engaging and interesting for the adults as well as kids. Let's be honest, if you're paying money and sitting through a show, even if it's really for your kids, you want to enjoy it too!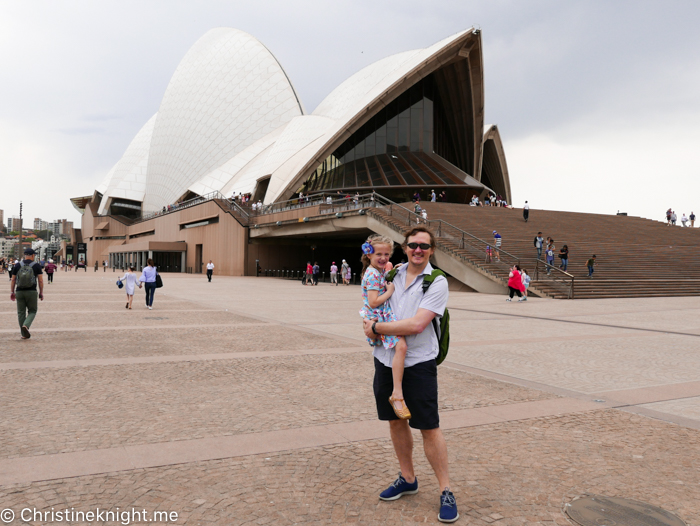 Suitable for kids ages 5+
I would highly agree with the age suggestion. There were scary bits as well as a lot of language that is hard for younger kids to follow.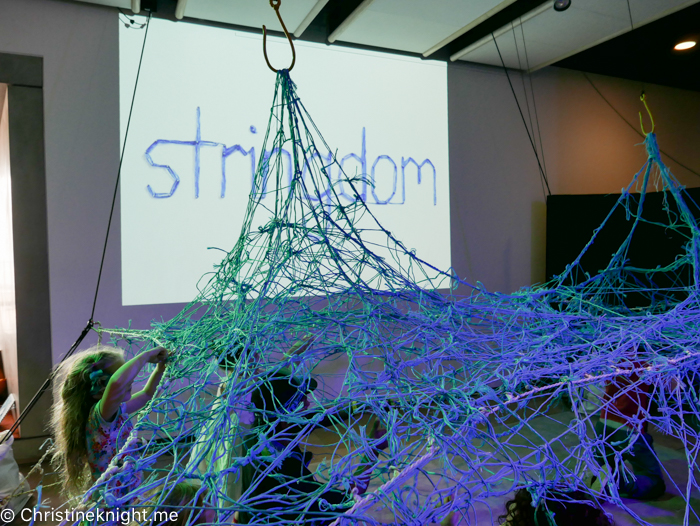 If you arrive early, kids will enjoy Stringdom, the new free creative play area that is inside the Sydney Opera House these school holidays.
After the show, grab a casual sandwich or hot meal like pasta from the Portside Sydney cafe inside the Opera House (they have a Kid's Lunch Box for $12.50 that includes a wrap, donut, fruit, juice or water) or duck down to Opera Bar and Opera Kitchen for food with a view. Both have kid-friendly meals.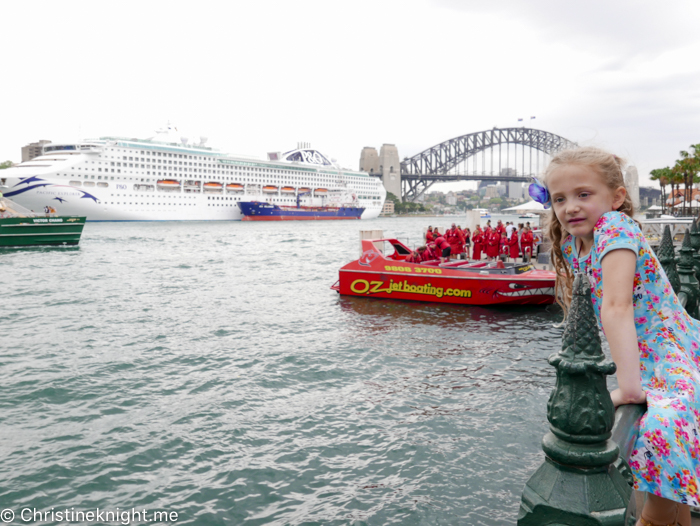 ERTH's Prehistoric Aquarium is showing at the Sydney Opera House September 23 – October 8, 2017.
Saturday, 23 September at 10.30am and 1.30pm
Sunday, 24 September at 10.30am and 1.30pm
Wednesday, 27 September at 10.30am and 1.30pm
Thursday, 28 September at 10.30am and 1.30pm
Friday, 29 September at 10.30am and 1.30pm
Saturday, 30 September at 10.30am and 1.30pm
Sunday, 1 October at 10.30am and 1.30pm
Wednesday, 4 October at 10.30am and 1.30pm
Thursday, 5 October at 10.30am and 1.30pm
Friday, 6 October at 10.30am and 1.30pm
Saturday, 7 October at 10.30am and 1.30pm
Sunday, 8 October at 10.30am and 1.30pm
Buy your tickets online
Show time is one hour.
Sydney Opera House
Bennelong Point, Sydney
We received tickets to the show courtesy of the Sydney Opera House. All opinions are my own.