Ian Thorpe Aquatic Centre, Ultimo
Get fit year-round at the Ian Thorpe Aquatic Centre, featuring three indoor heated pools and a spa, cafe, shop, health club and a sauna and steam room.
The Ian Thorpe Aquatic Centre (ITAC) also offers a range of aquatic and fitness programs suitable for a wide range of ages, interests, fitness levels and abilities.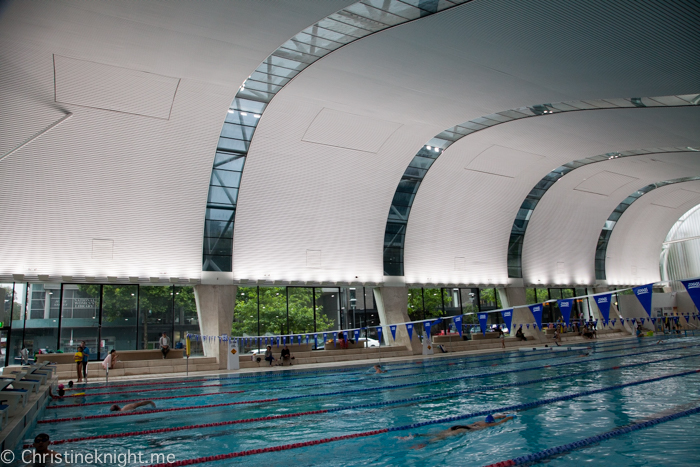 Named in honour of five-time Gold Medal winning champion, Ian Thorpe, the centre opened in 2007 to provide the community with a well-rounded fitness centre that could be enjoyed in all seasons.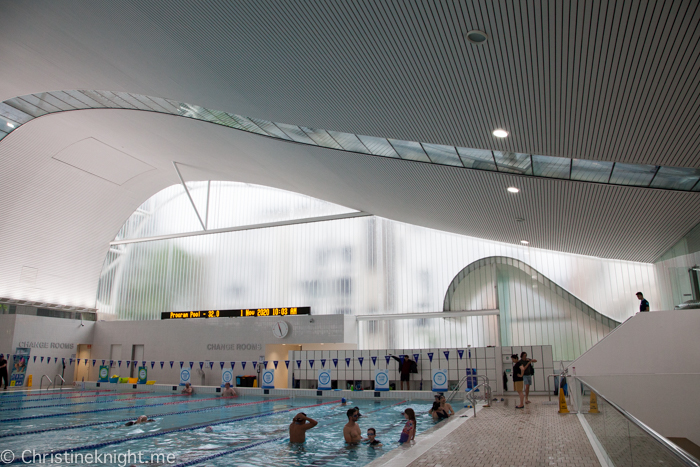 The Ian Thorpe Aquatic Centre has a wide range of excellent features:
50m Indoor Heated Lap Pool
Squad program
Leisure Pool
Program Pool
Spa, Sauna & Steam Room
Learn to Swim
Fully equipped Gym
Small Group Training
Personal Training
Group Fitness Classes
Aqua Aerobics
Café (currently closed due to COVID-19)
Birthday Parties (currently closed for bookings due to COVID-19)
Family change rooms
Underground car park with elevator access
Disability access
It has a distinctive wave design that lets a lot of light into the centre and makes for a very appealing aesthetic while you're enjoying the facilities.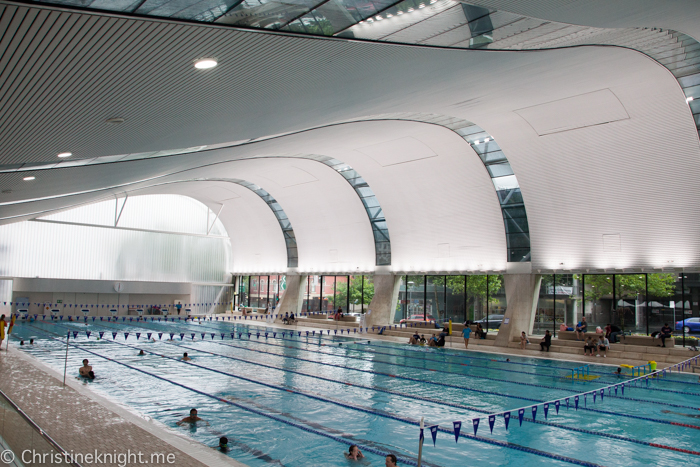 The Ian Thorpe Aquatic Centre runs an excellent Learn to Swim program, developed in partnership with Swimming Australia. The program focuses on contemporary experiential and activity-based learning techniques.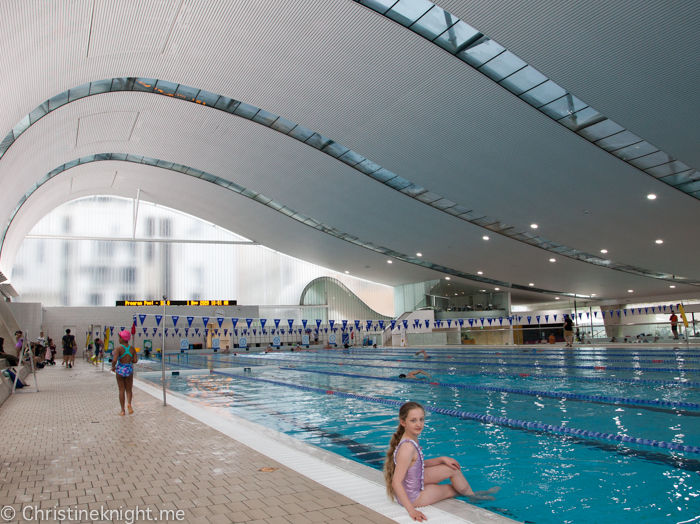 Aspiring swimmers can also join the competitive squad program once they've graduated from Junior Dolphins (also open to new members of all ages wishing to extend their swimming skills).
The Ian Thorpe Aquatic Centre has three pools.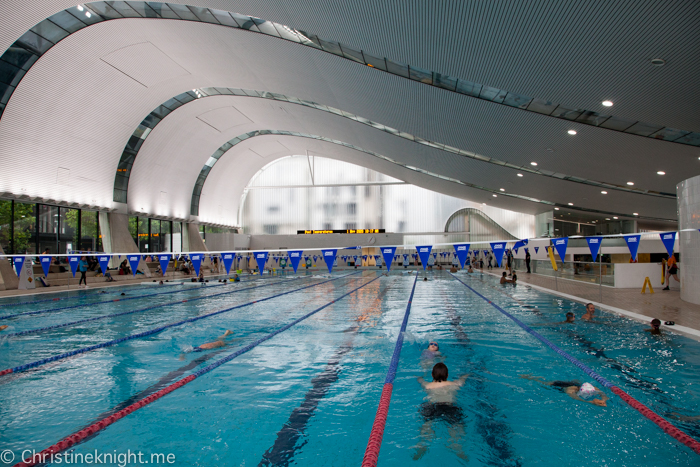 50m Olympic Swimming Pool
The Ian Thorpe Aquatic lap pool is an eight lane 50-metre pool with 'easy steps' for assisted entry and hoist. This indoor pool is heated all year round at approximately 26.5°C.
We highly enjoyed splashing around in the Recreational and Free Play Lane in the 50m pool, as well as doing some laps in the slow lane to help build up that swimming endurance again.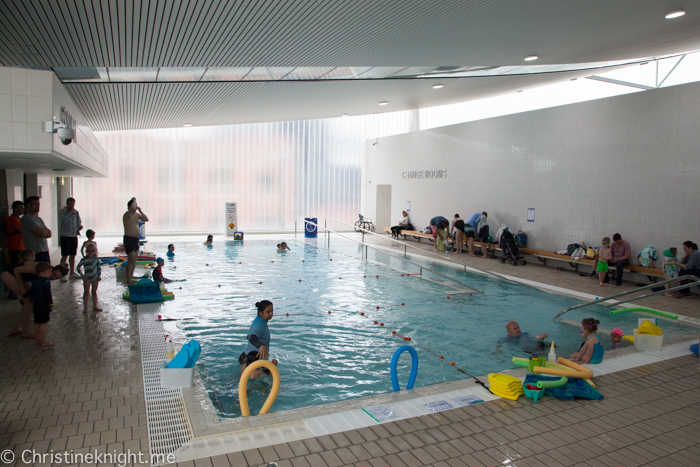 Program Pool
The program pool is used for the swimming and water safety program and gold aqua classes. The pool can be accessed by stairs or the access ramp and aqua wheelchairs are available for use. It is available at certain times for access by the general public and is heated to 32°C.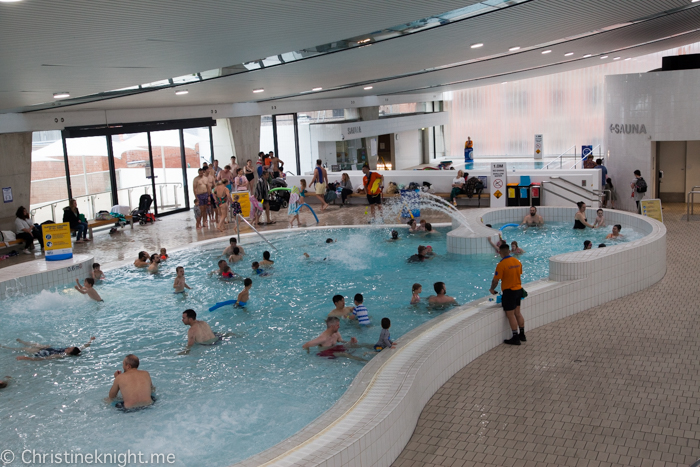 Leisure Swimming Pool
The leisure swimming pool is available for recreational swimming at all times and is equipped with a spa, water fountain and bubbles for fun and interactive play. It is a shallow pool suitable for all ages and is heated to approximately 30°C.
Spa, Sauna and Steam Room
The Ian Thorpe Aquatic and Fitness Centre has a sauna (dry heat), which is heated to between 70°C – 90°C. Steam room (wet heat) heated above 41°C with a humidity of around 100%. The sauna and steam room are open from 6:00am until 9:00pm. The spa, sauna and steam room were closed during our visit.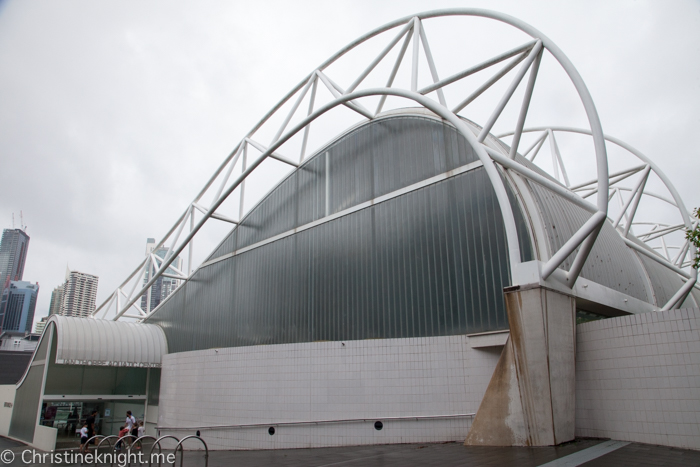 Parking is available in the underground carpark. There is lift access from the car park to the aquatic centre so on rainy days it's easy to go from car to the centre without getting wet as well as making access easy for strollers and wheelchairs.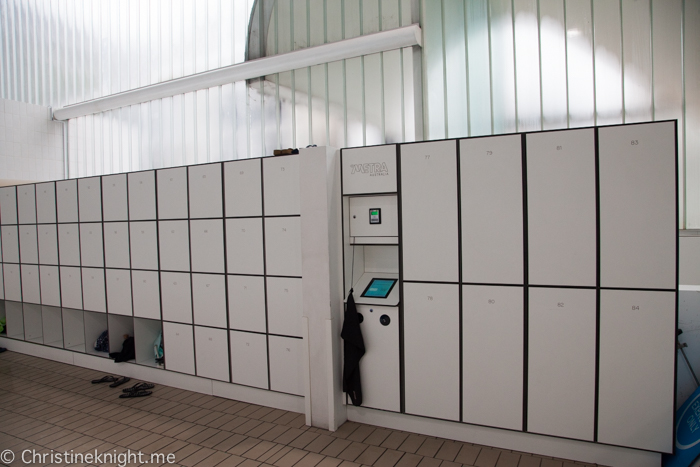 There are multiple changing rooms available as well as lockers to safely store belongings. Next to the 50m pool is a row of steps and benches that is great for sitting on while watching swimmers in the pool and for putting your towels and non-valuable items.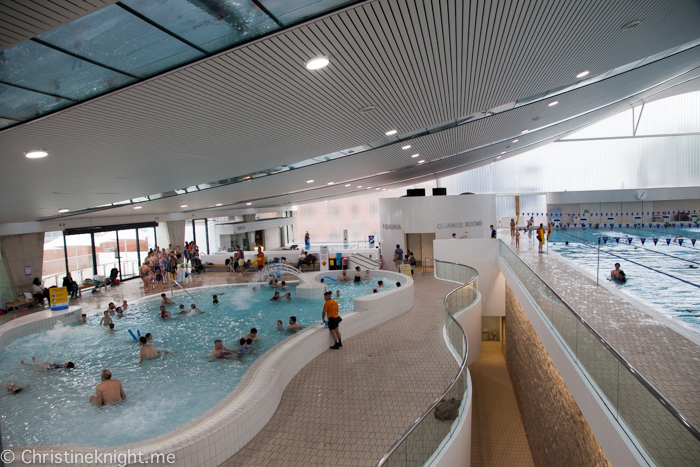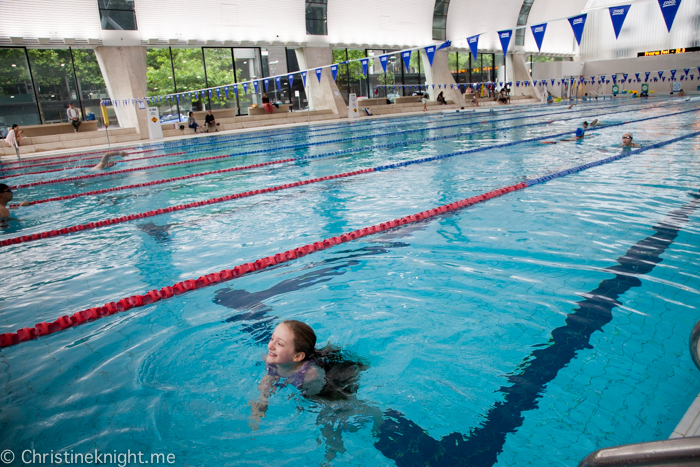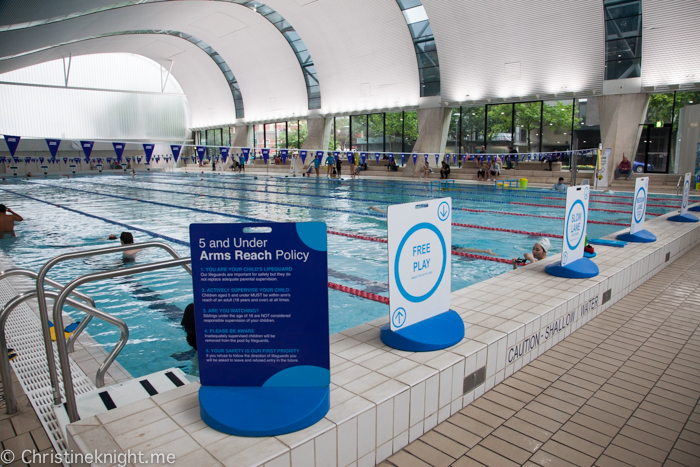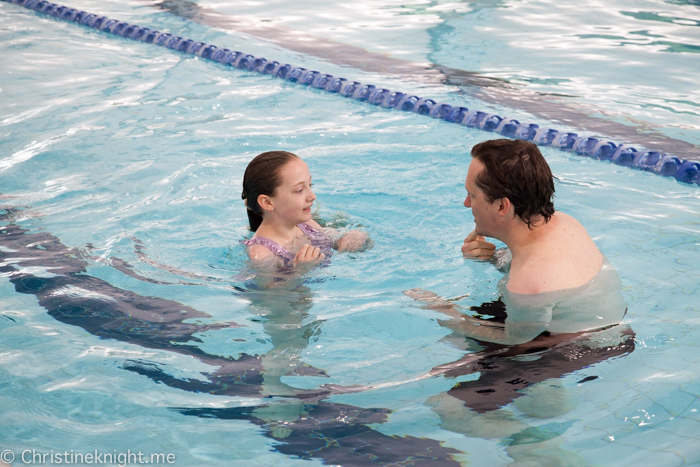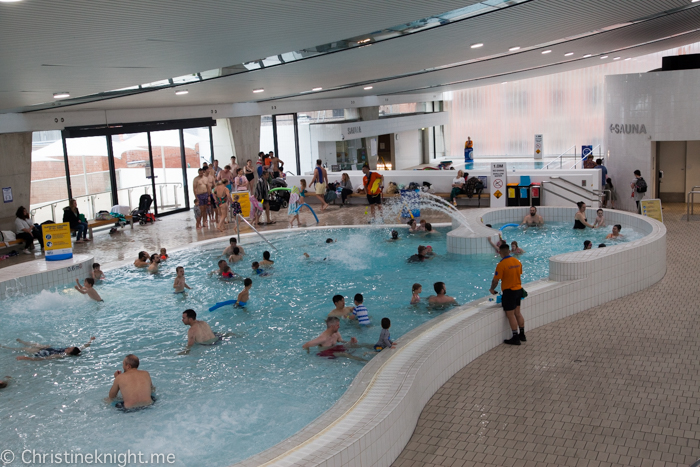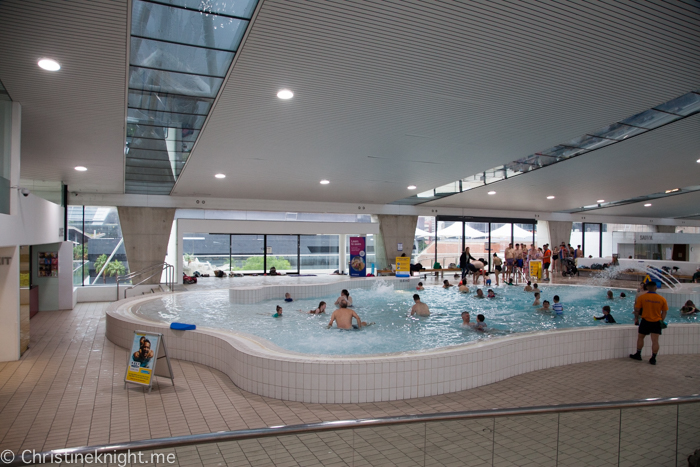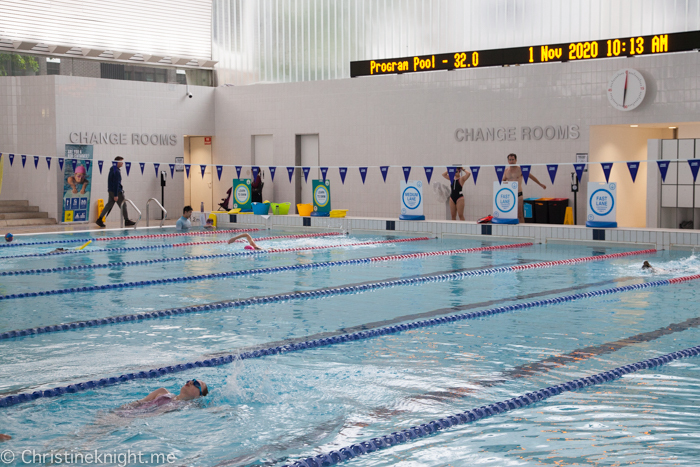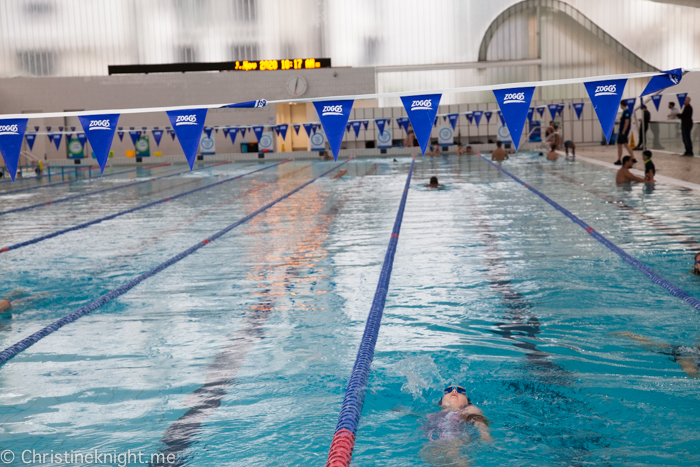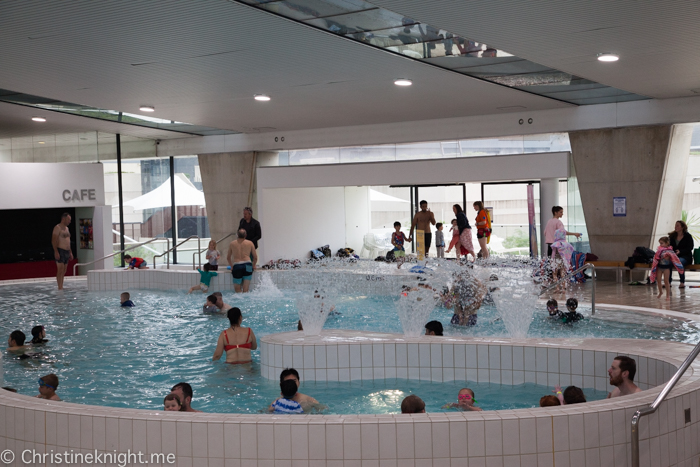 After your swim, check out nearby Powerhouse Museum or the Darling Harbour precinct.
The Powerhouse Museum is an interactive art and science museum located in Ultimo. The museum's collection encompasses science, technology, design and decorative arts, engineering, architecture, health and medicine, fashion and contemporary culture.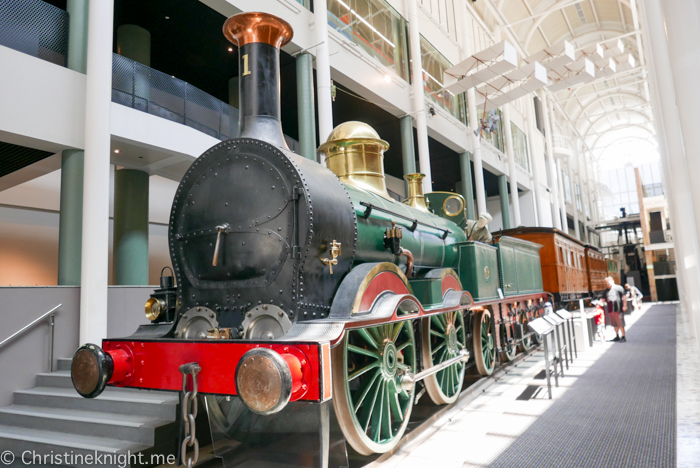 Locomotive No. 1, the first steam locomotive to haul a passenger train in New South Wales, is a popular drawcard just inside the museum's entrance, as is the ever-popular interactive Wiggles Exhibition. More on the Wiggles exhibition here. There is also a great hands-on science section that we love.
Nearby Darling Harbour is has so much to entertain families, from waterfront restaurants, wildlife and tall ships to one of the best playgrounds in Sydney.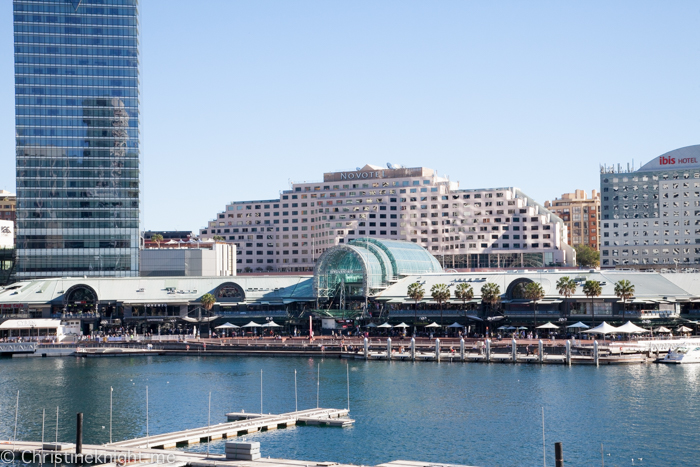 We often eat at Fratelli Fresh in the Darling Quarter and race home-made ships in the splash section of the playground, or enjoy a peaceful stroll around the Chinese Garden of Friendship.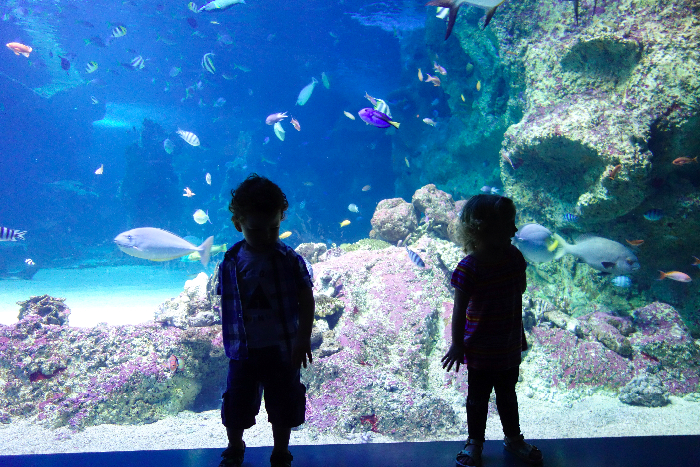 We also love visiting the giant rays at SEA LIFE Sydney Aquarium, the butterflies at WILD LIFE Sydney Zoo and the hands-on exhibitions at the Australian National Maritime Museum. You can read about all the things to in Darling Harbour here.
Ian Thorpe Aquatic Centre
458 Harris St, Ultimo
Hours: Mon-Fri 6am-8pm, Sat & Sun 7am-4pm
itac.org.au
More things to do in Sydney
Find a list of the best things to do in Sydney with kids.
Find things to do in Sydney for free.
Explore the best Sydney gardens and parks.
Get a list of the best kid-friendly beaches in Sydney.
Find the best animal experiences in Sydney.
Chase waterfalls in Sydney.
More things to do on the Central Coast.
Visit the best kid-friendly restaurants in Sydney.
Find the best high teas in Sydney.
Things to do in the Southern Highlands.
Head to one of the best museums in Sydney.
Check out things to do in Sydney on a rainy day.
Enjoy one of the best ocean pools in Sydney.
First time visiting Sydney? Get tips for first time visitors to Sydney.
Cool down at one of these free water parks in Sydney.
Find the best vegetarian and vegan restaurants in Sydney.
Get a list of the best playgrounds in Sydney.
Find the best ice cream and gelato in Sydney
Things to do in the Blue Mountains.
Plan amazing NSW road trips.
Pick your own fruit: fruit picking Sydney.
The best things to do in Western Sydney and Parramatta with kids.
Visit the most beautiful Sydney gardens.
Explore Sydney's best parks.
Find things to to in Wollongong.
This post was written in collaboration with Belgravia Leisure.