11 Fun Things To Do In Darling Harbour
Darling Harbour is a recreational precinct in Sydney where you'll find waterfront restaurants, wildlife, tall ships, one of the best playgrounds in Sydney and plenty more to entertain the kids in this one neighbourhood.
During school holidays there are usually plenty of free activities for kids in Darling Harbour. Check their calendar for upcoming events.
Image credit: Destination NSW
Australian National Maritime Museum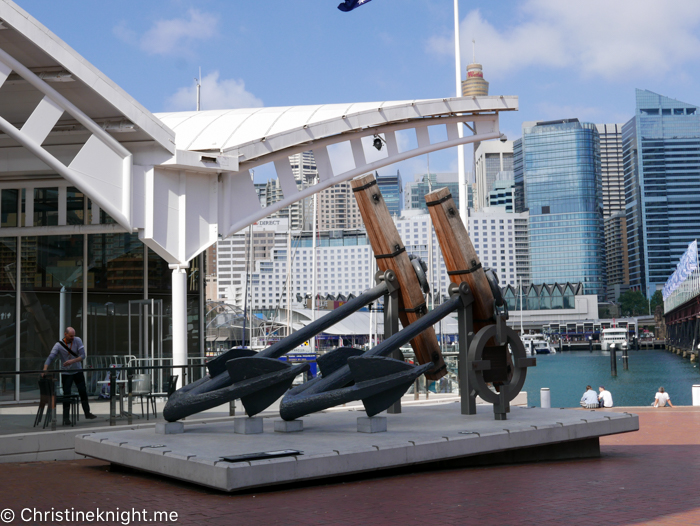 The Australian National Maritime Museum (ANMM) is Australia's national centre for maritime collections, exhibitions, research and archaeology. Grab a free ticket from the front desk for admission into the permanent indoor galleries and under 5s play area "Mini Mariners".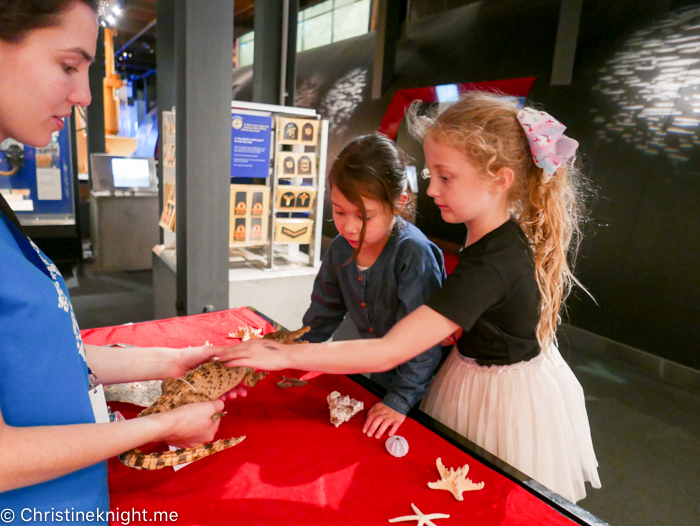 For entry into our fave spot, the "Kids on Deck" craft area, visiting exhibitions and the ships, a paid ticket is required. The ANMM runs lots of programs for kids all year round including live shows, "Mini Mariners" for kids aged 2-5 and the cabinet of curiosity that contains all kinds of wonders for kids to touch, like the tooth of a blue whale. Check their calendar for upcoming events and look out for when Bailey, the museum dog, is scheduled to make an appearance.
Yots Cafe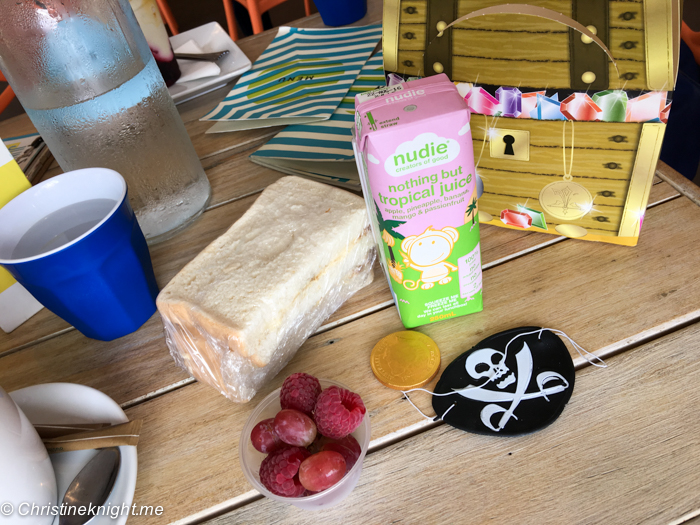 Located underneath the Maritime Museum, Yots is a fab waterfront dining spot for families with its casual atmosphere, a special kids' menu and colouring-in activities for kids. A giant Connect Four and building blocks also keeps them buys.
Read more about Yots Cafe here.
Sea Life Sydney Aquarium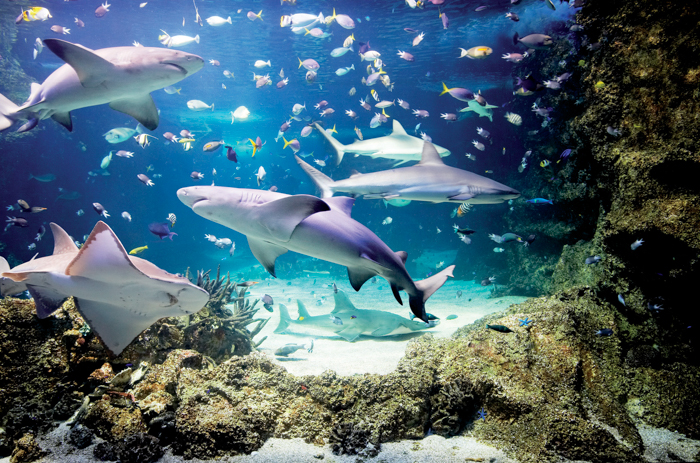 Get up close to a more than 700 species of Australian aquatic life in 12 themed zones at SEA LIFE Sydney Aquarium. An impressive 13,000 animals live in the aquarium in six million litres of water, including dugongs, rays, tropical reef fish and sharks. A popular exhibit is Penguin Expedition, allowing guests to sail past a colony of King and Gentoo Penguins on a boat ride. The SEA LIFE aquarium is top kids attraction in Sydney and can get busy on public holidays and school holidays.
Get more info on Penguin Expedition and on SEA LIFE Sydney Aquarium.
Image credit: Sydney Aquarium
Wild Life Sydney Zoo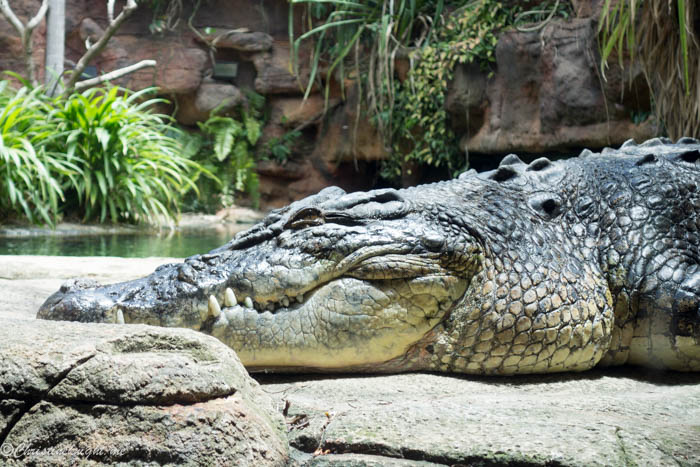 Meet iconic Australian animals at Wild Life Sydney Zoo. This small zoo is the perfect size to take young kids, and is easy to navigate with a wide, flat path, perfect for strollers. Get up close to the Cassowary, echidna, sugar gliders, koalas and kangaroos, plus a giant croc!
Get more info on Wild Life Sydney Zoo.
Madam Tussads Sydney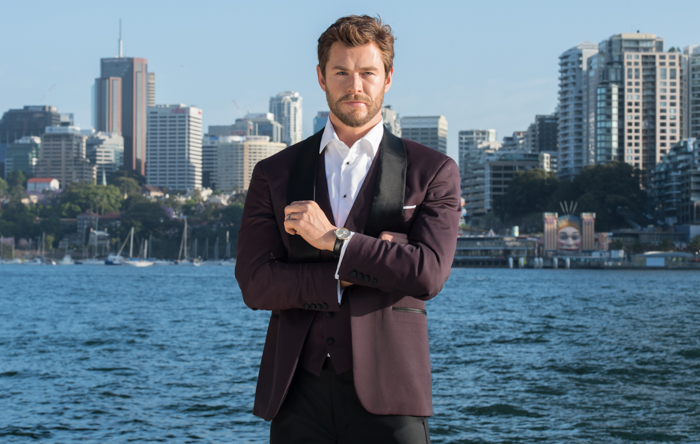 A wax museum where visitors can take a selfie with Barak Obama in the oval office, or shake it off with Taylor Swift. Aussie legends like Steve Irwin and Ned Kelly are also photo-ready.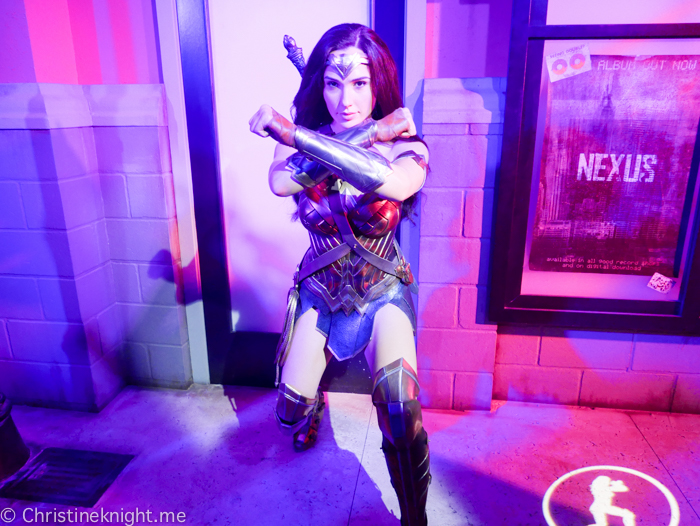 The Justice League exhibition is especially fun, an immersive and interactive experience to make you feel like you're in the movies with your favourite stars.
Get more info on visiting Madame Tussauds Sydney here.
Image courtesy of Madame Tussauds.
Chinese Garden of Friendship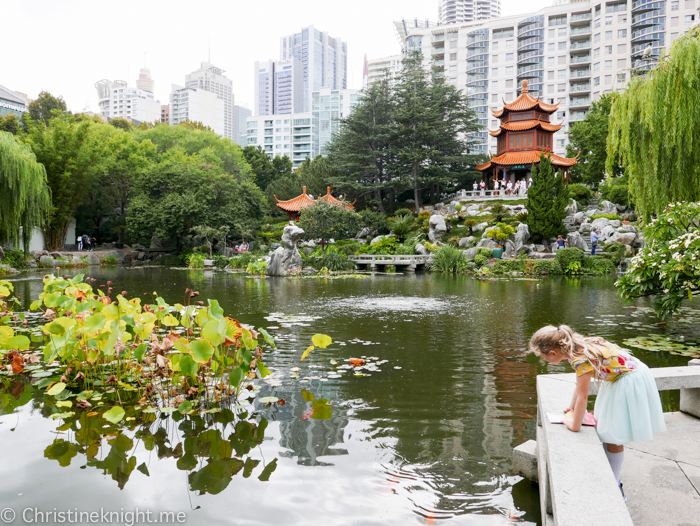 A calming place to let kids wander past waterfalls and exotic plants, through pavilions and up hidden pathways. Count the koi carp swimming in the lakes, try Chinese tea in the teahouse and dress up in traditional Chinese costumes* at the Chinese Garden of Friendship.
* For an additional fee
Get more tips on a day at the Chinese Garden of Friendship here.
Darling Quarter Playground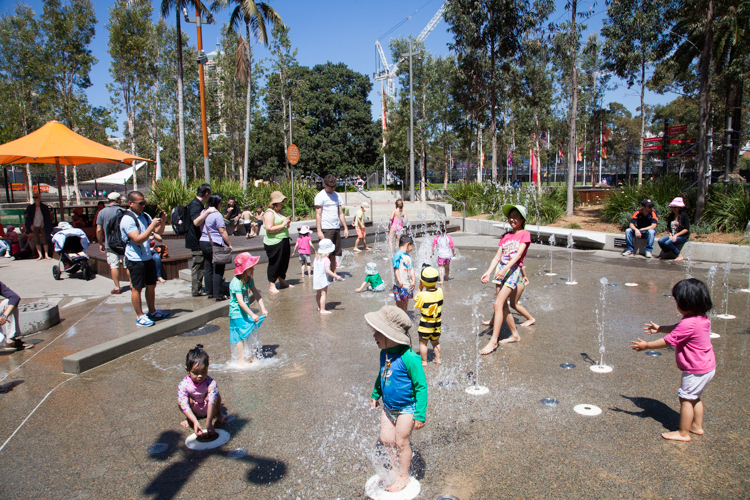 The most centrally-located Sydney playground features a 21-metre flying fox, water play area with pumps and buckets and plenty of slides, climbing structures and swings. It's a must for kids visiting the city.
Get more info on the Darling Quarter Playground.
Harbourside Shopping Centre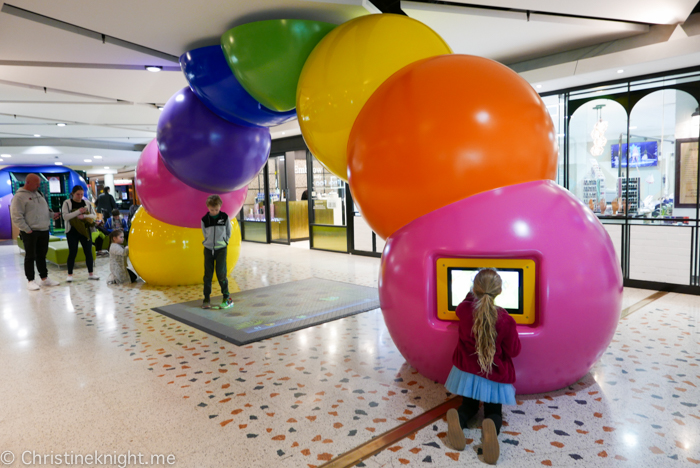 A large shopping centre in Darling Harbour, Harbourside has plenty of family-friendly restaurants as well as a food court and shops. Kids will adore Caterpillar Lane, a free area for kids to play.
Fratelli Fresh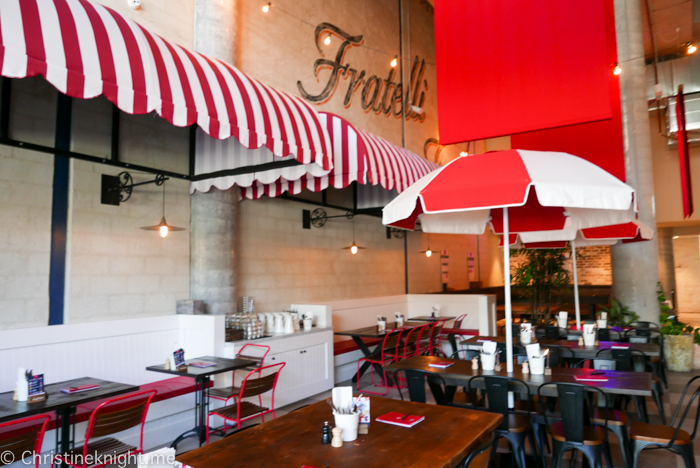 Our fave eatery in Darling Harbour! Fratelli Fresh is located underneath the new ICC and serves up plenty of Italian pizza and pasta faves in a family-friendly atmosphere.
Read more about Fratelli Fresh Darling Harbour here.
Dancing Brolgas, Cockle Bay Wharf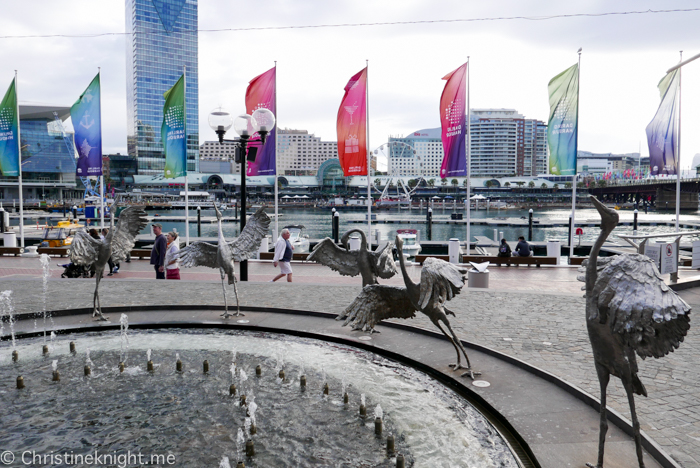 This iconic fountain encircled by the Dancing Brolgas is a favourite spot for children to play in Cockle Bay Wharf, while their parents sit nearby at one of any waterfront dining options. The sculpture is by Australian artist Terrance Plowright.
Darling Harbour Woodward Water Feature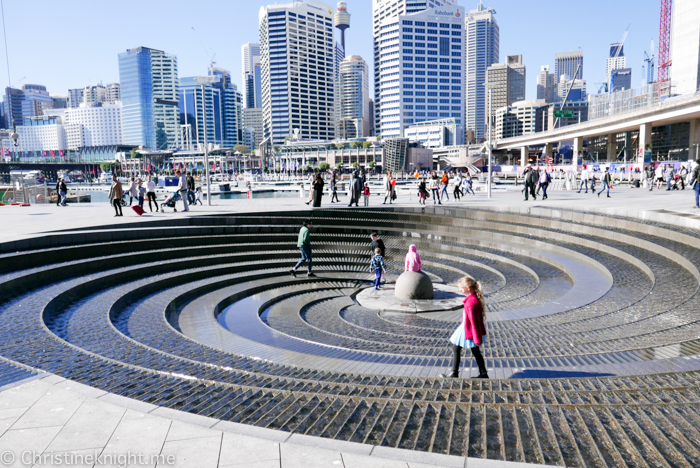 Any child who grew up in Sydney will remember running up and down this spiral water feature, which has been enthralling kids since its completion in 1988.
More things to do in Sydney
Find a list of the best things to do in Sydney with kids here.
Find things to do in Sydney for free here.
Get a list of the best kid-friendly beaches in Sydney.
Find the best animal experiences in Sydney here.
Visit the best kid-friendly restaurants in Sydney here.
Find the best high teas in Sydney here.
Head to one of the best museums in Sydney here.
Check out things to do in Sydney on a rainy day here.
Enjoy one of the best ocean pools in Sydney here.
First time visiting Sydney? Get tips for first time visitors to Sydney here.

Christine is the editor of Adventure, Baby!