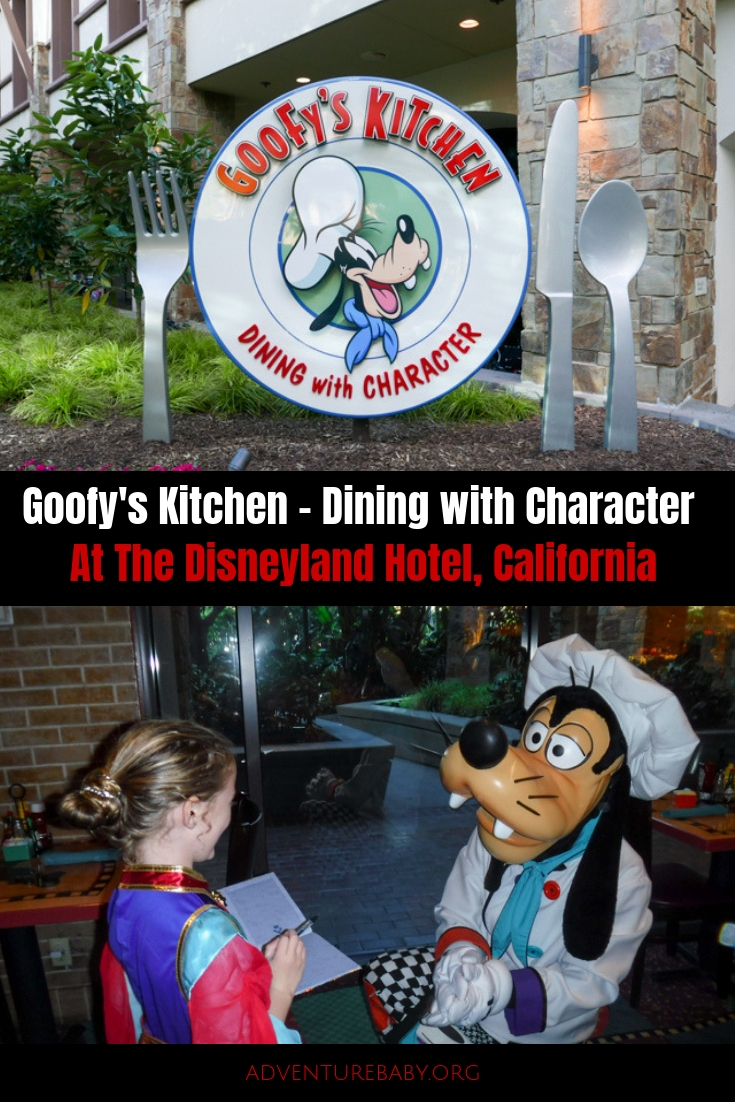 Enjoy dining with your fave Disney pals over breakfast or dinner at Goofy's Kitchen, inside the Disneyland Hotel.
You do not need to be a guest of the hotel or have a park ticket to attend the dining, which is open daily for breakfast from 7am-12pm and dinner 5pm-9pm.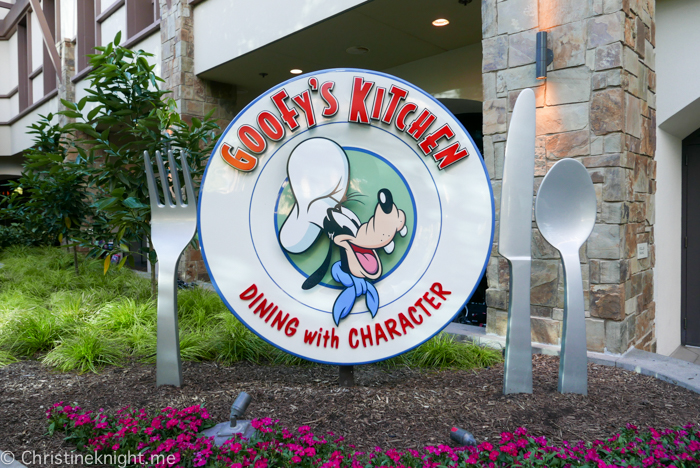 No matter which time you dine, you will enjoy a buffet with a huge variety of food. It was the most impressive array of food we had seen at any of the character dining experiences.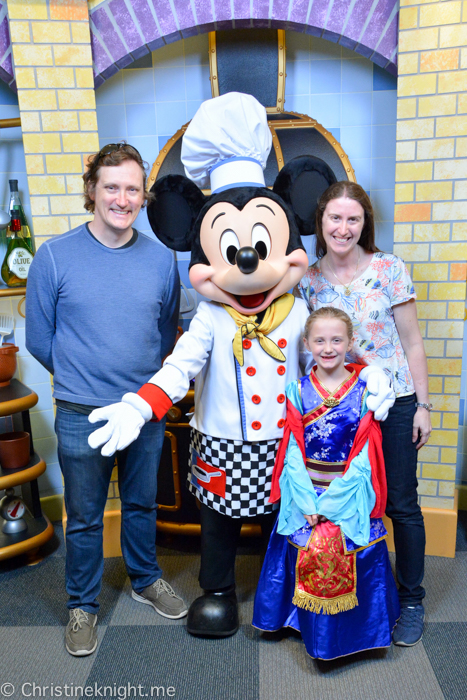 Start the experience with a photo at the entrance with Chef Mickey, then enjoy getting food at your leisure while characters drop by. Every half an hour or so the characters all march around the restaurant and diners twirl their napkins in the air.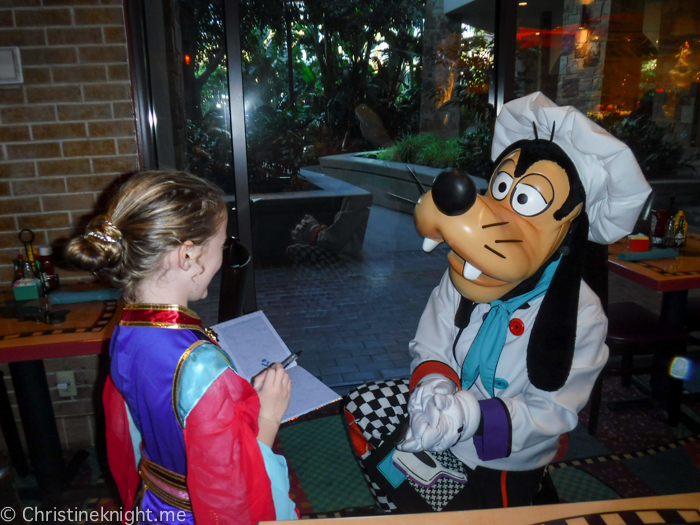 We found the characters to be excellent at Goofy's, with several of them dropping by on multiple occasions and sneaking up on us to make us laugh.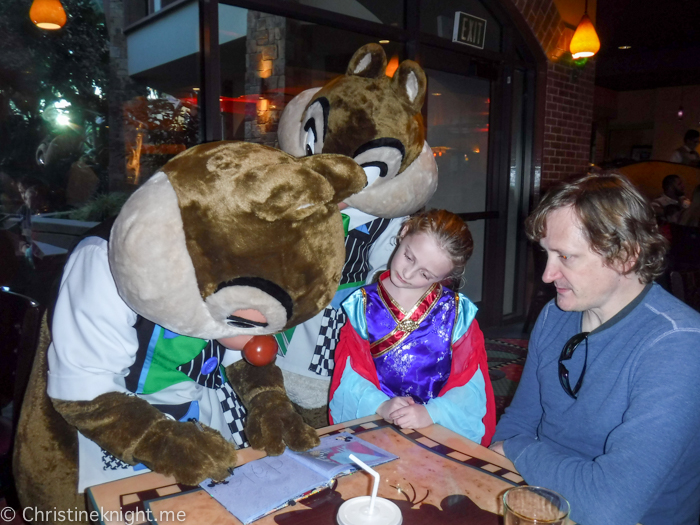 I also liked that you could meet Chip and Dale here at the same time.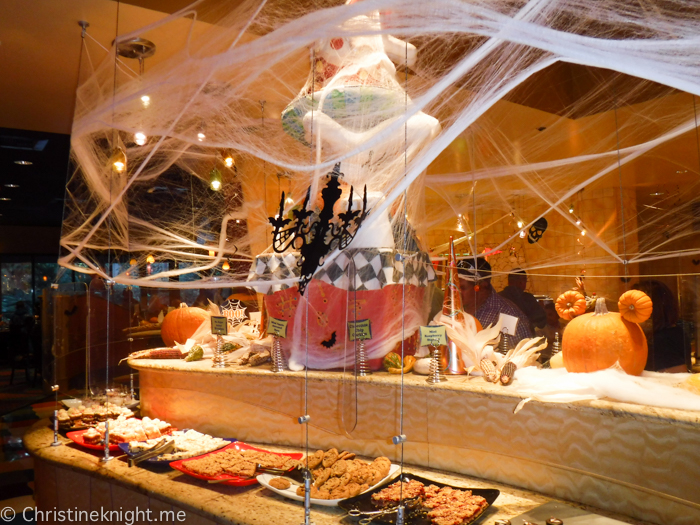 The buffet features five food stations. At breakfast the food includes choices such as made-to-order omelettes, cheese blintzes, Mickey Mouse waffles, pancakes, French toast, sausage, bacon, eggs Benedict, yoghurt, frittata, glazed ham, smoked salmon, pastries and fresh fruit, chicken nuggets, mac and cheese and fresh vegetables.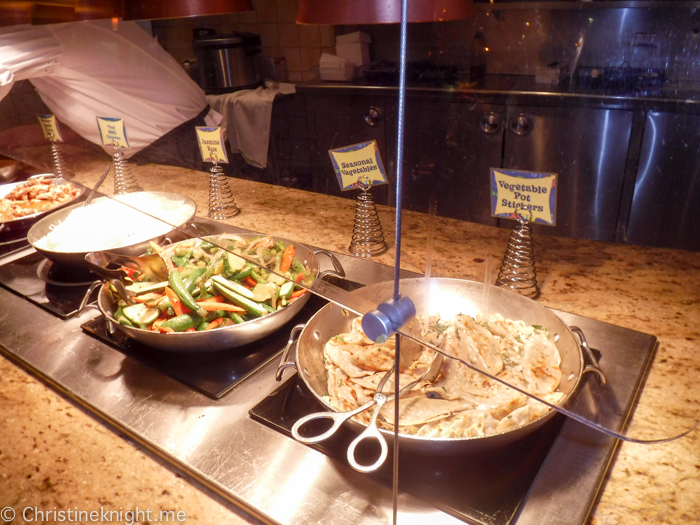 At dinner Goofy's Kitchen serves up a carving station, pasta, salads, veggies, fruit, pizza, rice, hot dogs, Goofyroni and cheese, and more hot and cold dishes.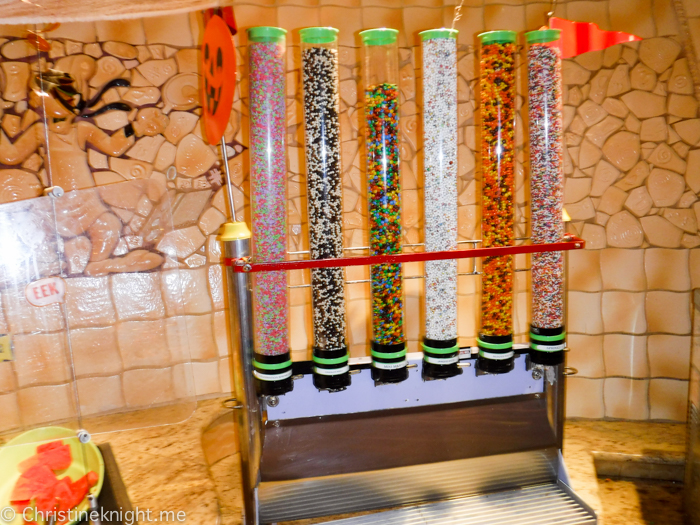 At both breakfast and dinner the dessert station is open, featuring cookies, cakes and a soft-serve frozen yogurt sundae bar, as well as Goofy's wacky pizza creations. Try Goofy's special peanut butter and jelly pizza if you dare!
Cocktails can be ordered for an additional fee.
Diners at this character experience can expect to meet five or six characters. We met Mickey, Minnie, Chip, Dale, Goofy and Pluto.
Breakfast costs $39 for adults and $23 for kids. Dinner costs $43 for adults and $25 for kids.
Reservations for "Goofy's Kitchen" are highly recommended and be may be made up to 60 days before your visit. A limited number of reservations may be available same-day, subject to availability.
Make your reservation online or call 0011 1 (714) 781-DINE or 0011 1 (714) 781-3463.
https://disneyparks.disney.go.com/au/disneyland/dining/goofys-kitchen/