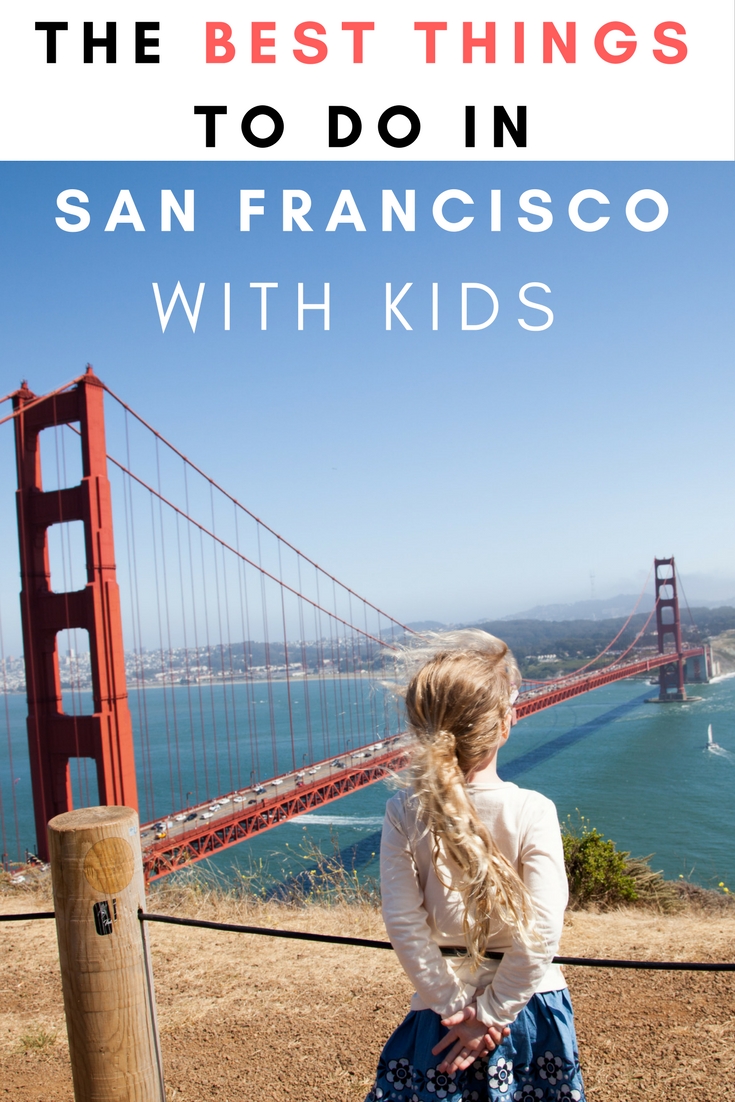 San Francisco is a town with many faces and a long, fascinating history. Originally a Spanish mission and pueblo, it joined the United States in 1846, and became a thriving city with the Gold Rush in 1848. San Francisco is known for its diversity and tolerance. While it's no longer the hippy city famous for the 1967 "Summer of Love", it's still a place where activism is part of the culture, particularly gay and women's rights. Walking the streets of San Francisco is a stroll back through time to historic moments in history that gained media attention worldwide.
Today, San Francisco is also a hotbed for the tech industry, so it's not surprising that the city boasts numerous science and cultural centres both in the city and outlying suburbs. When visiting San Francisco with kids, you'll be spoiled for choice with activities everyone will enjoy. From incredible museums and kid-friendly galleries to lush parks and innovative playgrounds, San Francisco is a city that welcomes families with open arms.
The Best Things To Do In San Francisco With Kids
Things to see and do in San Francisco
Downtown San Francisco

The heart of San Francisco, Downtown/Union Square is the busiest part of town. Filled with restaurants, shops and hotels the constant stream of people in the area makes downtown an assault on the senses (and the wallet!).
Union Square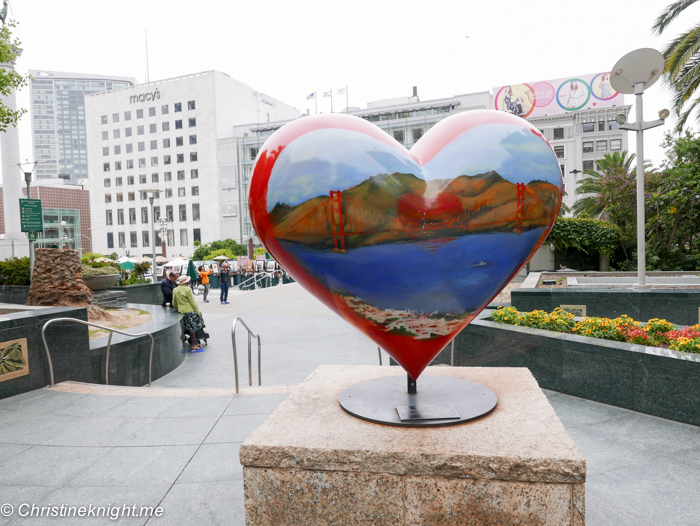 A busy plaza that was set aside for public use by the city's first mayor in 1849, Union Square is in the heart of the shopping district of San Francisco. We love the public art and kids adore the Disney Store (39 Stockton St, San Francisco) where upstairs they can watch Disney videos and colour in and the Lego Store (Westfield San Francisco Centre, 865 Market St C41, San Francisco) which has various Lego stations set up for free play.
Geary, Powell, Post and Stockton Streets
San Francisco Museum of Modern Art (SFMOMA)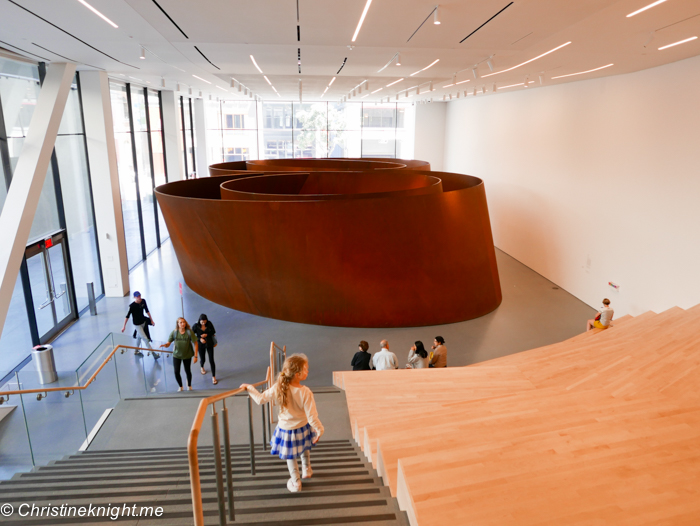 Give kids an early education in modern art at SFMOMA. Head to level five to explore the Oculus bridge, sculpture garden, kid-friendly cafe and eye-popping Pop Art. Our fave was
Richard Serra's Sequence sculpture on Floor 1 in the Atrium, which is kind of like a labyrinth. Best of all it's free to enter off the street and explore. Kids under 18 are free to enter the SFMOMA.
San Francisco Museum of Modern Art (SFMOMA)
151 3rd St, San Francisco
sfmoma.org
Yerba Buena Gardens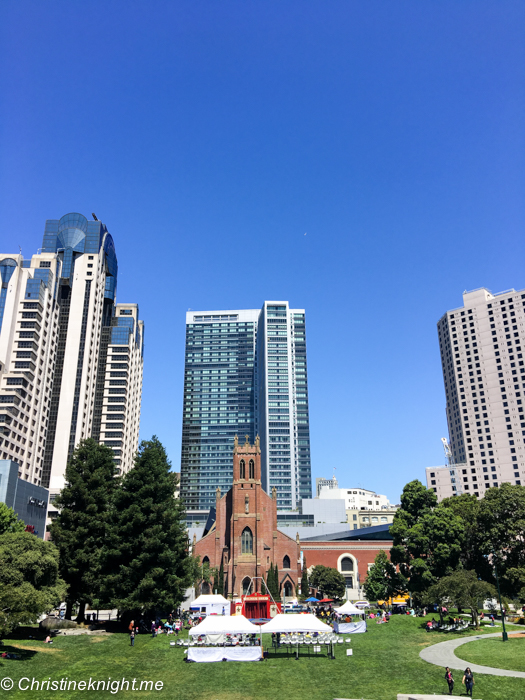 An oasis in the heart of busy downtown San Francisco, Yerba Buena Gardens is a place to find culture and green space. Galleries, museums and cafes frame landscaped lawns with a stunning waterfall at the back, a tribute to Dr. Martin Luther King Jr. During the warmer months, free performances are held in the park.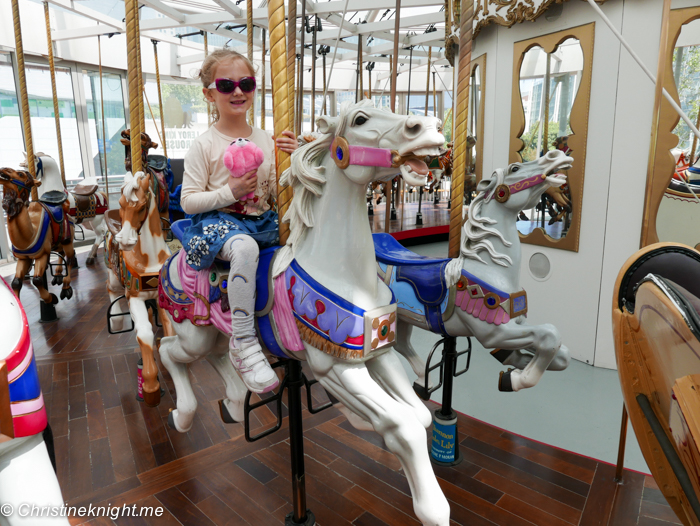 Also housed in the park are the Children's Garden, play circle and Children's Creativity Museum, an ice skating rink, bowling and the historic Leroy King Carousel, built in 1906.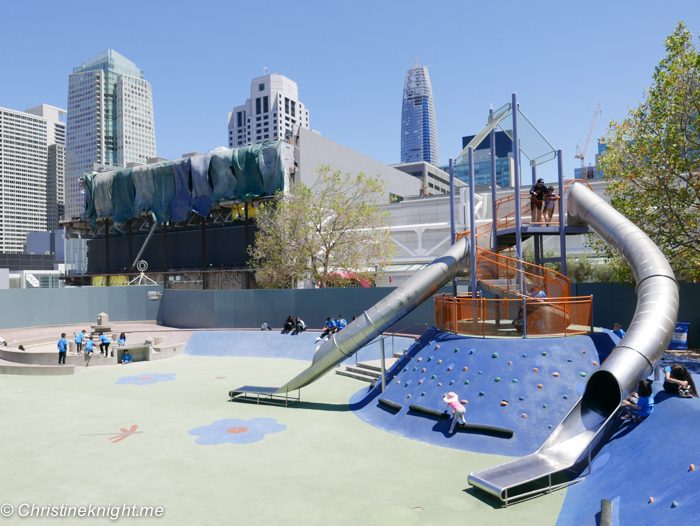 The Children's Garden, located on the top of the Moscone Center, features a sand play area, water play, several climbing structures and slides.

Yerba Buena Gardens
750 Howard St, San Francisco
yerbabuenagardens.com
Children's Creativity Museum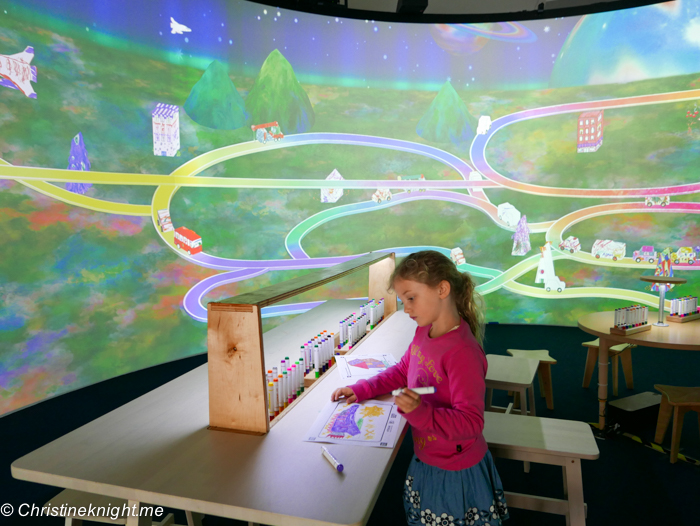 Children's Creativity Museum is a hands-on, multimedia arts and technology museum for kids of all ages. Little kids will enjoy the lower level, filled with hands-on activities that including building, shaping and dressing up. Older kids will enjoy the singing studio, animation studio, tech lab where they can program robots, and the innovation lab that encourages curious minds to solve problems. It's impossible to leave the museum without taking a ride on the Leroy King Carousel outside.
Read more about our experience here.
Children's Creativity Museum
221 Fourth St. San Francisco, CA
creativity.org
Lombard Street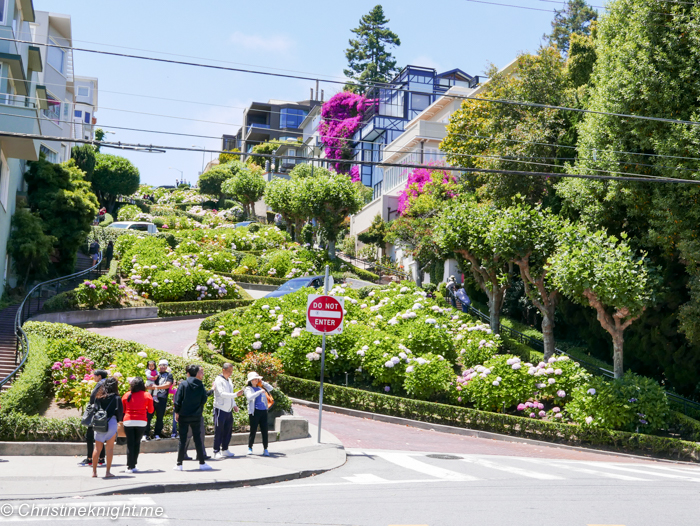 This topsy-turvey street is like something out of a Dr Seuss book. Lombard Street is famous for a steep, one-block section with eight hairpin turns past beautiful Victorian mansions. Be warned, kids will want to bolt down at high speed.

Lombard Street, San Francisco
sftodo.com
The Painted Ladies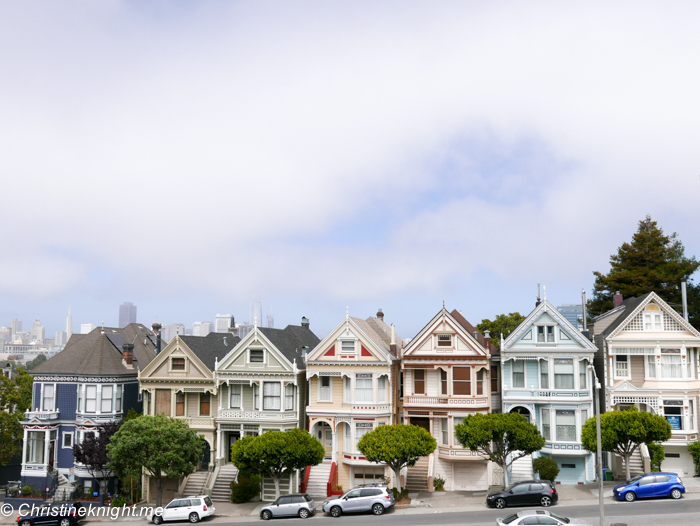 This postcard-perfect row of houses is located on Steiner Street, across from Alamo Square park. While this particular row of houses is known as the "Painted Ladies", the term actually refers to any set of Victorian or Edwardian houses that use three or more colours to show off the detailing of their architectural design. Over 48,000 houses were built in this stye between 1849 and 1915, with the famous seven constructed between 1892 and 1896.

Alamo Square, across the street from the Painted Ladies is prime viewing position as well as the perfect location for a picnic. It also has a gated playground that will occupy kids.
Painted Ladies
710 to 720 Steiner St, San Francisco
Fisherman's Wharf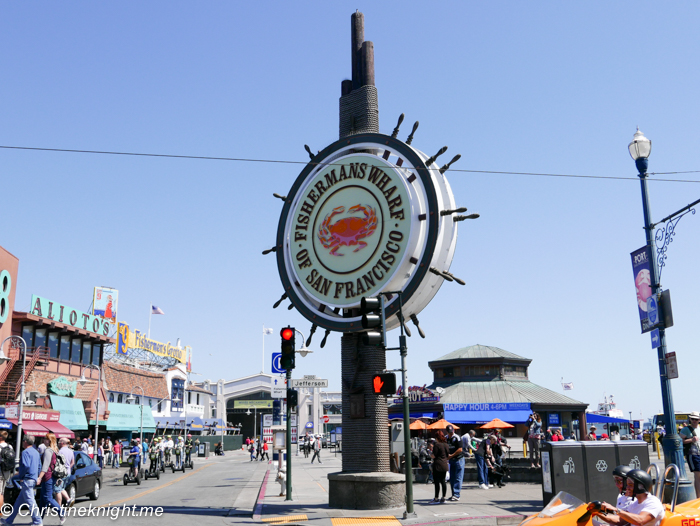 This is considered the "touristy" part of town, but I think it's worth a visit as it's right next to the aquarium and has a few fun things for kids to see.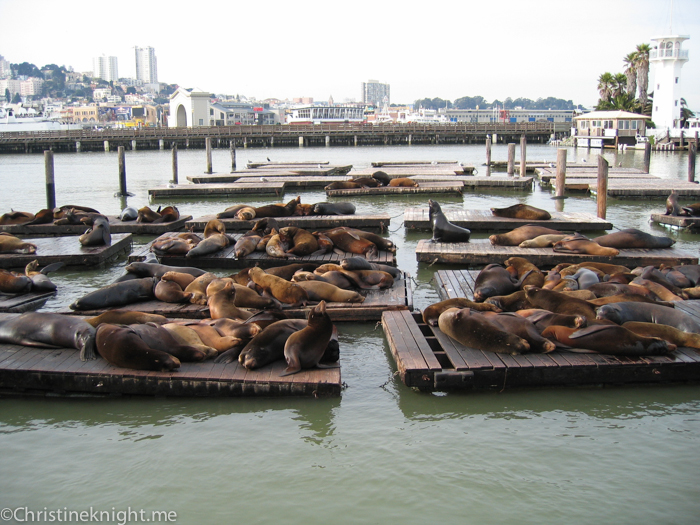 Visit the California sea lions at Pier 39, where several hundred sea lions like to doze in the sun (be warned, they smell and are very loud!).
Eat at Boudin's Bakery, home of the most delicious sourdough bread. This is their flagship location.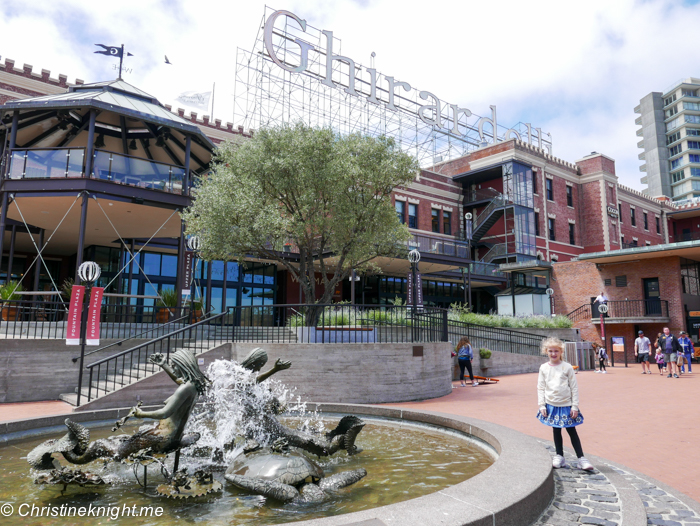 Dine and shop at Ghirardelli Square. Formerly headquarters of the Ghirardelli Chocolate Company, the factory was placed on the National Register of Historic Places in 1982 and is now a retail and restaurant complex. On the lower floors of the Clock Tower you'll find the Ghirardelli chocolate shop.
Fisherman's Wharf
fishermanswharf.org
Aquarium of the Bay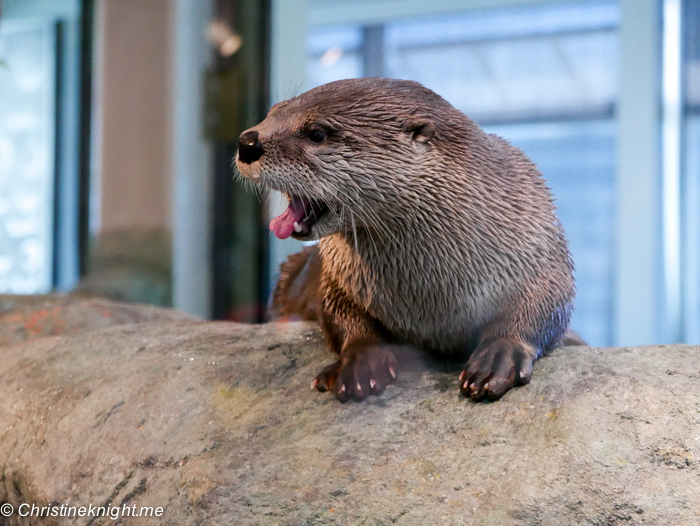 This little aquarium has over 20,000 marine animals to visit. With a focus on conservation, kids will learn a lot about taking care of our water and the animals within, while getting up close to exotic and local aquatic life. Highlights include 300 feet of crystal clear tunnels with marine animals from San Francisco Bay and nearby waters and Touch the Bay, featuring touch pools with sharks, rays and sea stars. Our fave exhibit was the feisty river otters. It's a small aquarium and we were in and out in under an hour.
Aquarium of the Bay
2 Beach St, San Francisco, CA
aquariumofthebay.org
Alcatraz Island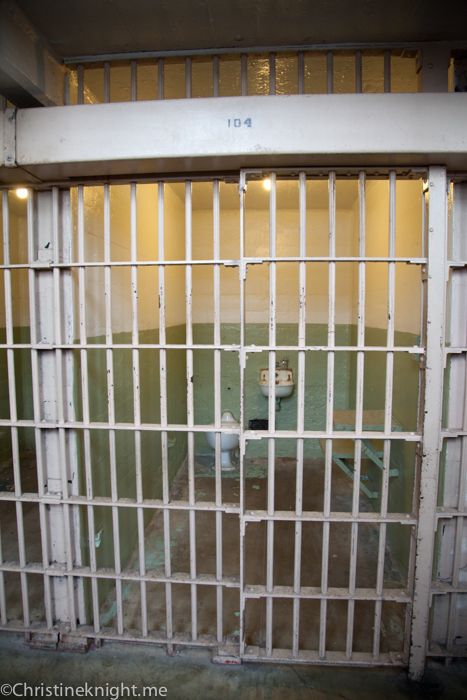 A very popular day trip, Alcatraz Island is located 1.5 miles offshore from San Francisco. A visit to Alcatraz offers a close-up look at the site of the first lighthouse and US built fort on the West Coast as well as the infamous federal jail.
As well as being steeped in history, the Rock is also home to tide pools, bird colonies and stunning views of San Francisco Bay. Wear very comfortable shoes, bring a light jacket no matter how warm the day begins, and be sure to book your tickets well in advance.
Buy tickets for the cruise across to Alcatraz online.
Ferries depart from Alcatraz Landing at Pier 33.
Alcatraz Island
nps.gov/alca
Embarcadero

The Embarcadero is the eastern waterfront of San Francisco.

Cupid's Span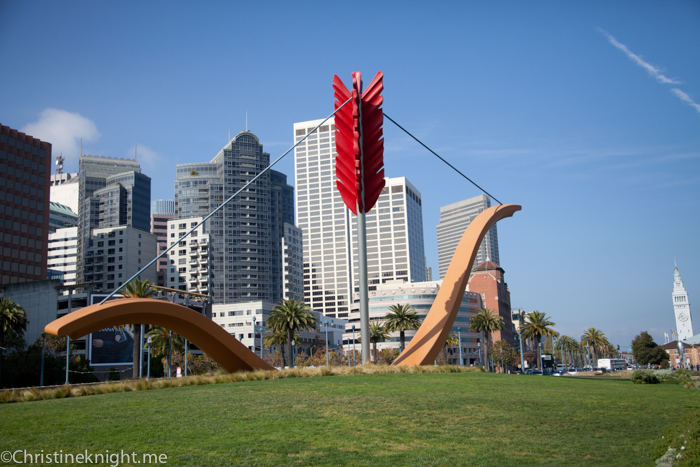 Kids absolutely love this sculpture by artist Coosje van Bruggen on the Embarcadero along San Francisco Bay. The art work was inspired by San Francisco's reputation as the home port of Eros.
Find out more about San Francisco street art here.
The Exploratorium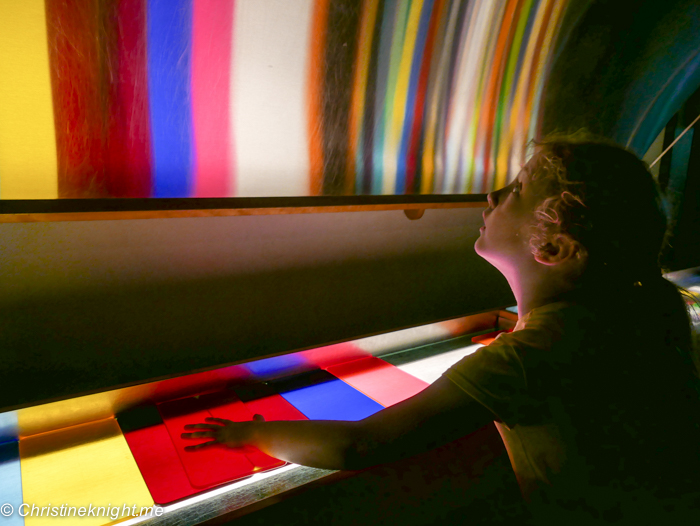 More than a museum, the Exploratorium is a hands-on laboratory designed to help visitors learn about the world through science, art, and human experience. A heavy focus on science will engage curious minds for hours. The Exploratorium is divided into six main galleries, with each one focused on a different area of exploration. Our favourite exhibits included a hurricane maker, spiral drawing creation and light play. Be prepared to spend the whole day tinkering, exploring and learning about how the world works.
The Exploratorium
Pier 15, The Embarcadero & Green St., San Francisco
exploratorium.edu
Golden Gate Park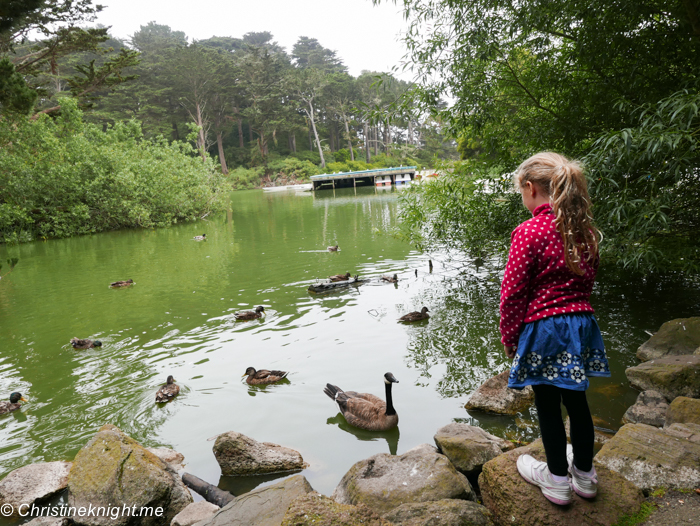 You could easily spend a week just exploring everything Golden Gate Park has to offer. This 1,017 acre urban park is open to the public for free (however there is an entrance cost for some of the attractions). Be sure to check out the American bison who have happily lived in the park since the 1890s.
Other attractions of note include Golden Gate Park Aquarium, Strawberry Hill (where you'll find a waterfall and gorgeous views), Koret Children's Quarter with its new and improved playground, Japanese Tea Garden, Carousel, windmill and tulips and the California Academy of Science.
Golden Gate Park
goldengatepark.com
Japanese Tea Garden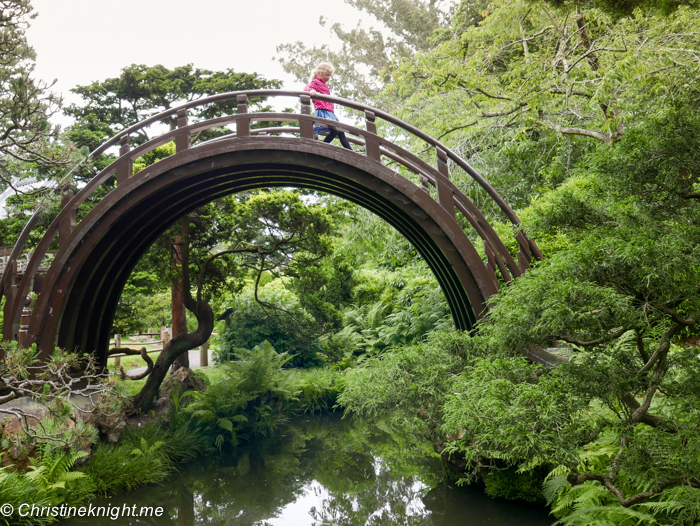 The oldest public Japanese garden in the United States is a fun place to explore. Kids can discover giant koi carp in ponds, climb the steep drum bridge and search for serenity at the zen garden.
Japanese Tea Garden
75 Hagiwara Tea Garden Dr, San Francisco
japaneseteagardensf.com
Koret Children's Quarter Playground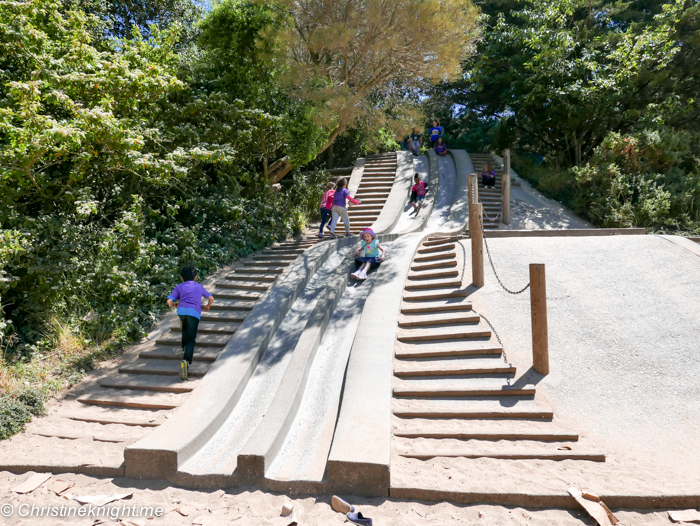 In the southeast corner of Golden Gate Park you'll find a fantastic playground filled with climbing structures for all ages, a sand pit, slide and sea-themed structures for bringing imaginations to life. The playground opened in 1888 as the Sharon Quarters for Children, and is thought to have been the nation's first public playground. It was a groundbreaking idea for the time, to have an area dedicated to children's play.
The playground was renovated and reopened in 2007 as the Koret Children's Quarter with new features including the climbing wall shaped like waves and a rope climbing structure. The historic concrete slide remains as a remnant of the original playground.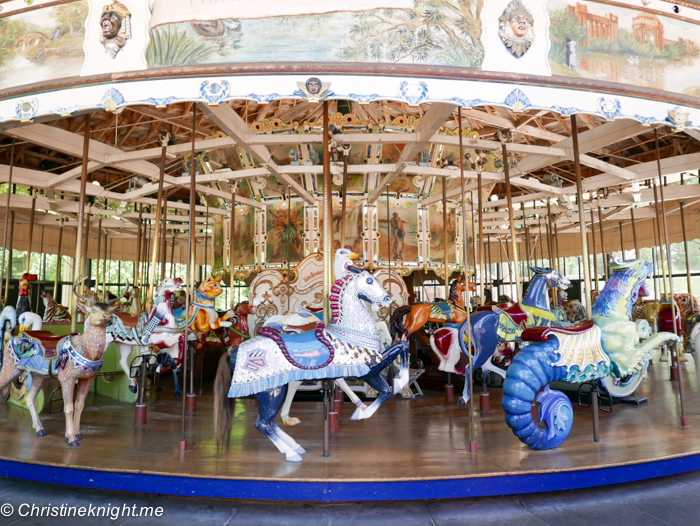 Also located in the Koret Children's Quarter is the Herschell-Spillman Carousel, the last of three carousels to be housed near this location. It was built in 1914 and, after operating at amusement parks in Los Angeles and Portland, Oregon, was installed in Golden Gate park in 1940. The carousel features 62 colourful animals including a camel, dragon, cat, ostrich, horses, dogs and roosters.
Koret Children's Quarter Playground
Martin Luther King, Jr and Bowling Green Dr, San Francisco
de Young Fine Arts Museum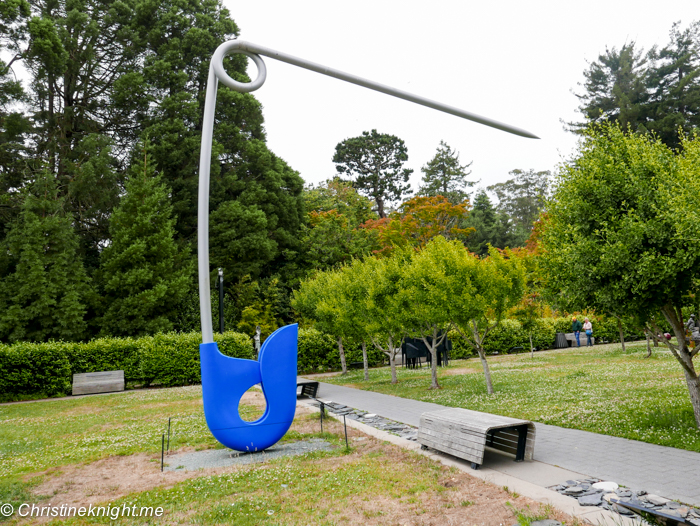 Kids will love running around the sculpture garden which is free for the public to enter and the extremely kid-friendly cafe. The museum, located in Golden Gate Park, also offers families hands-on art making activities designed by the Museums' artist-in-residence.
de Young Fine Arts Museum
50 Hagiwara Tea Garden Dr, San Francisco
https://deyoung.famsf.org
California Academy of Sciences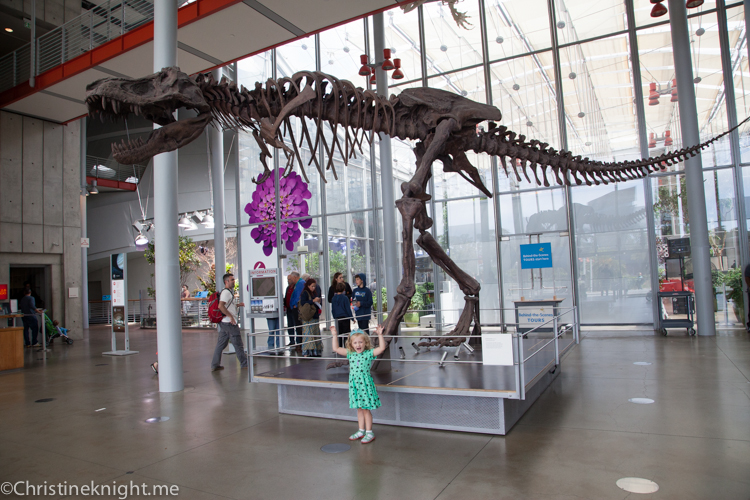 The California Academy of Sciences is a natural history museum in that is among the largest museums of natural history in the world, housing over 26 million specimens – 40,000 of them live. Inside the one building is an aquarium, planetarium, natural history museum and rainforest – all under one living roof (literally – the roof is alive!).
The Academy has plenty of hands-on exhibits and activities for kids to explore. Our favourites were the Shake House section of the Earthquake exhibit where kids can experience what it would feel like to be on top of an earthquake, the aquarium with its immersive glass tunnels, the dinosaur in the foyer, and the rainforest with live butterflies and birds.
Read more about our experience here.
California Academy of Sciences
55 Music Concourse Dr, San Francisco
calacademy.org
The Mission

The centre of Latin culture in San Francisco, the Mission is an eclectic and hip neighbourhood in San Francisco. Mission Dolores, the oldest original intact mission in California and the oldest standing building in San Francisco, is located in the northwest of the area.

Street Art

The Mission District is full of vibrant murals, particularly between 17th St. and 18th St., and Mission St. and Valencia St. Our fave was on the Women's Building, a women-led non-profit arts and education community center at 18th Street.
Paxton Gate Curiosities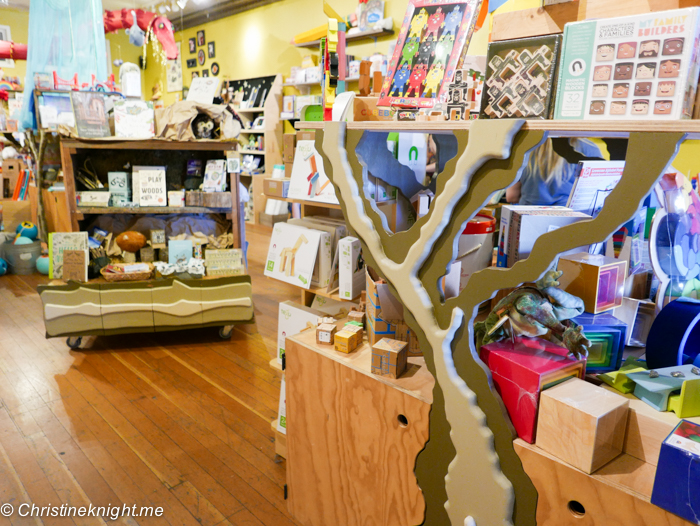 A whimsical store where you'll find a wide range of creative, educational and interactive toys, games and projects for children.
Paxton Gate Curiosities
766 Valencia St, San Francisco
paxtongate.com/curiosities
Bi-Rite Creamery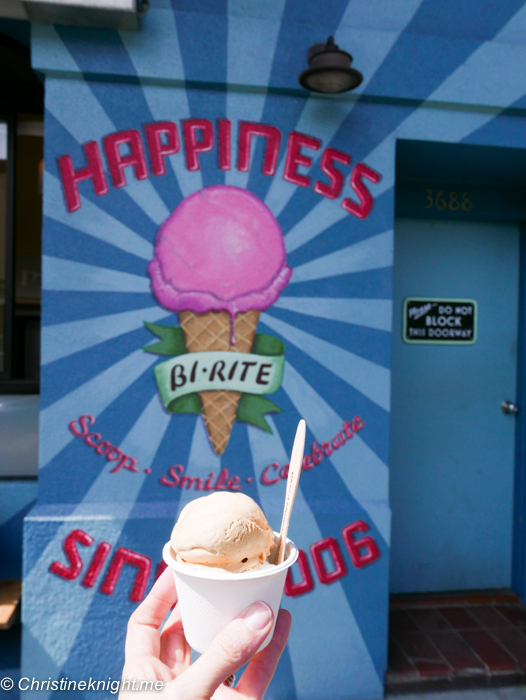 Delicious ice cream, hand-made in small batches in flavours such as the extremely popular salted caramel. Take your ice cream to go and eat it on the benches outside (there is an additional "eat in" tax if you stay inside!).
Bi-Rite Creamery
3692 18th St, San Francisco
biritecreamery.com
Tartine Bakery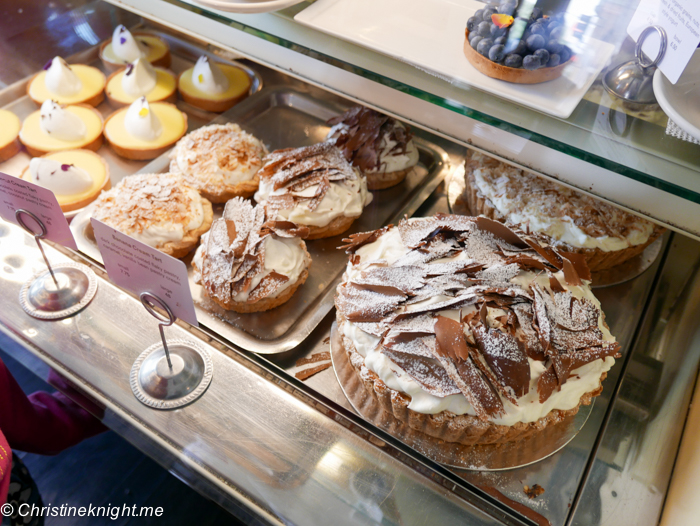 A bakery famous for their pastries and cakes. There is often a long wait to buy treats, but on the day we went there was no queue at all.
Tartine Bakery
600 Guerrero St, San Francisco
tartinebakery.com
Mission Delores Park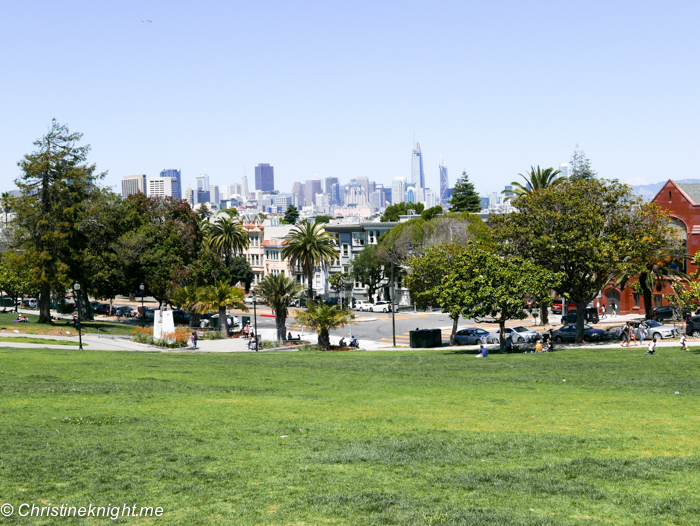 This lush, 16-acre green park lies in the vibrant Mission District. Located two blocks south of Mission Dolores at the western edge of the Mission District. You'll find sprawling lawns, shady trees, a soccer field, six tennis courts, one basketball court, a multi-use court, a playground, and two off-leash dog play areas.
Helen Diller Playground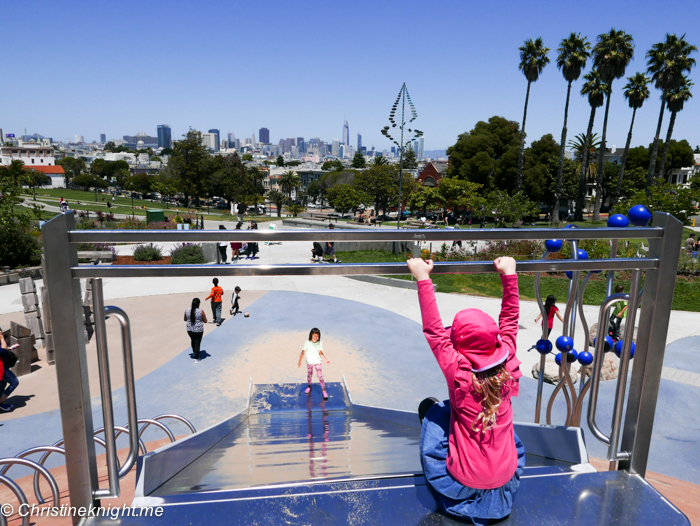 The newly renovated Helen Diller Playground inside Mission Delores Park contains seperate play areas for preschoolers (kids aged 2-5) and school ages (kids aged 5-12), plus a sand garden, wooden climbing structure, shipwrecked boat, nets and stones for climbing and swings, plus a 45-foot long super slide. The park has bathrooms and water drinking fountains.
Mission Delores Park
Dolores St & 19th St, San Francisco
Coastal Trail to Sutra Baths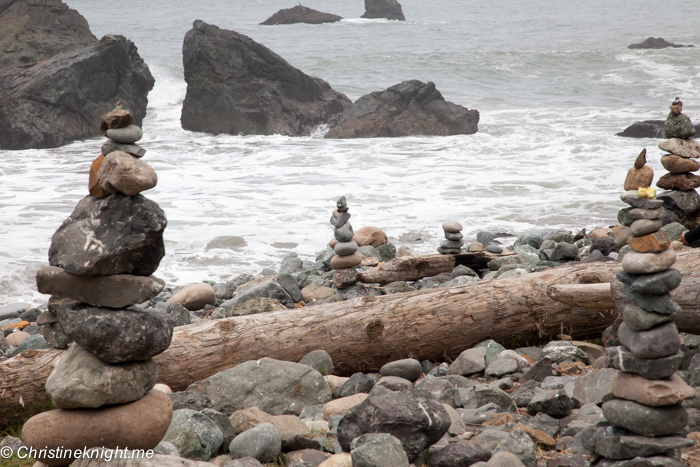 We started the trail at Lands End, behind the Legion of Honor Museum. The trail goes along the headland to Mile Rock Beach, Lands End Viewpoint and Labyrinth, to Sutro Baths.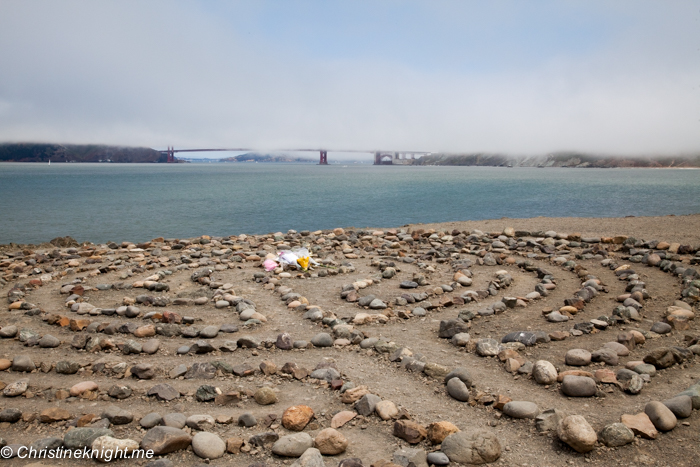 Part of a much longer trail, we found this section to be easy to do with a child in tow at about 2km in length in one direction, not including the detours to each look out, and included plenty for her to enjoy.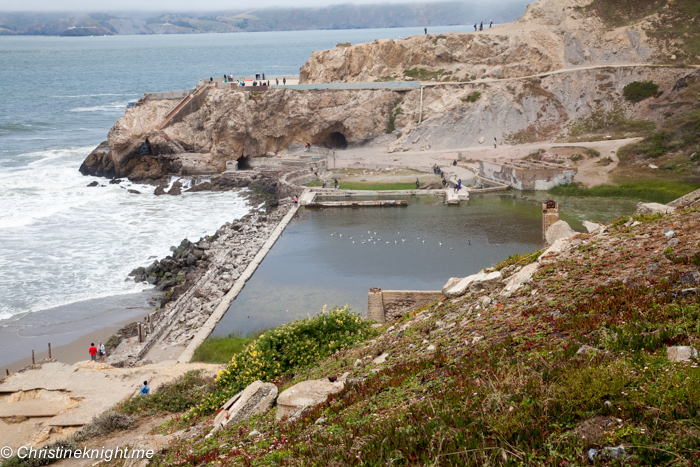 Take plenty of water for the trail, and enjoy a late lunch at the end of the trail at either the historic (and slightly pricier) Cliff House or Louis' Cafe (a traditional American Diner).
Legion of Honor
100 34th Ave, San Francisco
legionofhonor.famsf.org
Sutro Baths
1004 Point Lobos Ave, San Francisco
nps.gov
Marina District
Palace of Fine Arts
While the Palace of Fine Arts is actually home to art exhibitions, visitors also go to enjoy the beautiful structure (originally built in 1915), walkways and lagoon. The palace is iconic in San Francisco, and is a popular destination for family and wedding photos. Kids will particularly enjoy spotting the swans who live in the lagoons. Bonus: it's free to walk around the grounds.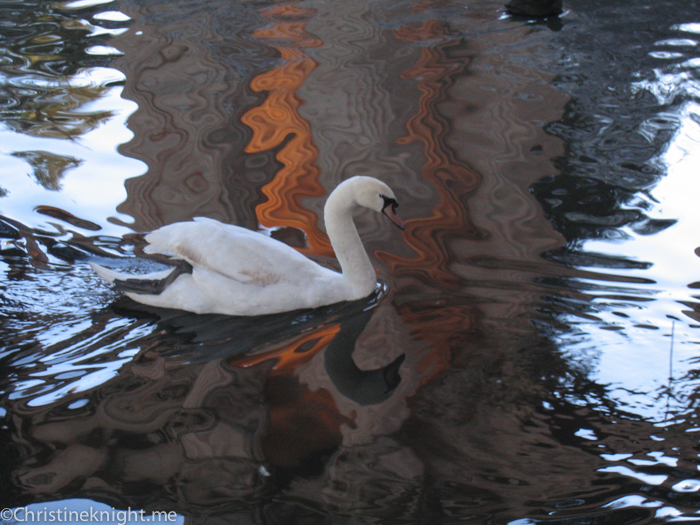 Palace of Fine Arts
3301 Lyon St, San Francisco, CA
palaceoffinearts.org

San Francisco Beaches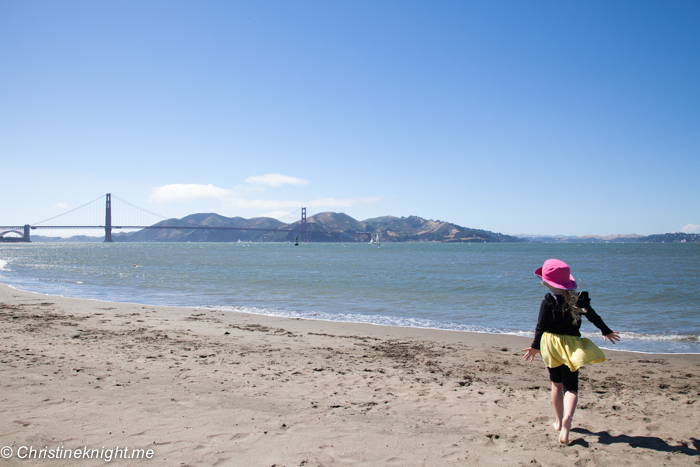 You've got to be pretty tough to swim at the beach in San Francisco but they do have fantastic views of Golden Gate Bridge, and provide ample space for kids to run around on, splashing in the waves and digging in the sand. Dip tiny toes in the Pacific Ocean at Crissy Field, Baker Beach and China Beach, three beaches in San Francisco city.
Crissy Beach is the easiest to access: an 100-acre shoreline park and restored marshland along the Bay, you can reach it by strolling alone the shorelines from Fisherman's Wharf.
Golden Gate Bridge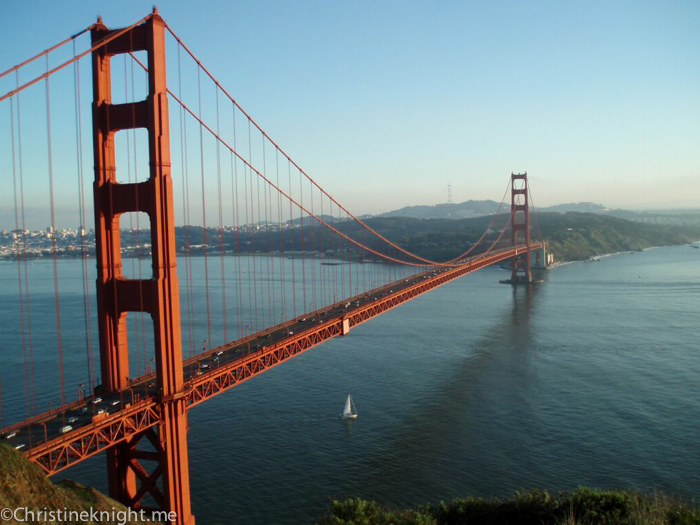 And lastly … don't forget to check out Golden Gate Bridge. While the bridge can be seen from Alcatraz and various points on around San Francisco Bay, my favourite place to photograph it is Battery Spencer, on the Marin Headland just north of the bridge.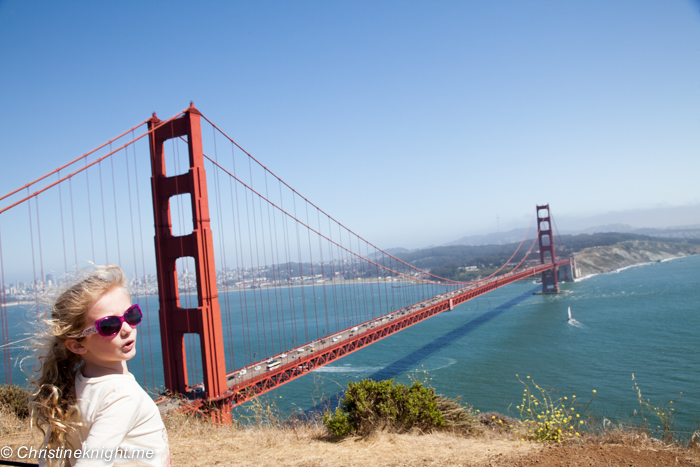 You can also get fantastic views from Crissy Field and any areas on the coast line in the marina and Presidio areas, and at Lands End.
If you have enough energy, hire bikes from Fisherman's Wharf and bike over the bridge into Sausalito, then catch the ferry back to the wharf. We used Blazing Saddles Bike Rentals, who have plenty of options for kids including kids bikes, trailers, tag-a-longs and baby seats.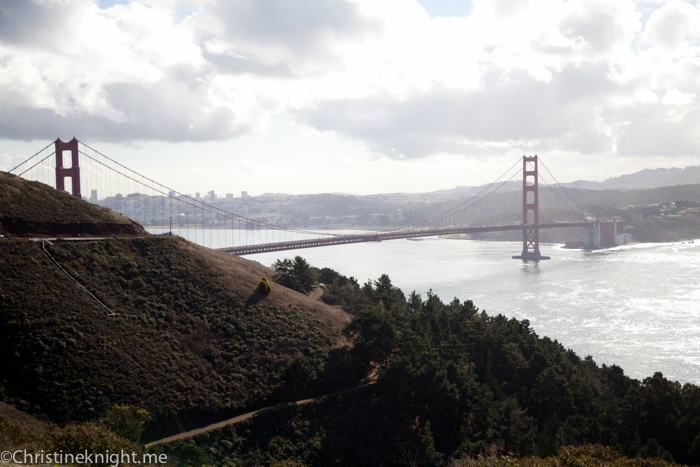 How to get around
The Cable Car is fun but expensive ($7 per person a ride, $21 for a day pass) and limiting in the directions it goes in, as well as slow due to the wait for a ride. You can also use the Muni Public Transport System. We found it easiest to walk and use Uber. When requesting an Uber, it costs $10 extra to request a car seat for kids up to 48 lbs. or 52 inches.
San Francisco Cable Cars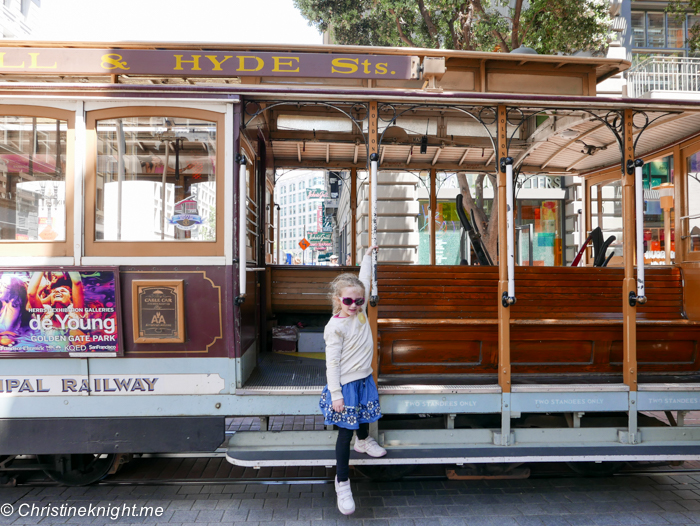 It's a must to ride the last of the world's manually operated cable cars. There are three San Francisco Cable Car lines, each going to a different location: the Powell-Hyde Line, the Powell-Mason Line and the California Line.
The Powell-Hyde and Powell-Mason lines both begin at Market Street and stop at Union Square. The Powell-Hyde Line ends near Ghiradelli Square, and the Powell-Mason Line ends at Bay Street in Fisherman's Wharf. The California Street Line runs east-west from Van Ness Avenue to the Financial District. Maps and stops here.
Note: the cable cars are NOT accessible for wheelchairs and strollers. If you bring a collapsable stroller, as the conductor if there is room before boarding – there may not be space to place it onboard.
Riders can board at the beginning/end of each route or anywhere along the routes where you see the brown and white stop sign. The cable cars are cash only – pay the conductor directly when you board, or buy a 1-day Visitor Passport before boarding if you're planning to take more than three rides in a car ($7 per person for a single ride, $21 for a 1-Day Passport). More information on fares.
We found the cable cars to be fun but they're so popular that it can be a long wait (30 minutes or longer) to get on board, so I would suggest taking a ride on one in one direction for the experience, but then catching an Uber back as they're faster and cheaper, particularly if there are several people in your party. (an Uber from Fisherman's Wharf to our hotel in downtown cost $15).
Have three days to spend in San Francisco? This handy three-day itinerary will be useful.
CityPASS
We used the San Francisco CityPASS to save money on visiting attractions. The $89 adult/$66 child pass (ages 5-11) includes Cable Car and Muni Bus Passport,entry to the California Academy of Sciences, Blue & Gold Fleet Bay Cruise Adventure, Aquarium of the Bay and entry to either the Exploratorium or de Young Museum.
The regular pricing for adult entry to these is: Cable Car/Muni pass $32, California Academy of Science $35.95, Blue & Gold Fleet Bay Cruise Adventure $31, Aquarium of the Bay $24.95, Exploratorium $29.95, de Young Museum $15 = $153.85. If you're like me and want to see and do everything, this is a massive money saver.
You can also do what we did and substitute our Blue & Gold Fleet Bay Cruise Adventure for tickets to Alcatraz. Read the instructions here carefully regarding purchasing your CityPASS if you want to do the same.
citypass.com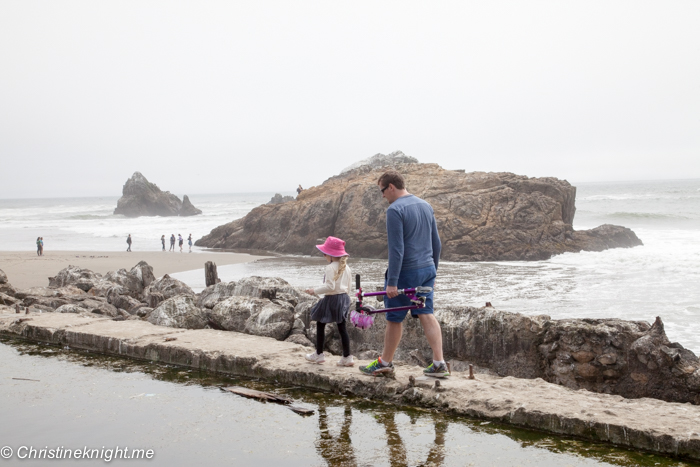 What to pack
San Francisco has unpredictable weather all year round. July is the hottest month with an average temperature of 14°C (57°F) and the coldest is January at 10°C (50°F). No matter what time of year you visit I recommend jeans, comfortable sneakers and several layers such as a tee, light sweater and jacket. Even in summer you will find yourself wearing a jacket and scarf. It can also get hot in summer, so be sure to pack light layers, sunscreen and a hat.
What to tip
While tipping isn't mandatory it's an intrenched part of American culture and is deemed extremely bad form not to tip. A 10% tip is the absolute minimum and usually indicates bad service. If you've received good service, 15% is the norm. Tip hotel porters $1 per bag carried and leave $2-$3 USD per day in your hotel room to tip service staff. I prefer to leave the money daily rather than a tip at the end as there are different staff who service the room each day.
Where to stay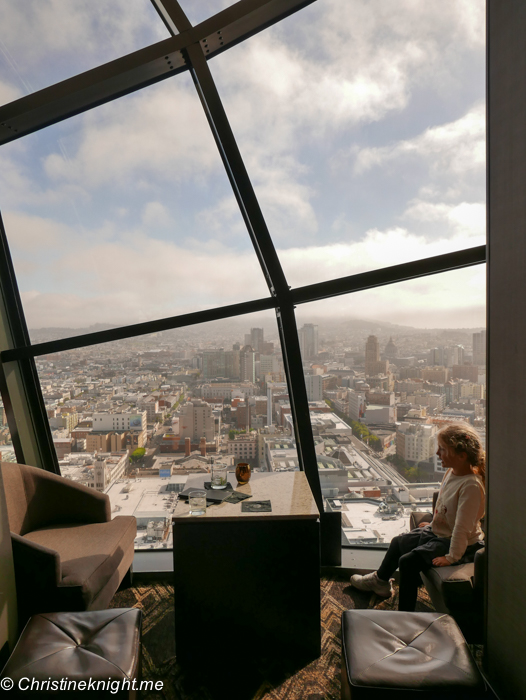 We stayed at the San Francisco Marriott Marquis this time, located on Mission St, near Union Square. The location is fantastic for a stay in San Francisco; all the major shops, restaurants and amenities like grocery stores all a few blocks away. Be warned however about hidden charges at this hotel – $100 a week for internet and $15 per packaged delivered. We did enjoy The View bar and lounge inside the hotel is open from 4pm and has them most incredible views over the city, as well as being super kid-friendly.
San Francisco Marriott Marquis
780 Mission St, San Francisco
Find the best prices and book online.
Other popular places to stay include Fisherman's Wharf, which I find too touristy and out of the way apart from a few attractions, and Nob Hill, which is nicer than downtown, but means a lot of walking up and down the steep hill it's located on or catching a lot of cable cars.
Find, compare and book your hotel in San Francisco online.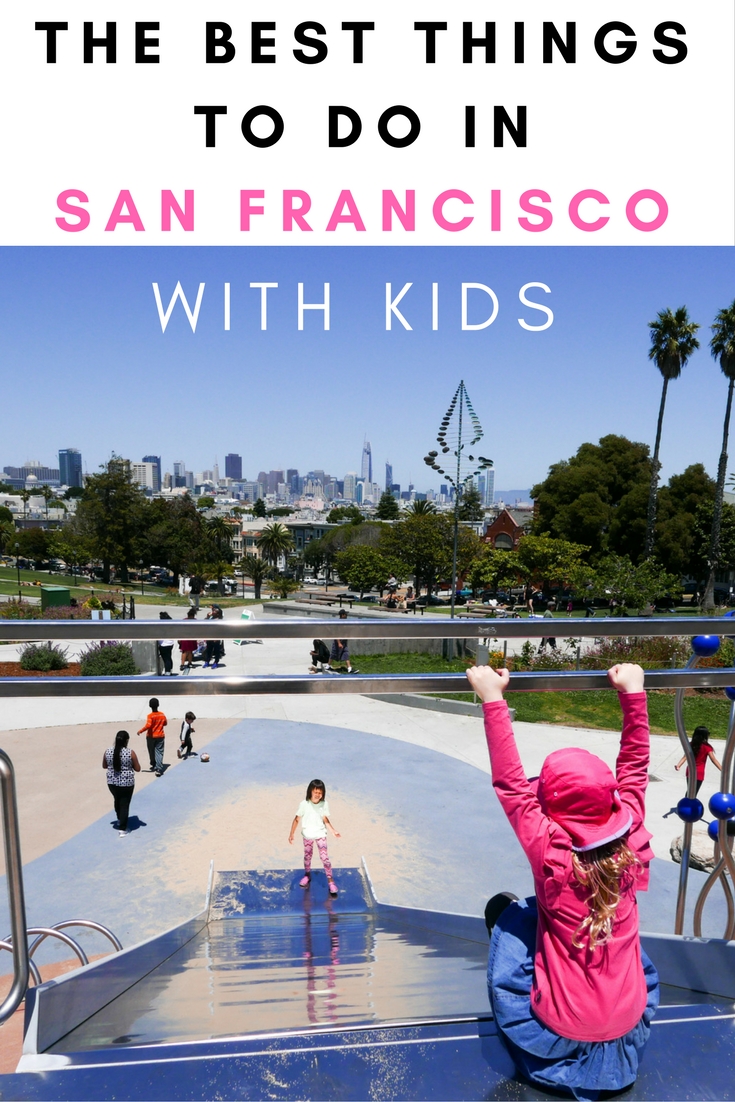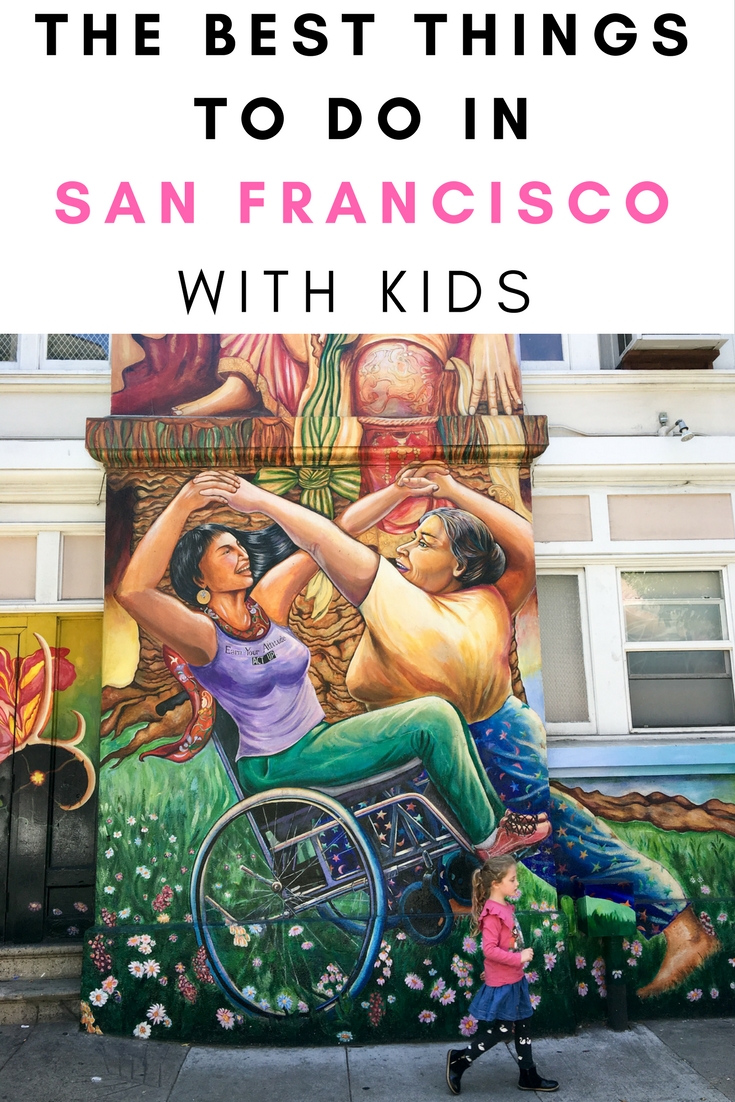 Thank you to CityPASS for the complimentary passes to explore San Francisco. They are a genuine money saver and we will use them again in other cities we visit. This post contains affiliate links, which means if you book through my website I will receive a small commission from the vendor at no extra cost to you.