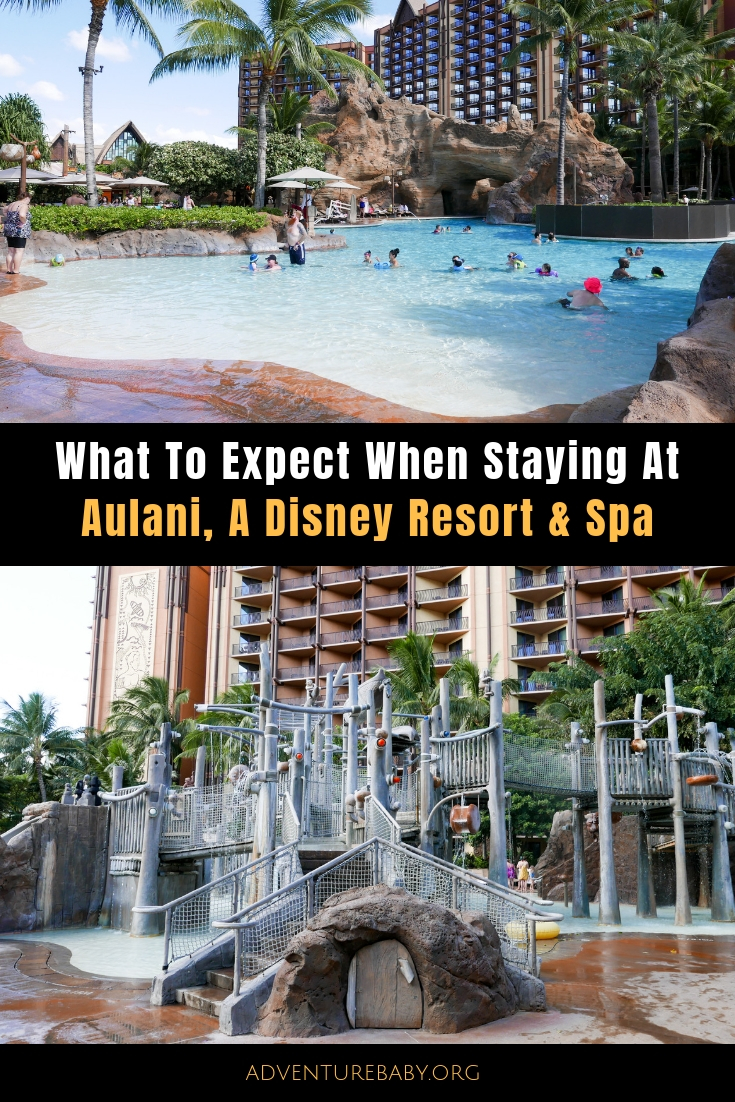 What To Expect When Staying At Aulani A Disney Resort And Spa, Hawaii
We visited Aulani back in June 2016 and have wanted to return ever since because we loved our holiday so much. You can read the full hotel review from our previous visit here. This time I thought I would do a diary-style write-up to give an idea of what life is like when staying at Aulani, A Disney Resort & Spa.
We booked our stay using Disney Vacation Club point rentals. You can read more about the DVC point rental system here.
Day one: Arrival

We fly in late in the afternoon, pick up our car rental and drive to Target at Kapolei Commons for groceries, then head to Aulani, arriving around 5pm.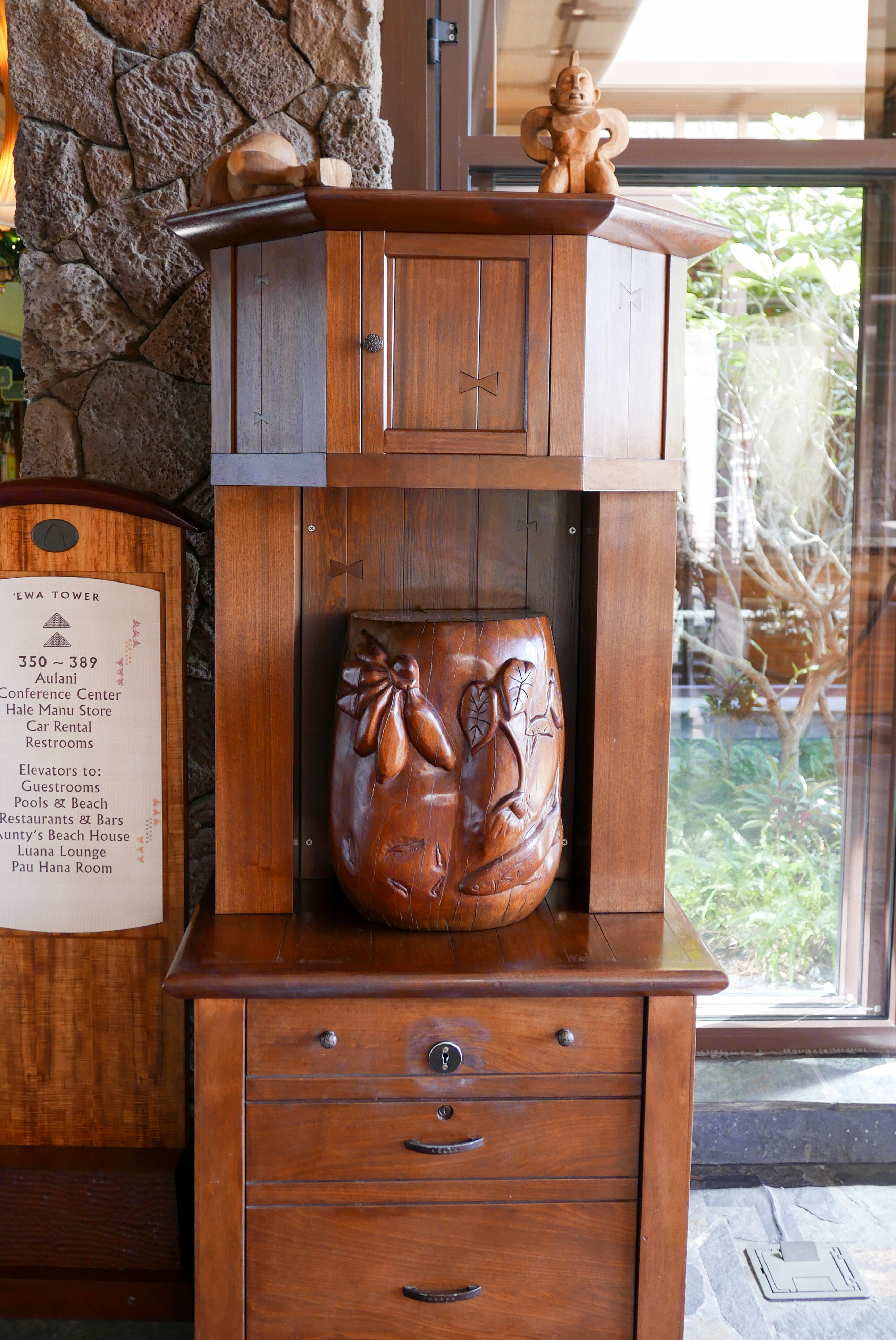 When we check in the staff tell us that there are hundreds of Menehune – the legendary "little people" responsible for mysterious happenings on the islands – hidden all over the resort, so we start what will be a week-long search for these mischievous creatures and find them absolutely everywhere!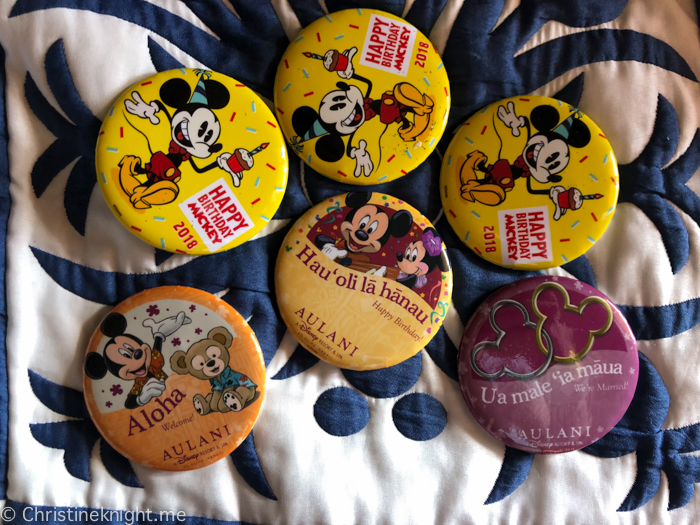 At check in I inquire about the Disney buttons that we collect from the other Disney resorts. We are in luck and are given buttons for first visit, wedding / anniversary and birthday, plus a special one for Mickey's 90th birthday.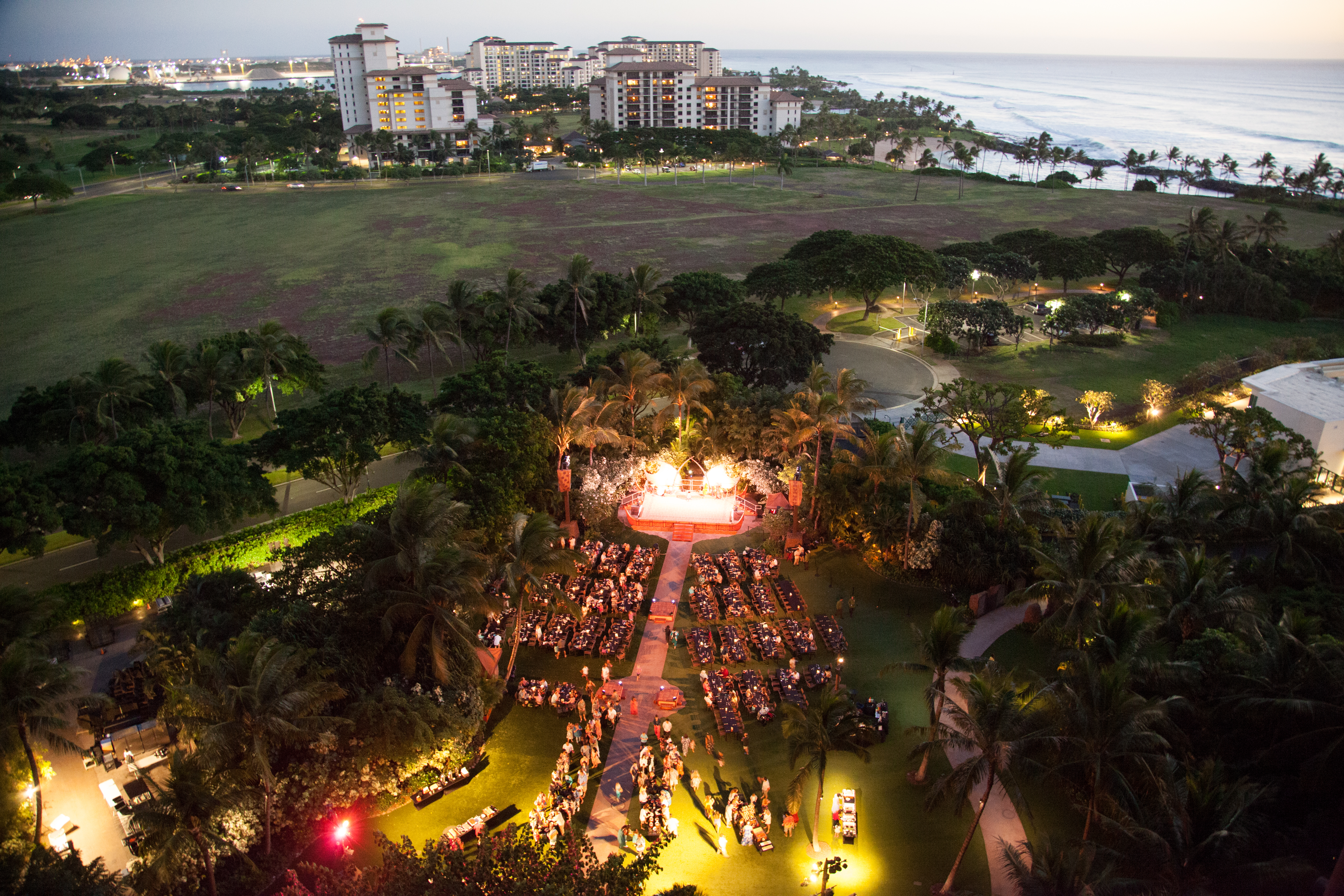 Our garden-view room is on the 16th floor of the Ewa tower (1671) and features an excellent view of the luau lawn and even some ocean. Inside the room we are given a queen sized bed and a pull-out sofa bed.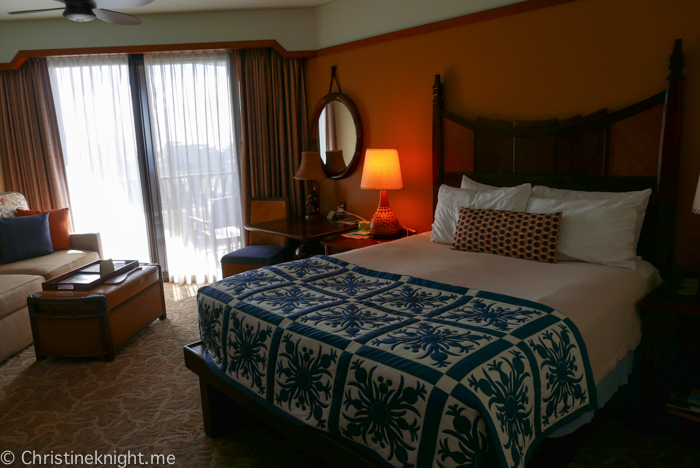 The bathroom features a rain shower/tub combo, and we also have a microwave and mini fridge.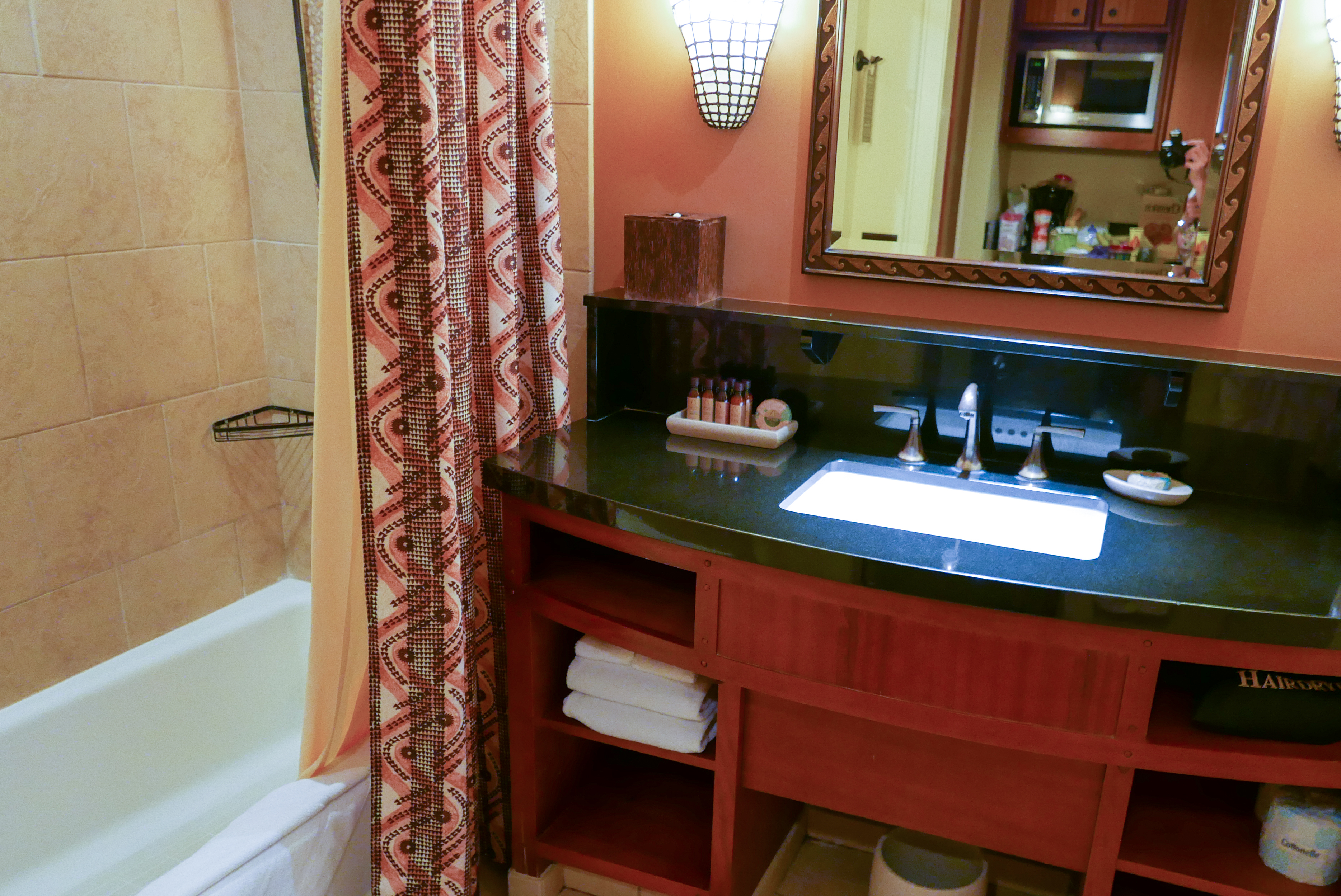 We booked our room using Disney Vacation Club (DVC) rental points. Basically this meant we were able to stay at the hotel for a bit cheaper by "renting" points off someone who owned a timeshare through DVC. DVC members get a range of special benefits – however since we were only renting points and now owners of them, we were only able to benefit from the free daily parking. This saved us $37USD a day so it was an excellent benefit. You can read more about the Disney Vacation Club here and David's Vacation Rentals (where we rented the points from) here.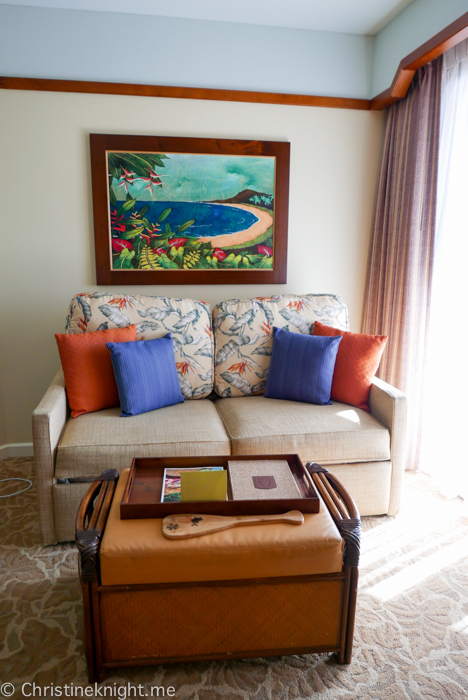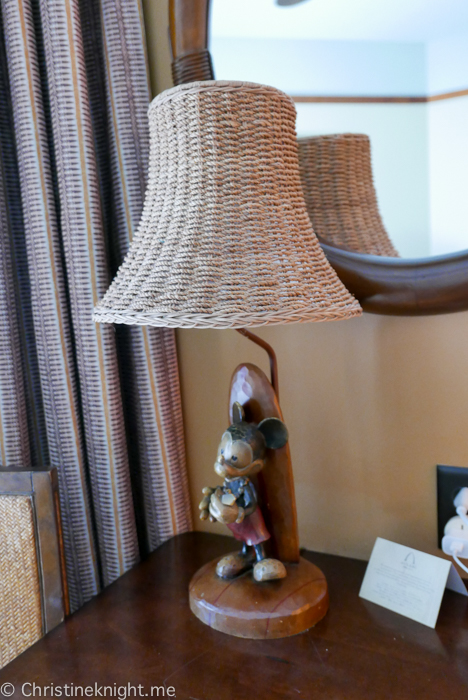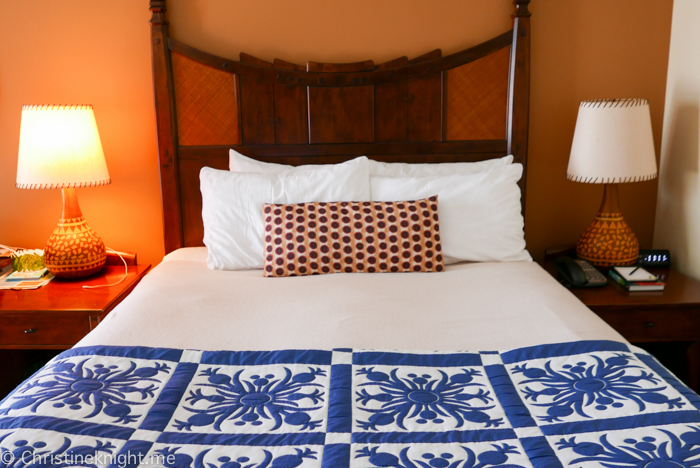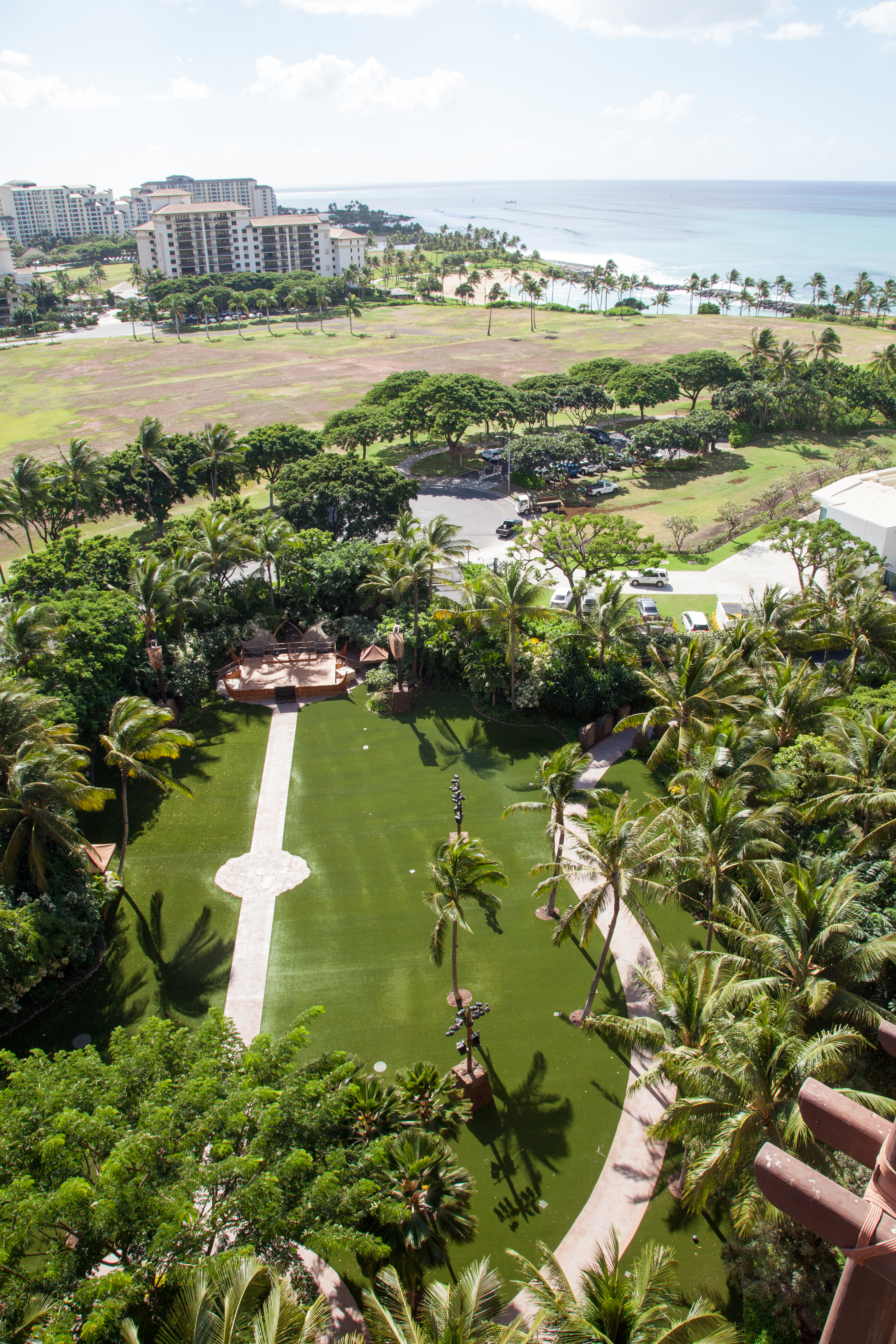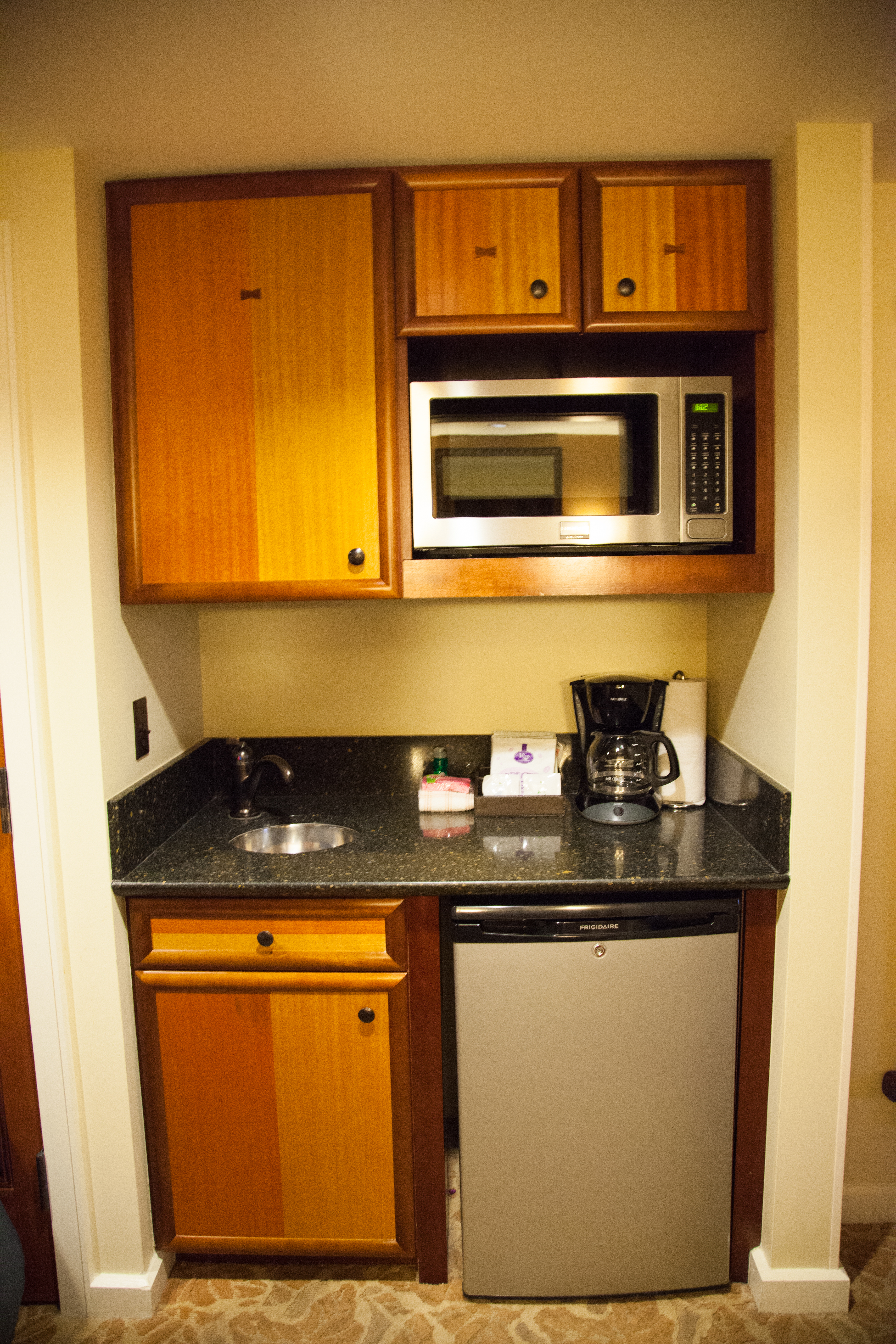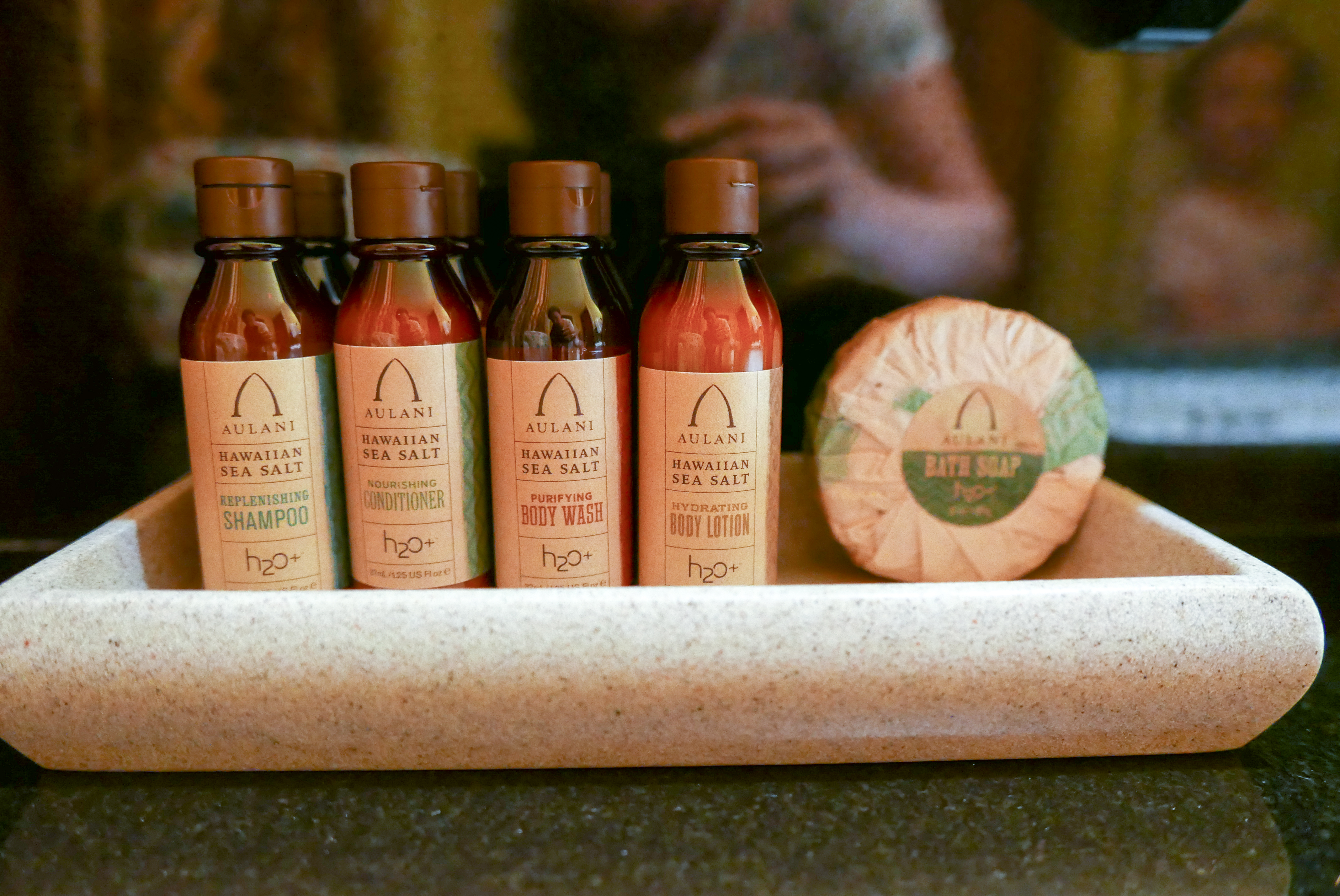 Pizza Corner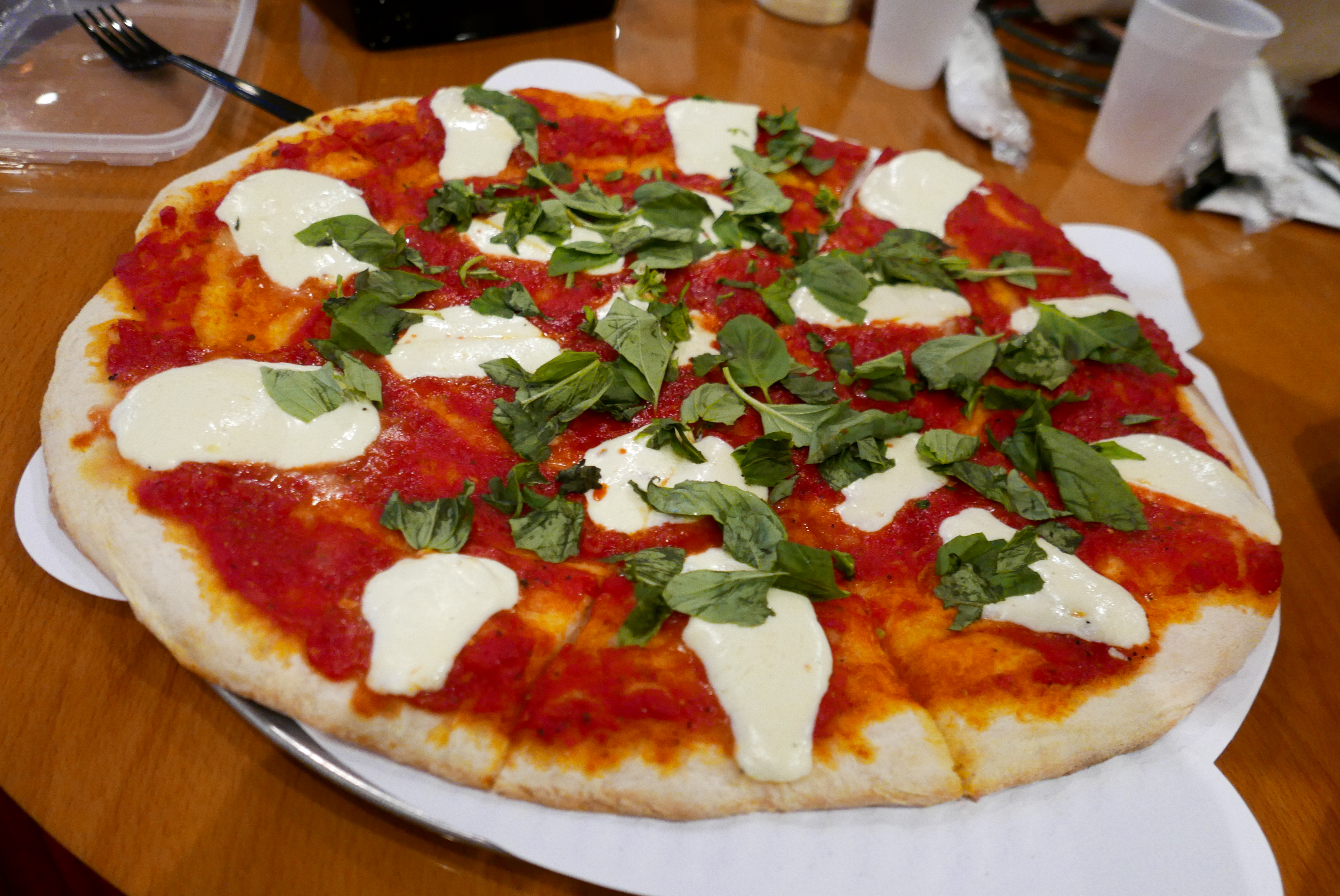 After unpacking the basics we walk across the road to grab dinner at Pizza Corner at the Ko Olina Center. At $29 the pizzas are not cheap, but they are huge, big enough for two adults and one kid with still some left over. We also ordered a $10 pasta – penne and marinara sauce, which was also massive.
Kalepa Store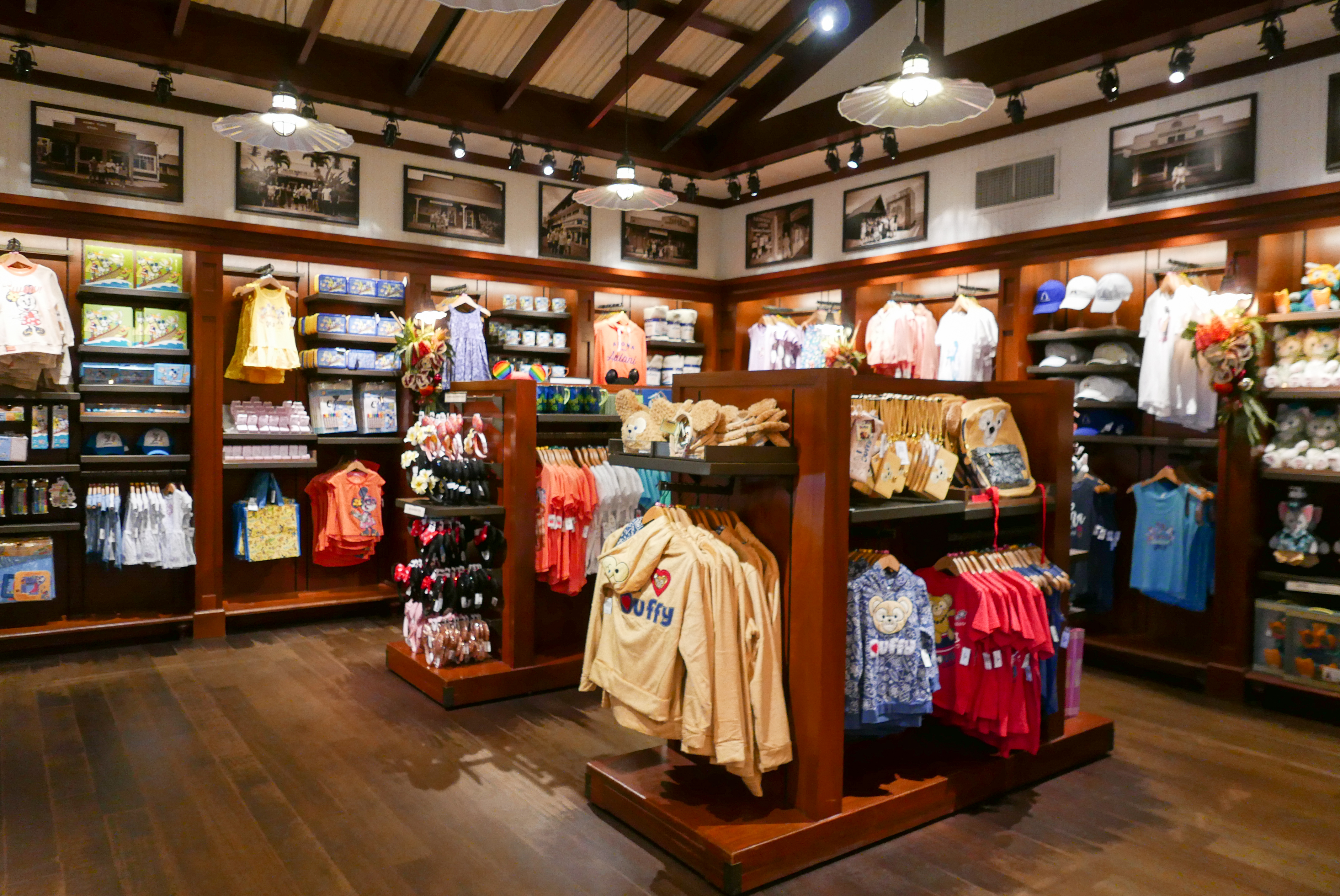 While Alec take Cheese to the room to get her ready for bed, I head down to the Kalepa Store to pick up a PhotoPass card and waterproof wristbands. While the photographers do also hand these out, I like to be prepared. The store stocks general grocery items plus beach supplies and a wealth of Aulani merchandise.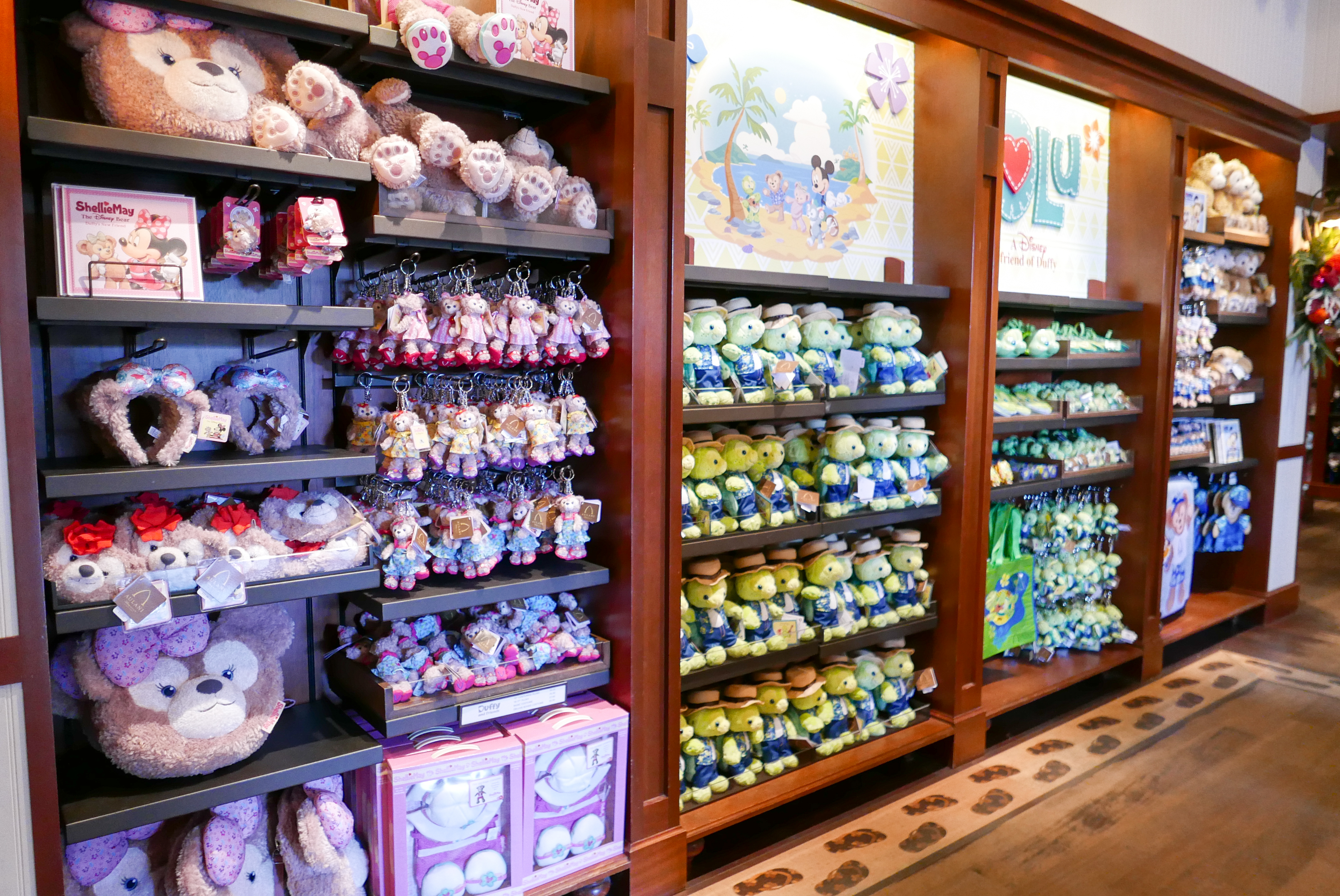 I can't resist buying Cheese one of the new Ulu plushies.
Back at the room we watch the luau from our room before heading to bed.
Day 2: Auntie's Beach House, Meeting Moana and "Menehune Mischief" Character Dinner
Auntie's Beach House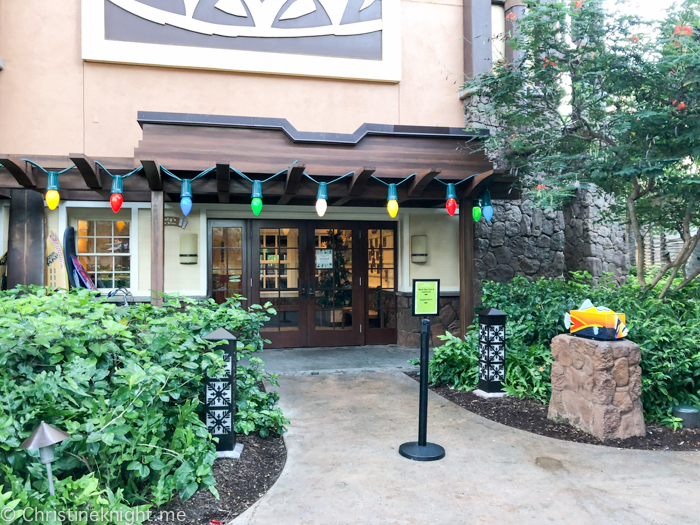 First up today we check into Auntie's Beach House, the Kids' Club at Aulani. I had registered Cheese in advance online but still needed to fill in some extra info when we arrived, as well as getting our photos taken for identification purposes, choosing a secret password for child collecting and getting Cheese's Kids' Club wrist band fitted. The wrist band is water proof so it can stay on the entire time you're at the resort – return it before you leave to get your security deposit back!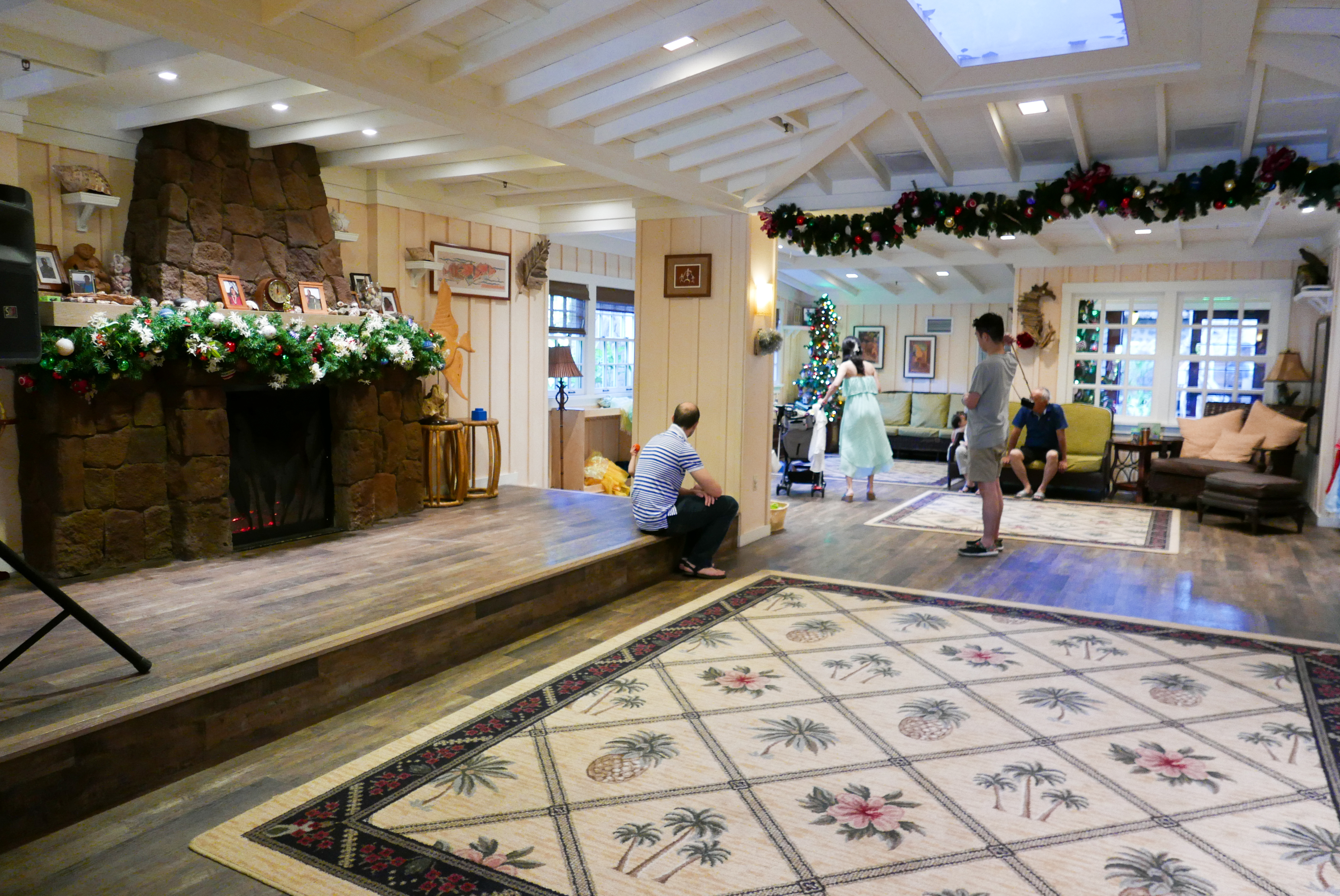 As it was open house at Auntie's we went in to take a look around. Auntie's features two different wings, with dress ups, a movie screening room, arts and crafts tables, a stage and video games. Outside there is a huge yard with a climbing structure and shade cloths.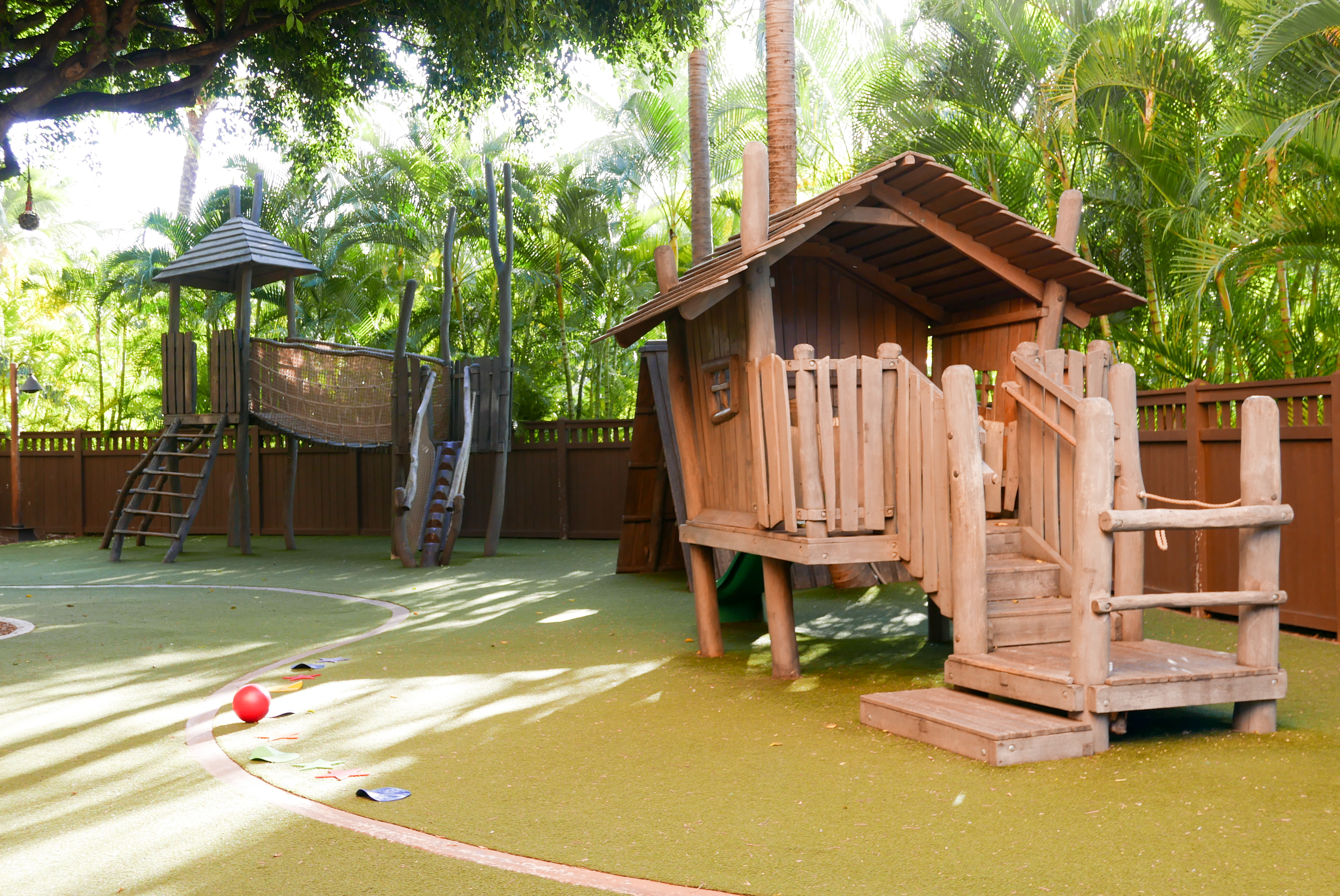 Auntie's Beach House is open 8am-9pm daily and is included in your stay – AKA it's free! Open House is 8am-9:30am daily (no check-ins or drop-offs during this time). Auntie's is available for drop-offs for kids aged 3 to 12 and all ages during the open house (kids must be accompanied by an adult).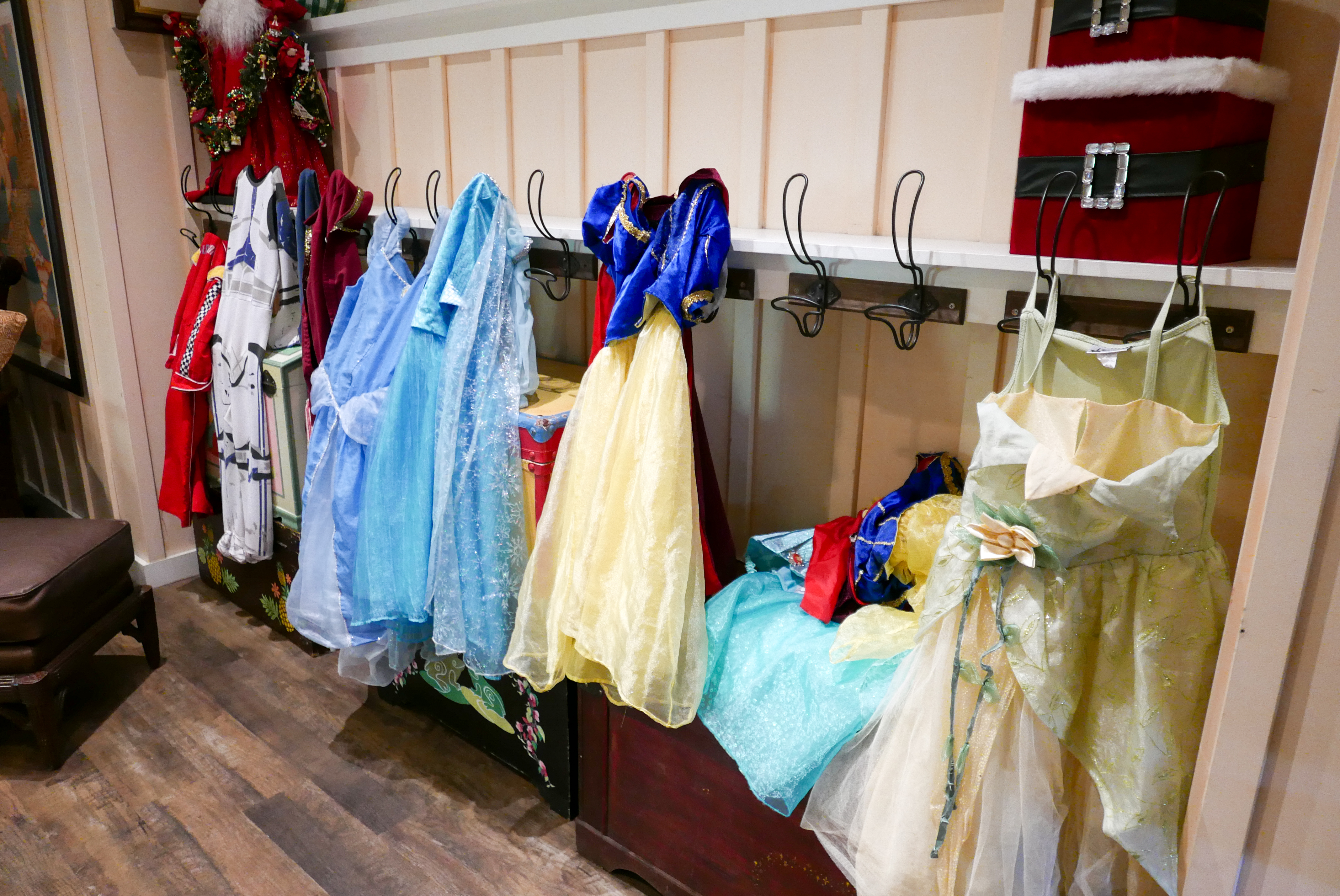 Pre-register your child at least two days before your arrival here.
Meeting Moana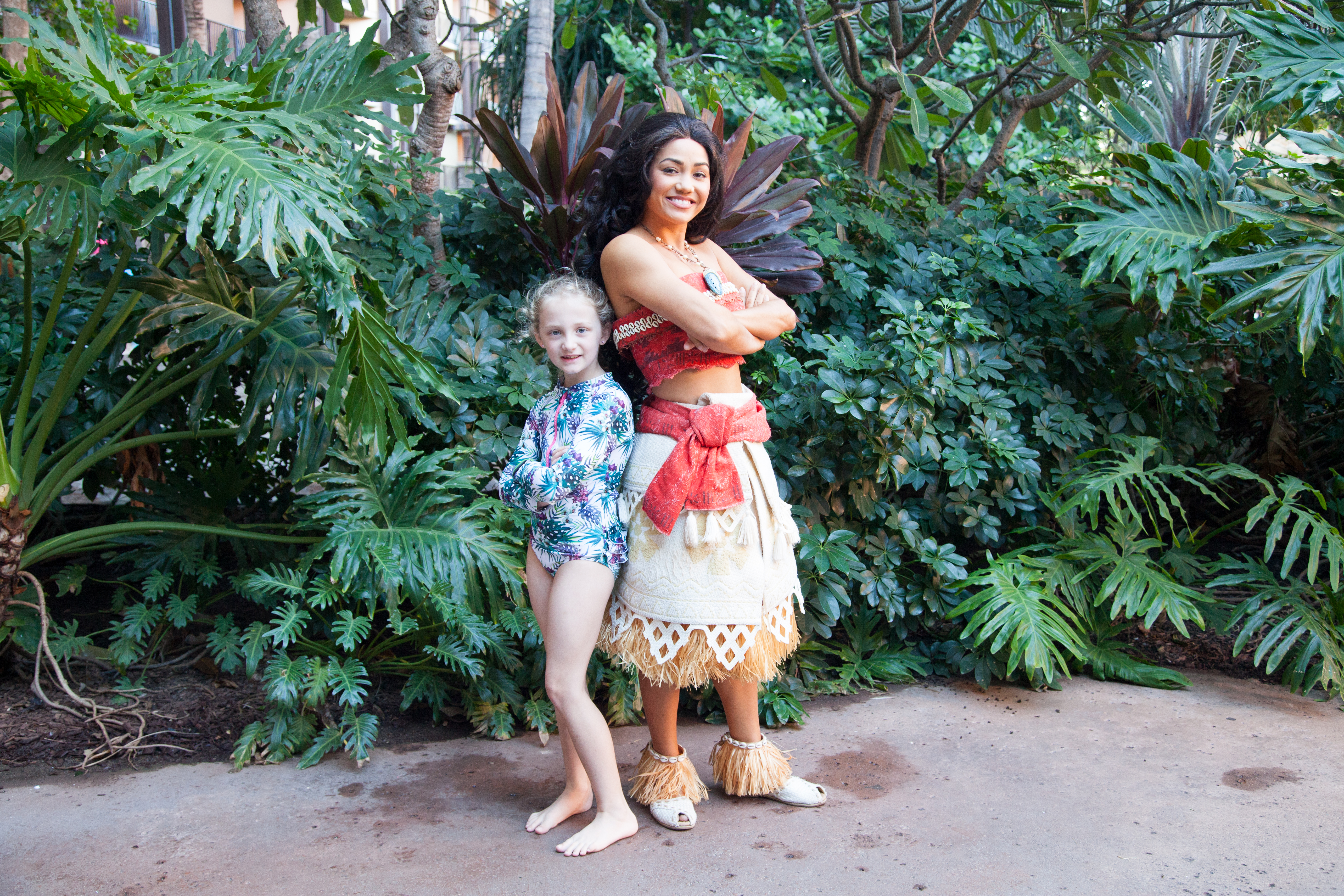 After leaving Auntie's we chanced running into Moana and had a photo taken with her. You can call the hotel character hotline each morning to find out where the characters will be each day and at what time. Some characters come out every day but some only come out every few days.
Swimming in the pools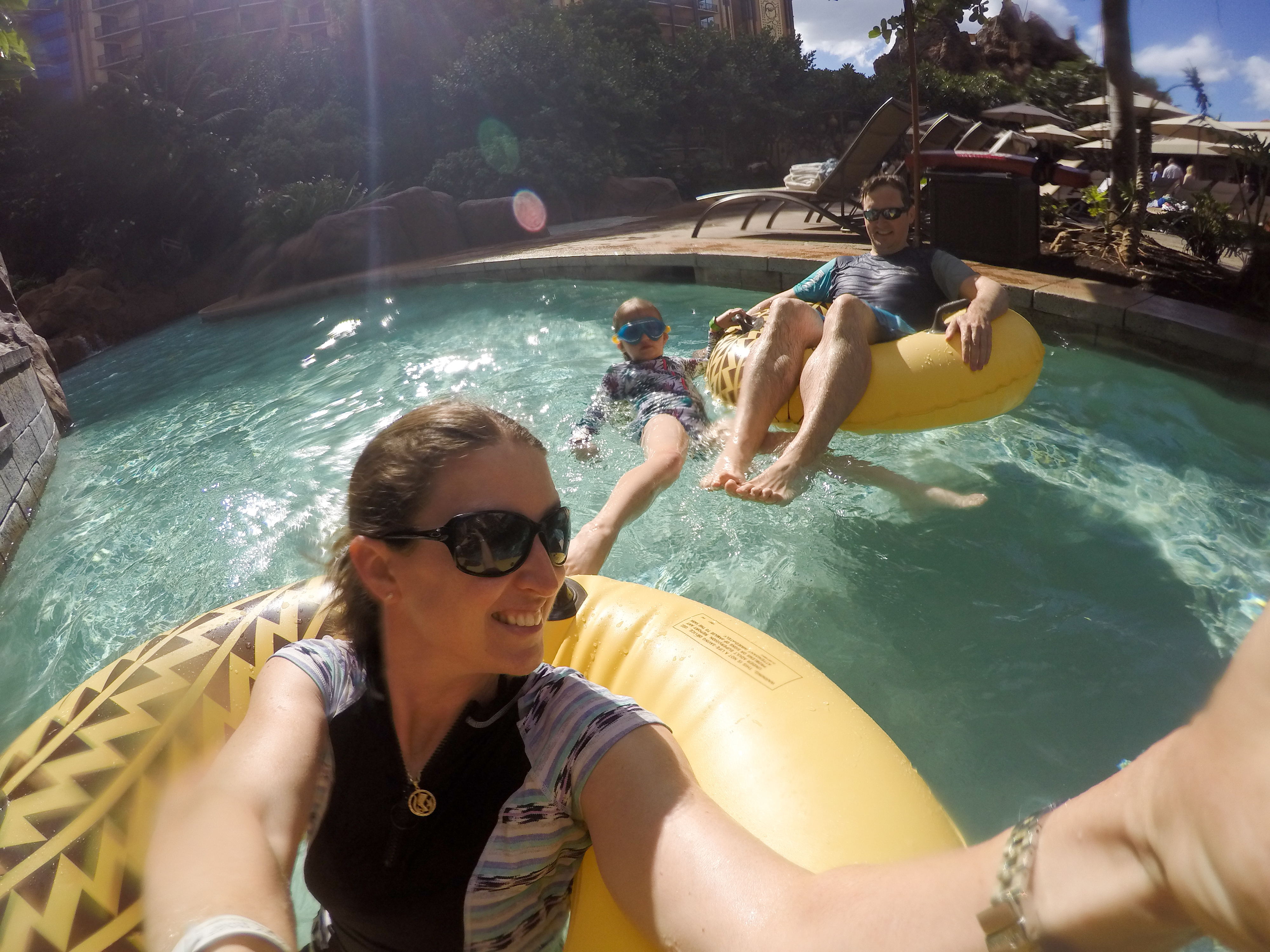 Next: pools! We collect our wristband that shows we are guests of the hotel (you need to collect a new wristband daily) and head to the Waikolohe Stream. Waikolohe means "mischievous water" in the Hawaiian language, which is the perfect name for this part of the resort. We grab a donut-shaped tube and jump aboard, letting the gentle current of the lazy river carry us through the Waikolohe Valley.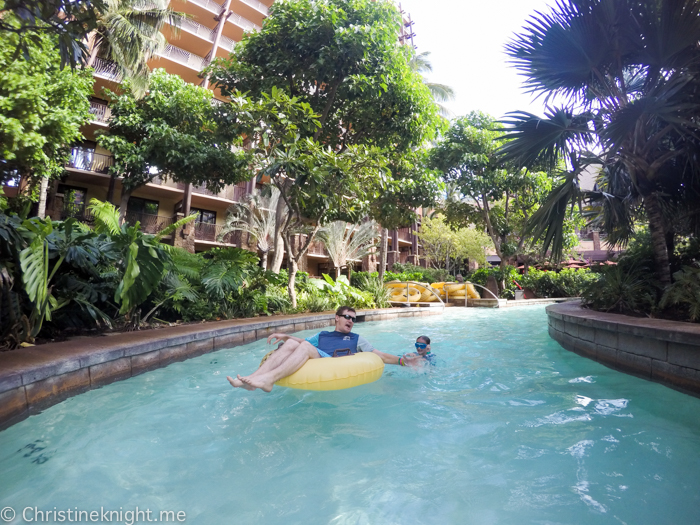 We sail past Menahune, rocks, trees and water features, then head up the top of Pu'u Kilo (the volcano-shaped peak in the middle of the pools) to try the two slides. Volcanic Vertical is a single-rider enclosed slide that is extremely fast and deposits you in the Waikolohe Pool below. We prefer the Tubestone Curl, which is an open-air slide that you take while sitting on a tube and can be ridden solo or with a partner. It ends up in the Waikolohe Stream.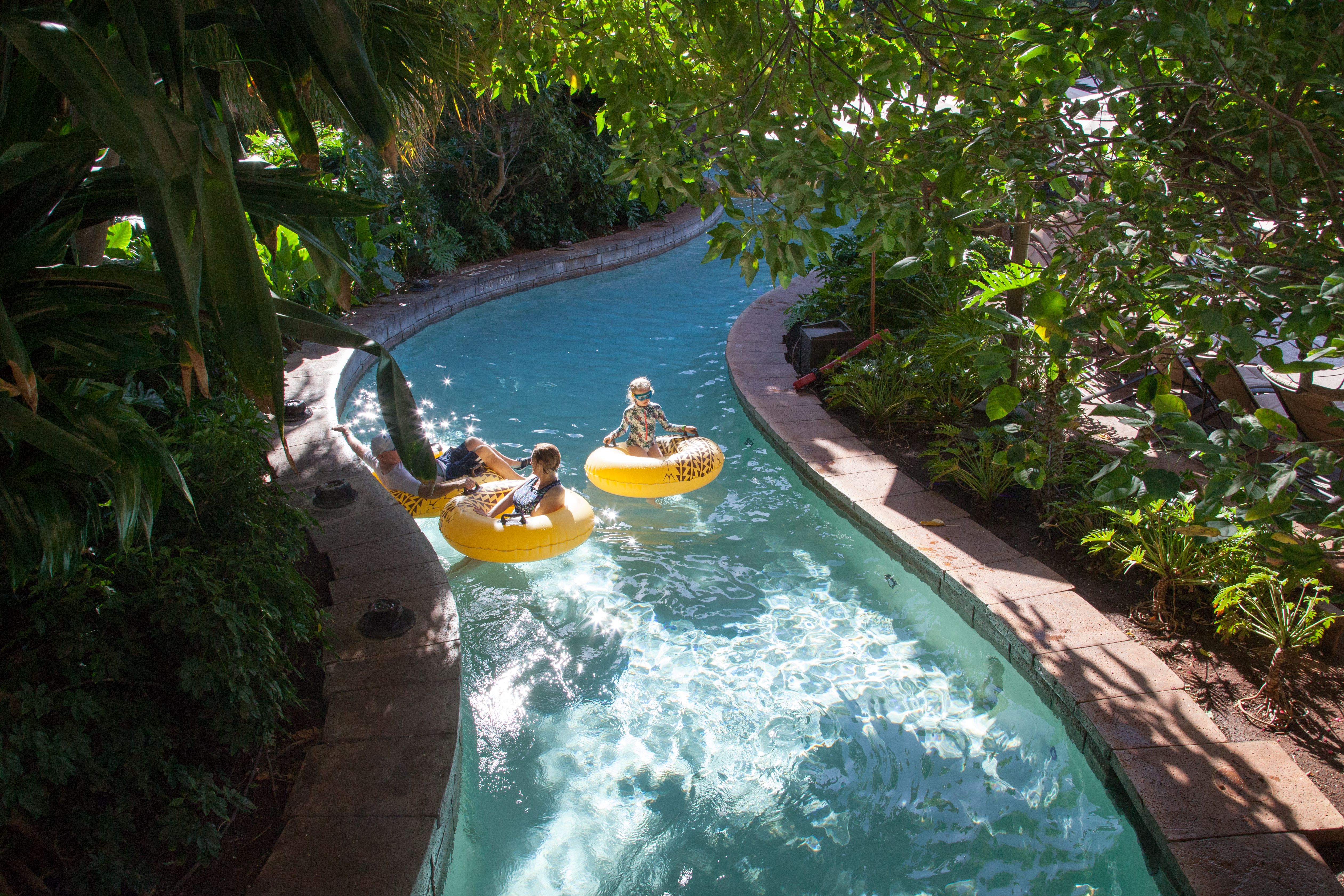 A note on water temperature: Aulani Resort pools are heated year-round. The Waikolohe Stream is approximately 82 to 86 degrees Fahrenheit or 27 to 30 degrees Celsius.
Menehune Bridge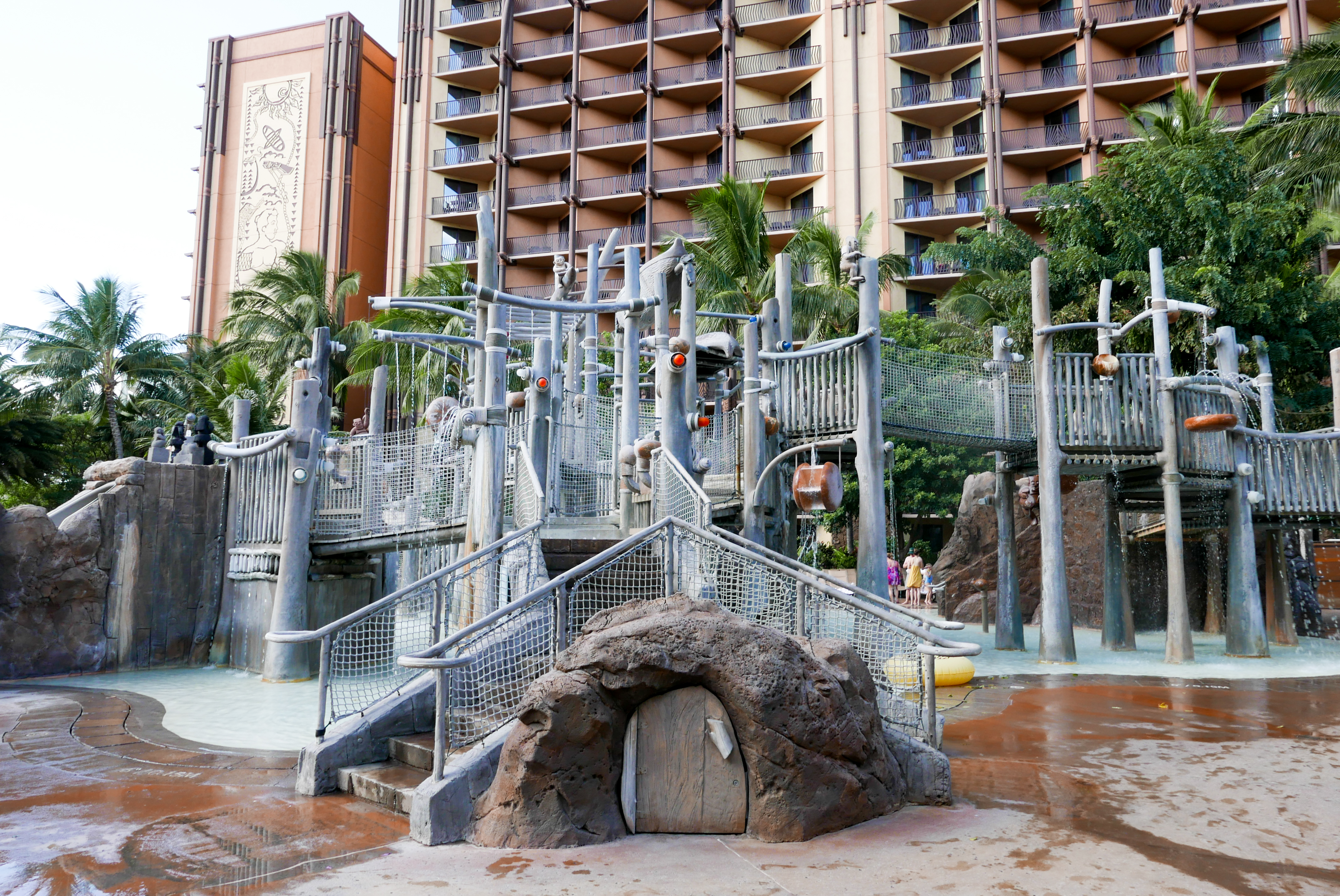 Next Cheese wants to head to the 2,100 square feet, Menehune Bridge water play space for kids 48 inches in height or shorter. The Menehune Bridge features two water slides, interactive water elements, spinning gourds and a climbing play structure. There are also lots of Menehune hidden everywhere!
Keiki Cove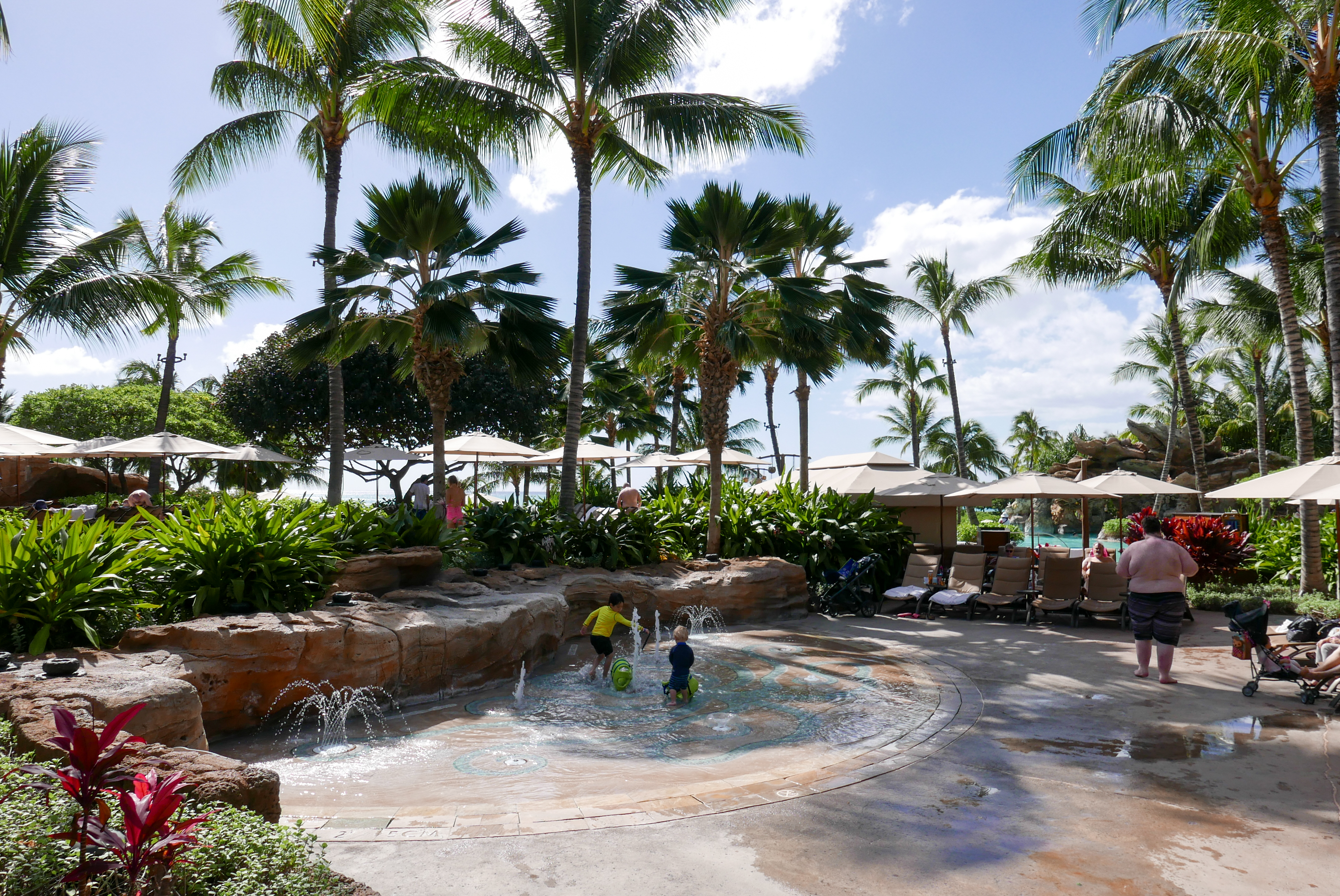 There is a cute toddler play area nearby, Keiki Cove, which is designed for kids aged 5 and under and open to all ages. It features rainbow water jets and more hidden Menehune.
Kakamora Chaos with Moana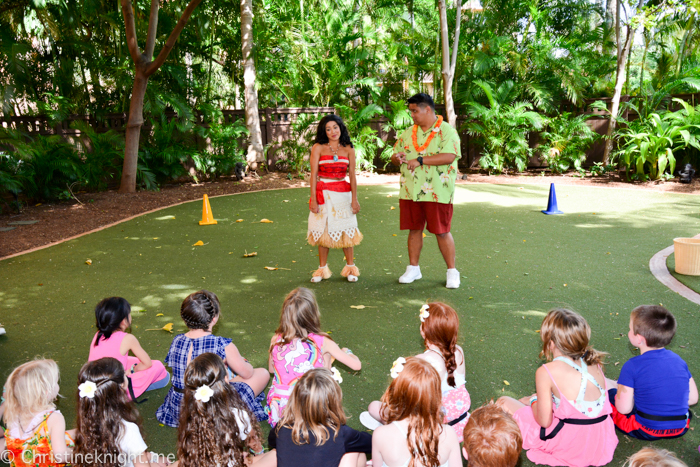 After swimming we drop Cheese off at Auntie's for her special activity Kakamora Chaos with Moana. The 90-minute drop-off activity involves playing traditional Hawaiian children's games with Moana, who teaches her new friends a game from her home island of Motunui—the Kakamora Relay.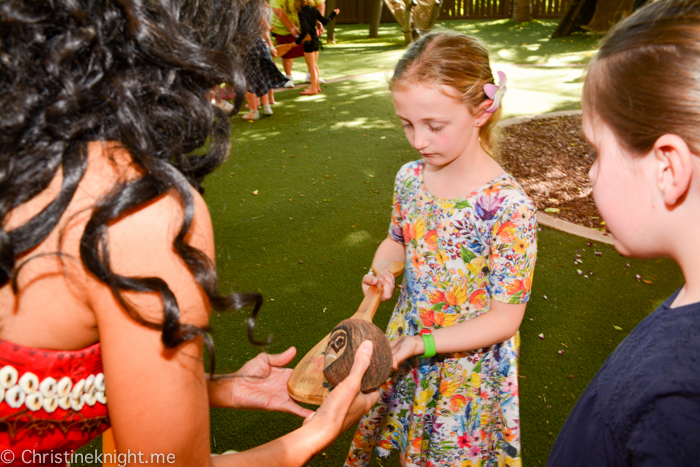 Kids also stamp their own take-home oar and also receive a cute little Kakamora luggage tag. Kakamora Chaos with Moana is a premium activity, available Tuesday, Thursday, and Saturday from 12:30 – 2:00pm and costing $59USD plus tax per child. We make sure Cheese has her PhotoPass wrist band on so later we can receive the photos taken at Auntie's when we collect the PhotoPass disc at the end of our stay.
Off The Hook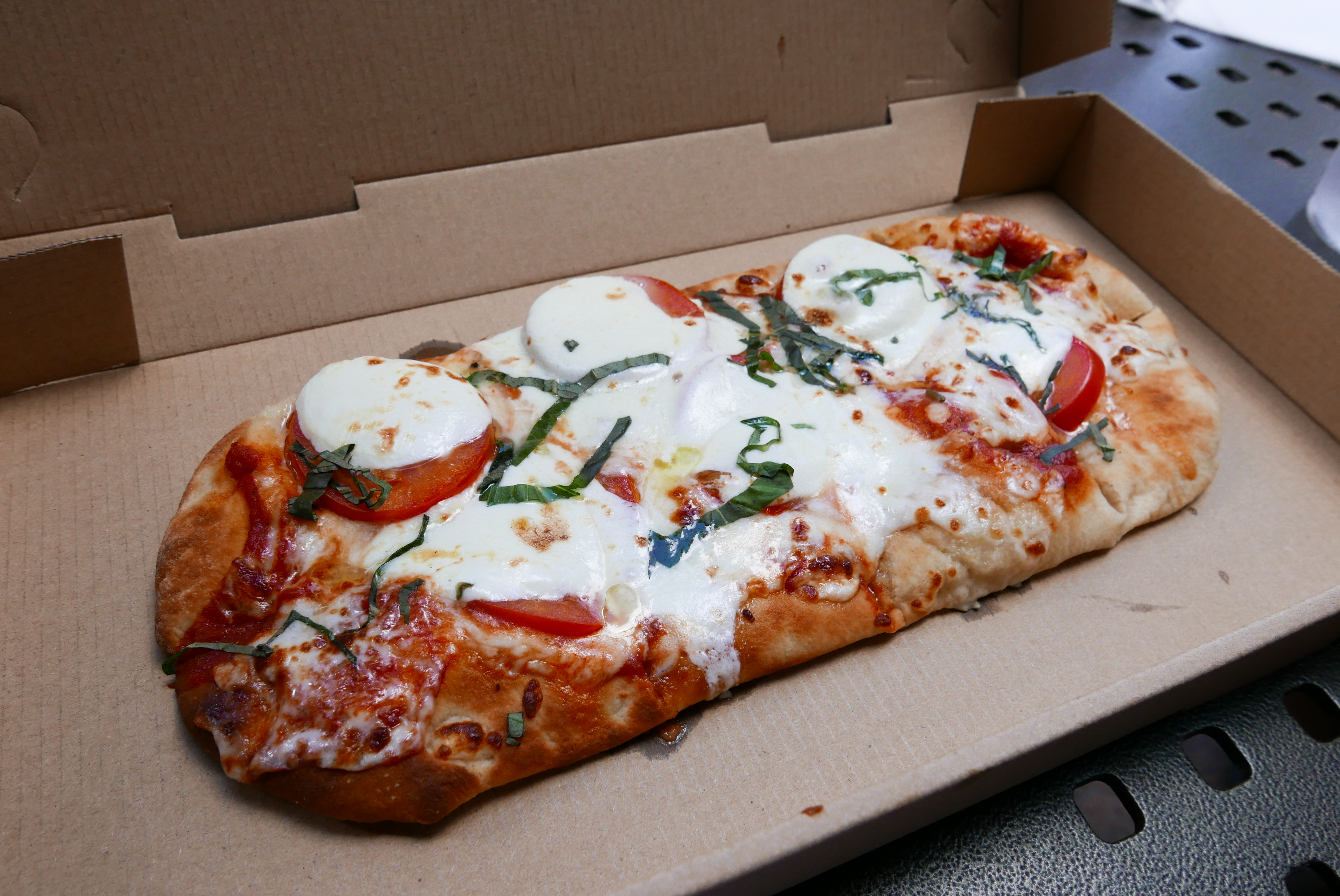 While Cheese is at Auntie's, Alec and I enjoy a casual poolside lunch and cocktail at Off The Hook. It's a basic lunch and we aren't overly impressed by the food which is soggy and doesn't taste amazing, but the cocktails are great, so cheers to that!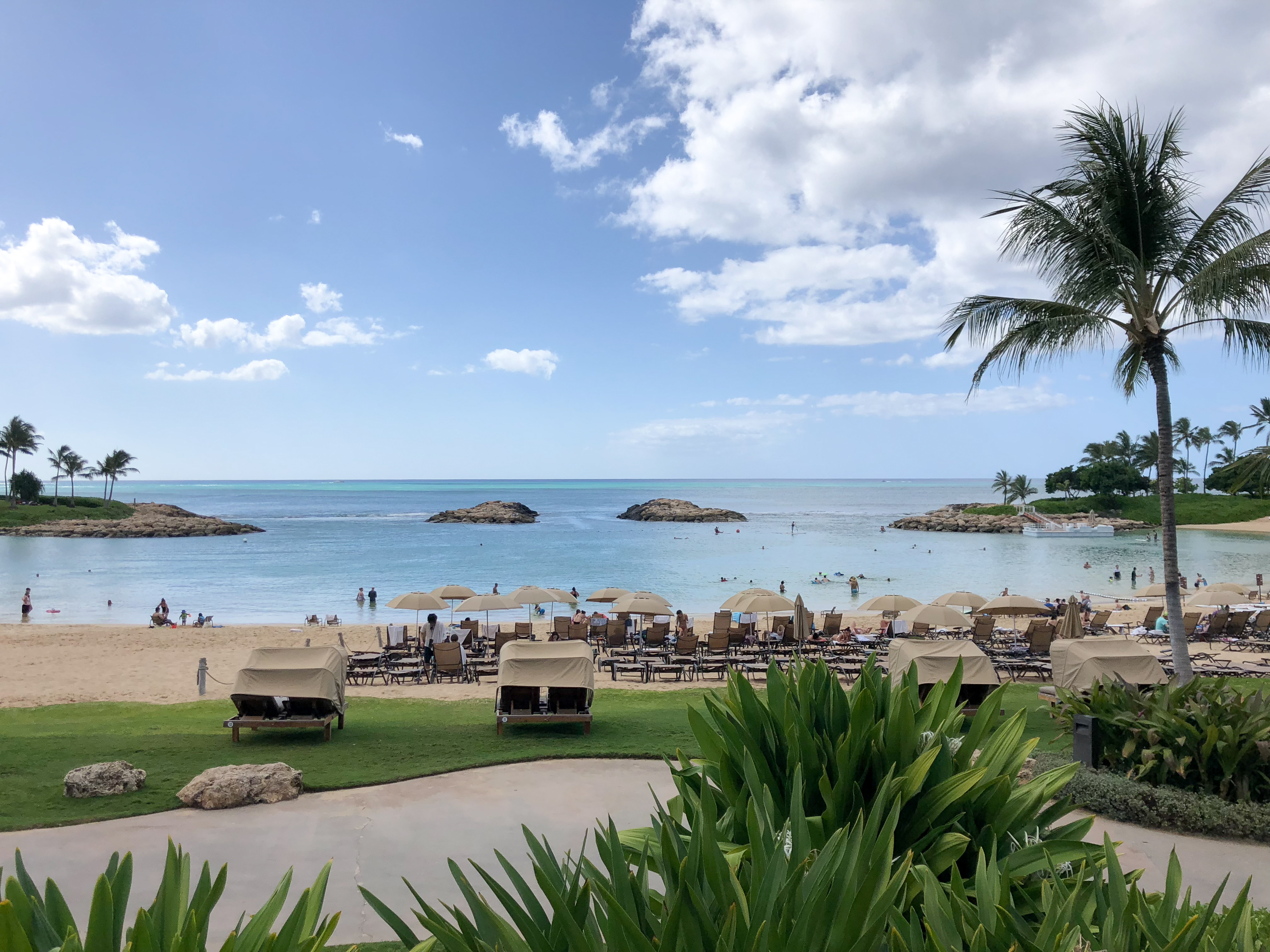 We take a walk around the resort and check out the beautiful beach and facilities. There is a great lagoon walk that runs from the Aulani resort front down south to the Marriot resort. To the right of Aulani is the Four Seasons and where the trail ends. You can walk over the rocks to Paradise Beach next door where turtles are often see in the ocean and on the beach.
Popcorn and Shave Ice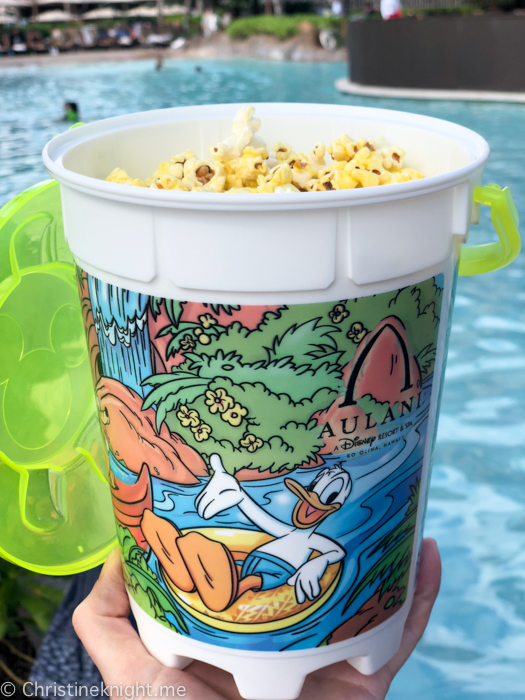 I pick up Cheese from Auntie's after her activity ends and we pick up a popcorn bucket from Ulu Cafe and a Mickey-shaped shave ice from the Papalua Shave Ice stand.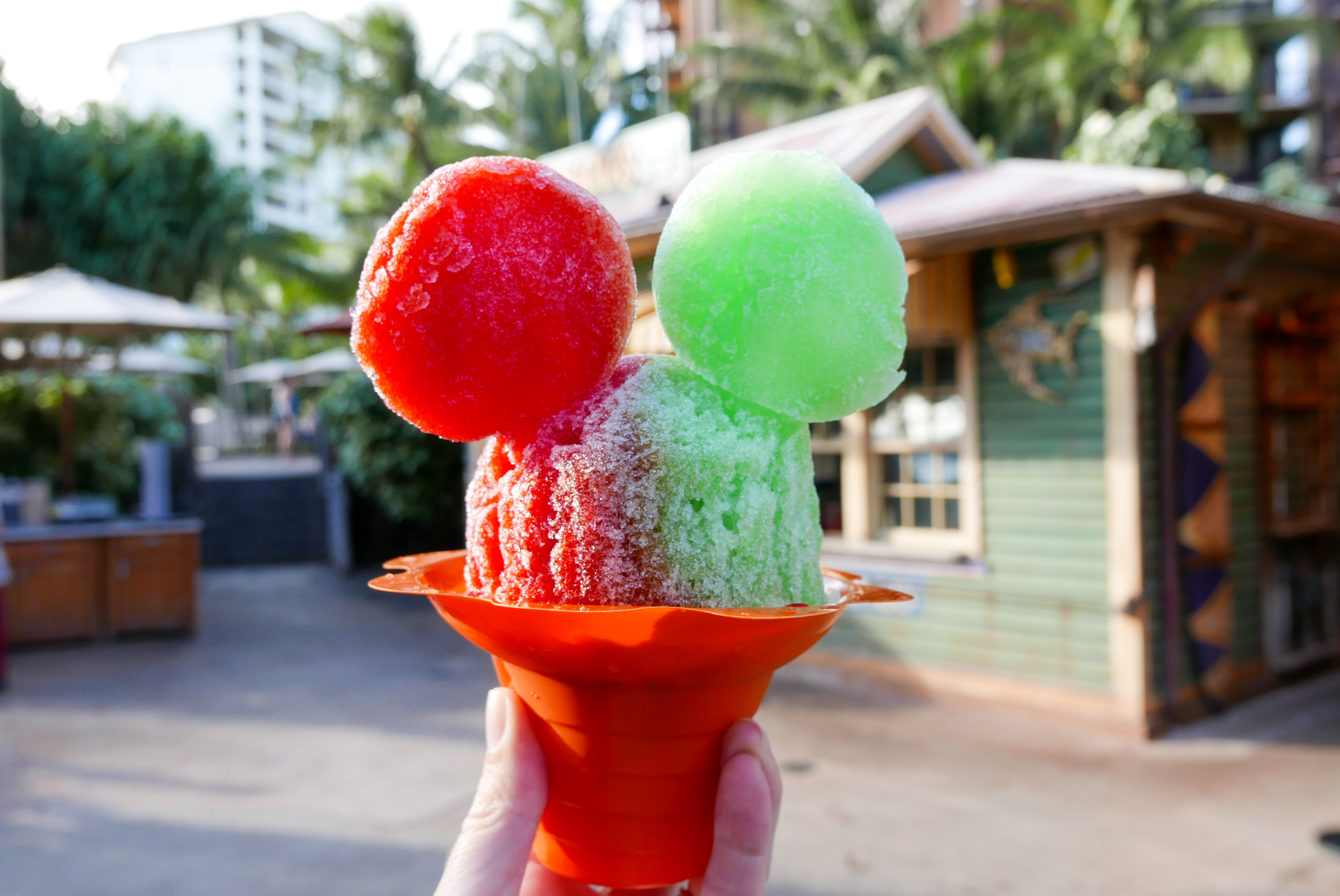 Menehune Mischief Character Dinner and Show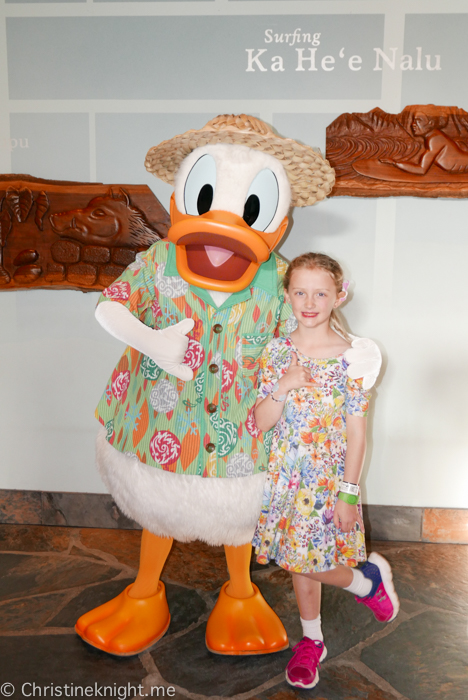 Next is dinner and we are booked into the early session of "Menehune Mischief" Character Dinner at Makahiki restaurant. The dinner is a buffet with musical entertainment from "Uncle" and a few Disney Characters. Uncle tells the story of the Menehune – magical little people of Hawaiian legend – with songs and interactive fun for kids, while Disney characters join in and roam around the tables before and afterwards for photos.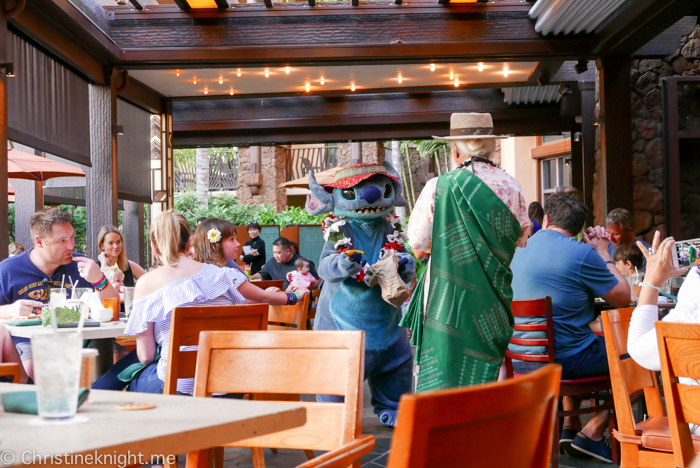 The buffet is very meat and seafood heavy with only a few vegetarian options, however the chef very kindly offered to make a few other options for us to eat, which was extremely appreciated.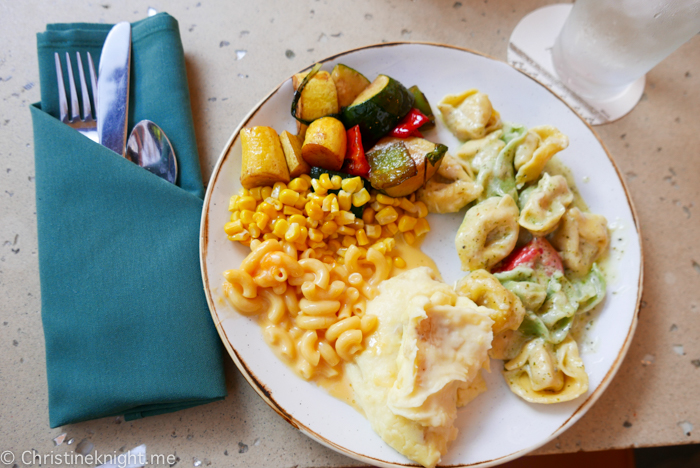 The food quality was great, especially our custom food. There is a dedicated kids section of the buffet as well as a dessert section. So much food!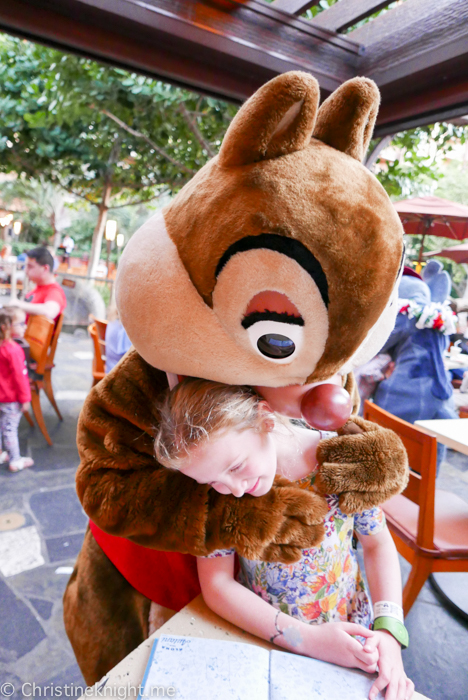 Before and after the meal we met Stitch, Chip and Dale. We also met Donald Duck who was stationed at the entrance to the restaurant.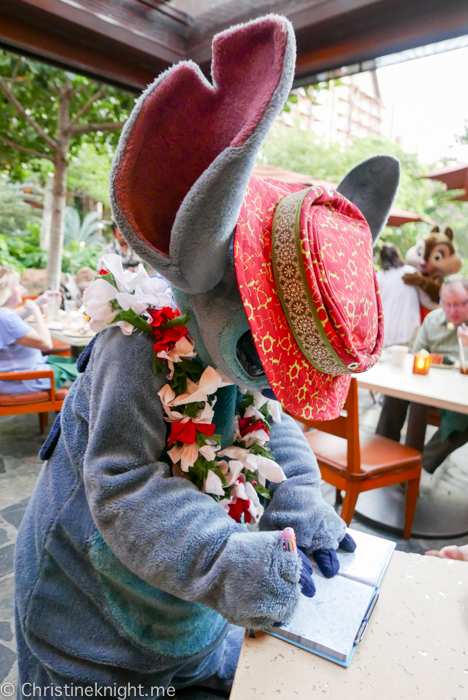 The Menehune Mischief Character Dinner and Show runs Sunday, Monday and Thursday – 2 shows each day. Show times and seatings are:
Show #1 – 5:15 PM – 6:00 PM
1st Seating – 4:30 PM, 4:45 PM, 5:00 PM – No seating from 5:15 PM to 6:15 PM
Show #2 – 7:15 PM – 8:00 PM
2nd Seating – 6:30 PM, 6:45 PM, 7:00 PM – No seating from 7:15 PM to 8:15 PM
Price for Character Show Dining: Adults: $54USD, Keiki (Ages 3 to 9): $27USD.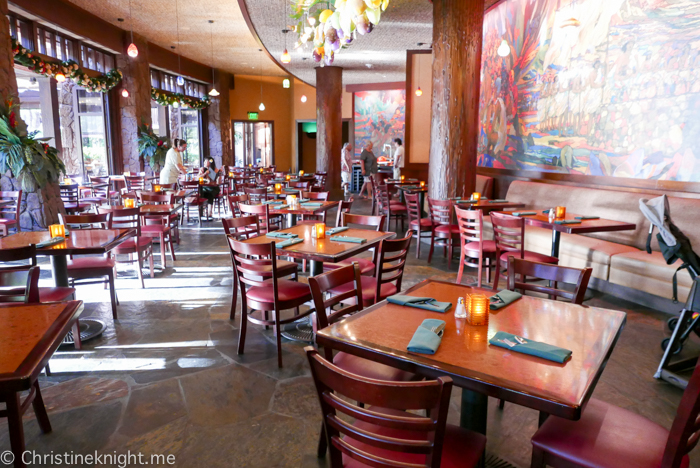 Day 3: Paint The Sky Spa, Fish Are Friends, North Shore Drive and KA WA'A Lū'au
Paint The Sky Spa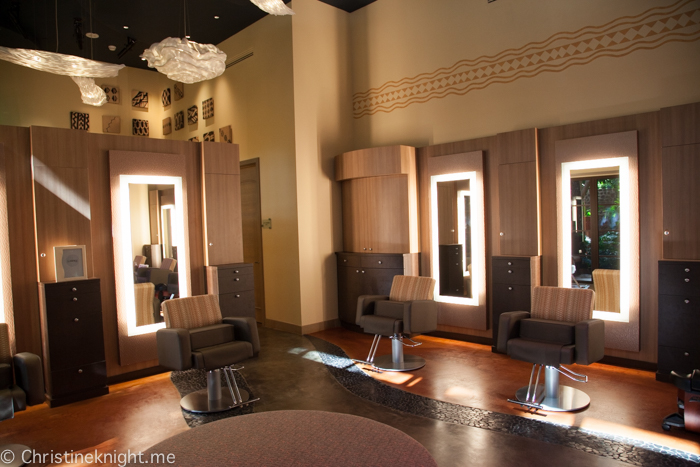 The day began with a special "makeover" for Cheese. We took her to Painted Sky, the spa facility, to enjoy a HI Style fashion transformation. The "transformation" or "makeover" is suitable for girls and boys aged 3-12 and includes hair styling, clothes and accessories. There are several options to choose from, with Cheese selecting the Luau Bound option as we were heading to the Luau that evening.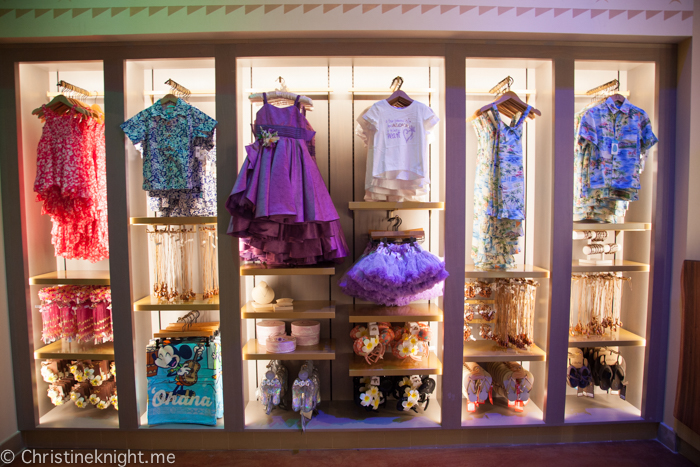 After choosing and changing into her outfit, Cheese selected her hairdo and was seated in the luxe chairs for a fancy new 'do and a bit of kid-friendly "make-up". The whole experience took about an hour, and she was thrilled with her new look.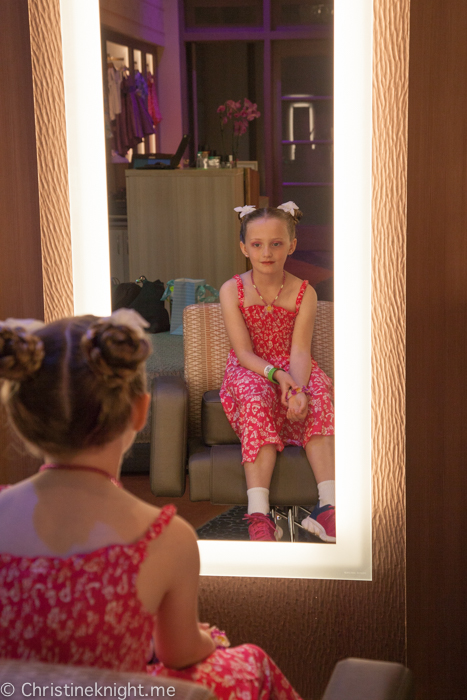 Luau Bound!
Girls
Prices starting at $160 (plus sales and service tax)
Hairstyling
Organic Shimmer Makeup
Aulani Dress
Plumeria Color Changing Necklace
Plumeria Color Changing Bracelet
Aulani Resort Flower Clip Set
Fish Are Friends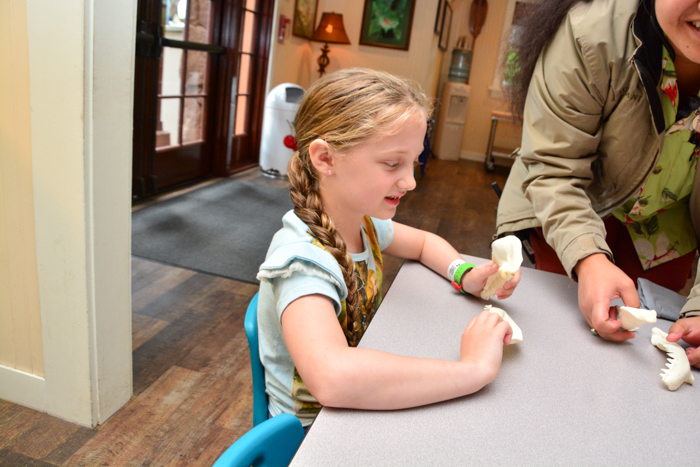 Once the "transformation" is complete, I drop Cheese off at Auntie's again for the Fish Are Friends premium activity. During the activity Cheese learns about the colourful fish of Hawaii including how the animal specialists train, feed and care for the marine life at Aulani Resort. The highlight for the kids is preparing fish food and feed it to the fish. During the three-hour activity, kids are fed lunch. Since Cheese is a pescatarian I enquire about the meals and was thrilled that they not only made sure to cater for her, but that the chef also gave me a call to make sure we were happy with the food they would be serving her. Really thoughtful.
All the kids took home a "Fish Are Friends" logo cinch bag with a DVD of Disneynature Oceans and a water bottle.
Fish are Friends is available Monday and Friday and runs from 11:00am – 2:00pm. Cost: $69 plus tax per child, lunch included.
North Shore Drive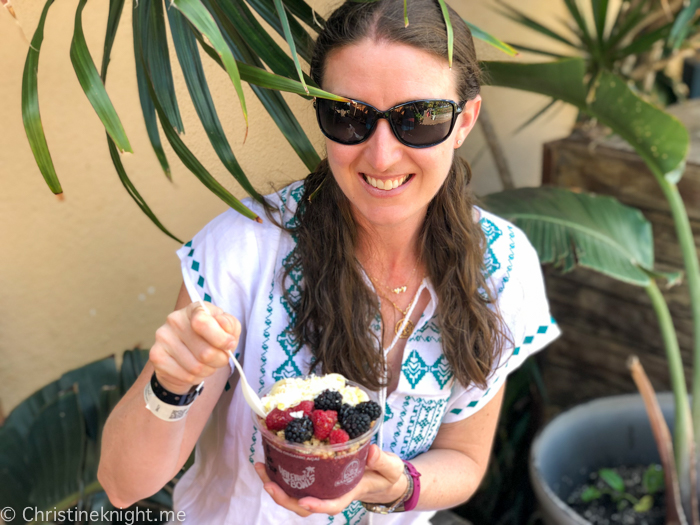 While Cheese was at Auntie's, Alec and I went for a drive up the North Shore for lunch. It's a long way to get there, about an hour to an hour and a half in each direction, so it was a long drive for a quick lunch, but also nice to spend some time together. We stopped in Haleiwa for delicious acai bowls at Hale'iwa Bowls and checked out Waimea Bay before driving back to the resort.
KA WA'A – A Lū'au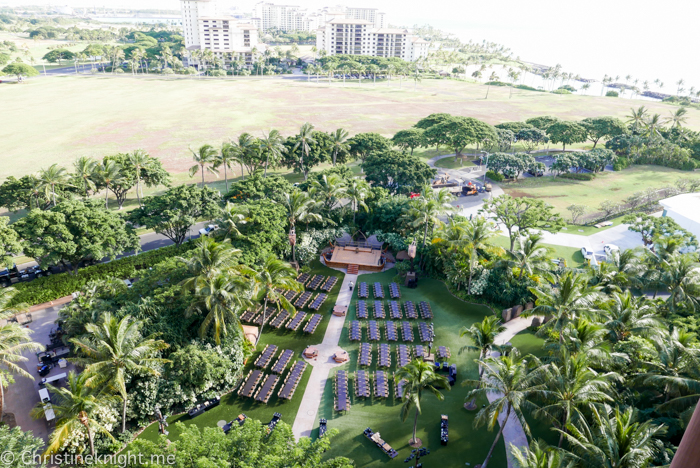 After picking up Cheese from Auntie's it was time to head to the KA WA'A Lū'au. We selected the VIP Package from the options as we wanted a table that was closer to the front. The whole VIP area was sold out on the night we attended and consisted of the front four rows, so I was glad that we had selected this option.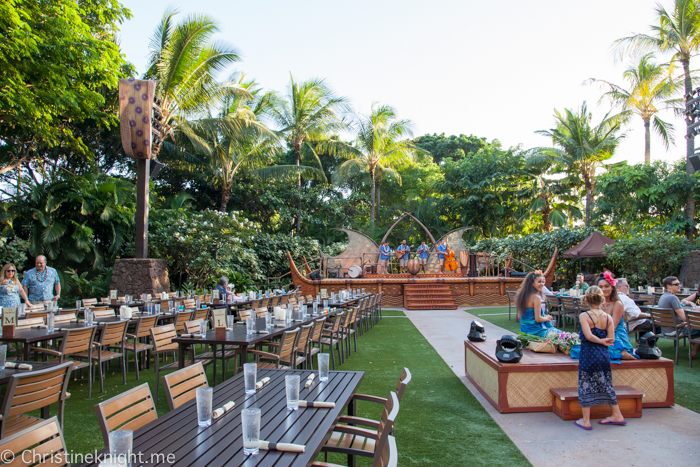 The KA WA'A Lū'au is a beautiful evening of storytelling and singing, with Hawaiian stories brought to life on stage. Held on the Hālāwai Lawn, the festivities begin at 5pm with seating and pre-show activities.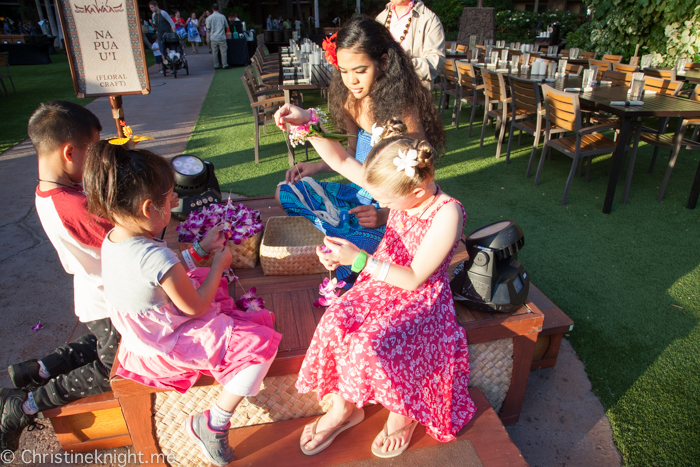 Tables are assigned however not the seats at the individual tables, so I advise lining up earlier to get the best seats possible at your table. We lined up at 4:40pm and were second to our table, which meant while we had a decent view, there were still heads right in front of us we had to dodge around to see.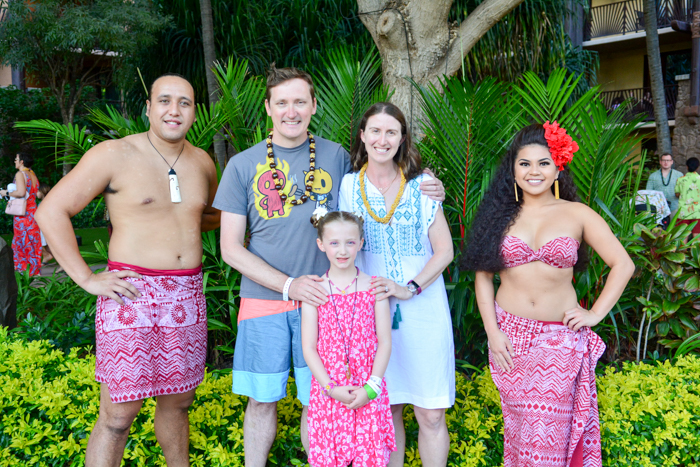 As VIP we receive an "upgraded lei" which was really quite fancy and we are really happy to be taking them home. We also receive unlimited alcoholic drinks as part of our package and enjoy an evening full of cocktails.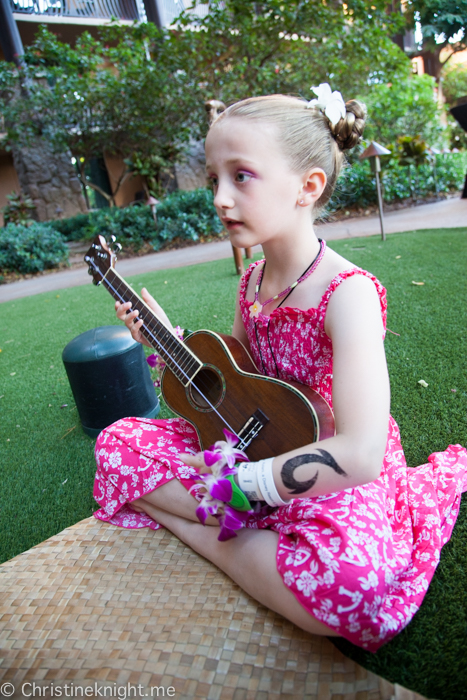 The pre-show activities include traditional arts such as kapa printing, flower arranging, temporary kakau tattoos, ukulele playing and paʻi ai taro pounding. The activities are really fun and we do some of them twice before the luau introduction and welcome begins.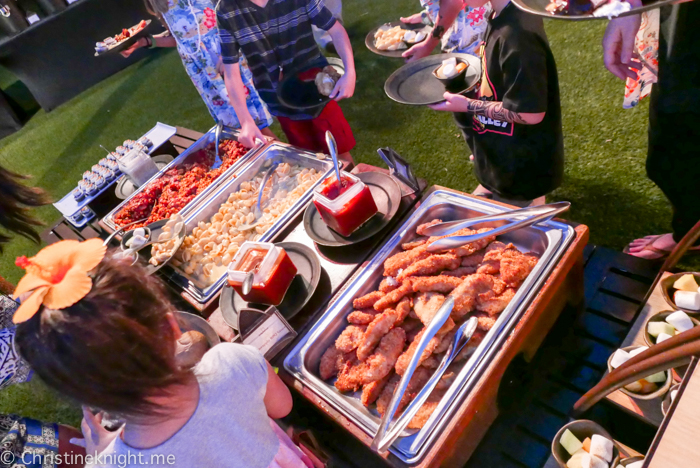 The buffet opens before the show, and we enjoy a wide variety of food. It's also very meat heavy as you would expect, but there are still plenty of things for vegetarians to eat among the tables filled with seafood, salads and the carving station, plus the chef very kindly makes me a special pasta dish incase I couldn't find enough to eat at the buffet. There is a special table just for kids with things like mac and cheese and Moana cupcakes, and an entire dessert table with cakes and fruit.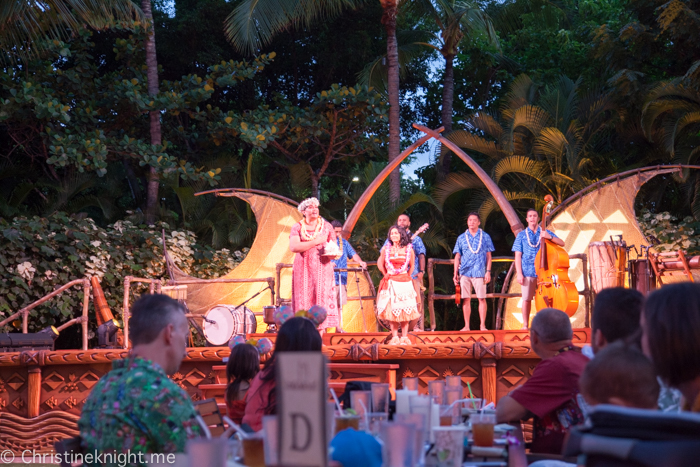 The show is fantastic. Beautifully told stories accompanied by talented dancers and singers. Some numbers are breathtakingly beautiful and the fire dancing leaves us in awe. There are several interactive moments for the kids, including a section where they learn the hula and at the end where they are invited to play instruments up on stage with the cast. Afterwards we have the opportunity to take photos with the wonderful cast on the way out.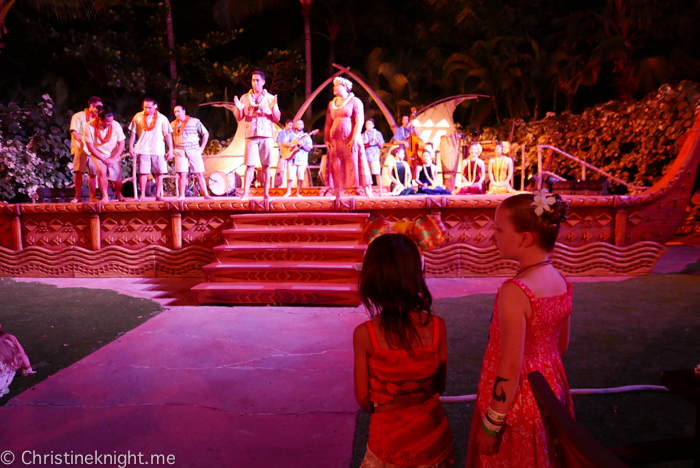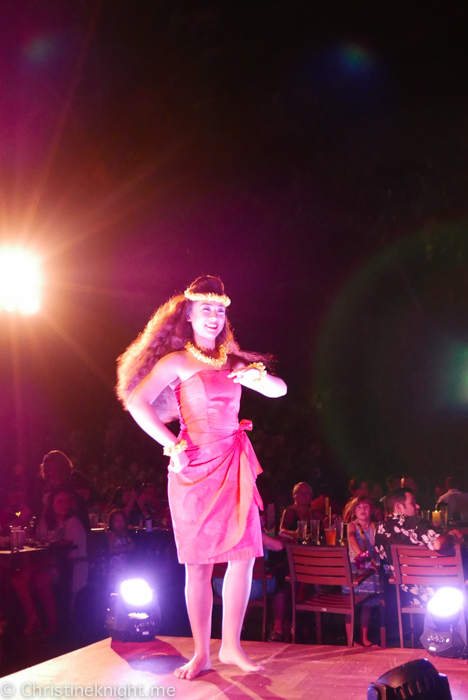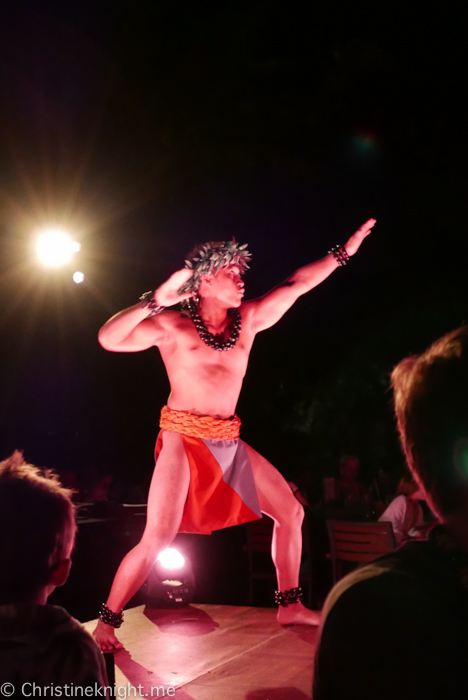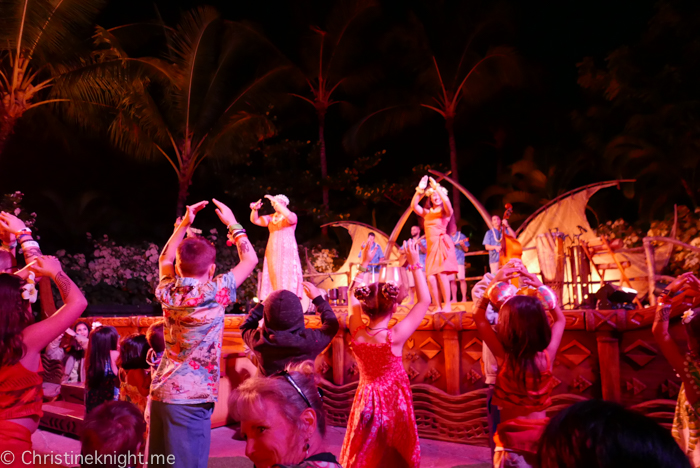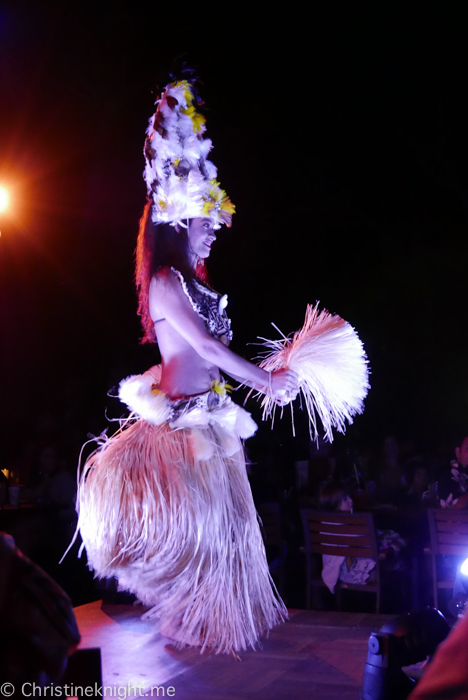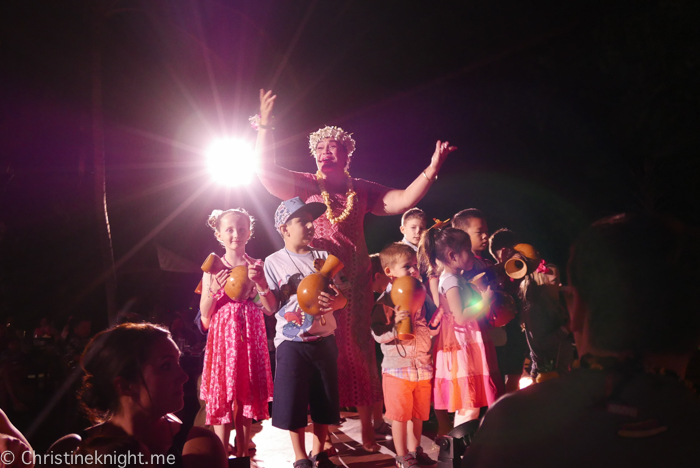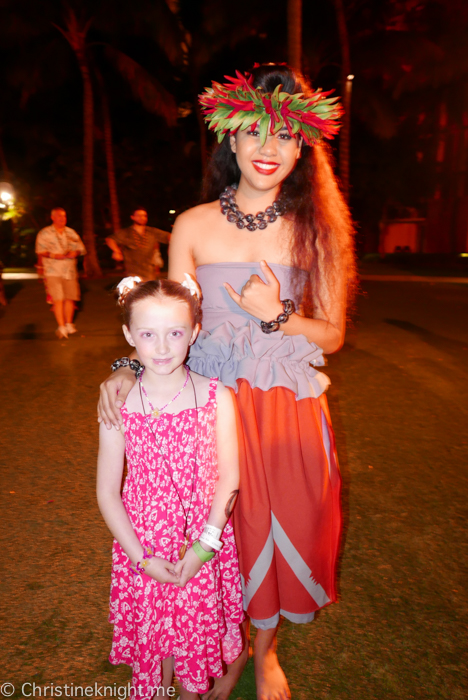 VIP Seating – $169 Adults/$109 Keiki (ages 3 through 9). There is no charge for keiki under 3.*
General Admission – $129 Adults/$79 Keiki (ages 3 through 9). There is no charge for keiki under 3.**
Beginning May 1, 2019, the seating package prices are changed to the following:
VIP Seating – $179 Adults/$109 Keiki (ages 3 through 9). There is no charge for keiki under 3.
General Admission – $139 Adults/$89 Keiki (ages 3 through 9). There is no charge for keiki under 3.
VIP Guests receive early check-in, priority up-front seating, complimentary beverages (both alcoholic and non-alcoholic) and an enhanced welcome lei.
Day 4: Swimming pools, Ukulele playing and the Ko Olina Center
After a morning walk, I line up at the Pau Hana Room to sign up for ukulele class.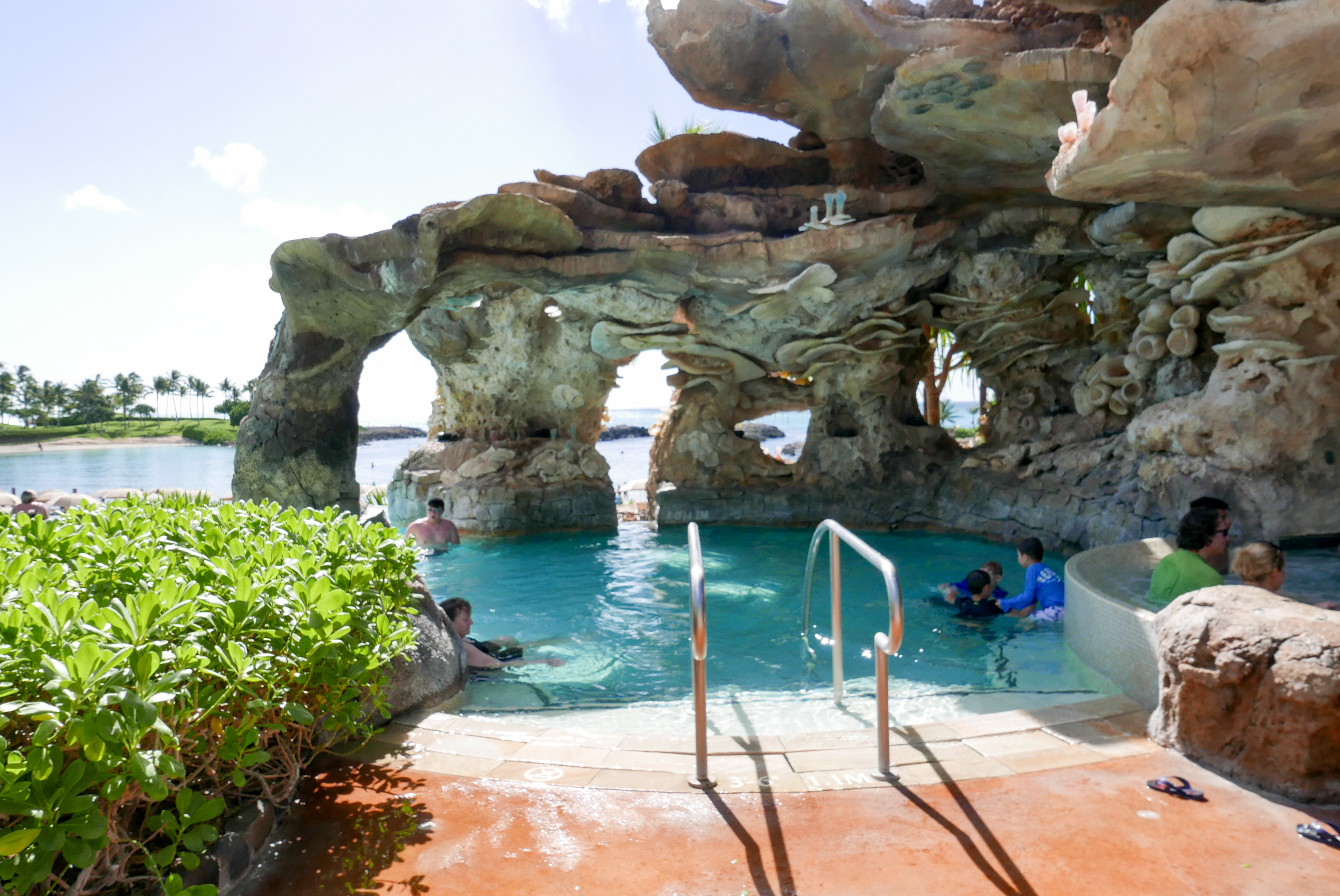 After collecting the sleepyheads, we start the day off with swimming in the Ka Maka Grotto, which is stunning infinity pool overlooking Ko Olina Beach and an incredibly cool grotto attached, which has a whirlpool spa.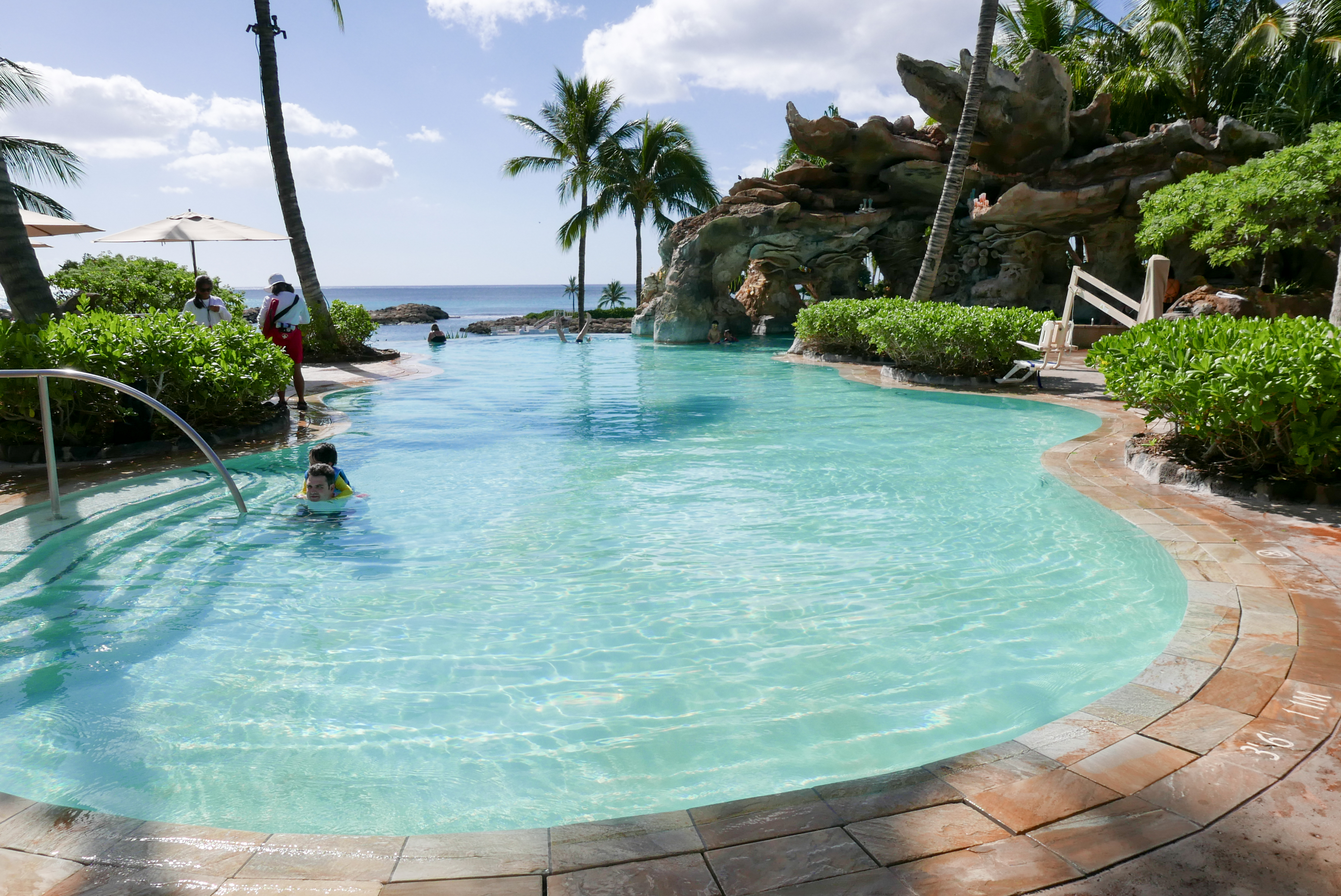 Then it's off to Cheese's fave, the Waikolohe Stream, where we float around in tubes until it's time for lunch.
Island Vintage Coffee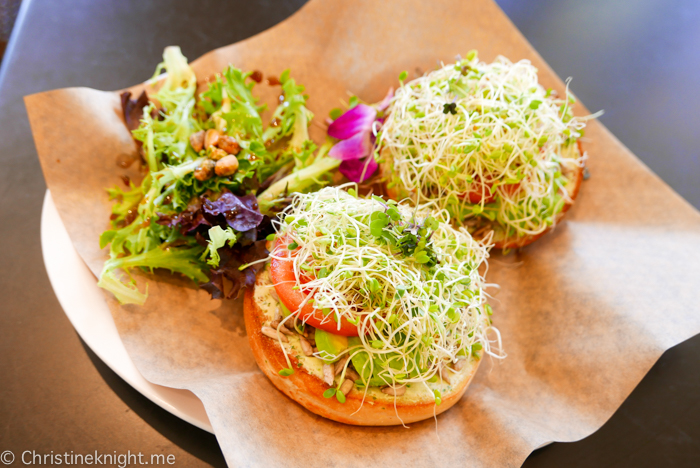 Today we head across the road to the Ko Olina Center for bagels at Island Vintage Coffee. I get a vegetarian one that is overflowing with sprouts, tomato and avocado. They have great options for kids and also fantastic iced tea.
Two Scoops Ice Cream Parlour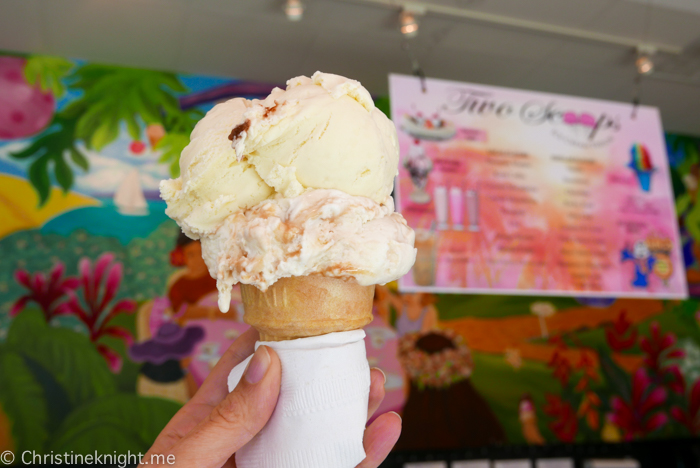 Since it's hot we stop at the Two Scoops Ice Cream parlour next door before heading back to the resort.
Ho'okani Pila – Learn the 'Ukulele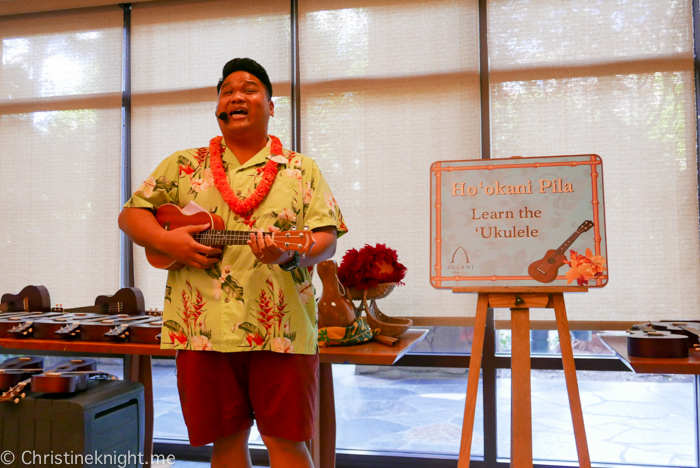 In the afternoon we head to 'ukulele class and learn the history of several Hawaiian instruments as well as the basic four chords on the 'ukulele. By the end of the class we are able to play several popular songs, much to my amazement. We decide to buy our own 'ukulele to take home after the class, we love it so much.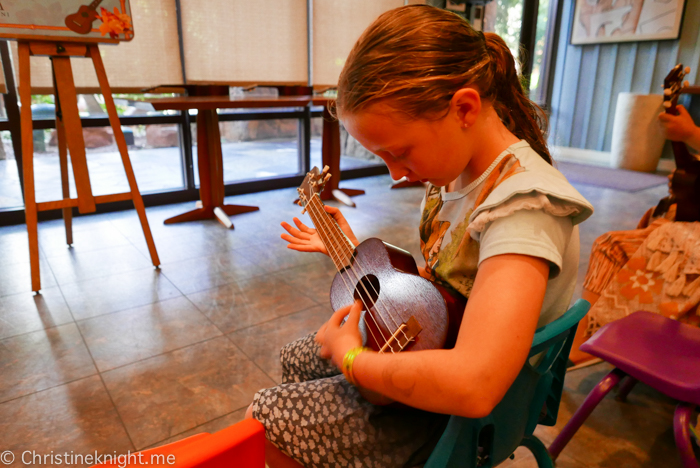 The 45 minute class is free and books up fast. I suggest lining up at 8am to book it in.
Menehune Adventure Trail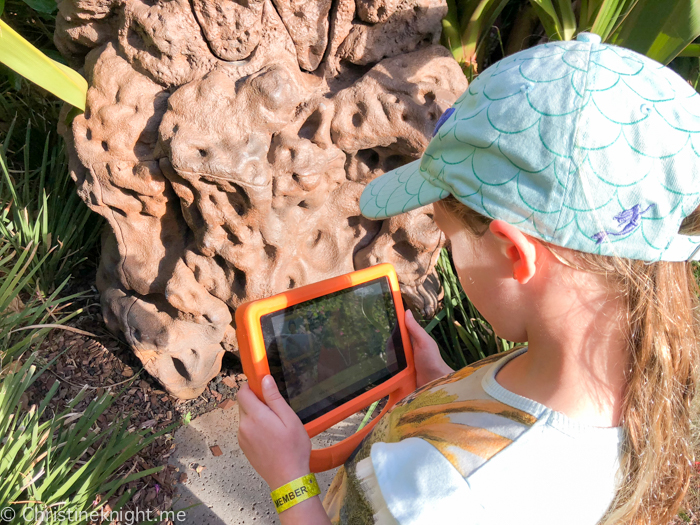 Next we sign out a tablet for the Menehune Adventure Trail at the Pau Hana community center, a free high-tech scavenger hunt around the resort. There are two trails, one short one in the lobby and one longer one outside in the resort grounds. Using the tablet we solve riddles, discover magic and have a really great time. The Menehune Adventure Trail is only available at certain times of day – ask at the community center for the updated hours. The scavenger hunt is best suited to older kids due to the difficulty of the clues, but younger kids can also enjoy it with the help of their parents.
Monkeypod Kitchen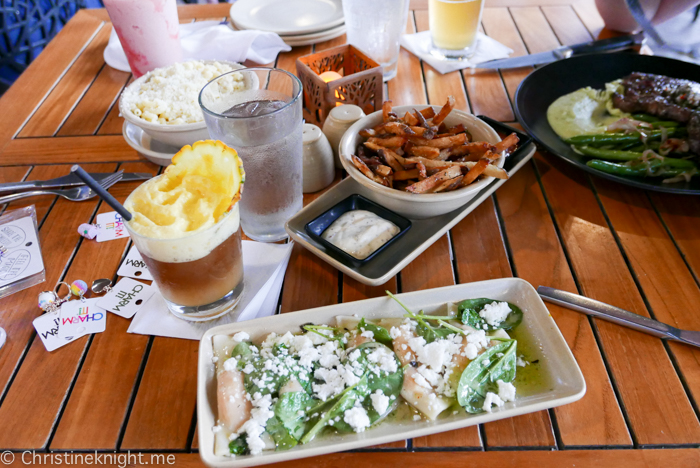 For dinner we head back across to the Ko Olina Center to our fave restaurant in the area, Monkeypod Kitchen. The food is always excellent and they have options for kids as well as vegetarians (not a lot, but at least some!). We always dine here when we come to Oahu.
Day 5: Aunty's Breakfast Celebration at the Makahiki, animation class
Aunty's Breakfast Celebration at the Makahiki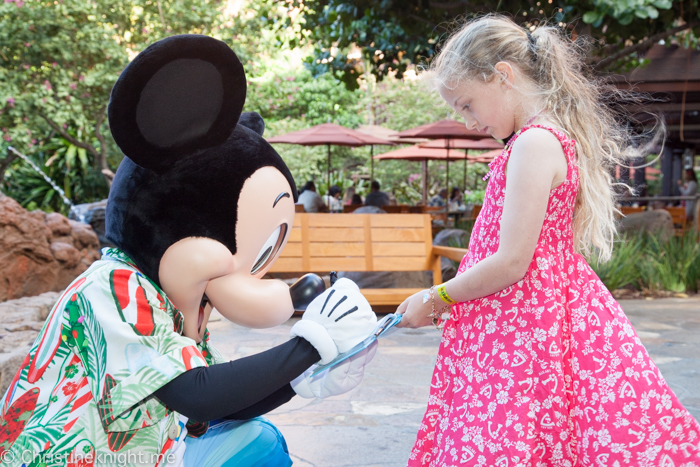 After signing up for animation class at the Pua Hana community center, it's time for
Aunty's Breakfast Celebration at the Makahiki, AKA the character breakfast. Mickey awaits outside for a photo op, while inside awaits a buffet breakfast, roaming Disney characters, singing and entertainment.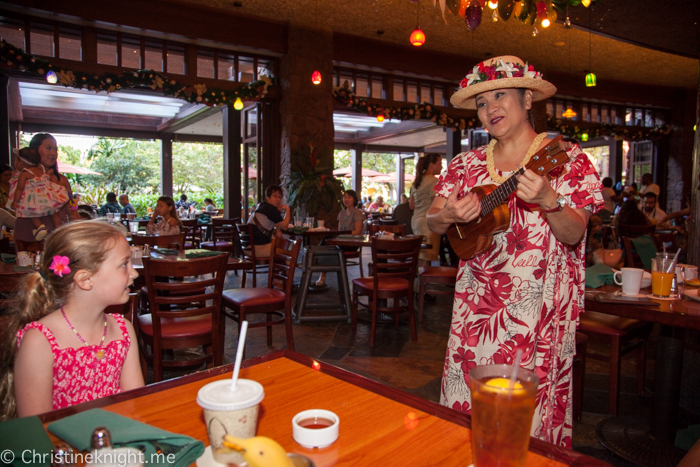 The buffet breakfast includes a custom omelette station, pancakes, waffles, French toast, fruits, Asian offerings, house-baked pastries, lots of sliced meats, plus a dedicated kids section. The excellent server brings me iced tea after iced tea, which is all included in the price.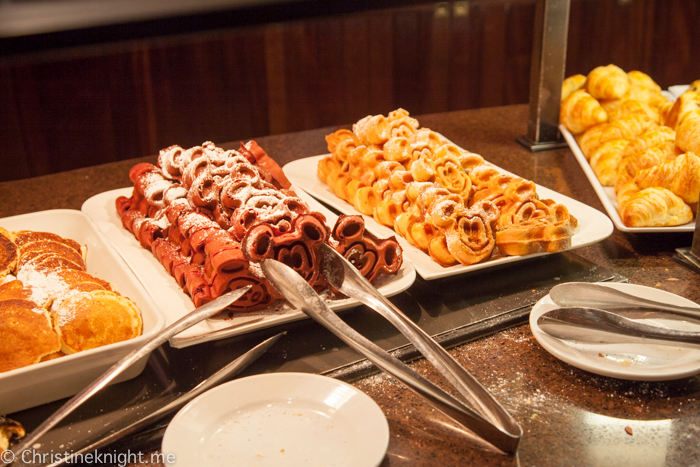 Disney character roam around the room – Minnie and Goofy both visit our table.
"Auntie" leads the entertainment with singing and interactive fun for the kids including musical instruments and parading around the room. The breakfast is a really fun experience that we highly enjoy – it's the third time we've done it!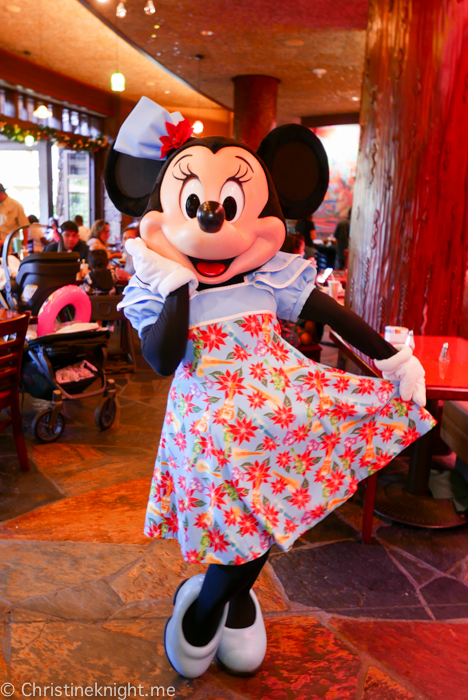 Price Adults: $41USD, Keiki (Ages 3 to 9): $21USD. The Mickey photos are separate from the PhotoPass and have to be purchased separately.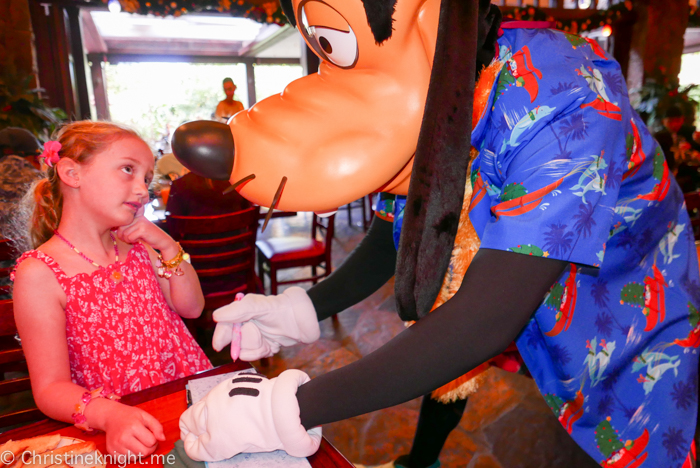 Waikolohe Valley pool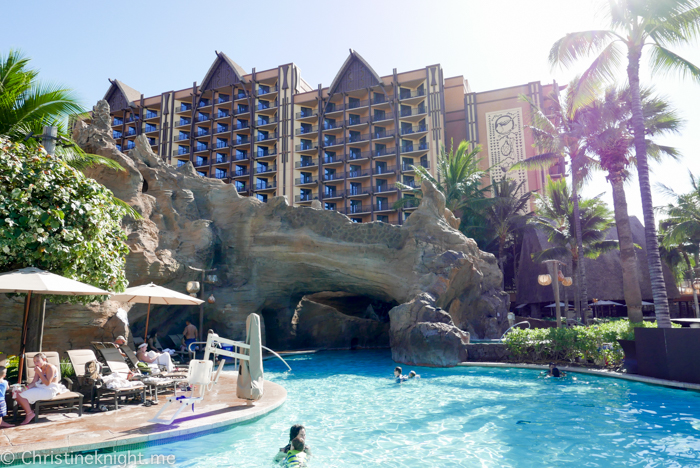 After breakfast we hit up the Waikolohe Valley pool area for a swim. It's a beautiful lagoon pool with a graduating slope leading in, perfect for little kids.
Disney Family Fun Animation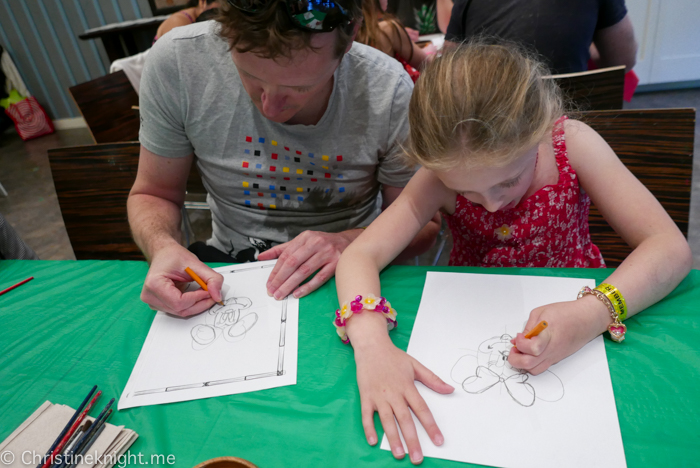 Next is animation class, another free class that goes for an hour and includes learning to draw a Disney character in pencil, and then painting an animation cell.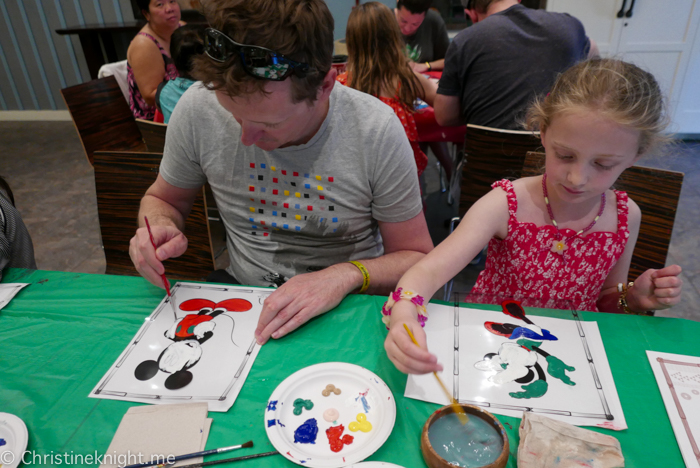 The class is really fun and all three of us really enjoy it.
Character meet and greets
Earlier in the day I called the character hotline and found out where Pluto and Daisy would be meeting guests later in the day. The characters are popular to meet so I suggest lining up a few minutes before the scheduled meeting times.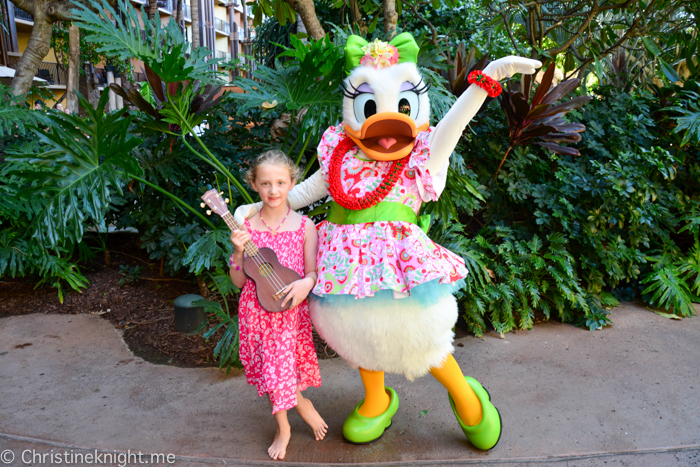 Daisy and other "minor" characters aren't scheduled every day so get in to see her quickly if she's a fave of yours. She is one of the most fun characters to meet (along with Stitch) and always makes us laugh.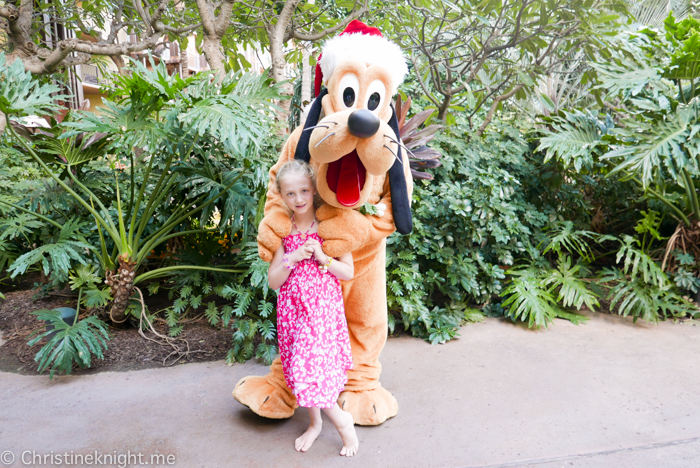 Pluto is another favourite and will often try to "lick" or sniff guests.
Sunset on the beach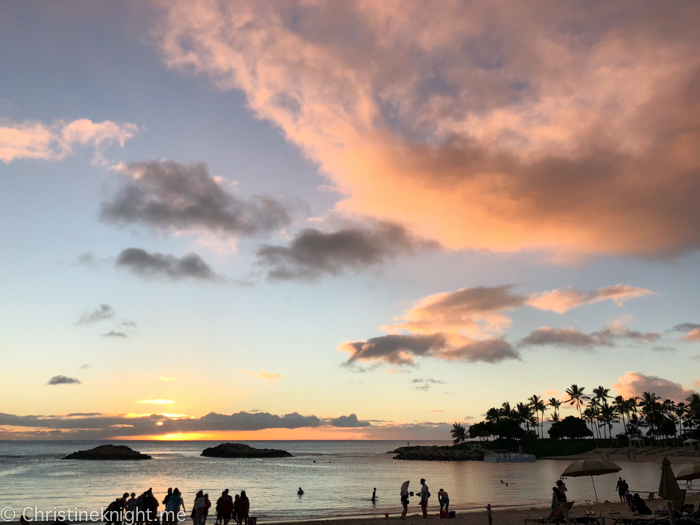 We have a lazy afternoon and head down to the beach to watch the sunset. Every evening around sunset, Disney PhotoPass photographers can be found on the waters edge taking photos on request. We pose for some photos before heading out to dinner across the road at Monkeypod again.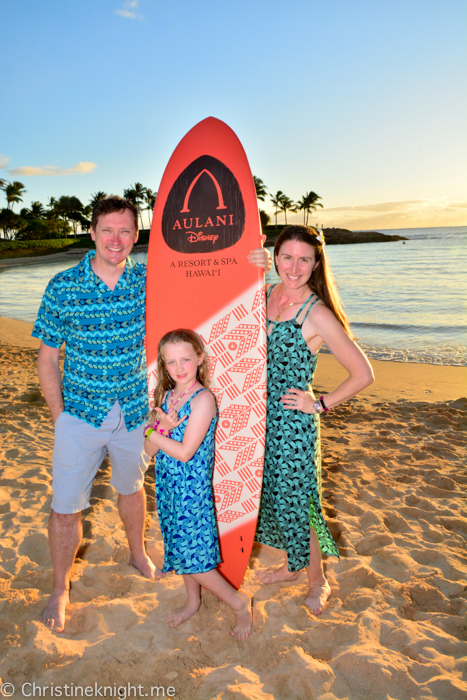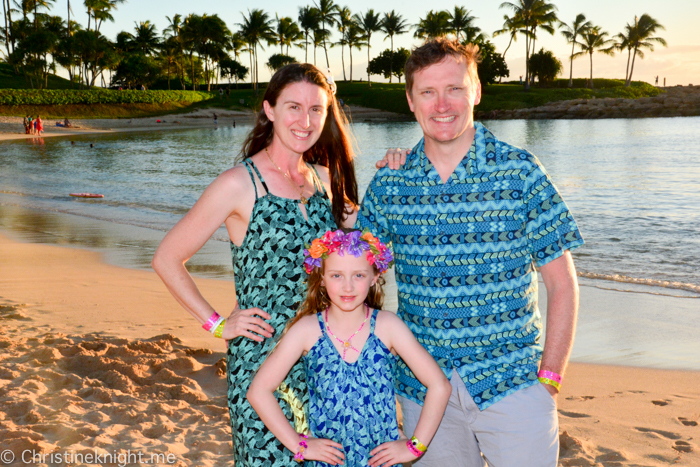 Day 6: Pools, Characters, Kāpala Ki'i t-shirt stamping and sunset at 'AMA'AMA
I sign us up for Kāpala Ki'i t-shirt stamping at 8am, then we all swim for the last time in the beautiful Aulani pools. After our swim we head to Island Vintage Coffee one last time for lunch.
Kāpala Ki'i t-shirt stamping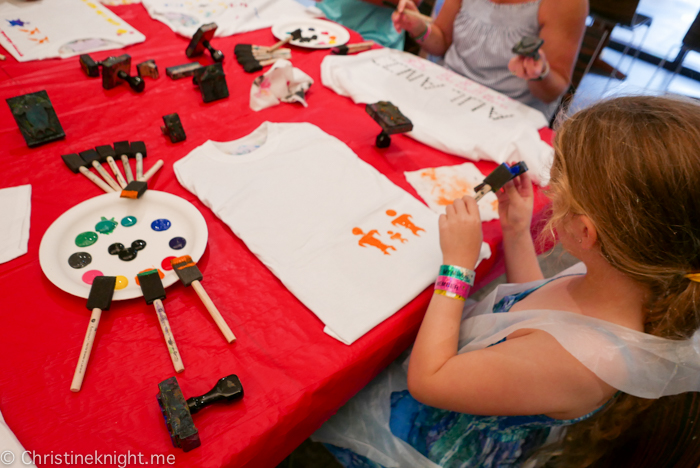 Our next activity today is Kāpala Ki'i t-shirt stamping, where guests stamp their own designs on white T-shirts based on the art of Native Hawaiian kapa printing. The stamps are nice big blocks, easy to stamp with, so it's an ideal activity to do with kids and take home a really unique souvenir of your stay. The price for this activity is adult $15 per shirt plus tax and kids $12 per shirt plus tax, and the class runs for around 30 minutes.
Chip and Dale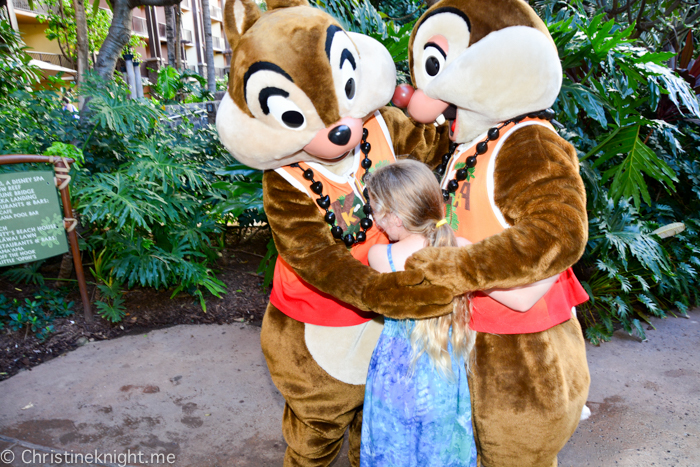 While leaving the community center with our wet tees we see Chip and Dale arriving for a character meet and greet.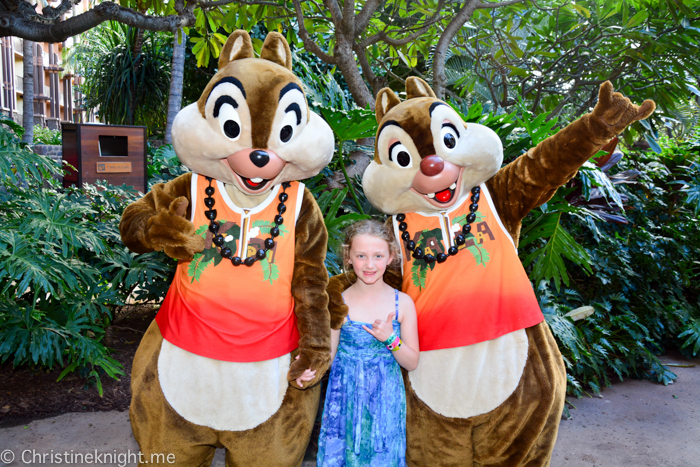 It's a great photo op so we ditch the tees in our room and run back in time to get a photo with the mischievous pair.
Mickey and Minnie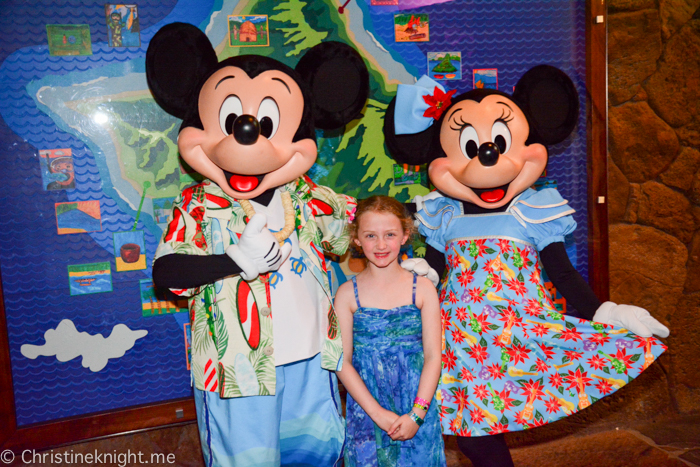 We've had many Mickey and Minnie photos in our time with the characters separately, but never together, so this was a great opportunity to get a shot with both iconic characters together.
'AMA'AMA – Contemporary Island Cooking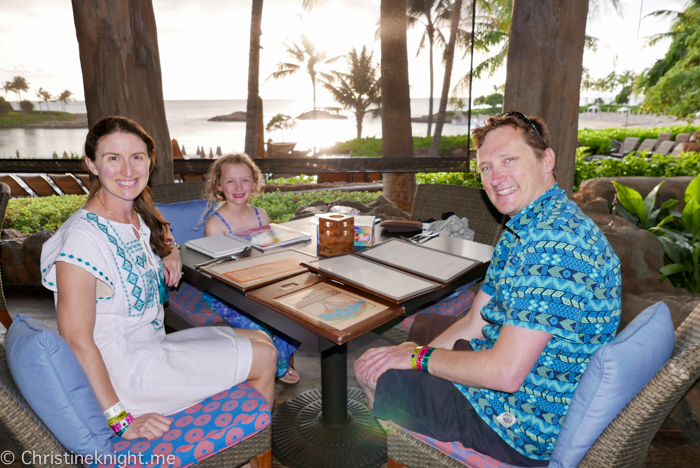 For our last day at Aulani we book a sunset dinner at 'AMA'AMA, the upmarket restaurant within the resort, overlooking the beach.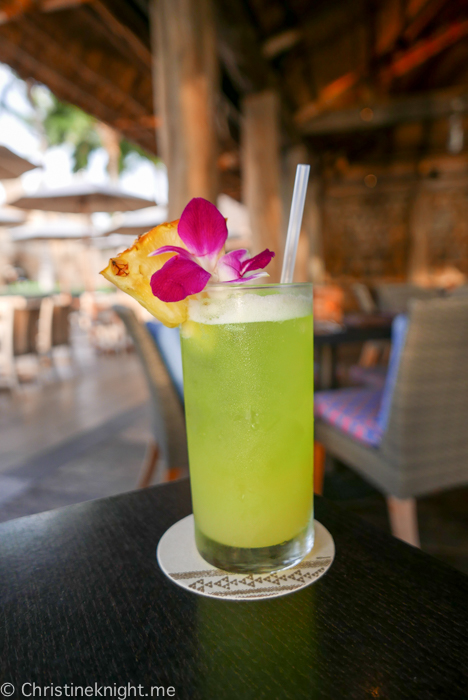 The view is sensational and it's the ideal spot to watch the sun go down. I am delighted to discover the restaurant has an entire vegetarian menu as well as kids' options, so we are more than well catered for.
Mo'olelo Fire Pit Storytelling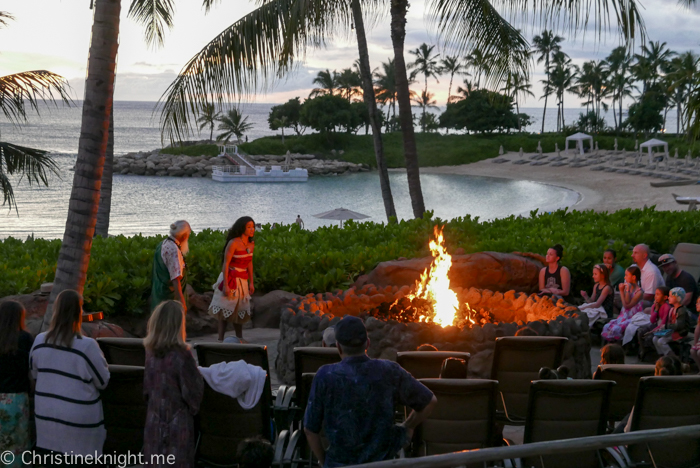 While we eat, we watch the Mo'olelo Fire Pit Storytelling right outside the restaurant, with a special visit from Moana. Moana only comes to some of the storytellings, not all, and there is no way to know which one she will show up to. Lucky us!
Sunset photos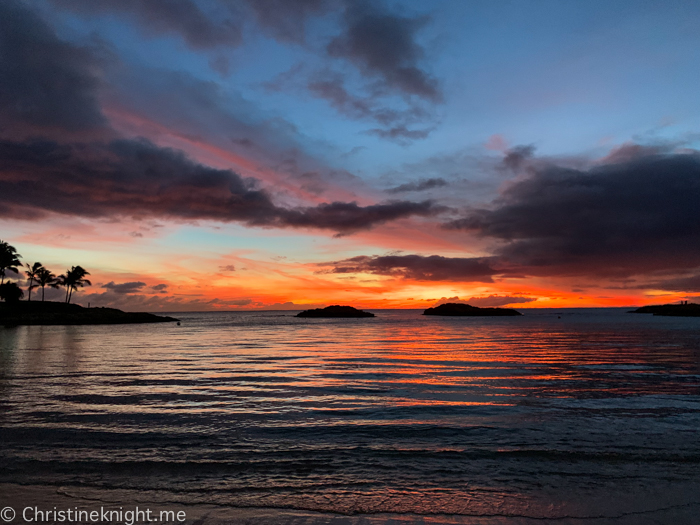 It becomes clear that sunset this night is going to be extraordinary, so we head back down to the beach to get some more photos with the Disney PhotoPass photographers.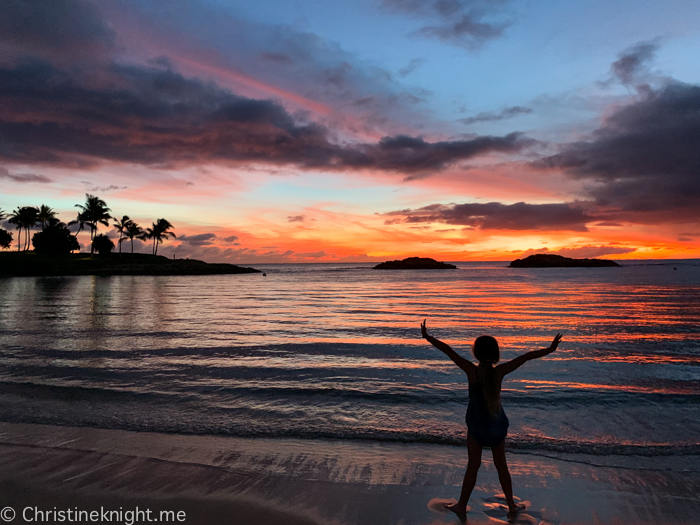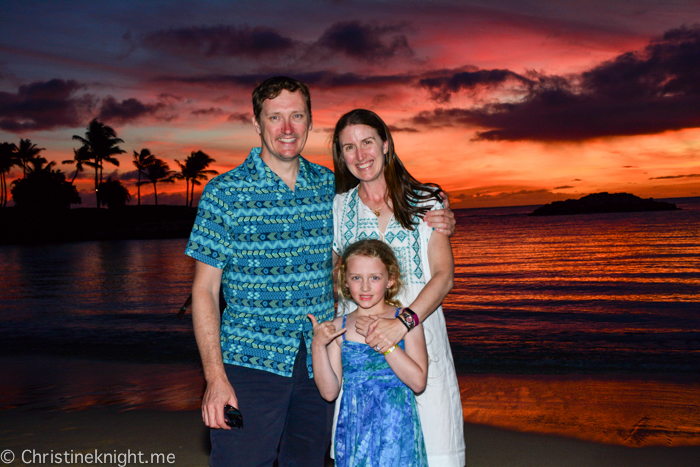 What a way to end our amazing week at Aulani!
To purchase your PhotoPass photos, head to Kālepa's Store at the end of your stay. Once the CD is printed no more photos can be added to the disc.
Aulani, A Disney Resort & Spa
92-1185 Ali'inui Dr, Kapolei, HI 96707
disneyaulani.com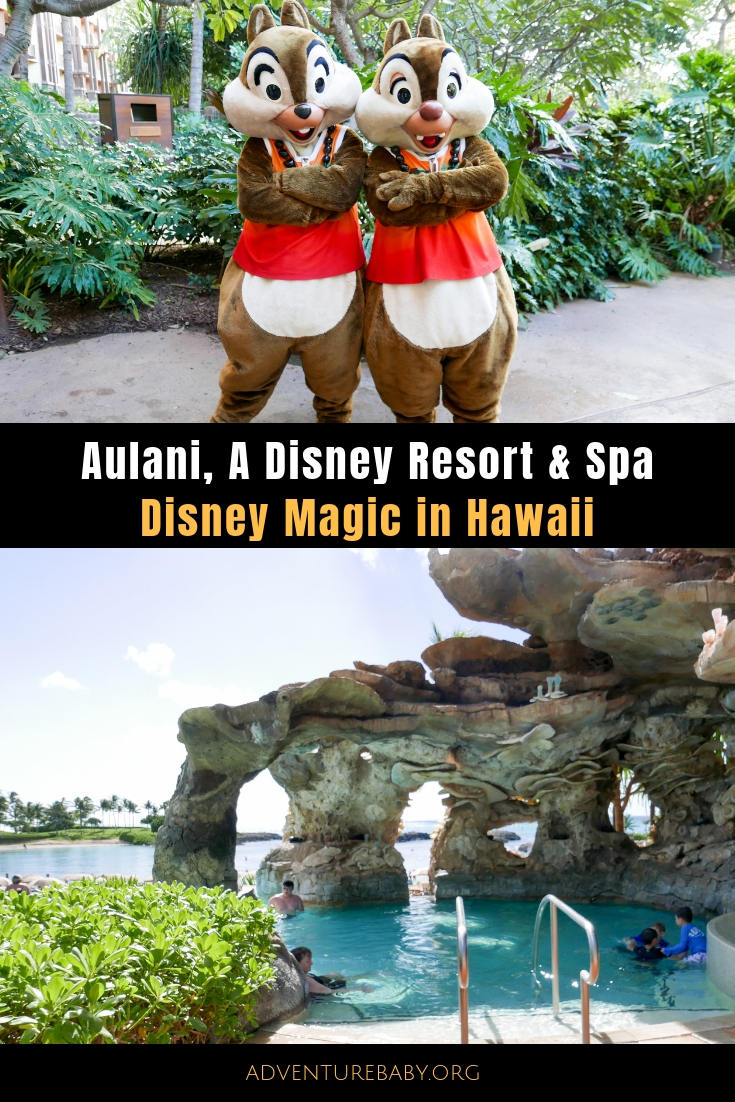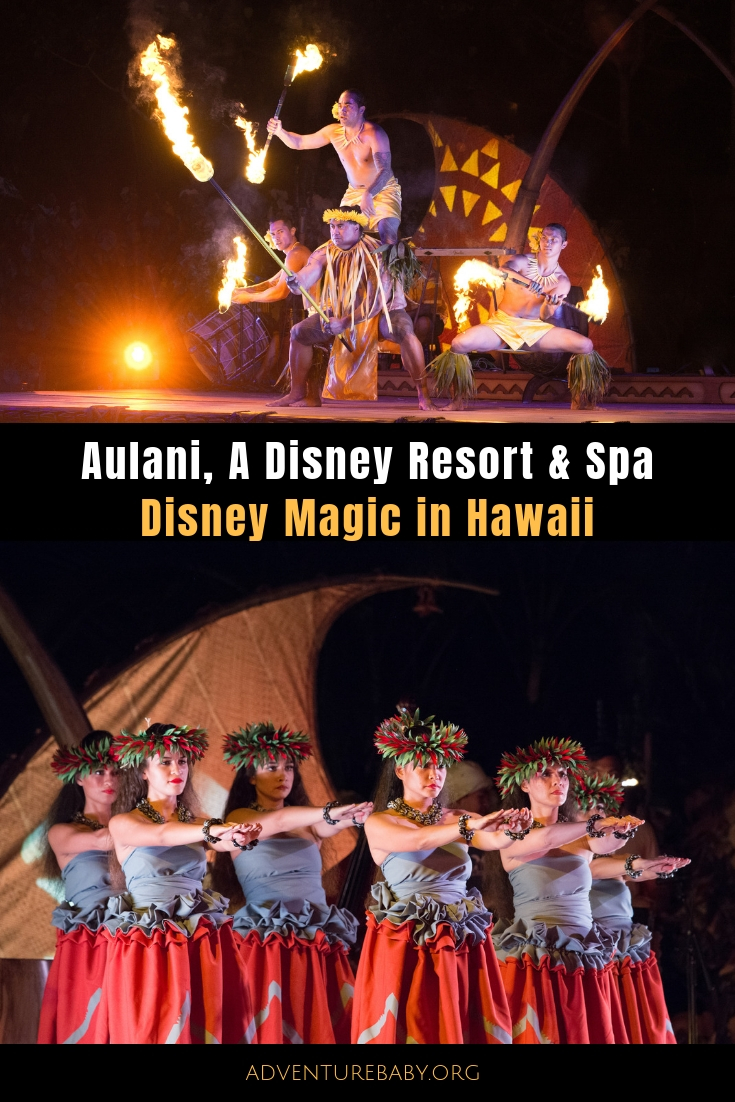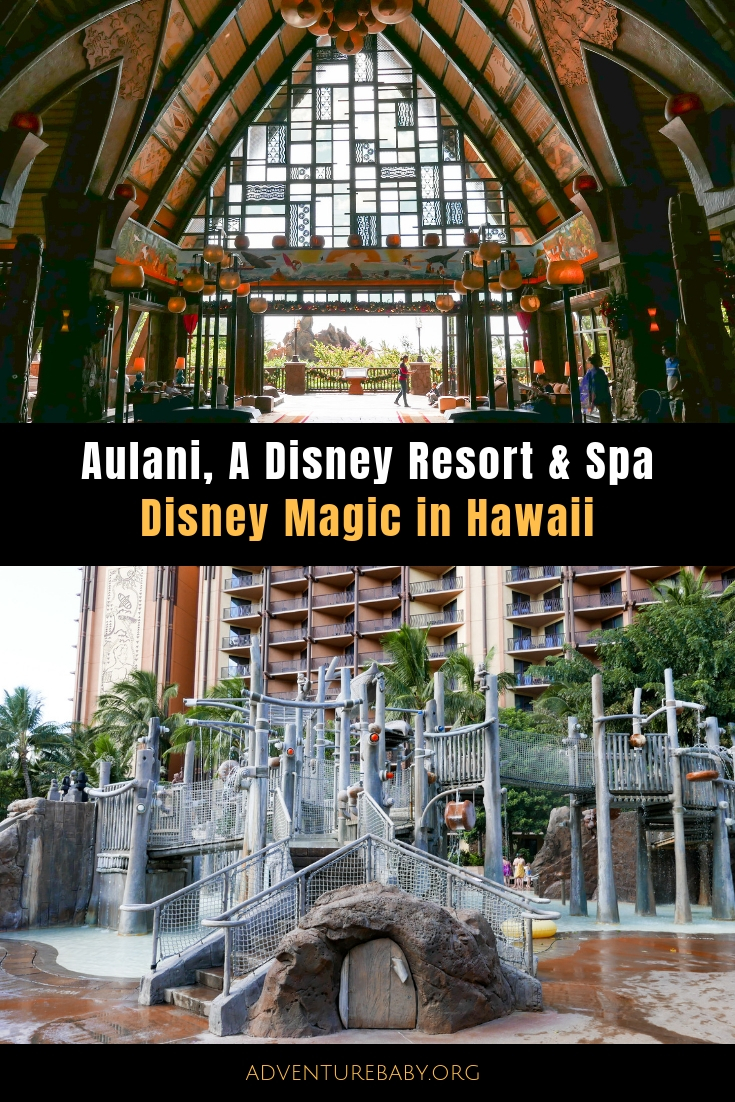 Read more about our most recent stay at Aulani, A Disney Resort & Spa here.
Read a full review of Aulani, A Disney Resort & Spa here.
Read a full review of the Grand Californian Hotel here.
Get tips for Disneyland first-timers here.
Read about celebrating Halloween at Disneyland here.
Find out about celebrating the holidays at Disneyland here.
Read about saving money at Disney hotels by using the DVC Point Rental System here.
Thinking about a Disney cruise? Here's why you should!
Get Disney Cruise planning tips & tricks here.
Sail to Alaska aboard the Disney Wonder here.