The Best Things To Do In Maui With Kids
Maui is the second-largest of the Hawaiian islands. It's a wonderland of fun for families, with Haleakala National Park, thrill-seeking adventures, 30 miles of beaches and aquatic wildlife galore. There are plenty of things to do in Maui with kids!
Family-friendly Activities
Surfing Goat Dairy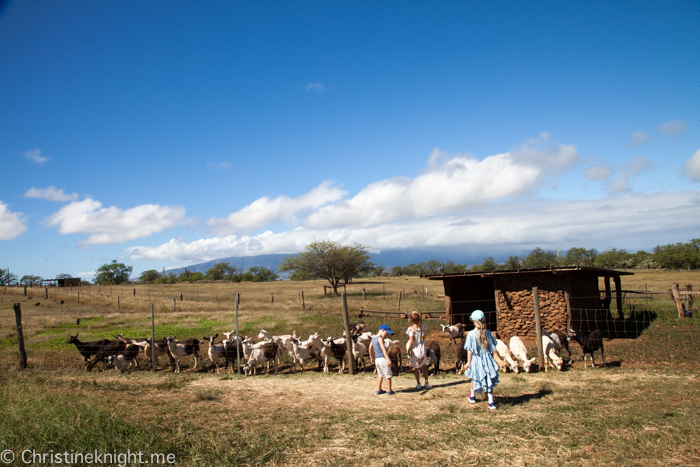 Surfing Goat Dairy is a dairy farm located on the slopes of Maui's Haleakala Crater in lower Kula, Hawaii. It produces more than two dozen goat cheeses, many of which have won national awards and are used by hotels and restaurants on the island.
The dairy was was established in 1998 by German expatriates Thomas and Eva Kafsack.
Visitors are welcome to drop by the dairy and try the cheeses or meet the goats near the main office. I highly recommend taking a daily tour. The walking tours last for 30 minutes and take visitors around the working farm and dairy and includes petting and feeding the working goats and meeting the dogs and cats.
Read more about our experience visiting Surfing Goat Dairy here.
Ali'i Kula Lavender Farm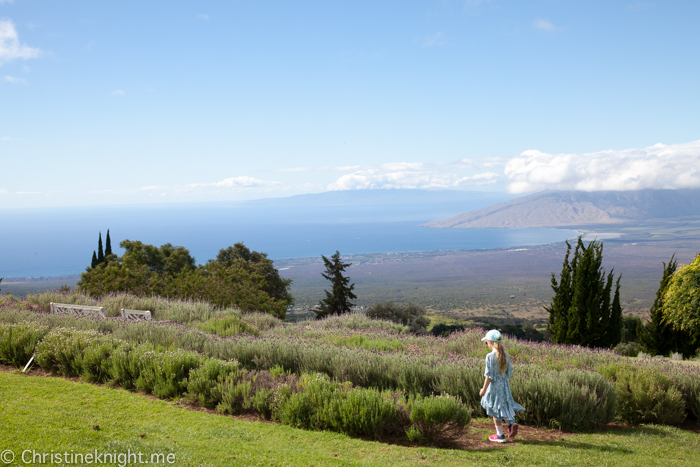 A sweet-smelling place to stop on the slopes of Haleakalā, Ali'i Kula Lavender grows 45 varieties of lavender. It's a gorgeous spot to wander through the different lavender plants and smell the differences. There is a kids' trail on offer. Try the lavender ice cream for something different!
Get more info on visiting Ali'i Kula Lavender here.
Haleakalā National Park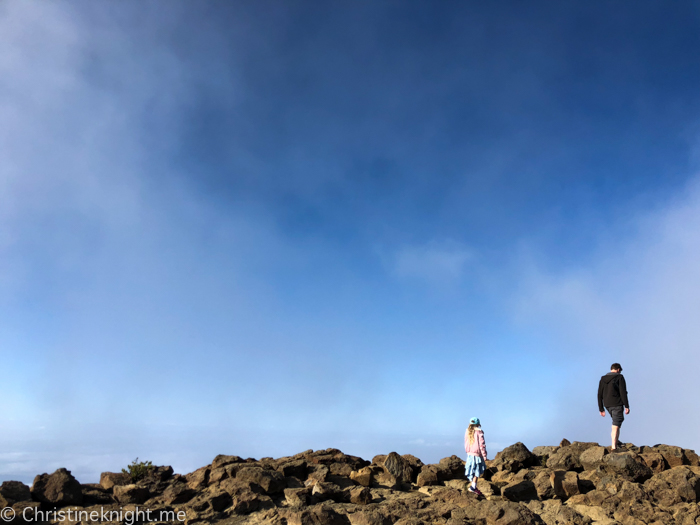 Haleakalā, or the East Maui Volcano, is a massive volcano that forms more than 75% of Maui. Haleakala is home to some of the world's rarest and most endangered plant and animal species. The mountain summit is one of the few easily-accessible parts of Hawaii where their rare and endemic species can be found to survive and thrive.
Driving to the summit takes 2-3 hours. Sunrise is the most popular time to visit, however any time of day is beautiful.
Read about driving to the summit of Haleakalā here.
Napili Beach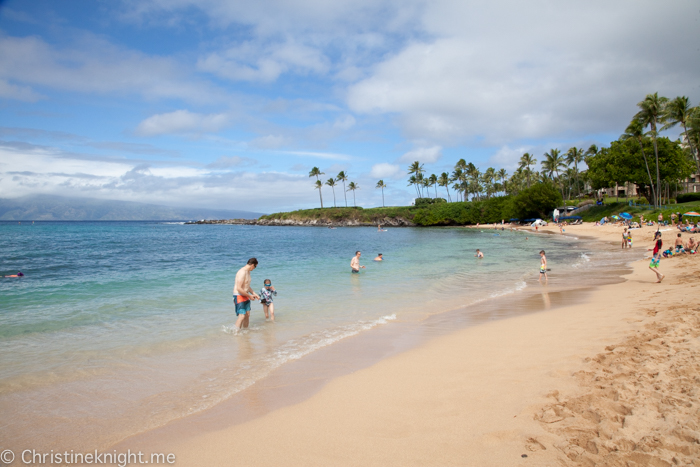 A gorgeous spot with sloping sand and plenty of trees for shade, Napili Beach is a top spot for families. The enclosed bay keeps the beach protected from waves, making it a gentle, flat beach, perfect for kids and snorkelling. With plenty of reef areas to the left of the beach, Napili is a great spot to float around looking for fish.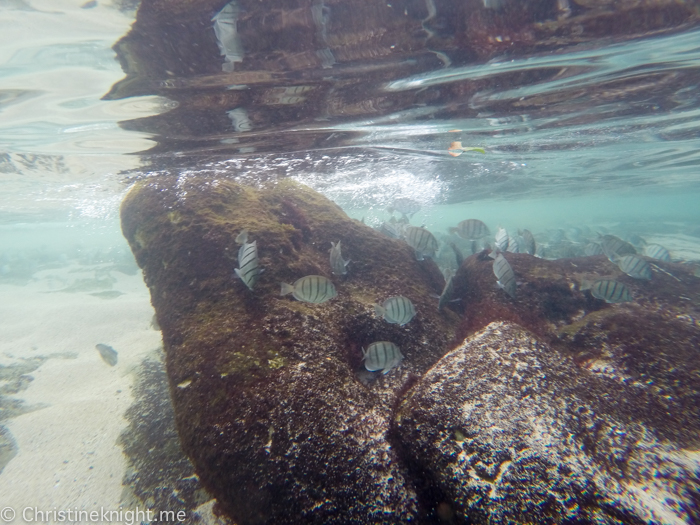 There is an outdoor shower at the exit/entrance to the beach and restroom amenities. parking however is a challenge and we had to park a long way down the road. Bring a picnic lunch as there is nowhere to buy food and set up for the day in a shady spot.
Ka'anapali Beach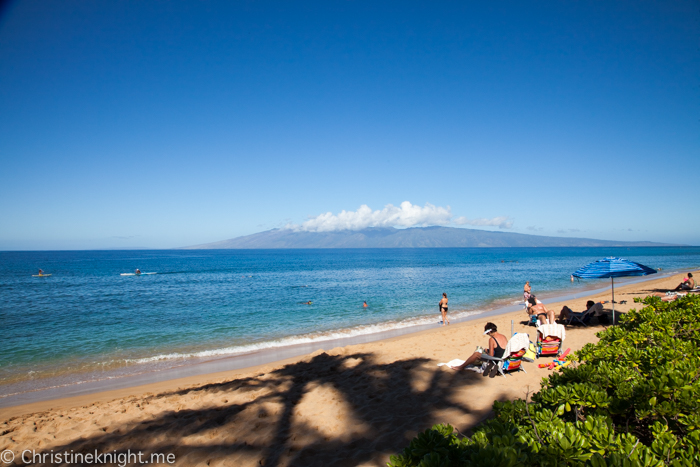 This gorgeous beach is home to seven resorts (we've stayed here twice!) and plenty of restaurants. The key attraction however is the beautiful golden sand that stretches for three miles and the soft waves that crash upon it.
There are plenty of trees not far back from the waters edge so there is plenty of space to set up towels or chairs for the day. Morning is the best time to visit to get shade.
Ka'anapali Beach is a fantastic snorkelling spot as there is a reef just beyond the wave break. Take along a snorkelling set and spot beautifully coloured fish and even the odd green sea turtle.
There are outdoor showers to rinse off at several spots along the beach near the resorts. Kahekili Beach Park has outdoor showers and restrooms to change in.
Whalers Village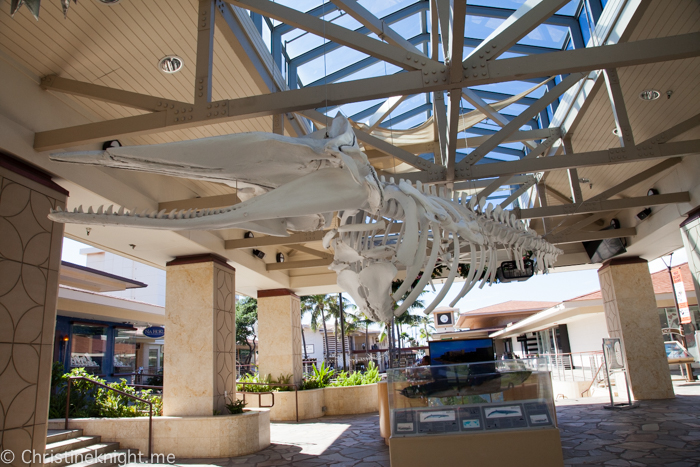 This beachside mall has it all! Plenty of boutique shops, restaurants, a whaling museum, cultural activities such as lei making and hula lessons, free movie nights, live music and a kids play area featuring a climbing structure and splash play area.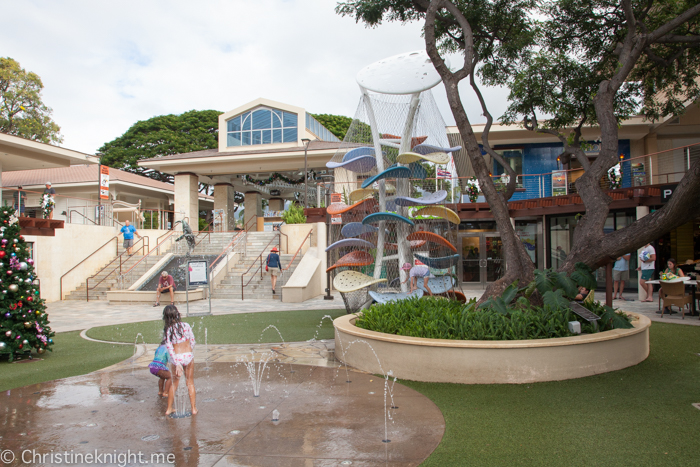 Get more info on Whalers Village here.
Maui Ocean Centre, The Aquarium of Hawaii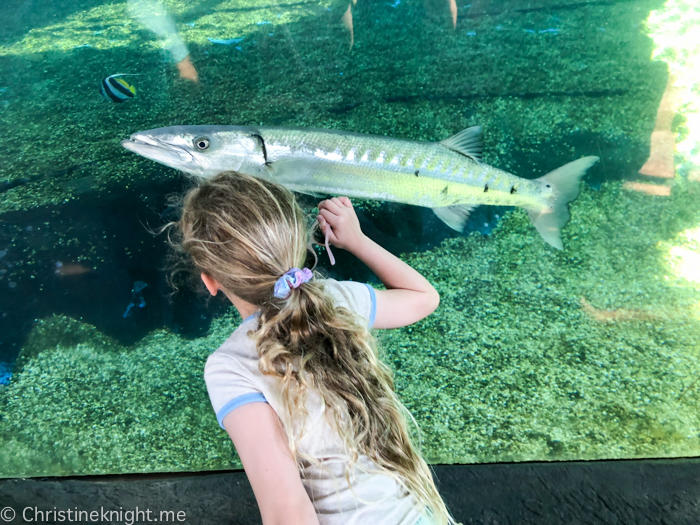 The Maui Ocean Center is an aquarium and oceanography center located on the island of Maui, Hawaii, and is the largest tropical reef aquarium in the Western Hemisphere.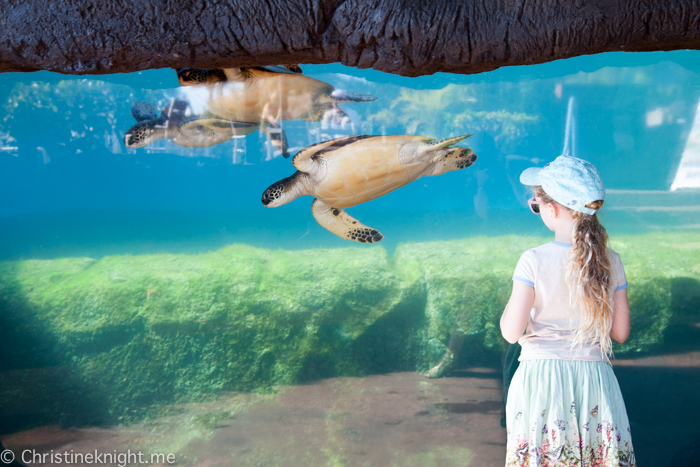 The Maui Ocean Center mission is to foster understanding, wonder, and respect for Hawaii's marine life with local residents and visitors from around the world. The center is home to many of Hawaii's unique marine life, many of which are found nowhere else in the world. The Maui Ocean Center is at the top of our list for things to do in maui with kids.
You can read more about our visit to the Maui Ocean Center here.
Ziplining
Ziplining over the beautiful island of Maui is a popular activity for visitors to the island. If you want to take kids ziplining, try Maui Zipline Company, who offer side-by-side zip lines over a tropical plantation for kids ages 5+ and adults.
Get more info on ziplining with kids here.
Horseback Riding
Kids need to be aged seven and up to horseback ride at most ranches on Maui. Try Ironwood Ranch – they have an excellent location and offer rides of various lengths.
Get more info on Ironwood Ranch here.
Ho'okipa Beach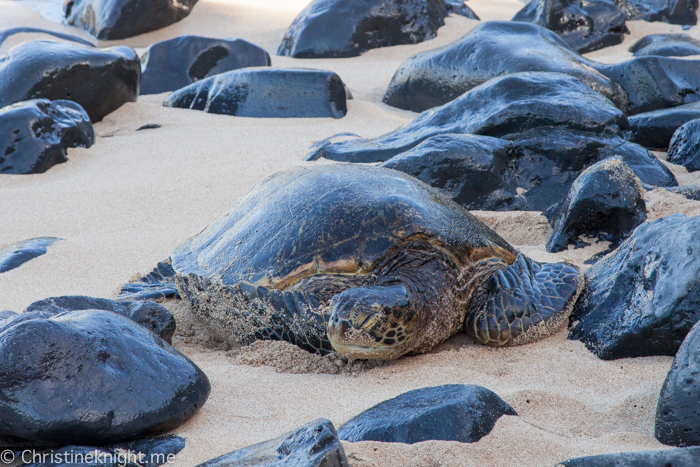 A world-renowned windsurfing destination, Ho'okipa Beach is also a prime turtle-spotting location. Hawaiian green sea turtles can usually be found at the north end of the beach near the rocks. Be mindful that they are wild animals and stay 6-10 feet away.
Pa'ia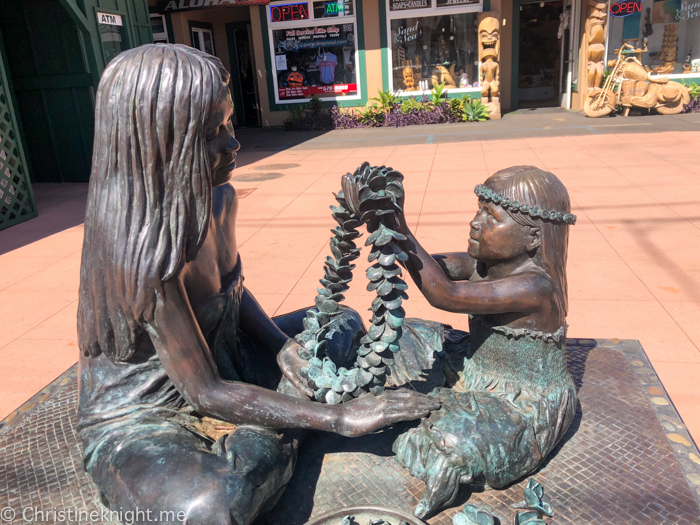 This little town on Maui's north shore is big on charm. It's a great spot to stop for lunch and to check out the little art galleries, boutiques and street art.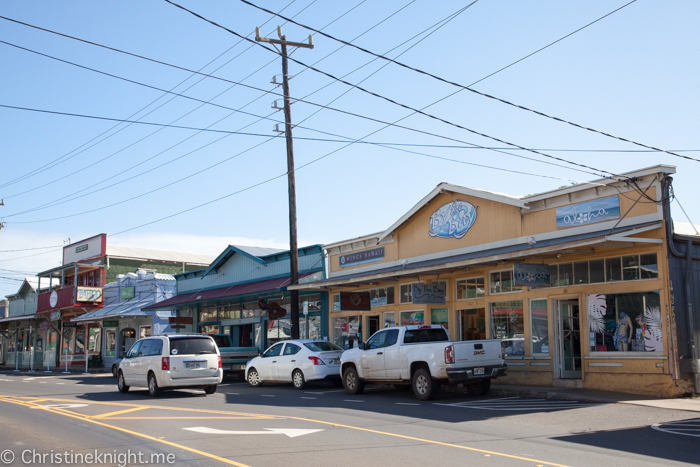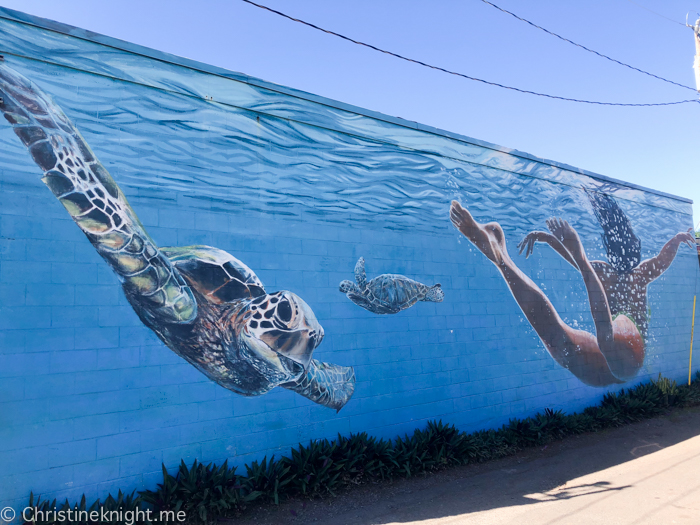 We dined at the Flatbread Company, who serve hand-made pizzas cooked in clay ovens. Kids can watch the pizza dough being stretched and toppings being added.
Luau or hula show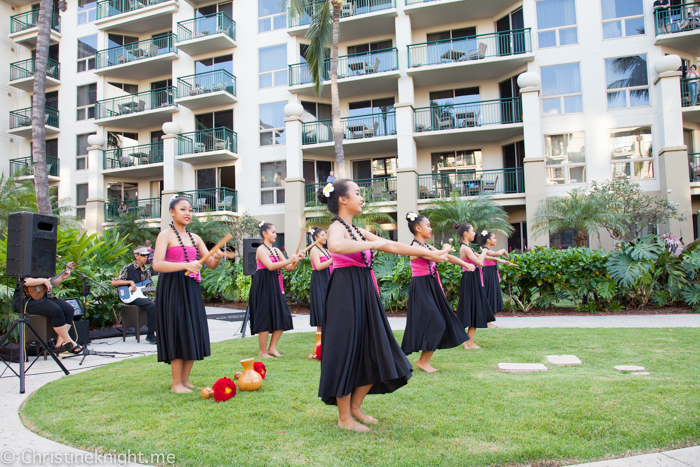 An absolute must on Maui is a hula show or luau. The Whalers Village at the Kaanapali Beach Resort has free hula shows, as do some hotels such as the Westin Ka'anapali Beach Villas. If you have a dancer in the family like we do, catching a hula show should be at the top of your list for things to do in Maui with kids.
Soak up a true Hawaiian experience at the Old Lahaina Luau.
Lahaina Banyan Court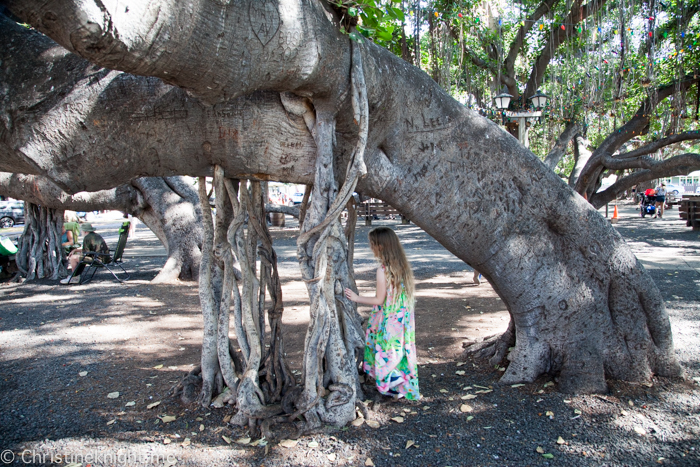 Kids will love running underneath the famous banyan tree in Lahaina. Measuring over 60 feet high, and looks like a mini forest with several tree trunks.
Maluaka Beach: Turtle Town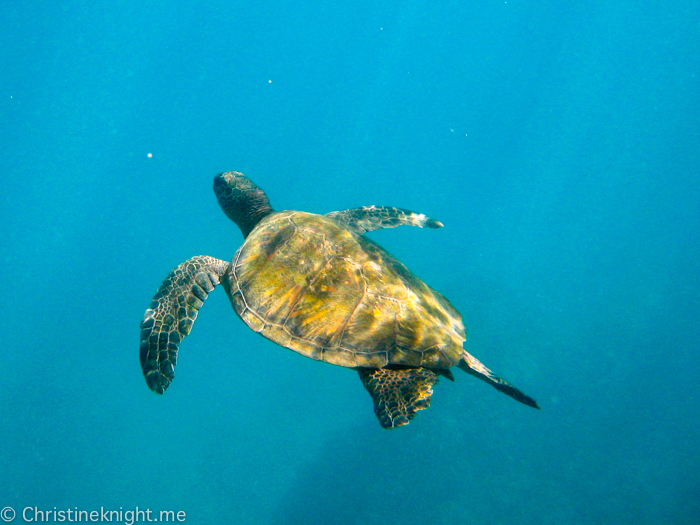 Stronger swimmers will love seeing Hawaiian green sea turtles in their natural habitat at Maluaka Beach, also called "Turtle Town". Maluaka Beach is located adjacent to the Makena Beach & Golf Resort and has nearby amenities like a grassy park area, bathrooms and snorkel gear rentals on site. The entrance to Maluaka Beach and Turtle Town are both unmarked and easy to miss.
Early morning is the best time for snorkelling as the water is calmest then. The reef at the south end of the beach is where you'll find marine life including angelfish, butterfly fish, moray eels, octopus, trumpet fish, triggerfish and Hawaiian green sea turtles.
Maluaka Beach has a sandy-bottom, shallow area that is ideal for swimming with young kids. There is shade, picnic tables and an excellent view of the Molokini crater in the background.
More things to do in Maui
Have older kids? Try the Road to Hana – get info here.
Where to eat with kids
Ululani's Hawaiian Shave Ice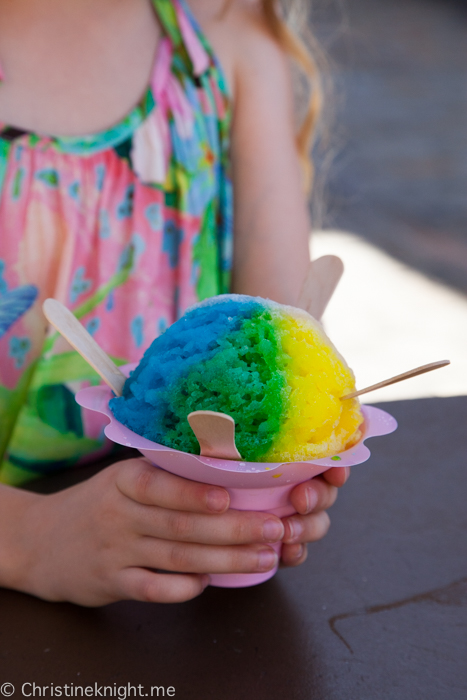 Shave ice is an iced-based dessert made by shaving a block of ice. Flavoured syrups are added to the top. Ululani's can be found in a few locations across Maui.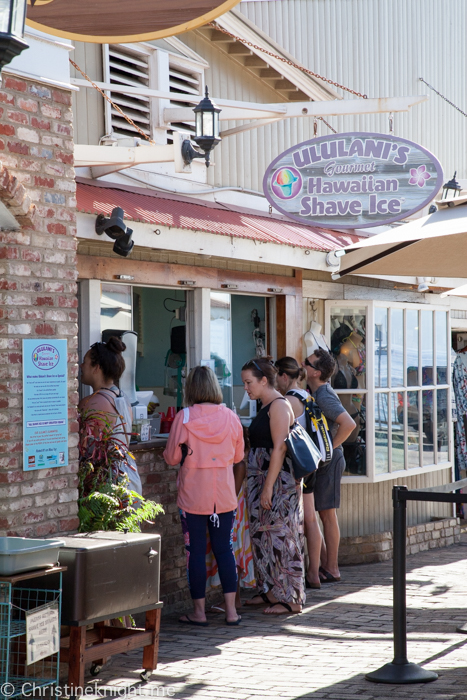 The first store is located on Front Street at the Lahaina Market Place.
Get more info on Ululani's here.
Island Cream Co.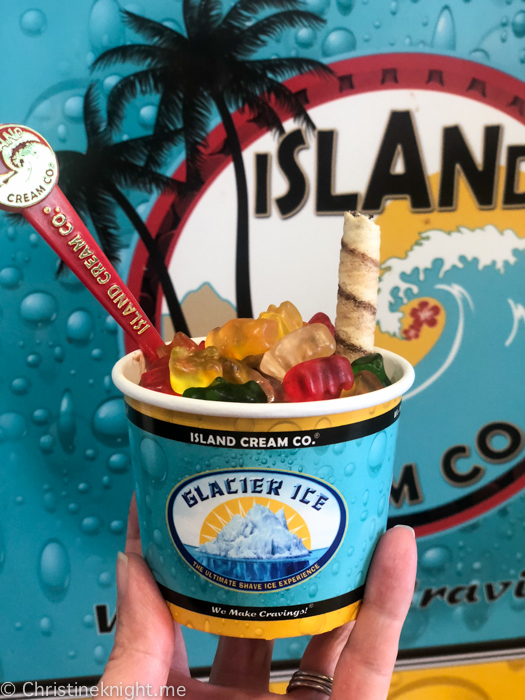 A delicious spot for gelato and ice cream, at the Lahaina Gateway. Add fun toppings like gummy bears for some extra fun.
Get more info on Island Cream Co. here.
Hula Grill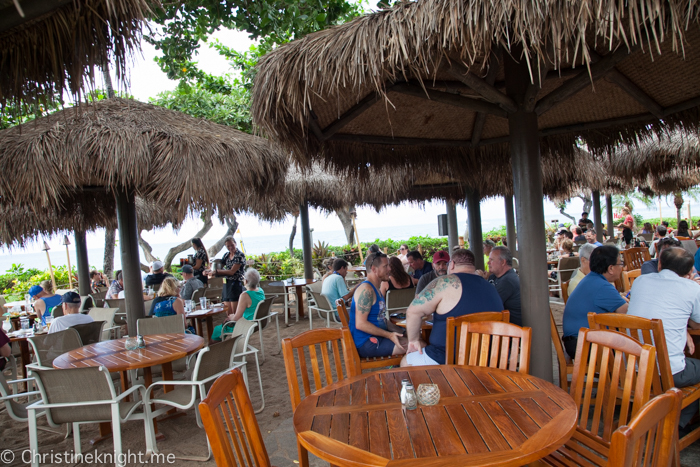 A fun, beach-side eatery in Ka'anapali at Whalers Village, we loved dining at their barefoot bar, which was reminiscent of eating at the beach thanks to the sand underfoot.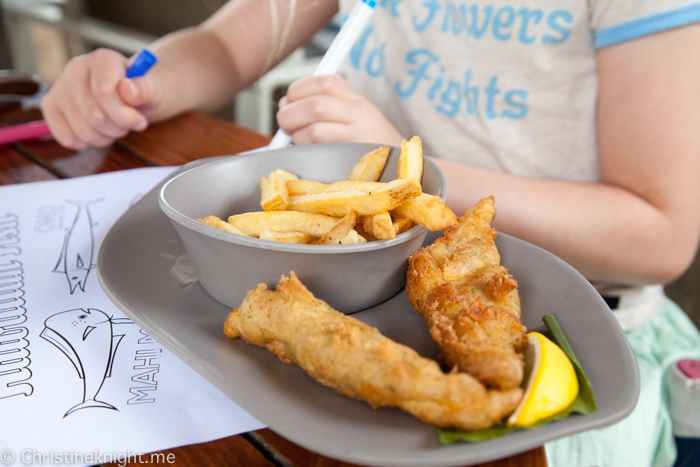 The excellent kids' menu with activity sheet left the little one happy, while the adults loved the cocktails, fish tacos and goat's cheese pizza (cheese from the local Surfing Goat Dairy).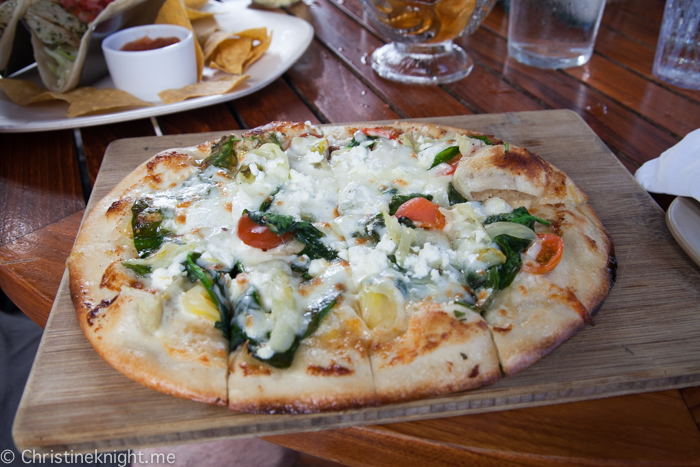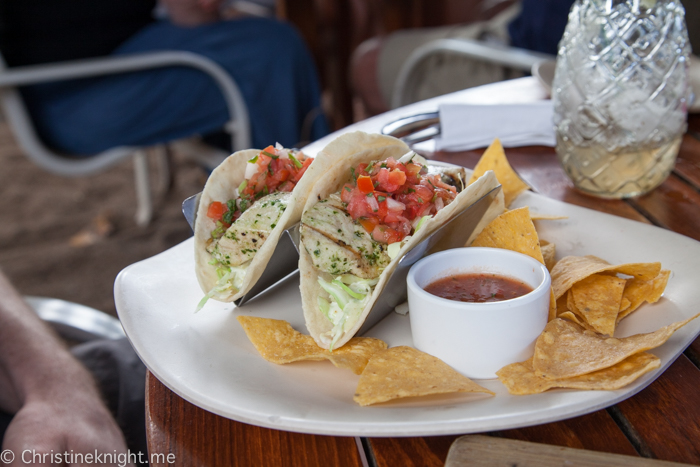 Get more info on Hula Grill here.
Leoda's Kitchen & Pie Shop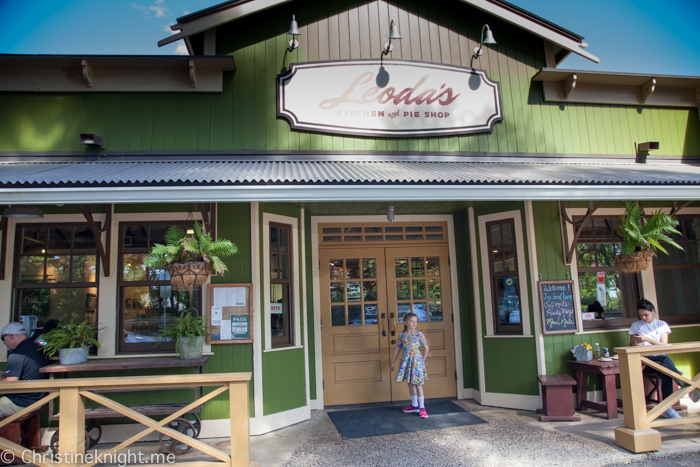 Famous for their pies and sandwiches, Leoda's is so good we could have eaten there every single day.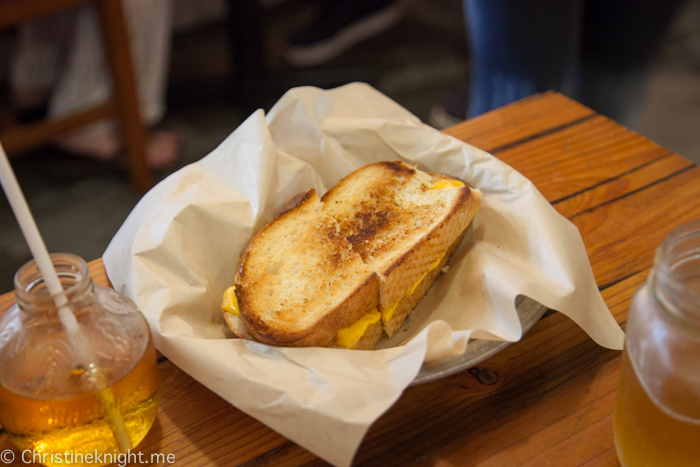 The little one liked the grilled cheese on brioche bread while the adults enjoyed the massive, freshly made sandwiches. Don't leave without a sweet pie, they are delicious!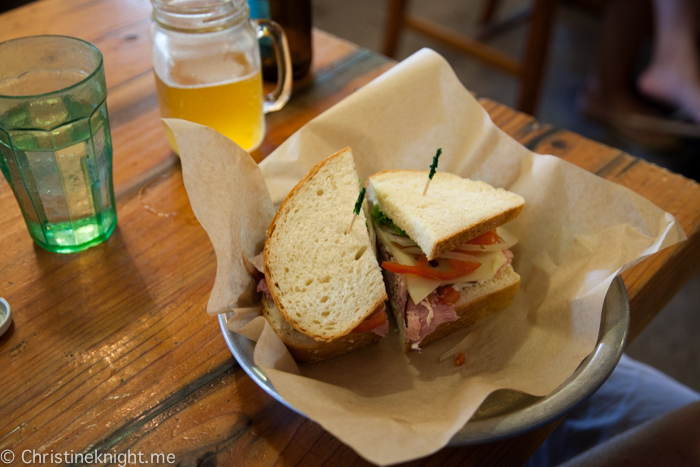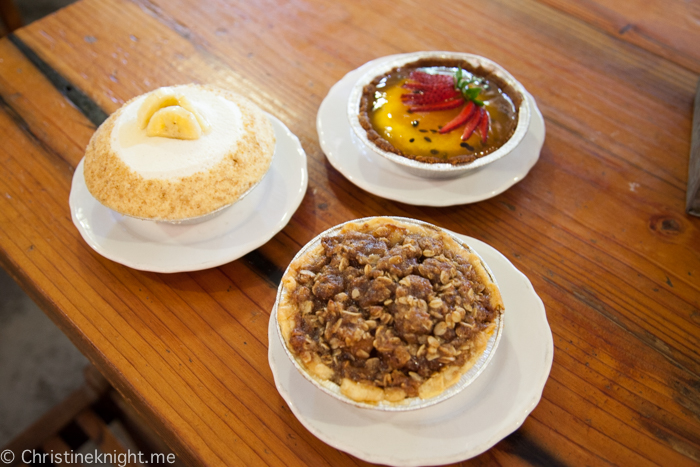 Get more info on Leoda's here.
Kimo's Maui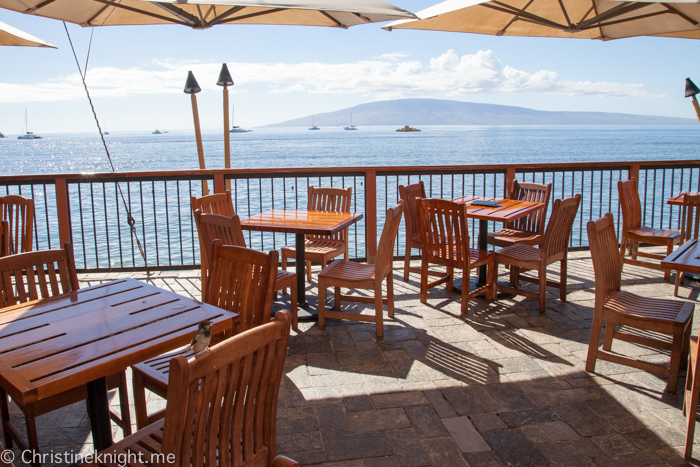 Home of the original Hula Pie, Kimo's is a Lahaina institution.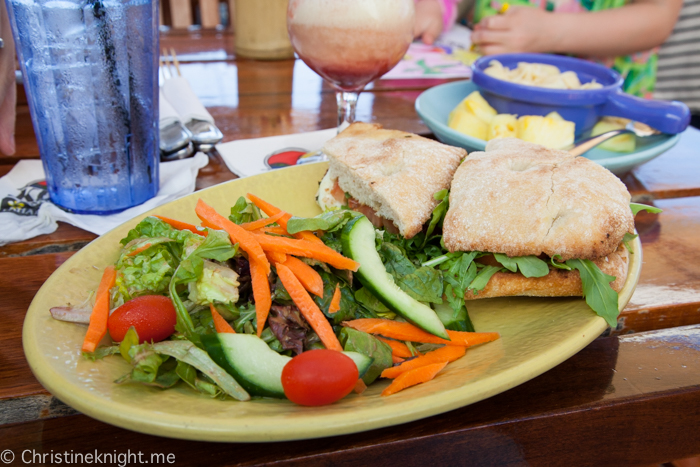 A seafood restaurant, Kimo's has vegetarian options and a great kids' menu. We ordered a vegetarian sandwich and burger for the adults and mac and cheese for the little one. The view is impossible to beat.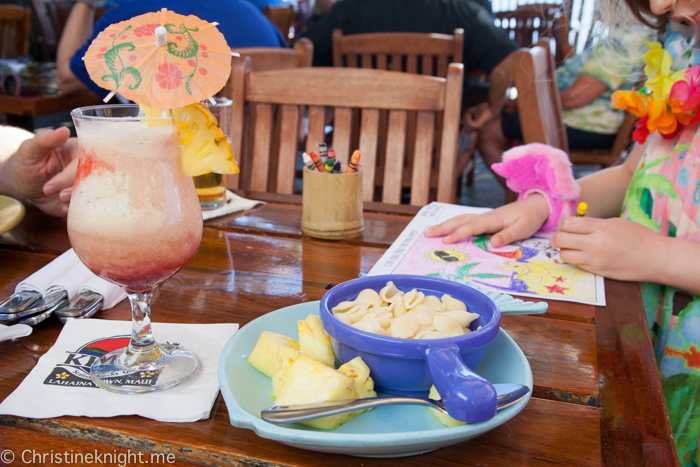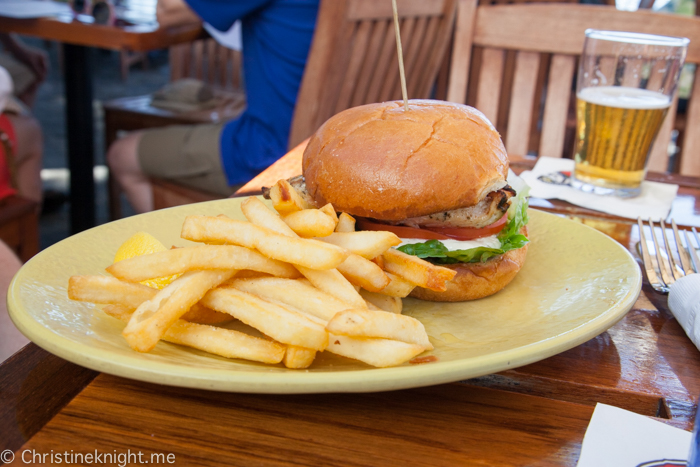 Order the Hula Pie to share!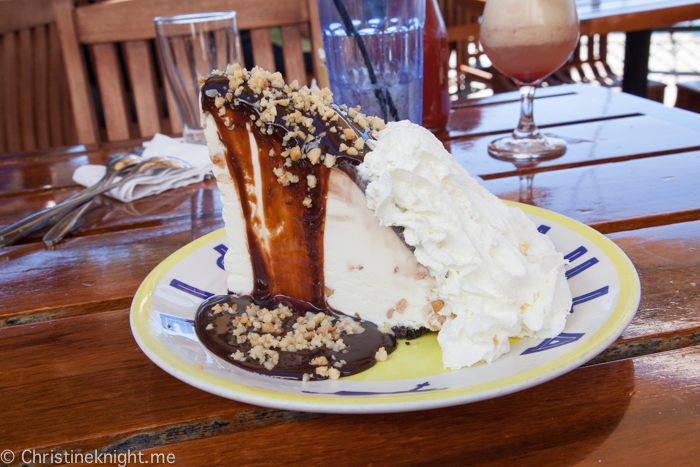 Get more info on Kimo's here.
Flatbread Company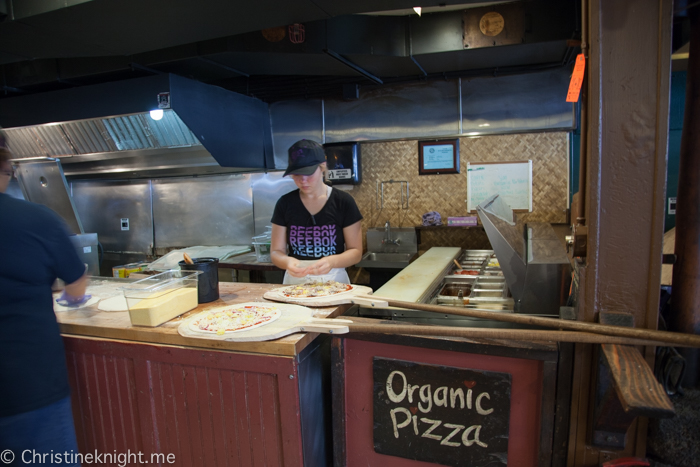 We dined at the Flatbread Company in Paia, who serve hand-made pizzas cooked in clay ovens. Kids can watch the pizza dough being stretched and toppings being added.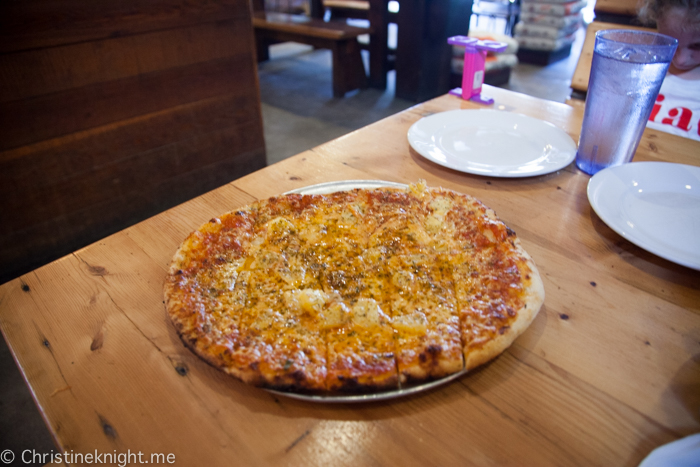 Get more info on the Flatbread Company here.
How to get around on Maui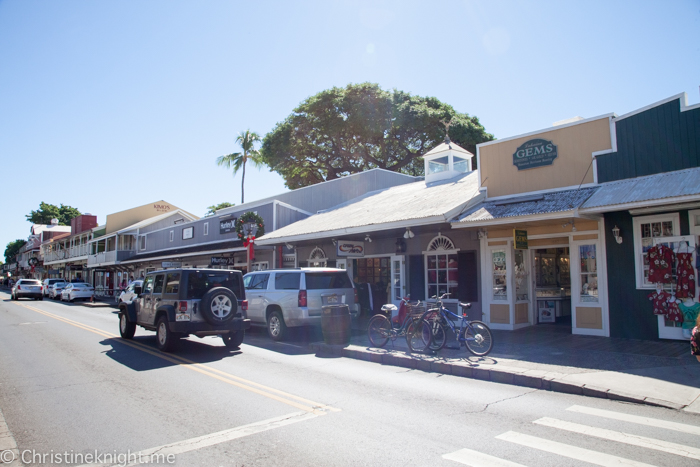 I think car hire is a must on Maui unless you intend to never leave your resort or only plan to do so with guided tours that pick up at your hotels. We used our car every day to pick up groceries, head to a new spot for lunch and visit attractions. There are many different car rental providers at Maui airport that are all quite similar. You can get a free shuttle bus between the car hire places and airport. I would suggest booking car hire in advance.
Where to stay on Maui with kids
Westin Kā'anapali Ocean Resort Villas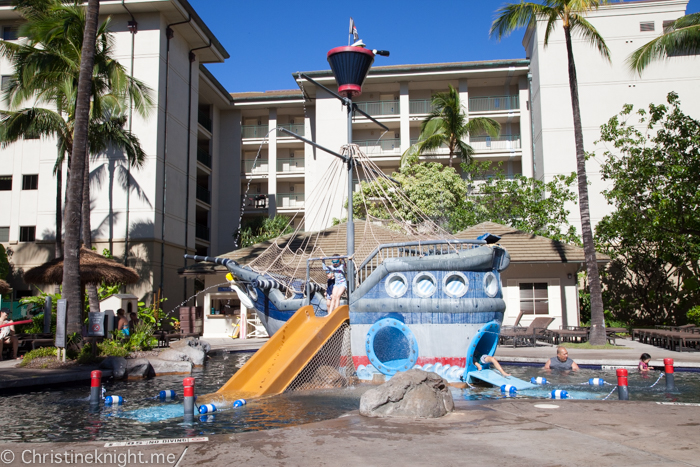 We chose the Westin Kā'anapali Ocean Resort Villas because all rooms or "villas" have a full kitchenette as well as excellent resort facilities including six outdoor pools.
You can read more about our stay at the Westin Kā'anapali Ocean Resort Villas here.
Kā'anapali Beach Hotel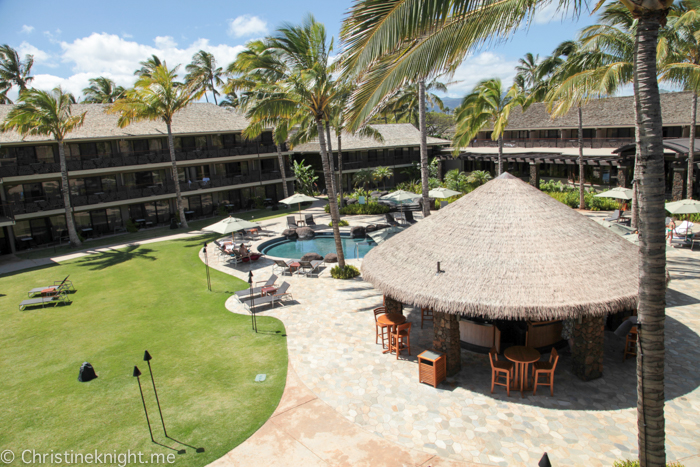 Often called the "most Hawaiian of Hawaiian hotels", the Ka'anapali Beach Hotel offers an authentic Hawaiian experience with plenty of aloha warmth from staff. We loved the hotel's location and friendly staff.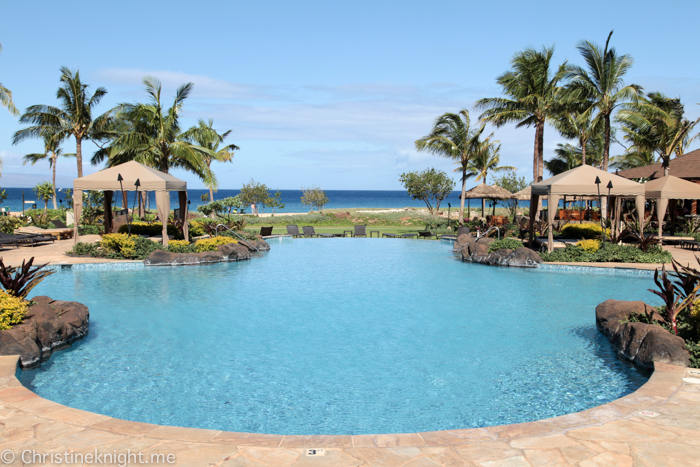 Read more about the Ka'anapali Beach Hotel here.
More things to do in Maui
Find great hikes on Maui here.