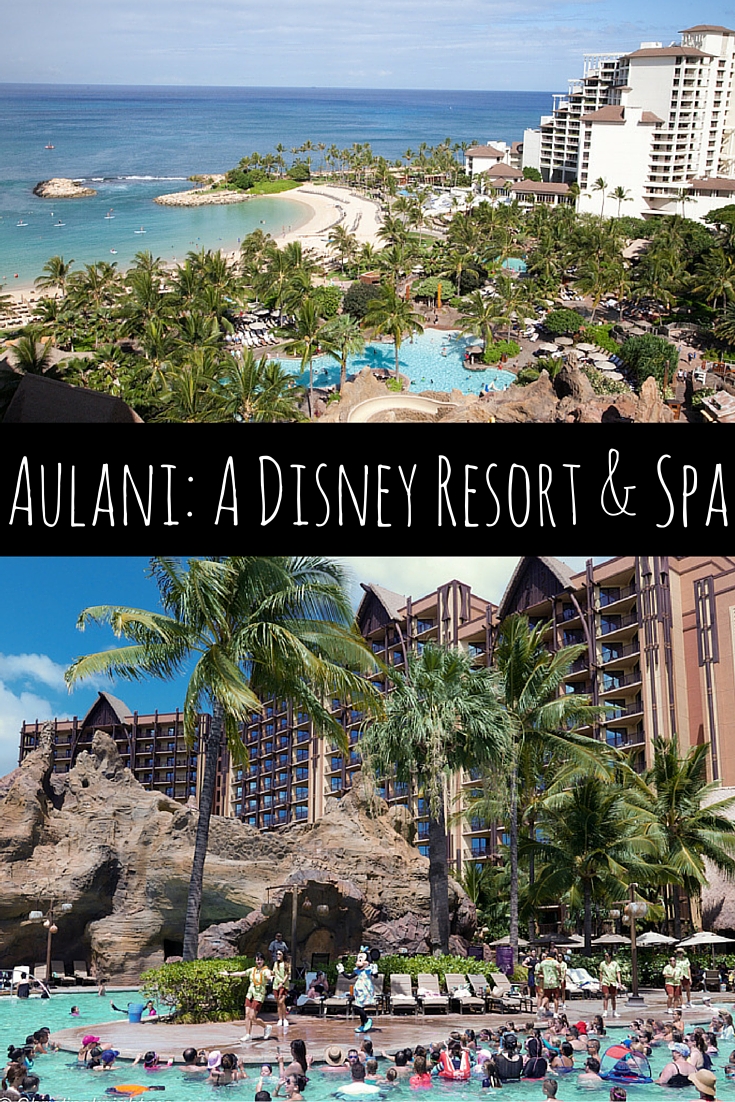 Back in 2012 my family and I met for Christmas in Hawaii, specifically the Ko Olina resort area. We rented an apartment on the beach, in a complex right along the waterfront from a brand new resort that was just opening to the public. The resort was Aulani, A Disney Resort & Spa, and it was still under construction. Nevertheless, we were extremely impressed with the facilities of the hotel, even half finished – so impressed that we planned to fly back for a holiday when our daughter was old enough to make use of the pools and activities, at age 4.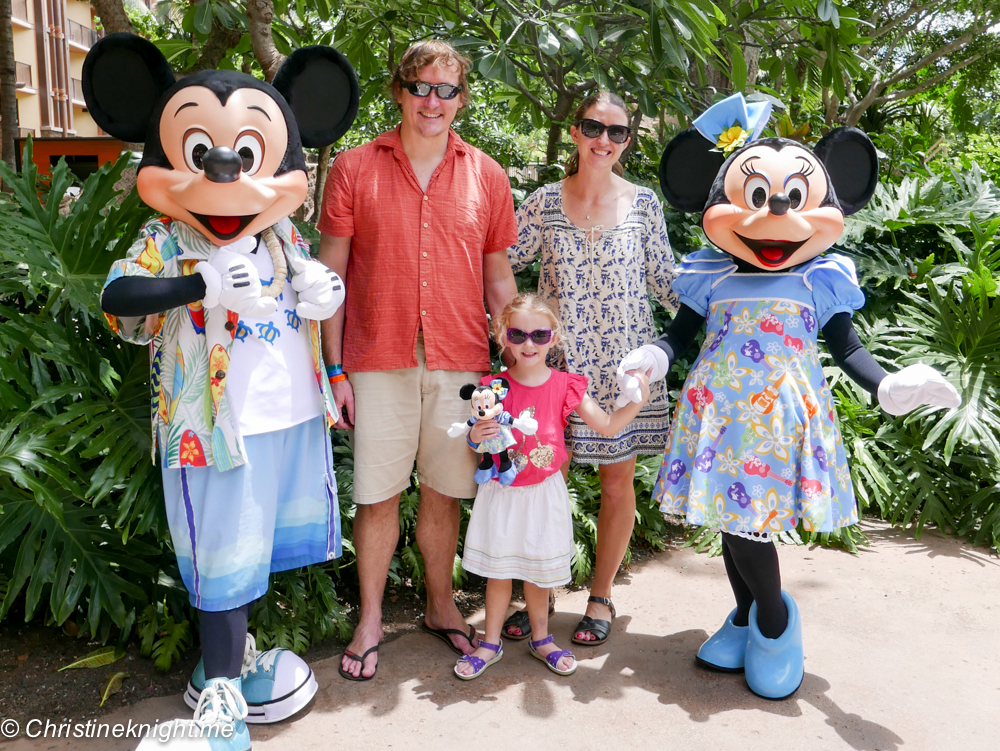 We returned recently to Hawaii and made good on our promise to stay at Aulani. The hotel sits on 21 oceanfront acres, between gorgeous mountains and the quiet Kohola Lagoon. It's about a 30-45 minute drive out of Waikiki – close enough to drive back in if you want to go shopping or exploring, and far enough away to be removed from the crowds in that main tourist area.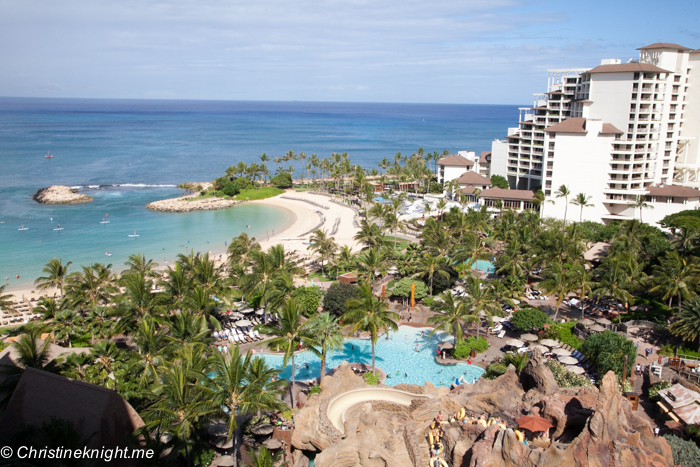 Aulani is a big resort, with 351 hotel rooms, including 16 suites, 481 Disney Vacation Club units, 2 restaurants, 3 lounges and several quick-service dining venues. It also features a spa, fitness centre, Aunty's Beach House kids club, Painted Sky teen spa, pools, waterslides, water play areas and more. It's the kind of place you can stay at for a week and never need to leave the resort. I never used to be a "resort" person, but now I have a small child, a place where the whole family can enjoy themselves effortlessly is the perfect place for us to take a holiday.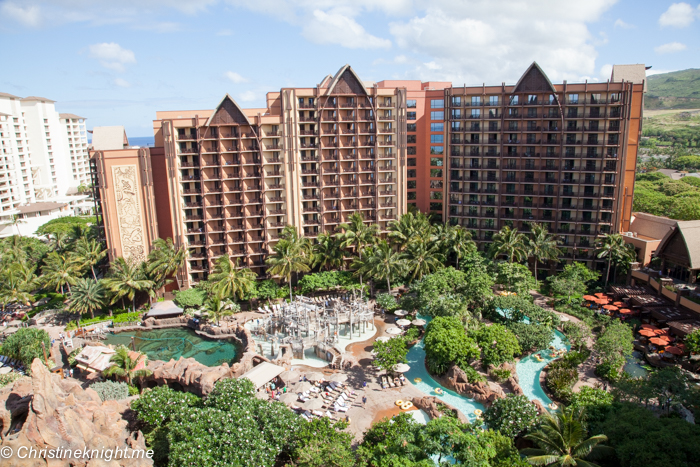 "Aulani" means "messenger of a chief" in Hawaiian – and really sets the tone for the resort. While it is, indeed, a "Disney" resort, the emphasis is firstly on being Hawaiian, with a touch of Disney. Around the resort you will see about 90% Hawaiian decorations and design vs 10% Disney – mostly small motifs and the occasional nod to Mickey Mouse.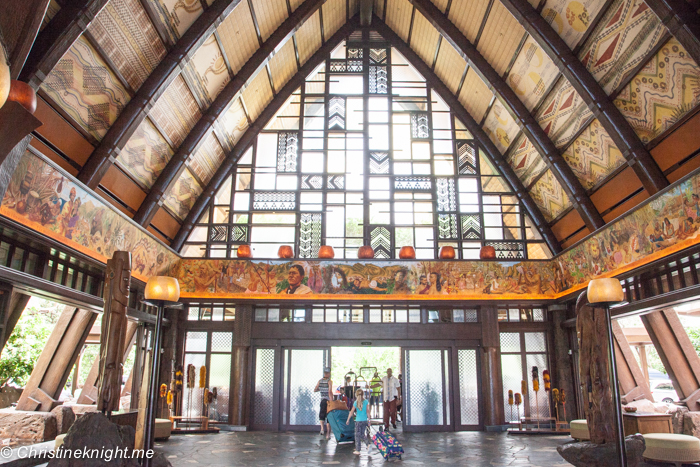 The resort was intentionally designed to reflect Hawaiian traditions, and also offers guests many Hawaiian-inspired experiences, such as fireside storytelling, the Starlit Hui—an evening celebration of Hawaiian traditions and Disney storytelling, Hawaiian activities and crafts, including hula and lei-making classes.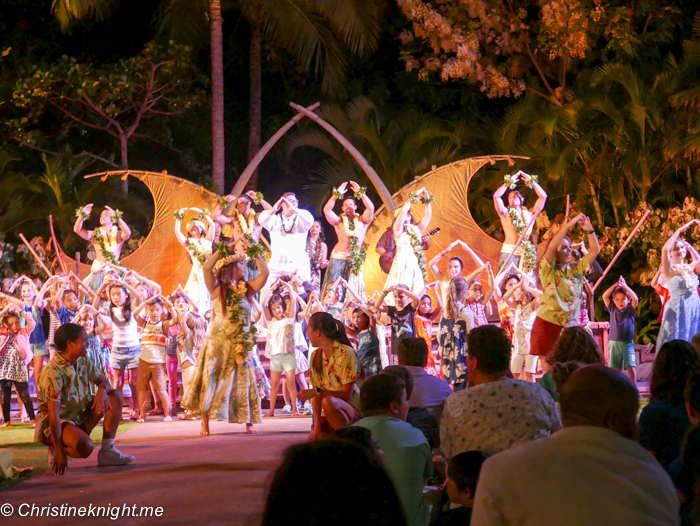 Select Disney characters show up all over the resort – mostly Mickey, Minnie, Donald Duck, Goofy, with the occasional appearance by Stitch, Chip & Dale and Duffy (Mickey's bear). Mickey-themed ice creams, pretzels, and other snacks are available in all the snack bars, and Disney-themed activities are run alongside the traditional Hawaiian ones.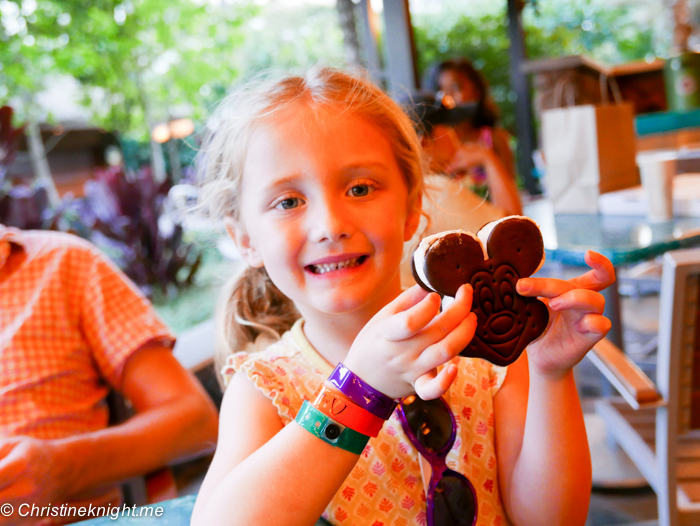 Upon entering the resort, we were presented with traditional Hawaiian leis and necklaces, which really set the tone for our trip. Hawaiian – with a touch of Disney.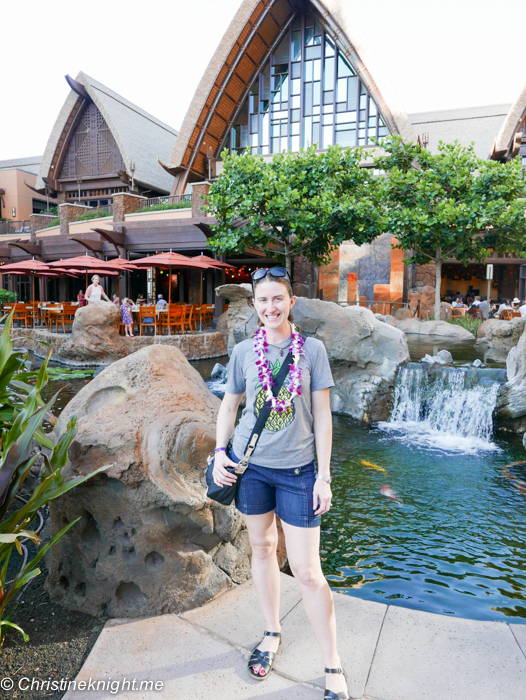 We stayed in an ocean view suite, which had a queen bed and fold out couch, plus a microwave, bar fridge and sink. It was a small room, but since we didn't plan on spending much time in it, it was fine for our purposes. The view from our balcony was spectacular.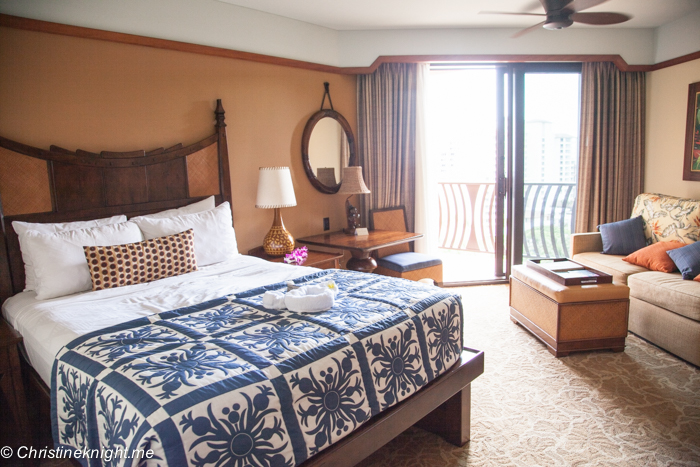 The hotel as free wifi throughout it, which I really appreciated.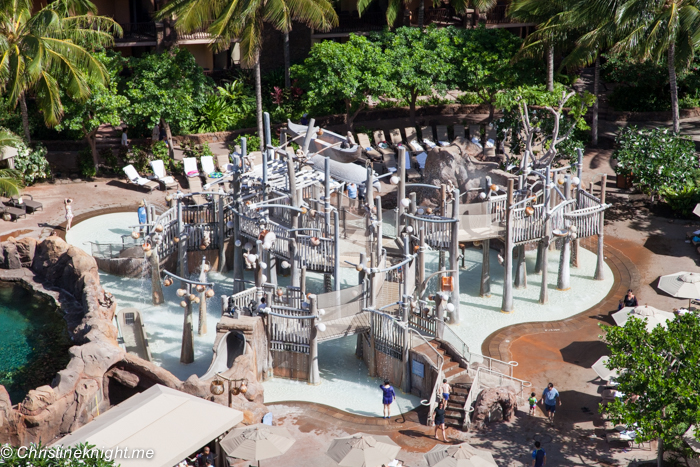 Aulani is absolutely the most family-friendly hotel I have ever stayed at. A combination of their facilities plus activities and friendly staff make it the perfect place for an extended (or brief!) family holiday.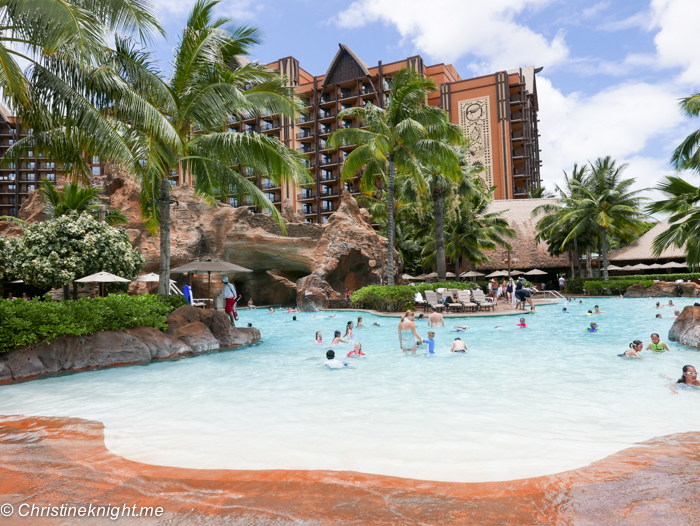 The resort features several pools varying in depth. Several of them are very shallow, plus an infinity pool and adult-only pools. Little kids can also enjoy two water play areas with fountains – one for young toddlers/babies, and one for kids under 42 inches tall (122cm).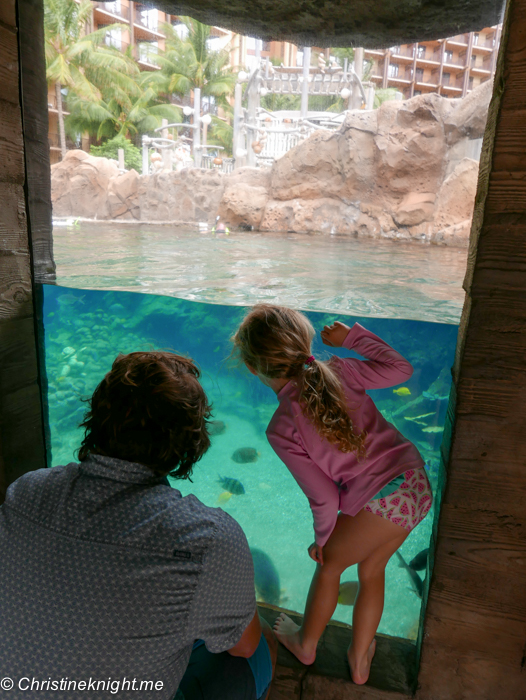 Kids who are confident swimmers (or confident with floaties) can snorkel in the man-made tub/mini reef. And then there is also the beach! A shallow, gentle lagoon that is perfect for kids.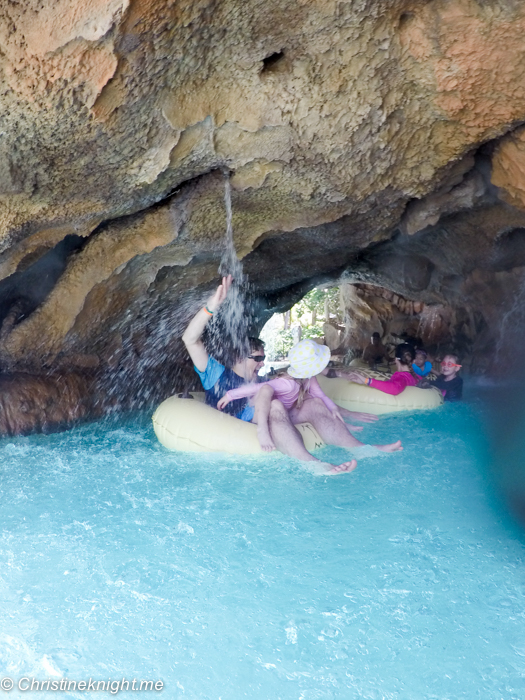 My daughter's favourite water play was the tube slide and the Waikolohe Stream, or lazy river, which wasn't so lazy as she jumped in and out of the tubes and swam the majority of the river with the current.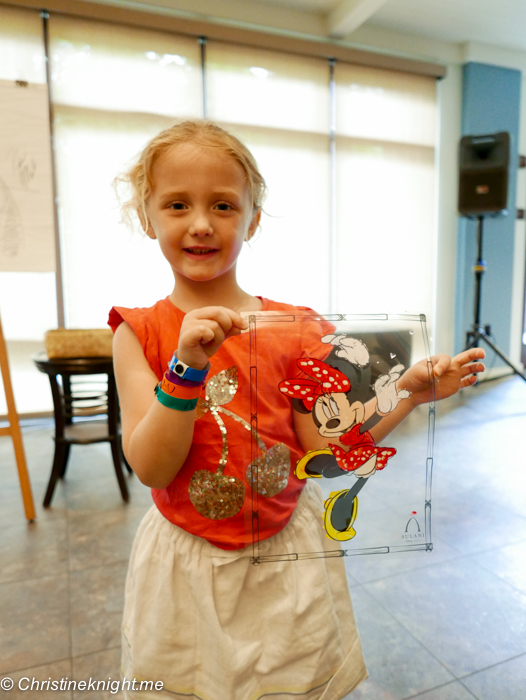 When the sun wore us out, there were plenty of indoor activities to keep us occupied, with the favourite being the Disney Animation drawing and painting class.
Parents wanting time to themselves can drop kids aged 3-12 off at the free kids club. We decided not to use the kids club on this occasion, but I did take a look and it was incredibly clean and full of great activities for kids. Tweens and teens are catered for too, with a special club for them, too.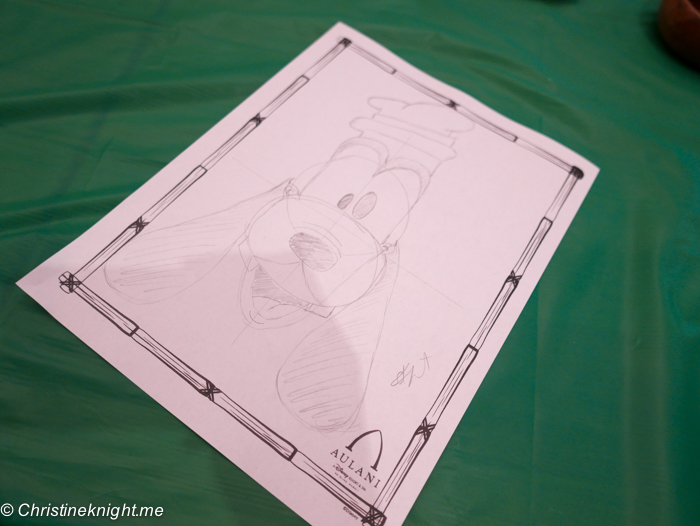 Every morning the daily 'IWA is released – a sheet filled with activities for families to do together, kids to do on their own in the kids club, or for adults, like "sunrise yoga". The activities were incredibly popular, so in order to secure a spot at the events with limited numbers, it's suggested that you line up either at 7:45am for the family activities or 7:30am for the kids club ones, particularly on weekends when they are the most popular. We missed out on the activities we wanted at first as I didn't realise the registration system, and had to wake my jet lagged self up early the next morning to get in the queue to lock in our spots for the animation drawing class and ukulele class.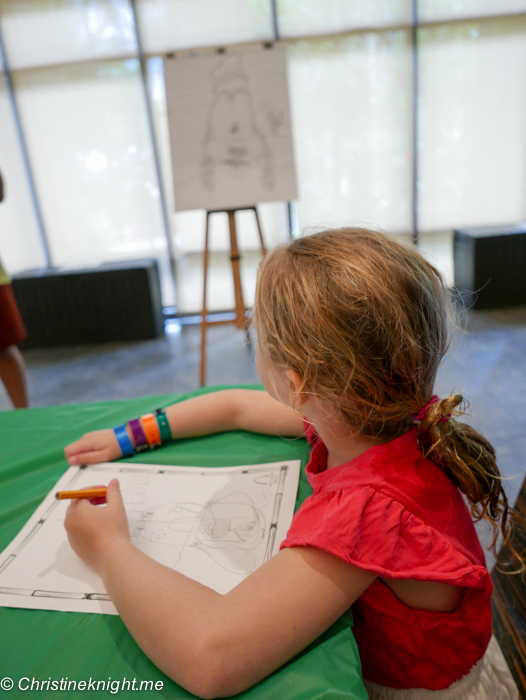 The animation drawing class was my favourite activity during our stay. the first part of the class was spent learning to draw a Disney character on paper, and the second involved painting an animation cell. It was really fun and inclusive of all abilities.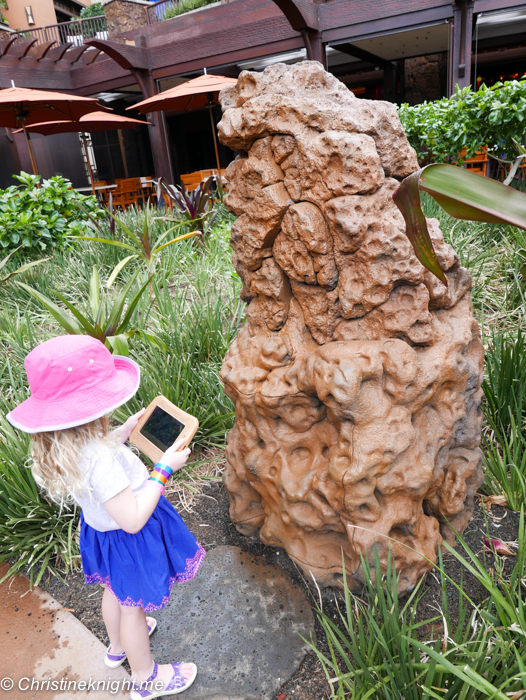 Cheese really enjoyed the "Menehune Adventure Trail" which was a particularly clever scavenger hunt around the resort using an interactive tablet. I wasn't prepared for the resort to interact back with us on the hunt – we woke the volcano, caused streams to erupt, set fire to lamps and spooked the tiny kids in the toddler water play area when we set off loud noises and a water jet pattern. Cheese was delighted with the magic we found on the resort.
If you need some down time in your room, guests are invited to pick up a few free DVD rentals – all Disney of course – or a board game.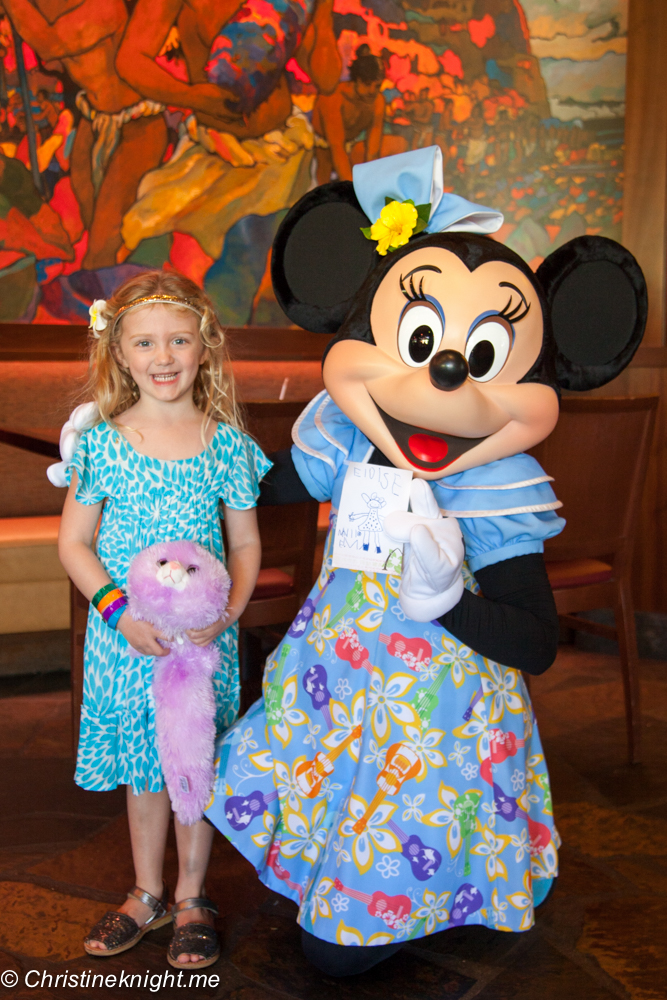 The last highlight for our family on the trip was the character breakfast with Mickey Mouse, Minnie Mouse and Goofy. At $32 per adult and $18 per child over age 3, it's a pricey breakfast. The food was pretty good – the fresh omelette station produced delicious food, and the fruit was incredible, but it still came to over $100 for breakfast for the three of us, with only Minnie and Goofy in the dining room (Mickey stayed outside for photos).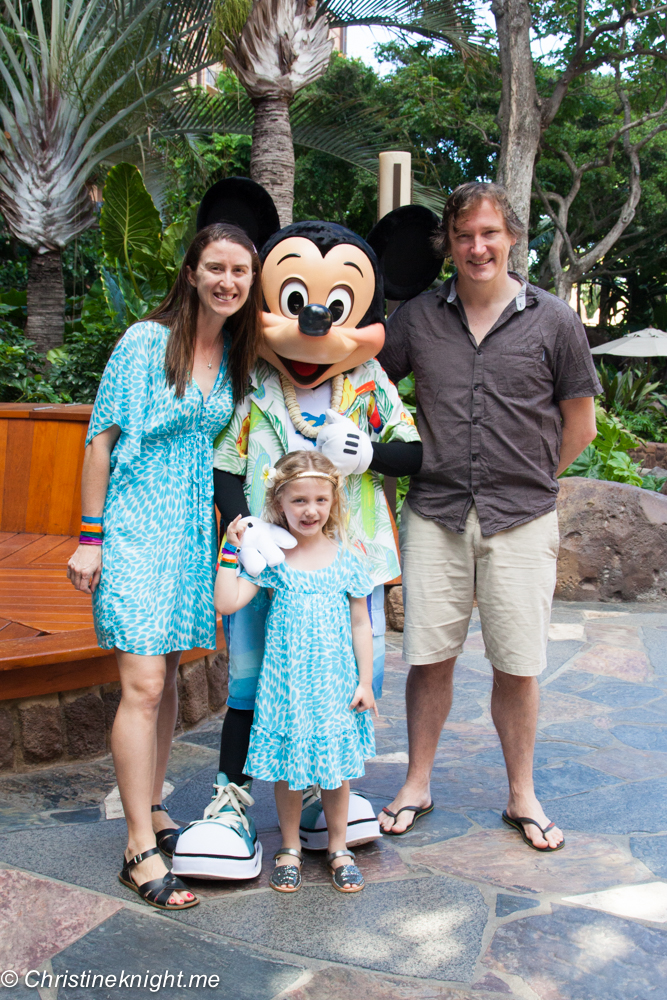 Minnie was a sweetheart, coming to see us several times and really making an effort to interact with our enthralled daughter, but Goofy was a tough one to catch. It took us a while to flag him down as he bolted past our table, and even then we had a few seconds to try and get a photo before he bolted off again. It would have been nice for the cost to have additional characters like Stitch, Donald Duck and Chip and Dale since we knew they were on the resort.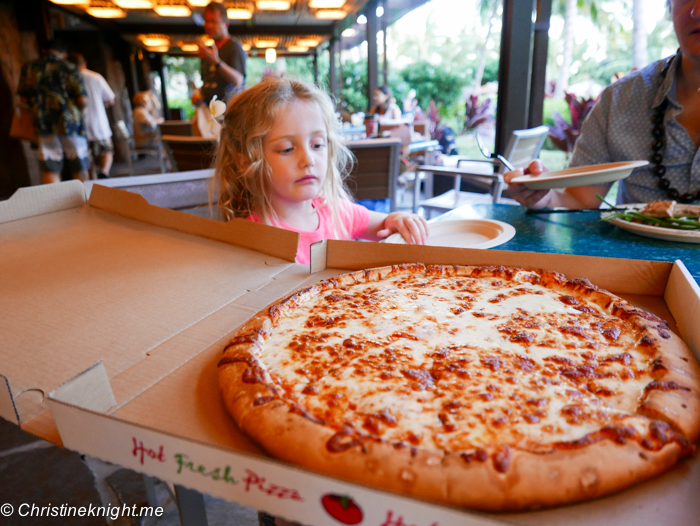 The only down side to our stay was the food. We found the resort food limited and expensive. The two main restaurants were either an expensive buffet at Makahiki ($49.99 per adult) or the "fine dining" option, Ama Ama, which was way out of our budget for daily dining.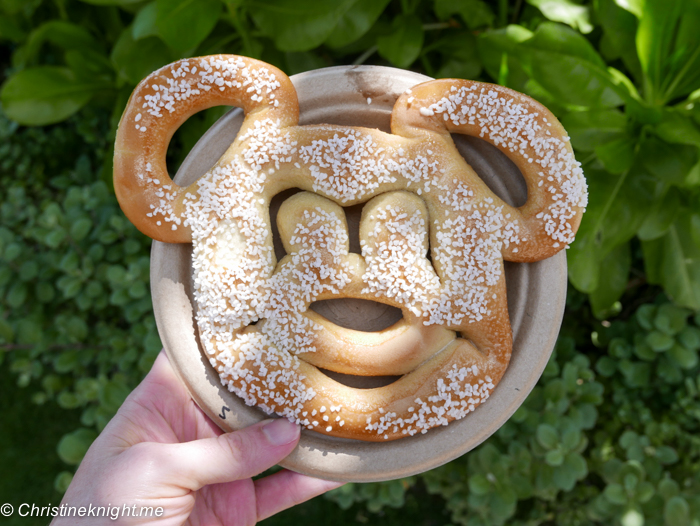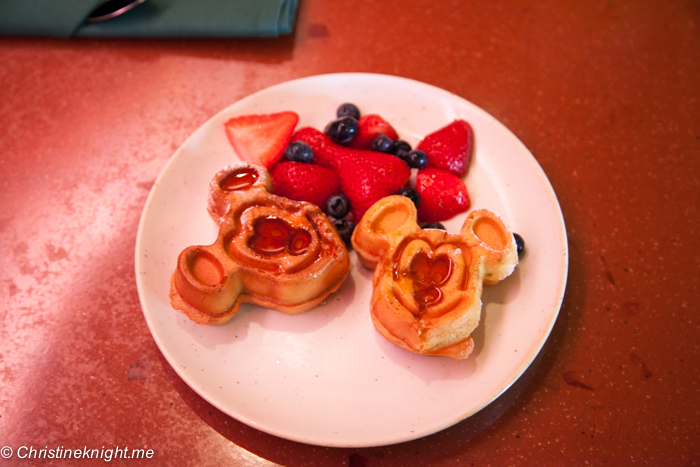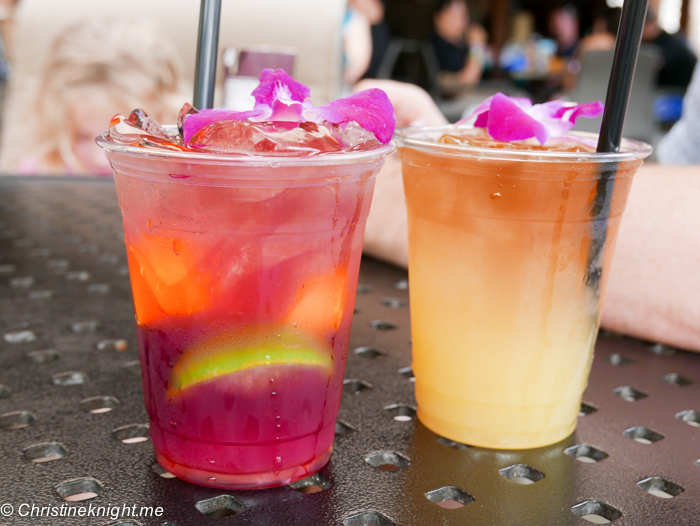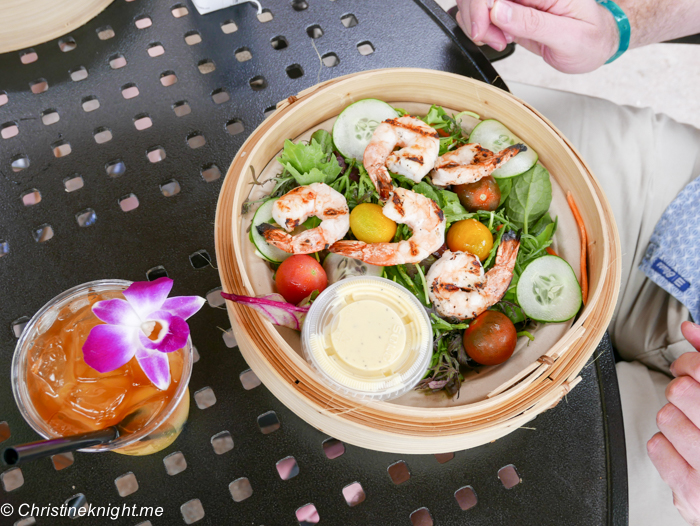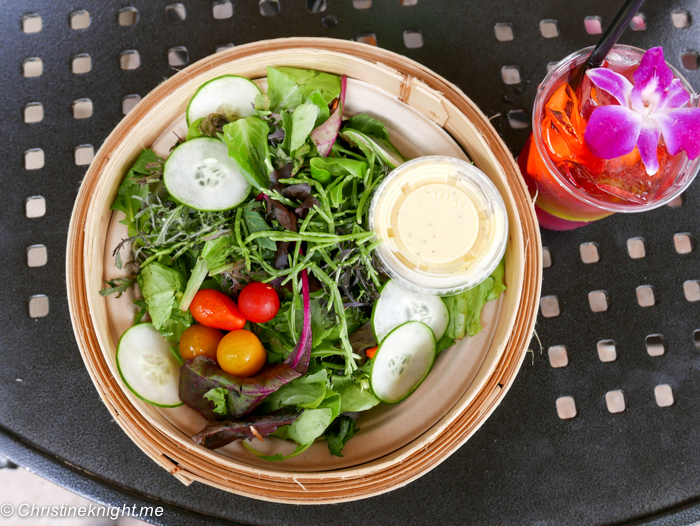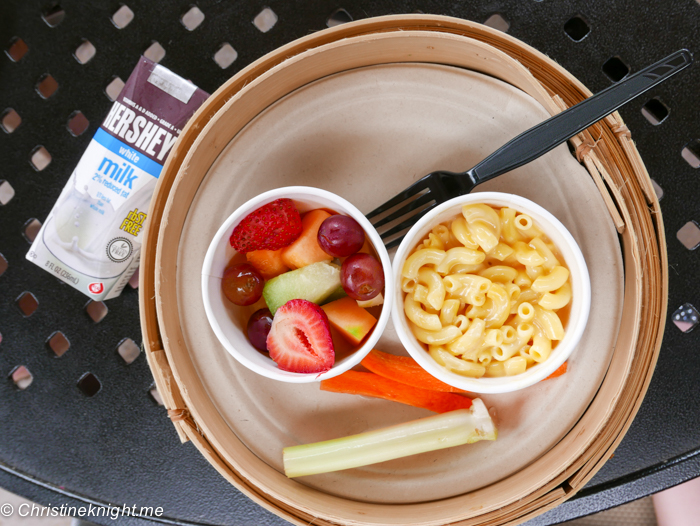 Being a vegetarian made it even worse – there was pretty much only pizza or a single veggie burger that I was able to eat. Even the salads mostly had meat in them!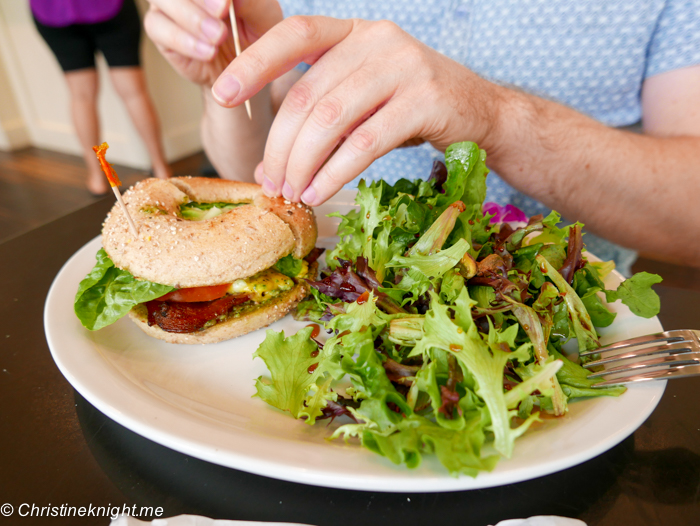 We ate several of our meals off the resort at the little shopping complex across the road where we found a cafe and restaurant with additional choices (particularly for this vegetarian!), as well as an ABC Market where we bought basic groceries like yoghurts, fruit, cereal and so on so we didn't need to eat every meal in a restaurant. (See the pic above for an example of a meal we found at the cafe across the road).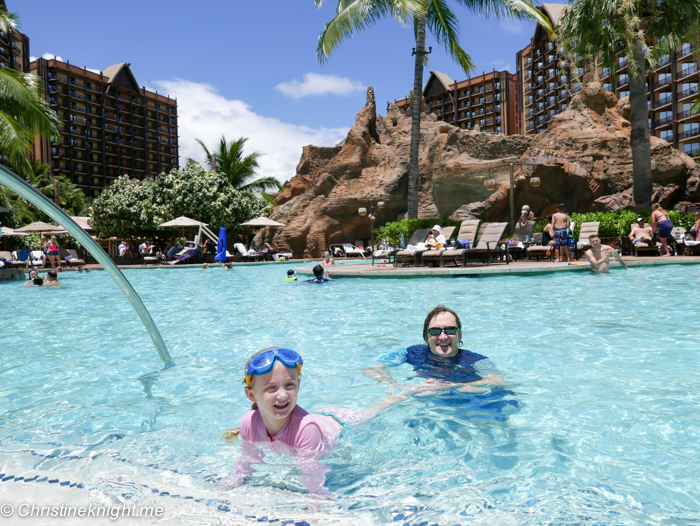 Our stay at Aulani just what we needed it to be – a relaxing time for us to bond as a family. Hawaii has always been a special place for us, with my husband and I travelling the islands during our honeymoon, and also bringing Cheese here when she was a toddler. It's still a very special, wonderful island that we love deeply. Aulani lived up to our very high expectations as the perfect family getaway. We can't wait to return. Aloha!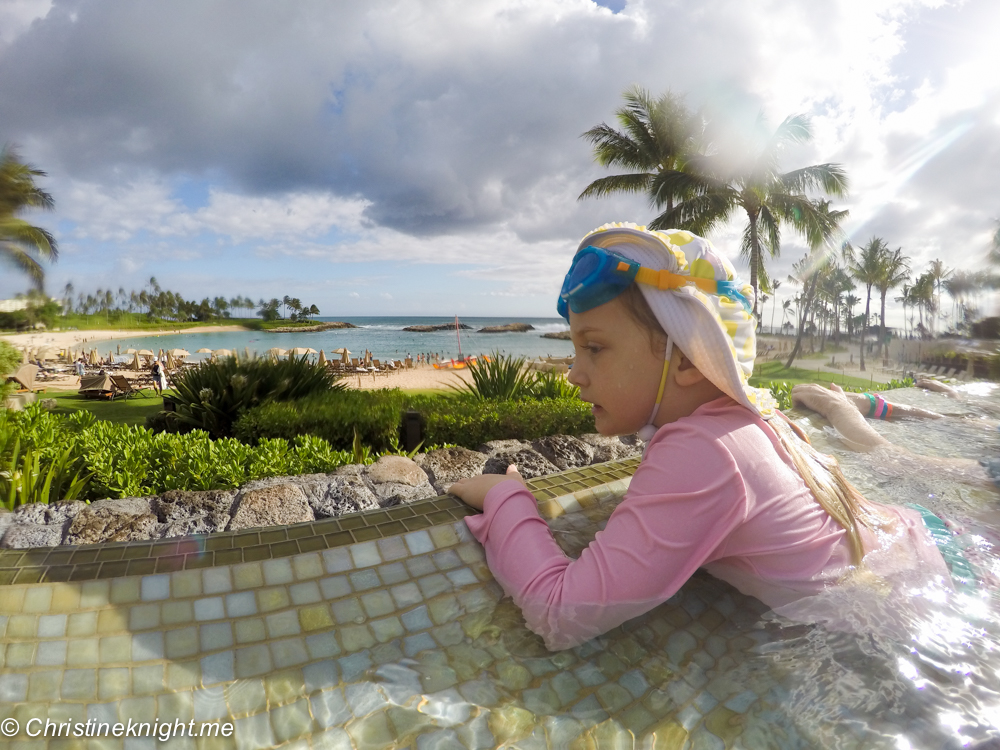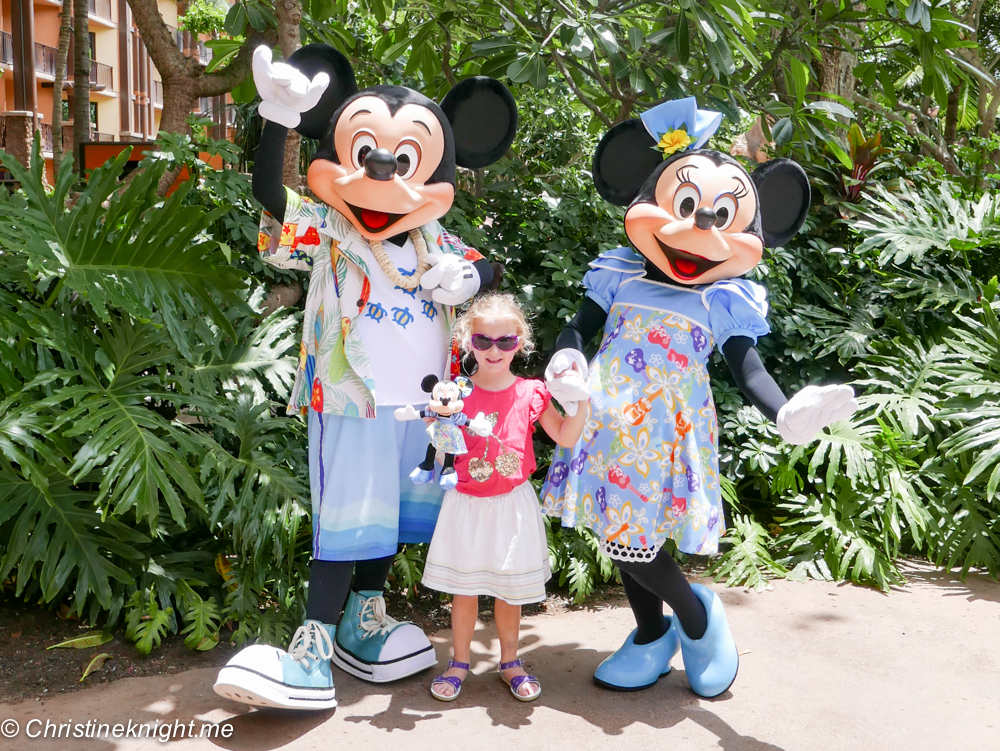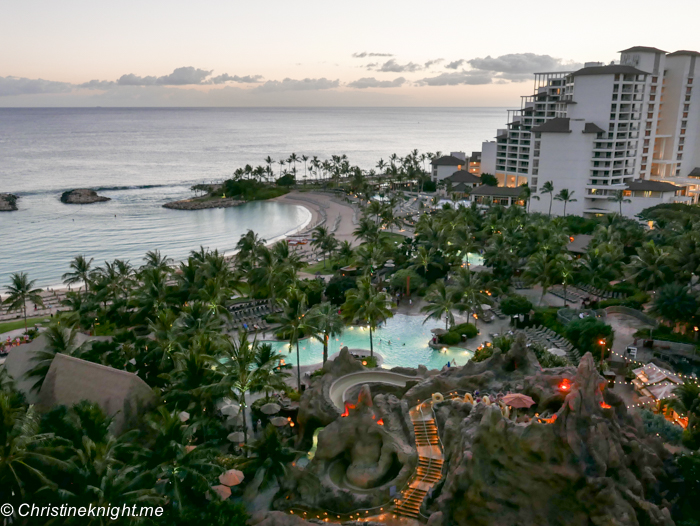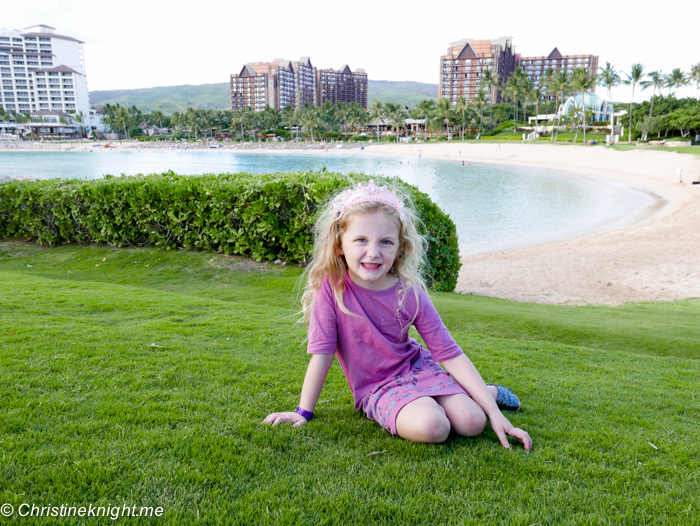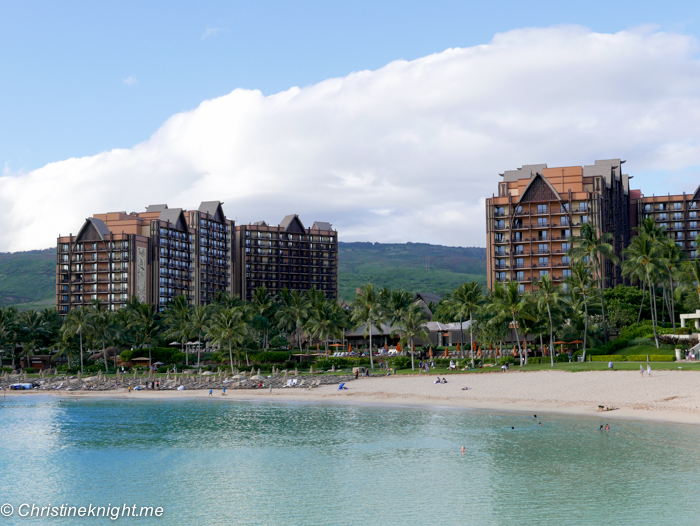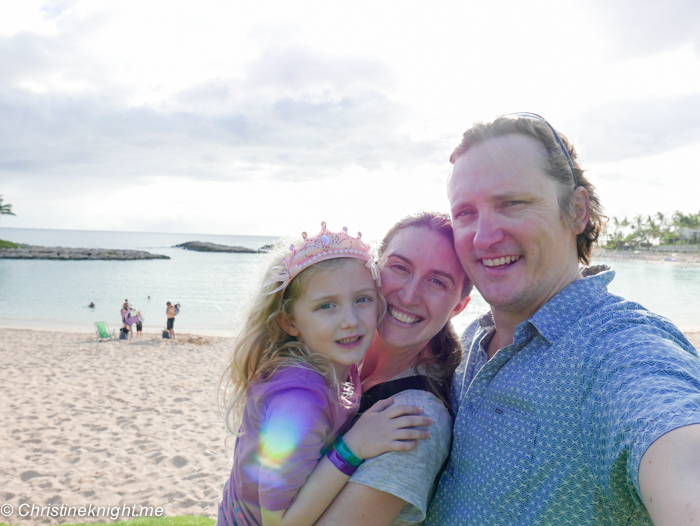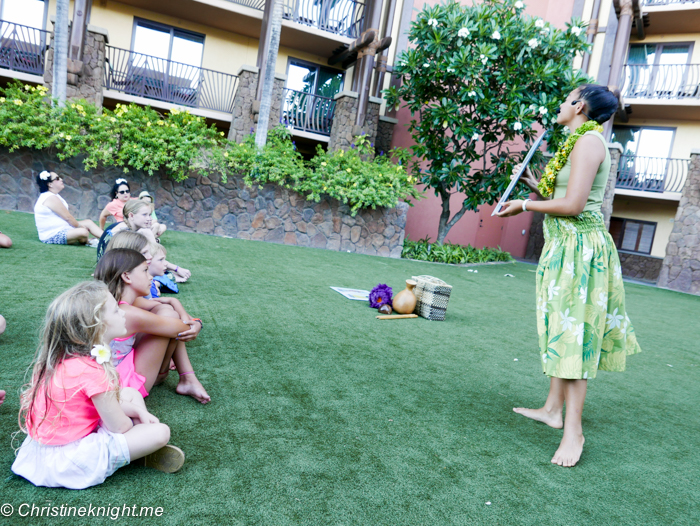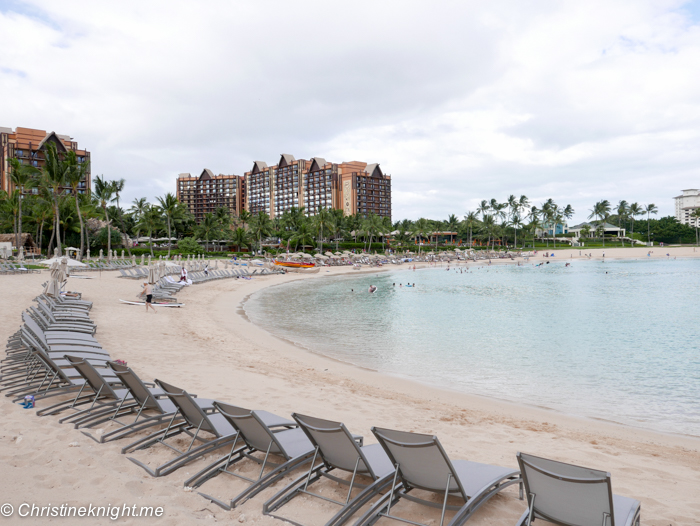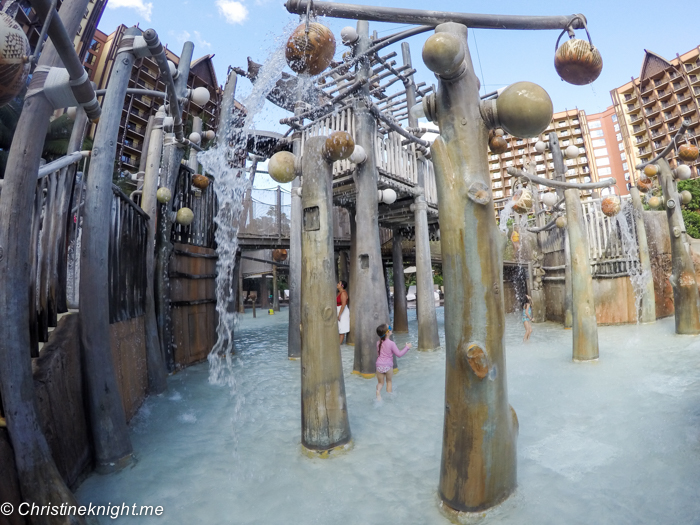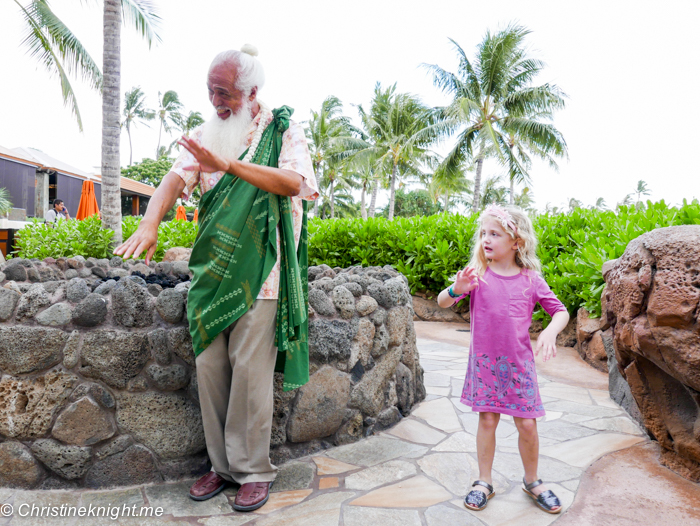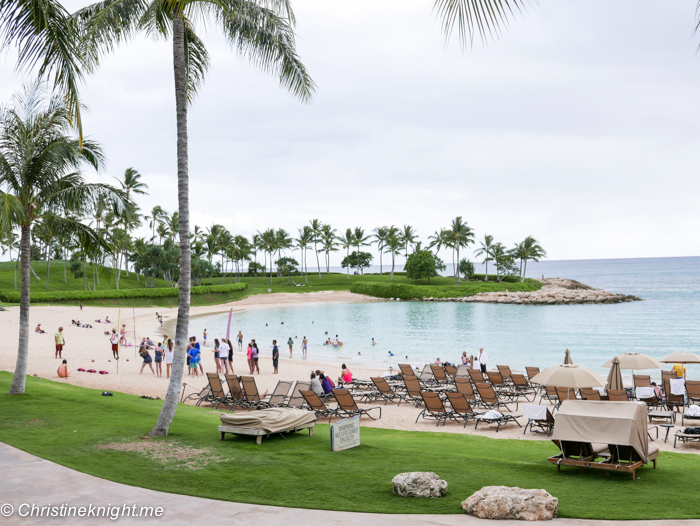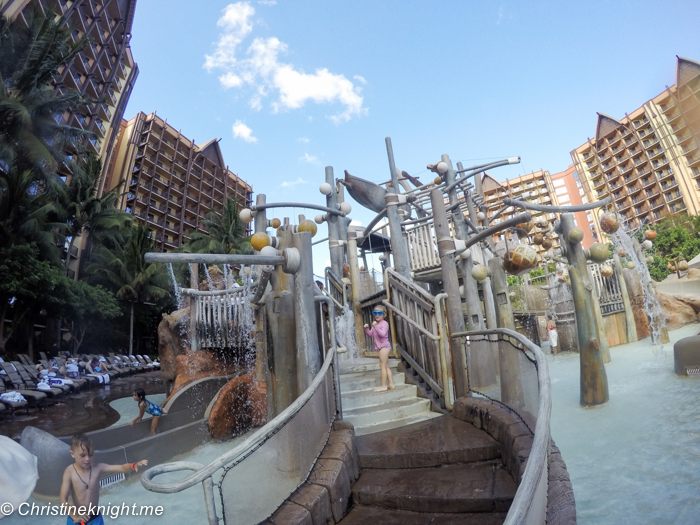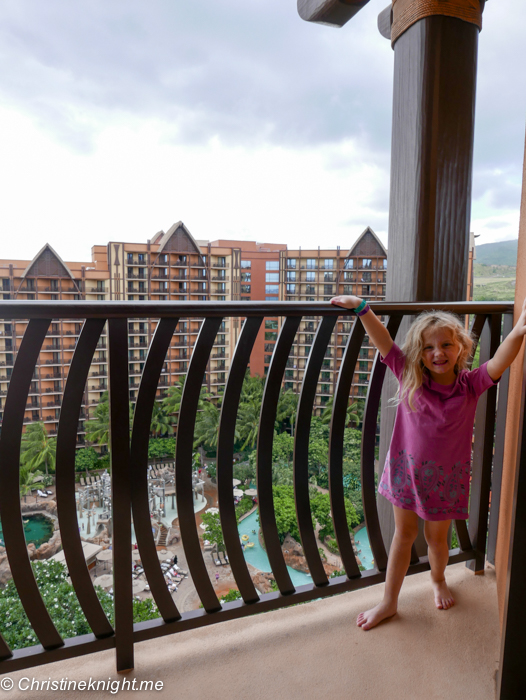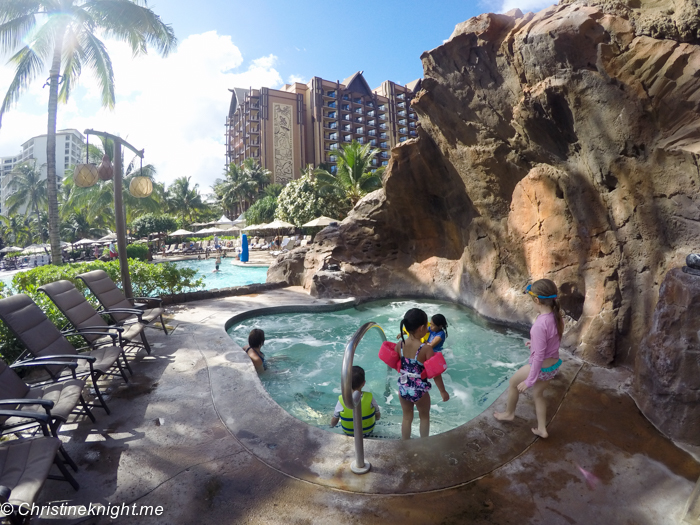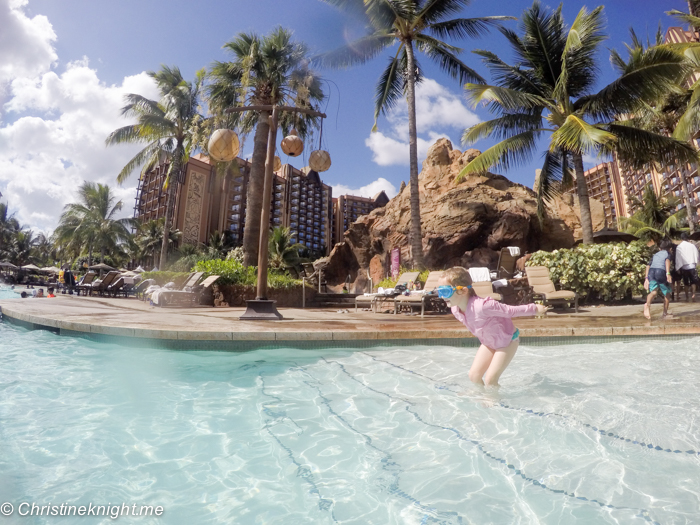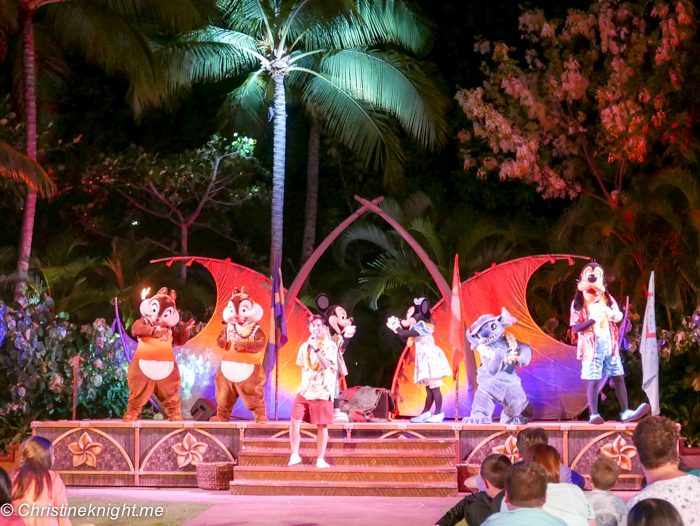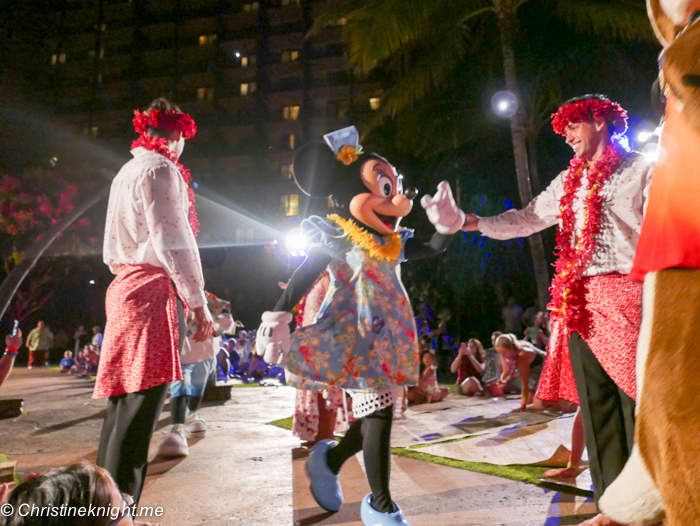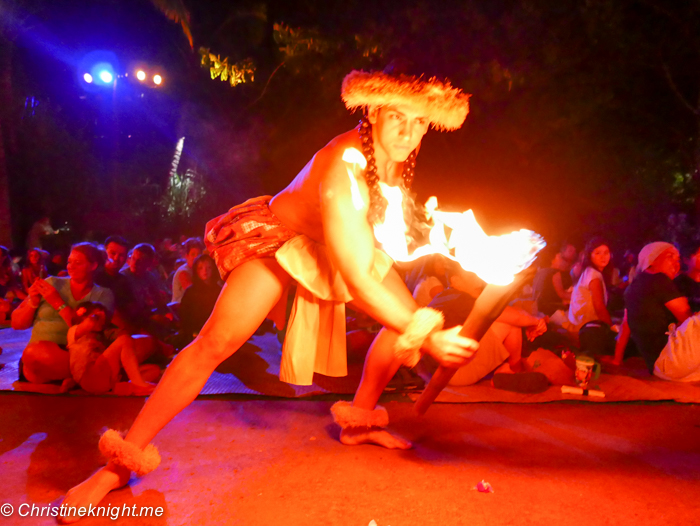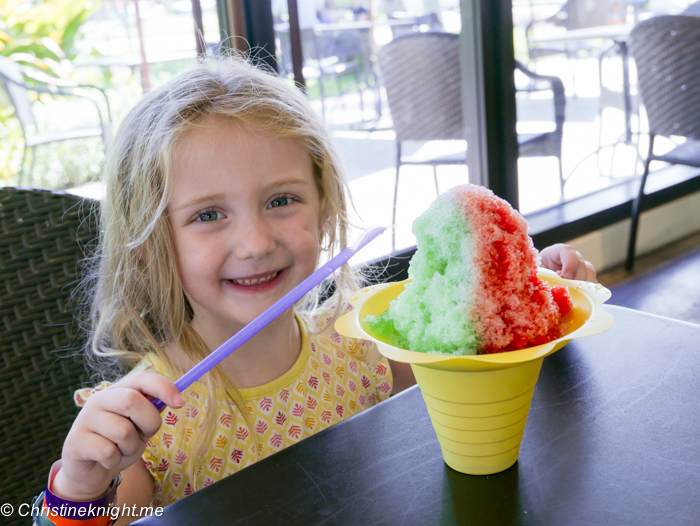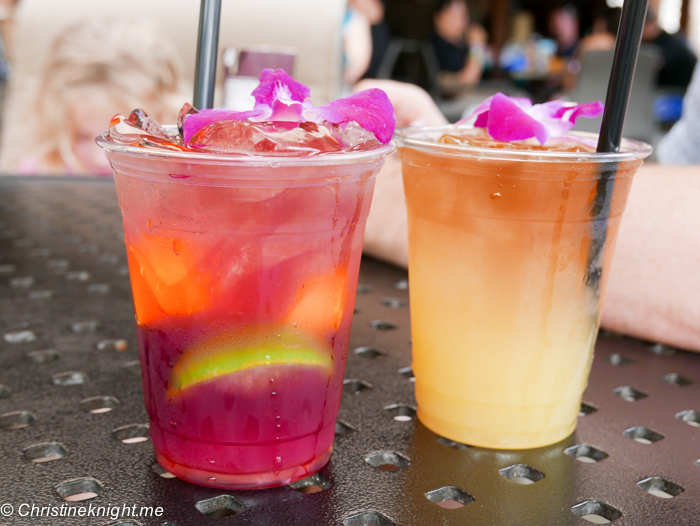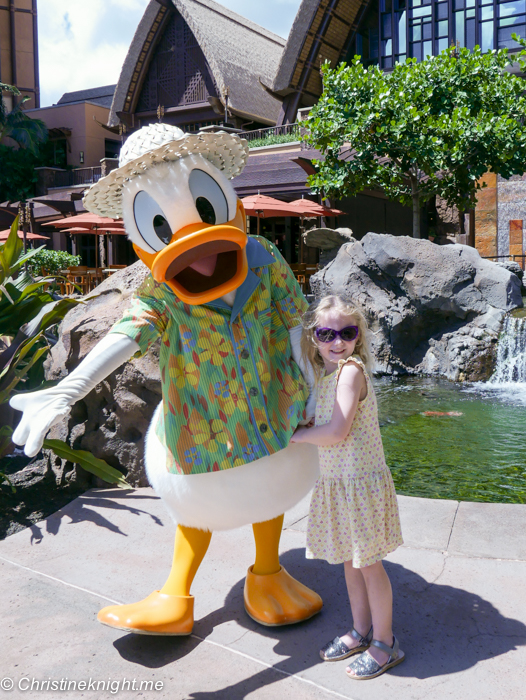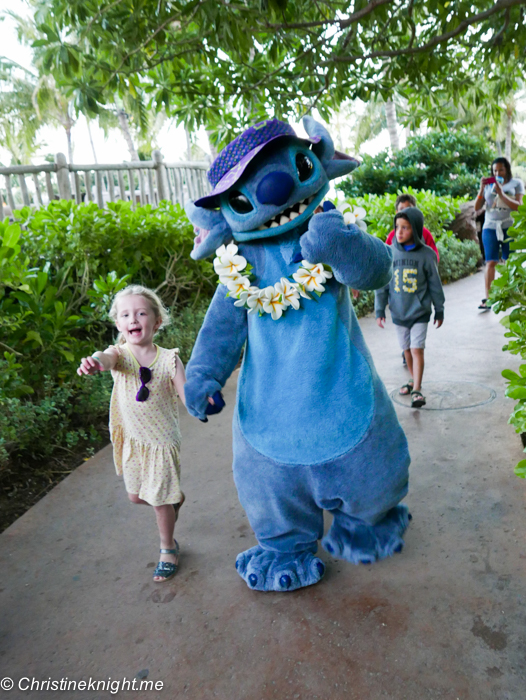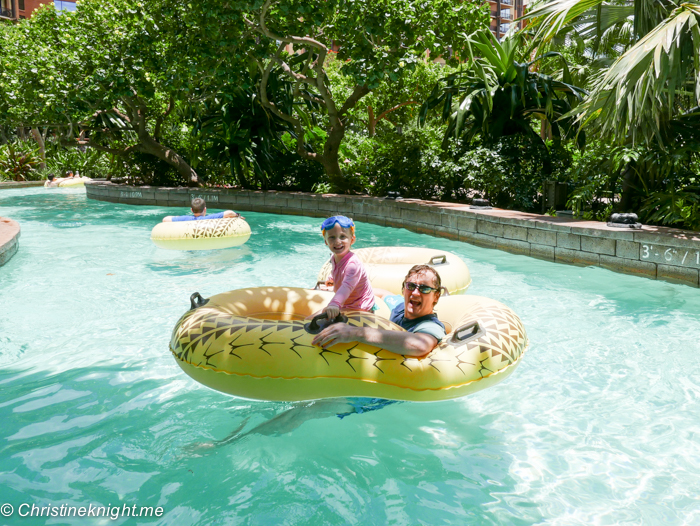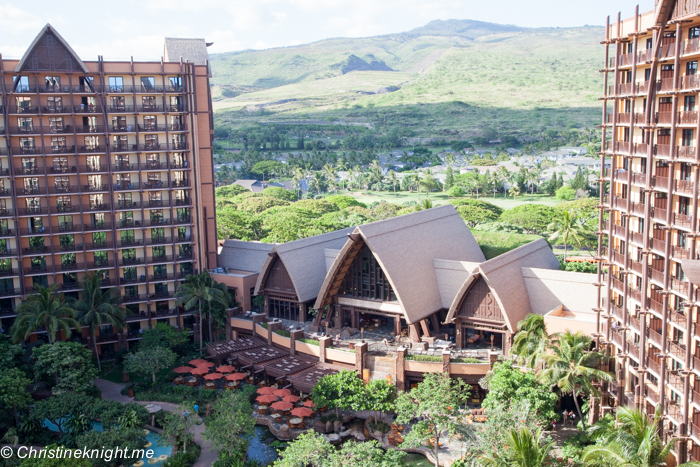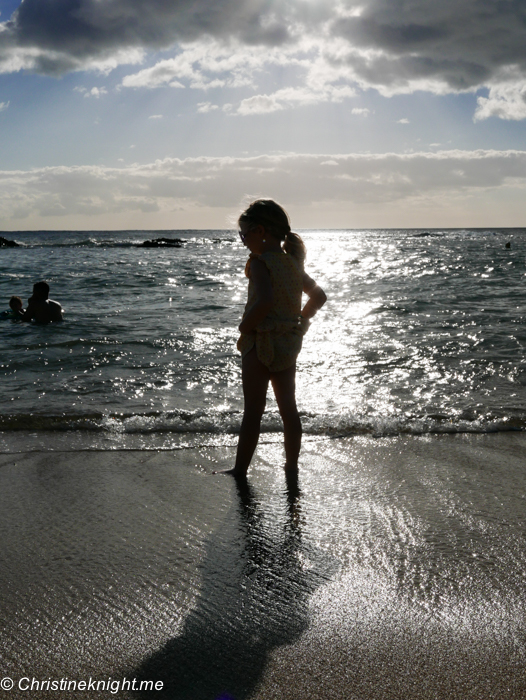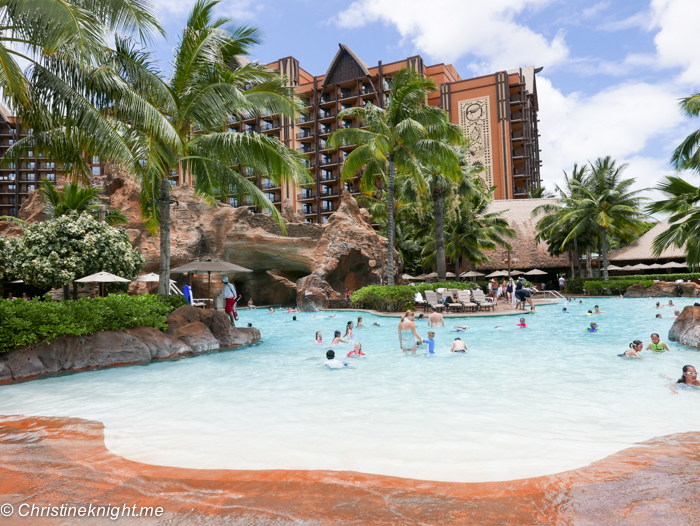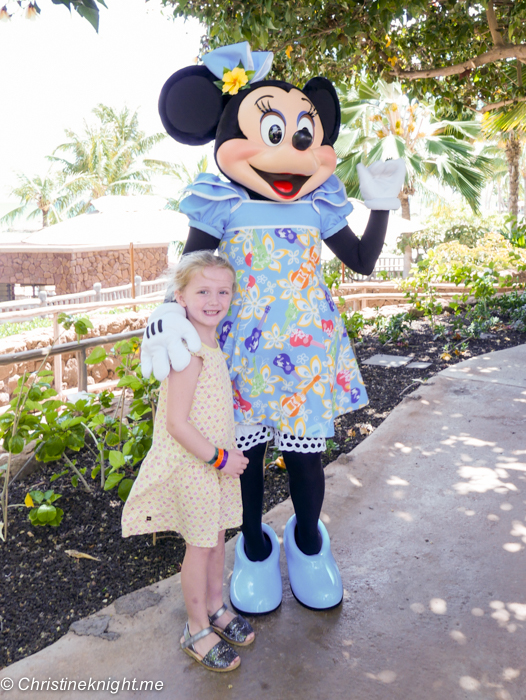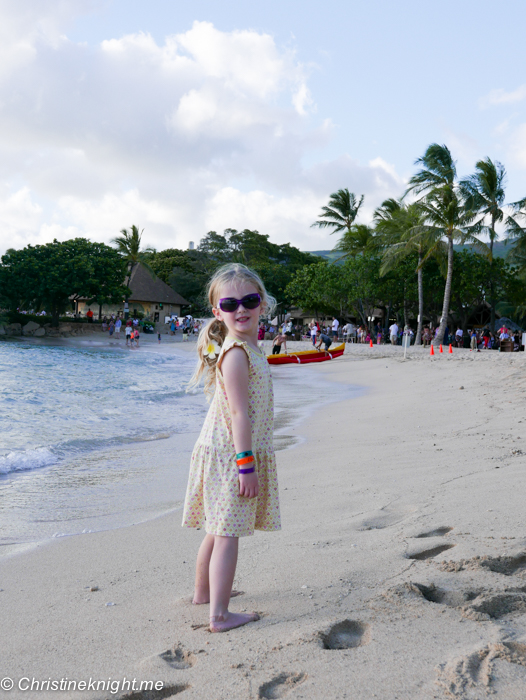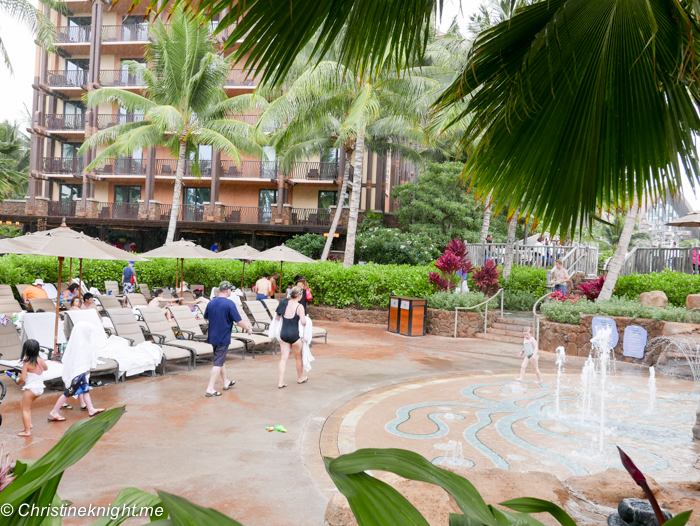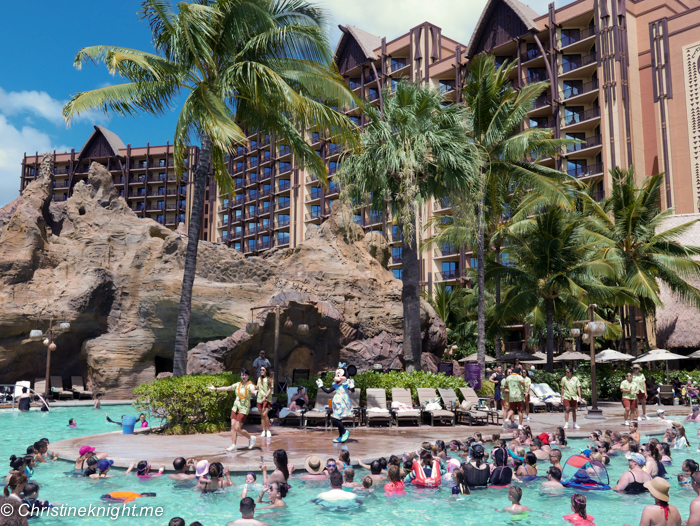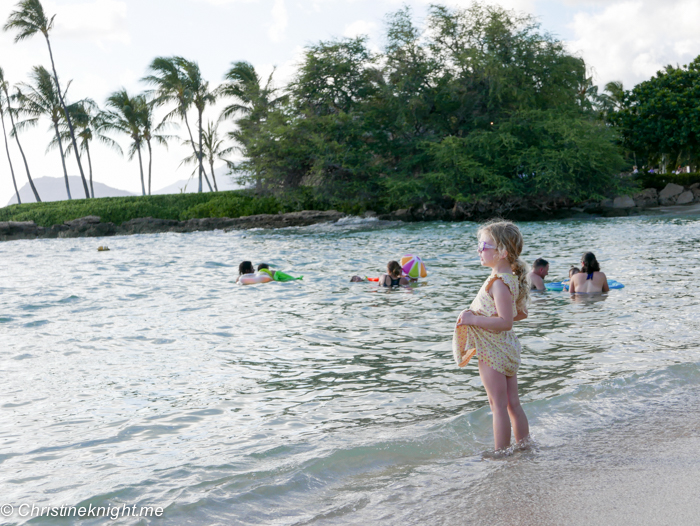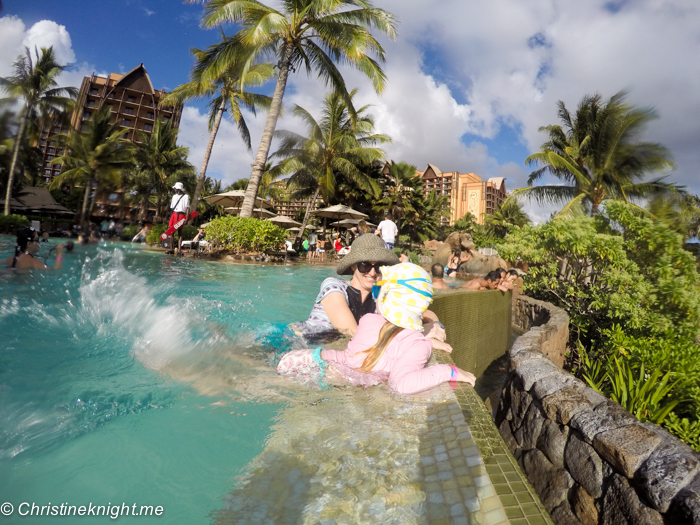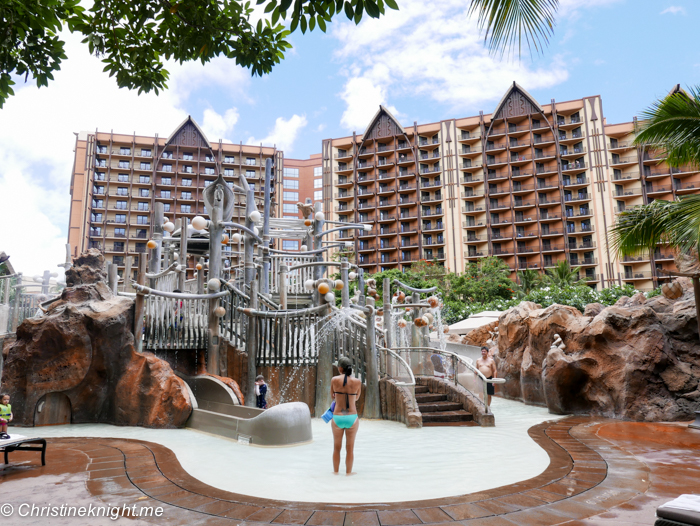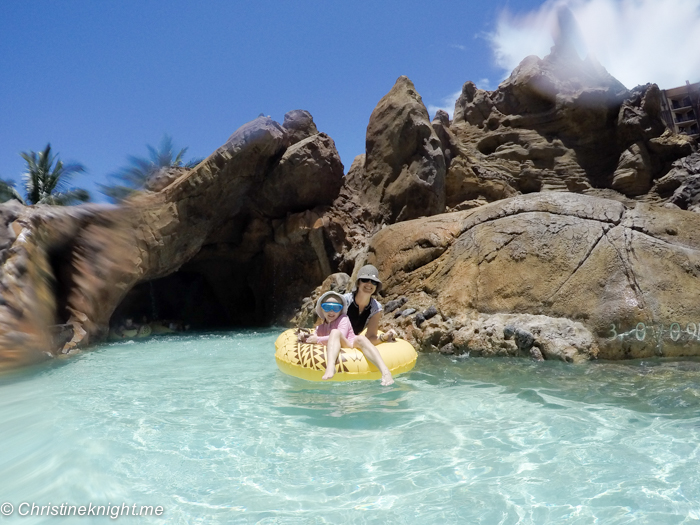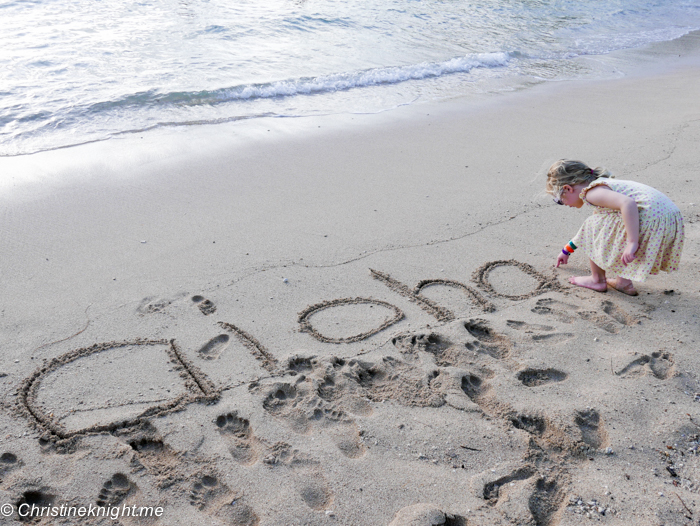 Aulani, A Disney Resort & Spa
92-1185 Ali'inui Dr, Kapolei, HI 96707