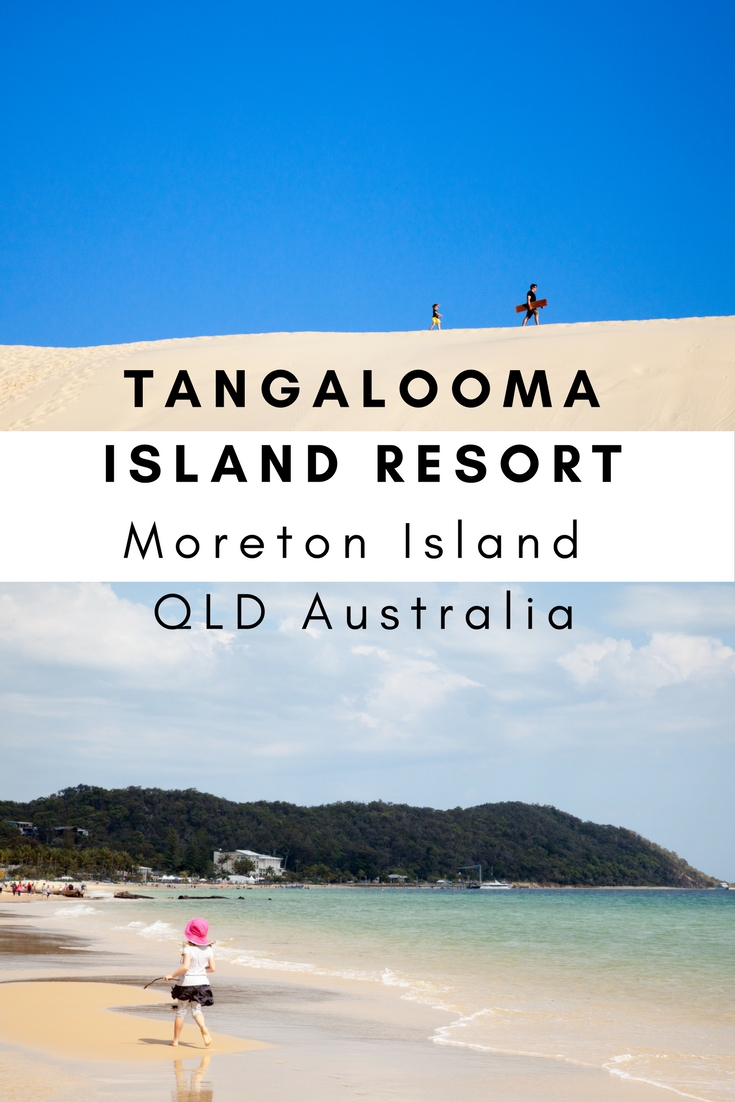 Moreton Island, the world's third largest sand island, is only a hop, skip and a ferry ride away from Brisbane, Queensland, making it one of the easiest island getaways we've found yet.
We visited Tangalooma Island Resort on Moreton Island for a three-day mini break. With only a 75 minute ferry ride from Brissie to get there, it's a quick trip to this little slice of paradise and a very doable weekender or even day trip option.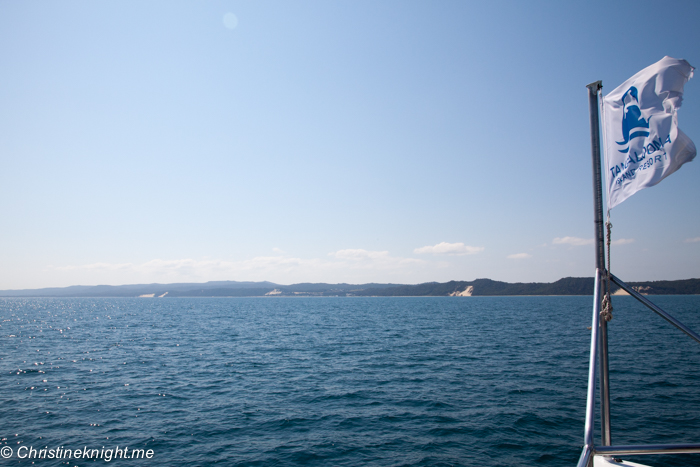 The ferry departs from Holt Street Wharf in Pinken. Luggage is checked and it's a very comfortable ride to Tangalooma. On Moreton Island, the ferry lands at a jetty right outside Tangalooma Island Resort. Paradise awaits!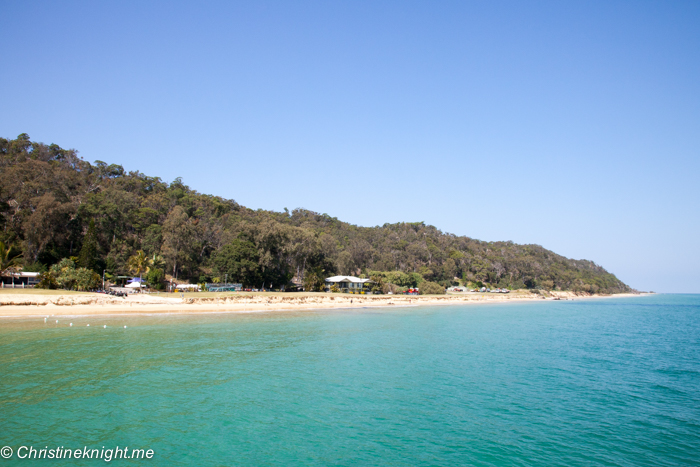 Tangalooma Island Resort accommodation and facilities
Tangalooma Island Resort includes several types of accomodation, ranging from basic rooms to luxury villas. We stayed in one bedroom family suite with kitchenette facilities. It's an older-style room that is very basic, but is also extremely spacious and is fitted out with everything we needed for our short stay.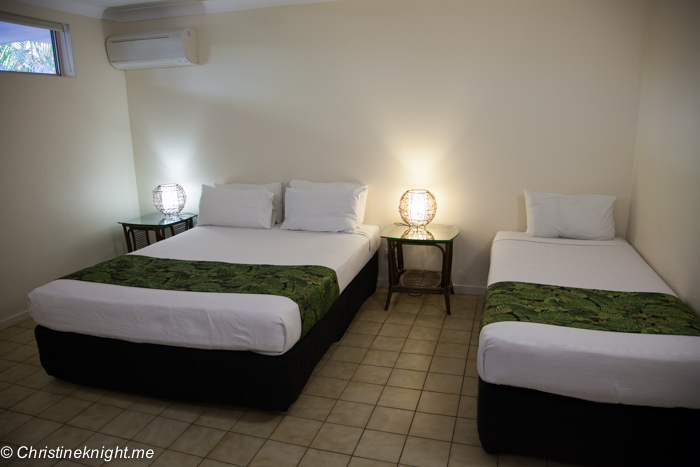 Our suite featured air-conditioning, a seperate bedroom, large bathroom, hairdryers, TV/DVD, dining table and kitchenette that included a 3/4 size fridge, convection microwave, electric frypan, toaster and kettle, plus barbecues outside the rooms. You could very easily prepare your own meals as a way to cut down costs of eating out while on the island.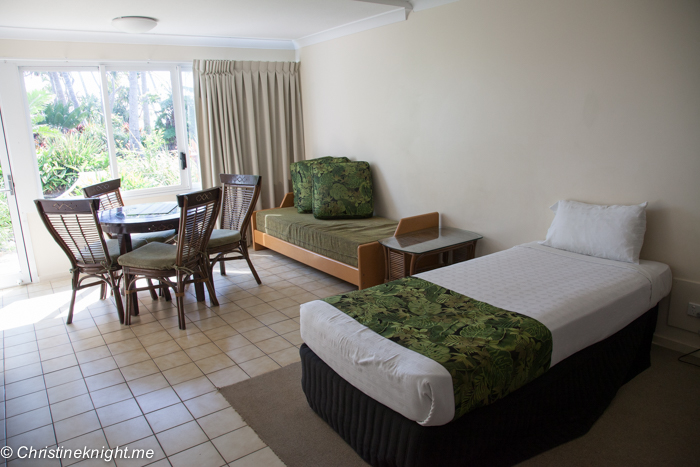 The room we are given was located only 50 metres from the beachfront, which made for easy beach mornings.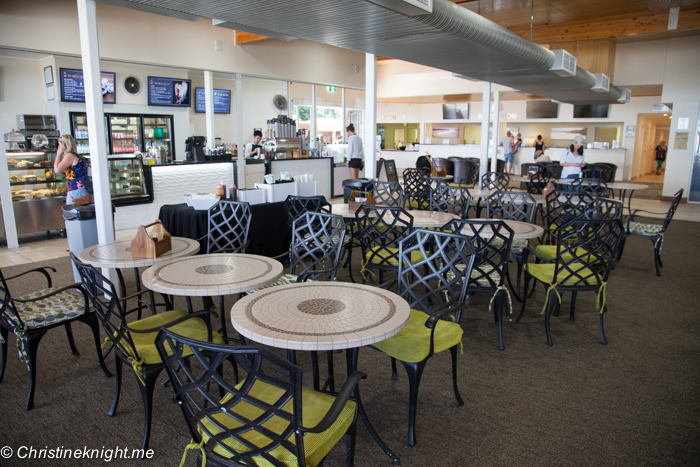 Facilities at the resort include a convenience store where you can buy groceries and snacks (I would suggest bringing as much as you can with you on the ferry however as they're a bit pricer than on the mainland), five casual and upmarket cafes and restaurants, a bar, two swimming pools and, of course, the stunning beach!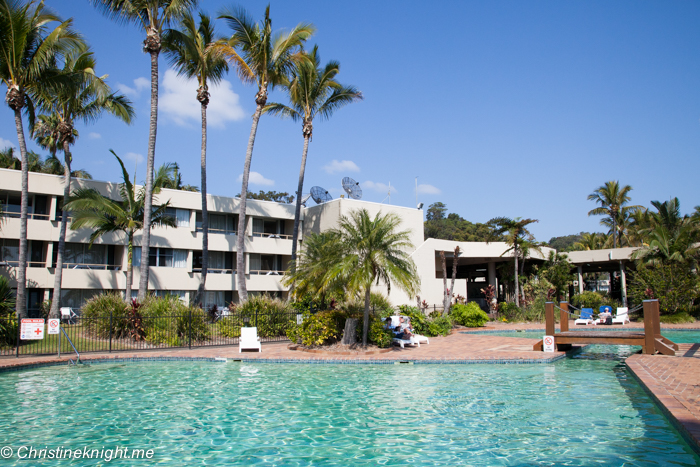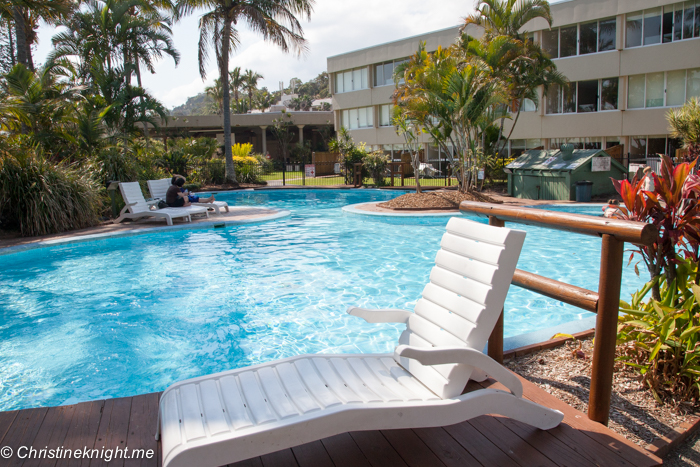 There are an incredible variety of tours that can be booked to enjoy the island's stunning natural beauty – but you can also just spend a few days enjoying the beach and pools and relaxing.
Moreton Island
The island is made up of 98% sand and 2% sandstone and rhyolite at Cape Moreton, where you'll find also find the first lighthouse in Queensland. Moreton Island is also home to the tallest coastal sand dune in the world, Mount Tempest, which is 285 metres high. You can climb the sand dune and enjoy a 360 degree view of the island, but the hike to get there is a bit longer than our legs could manage!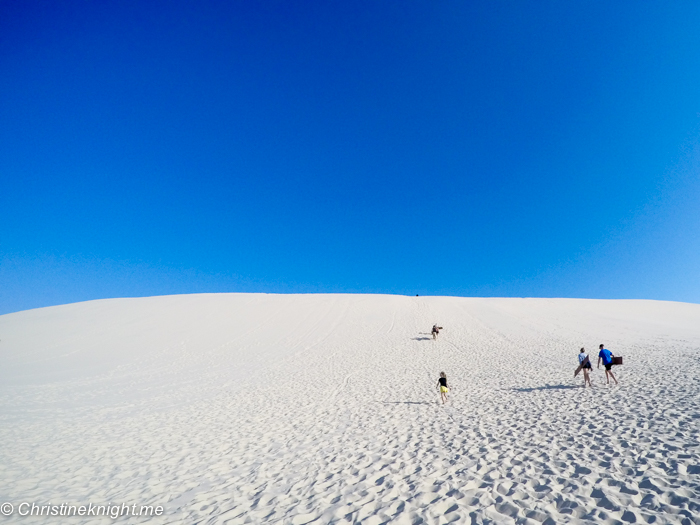 Sandhills feature all over the island, free from vegetation, some up to 60 metres in height. This "desert" of undulating sand dunes makes for unique landscape as well as adventurous fun.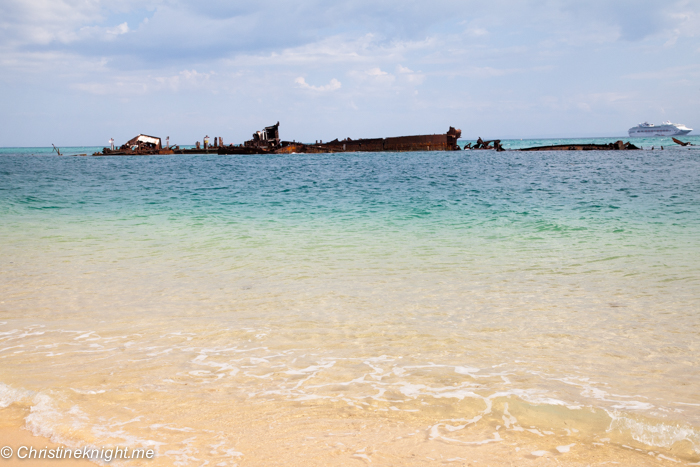 A stroll down the beach from Tangalooma Island Resort lies the Tangalooma Shipwrecks: 15 ships that were sunk by the Queensland government and are now a popular snorkelling spot.
The island is located in Moreton Bay, where dugongs, stingrays, dolphins and turtles make their home. In 1993 the Moreton Bay Marine Park was established to protect the Moreton Bay habitats and residents therein. It's the only place in the world where significant populations of dugongs and turtles can be found at such a close proximity to a large urban centre.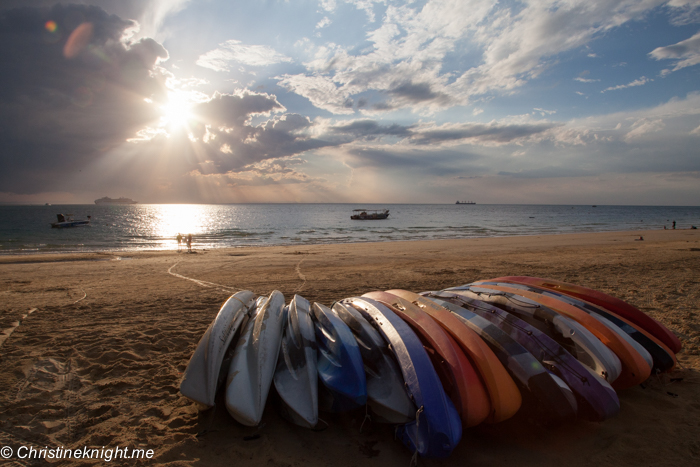 What to see and do at Tangalooma Island Resort
Wild Dolphin Feeding Experience
This is what the resort is best known for and is a highlight for guests. Two close-knit families of bottlenose dolphins have been visiting the shores of Tangalooma for over 25 years, and return every evening to be hand-fed by the island's guests.
The current program was put into place when resorts guests were found to be feeding the dolphins bits of bait and fishing offcuts, and the owners, the Osbourne family, decided to implement a regimented feeding program to protect the health of the dolphins.
Tangalooma Wild Dolphin Feeding is only permitted for guests staying in Tangalooma Island Resort accommodation or visiting on selected day cruises. The experience is included in selected accommodation and day cruise packages from Brisbane.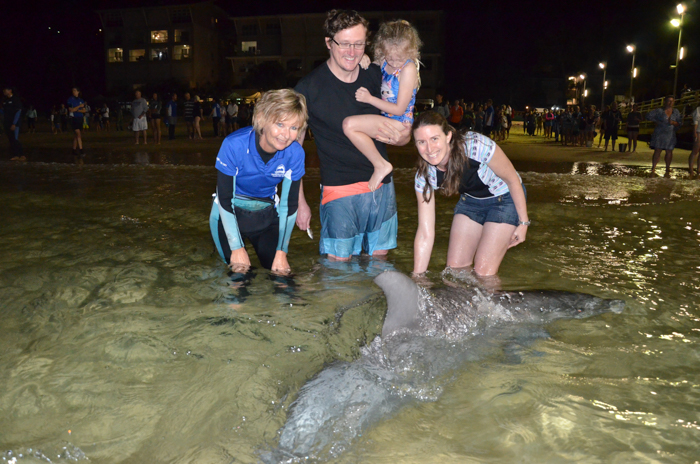 The resort has a government permit to run the dolphin feeding program and has very strict rules and regulations. The dolphins arrive just after sunset of their own accord, and are fed between 10 and 20% of their daily food requirement. This ensures that they maintain their natural instincts and don't become dependant on humans for food.
Dolphins have sensitive skin and some do not like being touched by humans, so touching the dolphins is not permitted. Hands must be washed in advance to disinfect guests' hands before handling the fish so as not to pass on any bacteria to the dolphins.
If you do the dolphin feeding, I highly suggest putting your camera away and just enjoying the experience. Flash photography from the beach is not permitted anyway, and the beach is too dark to capture photos without a flash. You can however take photos with a flash from the jetty. Close-up camera flashes can be harmful to dolphins' eyes as well as causing them stress.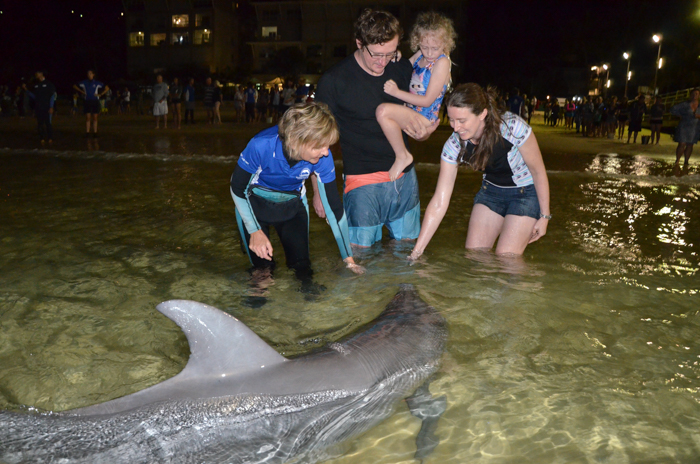 You will however still come away with a photo if you wish to buy it later, as the Tangalooma Photoshop team attend the feedings each night and wade out into the water behind the dolphins to take flash photos of guests and dolphins from an angle that won't cause them stress or damage their eyes.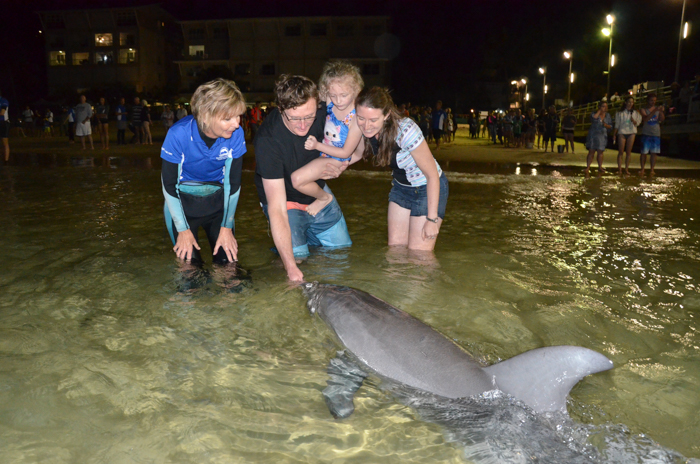 A note on clothing to wear during the feeding: you will absolutely get wet. Prepare to get soaked up to your chest just to be safe, as some nights that's how far out into the water guests will have to go to meet the dolphins. Waders are available for hire at $15 if you want to keep dry during the dolphin feeding (waders are a waterproof boot extending from the foot to the chest, similar to overalls.)
We were lucky enough to meet the "grandma boss" of the dolphin family, Tinkerbell herself.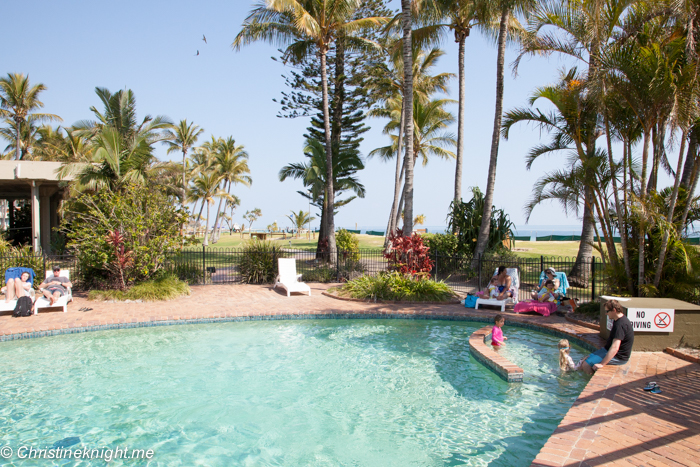 Things to do for free at Tangalooma
It's important to note that you don't have to spend an arm and a leg on activities to enjoy a stay at Tangalooma. You can very easily spend your time here enjoying the beach, swimming and snorkelling in the ocean (if you bring your own gear), hanging out at the playground, hiking through the wilderness, jumping in the pools or just generally relaxing.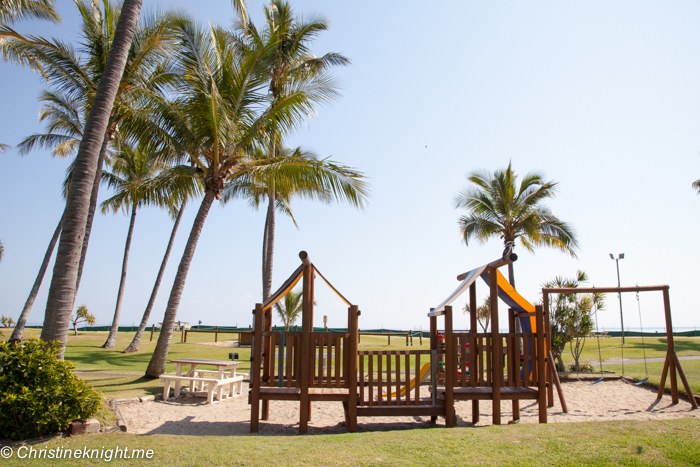 We had a fantastic time walking up the beach to the shipwrecks and just investigating nature along the way. A big storm had washed up plenty of starfish on the beach, so we had an up close view of these animals.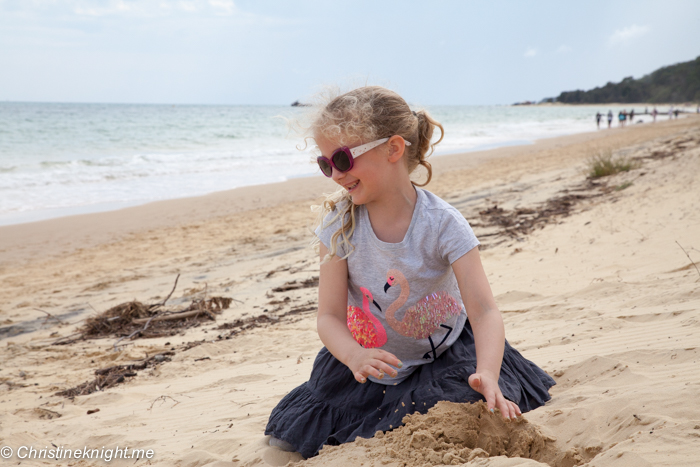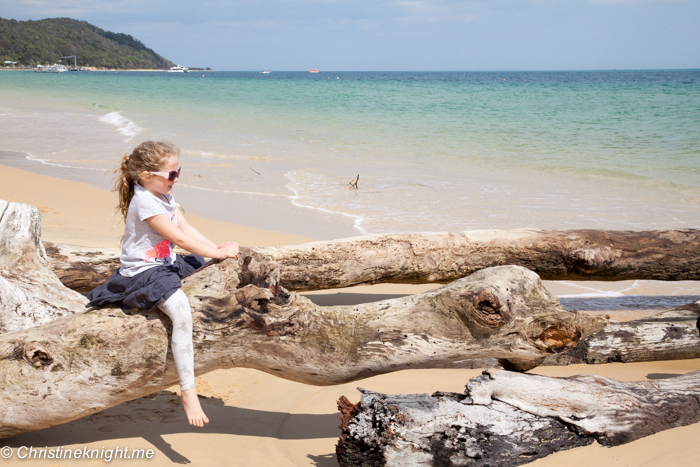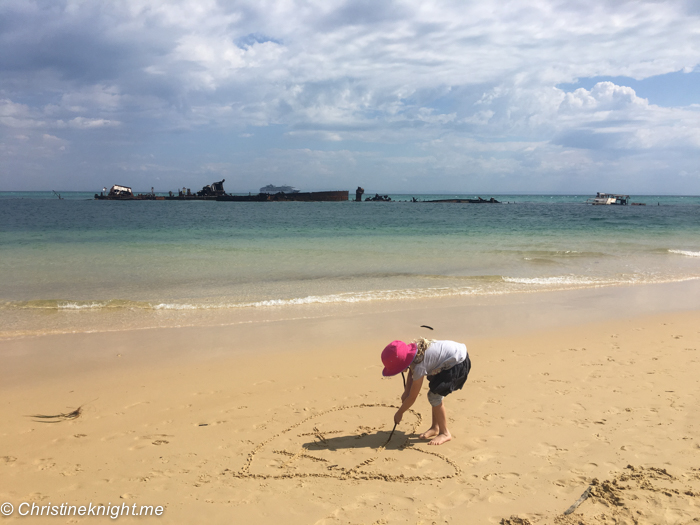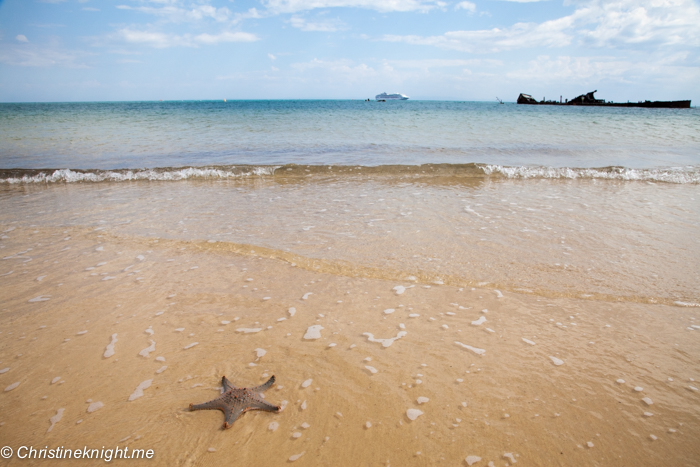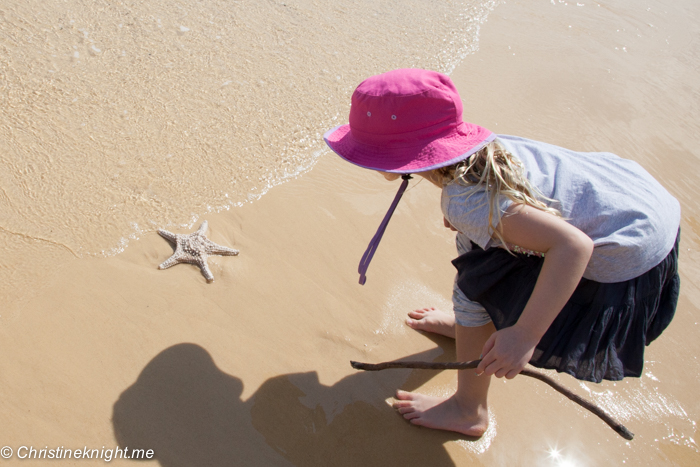 The sunsets are spectacular at Tangalooma, so be sure to set aside a good hour to watch it go down. Kids run up and down the beach and into the waves while adults pull up a beach sandbag (free to borrow from the bar) and take a drink to watch the sun go down in style.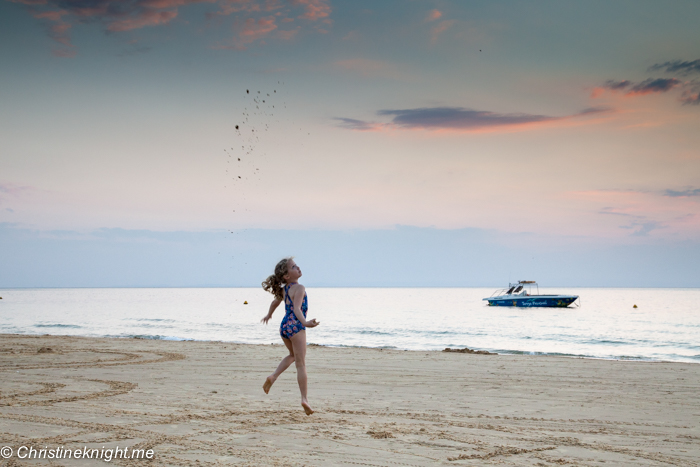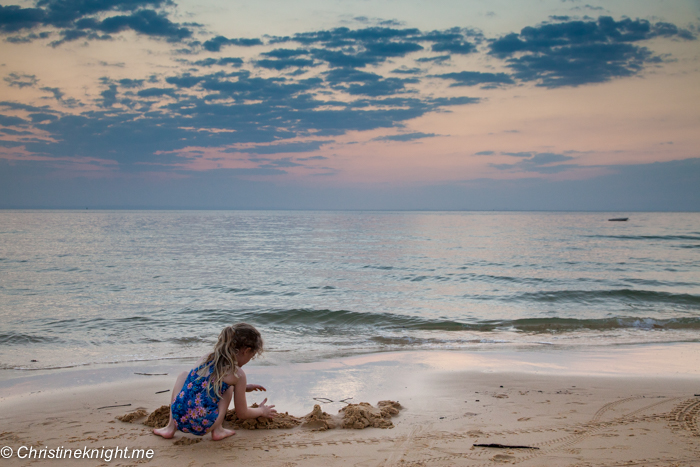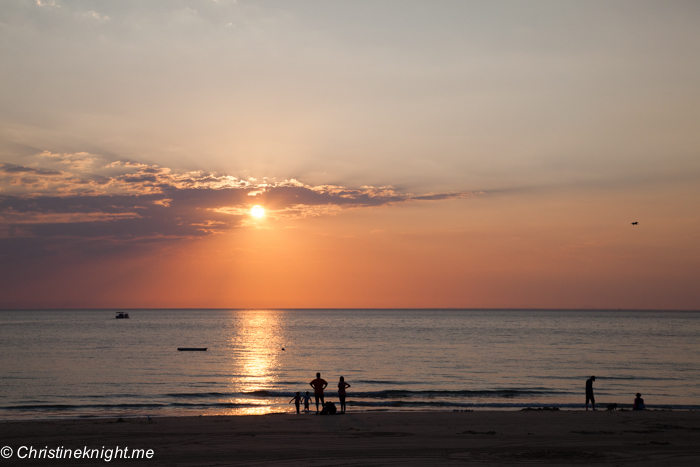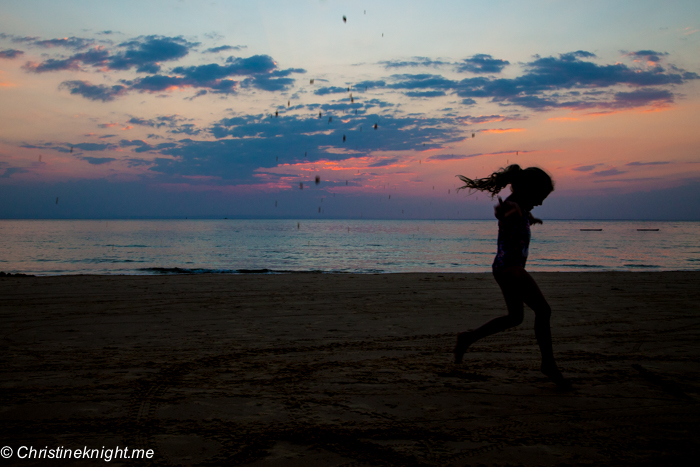 Tangalooma also offers: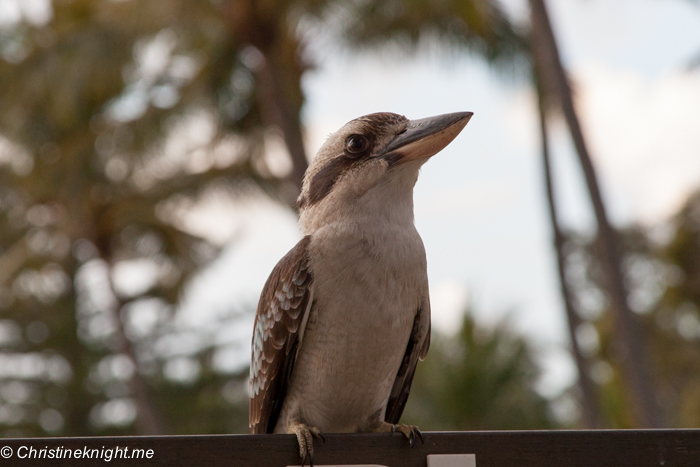 Kookaburra feeding
A daily demonstration to learn more about these popular residents on the island.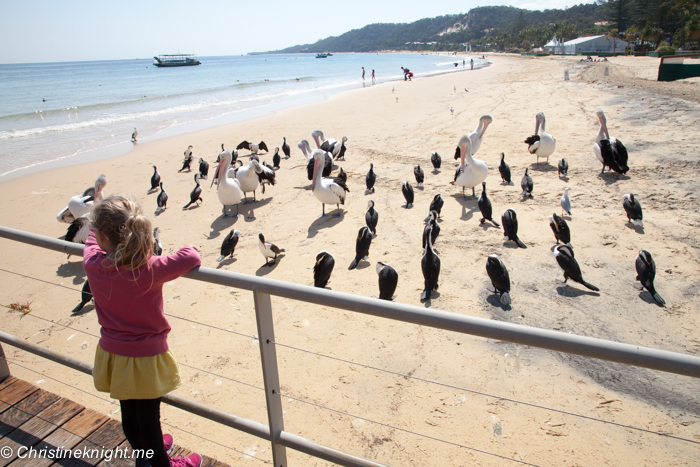 Pelican Feeding & Sea Bird Talk
Held every morning at the jetty, the feeding started as a way to stop the pelicans from stealing bait from fisherman and getting tangled in their nets. Now, it's an informative way to learn about these sea birds.
Sporting equipment hire
Tangalooma Island Resort has a selection of casual sporting areas including tennis, squash, boule, basketball, badminton and croquet just to name a few. Equipment hire is free but some require a refundable cash deposit. You can also bring your own gear and use the facilities.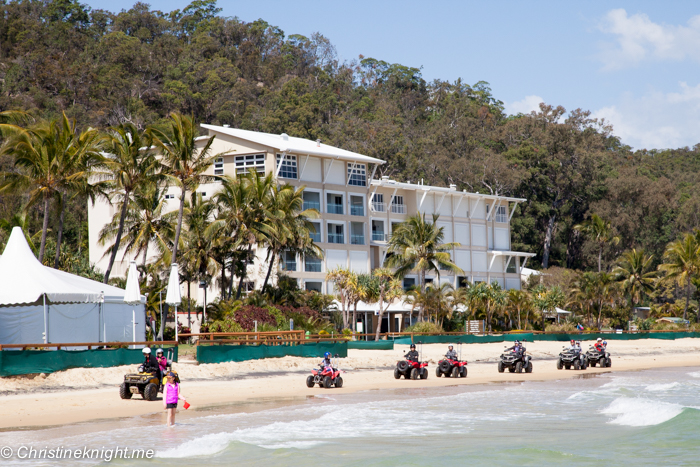 Tours and Activities at Tangalooma
The resort offers a wide range of land and water-based tours and activities that enable guests seeking a more active or adventurous holiday to enjoy the stunning scenery and nature that Moreton Island has to offer.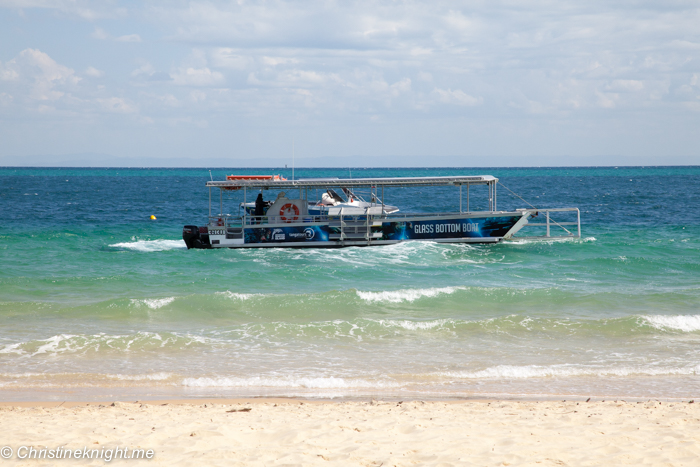 Water-based activities include: kayaking, snorkelling, stand up paddle boarding, whale watching tours, the Marine Discovery Cruise and Sightseeing and Fish Feeding Tour of the Wrecks.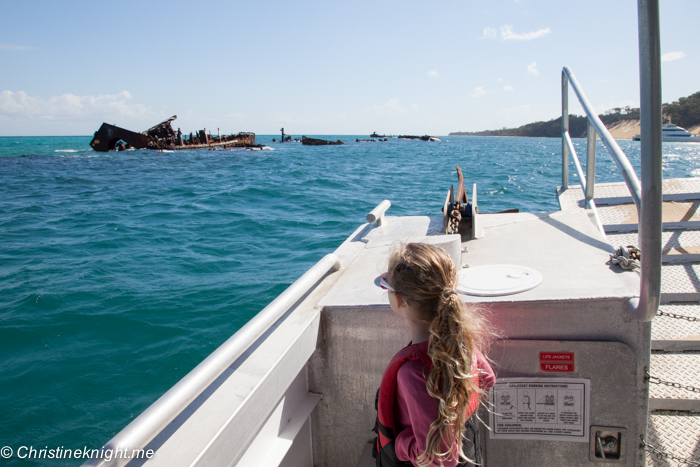 We highly enjoyed the Marine Discovery Cruise with some bonus fish feeding. Sadly no dugongs were sighted, but we did see several green sea turtles as well as the shipwrecks up close, and fed large schools of fish.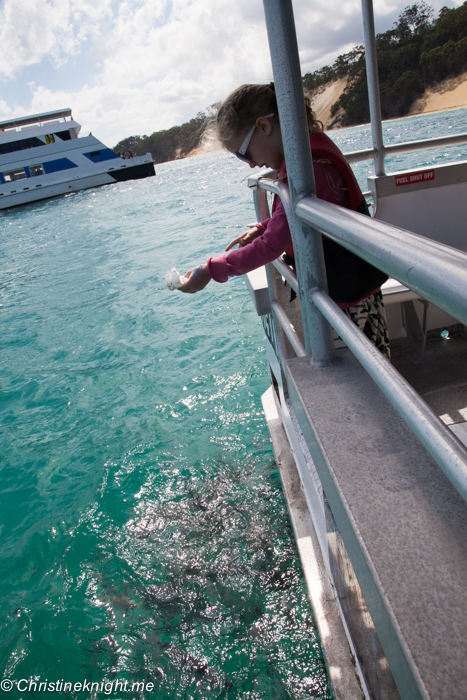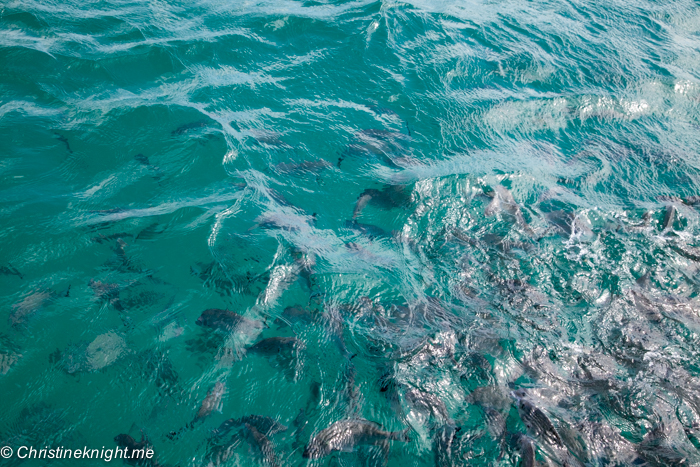 Land-based activities include: tours of the island including the lighthouse, beach segway tours, quad bike tours, helicopter flights and, the tour that we did, the Desert Safari Tour with Sand Tabogganing.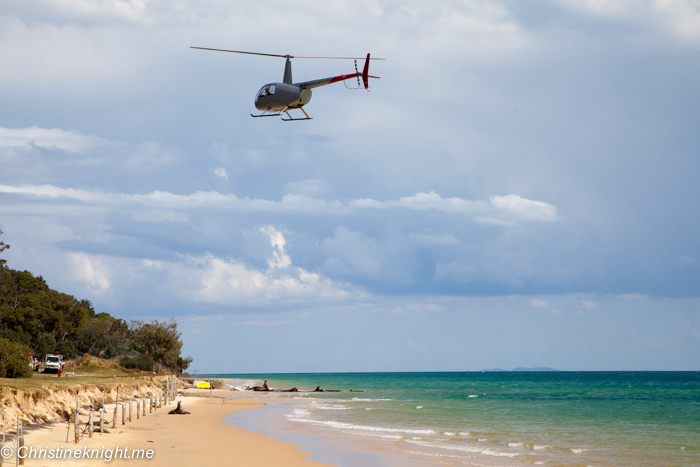 We had a fantastic drive over very rocky terrain into "The Desert", where we climbed up a 30 metre high sand dune and lay on small boards on our stomaches to slide back down again. Absolutely exhilarating! Cheese even went solo on her last flight, so kids can definitely have a go at this.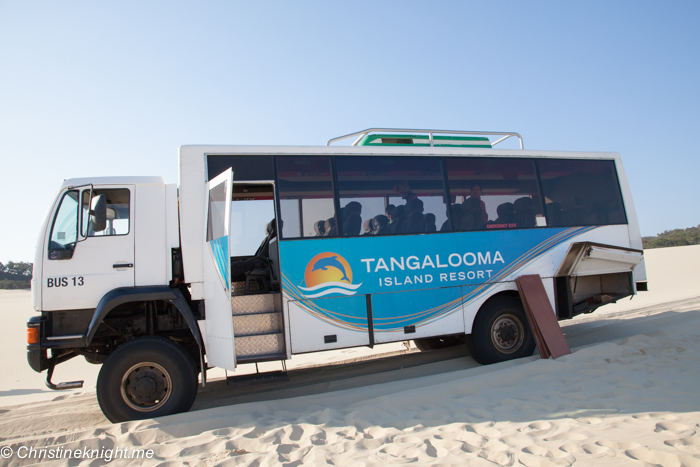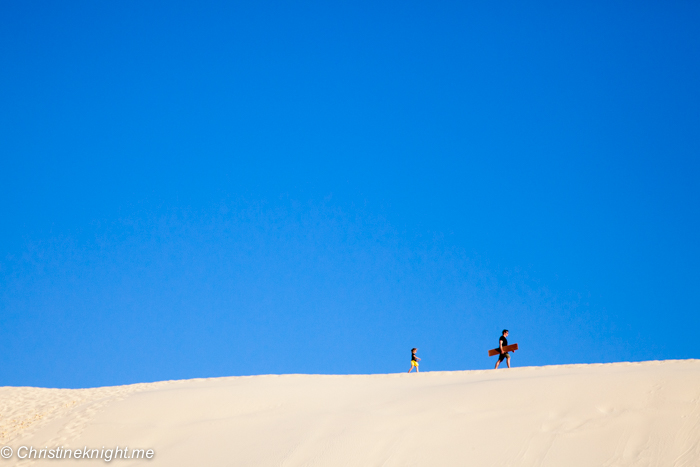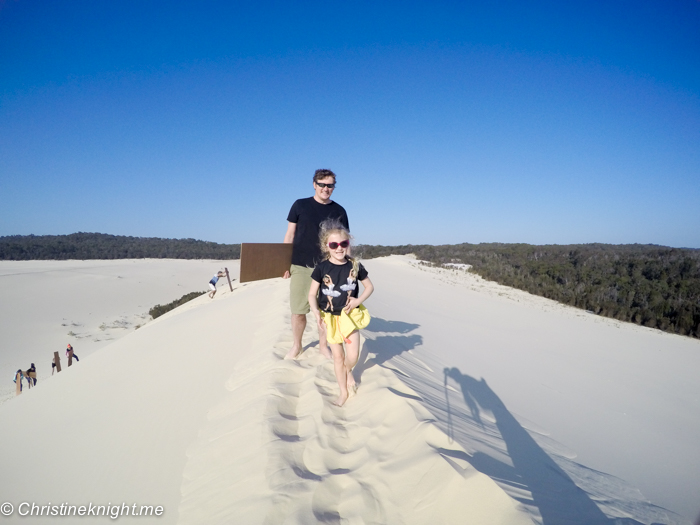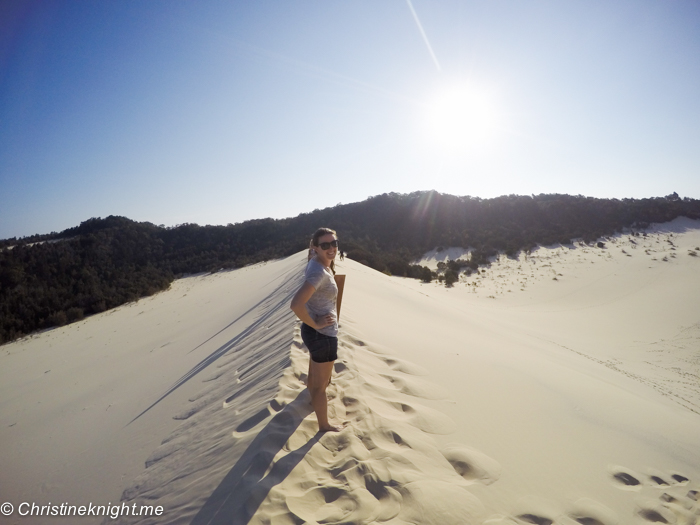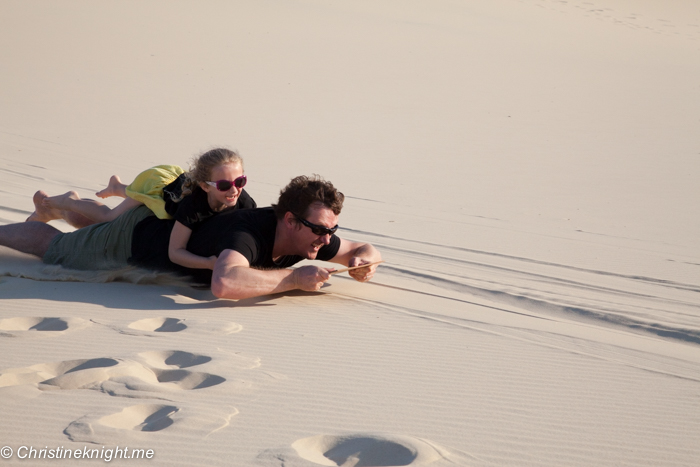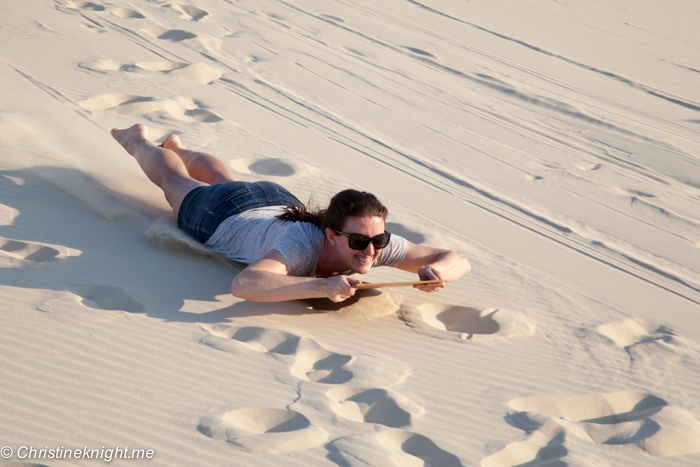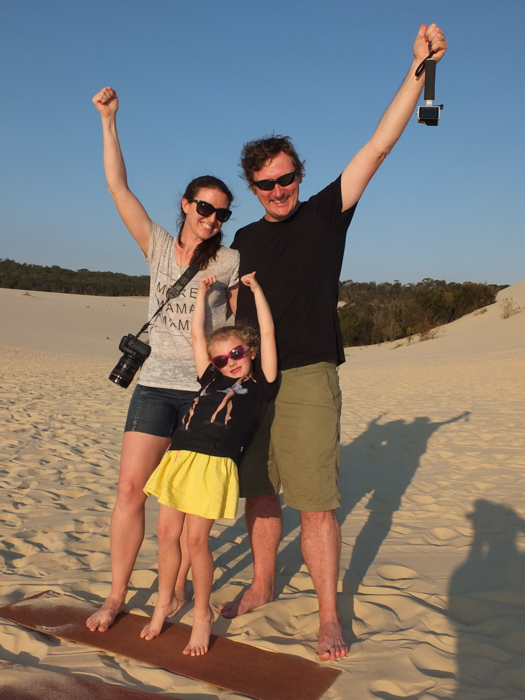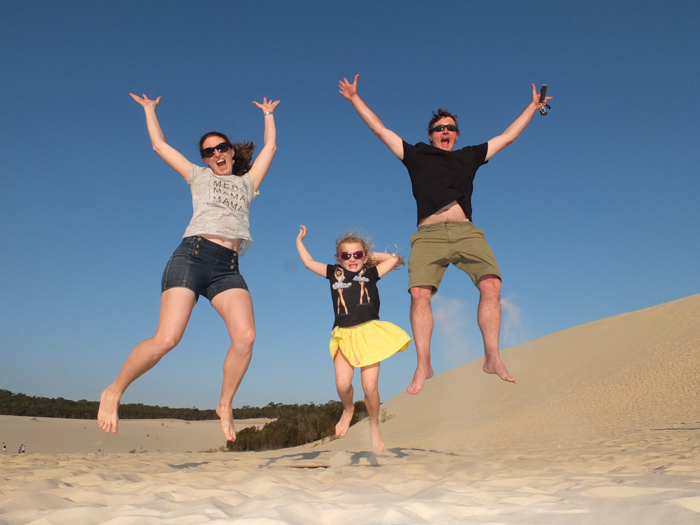 How To Get There
You can catch the 75 minute ferry to and from Brisbane, take a 4WD car on the daily ferry, or arrive in style by helicopter. There are three settlements on Moreton Island, all on the western side; at Kooringal in the south, Cowan in the middle and northern Bulwer.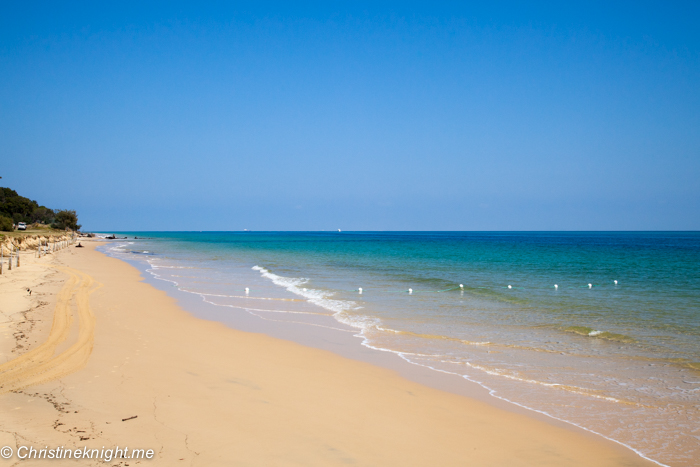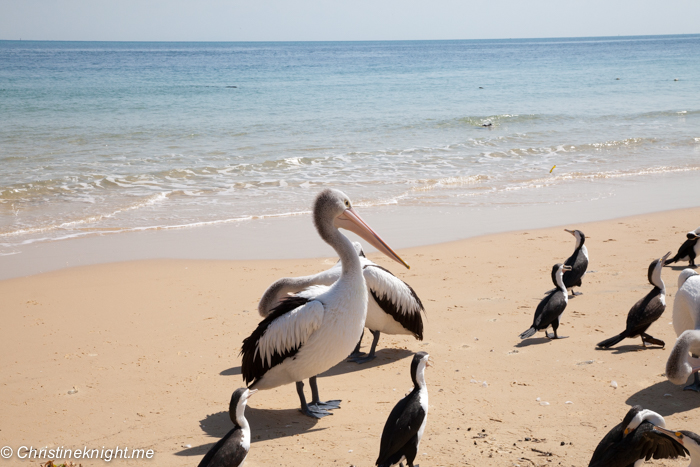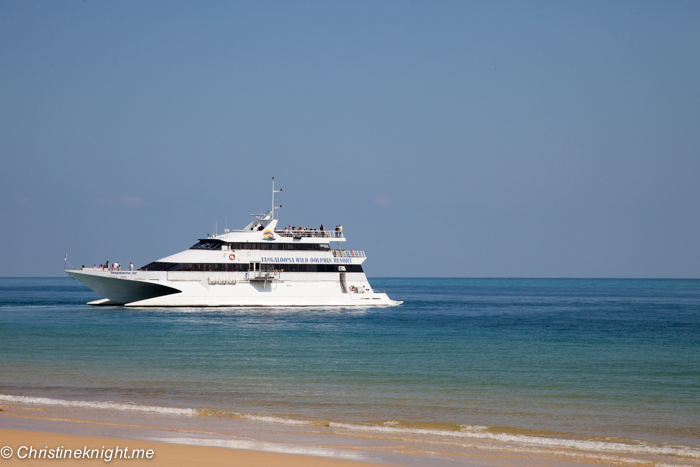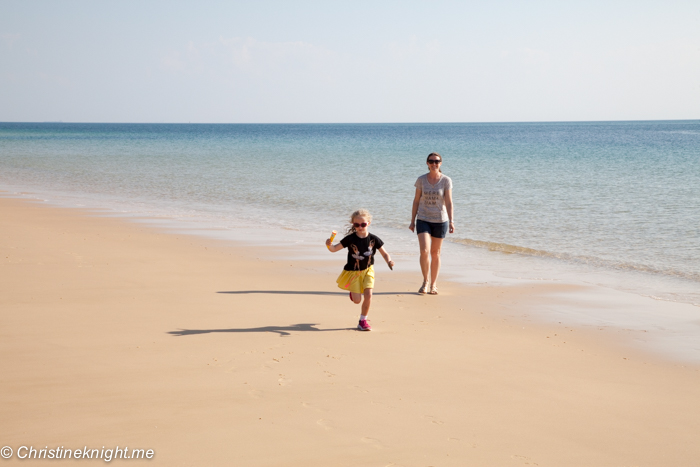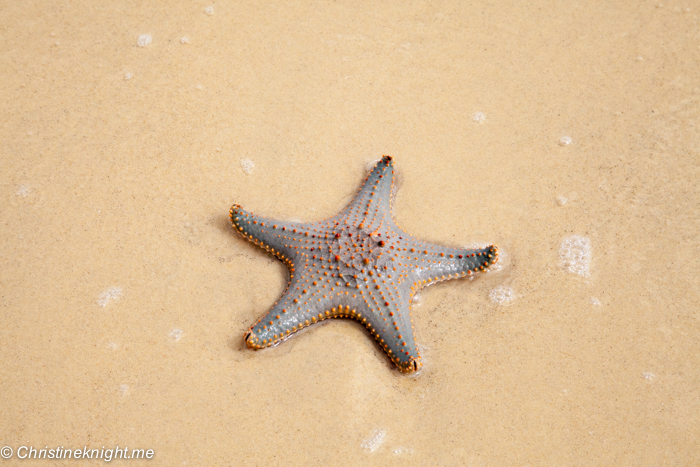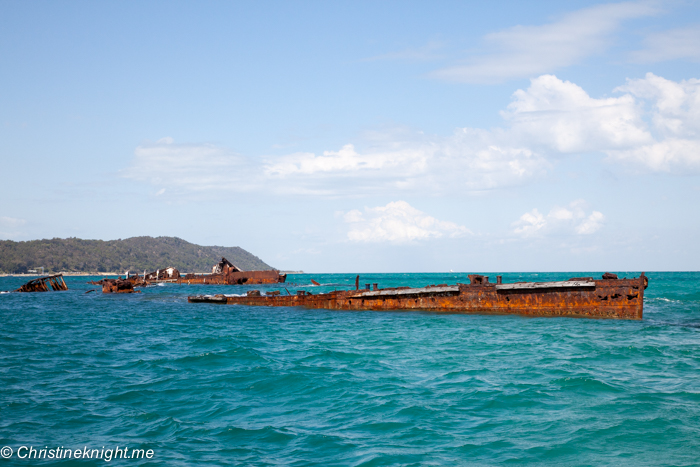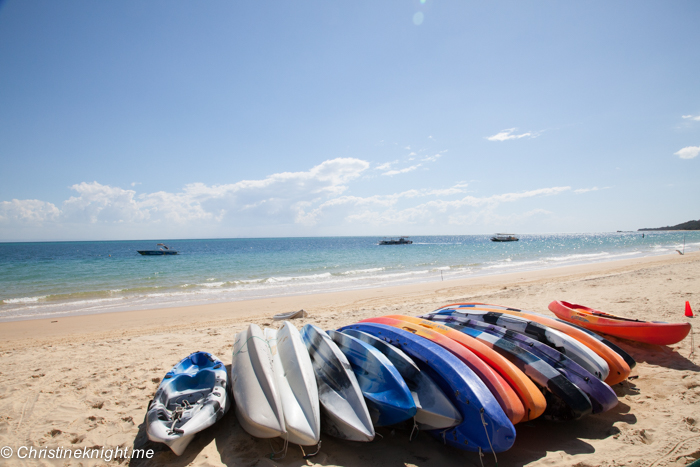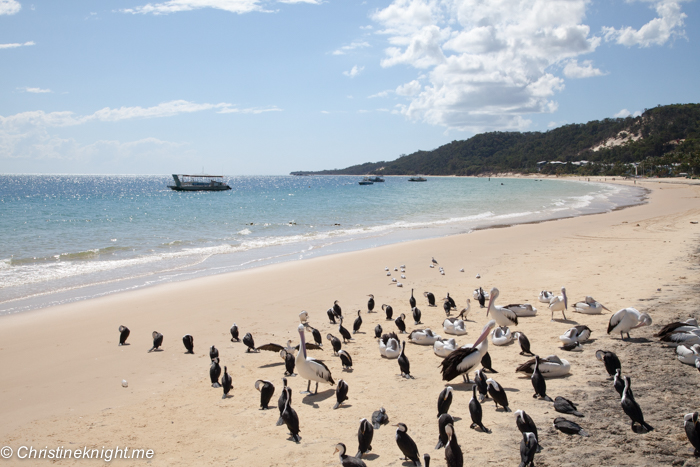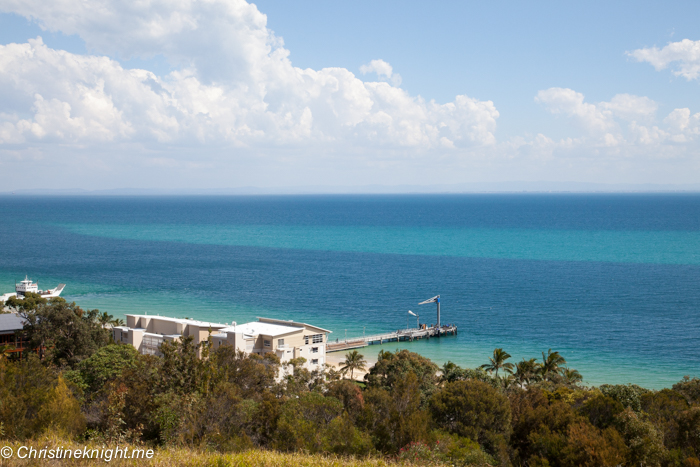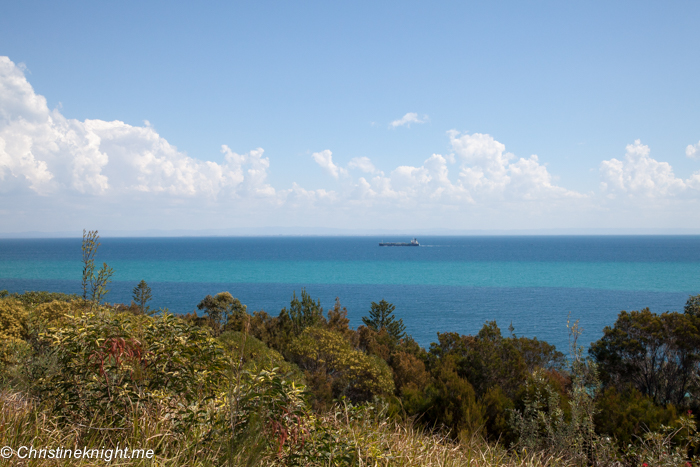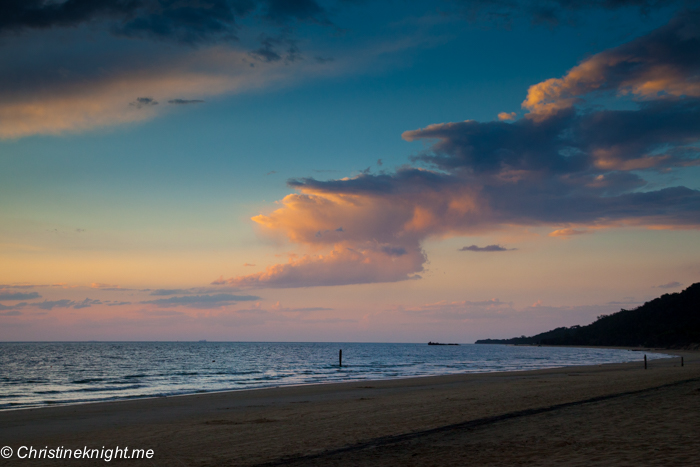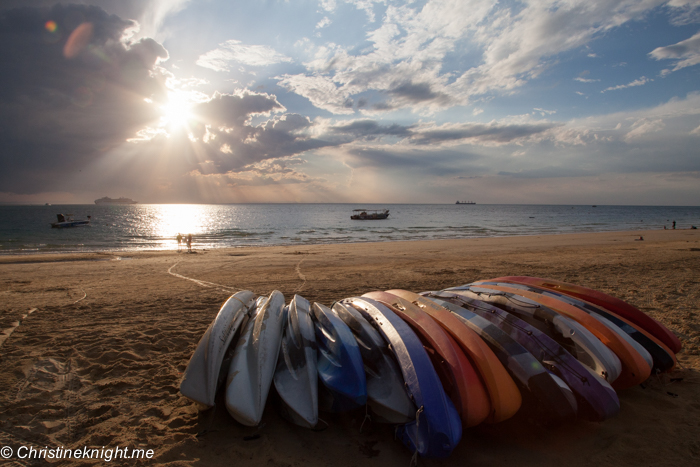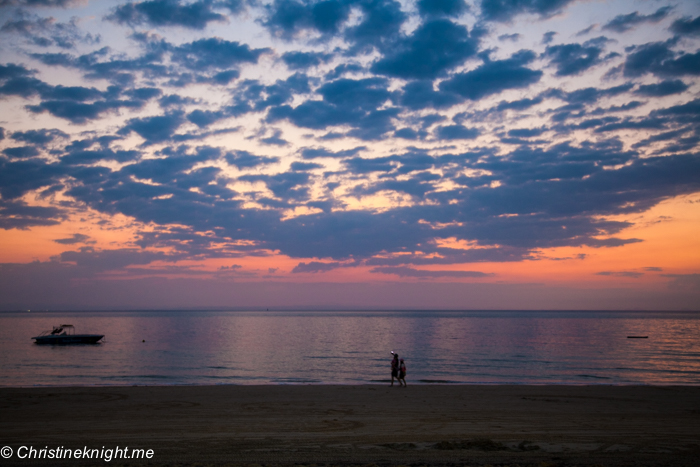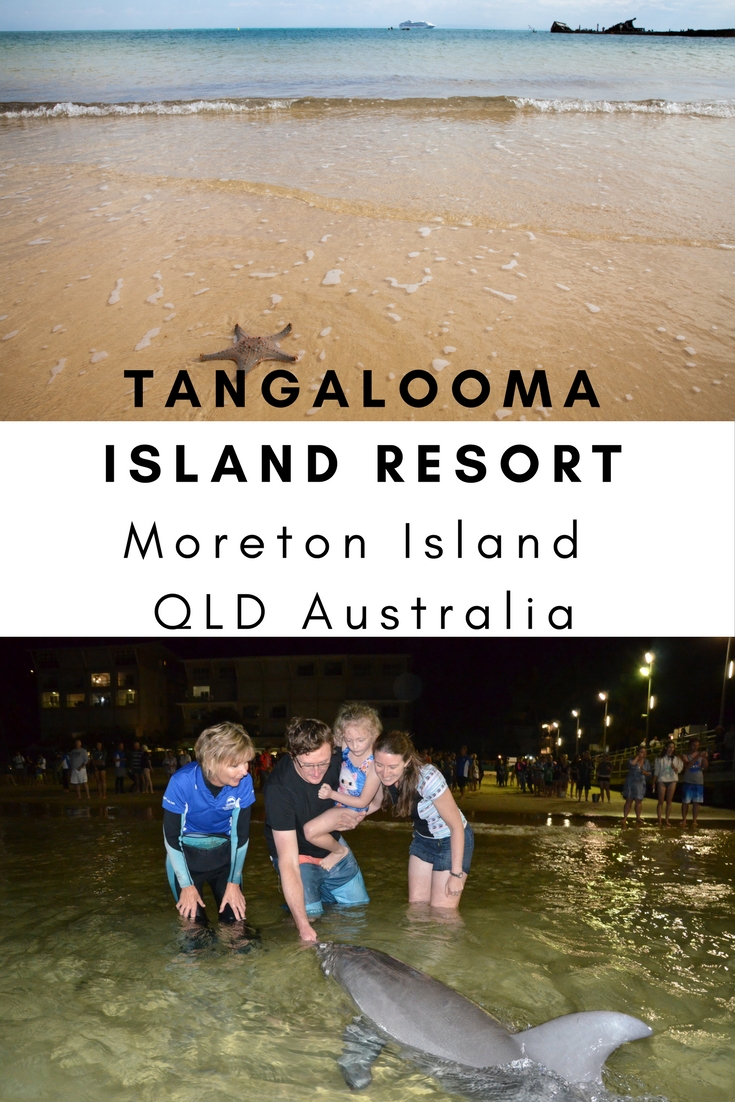 We were hosted during our stay at Tangalooma Island Resort. All opinions are my own.