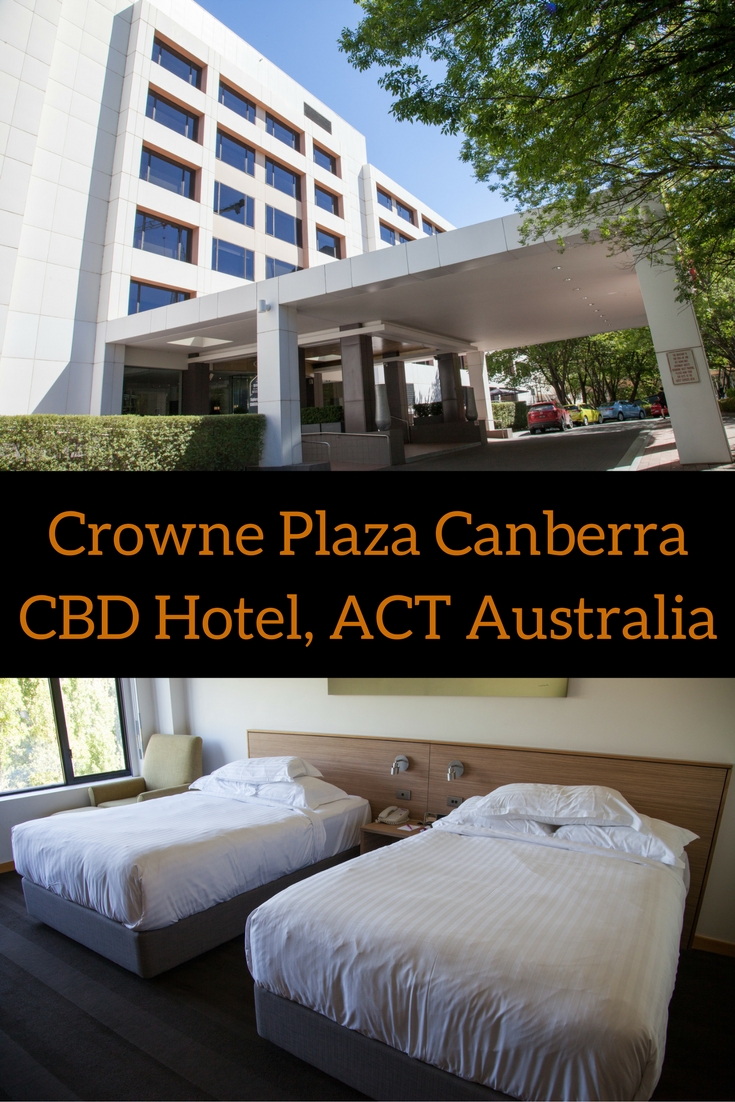 Canberra is one of our fave weekend escapes. There's just so much to love about the city, from it's amazing galleries and museums to its delicious cafes, beautiful gardens and family-friendly hotels. We recently stayed at the Crowne Plaza Canberra CBD Hotel, and have nothing but high praise for the hotel and its staff.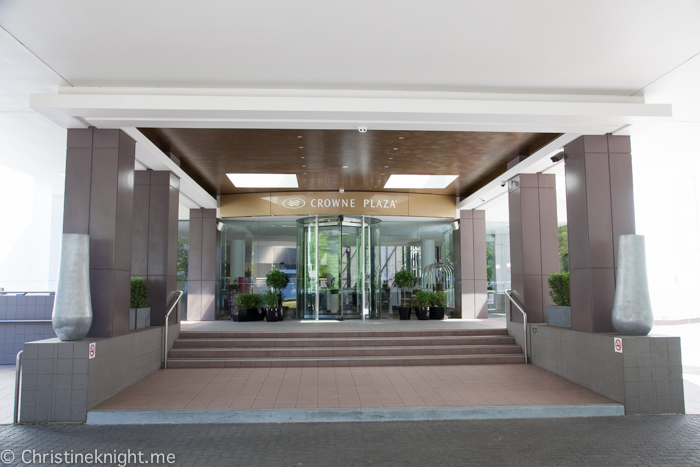 I'm a strong believer in first impressions, and the Crowne Plaza impressed from the moment we walked through the front doors and were blasted with sweetly fragranced air conditioning on a face-meltingly hot summer's day.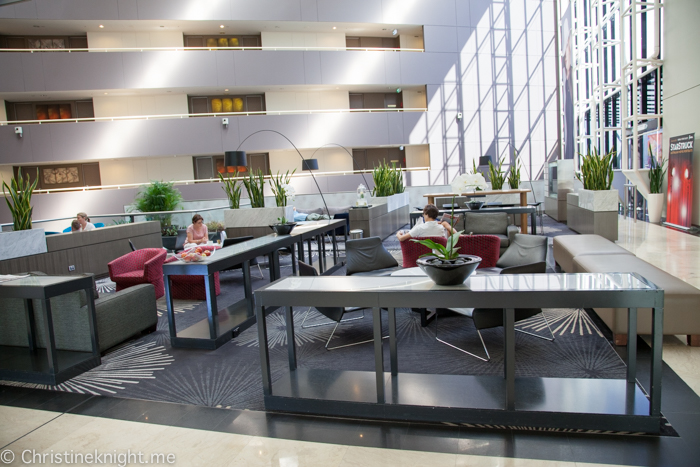 The large atrium in the centre of the Crowne Plaza is a stunning, light-filled place complete with comfy couches to read the paper or watch the news on TV. On days like the ones we experienced, with temperatures almost reaching 40dC, it was a welcome comfort to have somewhere air conditioned to relax in for a bit!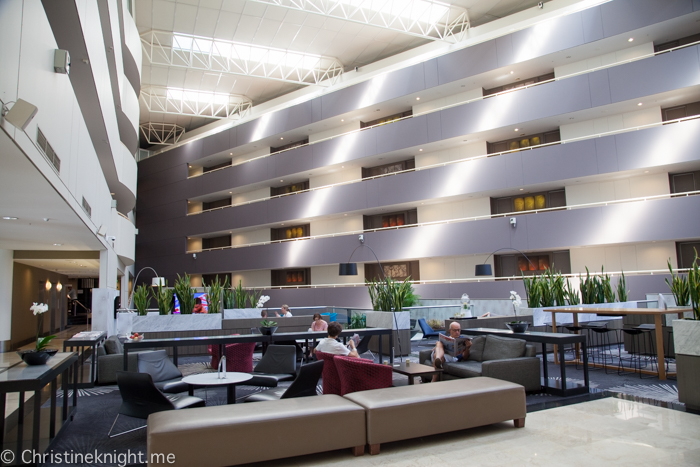 The staff at the Crowne Plaza could not have been more helpful or friendly throughout our stay. From our fast and friendly check-in to suggestions for kid-friendly eateries nearby, and warm servers in the breakfast dining room, we felt extremely welcome and comfortable during our stay.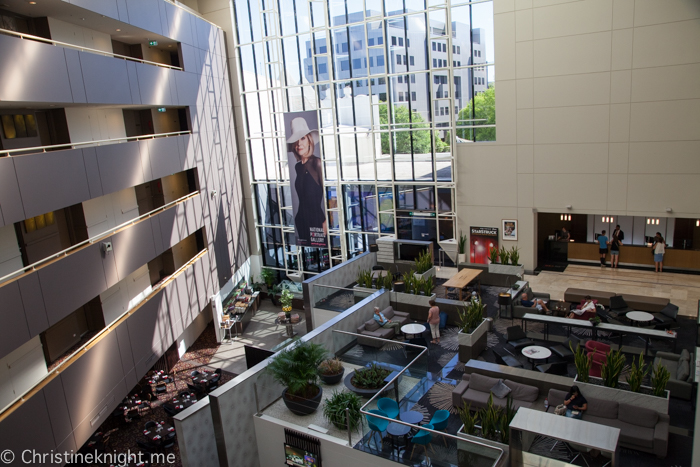 A massive plus for the hotel is also it's fantastic location. It's right in the centre of the city, next to the beautiful Glebe Park, and only two blocks from the city's main shopping area, completely with supermarket, restaurants, cheaper food eateries and every other kind of convenience you might need. Being so close to the main city area mean that we were able to walk to the supermarket for a few groceries as well as cheaper food options for dinner each night.
The Crowne Plaza is also very close to all of the main attractions in Canberra. It's 2km from the Australian War Memorial museum, and 5 km from the area where you'll find the National Gallery of Australia, Questacon, Parliament House and Old Parliament House. It's a really fast drive along Canberra's smooth roads.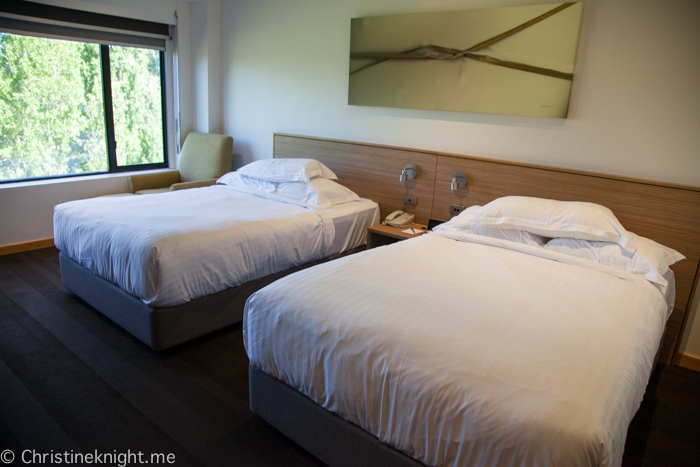 We stayed at the Crowne Plaza in a refurbished deluxe room with a park view. The view was gorgeous to wake up to each day – a beautiful oasis of calm right outside the window. The room itself was light and airy, very modern with flat-screen TV, a couch that our daughter commandeered, two extremely comfortable double beds, tea and coffeemaking facilities and a minibar where we put things like milk, yoghurt and cheese and crackers.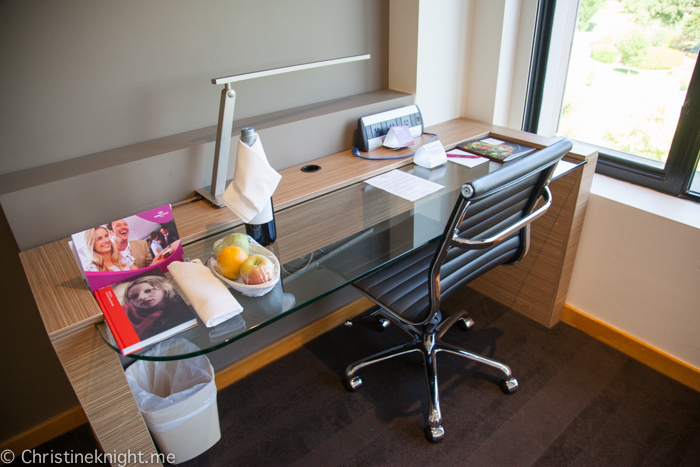 Wifi is now free for all guests, but there are additional charges for parking in the underground carpark and the breakfast buffet.
While our family of three fits perfectly in a room like this with two double beds, larger rooms are available for families such as suites with balconies and kitchenettes with dining tables, or interconnecting rooms. You can also request an additional rollaway bed.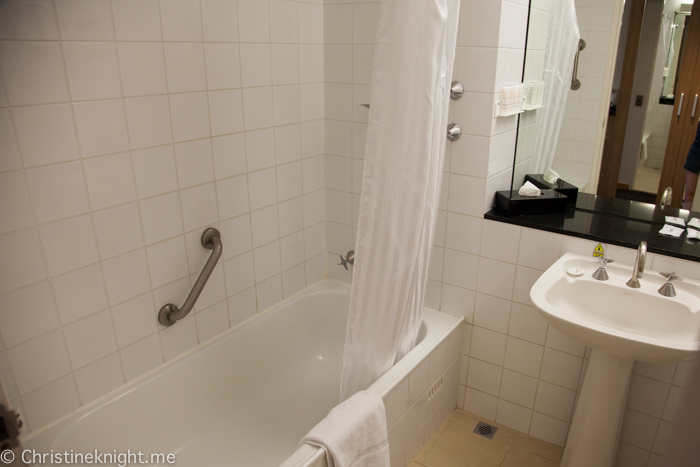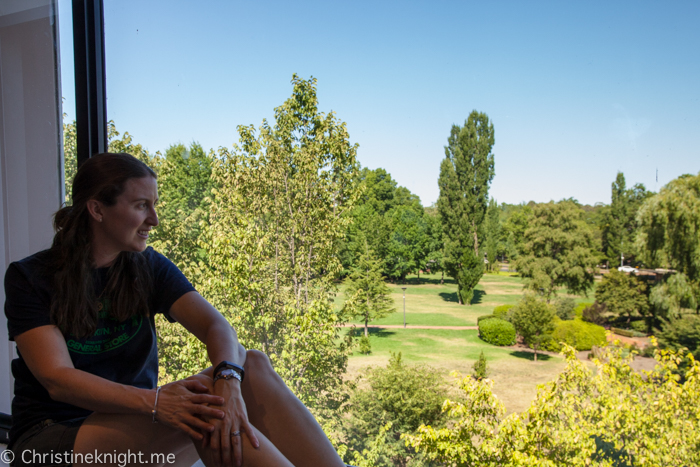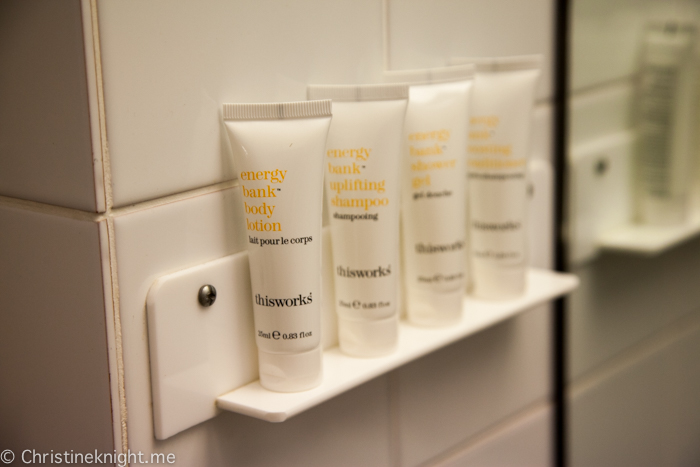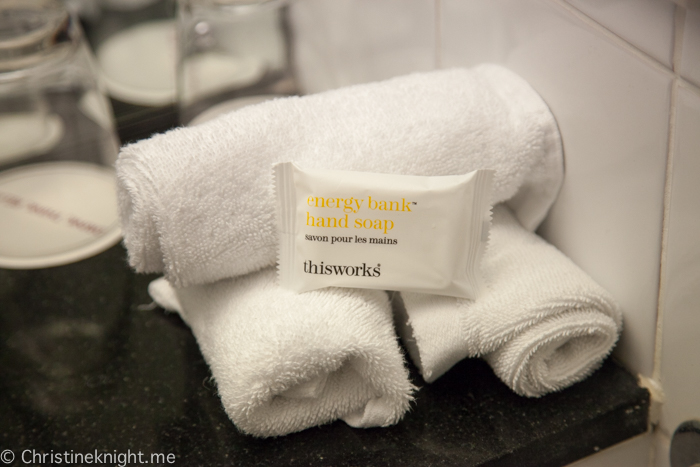 Other facilities offered at the hotel include a sauna, outdoor pool and fitness centre. The pool was a welcome relief on the very hot days that we visited. There were so many kids using the pool I wasn't able to get a shot of it for this post!
The Crowne Plaza Canberra CBD supplied me with the below pic of the pool so you can see how great it is. In the afternoon the pool is shaded by the building, making it the perfect time of day to swim without worrying about sunburn.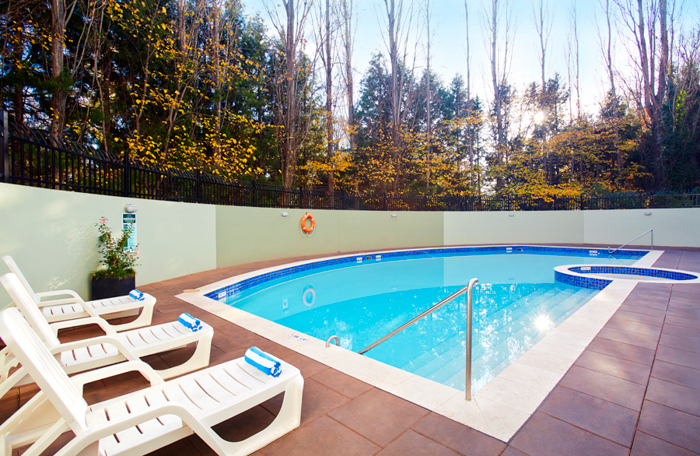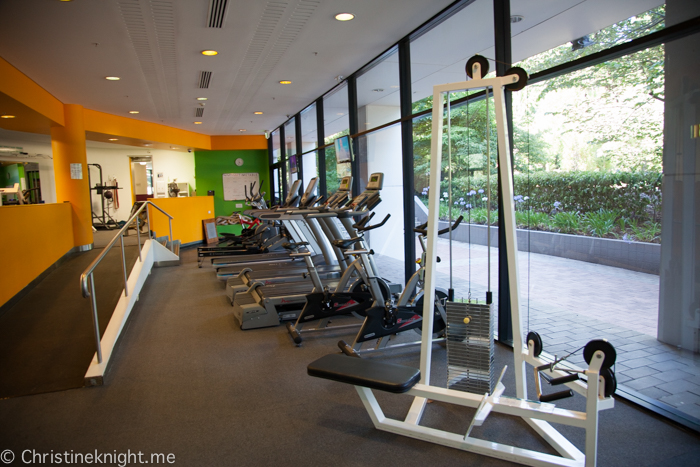 If you choose to dine at the hotel, there's the modern bar, Binara One, open daily from 4pm. It offer drinks and light meals. Redsalt Restaurant is an upmarket option open daily for breakfast lunch and dinner, plus there is 24-hour room service. Both Redsalt and room service have dedicated kids' menus.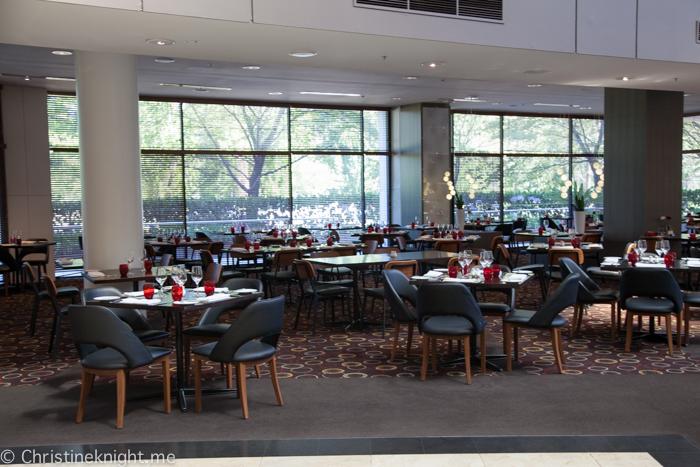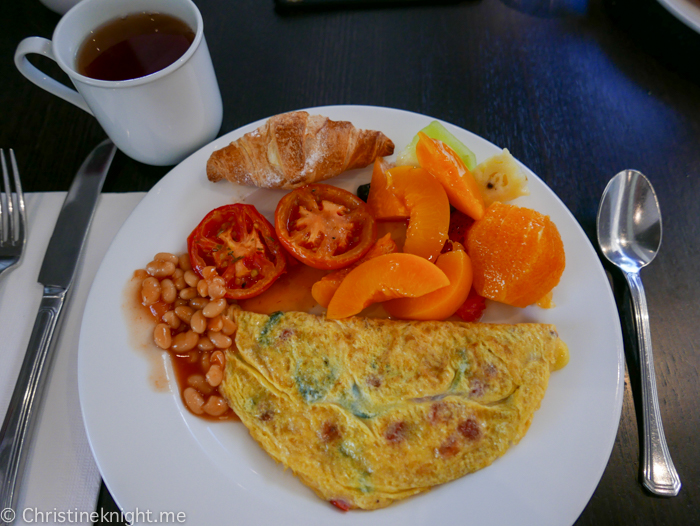 We enjoyed breakfast in the hotel each morning with eggs made to order, barista coffee and a variety of fruit, breads, cereals, baked goods and juices.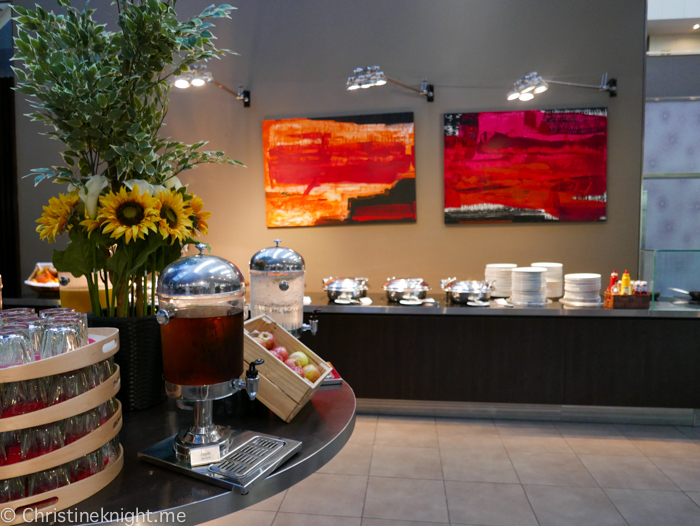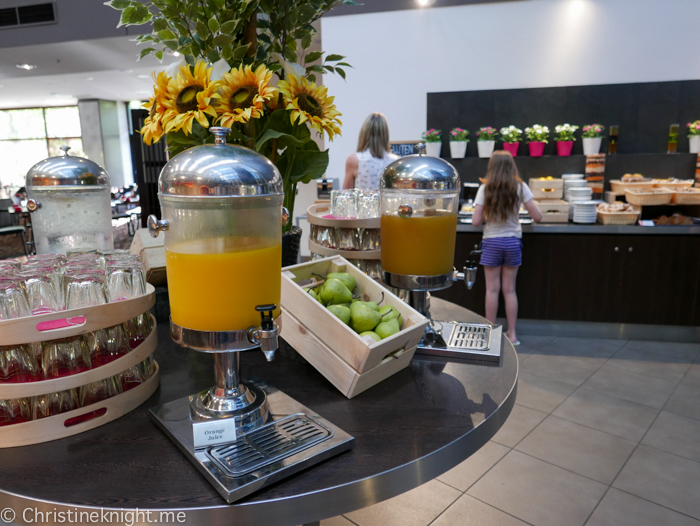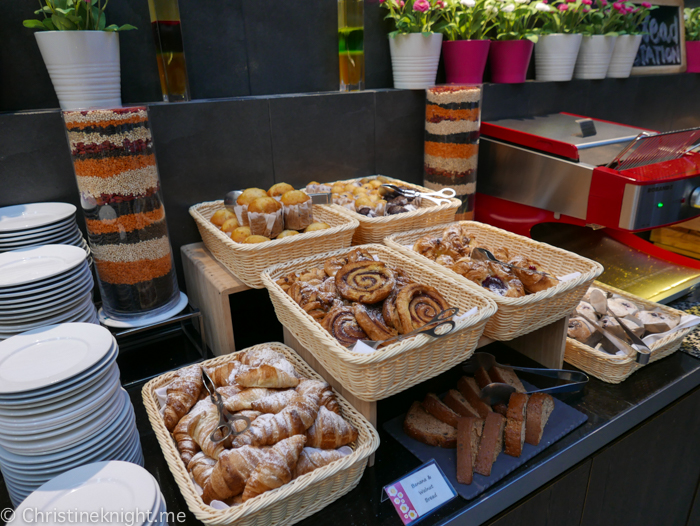 While the Crowne Plaza does offer entertainment in the family room during school holidays, we were too busy out and about to enjoy it on this trip. It's a great option however to be able to take littlies to a place in the hotel to play when one parent needs a rest back in the room!
If you're visiting with your family, check the Crowne Plaza website for special family getaway deals. At the time of our stay they were offering a package that included accommodation for two adults and up to two children, with included breakfast and 3-in-fun tickets to Questacon, Cockington Green Gardens & the Australian Institute of Sport.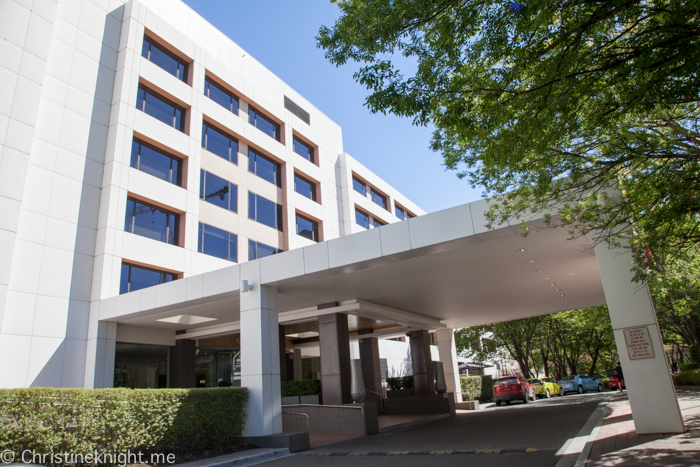 Hotel Review: Crowne Plaza Canberra CBD Hotel
1 Binara St, Canberra ACT
canberra.crowneplaza.com
Thank you to the Crowne Plaza Canberra CBD Hotel for hosting us during our stay. All opinions are my own. 
Visiting Canberra with the kids? Here are some places you should check out.