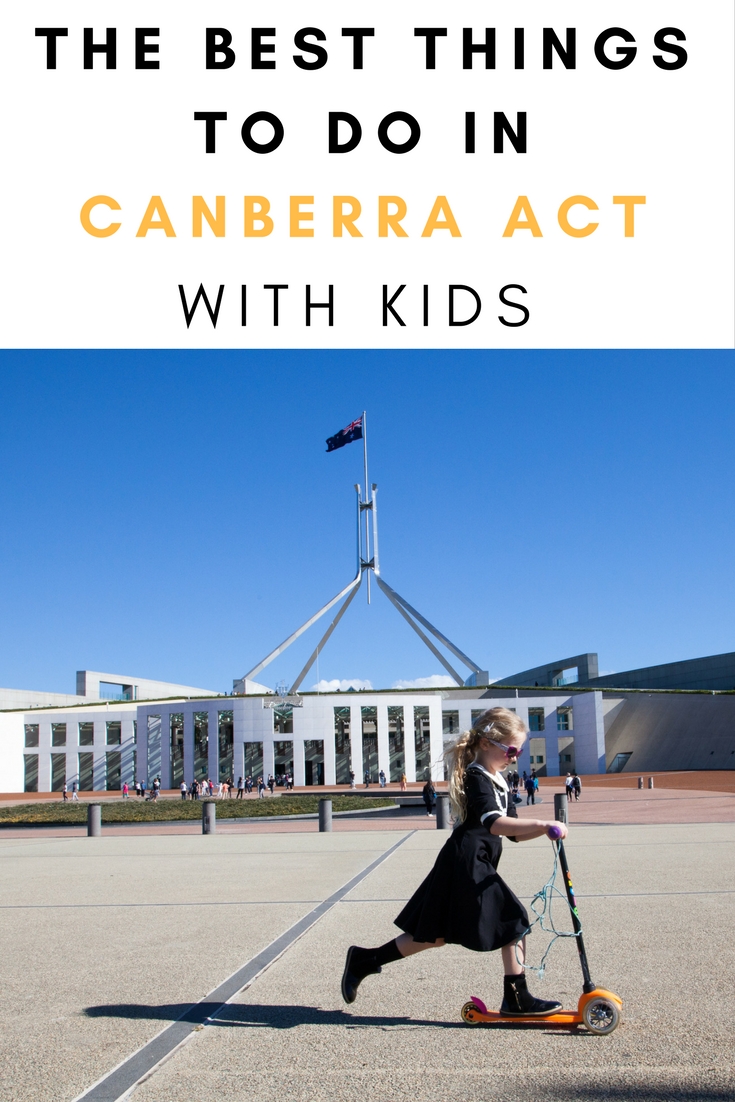 The Best Things To Do In Canberra With Kids
Australia's capital city is pretty much a playground for kids to engage in art, history and nature. You won't be short on ways to spend a fun (and educational!) few days in the nation's capital city – there are so many things to do in Canberra with kids.
National Gallery of Australia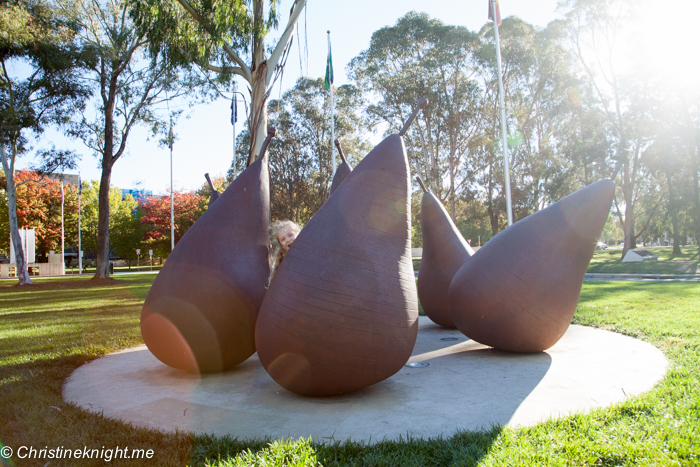 The National Gallery of Australia (NGA) is the national art museum of Australia and is home to than 166,000 works of art, including over 7500 works by Aboriginal and Torres Strait Islanders. We particularly enjoyed the Impressionist and Post-Impressionist works including a lovely Waterlillies by Claude Monet and one of Degas' exquisite sculptures of a dancer, and the Ned Kelly series by Sidney Nolan.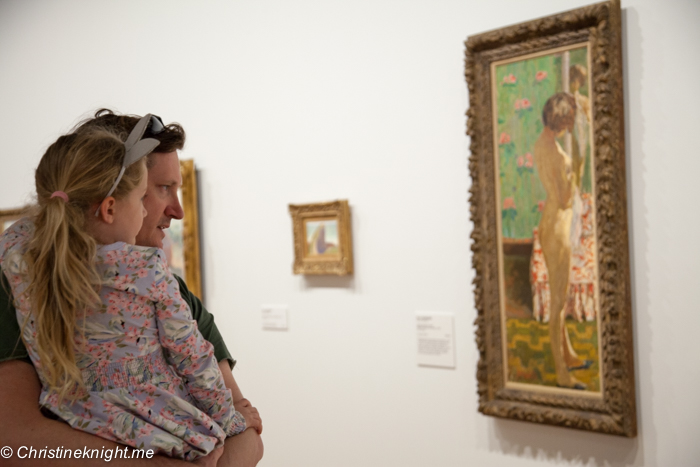 Outside, in the grounds surrounding the NGA, are 26 sculptures on display by both Australian and International artists. It's an extremely pleasurable experience to walk through the bush discovering these incredible works of art, and also a very easy way to introduce kids to art if you're a bit nervous of taking them inside a gallery with their sticky hands.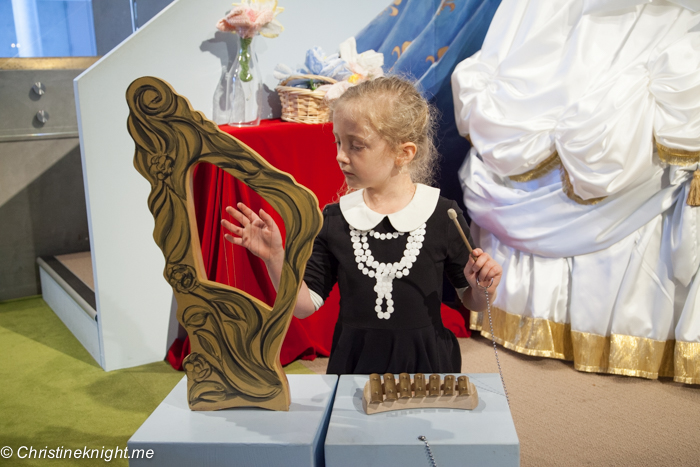 The NGA has the dedicated NGAPLAY section for children to engage in the arts. Check their website closer to your visit to see what they are currently offering. In my opinion, a visit to the NGA is top of the list for things to do in Canberra with kids.
Get more info on visiting the National Gallery of Australia here.
National Gallery Australia
Parkes Pl E, Parkes
Hours: Daily, 10am-5pm (closed Christmas Day)
Prices: Free
nga.gov.au
Parking: Free underneath the gallery on weekends.
Quizzic Alley
Visit Australia's most magical Harry Potter-themed store, Quizzic Alley, located in Fyshwick, ACT.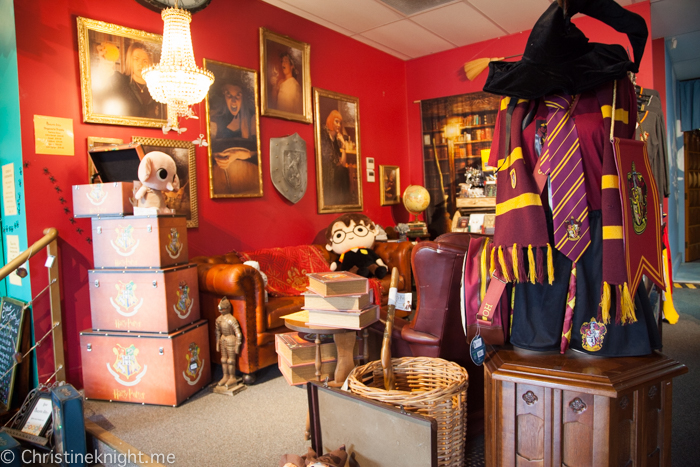 Quizzic Alley is the passion project of Michael and Penni Milton. Michael and Penni have stocked the store with the most incredible range of Harry Potter goods from all over the world, including lollies, board games, jewellery, toys, clothing and accessories like bags and wallets. Quizzic Alley carries the biggest range of Harry Potter merchandise in Australia.
Read more about visiting Quizzic Alley.
Quizzic Alley
5 Pirie St, Fyshwick ACT
Phone 02-61798856
Hours: Wed-Fri 10am-5:30pm, Sat & Sun 10am-4pm, closed Mon & Tues
quizzicalley.com
Mount Ainslie Lookout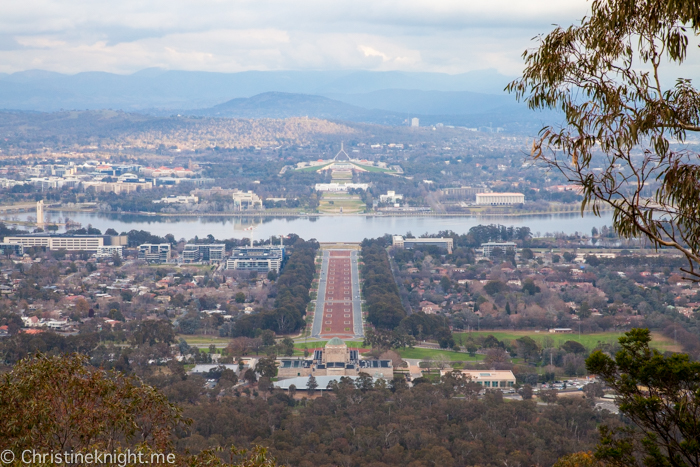 Enjoy the best views in Canberra from the Mount Ainslie Lookout in the Mount Ainslie Nature Reserve.
The lookout is located at the top of Mount Ainslie, at an elevation of 843 metres. You can drive, bike or walk to the summit, which is particularly lovely at sunrise and sunset.
Read more about visiting the Mount Ainslie Lookout.
Mount Ainslie Lookout
20 Mount Ainslie Dr, Australian Capital Territory
environment.act.gov.au
National Museum of Australia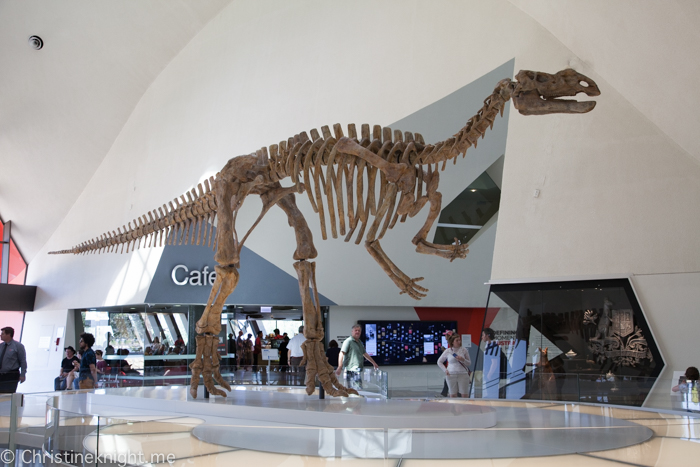 Learn about the nation's social history, including the issues, people and events that have shaped the way we are today. The museum's National Historical Collection features more than 21,000 objects that represent Australia's historical and cultural heritage.
Kids will love the 3x10m cast of the Australian dinosaur Muttaburrasaurus in the Main Hall and the award-winning Kspace robotics adventures game.
Get more info on visiting the National Museum of Australia here.
National Museum of Australia
Lawson Crescent
Acton Peninsula, Canberra
Hours: Daily, 9am-5pm (closed Christmas Day)
Prices: Free
Parking: 8.30am to 5pm weekdays, $2.90 per hour or $14 per day. Short-stay machines accept Visa, MasterCard and coins.
Tidbinbilla Nature Reserve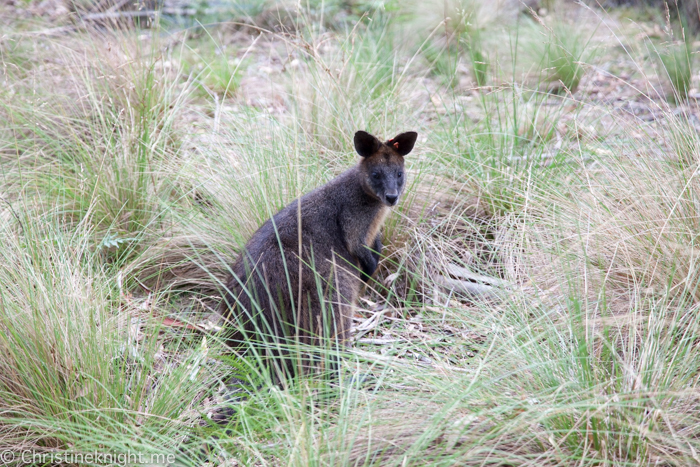 A 40-minutes drives from the CBD, Tidbinbilla Nature Reserve is home to koalas, kangaroos, possums, reptiles, echidnas, platypus and more. After spotting all the animals and enjoying the easy walking trails, take kids to the excellent Nature Discovery Playground to burn off steam and enjoy a picnic lunch.
Get more info on visiting Tidbinbilla Nature Reserve here.
Tidbinbilla Nature Reserve
Paddy's River Road, Paddys River ACT
Hours: Visitors Centre daily 9am-5pm. reserve gates daily, winter 7:30am-6pm, summer 7:30am-8pm.
Prices: A day pass is $13 for a vehicle with seats for up to 8 people.
Parking: Free
CSIRO – Tidbinbilla – Canberra Deep Space Communication Complex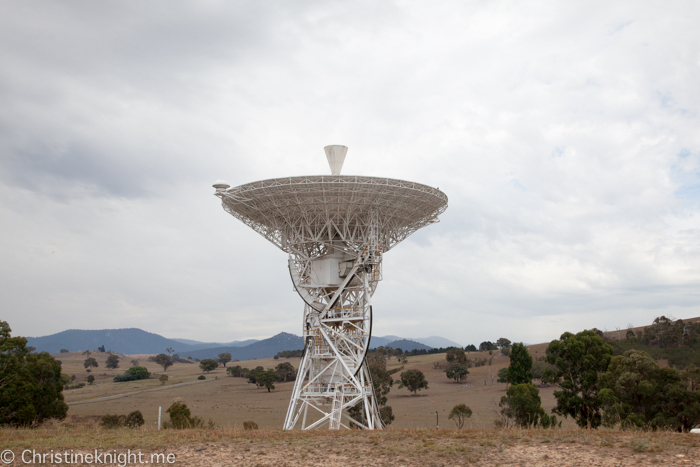 Blast off into space at the Canberra Space Centre. The centre is home to the largest steerable antenna in the Southern hemisphere, with their visitors centre presenting exhibits on the past, present and future of space exploration. There are several hands-on exhibits to be enjoyed, plus a fenced playground next to the excellent Moon Rock Cafe.
Get more info on visiting the Canberra Deep Space Centre here.
CSIRO – Tidbinbilla – Canberra Deep Space Communication Complex
421 Discovery Dr,
Paddys River ACT
Hours: Visitor Centre daily, 9am-5pm, Moon Rock Café daily 9:30am-4pm.
Prices: Free
Parking: Free
Questacon National Science and Technology Centre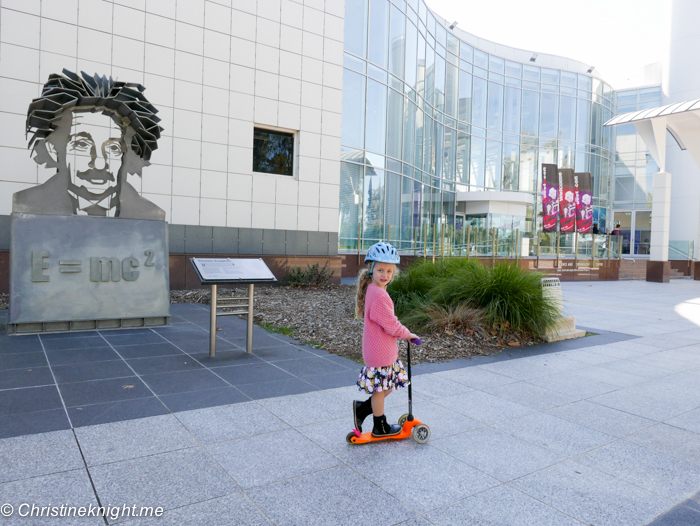 Questacon has been THE place to take kids to learn about science since I was a kid myself and it's amazing how over the years it's changed but kept the same wonderful focus on engaging kids in science and technology.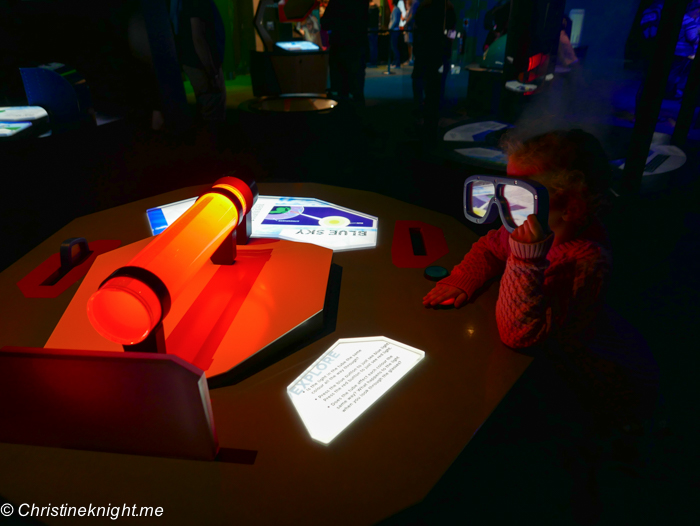 Questacon is filled with more than 200 interactive exhibits relating to science and technology. There's plenty of hands-on fun to be had, from robots to slides, simulated earthquakes and science experiments. If you have a kid who loves science, put Questacon top of your list for things to do in Canberra with kids.
Get more info on visiting Questacon here.
Questacon
King Edward Terrace, Parkes ACT
Hours: Daily 9am – 5pm including holidays. Closed 25 December.
questacon.edu.au
Parliament House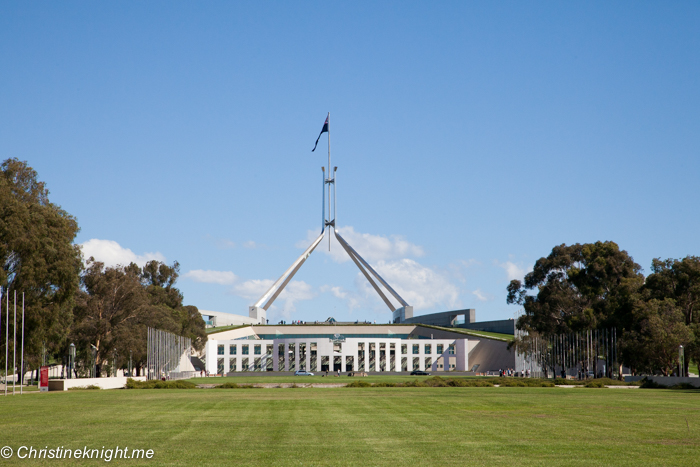 Parliament House is the meeting place of the Parliament of Australia. The building was opened on 9 May 1988 by Elizabeth II, Queen of Australia. The distinctive grass ramps on the sides recreate the shape of Capital Hill before Parliament House was constructed. They're a lot of fun to run up and roll back down again!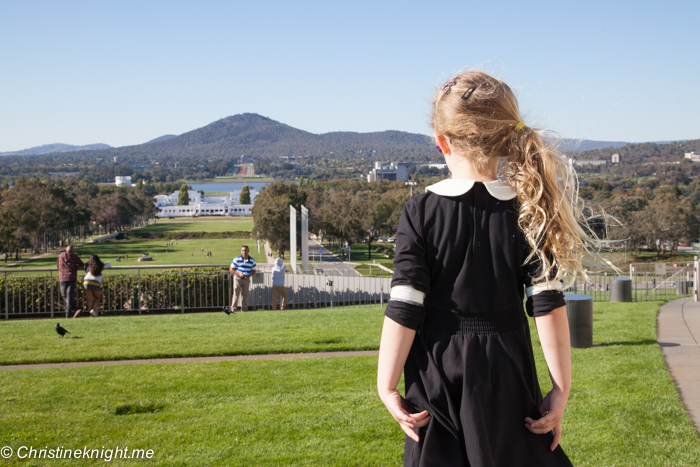 Of the 4,700 rooms in Parliament House, many are are open to the public. It's incredibly easy to just turn up at any time and visit Parliament House – no booking or tours are required. There is a short queue to get through a brief security check, and then you're on your own to discover the house. Be sure to take the elevator to the roof for an incredible view. If education is top of your list, then Parliament House is one of our top pics for things to do in Canberra with kids.
Get more info on visiting Parliament House here.
Parliament House
Parliament Drive, Canberra
Hours: Parliament House is open every day except Christmas Day.
Non-sitting days 9am-5pm, sitting days Monday-Thursday 9am-6pm
Prices: Free
aph.gov.au/Visit_Parliament
National Arboretum Canberra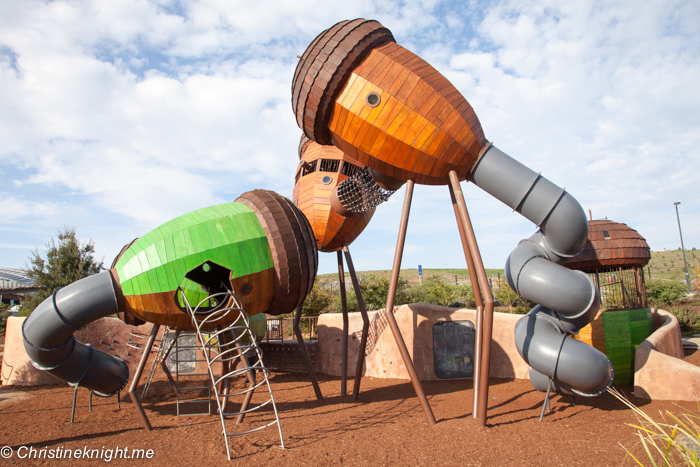 The National Arboretum Canberra is one of the world's largest living collections of rare, endangered and significant trees. With over 44,000 trees from over 100 countries are growing across the huge 250 hectare (618 acre) site, it's a place to visit to to feel at one with nature and enjoy discovering trees from around Australia and the world.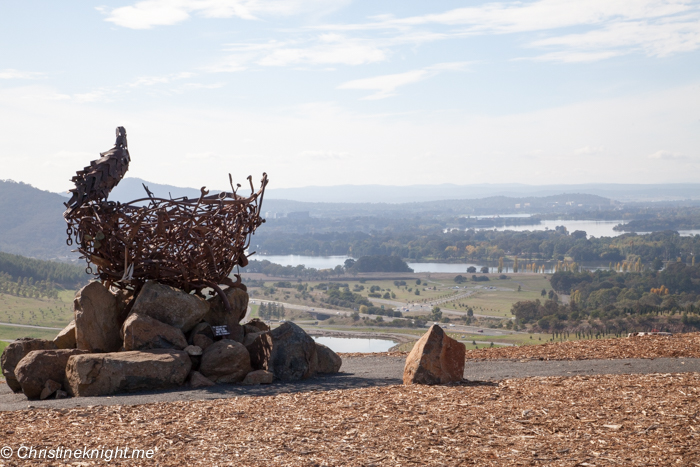 Its easy to drive into the Aboretum and up to the visitor's centre where there is a cafe, incredible Pod Playground (more on that on that HERE) and maps to the various sections and sculptures. You can walk around the Aboretum, from feature to feature, if you have the time and legs that enjoy walking. If you have a little one in tow you will find driving between the significant features much easier and quicker. Make sure to visit the 'Nest III' and 'Wide Brown Land' sculptures before you leave. A visit to the Pod Playground alone, which I consider to be the best designed playground I've ever seen, is a prime reason to put the Aboretum top of your list for things to do in Canberra with kids.
Get more info on visiting the National Arboretum Canberra here.
National Aboretum Canberra
Forest Dr, Canberra City
Hours: The Arboretum grounds and Pod Playground are open daily from 6am to 8:30pm during Daylight Savings Time and from 7am to 5:30pm during Eastern Standard Time (Non-daylight Savings Time).
Prices: Free entry
nationalarboretum.act.gov.au
Old Parliament House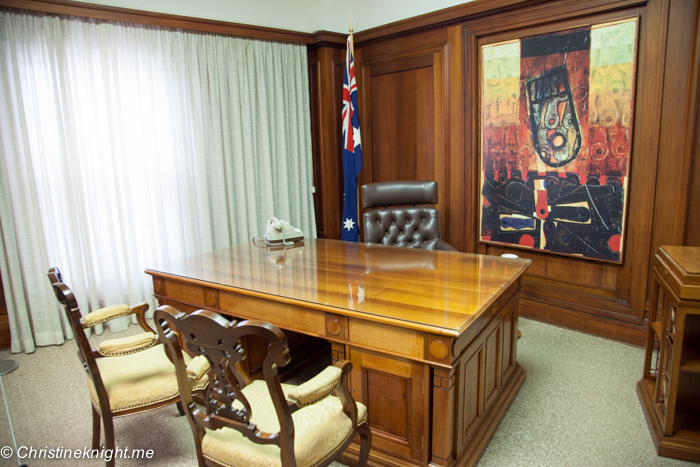 A visit to Canberra is a journey through our nation's past. It's impossible to visit Australia's Capital City without recognising where we've come from and, also, where we're going. An important place to make a stop to learn about our past is Old Parliament House, the seat of the Parliament of Australia from 1927 to 1988.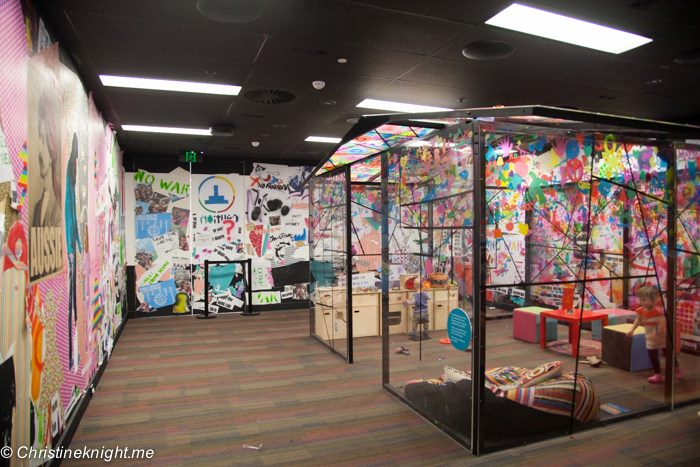 The Museum of Australian Democracy at Old Parliament House has incredible programs for families all-year round as they are is committed to engaging families and young people in conversations about democracy and their voices in it. From free Family Action Packs to the PLAY UP and DRESS UP sections designed specifically for kids, there is plenty to engage little ones at the House.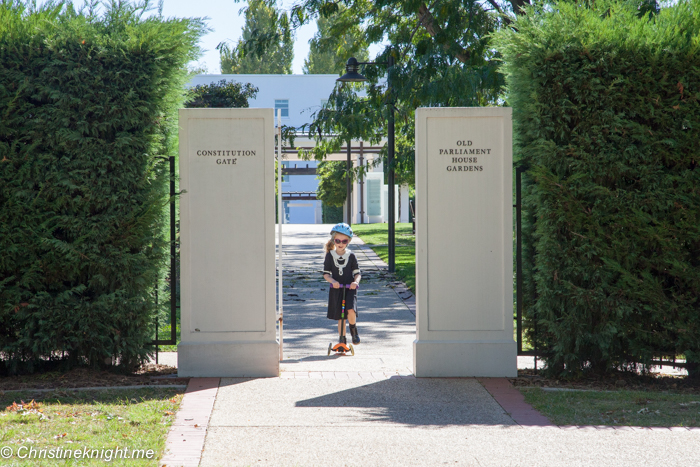 We particularly loved the outdoor rose gardens, which are free to visit and a beautiful spot to scoot through or have a picnic.
Get more info on visiting Old Parliament House here.
Old Parliament House
18 King George Terrace, Parkes
Hours: Daily 9am-5pm (closed Christmas Day)
Entry to the gardens is free but a small fee is required to enter Old Parliament House.
https://moadoph.gov.au/
Australian War Memorial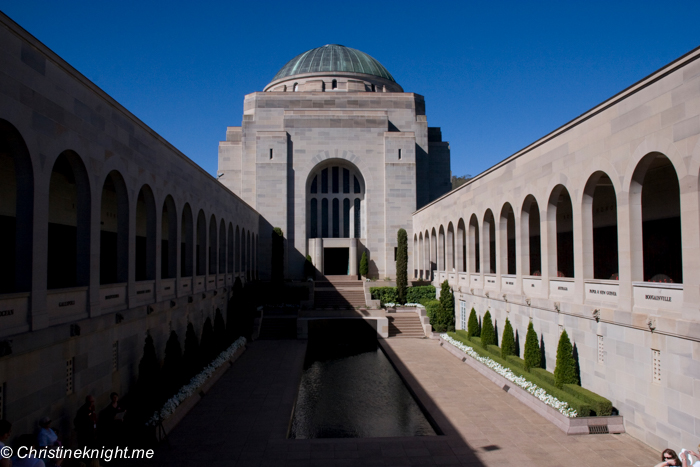 The Australian War Memorial is Australia's national memorial to the members of its armed forces and supporting organisations who have died or participated in wars involving Australia.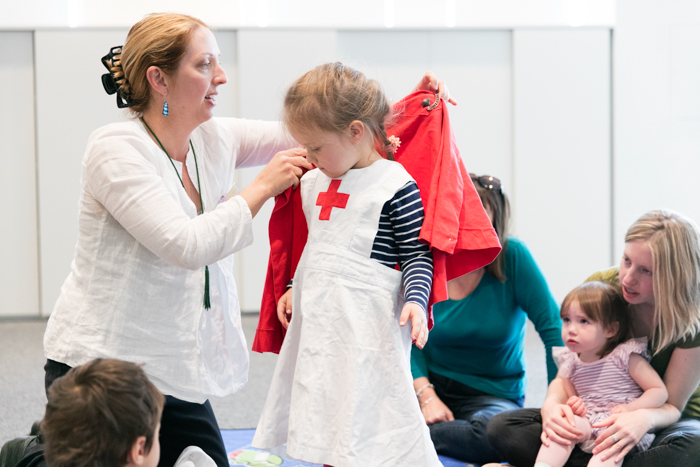 The Memorial caters to children, aiming to educate and engage them in history through story time, museum theatre shows, family tours, holiday workshops and drop in craft. A Discovery Zone has been set up as an educational space for visiting school groups (and the public on certain days and times), featuring five environments inspired by Australia's military history.
Get more info about visiting the Australian War Memorial here.
The Australian War Memorial
Treloar Cres, Campbell
Hours: Daily 10am-5pm daily. Closed Christmas Day.
Prices: Free
https://www.awm.gov.au
Additional image courtesy of the Australian War Memorial.
Lake Burley Griffin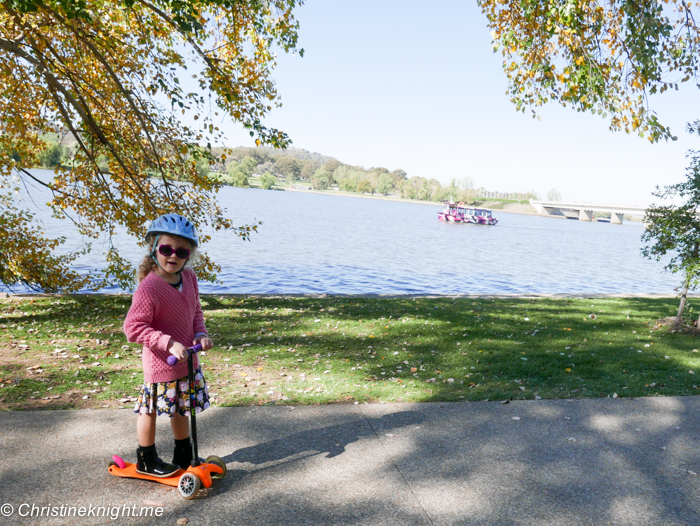 This ornamental lake was built in the centre of Canberra and is the perfect spot to scoot or ride a bike around, stop for a picnic and meet the wild swans and ducks. In autumn the leaves around the lake are stunning.
Australian Institute of Sport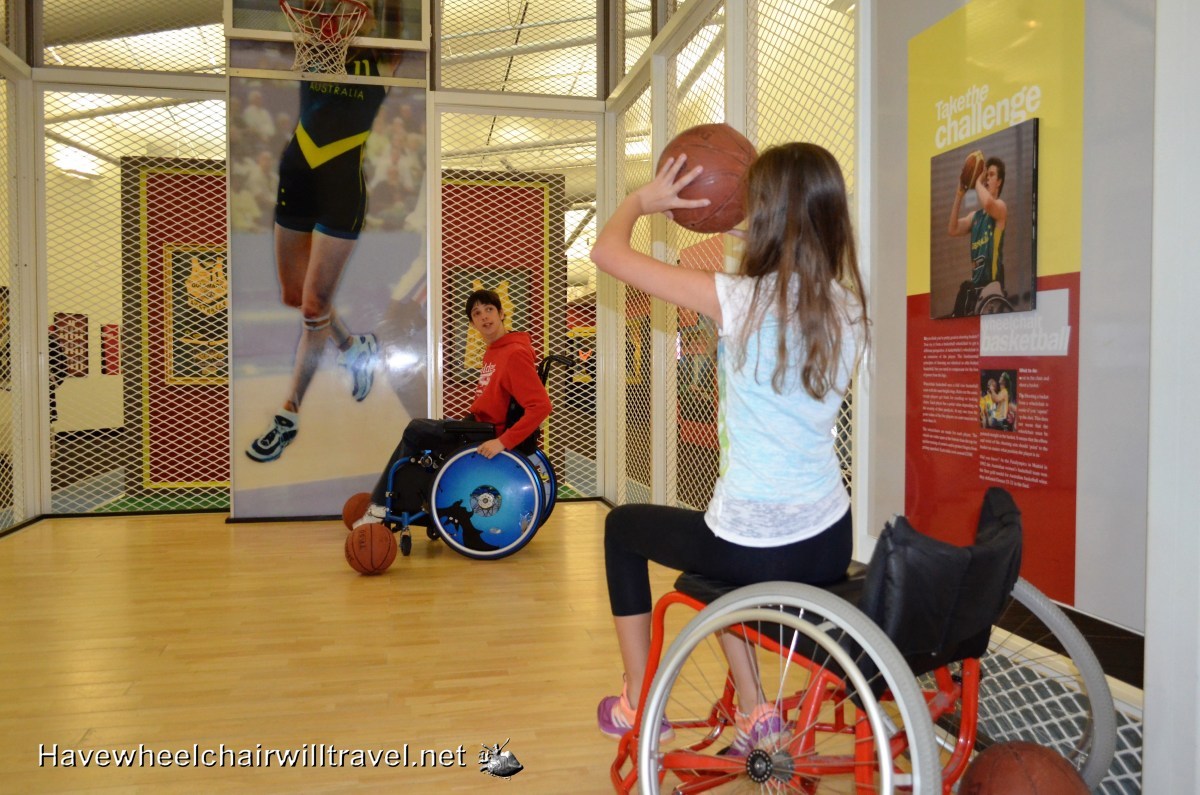 A guided tour is the only way to go behind the scenes at Australia's premier elite sports precinct. As well as getting an overview of what goes on at the Australian Institute of Sport (and possibly seeing some of Australia's top athletes in training), all tours include a visit to Sportex, an interactive sports exhibit. Guided public tours depart daily from the AIS Visitor Centre at 10am, 11:30, 1pm and 2:30pm and go for 90 minutes. Bookings are not required.

Australian Institute of Sport
Leverrier Street, Bruce
Hours: Tours Desk is open Monday to Friday: 8:30am-5:00pm, Weekends and public holidays 10am-4pm.
http://www.experienceais.com/
Cockington Green Gardens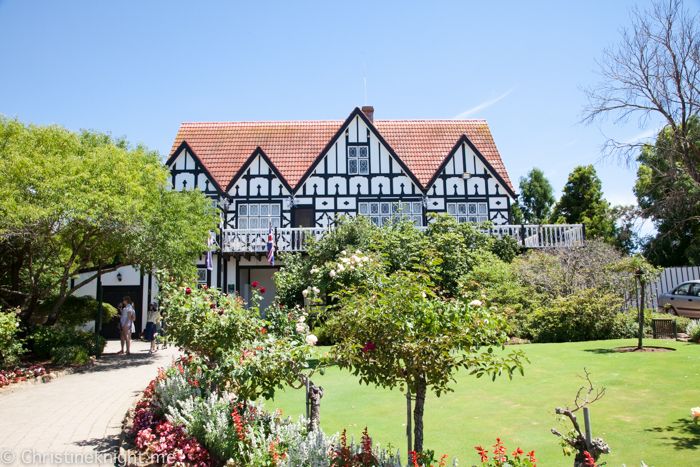 Cockington Green Gardens is a park of miniatures set in beautifully landscaped gardens. This family-owned and operated attraction has been running for over the past 35 years. Take a look at the highly detailed miniature versions of popular attractions around the world on a stroll through these delightful gardens.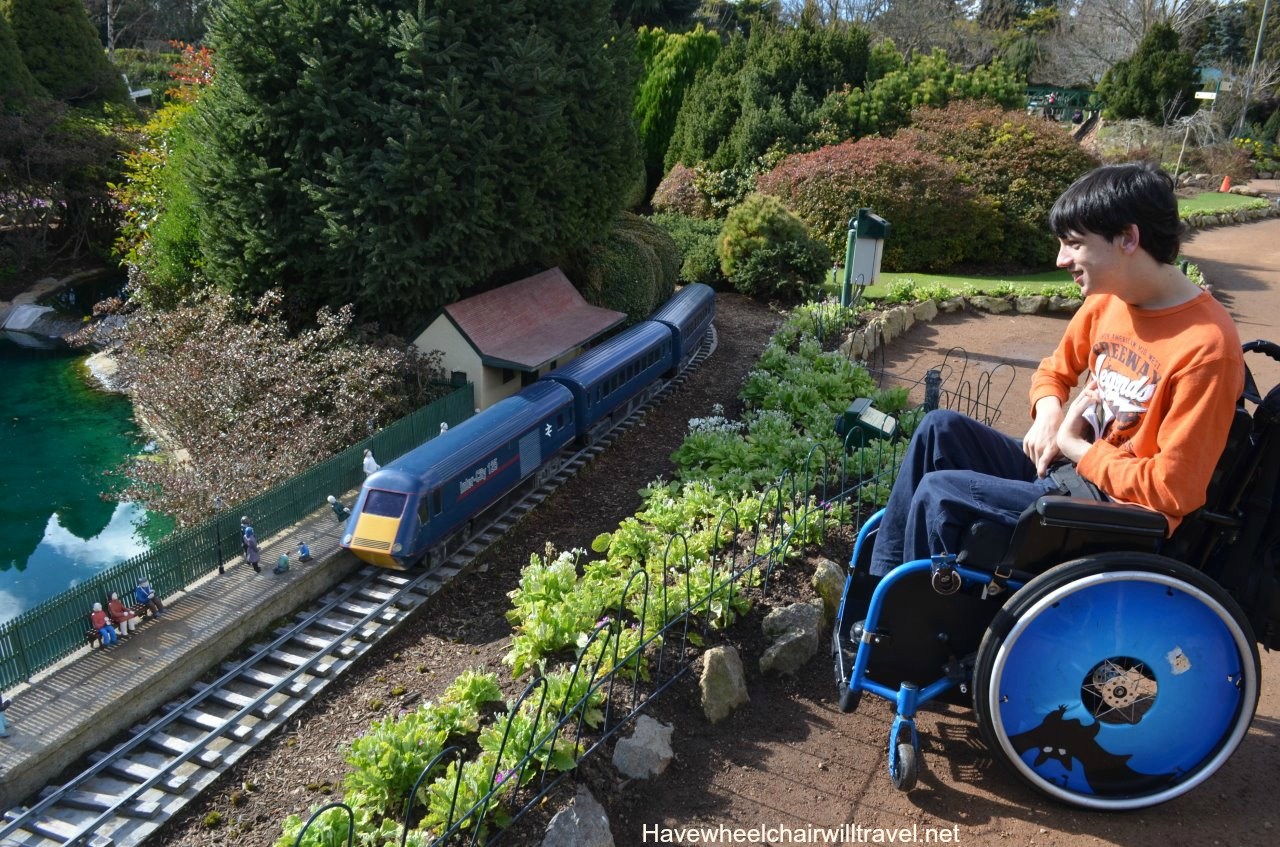 Cockington Green Gardens
11 Gold Creek Rd, Nicholls
Hours: Daily 9:30am-5pm
cockingtongreen.com.au
National Dinosaur Museum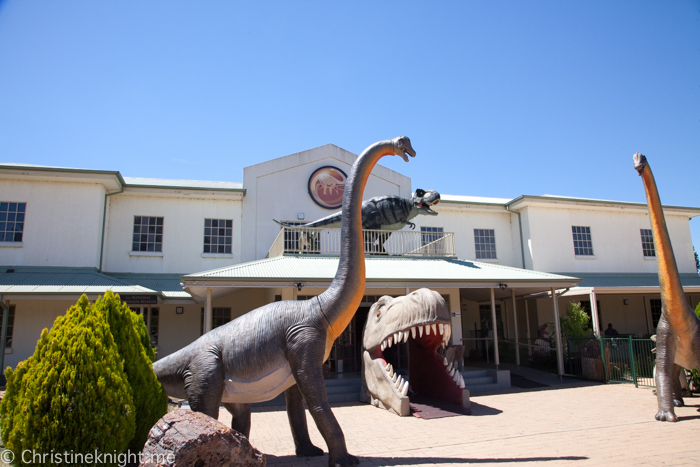 The National Dinosaur Museum is home to the largest permanent display of dinosaur and prehistoric fossils in Australia. It's a really small museum, with lots packed into it to see. The museum's exhibition follows the evolution of life, with a particular focus on dinosaurs, so a visit gives a very comprehensive overview of the history of life on Earth, displayed in chronological order.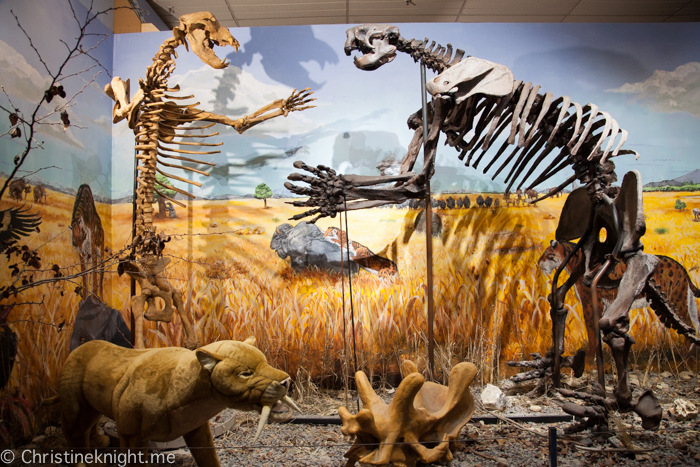 Read more about visiting the National Dinosaur Museum here.
National Dinosaur Museum
6 Gold Creek Rd, Nicholls
Hours: Daily, 10am-5pm
nationaldinosaurmuseum.com.au
Canberra Walk-in Aviary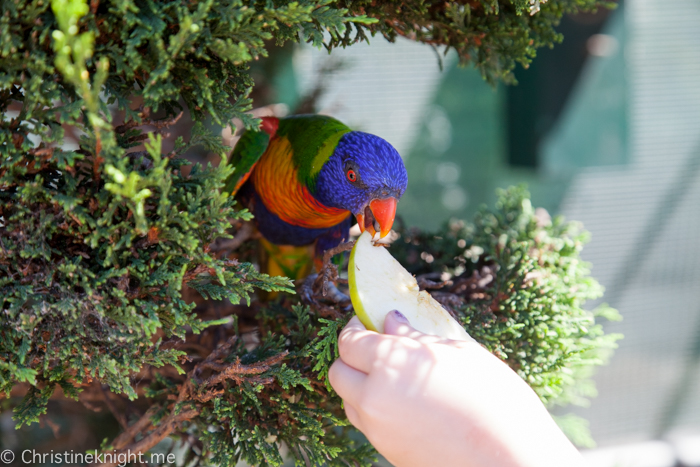 The Aviary is a 1000 square metre, planted, privately owned walk-in aviary where free flying birds can be watched, photographed and even fed. As they are very used to humans, the birds are happy to fly and walk around their huge aviary paying very little attention to the visitors – unless they are keen for a bit of a feed.
Get more info on visiting the Canberra Walk-in Aviary here.
Canberra Walk-in Aviary
18 O'Hanlon Pl, Nicholls
canberrawalkinaviary.com.au
Royal Australian Mint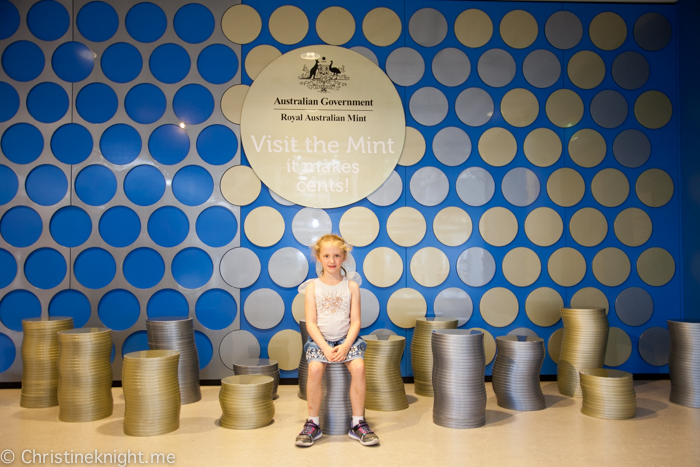 The Royal Australian Mint makes all of Australia's circulating coins. It opened in 1965 and, since then, has produced over fourteen billion coins, with the capacity to produce two million coins per day.
It's free to drop by the Mint, and, since it's only a small building, it's the perfect add-on to a day with other activities on the agenda. Mint your own coin, wave to Titan, the Mint's super-strong robot and take a free guided tour.
Get more info on visiting the Royal Australian Mint here.
Royal Australian Mint
Denison St, Deakin ACT
Hours: Mon-Fri 8:30am-5pm, Sat & Sun 10am-4pm
Tours: Mon-Fri 10am & 2pm, Weekends and Public Holidays 11am, 1pm & 2 pm.
Entry: Free
ramint.gov.au
Canberra Reptile Zoo


With over 50 different species of reptiles and frogs on display, the Canberra Reptile Zoo is large enough to be impressive but still small enough to have a very strong hands on approach. Touch a python or dragon and have a chat with with the keepers.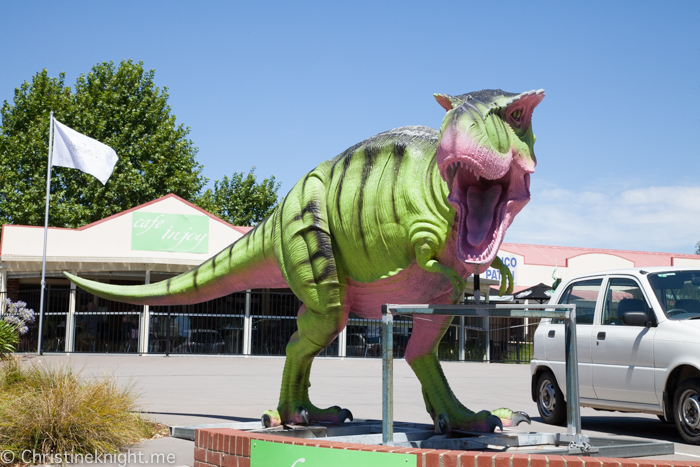 Canberra Reptile Zoo
O'Hanlon Pl, Nicholls
Hours: Daily, 10am-5pm
reptilesinc.com.au
Corin Forest Mountain Resort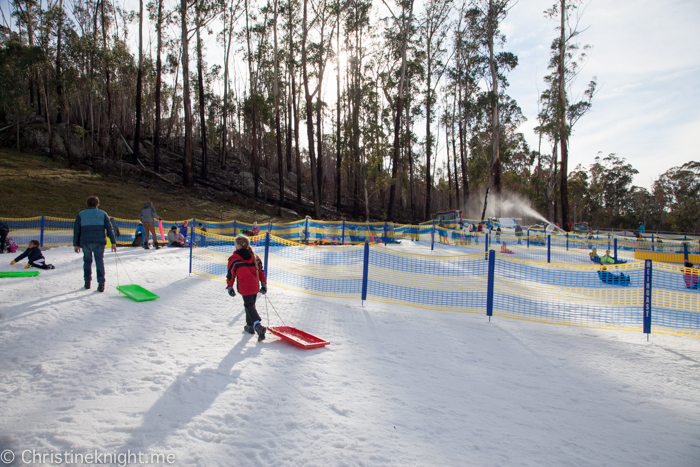 Corin Forest is the closest snow experience to Sydney, located in the Tidbinbilla Mountain Ranges, 45 minutes from Canberra. During the warmer months, Corin Forest is a place to picnic, ride the 1.2km Alpine Slide and visit neighbouring Square Rock, Gibraltar Falls and Tidbinbilla Nature Reserve.
Read more about visiting Corin Forest.
Corin Forest Mountain Resort
1268 Corin Dam Rd, Paddys River ACT
https://www.corin.com.au
3inFun Canberra Pass
If you're planning to visit Cockington Green Gardens, Questacon and the Australian Institute of Sport, the 3inFun Canberra Pass offers a saving of 25% on the usual price plus a free return visit to one of the participating attractions.
http://www.3infun.com.au
Places To Eat in Canberra
Pâtissez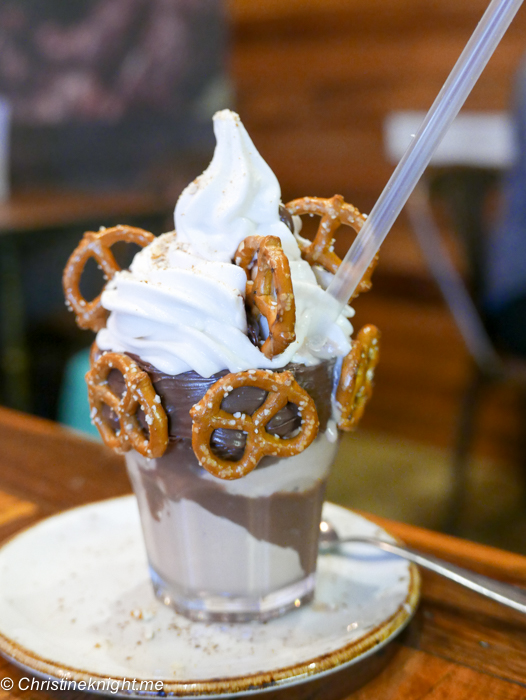 Home of the freak shake as well as delicious food, we highly recommend visiting Pâtissez for brekkie and a shake.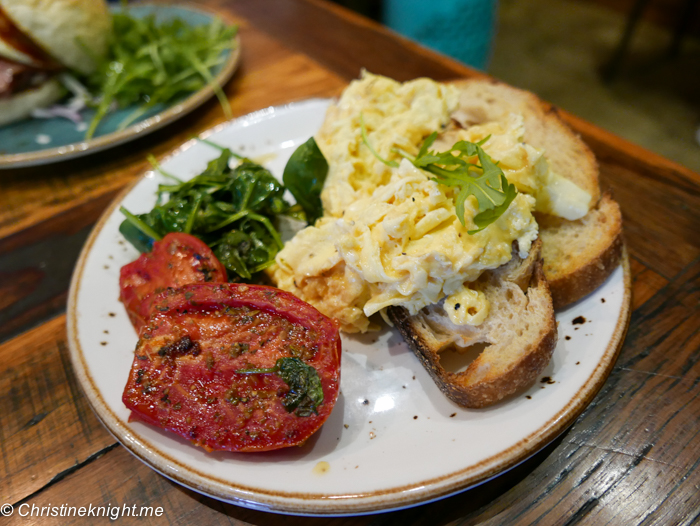 21 Bougainville St, Griffith
Agostini's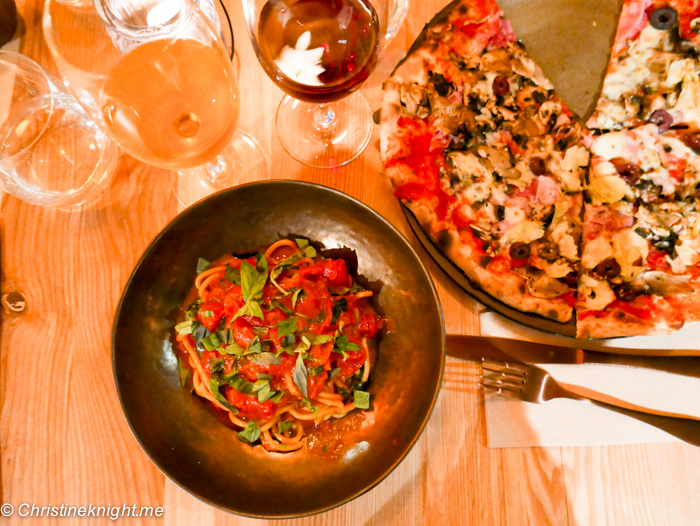 We discovered this new gem at the base of the East Hotel and loved it so much we ate there twice. An absolutely delicious family-friendly Italian restaurant.
6/4 Giles St, Griffith
http://www.agostinis.com.au
Guild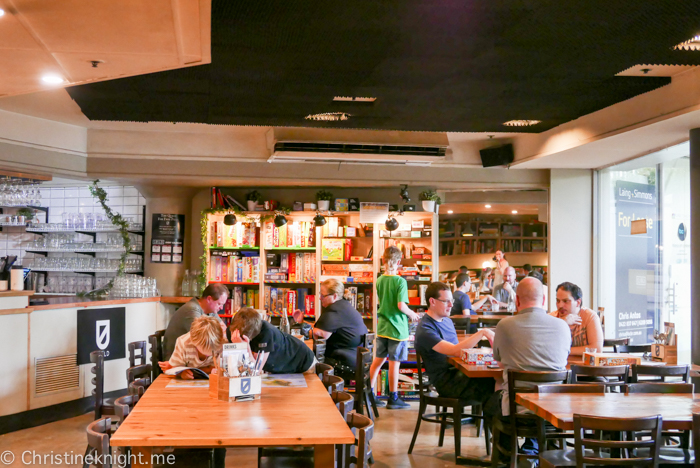 A really fun restaurant where board games line the walls. There are plenty to choose from that will suit all ages and abilities. The food is a bit average – standard pub-type fare – but you're really here to play the games while you eat. We ordered pizzas and salad.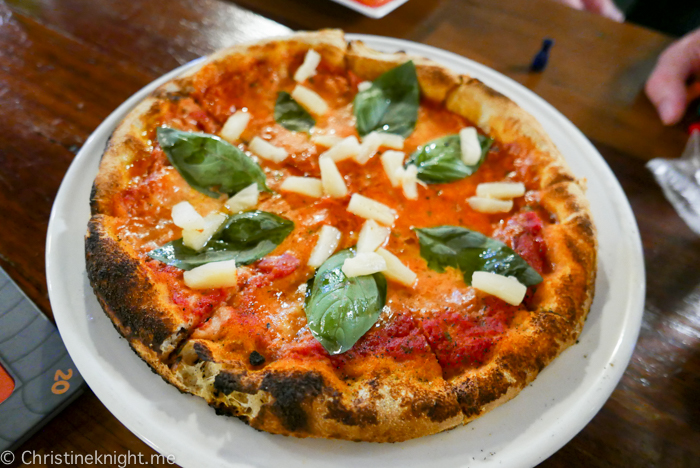 LG Baileys Corner, 150 London Circuit, Canberra
guild.house
Vapiano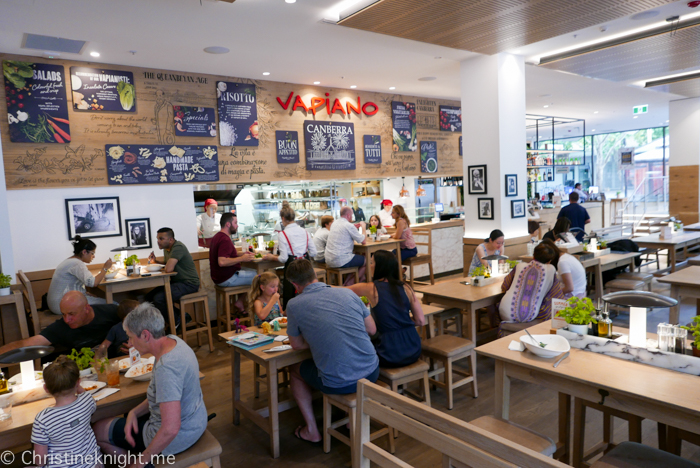 Vapiano is fantastic when you have kids who are picky eaters. There is a huge range of pizza, pasta and salad to choose from. The pizza and pasta are handmade from scratch. Adults will enjoy the extensive cocktail menu.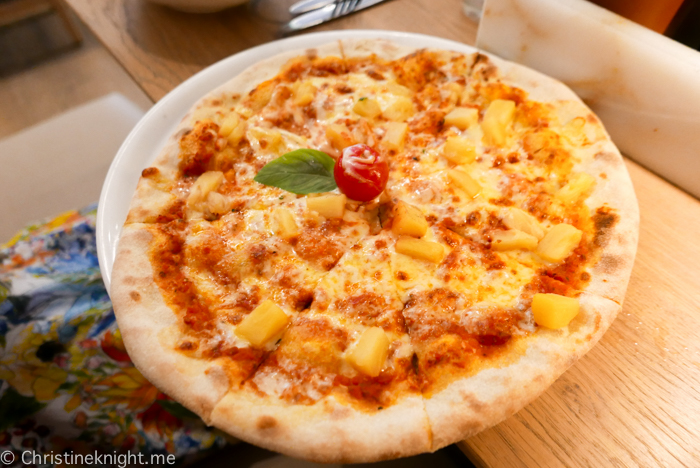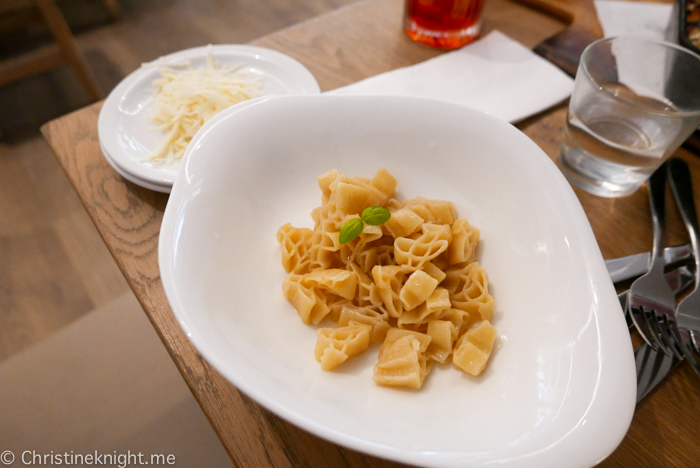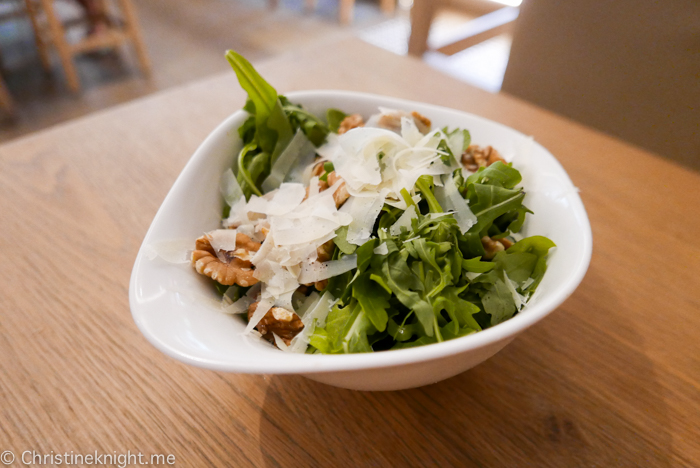 Canberra Centre, Monaro Mall, 148 Bunda St, Canberra
vapiano.com.au
Gelato Messina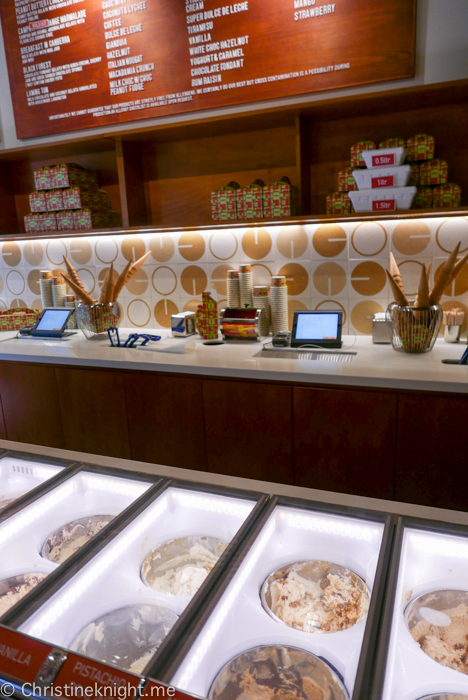 Our fave gelato shop is a must visit regardless of the season. Gelato Messina has 40 flavours and weekly specials. Dairy-free sorbet is also available.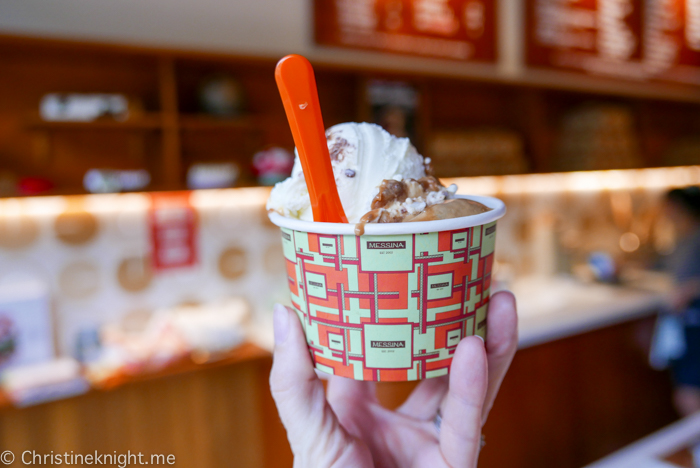 Shop 4/21 Lonsdale St, Braddon
gelatomessina.com
Space Kitchen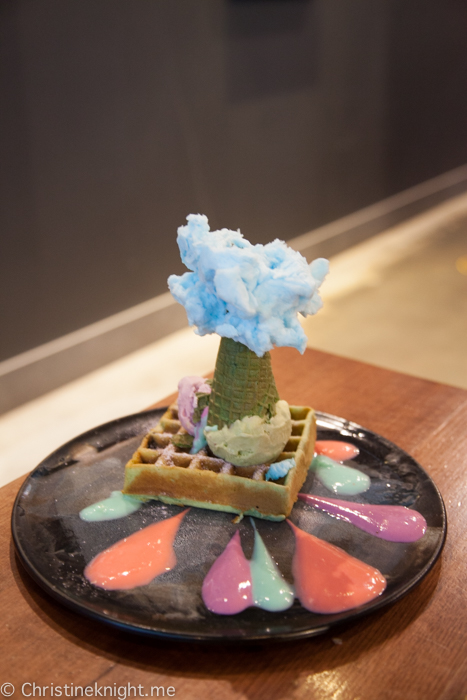 The menu at Space Kitchen is fun, playful and experimental. Some dishes are incredibly instagrammable but aren't the tastiest when eaten (such as the cloud waffles shown), however the simple dishes like eggs on toast are divine.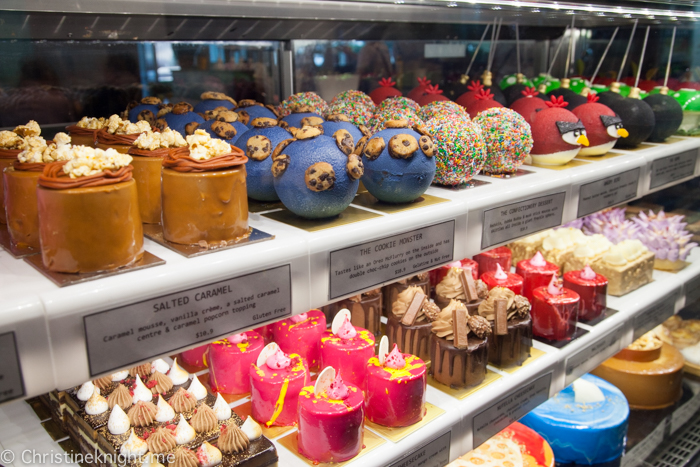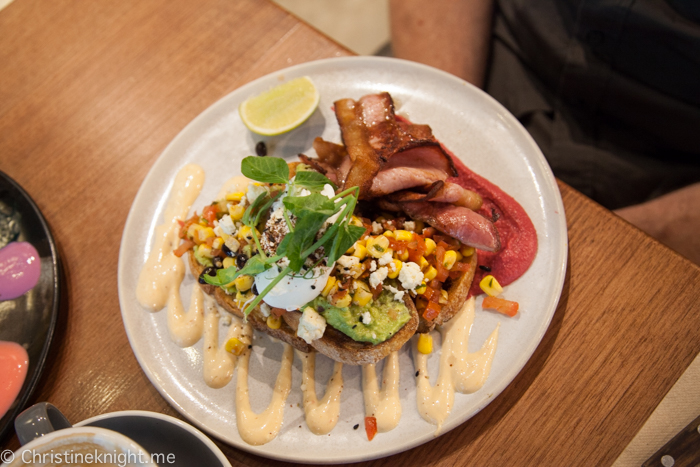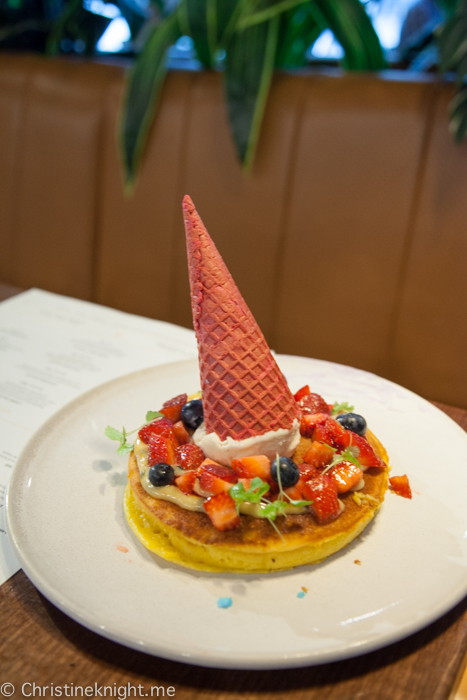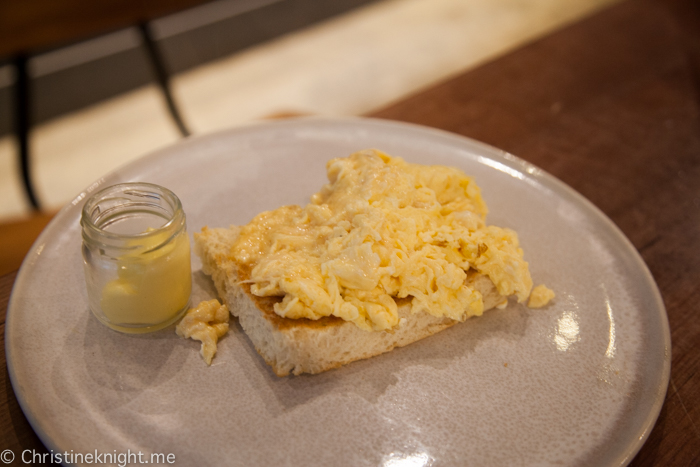 3g/12 Furzer St, Phillip
space-kitchen.com.au
How To Get Around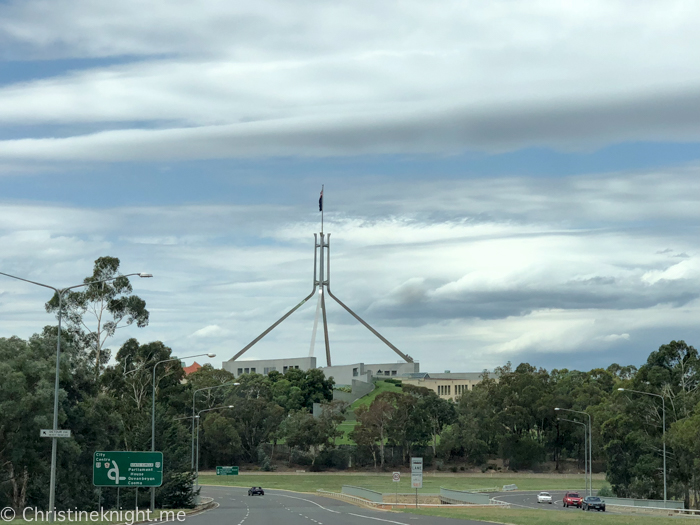 I would advise driving in Canberra if you can either drive to the city in your own car, or hire one when you arrive. The attractions are far apart and the hotels are not within walking distance. If you don't drive, there is a local bus service you can use. For more info: http://www.transport.act.gov.au
Where To Stay in Canberra
East Hotel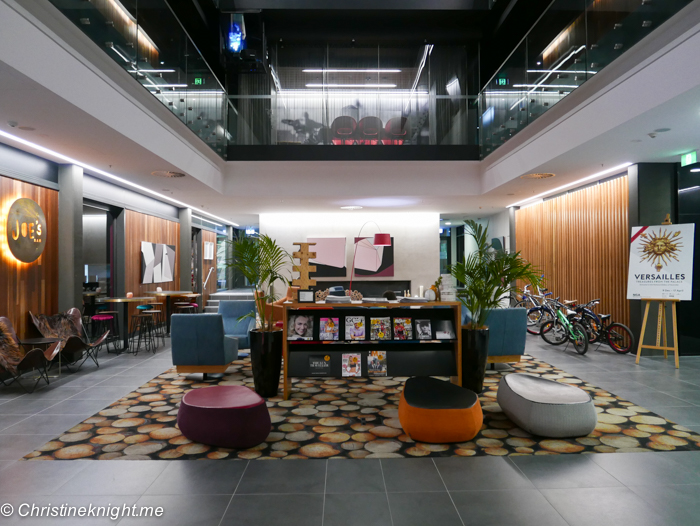 This boutique hotel is 2.3 km from Parliament House and 2.9 km from the National Gallery of Australia. The East Hotel is vibrant, contemporary, and very artsy, offering free bicycle rentals and dishing out lollies in reception.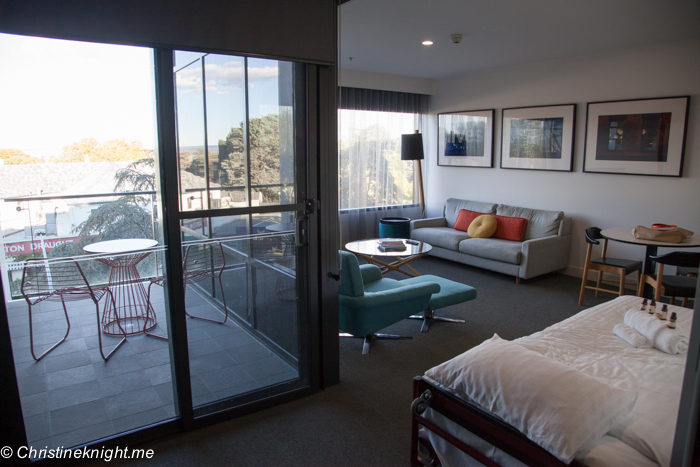 A big draw of the East Hotel, beyond the contemporary aesthetic, are the bright rooms that feature either kitchens or kitchenettes, balconies, free limited Wi-Fi and Nespresso machines. There are one and two-bedroom apartments that have full kitchens, and fantastic rooms for kids with bunk beds, bean bags and Xbox 360 video game consoles.
Get more info on staying at the East Hotel here.
East Hotel
69 Canberra Ave, Kingston ACT
Book your stay at the East Hotel
Novotel Canberra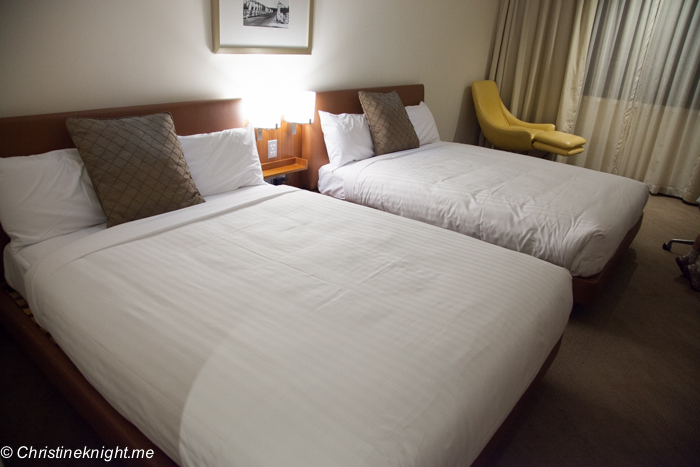 The Novotel Canberra is a 4 ½ star hotel with 286 rooms. It's located 0.2km from the city centre, entertainment and retail precincts and 8km from the airport, making it a very central base for a Canberra stay.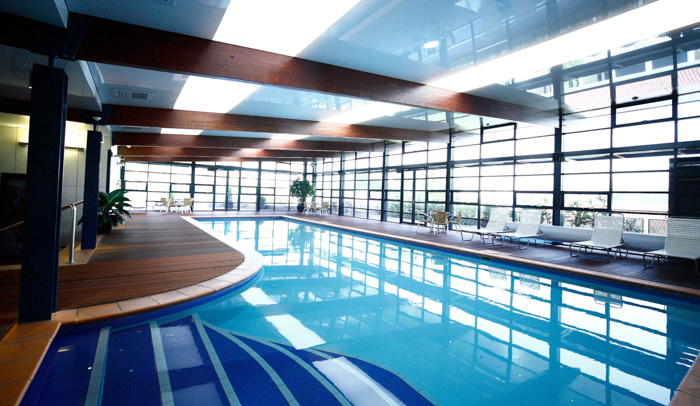 Bring your swimmers to make the most out of their newly renovated indoor swimming pool. Kids will love the play space in the lobby and the awesome Angry Birds welcome pack.
Get more info on staying at the Novotel Canberra here.
Novotel Canberra
65 Northbourne Ave, Canberra
Book your stay at the Novotel Canberra
Crowne Plaza CBD Canberra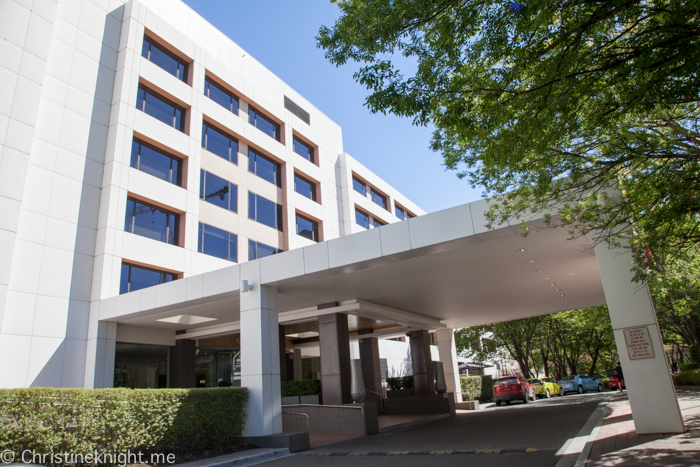 The Crowne Plaza CBD Canberra is a top choice for a stay in Canberra. The location is incredible – right in the centre of the CBD close to restaurants, shops and supermarkets. It's also close to all of the main attractions.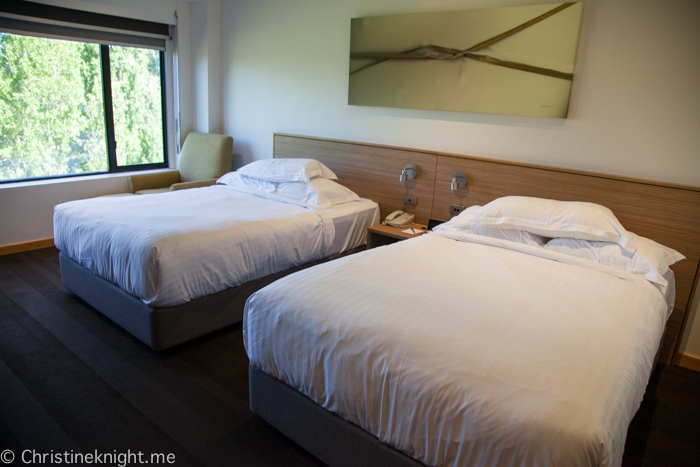 The Crowne Plaza Hotel has family-sized rooms and suites, making it perfect for larger families. It also has a great pool and excellent breakfast buffet.
Get more info on staying at the Crowne Plaza Canberra CBD Hotel here.
Crowne Plaza Canberra CBD Hotel
1 Binara St, Canberra ACT
Book your stay at the Crowne Plaza CBD Canberra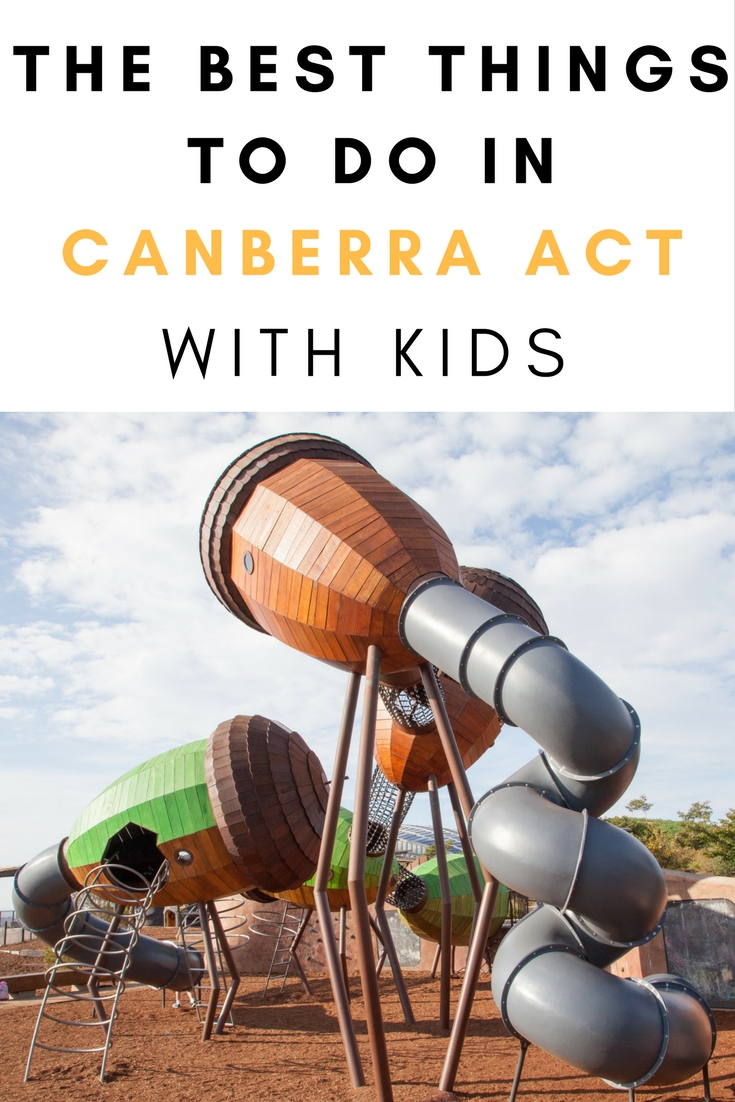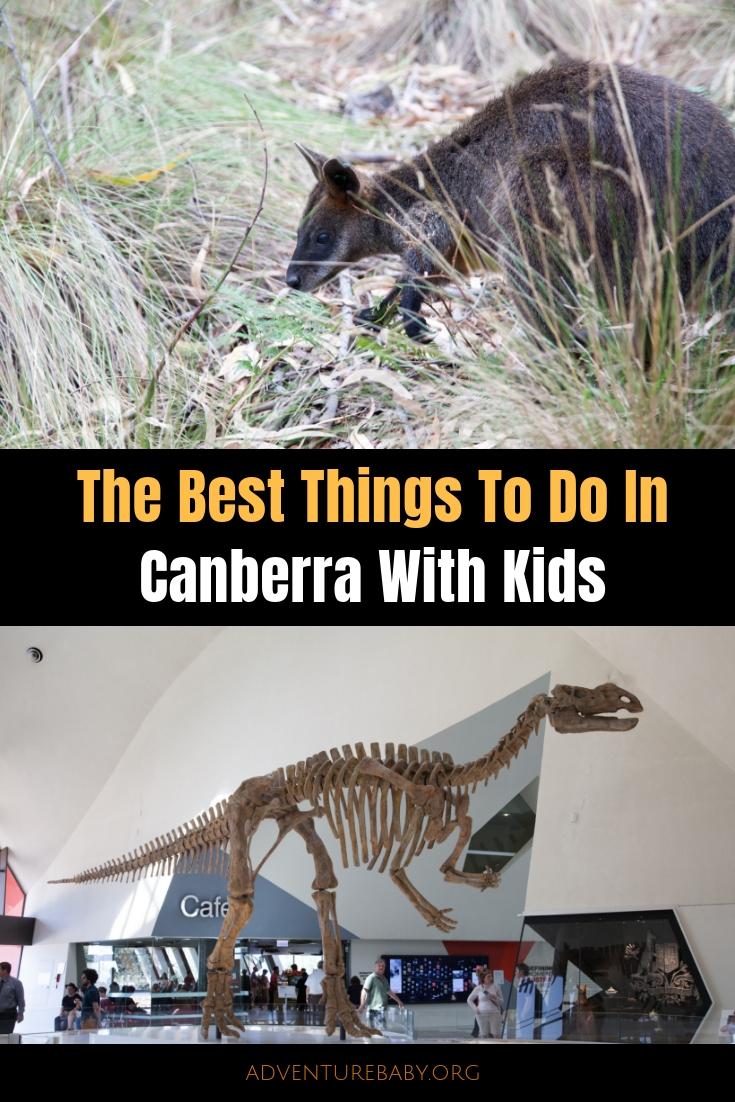 This post contains affiliate links, which means I will receive a small commission if you book using my links. It will not cost you any extra. Thanks for supporting Adventure, baby!