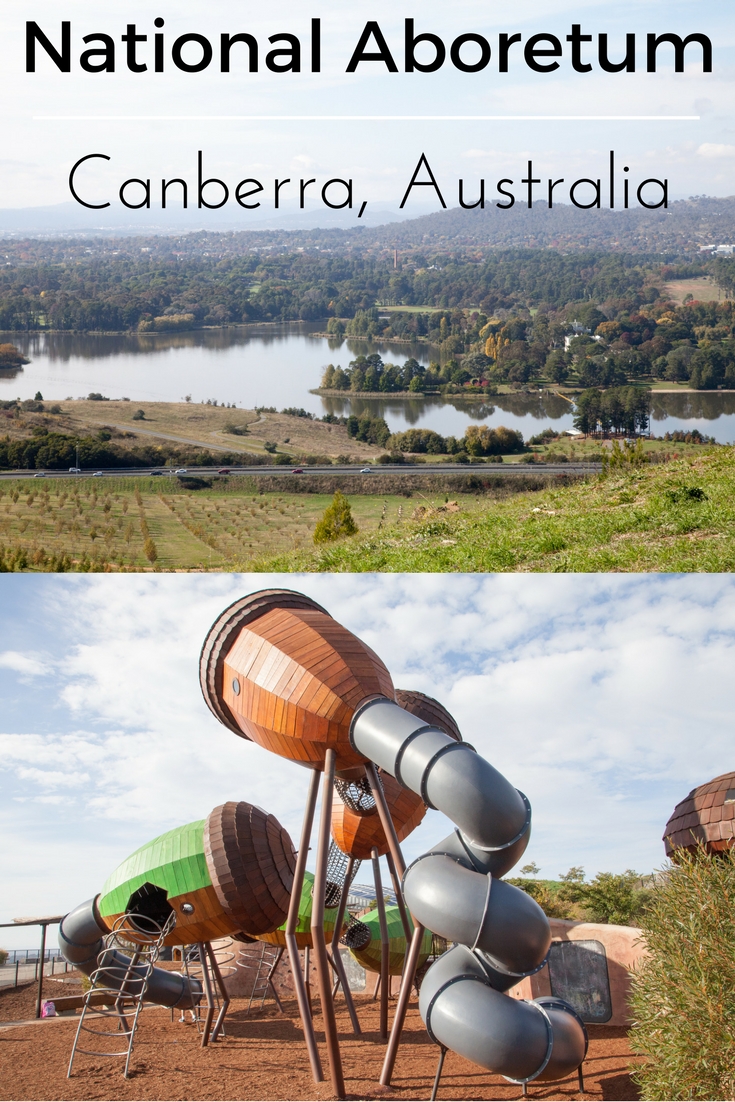 The National Arboretum Canberra is one of the world's largest living collections of rare, endangered and significant trees. With over 44,000 trees from over 100 countries are growing across the huge 250 hectare (618 acre) site, it's a place to visit to to feel at one with nature and enjoy discovering trees from around Australia and the world.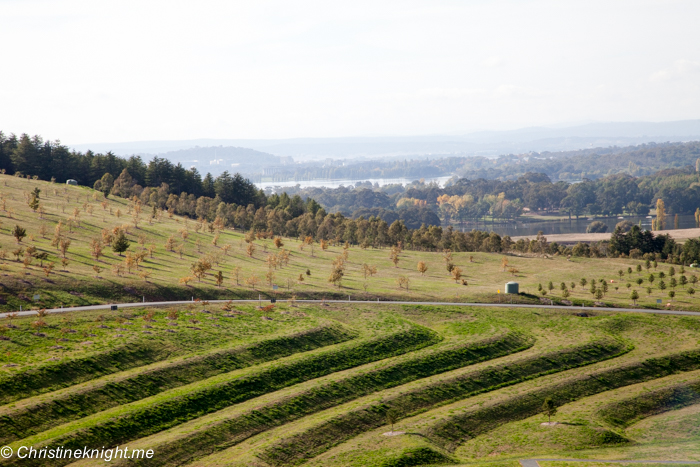 Its easy to drive into the Aboretum and up to the visitor's centre where there is a cafe, incredible playground (more on that below) and maps. It's very easy to walk around the Aboretum, from feature to feature, if you have the time and legs that enjoy walking. If you have a little one in tow you will find driving between the significant features much easier and quicker.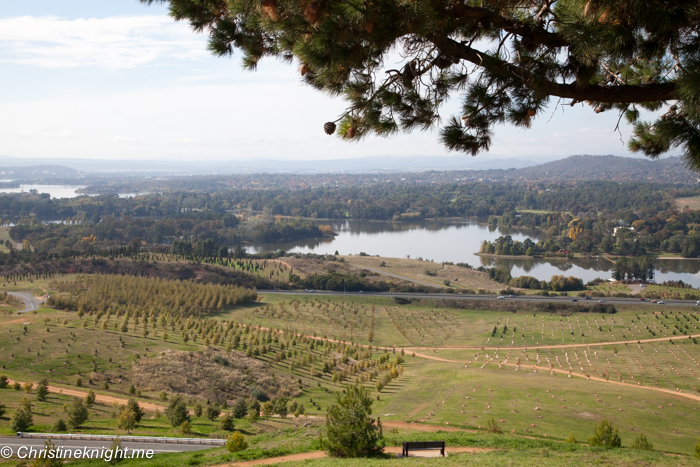 The addition of sculptures to the National Aboretum has turned the collection of forests into an outdoor art gallery of sorts.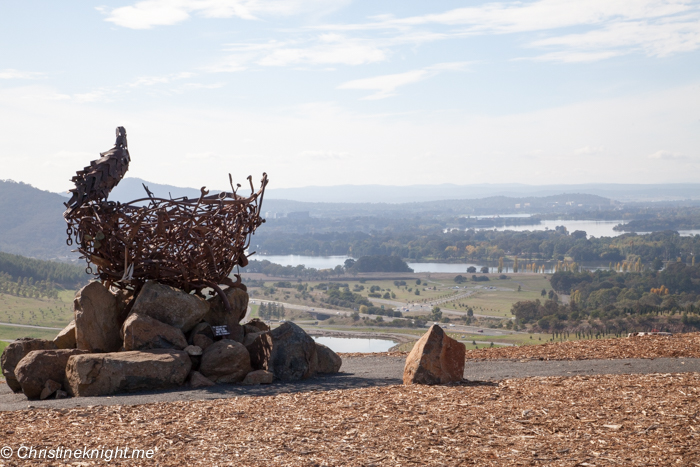 Of particular note are  'Nest III' sculpture on Dairy Farmers Hill, a metal sculpture of an Australian wedge tail eagle on its nest that was created by Richard Moffatt in 2007, and the 'Wide Brown Land' sculpture near the Himalayan cedar forest.

The three words that make up the 'Wide Brown Land' sculpture come from the famous poem 'My Country', written by Dorothea Mackellar in 1908, when the poet was 22 years old and living in England, homesick for Australia.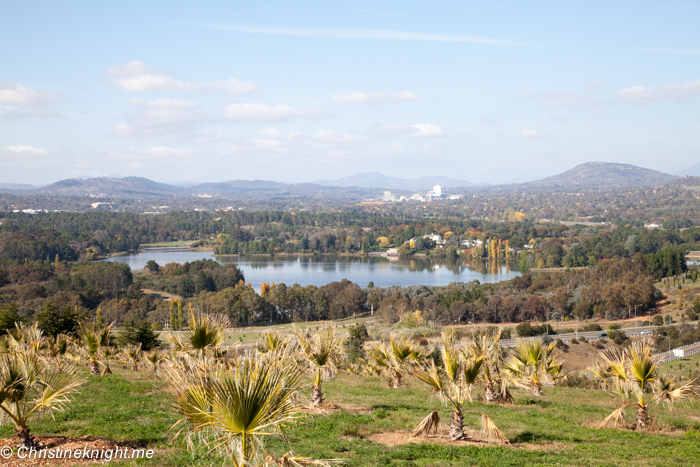 As a side note, Mackeller became the first female writer to be honoured on UNESCO's Australian Memory of the World Register when UNESCO included the manuscript of 'My Country' in the Register of Australian Literature in 2017. If you want to see the manuscript of My Country, it's on display to the public at the State Library of NSW.
The sculpture was inspired by both Mackellar's poem and handwriting, and created by Marcus Tatton, Futago Design Studios and Chris Viney in 2010. At  35 metres long and 3 metres high, it's quite the sight to behold!
"Wide Brown land" comes from the second verse of the poem:
"The love of field and coppice,
Of green and shaded lanes.
Of ordered woods and gardens
Is running in your veins,
Strong love of grey-blue distance
Brown streams and soft dim skies
I know but cannot share it,
My love is otherwise.
I love a sunburnt country,
A land of sweeping plains,
Of ragged mountain ranges,
Of droughts and flooding rains.
I love her far horizons,
I love her jewel-sea,
Her beauty and her terror –
The wide brown land for me!"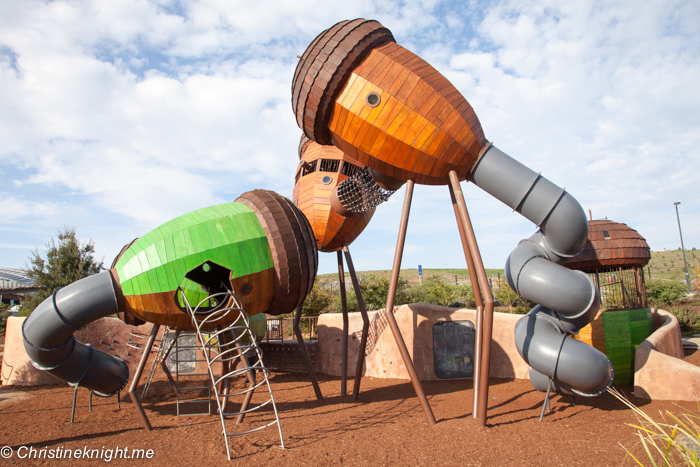 The National Aboretum is famous for it's incredibly designed Pod Playground. With inspiration taken from nature in its design, the playground is challenging and exciting, encouraging kids to climb, explore, and, most of all, have fun.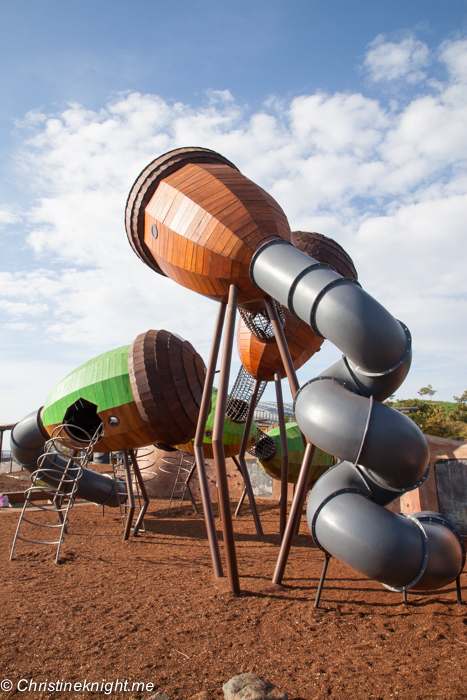 Designed for children of all ages, giant acorn cubbies in stilts, connected by net tunnels, appeal to older adventurous children, while the nest swings, banksia pods, sand and musical instruments engage the littlies in age-appropriate play. There is a large climbing net that is also most suitable for older kids and a musical bridge that appeals to everyone.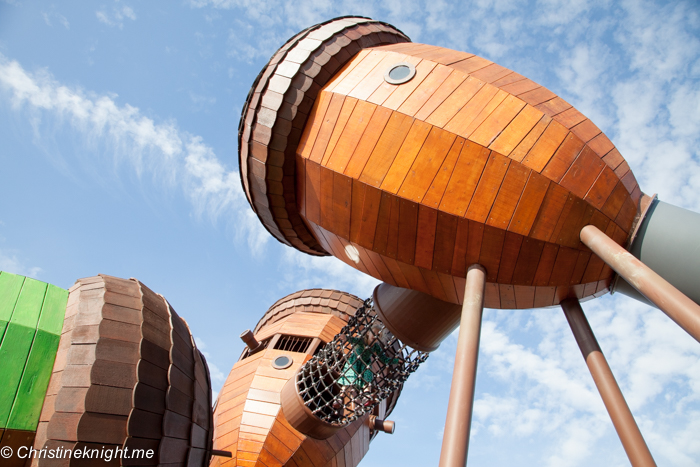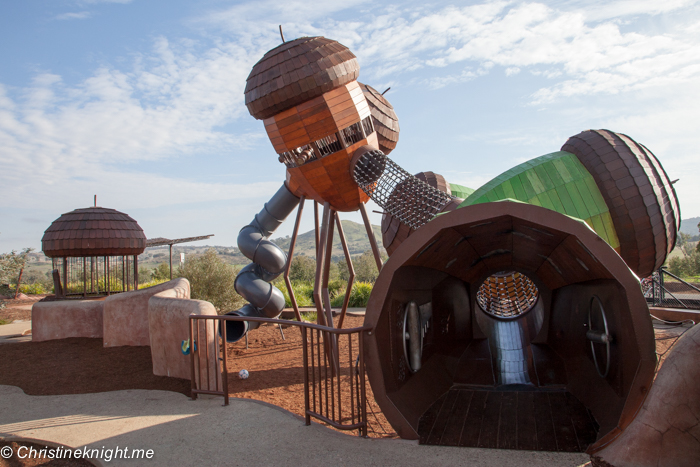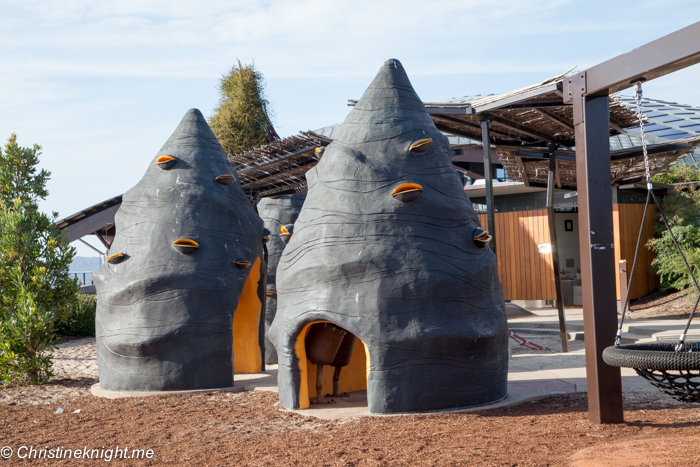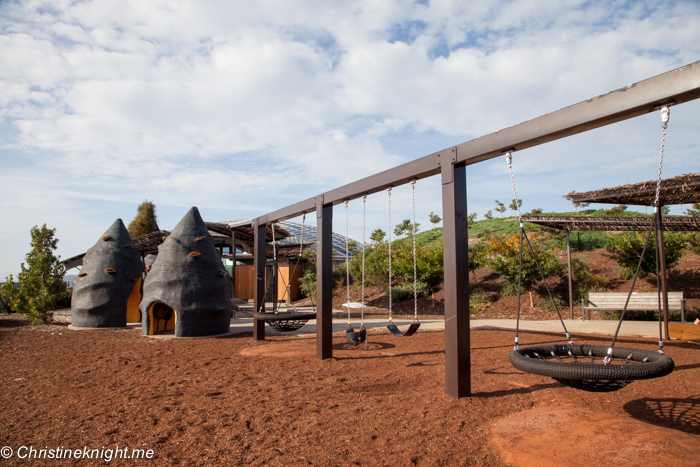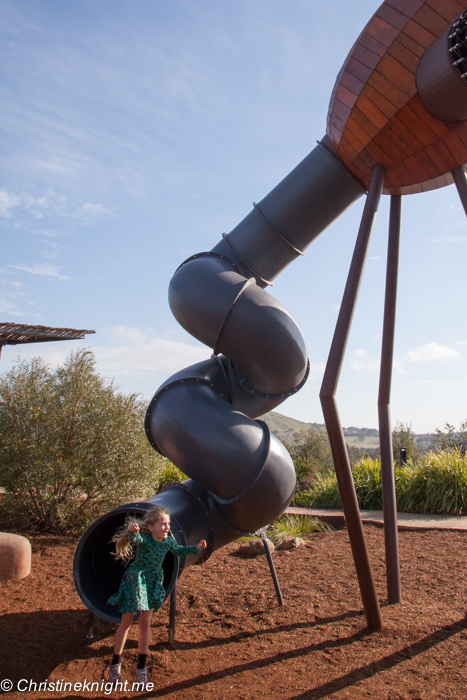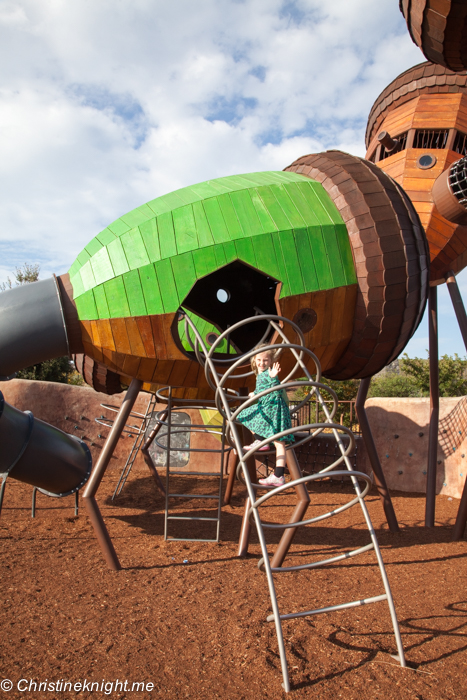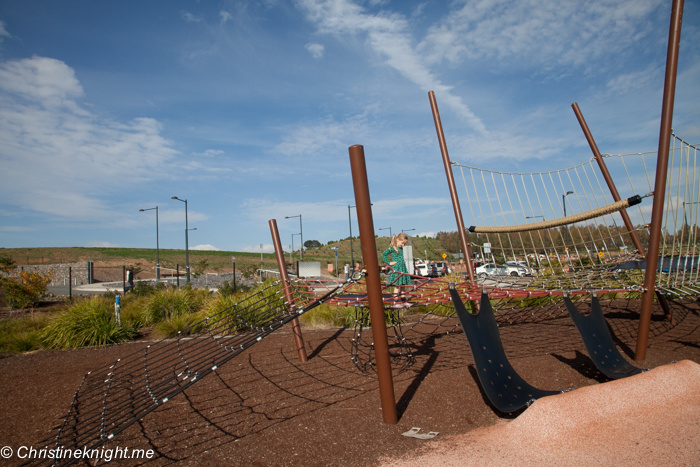 The Village Centre with a cafe is nearby if you need a coffee break, and there are bathrooms in the middle of the playground for easy access.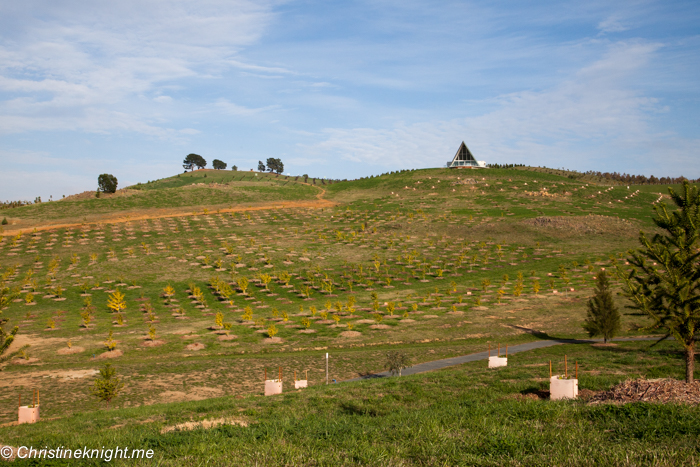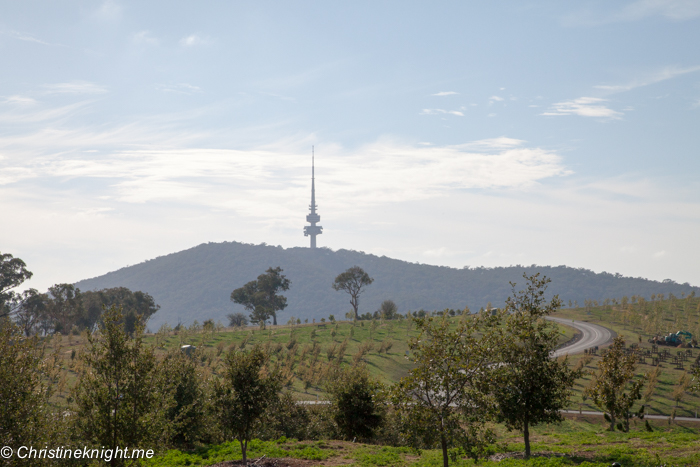 National Aboretum Canberra
Forest Dr, Canberra City
Hours: The Arboretum grounds and Pod Playground are open daily from 6am to 8:30pm during Daylight Savings Time and from 7am to 5:30pm during Eastern Standard Time (Non-daylight Savings Time).
Prices: Free entry
nationalarboretum.act.gov.au