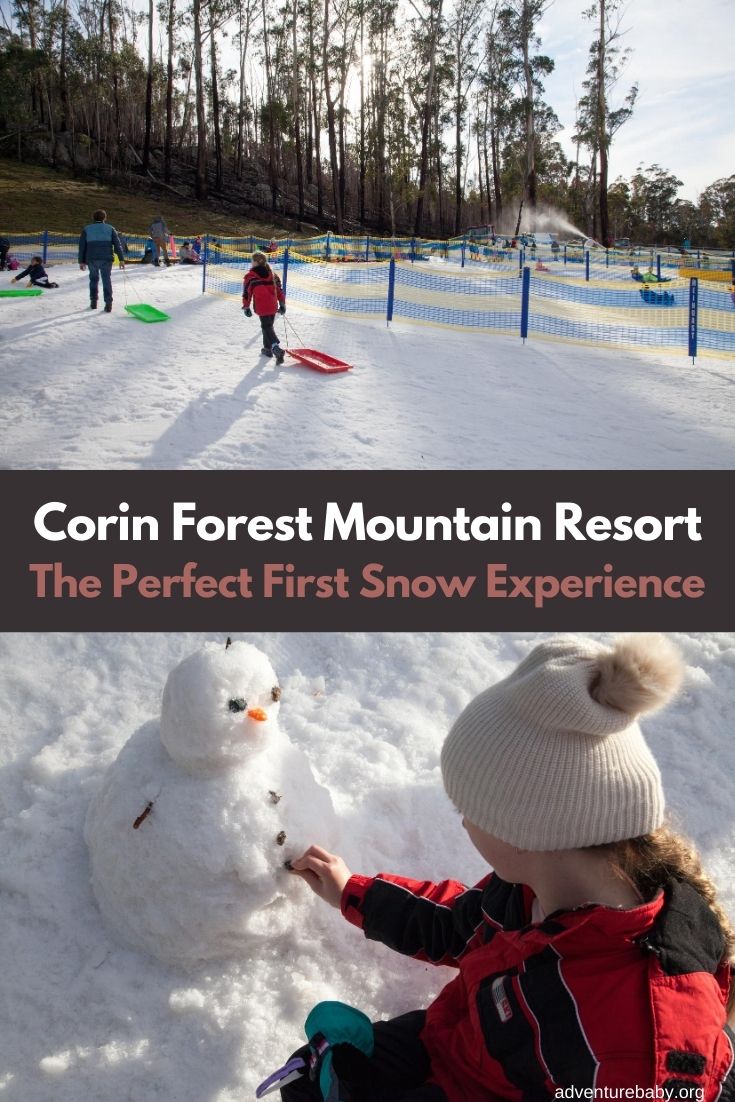 Corin Forest Mountain Resort: The Perfect First Snow Experience
Give kids their first snow experience at Corin Forest Mountain Resort in the ACT. Corin Forest is the closest snow experience to Sydney.
Corin Forest is located in the Tidbinbilla Mountain Ranges, 45 minutes from Canberra. During the warmer months, Corin Forest is a place to picnic, ride the 1.2km Alpine Slide and visit neighbouring Square Rock, Gibraltar Falls and Tidbinbilla Nature Reserve.
You can read more about visiting nearby Tidbinbilla Nature Reserve here.
In the winter months (often extending into spring), Corin Forest is the place to take kids to enjoy an affordable and fun first snow experience.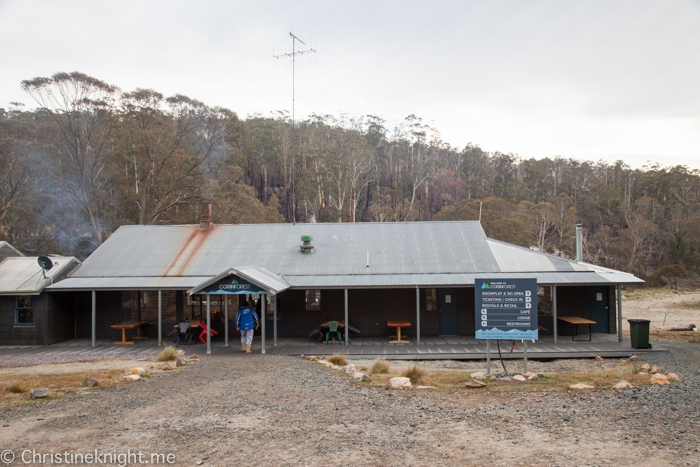 The Corin Forest Mountain Resort is a rustic lodge set among tall trees, in a beautiful secluded valley.
During the winter season, the lodge is a place to sit back and enjoy a wood fire pizza or hot chocolate after an exhilarating snow session. (In 2020, the lodge is open for takeaway only).
Beyond the lodge are an array of picnic tables around a picturesque lake, and the snowfields.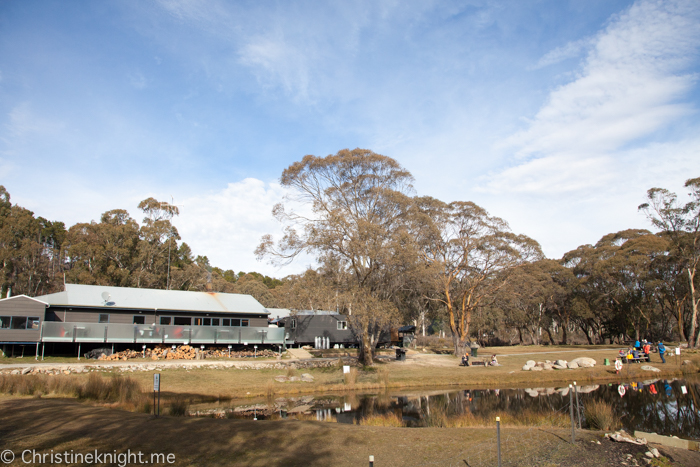 Corin Forrest offers very popular snow play sessions, beginner skiing or snowboarding.
Snowplay
We drove down to Corin Forest to experience the snow with their two-hour snowplay experience. The sessions for the school holidays and weekends book out a long way in advance, as they're a bit of a bargain and the easiest way for most families to experience the snow.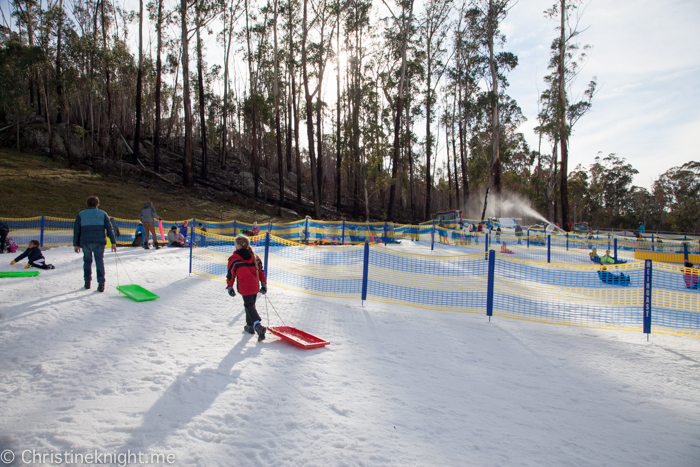 During the snowplay sessions, families can ride a toboggan, build a snowman and generally just play in the snow. We had a lot of fun throwing snowballs at each other.
There are two snowplay areas that run next to each other, with staggered start times.
The capacity is limited, particularly in 2020, with 100 people per sessions permitted. Snow play is open until October 11th in 2020.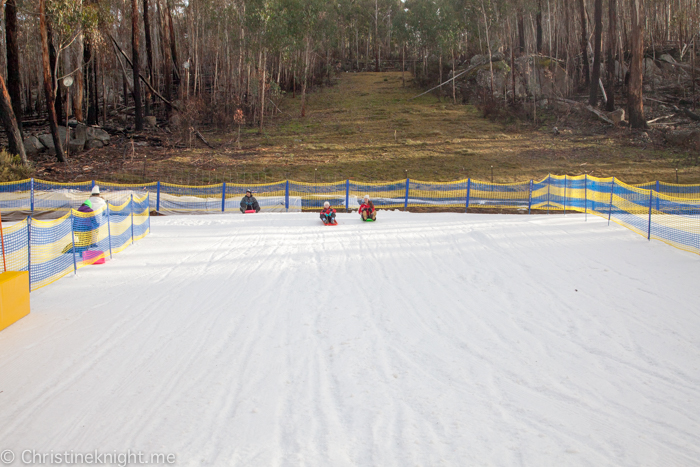 Entry to the snowplay area is a bargain $20 per person. You can hire a toboggan for an extra $5 and snow boots for $15. Jacket and pants rental as been suspended for 2020.
We visited in the middle of July and found it not overly cold temperature wise, but still were glad that we had rugged up. I would suggest wearing warm clothes with waterproof pants and jacket, gloves, water resistant boots, sunglasses and a beanie. Bring sunscreen as the glare can burn, and a change of dry clothes for the trip home.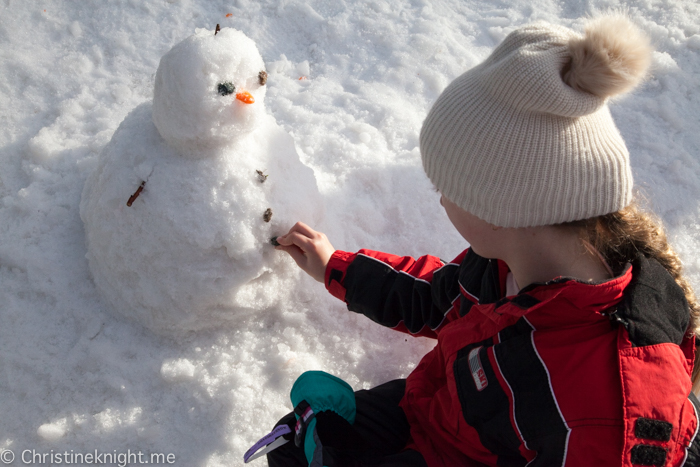 Make sure to book your session as soon as possible so you don't miss out.
Snowsports School
Corin Forest is also a great spot for beginners to learn to ski and snowboard. The ski slope features a "magic carpet" ski lift and is a nice, gentle slope to make learning to ski or board as easy as possible.
In 2020 ski and snowboarding lessons are operating with private lessons for groups of up to four people including an instructor. Lessons are available for adults and children over the age of 8.
Lessons include the use of ski/snowboard and helmets.
Lessons will be operating until September 7th 2020.
Ski + Ride
Experienced skiers or snowboarders can also enjoy the snow during the designated Ski + Ride sessions.
The Ski Hill will be operating until September 7th 2020.
Alpine Slide
The Alpine Slide descends 1.2km through the Mountain Ash forest. An hour session costs $25 per person.
In 2020 all sessions have a maximum capacity of 25 people so tickets will need to be booked in advance online.
General Info about visiting Corin Forest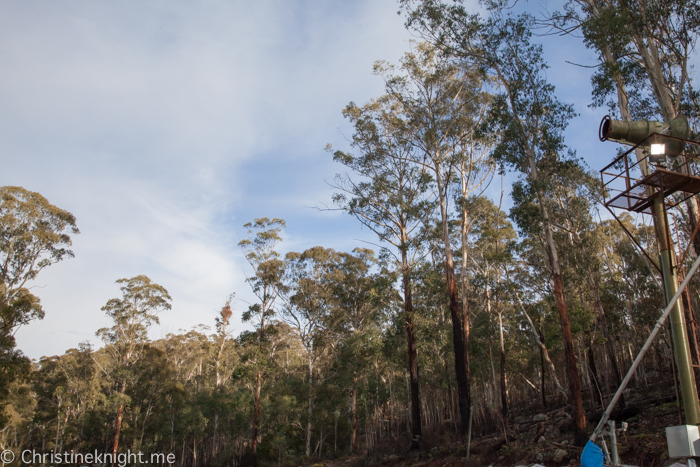 For the majority of the winter season, Corin Forest is accessible to all cars. 4WD or snow chains are only needed a few days a season.
The snow at Corin Forest is mostly man-made. Natural snow falls around 6 days each winter.
Parking is unlimited and free.
There is no entry cost to Corin Forest.
You are welcome t bring your own food and enjoy it in the picnic area. Food is available for purchase in the cafe that serves hot and cold drinks, snacks and meals, and features a wood fired pizza oven. In 2020 the cafe is doing takeaway only.
I would suggest booking the first session of the day as that's when the snow is freshest.
Every person entering the snowfield needs a ticket, even it it's just to watch.
If you forget to bring gloves, you can buy a pair at the retail shop.
Clothing rental is usually available from the age of 4 to adult 5XL – however rentals are suspended in 2020.
I strongly suggest booking ahead as Corin Forest is extremely popular.
Find more things to do in Canberra with kids here.
Corin Forest Mountain Resort
1268 Corin Dam Rd, Paddys River ACT
https://www.corin.com.au