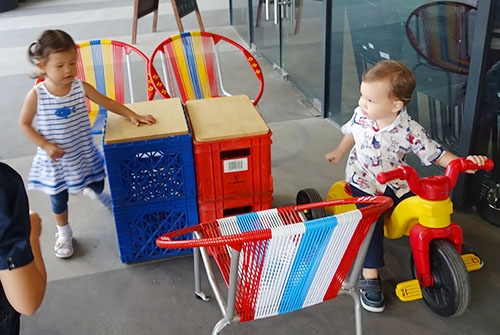 We had trouble finding Revolution Coffee on our first visit. I diligently typed in the address into Google Maps on my iPhone, and it took me on a never-ending loop around the area. In the end, I just used a bit of common sense (ie. there is only ONE building in the nearby vicinity), and we found it. The secret? Just look for the big building called "Infinite Studios" and you won't go wrong!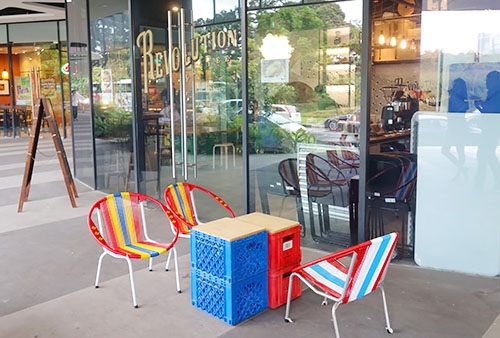 Having only recently opened (mid-2013), it's quickly become one of my favourite places to hang out with kids in tow. To guess why, just check out what Hunter is looking at………………………….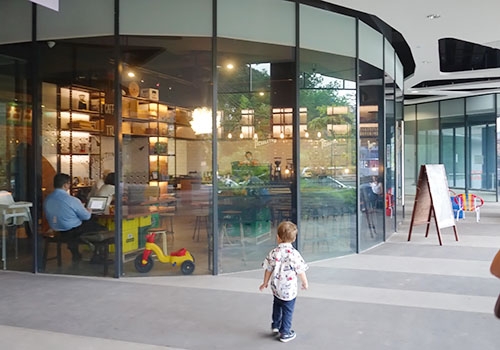 THERE'S A TOY TRICYCLE IN THERE!!!!!!
Hunter had sharp eyes and spotted it from far away, making a desperate bee-line straight for it. It's a total hit with the kids. Only point to note – there is one tricycle, so if there is more than one kid that likes it… well…. you may have a small problem on your hands.
We had both kids keen on it, but did a pretty good job in "taking turns". At least there was no bashing up involved!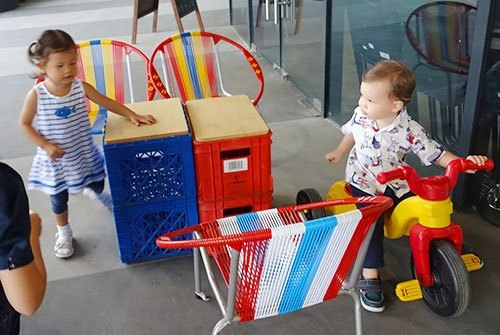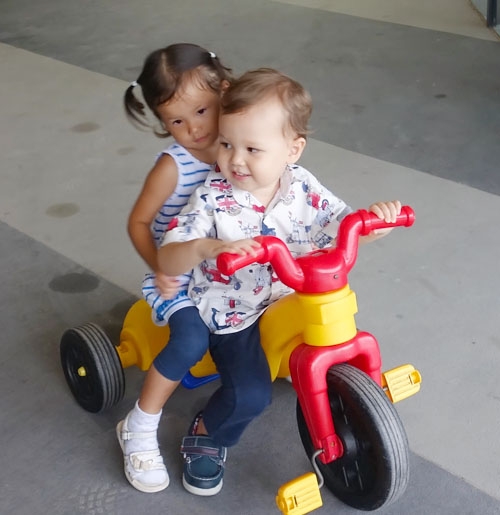 I particularly like the little nook at the far end of Revolution Coffee, with low padded chairs and a dinky coffee table made from crates. If you have kids, you'll like this area too since it's a little tucked into the corner. Note, however, that a lot of things in this cafe is kid-grabbing height.. so if you have a grabber, you might want to keep an extra sharp eye out on them.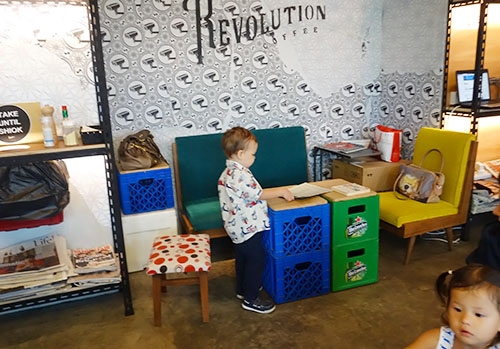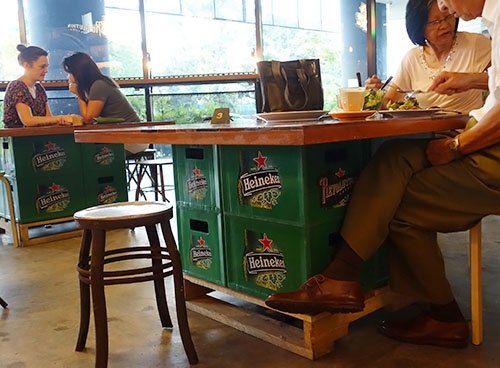 I'll cut straight to it – the coffee is really good. Owner Ajie Permana brought the art of coffee making from Australia and it shows. I particularly enjoyed the Latte ($5.50), which was smooth and creamy, yet packed a real punch. Only downside? It came in a tiny glass, and I would have liked it double-sized.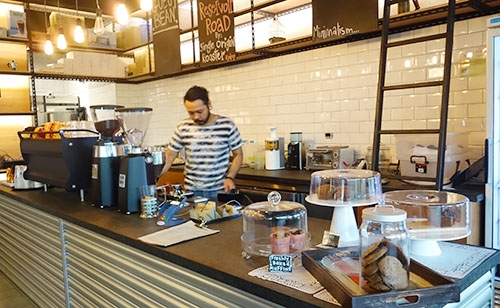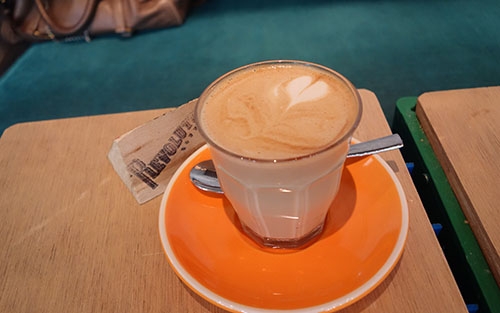 Their menu is really basic. I was pretty disappointed because I personally like hot food, and the menu was mostly salads and sandwiches. Reluctantly, I opted for the Roast beef sandwich ($11.90). I was, however, delighted when it arrived. It was a sizeable chunk and had lots of tender roast beef in it, and was sufficient in filling me up.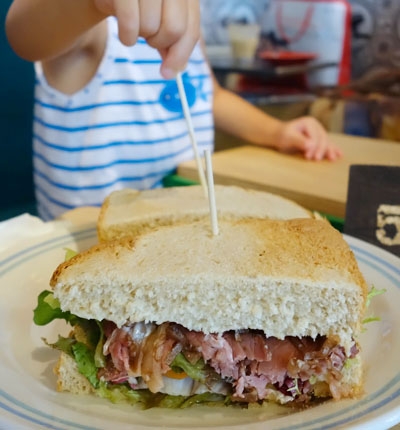 The Spaghetti amatriciana ($9.50) was ordered specifically for the kids, and was described as pasta with tomatoes, so I expected it to be dull. We were so surprised when we discovered it was excellent! It was a large portion of pasta that was silky with a distinctive flavour – like it was handmade. I doubt their pasta is handmade (please correct me if I'm wrong), but it was delicious. We thoroughly enjoyed the stewed tomatoes that it came with – in generous portions and bursting with sweetness.
Hunter ate a huge amount of this dish, so I was happy.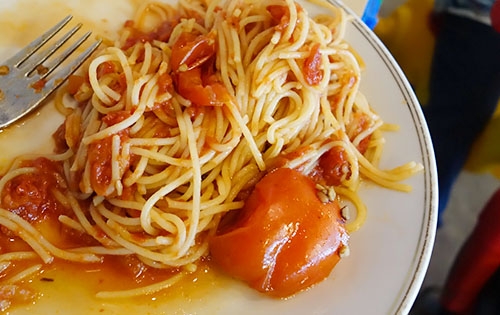 Their Freshly baked banana bread ($4.50) appears to be their signature cake, as I hear it often sells out. However, the kids weren't interested in it (we couldn't tell whether it was because they weren't impressed with it, or if they were already full from their lunch), and when I ate some of it, it didn't stand out to me either. It is served with homemade yogurt but it didn't wow me and I would have preferred some slightly-salted butter.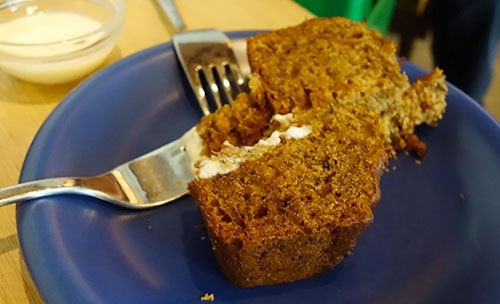 Their rendition of Affogato ($6) is so good it BLEW MY MIND. This is the must-order dish!! They take one of their cookies and crush it into a glass cup, top it off with vanilla ice cream, and serve it with an espresso shot for you to pour over. The coffee soaks into the biscuit, and the ice cream brings it all together to create an utterly spectacular dessert that is bitter yet sweet, crunchy yet smooth. It is such a winner.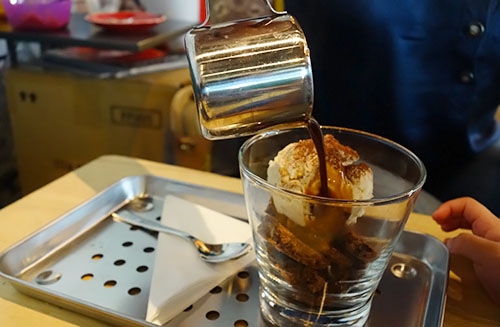 The kids had a great time having free reign over the cafe (it's not too crowded on weekdays) and cycling around outside. Hunter still remembers it as that cafe with a tricycle!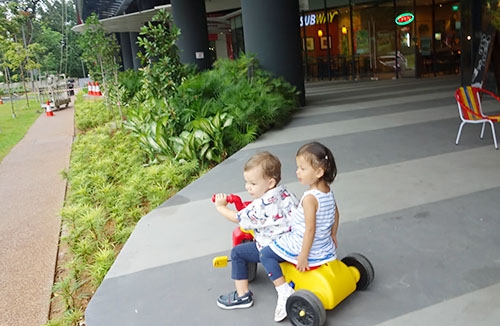 Last Bite: Revolution Coffee offers a casual spot for a simple lunch. Their coffee and affogato are total hits, as is the tricycle that kids can play on.
Highchairs: Yes
Easy access: Yes
Change tables: No
Kids' menu: No
Revolution Coffee
Infinite Studios building
21 Media Circle, #01-03A
Singapore 138562
Phone: 6777 2110
Prices: $$
Hours: Mon – Fri: 8:00 am – 5:00 pm, Sat – Sun: 10:00 am – 6:00 pm