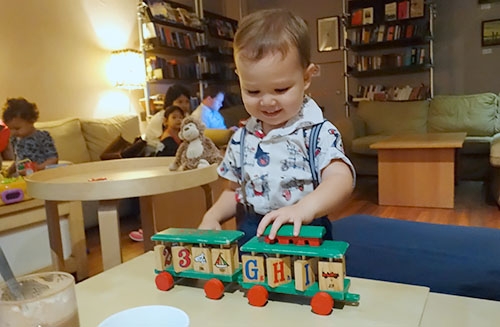 I can safely say The Book Cafe ranks riiiiight up there as one of the most kid-friendly cafes I've visited in Singapore. 
Ironically, I'd been pushing off checking out this cafe for months, because I thought it was very baby-UNfriendly (I was under the impression that, being a book cafe, it was practically like a library and kiddos were not tolerated). Of course, the day never came where I'm *ahem* rid of both kids, so one day I just decided to bite the bullet and meet some girl friends there.
I've since been back 3-4 times, with either one or both kids, and I am delighted with this cafe.
It's cozy and laid back, with friendly service and a casual atmosphere. The patrons seem to be split into three groups: the diners that park themselves for ages (studying or working on their laptop), the diners that are there for a quick business lunch, and the diners with young children in tow (<– points to self).
I'll be frank – I feel really sorry for the people there trying to study/work. The cafe is split into two areas, with the couch section popular with the parents-with-kids. If you're there trying to study/work, you'll want to think again, buddy. I personally wouldn't want to be there whilst kids are wandering around and distracting you!
That said, the couch section is AWESOME if you have kids in tow. The couches are low enough for kids to climb up/down, very comfy, and you're able to spread out all your kiddie paraphernalia. It's also pretty contained, so kids are pretty safe.
And, OH MY GOODNESS, they have toys. A big, fat box of toys for kids to dig around in and amuse themselves with. What a hit!!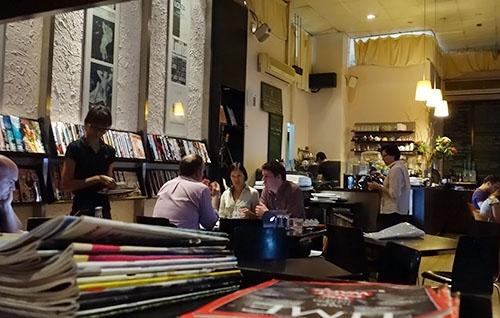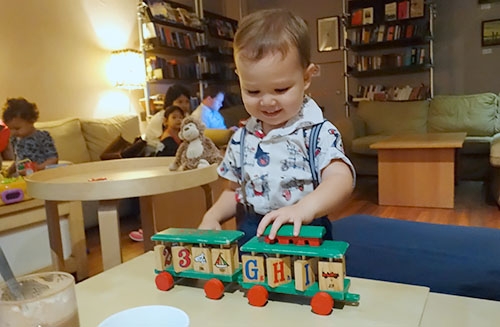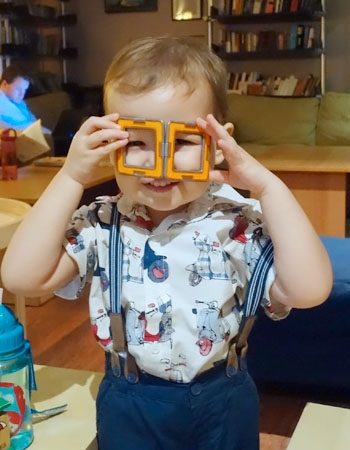 I have a soft spot for their latte. I ask for mine in their big mug (usually reserved for their iced drinks), with an extra shot otherwise it'll be too milky. It always hits the spot, and I love sipping on my big glass of coffee as I relax on the couch and oversee the kids, without having to chase after them like a crazy chicken.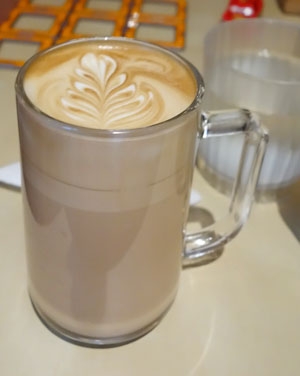 Their food ranges from pretty decent to excellent. The prices are very reasonable, and the portion sizes satisfying.
For example, this Chicken and mushroom alio olio is a children's portion, at $7 I believe? It's as big as an adult-sized portion at other cafes! It had more ingredients than it did pasta 😉 Hunter really enjoyed it.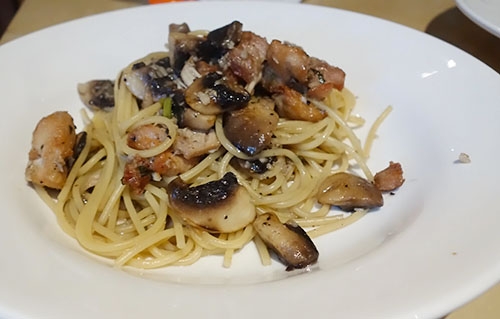 The Olive rice with chicken was also very filling. Tender grains of rice flecked with a generous portion of tasty chopped olives, and packed in with chicken chunks. However, it was the same chicken chunks as the pasta above, so I was a bit bored of it by then as I'd already eaten some of Hunter's meal.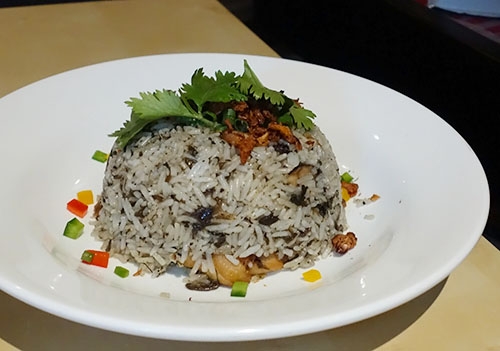 But their Cheeseburger and wedges. OH MY. Their #1 dish and a must-order. Surprisingly, once of the  best burgers I've had in Singapore!
The glossy bun is soft and fluffy, and I love the melted cheese and crispy lettuce. But it's the patty that rocks – cooked medium by request, it was so juicy and full of that real meat flavour (compared to some fast food places with very odd tasting meat). The whole thing was juicy and dripping, and just packed with deliciousness. I'm smacking my lips just thinking about it! I've had it about 3 times now, and it's been good every time, so consistency is there.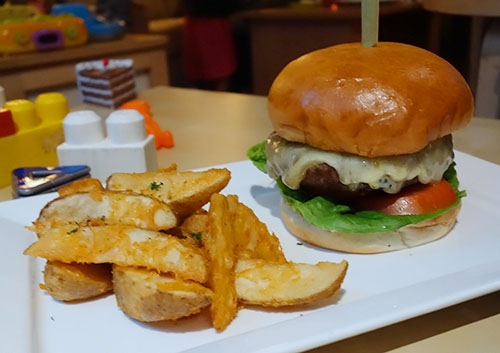 The Book Cafe is one of the rare places where I can sit down and relax for an extended period of time, whilst the kids potter around and play. More often than not, I'm trying desperately to keep them amused, or chasing after them in a cafe. For this reason, I really appreciate The Book Cafe's concept and kid-friendliness.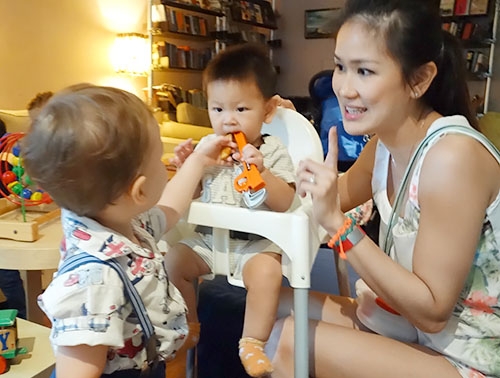 Believe it or not, they have their own baby change table! So convenient and what a relief for mums with a messy poo job at hand. Plus, their regular adult toilets have a drop-down mini toilet seat, for potty trained kids.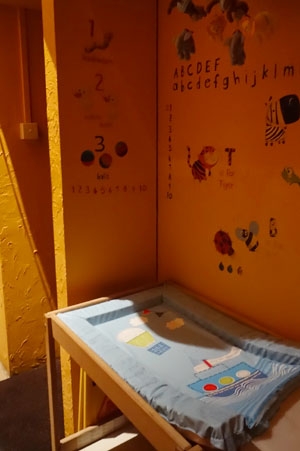 Hunter and Carter really enjoy visiting  The Book Cafe, and Hunter remembers it as "the toy cafe". He thinks it's his second home 😉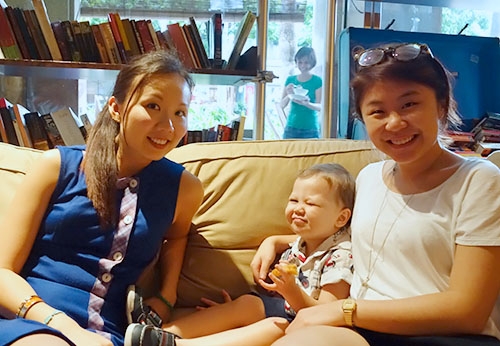 Last Bite: The Book Cafe offers a couch section with a large box of toys, sure to be a hit with your kids. With free WIFI and a wide menu, they are a popular spot for parents with kids. Check out their cheeseburger, it's a stunner!

Highchairs: Yes
Easy access: Yes
Change tables: Yes
Kids' menu: No
The Book Cafe
20 Martin Road
01-02 Seng Kee Building
Singapore 239070
Phone: 6887 5430
Prices: $$
Hours: Mon – Thu: 8:00 am – 10:30 pm, Fri – Sat: 8:00 am – 12:00 am, Sun: 8:00 am – 10:30 pm